We recently surveyed 980 of Day Out in England's readers, to find out their favourite England tourist attractions. The results were… illuminating.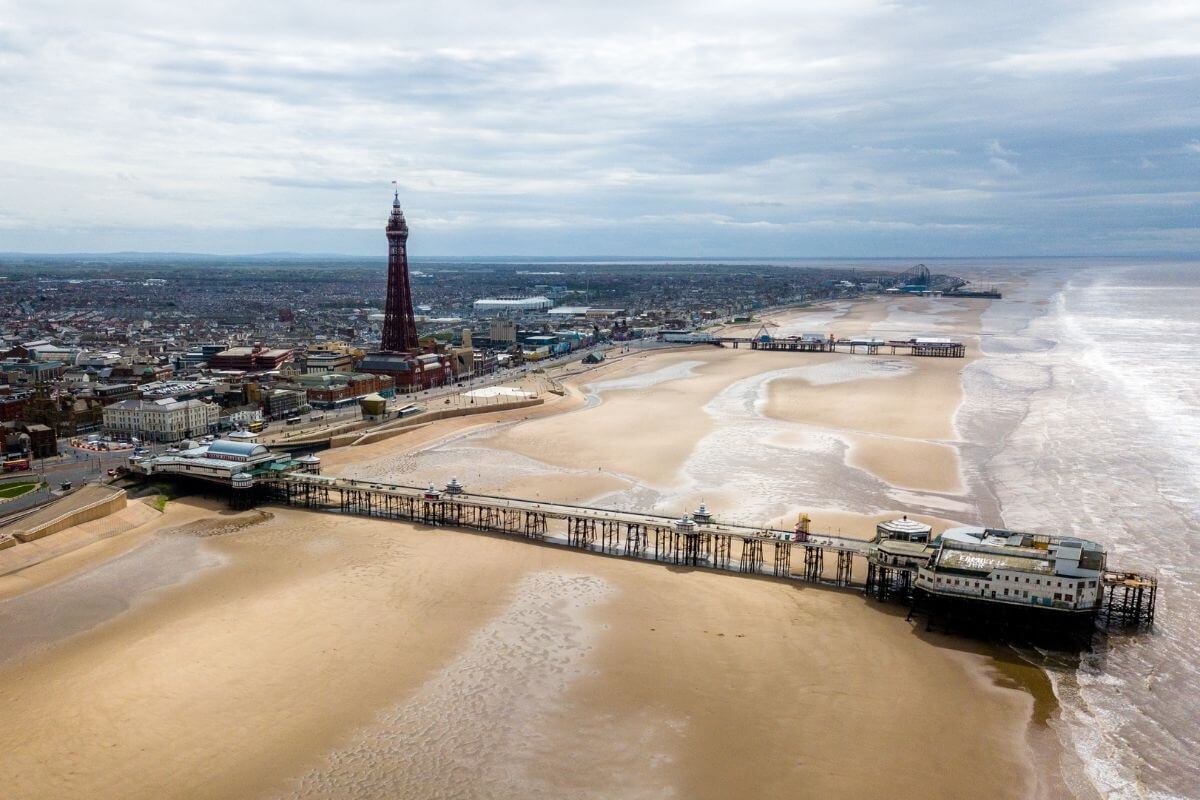 What's your favourite tourist attraction in England? It's a difficult question, isn't it?
There's just so many great things to see in our beautiful country, and a great tourist attraction for every mood and feeling. You may have a favourite tourist attraction from growing up, or a fond memory from visiting as a young adult. Where did you and your school friends used to go? Or your first trip as a new parent?
Trip Advisor says that Stonehenge is the number one attraction in England. Visit Britain says England's top tourist attraction is the Tower of London, while Lonely Planet deems Windsor Castle the top attraction to visit in England.
But, more importantly than all of them – where have the Day Out in England readers chosen to top the list?
Most Popular England Tourist Attractions
We've got three cities, three National Parks, three theme parks, two gardens, two castles, a palace and some stones – but which ones are they? Read on to find out England's top tourist attractions, according to Day Out in England readers…
21. New Forest National Park, Hampshire
At number 21, just making our list is the almighty New Forest National Park, the first of three National Parks highly rated by our readers. The New Forest makes for a wonderful day out – you can explore the New Forest pubs, the many walking trails, the picnic spots and the pretty New Forest villages too. It's very accessible for all, and comes with its own resident ponies and piggies too – all of who have the right of way on the roads.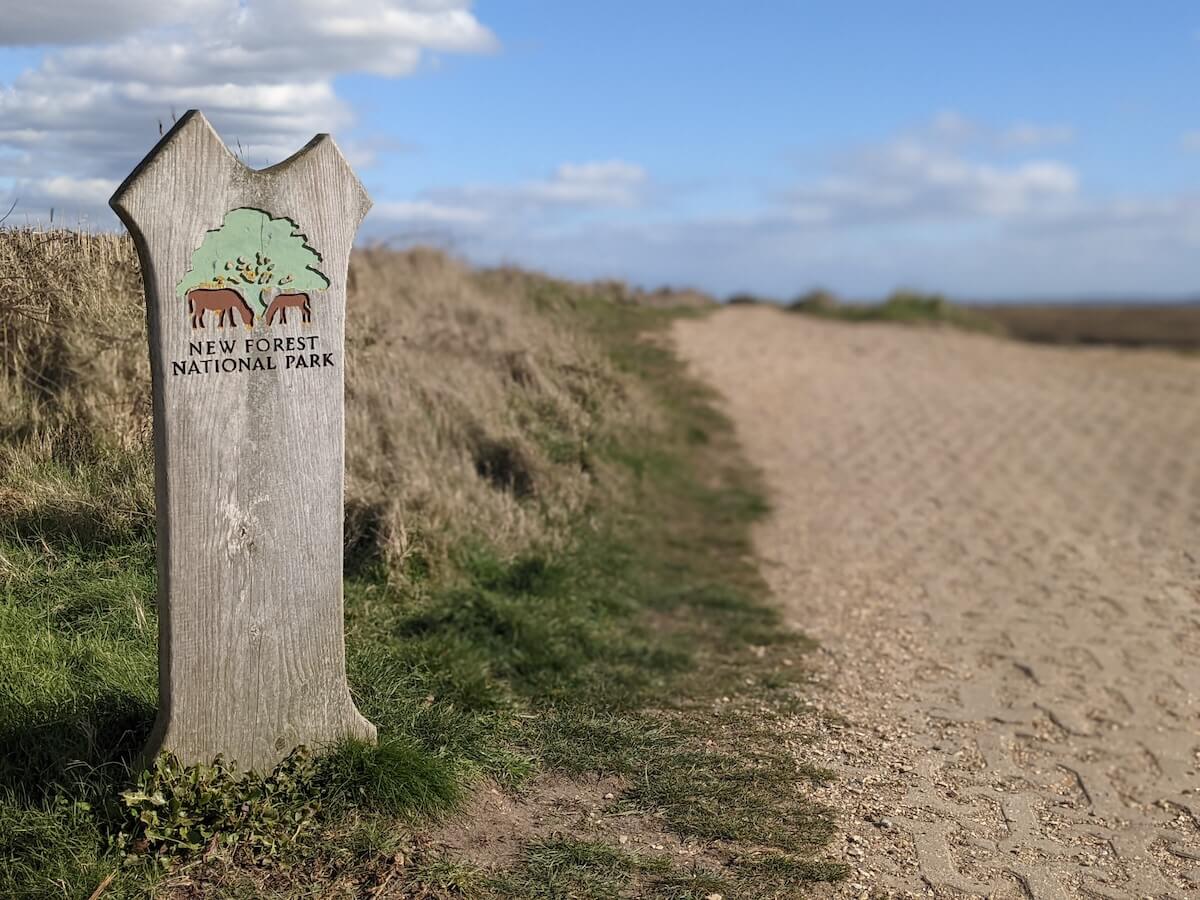 If you're new to the New Forest in Hampshire on the south coast, start in Brockenhurst, Lymington or Lyndhurst – three of the biggest villages there. The New Forest has forest, beaches, ponds, coastal walks and plenty of opportunities to eat too. If you've not been to the New Forest on a day out yet, you're missing out – it's one of the best forests in England!
20. Hampton Court Palace, Surrey
Hampton Court Palace was originally the home of King VIII and consists of a 304-hectare park, gardens and courtyards. The deer that live in the park are still descendants of the deer that Henry VIII once hunted.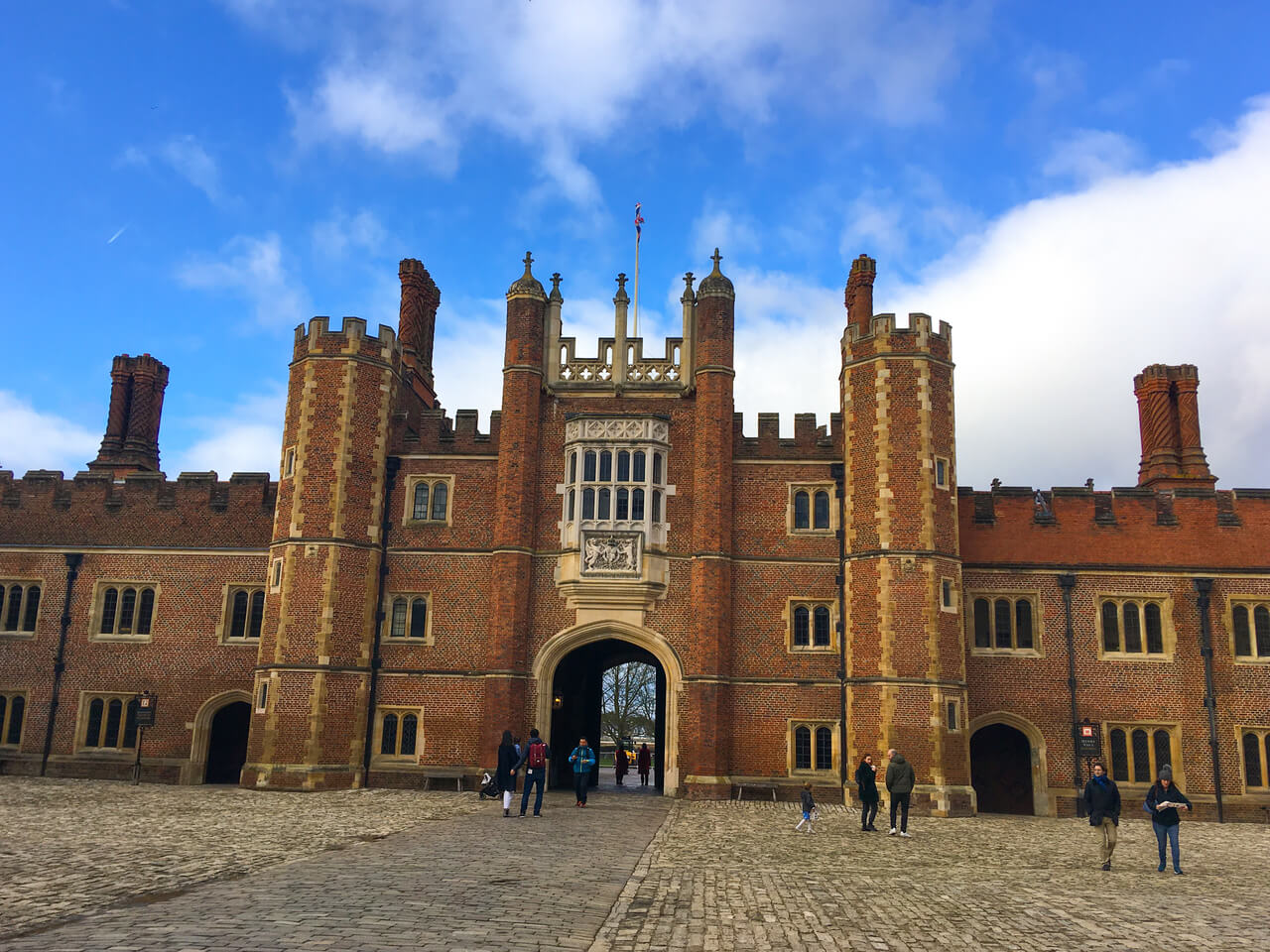 The palace is surrounded by 26 acres of gardens including the famous maze – Great Vine – multi-themed gardens and the royal tennis court. Due to the many royal members who have lived on Hampton Court, the palace has beautiful furniture, beautiful tapestries and an extensive art collection.
The history here gives Hampton Court Palace a well deserved spot in our list – more popular than Buckingham Palace even!
19. Chessington World of Adventures, Greater London
The UK's ultimate family theme park, Chessington World of Adventures makes for a great day trip. As as one of England's top theme parks, 'Chessington' as we like to call it is also a zoo (with over 1000 animals!) and a sea life centre (one of the best aquariums in England), with a Go Ape high ropes course too.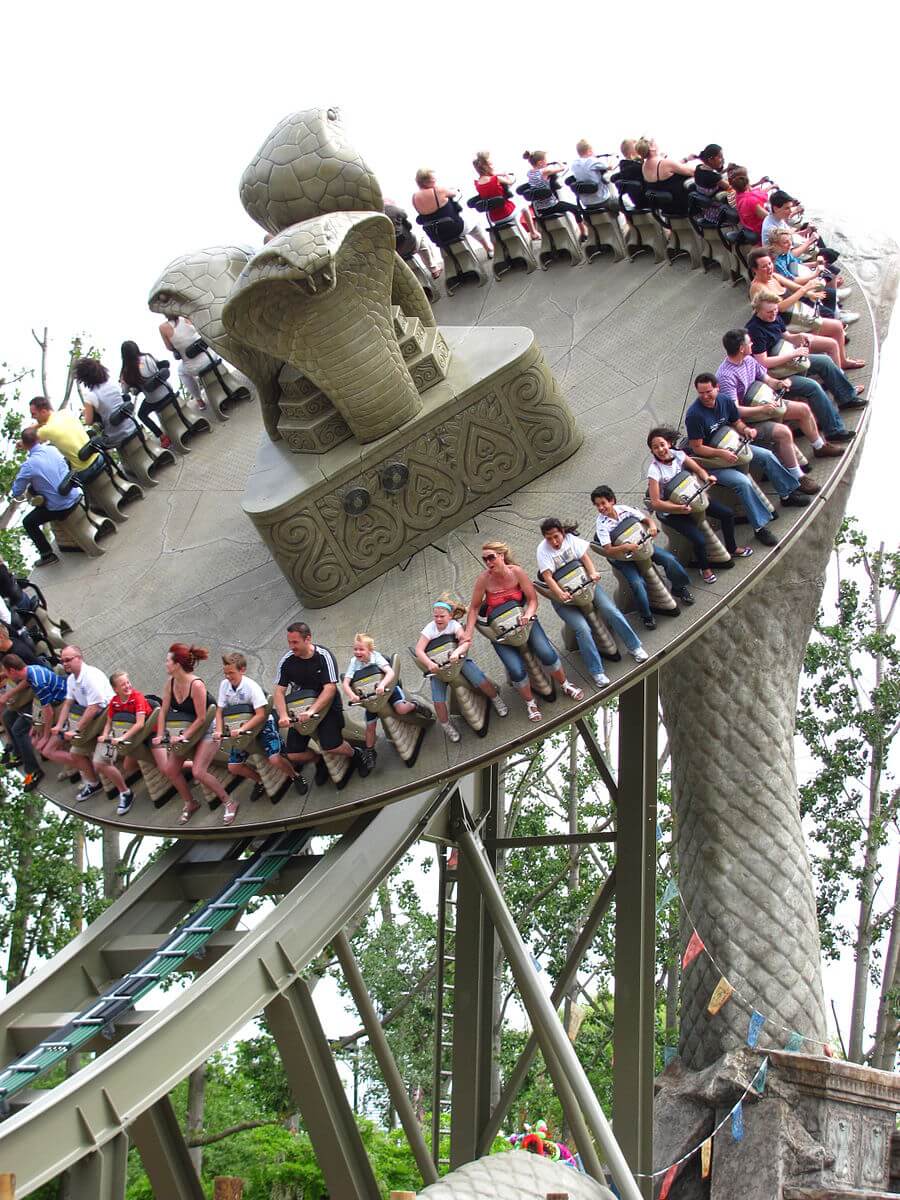 There are over 40 rides here in 10 different lands, all a bit tamer for the child-friendly audience here. It's the first of three theme parks on our list – hmmm, what could be better than Chessington World of Adventures, hey?
Tickets for Chessington World of Adventures: £35+
BUY YOUR CHESSINGTON TICKETS HERE
18. Brighton, East Sussex
Our readers love Brighton for its pier, for The Lanes shopping area, for the many amazing places to eat, and for the wonderful shingles beach. The train connections make it a great day out for many all the way up to London and the surrounding areas.
Brighton Sealife Centre is one of the most popular in England, it's a great place to go shopping, and the al fresco dining is great – if you can avoid those pesky seagulls!
Brighton is the epitome of good old British seaside fun and well deserves its place on our list of the top England attractions. If you happen to be there in the festive season, here are the best things to do in Brighton at Christmas.
17. Peak District, Derbyshire
Right, number 17 on our list of England's top attractions, The Peak District National Park. This is the main attraction in Derbyshire –expect lush peaks, stunning Dovedale Valley and generous swatches of moorlands to greet every Derbyshire day tripper.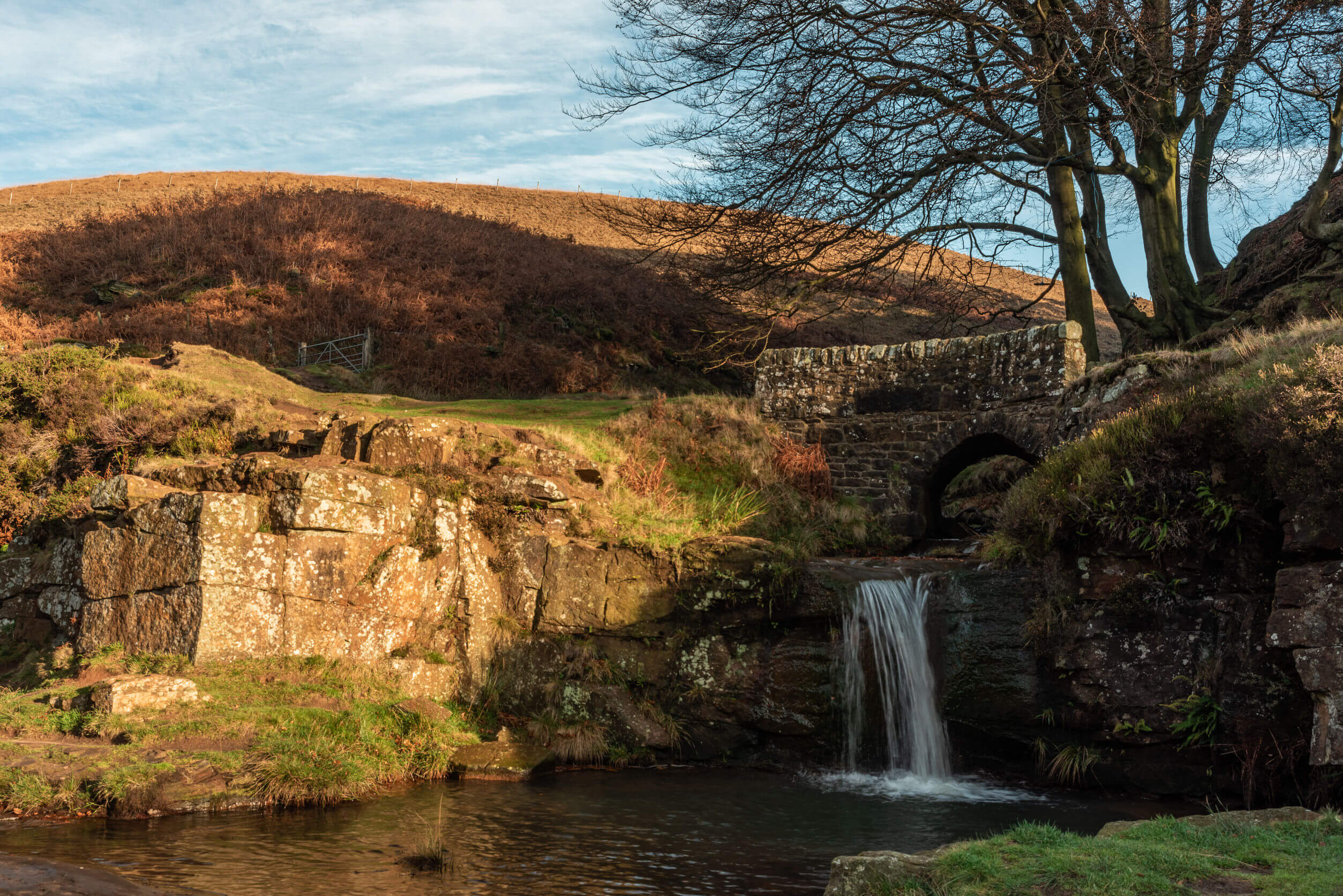 Culturally rich villages like Bakewell, Castleton and Buxton make great headquarters for both adventurous visitors, and those who prefer to admire the view with a Cream Tea too. The Peak District is a stunning place to spend a day, whether on foot, bike, or road trip.
16. Windsor Castle, Berkshire
Windsor Castle is the royal residence for official duties. It's also the oldest castle in the world that's still inhabited by a royal family and the largest castle in the country, built on 13 acres. Add to that, it's a fascinating day out.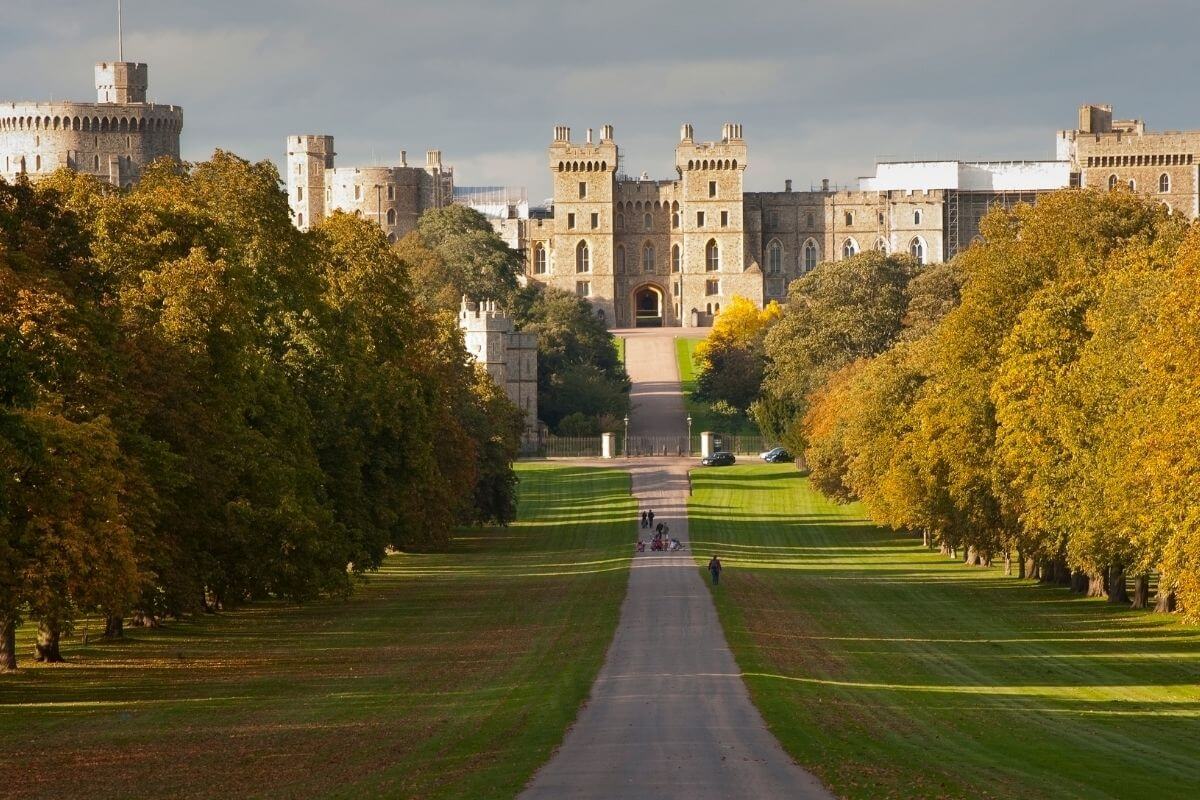 We've written an entire guide to spending a day at Windsor Castle, but in short, you can pick up an audio guide that'll show you round the many historical events that have happened here, including the great fire. You can see different areas of the castle, including now, where the queen is buried in a crypt.
The ticket you buy for your first entry is a one year pass for access to the property, expect to pay from £13.50 for kids, to £23.50 for adults. Once you're done with the castle, Windsor is a lovely market town for a mooch around too.
15. Beamish, the Living Museum of the North, County Durham
The Beamish Museum is one of County Durham's largest and most popular visitor attractions. The heritage museum is complete with Edwardian buildings, a 1940s farm and steam trains. Actors play the roles of townspeople and you can even catch vintage trams and buses around the museum.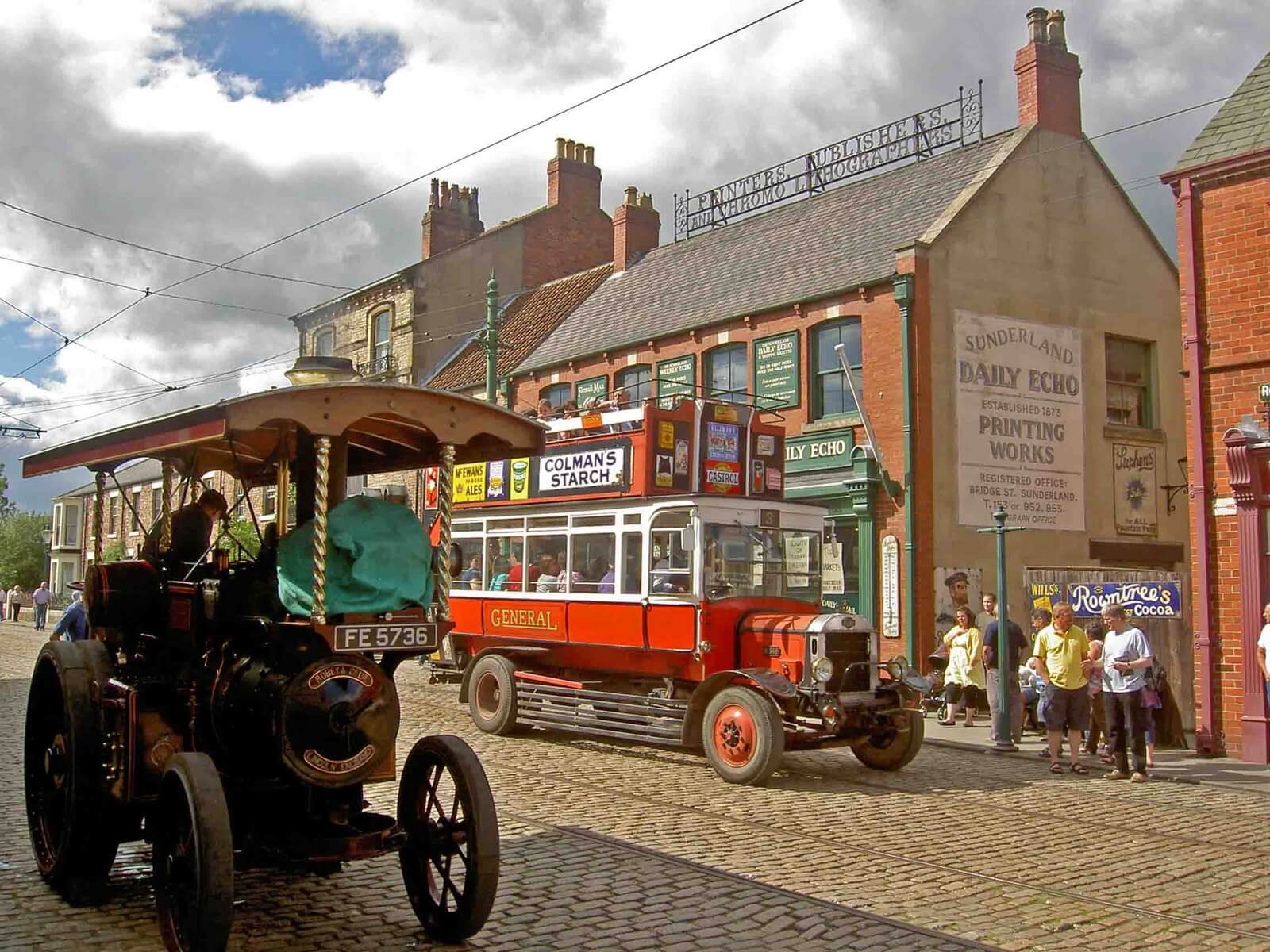 To visit the Beamish Museum is to take a step back quite literally in time, you are sure to be wowed by the authenticity of both the exhibits and the actors who bring them to life. You can even buy souvenirs such as traditional boiled sweets in the sweet shop and visit the traditional 1900s town store. This is one of the best days out in County Durham for children.
And at number 15, it's a popular one with our readers, too!
14. Kew Gardens, Surrey
The Royal Botanic Gardens, Kew or Kew Gardens, all refers to the same place – the 121-acre park with gardens and greenhouses, located in Surrey. The gardens are world famous and attract as many as 2,000,000 visitors per year – definitely one of the most popular days out in Surrey, and even England. Our readers love it there.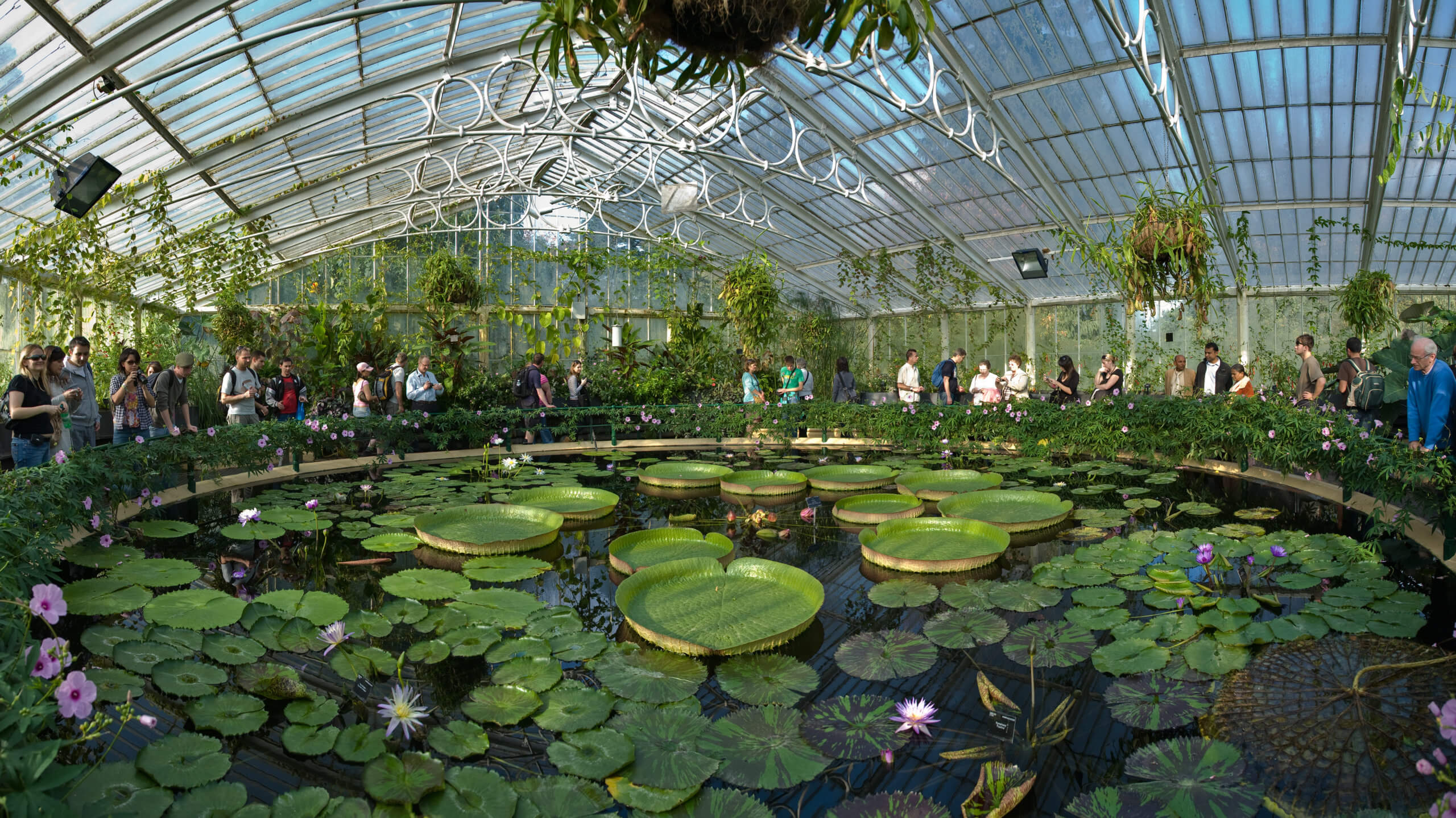 The Kew organisation owns the world's largest collection of live plants with more than 30,000 species and a library with 750,000 works and 175,000 prints of trees and plants. If you want to see the best garden in England, then this is the place to be.
13. Longleat Safari Park, Wiltshire
Longleat Safari and Adventure Park is one of the oldest zoos in England and one of our best safari parks. You can go on safari among the animals and really get up close. You can feed the animals yourself too.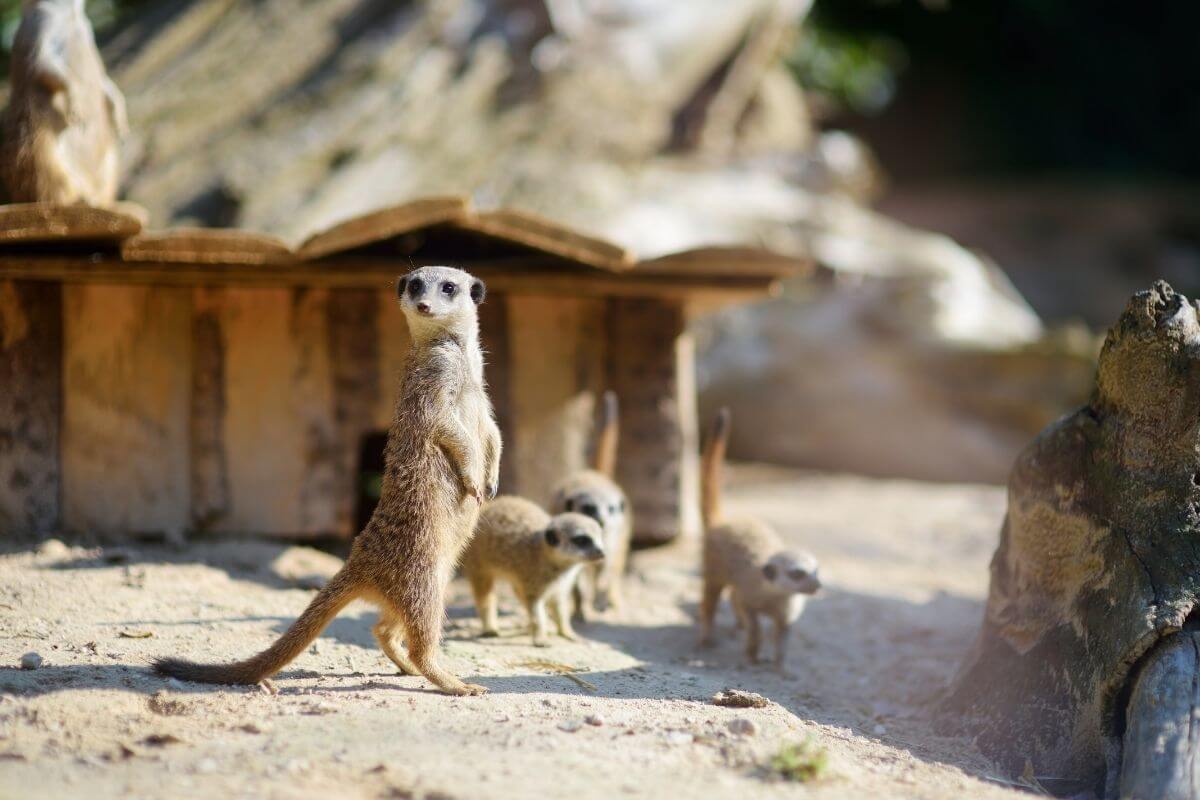 Longleat is a great activity for a rainy day, as you get to just stay in the car and cruise around. Lions, tigers and monkeys from the comfort of your car seat? This is the England zoo for you!
During the festive season they do a wonderful light show throughout the park, making it one of the best days out in England for Christmas.
12. City of York, Yorkshire
The City of York is one of the three cities on our list of top tourist attractions.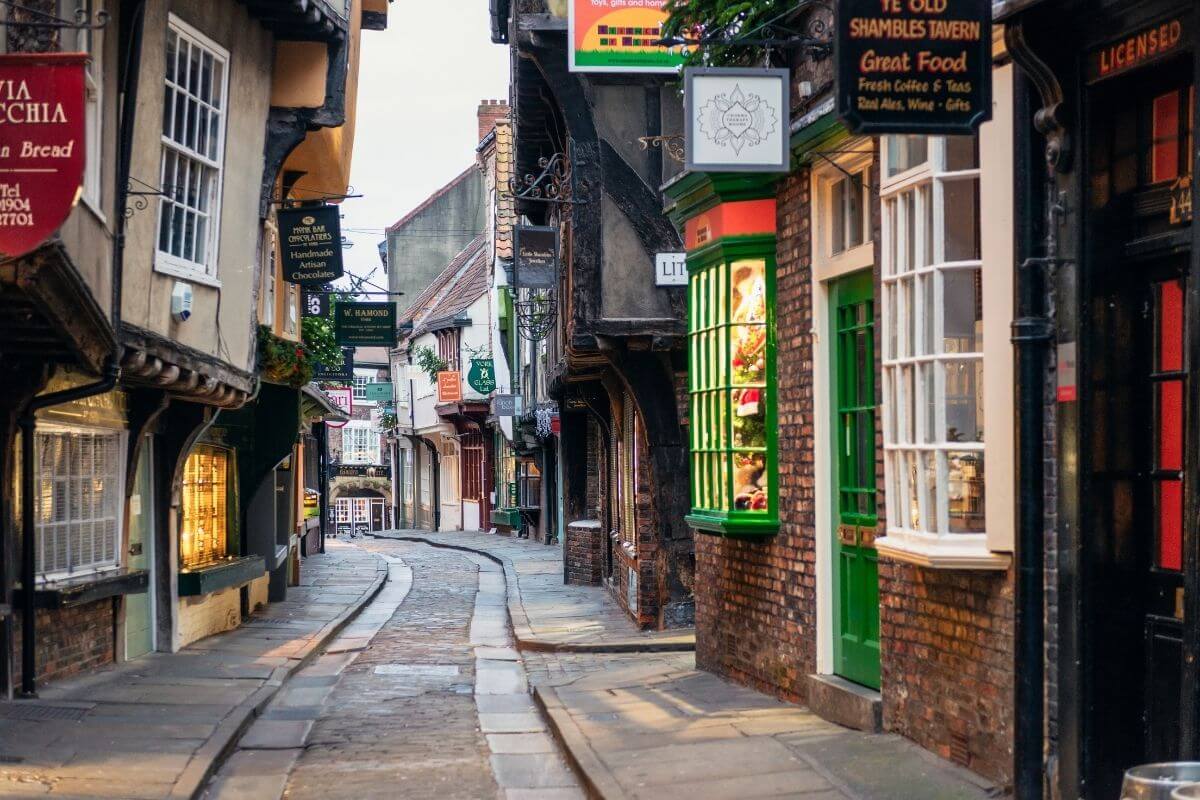 If you're visiting for the day, the Shambles should be first on the itinerary – a collective of 14th and 15th-century houses that somehow remains standing in their crooked forms. Butchers' shops have transformed into characterful bookstores, knick-knack stores, decorative ware and other indie attractions. It's said to have inspired Harry Potter's Diagon Alley!
York has witnessed politics and warfare since 71 AD, including the rise of Constantine. Most of York's top attractions are covered, such as the splendid York Minster (one of Northern Europe's largest cathedrals), The King's Manor, York City Walls, Fairfax House, York Castle Prison, Berden Hall and more. It's picturesque, pretty and one our readers' top days out.
11. Stonehenge, Wiltshire
Stonehenge is one of the Wonders of the World, and one of England's most popular UNESCO World Heritage sites. This place is prehistoric and is as old as 3,000 B.C. It's the most popular day out in Wiltshire.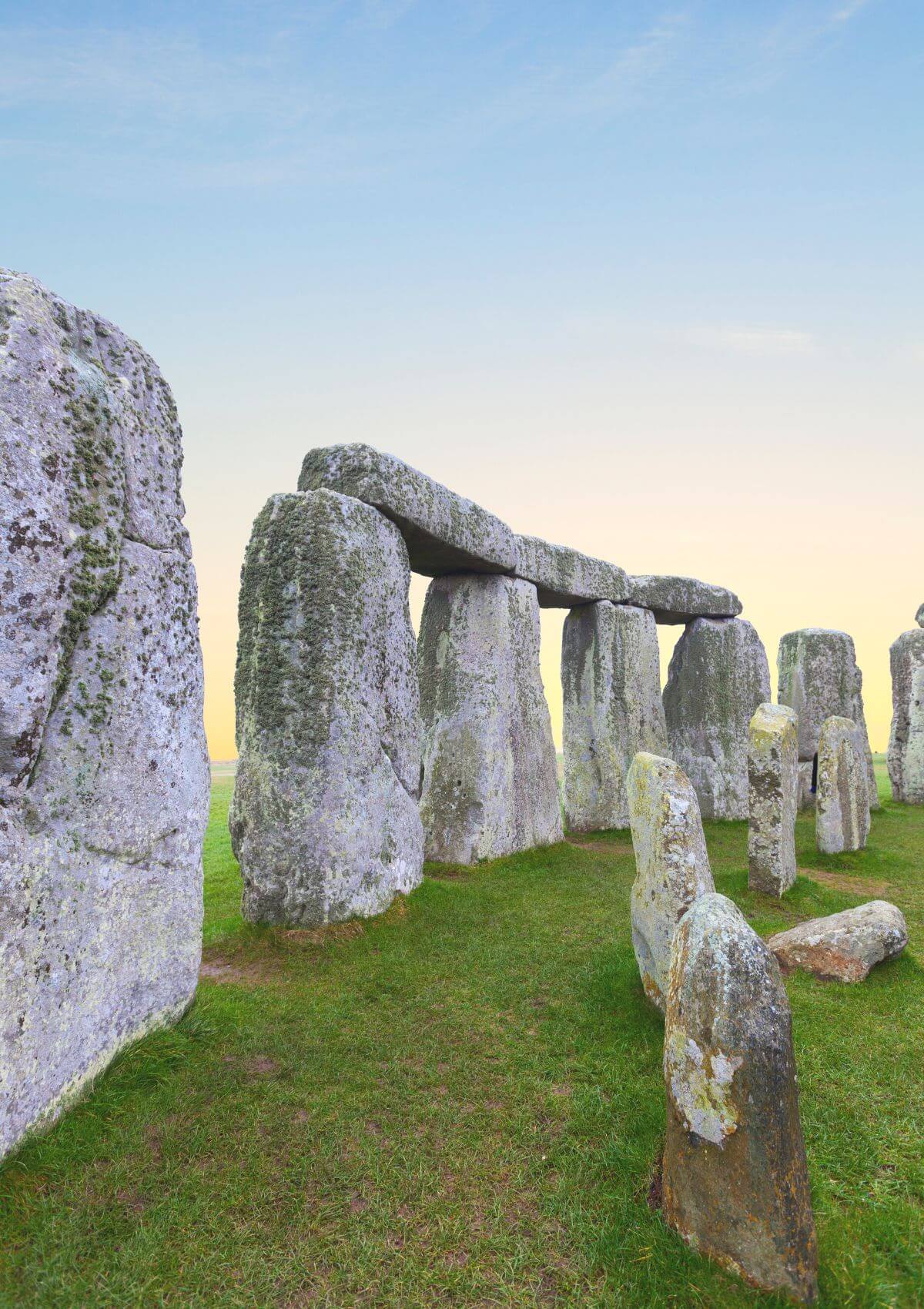 Stonehenge is one of our UNESCO World Heritage Sites because of the mystery of the stones. No one knows how the Neolithic were able to raise such heavy and huge stones to form them into what we know now as Stonehenge. The largest of these stones weigh more than 40 tonnes.
How did they do it?!
Try to get in at sunrise or sunset for a unique and memorable experience.
Stonehenge is one of the most popular England attractions for anyone coming to England from abroad. Those stones are legendary.
10. London
We just kept seeing 'London' as your favourite tourist attraction in our recent survey. We dismissed the 'London West Ends' and the 'London Museums' but if you'd put 'London' it counted as a vote to our wonderful city. Not only did it make it into our top 10 attractions in England, it also came in top for the county you'd be visiting next year, with 37% saying they'd be heading to the capital city in 2023. More than any other destination on our list.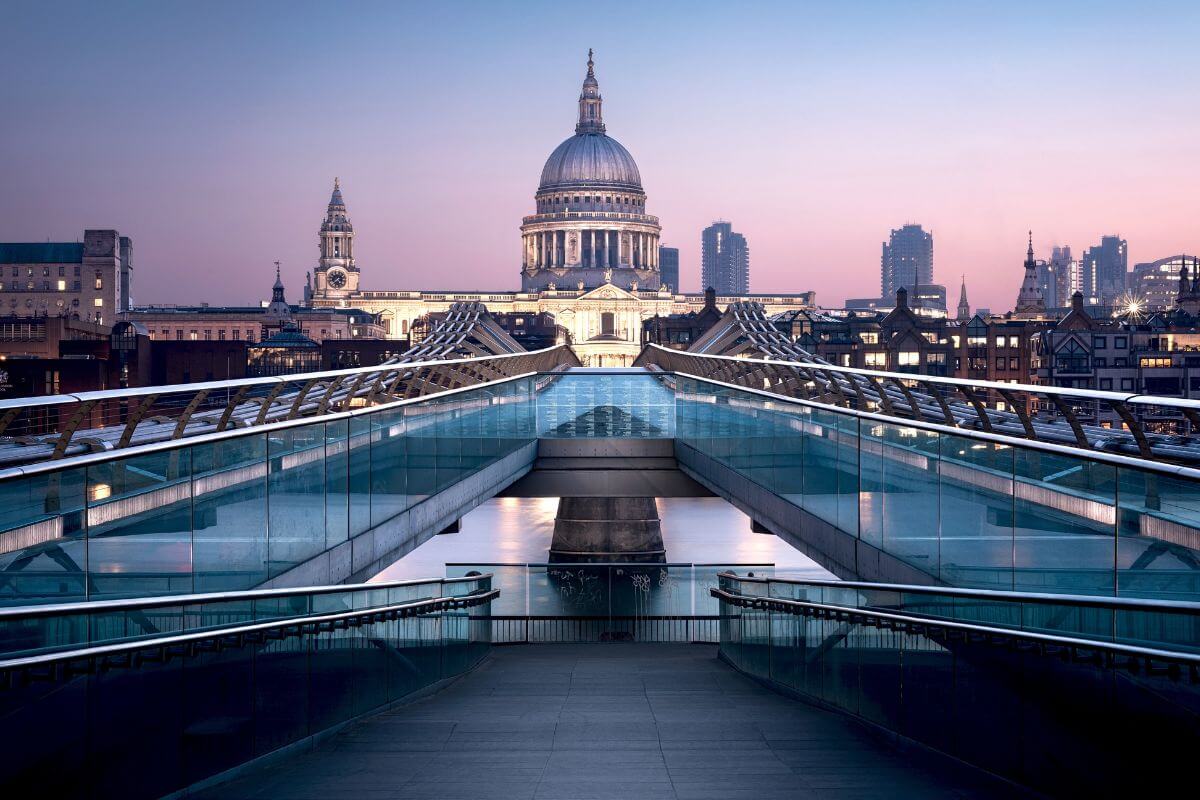 There's just so much to do in London, one day out will never be enough. We've written a few guides to the capital – including How to Have a Royal Day Out in London, the Best FREE London Days Out and Where to Go Paddleboarding in London. If you want to see what else we have to say about the Big Smoke, check out our London day out archives here.
9. Eden Project, Cornwall
One of the most important plant life conservation centres in England, the Eden Project is a staple for botanical garden lovers. The visitor centre in Cornwall is nestled in a huge crater, which was used as a clay pit that was a backdrop in film in TV.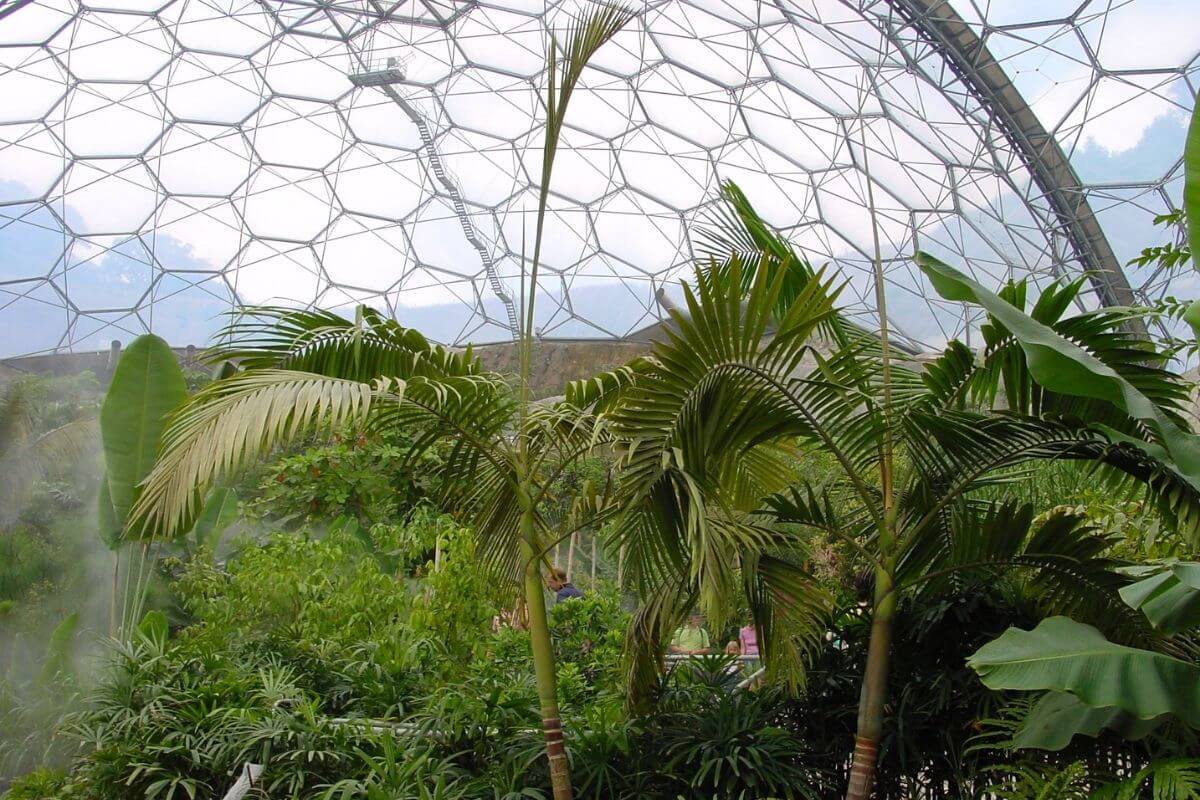 Now, massive Biomes housing the largest rainforest in captivity are kept. They include some fabulous plant life along with exhibitions and stories about the biomes structure and conservation efforts. The Eden Project is a brilliant attraction to visit all-year round – we can't wait for the Morecambe Eden Project in Lancashire to open its doors in the near future.
A visit to the Eden Project is one of the most popular days out in Cornwall.
8. Warwick Castle, Warwickshire
Lying in the heart of the charming town of the same name, Warwick Castle is one of the best preserved ancient fortresses to be found anywhere in the country. Steeped in history, the castle grounds make for a fabulous day out in Warwickshire. It's one of the best castles in England and an important landmark in England.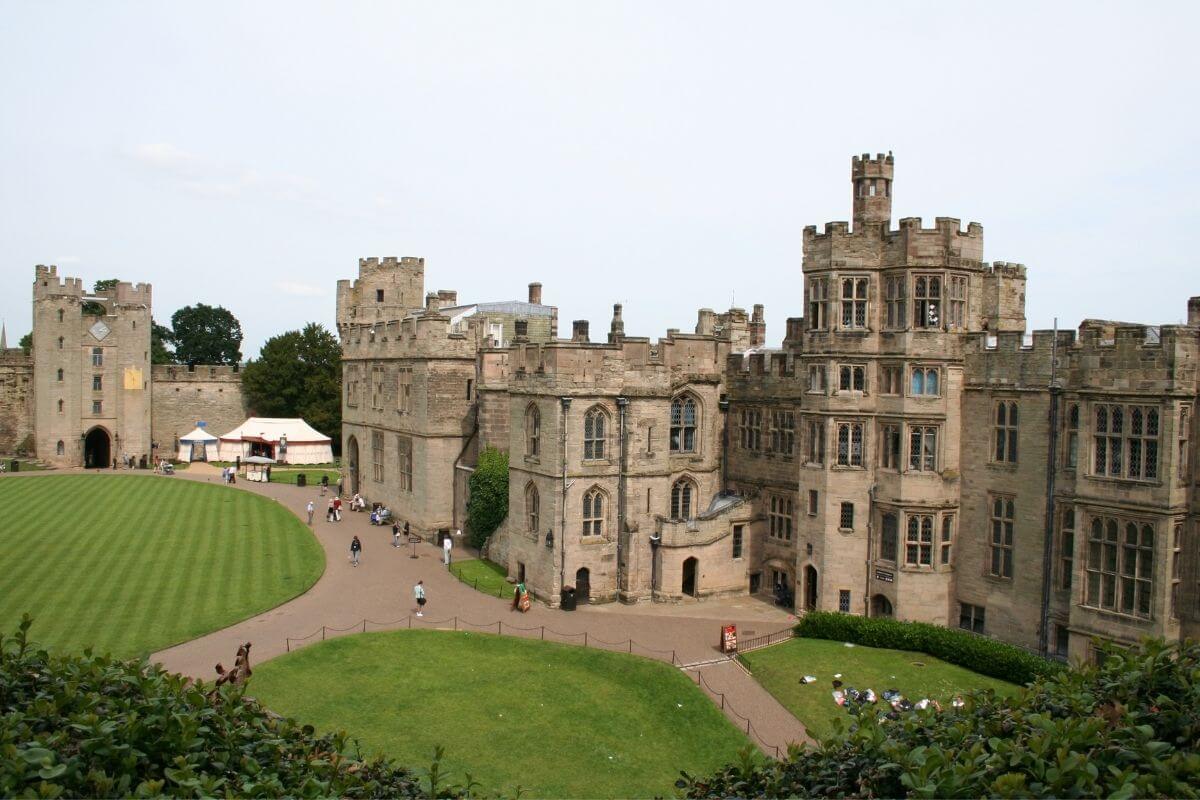 As well as exploring the gardens and ramparts of the castle, visitors can watch incredible falconry displays and battle re-enactments. If you're feeling brave you can even descend into the dungeons to see the different gruesome forms of torture and execution used throughout history.
If the sun is shining then bring along a picnic lunch to enjoy in the castle grounds, though there are plenty of amenities to enjoy if you'd prefer. It's one of the top attractions in England for our readers!
Book your tickets for Warwick Castle before you go to save time and money.
7. LEGOLAND, Windsor
Arguably the UK's most popular theme park for kids, LEGOLAND Windsor is the perfect destination for a family day out in Berkshire. Based entirely around the popular children's toy, LEGO, the park encompasses all sorts of attractions.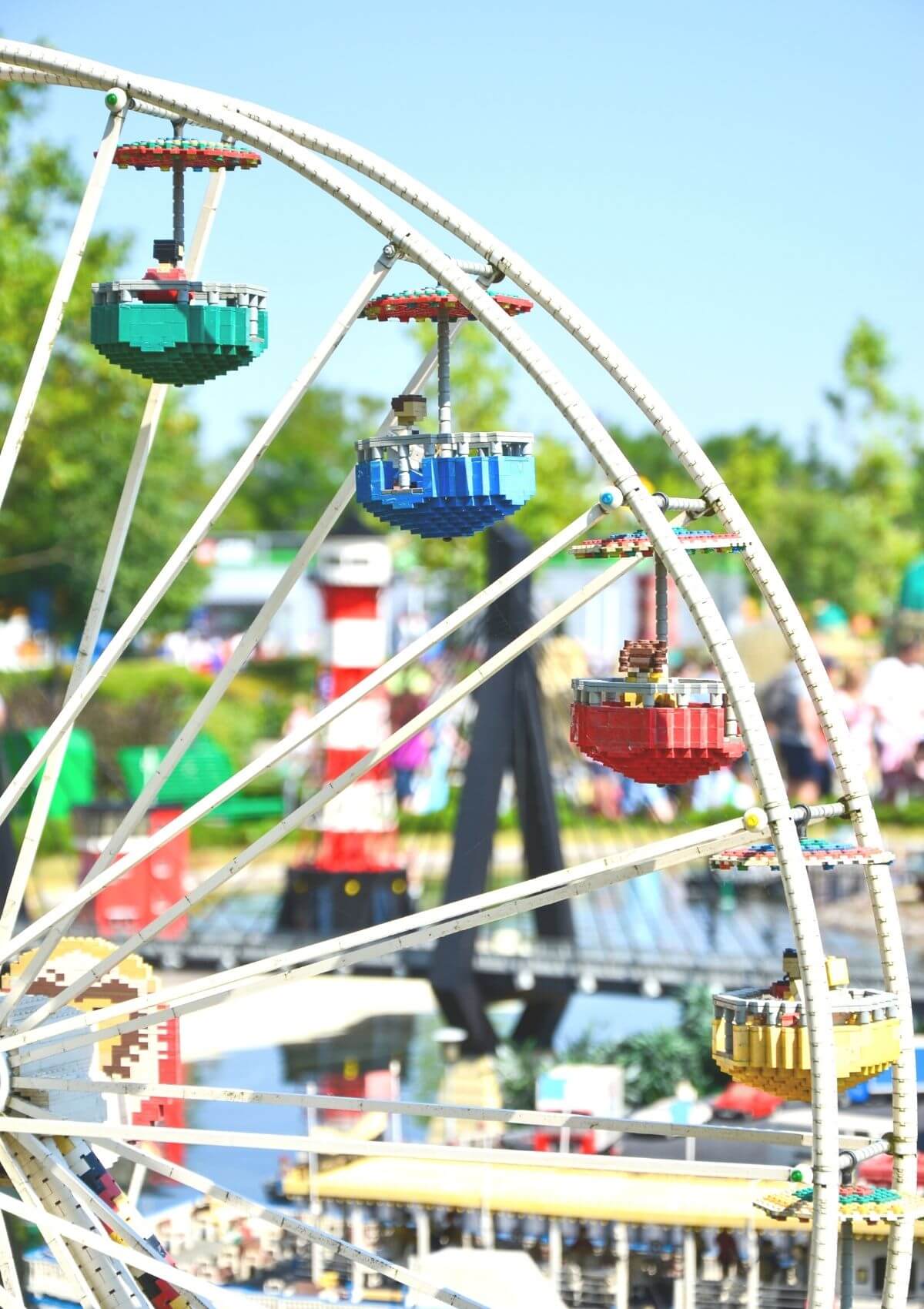 There are rides and attractions suitable for kids and adults, a model village of some of the world's most famous landmarks, interactive shows and performances and much more. Kids from the age of 3 can become learner drivers at L-school and real life fish, sharks and rays can be spotted at the Deep Sea Adventure attraction.
There are also hotels onsite, so you can arrange a multi-day short stay in order to ensure you get the most from your visit. LEGOLAND is a great day out for toddlers.
BUY YOUR LEGOLAND WINDSOR TICKETS HERE
6. Blackpool, Lancashire
The legend of Blackpool is alive in England – you either love it or hate it!
Blackpool is an awesome coastal town and one of the most popular seaside resorts in the country.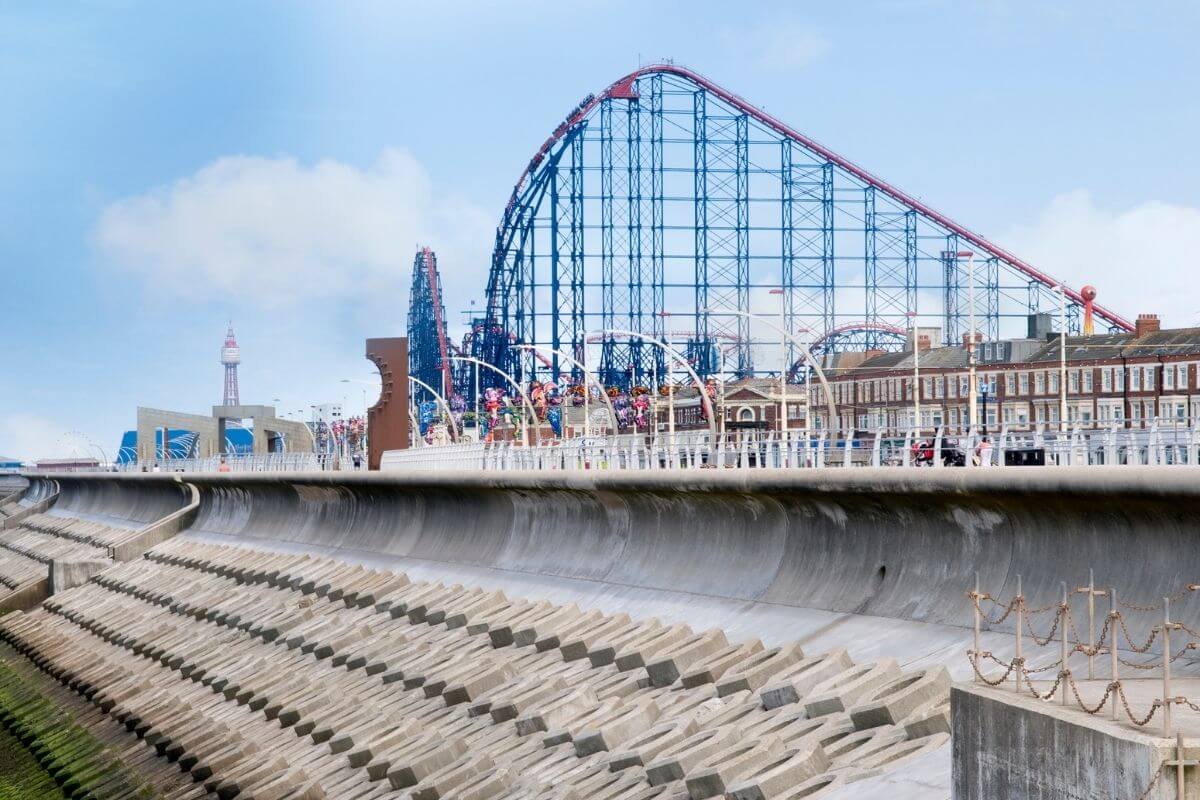 Blackpool has been one of the most popular things to do in Lancashire since the eighteenth century, and it remains a very popular local holiday destination for Brits. You can find out all the best things to do on a day trip to Blackpool here.
The 140-metre-high Blackpool Tower Eye observation deck was inspired by the Eiffel Tower – well worth a little trip up there. Don't forget to visit the glitz and glamour of the Blackpool Tower Ballroom, famous for hosting the annual Strictly Come Dancing Blackpool special. Blackpool also has an amusement park on the beach and a lights festival during autumn to add an extra spark of entertainment for visitors.
Blackpool is undoubtedly one of the most popular days out in Lancashire. It's definitely a family-friendly resort, but I vote you leave the kids with someone and enjoy a proper adults day out in this iconic town.
5. Chatsworth House, Derbyshire
Located in Derbyshire, Chatsworth House has been home to the Cavendish family since the 1500s. The family still lives there however; it is open for the public too. The rooms are huge and filled with artistic paintings and murals. The gardens cover 105 acres and are worth the visit just to see them.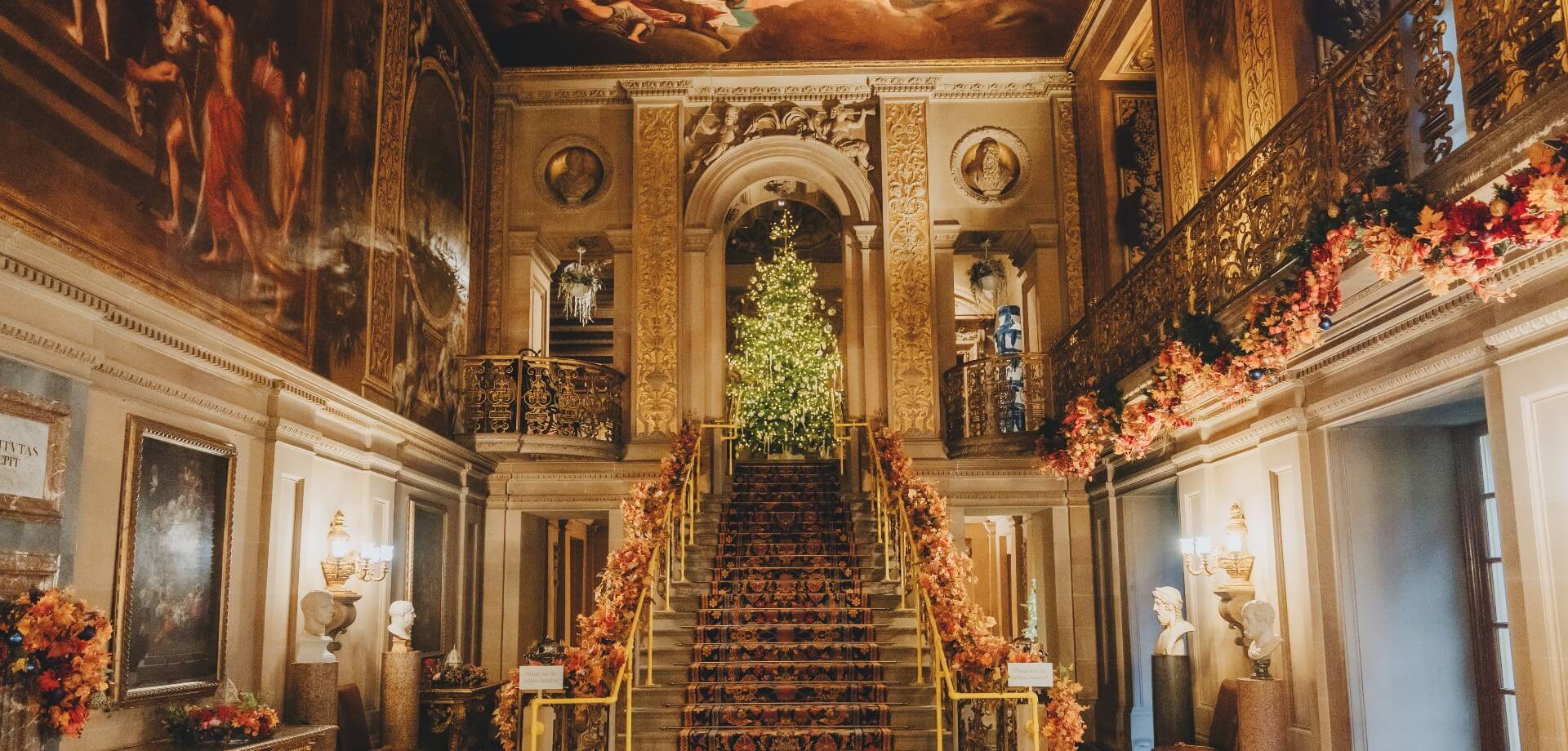 Chatsworth is one of the best days out in the Midlands at Christmas. Check out our review of Chatsworth at Christmas here.
4. Chester Zoo, Cheshire
There were a lot of nominations for the best zoos in England in our travel trends survey, but it was Chester Zoo that came out on top, by far.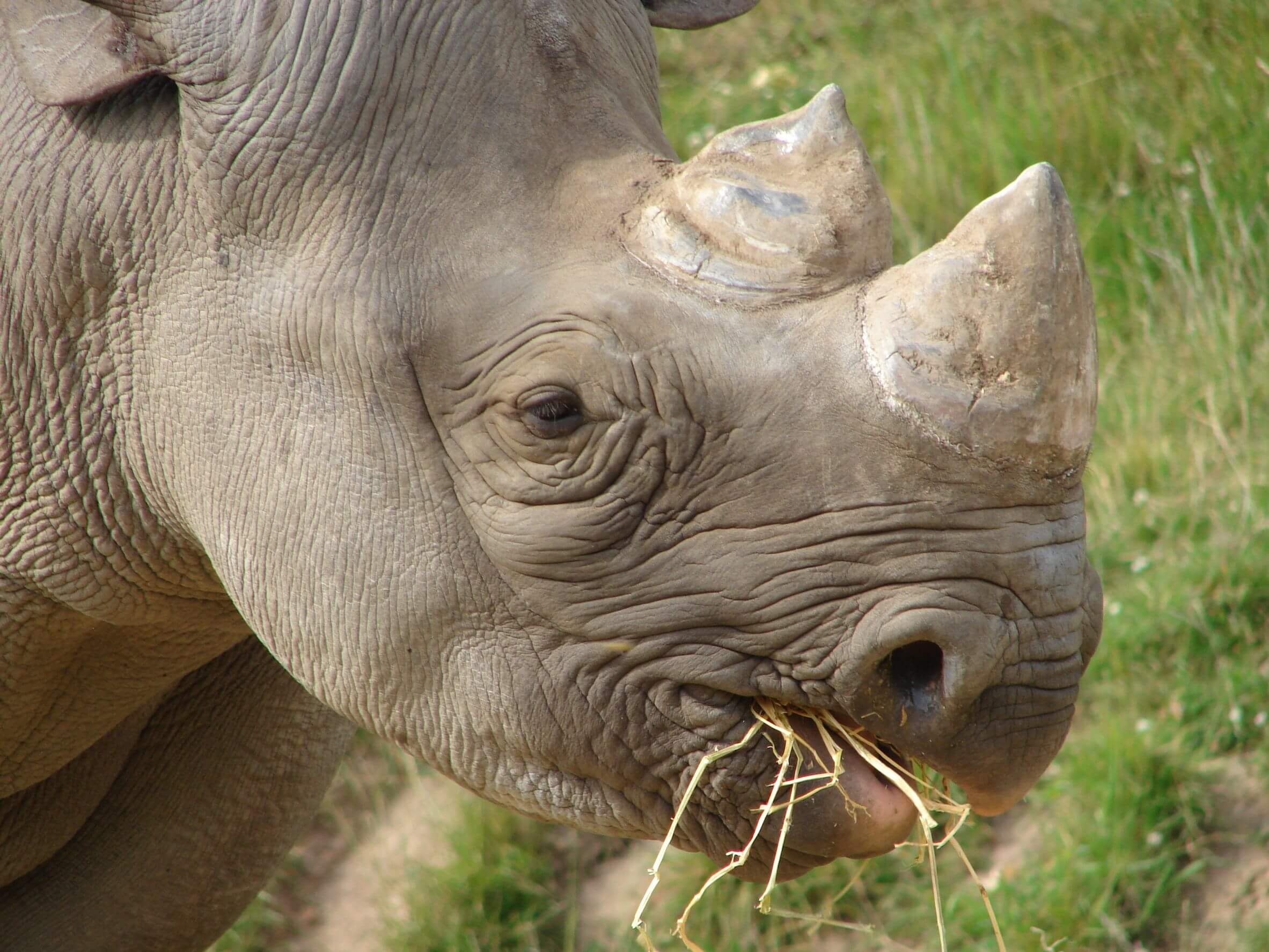 It's one of the oldest zoos in the UK, opening way back in 1934. All these years later, it's still super popular with over 35,000 animals to check out – the orangutans, lemurs and lions seem to be the favourites – and 128 acres of zoological gardens.
Located just outside of Chester (no shock there), tickets cost between £20 and £25 depending on the day you're going and you can get a decent lunch in the memory cafe.
SAVE TIME & MONEY BY BOOKING IN ADVANCE!
3. Tower of London, London
Right, top 3 attractions in England – this is getting really exciting now.
Disappearing princes. Beheaded wives. Locked up relatives. And the crown jewels. The Tower of London holds them all.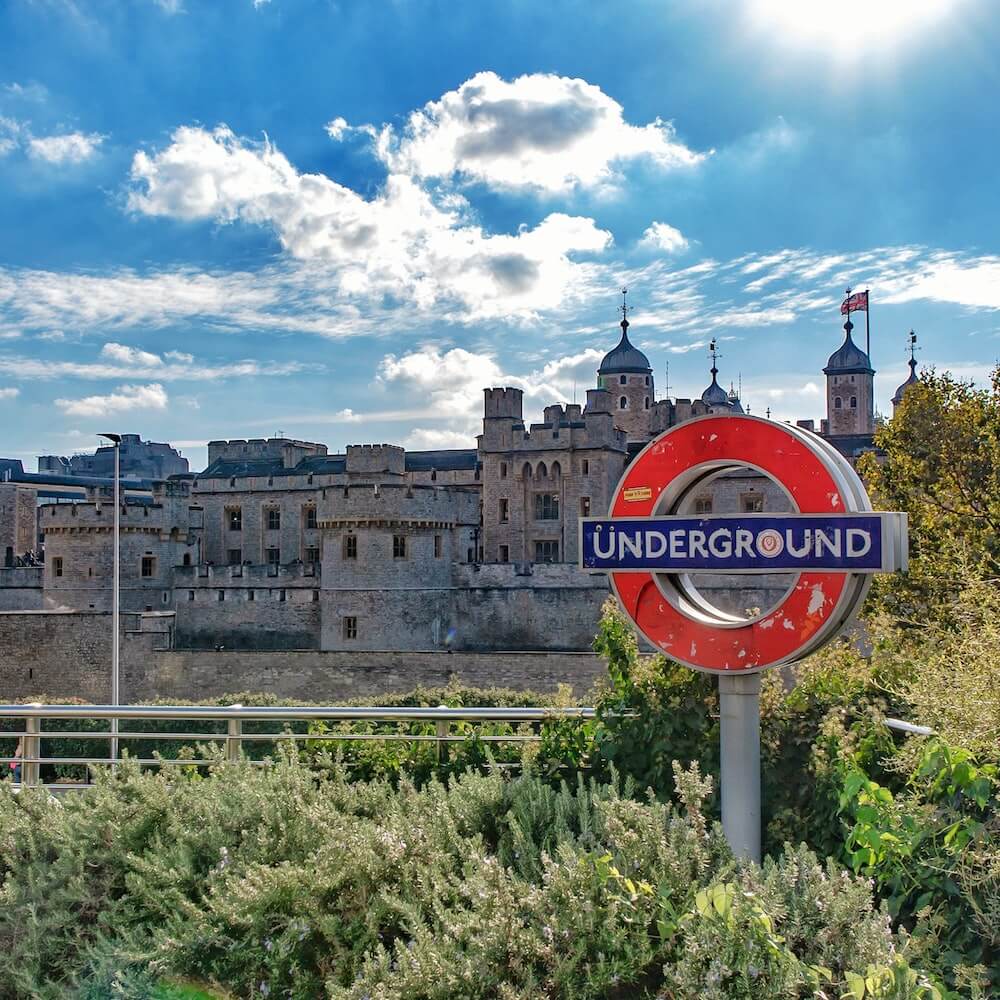 This is where the kings and queens lived and carried out many sentences to secure their reign. You can also view the famous Crown Jewels – including the crowns, sceptres, and tiaras actually used by the Royal Family.
Also check out the Bloody Tower, Traitor's Gate, and the square where Anne Boleyn lost her head. This famous London landmark is a great day out in the city and is located just by Tower Bridge.
2. Lake District, Cumbria
The Lake District is one of the most visited areas in England, but your first visit may seem confusing with so much to do there. Anyone who's been a few times will have their own personal favourite spots, but you can see the best Lake District days out as recommended by us, here. It's also home to the highest peaks in England, and some of the greatest lake paddleboarding too.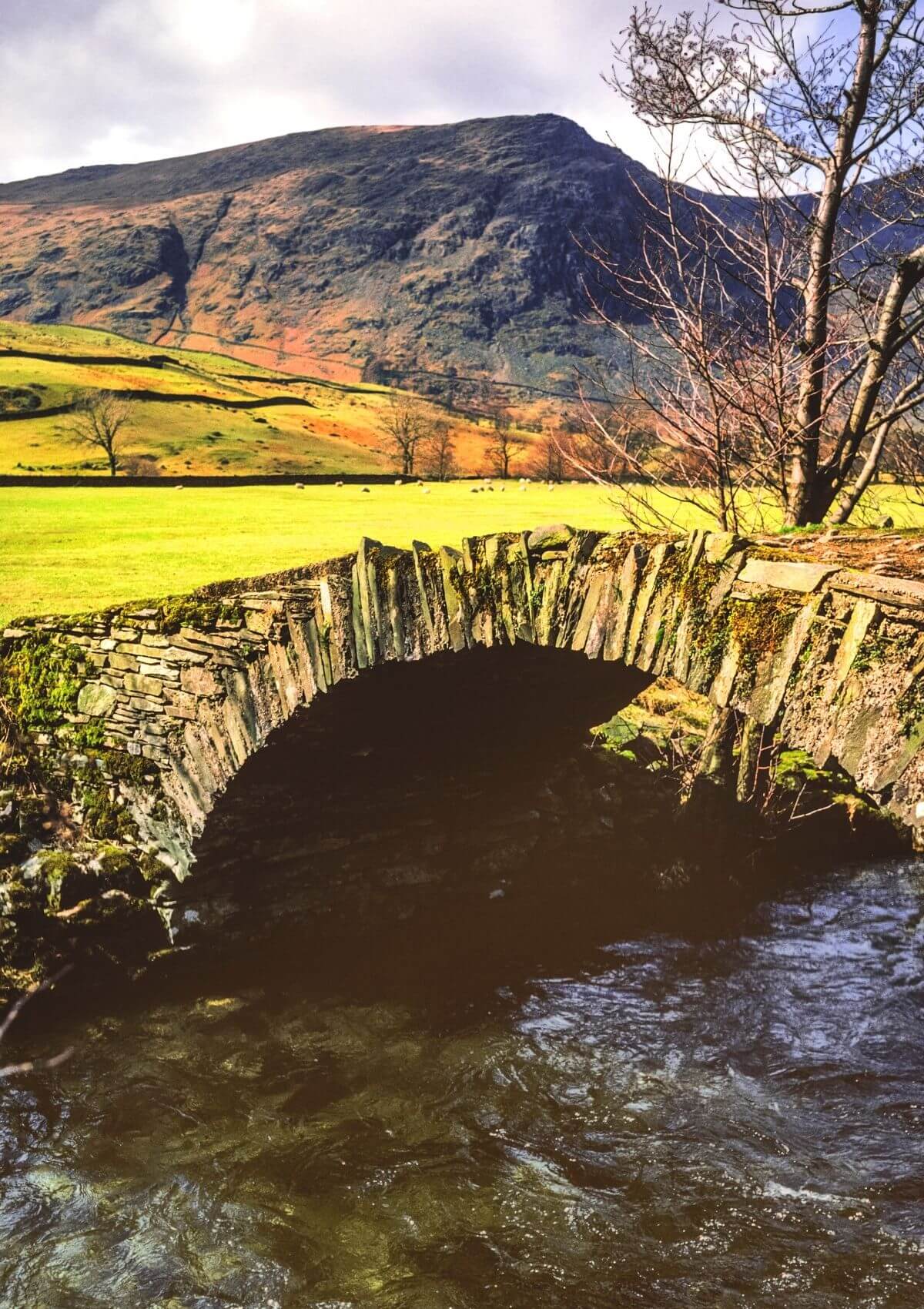 The Lake District repeatedly came up as a 'favourite attraction in England' in our survey, and for scenes like these, it definitely deserves its silver spot on our best attractions in England list. You must check out some of the prettiest Lake District towns and villages if you visit, too.
1. Alton Towers Theme Park, Staffordshire
Alton Towers is the largest theme park in England, and it's also THE NUMBER ONE ENGLAND ATTRACTION – according to Day Out in England readers anyways.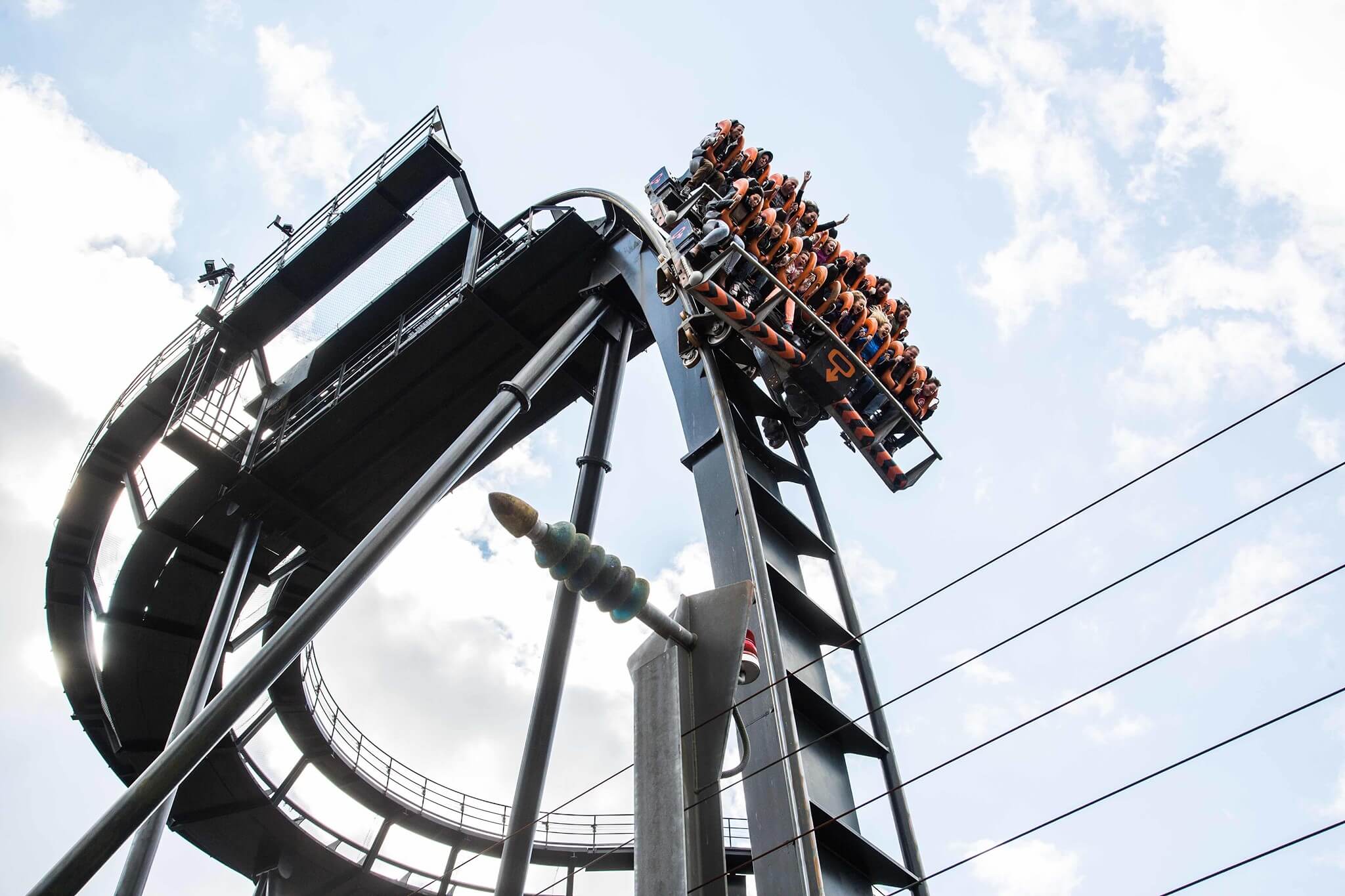 Adrenaline junkies love Alton Towers, and anyone with an eye for design too. There are height restrictions for the rides here so they're cleverly built into the landscape.
There are some iconic rides here – Nemesis and Oblivion – but also some newer updates, including Galactica which comes with a virtual reality headset. The first wooden rollercoaster to be built in the UK for 20 years is also here, The Wicker Man.
Popular Alton Towers rides: Nemesis, Oblivion, TH13TEEN, Rita, The Smiler, Galactica, Gangsta Granny: The Ride, and Wicker Man. It is also home to the UK's only Cbeebies Land.
BUY YOUR ALTON TOWERS TICKETS HERE
It's £65 at the door, but £42 on that link!
Buy in advance to save time in line, and help you budget for the day.
READ MORE in the area: Best Days Out in Staffordshire
The top attraction in England
So, there it is, the number one England attraction. Alton Towers won by quite a large margin actually. Congratulations everyone at Alton Towers. With thousands on thousands of attractions in England, it's great for them to have won this reader's award for all their hard work.
Time to book those tickets to go back!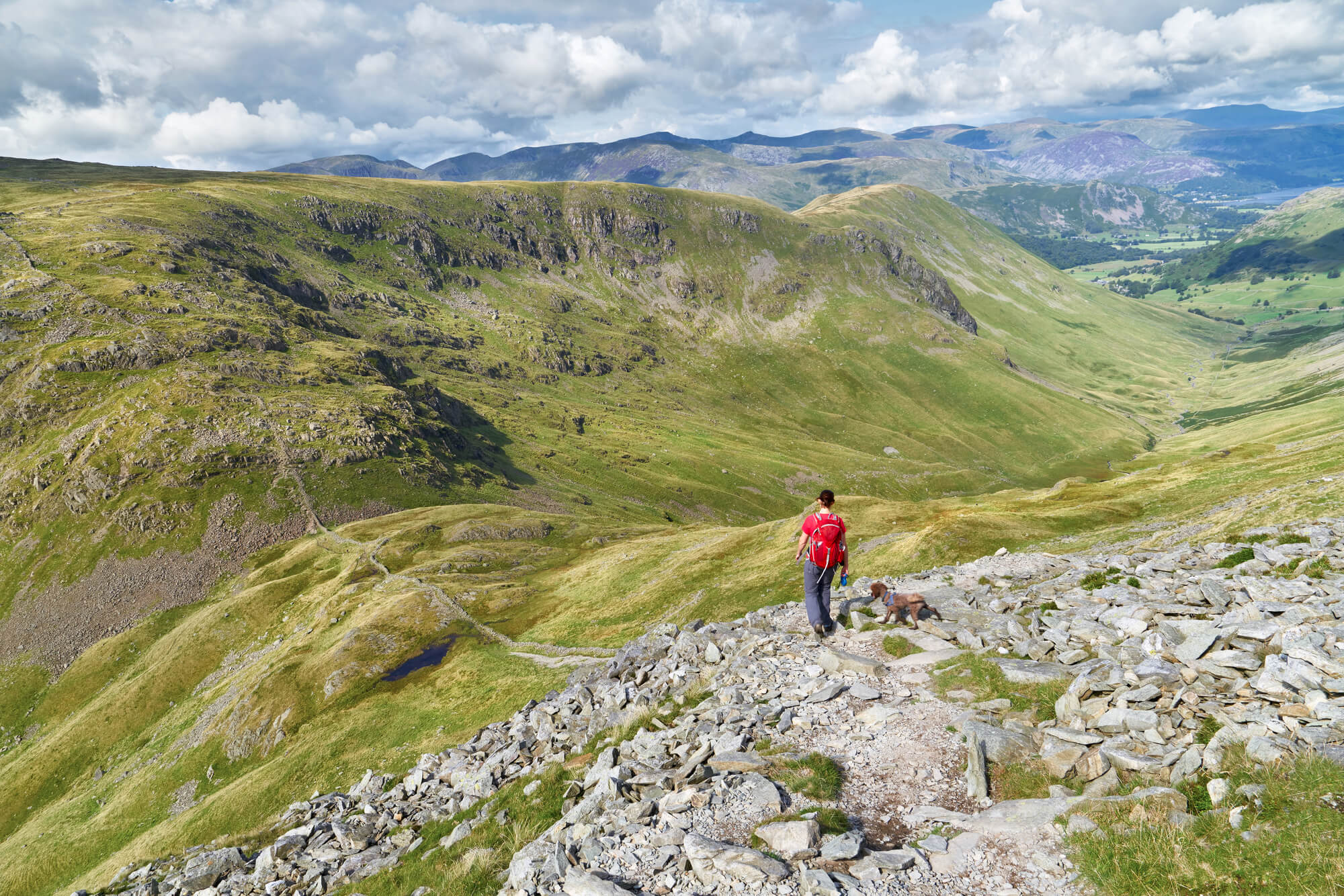 Let us know if you have a favourite attraction in England that didn't make the list below. We're always interested to hear your opinions on what makes England so great!
---
Quicklist of the best England attractions
21. New Forest National Park, Hampshire
20. Hampton Court Palace, Surrey
19. Chessington World of Adventures, Greater London
18. Brighton, East Sussex
17. Peak District, Derbyshire
16. Windsor Castle, Berkshire
15. Beamish, the Living Museum of the North, County Durham
14. Kew Gardens, Surrey
13. Longleat Safari Park, Wiltshire
12. City of York, Yorkshire
11. Stonehenge, Wiltshire
10. London
9. Eden Project, Cornwall
8. Warwick Castle, Warwickshire
7. LEGOLAND, Windsor
6. Blackpool, Lancashire
5. Chatsworth House, Derbyshire
4. Chester Zoo, Cheshire
3. Tower of London, London
2. Lake District, Cumbria
1. Alton Towers Theme Park, Staffordshire
---