23 Unique Days Out in Cornwall for 2023
Looking for the greatest days out in Cornwall? Maximise your Cornish days out with this guide to the best ones in the county. There's SO much to do there, so let's break it down!
And of course, if you're staying longer, then just look at it as a 'things to do in Cornwall' post instead!
Poised on a sea-hemmed tip is the county of Cornwall, offering up the sweeping coastline to combat the dips and grooves of the moors. The low-hanging mists don't feel so ominous when you know there are open cliffs and countless beaches just beyond the inner greens; the picturesque Cornish Riviera welcomes the best days out in Cornwall.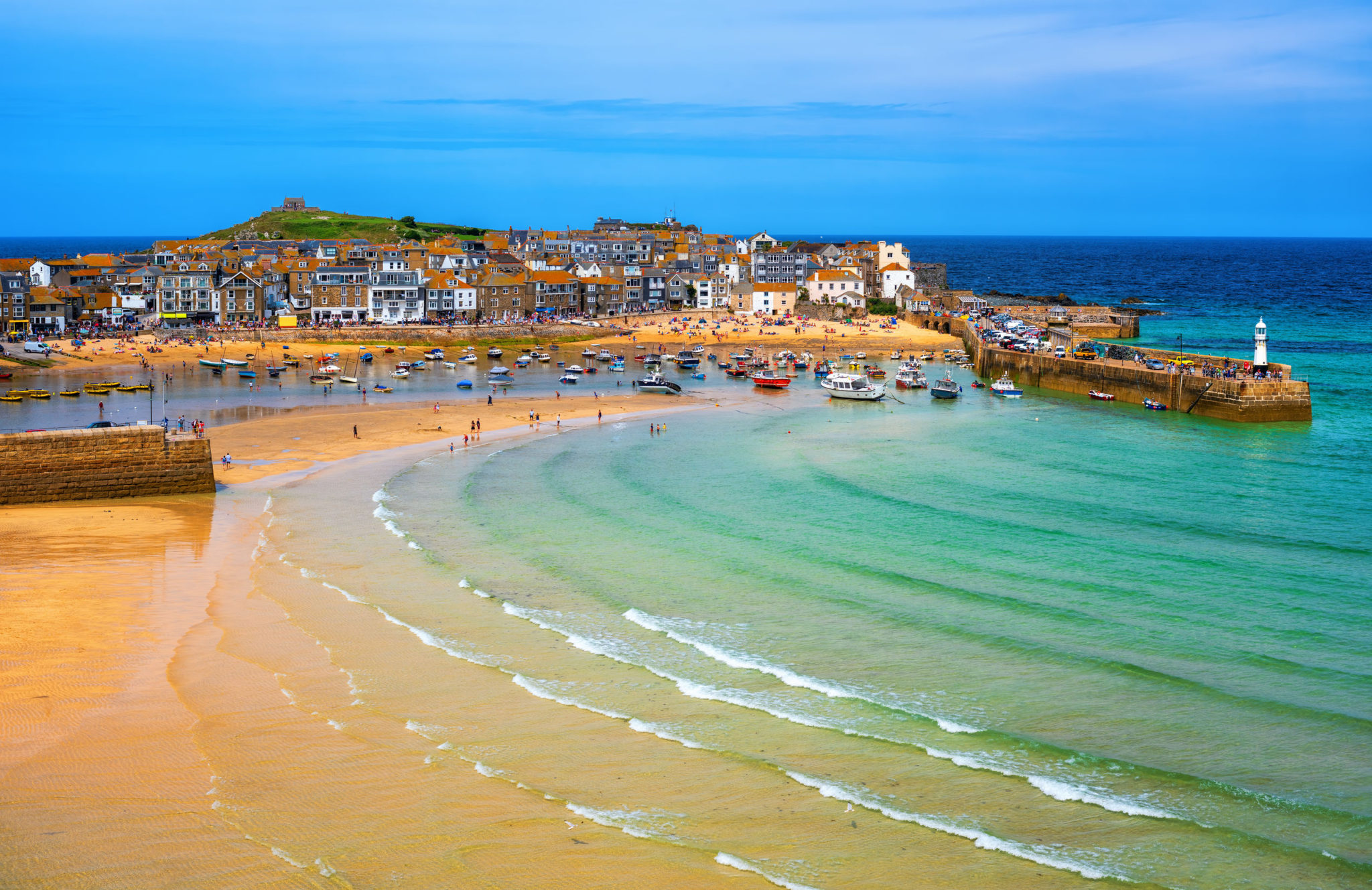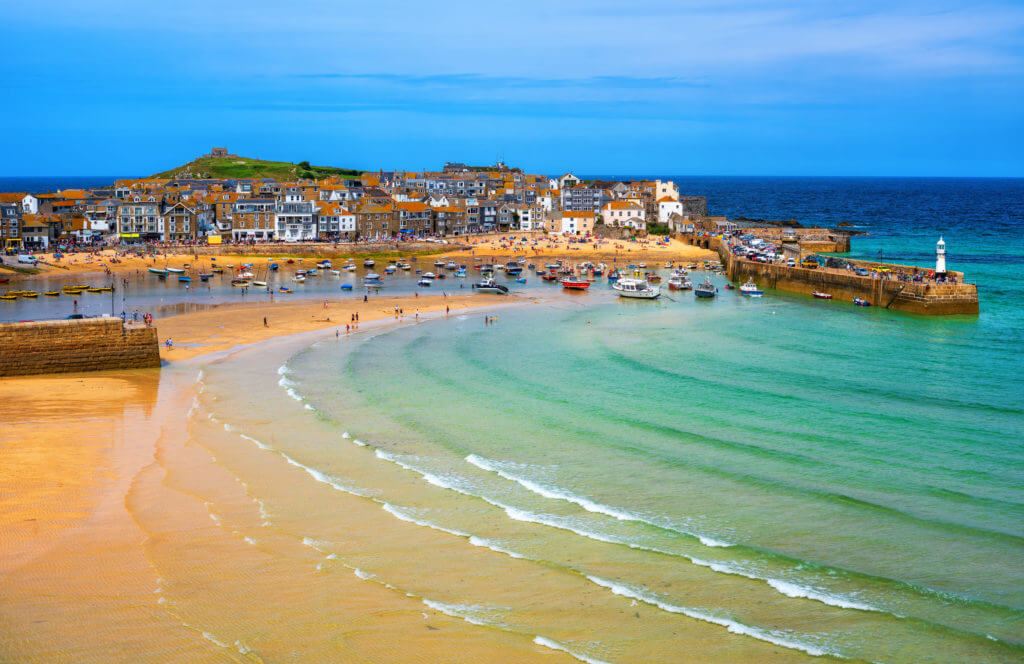 I've put together a list of things to do in Cornwall, many of which will take you to the great outdoors. Manors and gardens complement your beachside excursions, so your Cornwall days out will feature charming doses of dramatic architectures and hidden spaces.
Let's take a look at the best Cornish days out around…
Days Out in Cornwall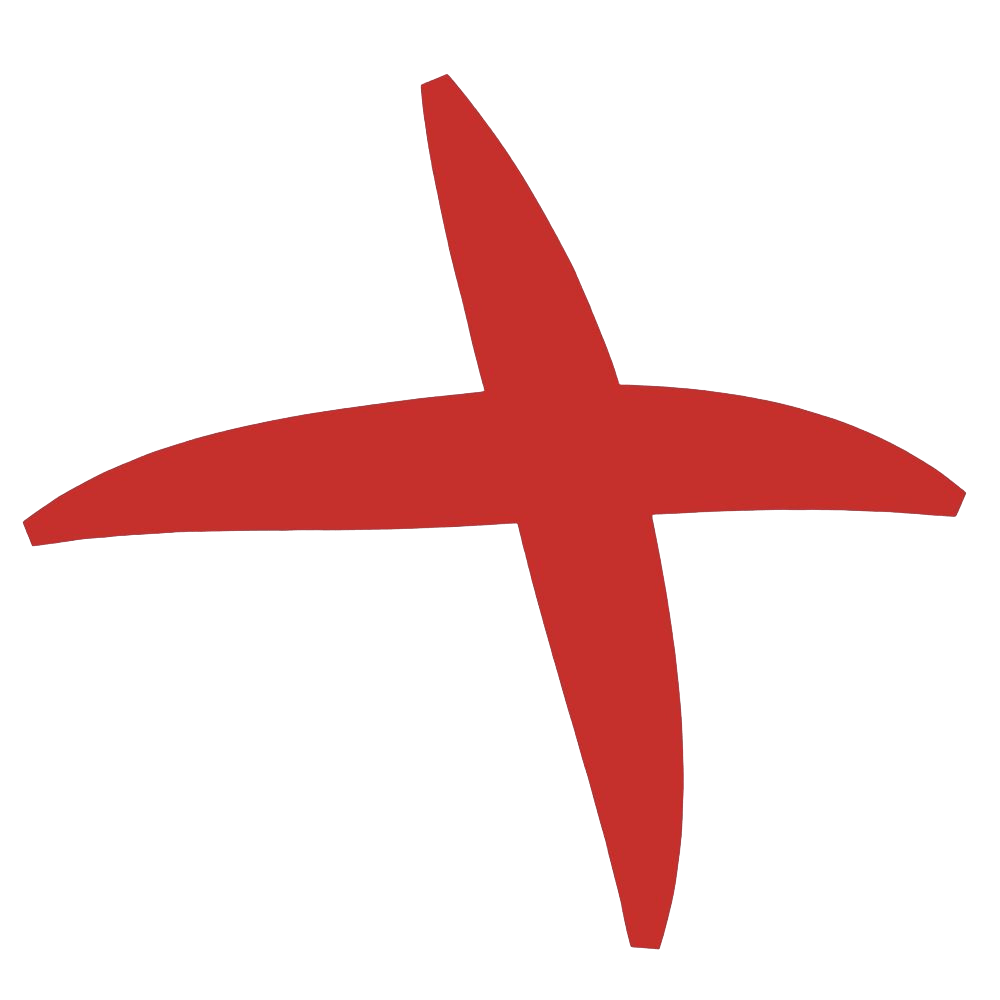 ---
1. Enter paradise via the Eden Project
The name may be ambitious but Eden Project lives up to the promise of an epic, nature-bound paradise. Walking through the entrance is like entering a portal into another world; the garden in its entirety could probably fit dozens of football fields. In fact, it's a portal into multiple worlds – its bubble-like conservatories host South African flora in one, Mediterranean fruits in another and one is a rainforest biosphere.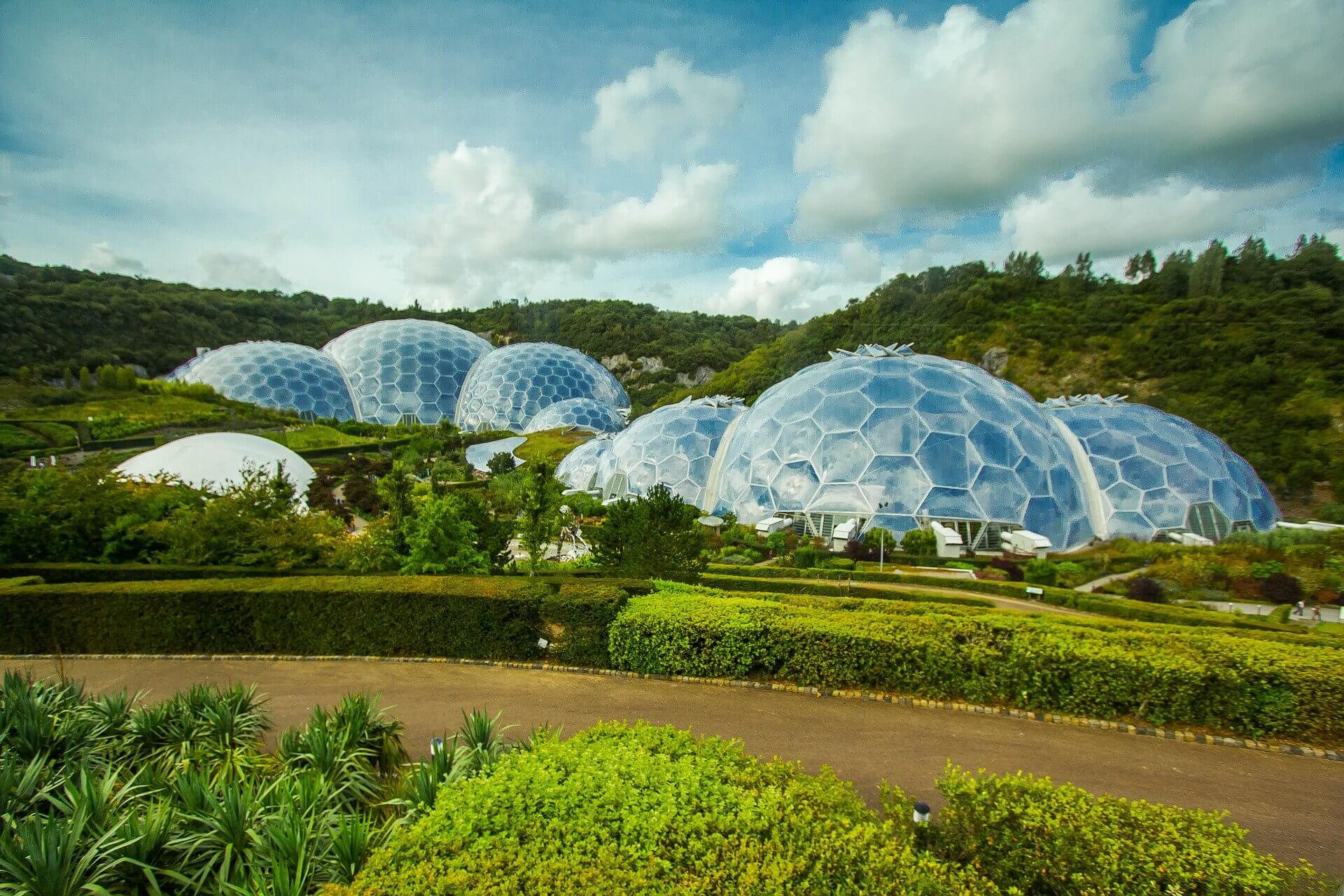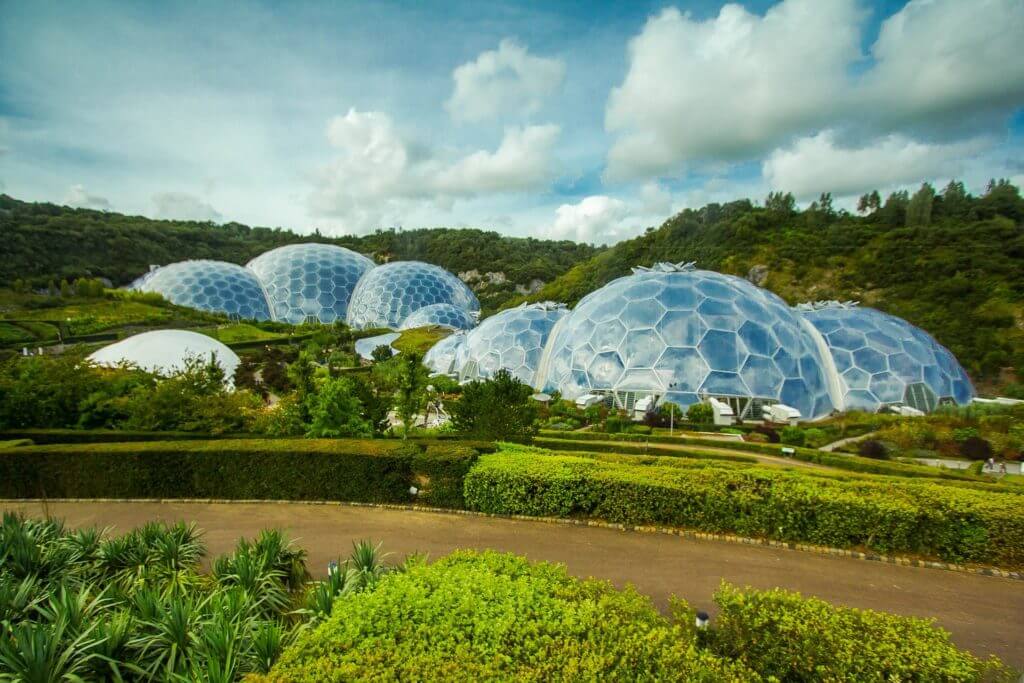 You'll find everything in here.
The Rainforest Canopy Walkway is a classic, but I also enjoyed hearing stories about the cocoa plantations and how it feeds into the harvesting process. Enjoy a day out at the Eden Project and you get to learn about wine production, paper making, the evolution of brewing and medicine compositions.
The Eden Project is aimed at all ages, but from being a kid myself, I'd say this is better suited as an adults day out in Cornwall. It's well known as one of the most visited landmarks in England.
2. Day out at Land's End
Land's End is so much more than just a jut along the England coast line – the landmark offers five attractions alongside the spectacular coastal paths. Of course, I recommend a leisurely stroll around the perimeter! Bring a camera because the view is stunning.
This is the most southerly point in England, and where you'll end the famous 'John O'Groats to Land's End' bike ride. The furthest distance you can travel in the UK.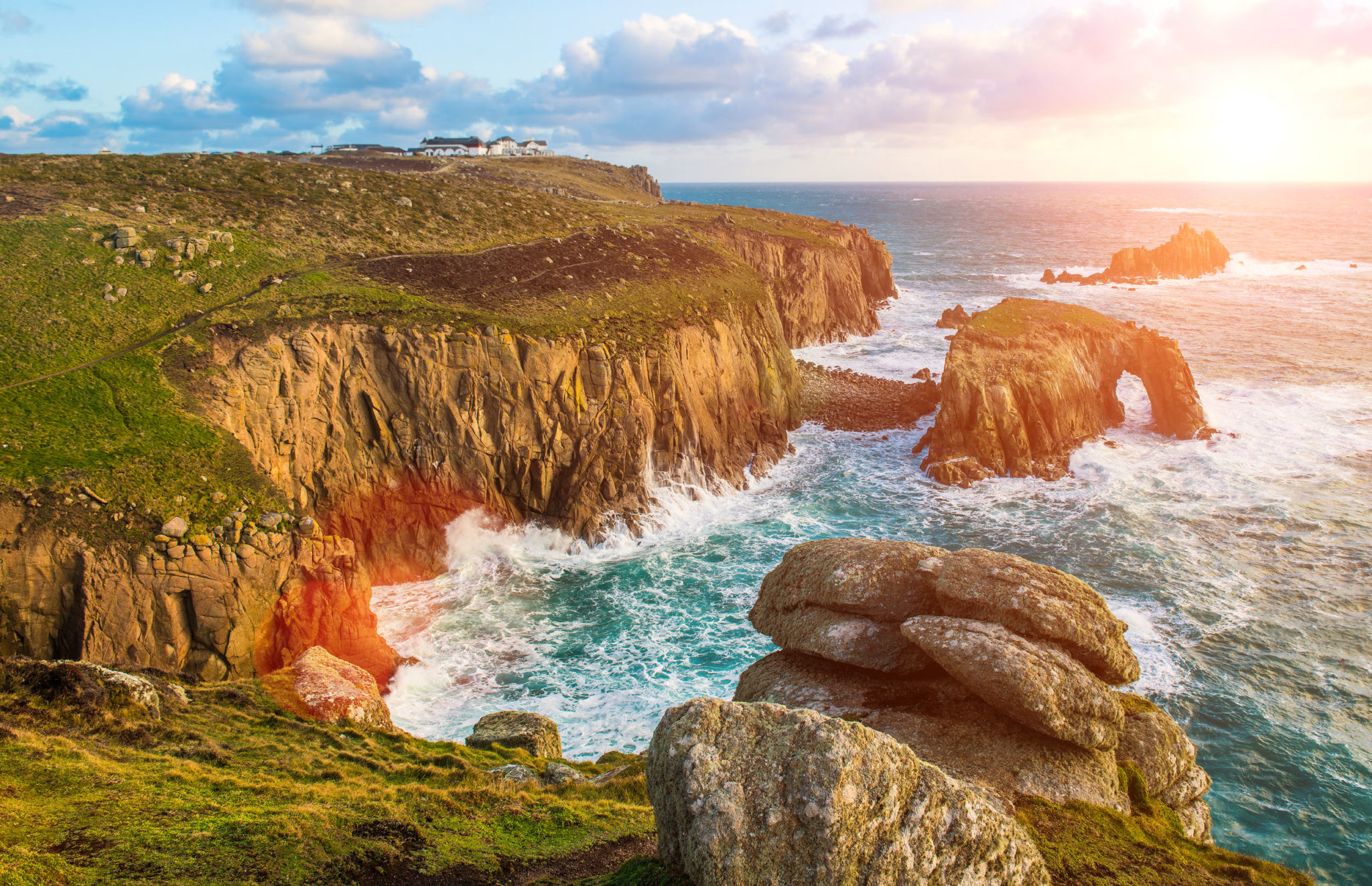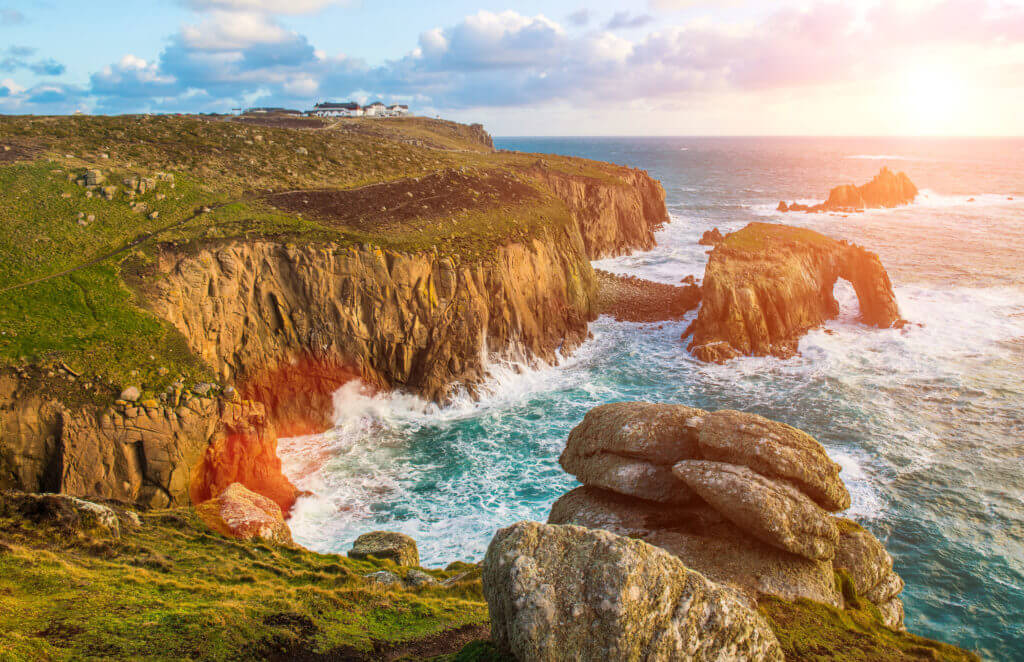 If you're visiting Land's End between Easter and November, fill up your day's itinerary with a visit to the Greeb Farm. Piglets and llamas are the highlights of this hundreds-years-old farmstead. As well as the English animals I'm sure you'll appreciate the great craftwork too.
For more daring and adventurous entertainment, there's the sensory film experience that follows the eyes of Robinson Crusoe. As if shipwrecks and pirates aren't exciting enough, the family-appropriate Arthur's Quest will embroil you in local myths and interactive effects.
The little kids will love a day out in Cornwall here!
I also enjoyed the End-to-End Exhibition. Part of what makes travelling so fun is what you can learn along the way. Here you can learn a lot about different modes of transport used in the past.
3. Traverse the Lost Gardens of Heligan
Just putting it out there, but England has some of the world's most stunning hidden gardens. The romantic in me pounced on The Lost Gardens of Heligan, so named when it was rediscovered in 1990. Known throughout the country as a restoration project, these gardens are both a wonder of natural beauty and mystery.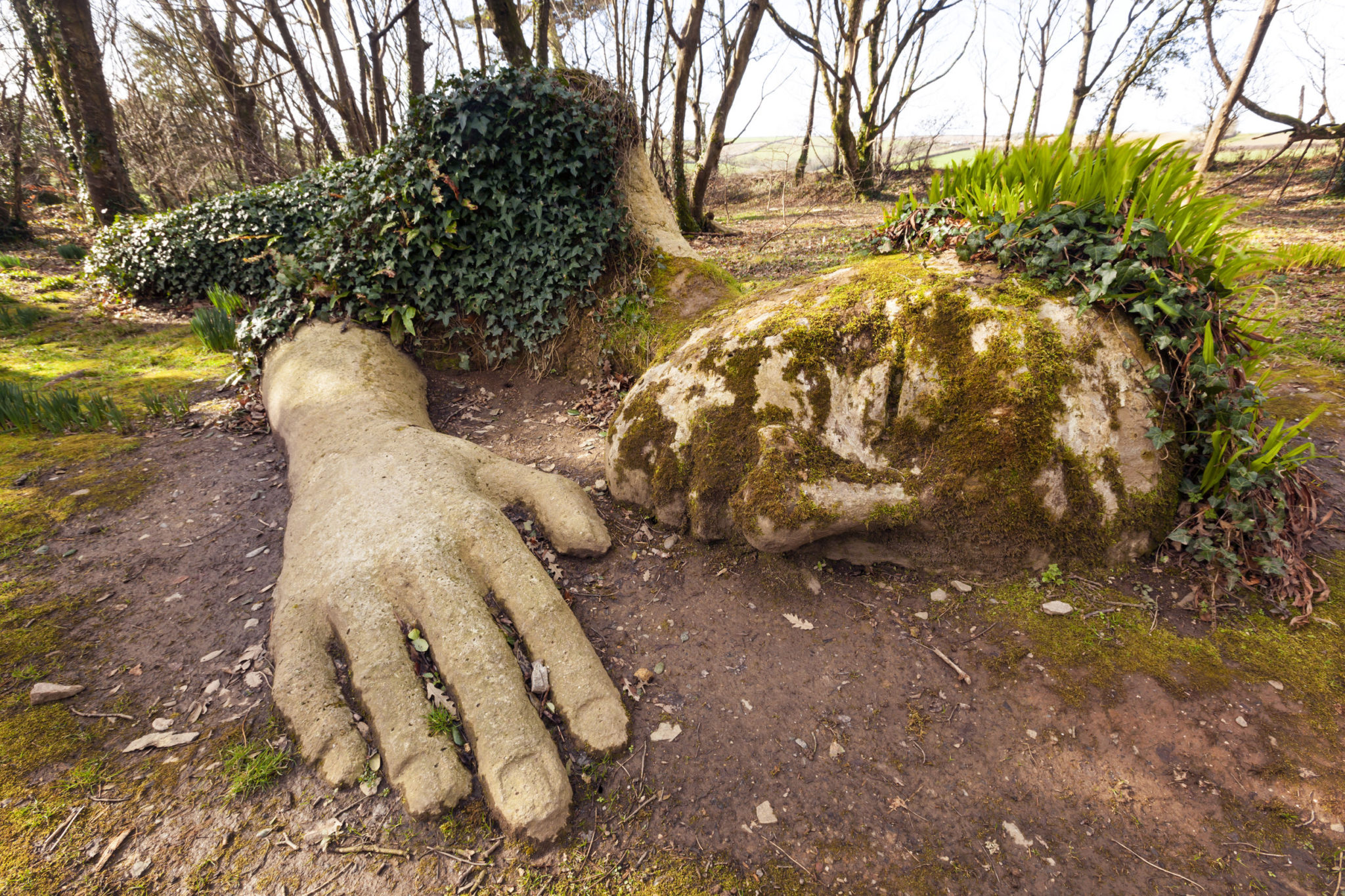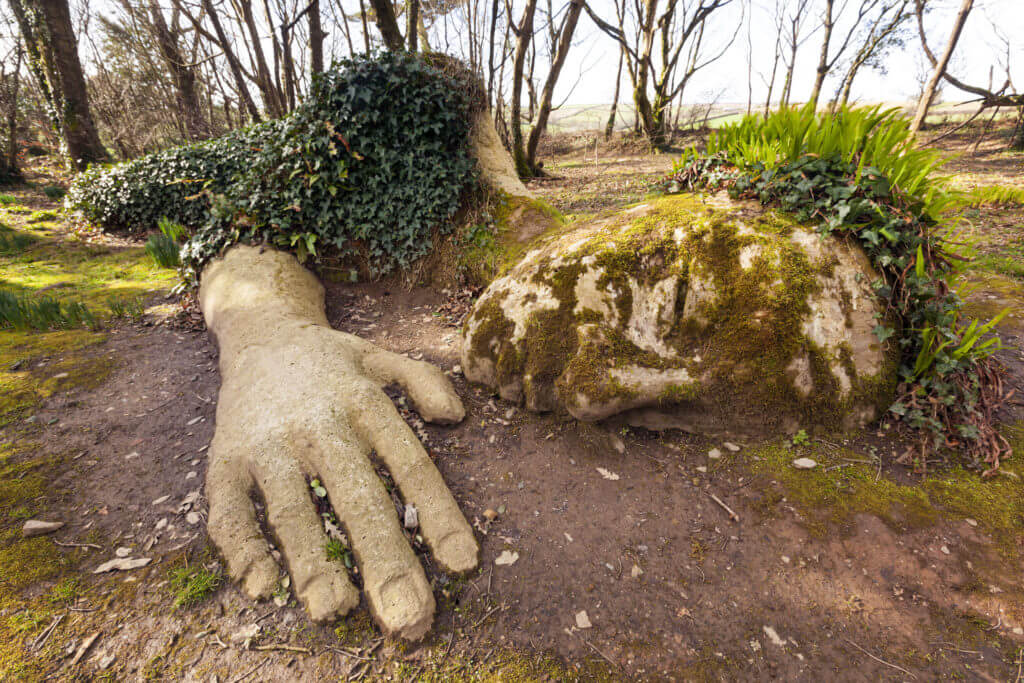 I'm not sure how the garden was lost in the first place, too busy taking in the diverse wildlife and vivid landscape. The cracked and sand-peppered paths leave no doubt about its age, winding trails taking us into Pleasure Gardens and the Victorian Productive Gardens. Bamboo tunnels make adventure reality, funneling through ancient woodlands. Massive ferns and rhubarb alike converge onto you; take the suspended rope way to rise above them all.
This is definitely one of the best days out in Cornwall, and totally unmissable if you're in the area – especially if you're in Cornwall for Christmas.
4. Catch a performance at The Minack Theatre
No one ever expects a theatre built into the cliffs, which is why the Minack Theatre is one of the best days out in Cornwall anyone can experience. This open-air amphitheater has carved out of a cliff-side at Porthcurno Bay, the stage directly backed by open sea. The views are amazing – your eye-line extends from the bay to Logan Rock.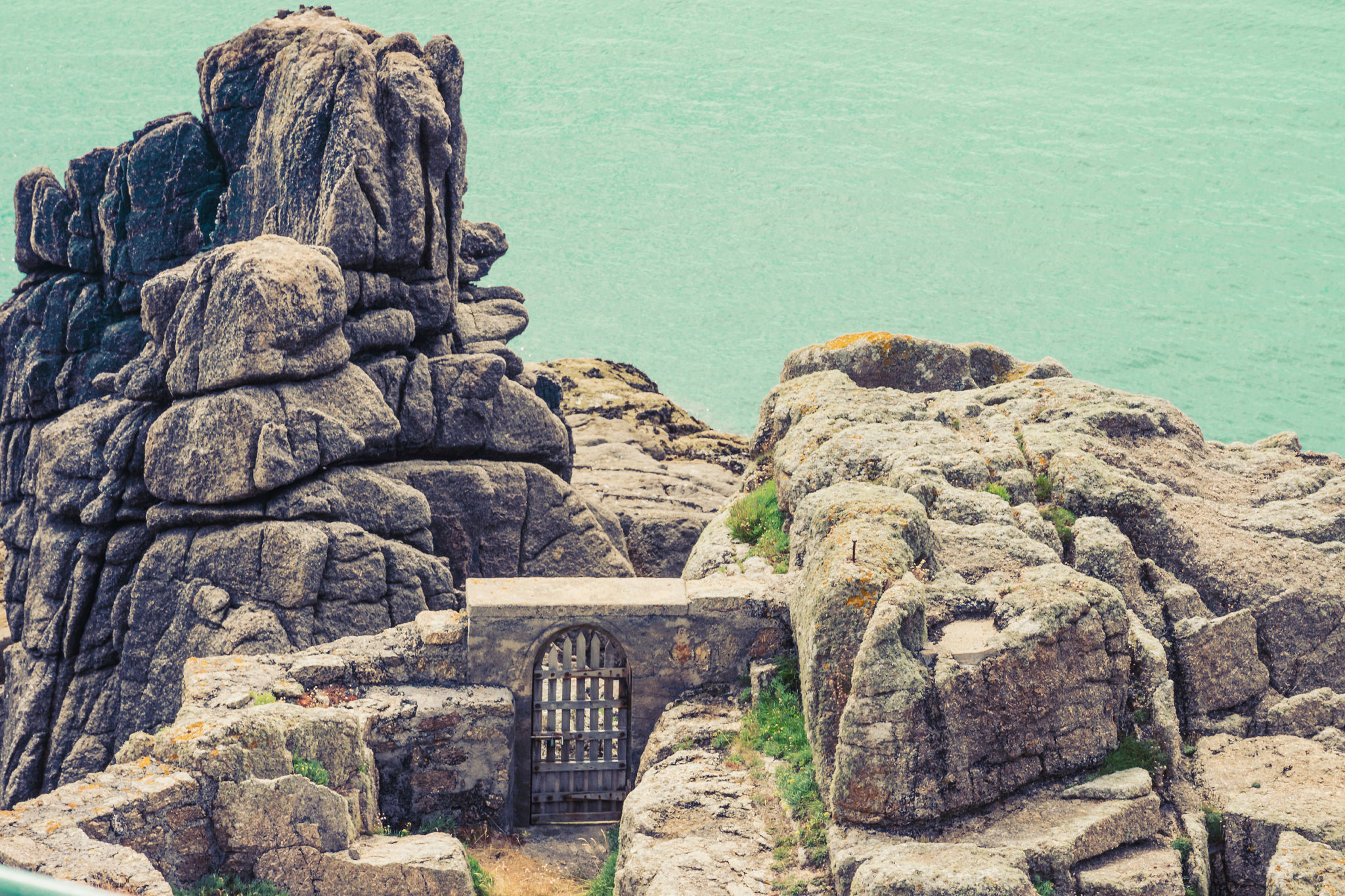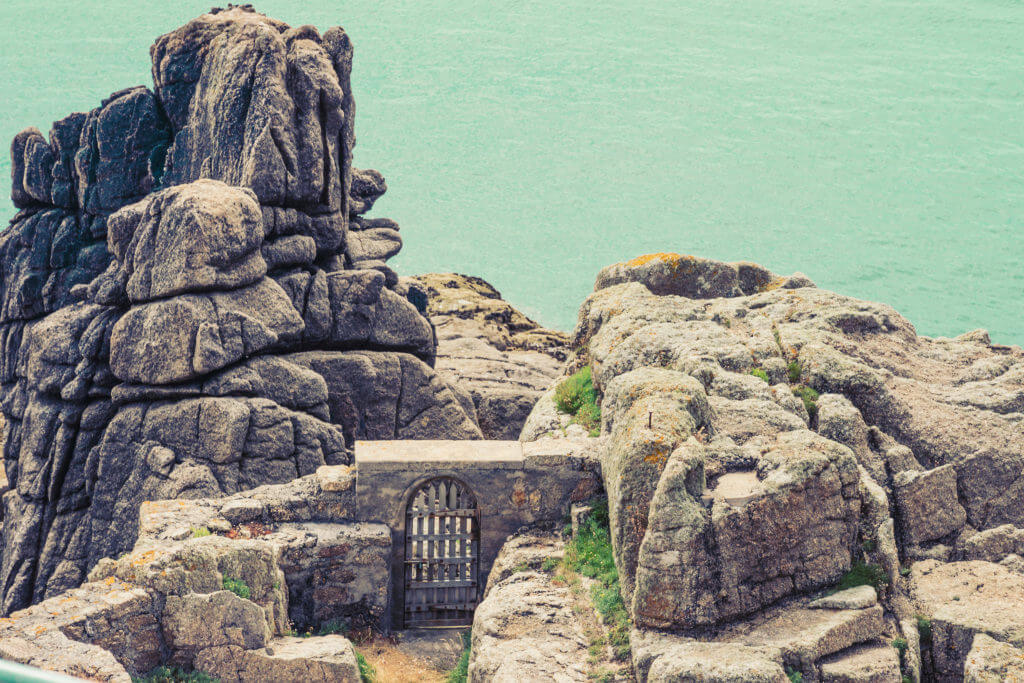 Taking place after sunset, the summer season of plays and musicals feature prominent playwrights such as Shakespeare and Sullivan. I had the luck to catch one such show under the stars; it was one of the most unique experiences I've ever encountered.
Also check out the Rowena Cade Exhibit as it details how this dynamic theatre was built by a remarkable girl; you'll also learn about the evolution of the stage from earlier local plays in 1929 to its current set-up.
FUN FACT: The Minack Theatre seats 710 people!
---
---
5. Seek peace at Saint Nectan's Glen
Whether you believe in the spiritual or not, Saint Nectan's Glen is such a lovely and serene place to visit that you should combine it with your Tintagel trip. This area of woodland, while by no means massive, is perhaps one of Cornwall's most gorgeous pockets of nature.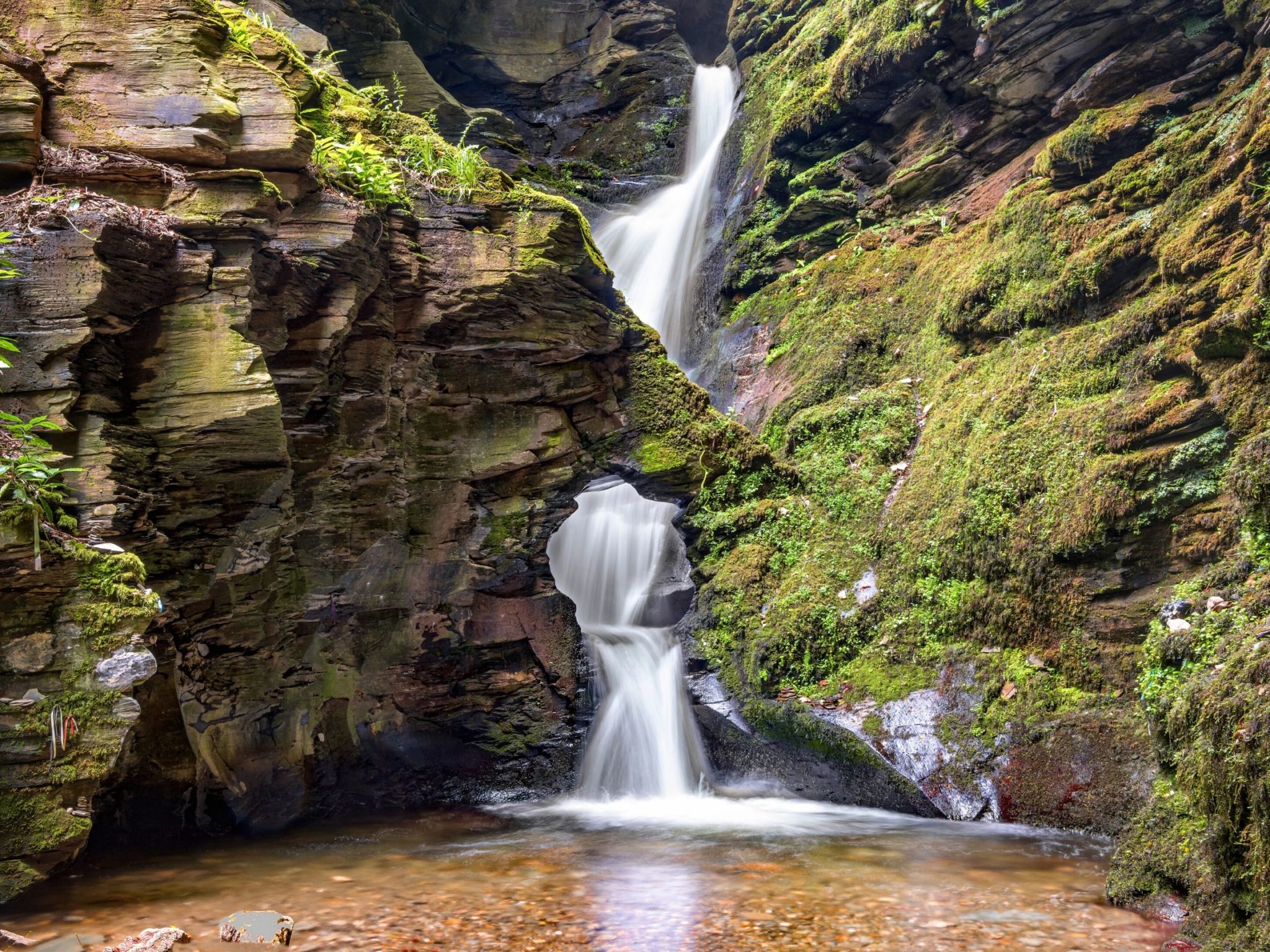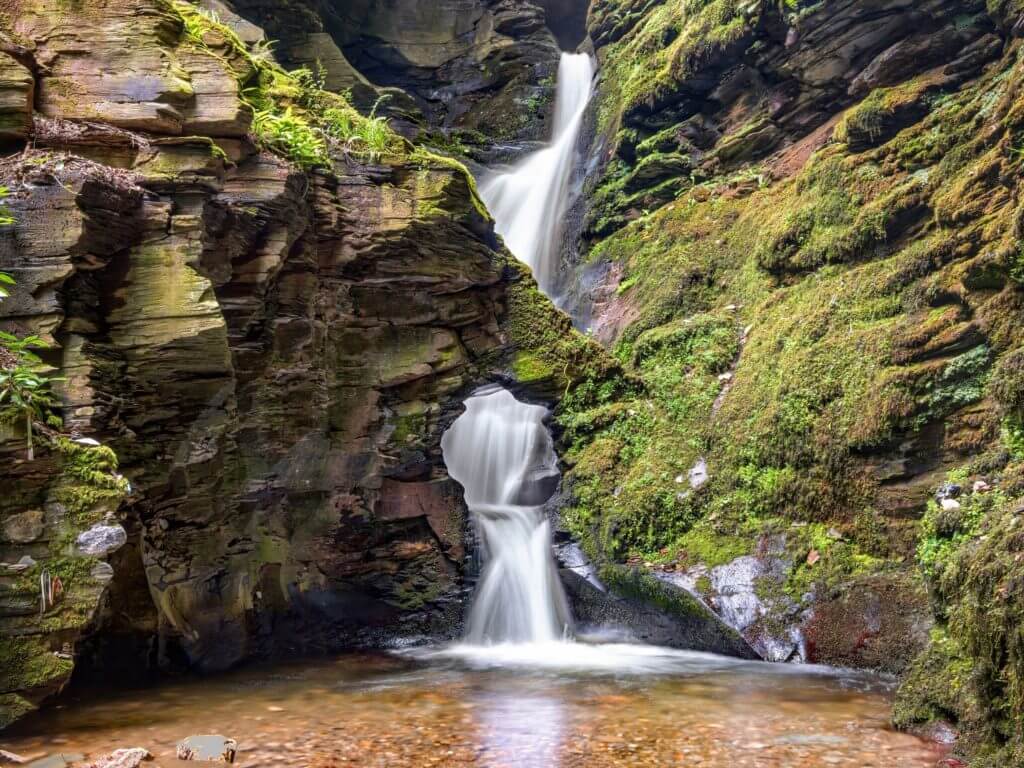 Stretching out for about a mile, the estate is known for its lengthy waterfall: St Nectan's Kieve. At the bottom of the fall, the current emerges through a circular hole in rock wall; it's like a moon crying silver.
Spiritual seekers tend to place meaningful totems near it, sometimes ribbons and crystals; other times photos and flat stones. I didn't want to leave behind such footprints but I murmured a few wishes anyway. It's not too long a walk from the car park; it took me around half an hour.
Pack your swimmers for one of the most unique days out in Cornwall.
6. See treasures at Charlestown Shipwreck Museum
Who hasn't dreamed of diving into shipwrecks and scavenging for treasure? I once envied Little Mermaid's Ariel and her cove of found things; luckily this historic port did all the hard work and left us to reap the rich stories of treasure and tragedy.
Built into underground tunnels that once funnelled clay onto moored ships, Charlestown Shipwreck Museum features a mesmerising collection of shipwreck artefacts. Thousands of rescued items were preserved from over 150 wreck sites, from barrels of coins to ornate motifs that once decorated a prowl. You get access to the inner harbour too!
I got to admire the Kajsamoor ship, a classic two-mast vessel which was featured in various movies. This is one of the most interesting places to visit in Cornwall for anyone interested in our marine history.
---
LOVE CORNWALL?
Do this Cornwall Quiz to see how much you know!
You might want to read these Cornwall facts before you do though…
---
7. Wander the historical Cotehele Estate
Slate grey roofs atop stone walls form the basis of Cotehele, the angular Tudor home of the Edgcumbe family. Its medieval roots are extremely clear, seen via the enclosed courtyard and dim lighting. Once you enter, the dated furniture, armours, draping tapestries and intimate quarters will transport you back in time.
The hush-hush atmosphere sent a shiver down my spine – there was something so hauntingly beautiful about the space.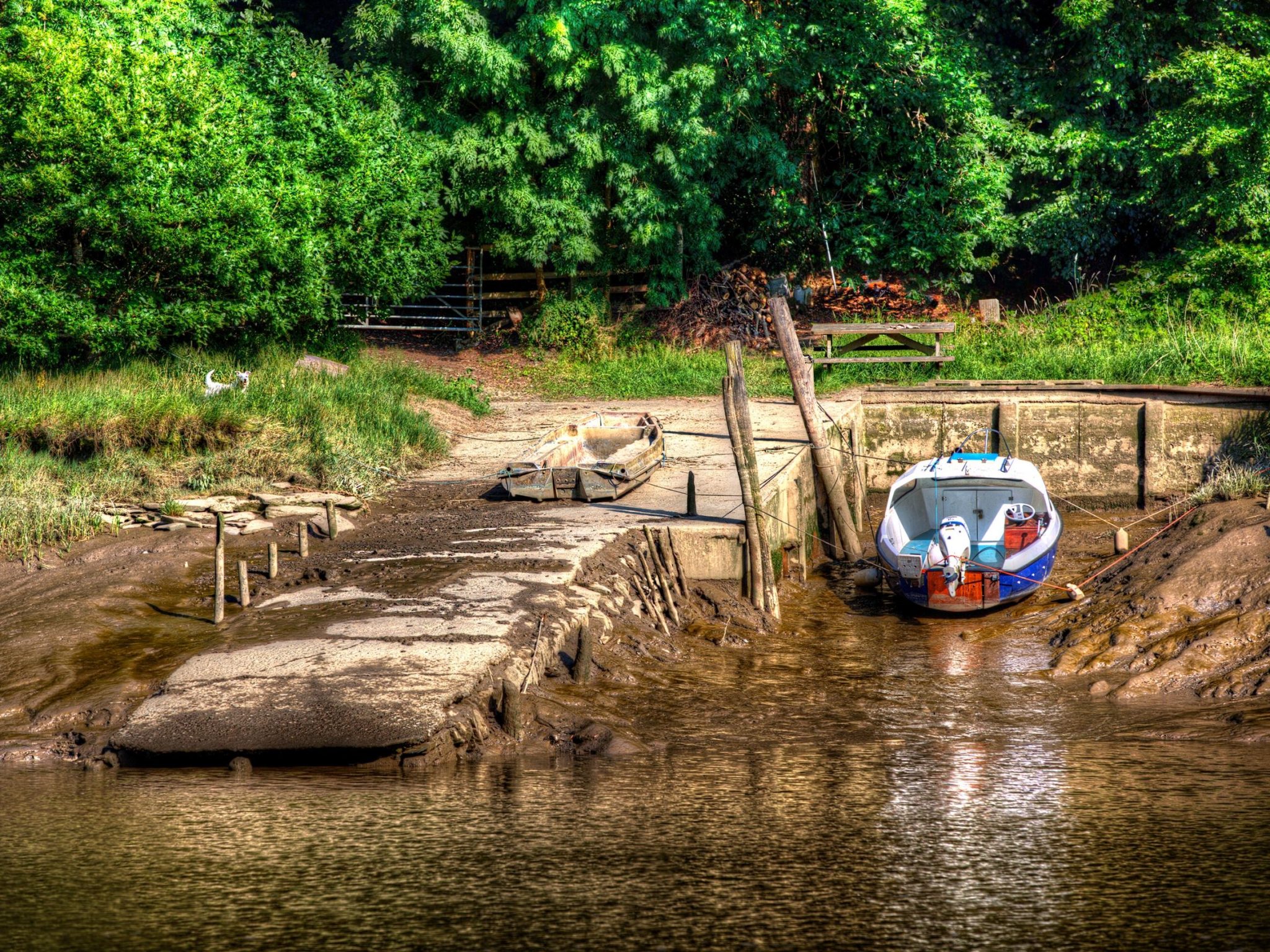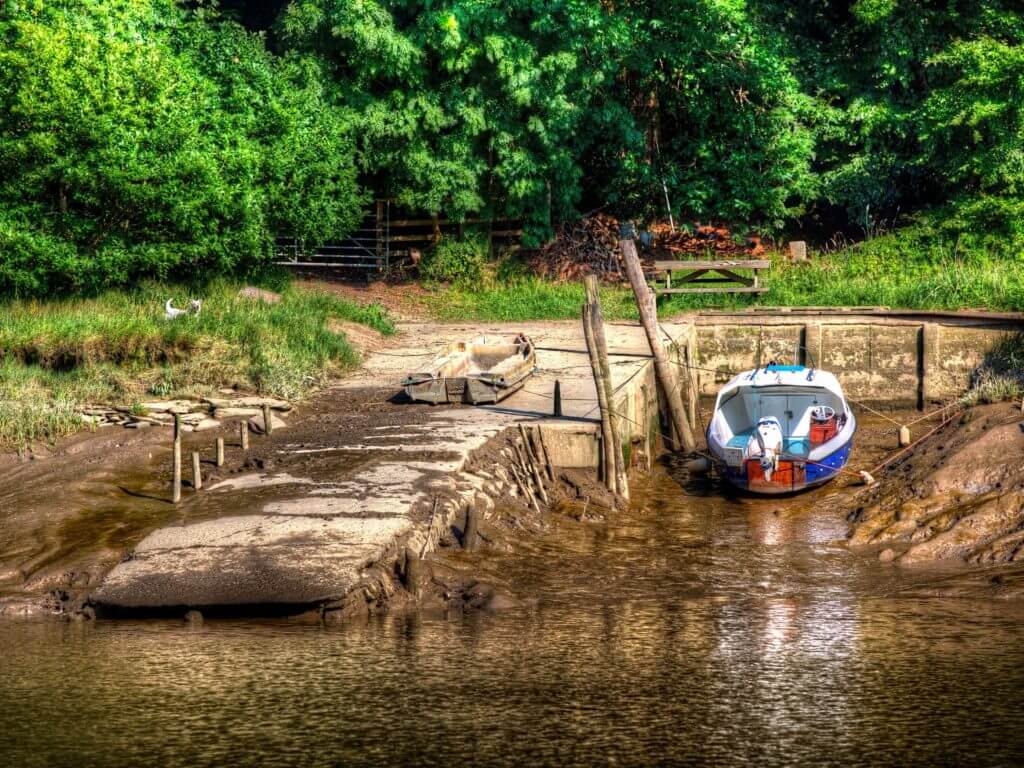 The estate also houses formal and informal gardens but the truly stunning sights lay alongside the Tamar river quay. There you'll find the Edgcumbe Tea-rooms and a museum, which overlooks the vast woodlands. I highly recommend taking a guided walk throughout as there are plenty of industrial ruins in the valley, marking both a historical and natural exploratory experience.
Just one of the many stately homes to explore in England and an amazing Cornwall day out for adults.
8. Go behind bars at Bodmin Jail
I haven't personally been to Bodmin Jail because of restoration efforts, but this heritage asset is definitely on my bucket list. This is a super unique Cornwall day trip.
Visitors are taken on an interactive tour of the building, which outlines life in the 18th and 19th century, as well as stories about its inmates and how the jail came to be. Technology will be put into play to make the tour extra exciting, including theatrical voices and ghostly images to complete the dive into dark history.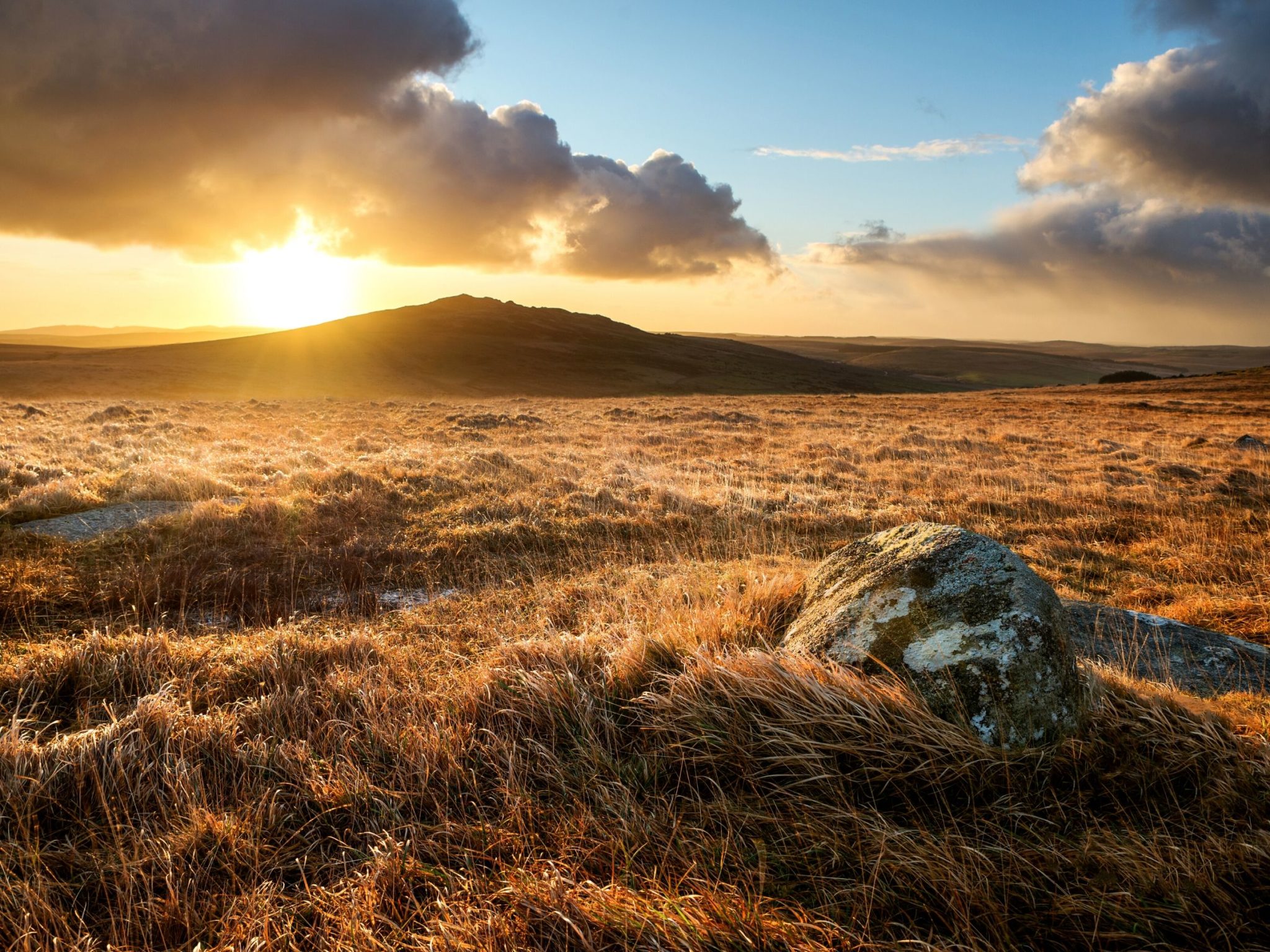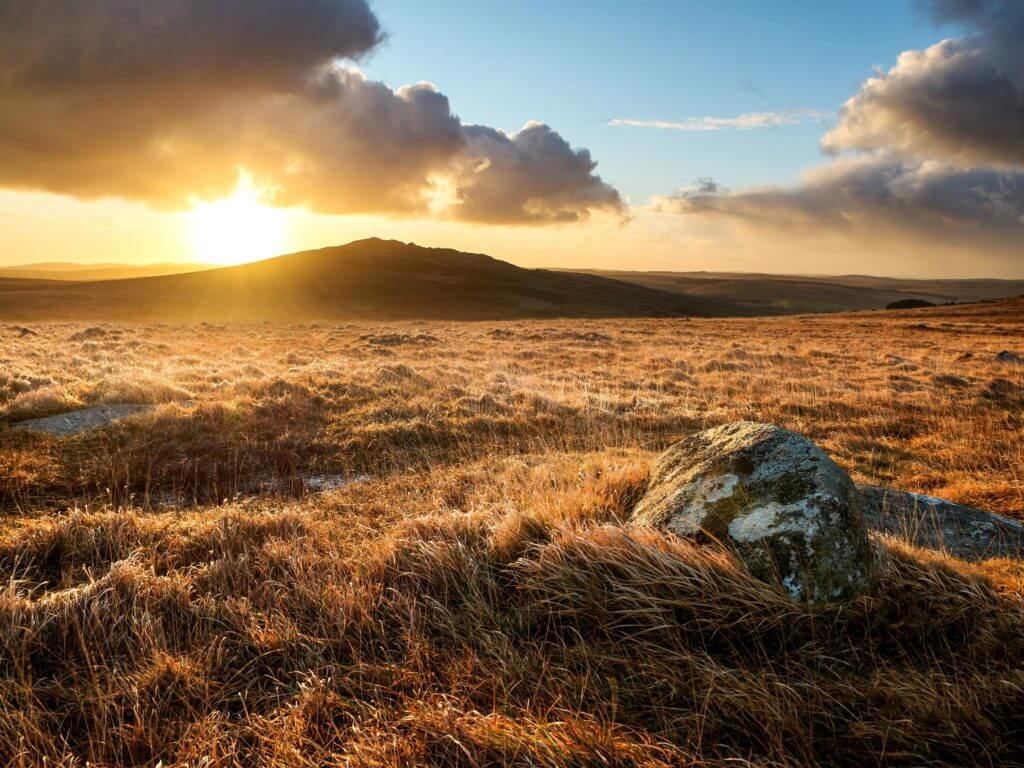 Make sure to pop into the Execution Shed at the end – a handing pit 4.5 metres deep!
It's creepy if you consider how that was where the last execution in Cornwall took place. For some extra spook, there's even a paranormal tour available.
Bodmin Moor is Cornwall's highest geographical point, and is worth a trip up too.
9. Uncover King Arthur tales at Tintagel Castle
Clinging to the cliffs are the remains of Tintagel Castle – and like the waves that chase its rugged baseline, we chase tales of King Arthur to this early-medieval structure. I took the newly built bridge over a plunging drop between mainland and the mammoth outcrop the castle was perched on; it's kind of nerve-wrecking!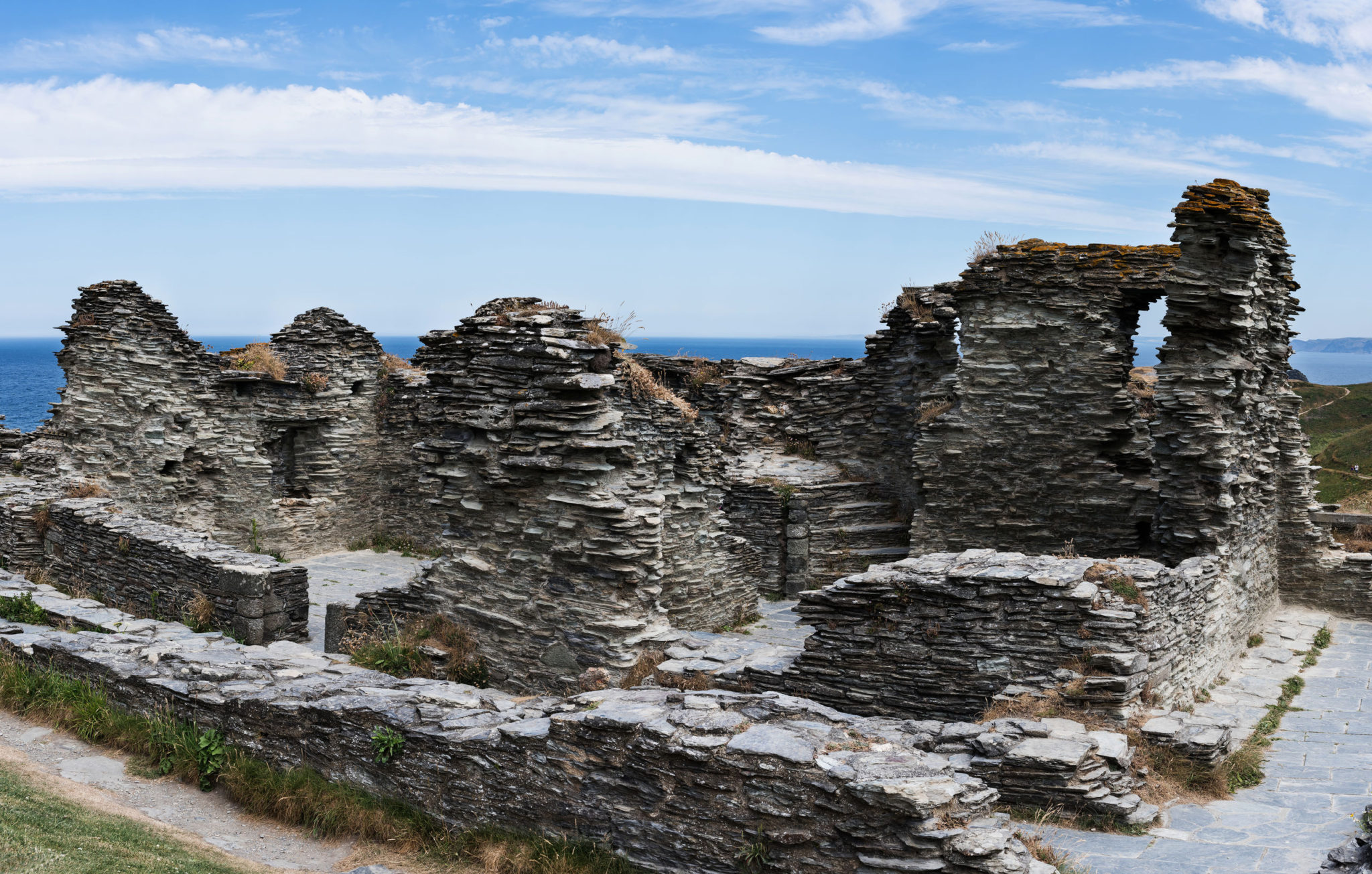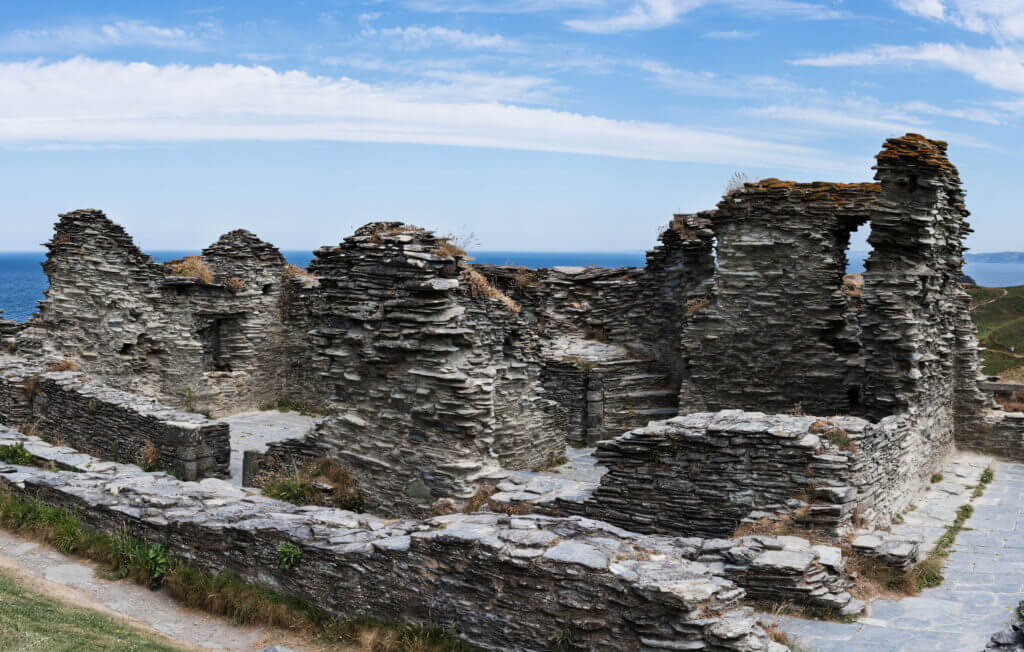 Being able to explore the castle ruins was more than worth it though, especially when I found some doors and stairs that wound around the edge of the cliffs. Make sure to seek out Gallos, the bronze statue of an ancient king. Sea level features equally dramatic scenes; you can explore a sandy beach in Cornwall and Merlin's Cave, the latter which goes right under the ruins.
If I were a scriptwriter, this setting would be my ultimate muse. But I'm not, so I'll just make do with a fun Cornish day trip to the spot instead.
---
READ MORE on DAYS OUT in ENGLAND
The Best UNESCO World Heritage Sites in England
15 of the Most Interesting Rivers in England
---
10. Wander the grounds of Victorian Lanhydrock
To draw from Cornwall's never-ending well of manors and Victorian architecture, visiting Lanhydrock is another perfect Cornwall day out.
Offering a more architecturally open space compared to Cotehele, this estate dates back to 17th century but its present form was built after a fire in 1881. Lovely grounds draw visitors all year round, formal gardens carefully maintained in all seasons; the woodland gardens and cycling trails cater to nature-seeking people.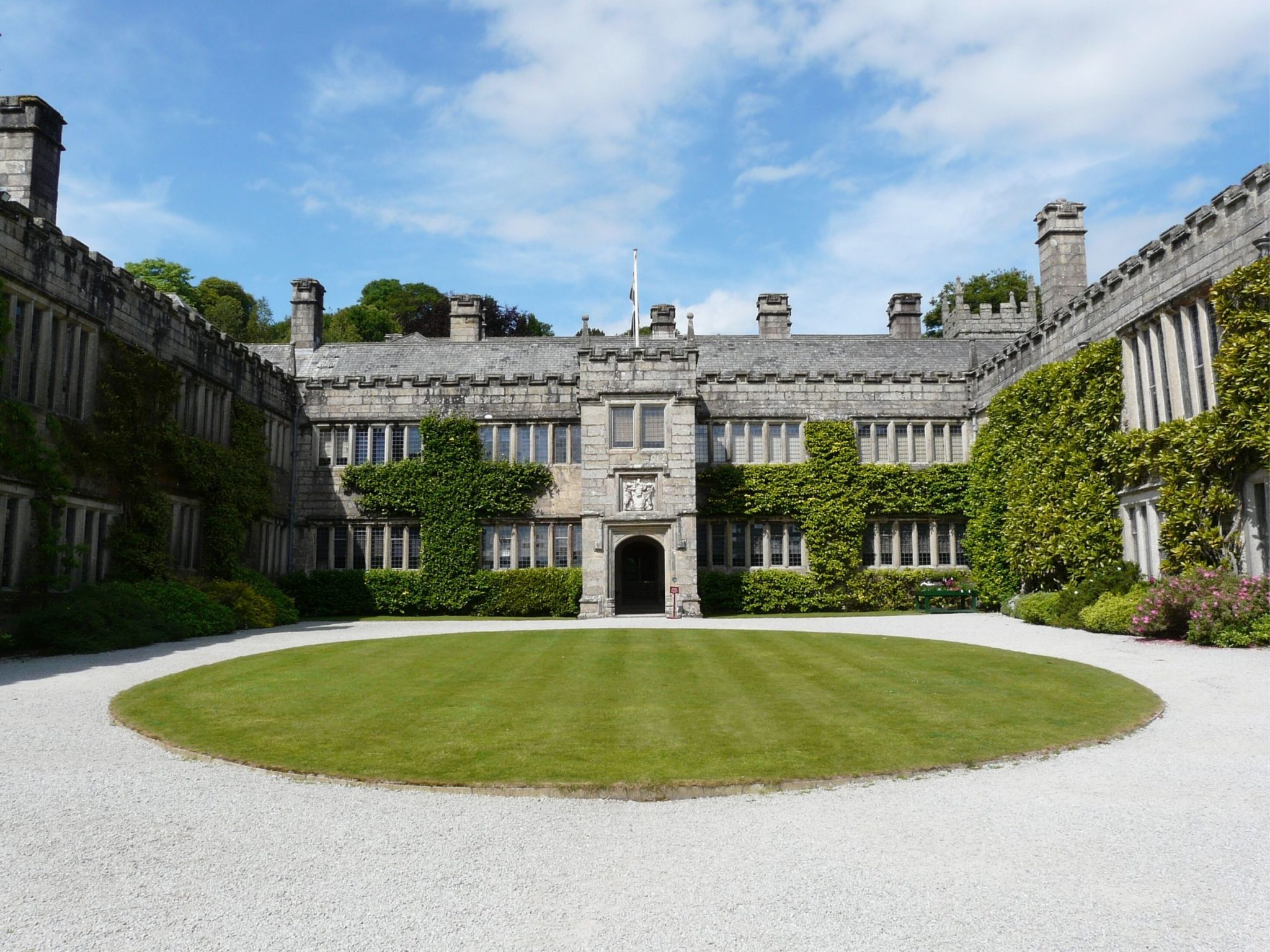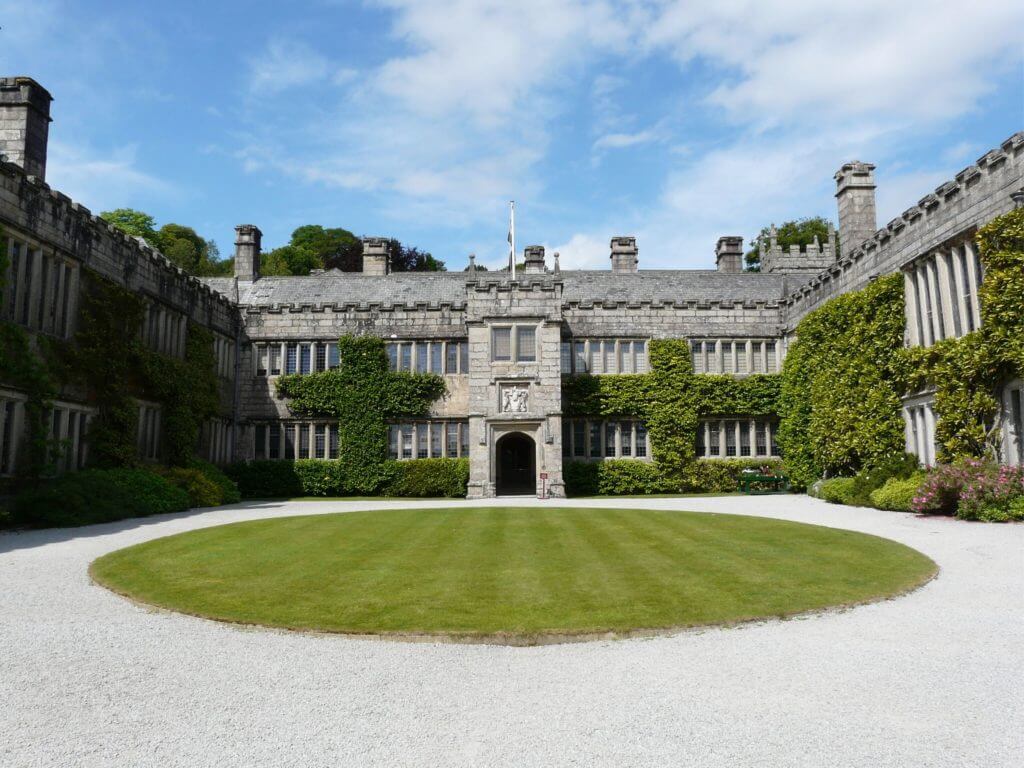 Within the 900 acres of estate however, I'd pick the manor itself as the main attraction. I had a blast exploring its vast halls!
The state rooms retain some of its cushiony comforts while the nursery wing was kept in its original state. What's more fascinating are the kitchens, sculleries and storage spaces burrowed in the house foundations. The estate is big, giving you the perfect excuse to check out the tea room.
---
READ MORE: 10 Simple Ways to Go Greener on a Day Out
---
11. Pan for gold at Geevor Tin Mine
What better day out in Cornwall than to learn about its past trade?
Geevor Tin Mine is a hands-on history lesson that will walk you through the Cornish mines, literally. Breathe deep and steady when you reach the coastline of Pendeen because we're going underground!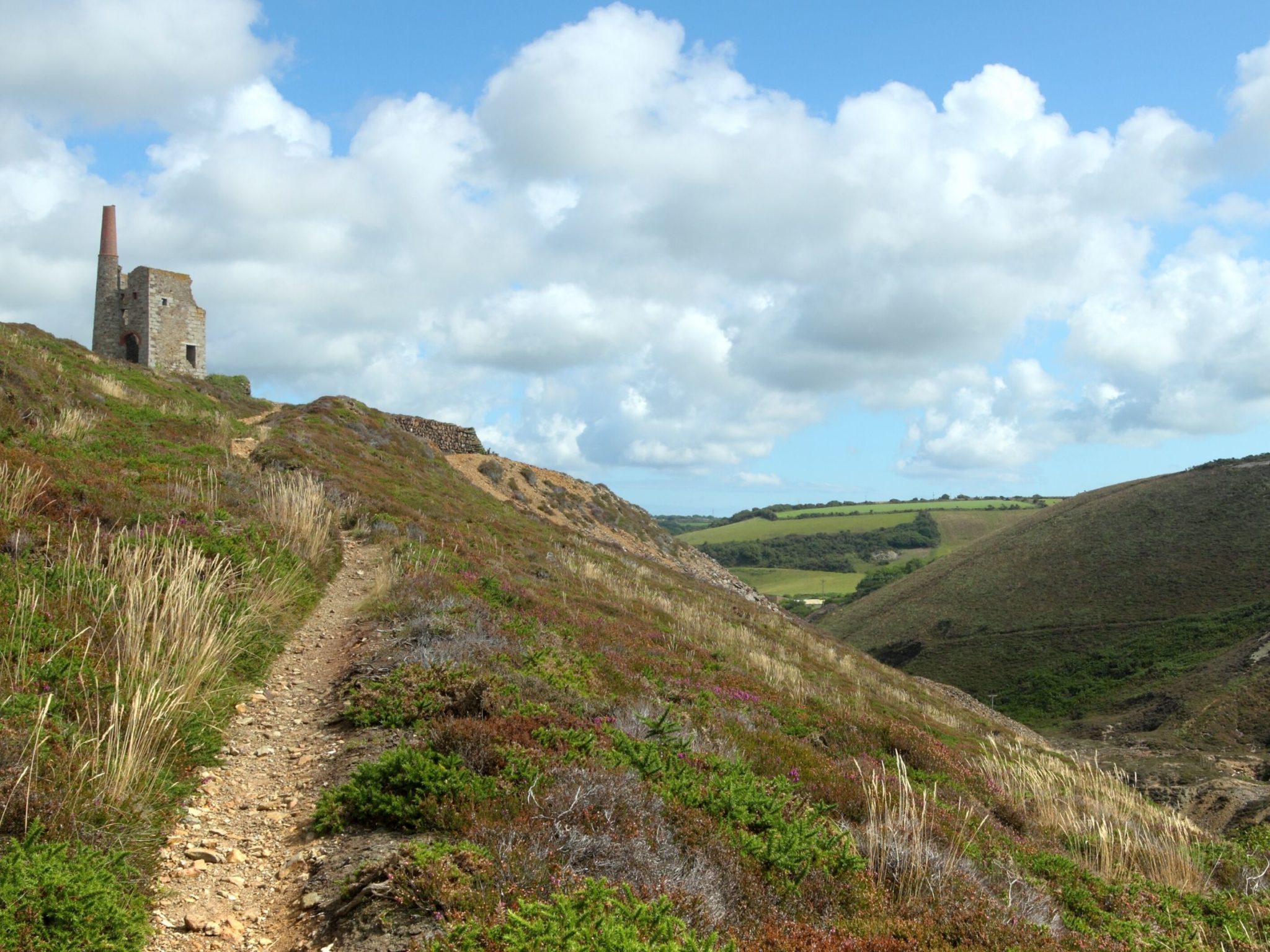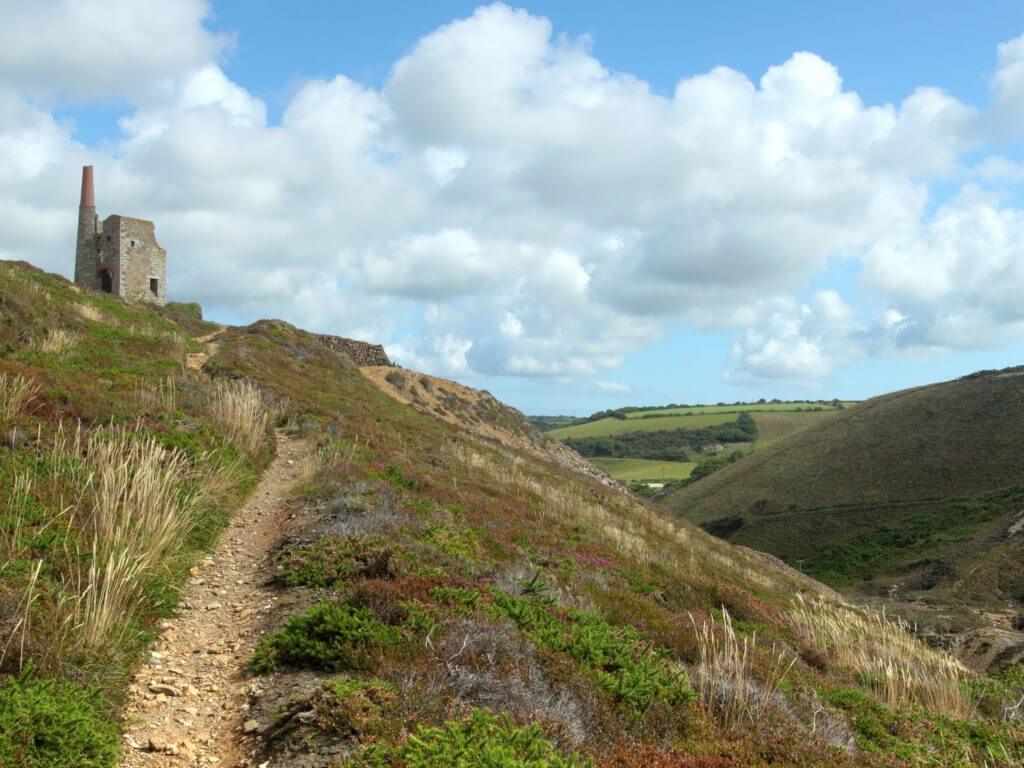 With my hard hat strapped on and miner's outfit zipped up, I followed my guide throughout this old historical site. We got to see Victory Shaft up close, the method used to deliver mined rocks up from 600 meters deep. Then, we were taken down Wheal Mexico Mine so see the narrow passageways and rock quarry.
The Hard Rock Museum was interesting too, detailing much about the past copper mining industry. You can even pan for gold – it takes more patience than you think.
12. Salute the defenses of Pendennis Castle
Still standing strong is Pendennis Castle, one of Henry VIII's coastal fortresses. Poised right by the coast with spellbinding cliff-top views, the serene surroundings do little to detract from the castle's war-driven history.
While having defended Cornwall for centuries before the two World Wars, 'Fortress Falmouth' gained a reputation after a soldier's letters were discovered on the grounds.
It also played a crucial role in WWII – costumed 'soldiers' take you through the underground magazines and up the Battery Observation Post in re-enactment.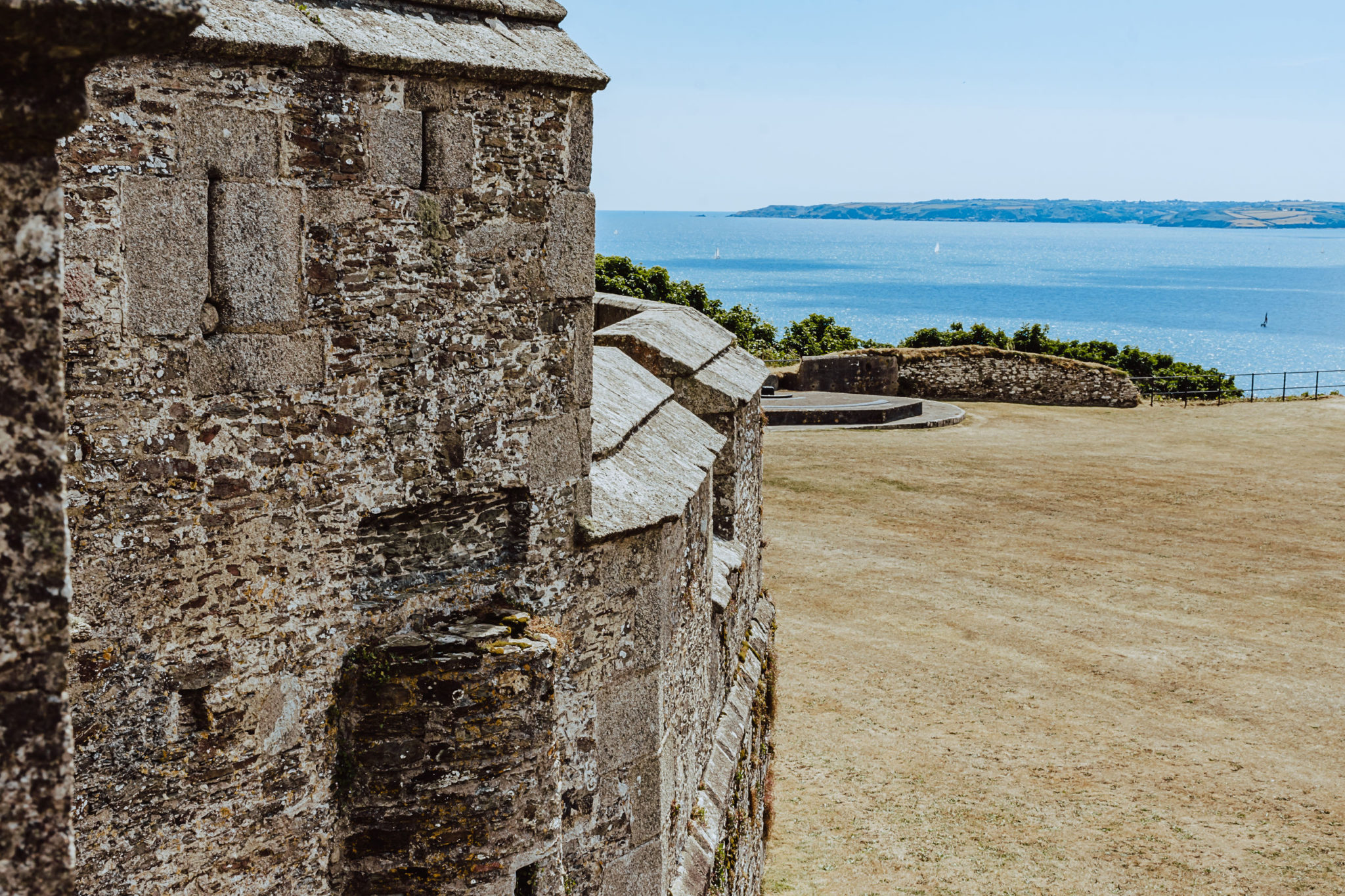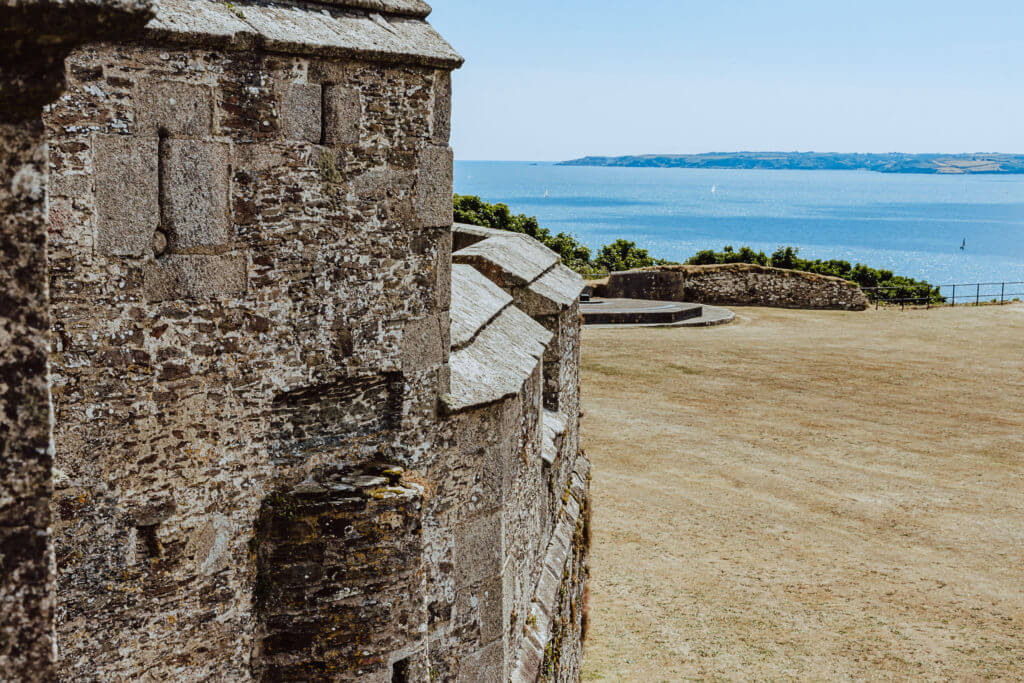 I definitely recommend this day trip for families staying around Falmouth!
The event programs are regularly changed up for variety, most of them catering to children as well. It's such a brilliant stage for a game of make-believe. A great day out in Cornwall for families, right here.
While you're in Falmouth, check out the Glendurgan Maze in the Glendurgan Garden. It's one of the most impressive mazes in England.
13. Wander freely in Pinetum Gardens
If you want to spend some time outdoors but not in too vast a space, Pinetum Gardens is the compromise. A relatively young garden, it nevertheless offers Cornwall's typical pleasantry: multiple themed gardens, craft markets, delicious locally-sourced eatery and plenty of family activities.
It's a tranquil and cosy experience due to the garden rooms and garden space. The level ground is easy to navigate and you'll see toddlers and pets on fresh lawns, as well as this being one of the best Cornwall days out for adults.
The Soul Bird trail is comfortable to walk after a light lunch at Pinetum Kitchen; for reflection, visit the Japanese garden. It's not all trees and green plants either, flowers bloom between the foliage to offer splashes of colour.
14. Travel out to St Michael's Mount
Your list of things to do in Cornwall simply has to include a visit to St Michael's Mount. An island with thousand years of history, this day out destination promises legends, myths and isolated beauty. What's more magical than a cobbled causeway that zigzags its way to the base of island, a path hidden once the tide comes in?
I'm absolutely in love with this place.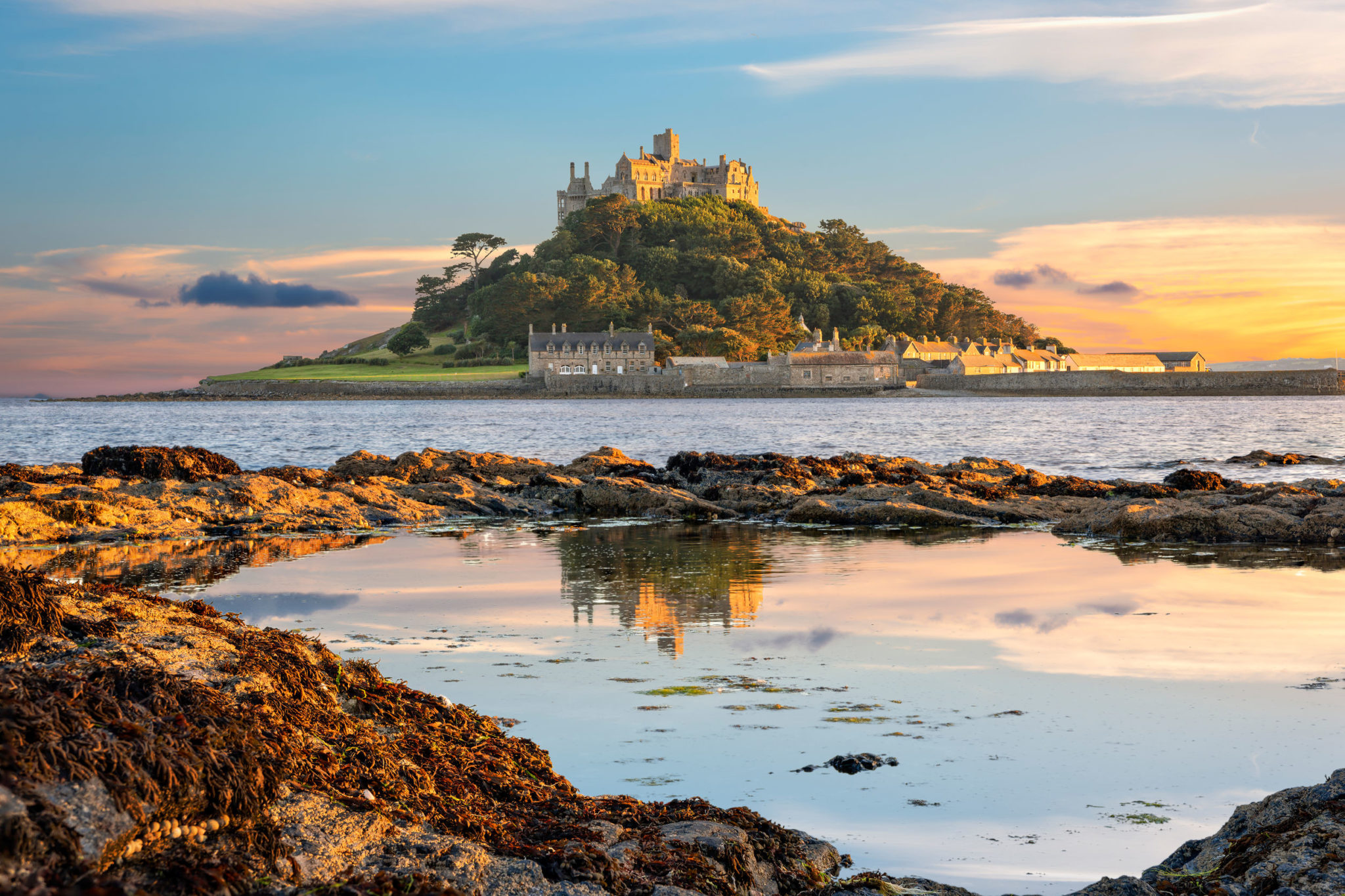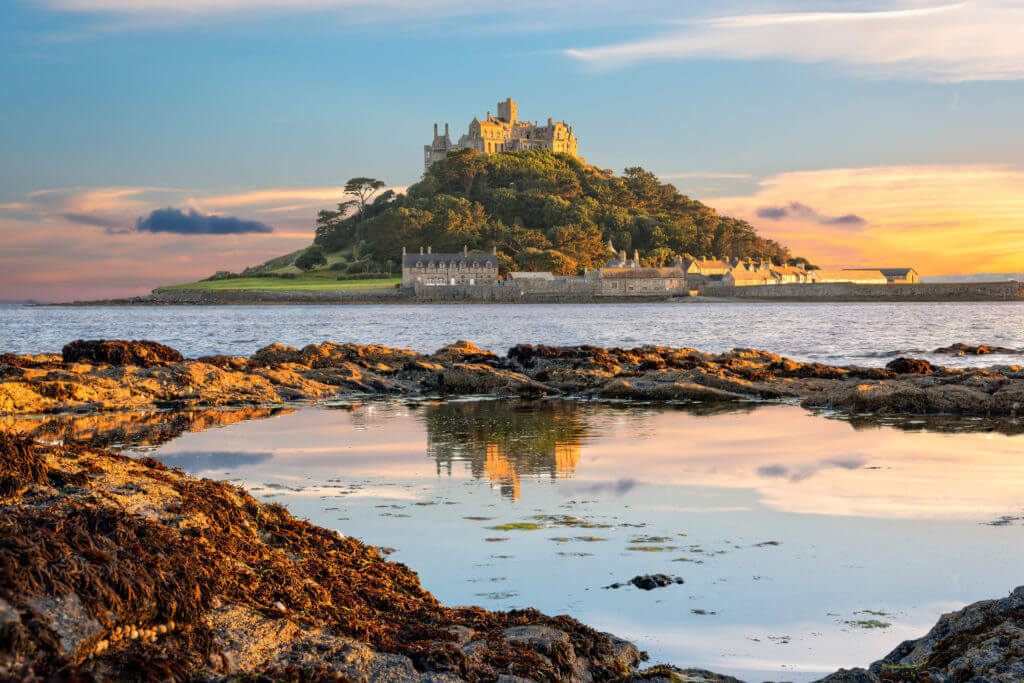 The crowning piece is the castle, which sits atop the wealth of greenery covering the sloping mount. Surrounding it are more intimate and curated gardens, maintained by the St Aubyn family and the small community of islanders.
Not only is the castle interior stunning (think wooden flooring, crème-colored ceilings, pastel walls and richly pattered draperies) but there's a multitude of entertainments too.
I had a relaxing cup of cream tea at the café, and indulged in one or two live music events. Visiting St Micheal's Mount is the iconic day trip in Cornwall.
Not too far off is the artsy town of St Ives – one of the prettiest places to visit in Cornwall. Countless galleries have set up shop in the area, following the trail of modern artists who claim it as home. I won't gush on too much about the mysterious light quality of St Ives, but there's a reason why this town inspires so many master pieces.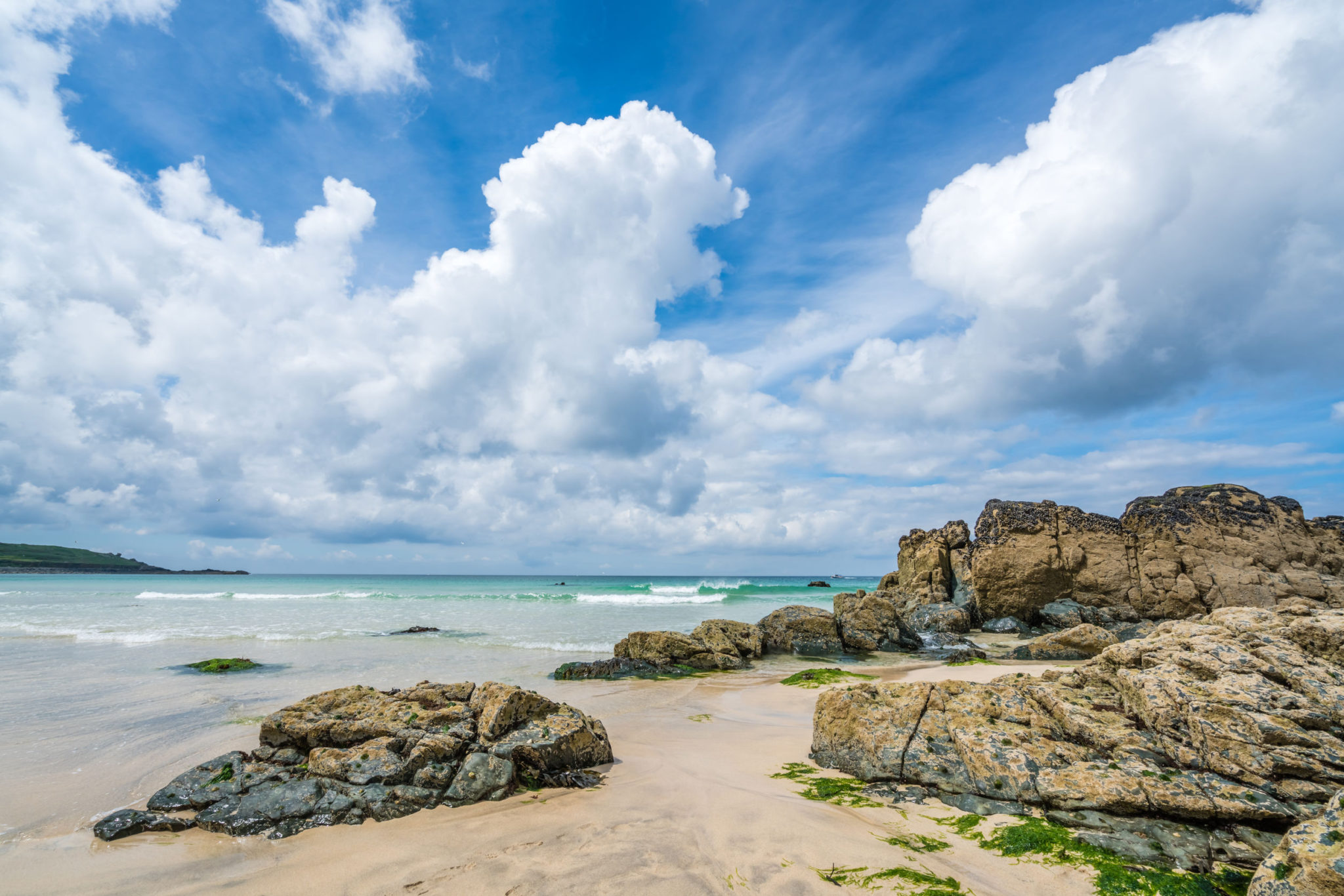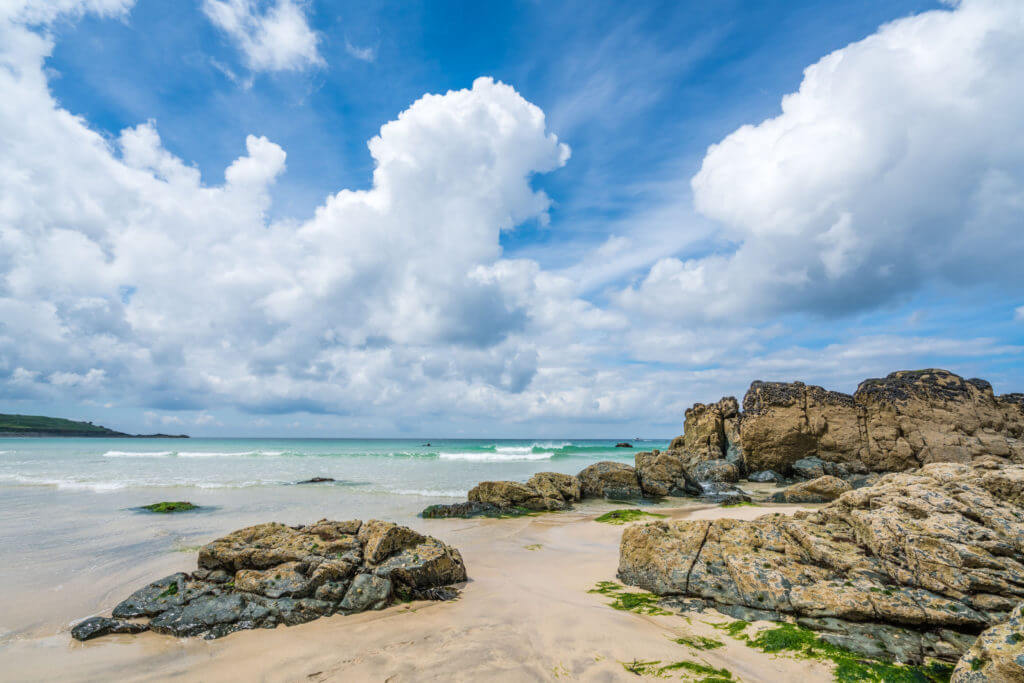 If there was one thing for you to do there, I would push for a trip to the Tate St Ives. Gathering mid-20th century art in a series of exhibitions and events, this gallery is known for its modern and contemporary art collection. Displayed alongside Matisse and Rothko pieces are works by Barbara Hepworth and Peter Lanyon. Love art? You have to drop by!
St Ives is one of the most popular days out in Cornwall so if you're visiting in peak season, expect it to be busy. St Ives is one of the most visited towns in England. This is also where you'll find some of the best pubs in Cornwall to enjoy.
16. Delve into witchery at The Museum of Witchcraft and Magic
Sure, it's no Hogwarts but the Museum of Witchcraft and Magic is an interesting glimpse into real magics that were practiced. Dedicated to magic practices throughout Europe, it showcased objects used in rituals and denoted popular practices. From folk magic to ceremonial magic to the more established Wiccan practice, the museum was a dive into the history of witchcraft.
Interestingly, the museum started out of a personal collection by Cecil Williamson; it was later bought by a 'resident witch', Gerald Gardner. It's worth visiting if you're into quirky things to do in Cornwall. The setting is beautiful as well.
17. Visit the Scilly Isles
Here's how to do a great day trip to the Scilly Isles.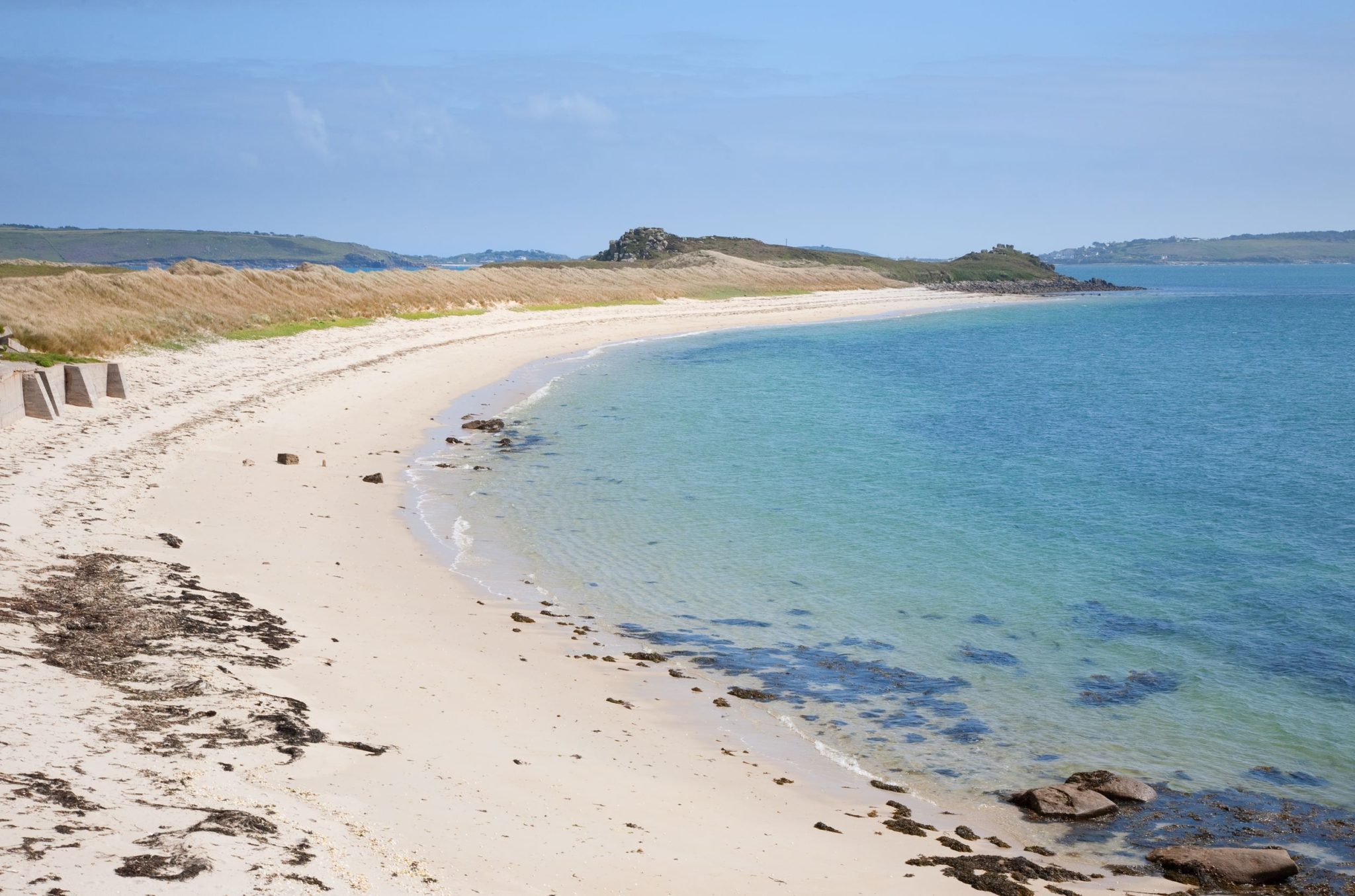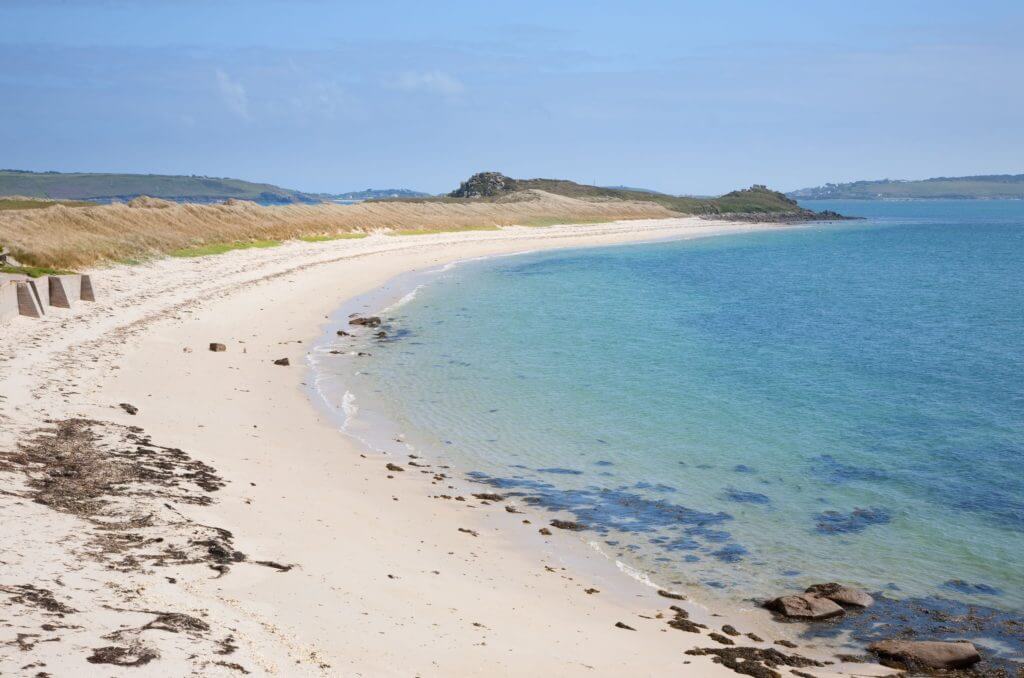 The Isles of Scilly are made up of 5 inhabited islands off the coast of Cornwall. Visit and on a sunny day it's like the Caribbean, the waters and the beaches are so pure and clean. You can see seals and puffins, and they're an outdoorsy kinda person's delight.
You can visit the Isles of Scilly from Cornwall in a day, more details to follow!
For now, check out these fascinating facts about the Isles of Scilly to whet your appetite.
18. Admire the collection of Tresco Abbey Garden
Tresco Abbey Garden deserves its own mention in any post on days out in Cornwall. It's on the Isles of Scilly, but if you travel in season, you can go over there for the day by flight. You can find details of that in my upcoming Isles of Scilly post.
It's hard to do Tresco Abbey Garden justice when it's just so pretty. What was once a 12th-century Benedictine priory was transformed into a subtropical estate in 1800s by a horticulturalist. Over 20,000 species are nestled in these grounds, ranging from crimson flame trees to desert flowers. Cypresses and pines add a rich scent to the gardens.
Do look out for the Valhalla collection, which features artefacts from shipwrecks. The nearby Tresco Children sculpture is another highlight – of three kids lost in their enjoyment, much like us when we find that elusive oasis.
19. Go paddle boarding in Cornwall
Some of the best paddleboarding in England is to be found in Cornwall. Take a look at our list of the best Cornwall paddleboarding spots for more inspiration.
20. Don't miss Flambards Theme Park

If you want to have some fun with the family, Flambards is the perfect stop for a day out in Cornwall. It's highly regarded as one of the most exciting attractions in Cornwall and it's not surprising. This wonderful theme park has a good mix of rides, entertainment, and attractions to suit different ages and thrill levels. On top of this, there's a Dino-Bursey with life-sized dinosaurs and a Victorian Village with authentically recreated shops. If that wasn't enough, Flambards also puts on a Fireworks Spectacular during the sunset throughout August – what a great way to end your Cornwall day!
21. Have fun at Retallack Resort
There's so much to see and do at Retallack Resort that it's impossible to cover it all. For the young ones, there's the Aqua Park where kids and teens can jump on the trampolines through a fun water course. There's also paddle boarding, wakeboarding, surfing, and an inflatable volleyball court to mention but a few.
22. Visit the only city, Truro
There are some great things to do in Truro for a day out, or even longer. It's a small city, but you can get lost in the shops and Farmer's Markets, and round Truro Cathedral. It's a great stop off if you're on the way to the coast in Cornwall.
23. Visit the impressive waterfalls in Cornwall
Cornwall has some of the most impressive waterfalls in the country. Check out our list of the top Cornish waterfalls for you to explore as you travel around the county.
---
More days out in Cornwall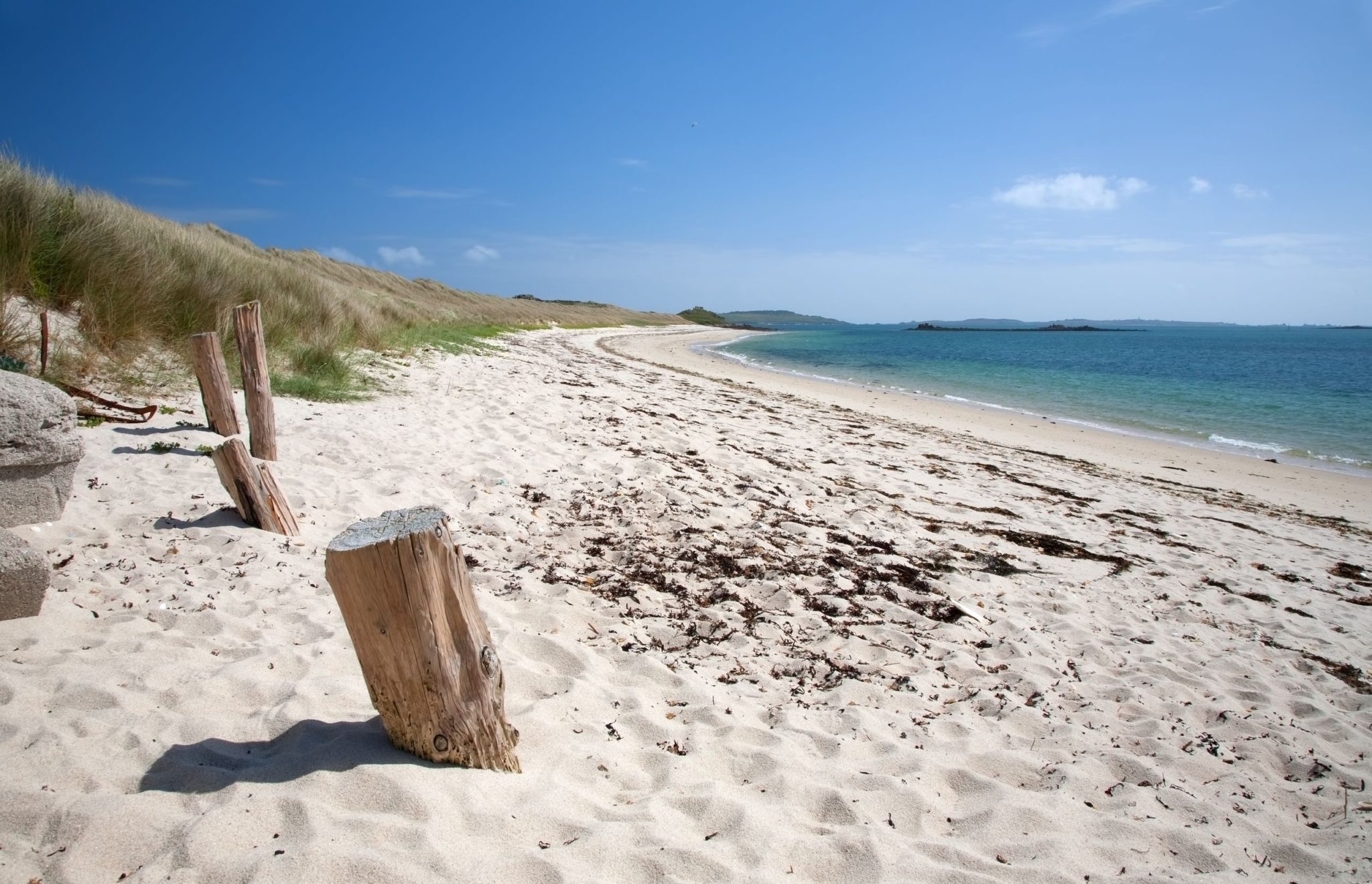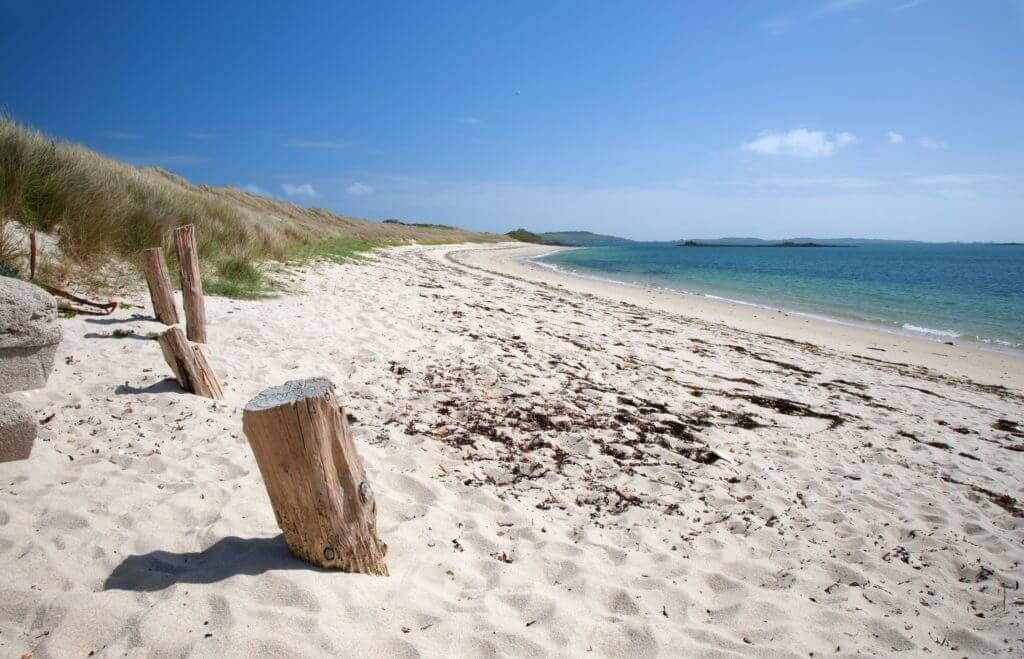 Quicklist: best days out in Cornwall
1. Enter paradise via the Eden Project
2. Day out at Land's End
3. Traverse the Lost Gardens of Heligan
4. Catch a performance at The Minack Theatre
5. Seek peace at Saint Nectan's Glen
6. See treasures at Charlestown Shipwreck Museum
7. Wander the historical Cotehele Estate
8. Go behind bars at Bodmin Jail
9. Uncover King Arthur tales at Tintagel Castle
10. Wander the grounds of Victorian Lanhydrock
11. Pan for gold at Geevor Tin Mine
12. Salute the defenses of Pendennis Castle
13. Wander freely in Pinetum Gardens
14. Travel out to St Michael's Mount
15. Day trip to St Ives
16. Delve into witchery at The Museum of Witchcraft and Magic
17. Visit the Scilly Isles
18. Admire the collection of Tresco Abbey Garden
19. Go paddleboarding in Cornwall
20. Visit Flambards Theme Park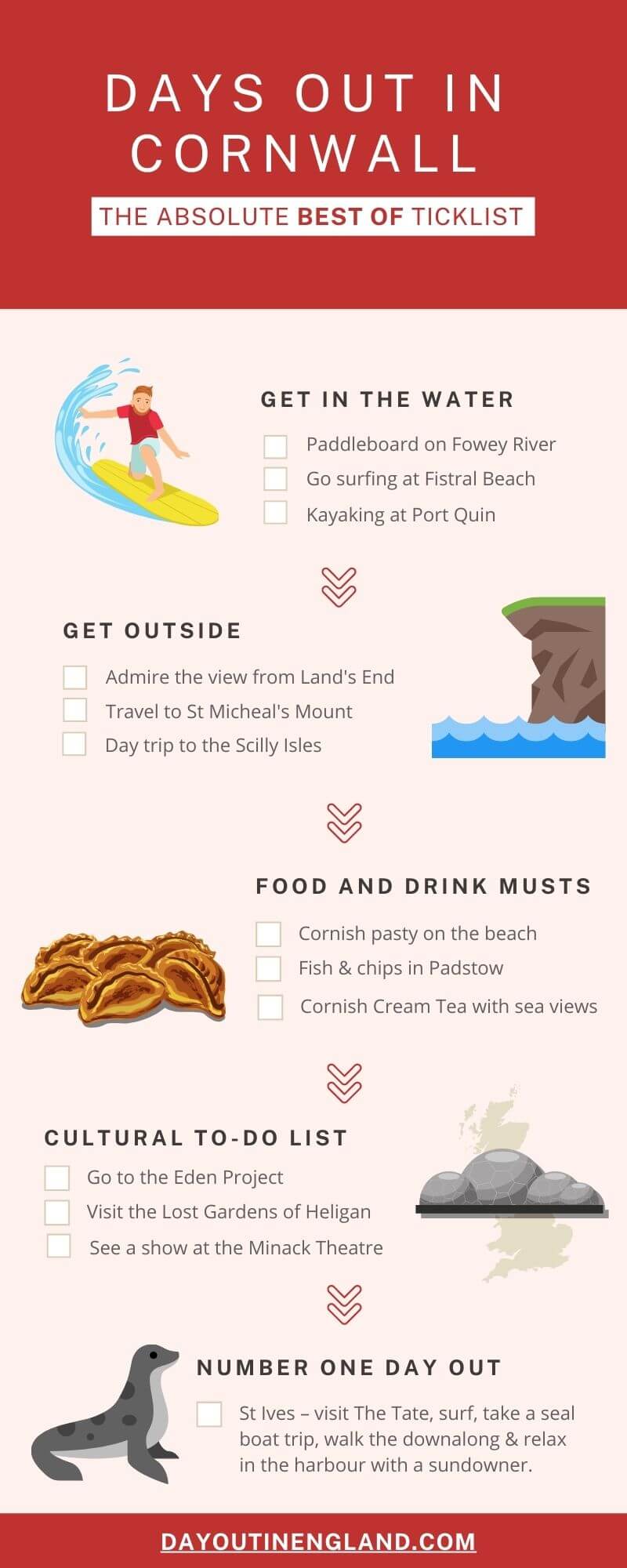 Share this Image On Your Site
---