Looking for the top spots to go paddle boarding in England? We've got the best SUP locations in England to inspire your summer wishlist…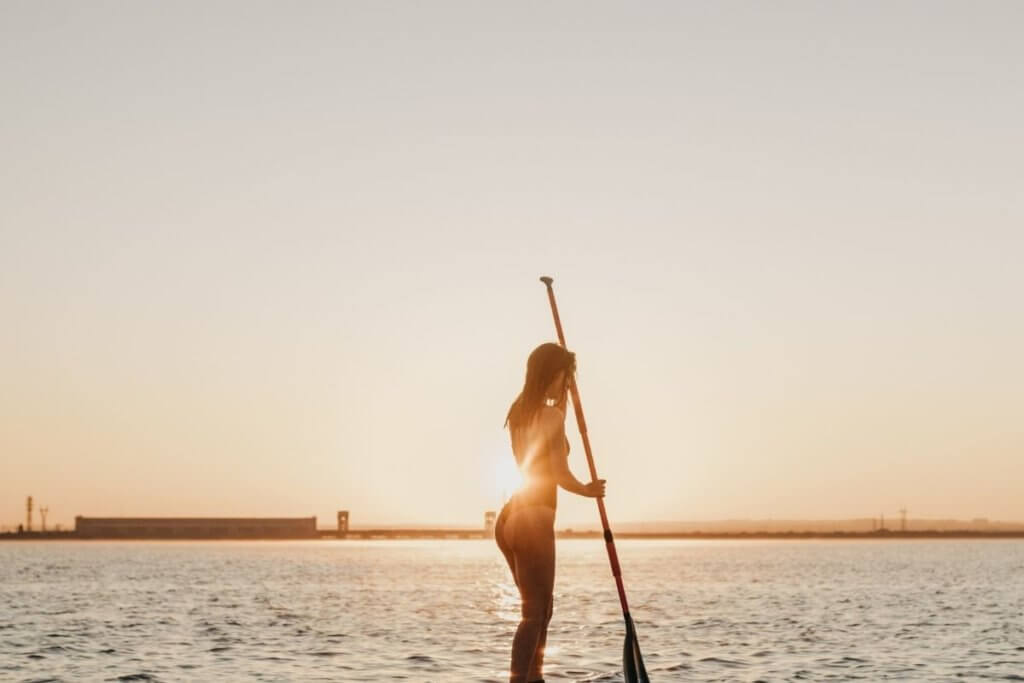 When winter chill gives way to the brighter tones of spring, you know it's that time of the year again – time for paddleboarding!
England is blessed with waterways of all shapes, sizes and passing scenery. From flat, meandering rivers to rougher coastal waters, paddleboarders can easily customise their day out. Tag in the tranquil country escape and charming eateries, and you're set for the weekend.
You don't have to completely leave the city behind for prime paddleboarding, but I do love driving out to England's wilder reaches. If you've got time, consider crossing the borders into Wales or Scotland too.
Here's a list of my top 13 places to go paddleboarding in England.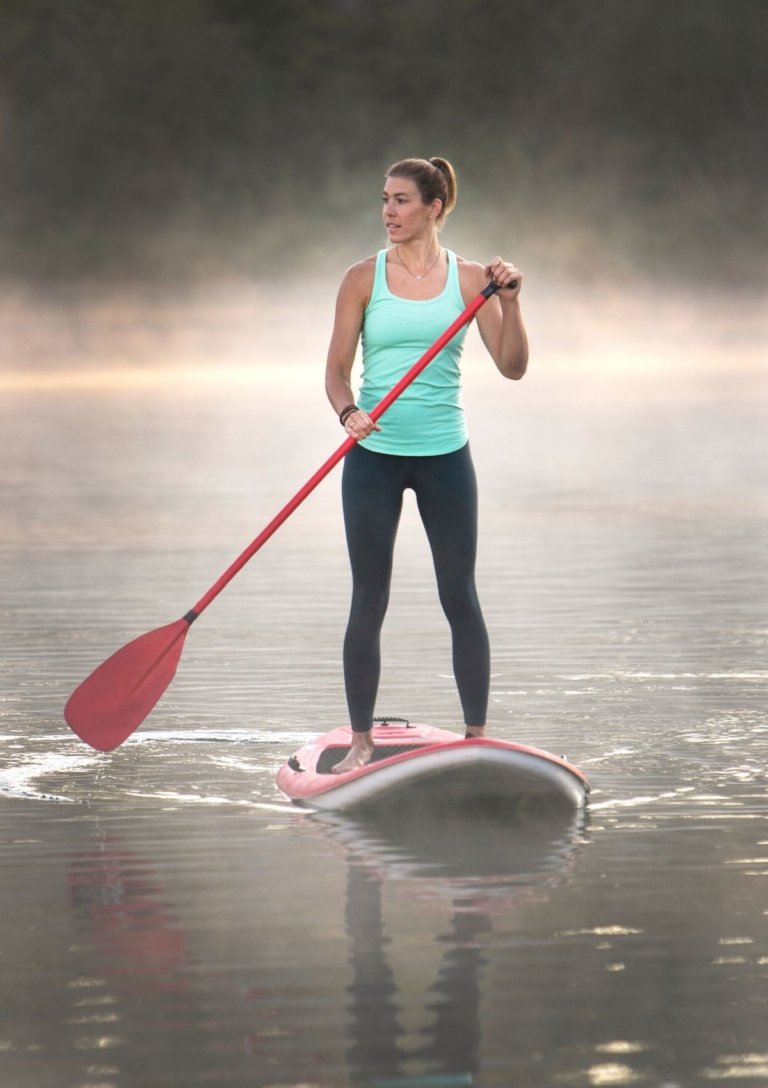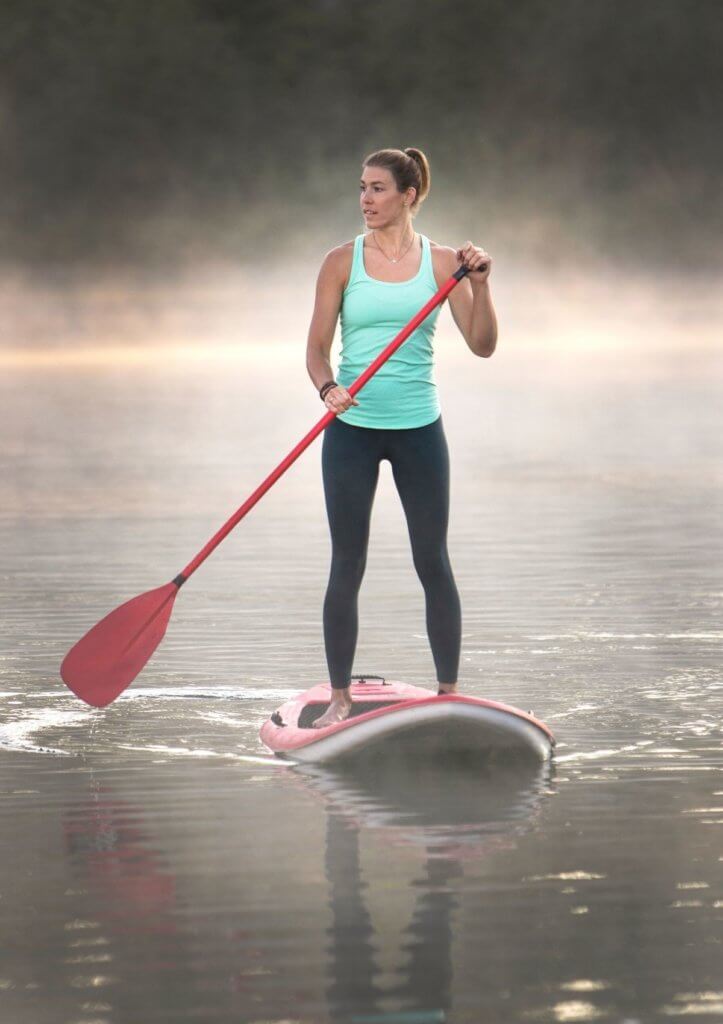 1. Paddleboarding in the Norfolk Broads
East of England is one of the best places to go paddleboarding, especially for beginners. The Norfolk Broads, an increasingly popular day out destination, features interlocking canals and lochs. Calm and gentle waters characterise the range of waterways, all lined with gorgeous reed beds.
It's extremely serene to paddleboard here, taking in the quaint cottages and region-defined architecture along the way. The relatively flat typography also means looking up at nothing but the sky, which is stunning during sunset. Check out our guide to paddleboarding in Norfolk for all the best places to SUP and some of the best spots to go paddleboarding in England.
If you're worried about running out of steam, hire a canal boat or motorboat to use as a base.
2. Paddleboarding in Ullswater, Lake District
Feel up to a challenge? The Lake District is one of the most gorgeous places to visit in England, and Ullswater is a terrific example why. Not only does the majestic Helvellyn Mountain tower over this big lake, you tick all the countryside must-sees with Glenridding Village and scenery down its length.
At 13 kilometres long, 6 metres deep and with south-westerly winds pushing you down rolling waves – it's the ultimate ride for downwinders. The three hour trip to Pooley Bridge is great fun, but make sure you have enough experience for the run! It can get quite tiring if you're not used to paddleboarding.
There are loads of great places to go paddleboarding in the Lake District, read our article for more.
READ MORE: The Best Spots to Go Paddleboarding in Greater Manchester
3. Paddleboarding at the River Cam, Cambridge
There's something cheeky and charming about paddleboarding through English cities and towns. After all, you're having fun on water while others hustle and bustle through their daily chores! It's also an opportunity to sightsee from a different point of view; most people think of looking down and never up.
Cambridge is one of the loveliest urban paddleboarding places to be. One of my favourite routes is the Backs which run past historic Cambridge colleges. Start at Jesus Green (just past Jesus Lock) and head west in the direction of Magdalene, Trinity, King's College; pull up at the beautiful Mathematical Bridge. It's a calming amalgamation of brown brick architecture and swaying willows, and not too isolated either as you can wave to passerbys.
For earl grey and scones, push those tired muscles until you reach Grantchester's Orchard riverside gardens.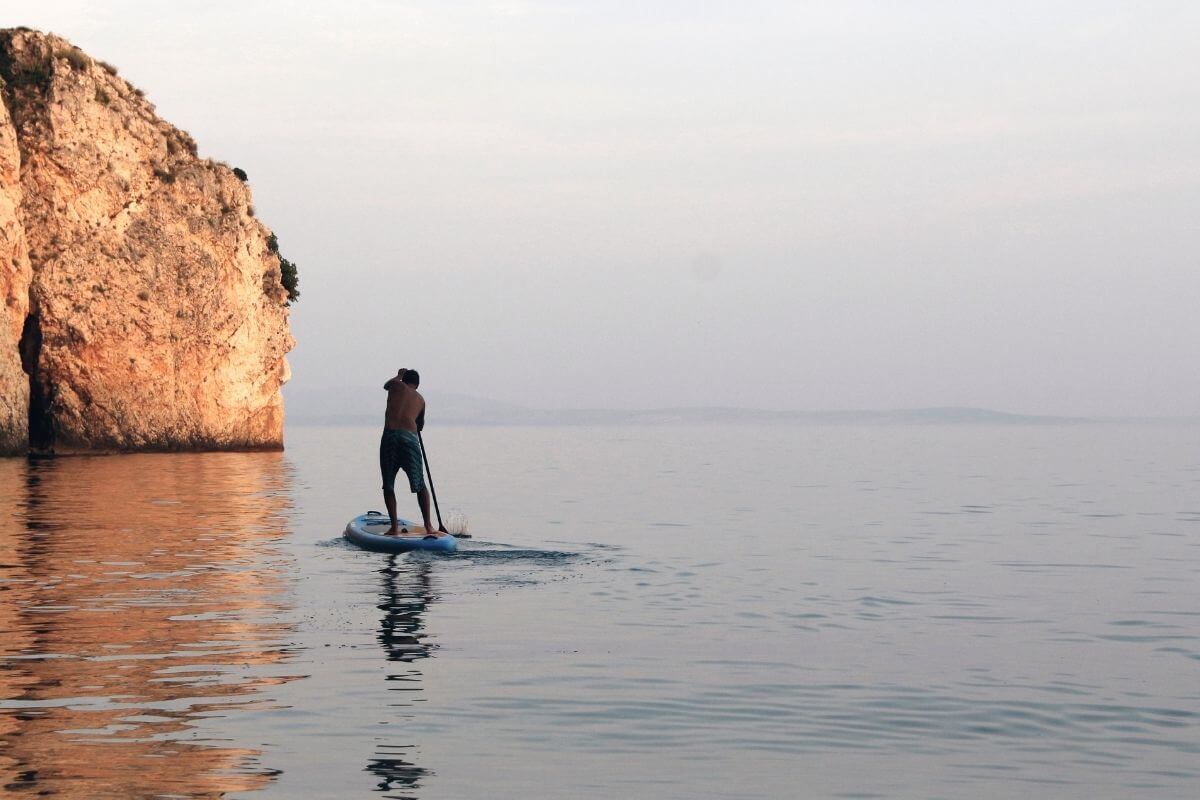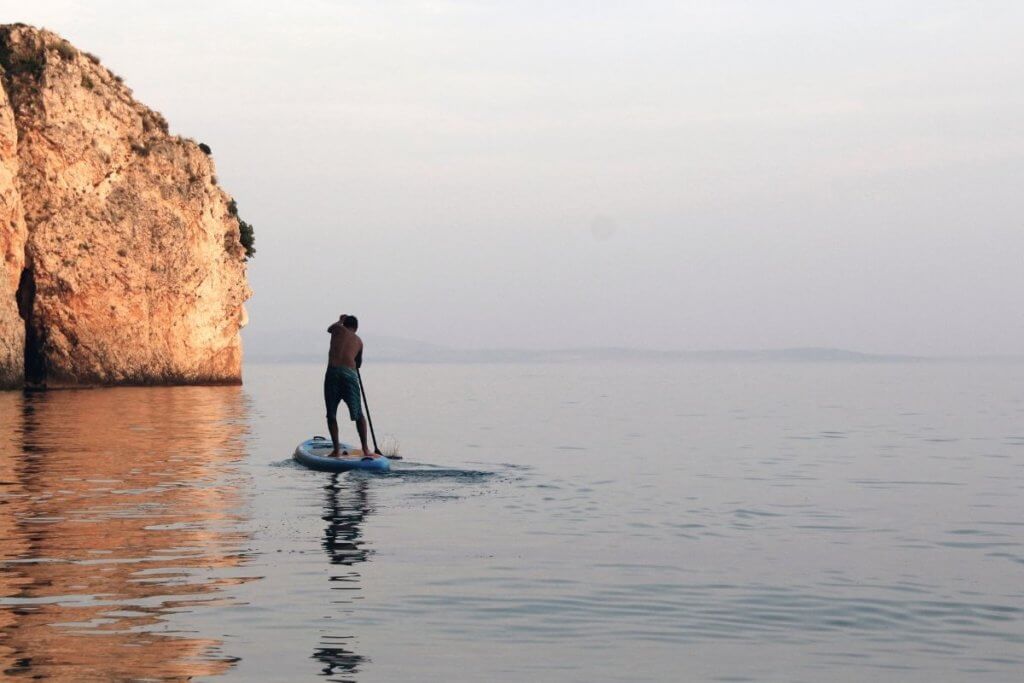 ---
Need a paddleboard?
Check out these great priced SUPS from Aquaplanet Sports. Sleek and responsive: The 10'6" Pace, with its signature pointed shape, lets you cut into waves with style; its extra thickness gives you supreme stability and buoyancy. You can buy the package, which includes the fin, the leash, a pump and a bag to keep it all in to save time and money.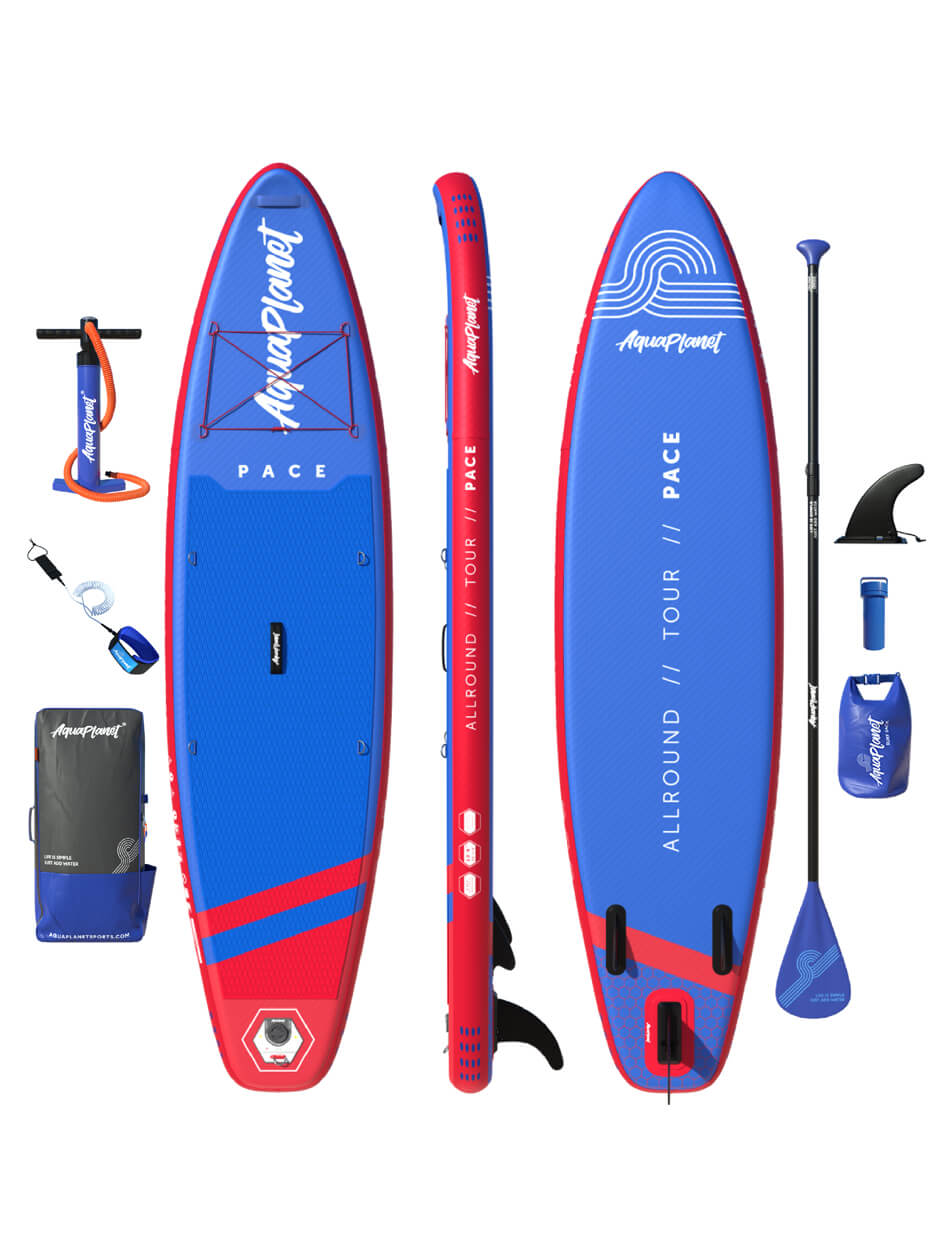 This Aquaplanet paddleboard is a great choice for anyone starting in the sport, who wants their paddleboard ASAP!
Sturdy board for beginners, intermediates & heavier paddleboarders up to 120kg
Dimensions: 10′ 6″ x 31″ x 6″ (3.25m x 0.79m x 0.15m)
Suitable for use on lakes, rivers, canals and seas
Pointed shape to cut through the water
Comes with all the kit
Compact & lightweight – just 13kg
Inflates in 10-15 minutes
D-Rings on deckpad for attaching a Kayak Seat
---
4. Paddleboarding in Kingston upon Thames, London
The River Thames, England's iconic waterway, weaves a beautiful 345 kilometres from Gloucestershire to Essex, offering a stunning stretch between Kingston and Richmond.
With banks heavily populated by hanging willows, charming houses and cultural landmarks, it's a unique sightseeing tour on water. Not only is it a convenient getaway for city dwellers, but the abundant greenery balances out numerous restaurants along the way. Make a game of it and see how many herons or swans you spot en route!
5. Paddleboarding in Cullercoats Bay, North Tyneside
Beginners should look to Cullercoats Bay, a quiet strip between Tynemouth and Whitley Bay in Tyne and Wear. Housing the RNLI lifeboat station and sheltered from rougher swells, this sandy curve is made for paddleboarding and kayaking.
Start at the beach, practicing your strokes and finding your balance. When you're feeling more confident, you can explore the piers and caves – even head over to the bigger bays. To do so, you'll have to head out to sea so make sure your skills are on par.
Don't miss the sunrise here for anything; it's beautiful and gentle. There are plenty of independent restaurants nearby for a bite of breakfast, so you can never be too early. Definitely one of the greatest places to go paddleboarding in England.
6. Paddleboarding in Ladram Bay, South Devon
Devon is all about sandy beaches, fossil cliffs, remnants of medieval towns and moorland parks. And past those cosy, quaint Devon towns and villages? You'd travel back in time to the Jurassic era.
Devon's southern coast is the epitome of 'prehistoric'. Clinging cliffside greenery opens up into giant karst stacks, where the burnished orange layers of these jutting rocks make you feel tiny. Ladram Bay is one of the most stunning scenes on set, but one of the most challenging too. Make sure to book a guide unless you're extremely experienced with open water paddling.
7. Paddleboarding in Cuckmere Haven, East Sussex
Romantics should couple up and head over to Cuckmere Haven for the best sunset and moonlit paddleboarding in England. Cut off from the main river and sea, Cuckmere Meanders is unaffected by tides and currents – super safe!
You can drive right up by the water's edge and park there, carting your board through shallow reedy waters. The journey doesn't take long, about an hour-long paddle and crossing several oxbow lakes. At the end, you'll come across a pebbled beach which makes you feel like you're on the edge of the world. Visiting here is one of the best days out in East Sussex.
8. Paddleboarding in Newquay, Cornwall
The warmer climate of Cornwall is perfect for paddleboarding! Better yet, you have so many beaches and waterways to choose from.
Newquay has long gained the reputation of being a surfing haven, but you can opt for paddleboarding instead. Fistral Beach and Newquay Beach are two of the more popular locations.
We recommend hitting up the Gannel Estuary as well. In particular, beginners would appreciate the incredibly calm waters. You can also rest at the small village of Crantock when your paddle power runs out.
9. Paddleboarding in Penzance, Cornwall
There's truly no shortage of best paddleboarding destinations in Cornwall. It's one of our favourite England regions to explore when it comes to coastal fun.
The coastline around Penzance is designed like a fairy tale, especially with St Michael's Mount on the horizon. Start out from Marazion Beach and its glass-clear waters; you'll want to cross Mount's Bay to reach the iconic 'floating' island. Along the way, jellyfish, starfish, the occasional seal and dolphin will accompany you like a Disney musical.
Do pay attention to where the walkway is at low tide. I suggest approaching the Mount from the south end and circle around it to avoid collision.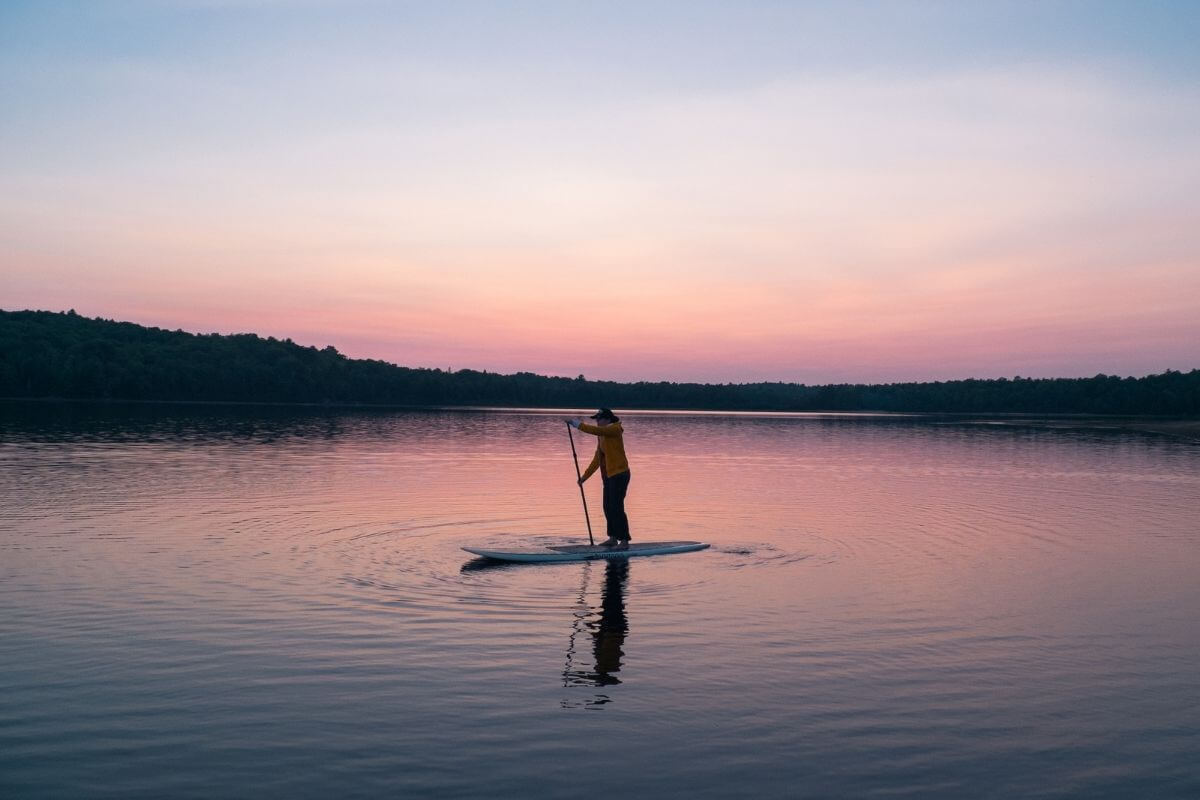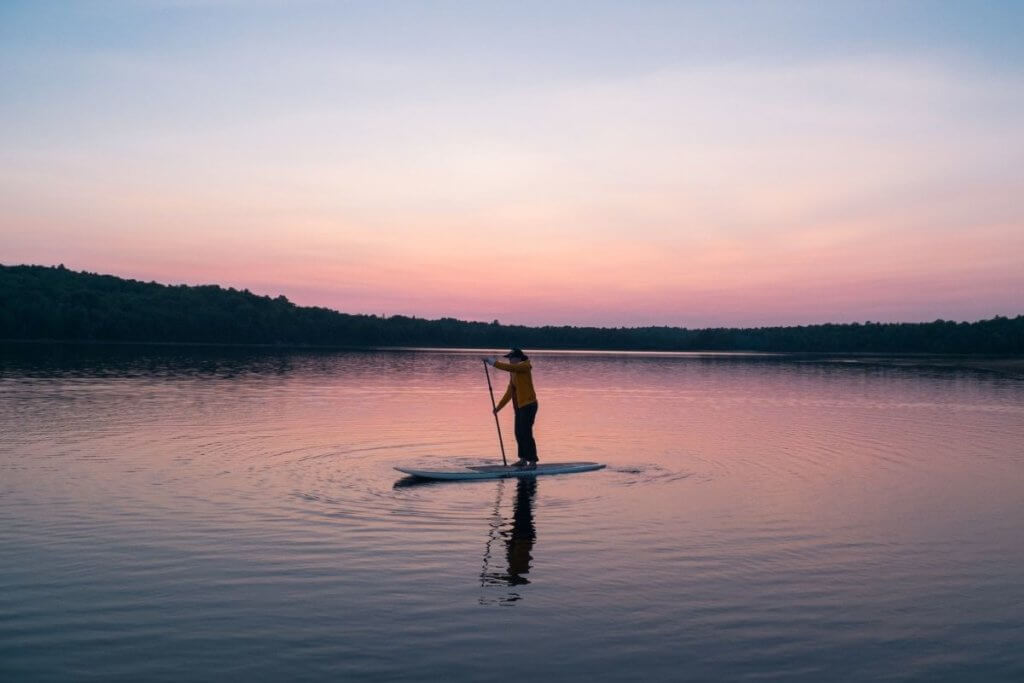 10. Paddleboarding in Symonds Yat, Wye Valley
Skirting the border between England and Wales, the Wye Valley is a great day out for families.
Thick, lush forests carpet the hills which overlook flatter farmlands and a winding river gorge. Kerne Bridge, sitting upstream, is the perfect launching spot. From there, the paddle to Symonds Yat offers a smooth glide past kayakers and peregrine falcons alike.
Experienced SUPers have the option of continuing downstream too. River Wye's Grade 2 rapids pick up a little after The Saracens Head pub. There's also the 13 miles of upstream paddling in Ross-on-Wye if you have the stamina.
11. Paddleboarding on the River Parrett in Somerset
They've invested a lot of money in making the River Parrett much more user friendly so there are lots of floating pontoons in the summer months which do make life a lot easier for getting on and off the water. There's a big car park in the centre of Langport with easy access to the river bank over a short stretch of grass. It also has shops and public toilets nearby.
You can launch from Black Bridge car park just a little out of town at Huish Episcopi. There's plenty of space to inflate your board, and even in the low season when the floating pontoons aren't there, there's a slipway into the river. Once you're on the water, head north back towards Langport, or south towards Muchelney.
Check weather and tide times before you decide which way you're going to go. Paddling against the tide is hard work. Your kids may remind you of that fact every time you go out if you get it wrong and were, for example, paddling with everything you had, only to stay stationary to the point where you got so tired you nearly asked for a tow.
You can find more great places to paddleboard in Somerset here.
Paddleboarding in Wales & Scotland
A few ideas for you if you want to go a little further afield than paddleboarding in England…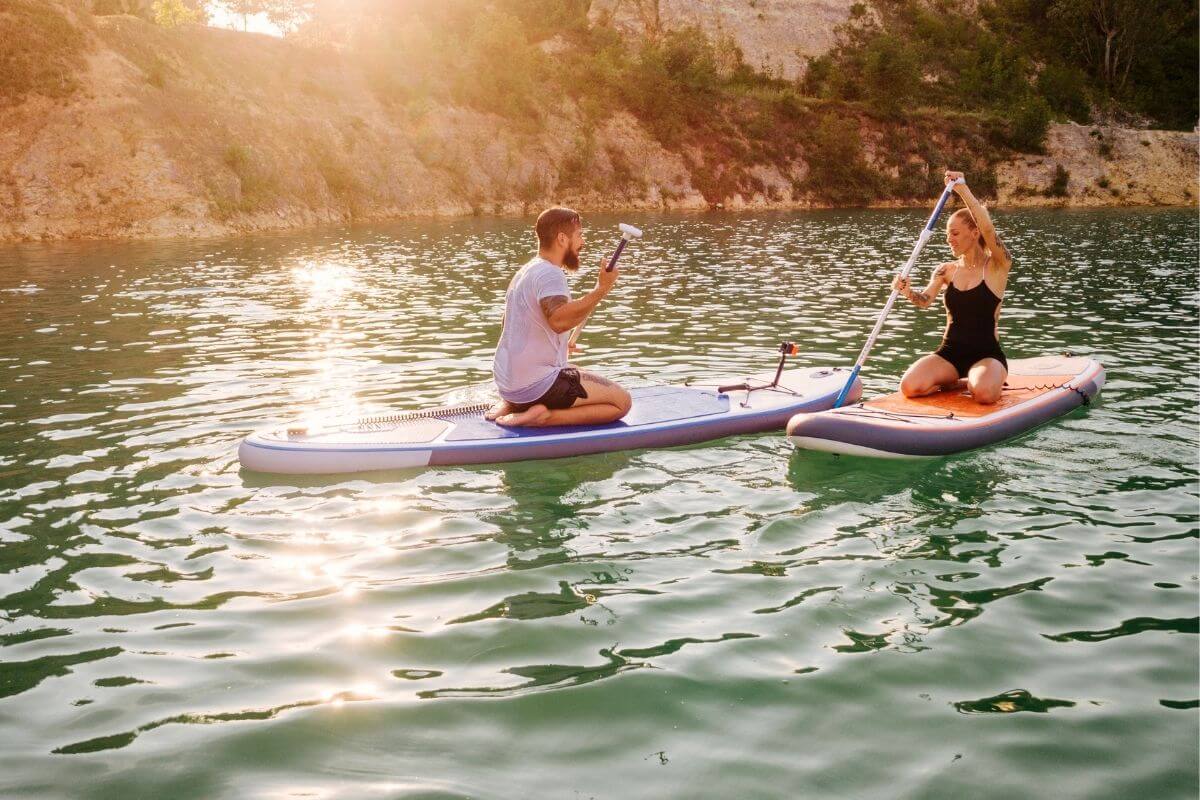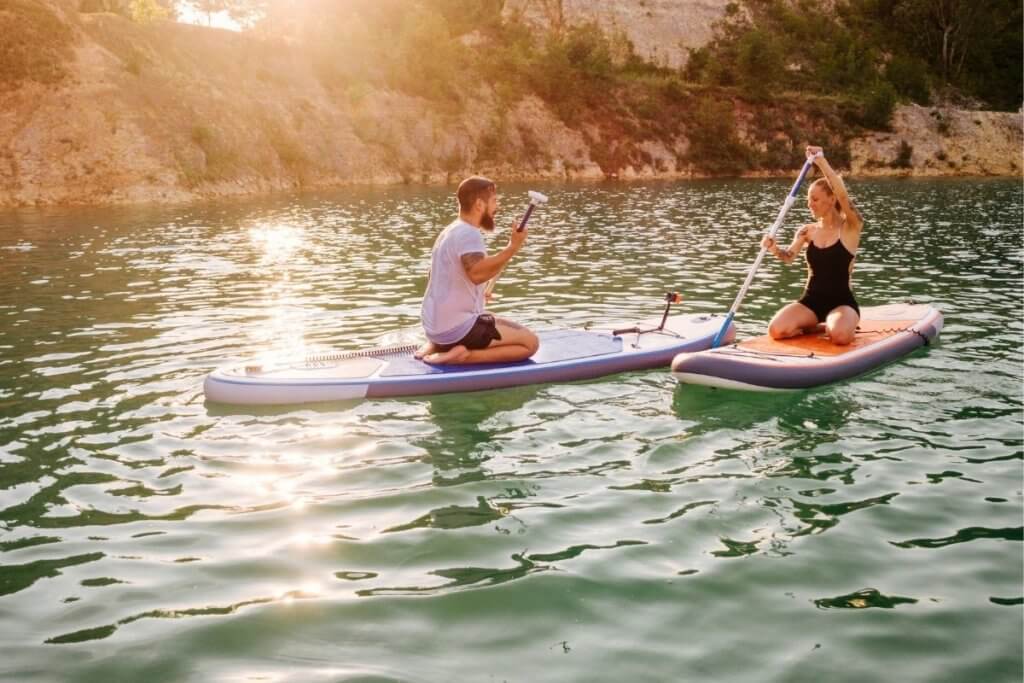 Pembrokeshire National Park
Wildlife lovers will find the coastline of Pembrokeshire National Park a delight. Imagine limestone cliffs and sandy bays, accessible only via the sea. Guided tours take you to these private coves, often with dolphins and sharks for company. The sheltered stretch between Stackpole Quay and Barafundle Bay is particularly mesmerising.
For something more challenging, do a camping SUP tour with Outer Reef. Haven Estuary is just around the corner from the Atlantic; you can always swap out the paddleboards for surfboards and ride that swell
Loch Harport, Isle of Skye
This paddleboarding destination takes us out of central England to Loch Harport in the Isle of Skye. An absolute must for SUP enthusiasts, the loch offers typically placid waters and a wide circumference – all so you can admire the epic Scottish wilderness.
Don't forget to look up at the Cuillin Mountains, especially if you're there in colder seasons. The snow-capped peaks sit like framed art with nothing blocking your view. And once you've had your fill of water, hit up Talisker Distillery by the pontoon for a signature malt whiskey. It's guaranteed to warm you up.
Mawddach Estuary, Mid-Wales
One of the best places to go paddleboarding in the UK is none other than the Mawddach Estuary. Forested hills and the peaks of Snowdonia National Park watch on as you paddle your way from Penmaenpool to Barmouth. Your start and end markers: the pubs of George III and The Last Inn.
The pub-to-pub paddle is best experienced at high tide, allowing cruise-y tours down the Estuary. Beginners may find the wind waters a little intimidating, in which case – sign up for a guided tour! SUP Barmouth does a great job, offering delivery and collection as well, so you can go on to pub time without paddling two ways.
Paddleboarding in England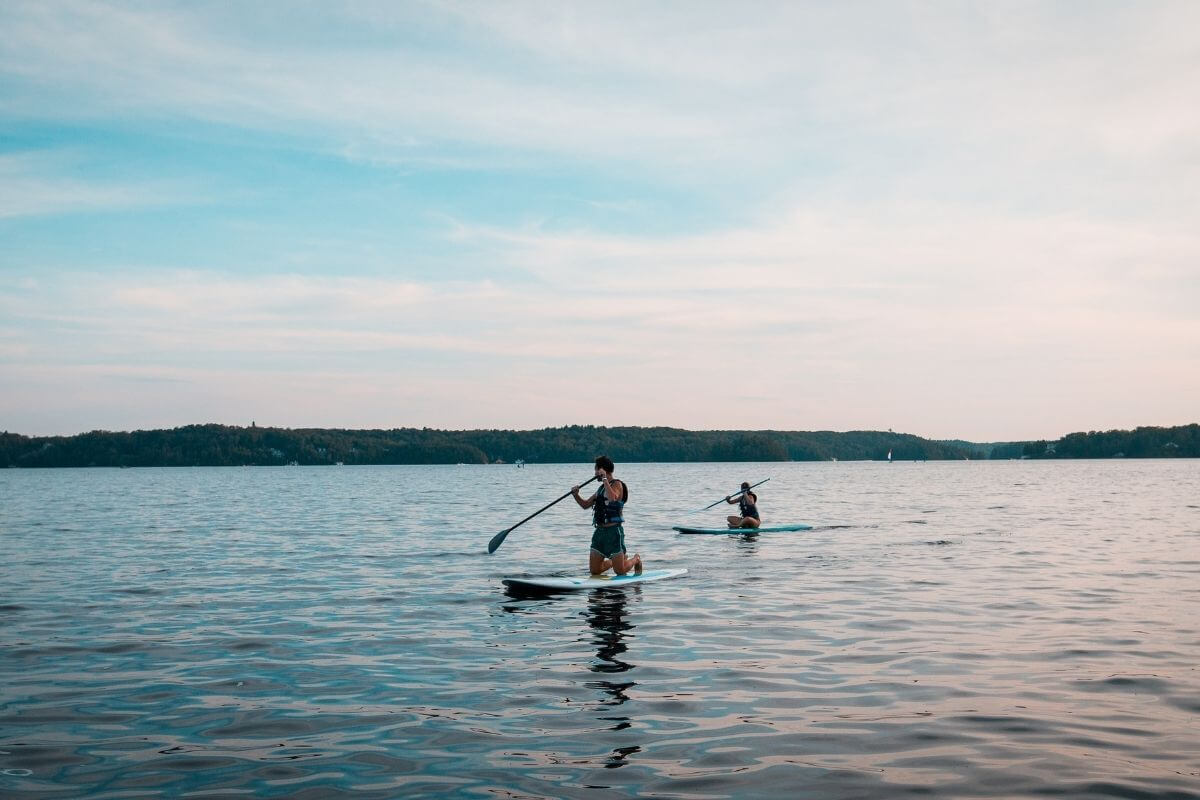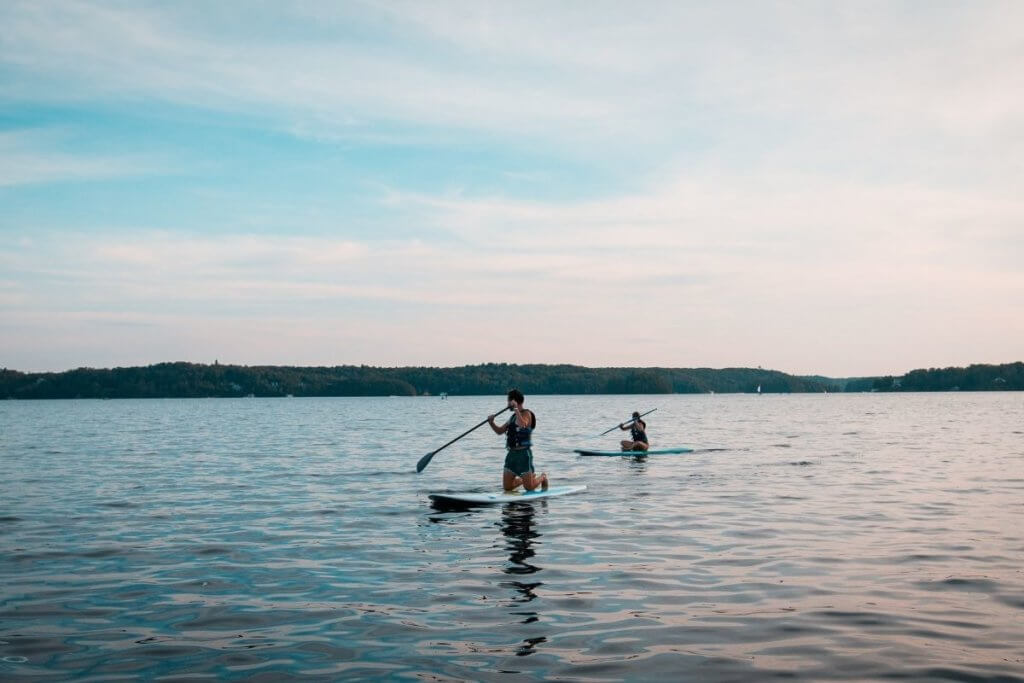 There are some great places to go paddle boarding in England, as you can see. Make to check out our guides to paddleboarding in Hampshire, paddle boarding in Essex and paddleboarding in Dorset too. And if you're wondering what to wear paddleboarding, check out our guide.
---