Are you looking to explore the beautiful city of Manchester and the surrounding area by paddleboard? Well then, you're in luck because there are plenty of excellent places for paddle boarding in Greater Manchester, from Wigan to Stockport, and beyond.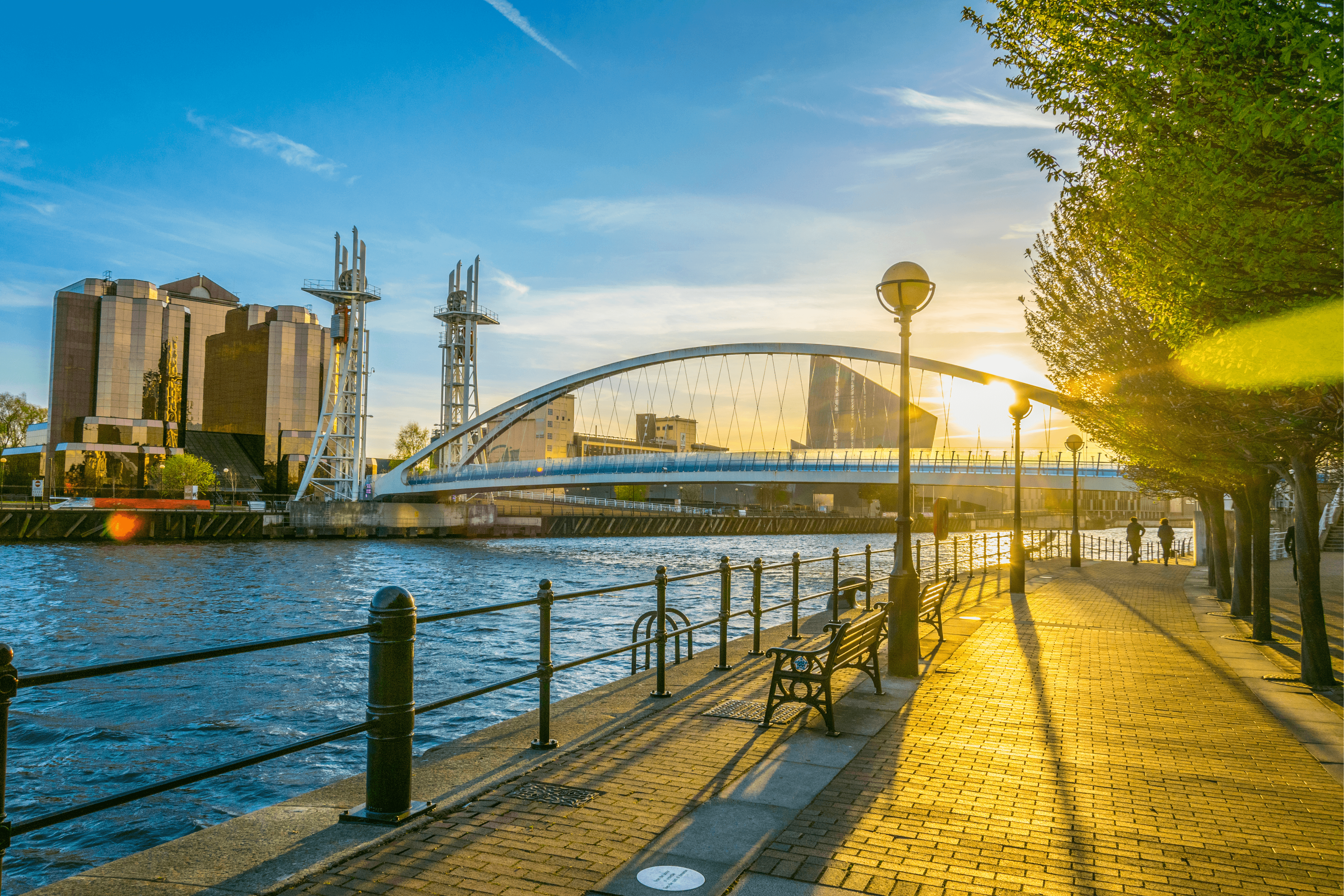 If you're wanting to explore Manchester via paddleboard, you can take advantage of the sheer number of canals, quays, and waterways that cover this whole region! There's a wide range of paddleboarding spots that vary from beginner-friendly all the way up to some longer, more advanced waterways.
Manchester is a city that's super accessible by train, plane, and automobile, so whatever form of transport you need to get around, this city can deliver! You'll also find yourself on the edge of the Peak District National Park and Lake District National Park, so you're spoiled for choice when it comes to natural beauty.
There are lots of great free things to do in Manchester, but paddle boarding in Greater Manchester can be one of the best!
6 Best Spots to Go Paddle Boarding In Greater Manchester
Looking for the best paddleboarding spots in the Greater Manchester area? We've got you covered!
1. Sale Waterpark, Trafford
Located in south Manchester, Sale Waterpark is an awesome and super popular site within easy reach of the city. This area is also home to the Trafford Watersports Centre, so if you need to hire any gear or find a place to get changed after you've hit the water, you're sorted.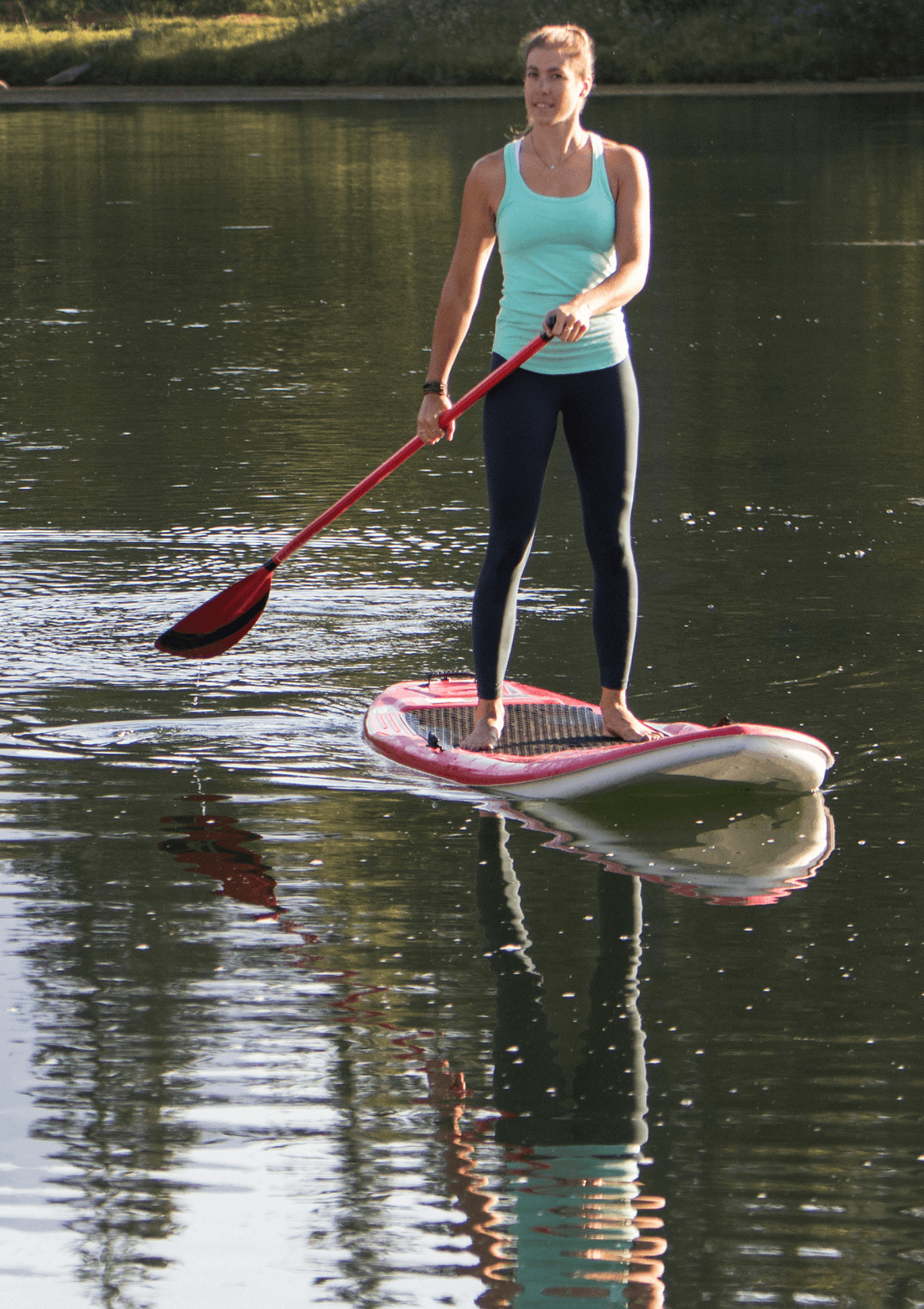 This calm lake site is a great place for beginners to find their water legs and an ideal spot to bring the kids for some fun in the rare Mancunian sun. There's also an amazing pub next to the waterpark if you want to grab some food and a pint or two in the beer garden after your session. The waterpark is also linked by a ton of bike paths, so you can have a full outdoorsy day!
2. Salford Quays, Salford
Filled with vibrant shops, bars, and even a theatre, Salford Quays is a hive of activity. It's also a pretty safe place to try your hand at paddleboarding in Manchester.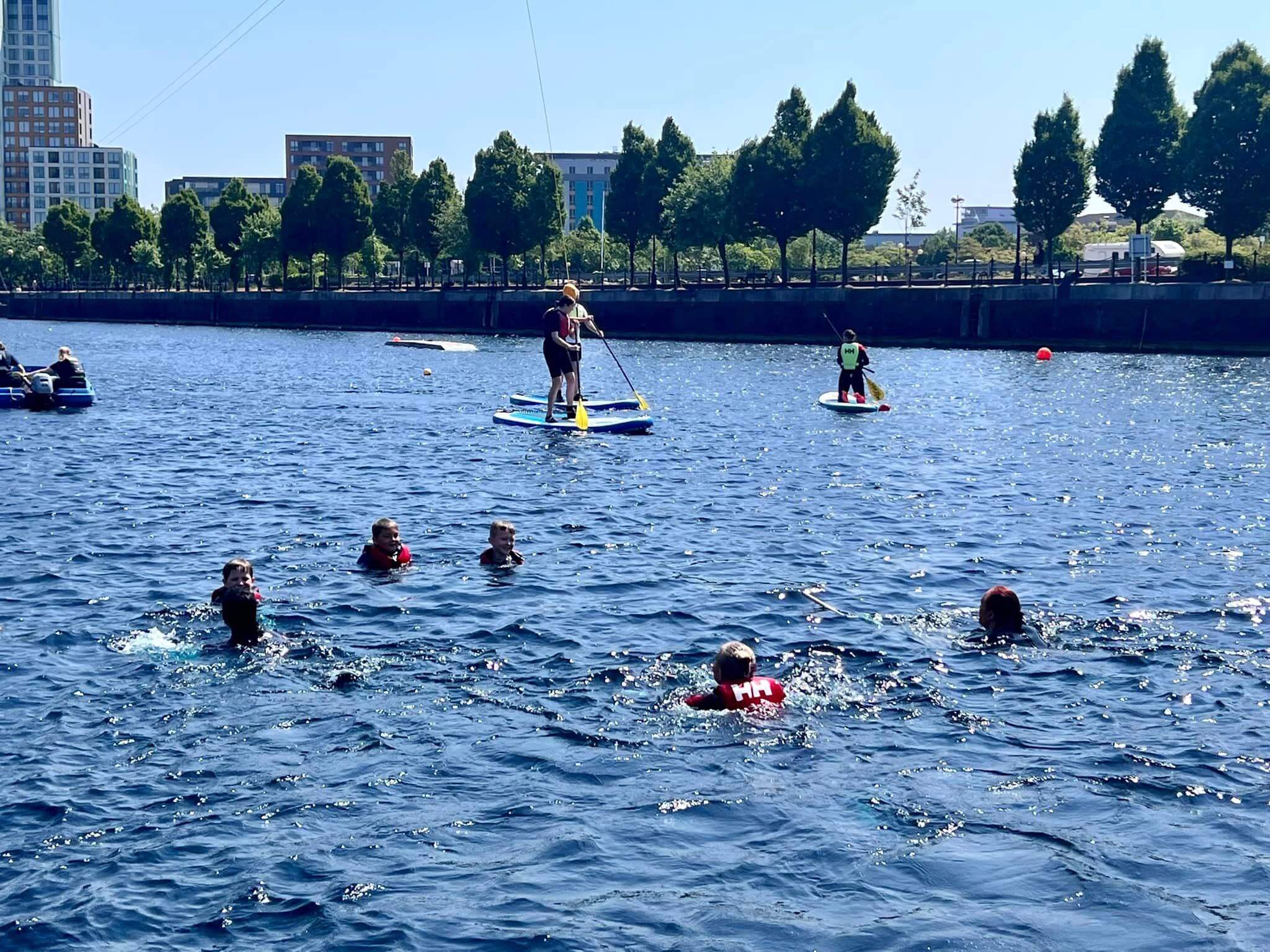 On the quays, you'll see a ton of people either kayaking, paddleboarding, or even running across inflatable obstacle courses in the summer.
It's really easy to get out to this paddleboarding site – there's a metro stop and it's only a couple of miles from the heart of Manchester city centre. So, if you're looking for a beginner paddleboarding spot without having to travel too far out of the city, this is going to be a great place to check out.
---
Paddleboarding in England
Paddleboarding is an awesome way to explore so many of the UK's amazing waterways and get out and about in the great outdoors with your family. If you're looking for paddleboarding locations close to where you are, you can check out one of our many English paddleboarding destination guides.
---
3. Bridgewater Canal, Manchester
Want to appreciate Manchester's history and culture while you paddle along? Recently, The Bridgewater Canal Company announced that you can now paddleboard down sections of the Bridgewater Canal. This snakes all the way through the city centre and out towards the beautiful village of Worsley.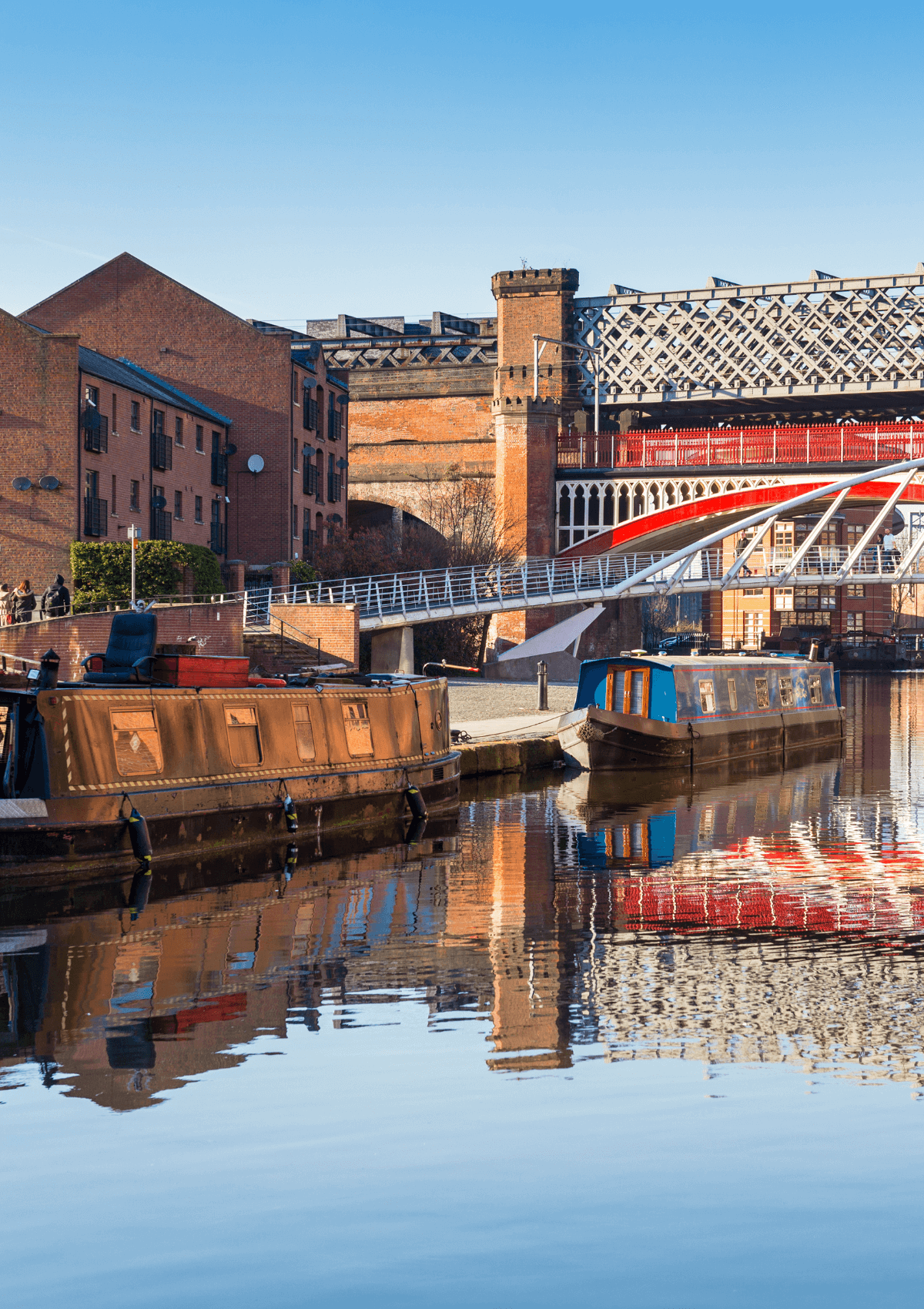 You do need to be a member of British Canoeing to be allowed to paddle on this historic waterway, but this is pretty easily obtainable. There are numerous launch points all along the canal so you're spoiled for choice. As there are other small crafts and narrow boats on this canal, it's more of an intermediate or advanced spot.
READ MORE: The Best Towns Near Manchester You've Never Heard Of / The Best Day Trips from Manchester
4. Scotman's Flash, Wigan
Located up in Wigan, Scotsman's Flash is an amazing watersports spot where SUPs, kayaks, windsurfers, and canoeists all come together.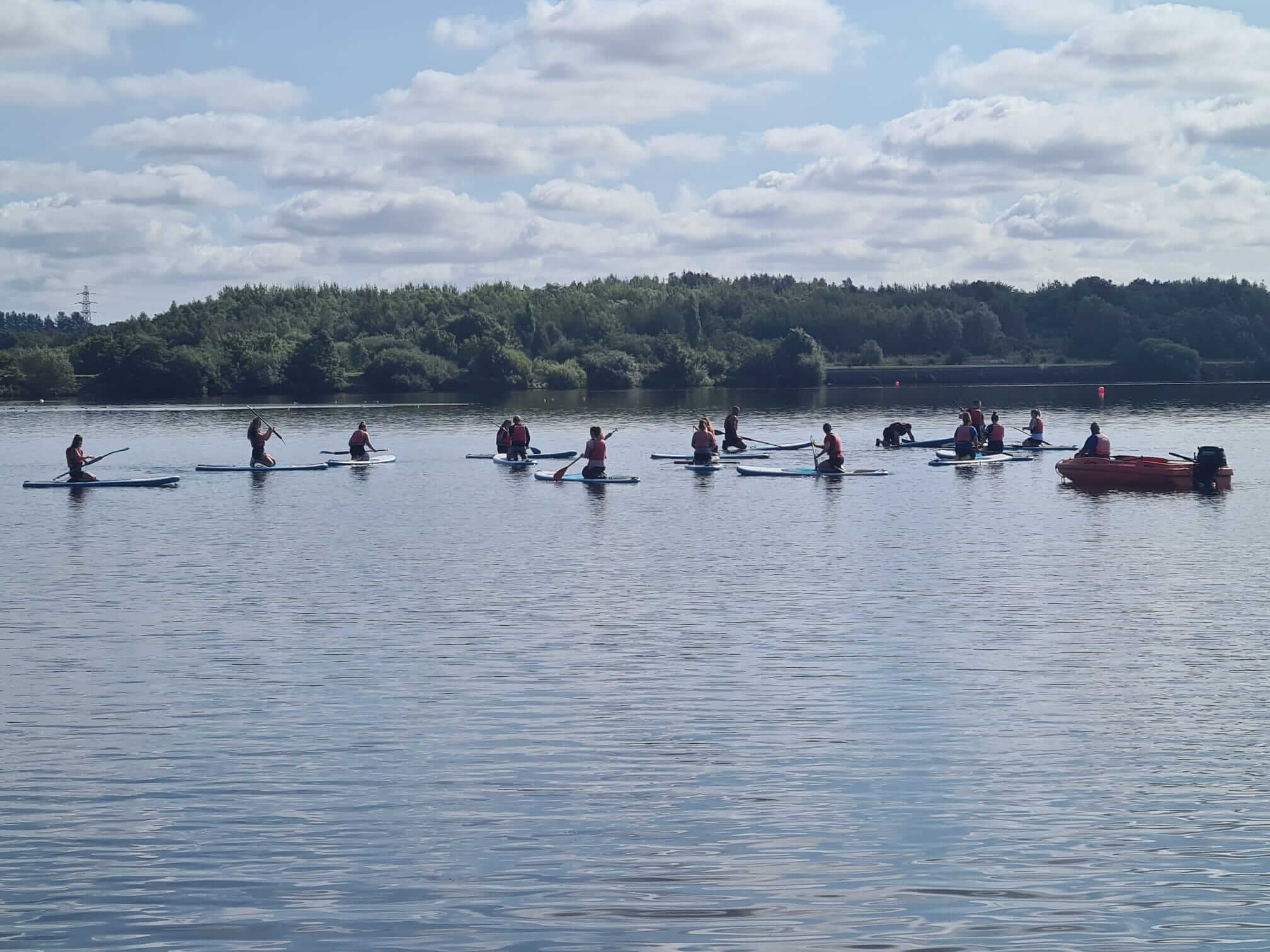 It's a fun and safe area where you can be a beginner, come with your family, or work on your technique and improve your turns before heading out on more intermediate waterways.
There are plenty of paddleboards and small crafts that you can hire at Scotman's Flash (all of which include buoyancy aids in the price), but if you want to bring your own gear and launch your own craft, you need to have third-party insurance from British Canoeing.
5. Reddish Vale Country Park, Stockport
If you're looking to head out with a fun and organised group in southern Greater Manchester, check out the Venture Out company in Stockport.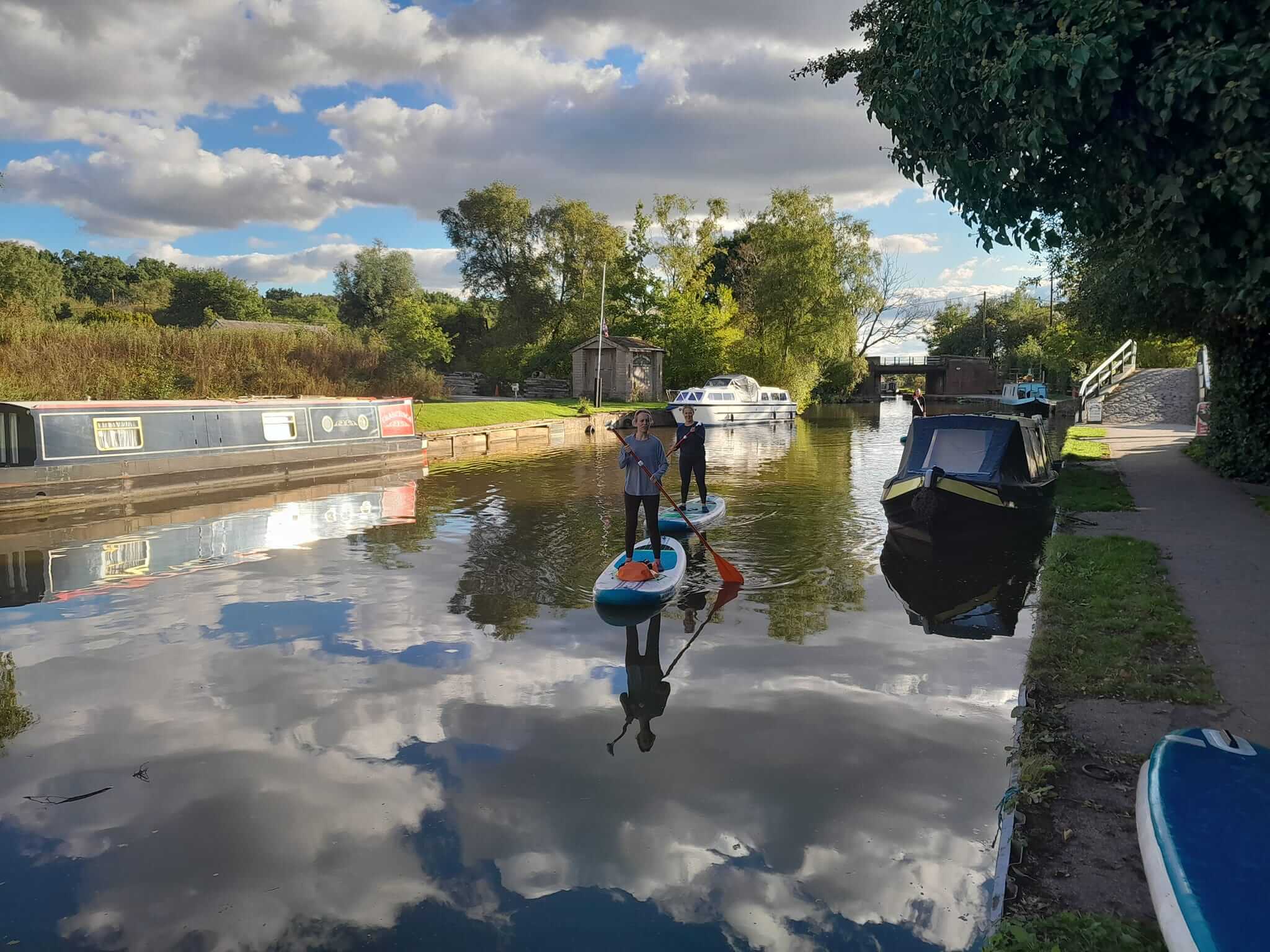 They run group outings for families, adults, and kids at the Reddish Vale Country Park. You can also self-launch here if you want, or just explore the trails around the park and have a delightful picnic.
This stunning country park is fed by the River Tame and is overlooked by the giant Reddish Vale Viaduct, which is a pretty amazing sight to paddle under. You might also be able to spot a ton of native wildlife, including wildfowl. It's a great blend of relaxing paddling and spending time admiring nature – makes for a wonderful day out in Greater Manchester!
6. Leeds and Liverpool Canal
As the name suggests, this particular North West waterway runs all the way from Liverpool to Leeds. Along the way, it also weaves its way through Greater Manchester. So, you can jump on a stretch of this over 100-mile-long waterway.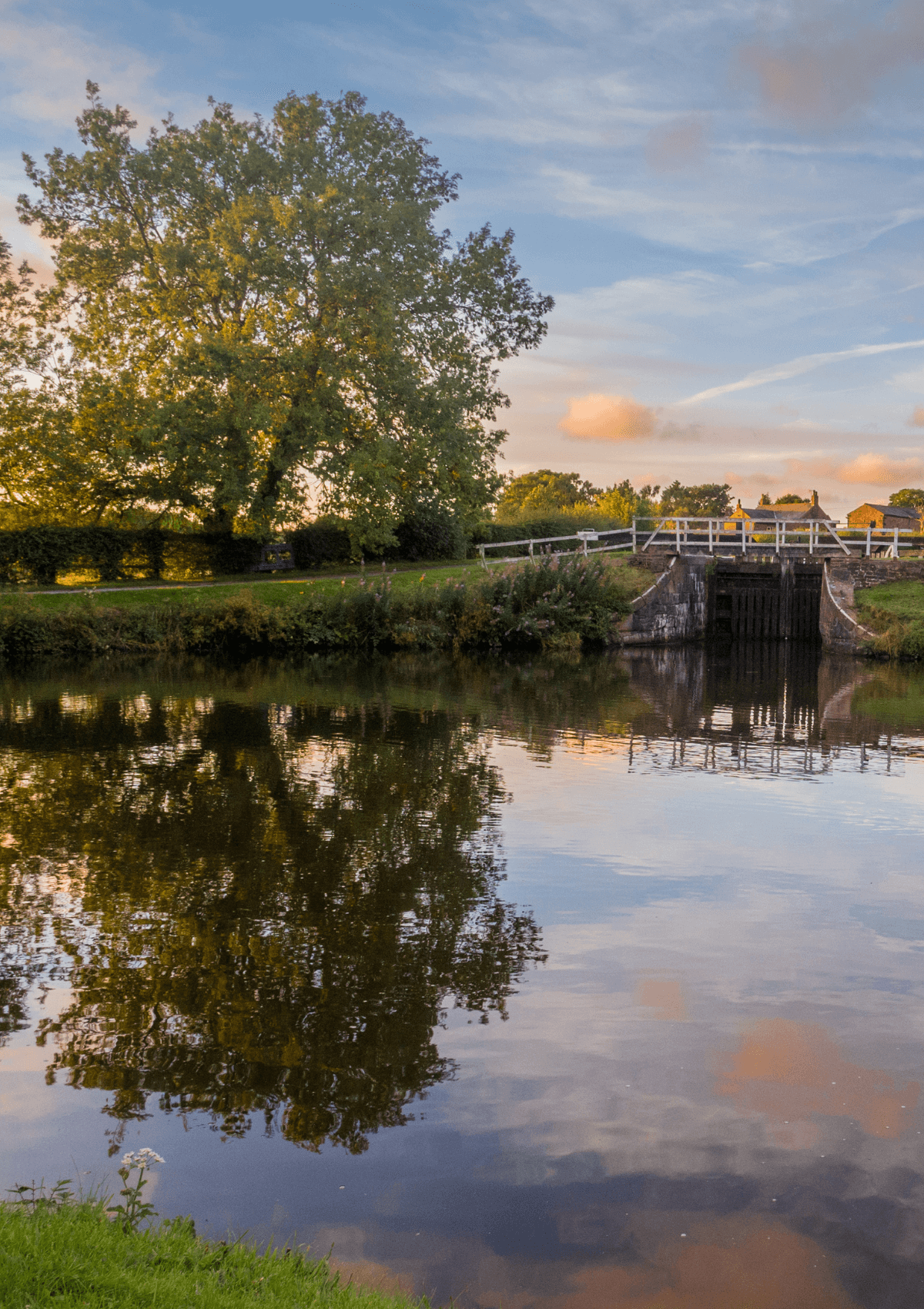 A great thing about this stretch of England canal is that it's beginner-friendly, which can be pretty rare for open-water paddling!
One of the most popular launch points is on the back of Higher Wanless Farm in Colne. You can paddle down this beautiful rural part of the canal, traversing through multiple tunnels, including the UK's longest paddle-navigable tunnel which stretches an incredible 1,635 yards!
Paddleboarding in Greater Manchester
So, there you have it, the six best paddleboarding spots in Greater Manchester. Honestly, you can't go wrong with spending a few hours on any of these waterways and admiring the beauty all around you.
As always, stay safe, have fun, and let us know in the comments below if you've checked out any of these amazing spots.
Quick List: 6 Best Spots for Paddle Boarding in Greater Manchester
Sale Waterpark, Trafford
Salford Quays, Salford
Bridgewater Canal, Manchester
Scotman's Flash, Wigan
Reddish Vale Country Park, Stockport
Leeds and Liverpool Canal
---