Looking for the best days out in Derbyshire? Make the most of your Derbyshire day out with this guide to the best day trips in the county.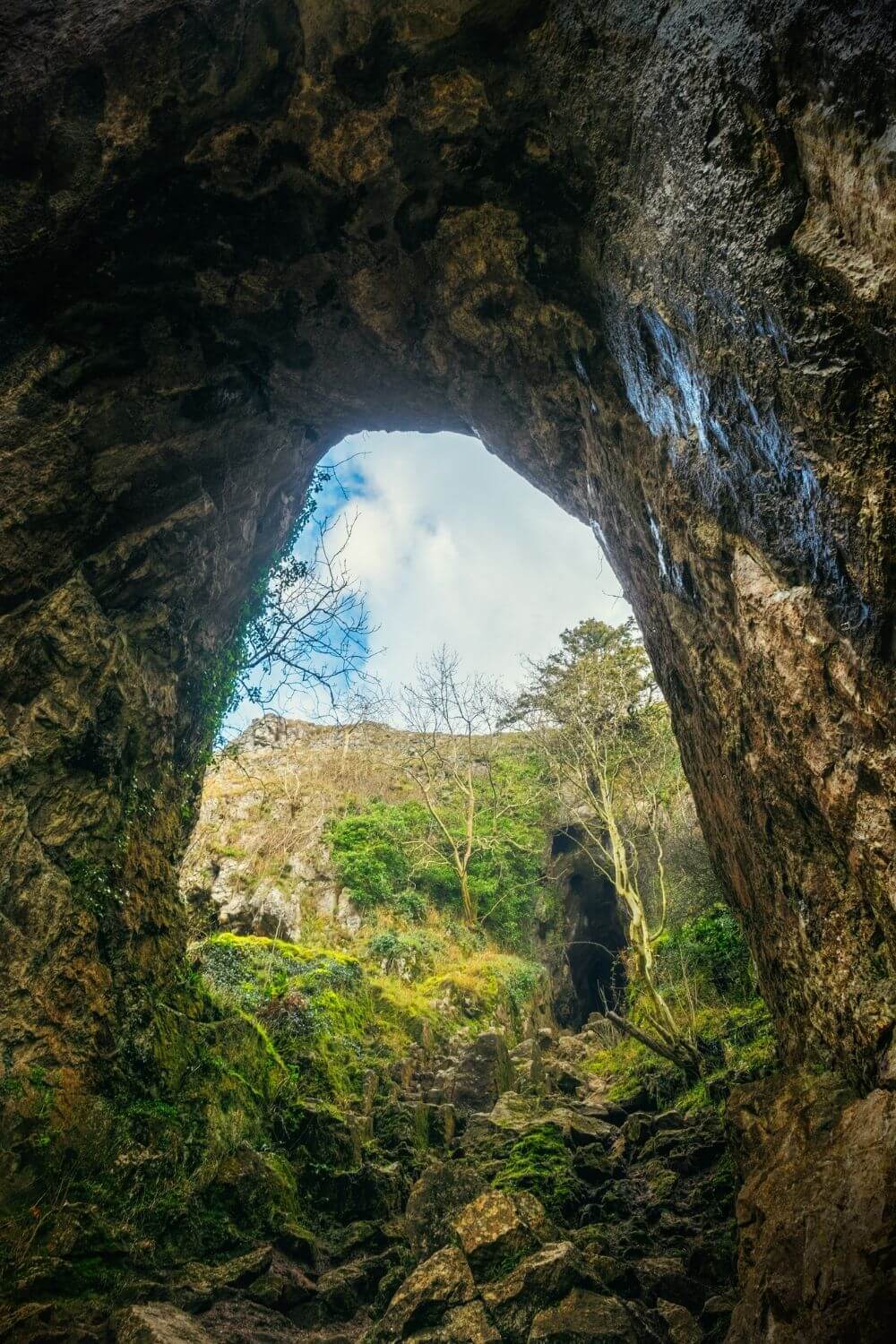 The Peak District National Park is the main attraction in Derbyshire – so you can expect lush peaks, Dovedale Valley and generous swatches of moorlands to greet every Derbyshire day tripper. Culturally rich villages like Bakewell, Castleton and Buxton make great headquarters for both adventurous visitors, and those who prefer to admire the view from a Cream Tea.
As you check off the various great days out in Derbyshire, you'll never been more appreciative of how we get the best of both worlds.
This definitely isn't a complete 'things to do in Derbyshire' checklist, but if you're interested in lavish manors, underground caverns and beautiful vistas, here are some great places to start exploring.
Best Days Out in Derbyshire
If you're looking for the best day trips in Derbyshire, then read on for the ultimate list of Derbyshire days out.
1. Trace along winding Winnats Pass
Cutting through the green valleys of Peak District National Park is a long streak of gray, too narrow for trucks but perfect for racing cyclists – the steep Winnats Pass. Instead of taking a car down this road, trek around the area instead. Numerous footpaths will have you observing the pass from several angles but the highlight is actually four tourist caves at its end.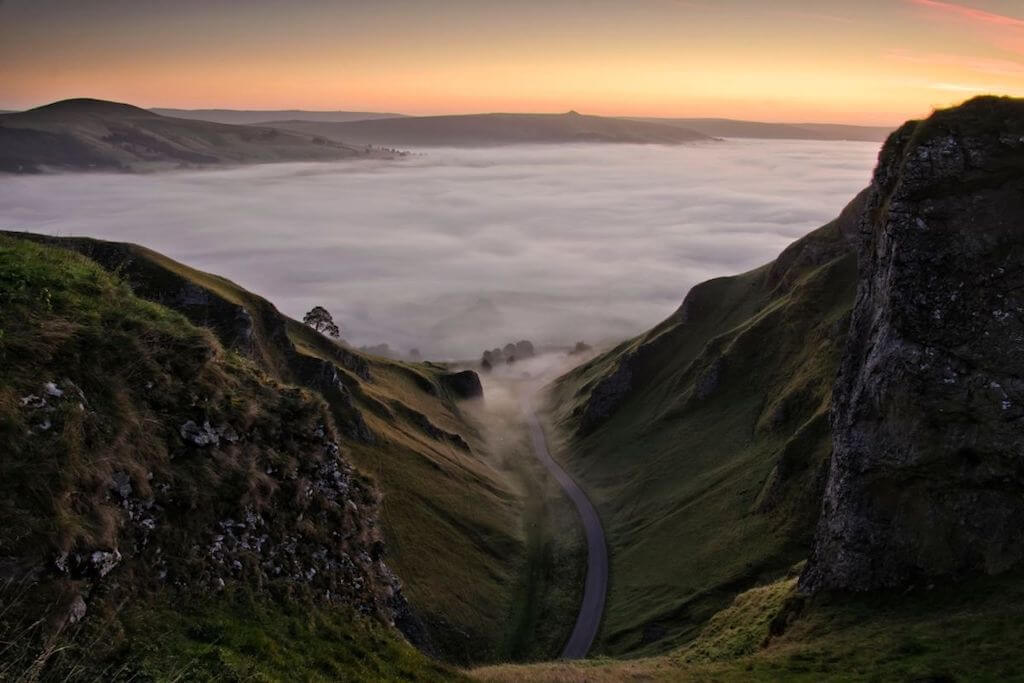 Speedwell Cavern is the most unusual; you need to descend down over 100 steps to reach the flooded miners' tunnel. Boats are available to tour visitors around the impressive displays of fluorspar, stalactites and stalagmites.
Look out for the extremely deep 'bottomless pit', alongside other natural vertical shafts to peer into. Hundreds of feet deep, with a bit of imagination, they're like mysterious portals into other worlds.
2. Explore Poole's Cavern
As far as underground adventures go – and there are plenty within the region – Poole's Cavern is among the most fascinating things to do in Derbyshire and the Peak District. Nature's worked its magic over millions of years to produce the vast limestone caverns, each with its own set of crystal formations jutting from the walls.
A tour guide will lead you through the 'rooms' with interesting commentary. There's also an exhibition at the visitor centre displaying the caverns' extensive history, as well as some fossils and gemstones found within them. This is a great Derbyshire day out for kids to explore our rich history.
Combine your day out in Derbyshire at Poole's Cavern with some woodland treks too!
The adjacent Buxton Country Park coaxes you through stunning trails, panoramic hilltop viewpoints and plenty of adventure courses. Dress practically to enjoy the zip wires and aerial walkways.
3. Nibble at an original Bakewell Pudding
Have you had food so good that it is immortalised by name, capitals included?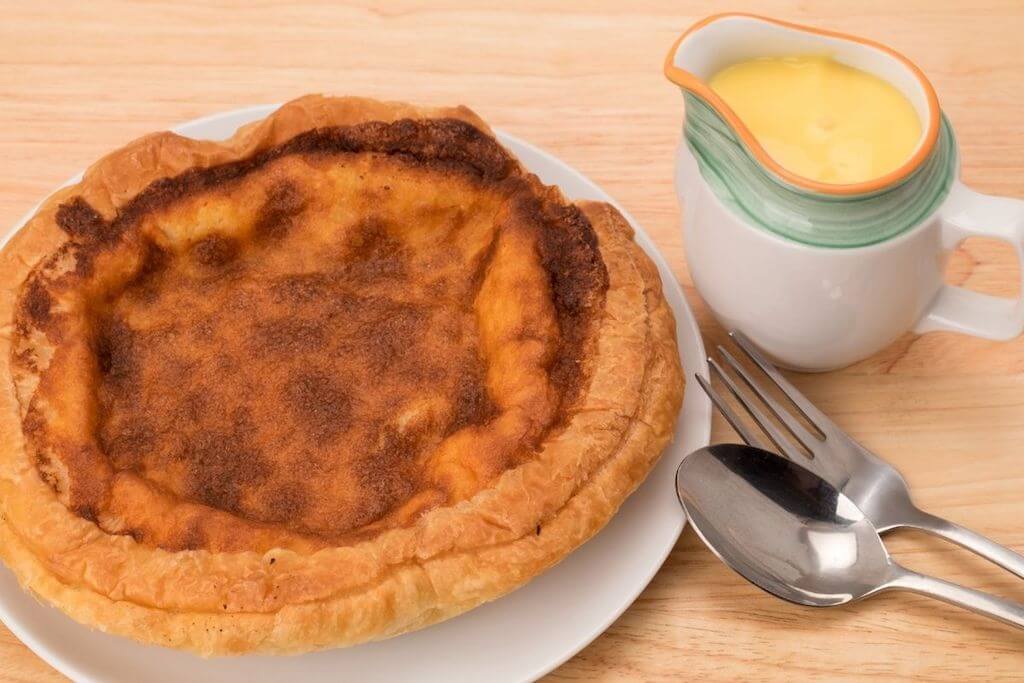 Bakewell Pudding is one of England's best eats, a dessert made of flaky pastry base and layers of sieved jam, almond and egg paste. Homey flavors and texture make it a delicious last item of your meal.
It was actually created by accident – or so the stories say.
Make sure to drop by the Old Original Bakewell Pudding Shop for a taste of this authentic treat.
Bakewell is one of the most interesting towns in England, so definitely worth a visit while you're in the area!
4. Visit the generational Renishaw Hall
This day out in Derbyshire for adults has been passed down for over 400 years – the family home of the aristocratic Sitwell family since 1625. A solid, window-filled palace atop rocky terrain, Renishaw Hall is nevertheless known for its stunning gardens. It's one of the most impressive stately homes in England.
Imagine lime trees, secret garden rooms, ornamental décor, and wooded areas with tranquil lakes. There's even a unique tunnel made from a living willow tree. I loved the on-site vineyard – open to the public between March and October with wine tasting tours too.
Renishaw Hall is the perfect attraction for literary lovers too, since the Sitwell family was a clan of artists, writers and inventors. The hall was also featured in a novel by D.H. Lawrence called Lady Chatterley's Lover – it's easy to imagine why the novel was deemed so scandalous for the time when there are so many spots in the hall for secret rendezvous.
5. Celebrate the arts at Buxton International Festival
Alongside blooming florals and lush green everything, Buxton cranks up the heat every summer with festive celebrations that last three weeks-long.
The serene spa town transforms into a cultural house, bringing you fully-staged opera performances, musical shows, literary talks and more artistic endeavours. It's a highlight among all these days out in Derbyshire because the organisers feature new programs every year.
Not to mention, the hosting grounds is none other than the gorgeous Buxton Opera House.
With its small domes and arched balcony windows, the Edwardian building is like an intimate palace, but in miniature.
6. Roll on the green lawns of Lyme Park
Journey into the past with the Edwardian mansion and grounds of Lyme Park, one of the most beautiful estates I've visited in Derbyshire. Most notably, it's an iconic location for one and one reason only – it is the lake that Mr. Darcy emerges from in all his glory. If you're a Pride and Prejudice fan, this is the place to be!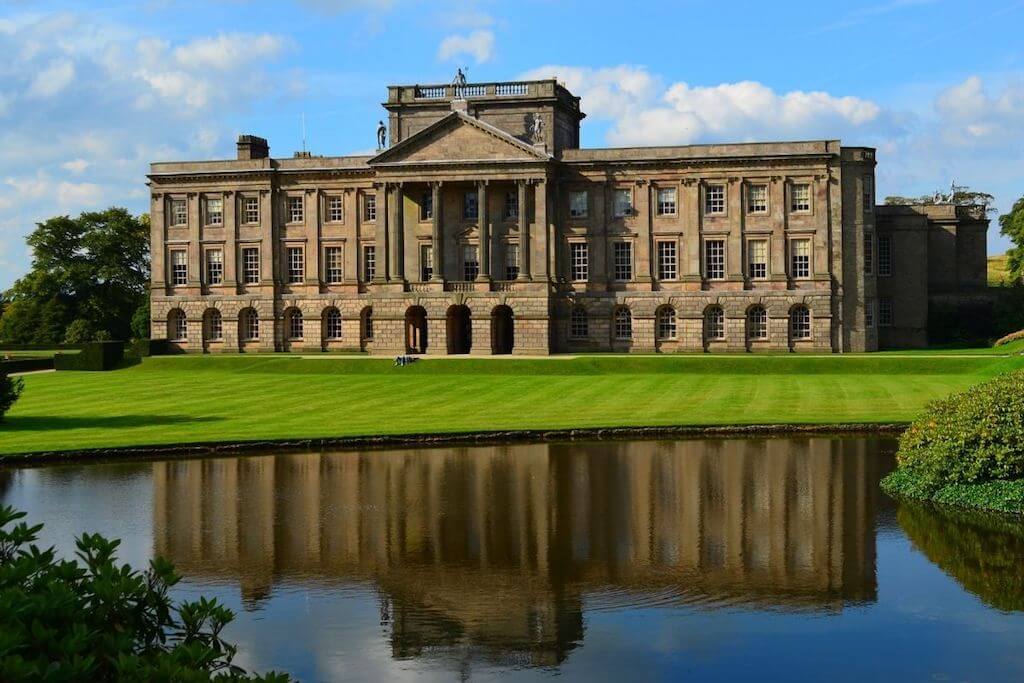 More romantic spots blossom around the 1,300 acre expanse, alongside herds of grazing deer. To make things even more exciting, the mansion houses live performances and dress up opportunities for kids. They can also run freely outside across rope bridges and slides.
Lyme Park is perfect for family days out in Derbyshire.
7. Marvel at the Upper Derwent Reservoirs
Three manmade lakes create an impressive chain through Peak District National Park to create the Upper Derwent Reservoirs: the Howden, Derwent and Ladybower.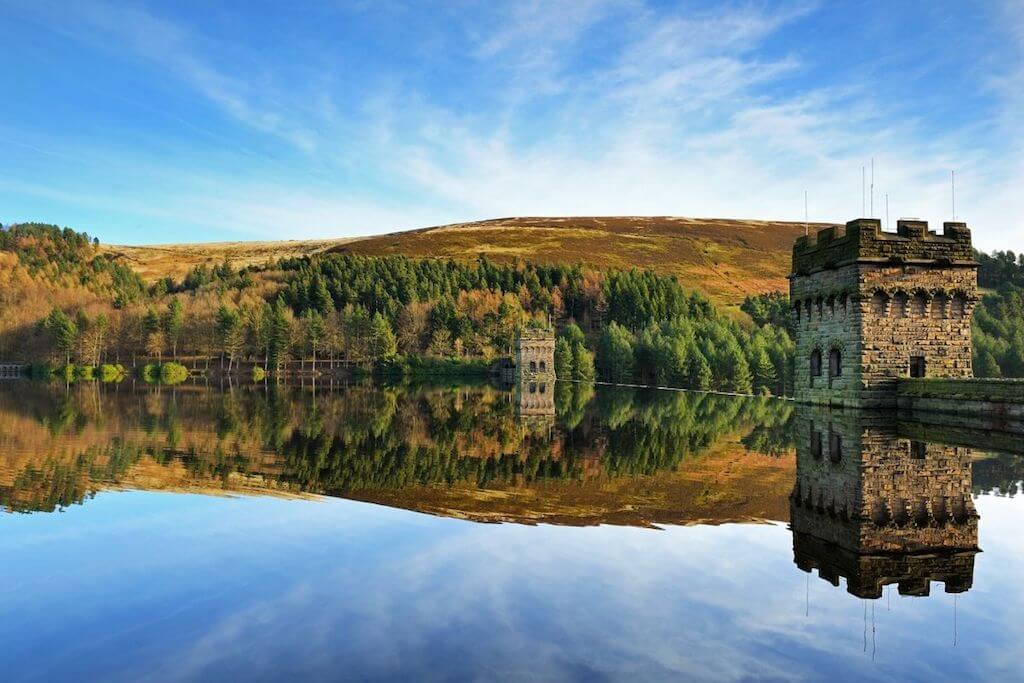 Overseen by two Gothic masonry dams that were constructed in early 20th century, this impressive structure was later used as a testing ground for bombing raids in WWII because it mirrored the valleys of Germany, the British military practiced strategic runs in the terrain.
Still, it's a beautiful landscape of its own merit, moorland plateau and flowing water combining to make a tranquil hiking and biking spot.
8. Hunt down precious stones in Blue John Cavern
Instead of the dark mining caves full of intrigue (and honestly a lot of creepiness), Blue John Cavern is like a modern wonderland. I flitted between various limestone caverns that were outfitted with modern lighting, caves joined by paved walkways. The usual stalagmites and stone formations are there but I guarantee your eyes will be drawn towards the semi-precious Derbyshire Blue John.
Miners enter the caves to harvest the rare stone during winter season, the yellow and blue crystalline patterns found only in two caves in the whole world.
Make sure to buy home Blue John jewellery as a souvenir – it's a unique find.
9. Gawk at Calke Abbey's taxidermy collection
We've all built collections of some sort. I even hoard travels to manor houses across England. One of the most unusual hoards I've come across however is housed in Calke Abbey; a manor that once belonged to an eccentric family who spurned electricity until 1960s.
Unlike the glamour you find in certain estates, Calke Abbey is brimming with everything old and antique and in no way lavish.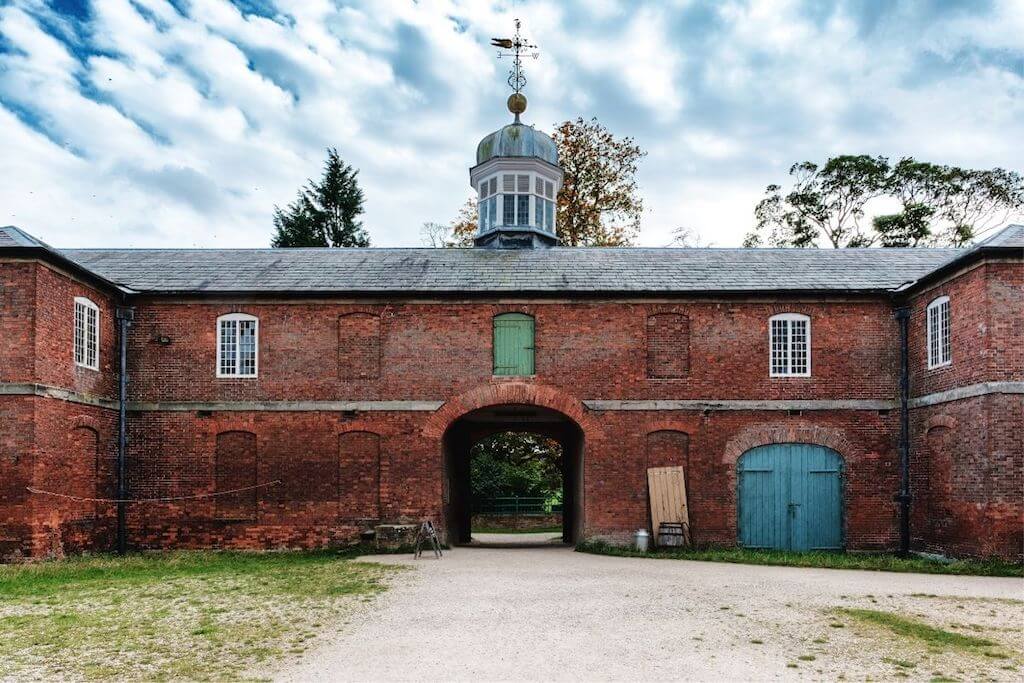 You'll find floor-to-ceiling glass cabinets and aged tables stuffed with old Sir Vauncey Harpur Crewe's taxidermy acquisitions, from animals he shot himself to insects. Animal skulls and dead animals aside, thousands of books and furniture fill the rooms.
It's a fascinating glimpse into a British aristocrat and his bizarre behaviour.
If you need some air after your tour, walk the grounds outside for some of the oldest oaks in Europe. This is probably better as a day out for adults rather than bringing the kids in tow!
10.Get mystified by Rowtor Rocks
Are you interested in magic and the arcane?
Because I stumbled across an interesting story in the sleepy village of Birchover, and it has everything to do with the unusual rock outcropping hidden in its hills. Also known as Rowtor Rocks, this attraction is a collective of caves with rough altars, thrones and symbols you might see in magic rituals.
While some people assumed that they predate Bronze Age sites, it turns out that the stones were actually carved in the 18th century.
Thomas Eyre, a local parson who was a member of the Ancient Order of Druids, laid down the carvings.
To access them, seek out the path from the Druid Inn's car park.
11.Cable car up to Heights of Abraham
One of the most stunning days out in Derbyshire and wider Peak District region is the Heights of Abraham and its 7 Wonders. What was once a 'savage garden' from village to Masson hill summit has now developed into a manicured estate.
Start with an eyeful of Derbyshire country with a cable car ride up then climb up Victoria Prospect Tower for more of those panoramic views. Journey into Masson Cavern with a single candle and emerge into a chamber flooded with light, then enjoy a light lunch at the Terrace Café.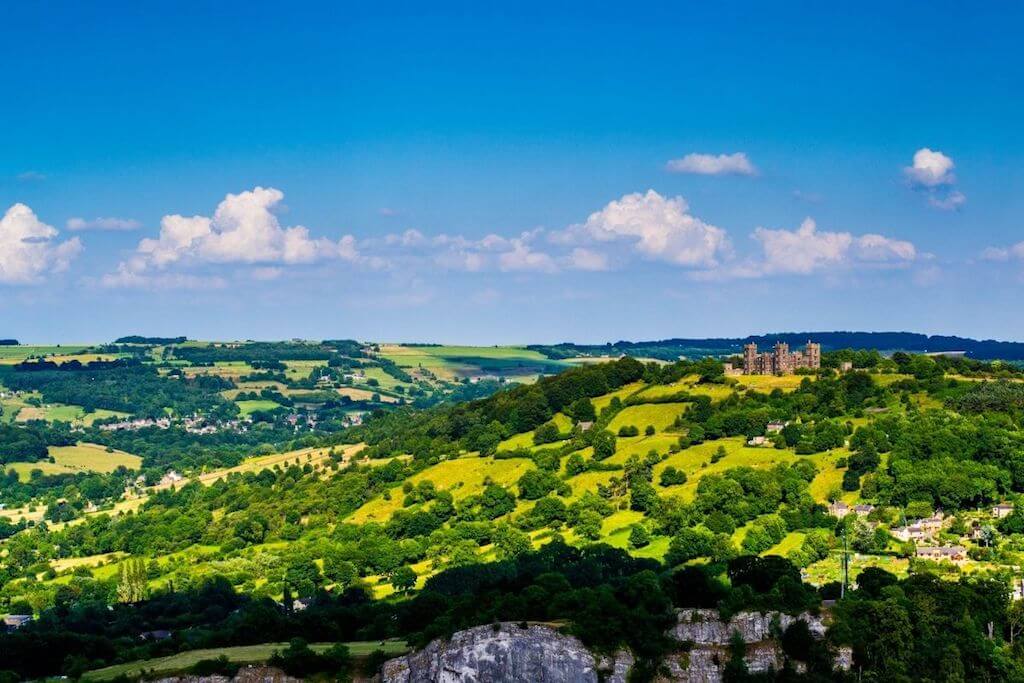 The Fossil Factory, children's playgrounds, Tinker's Shaft and a 'day in the life of' set-up in the Rutland Cavern will keep you up high until sunset.
Dedicate some time to simply wandering the trails too, as these paths have been carried over since the Georgian times.
---
READ MORE: MONEY HACKS
Looking for a cheaper day out? Click here!
---
12. Go rock climbing in Peak District
Rock climbing is one of the most popular things to do in the Peak District, which boasts over 10,000 recorded climbs. The views are more than worth it!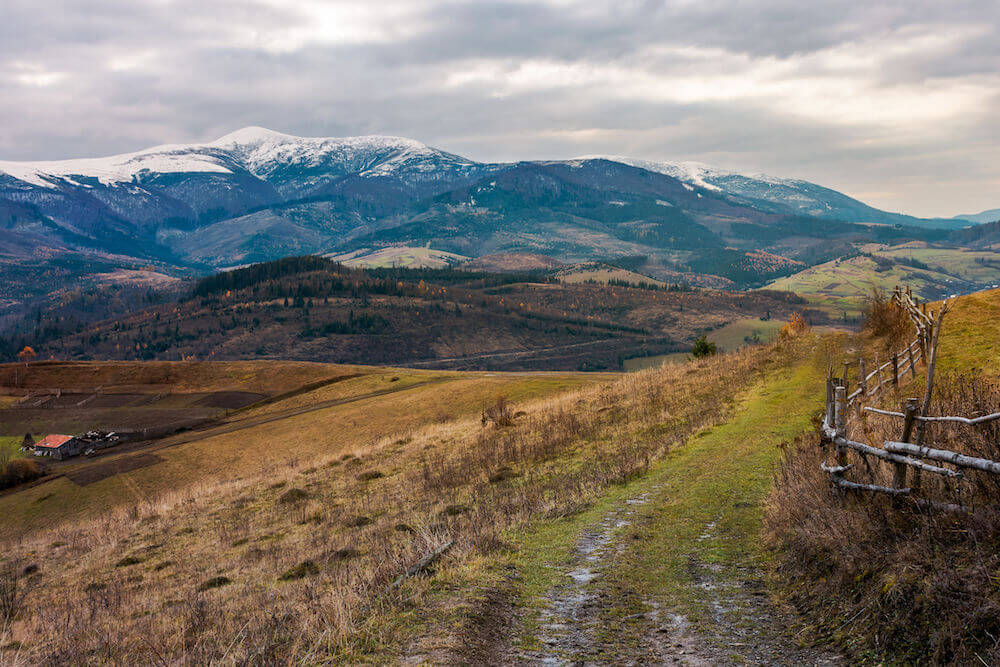 Climb and you can conquer the incredible heights and formations of Dovedale, or the dramatic façade of Windgather Rocks. Climbers flock from all over the world to visit Stanage Edge which crests above moorlands. Stark limestone cliff faces rise high above fields full of sheep and wild grass.
Not experienced?
There are plenty of climbing experts in the area who will teach you the ropes. Any outdoor junkie will have a field day with this activity. Climbing in the Peak District is one of the best adventurous things to do in England for adults, and children.
13. Romantic outing to Haddon Hall
I highly recommend a visit to Haddon Hall – not only is it among the country's oldest Tudor relics, but it is also full of romantic vibes.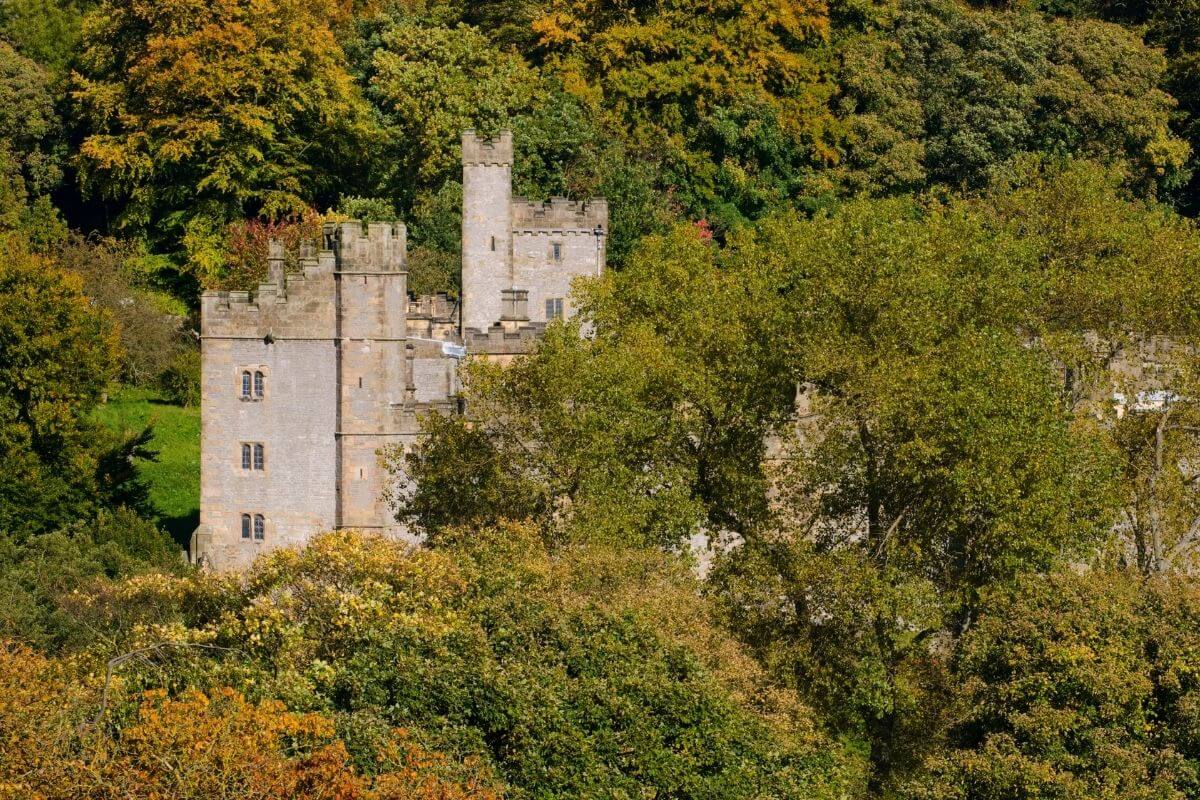 It has the classic build, from solid stone foundations to square panelled windows and castle-like roof edgings. Its freshly mown lawns feature bushes of lavender, trellises and a bubbling fountain.
Overlooking the River Wye since its conception in the 1100s, the manor can be reached via steep steps. I fell in love with the chapel and fireplace-warmed rooms inside. Once the elopement hideaway for the 9th Duke of Rutland and his lover, the manor's cozy trappings really emphasises the loving mood.
This is one of the best day trips from Derby there is!
14. Tour the Peak District Mining Museum
A dramatic drab brown against the yellowed grass of its surroundings, the Peak District Mining Museum is a top thing to do in Derbyshire if you want to learn more about its past.
Miners old and young have worked the underground nooks for hundreds of years, the climbing shafts and hazard tunnels buried deep in the countryside while its owners made lucrative business from it. Shuffle to the ground floor of the Matlock Bath Pavilion to see what terrible working conditions the miners lived through. The underground network is so difficult to navigate that it is now used by local emergency rescue teams for training.
Those who are claustrophobic can skip the tour down under and visit the mini museum above instead. Learn about how those painstakingly recovered minerals were processed and used.
15. Stay the night at The Old Bakehouse
Ever wondered what it was like living out in amid the beauty of Peak District?
After a long day exploring the rises and drops in the valley, retire to the cozy 14th century stone-walled Old Bakehouse. Just a short drive away from Chatsworth and Hardwick Hall and adrenaline-pumping activities, this cottage is such a welcoming accommodation. It's perfect for group travels as it hosts up to 15 people with option of catering.
There's even an orchard garden and authentic box stairs for a bit of historical flair.
16. Take a detour with Longdendale Trail
It might be on the other side of the Peak District National Park but Longdendale Trail is an unmissable day out in Derbyshire. Rumour has it that the ghosts of Roman soldiers haunt this stretch of countryside, but in the daytime, it is nothing but beautiful landscape.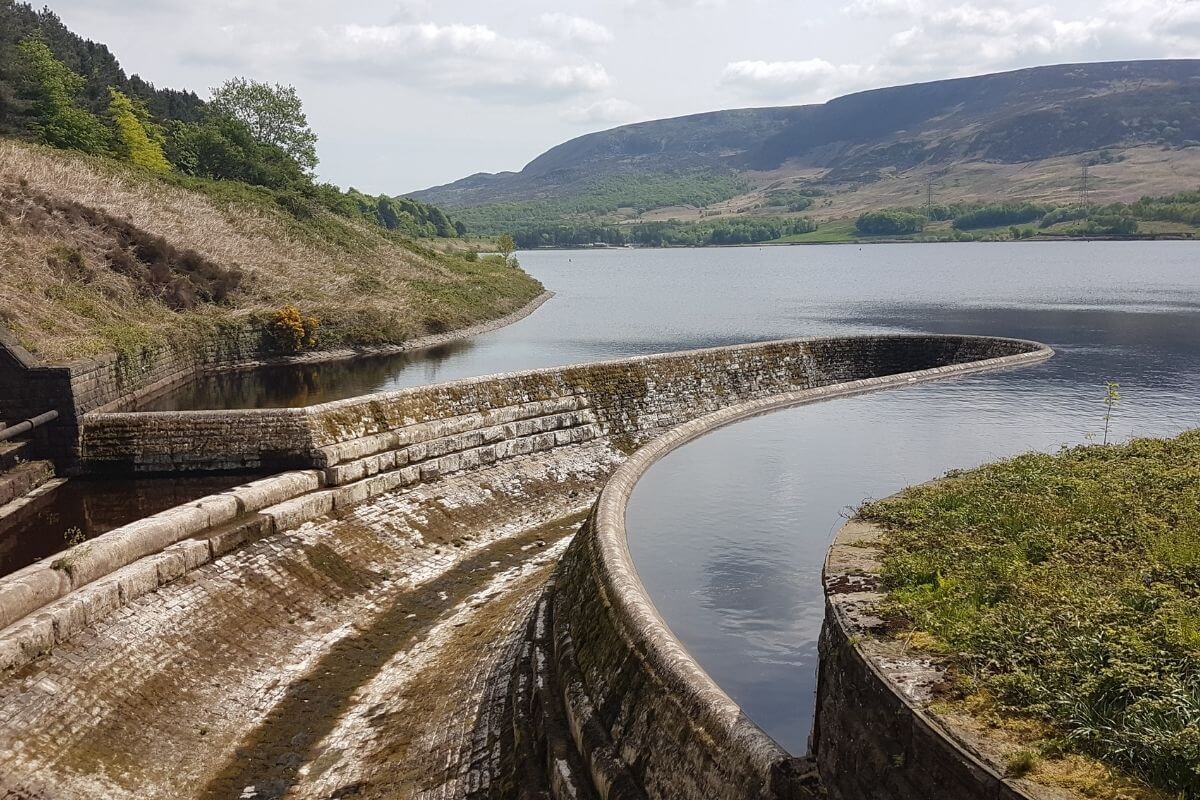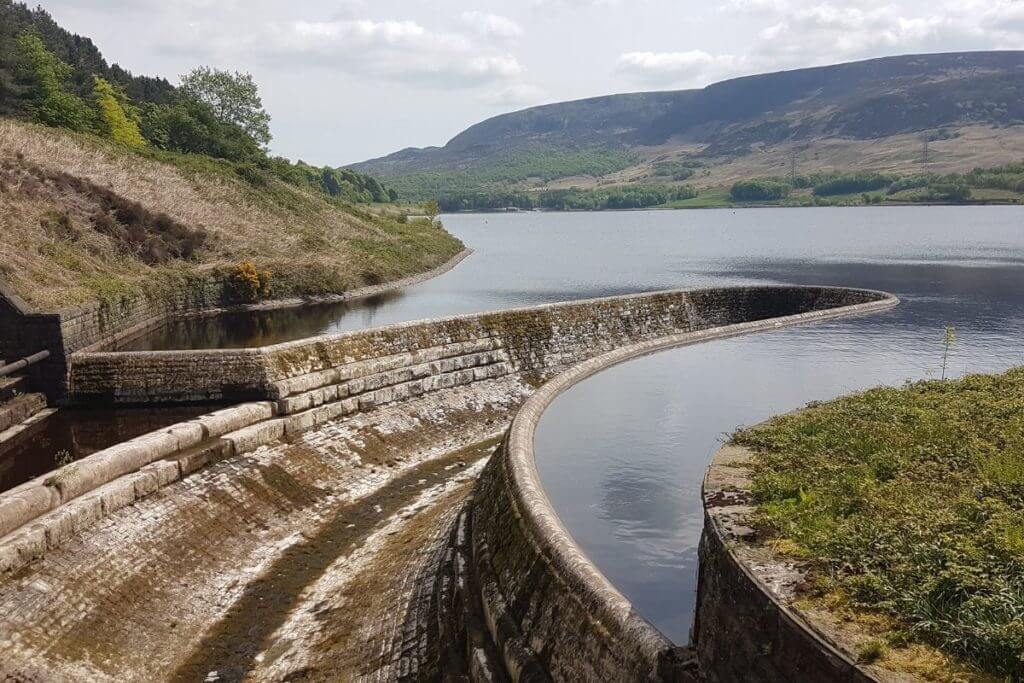 You'll agree with me that replacing the old railway line with a 7-mile cycling trail was a genius move – from Hadfield to Woodhead Tunnel there's a smooth dirt track and moorland views. Expect a free-wheel glide downhill on the way back.
---
READ MORE NEARBY
---
17. Drop by the historical Chatsworth House
Chatsworth House is the crowning jewel of Derbyshire manors as the generational family home to the Duke and Duchess of Devonshire.
Sign up for tours around the stately building to learn how it has changed over the decades, and explore over 25 rooms such as the Sculpture Gallery, Painted Hall and State Rooms. Expect massive tapestries and masterpiece paintings gilded with gold frames across the ceiling.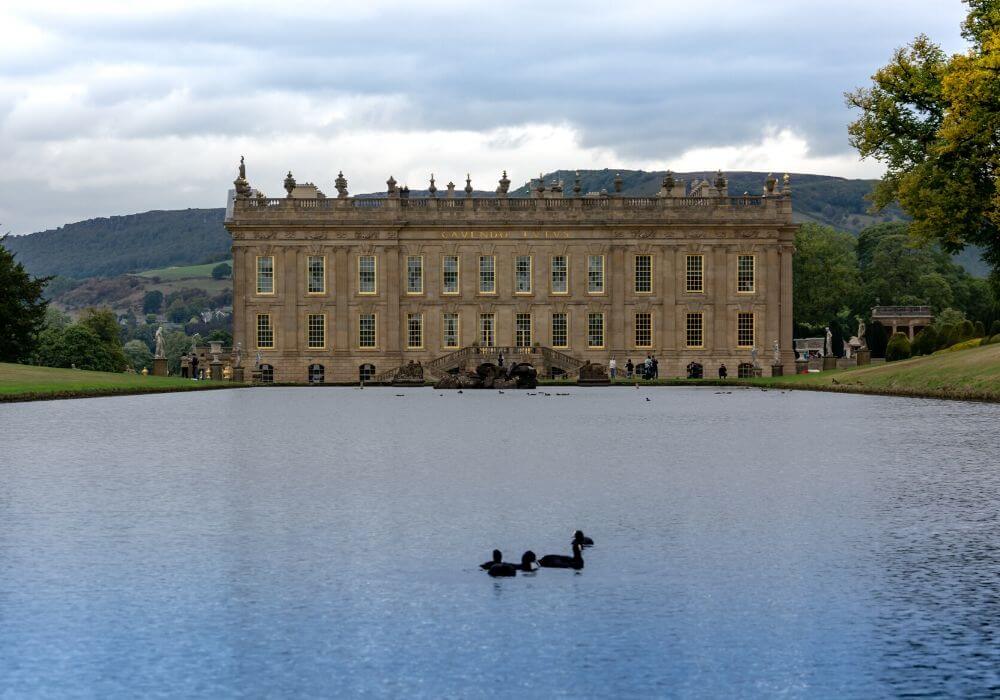 Chatsworth Gardens is a gorgeous span of 105 acres too, cultivated for almost 500 years. Look for the hidden gems within woodlands, the arboretum, and rock garden.
Those with kids may also want to visit the farmyard to mingle with friendly animals.
When you're hungry, settle into any of the Chatsworth Estate restaurants for a well-deserved break.
Also, if you're around Derbyshire at Christmas, Chatsworth House at Christmas makes for one of the best festive days out in the Midlands.
18. Wander the massive Bolsover Castle
If you haven't had enough of manors and castles on your days out in Derbyshire, be sure to pop by grand Bolsover Castle. Originally built as a retreat for 17th century nobles to party in, the lavish palace is now an exciting day out for you and your family. As you meander through the labyrinth of halls, pay attention to the carved marble, the fireplaces, the painted ceilings and rich wooden furnishings. There are rooms dedicated to re-enactments and costumes as well.
Time your visit carefully so you can watch an incredible display of horsemanship by the riding school. When you need a break from all the walking, grab a small bite at the onsite café.
19. Hike up Mam Tor
One of the best outdoor things to do in Derbyshire is no doubt hiking, so pack comfortable shoes and make the trek up Mam Tor.
Sitting right beyond Castleton, this 500-metre+ hill is built by layers of 'mini hills' from frequent landslides. For most part, you'll be trekking along stone pavements with little obstruction. Once you've reached the top, it's moorlands and green valley for as far as the eye can see.
20. Cruise around Crich Tramway Village
Instead of the usual market towns of the Midlands, I suggest a trip to charming Crich Tramway Village.
Like its name suggests, you can enjoy a vintage tram ride which rounds a period street and elevated track. When you've reached the other end of the ride, join the Woodland Walk and Sculpture Trail. The serene walk will take you back to the village; or, you can catch a ride back and get off in front of the Red Lion Pub and Tearooms for a quintessential British afternoon tea.
This is a great itinerary if you're tired of trekking in the great outdoors. One of the more relaxing days out in Derbyshire!
21. See the animals at Peak Wildlife Park
The walkthroughs at Peak Wildlife Park allow you to come face to face with exotic and endangered animals from across three different continents. The lemurs and the penguins are the most popular animals to see here, but there are also wallabies, pygmy goats and meerkats too.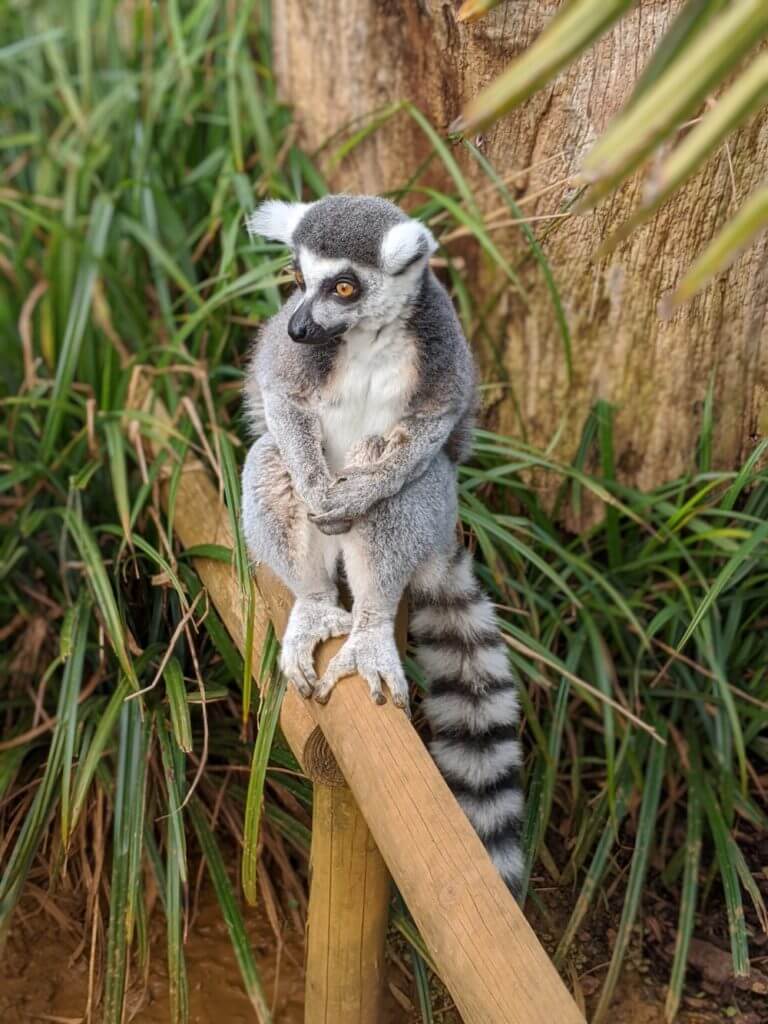 You can sign up for a day as a keeper at Peak Wildlife Park too – making for a great day out in Derbyshire for the kids!
If you want to know more about England's zoos, check out this blog post.
22. Derwent Valley Mills
As one of England's top UNESCO World Heritage Sites, Derwent Valley Mills is an iconic day out in Derbyshire – giving great insight into the history of industry in the area. Now you can enjoy the shops there, and a wander around the grounds.
There are information boards to help you understand the area better, and its place in Derbyshire and England in general.
23. Walk the Pennine Bridleway
The Pennine Bridleway is one of the most popular national trails in England and goes right through Derbyshire. The full route is 205 miles (330 km) through the Pennine Hills from Derbyshire to Cumbria.
You can walk it, or cycle it, for a great day out in Derbyshire. Expect to see rolling hills, the odd waterfall, and some wildlife along the way. It's one of the most iconic long distance trails in the UK – enjoy!
24. Explore Derbyshire's county town of Matlock
The former spa town of Matlock is located right on the doorstep of the Peak District. While Matlock's tourism heyday was during the Victorian era, it still retains many historical and architectural features that once earned it the nickname of 'Little Switzerland'.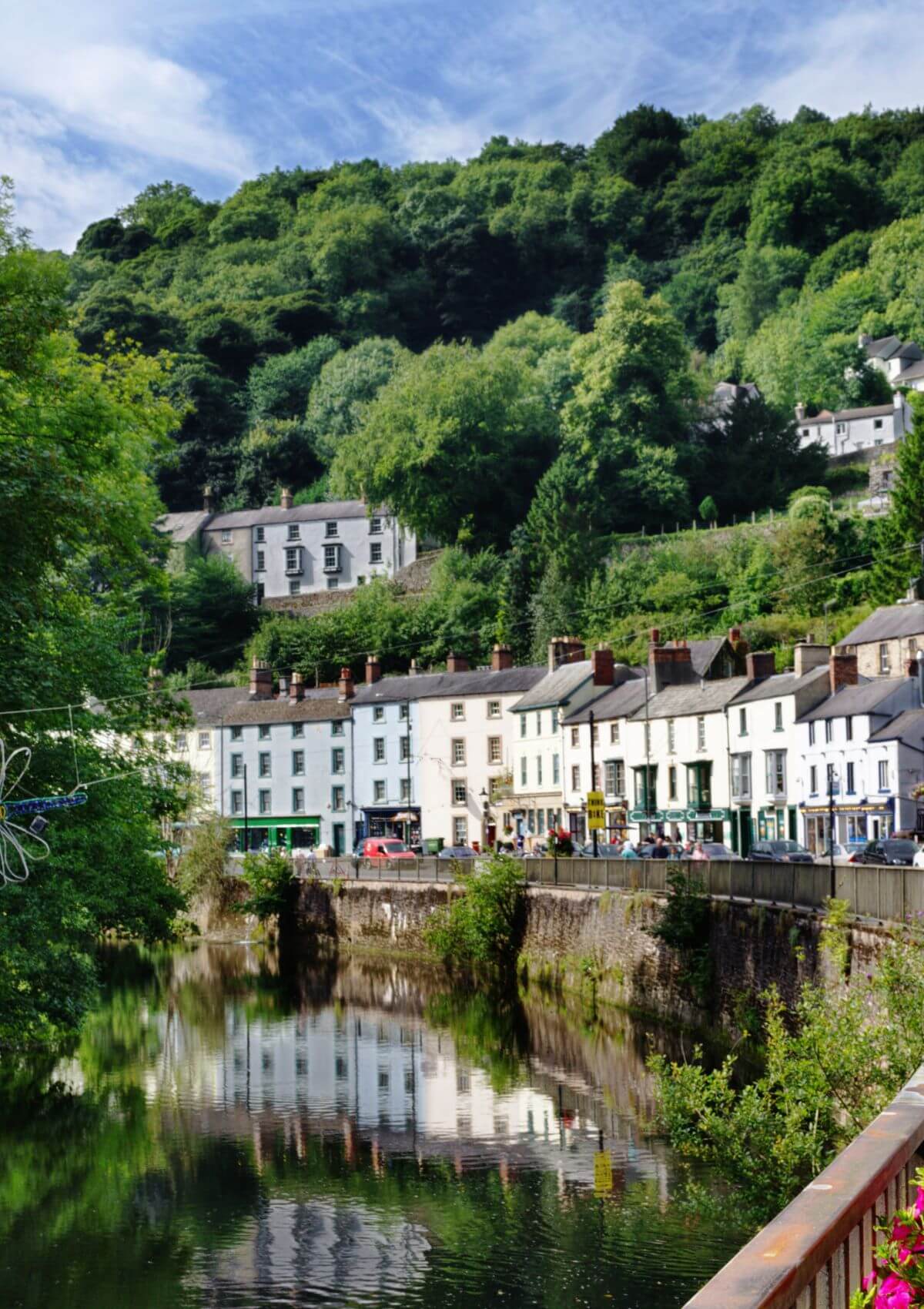 Today, Matlock is famous for its award-winning parks complete with boating lakes, the scenic surrounds of the Derwent Valley and Peak District, and the riverside attractions and cliffs that are illuminated every September and October during the Matlock Bath Illuminations. For sweeping views of this postcard-perfect town, ride the cable car to the Heights of Abraham.
Other top attractions in Matlock include former lead mines such as Masson Caverns, the Peak District Mining Museum, and the 15th-century four-arched bridge that crosses the River Derwent. For a journey back in time, you can ride a vintage tram in the nearby Crich Tramway Village or board a steam train from Matlock to Rowsley.
If you want to make the most of the outdoors in Matlock, take a stroll along Lovers Walk, the Riverside Gardens or the Derwent Valley Heritage Trail. When you need a break, you'll find plenty of pubs, restaurants and independent shops around Crown Square.
25. Get your fill of history in Ashbourne
Home to over 200 listed buildings that showcase Tudor, Georgian and Victorian architecture, Ashbourne is one of the most historically fascinating towns in Derbyshire. It's also known as a gateway to the Peak District, with the picturesque valley of Dovedale being located just a stone's throw away.
On the cobbled streets surrounding the Market Place, you'll find pubs, restaurants, independent shops, and heritage buildings that include former almshouses and coaching inns. Head to Saint John Street to buy tasty treats from the Ashbourne Gingerbread Shop, which is the half-timbered home of Ashbourne gingerbread.
Follow the pedestrianised Tissington Trail to explore Dovedale and the Pennine Bridleway. This popular route through the countryside eventually links up to the High Peak Trail.
26. Stock up on homewares at the Denby Pottery Village
The Denby Pottery Village offers an exciting day out in Derbyshire for the family. While you're here, you can shop for quality Denby stoneware, browse the museum and attend craft workshops. There's also a delicious coffee shop and bistro for when you're feeling a little peckish.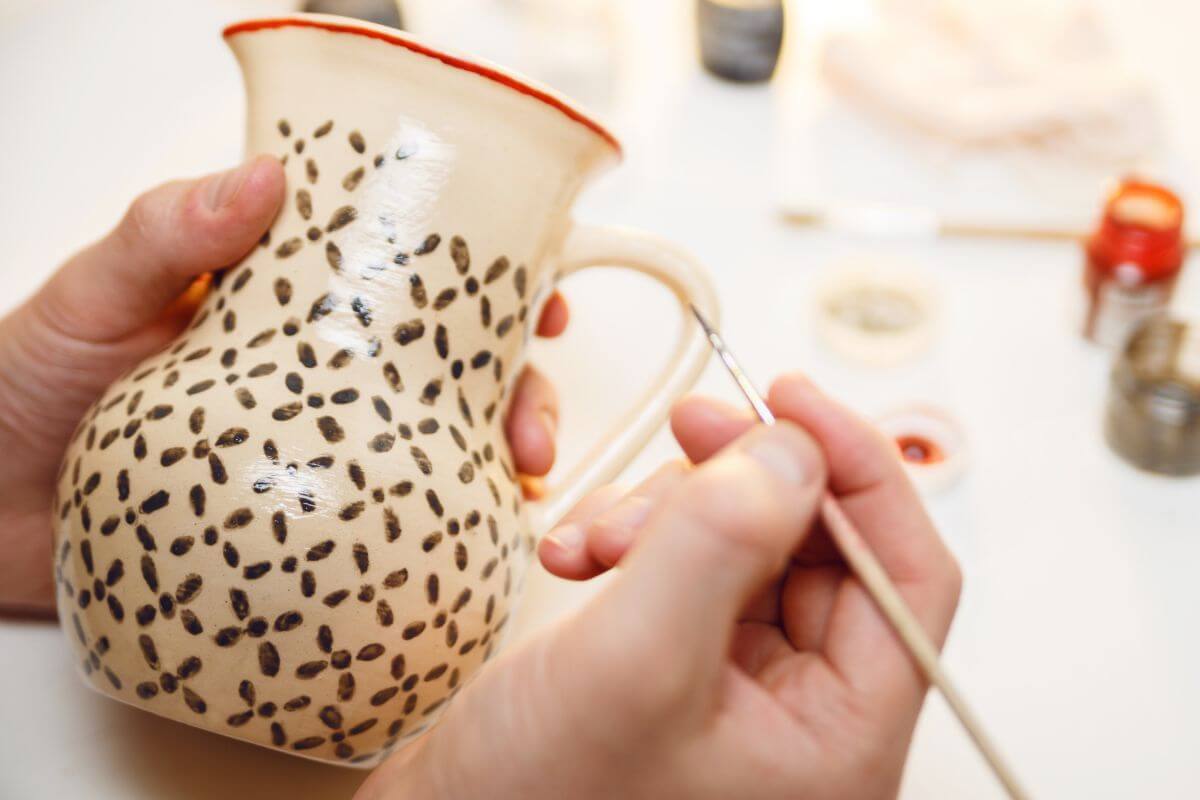 Keep your eyes peeled for events for kids at the Denby Pottery Village. Workshops are held year-round, with special events taking place over holidays such as Christmas and Halloween. Head to the gift shop to get discounts of up to 60 percent on new and old product lines.
27. Admire the unique architecture of Hardwick Hall
Hardwick Hall is one of England's best Elizabethan prodigy houses, constructed in an Italian Renaissance style with huge windows.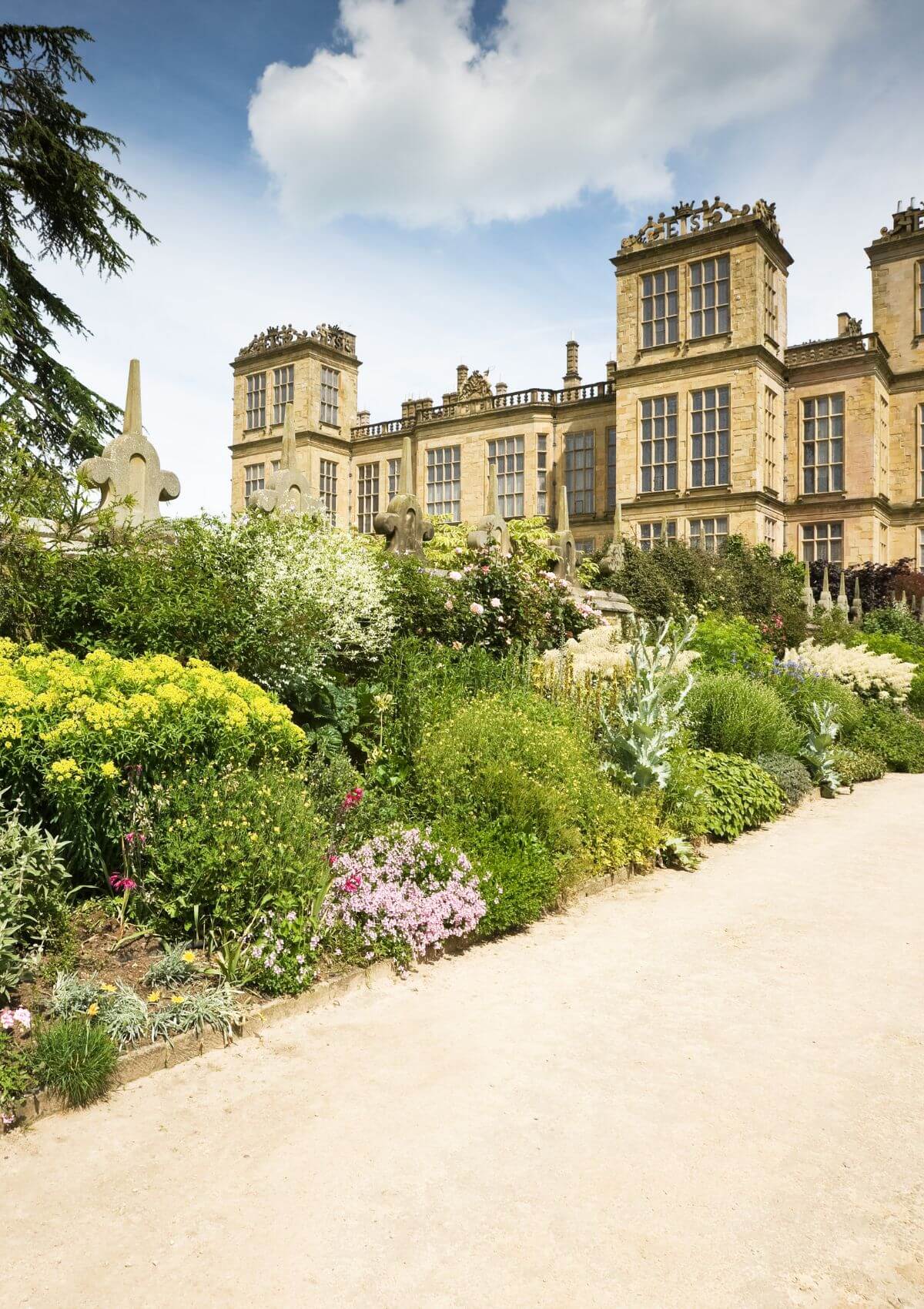 The mansion was designed by architect Robert Smythson for Bess of Hardwick, who was one of the richest and most influential women of the Elizabethan era. Inside, there's a collection of some of the finest furniture and portraits of the 16th and 17th centuries. And there's no shortage of finer things outside either.
The estate of Hardwick Hall is home to flower and herb gardens plus orchards that are full of damsons, apples and pears over summer. Keep your eyes peeled for roof tour events, which give you the chance to soak up the pristine grounds from the roof of the mansion.
Days out in Derbyshire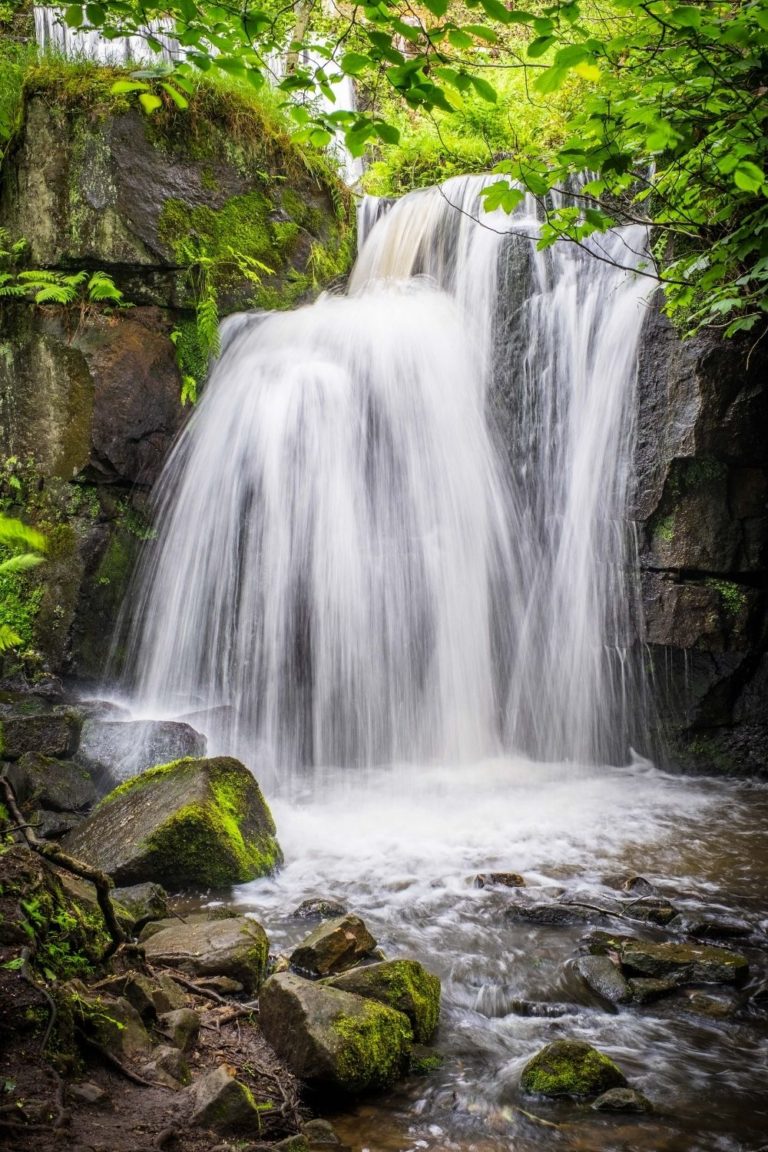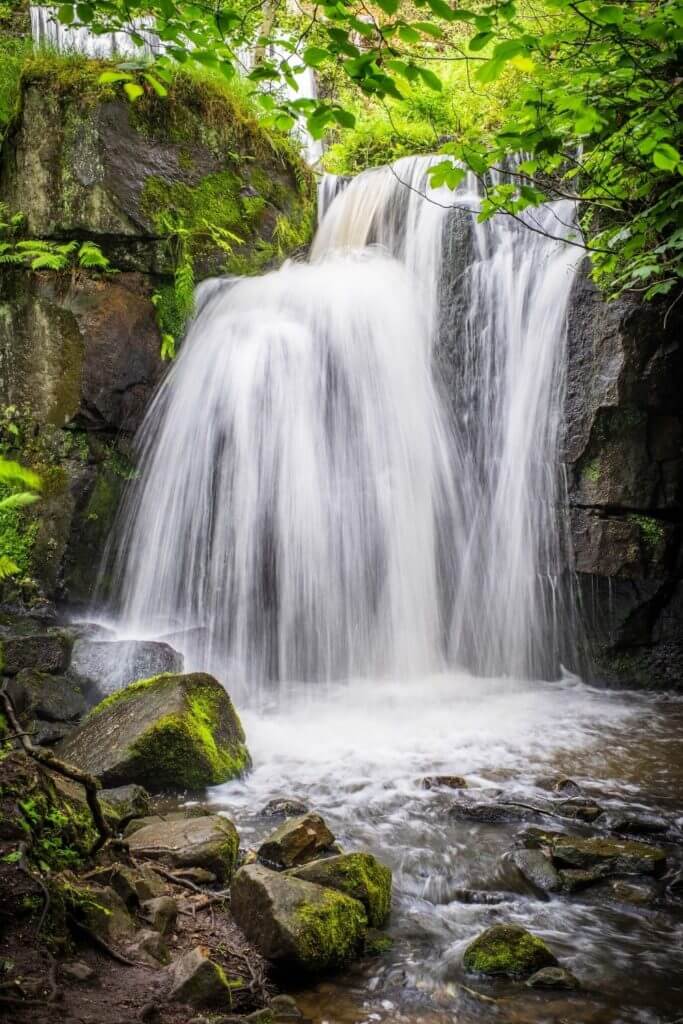 So many days out in Derbyshire to enjoy!
As well as all the great Derbyshire activities above, you've also got some of the prettiest villages in England in Derbyshire too.
If you think we've missed any of the best Derbyshire day trips out, then let us know in the comments below. Have fun exploring!
FAQ about days out in Derbyshire
Need a bit more information to make the most of your Derbyshire day out? Here are some of our most frequently asked questions.
What are the best Derbyshire days out with dogs?
There are lots of dog-friendly days out in Derbyshire to enjoy, such as walks in the Peak District National Park, the Derbyshire Dales and Dovedale. You can also take your dog to the Peak Shopping Village and the Crich Tramway Village, where you can ride heritage trams through a recreated period village. Matlock is a great town in Derbyshire that's suitable for a day out with your dogs.
What should I do on a Derbyshire Dales day out?
The best way to make the most of a Derbyshire Dales day out is to get your walking boots on and head out for a hike. You can explore sparkling river valleys at Lathkill, Derwent and Dove. Alternatively, you can hike across the moorlands to the 'Dark Peak'.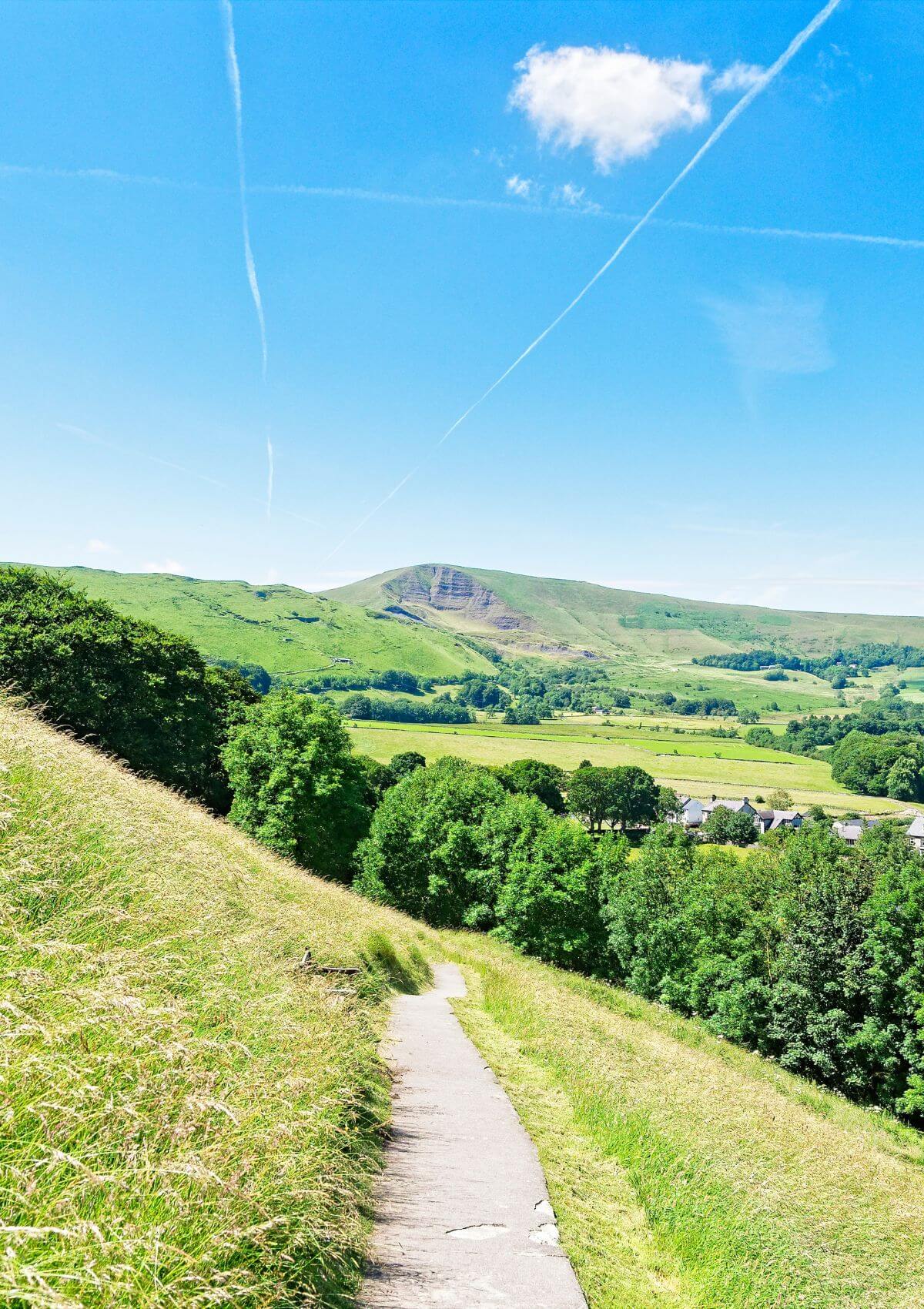 When you need a break from walking, rest up in the cafés and restaurants of some of the most picturesque villages in the Derbyshire Dales, such as Matlock Bath, Ashbourne, Bakewell and Wirksworth.
Where are the best Derbyshire walks?
One of the best walks in the Derbyshire Dales is the 46-mile-long Limestone Way from Castleton to Rocester, during which you'll see green rolling hills, several postcard-perfect villages and dramatic dales. We also recommend hiking the Derwent Valley Heritage Way, a 55-mile-long route from Shardlow to Ladybower, passing attractions including Matlock, Chatsworth and the Derwent Valley Mills World Heritage Site.
Which are the best Derbyshire towns to visit?
As far as the best Derbyshire towns go, it's hard to beat the former spa town of Matlock, where you can see stunning architecture and historical landmarks galore. Some of the prettiest towns in Derbyshire include Bakewell and Ashbourne. We also recommend visiting Tideswell, Buxton, Edale and Castleton.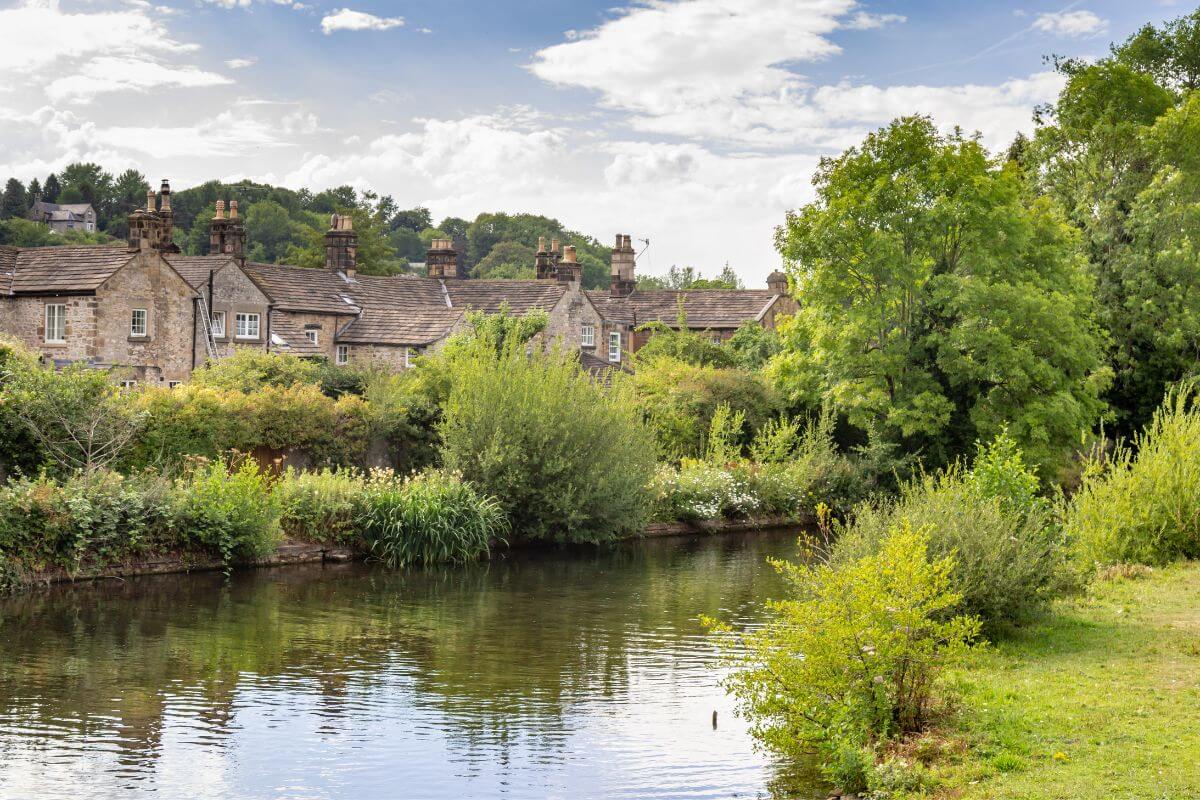 The largest town in Derbyshire is Chesterfield, a historic market town with landmarks including the Grade II listed Town Hall, the Market Hall and the Crooked Spire of the Parish Church. Stroll along Knifesmithgate to see some of Chesterfield's half-timbered black and white buildings.
What are the best Derbyshire pubs for food?
When you need a break from hiking in the Peak District, refuel with some traditional British pub grub at one of Derbyshire's best historic public houses. Remarkable Hare, The Thorn Tree Inn and White Lion Starkhomes are among the top-rated restaurants in Matlock. For refreshing cask ales, try The Red Lion & Moot Ales microbrewery.
Other great pubs in Derbyshire include the Old Hall Inn in Chinley, the Royal Oak in Hurdlow, the Yorkshire Bridge Inn near Bamford, and the White Lion in Great Longstone.
Which family days out in Derbyshire would you recommend?
Some of the best days out in Derbyshire for kids include cable car rides at the Heights of Abraham in Matlock Bath, skiing at the Swadincote Snowsports Centre and exploring the Children's Country House at Sudbury, which is a National Trust 17th-century manor with displays of toys and childhood exhibitions.
Besides attractions geared towards the little ones, Derbyshire is teaming with great places to visit with the kids. Outdoor adventures are abundant in the Derbyshire Dales and Peak District National Park.
What are the best free days out in Derbyshire?
Some of the most famous free tourist attractions in Derbyshire include the Nine Ladies Stone Circle, the Staunton Harold Reservoir, Saint Wystan's Church and the Sutton Scarsdale Hall. You can also visit greenspaces in Derbyshire like Victoria Park and the Ashbourne Recreation Ground & Memorial Gardens without paying a penny.
Beyond artificial greenspaces and historical landmarks, Derbyshire is brimming with free things to do, from hikes in the Peak District to strolls through spa towns like Matlock.
What are the most unusual things to do in Derbyshire?
Some of the most interesting attractions in Derbyshire remain off the radar for most tourists. The Crich Tramway Village might be well-known locally, but this recreated heritage village deserves a wider fanbase in our opinion. Solomon's Temple, Poole's Cavern and Heage Windmill are also great places to visit in Derbyshire that often go unnoticed. Kedleston Hall may be less famous than Chalke Abbey, Chatsworth house and Bolsover Castle, but it's an excellent example of an English neo-classical manor house.
Quicklist: best days out in Derbyshire
1. Trace along winding Winnats Pass
2. Explore Poole's Cavern
3. Nibble at an original Bakewell Pudding
4. Visit the generational Renishaw Hall
5. Celebrate the arts at Buxton International Festival
6. Roll on the green lawns of Lyme Park
7. Marvel at the Upper Derwent Reservoirs
8. Hunt down precious stones in Blue John Cavern
9. Gawk at Calke Abbey's taxidermy collection
10.Get mystified by Rowtor Rocks
11.Cable car up to Heights of Abraham
12. Go rock climbing in Peak District
13. Romantic outing to Haddon Hall
14. Tour the Peak District Mining Museum
15. Stay the night at The Old Bakehouse
16. Take a detour with Longdendale Trail
17. Drop by the historical Chatsworth House
18. Wander the massive Bolsover Castle
19. Hike up Mam Tor
20. Cruise around Crich Tramway Village
21. See the animals at Peak Wildlife Park
22. Derwent Valley Mills
23. Walk the Pennine Bridleway
24. Explore Derbyshire's county town of Matlock
25. Get your fill of history in Ashbourne
26. Stock up on homewares at the Denby Pottery Village
27. Admire the unique architecture of Hardwick Hall
---