13 Best Theme Parks in England for a Day Out in 2023
The best theme parks in England are open! Let's take a look at which ones have the best rides, rollercoasters and all round experience for a great day out.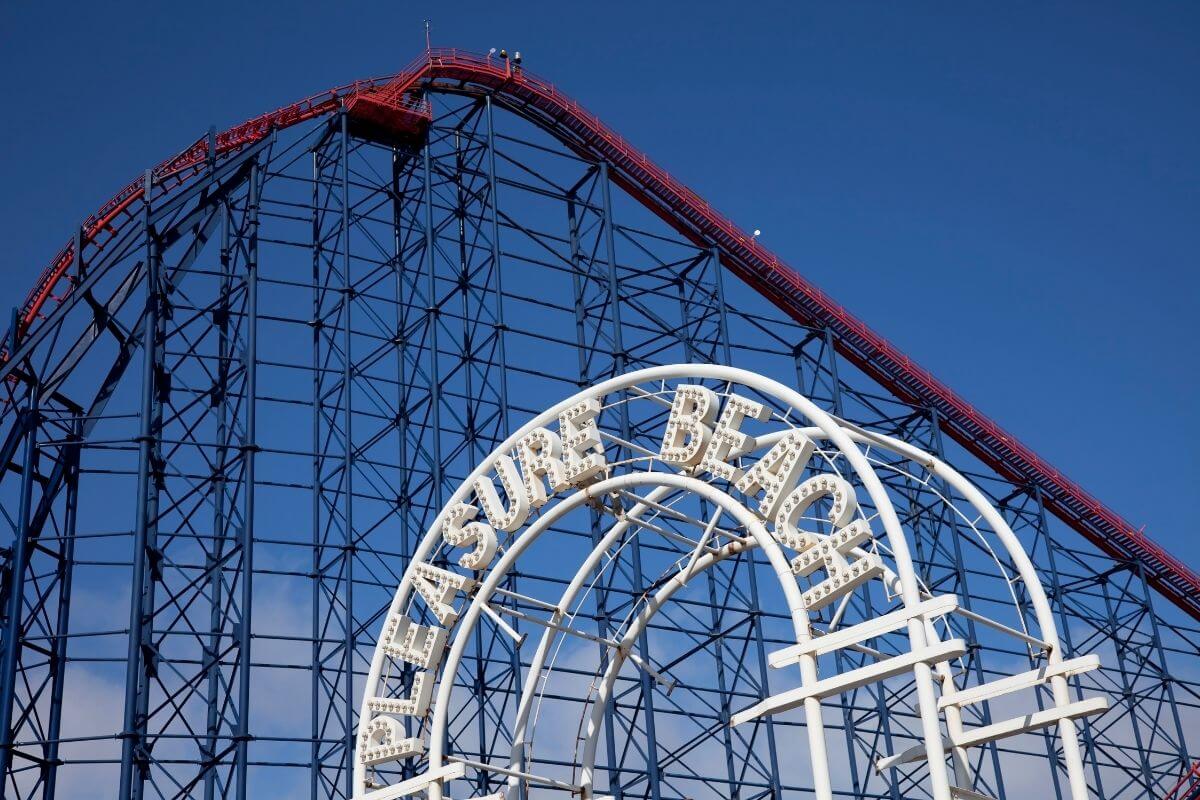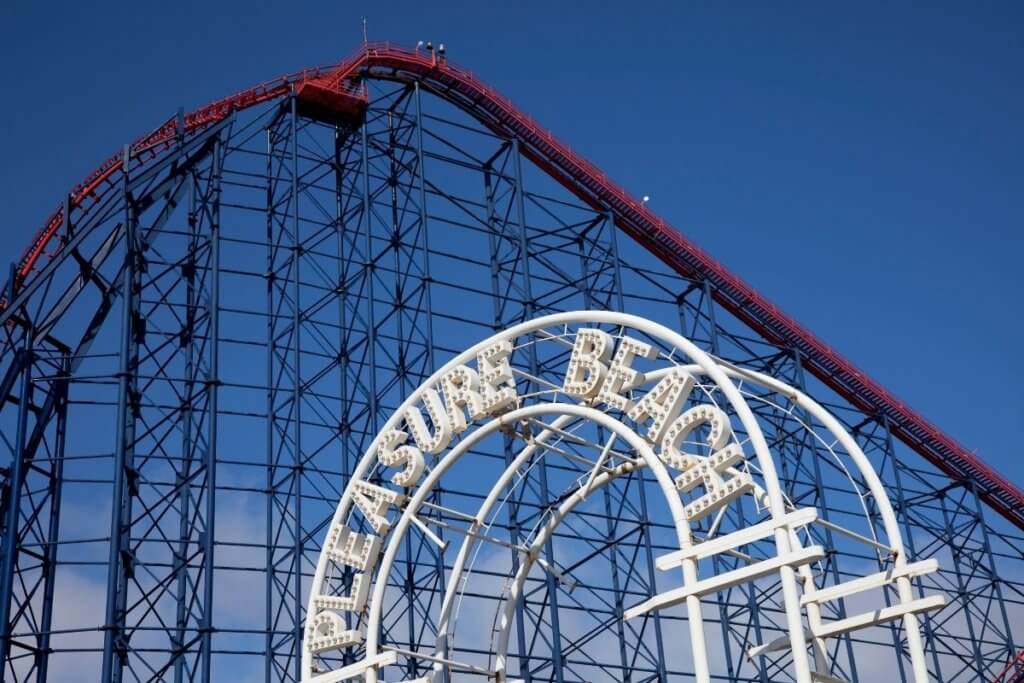 Each theme park in England offers its own unique attractions to draw you in, from live festivals to bizarre rides and colourful playgrounds for children. Of course, not all of England's theme parks were created equal, or for everyone – you need to find the right UK theme park for you.
Whether you're looking for the best tea cup ride for little kids, or the highest drop for teenagers – these are the best theme parks in the UK divided by type.
England theme parks are a chance to sit back (in your rollercoaster seat) and enjoy the day in a fun environment made for kids and adults alike!
Read through this list of the best theme parks in England to pick your next adventurous day trip.
---
Best Theme Parks in England
We've divided up England's best theme parks by type so you can find the best ones for your group / needs.
---
Best all round theme parks in England
We're spoilt with British theme parks, but these are the absolute best ones for all the family to enjoy. With high rides, loads of entertainment options and specific sections for younger children, they're great for everyone.
These are also the best England theme parks for adults.
1. Alton Towers, Staffordshire
Alton Towers is the largest theme park in England.
Many would say that Alton Towers is also the best theme park in England, and I'd have to agree. I grew up in Staffordshire, about half an hour away from Alton Towers and used to go at least twice a year. The best times were off season, when it was quiet, and you could just keep running round the queue lines and going on again and again.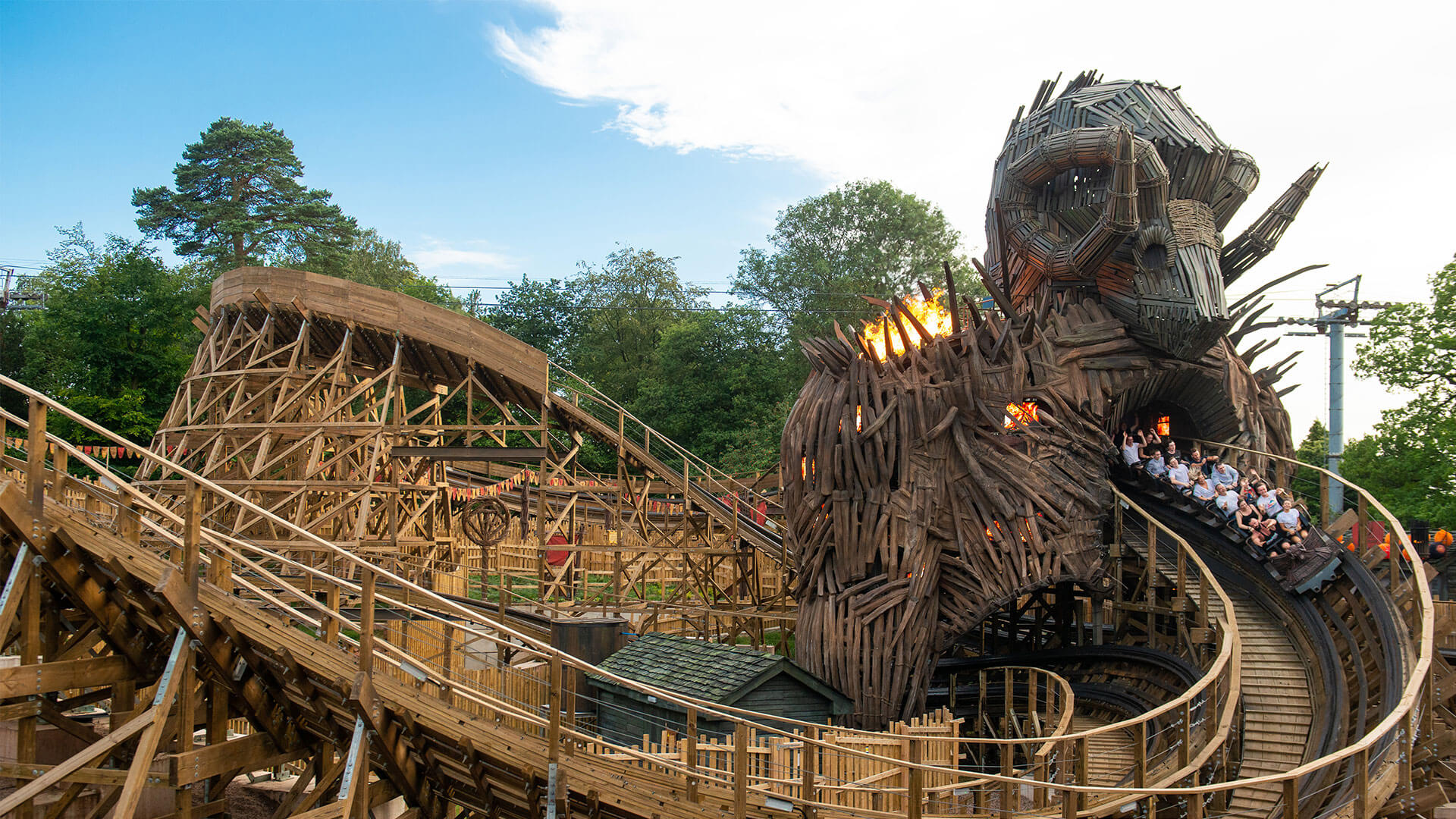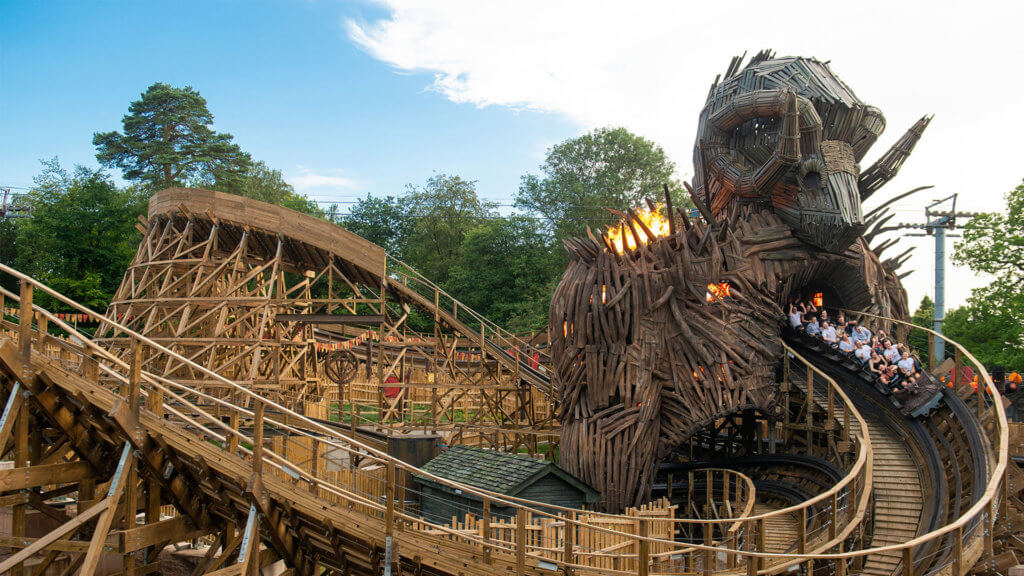 Adrenaline junkies love Alton Towers, and anyone with an eye for design too. There are height restrictions for the rides here so they're cleverly built into the landscape.
There are some iconic rides here – Nemesis and Oblivion – but also some newer updates, including Galactica which comes with a virtual reality headset. The first wooden rollercoaster to be built in the UK for 20 years is also here, The Wicker Man.
Alton Towers won GOLD overall at the UK Theme Park Awards. So, officially, it's the best theme park in England.
It was also recommended the BEST day out in England according to our readers in our recent travel trends survey. This makes it the number ONE tourist attraction in England!
Popular Alton Towers rides: Nemesis, Oblivion, TH13TEEN, Rita, The Smiler, Galactica, Gangsta Granny: The Ride, and Wicker Man. It is also home to the UK's only Cbeebies Land.
BUY YOUR ALTON TOWERS TICKETS HERE
It's £68 at the door, but £36 on that link!
Buy in advance to save time in line, and help you budget for the day.
READ MORE in the area: Best Days Out in Staffordshire
---
2. Thorpe Park, Surrey
Thorpe Park has earned its spot on the list of England's best theme parks with some of the highest and fastest rides in Europe. Thorpe Resort Park is the best choice for thrill seekers in England!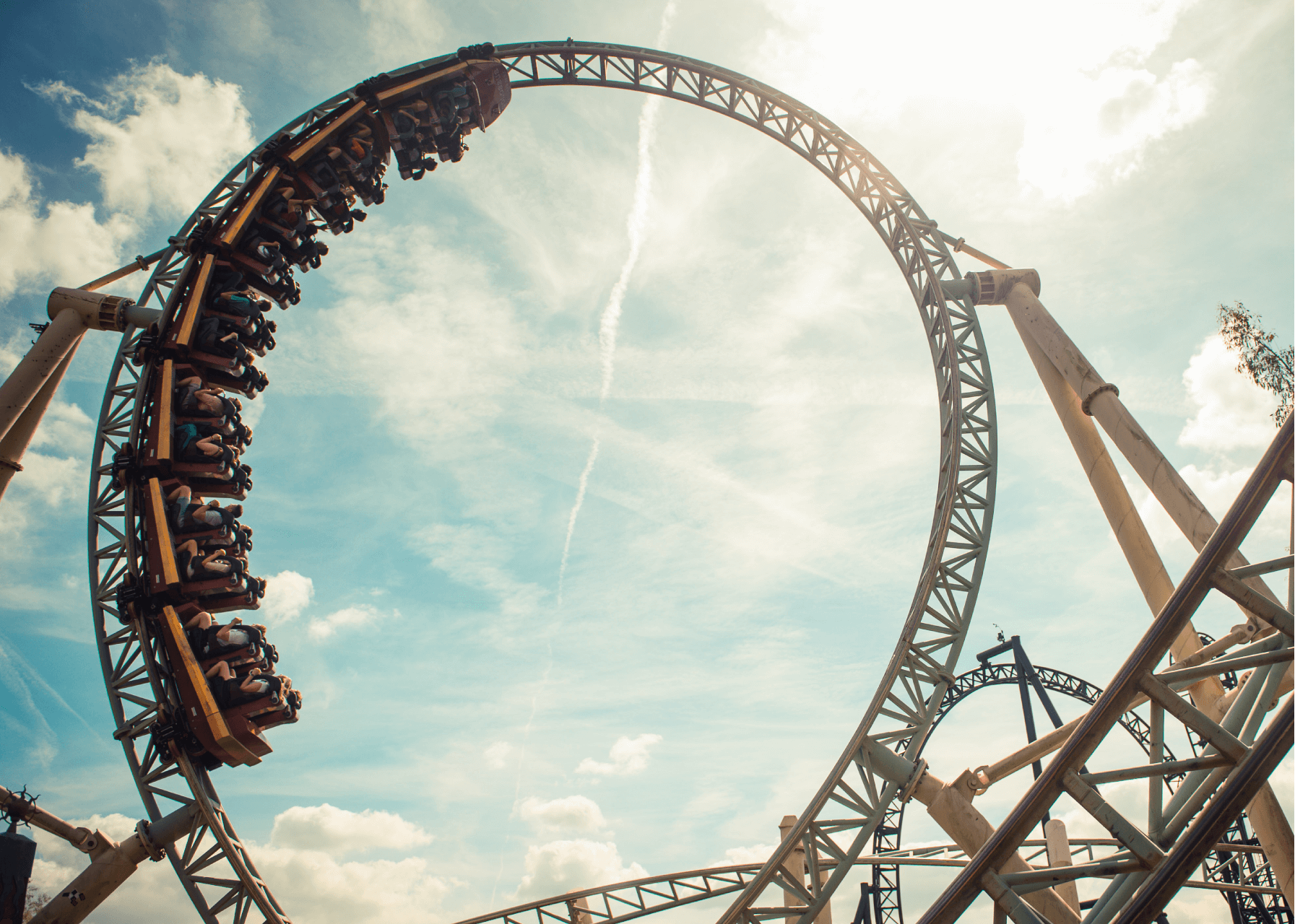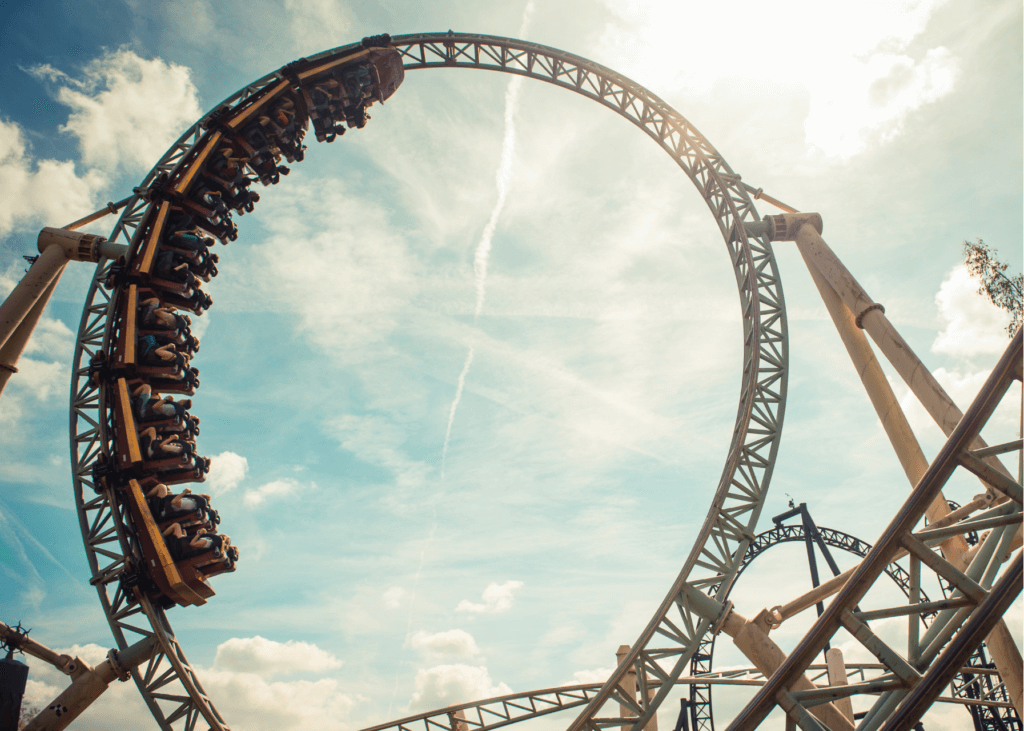 Thorpe Park isn't just a theme park though, but rather a full holiday destination with a themed hotel, amusement park, waterpark, and live shows. It's specialised in rollercoasters and has 7 of them, making Thorpe Park the most thrilling theme park in England, made official by winning 'Best Theme Park for Thrills' at the UK Theme Park Awards.
Make sure to try Stealth England's fastest rollercoaster during your visit to Thorpe Park – going from 0 to 130kph in 1.9 seconds. Yikes. Saw – The Ride, has a 'beyond vertical' 100 degree drop, while you'll need to bring a change of clothes if you want to go on Tidal Wave. You've been warned!
Thorpe Park is one of the most popular theme parks in Great Britain. It's a popular spot to celebrate birthdays, special events and hen and stag parties too.
Popular Thorpe Park rides: Colossus, Nemesis Inferno, SAW – The Ride, Stealth, The Swarm as well as Derren Brown's Ghost Train and The Walking Dead: The Ride.
Tickets for Thorpe Park: £39+
BUY YOUR THORPE PARK TICKETS HERE
Save 33% on the gate price by booking in advance!
READ MORE in the area: Best Days Out in Surrey
---
3. Drayton Manor Park, Staffordshire
This family owned theme park has Europe's only stand up coaster, The Shockwave. Head to this top theme park in England if you fancy giving that a go!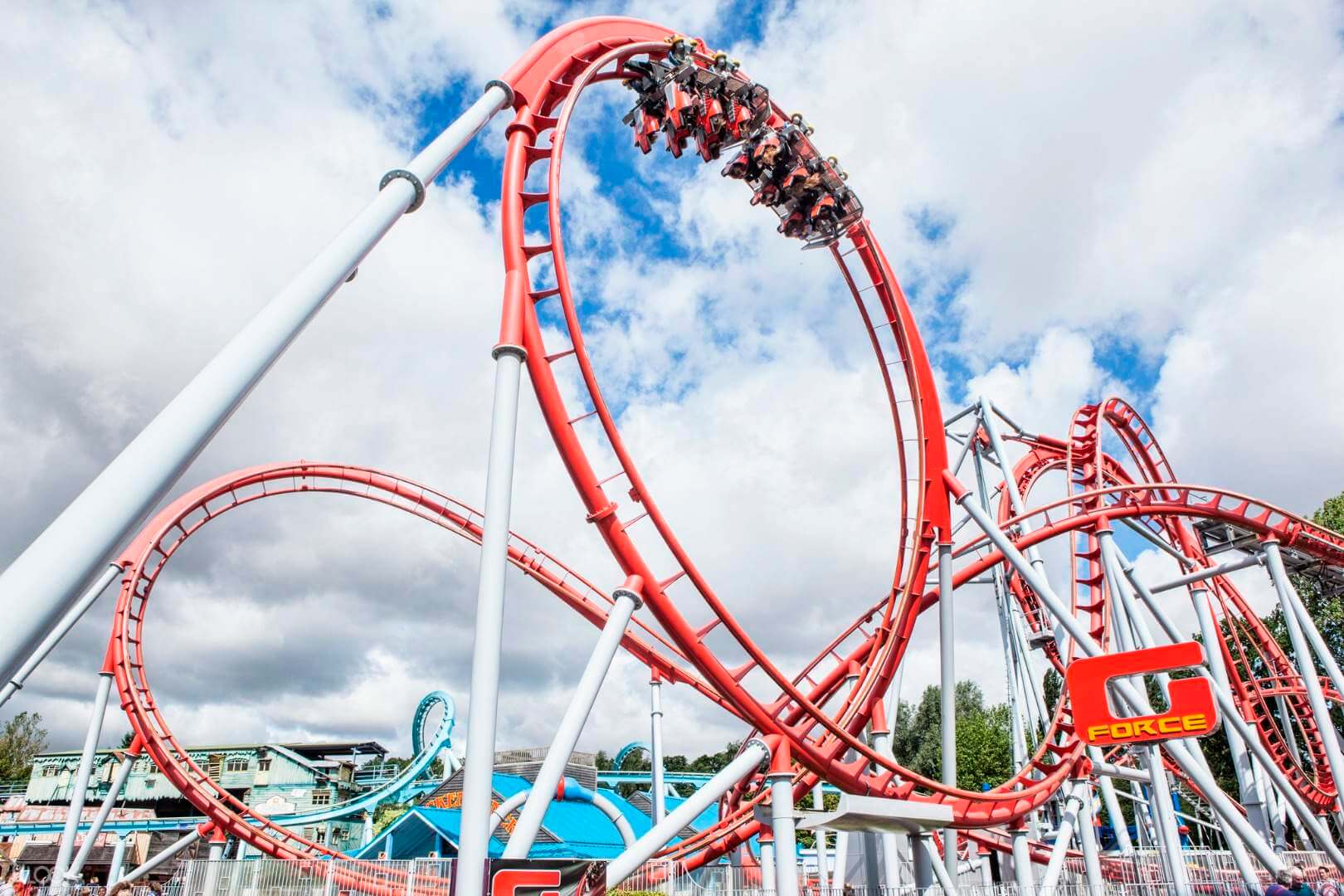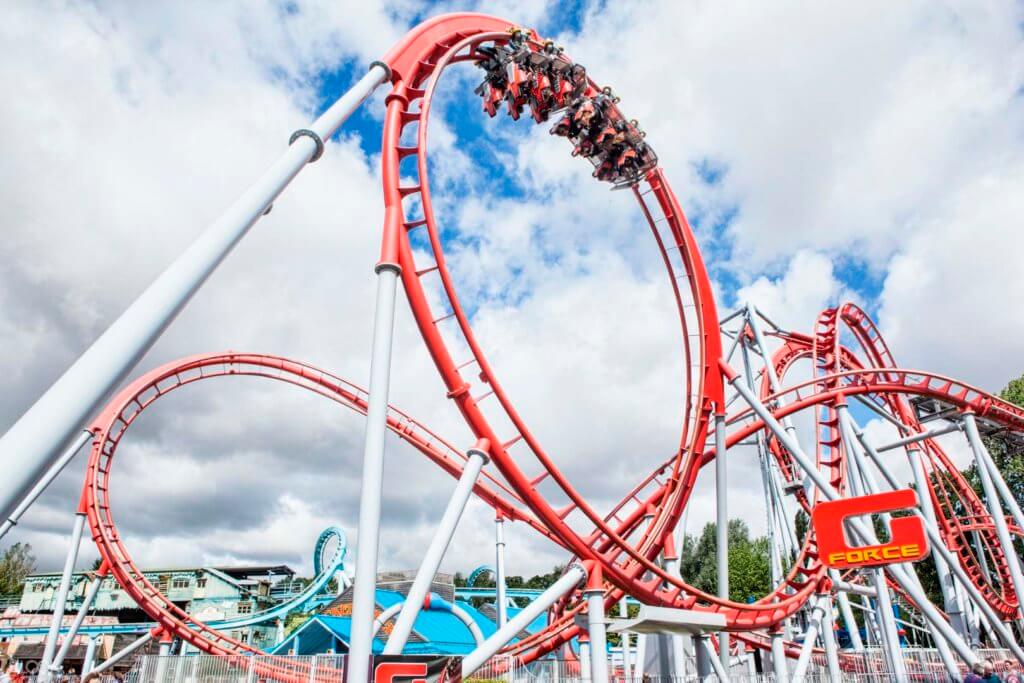 There's also the five-sided 54-metre drop tower, Apocalypse. The rides at Drayton Manor are great for adults, while kids can enjoy Thomas Land – filled with Thomas the Tank Engine fun. Just don't let your kid go in the Thomas the Tank Engine shop if you want to have any money left at the end of the day.
If you've got longer than a day, Drayton Manor also has Thomas and Friends-themed family hotel rooms too.
Drayton Manor Park makes for a great day trip from Birmingham.
Popular Drayton Manor Park rides: Stormforce 10, Shockwave, Air Race, Apocalypse and Accelerator. Also home to Europe's first Thomas Land with 17 Thomas the Tank Engine themed rides for the kids.
Tickets for Drayton Manor: £24.50+
draytonmanor.co.uk
---
---
Best theme parks for kids
These family theme parks in the UK are best for younger families. Not saying older children won't enjoy them, but they might lack that adrenaline rush they're searching for. For the best England theme parks for children, read on…
4. Legoland Windsor, Berkshire
Legoland Windsor is one of the most visited theme parks in the UK, attracting millions of people every year. The resort is split into 12 lands for you to wander around.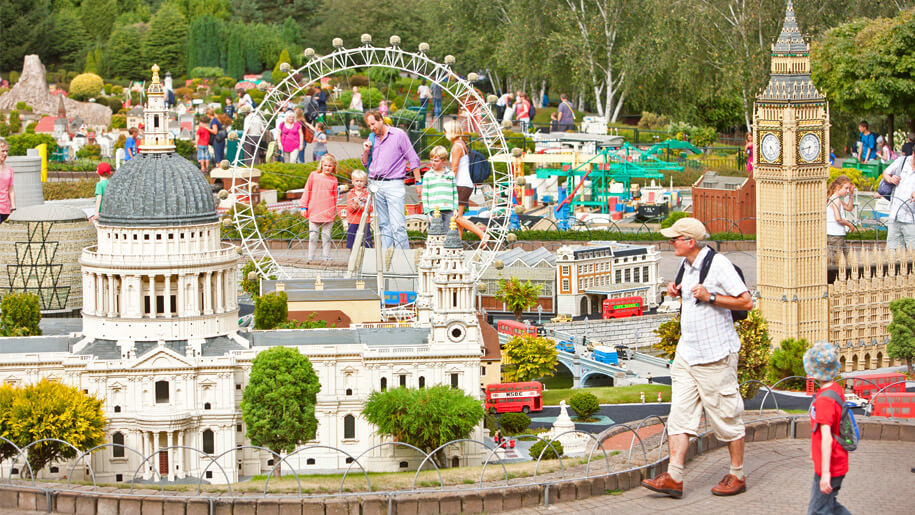 Legoland Windsor is both educational and entertaining, with loads of restaurants and shops too. The crown for best England theme park is a difficult one to give, and to claim, but I'm sure there are lots of kids out there who'd say Legoland Windsor for sure.
This is the best theme park for kids near London.
Popular rides at Legoland Windsor: The Dragon, Driving School, Laser Raiders, DUPLO Dino Coaster, Vikings' River Splash, Pirate Falls, LEGO City Deep Sea Adventure and LEGO NINJAGO The Ride.
Tickets for Legoland Windsor: £26+
BUY YOUR LEGOLAND WINDSOR TICKETS HERE
READ MORE in the area: Best Days Out in Berkshire
---
5. Chessington World of Adventures, Greater London
The UK's ultimate family theme park, Chessington World of Adventures makes for a great day trip from London. As as one of England's top theme parks, 'Chessington' as we like to call it is also a zoo (with over 1000 animals!) and a sea life centre (one of the best aquariums in England), with a Go Ape high ropes course too.
There are over 40 rides here in 10 different lands, all a bit tamer for the child-friendly audience here. This is one of the best British theme parks for kids.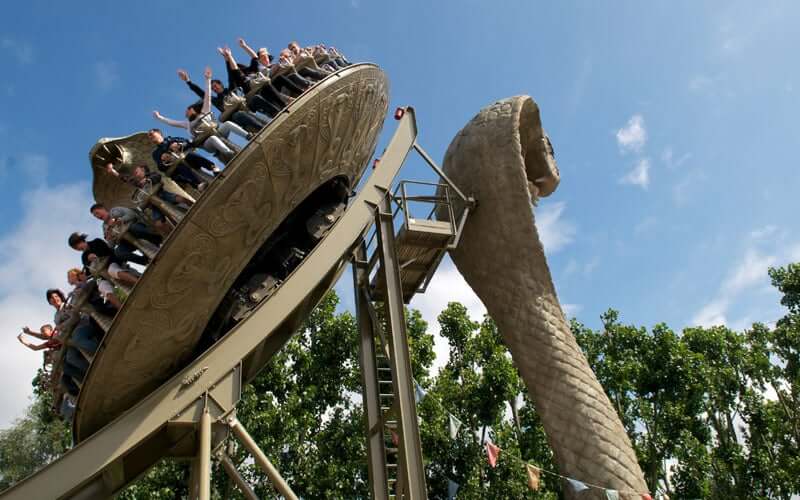 Chessington World of Adventures won GOLD for best theme park for families at the UK Theme Park Awards 2020. If you're going to go to a theme park, you might as well go to the best, right?!
Popular rides at Chessington: Vampire, Tomb Blaster, Dragon's Fury, Kobra, Tiger Rock, Zufari and Chessington Zoo, plus The Gruffalo River Ride Adventure.
Tickets for Chessington World of Adventures: £35+
BUY YOUR CHESSINGTON TICKETS HERE
---
READ MORE: The Best Gruffalo Trails in England
6. Paulton's Park (Peppa Pig World), Hampshire
Located in the New Forest, Hampshire, Paulton's Park has over 70 rides and attractions, all for kids. You might know it better as Peppa Pig World. You can read our guide to having a great day out at Peppa Pig World here.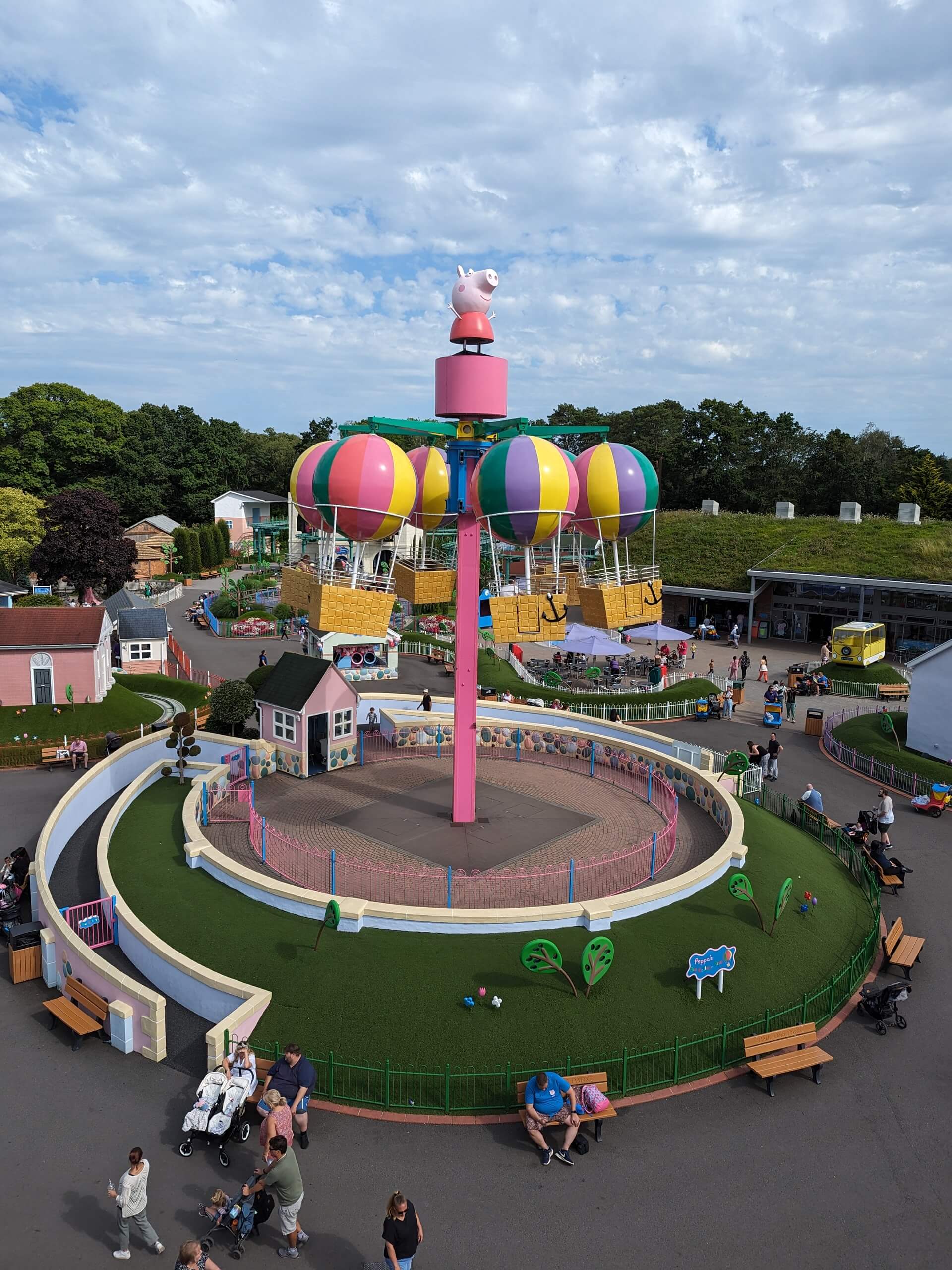 As well as Peppa Pig followers, anyone who loves dinosaurs will enjoy it here. Go into the immersive Lost Kingdom for four acres of Jurassic landscape, with two family rollercoaster rides, an adventure play park and a Jeep exhibition too. It's one of the best dinosaur days out in England.
Popular rides at Paulton's Park:
Tickets for Paultons: £35.75+. Children under 1m tall go free.
READ MORE in the area: Best Days Out in Hampshire
---
7. Flamingo Land, North Yorkshire
Flamingo Land in Kirby Misperton, in North Yorkshire, describe themselves as having 'Wild animals, wilder rides'. I feel it's important to say here that by 'wild' they mean for kids. If your teen is looking for a day out with huge rides and adventure thrills, this might not be the UK theme park for you – although, the Sik ride is pretty err, sic.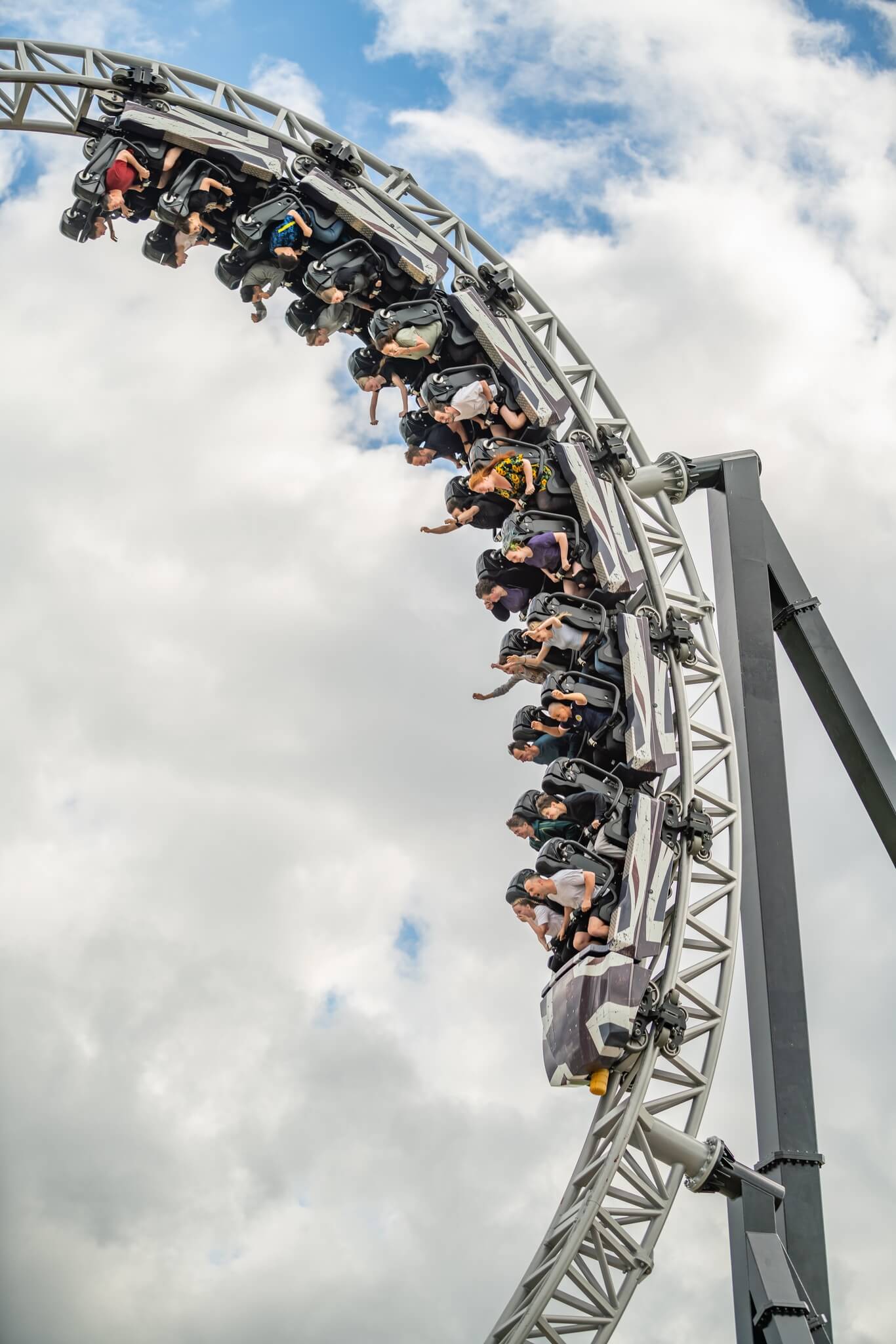 Flamingo Land is England's only combined theme park, zoo and holiday resort in one, all set in over 375 acres of parkland. There's a real focus on conservation here, which started with flamingos but now has another 129 creatures calling in residence.
Popular Flamingo Land rides: Mumbo Jumbo, Kumali, Velocity, Pterodactyl, Hero, spinning Twistosaurus and the wet and wild Splash Battle.
Tickets for Flamingo Land: £33+
flamingoland.co.uk
8. Gulliver's World / Land
You'll find Gulliver's Worlds, Lands and Resorts in Cheshire, Bucks, South Yorkshire and Derbyshire – giving you plenty of options to explore this awesome UK theme park.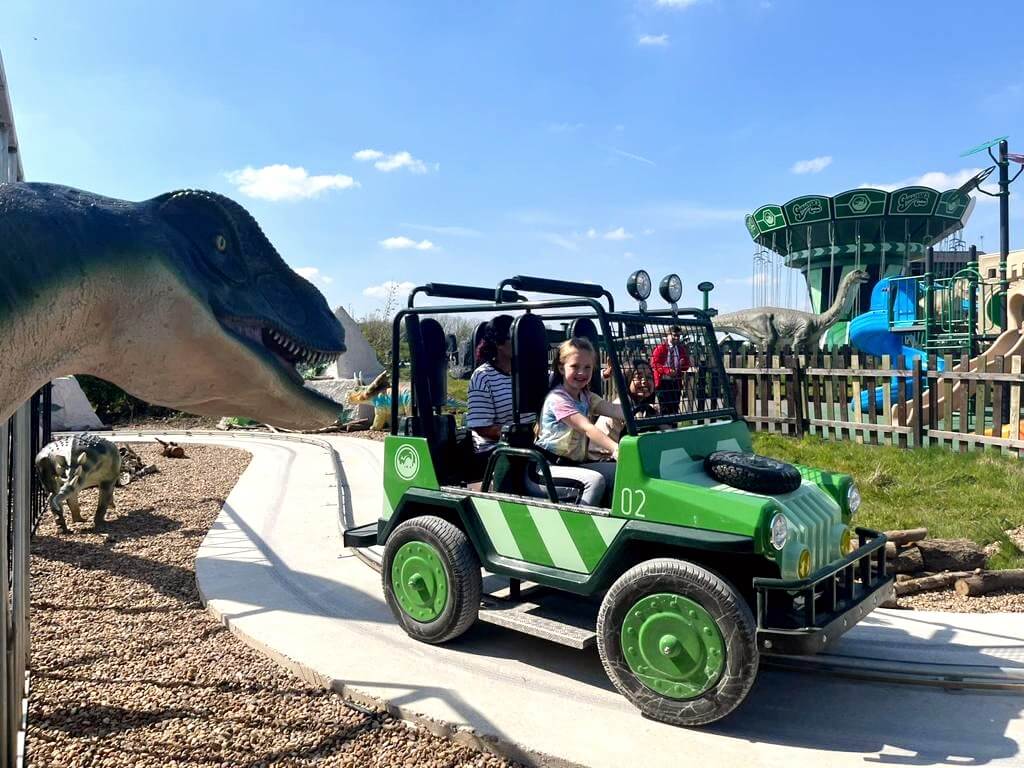 In Milton Keynes Gulliver's Land is one of Bucks' premier theme parks. Designed for children up to the age of 13, the park is home to a Dinosaur and Farm Park, featuring giant animatronic sculptures of terrifying dinosaurs and real life farm animals.
There's also Splash Zone, a water playground with cannons and a giant tipping bucket. There are plenty of other fairground rides to keep children entertained at this UK amusement park, as well as several catering facilities so parents can grab a coffee. This makes for a great kids days out Buckinghamshire and is one of the top things to do in Milton Keynes.
It's definitely one of the best UK theme parks for kids.
9. Diggerland, Nationwide
Any budding young builders out there will have a fabulous day out at Diggerland, a family theme park based all around diggers and other heavy construction machinery.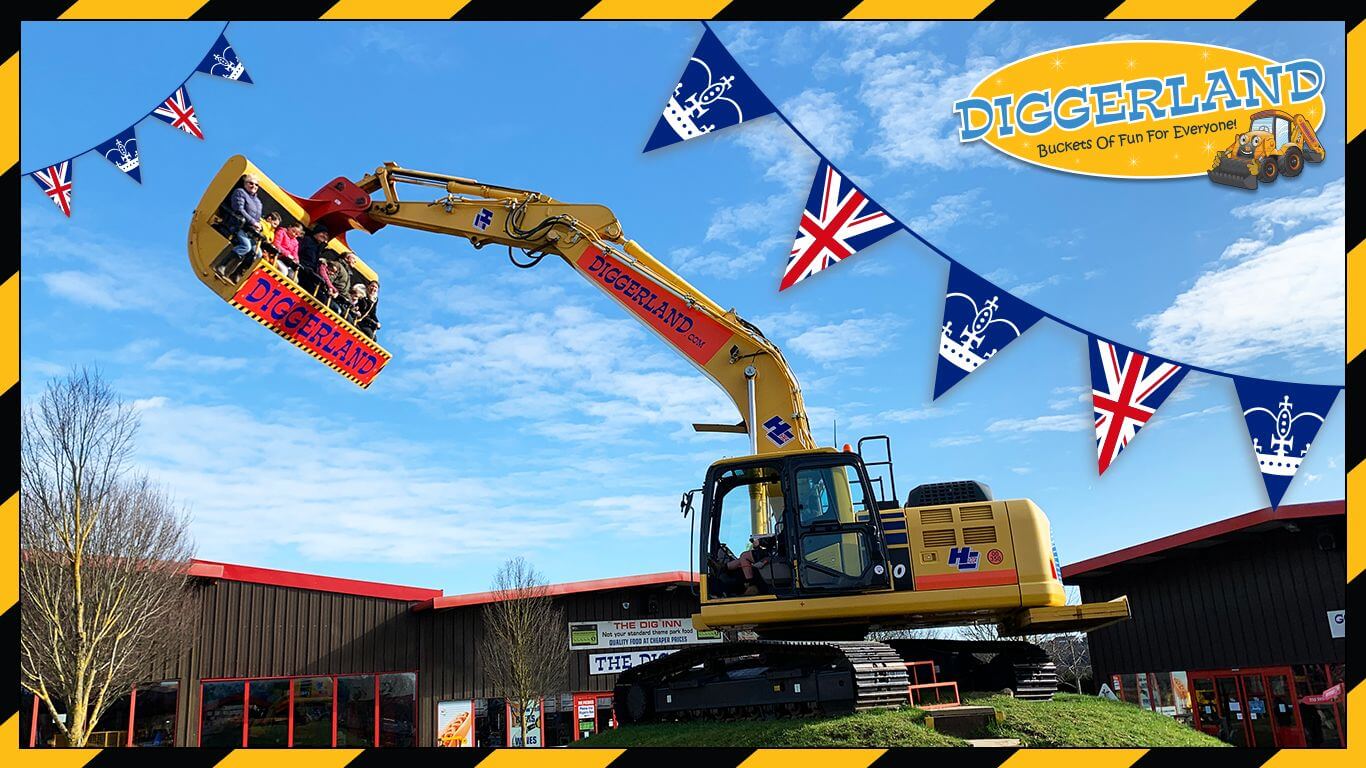 Kids can enjoy driving and digging in their own machines, with a host of other rides and attractions to keep them entertained for hours. There's also go-karting and a safari, where families are taken through woodland in an SUV car and have to spot as many cardboard cut out wild animals as they can find. And it takes a lot of skill to find and dig up buried treasure, but your little ones are sure to enjoy having a go!
You can find Diggerlands in Kent, Devon, Durham and Yorkshire – perfect for a great day out at a UK theme park near you!
Looking for a way to capture all of the memories from your family day out? Look no further! Mixbook offer unique photo books for every life chapter, including one specifically designed for family outings. From the kids enjoying driving and digging in their own machines to the family spotting cardboard cut-out wild animals on our safari and even digging up buried treasure, their photo book will allow you to relive those special moments for years to come. And with their easy-to-use design tool, creating your custom photo book has never been easier.
READ MORE in the area: Best Days Out in North Yorkshire
---
Best beachfront theme parks
These England amusement parks are all based on the coast of England, at our wonderful England seaside resorts. If you like a view when you're riding high on that rollercoaster, these are the English theme parks for you.
10. Dreamland Margate, Kent
Located in Kent, Dreamland Margate may seem a little too far for some England day-trippers. However, it's worth the travel! This England theme park was redesigned in 2015 and is now known for live music, festivals, and 26 spectacular rides.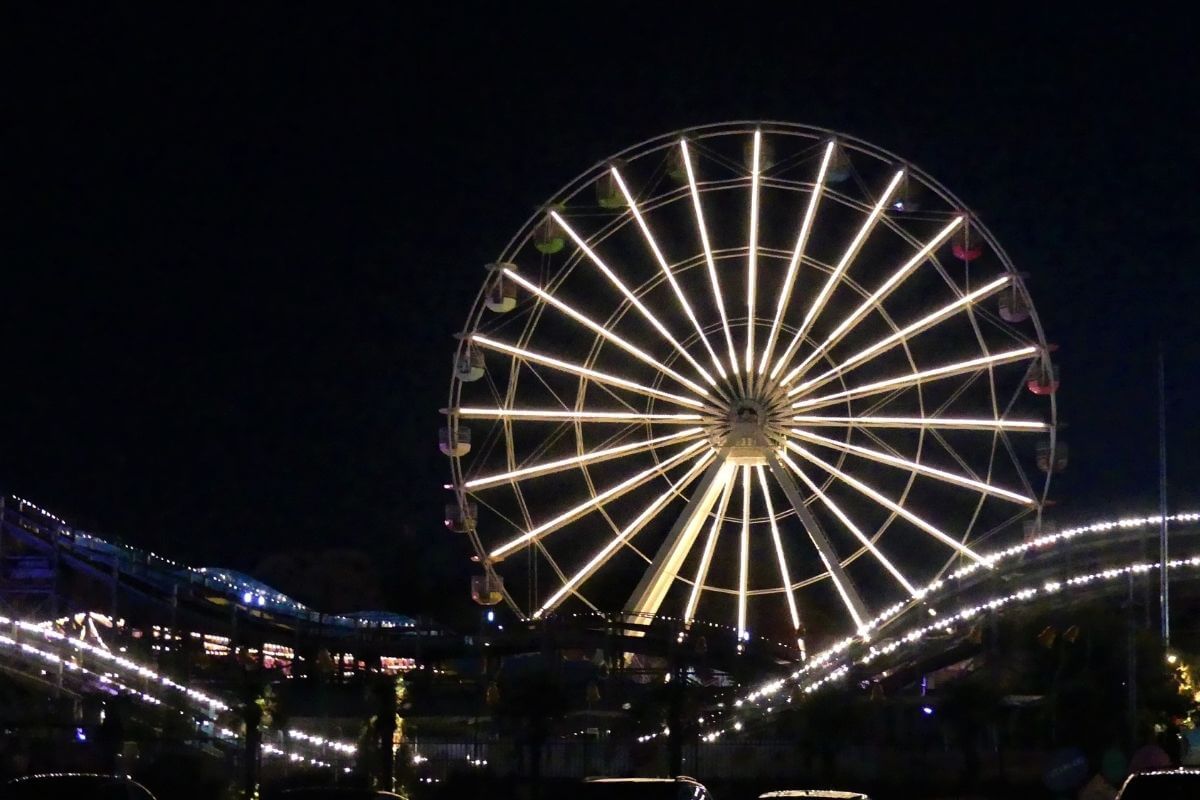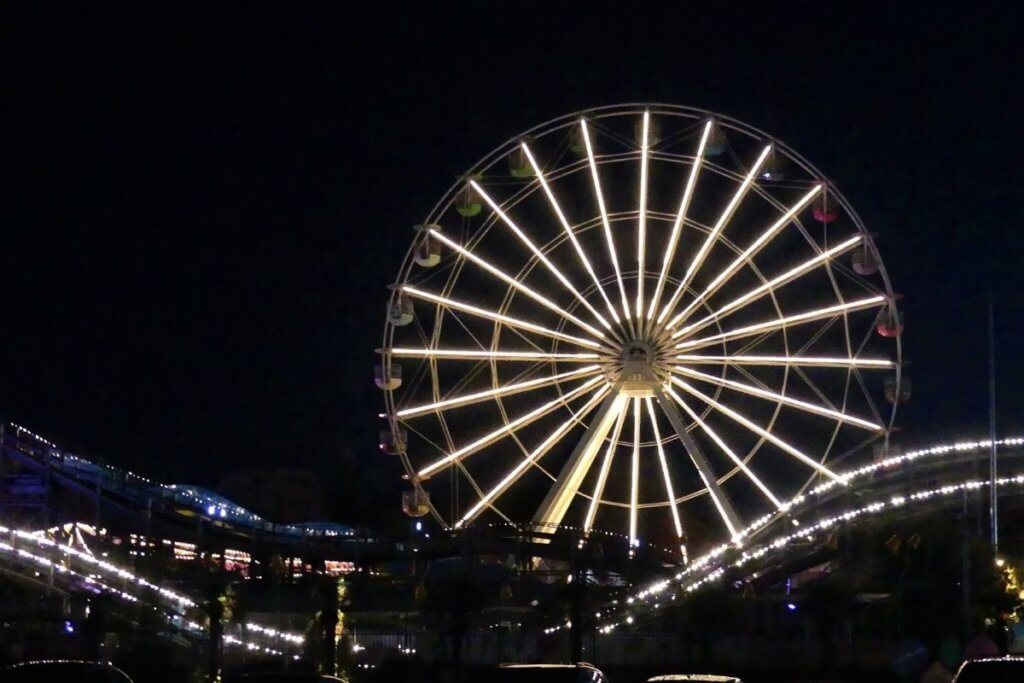 Dreamland Margate owned the oldest rollercoaster in the UK built in 1920 but it got destroyed under an arson attack in 2008. Dreamland Margate celebrates the history of England theme parks with their 'Save Dreamland' project and the renovated version of the oldest wooden rollercoaster in England is a great example of it.
Located opposite the golden sands of Margate Beach, Dreamland has enjoyed a revival among London day trippers, and Instagrammers – looking for that iconic shot in front of the big wheel. Visit Dreamland and you can expect vintage, family and thrill rides, pop-up entertainment, live music and art installations, alongside eclectic bars and street food.
Popular rides at Dreamland Margate: Betty's Beehive Coaster, Big Wheel, Born Slippy, and Cyclone Twist.
Tickets for Dreamland Margate £8.25+
dreamland.co.uk
READ MORE in the area: Best Days Out in Kent
---
11. Blackgang Chine, Isle of Wight
Blackgang Chine is the oldest theme park in England – opened in 1842 Blackgang Chine is almost 200 years old. The best theme parks in the world are known for their crazy rides but Blackgang Chine charms visitors with its breathtaking views and environment of the south coast of the Isle of Wight.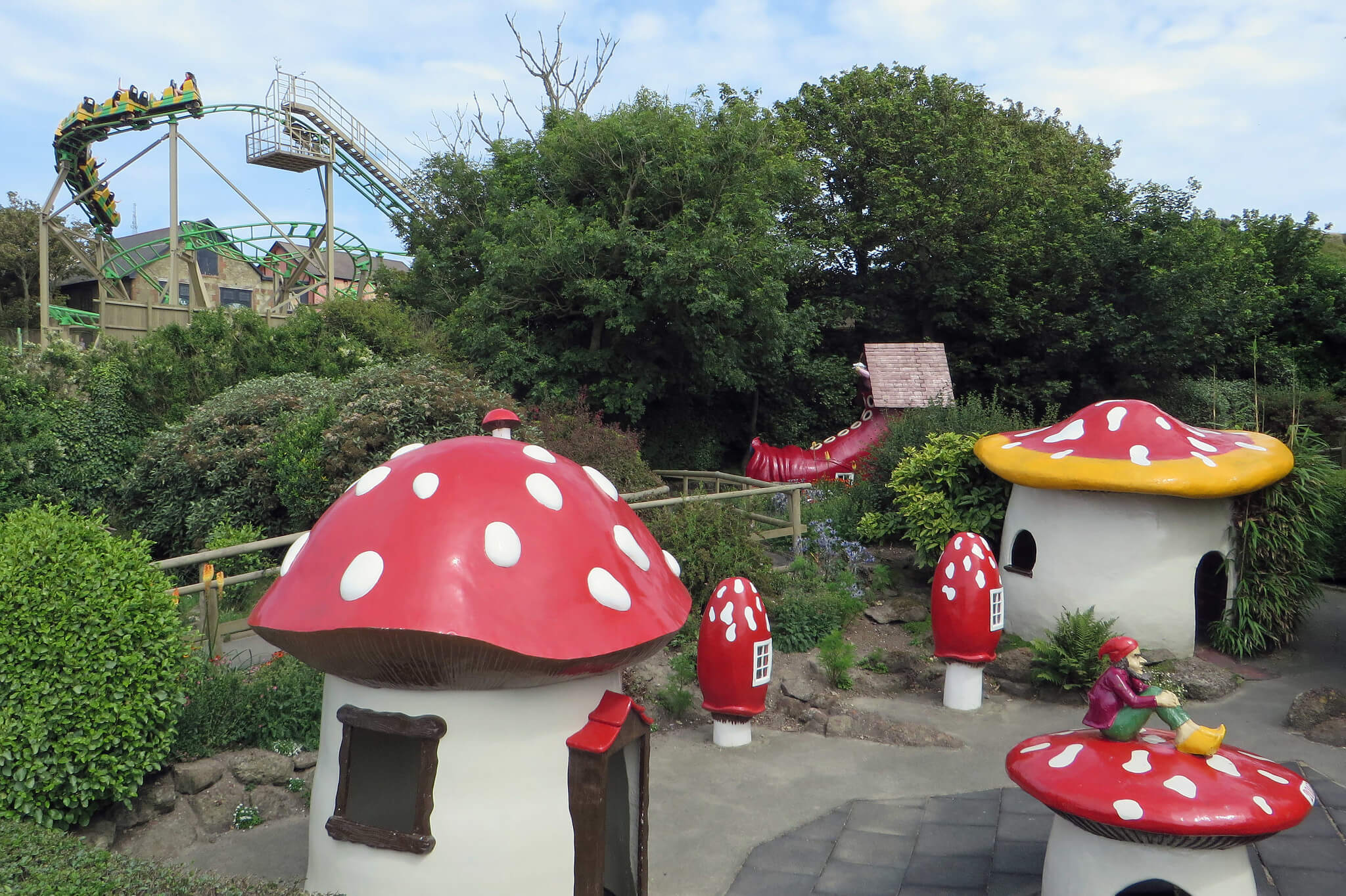 There's not quite an experience like Blackgang Chine amongst the England theme parks. You can meet gigantic moving dinosaurs, adventure in a princess castle, or fight for your life on board of a pirate ship. You need to go to Blackgang Chine with an open mind, don't be expecting the heady heights of Alton Towers, but it's a lovely day out with Grandparents and little kids all the same.
There's also a great maze attraction here – one of the many wonderful mazes in England.
Popular rides at Blackgang Chine: CliffHanger, Waterforce, Pirate Barrels and Snakes & Ladders.
Tickets for Blackgang Chine £20+
blackgangchine.co.uk
READ MORE in the area: Best Days Out on the Isle of Wight
---
12. Blackpool Pleasure Beach, Lancashire
Something for the whole family at this England amusement park! Visit Blackpool Pleasure Beach and try their unique twin-track coaster, watch shows by world-class performers, discover Ripley's Believe it or Not, or play Adventure golf.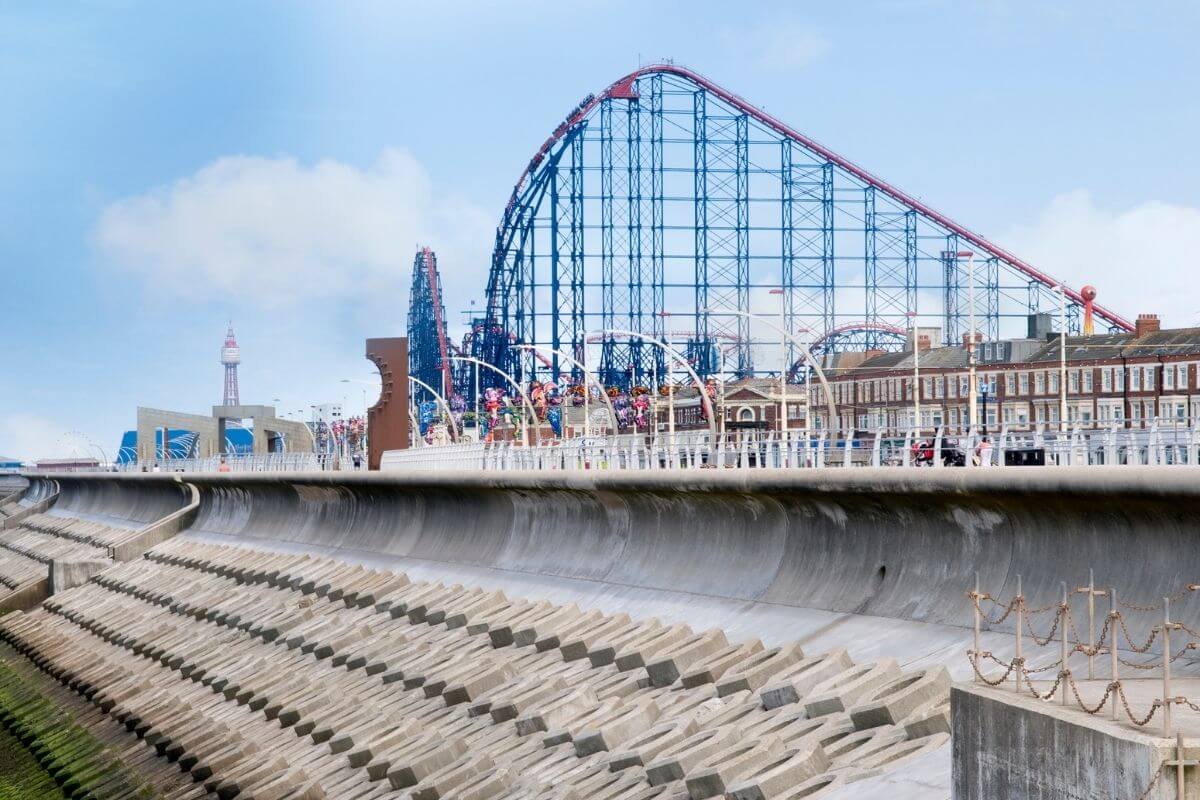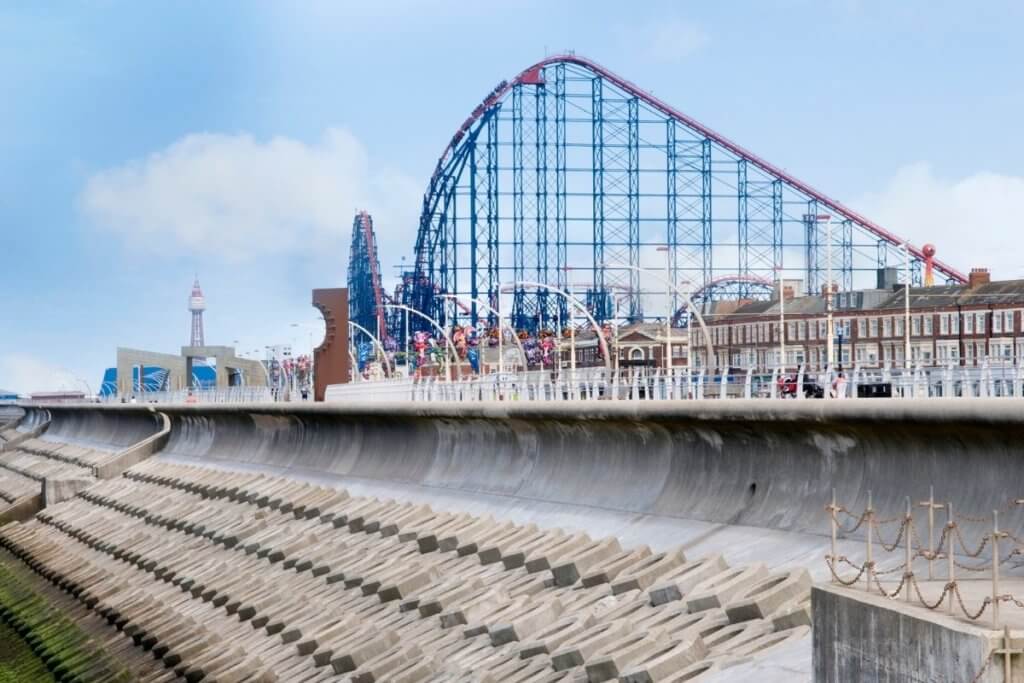 There are loads of things to do at Blackpool Pleasure Beach. It's definitely one of England's top amusement parks, and one of the most well known too. Over six million visitors come here anually to enjoy over 125 rides and attractions, and shows.
The ICON ride at Blackpool Pleasure Beach won BRONZE in the 'Best Rollercoaster' award category at the UK Theme Park Awards, after two at Alton Towers. Pretty impressive for a coastal amusement park. It also won GOLD for Valhalla, in the 'Best Water Ride' category.
The Blackpool theme park's specialty and pride is Nickelodeon Land where kids can play with their favorite characters from Nickelodeon TV shows. The adorable dogs from PAW Patrol, SpongeBob SquarePants, and other friendly life-sized characters wait for your family's visit to the Blackpool Pleasure Beach.
Popular rides at Blackpool Pleasure Beach: ICON, Big One, Valhalla, Infusion and Skyforce.
Blackpool Pleasure Beach tickets: £28+
blackpoolpleasurebeach.com
READ MORE in the area: Best Days Out in Lancashire
13. Great Yarmouth Pleasure Beach, Norfolk
Great Yarmouth Pleasure Beach is on the Norfolk Coast, and makes for a thrilling day out for anyone into pirate ships, rickety rollercoasters and too much candyfloss beforehand. The Pleasure Beach is a truly old fashioned theme park day out, not like the flash / too fast rides of these modern theme parks in the UK.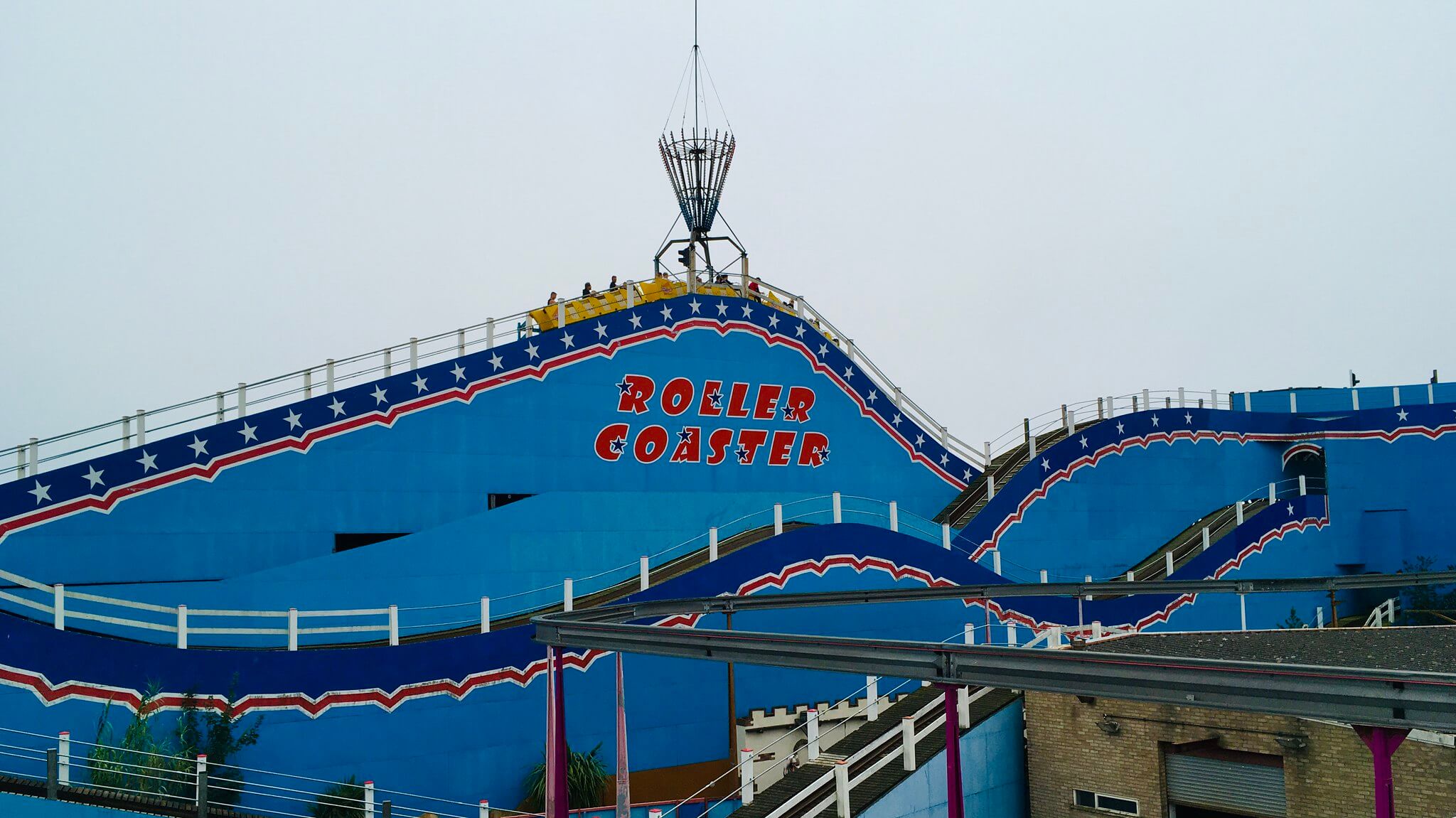 If you want more of a gentle day out at a theme park, by the sea, then Great Yarmouth Pleasure Beach is the one for you. The theme park is only open in the summer, thanks to it being just a few metres from the beach on the sea front at the south end of Great Yarmouth's famous Golden Mile.
You can download a map of the Pleasure Beach and its rides here. I mean, who doesn't want to ride a rollercoaster which first opened in 1932?
The risk adds to the thrill, right?
If you like your fun with a side of fresh fish and chips, this is the best theme park in the UK for you.
---
Best theme parks in England
England's theme parks are home to spine-tingling vertical drops, countless loop-de-loops and powerful G forces – the amusement parks in England are definitely up there when it comes to rollercoasters. As you can see from this list, there's plenty of places to visit this summer for a thrill.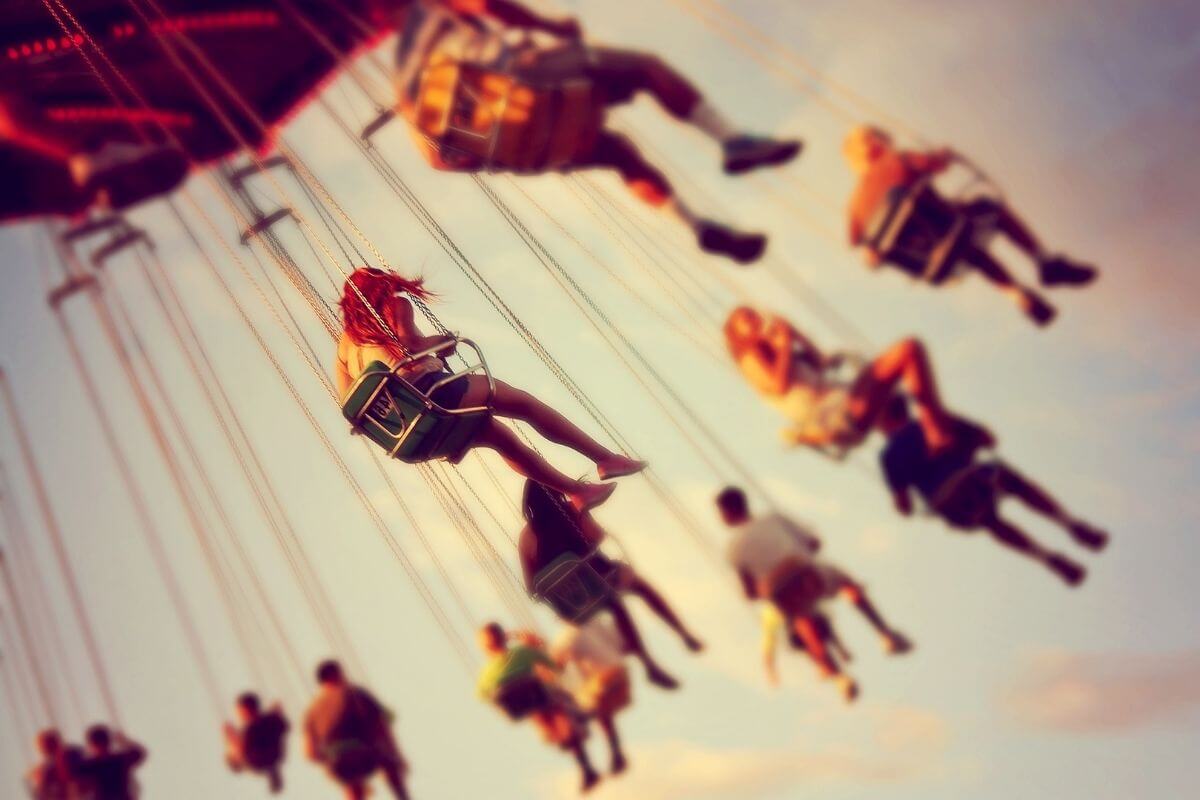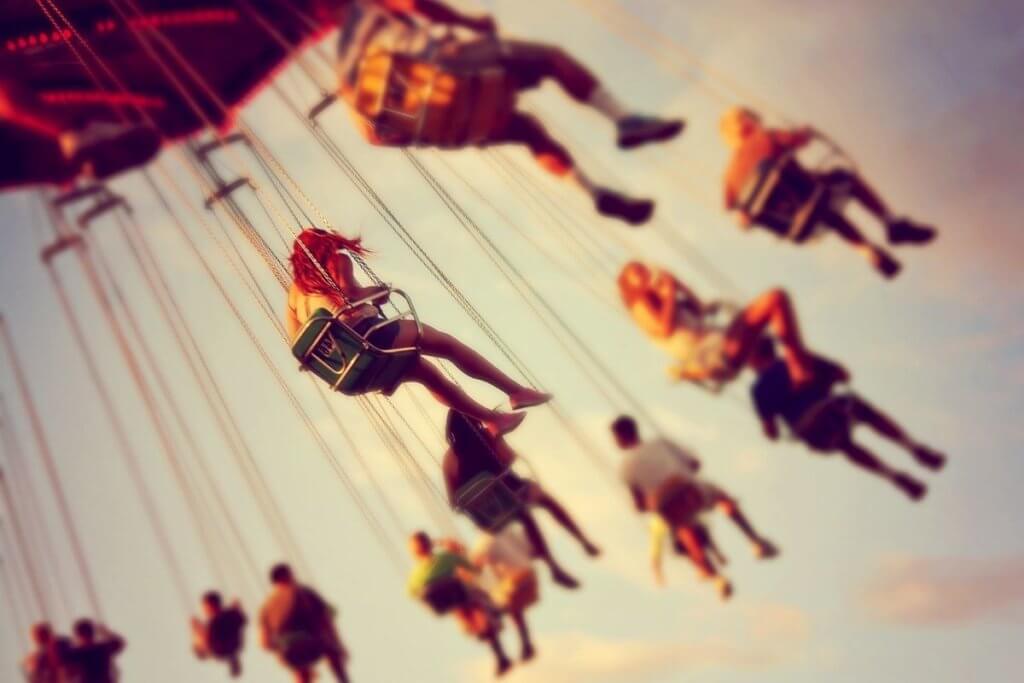 Theme parks in England can be pretty expensive, so make sure you book in advance on Tiqets to get the best deals and prices. There's not really such a thing as a 'cheap theme park in England' to be honest. Check out our tips on making day trips cheaper if you want some advice.
---
Hope you've enjoyed this list of the best theme parks in England. Has your favourite English theme park made the list? If there are any more you think our readers would like, let us know about your top England amusement park below.
Best Theme Parks in England Quicklist
(Click to buy your tickets!)
1. Alton Towers, Staffordshire
2. Thorpe Park, Surrey
3. Drayton Manor Park, Staffordshire
4. Legoland Windsor, Berkshire
5. Chessington World of Adventures, Greater London
6. Paulton's Park (Peppa Pig World), Hampshire
7. Flamingo Land, North Yorkshire
8. Gulliver's World / Land
9. Diggerland, Nationwide
10. Dreamland Margate, Kent
11. Blackgang Chine, Isle of Wight
12. Blackpool Pleasure Beach, Lancashire
13. Great Yarmouth Pleasure Beach
---
PIN THE BEST THEME PARKS IN ENGLAND FOR LATER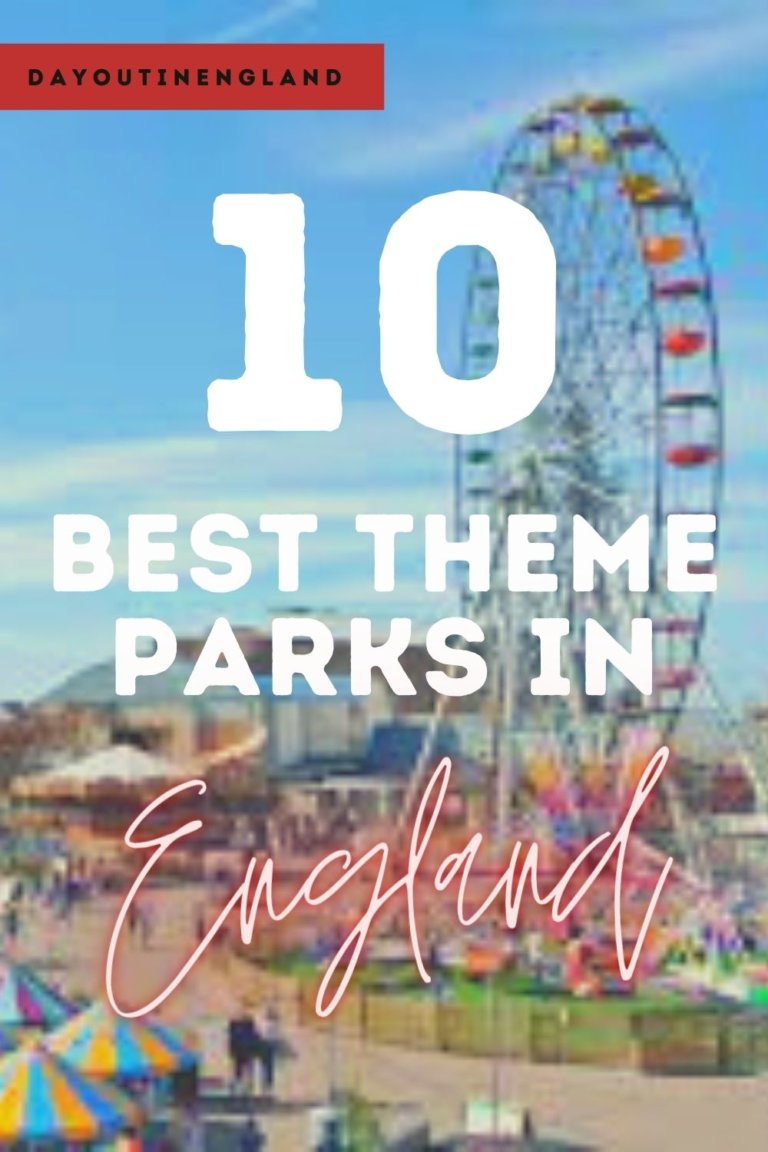 ---