So many impressive mazes in England! Here are all of England's best mazes to help inspire your next day trip.
Round them all up and you see how weirdly obsessed with mazes we are in England. We just have this weird thrill at not being able to get out of a hedgerow.
Can't explain it. Just so British.
Well, it's the best way to make a plain old hedge more adventurous. So let's explore some of the best mazes in England for a fun day out, where you may never get out.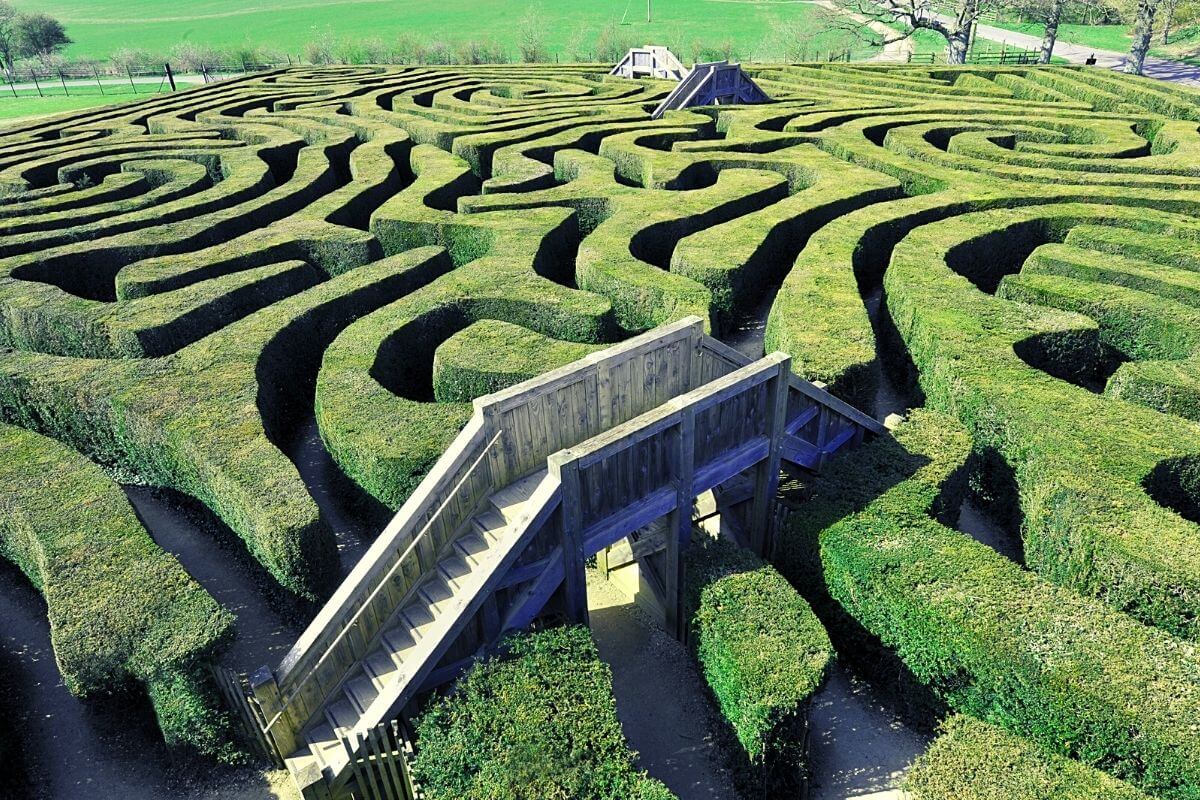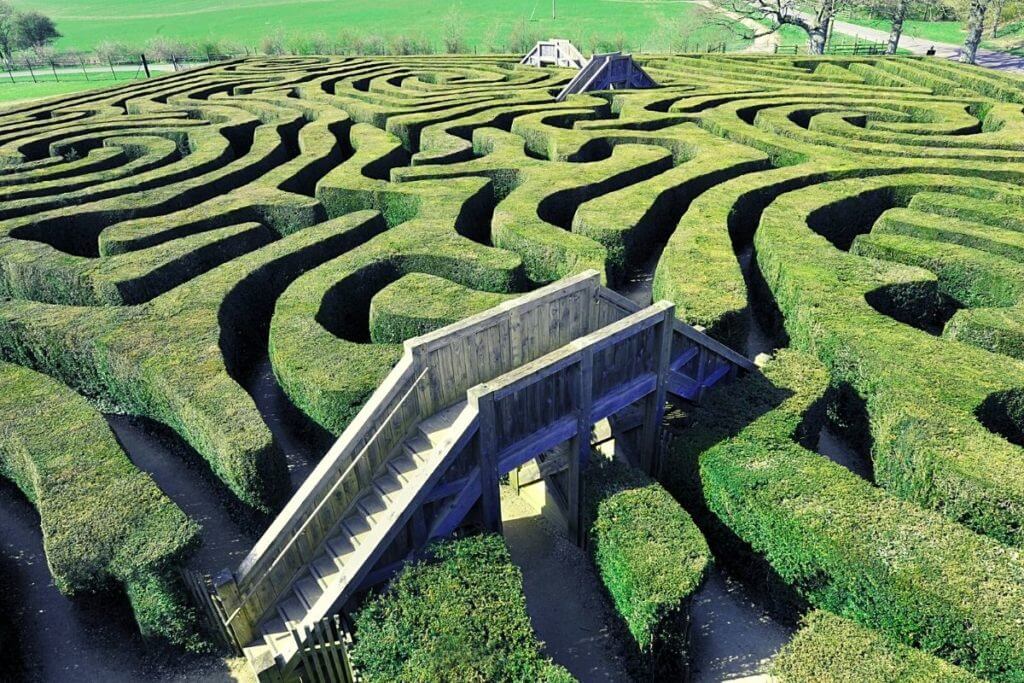 Do you know England has many unicursal turf mazes?
These mazes were possibly created during the dark ages by Nordic invaders and settlers. The unique characteristics of these England mazes are that they were constructed by taking an area of turf, then gullies are cut to form the barrier, and the remaining turf becomes the path.
There are many of these all over England.
Best Mazes in England
If you love getting lost in greenery, here are the best mazes in England for a fun day out for adults, and kids!
1. Hever Castle Water Maze, Kent
Hever Castle's Water Maze is located on their Sixteen Acre Island. It features a series of concentric stepping stones walkways. This maze is in the 13th-century castle, which was the childhood home of Anne Boleyn.
There are three different mazes, always popular with the kids.
– The Tower Maze in the castle is in the adventure playground.
– The Yew Maze is excellent to discover.
– The Water Maze is the more unusual of the three.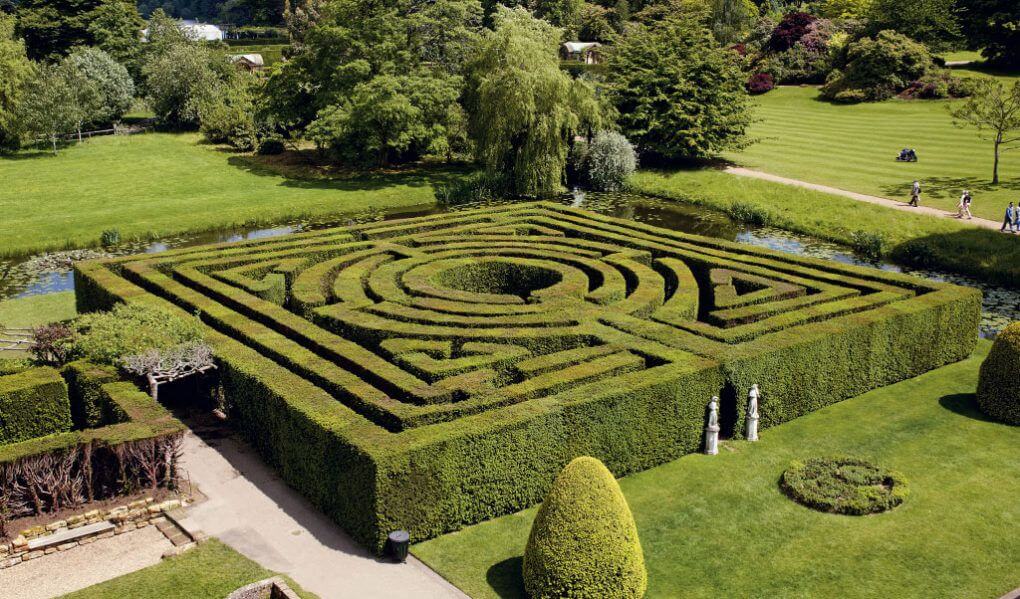 The architect of the water maze looks like floating pieces of stone over water.
Once you have started to be cautious, some stones may tilt and prompt the water splash to shoot out. Keep your towels handy – a good option on a hot day out in Kent!
2. Hampton Court Palace Maze, Surrey
The maze at Hampton Court Palace is officially one of the oldest surviving hedge mazes in England. Hampton Court's impressive maze was commissioned in around 1700 by William III, and is one of the most popular things to see in Surrey.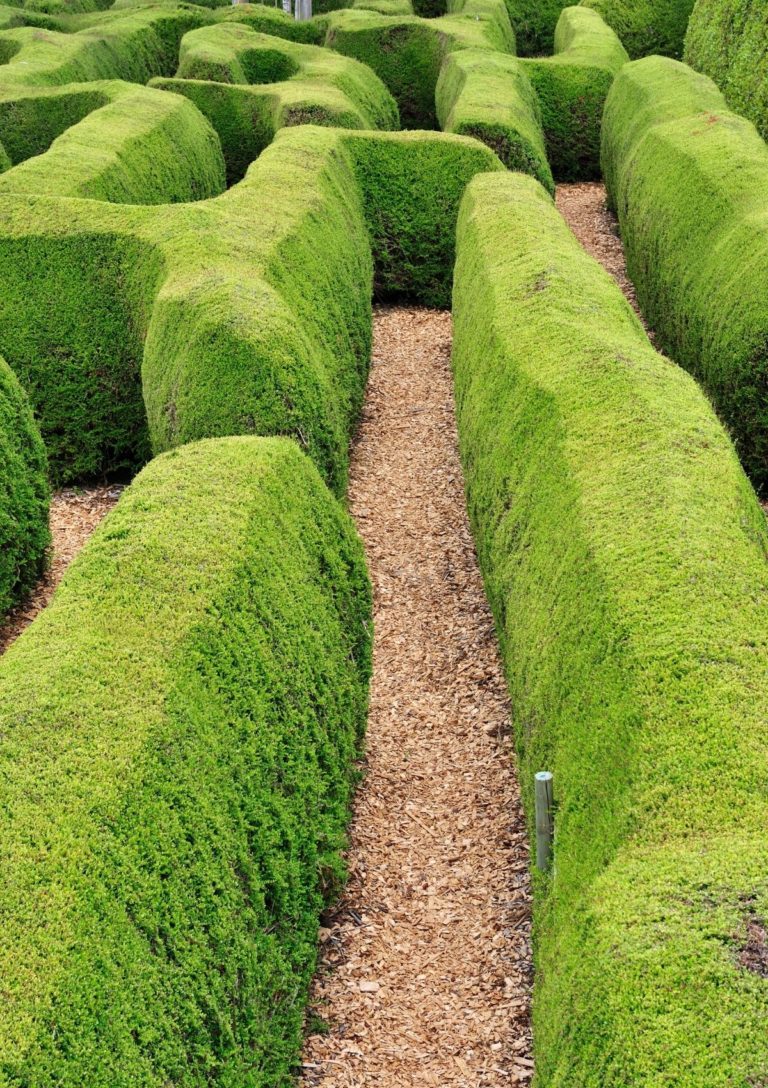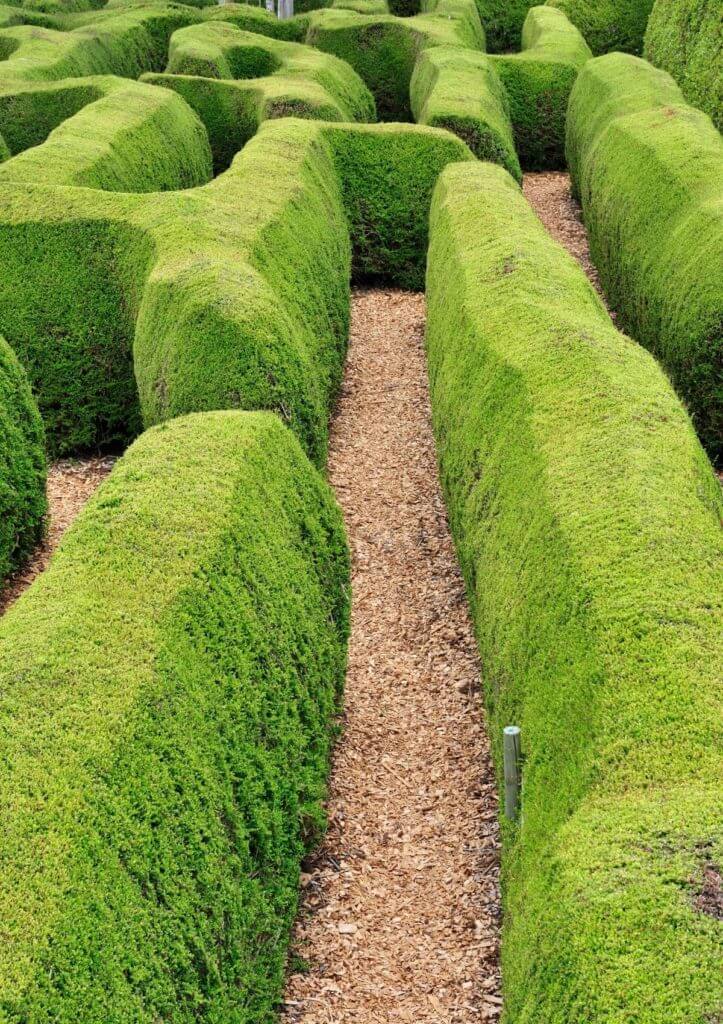 Hampton Court's 'Puzzle Maze' was originally planted using hornbeam, and later replanted using yew. This is a trapezoid maze spread over a third of an acre. You can crack this maze in around 20 minutes, hopefully.
A regular day ticket will include your access to the palace, maze and gardens, exhibitions, historical reenactment, and activity trails available on this maze site.
3. Glendurgan Maze, Cornwall
Glendurgan Maze offers an exotic view of the Valley Garden in a National Trust property near Falmouth – in Cornwall.
As visitors, you'll be mesmerised by the maze beauty that shelters the beach, the nature trails, and all the other options for adventurous spirits (including rope swings).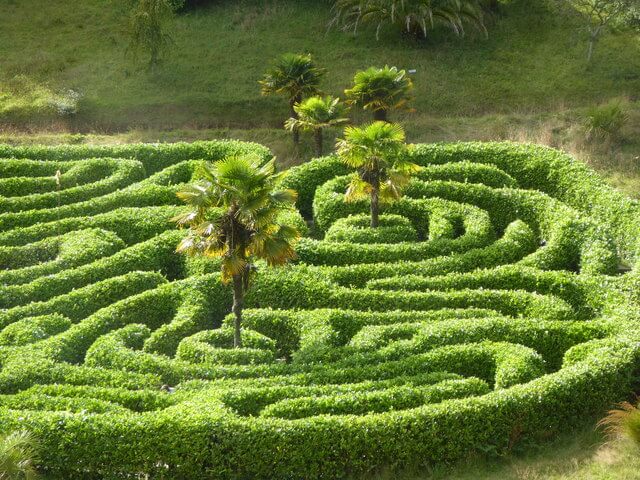 This garden maze was created in the 19th century, and even after 200 years, it offers plenty of outdoor games options for all the family.
4. Noah's Ark Maze, Somerset
This is one of the cutest mazes for toddlers, on a working farm just outside Bristol. 
The Noah's Ark Maze is the longest hedge maze in Europe, at 3.2 metres – good luck getting out of that one!
The maze outdoor play area is open to the public and provides various activities options like:
Zip wire
Termite mound play zone
Elephant slide
Sandpit
Noah's Ark Zoo Farm houses big zoo animals like African elephants, giraffes, lions, spectacled bears, giant anteater and white rhinos. You can watch over a hundred species of animals in this maze, and it covers hundreds of acres of Somerset countryside.
5. Longleat Maze, Wiltshire
As a land of adventure where you can find lions and tigers strolling and monkeys swinging, the Longleat Maze is one of England's most magical maze that holds exotic creatures.
Children will enjoy the Adventure Castle, whereas nature lovers can roll up their sleeves and come face to face with some exclusive fauna species.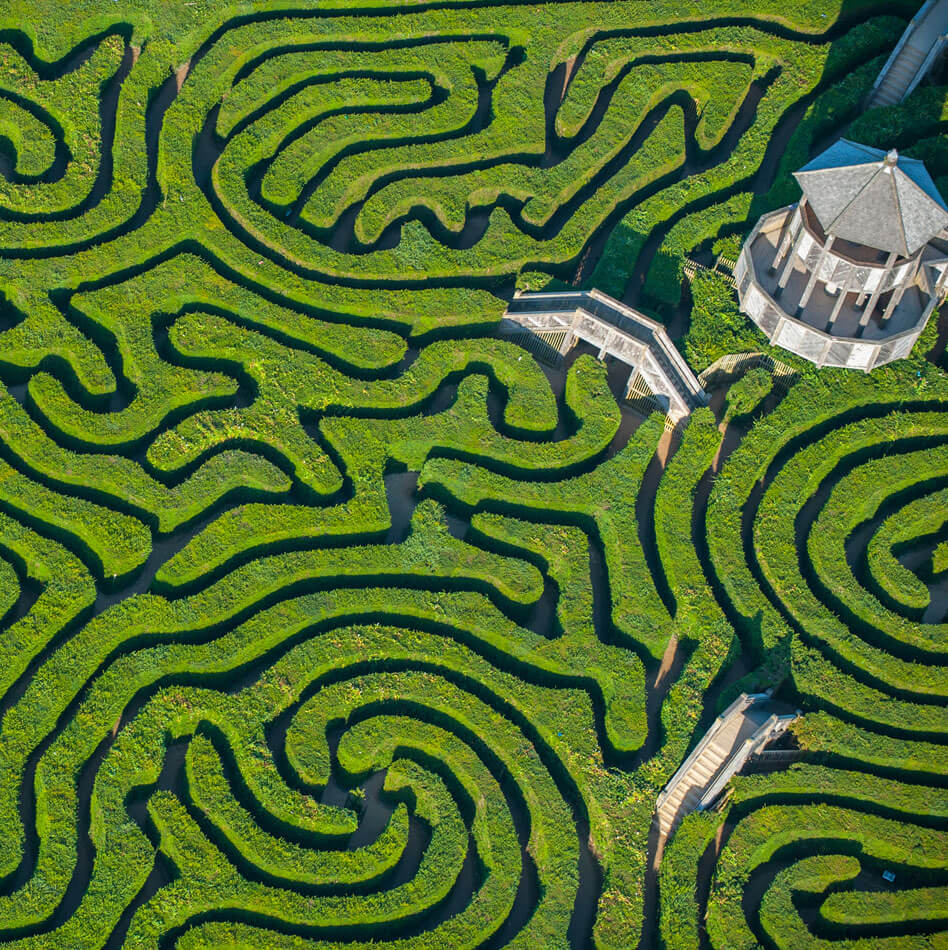 Plan a fantastic day out with your whole family at the Longleat Maze, especially with Longleat Safari Park right on site too.
Longleat Maze is one for the fearless, as the largest maze in Britain. You'll need to walk through 2 miles of path, which usually takes 20 to 90 minutes to complete.
Enjoy the animal interactions on your way round!
6. Blenheim Palace Maze, Oxfordshire
Blenheim Palace's Marlborough Maze was opened in 1991. It is famous for its 'V' sign included amid maze to honours Winston Churchill, who was born at the palace.
If you have eyes for detail, you can recognize various military symbols included in the labyrinthine design that includes cannons and bugles.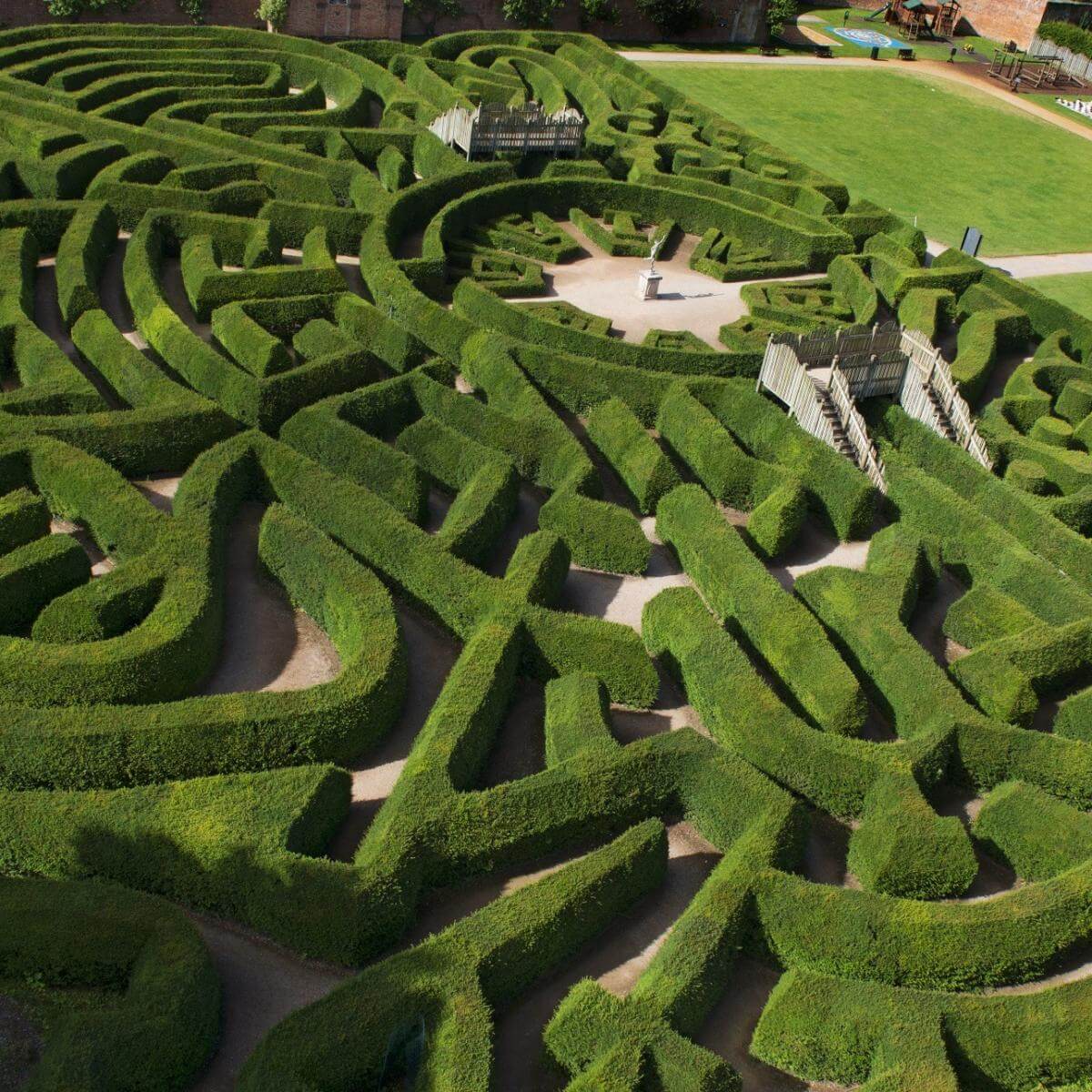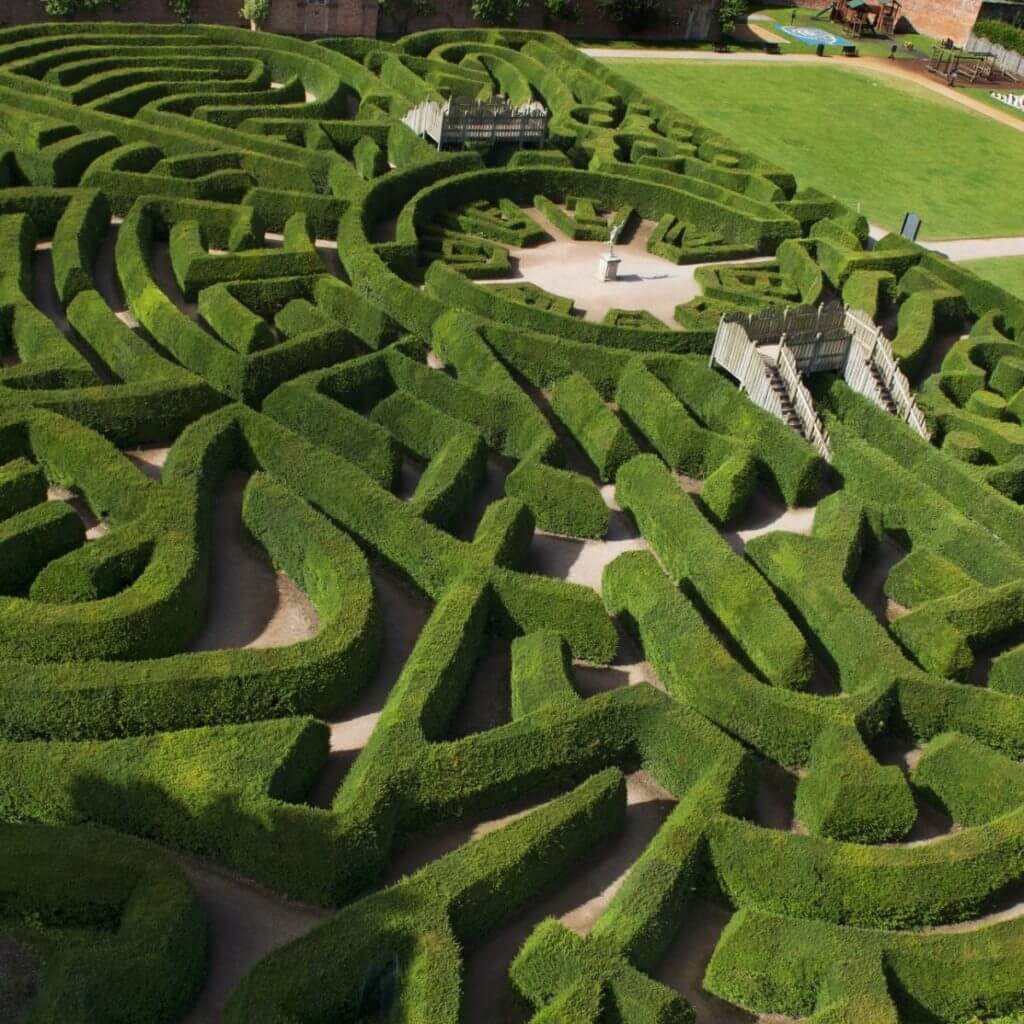 Marlborough maze is located in the Pleasure Gardens, situated a 10-minute walk from the palace. You may use the miniature train to reach the entrance. This maze is two miles in length and is made up of hundreds of yew trees, planted in the design inspired by the history of Blenheim Palace.
This is one of the most popular mazes in England.
7. Dragonfly Maze, Gloucestershire
The Dragonfly Maze was opened in 1997. It's a traditional hedge maze for visitors but also, with a difference.
You can walk around half a mile of pathways and look out for the 14 numbered clues. If you get all the correct answers written on your card, you will know how to find the golden dragonfly hidden in its roundhouse.
There are many more tricks that will keep your adventure soul busy in this maze, and it'll take 20 to 30 minutes for complete exploration.
After completing your maze trip, take a look in the shops full of traditional toys, puzzles, and gifts.
The best mazes in England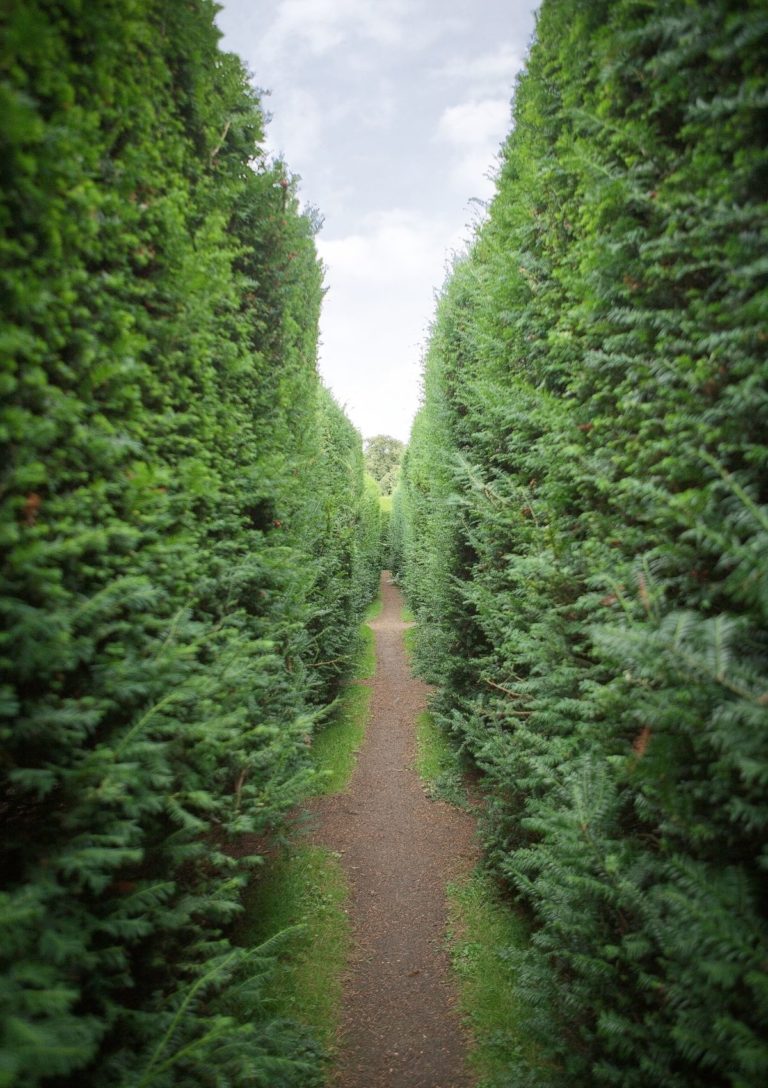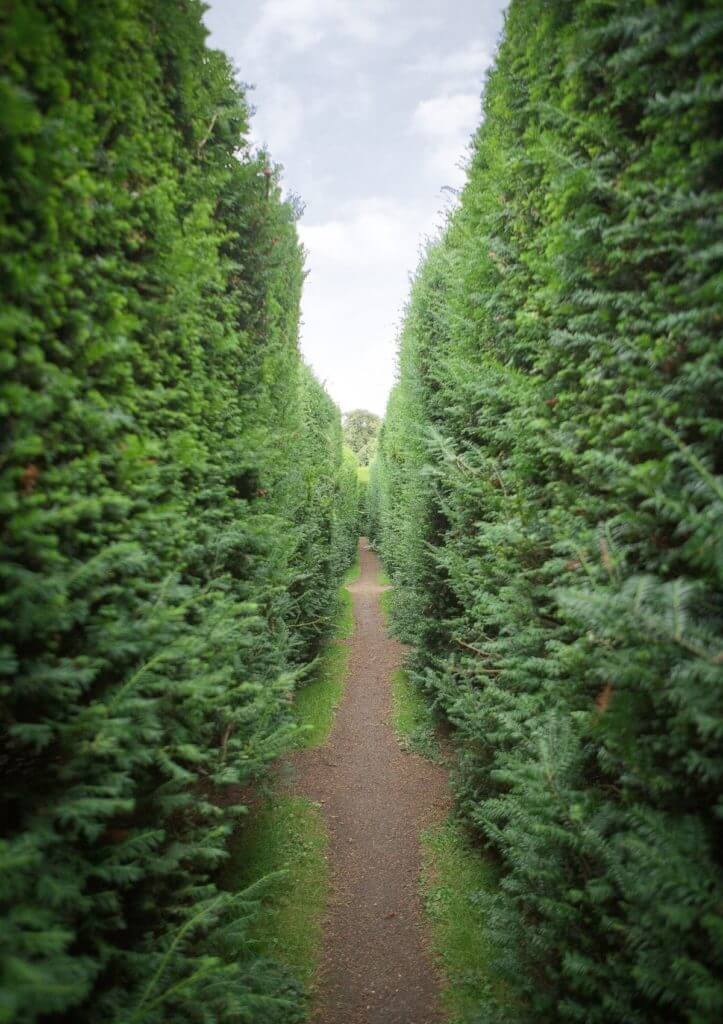 European royalty used these mazes as entertainment sources for their guest and as sneaky spots for secret meetings. Now you have an excellent opportunity to solve these giant puzzles by booking a family expedition to these spots. The best mazes in England are perfect for kids who love outdoor adventures.
Are you ready to get lost in England's best Mazes?
---