Looking for the greatest days out in Kent? Maximise your Kent days out with this guide to the best ones in the county. There's SO much to do, let's break it down…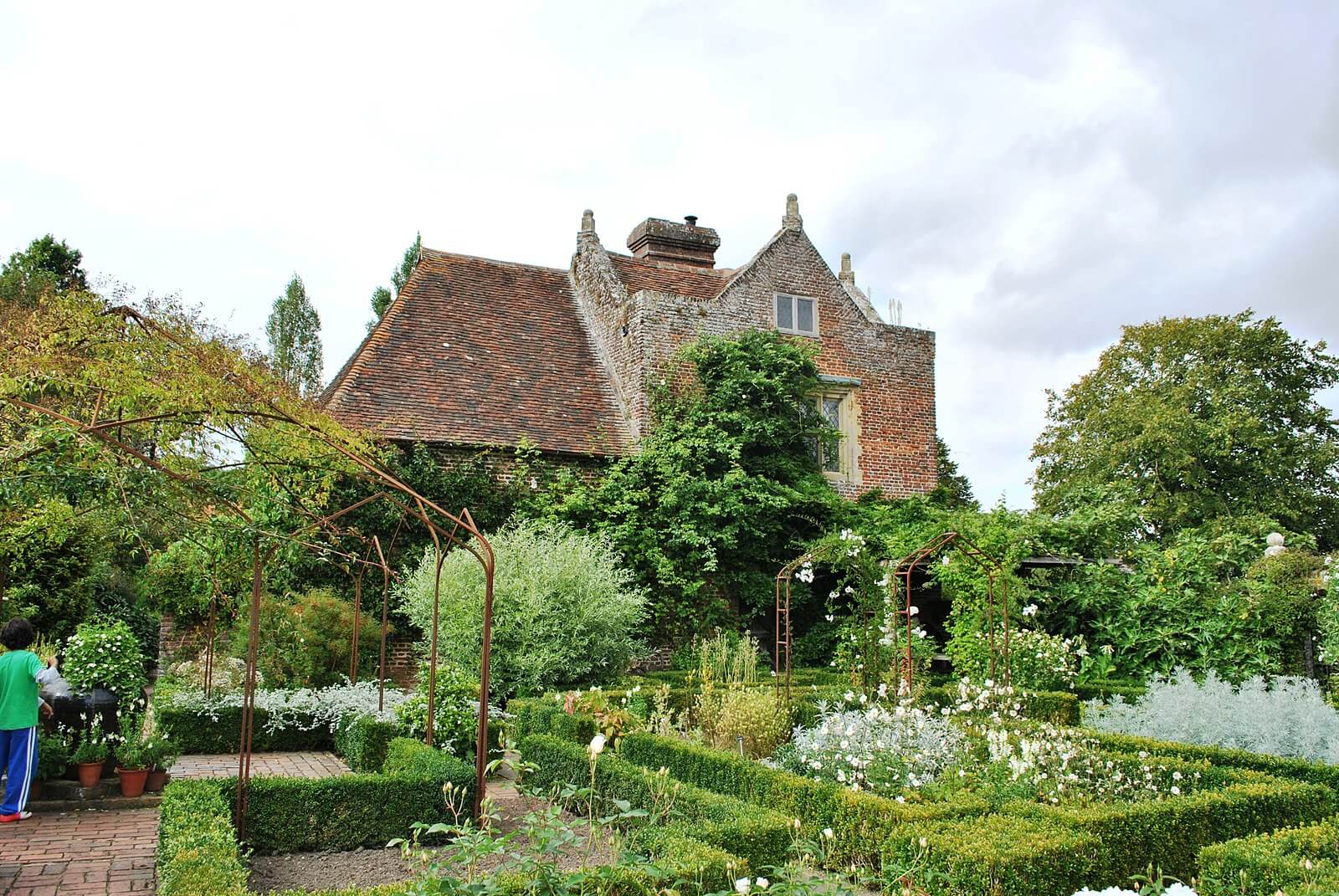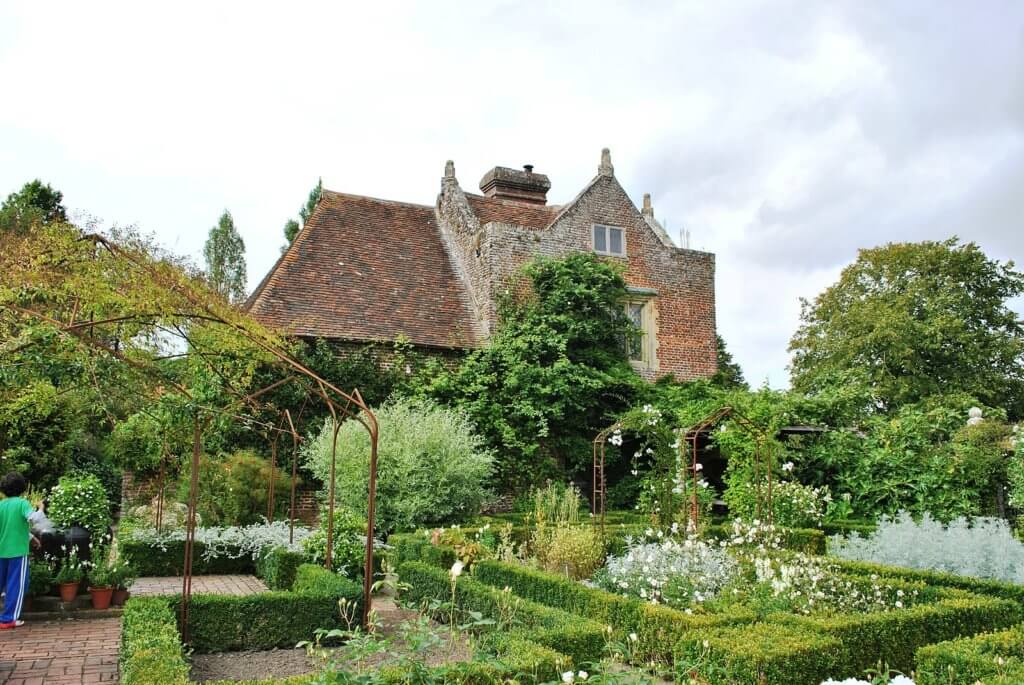 When asked about the best days out in Kent, I can ramble on for hours about the castle estates and historic architectures that dot the coastal county. The drab grey of fortresses become romantic when wrapped with leafy plantation, following the trend where defensive structures later became lavish residences.
Gardens bloom wild with colour, flower clusters creating dynamic waves against the backdrop of flat lawns. Old train lines take you between vibrant towns and the woodlands, from farms to vineyards.
I hope to share just how diverse Kent's attractions are!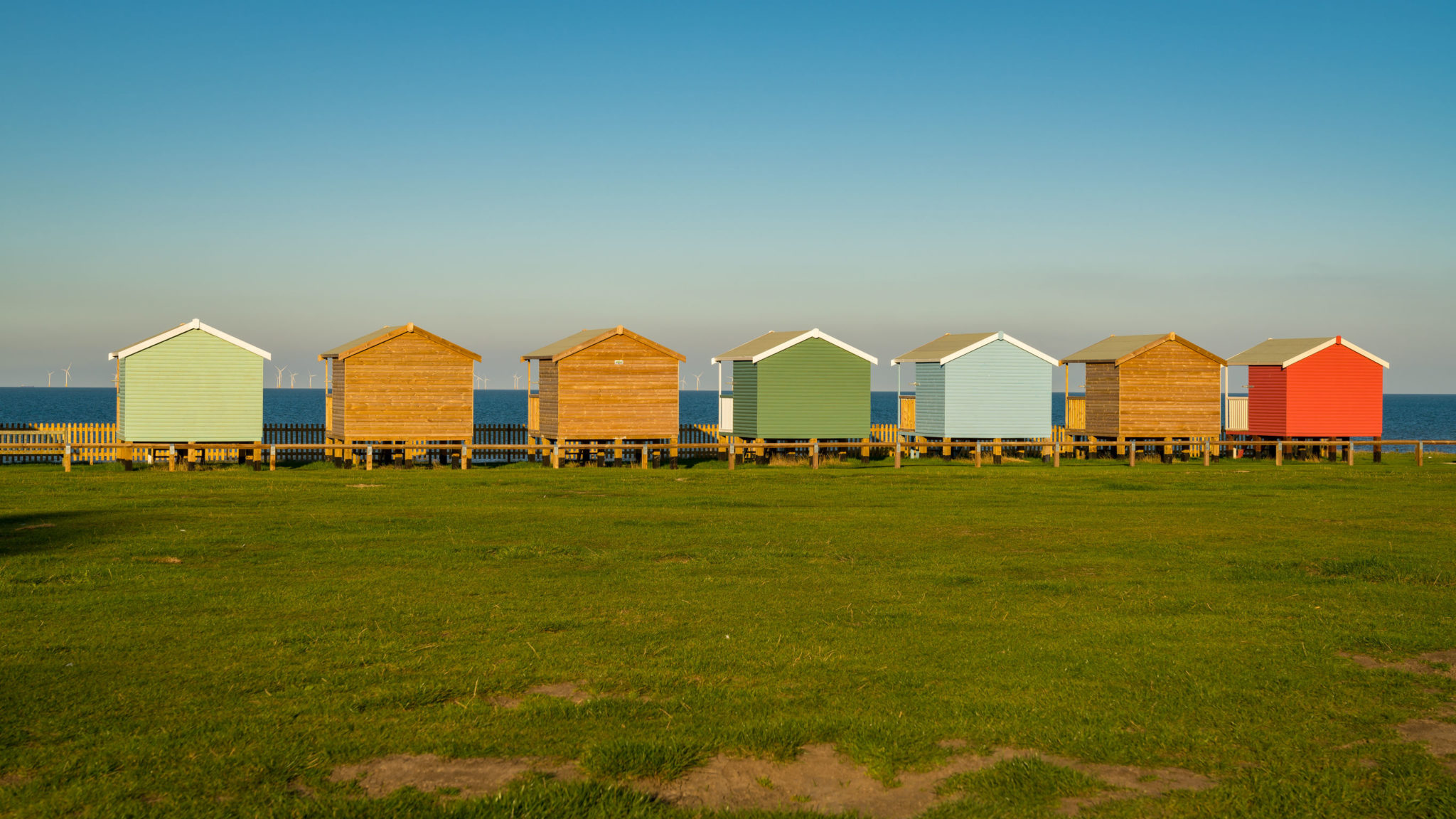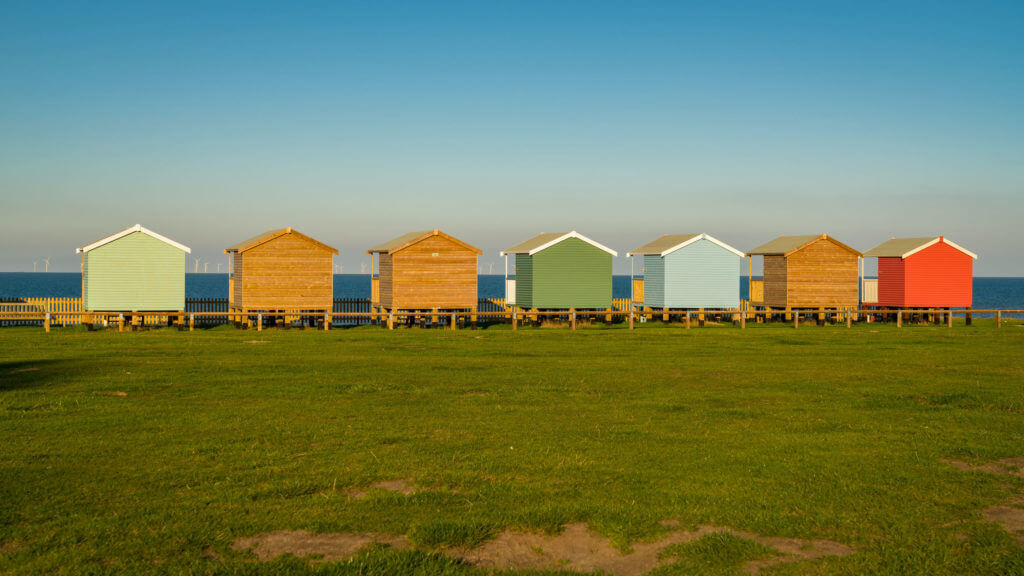 There are plenty day outs to be planned for both solo travellers and those with family (Kent is extremely family-friendly), and best of all, they're available all-year round.
Here are my top 23 recommendations for days out in Kent.
Day Out in Kent
---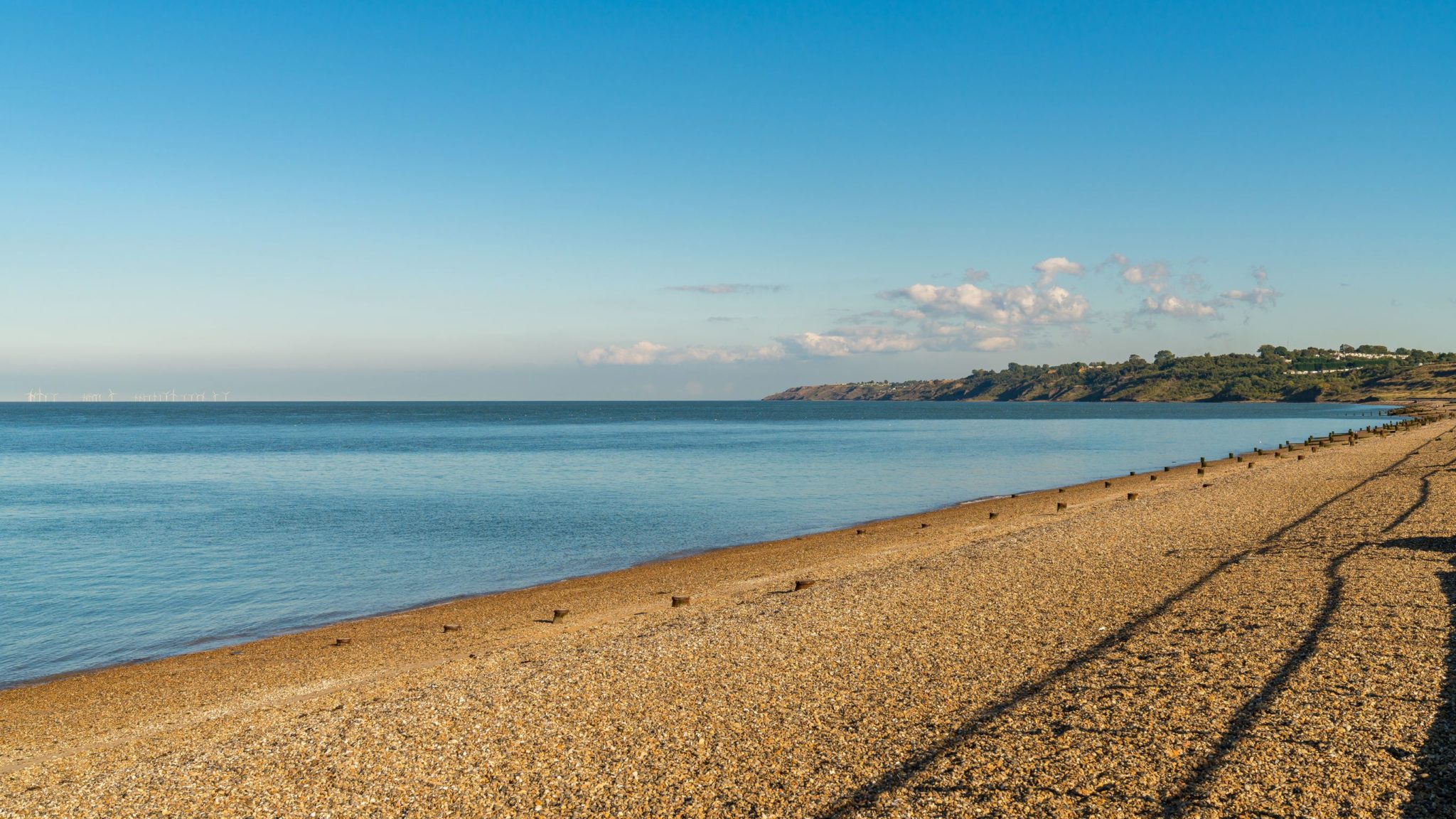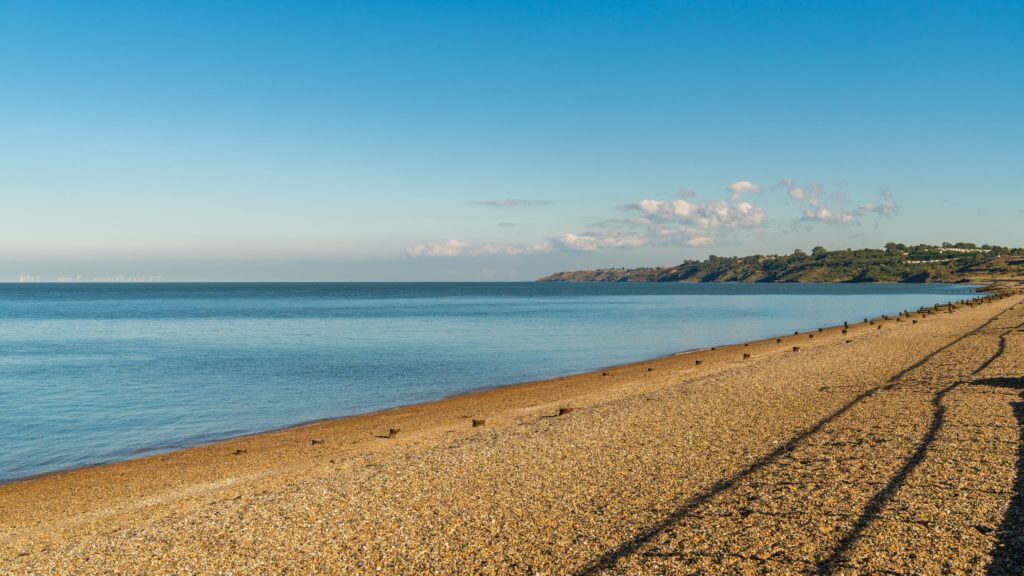 1. Marvel at the White Cliffs of Dover
The smooth rise of Kent's iconic coastline looks like a professionally painted canvas of white. While nothing beats seeing it from the water, walking along the edge shows the stunning contrast of white cliff against emerald sea.
They're one of the most iconic landmarks in England.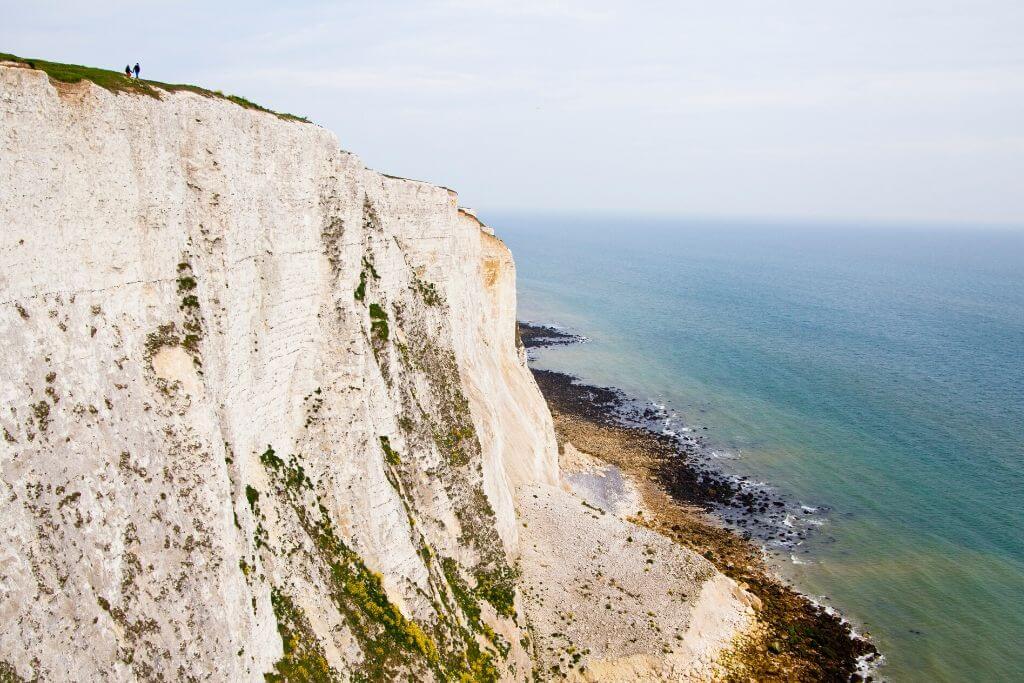 There are plenty of activities to keep you active too, like learning about scientific discovers at the Victorian lighthouse or exploring the WWII tunnels within that rock façade. Exmoor ponies (who help control grass growth) may randomly pop up to surprise you.
Last but not least, make sure to check out Dover Castle and the nearby memorial that marks the first cross-channel aircraft landing.
2. Delve into Dover Castle
As part of the Kent day out alongside the knightly cliffs, Dover Castle is one of the most impressive things to do in town. Built to protect the narrow sea crossing with mainland Europe, the fortressed structure sits atop the grounds of what used to be a Roman lighthouse and the adjacent Church of St. Mary.
Within the thick walls of the Great Tower are interactive exhibits that educate on medieval times; my favourite part however, are the secret wartime tunnels.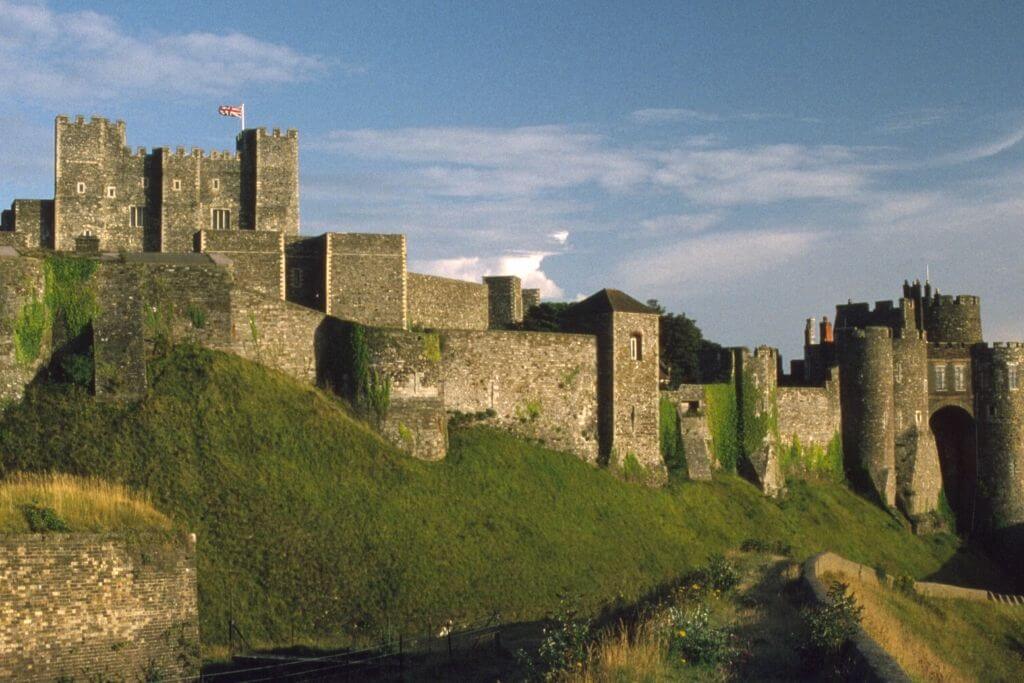 I joined a 50-minute tour that brought us into the narrow, chalk-hewn underground first discovered during the Napoleonic Wars. Through video projections within the passageway itself, we were told the story of the Dunkirk evacuations in 1940 (if you've seen the Christopher Nolan movie you know what a difficult operation it was). Code-named Dynamo, this is the behind-the-scenes stage for that famous incident.
Visiting Dover Castle on your day out in Kent is an enlightening and unusual activity I highly recommend – castles are after all one of the best reasons to visit England!
3. Be entertained at Margate Dreamland
If you've never been to a vintage amusement park, it's time to sign away a few hours to Margate Dreamland. Most people think colorful rollercoasters and nothing but thrills when describing amusement parks, but I find Dreamland's charm in the eclectic mix of entertainment.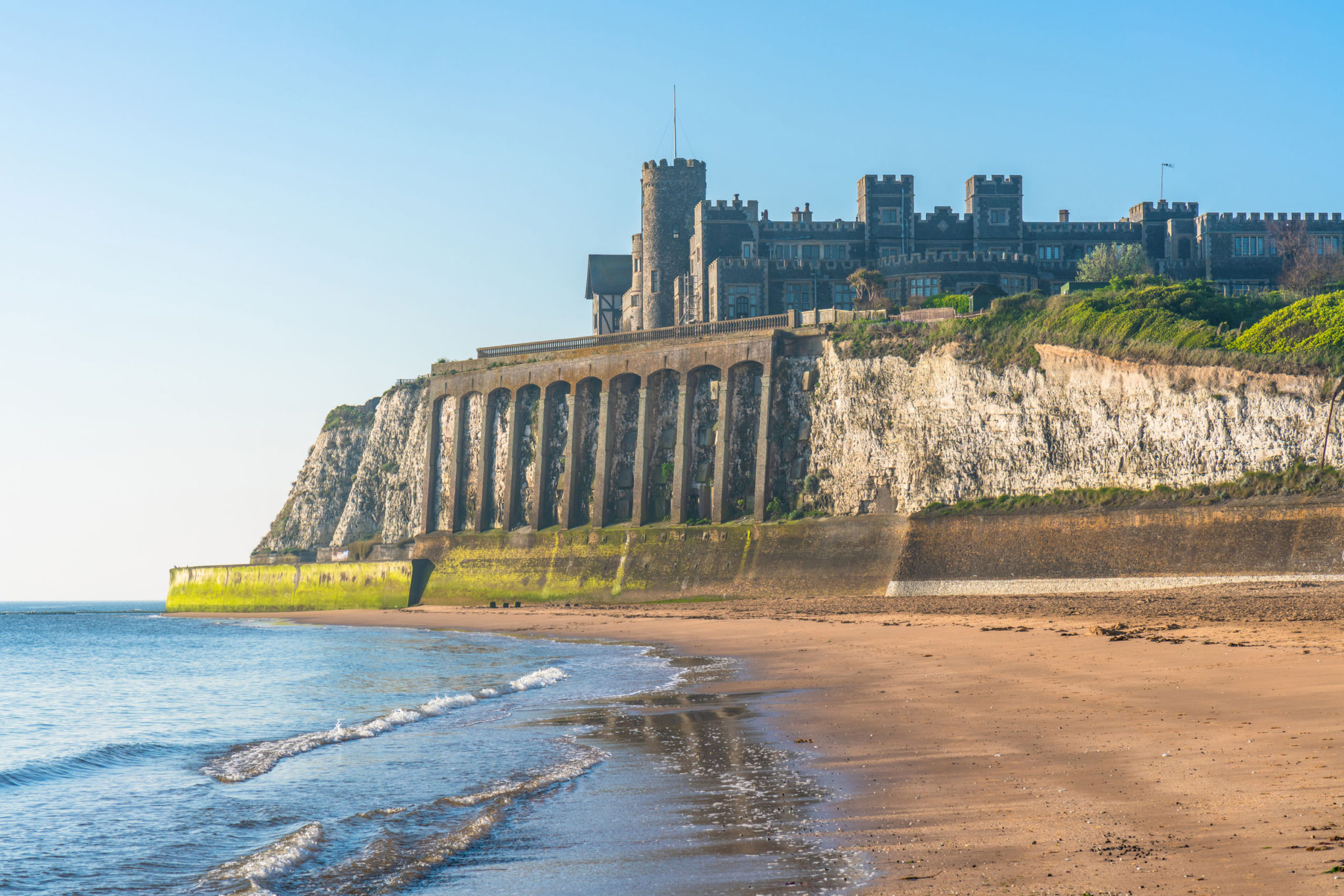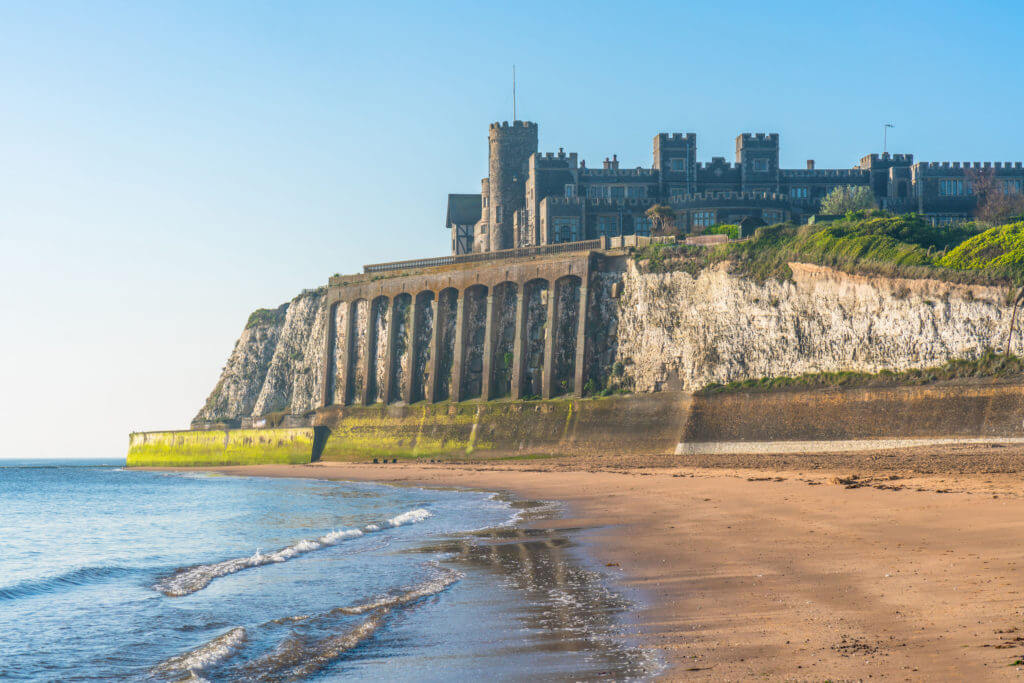 Yes, there are thrilling rides – including UK's oldest wooden rollercoaster – yet it is the street food, roller disco, art installations and pop-up vendors that give the park so much character.
Live music and community events keep this seaside corner lively, while Margate beach is right next door when you need a quiet escape.
4. Traipse through Shell Grotto
I still muse about the mysterious Shell Grotto from time to time – how did this subterranean complex come about? No one has answers just yet. The reaction of the people who unveiled this claustrophobic mix of rooms and passageways in 1835 must have been immense shock. It's not every day that you find 4.6 million shells decorating the walls of underground chambers, in an artful manner too!
Some people think that it's a scheme to draw in tourists while others argue that it's a temple space from thousands of years ago. Either way, it's a unique attraction to see on your day out in Kent.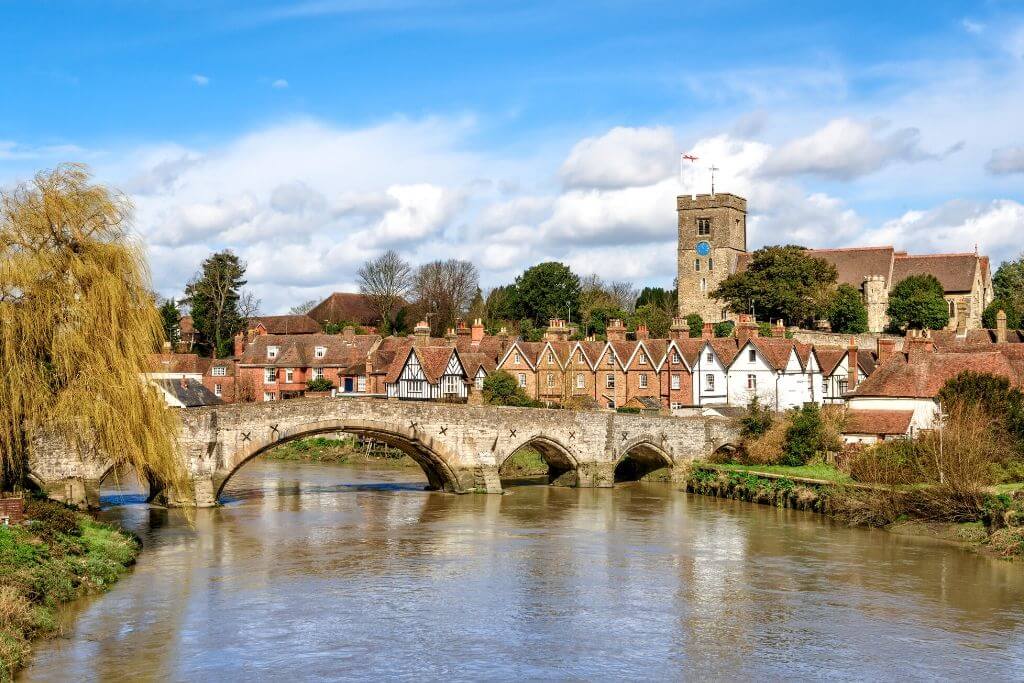 5. Spot the detail work within Canterbury Cathedral
For a classic day out in Kent, Canterbury Cathedral is a World Heritage Site you can wander in for hours. Blanketed with over 1400 years of history, the Gothic cathedral is the mother quarters of the Church of England.
While a fire had ravaged this ancient structure in 1174, the cavernous altar and crypt have preserved stunning pillars with intricate carvings.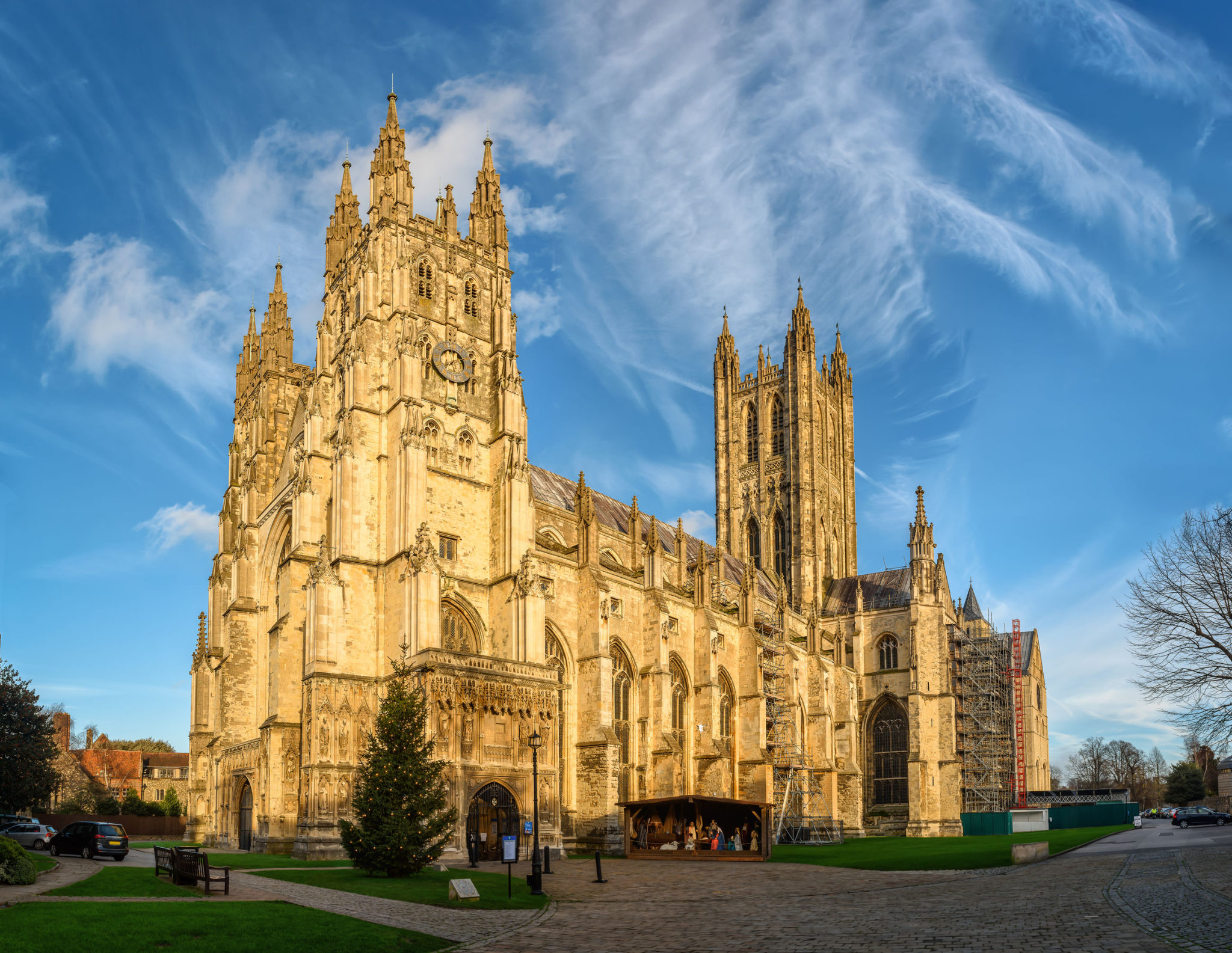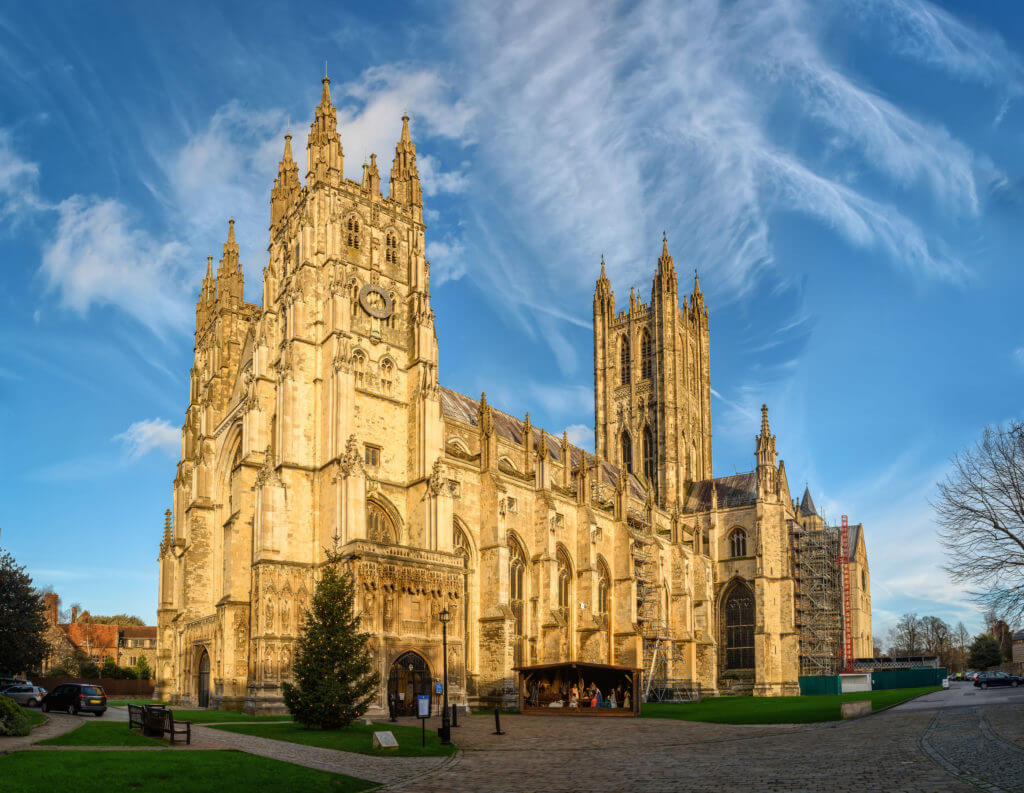 My main takeaway however, despite the gorgeous architectural details, is the overwhelmingly violent histories embedded in its walls. For one, the well-known murder of Archbishop Thomas Becket took place here; it also hosts the grave of warmonger Edward the Black Prince. To hear more enthralling stories, join a one-hour tour.
If you want an exact itinerary for a day out in Canterbury, then click the link!
6. Eat your fill at Goods Shed
Kent is known for its countless farms and fresh produce so take the opportunity to gorge on delicious eats.
One of the best things to do in Kent is no doubt hunting down Goods Shed, a farmers market brimming with aromatic food items. The converted warehouse vibe is enough to satisfy anyone seeking hipster aesthetics; it certainly brought in self-caterers and fabulous restaurant-goers alike. Because the produce comes in fresh every morning, visitors can enjoy daily specials that are organic and seasonal.
7. Enter the chalky Chislehurst Caves
Chalk: the little known ingredient used for building and guns. I was caught off guard by these man-made caves beneath the woodlands of Chislehurst, a complex some thirty meters below ground that was carved out by Druids, Saxons and Romans. An hourly tour will see you down there exploring with an oil lamp in hand; see if you can find the Druid Altar or Haunted Pool.
The mysterious aura is a mega-hit with the Labyrinthe LARPing Club and it's easy to see why – scenes from the British TV series Merlin were filmed here as well.
Interestingly, these caves have been repurposed over and over, first used as an ammunition dump in WWI to later become a bomb shelter in WWII. It's most unexpected occupancy however was its short stint as a mushroom farm.
8. Admire art in Turner Contemporary
Embodying the clean lines that contemporary art and architecture often boast is one of East Kent's top attractions: Turner Contemporary. It's clear why JMW Turner had settled in Margate for his painting career and right along the seafront too – the refracted light does magical things to the sky and seascape.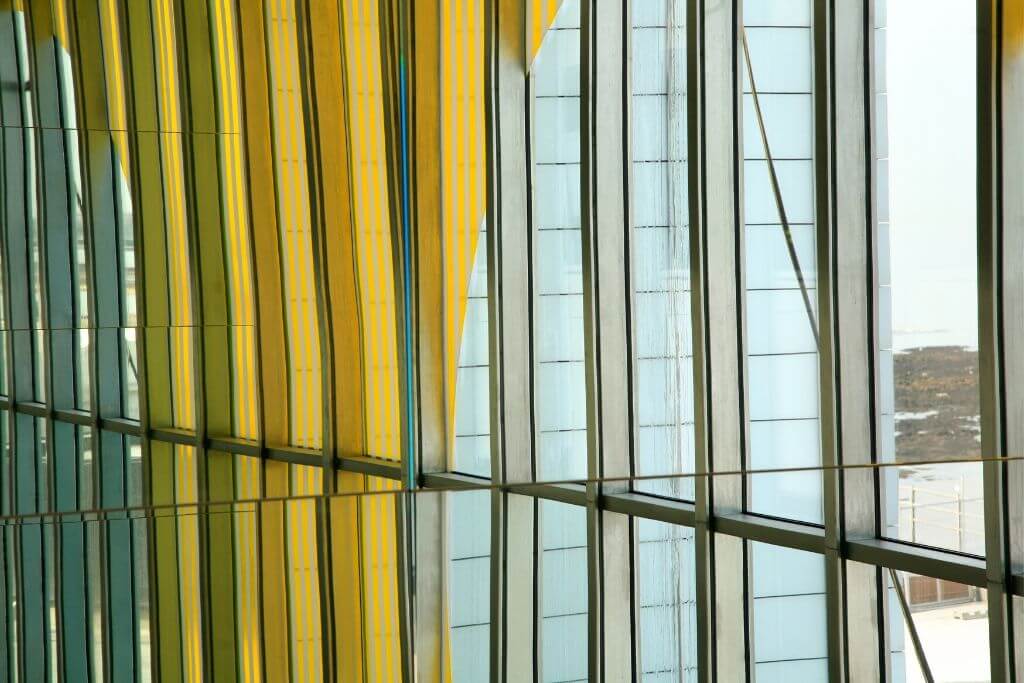 The art gallery actually sits on the site of the guesthouse where the painter used to stay, which floor-to-ceiling windows that frame the outdoor sceneries. Various artists have featured installations and innovative pieces here, including Margate-local Tracey Emin.
9. Maritime lessons at The Historic Dockyard Chatham
One of my best day outs in Kent was touring Chatham's historic dockyard, a tribute to Britain's long-standing maritime heritage. I never thought I'd one day step foot in a Cold War Submarine and peer through its periscope or ring the bell on a Victorian Sloop, but there I was!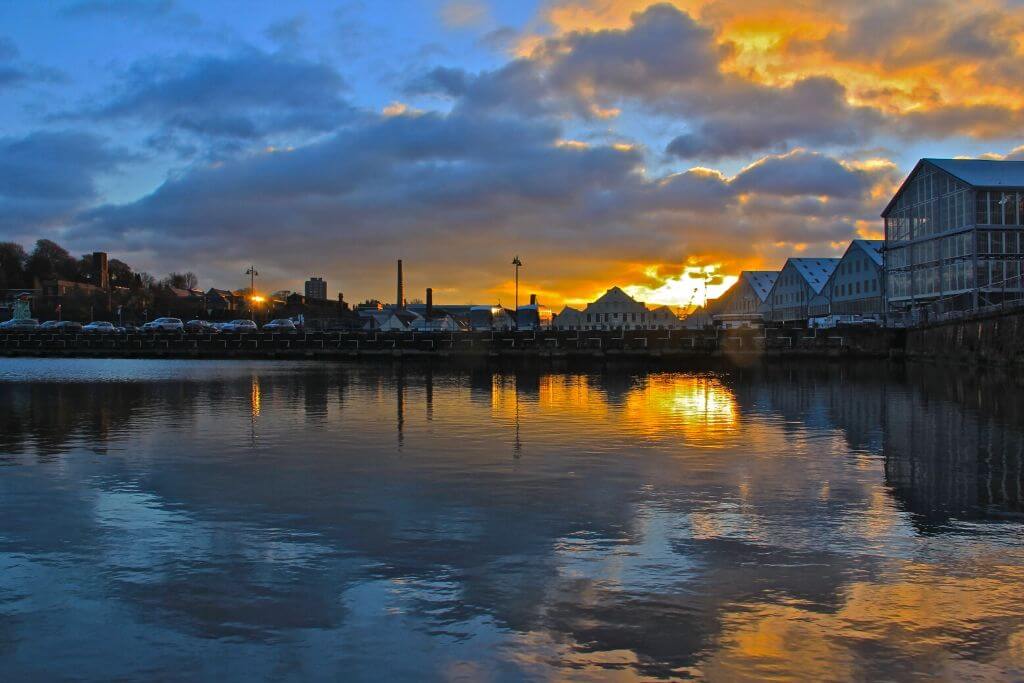 You can even board a WWII Destroyer and witness how the bridge was run. What I appreciated the most about this attraction is the interactive gallery, Command of the Oceans, which displays incredible artefacts and offers hands-on experiences. I even learnt how those thick coarse sailing ropes were made, as well as the functional knots they used on board. The tickets are valid for a year too, so it's a place you can return to over and over again.
10. Sample wines at a premium vineyard
Imagine rows and rows of sun-drenched vines that feed off the rich soil of countryside England; vineyard tours are an essential thing to do in Kent.
One of the most prestigious wineries is Chapel Down Winery, having won awards with their stocks of sparkling wines, lagers, rosé and cider. I thoroughly enjoyed the enlightening tour of its many acres, which wrapped up with a fine dining experience at their on-site restaurant.
Hush Heath Winery is another great day out option, offering tastings and tours through their woodlands and orchards. Their ciders are super refreshing after an hour out in the sun.
11. Tour around Leeds Castle
Leeds Castle is a win for the ladies and not just because of its lavish estate. Yes, the hedge maze and aviary and a surprising dog-collar museum are the prelude to the beautiful castle, but what drew me to it was its history. You wouldn't be able to tell from the get-go that this two-island structure (which is really cool to see) had housed medieval queens for more than a thousand years!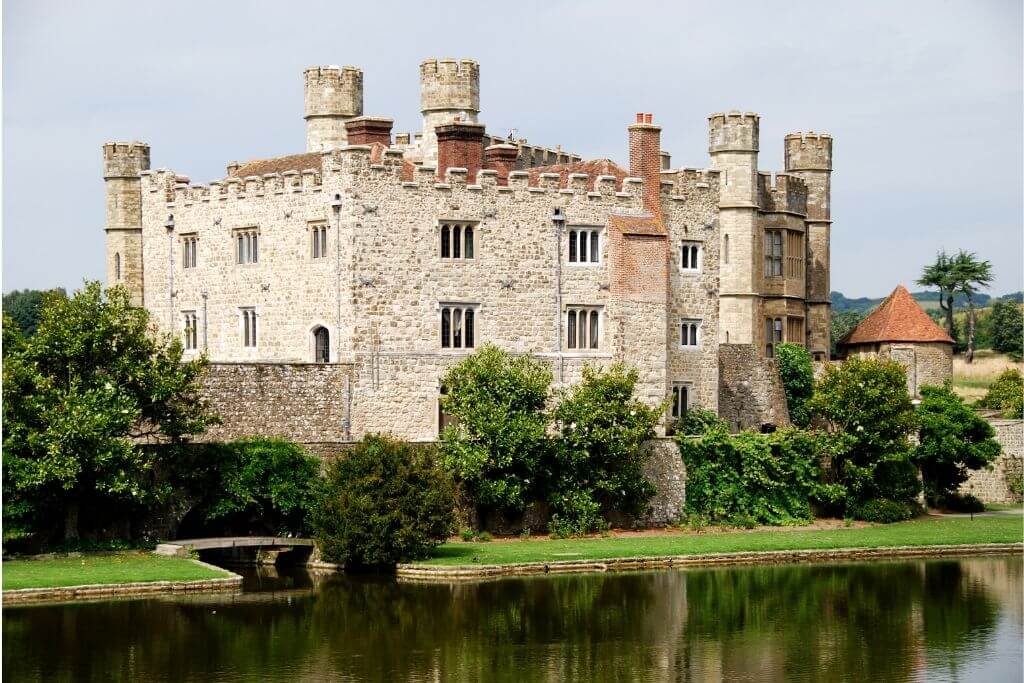 Catherine of Aragon is perhaps the most well-known of its inhabitants; more recently, Lady Baillie had transformed this family home into a high-society party venue. Maybe I romanticise it a bit too much, but it's definitely worth a visit.
If you want to read more about the castles in England, click through here.
12. Bask in quiet at Elmley National Nature Reserve
I've never felt more small or free than standing in Elmley National Nature Reserve. The relatively flat lands are comprised of meadows and waterways, leaving an unfathomable expanse of sky for viewing. That doesn't mean it's barren of wildlife though – ponds ripple with water birds while hares pop out of grass clusters, butterflies and bees flitting between wildflowers.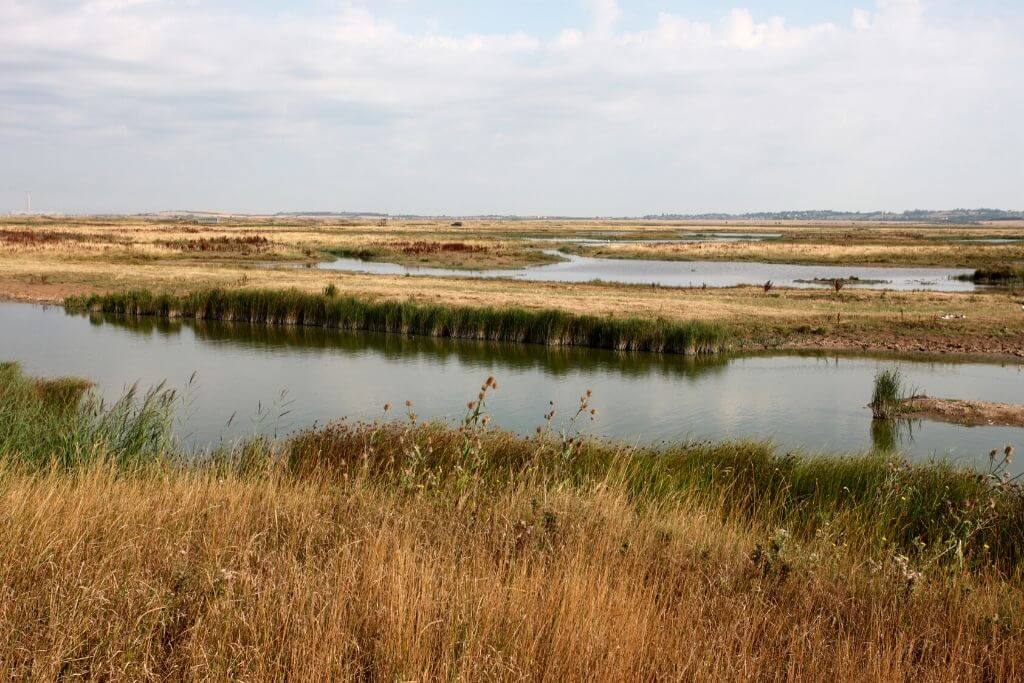 Photographers will love the light quality and amazing landscapes, not to mention heritage sites that have inspired fiction. Check out the house where King James II was once imprisoned, the mysterious marshes and the ruins of a Victorian village.
Great idea for an adults day out in Kent.
13. Journey via Spa Valley Railway
One of my favourite days out in Kent is to take the Spa Valley Railway and disembark at random stations. The vision of the High Weald Area of Outstanding Natural Beauty shouldn't be underestimated, though it is the attractions along this heritage rail that will keep you coming back.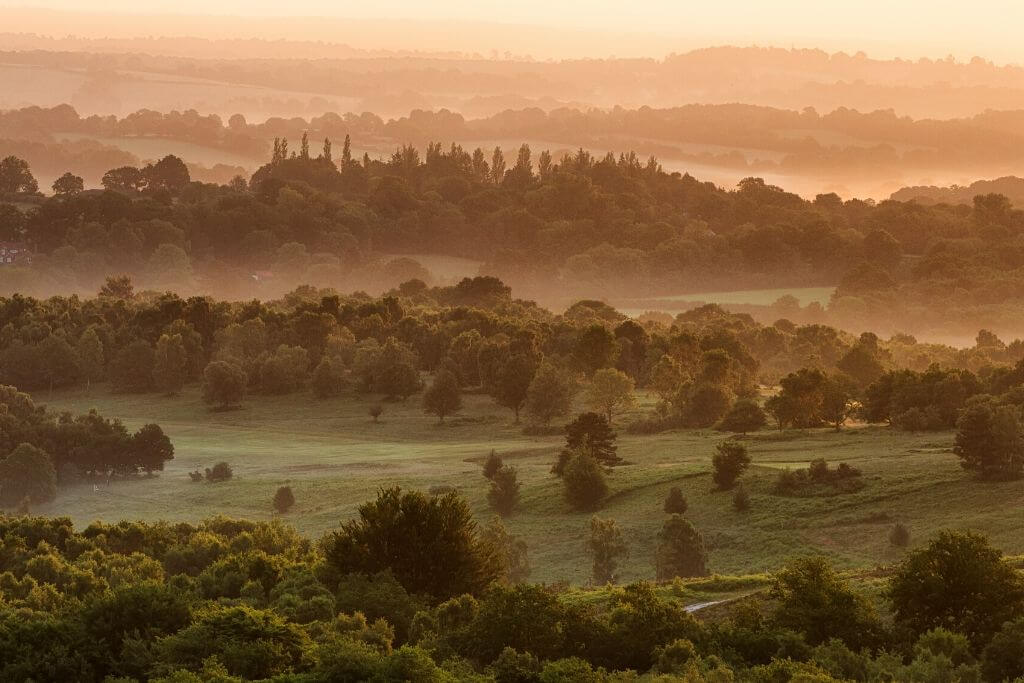 Regency spa town aside, Tunbridge Wells West station tells you all you need to know about this vivid green engine; it even comes with an 1886 engine shed and a café within a restored buffet car. High Rocks veers towards the more natural side of things, characterised by sandstone outcrops.
Groombridge is the most versatile, boasting historic inns and the stunning adventure gardens of Groombridge Place. There are plenty of weekend events and meal-time trains so check out the official website for more info!
14. Fruitful day await at Brogdale Collections
Brogdale Collections is literally just fruit, fruit and more fruit. Just imagine having over 4000 varieties of apples, plums, pears, cherries, and other bountiful trees – it's an awe-inspiring sight and I guarantee you'll learn facts about these orchards you've never considered before.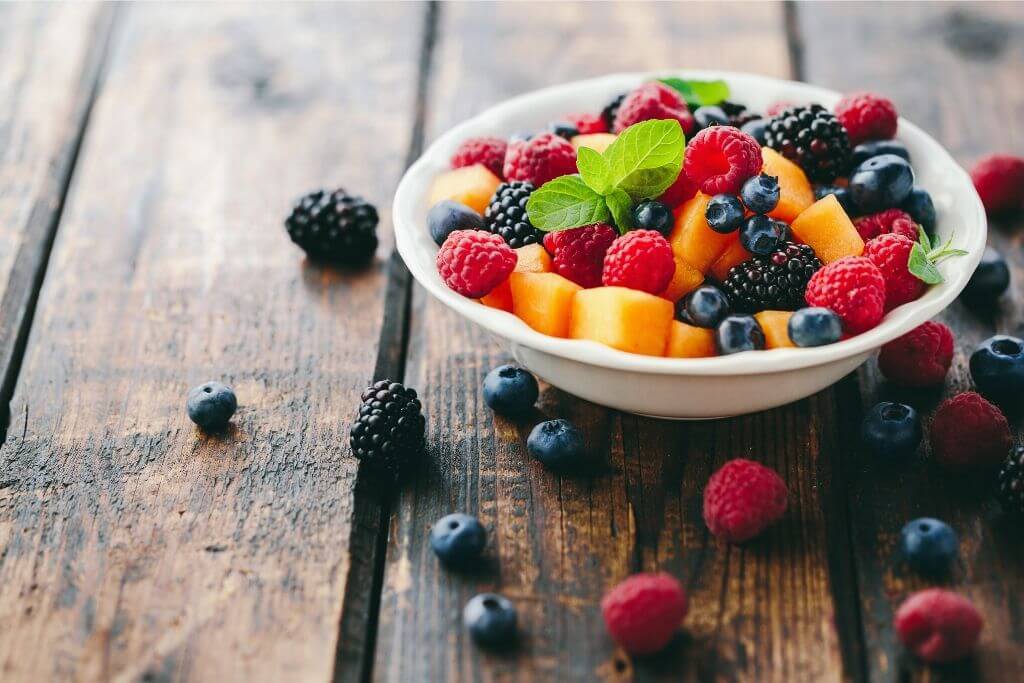 A guide takes you around the 150 acres through both flowering clusters and fruit-laden ones; you'll get to taste test too. When I dropped by during spring, I managed to catch a Hanami Festival and Strawberry Fair. While events are seasonal, the marketplace is hosted all-year round to feature butchers, boutiques, small picnic spots and fruity beverages.
Brogdale is a must see on a day out in Kent.
15. Cruise down Canterbury Historic River
By far one of the best Kent outings you'll experience, the Canterbury Historic River Tour is one of my top recommendations. Trailing through city centre, the waterway is hemmed in by terraced restaurants, the tumble of leafy plants down brick buildings, under low-arched bridges and relics.
It's a unique take on the architecture around town; your guide will tell share stories about the development that took place here.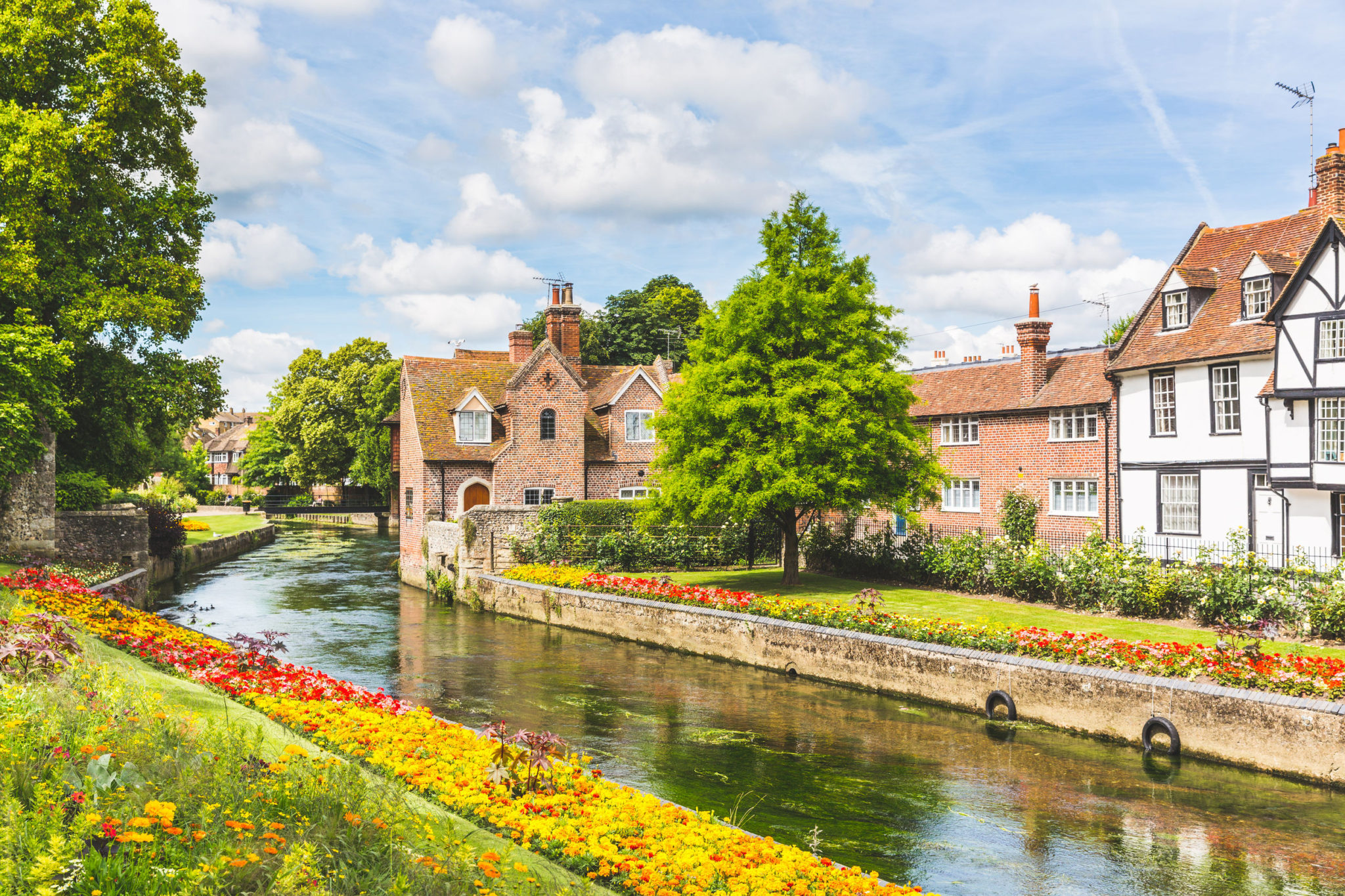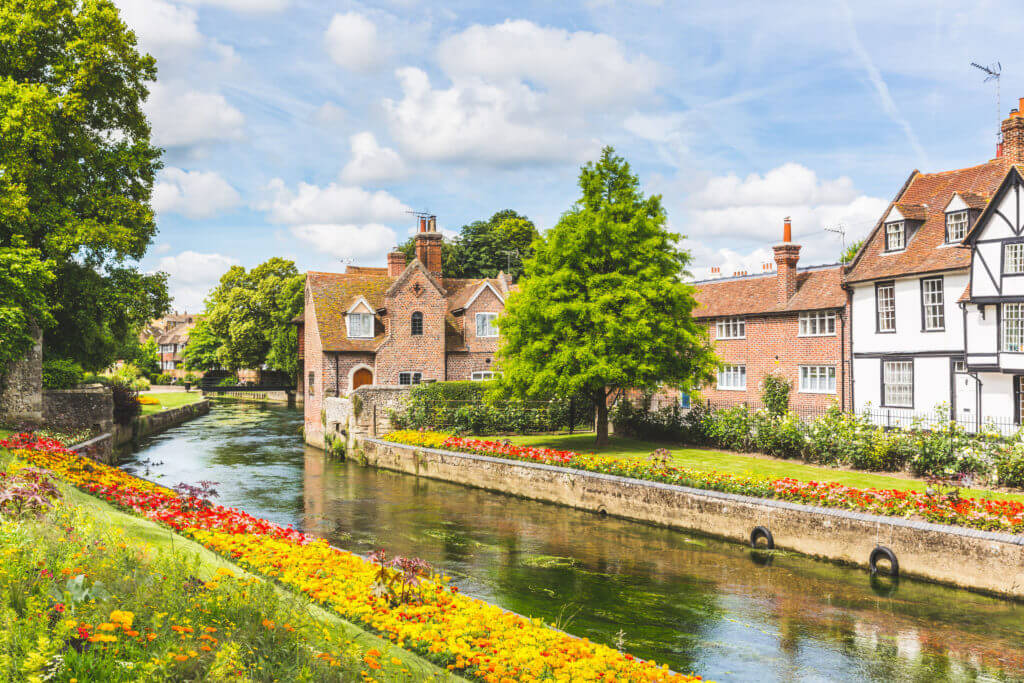 Some landmarks you'll drift past include Kings Bridge, Alchemist Tower, Old Weavers House, The Abbots Mill, The Marlowe Theatre, Franciscan Island and more.
If you're into dreamy, fairy-tale like settings, and you want to explore more of England's rivers, this one is for you.
16. Smell the flowers at Great Comp Garden
Although the 17th-century manor is pretty, it is one of the many in England's countryside; the accompanying garden though, it an absolute riot of color.
Created by the Cameron family in 1957, Great Comp Garden went from eccentric hideaway to award-winning nursery. Tufts of dahlias, magnolias and azaleas front the green lawns and intimate paths, the latter wounding between an Italian Garden, some ruins and the charming Old Dairy Tearooms.
It's a definite addition to your itinerary during the summer, although it blooms year round. The Autumn Extravaganza is quite something to behold as well.
17. Visit The Beaney House of Art & Knowledge
Another one for the Canterbury folks is Beaney House of Art & Knowledge, a combination of art gallery, library, café and information center in one. The building itself is full of character, the bottom half built from brick and featuring wood-laid arched windows while the top half shows off latticed windows and dramatic roof. It was actually willed to the city by one Dr. Beaney, meant to provide amenities for poor men.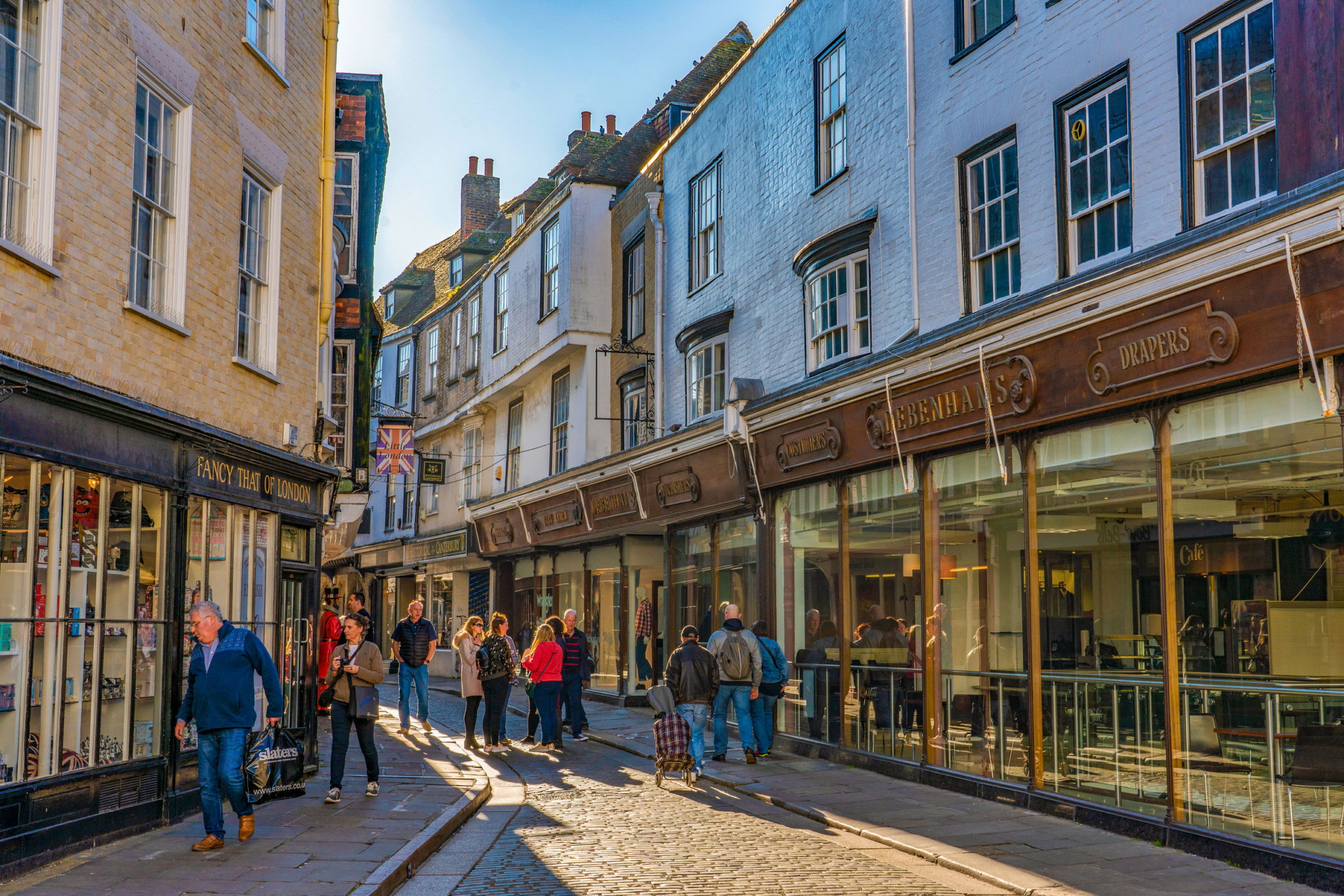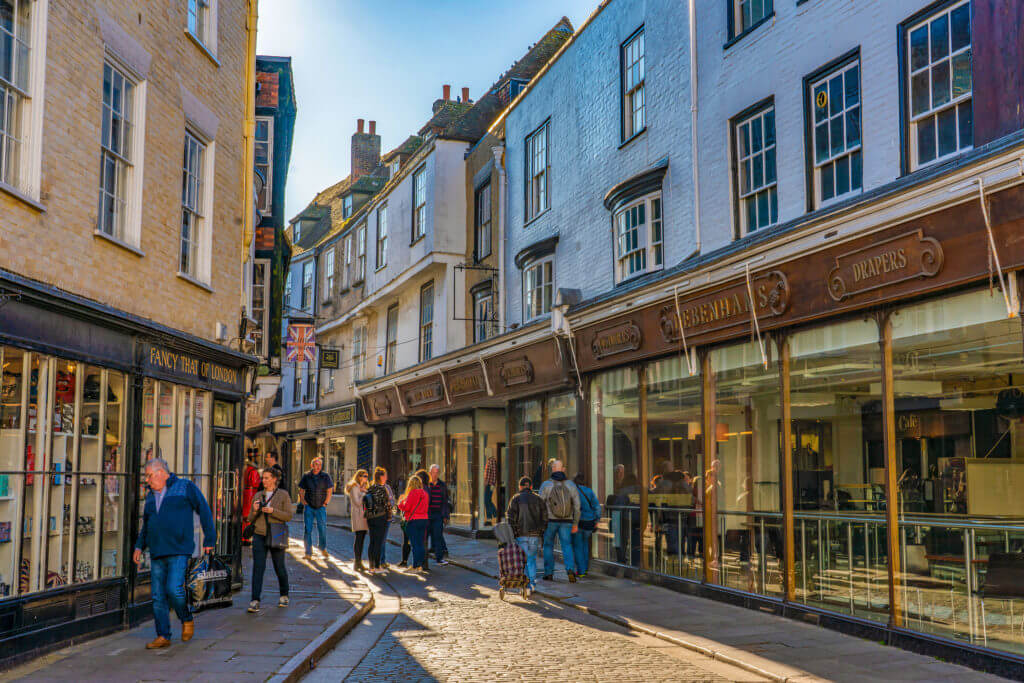 It later transformed into a free library and museum that provides all-age appropriate programs. It's worth a visit if you're in town; it's all heritage.
18. Bottoms up at Copper Rivet Distillery
You don't need to be a drinker to be pulled towards Copper Rivet Distillery – it's striking orange-hued bricks and stately façade easily draw your attention.
Set within the historic Victorian Pump House No. 5 is a reimagining of history; where there used to be industry is now a craft distillery that showcases the entire brewing and distilling process. Whiskies, vodkas and gins are the main spirits you'll see being made; you can even experiment with flavour profiling under the keen eyes of the guides.
Fans of hard drinks will love their tasting session on this great idea for something to do in Kent for adults, without any kids around!
19. Drop by Quex Park
The serene country estate of Quex Park spans over 1,800 acres, now a massive complex dedicated to leisure and natural history. I haven't personally been there but have heard plenty about its charms – the Powell-Cotton Museum features an impressive natural history diorama alongside Asian artworks.
Grab quick bites at the various eateries before trying your hand at Quex Painball or Build-a-base; Lazer Rush and Maize Maze are good challenges for all ages. Meanwhile, Craft Village inhabits converted farm outbuildings to display handicrafts and artists at work.
20. Stroll around Walmer Castle and Gardens
Defense and beauty collide to form the beautiful Walmer Castle estate, where this coastal artillery defense block became resident for Lord Warden of the Cinque Ports. Queen Elizabeth herself makes frequent visits; the Duke of Wellington had actually held post here for over two decades.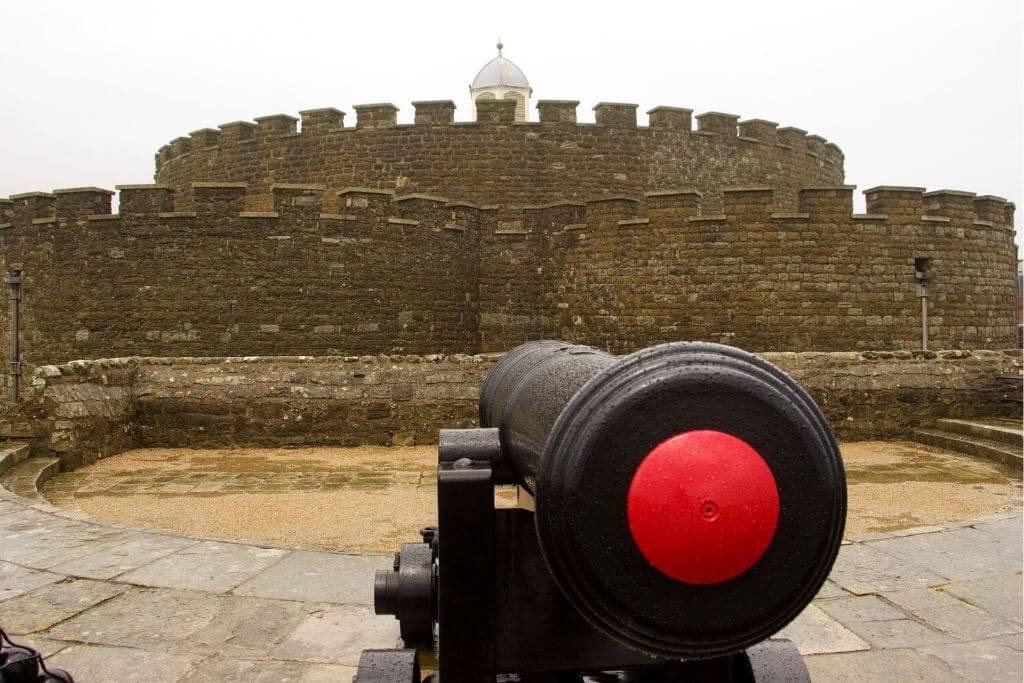 Around the tiered structure of the main building are formal gardens and herbaceous borders that entrance, the manicured landscape giving way to woodland walks and a sunken glen garden.
I saw plenty of kids conquering bridges and rope courses in a newly added play area; families will love it here.
21. Catch a show at Marlowe Theatre
I'm not going to say too much here because Marlowe Theatre in Canterbury has to be experienced in person. From West End musicals to pantomimes, performances by the Philharmonia Orchestra and ballets, there's no end to award-winning shows.
The halls are a work of art too, their tiered horse-shaped seating bringing you close to stage to catch every riveting expression and movement. Do spare some time for this Kent classic!
22. Get hands-on at Kent Life
No need to wonder what the farm life is about, just muddy your boots at the working farm Kent Life. At first glimpse of those conical roofing you'll already expect something spectacular; from barn to alpaca to donkeys and pedal tractors, it is 28 acres of heritage fun.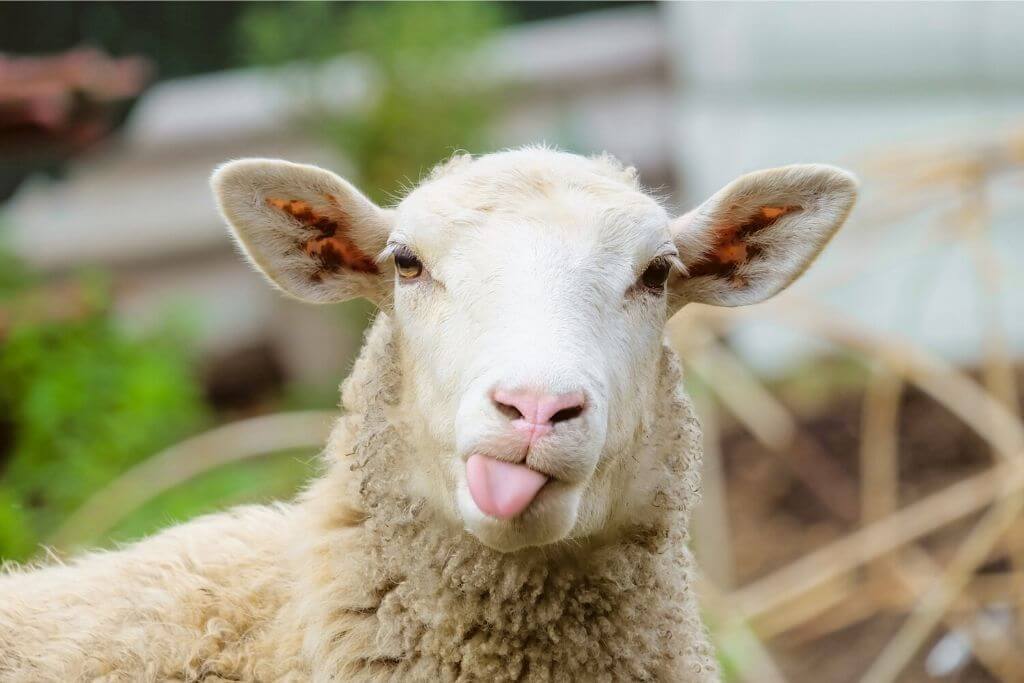 I had a great time feeding and grooming the smaller animals as well as going on a tractor trailer ride. The best part of my day however is sampling fresh produce and homemade treats at Dotty's Tea Room, reaping the delightful rewards that some only get after a hard day of work.
23. Tread carefully through Knole
Among the historic houses and castles throughout Kent, Knole carries itself with faded wealth but quiet dignity. A medieval deer park once home to the Tudors and archbishops, it is now a museum of aged furniture, tapestries, textiles and family heirlooms that reflect hundreds of years of history.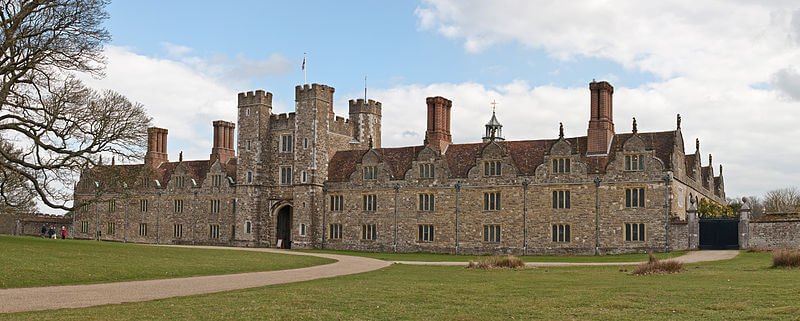 Still, there are hints of its previous grandeur in the silver trimmings of the King's Room, the decorative attics and haunting witch marks. Anyone with a love for history will appreciate the fragile strength of this dated National Trust estate.
24. Go shopping at Bluewater
Bluewater Shopping Center is one of the most visited malls in England, but I have to confess, I've never actually been.
I do know that it's full of High Street shops though, and if you go, expect to spend up.
Apart from the best shopping experiences, Bluewater Shopping Center also has a children's theme park. Visit and you'll find Sega Activity Zone, Pirate Cove Adventure Park, Gravity Trampoline Park, and Dinotropolis.
The restaurants at Bluewater are also well worth a visit.
25. Explore Hever Castle
Hever Castle was the childhood home of Anne Boleyn. Obviously she's not there anymore but she's left us this stunning castle to enjoy on our Kent days out. Visit and you can enjoy the castle, the gardens, the lake and a whole host of other events and activities that are regularly put on for us paying guests.
You can also enjoy the Hever Castle Maze, which is one of the best mazes in England for all the family.
26. Visit Sissinghurst Gardens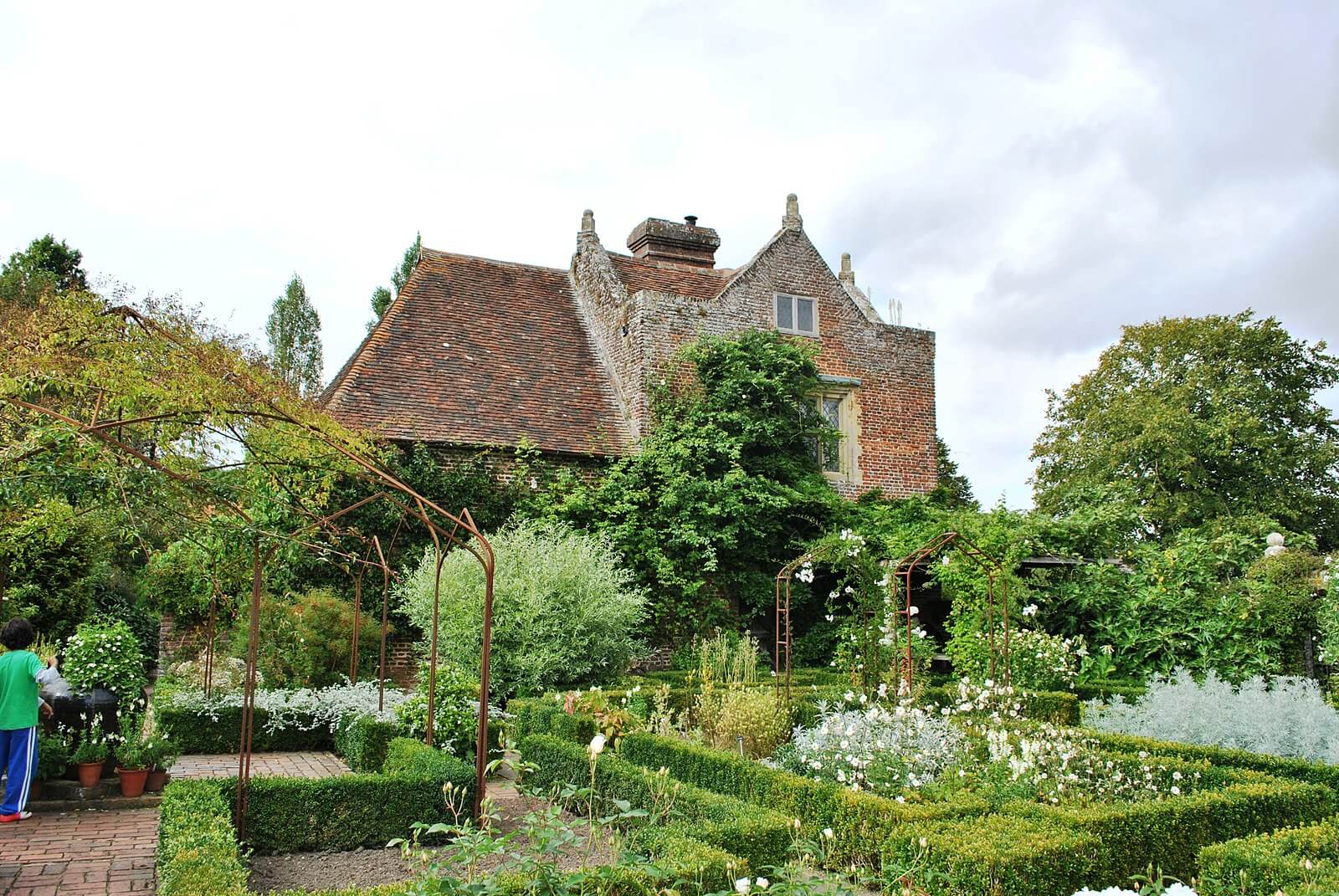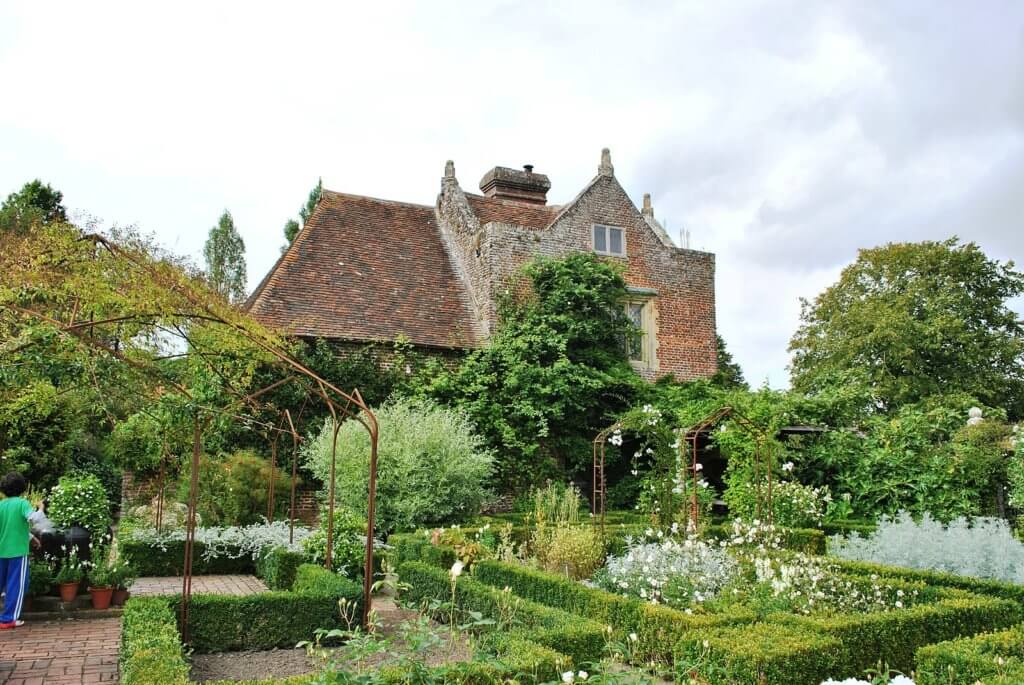 Sissinghurst Castle Garden is situated in the heart of Kent and is the county's shining achievement – it's one of the best gardens in England. It was created by Vita Sackville-West, a poet and writer born in 1892 who was 'close' with Virginia Woolf, and her husband Harold Nicolson. It is among the most famous gardens in England and is designated Grade I on Historic England's register of historic parks and gardens.
Well worth a day out in Kent!
27. Stoneacre, Kent
This National Trust property in Kent was going to be destroyed until Arts and Scholar Aymer Vallance saved it, and restored it. It's a wonderful Kent day out for art lovers, with so many fascinating pieces inside. Fun fact for you: the front door is the same one from the 15th century – stick that in your Instagram caption!
Within the house there are collections of medieval sculpture and woodwork, as well as collections of stained glass displays designed by William Morris. Throughout the property there's 17th century furniture, soft furnishings, glass and decorative metal work too.
---
Quicklist: best days out in Kent
1. Marvel at the White Cliffs of Dover
2. Delve into Dover Castle
3. Be entertained at Margate Dreamland
4. Traipse through Shell Grotto
5. Spot the detail work within Canterbury Cathedral
6. Eat your fill at Goods Shed
7. Enter the chalky Chislehurst Caves
8. Admire art in Turner Contemporary
9. Maritime lessons at The Historic Dockyard Chatham
10. Sample wines at a premium vineyard
11. Tour around Leeds Castle
12. Bask in quiet at Elmley National Nature Reserve
13. Journey via Spa Valley Railway
14. Fruitful day await at Brogdale Collections
15. Cruise down Canterbury Historic River
16. Smell the flowers at Great Comp Garden
17. Visit The Beaney House of Art & Knowledge
18. Bottoms up at Copper Rivet Distillery
19. Drop by Quex Park
20. Stroll around Walmer Castle and Gardens
21. Catch a show at Marlowe Theatre
22. Get hands-on at Kent Life
23. Tread carefully through Knole
24. Go shopping at Bluewater
---
PIN THESE DAYS OUT in KENT FOR LATER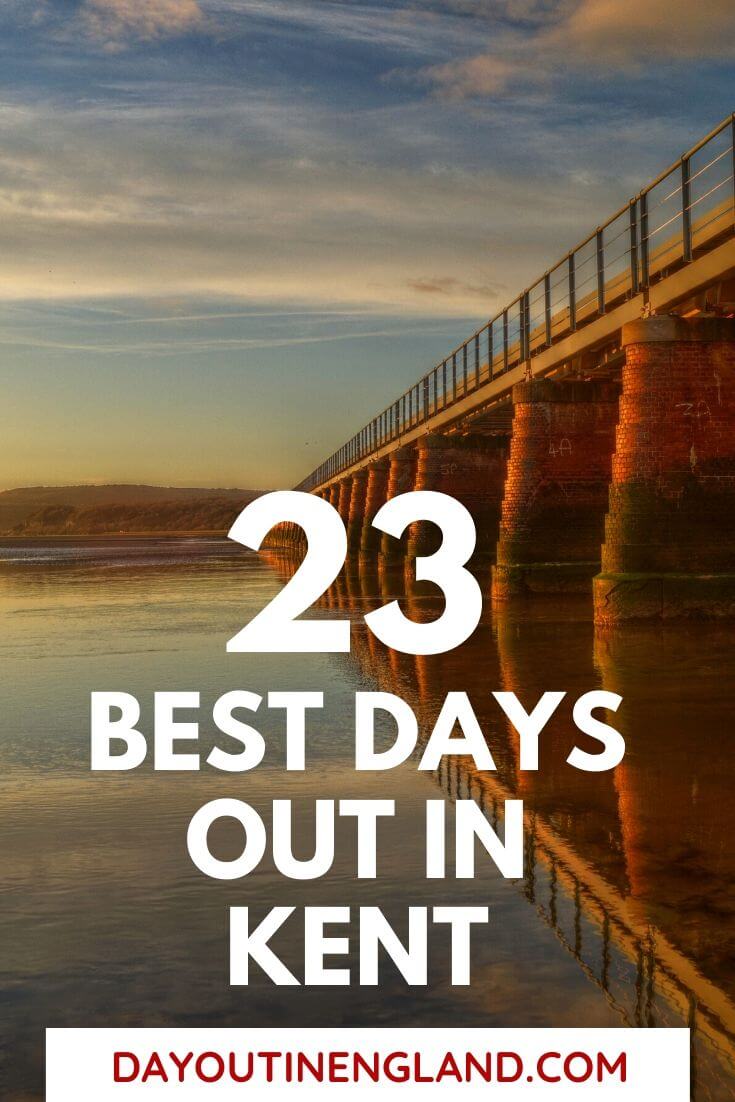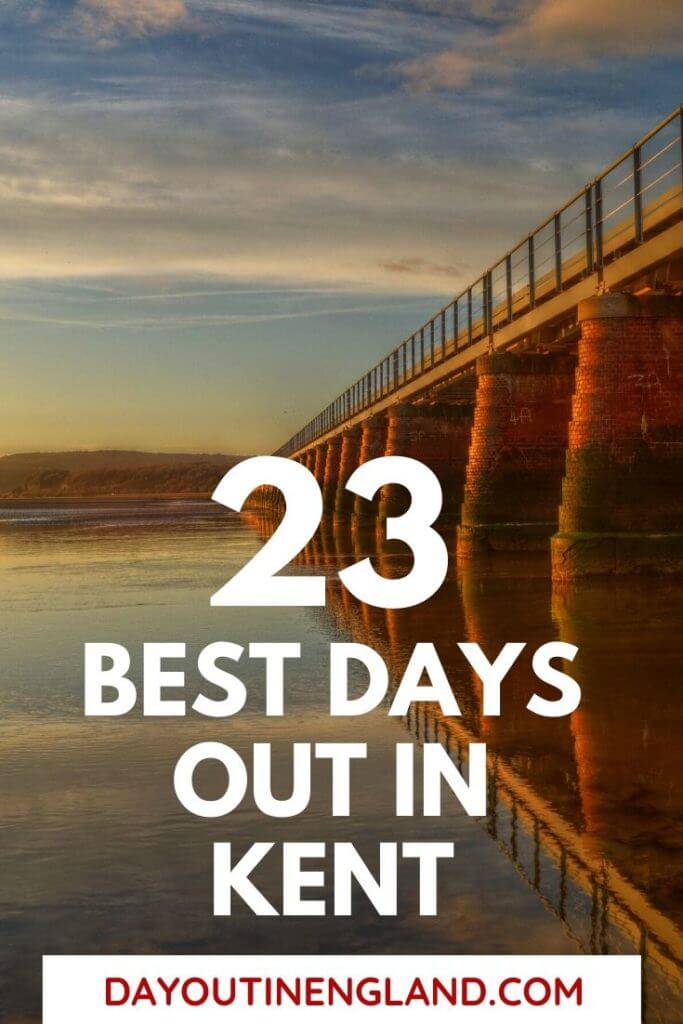 ---