Discover the 11 Best Days Out in Gloucestershire
Looking for the best days out in Gloucestershire? We've searched the whole county for the best things to do in Gloucestershire for a great day out – here goes…
Gloucestershire is packed with woods and hills, and the crystal-like water of the River Severn which passes through the beautiful region.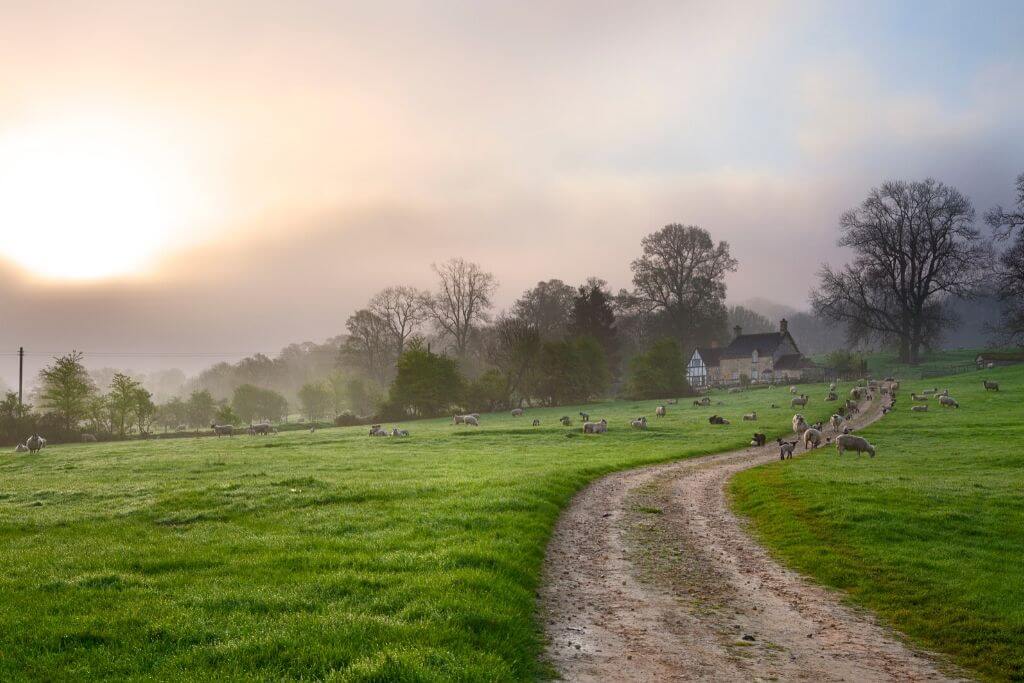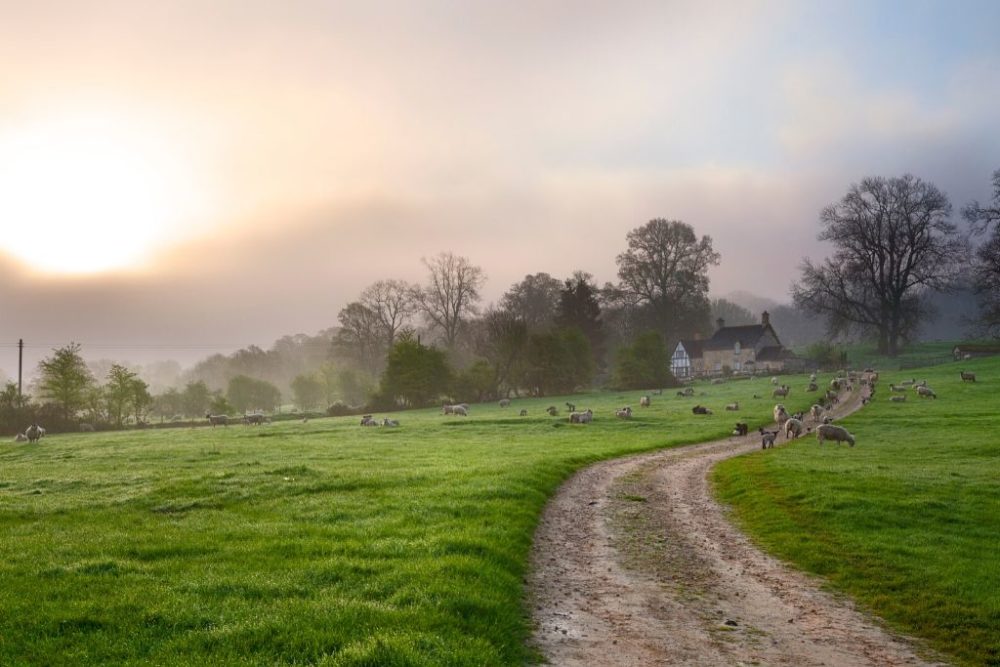 Gloucestershire mainly includes the city of Gloucester and more than thirty towns in total. There is a great historical significance attached to Gloucestershire, as you'll learn. Also, this important county of England is known for having many magnificent wonders and a great diversity of wildlife.
While a day out in Gloucestershire might not be the first place that comes to mind when you think of days out in England, you'll definitely recognise some names in this list of the best things to do in Gloucestershire.
Best Days Out in Gloucestershire
In this article you'll find the best day out in Gloucestershire for you. Including what you can do there, how to get there, and the opening times too. All the Gloucestershire days out are here, so make sure you come back for more inspiration when you're ready for your next one!
1. Visit the Dean Heritage Centre, Forest of Dean
The Dean Heritage centre is situated in among the five acres of the Forest of Dean. If you're looking for an adventurous day out England, then you'll find one here. Maybe not in the museum, that's more to give you some background on the area, but in the Forest of Dean itself.
You can go mountain biking, hiking, exploring and camping, to really get a good dose of the outdoors here. The Forest Adventure Outdoor Centre is a great place to start if this is what you want to do with your day out in England.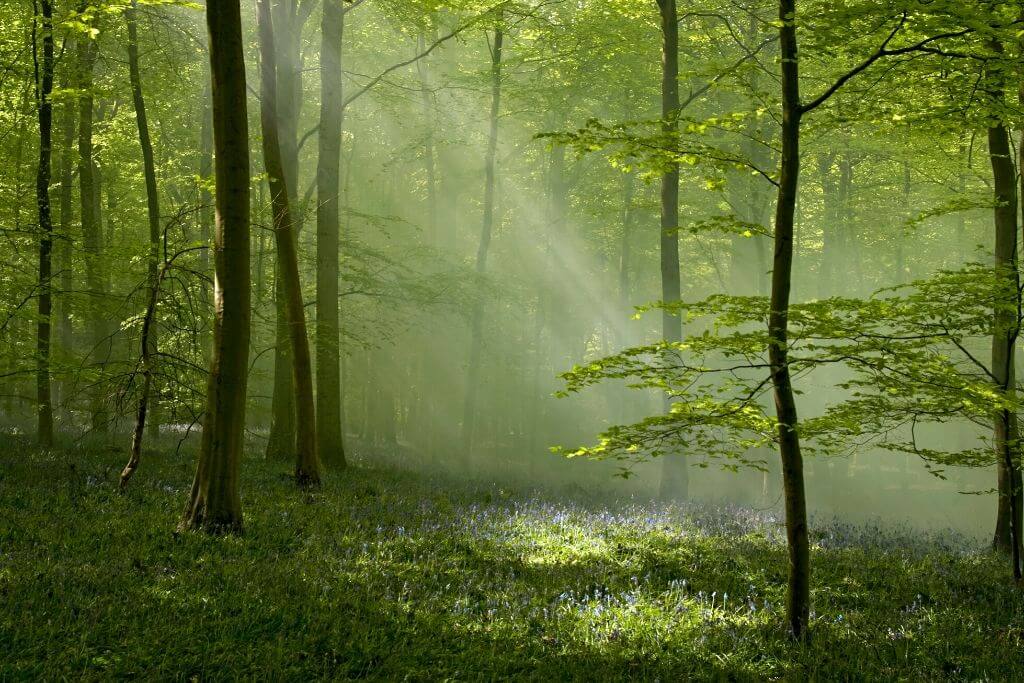 If you're with the family, then there are playgrounds for the children to enjoy and have fun. If you are looking for a family day out in Gloucestershire, the Forest of Dean is a must-visit.
2. Explore the Cotswolds
The Cotswolds make for one of the most popular days out in England, or weekends, or even weeks away. There are loads of things to enjoy in the Cotswolds.
The Cotswolds take over five counties in England, and to the north much of it is in Gloucestershire.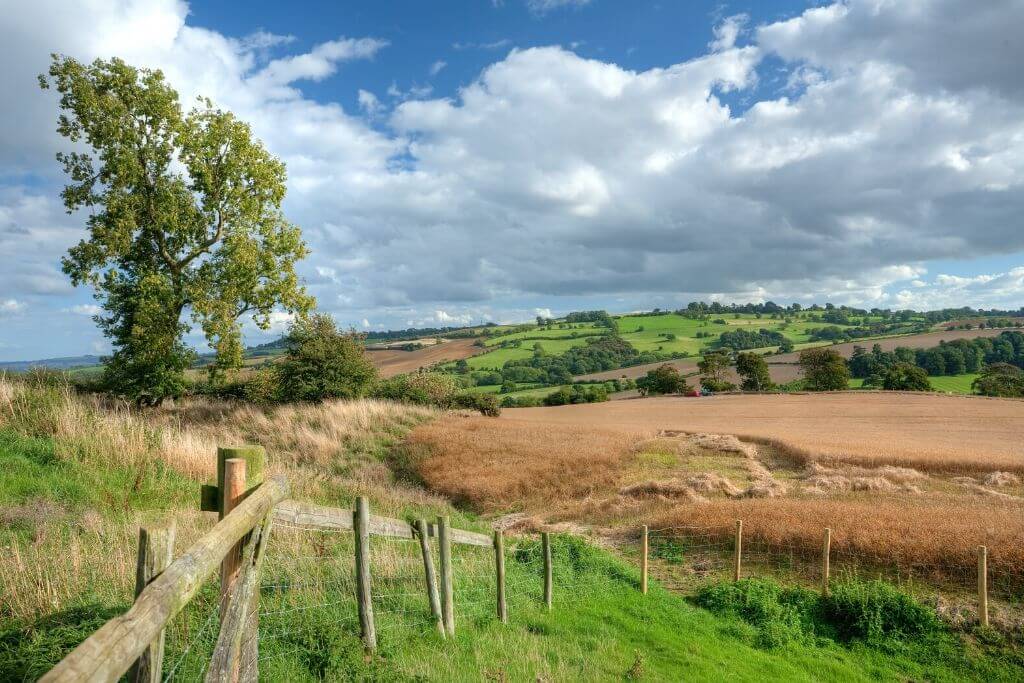 If you're a nature lover, this is an ideal spot. Situated in the Woodchester Valley, you're surrounded by woods and greenery. Hiking and cycling is very popular here. But also, just pottering around the villages in the Cotswolds and drinking cream tea and enjoying a spot of boutique shopping makes for a great day out for adults.
There are some great pubs to visit, lots of history and fantastic castles to soak up, and some great viewing points to enjoy on a road trip too. The Cotswolds are also a beautiful place to be at Christmas.
3. Visit the Airborne Trampoline Park
The Airborne Trampoline Park is one of the most adored days out in Gloucestershire for children. Great spot for a family day out.
The Trampoline Park park is located in Cheltenham and provides a lot of activities for the children to enjoy their day. There are more than 30 trampolines available here and a lot of huge-sized airbags too. Kids, and adults, can flip, jump and bounce around to their heart's content.
Children of all age groups are allowed to visit and for children below the age of six, toddler sessions are held.
---
READ MORE
Top Tips for a Successful Kid's Day Out in England
---
4. Day Out at Berkeley Castle
Berkeley Castle has a lot to explore, including lush green gardens. It also features the dungeon where the assassination of Edward II took place. Bit morbid but then, so is so much of history, hey?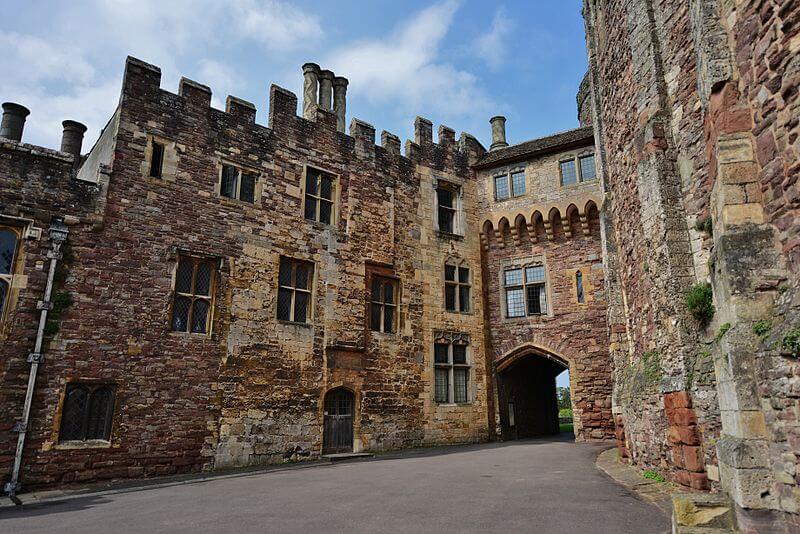 Seek out the butterfly garden here, it's home to more than 40 species of wildlife from all over the world. Although unfortunately that's all closed for 2020.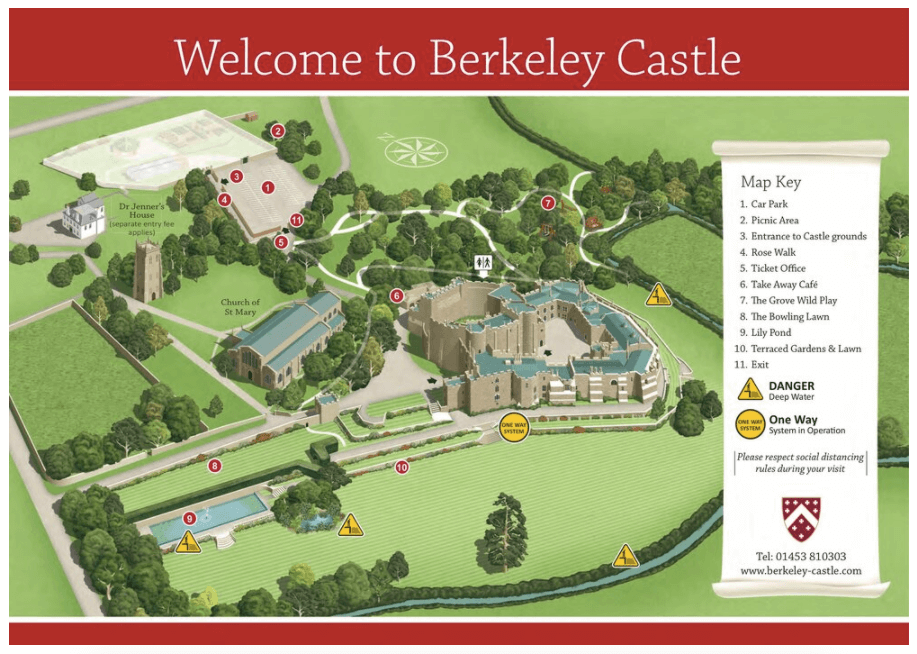 There are also a lot of indoor and outdoor activities available for guests to enjoy and learn more about the castle. There's also a cafe to sit and relax, and of course, lots of visual displays throughout to show you more about the life of the castle and its inhabitants.
5. Going to a Gloucester Festival
There are a lot of festivals held in Gloucestershire during the summer season (normally!) so in the future, plan their day out in Gloucestershire accordingly.
Some of the most popular festivals in Gloucestershire include the Blues Festivals – lasting about 9 days, and offering almost fifty performances. Or, the Gloucester Quays Food Festival held in July every year. There's also the Big Feastival, Wilderness and the Witcombe Cider Festival too.
6. Diving at the Bathurst Open Air Pool
Gloucestershire days out during summer will make you crave for swimming at the Bathurst Open Air Pool, for sure. The pool is the absolute best way to cope with the heat in summer.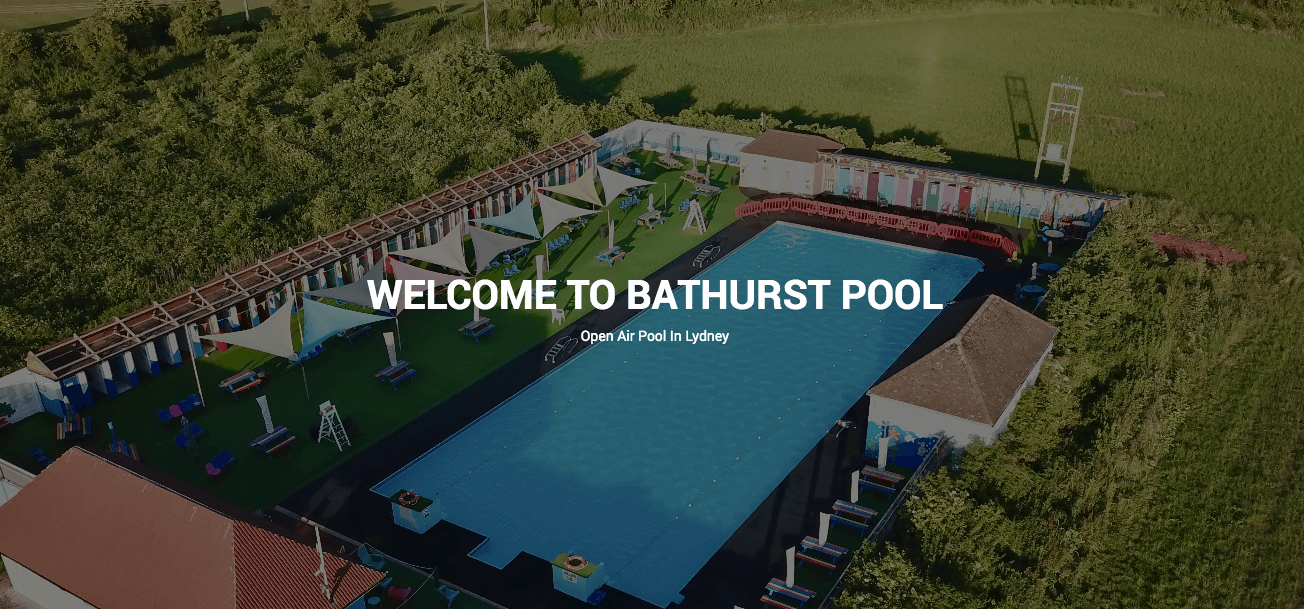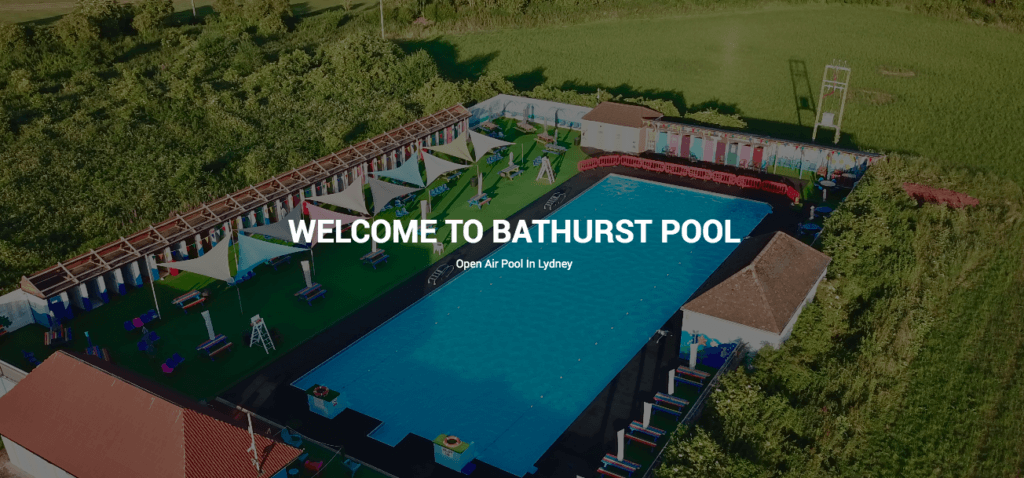 The pool is around 40 metres so you can practice swimming easily as well as have a quality time along with your family or friends. You can also have meals, refreshing drinks, and tea over there too.
7. Relaxing At the Chapel Spa
Chapel Spa offers various treatments done by experienced professionals, to make sure you have the perfect relaxing day out in Gloucestershire.
This spa is exclusively designed, reflecting those Mediterranean vibes. Also, there is a pool available at the spa offering hydrotherapy to clients, and there's a gym too. Hen parties and big groups are welcome, and the day spa packages start at £15. The perfect way to relax after a busy day out in Gloucestershire, or stay for longer and make it the day out in Gloucestershire.
8. Explore the Dragonfly Maze
The Dragonfly Maze was opened in 1997. It's a traditional hedge maze for visitors but also, with a difference.
You can walk around half a mile of pathways and look out for the 14 numbered clues. If you get all the correct answers written on your card, you will know how to find the golden dragonfly hidden in its roundhouse, making it one of the most interesting mazes in England.
There are many more tricks that will keep your adventure soul busy in this maze, and it'll take 20 to 30 minutes for complete exploration. The Dragonfly Maze makes for a great day out in Gloucestershire for all the family.
9. Enjoy the gardens at Hidcote Manor
Hidcote Manor Garden is a garden in the village of Hidcote Bartrim, and is known as one of the best-known and most influential Arts and Crafts gardens in Britain. The linked 'rooms' of hedges, rare trees, shrubs and herbaceous borders have attracted thousands of visitors a year for decades. It's known as one of the best gardens in England.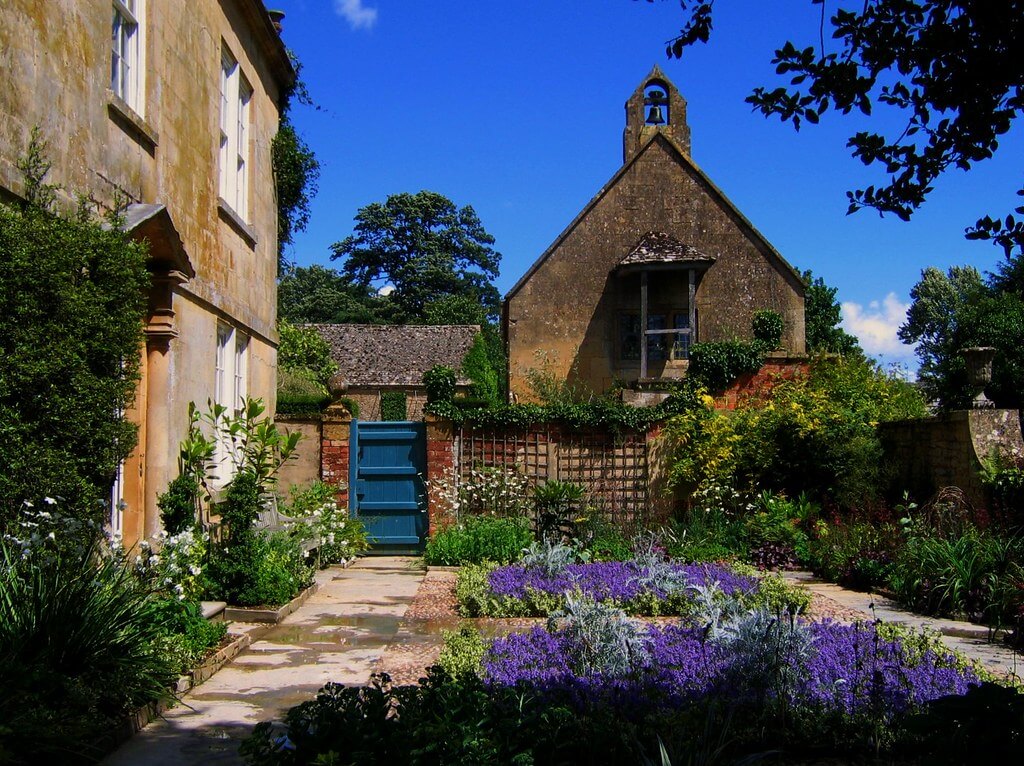 The gardens were created by Lawrence Johnston, an American who settled in England in 1900 and fought in the British army during the Boer war. In 1907 Johnston's mother purchased the Hidcote Manor Estate. Hidcote Manor Garden was situated in a part of Britain with some strong connections to the hit Arts and Crafts movement of the time. Making this an 'arts and crafts' manor and gardens, for those who love authentic craftsmanship.
10. Visit Gloucester Cathedral
Gloucester Cathedral is one of the most beautiful churches in England. Visiting this humongous cathedral, you will find the monastery to be particularly enchanting with its glorious fan-vaulted roof.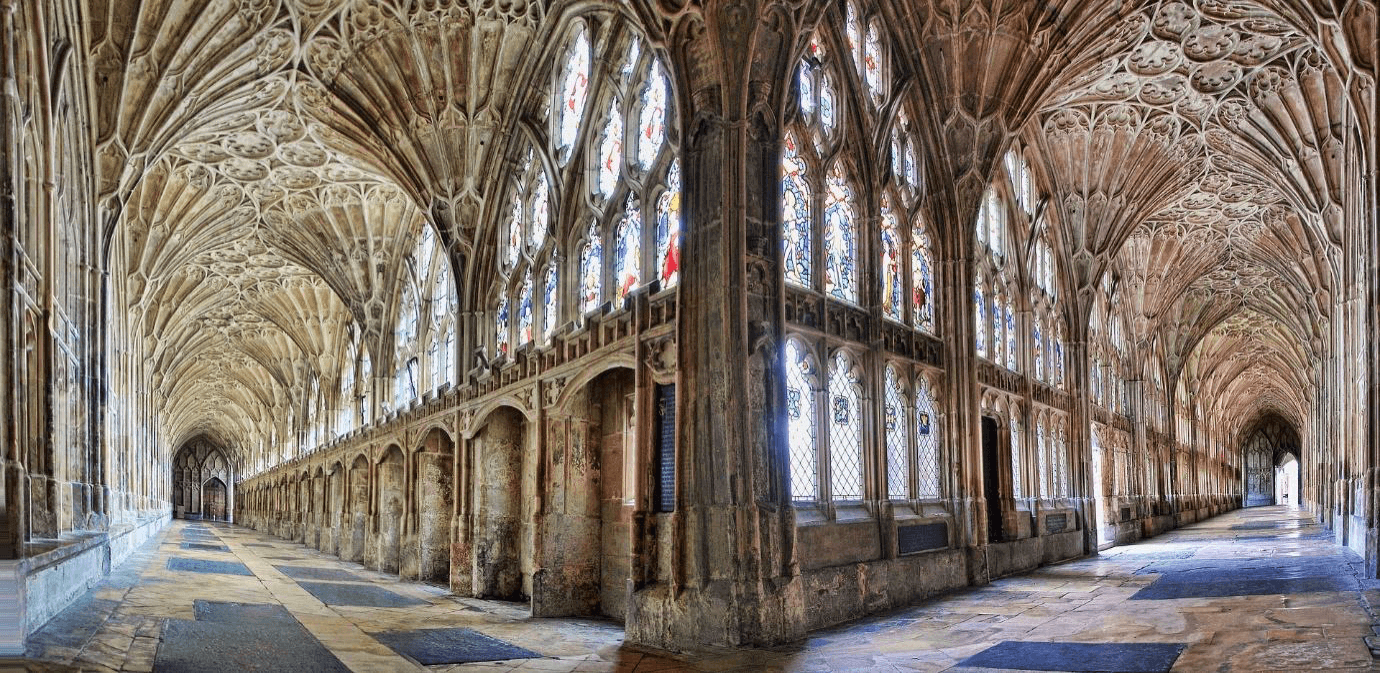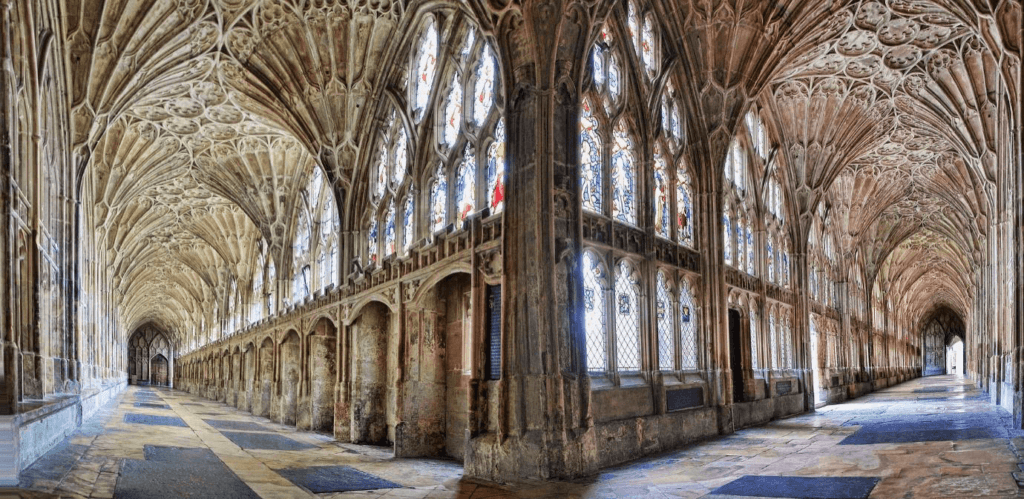 The stained-glass windows of the cathedral date back to 1350, which add to the historical significance of the church. The cathedral has also made film appearances many times, including as a backdrop to three of the Harry Potter films. 
11. Look up at the windows of Tewkesbury Abbey
Consecrated in 1121, Tewkesbury Abbey is one of the great Cotswolds historical stops. Composed of medieval stained glass windows and sculptured tombs, it's also proof that architecture and art are intimately intertwined.
As one of the largest parish churches in England, it has the highest Norman church tower in the country. Other noteworthy mentions include a rather bloody history, as it was the site of a massacre following the 1471 Battle of Tewkesbury.
As you ruminate over the historical titbits served through your tour, drop by The Refectory for a meal or tea cakes.
---
Quicklist: best days out in Gloucestershire
1. Visit the Dean Heritage Centre, Forest of Dean
2. Explore the Cotswolds
3. Visit the Airborne Trampoline Park
4. Day Out at Berkeley Castle
5. Going to a Gloucester Festival
6. Diving at the Bathurst Open Air Pool
7. Relaxing At the Chapel Spa
8. Explore the Dragonfly Maze
9. Enjoy the gardens at Hidcote Manor
10. Visit Gloucester Cathedral
11. Look up at the windows of Tewkesbury Abbey
---