Looking for the best events for Christmas in the Cotswolds? We've scoured the offerings to find out exactly what you should be doing to make the most of the festive period in one of the most beautiful parts of England.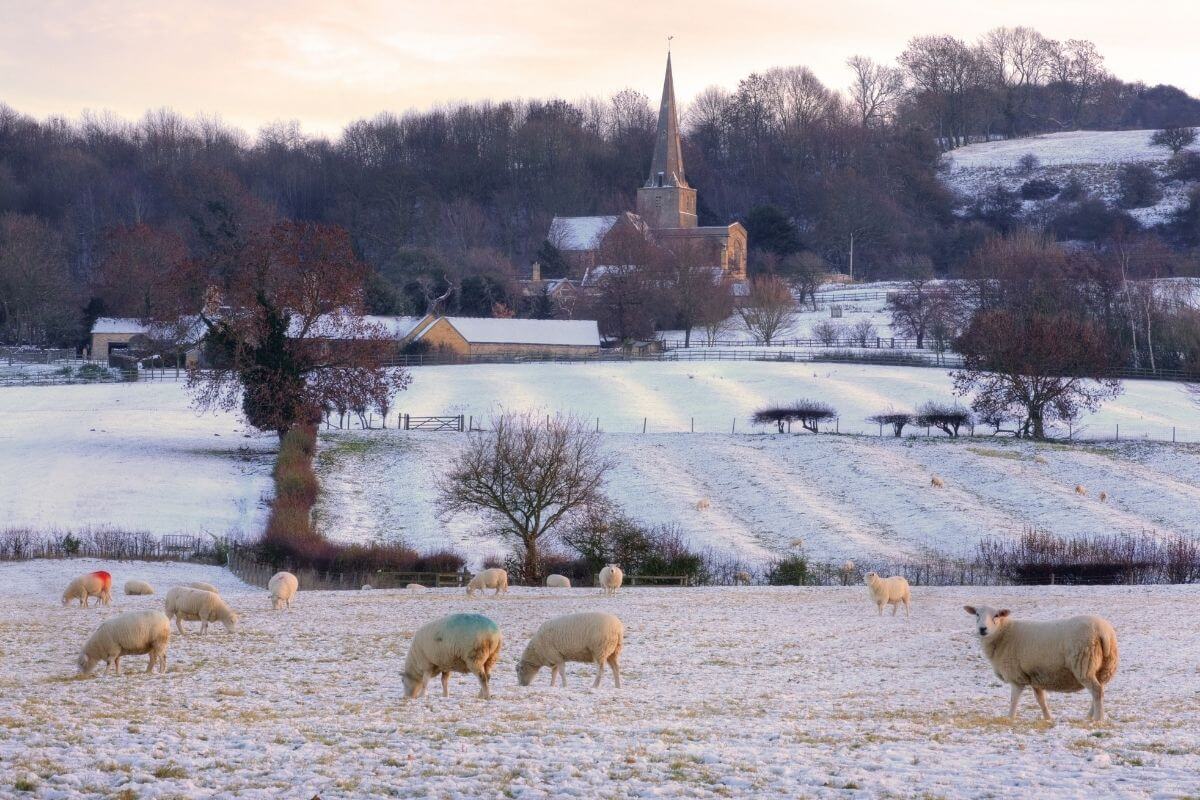 It's time for a Cotswolds Christmas!
In December there are so many wonderful things to do in the Cotswolds at Christmas… you just need to be prepared! We've compiled a list of 14 days out at Christmas in the Cotswolds that you can enjoy with your family or friends, or even on your own.
Whether you're looking for snow activities, shopping, luxurious Christmas markets in the Cotswolds, festive foodie adventures or something more relaxing, we've got it all covered right here.
Best Things to Do for Christmas in the Cotswolds
Here are 14 amazing things to do in the Cotswolds for Christmas for you to choose between…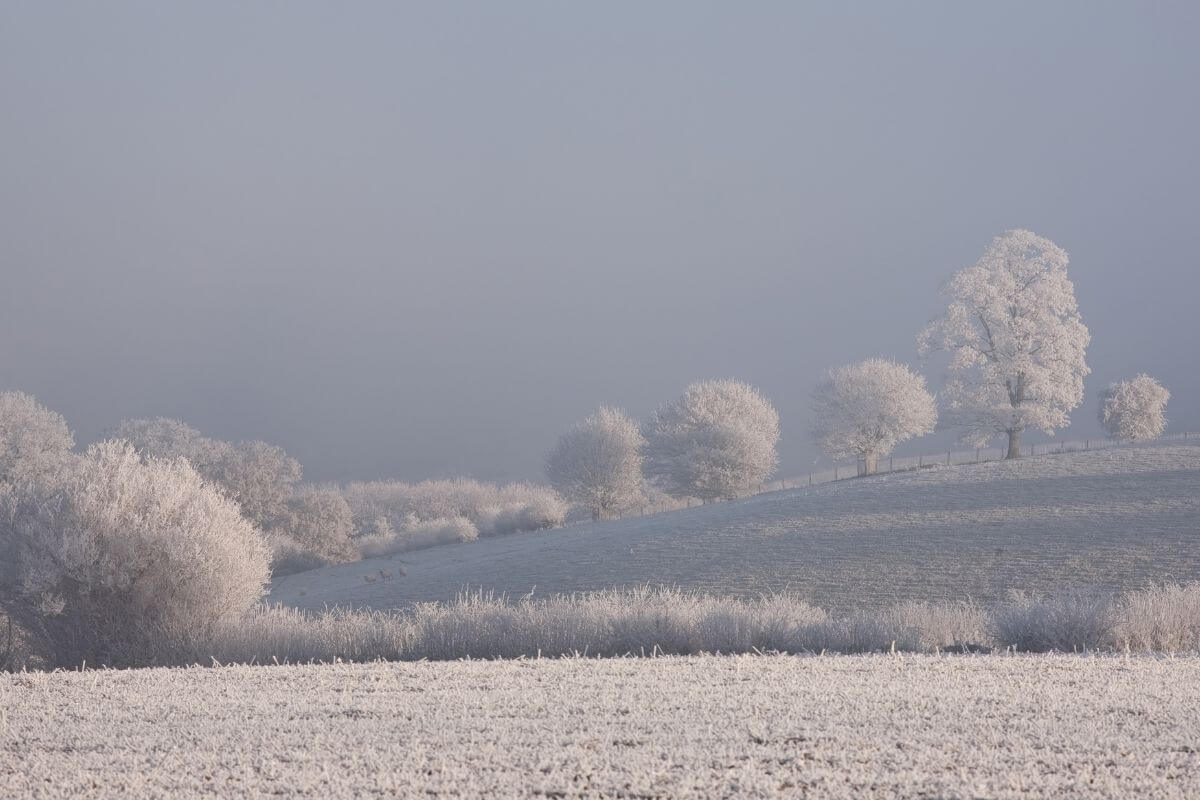 ---
1. Visit a Cotswolds garden centre
Head to one of the beautiful Cotswolds garden centres and get in the festive spirit. There are over 20 stunning garden centres in the Cotswolds where you can shop, taste hot wine or buy a delicious treat from their café, including Nellie's Cottage & Gardens at Snowshill and The Flower Boutique Garden Centre at Bourton-on-the-Water.
Also try Dobbies in Gloucester for some fab decorations, and Evesham Country Park too, where you can even have tea with Santa.
You're guaranteed a beautiful Christmas display in a garden centre in the Cotswolds at Christmas, not to mention a foodie extravaganza.
2. Eat a Christmas pub lunch
Christmas in the Cotswolds is a magical time of year for all ages, but particularly families with children who want to enjoy some festive fun over the Christmas period. You can't forget yourself though, Christmas isn't all about the kids. There are plenty of pubs across this beautiful region that will provide you with an unforgettable, warm festive lunch, including…
The Ebrington Arms, Chipping Campden
The Lion, Winchcombe
The Wild Rabbit, Kingham
The Royal Exchange, Hartpury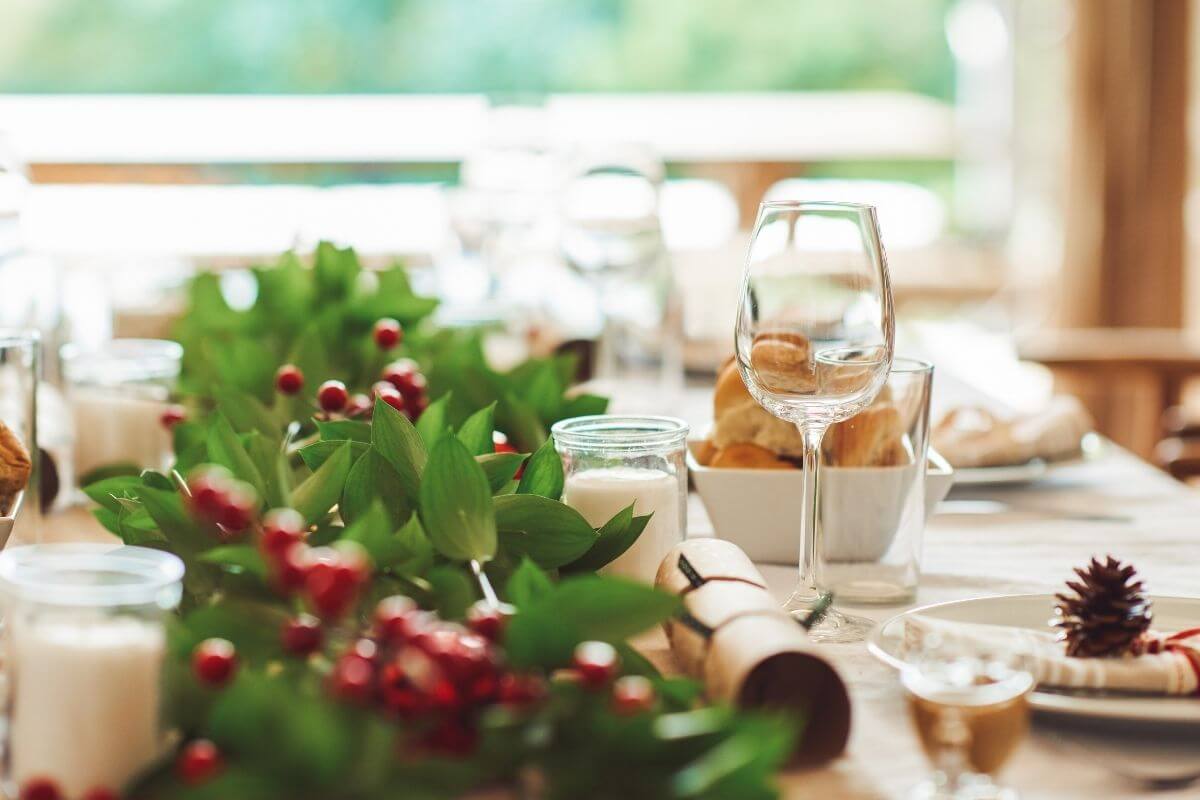 They all have excellent reviews and some even have a warming fire burning in the hearth to perfectly capture the spirit of the season. Book the day off and enjoy yourself! If you're after something a little more fancy, Slaughters Manor House in Cheltenham offers a great festive afternoon tea option.
A pub lunch is an absolute must for a truly British Christmas.
3. Spend Christmas at Blenheim Palace in the Cotswolds
There's so much to see at Blenheim Palace in the Cotswolds over Christmas. The house has an abundance of impressive rooms and beautiful displays throughout its interiors. You can wander around the stunning grounds that are covered with amazing lights for this festive season. There are also a few stalls set up, selling Christmassy offerings.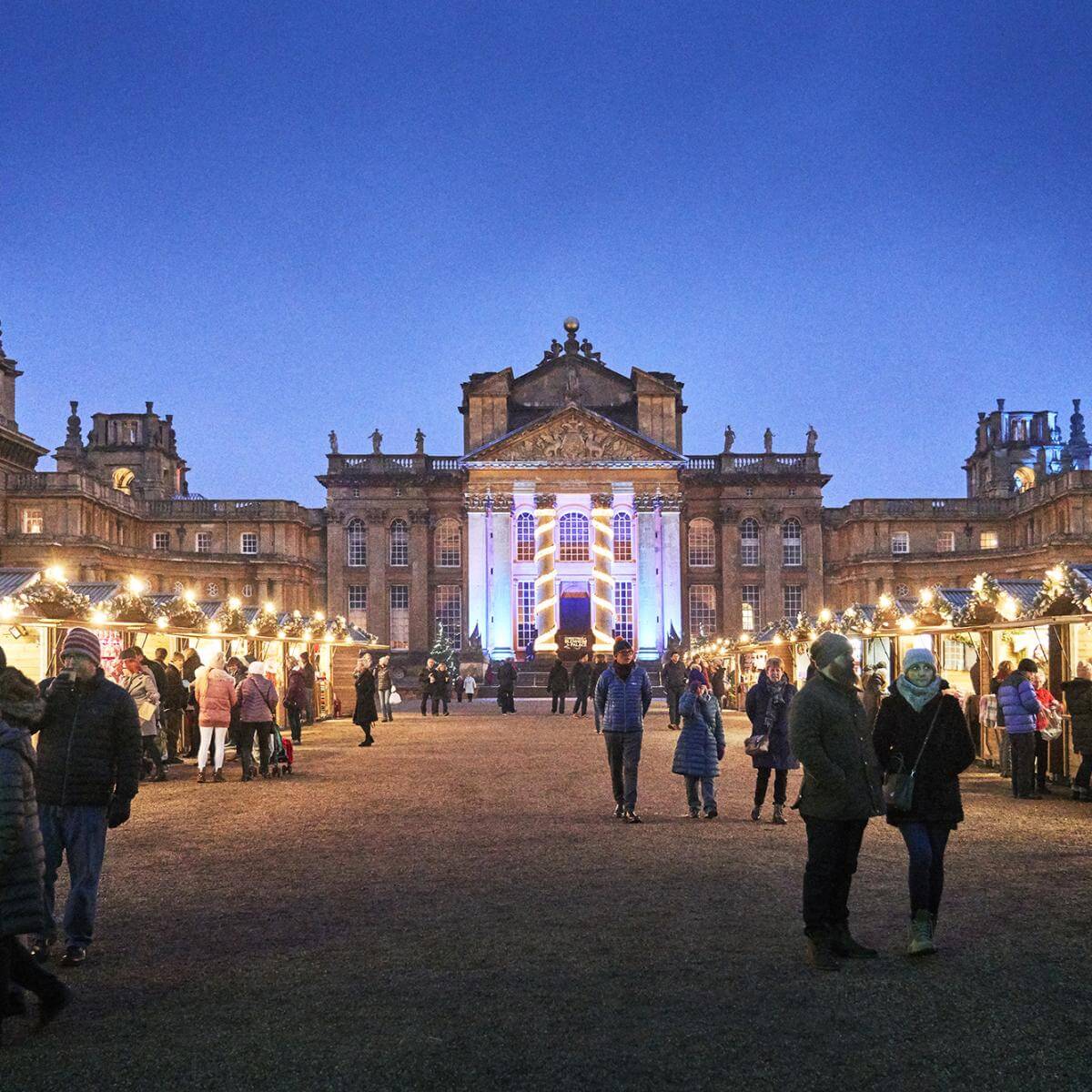 New for 2022, you can explore the Snow Queen's transformed Palace rooms where the fairy tale world includes huge shimmering crystals, a frost-covered forest and more. The lit-up gardens surrounding the palace are something else, boasting over a million lights, plus street food vendors for warming drinks and festive food. Blenheim Palace is an unmissable Christmas treat, and this year it's on from the 18th November 2022 until the 2nd January 2023.
You can read our editor's review of Christmas at Blenheim Palace here.
If you decide to head to Blenheim Palace at Christmas you could check out the rest of the great days out for Christmas in Oxfordshire too. Just click the link!
4. Go to a Christmas market in the Cotswolds
Christmas markets in the Cotswolds are open every day during the festive season. Highlights include mulled wine and craft stalls, while you can also enjoy live music performances in the evenings. There are loads to choose from during Christmas in the Cotswolds, but here are some of the most popular…
Cheltenham Christmas Market (8th December – 23rd December 2022)
Bath Christmas Market (24th November – 11th December 2022)
Gloucester Quays Christmas Market (5th November – 18th December 2022)
Broadway Late Night Christmas Market (25th November – 2nd December 2022)
Chipping Campden Christmas Fair (3rd December 2022)
Cirencester Christmas Market (20th November – 16th December 2022)
The Christmas Cotswold Fair (7th – 10th November 2022)
Stratford-upon-Avon Victorian Christmas Market (8th – 10th December 2022)
5. Westonbirt Arboretum's Enchanted Christmas
The Enchanted Christmas at Weston Arboretum is a feast of truly magical wonderment for all ages. The forest is alive with stunning displays and light installations that guide your pathway through the darkness. It is a wonderful walk full of surprises – both kids and grown ups will love it here. It's one of the best Christmas days out in the Midlands, and the arboretum in England.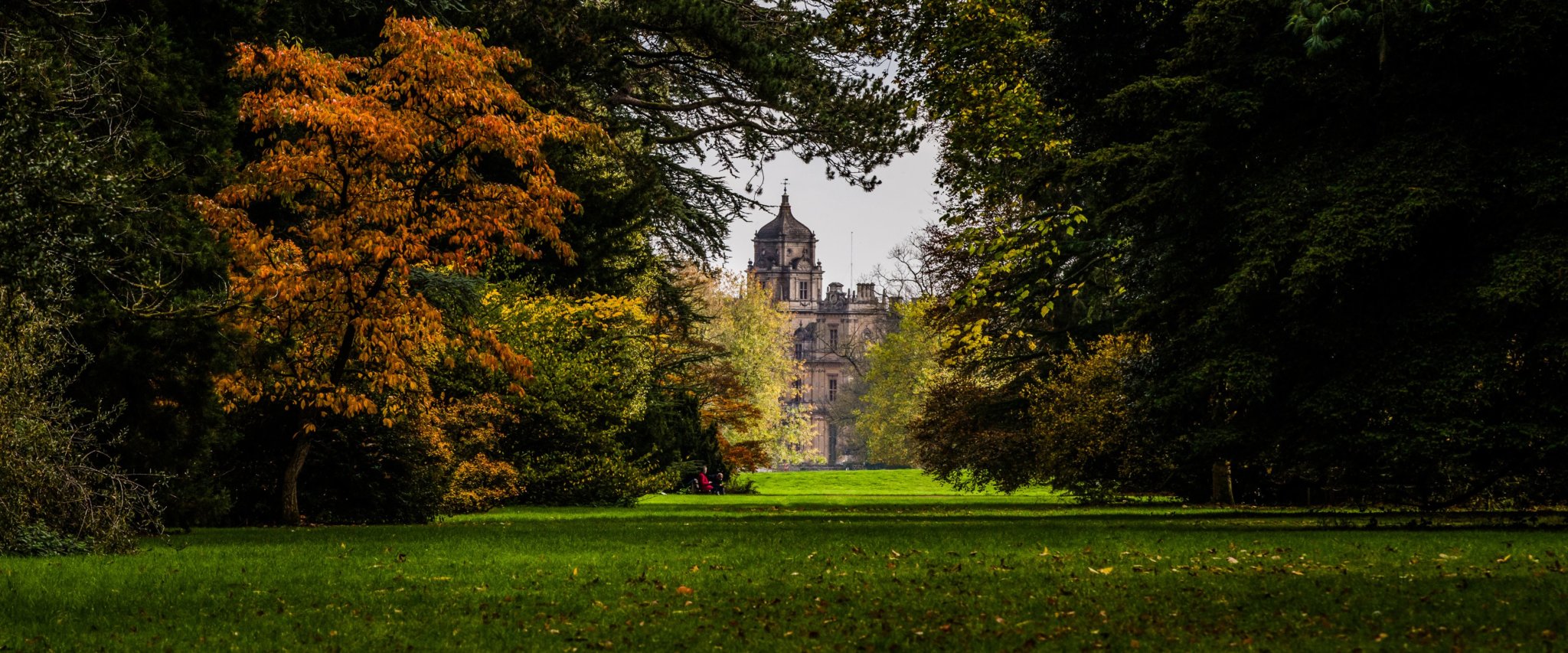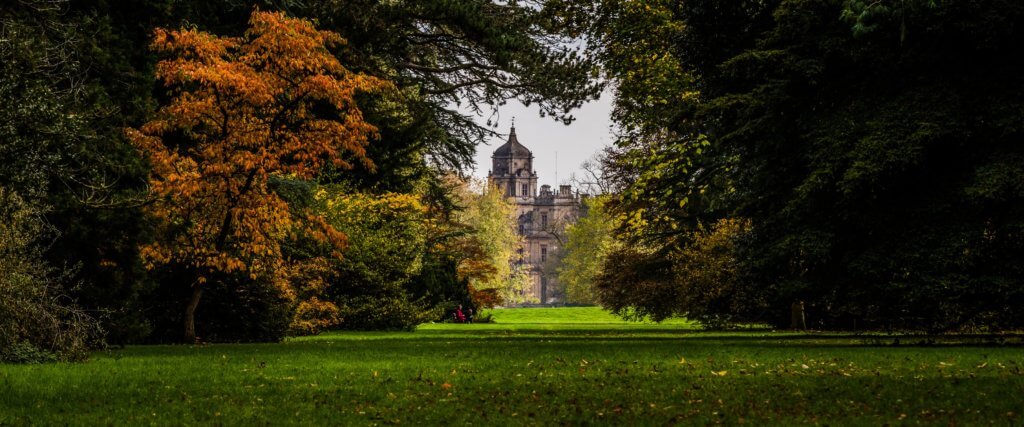 6. Take a trip on the Santa Express
The Cotswolds is one of the most picturesque parts of England, filled with stunning scenery, quaint villages and bursting with history. It's the perfect place for an alternative Christmas experience this year. So, why not book onto the Santa Express to see it all in one outing?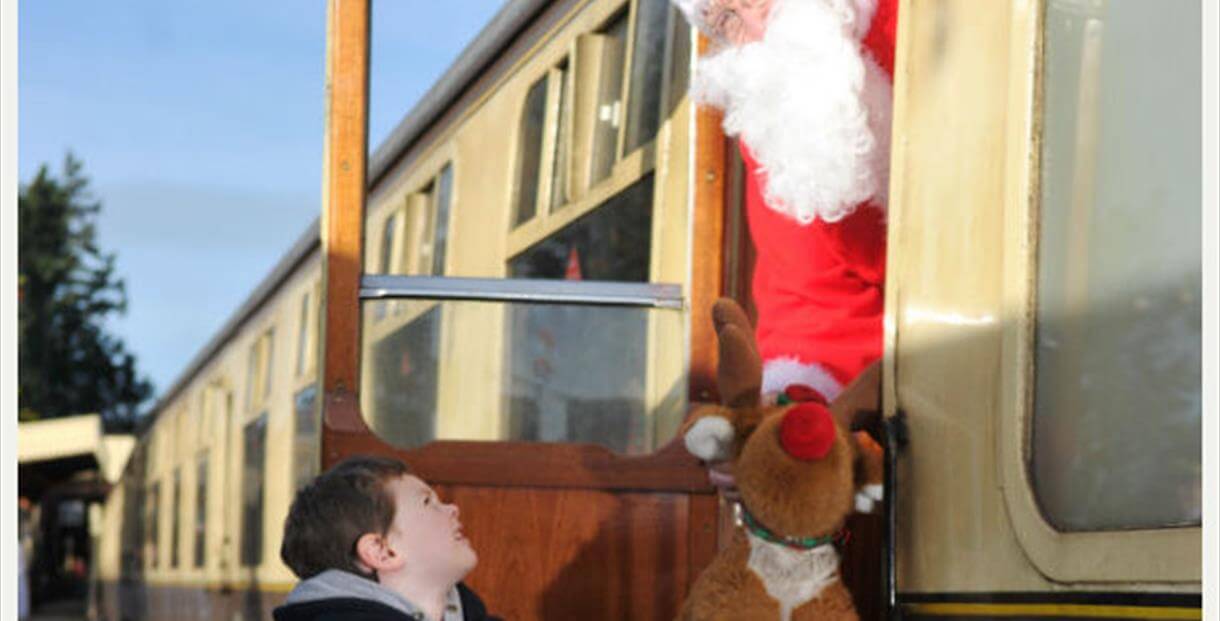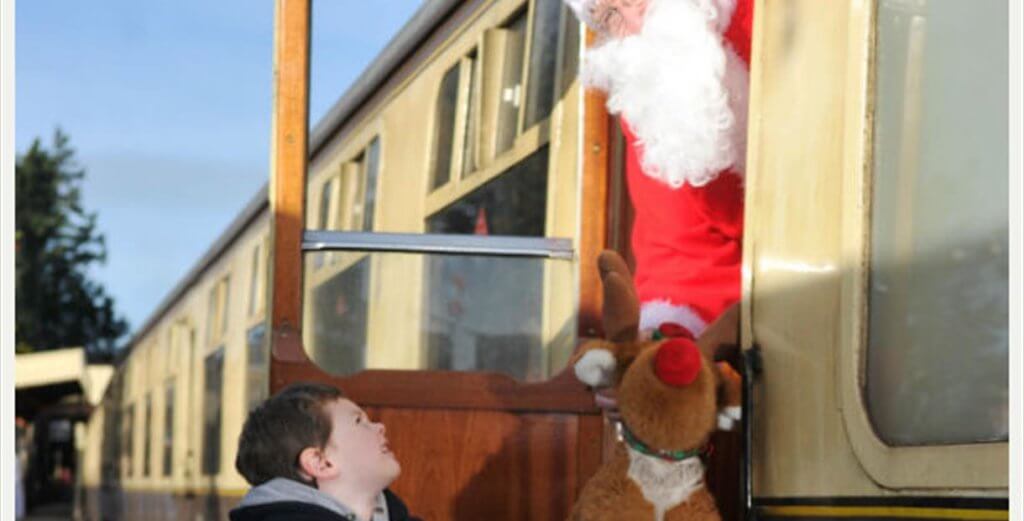 The Santa Express is a heritage steam powered locomotive that leaves Cheltenham Racecourse Station and arrives at Winchcombe. Santa is waiting to welcome children at the end of a magical walk through lights, trees and decorations. After a glass of mulled wine and a mince pie, the train leaves for its journey back to Cheltenham Racecourse, with a goodie bag included for the children.
Travel from Cheltenham Race Course Station to the North Pole (Winchcombe) where you'll meet Santa and his elves in a magical winter wonderland…
Travel by loco-hauled train from Cheltenham to the North Pole (at Winchcombe) to meet Santa and then back to Cheltenham.
Walk through a Christmas wonderland and visit Santa in his grotto.
Complimentary hot mince pies, hot and cold drinks, biscuits and fruit available from the station coffee shop, with seating in a heated marquee.
Top quality presents for the children.
Babies under 1 year old require a ticket but travel free and receive a nominal present only.
Limited facilities for those with disabilities on the trains – please telephone before booking to confirm that there is space on your chosen train.
Your Santa experience lasts about two and a quarter hours (but allow longer in case of unexpected delays).
Dogs are not permitted on the Santa Express. This does not apply to assistance dogs.
Free parking at Cheltenham Race Course Station.
Great photo opportunities; Santa's Sleigh, By the Loco, Selfie Frame
£25 per adult and £25 per child (age 1 to 14 years) plus £1 p&p fee per booking if tickets mailed out)
This is one of the best activities for Christmas in the Cotswolds for kids.
If you want to know about more Santa experiences in England, check out our list!
7. Take a long winter walk
Take yourself for a long winter walk while in the Cotswolds for Christmas. It's a magical place at this time of year, with many quaint little villages and towns to explore. Wander around the foggy streets and soak up the atmosphere in places like Burford, Bourton-on-the Water or Moreton in Marsh that look more like scenes from a Christmas card than real life.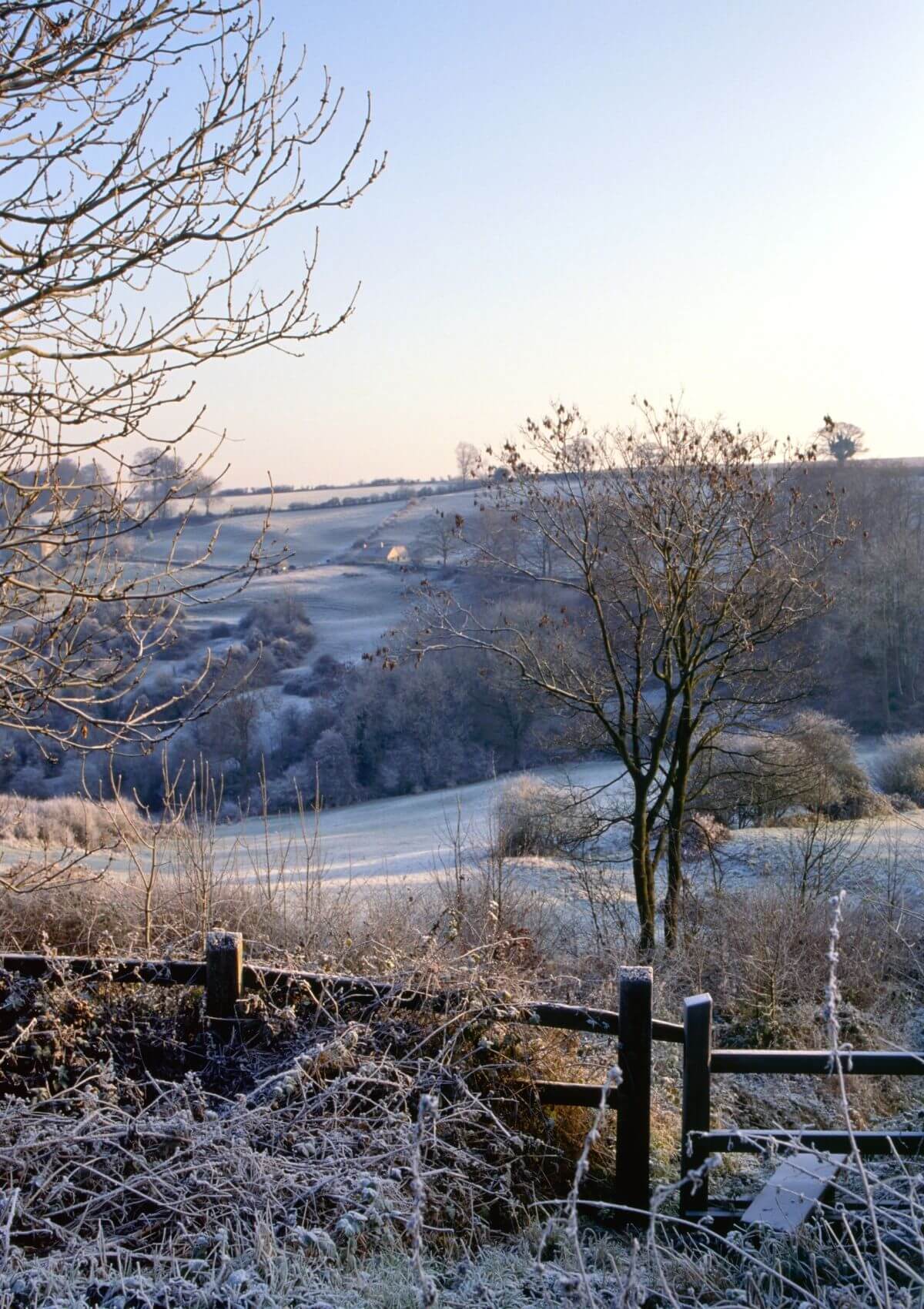 You will also find little markets and Christmas activities as you explore on your walk through the picturesque landscapes. If you want to know more about the area, check out our guide to a great day out in the Cotswolds here.
8. The Light Festival
Each year, Sudeley Castle – one of the best castles in England – hosts The Spectacle of Lights. The gardens and grounds of the castle are lit up with light installations and magical displays that are a delight for all the family from November 25th to December 30th 2022. What better way to get into the festive spirit than with a visit to a castle and a magical light show?
9. See a Christmas show in Cheltenham
Over the festive period, there are so many family-friendly shows organised by the Cheltenham Trust, that you'll be spoiled for choice. Shows are available across various venues around the town. Productions haven't yet been announced for this year's season, but if previous years are anything to go by, you won't be disappointed.
Fancy a pantomime for your Christmas in the Cotswolds experience? This is the place to find one.
10. Go on a late-night shopping spree
Cheltenham and Bath are well known for their large Christmas markets. They're popular with visitors who return year after year to enjoy the late night Christmas shopping atmosphere and festivities. What many visitors overlook is that a number of the smaller villages and towns nearby have their very own late night shopping events that are well worth a visit.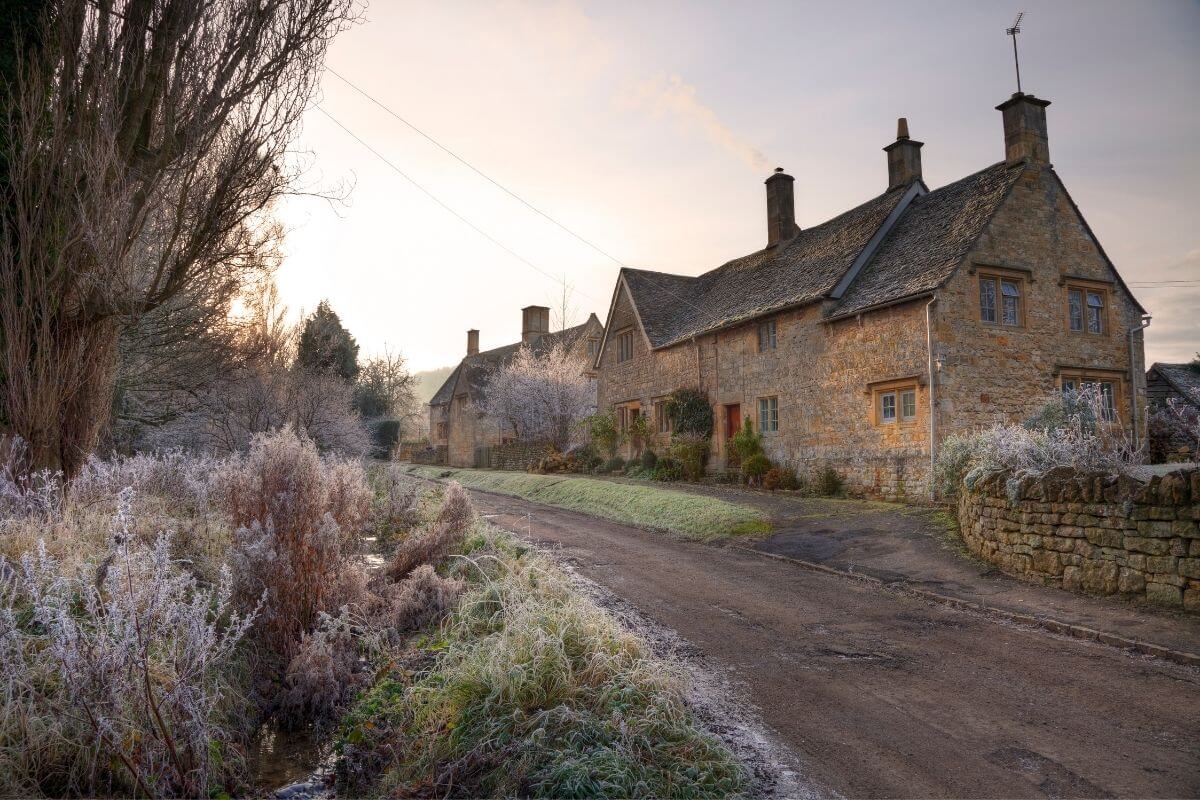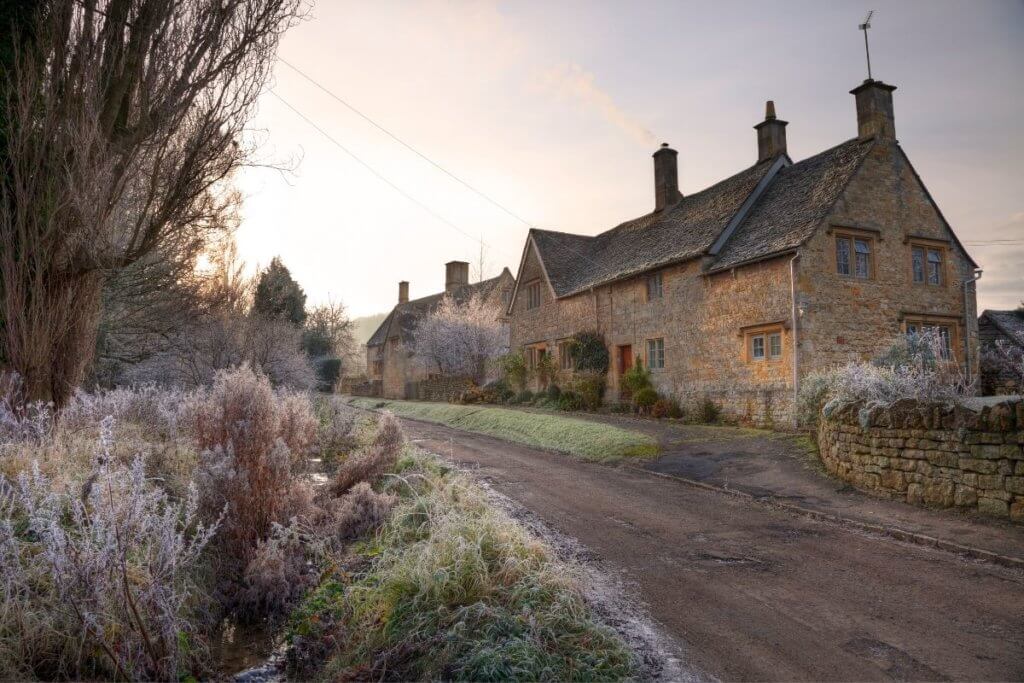 The postcard picture village of Broadway has late night festive shopping complete with carol singers, street entertainment, mulled wine and more. Local shops and cafes stay open until 8.30 during the Christmas season and some even later.
You can read more about a great day out in Bath here.
11. Christmas Artisan Market
For Christmas 2022, the Pump Room in Cheltenham is hosting an artisan Christmas market to celebrate local makers and producers on Saturday 3rd December and Sunday 4th December. It's a chance for independent creatives to showcase their products to the many thousands of visitors that pass through Cheltenham's Pump Room each year.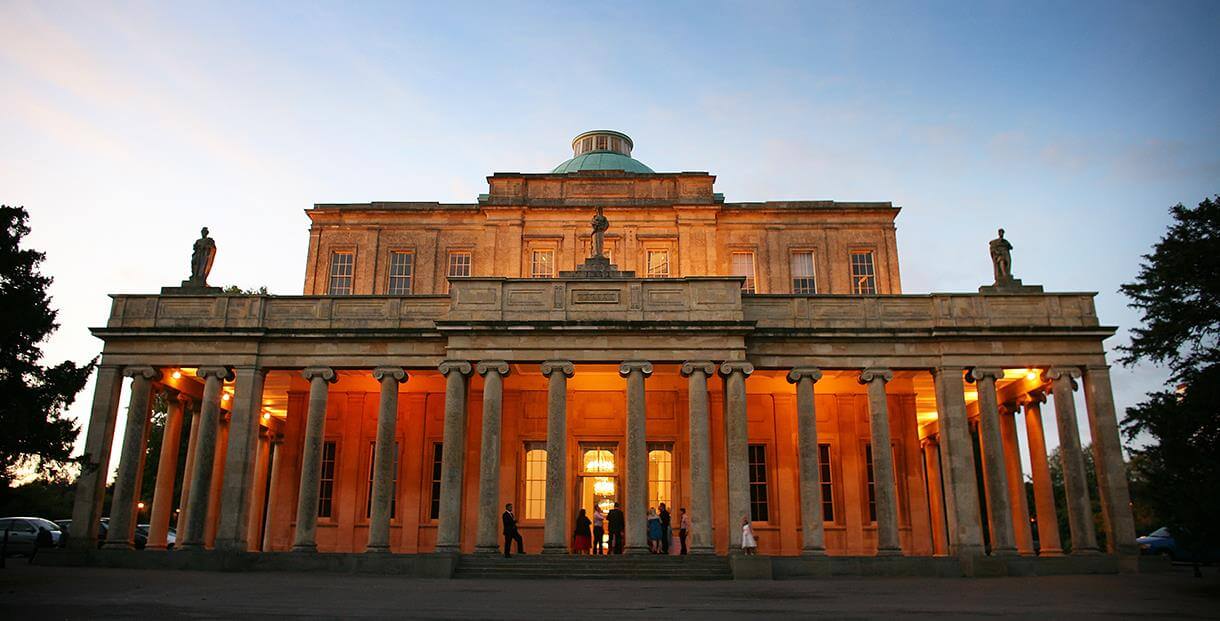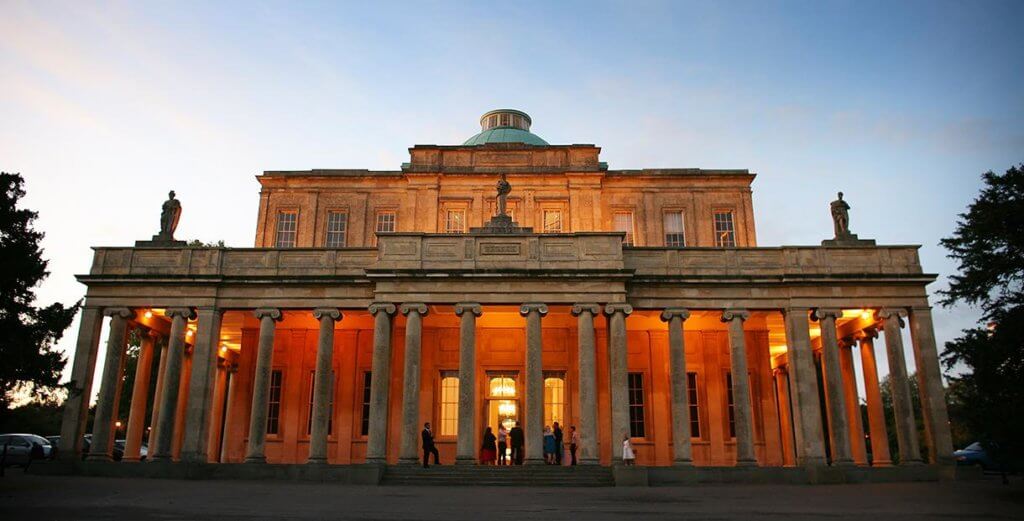 The evenings will be full of fun with carol singers, choirs, live entertainment and special guests. You won't want to miss this four-day festive event for Christmas in the Cotswolds.
12. Experience Christmas at Warwick Castle
This year, from the 26th November 2022 to the 2nd January 2023, Warwick Castle becomes extra magical!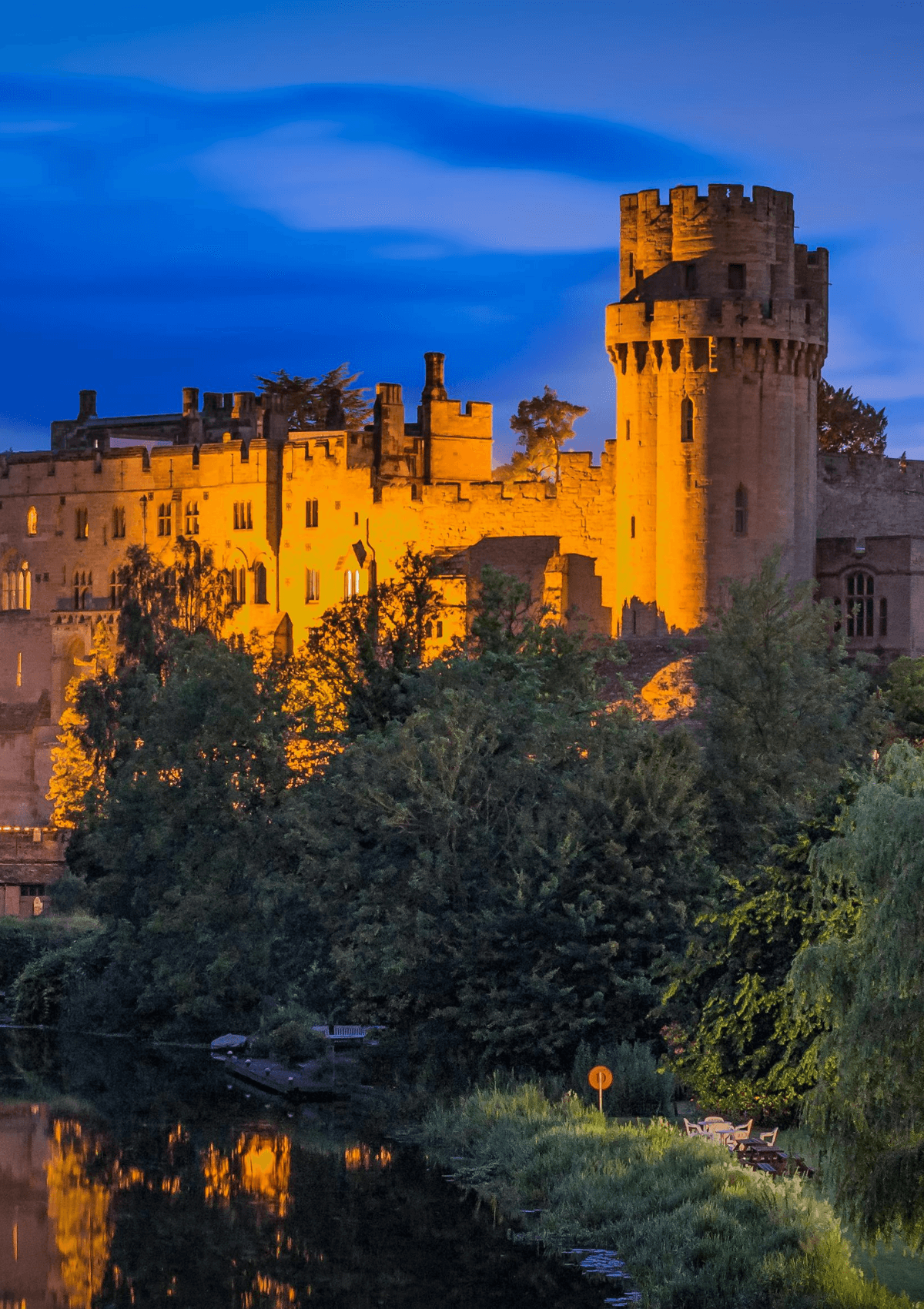 Their very own winter wonderland has a twinkling light trail lined with trees, and the ice-skating rink makes for a really special day out for the whole family thanks to the stunning backdrop of the castle walls. If you haven't been to Warwick Castle before, it's a great day out all year round, but especially this time of year. Book your tickets for Warwick Castle in advance to save time and money.
13. Visit a festive National Trust house
National Trust parks, gardens and houses are a great day out any time of year, but at Christmas they're adorned with Christmas lights, trees, and an extra helping of festive cheer. This year there are a number of National Trust sites in the Cotswolds that will be all dressed up for the winter season. These include:
Christmas at Dyrham Park, where you can get a taste of 17th-century Christmas traditions, from the music to the decorations, and enjoy a family Christmas trail around the grounds
Christmas at Chastleton, where you're invited to a 1960s country Christmas where you'll see a traditional Christmas dinner table, hear about a cocktail party in the great hall, and gather around the TV to watch the Queen's speech
Christmas at Newark Park, where you can enjoy the festive decorations around the house, take a walk around the wintry garden, and even meet Father Christmas
14. Enjoy Christmas at Adam Henson's Cotswold Farm Park
Visit Adam Henson's Cotswold Farm Park this festive season to follow the Enchanted Light Trail, feast on seasonal delights and meet Father Christmas.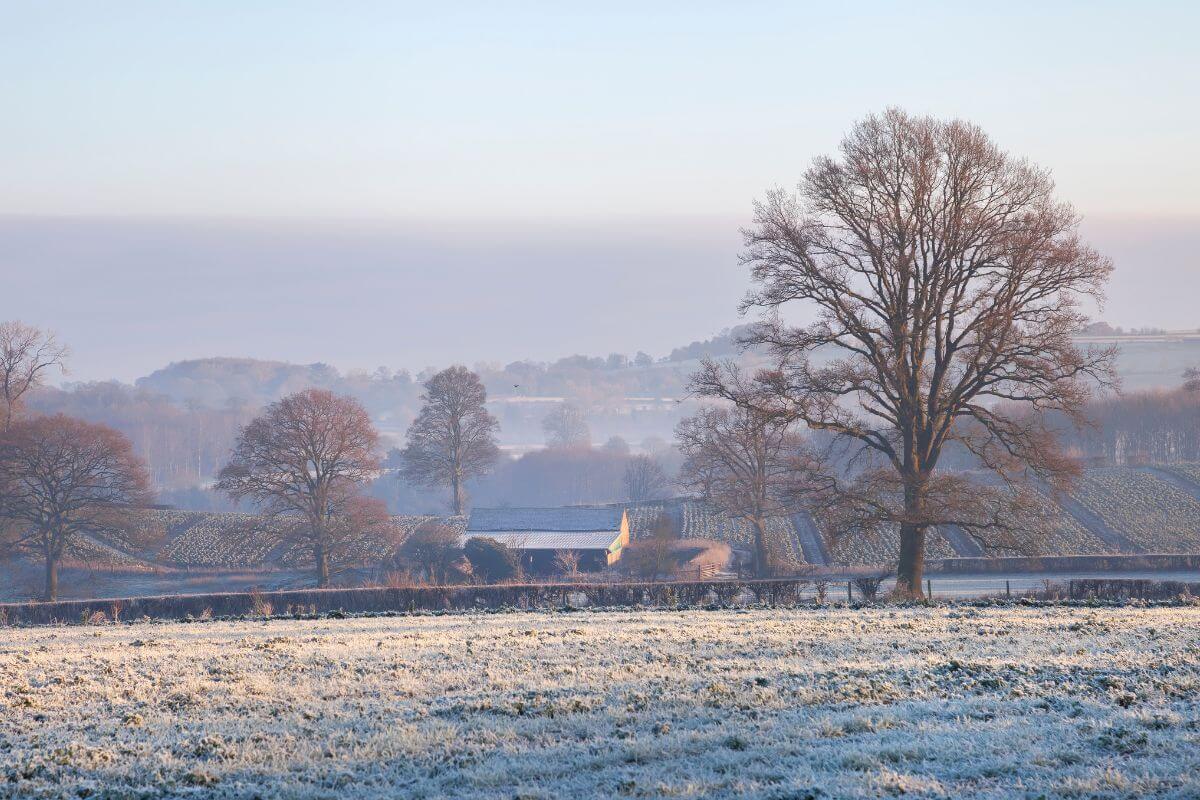 Daytime visitors to 'Christmas on the Farm' can attend gingerbread decorating sessions and meet over 50 rare-breed animals. The kids can enjoy a personalised meeting with Santa Claus and create their own soft toy at the Make-a-Bear Workshop.
When the sun goes down, you can dig into s'mores by a crackling fire pit before meandering the Enchanted Light Trail, which takes on the theme of 'Through the Wardrobe' for 2022.
On top of everything, tasty treats will be available from several food outlets such as The Ox Shed Bar & Restaurant. You can also buy unique gifts from the Festive Gift Shop.
You'll need to buy tickets to Christmas at the Cotswold Farm Park in advance.
The Enchanted Light Trail will open on selected dates from the 25th November to the 31st December. Tickets cost between £12 and £25, depending on your chosen date.
The Father Christmas Experience will run on selected dates from the 2nd to the 23rd of December. Tickets cost between £15 and £45 and include admission to the farm park and Enchanted Light Trail.
Why choose the Cotswolds for Christmas?
The Cotswolds are stunning all year round, but at Christmas they become almost otherworldly. The picture-perfect landscapes and villages take on a Christmas card appearance, while the castles, light displays and markets offer enjoyment for all the family.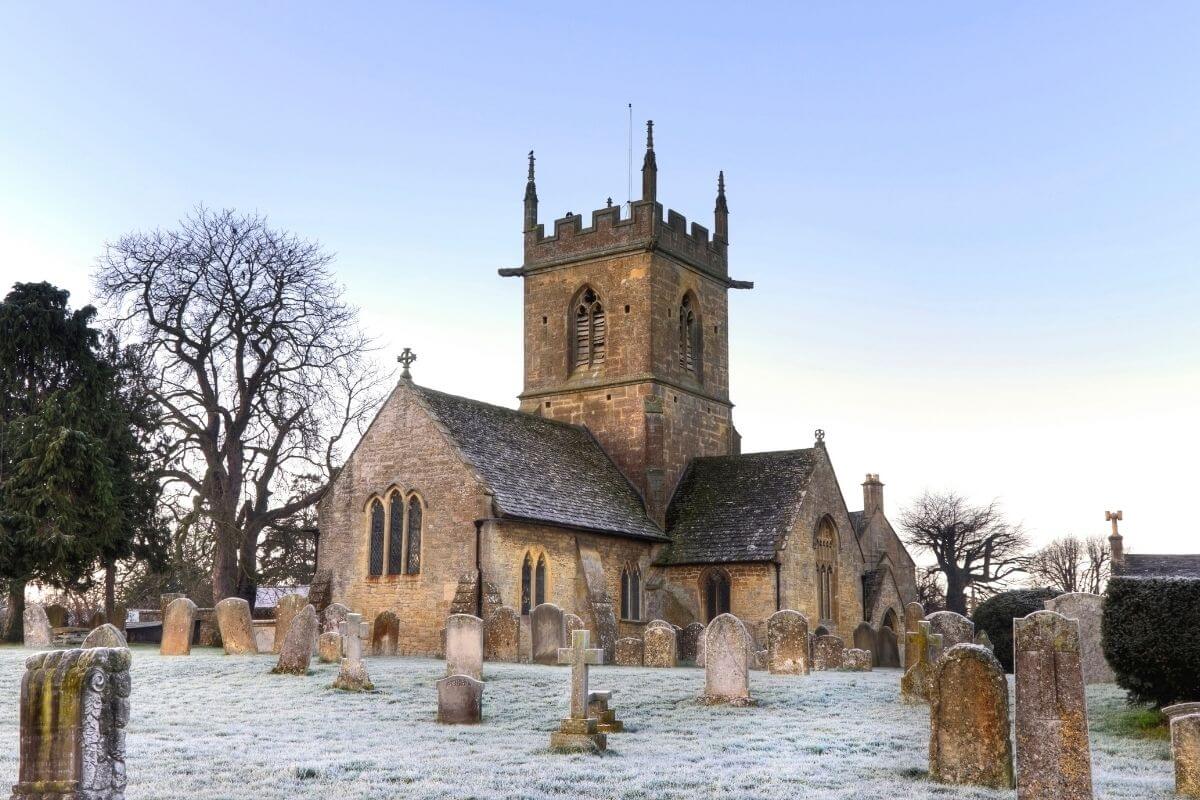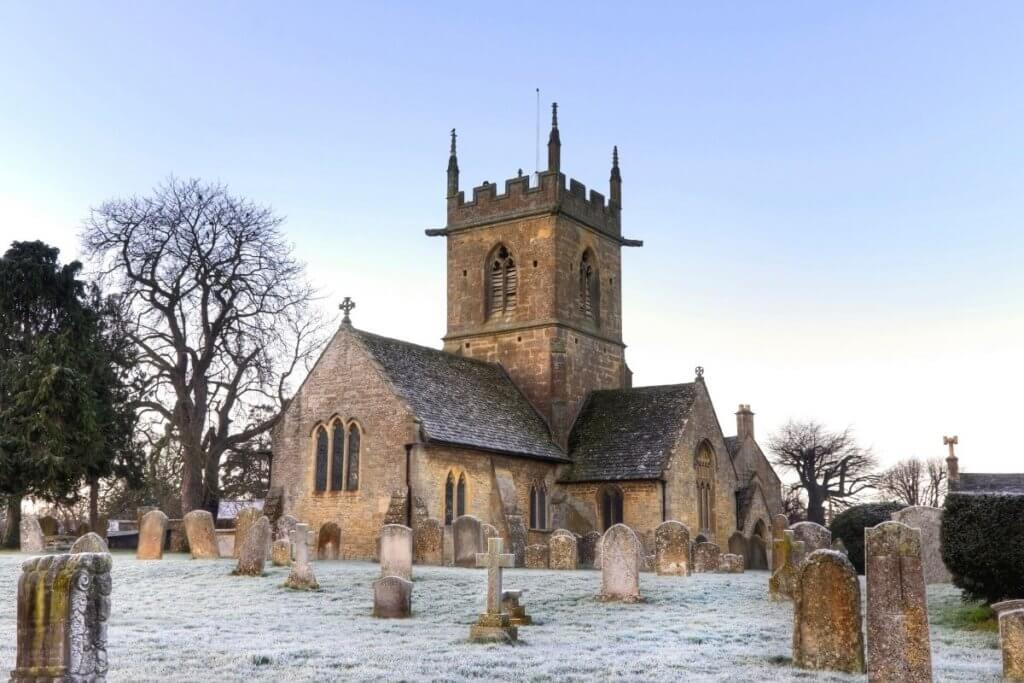 Young or old, you're sure to find amazing days out for Christmas in the Cotswolds. However you choose to visit the Cotswolds for Christmas, you'll enjoy soaking up that Yuletide spirit.
---
Christmas in the Cotswolds quick list:
1. Visit a Cotswolds garden centre
2. Eat a Christmas pub lunch
3. Spend Christmas at Blenheim Palace in the Cotswolds
4. Go to a Christmas market in the Cotswolds
5. Westonbirt Arboretum's Enchanted Christmas
6. Take a trip on the Santa Express
7. Take a long winter walk
8. The Light Festival
9. See a Christmas show in Cheltenham
10. Go on a late-night shopping spree
11. Christmas Artisan Market
12. Experience Christmas at Warwick Castle
13. Visit a festive National Trust house
14. Enjoy Christmas at Adam Henson's Cotswold Farm Park
---