5 Magical Places to Spend Christmas in England in 2023
Looking to spend Christmas in England? Visiting is one of the best ways to spend the festive season, so here are 5 of the best places to celebrate Christmas England has to offer…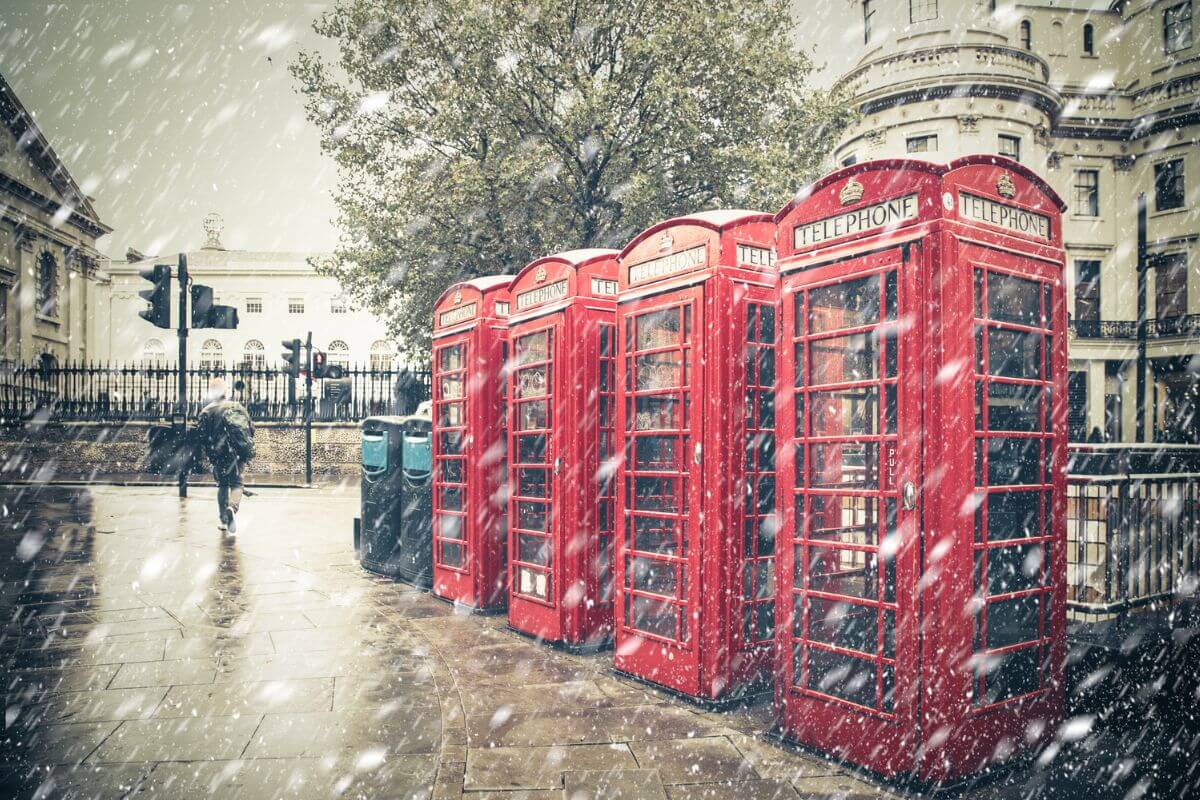 You don't have to travel all the way to Lapland to soak up some seasonal cheer.
From Christmas markets to dazzling light displays and chocolate-box villages that could have been lifted from a Charles Dickens novel, England at Christmas has all the festive feels you need — you just need to know where to go.
We've rounded up the best Christmas getaways in England to help your holiday planning, with a mixture of places that are ideal for an extended break and others that are perfect for a day out with friends or family.
Read on to find out where to go for Christmas.
5 Places to Spend Christmas in England
If you want a truly English Christmas this year, how about visiting one of these places for the festive season?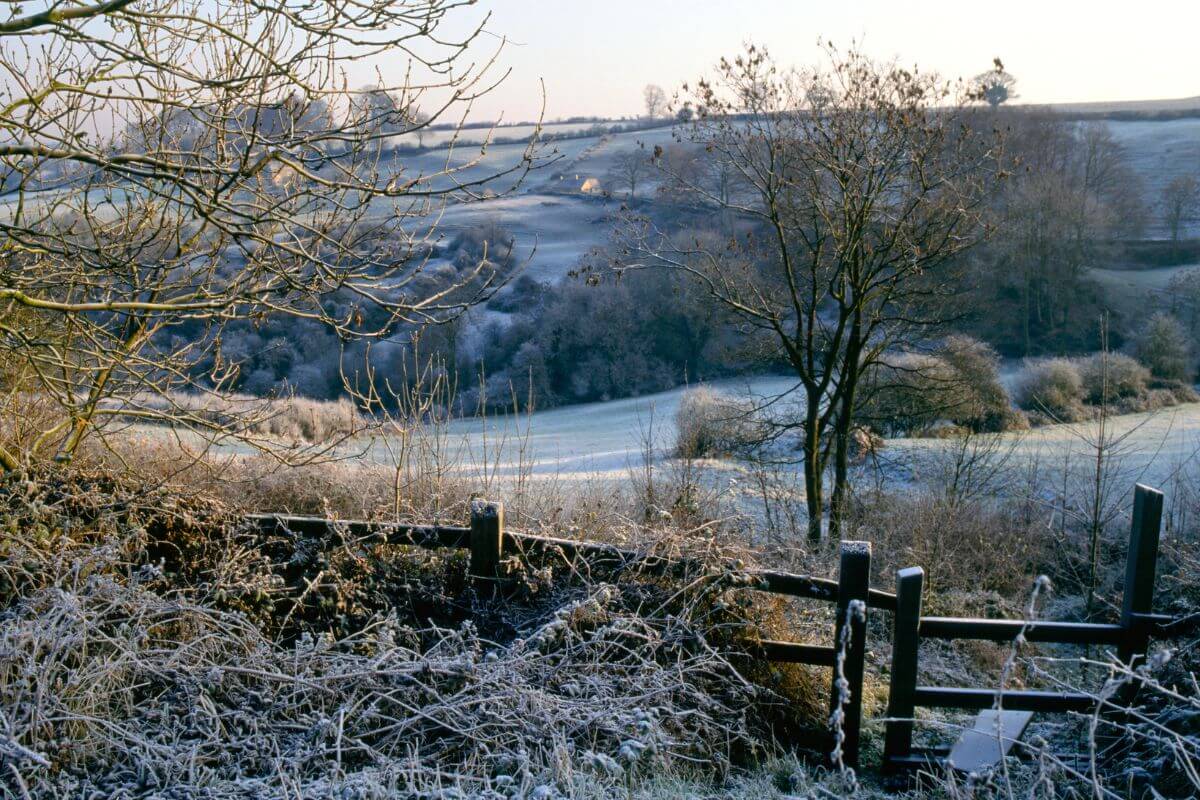 1. Best England Christmas Destination for… Christmas Markets: Birmingham
Ok, so England's second city may not be the first place that springs to mind when you think about the festive season. But since 2001, it's staged the Frankfurt Christmas Market, Europe's largest authentic German Christmas market outside of Germany and Austria.
More than 5.5 million people visit the market every year, making it one of the top Christmas attractions in the country. It opens the first week in November and is the perfect place to stock up on Christmas decorations and gifts, with more than 80 stalls selling handcrafted tree ornaments, jewellery and other curiosities.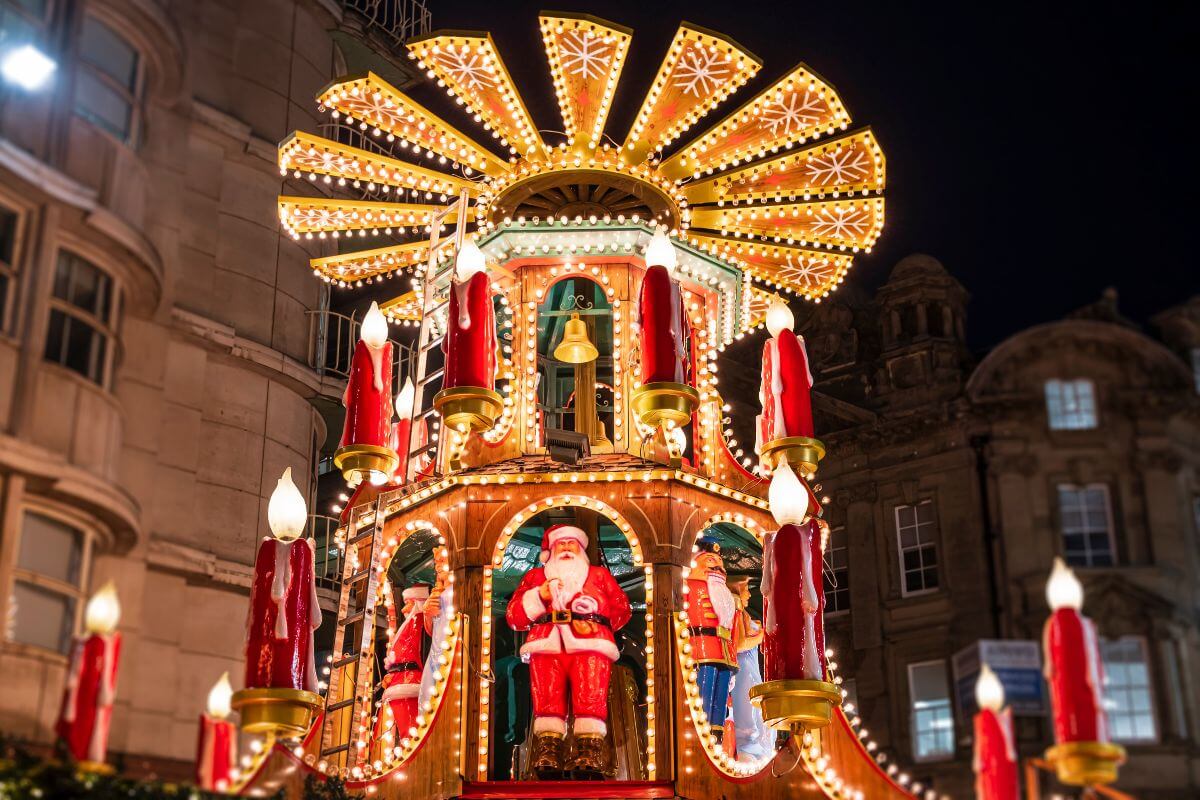 Of course, there's plenty of gluhwein to go around (that's a type of German mulled wine if you're wondering), along with some tasty Germanic food. Schnitzel anyone?
For those wanting to unleash their inner Jayne Torvill or Christopher Dean, the market has its own ice rink, while the fairground boasts a big wheel and merry-go-round. You can also expect live Christmas music performances, including a few singalongs with Chris Moose, who is quite possibly the world's only singing moose.
If you're in England at Christmas, Birmingham's Frankfurt Christmas Market is easy to get to as it's located next to New Street Station, the main train station in the city with great connections to ​​London, Manchester, Bristol, Cardiff and Leeds (among other places). It's undoubtedly one of the best Christmas markets in England.
2. Best England Christmas Destination for… a Rural Getaway: The Cotswolds
With its quintessentially English villages, rolling green hills and breathtakingly lush landscapes, the Cotswolds is a picture-perfect escape at any time of year. But in December when the frost descends it's as Christmassy as Mariah Carey eating a mince pie — and undoubtedly one of the best Christmas getaways in England.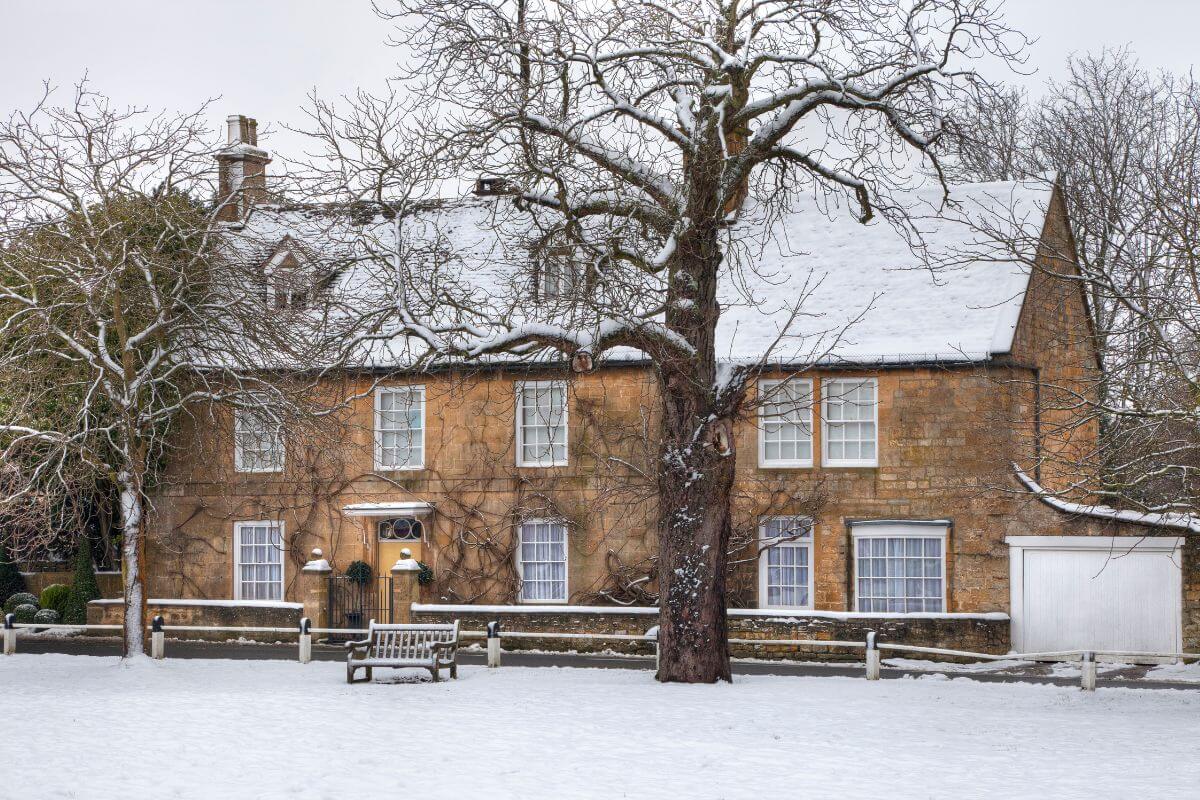 Let's start with the idyllic villages. There's Bibury, often described as 'The most beautiful village in England' and a great place for a pub lunch. Or Snowshill, where they filmed the Christmas scenes in the movie adaptation of Bridget Jones's Diary. And then there's the ever-so-Instagrammable Castle Combe — one of the most photographed spots in the Cotswolds.
There's no shortage of Christmas markets either. The fayres at Tetbury, Chipping Campden and Winchcombe (which has returned after a two-year absence) aren't on the scale of Birmingham's yuletide extravaganza, but they certainly win on charm.
And if a seasonal stomp around the countryside is more your thing, the Cotswolds is your ideal destination (it's a designated Area of Natural Beauty, after all). The Cotswold Way is a 100-mile trail that traverses some of the most beautiful rural landscapes England has to offer. Although, of course, you don't have to tackle the entire route in one go.
You'll also find a whole bunch of merry goings-on at stately homes, such as Blenheim Palace's Festival of Light, or daily carol services at St Peter's Church on the National Trust Dyrham Park Estate.
If you're interested in finding out more, here are 14 Great Days Out for Christmas in the Cotswolds.
3. Best England Christmas Destination for… Historic Charm: Bath
On the edge of the Cotswolds is Bath, which is a top recommendation for anyone planning a trip to England at Christmas.
With its famous Georgian architecture, the historic city certainly isn't bad on the eye — and it looks extra special when the cobbled streets are lit up in fairy lights.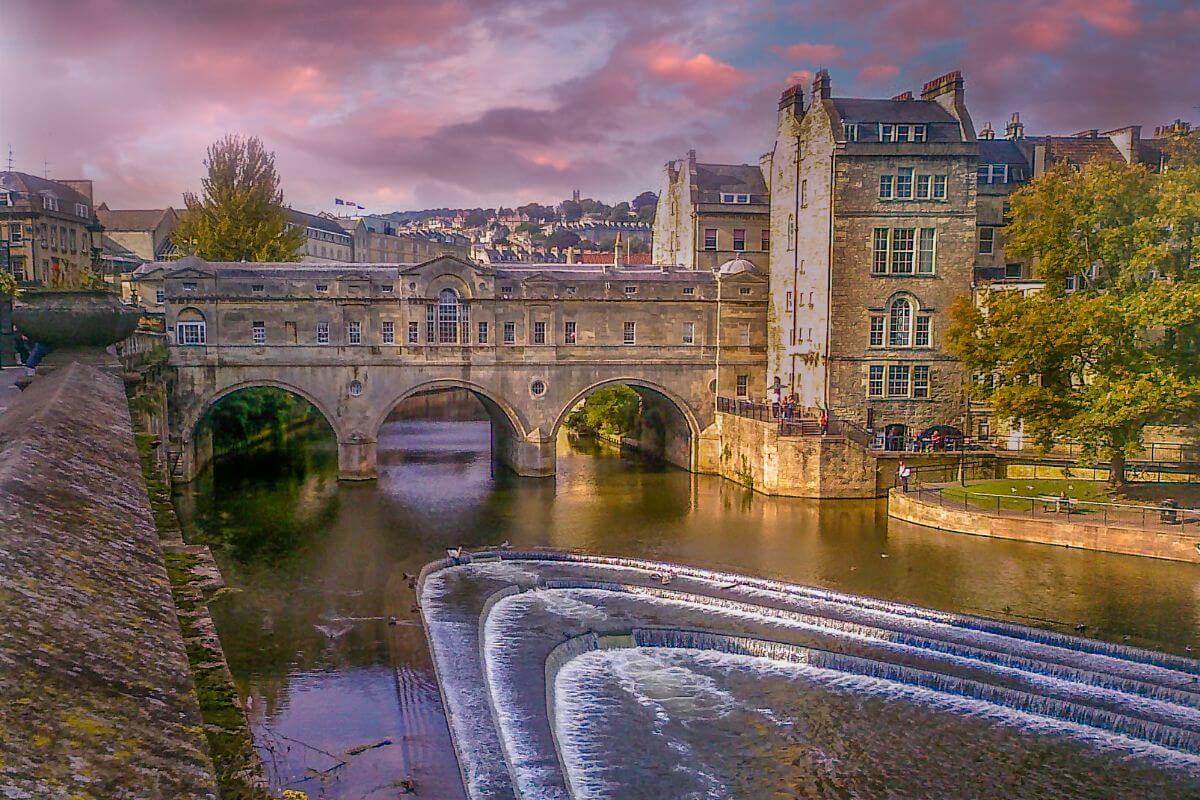 Naturally, it has its own Christmas market. This year it opens on 23rd November and runs until 10th December. You'll find it crammed with food huts and gift stalls, and there's usually plenty of live entertainment going on. 
Beyond the festive fayre, the city is an excellent shopping destination with a high proportion of small, family-run shops, making it the ideal place for tracking down unusual gifts.
And if you feel the need to escape the merrymaking for a few hours, the place is surrounded by green hills, which look breathtaking if seasonal snow starts falling.
Of course, while you're there, you'll probably want to take a dip in the thermal spa. And if you're looking for more activities, read our guide to a day out in Bath. 
4. Best England Christmas Destination for… Uniqueness: Clovelly
This North Devon village has been voted Britain's most Instagrammable, and it comes into its own at Christmas. 
The ancient fishing village is unique, to say the least. It's perched on a 400-foot cliff and no vehicles are allowed (donkeys are the preferred form of transport). Visitors need to pay a small admission fee (£8.75 for adults, £5.10 for children) to help with the upkeep of the village's cobbled streets and quaint cottages.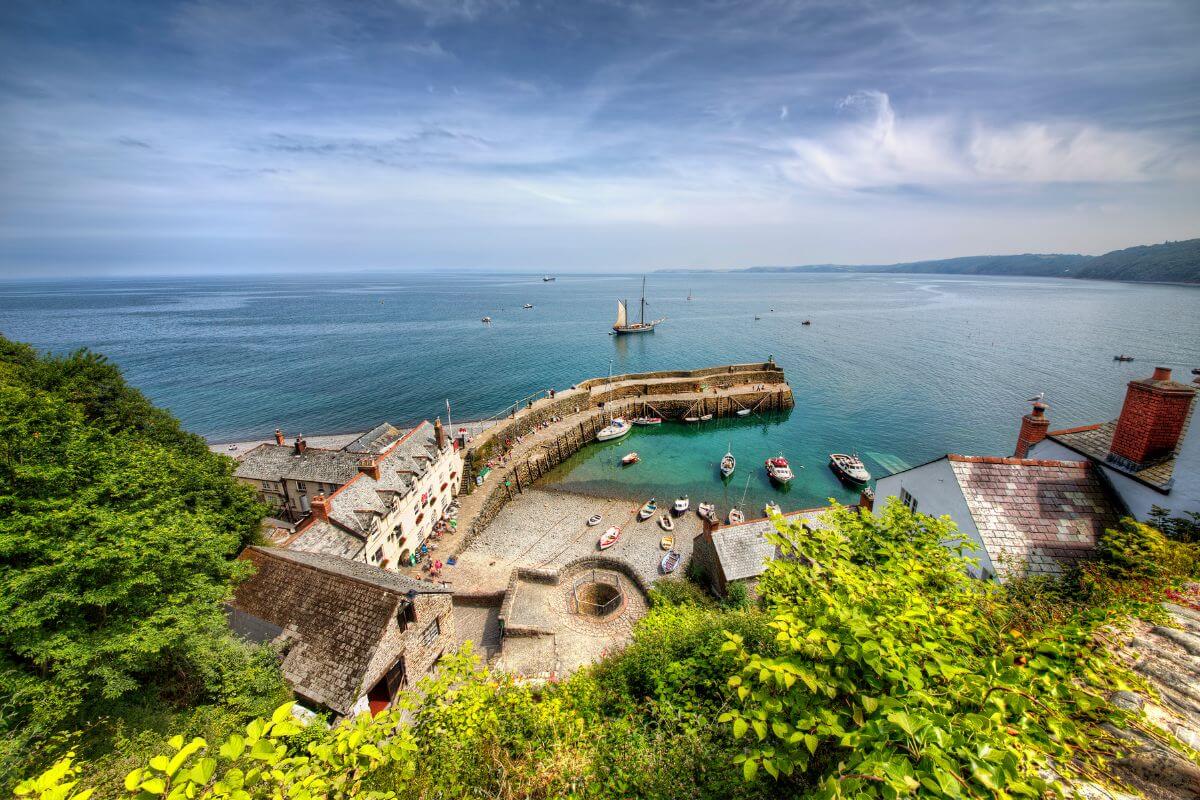 The annual Christmas light switch-on (which, this year, falls on 3rd December) is one of the West Country's top festive attractions. It's all in aid of the Royal National Lifeboat Institution and features a brass band, a parade and a firework display over the harbour. The whole experience makes for a wonderful day out in Devon.
Accommodation in the village is limited, so it's worth looking further afield if you're planning on staying more than a day. Woolacombe and Bideford are options further up the coast, while Exeter is another good base from which to explore Devon. Christmas in Devon is a truly unique time to visit.
5. Best England Christmas Destination for… Shopping: London
Panicking about where you're going to buy all those Christmas presents? It's probably worth taking a trip to the English capital, which offers some of the best shopping in the world.
While the crowds flock to Oxford Street in the centre of town, this certainly isn't the only option. There are many different shopping areas to enjoy on a day out in London.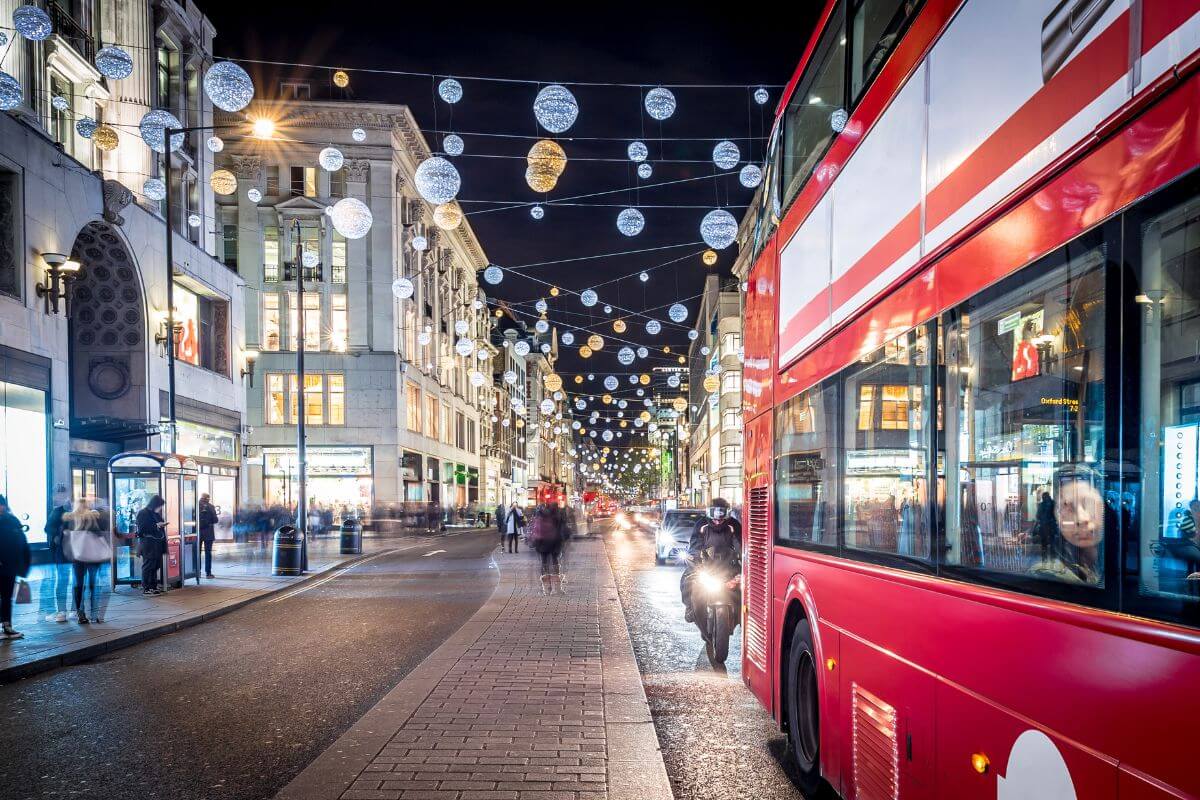 The plush Coal Drops Yard in Kings Cross combines big-name designer outlets with independent, up-and-coming boutiques, making it the perfect place to track down gifts for those tricky names on your list. Once you're finished, there are plenty of places to grab a cocktail and toast a job well done.
Alternatively, the Westfield Centres in White City (in the west) and Stratford (in the east) have everything under one roof. They're great places to have a Santa experience too.
And of course, for those high-end gifts, there's the iconic Harrods in Knightsbridge. Or you could try Camden? It's home to one of the most famous streets in London.
If your budget doesn't stretch that far, you can head to Wembley Park, where you'll find London's biggest discount centre for big-name brands, the Designer Outlet Store.
And finally, Greenwich Market has year-round fashion, craft and food stalls that get a festive makeover once the holiday season arrives.
Christmas in the Lake District anyone?
Best places to spend Christmas in England
If you've been wondering where to go for Christmas in England, hopefully we've given you some ideas!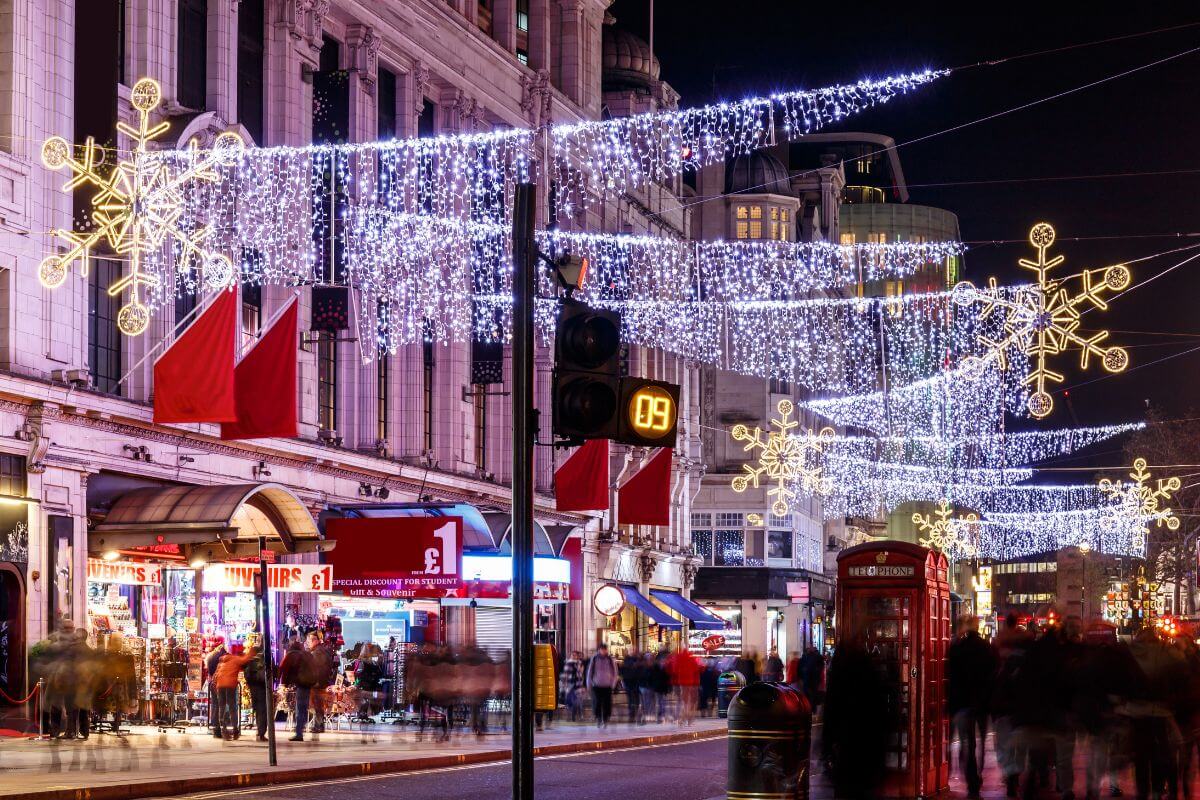 In short…
When it comes to Christmas markets, Birmingham can't be beaten. While London's vast array of shops makes it the obvious choice for stocking up on gifts. If you're looking for rural Christmas getaways in England, the Cotswolds is one of our most picturesque spots (especially if it's covered in snow). Bath is another must-visit — it oozes Christmas charm. While Clovelly is just about one of the most unique places to celebrate Christmas England has to offer.
Wherever you go, we hope you have a lovely time. Merry Christmas!
Quick List: 5 Magical Places to Spend Christmas in England in 2023
Best England Christmas Destination for… Christmas Markets: Birmingham
Best England Christmas Destination for… a Rural Getaway: The Cotswolds
Best England Christmas Destination for… Historic Charm: Bath
Best England Christmas Destination for… Uniqueness: Clovelly
Best England Christmas Destination for… Shopping: London
---