Brace yourself — if you're spending Christmas in England you won't be able to avoid these Great (or terrible, depending on your point of view) British Christmas songs…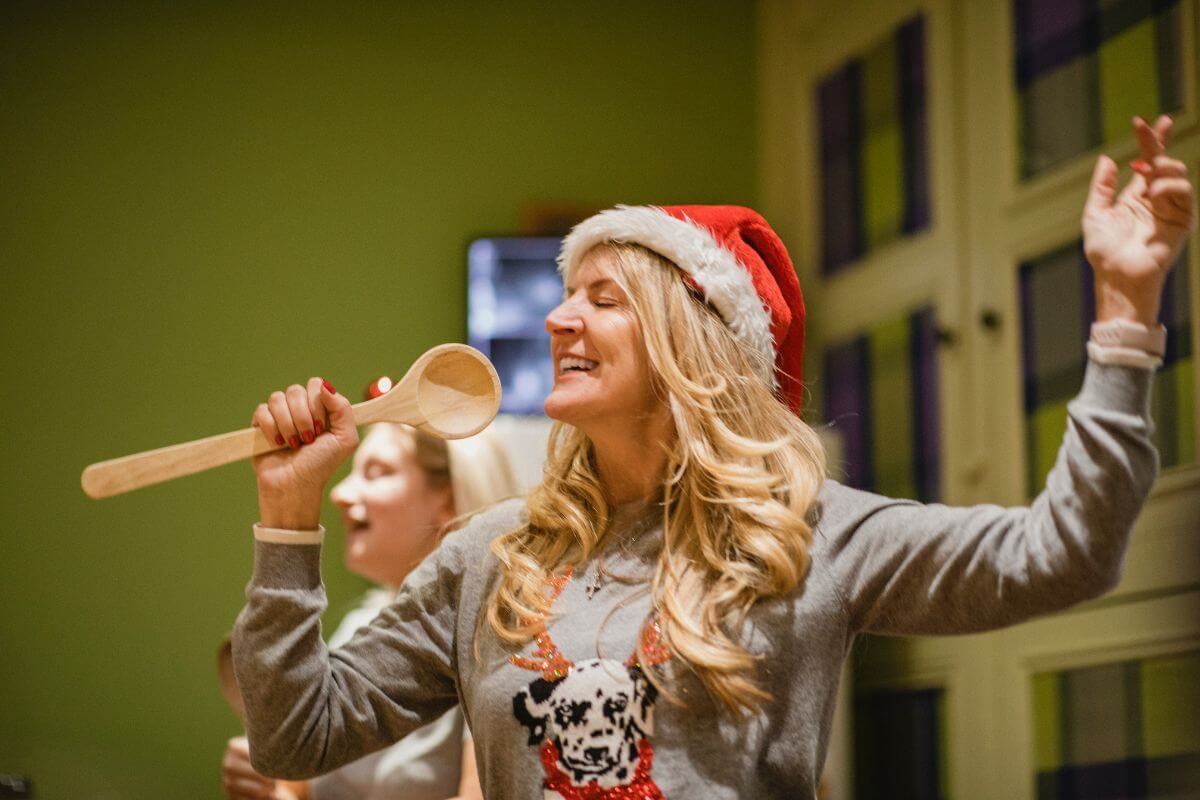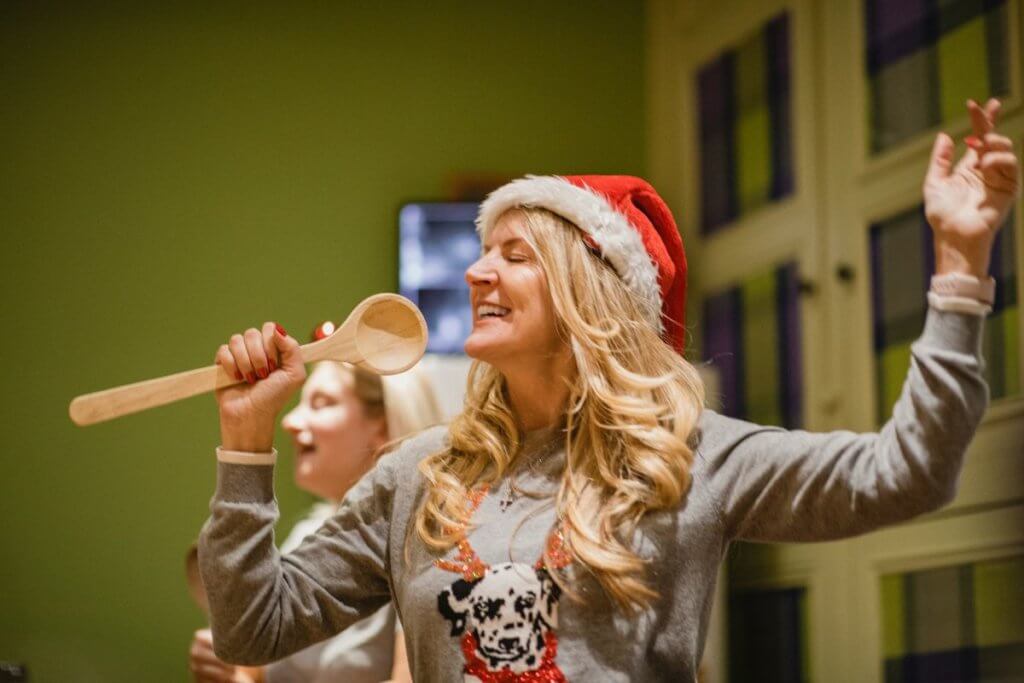 Christmas. The season of joy, of gift-giving, and of families united.
It's also a time of year when English people knock back one or two glasses of sherry and indulge in an enthusiastic singalong.
For hundreds of years, merrymakers would belt out Christmas carols as December 25th approached. And while age-old bangers such as 'Hark The Herald Angels Sing' still get occasional airtime, now you're more likely to find people harmonising to pop-infused English Xmas songs.
Here, we round up the holiday hits to soundtrack your seasonal shenanigans. Whether you're at home decorating the tree or off on adventurous Santa days out, these 12 British Christmas songs should make it onto your playlist (as long as you like the sound of sleigh bells).
The 12 Best Christmas Songs in England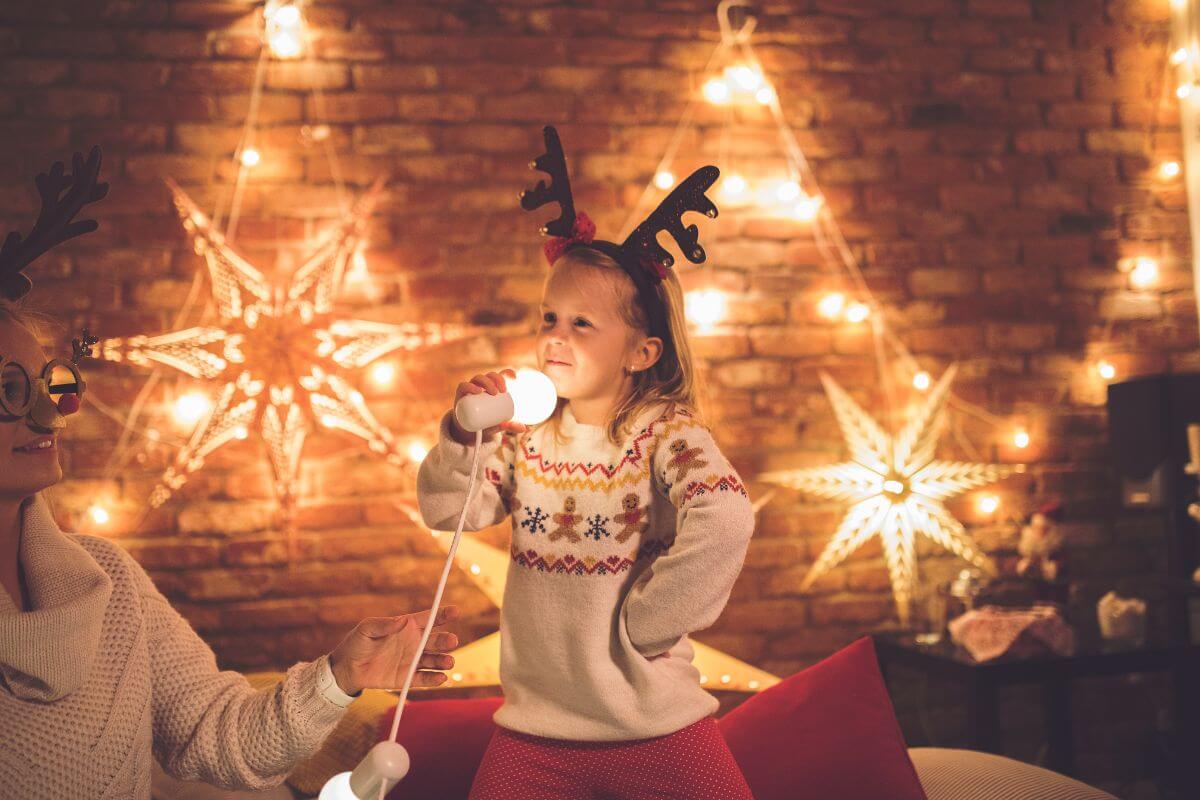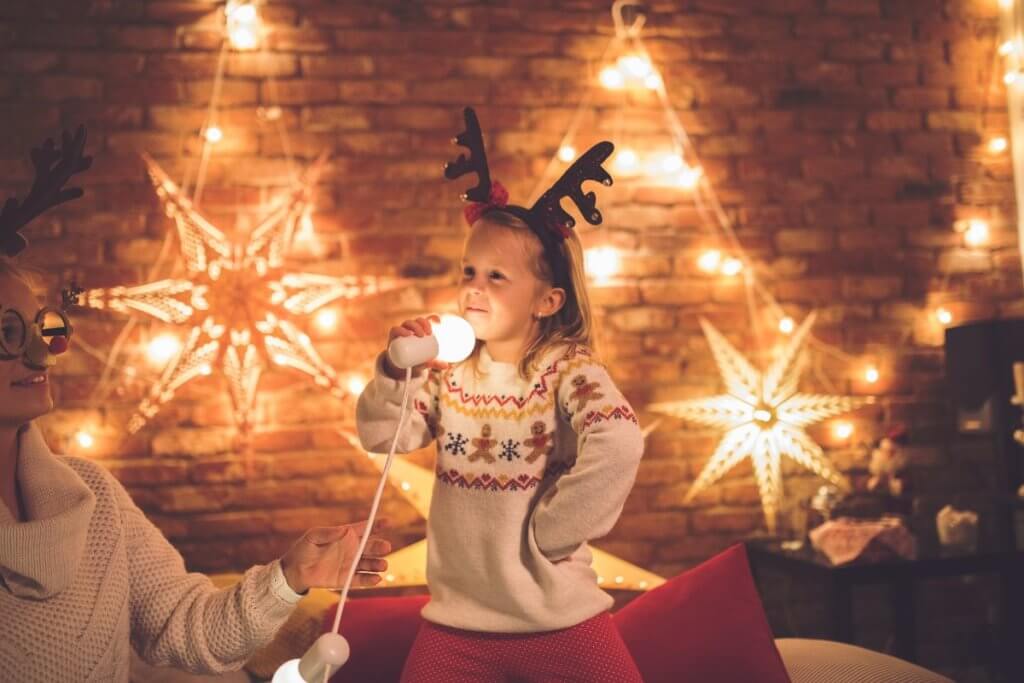 Christmas Songs UK: The Favourites
These English Xmas songs are perennial chart-toppers that us Brits can't get enough of…
Best English Xmas Song For… Christmas Karaoke:
Fairytale of New York – The Pogues with Kirsty MacColl
This Irish folk-style ballad may be all about the love-hate relationship between an inebriated New York couple (and therefore have very little to do with Christmas in England) but it frequently tops polls of our favourite British Christmas songs. It's sure to get the crowd going at a Christmas karaoke party.
READ MORE: Christmas Music Quiz
Best English Xmas Song For… The Xmas Disco:
All I Want For Christmas Is You – Mariah Carey
Ok, so Mariah's jaunty, jingly Christmas classic is about as English as Superbowl Sunday. We're also not alone in our love for the song — the American diva has made an estimated $60 million in royalties worldwide since the single was first released in 1994. But the fact that it was our Christmas number one as recently as 2020 shows it's one of those Christmas songs UK pop fans can't get enough of. And it's probably the most-requested hit at any seasonal disco.
Best English Xmas Song For… Sage Christmas Shopping Advice:
Last Christmas – Wham!
"Last Christmas, I gave you my heart but the very next day you gave it away." This song of Christmas betrayal normally gets its first seasonal spin some time in early November — it literally is unavoidable. Still, at least our George has a lovely voice. And the song teaches us a valuable lesson: he could have saved himself some heartache if he'd kept the gift receipt.
Best English Xmas Song For… A Not-So-Christmassy Singalong:
Stay Another Day – East 17
Of all the classic Christmas songs in England, this is undoubtedly the least Christmassy — it doesn't contain a single festive lyric. Despite that, it was top of the charts for three weeks during the 1994 holiday season, no doubt helped by the fact that the boyband foursome dressed up like snowmen in the music video.
Would you listen to it July?
Definitely not.
Best English Xmas Song For… The Car Playlist:
Driving Home For Christmas – Chris Rea
For anyone who is actually driving home for Christmas in England (or off on any other kind of Christmas day trip), two things are almost certain. The first is that this 80s classic by Chris Rea will be on your playlist. The second is that you will get caught up in the Christmas congestion that the husky-voiced crooner so accurately sings about.
And if you're planning on hiring a car for the holiday season, check out our Ultimate Guide to Renting a Car in England.
England Christmas Songs: The Well-Meaning Ones
These English Xmas songs really epitomise what's good about Christmas (or try to anyway)…
Best English Xmas Song For… Peaceful Sentiment:
Happy Xmas (War Is Over) – John Lennon & Yoko Ono
While most artists sing about Santa Claus, presents and other such Christmas frivolities, John Lennon baked anti-war messaging into his 1971 hit, released during the conflict in Vietnam. In 2012 it was voted the greatest of all English Xmas songs, proving that we really do want to give peace a chance (until the inevitable family argument at the Christmas dinner table).
Best English Xmas Song For… Feeling Charitable:
Do They Know It's Christmas Time – Band Aid
A well-intentioned smash hit that's raised millions for charity? Or a group of rich, condescending pop stars singing a bunch of badly-judged lyrics that definitely haven't aged well?
Whichever side of the fence you sit on, one thing's for sure: you're guaranteed to hear this song A LOT at Christmas time.
Christmas Songs UK: The Ones That Should Probably Be Banned
Planning a trip to England any time in December? Be warned. These English Xmas songs are inescapable and you'll have them in your head for days…
Best English Xmas Song For… Dad Dancing Around The Tree:
Merry Christmas Everyone – Shakin' Stevens'
Also known as 'The Welsh Elvis', everything Shakin' Stevens' touched turned to gold in the 80s — he was the UK's biggest-selling singles artist of the decade. Naturally, he released a Christmas song too, which topped the charts in 1985 and still gets played nearly 40 years later. Isn't it time we stopped now?
Best English Xmas Song For… Festive Yelling:
Merry Xmas Everybody – Slade
Perhaps most famous for lead singer Noddy Holder's yell of "It's Chriiiiiiiiiiiiiiiiiiistmaaaaaaas!" this hit by glam rockers Slade was the UK's fastest-selling single at the time of its release in 1973. Now it's considered to be one of THE most annoying British Christmas songs of them all.
Funny how things change, isn't it?
Best English Xmas Song For… People Who REALLY Love Christmas:
I Wish It Could Be Christmas Everyday – Wizzard
This is another 1973 glam rock hit that's hung around like the smell of three-day old brussels sprouts — it's charted no less than 19 times and appeared in the British top 40 every Christmas since 2011. If you're a turkey or someone concerned about the long-term impact of scoffing too many Quality Street then the lyrics don't stand up too well.
Best English Xmas Song For… Non-Coffee Drinkers
Mistletoe & Wine – Cliff Richard
In 2013, Costa (one of the UK's largest chains of coffee shops) banned this 1988 Christmas number one from being played in their stores for fear of annoying their customers. And sure, it's incredibly irritating. But the song also promotes a terrible choice of drink, as anyone who's ever tried knocking back a mistletoe and wine will tell you.
Best English Xmas Song For… People Who Often Forget The Lyrics:
Wonderful Christmastime – Paul McCartney
In his festive hit of 1980, the former Beatle informs us that he's "Simply having a wonderful Christmastime" no less than 13 times. Which may well be the case, Paul, but you're ruining ours with your constant repetition — stop going on about it!
The 12 Best Christmas Songs in England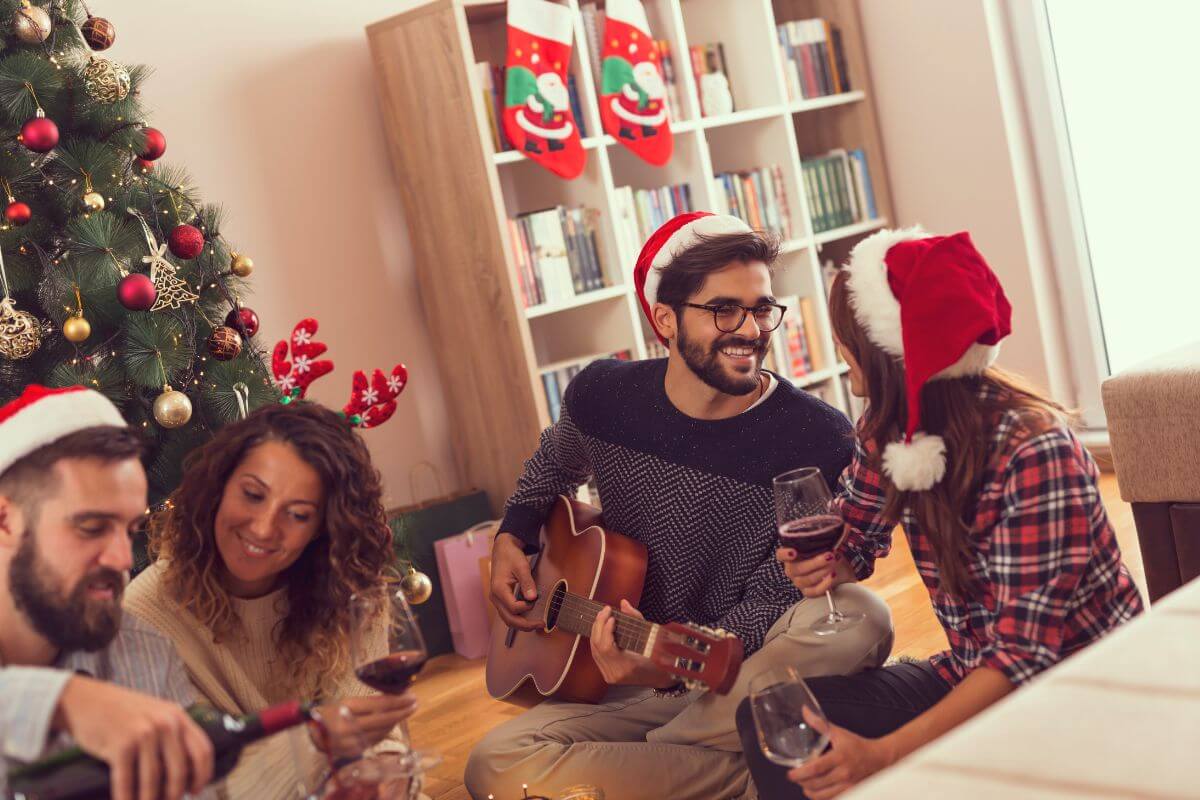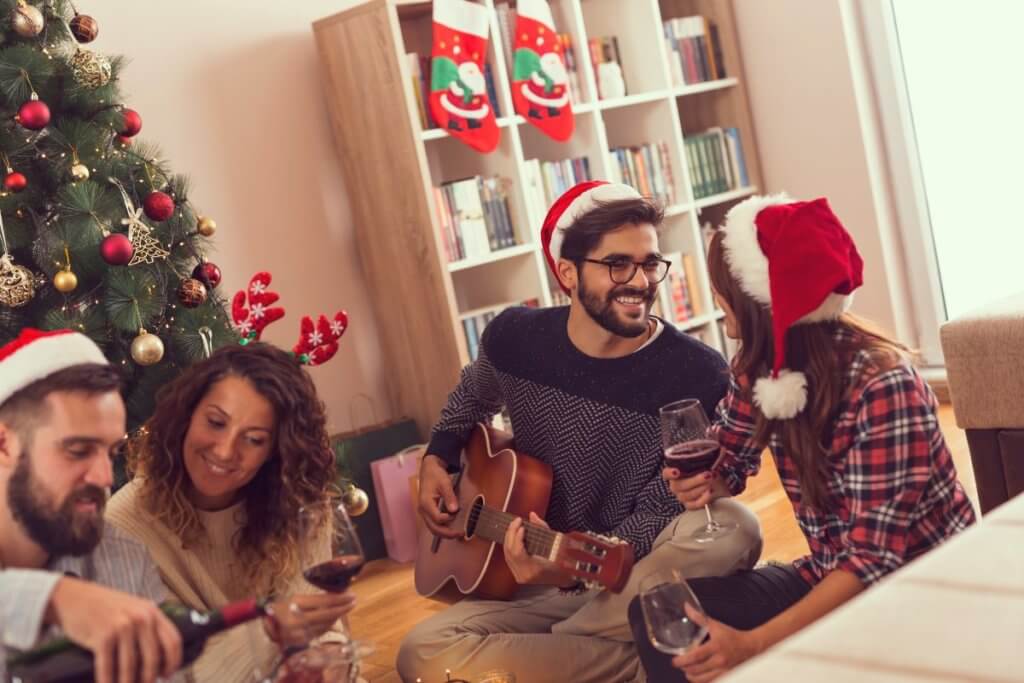 There you have it. If you're spending the festive season in the UK those are the British Christmas songs you're guaranteed to hear.
Is that a good thing? Hmm, we'll let you decide. If you're not convinced, the best advice is to grab a mince pie and a glass of something mulled and wine-like and start singing along with everyone else. If you can't beat them, join them!
Which one do you think is the best Christmas song in England?
---