Christmas in Somerset is a wonderful reason for a day out. From the decorations in Frome to ice skating in Street, there are some wonderful things to do in Somerset for Christmas to get you in the festive mood.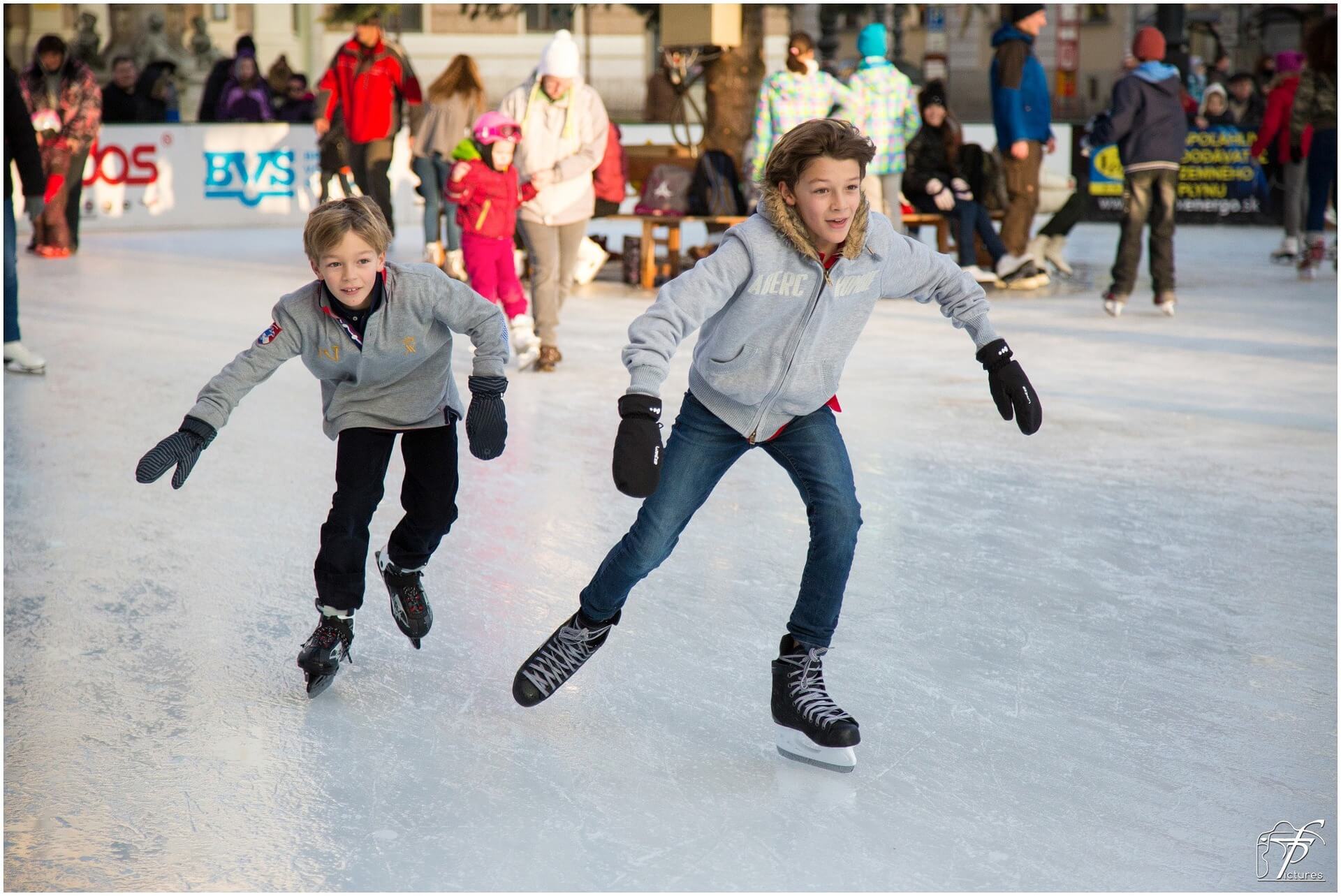 Christmas really is the most wonderful time of the year. There's nowhere I'd rather spend the festive period than here in the Land of the Summer People. And it's about so much more than 25th December on its own – there's lots of build-up and fun to be had long before the main event. As a long-term resident of the county, here are my 7 tips for the best Christmas in Somerset.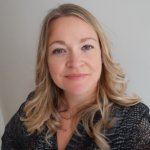 Rowen Campbell
Copywriter specialising in photography, the arts and lifestyle.
Rowen Campbell is a marketing manager and copywriter with experience across many sectors. She loves to tell a story and when she's not writing, you'll find her outside on an adventure, or curled up somewhere with a good book.
1. See the Christmas trees at Secret Valley
There really are no rules when it comes to putting up your Christmas tree. Some say no more than twelve days before Christmas (and it comes down no more than twelve days afterwards). Others insist it's unlucky to decorate it before the afternoon of Christmas Eve. I'm in the 'earlier the better' camp, which is usually the first weekend in December.
If you work to the first day of Advent, sometimes you can justify a November launch for your tree.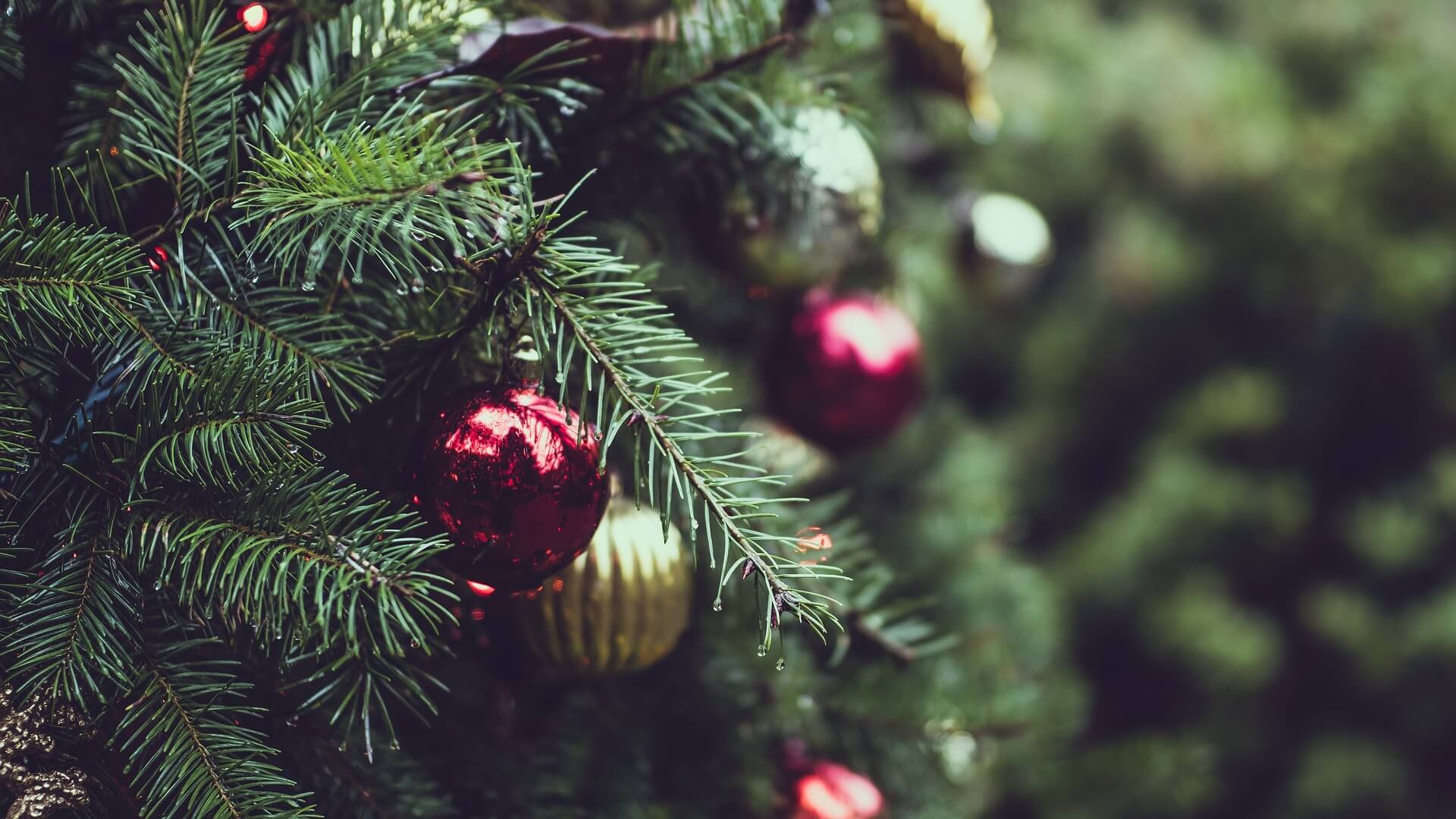 Secret Valley Christmas Trees (on the edge of the Quantocks in Enmore, just off M5 J24) is a family-run farm offering various different types and sizes of tree. They have years of experience so are able to advise on the best tree to suit you, whether you have a smaller space, or children and pets to consider.
Choosing and decorating our Christmas tree is a pretty big deal for us anyway, but going to Secret Valley is a chance to make a real occasion of it. Go early (especially if you choose a weekend because it does get busy) and enjoy everything else on offer too. It's not just for picking up a tree, but there are also are alpacas, goats and donkeys, a snowball zone, and an arctic scene.
Grab an artisan coffee from their stand and have a wander.
You can even take your dog, but remember that it's a working farm so all dogs must be on leads, and take appropriate shoes or boots.
2. Christmas shopping in Frome
Frome is one of Somerset's shopping gems, full of all sorts of independent businesses offering lots of inspiration for gifts and stocking fillers. The town also likes to make a big deal of Christmas shopping so there is also a whole host of events and festive cheer to be had, from late night shopping to Christmas markets. It's a lovely place to be, and an ideal way to get you in the mood for the season.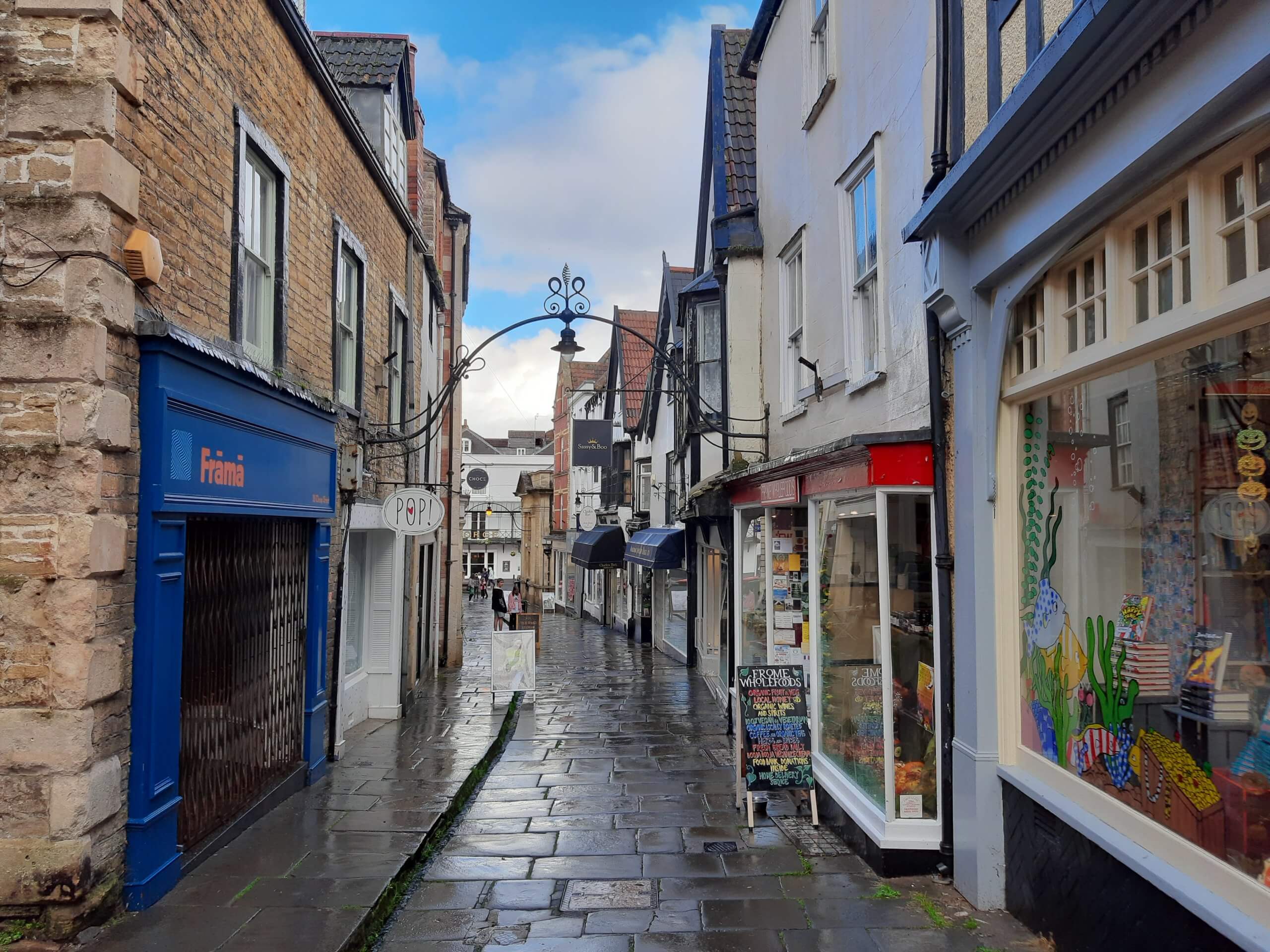 Frome has long been a market town and the proud heritage is still very much present today. One of my favourite streets is Cheap Street, with its shops dating back to medieval times. It's pedestrianised, and if you've ever been to Frome, it's the street you remember because it's the one with the little stream (leat) running down the middle.
I'm a big fan of books as gifts because you can never have too many. Book shopping is good in Frome with Hunting Raven Books on Cheap Street, and The Frome Bookshop just opposite at the top of the hill. Between them, you'll find every book you ever thought of, and hundreds you could never even imagine – definitely worth a visit.
You can find out more about what's on at Christmas in Frome here.
3. Pantomime at the Octagon Theatre, Yeovil
Pantomime is a British institution when it comes to Christmas, and I'll debate anyone who tells me there's a better panto than Yeovil. It's been a family tradition for us for so many years now and The Octagon is such a good venue.
For us, it's the perfect venue because it's all on one level and there are no seats with a restricted view – everyone feels part of the show, and with booster seats for the children, everyone can see. We take the kids and the grandparents every year, and it's an absolute non-negotiable in our calendar.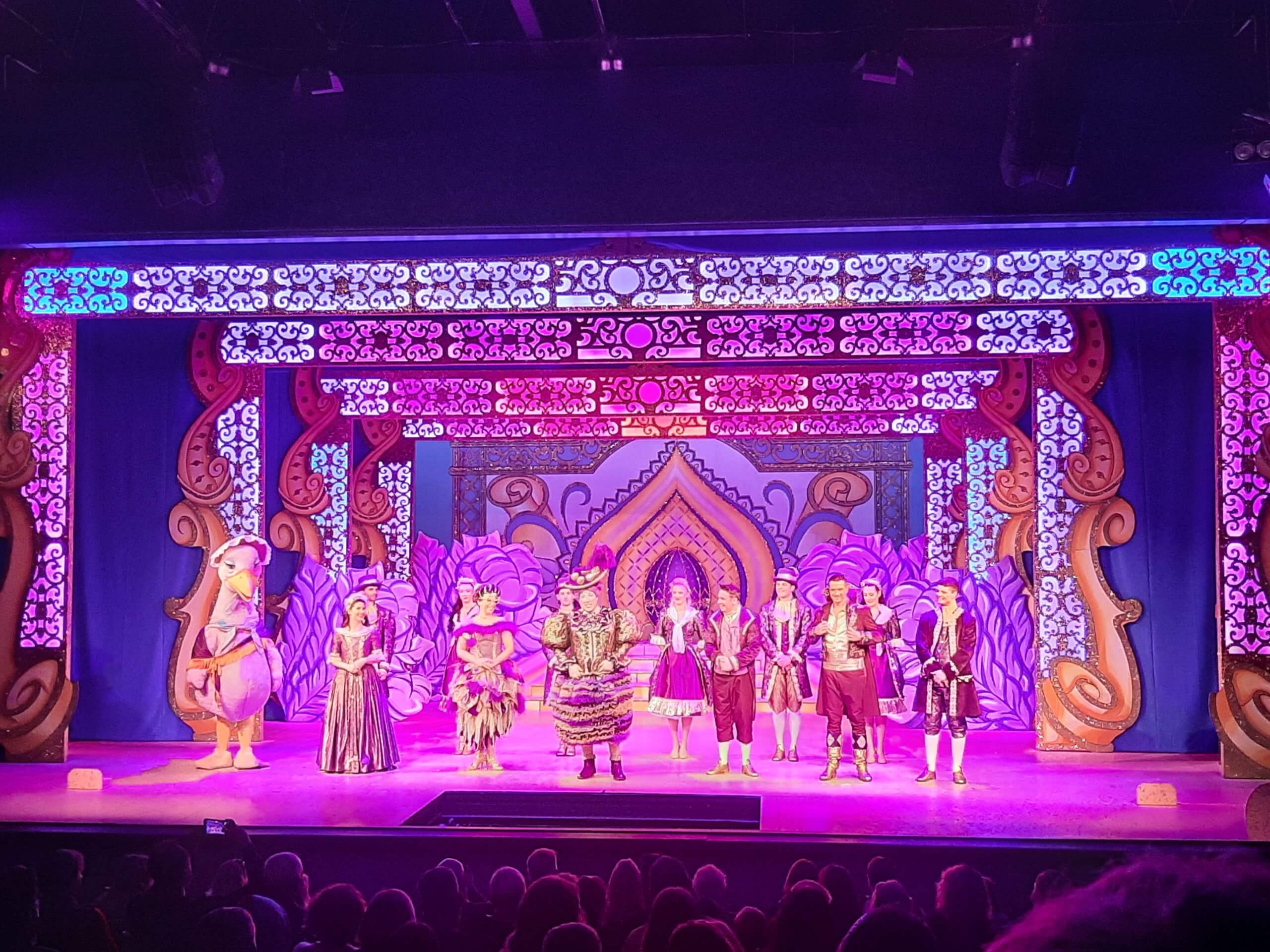 They also offer a more relaxed performance, making pantomime accessible for people with hearing impairments, sensory communication disorders, or learning difficulties; there is less noise in the auditorium, strobe lights are taken out, and there are changes to pyrotechnics and sound effects to make it an inclusive performance for everyone. There is also a BSL interpreter available.
There's plenty of parking right next door, and the bar and restaurant on site mean you're catered for, whatever you need. Interval ice-cream, anyone?
Christmas in Somerset isn't complete without a visit to the pantomime!
4. Ice skating at Clark's Village in Street
Who doesn't have a romantic idea of ice-skating on a frozen lake, with woolly hats and colourful scarves, rosy cheeks and wide smiles? This year, Clark's Village is bringing you the chance to make it reality with their first ever ice rink. It's going to be real ice, outside, but undercover, so skating continues whatever the weather.
Get your skates on and book a slot between 15 November and 2 January. There will be quieter sessions available for those who prefer to avoid too many skaters on the ice, and there will also be skating aids (you've all seen those cute little penguins, yes?) so that everyone can experience the joy of skating. Skate hire is included, so don't worry about additional costs, though if you do have your own skates, you're welcome to bring them.
It's the perfect winter family fun, and its position on the lawn outside the Alfred Gillett Trust (opposite the Restaurant Terrace) means it's ideally situated for some apres-skate food and drink. And you're perfectly placed for some Christmas shopping, too!
5. Winterlights Train Journey on West Somerset Railway at Bishops Lydeard
What could be more magical than an enchanted train journey?
This Winterlights train trip leaves from Bishops Lydeard station, full of lights and wonder that make for a truly memorable experience the whole family will talk about for years to come. The train itself is covered in festive lights, and the journey passes through beautiful countryside and wonderful woodland, where amazing trackside displays have all travellers captivated. There's just something about being on a steam train, in a traditional carriage, that has the power to transport you somewhere completely otherworldly.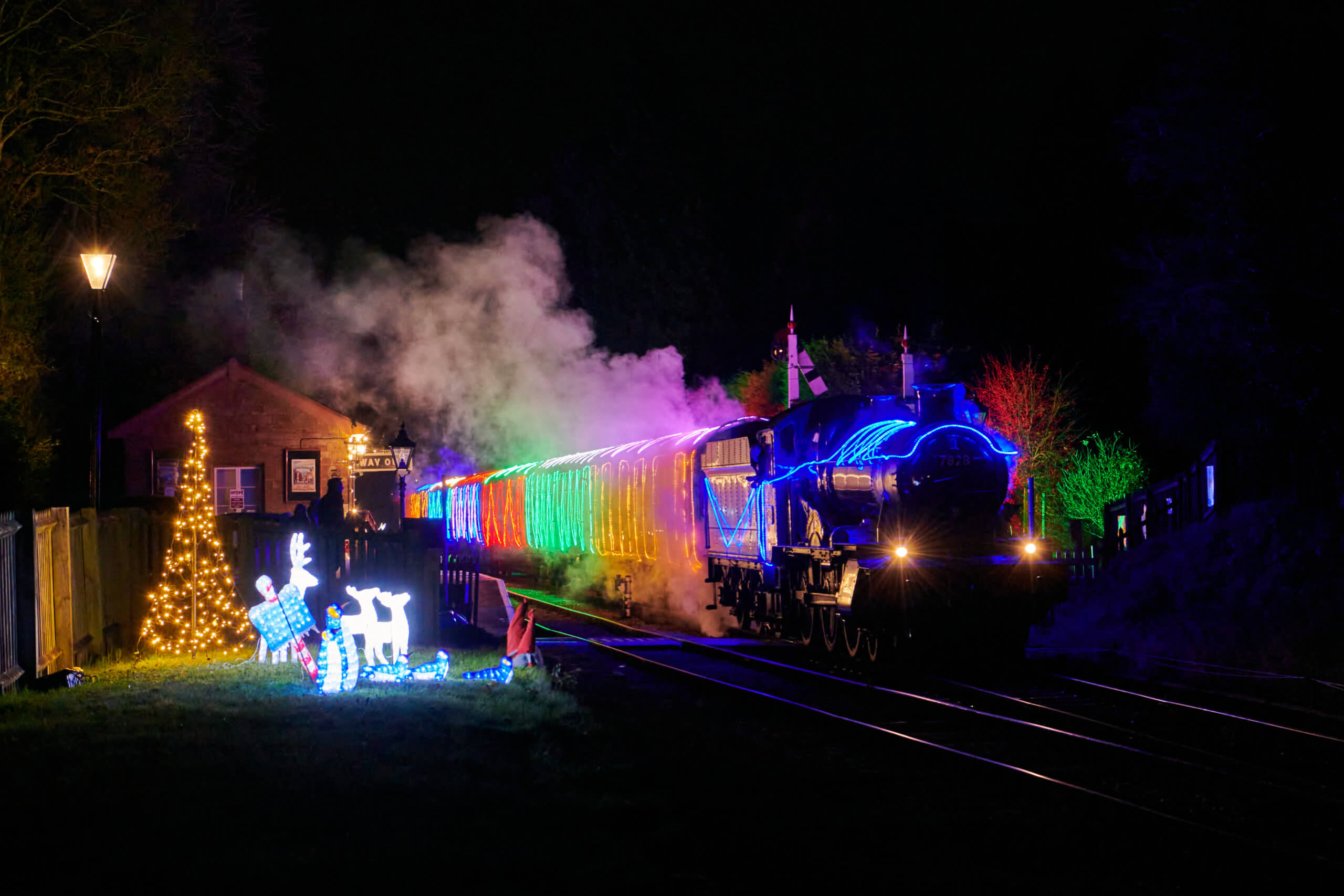 There are snacks and drinks available to buy at the station before you board, and the journey heads to the cheery station at Crowcombe Heathfield, and back.
There's also a Santa Train, though now my kids are a little bit older, they're seeing the Winterlights train as the preferable, more grown-up option – very important when you're this age. For me, it's all about the memories, and however cool they think they are, their faces give them away on a magical train ride.
That joy makes my Christmas.
6. Eating out at The Lion in West Pennard
Christmas is a special time of year, a chance to catch up with friends and family and spend some quality time with loved ones. Getting together for a drink or a meal is a lovely excuse to set a firm date in the diary, and this dog-friendly venue gets the thumbs up from my whole family.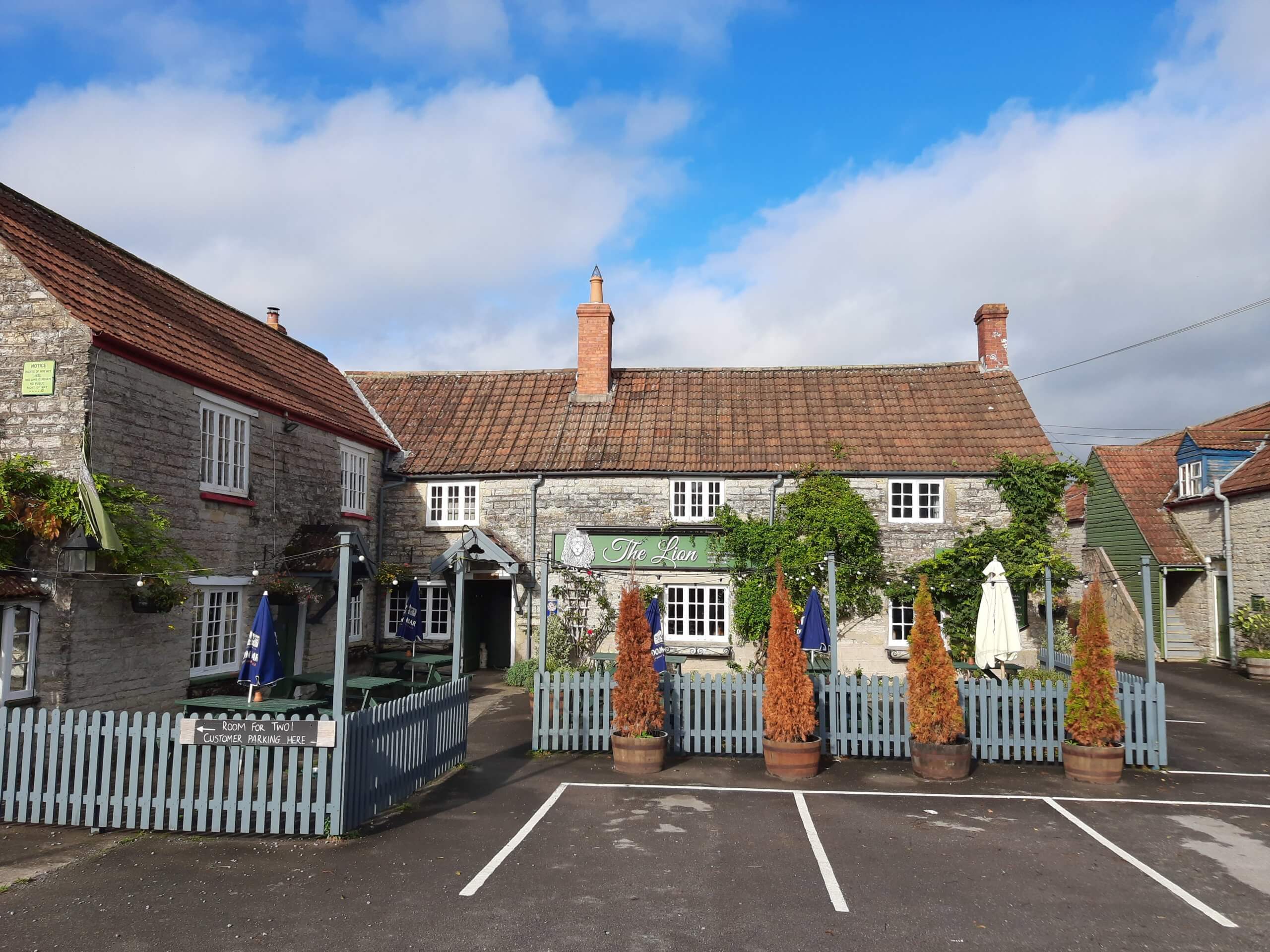 There's been a pub there for around 500 years and since they reopened under new management in 2020, The Lion is one of my favourite places to meet friends. Whether you're after coffee in the morning, a light lunch, a more formal dinner, or cocktails with friends, The Lion is an ideal venue. I especially love it in the winter when the fires are roaring and it's cold and wet outside, with the Christmas tree twinkling in the corner.
There's plenty of parking on site and as it's right on the A361 going through the village, it's really easy to find. They do get busy for meal times so booking is advisable.
7. Christmas food from Kimbers' Farm Shop in Charlton Musgrove, Wincanton
We're blessed in Somerset with the number of wonderful farm shops selling delicious fresh food. I highly recommend Kimbers' for a whole free-range turkey. And if you're not planning turkey for your Christmas table, they also offer a range of meat that is all ethically reared and butchered on their family farm.
If you didn't tick everyone off your gift list in Frome, Kimbers' shop also has a range of hampers and homewares that might make the perfect present you're missing. The perfect souvenir for a Christmas in Somerset.
If you're heading to Kimbers' it's also worth popping five minutes up the road to the Godminster farm shop in Bruton where you'll find everything you need for the best cheeseboard you've ever tasted. Their vintage organic cheddar is the best, in my opinion, and it's won countless awards to back that up.
Some other suggestions for festive fun a little further afield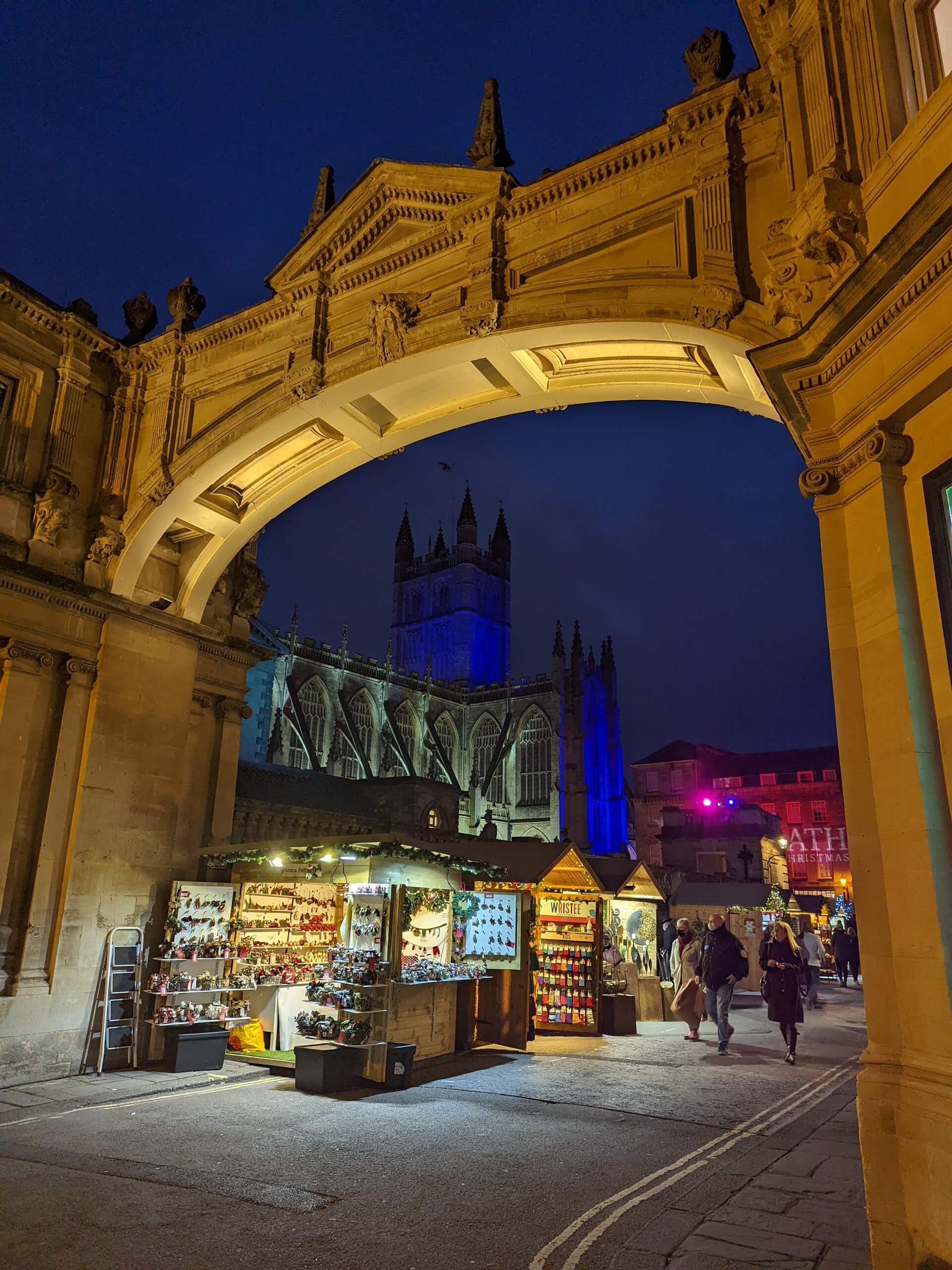 Bath Christmas Market – more that 170 traders will be onsite around the abbey in traditional wooden chalets selling all sorts of food and gifts.
Longleat Festival of Light – each year, there is a fantastic display of huge lanterns styled around a theme. Get an all inclusive ticket that allows you access to the safari park as well, or a twilight ticket for the light show once the sun's gone down.
See Santa at Avon Valley Country Park – always a fun day out, at Christmas, Avon Valley offers the chance to see a magical Santa's Sleigh Surprise Show. After the show, there's a chance to have a photo with Santa too.
The perfect Christmas in Somerset
These are my 7 tips for a perfect Christmas in Somerset, though there are so many other wonderful ways to celebrate in this fantastic county. Let us know your favourites!
---