If you're looking for the best winter days out in England, we've got some great ideas to make the most of the season. Read on for some fab wintry days out to enjoy those fresh days…
Winter is coming, and what better way to get in the winter spirit than with a fabulous winter day out in England?
From museums to gardens, to markets to aquariums, we have plenty of ideas for an awesome wintry day-long getaway. Don't hibernate – get outside and enjoy yourself!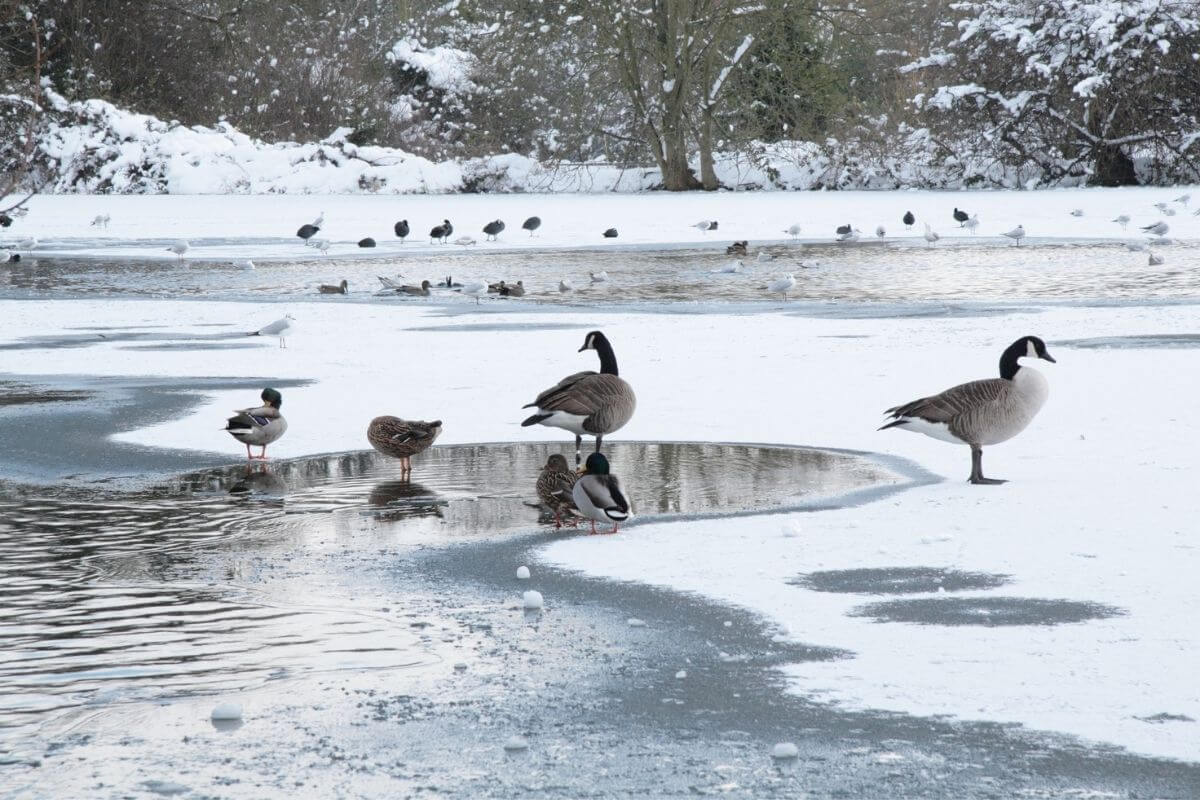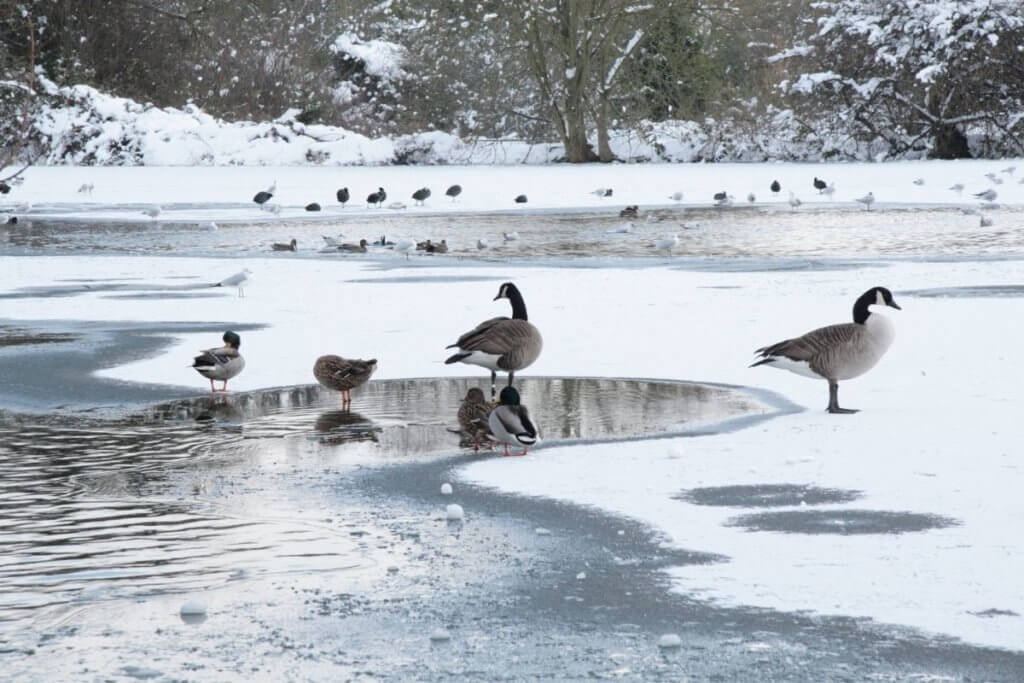 England has a lot to offer for lovers of the great outdoors, but the winter days here are a whole different vibe. The occasional pristine snowfall, the famous red phone booths in among the icy scenes, legendary English landmarks take on a new look, and busy streets bustle to get you excited for the season of giving. The winter feeling in England is hard to beat.
Let's take a look at how we can get you out of the house and in amongst it on a wintry day out in England.
Best Winter Days Out in England
From iceskating, to horse riding, canyoning, and hill strolls, there's no limit to the amazing winter days you can have out in England.
---
1. Go for a stroll in a wintry countryside scene
England's Areas of Natural Beauty and National Trails take on a whole different look with a light sprinkling of snow. It's the perfect opportunity for you to pull on your walking boots and go for a trek adorned with your hats, scarves and gloves. The trails aren't as busy, making it the perfect time to go and explore.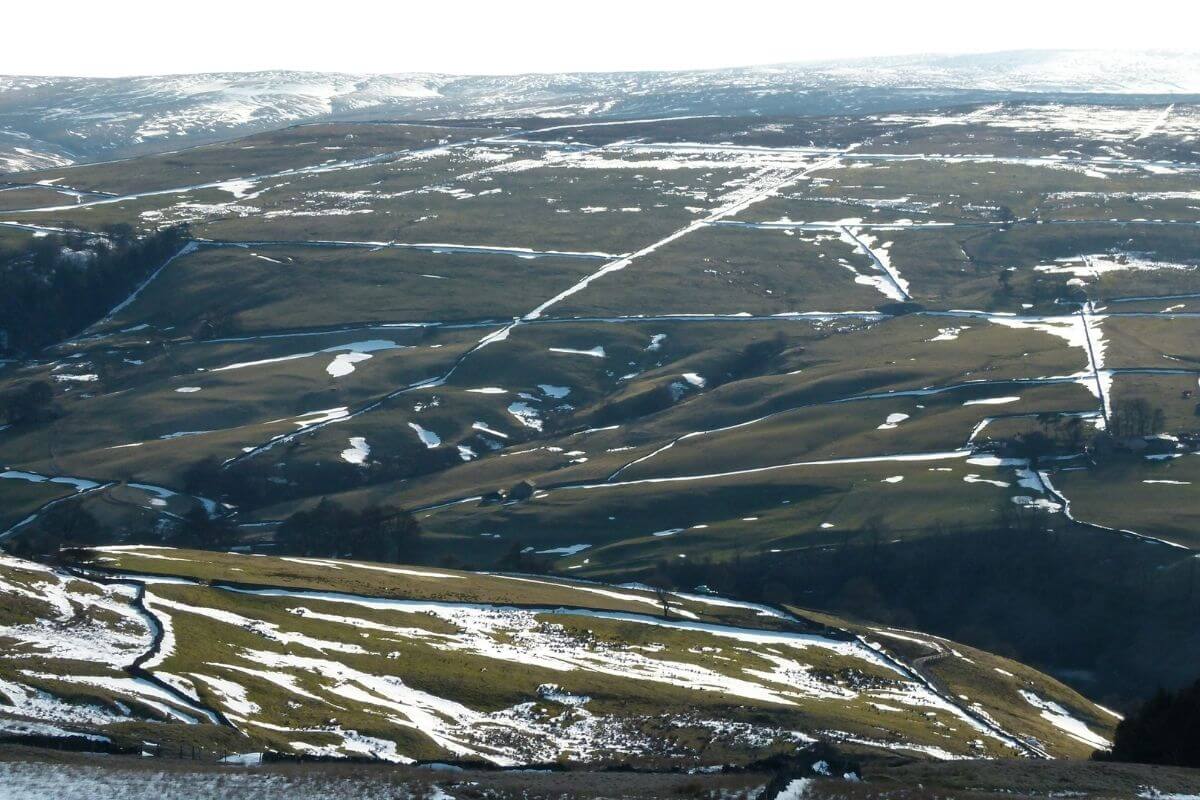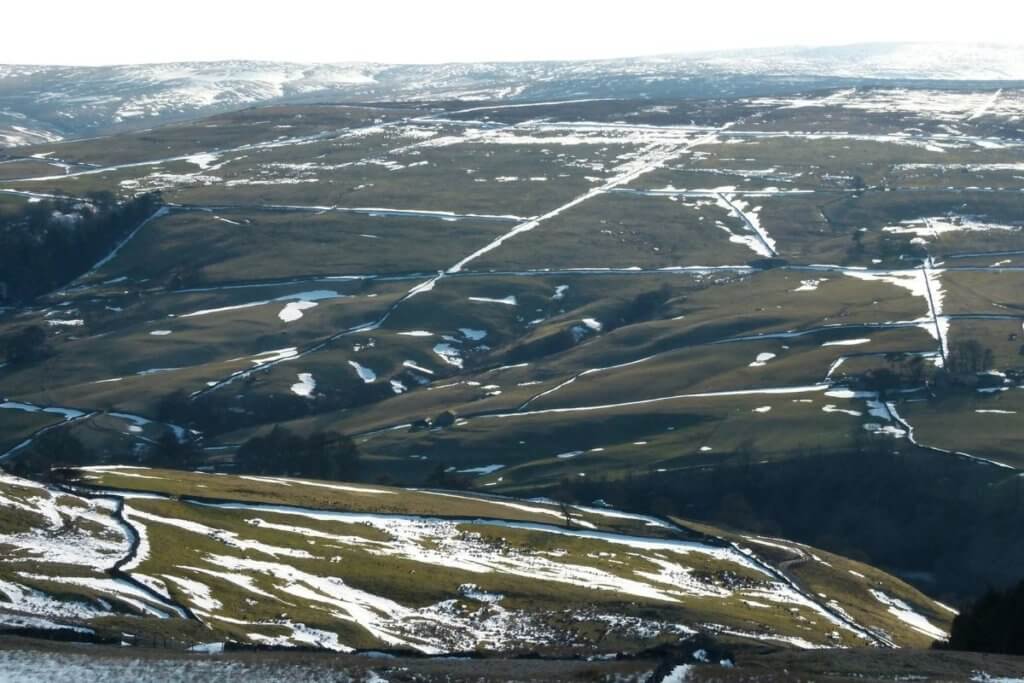 Just as an example, Brimham Rocks in Nidderdale offers a stroll through 320 million years of history and geology. The Sphinx, the Watchdog, the Camel, the Turtle, and the Dancing Bear are among the notable rock formations that led to the area being designated as a Site of Special Scientific Interest.
The location is free to enter and open at 8am. The National Trust also hosts regular walks and photography courses here.
Or how about doing a coastal walk in Hampshire or try walking around an island – Hayling Island on the south coast is a great shout!
---
2. Join a winter survival class
How about getting stuck in with some real winter survival skills this year? I mean, you want to know what to do if you ever get stranded in the freezing cold with just a flint for fire, don't you?
Well, in the East Midlands, Dave Watson honed his skills while living on the streets as a teenager, not in the SAS. On the Derbyshire-Leicestershire border, his company, Woodland Survival Crafts, offers a winter survival course that teaches you how to build a shelter, forage during the lean months, and light a fire when everything around you is wet (it involves a bow).
You never know who you'll meet on an adventure for likeminded people like this, so make sure you use a business card maker to print out some cards for you and your business. Always good to have them on hand to dish out!
---
3. Go out and make a snowman
Snowmen, sledging, and snowball battles aren't guaranteed every year in England; but when we do have snowfall, we really like to make the most of it on our winter days out!
If you're lucky enough to have a few inches of snowfall, then get out there, out from under your comfy duvet, and have a snowball fight, build a snowman, or get down on the ground and make a snow angel. The north usually has a much better snowfall than the south, so head up there for the best wintry days out complete with all the snowy feels.
If you want guaranteed snow, you'll find snow thick enough to ski, snowboard, and sledge to your heart's delight in many spots across England at the indoor ski slopes here.
Visitors of all ages can enjoy a thrilling snow session at Manchester's Chill Factore.
Beginners and experts alike can put their talents to the test on the UK's longest real snow slope (180m). Individuals can hone their snowy talents on the slopes without interruption, and lessons are available for those who have never skied (or snowboarded) before. What's more, the Snow Park Area, which contains an ice slide, doughnuts, and sledging racing slopes, is a huge hit with kids.
---
4. Go skating at an ice rink in England
Ice skating is one of the most popular winter days out, and festive pop-up rinks can be found all over England throughout the Christmas season. Most of them are open until early January too. When the holidays are over and the long months of January and February loom ahead of you, take a spin on one of England's many permanent ice rinks!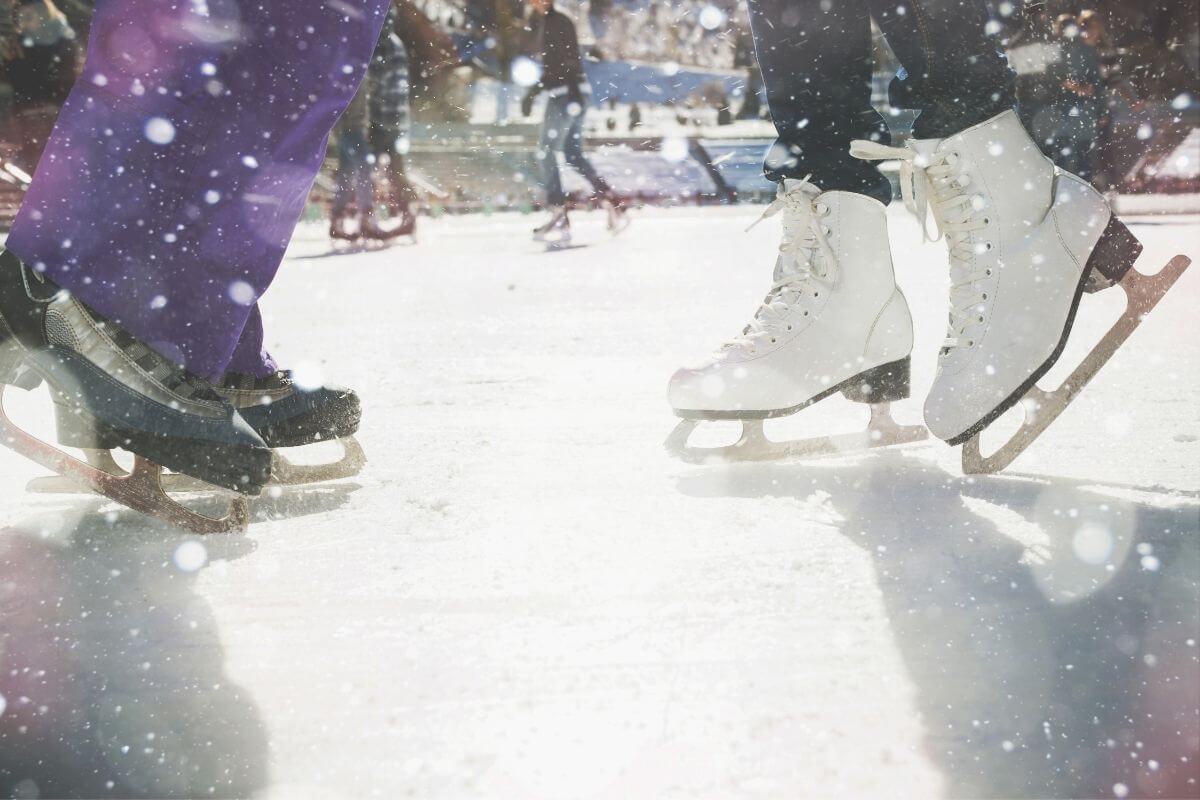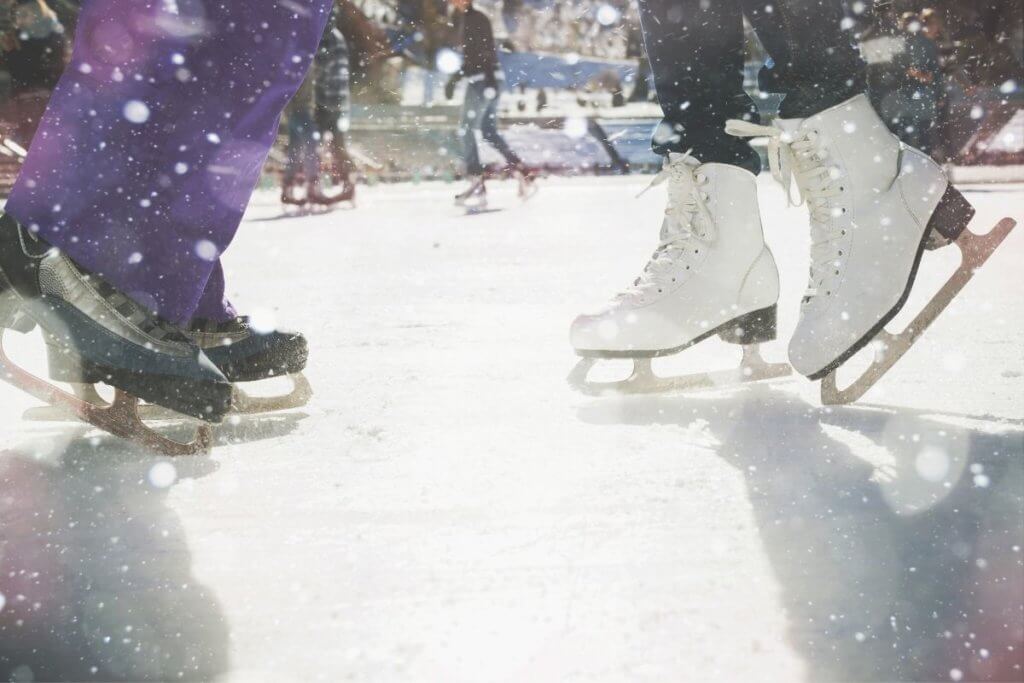 Planet Ice has a total of 14 ice venues spread across England. In London, the year-round ice rink at Alexander Palace is stunning, and Queens offers a fun-filled ice skating tour right off Hyde Park!
READ MORE: 10 Best Days Out in February
---
5. Hike through the Pennines
The Pennines, a tiny mountain range that spans across northern England from the Midlands to Scotland, are a great spot to visit if you're seeking a touch of nature during winter in Northern England.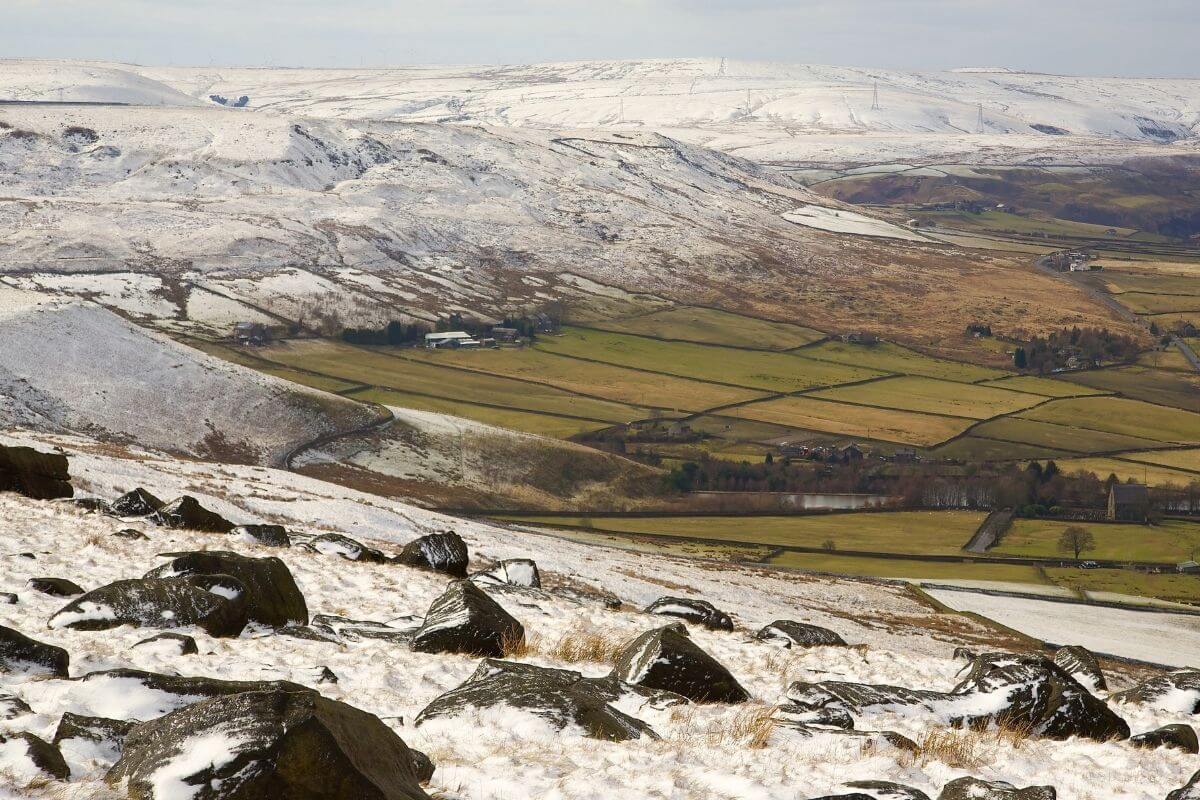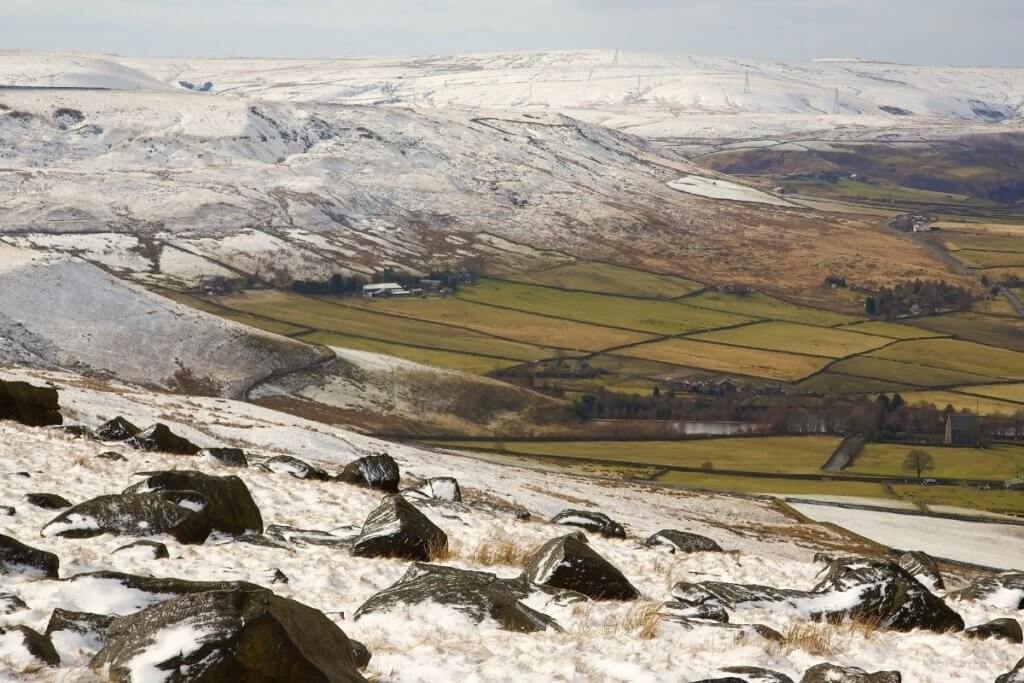 There are numerous trains that will take you up into the Manchester hills, where you can enjoy some of England's most beautiful natural areas. With picturesque towns and villages nestled on the hills, the Pennines offer a glimpse into England's more 'rural' way of life. If the weather isn't cooperating, you can always find a local rural pub to sit in and sip a traditional ale alongside some pub grub, if you need.
---
6. Go horseriding in winter
If you want a winter day out with a difference, how about going horseriding for a few hours? These incredible beasts are fine in cold weather, although maybe not crazy snow. The horse riding stables you choose will only ever do what's right by the horse in England anyway.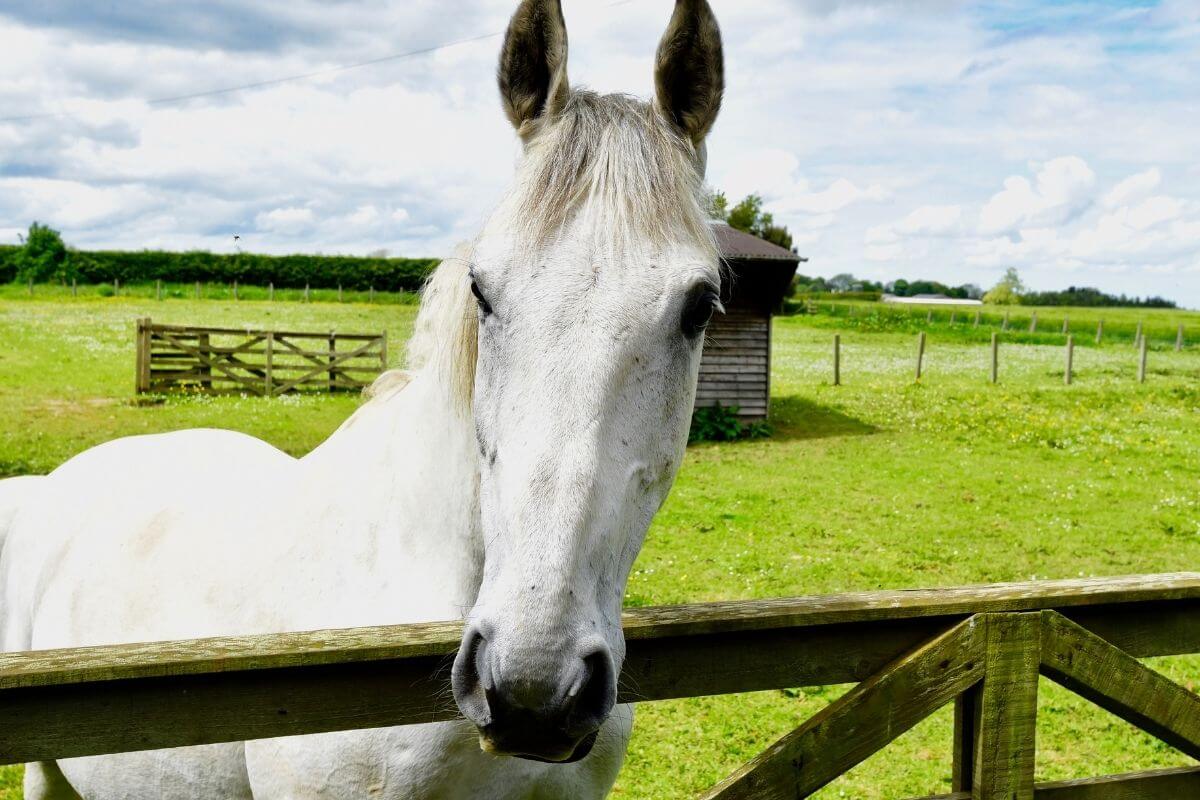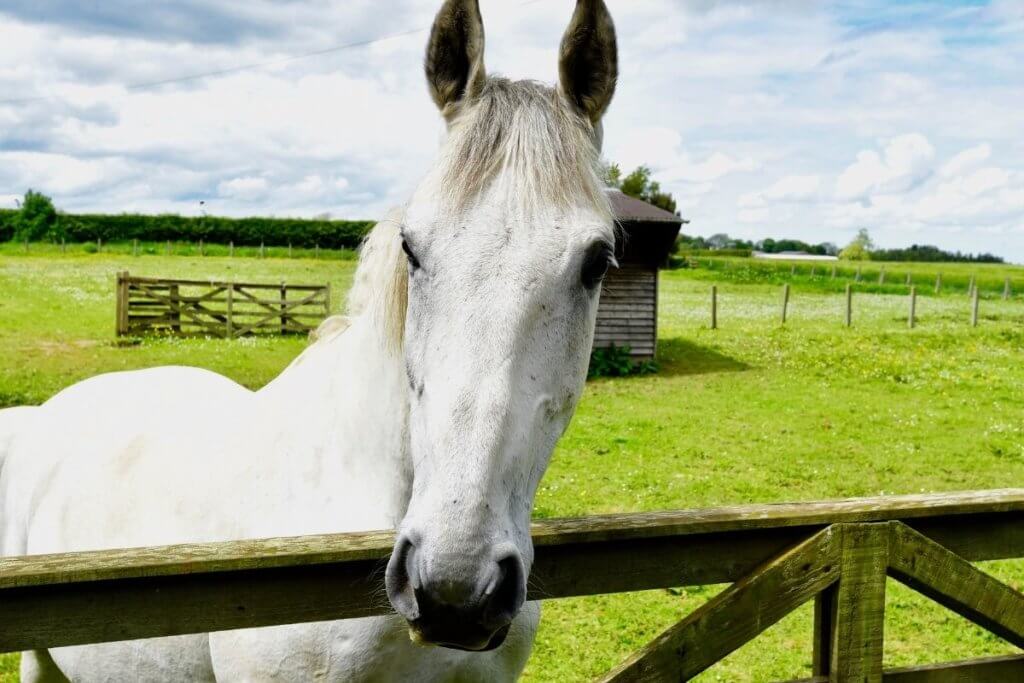 Horseback riding is probably the greatest way to see the Northumberland coast in the winter, when the North Sea roils and crashes and the wind whips across the Cheviot Hills.
Kimmerston Riding Centre offers a variety of rides, from beginner lessons to advanced expeditions such as cantering through the heather, through streams and valleys, or crossing to the island of Lindisfarne at low tide and galloping down its long white beaches.
You could also go horse riding in the New Forest in Hampshire – there are a few stables to try there and the New Forest looks magical in winter. There are also some great New Forest pubs to get cosy in afterwards too.
---
7. Head to a Christmas Market
England's Christmas Markets make for one of the best winter days out in England. You can mooch around while sampling the mulled wine and picking up a few special gifts too.
The Southbank Wintertime Festival is one of the best Christmas markets out there – even on a cold, dismal day, few places in London are as magnificent as the Southbank. This free festival is the place to be, with magnificent Christmas displays and riverbank bars serving up toasty winter drinks. Wrap up warm and head to the river, where you'll find chalets selling crafts and winter treats, as well as live entertainment throughout the holiday season.
York is another fantastic place to visit for a winter day out in England. At any time of year, this city in the north of England is one of the most beautiful, but it's even better to visit in the winter.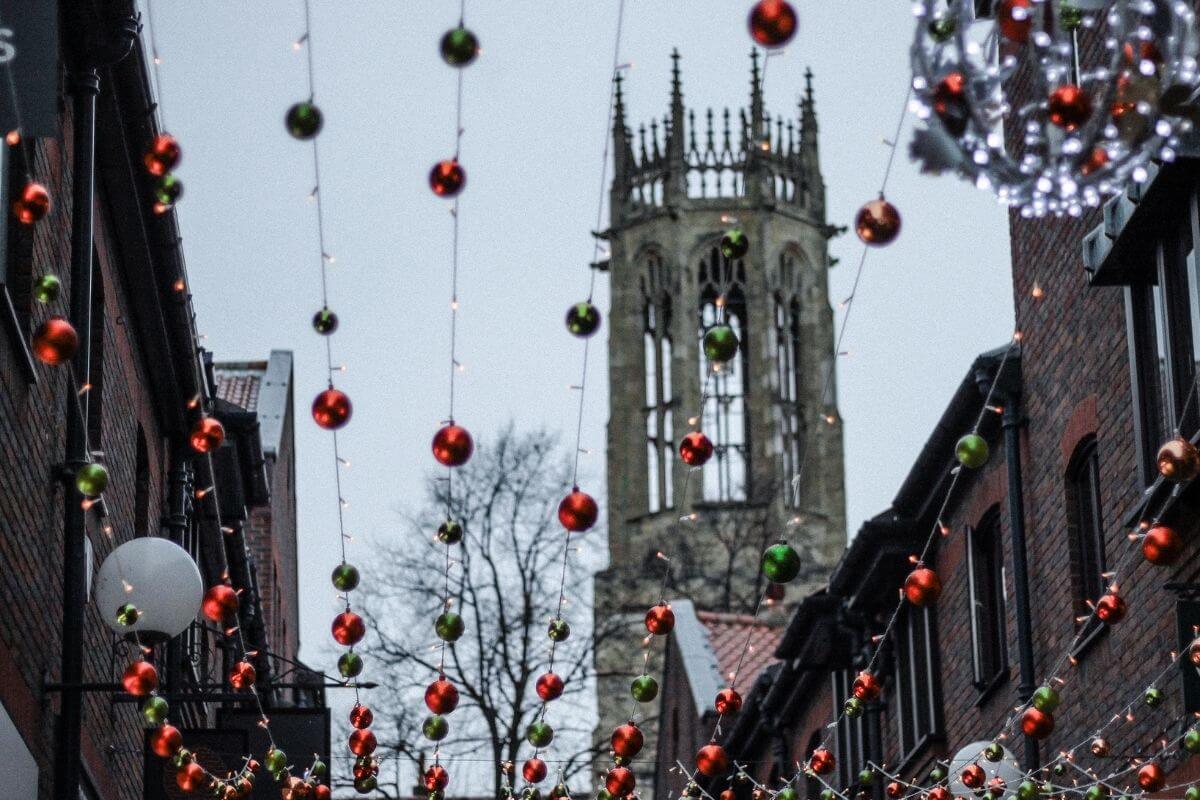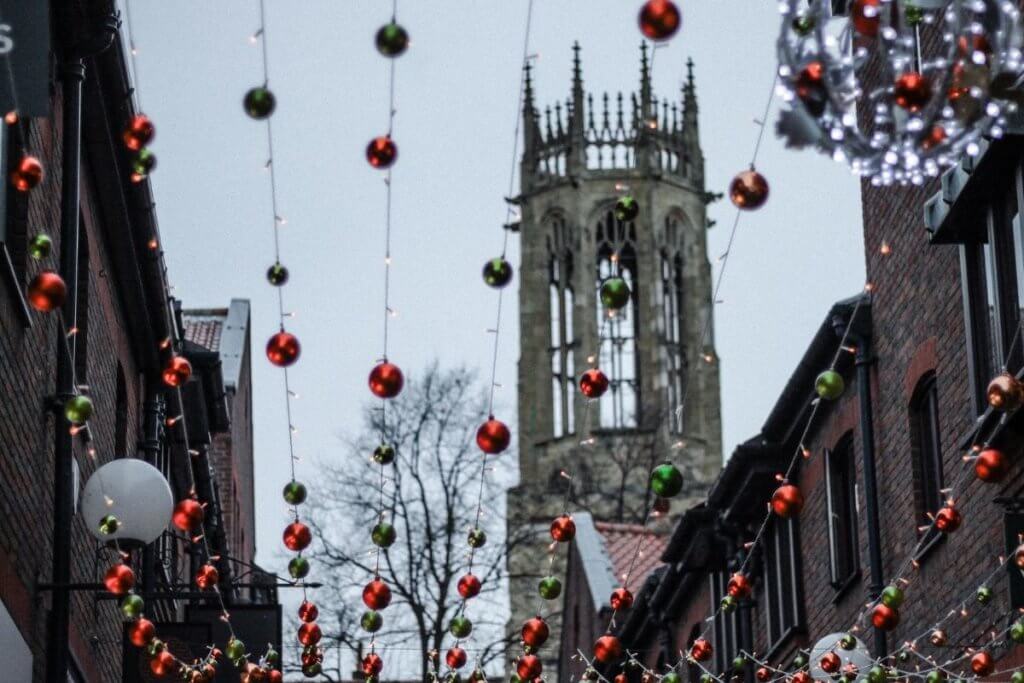 For starters, York has some fantastic Christmas markets. The city is crowded with chalets offering all types of Christmas presents and food, from St Sampson's Square to Coppergate and the Shambles. Second, York may be congested at other times of the year, so going in the winter is a smart way to avoid the summer crowds.
When there are fewer people around, walking the city walls, exploring the small Snickelways, and seeing York Minster are all simpler to do in the winter. Also, in the winter light, York appears to be magical. The city sparkles in the winter with all of the Christmas lights and the warm sunlight.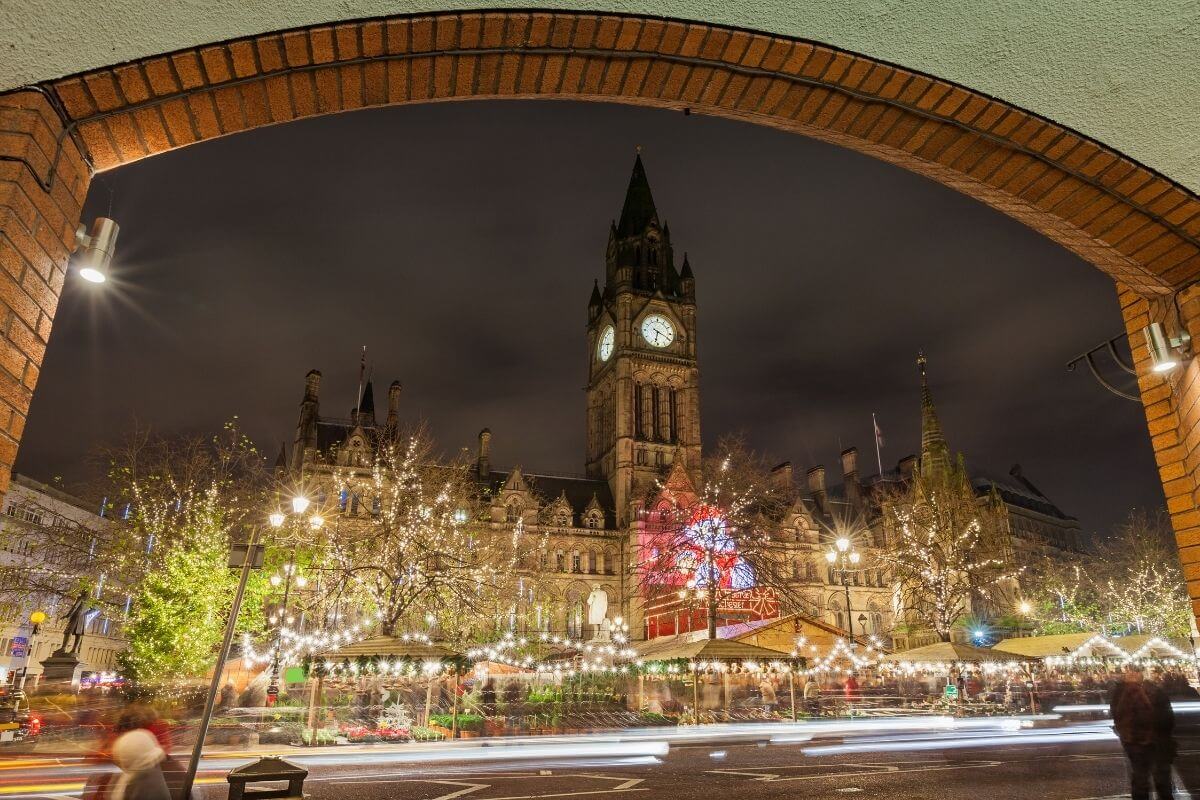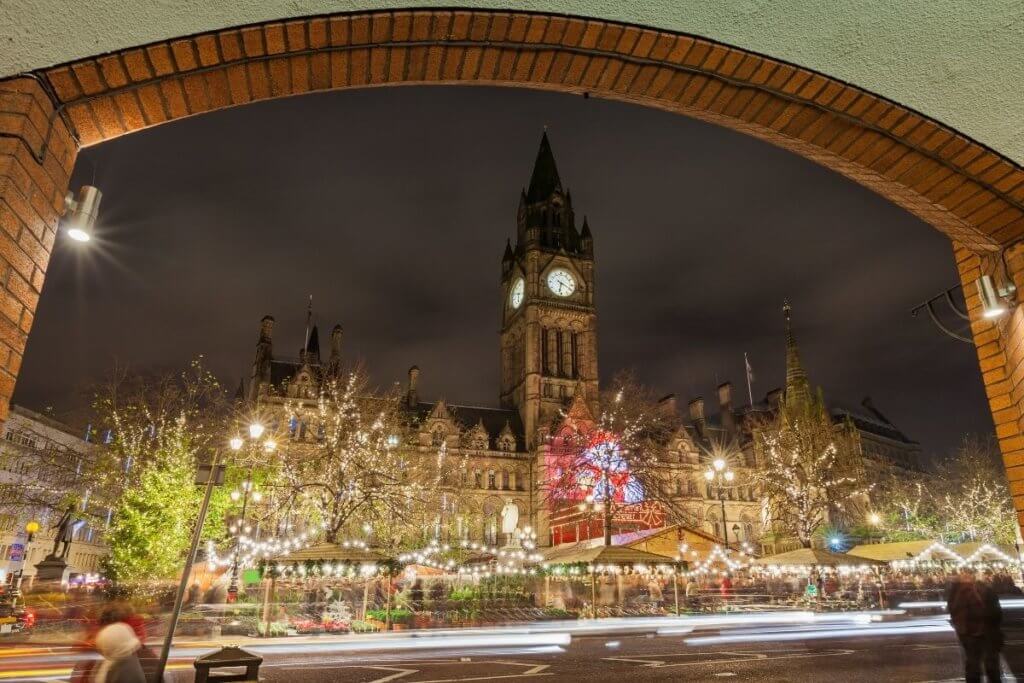 In Manchester, there are outstanding and award-winning Christmas markets spanning ten different regions of the city. Stall owners in Frankfurt saw a chance to bring the charm of German Christmas to the rest of Europe, so they started opening Christmas Markets all across the UK, with the Manchester one proving particularly famous.
Starting in Albert Square, where a giant Santa watches over you from the town hall, you can drink and eat all of the traditional German Christmas treats as you make your way around the city.
Markets make for great Christmas days out in England!
---
READ MORE: The BIG Christmas Quiz for Kids
---
8. Get up high in a city in England
England's cities are great in the winter – so much buzz!
One of the best ways to truly appreciate them, and to get your bearings, is to get up high to a viewing platform. Portsmouth has the Spinnaker Tower, Brighton has the i360 and Liverpool has the Radio City Tower.
The Radio City Tower is one of the most recognisable structures in Liverpool, and you can get to the top for spectacular views of the city skyline. The tower, which is part of the St Johns Shopping Centre, rises 121 metres above the city's centre, providing spectacular views in all directions.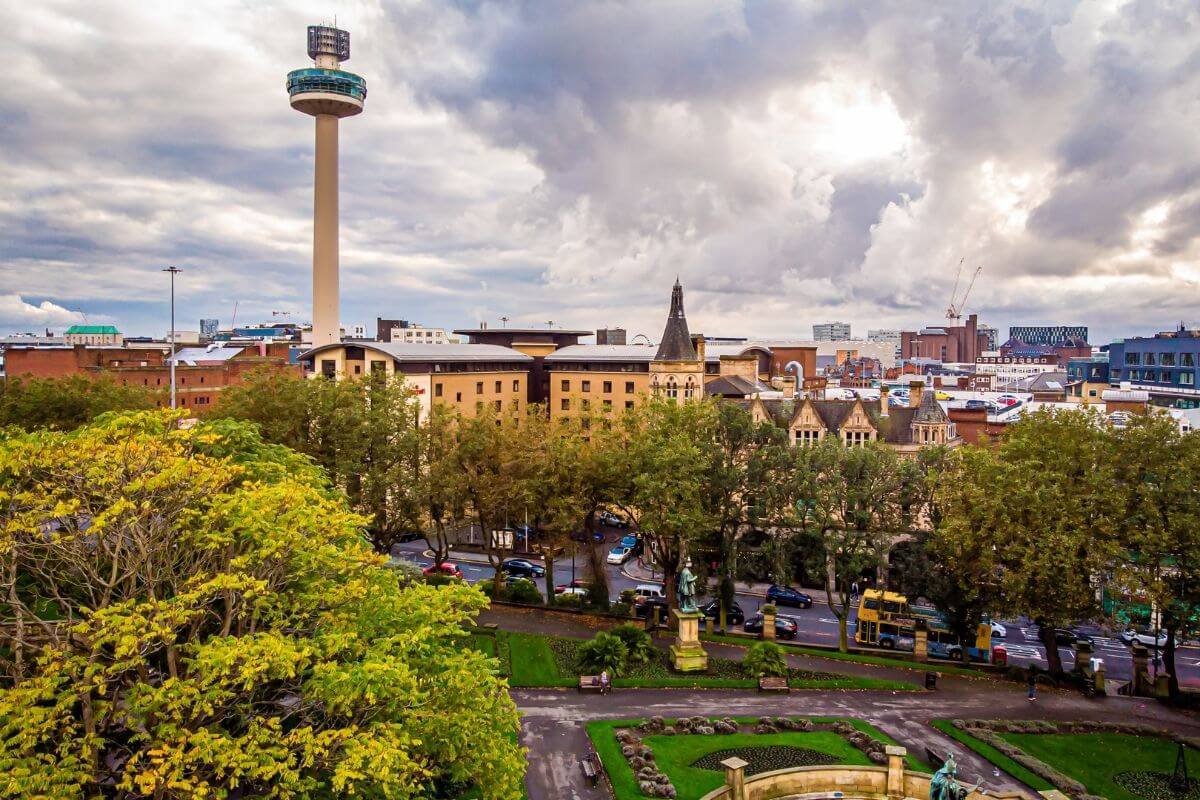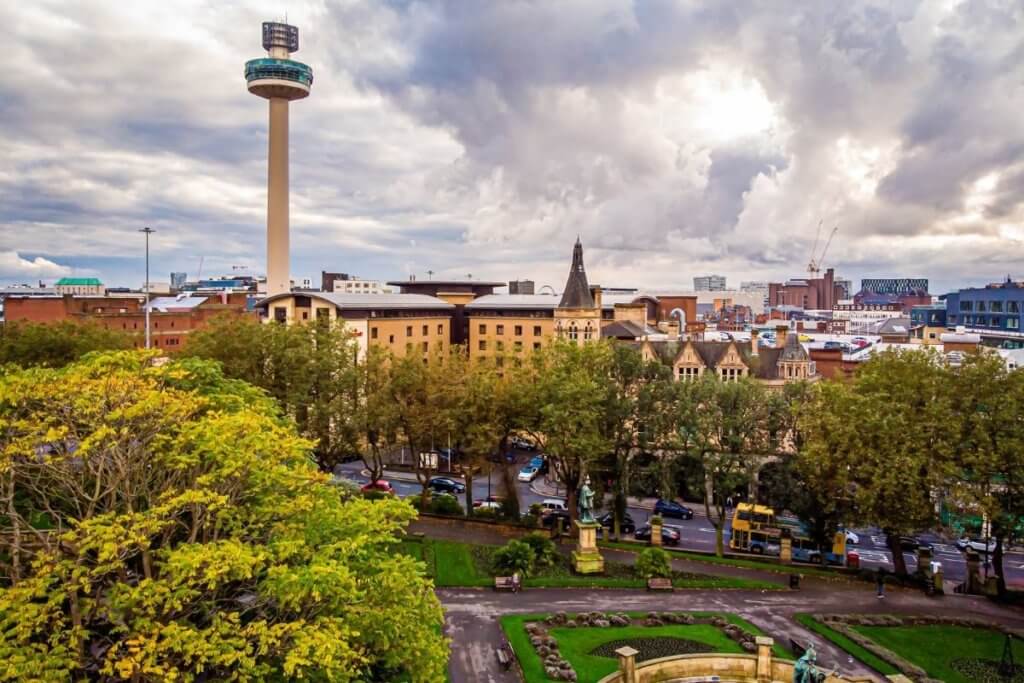 Given the scope of your vision, the views from the tower are particularly amazing. You'll be able to see some of the city's most famous sights, such as St Johns Beacon. On clear days, you'll be able to see all the way to North Wales, Lancashire, and even Blackpool too.
All made all the more magical with a sprinkling of snow, and knowing you're warm and cosy inside looking out.
For a magical winter day out in London you can go up The Shard.
The Shard is one of Europe's tallest structures and one of the top winter activities in London. The Shard's name comes from the fact that the top resembles a 'shard of glass'. From the 72nd floor of the tower, you can enjoy a breathtaking 360-degree view of the entire city of London. It's one of London's most important landmarks.
BUY YOUR TICKETS FOR THE SHARD IN ADVANCE TO SAVE TIME & MONEY!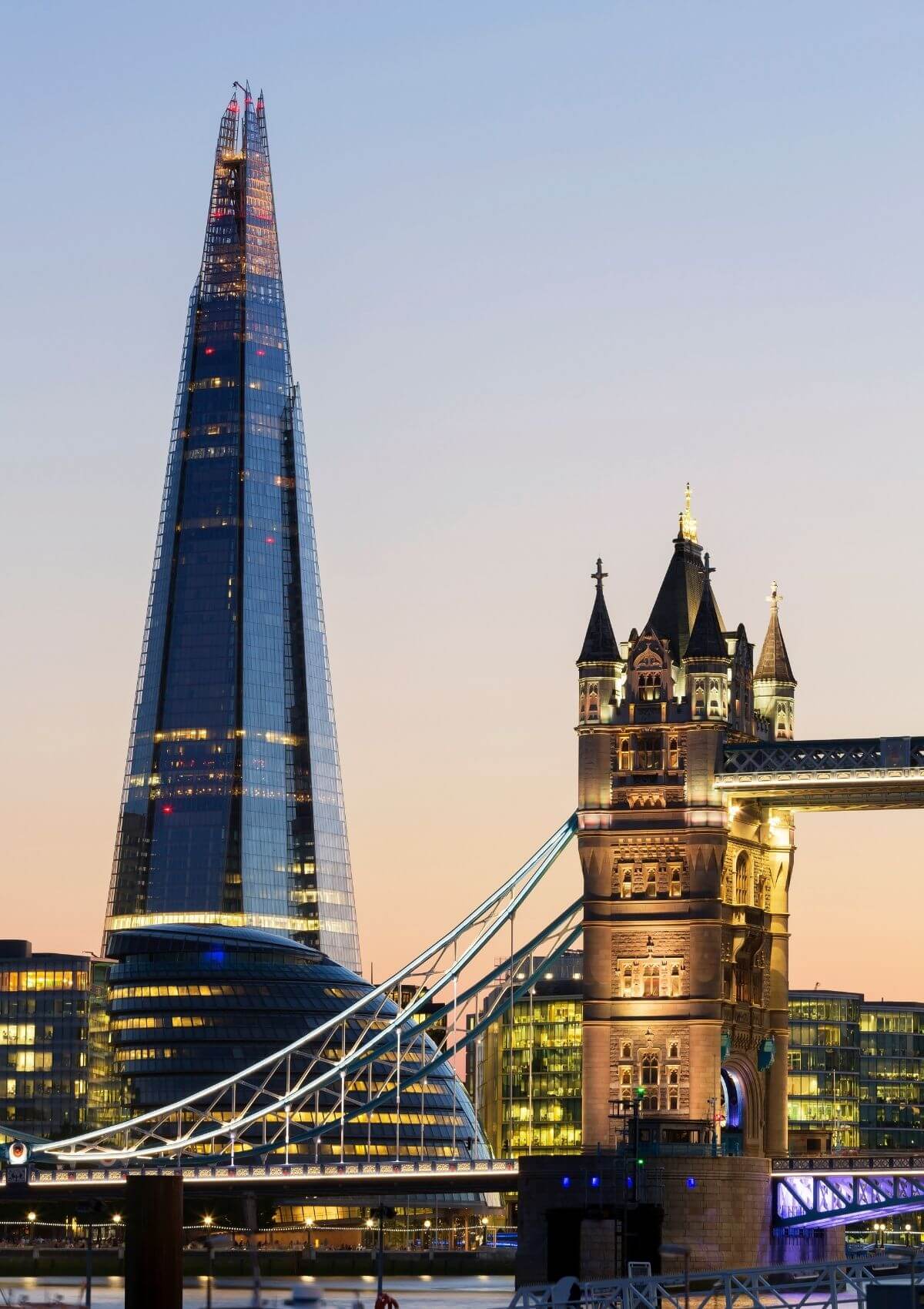 This is a terrific spot to defrost and see London from a unique perspective if you're seeking things to do in London to keep warm during the cold winter months. Ignore the viewpoint's side attractions, such as virtual reality games (which cost around £20 apiece) and green screen images of oneself in printed booklets. Just look at that view!
---
READ MORE: The Best Gift Experience Days for Him
---
9. Enjoy England's natural hot springs
Did you know that the only hot springs in England feed the spas in Bath, Somerset?
You could spend a morning exploring the ancient spa, learning about how people used to relax and bathe there in the past.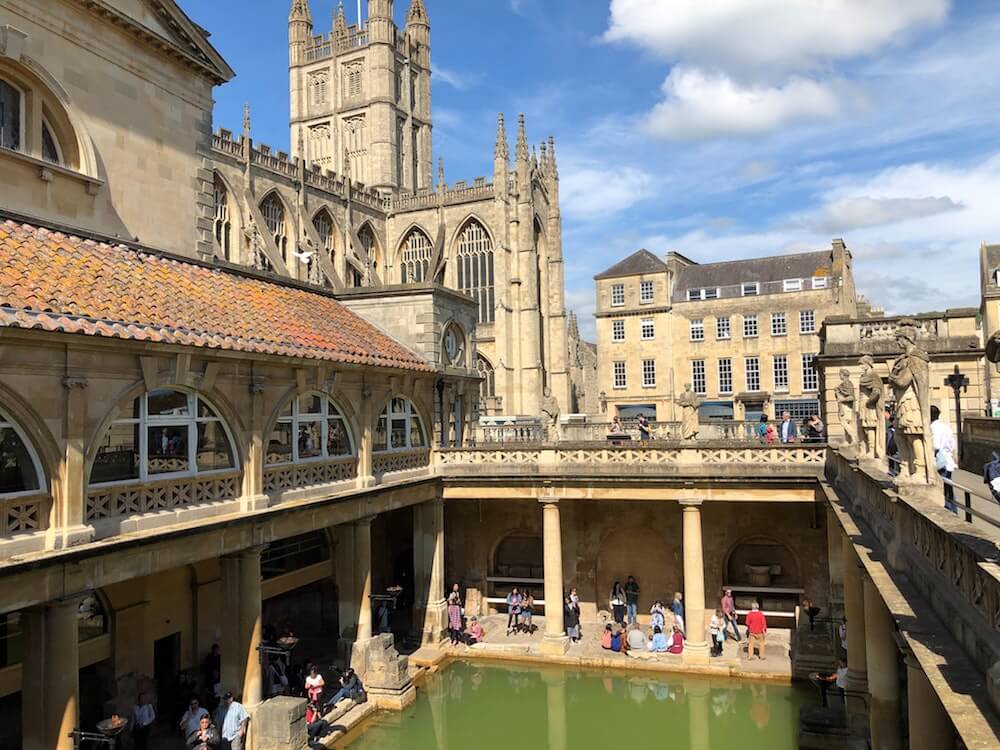 In the afternoon, spend an indulgent few hours reclining in the open-air rooftop pool, drifting lazily in the warm waters of the Minerva Bath, and inhaling the calming scented vapors of the steam rooms at Thermae Bath Spa.
Honestly, a day out in Bath is always a good idea, especially in winter. In fact, we reckon it's one of the best days out in January you can enjoy in England.
---
10. Go bird watching in England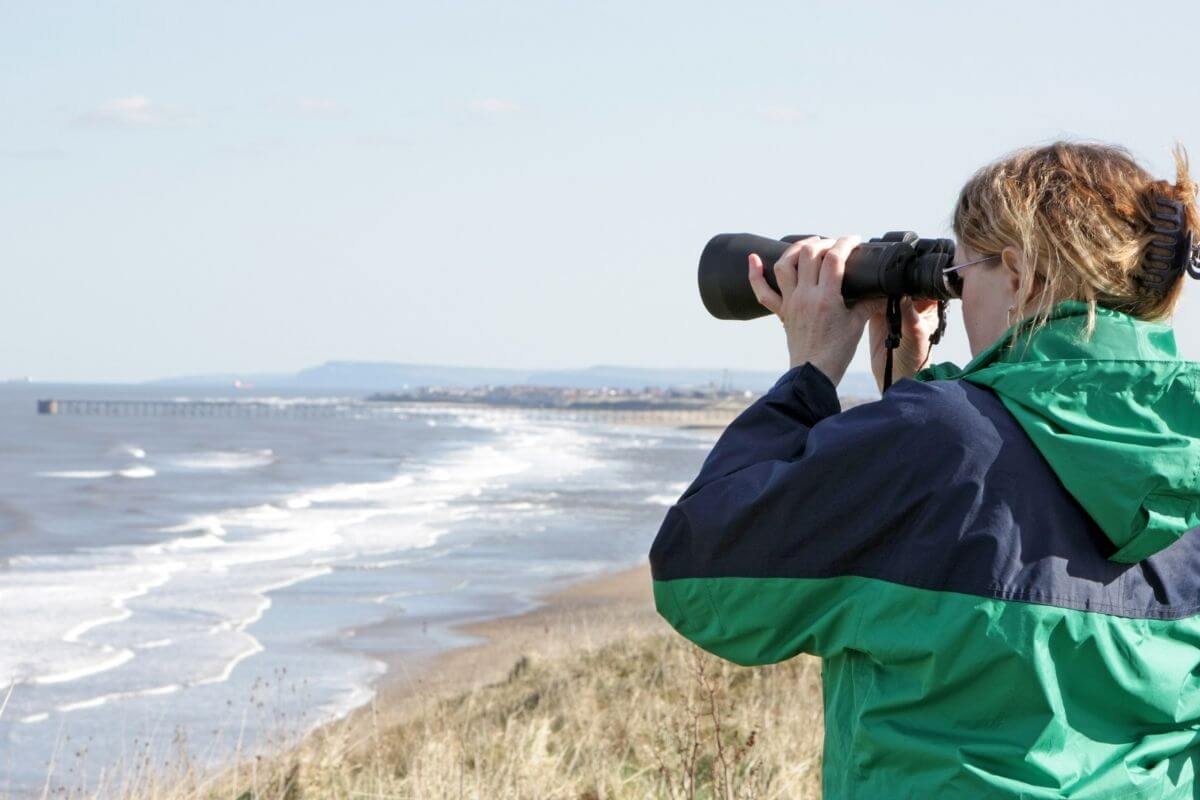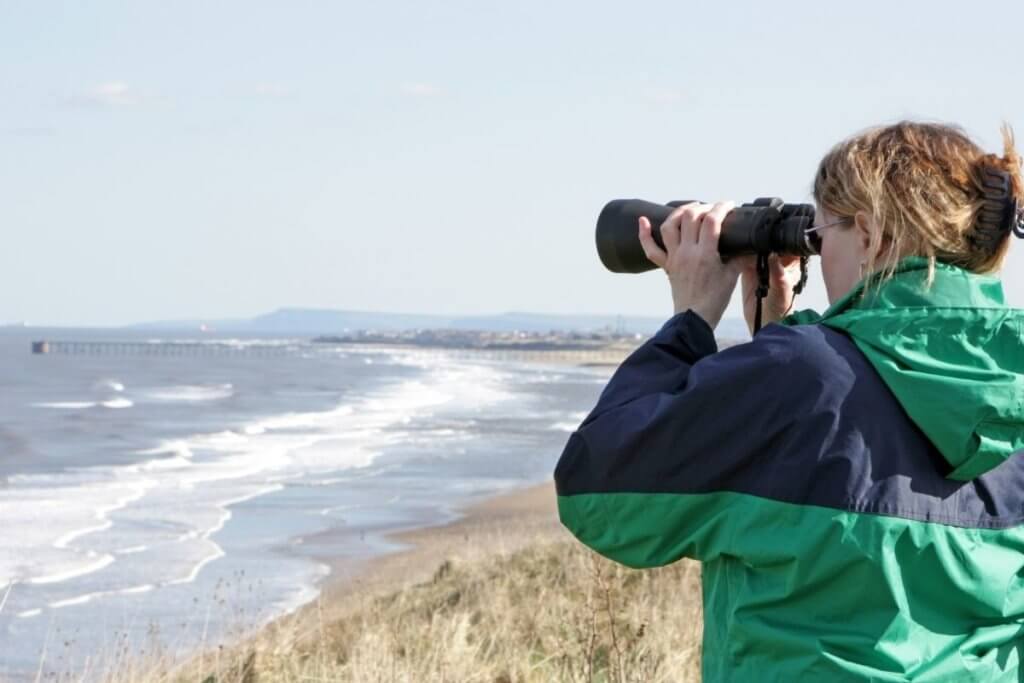 In the winter, thousands of migrating birds flock to the English coasts, making it one of the ideal seasons to go bird watching if you're planning a special vacation. Of course, with the leaves falling off the trees, it's much easier to identify birds, and winter is a perfect season to put out feeders, increasing your chances of seeing a variety of birds in your garden.
Look out for your local RSPB viewing platform or hide for the best views – they're all over England. If you want the absolute best spots for birdwatching, then England's islands are a great idea. Try the Scilly Isles, Lundy Island in Devon, Thorney Island in Hampshire or even a day out in Kent for some great viewing spots.
---
11. Visit England's best aquariums
England has some fantastic aquariums, which all provide a great solace from the perils of being outside on a wintry day out. If you like your days out a little more predictable and out of the elements, then a day out an an aquarium is a great idea for you.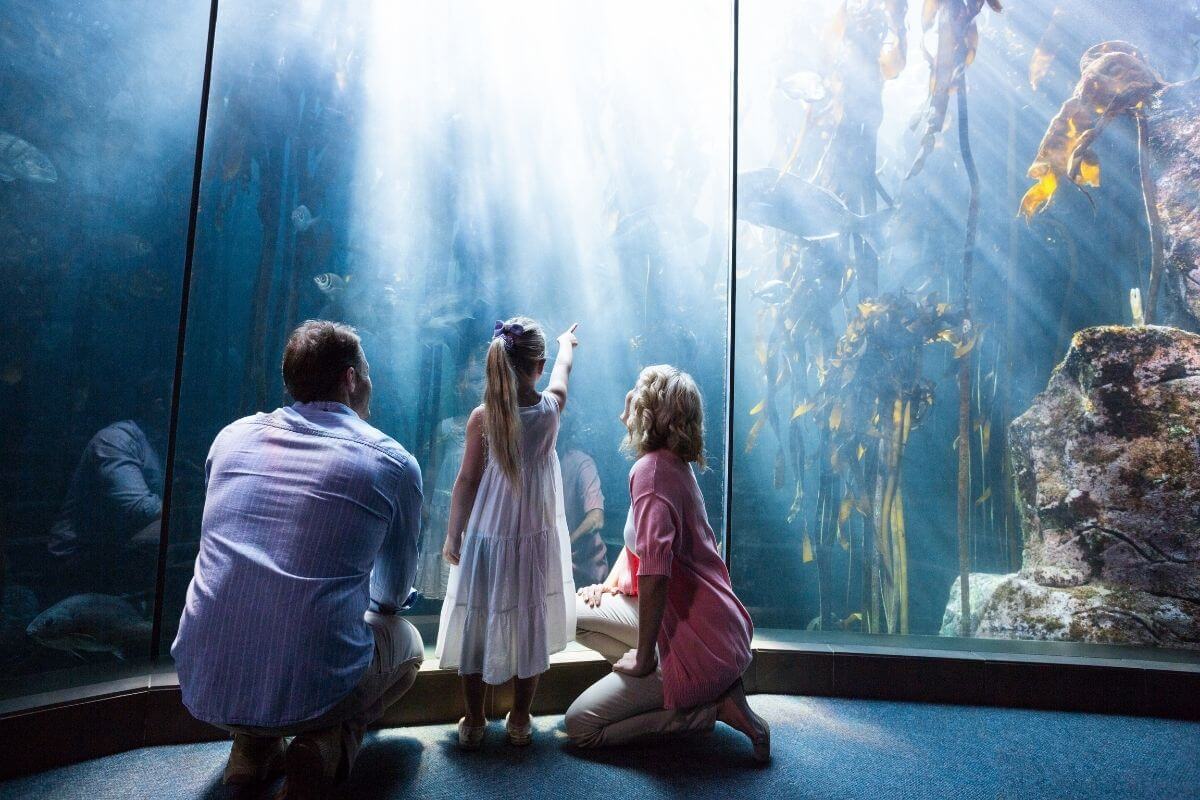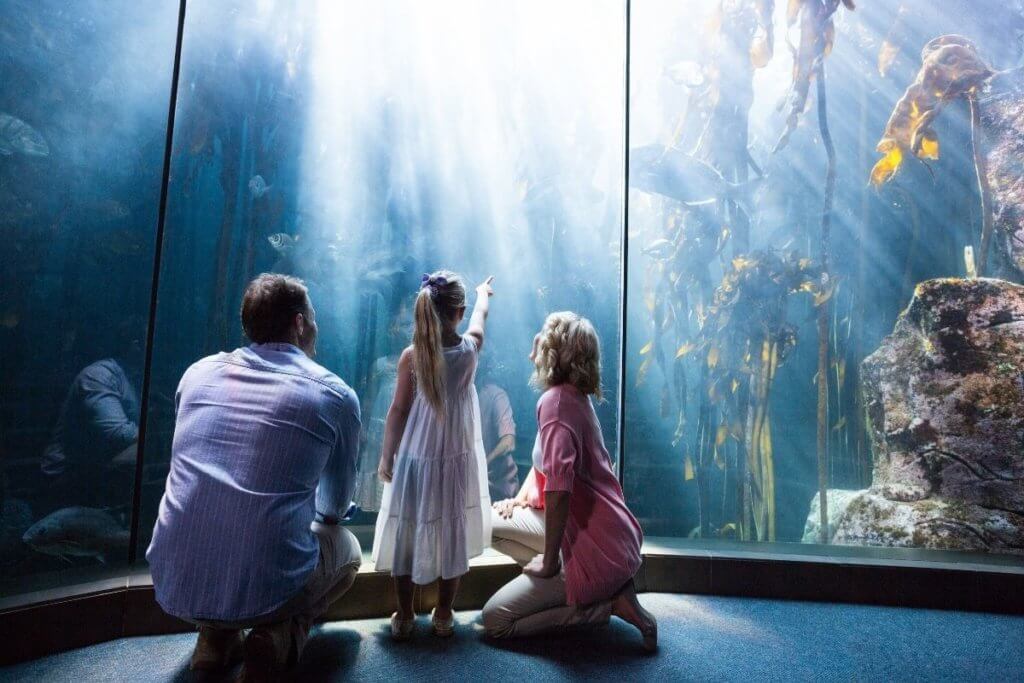 During the UK Capital of Culture celebrations, millions of people visited Hull, but one attraction that has drawn visitors to the city for more than a decade is The Deep, an aquarium and sea life centre on the Humber's bank. The centre houses approximately 3,500 fish and sea creatures and hosts a variety of events and activities, but one of the most popular is Gentoo penguin feeding time.
At the Weymouth Aquarium in Dorset, younger children love the Caribbean Cove adventure playground, while older siblings can marvel at the only colony of Fairy Penguins in Europe. Around £100,000 was recently spent to renovate the enclosure housing the penguins, which arrived from Australia when their previous home at a sanctuary was sadly forced to close. Six chicks have been born at the site in 2020 alone and the aquarium is hoping to establish a sustainable breeding population in European aquariums, as a safety net for the species, should climate change pose a threat to it in the wild.
It's a great day out in Dorset deserving it's place on the best aquariums in England list!
Buy tickets for Weymouth SEALIFE Adventure Park here
Book online NOW and save up to 20%
Reschedule your tickets for free
Guaranteed entry if you book online
---
12. Cook on a campfire at home
Sometimes the best wintry days out can be the simplest – how about setting up a campfire at home and cooking some treats over the flames? The kids will love it!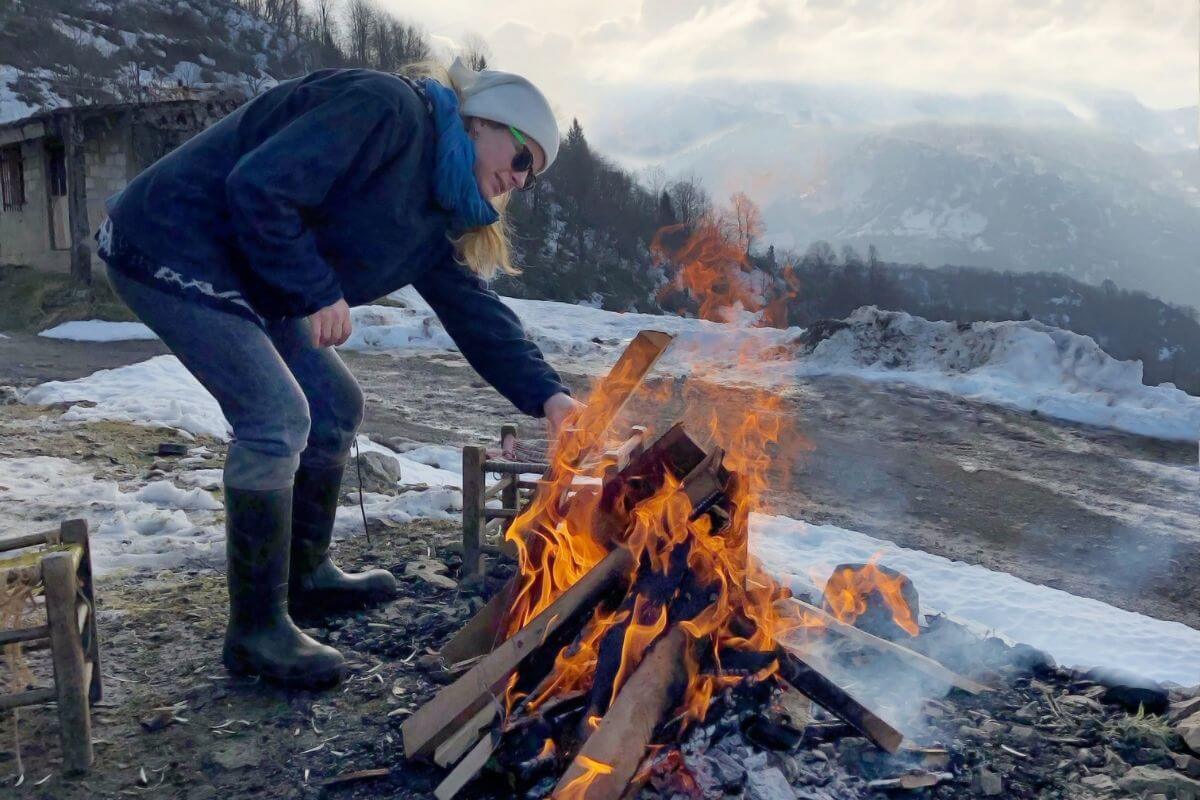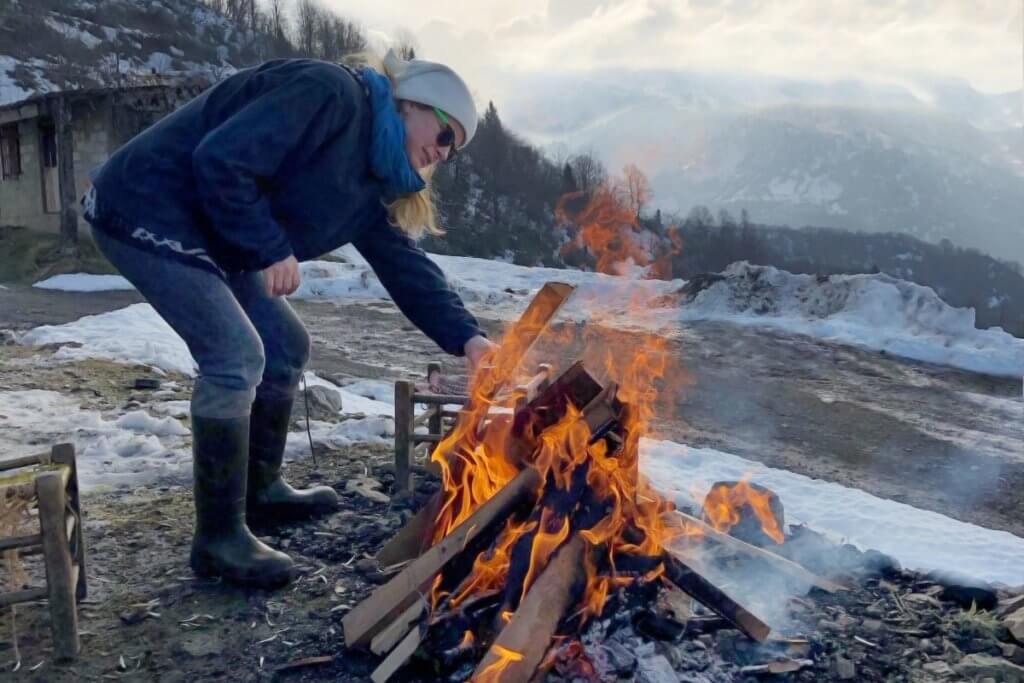 It's how our forefathers prepared everything, and there's something comforting about toasting marshmallows over a campfire or roasting jacket potatoes in the coals when it's freezing outside. Consider the bonfires on Bonfire Night, and you'll be halfway there.
---
---
13. Get the Tower of London Winter Experience
While this is one of London's most toured attractions, during the winter, you have virtually the entire Tower of London to yourself! You can wander about and explore one of the most iconic English landmarks at your leisure at this time of year.
In fact, you'll find many attractions that don't have special Christmas events are much quieter at this time of year.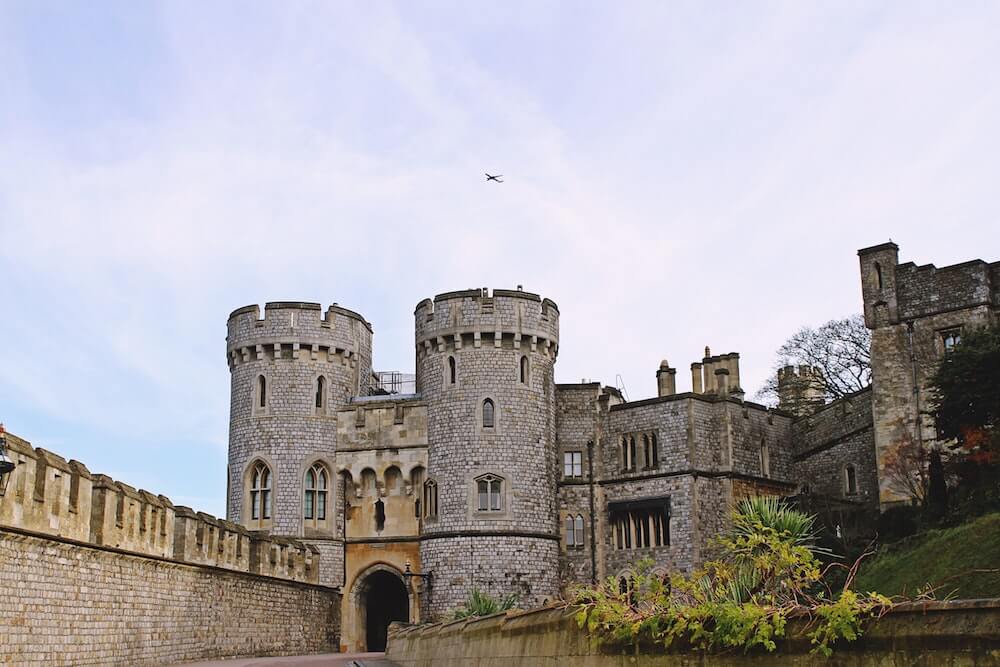 At the Tower of London the armoury, the Crown Jewels, and startling and horrible stories from the past can all be found at the Tower. You'll also notice that the entire crew is dressed as yeomen, which were historically used as costumes for the Tower's servants or workers. It's like stepping back in time!
BUY YOUR TOWER OF LONDON TICKETS IN ADVANCE HERE
---
14. Catch icy waves on the English Coast
Even in the dead of winter, the English coastline is ideal for catching waves, even if the water isn't as warm as it is in Bali or Australia. Surfers paddle out in the freezing ocean, even in the negative degrees, from snow- or frost-covered beaches in search of monster waves and fewer competitors.
When Arctic and Atlantic low-pressure systems build-up, the British coastline gets great waves, and surfers can catch their first major waves in September and into the winter months. Some of the most popular places for surfing in England include Cornwall, Kent and North Yorkshire.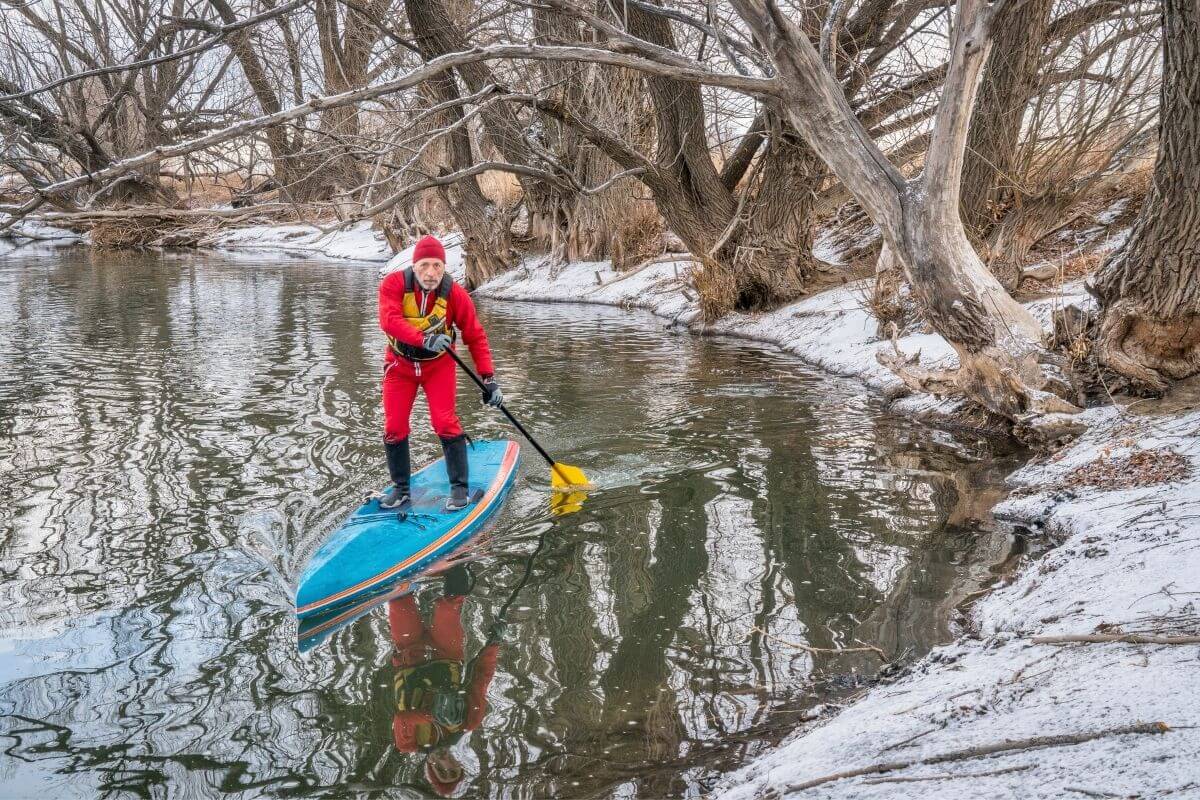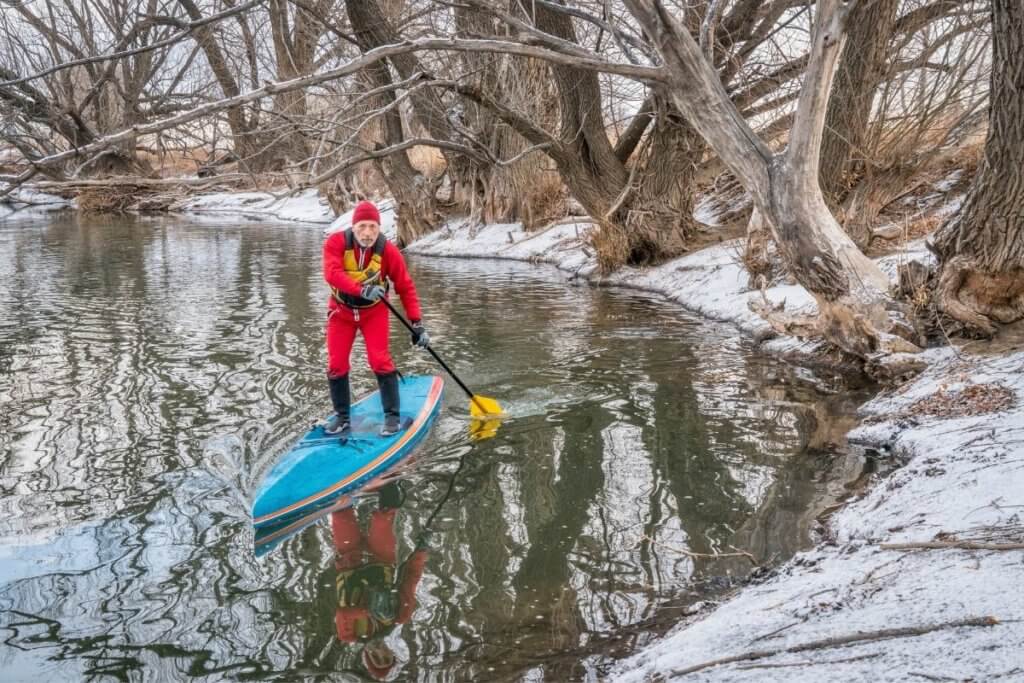 Winter is also a great time for paddleboarding as the water is just so much quieter. Wrap up and head out on your nearest body of water – enjoy yourself!
If you're looking for great places to go paddleboarding in Hampshire, we've got a great list!
---
15. Visit an indoor waterpark in England
Going to a waterpark in England is another great wintry day out to enjoy indoors. You'll be safe and warm while the weather outside can do what it wants.
The Sandcastle Waterpark in Lancashire is an indoor waterpark with slides, pools, and more that allows you to enjoy some aquatic fun even in the dead of winter. This family-friendly waterpark, located on South Beach in Blackpool, is one of the country's largest, with 18 attractions including a V-shaped slide and a wave pool.
Along with the rides, there are places to dine and drink during your visit. There's also a spa, which is particularly popular with adults who want to relax while their children enjoy the pools and slides.
READ MORE: How to Have the Best Day Out in Blackpool
---
16. Go and see Santa in his grotto
And for the ultimate, and penultimate, wintry day out in England, how about going to see Santa?!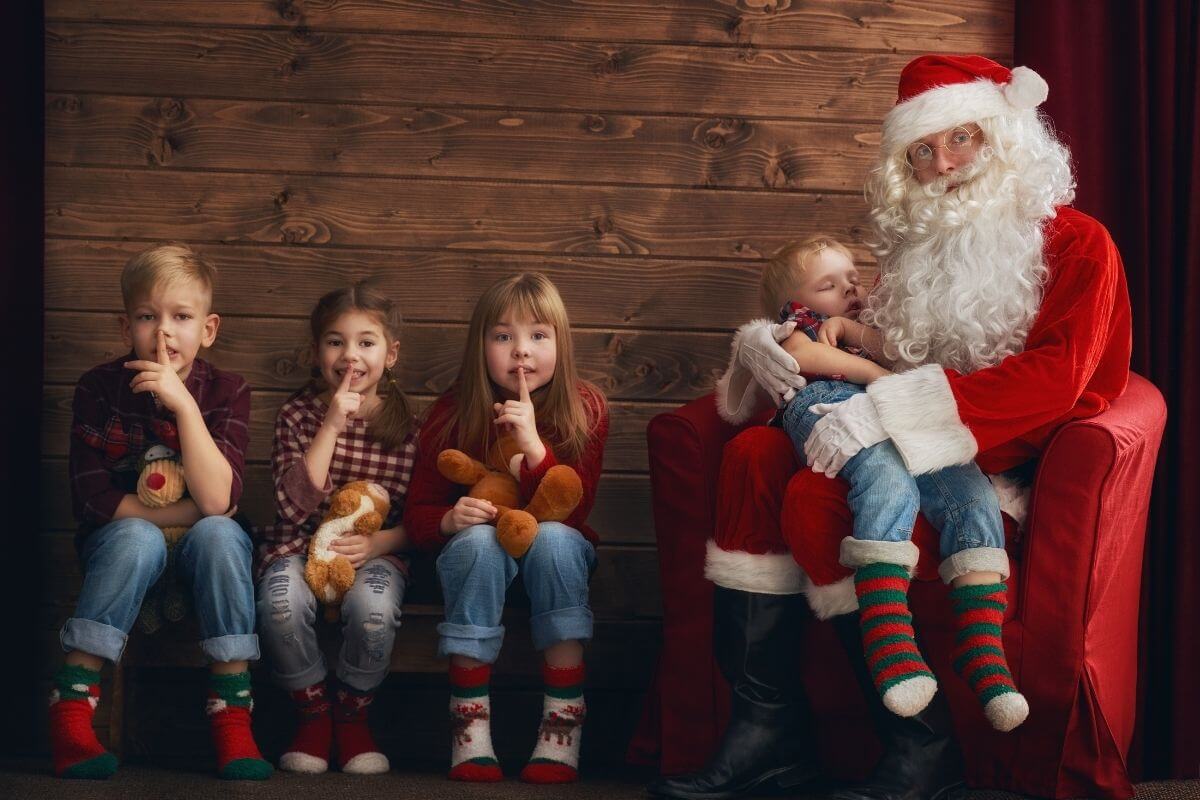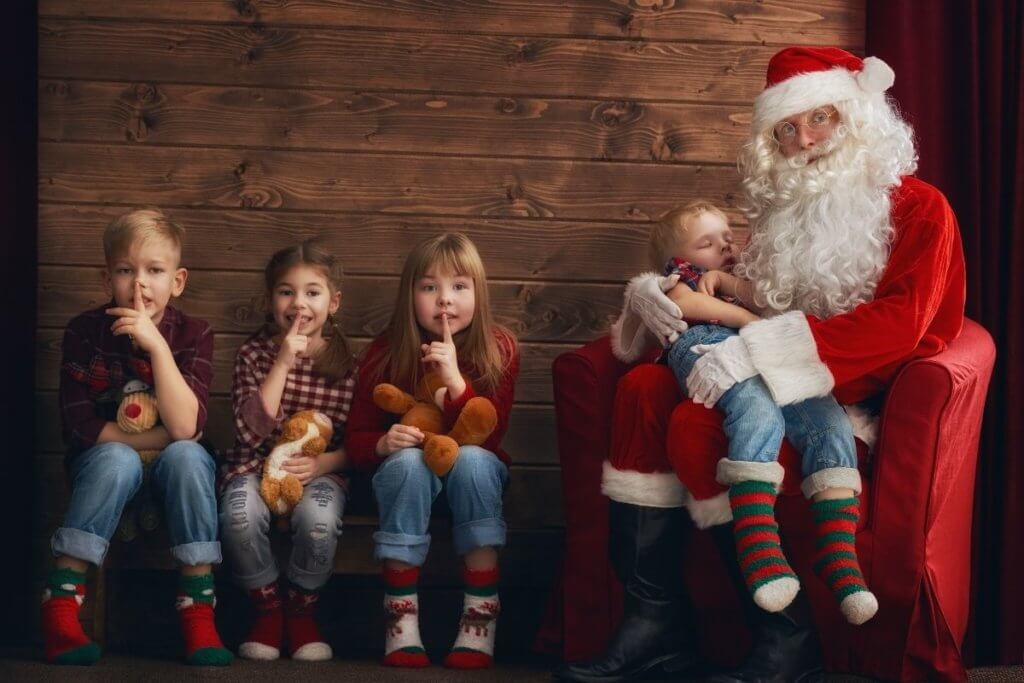 We've found all the best Santa Experiences and Santa days out in the country right here. Have fun!
17. Go and have fun at a water park
We've listed the best water parks in England for you to enjoy. The indoor ones make for a great day out in winter – maybe give those outdoor ones a miss though, hey?
---
Winter days out in England
On a cold winter day, it can be tempting to stay inside with your loved ones and enjoy the cosy warmth of home (with a winter quiz?), but it's even better to get outside and enjoy a winter day out.
Get out into nature for some fresh air or spend time in an indoor attraction with a different view from the home you've become so familiar with in 2020 and 2021. Bundle up any little ones of yours, grab the coats, pack a lunch and head outside to see what this season has in store for you.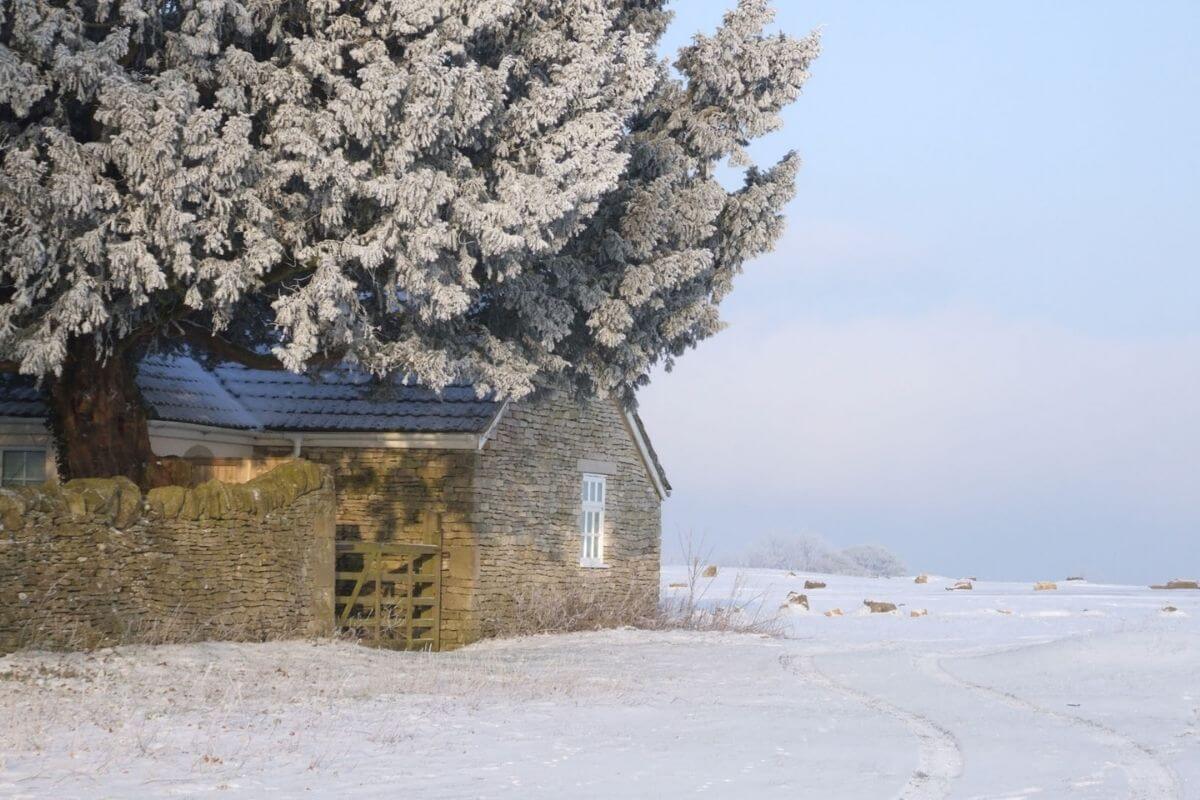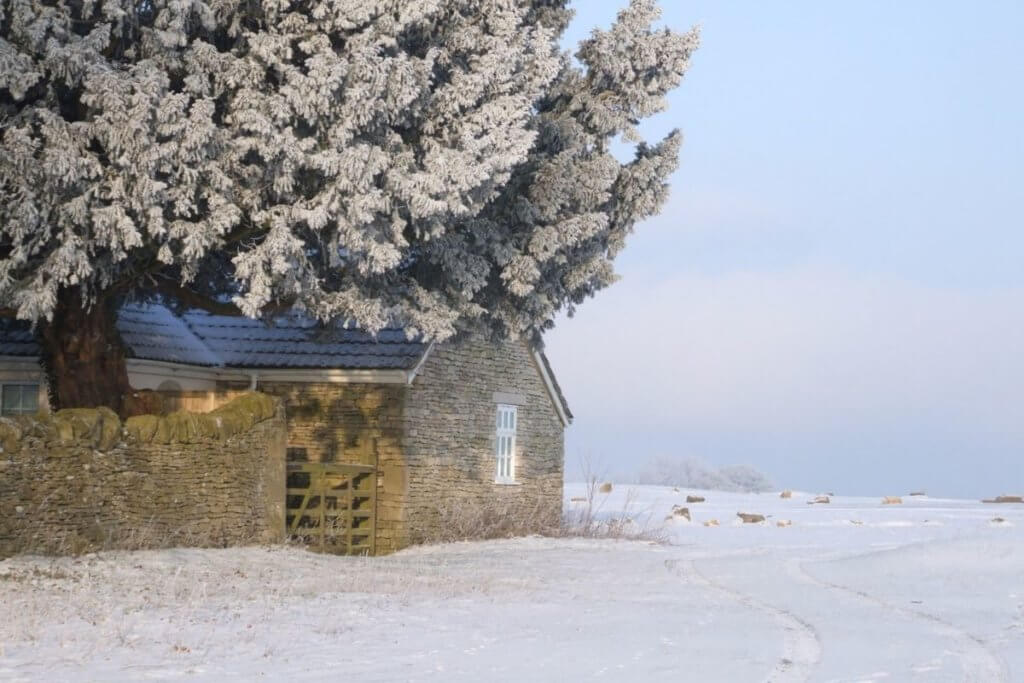 Here at Day Out in England HQ we're excited to get out into the cold and explore all that England has to offer this winter. From visiting some traditional English pubs, taking a walk through a local park, and just spending time with our families in the great outdoors while enjoying their company.
Hope you've enjoyed reading about the best winter days out in England. Enjoy yourself!
---
Quicklist for the best winter days out in England
2. Join a winter survival class
3. Go out and make a snowman
4. Go skating at an ice rink in England
5. Hike through the Pennines
6. Go horseriding in winter
7. Head to a Christmas Market
8. Get up high in a city in England
9. Enjoy England's natural hot springs
10. Go bird watching in England
11. Visit England's best aquariums
12. Cook on a campfire at home
13. Get the Tower of London Winter Experience
14. Catch icy waves on the English Coast
15. Visit an indoor waterpark in England
16. Go and see Santa in his grotto
---