4 Great Days Out Along the Norfolk Coastal Path
Here are 4 great days out along the North Norfolk Coastal Path for a long weekend away, or to enjoy as separate day trips in Norfolk. Get your walking boots on!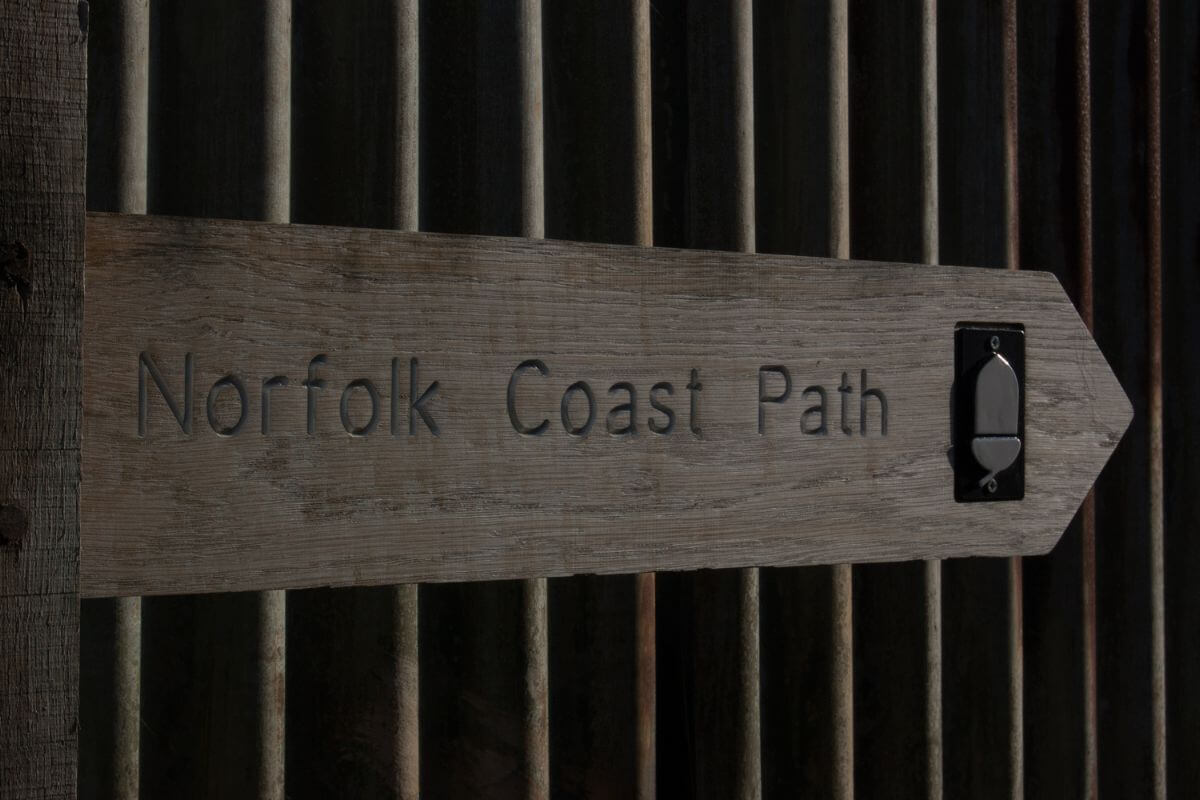 There are some great days out along the Norfolk Coastal Path – it's one of the most beautiful areas of England after all. If you want to visit the Norfolk Coast for a few days out, then I'd recommend staying in one accommodation and doing day trips from there. The Norfolk Coast Path is only 84 miles long, so you won't ever be too far whether you decide to walk or cycle, and you can easily get a taxi or train back if you don't want to walk, or jump on the Coasthopper bus.
Let us show you how to enjoy 4 great days out along the North Norfolk Coastal Path – including prehistoric footprints, stately homes, classic seaside towns and the county's highest point (at just 105m!).
Days Out on the Norfolk Coastal Path
The North Norfolk Coastal Path shoreline was formed over two million years ago and in the area we're looking at for your North Norfolk days out, is lined by tall, dramatic cliffs. Perfect for those epic coastal views. A day on the North Norfolk coast is our all time favourite day out in Norfolk. To see our number one thing to do in each county in England, click here.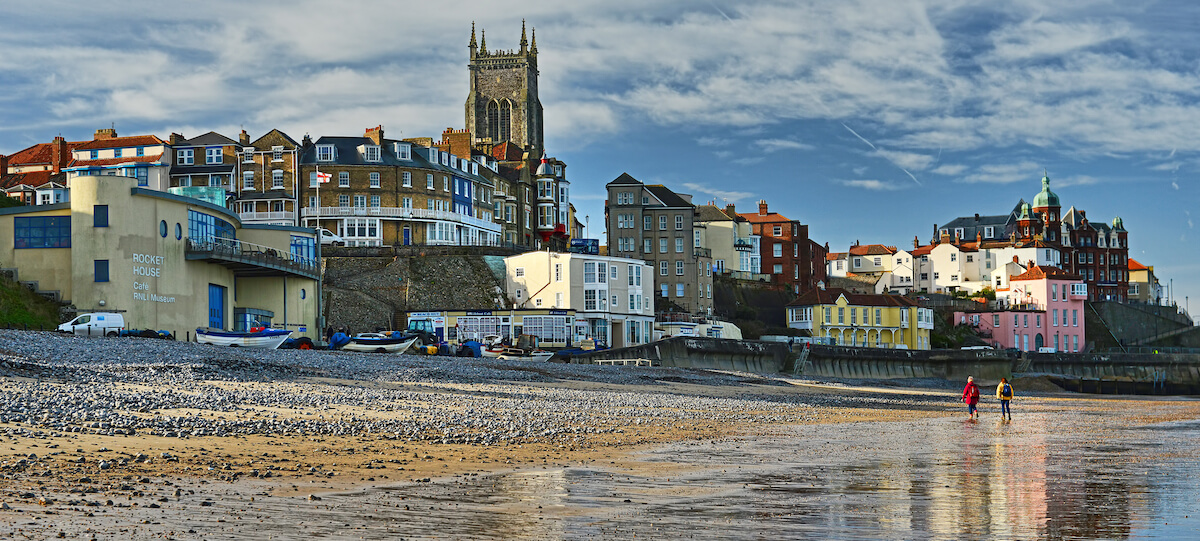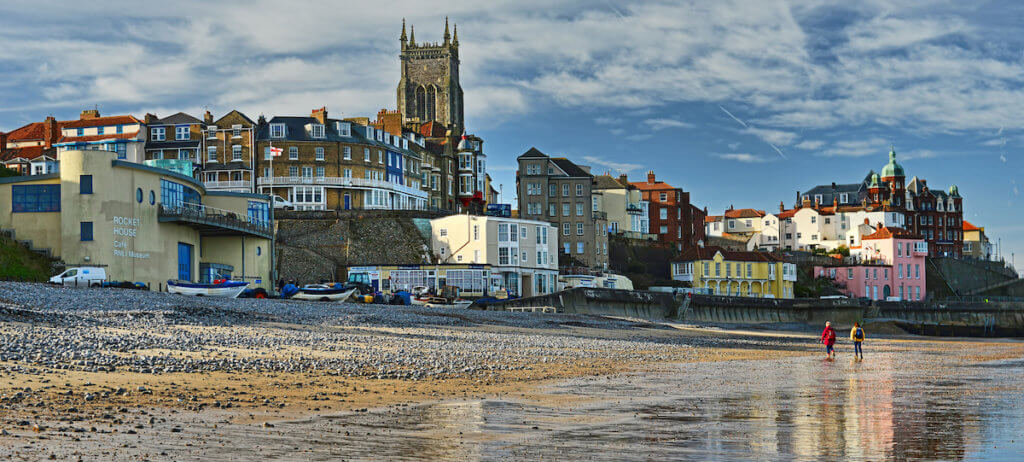 1. Day out in Sheringham and Weybourne
Sheringham
Sheringham makes for a wonderful North Norfolk day out, and it's also got a train station so it's within easy reach of the rest of Norfolk. Visit Sheringham for the day and you'll find an old fishing village with a touch of Victorian seaside charm.
The beach here is a wonderful mix of sand and shingle and the colourful huts brighten it up whatever the weather. Sheringham village is probably bigger than you'd expect with loads of great places to eat.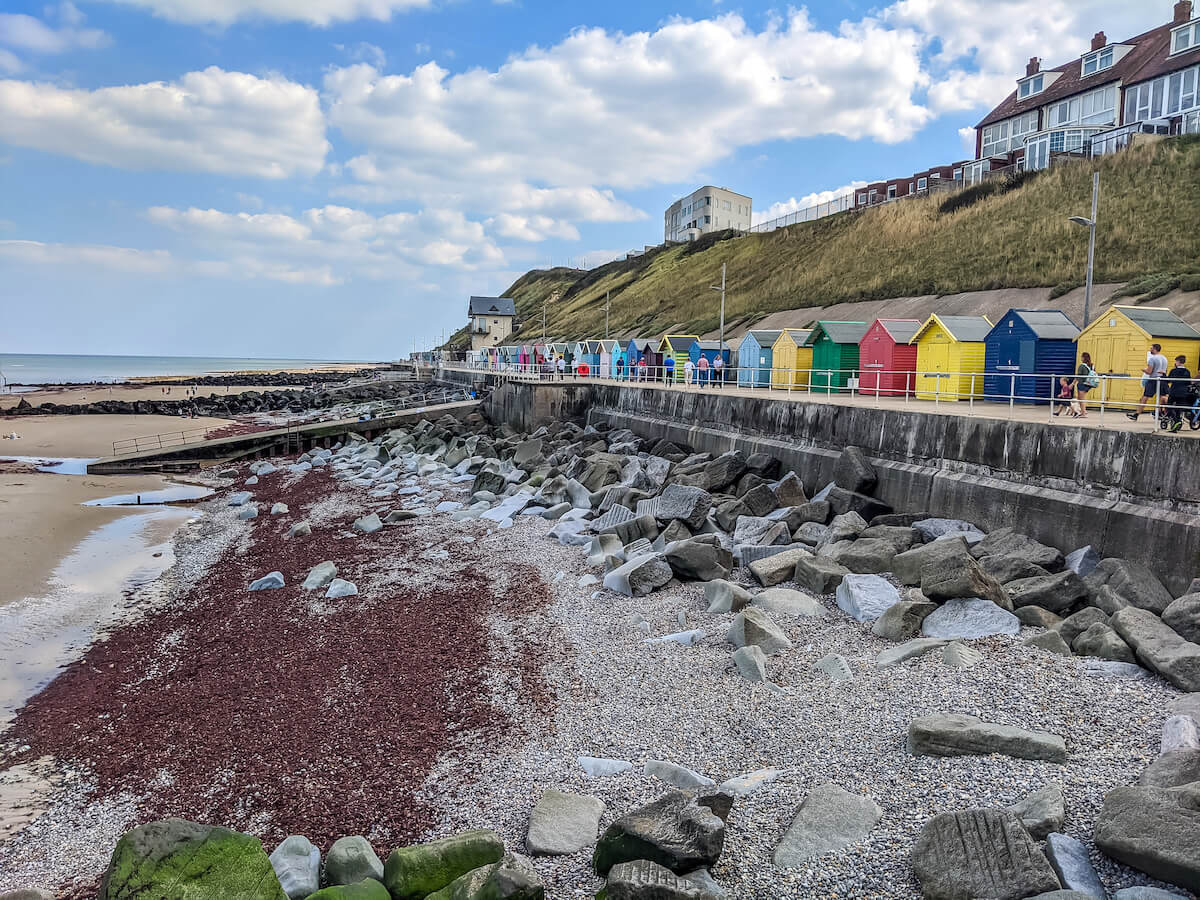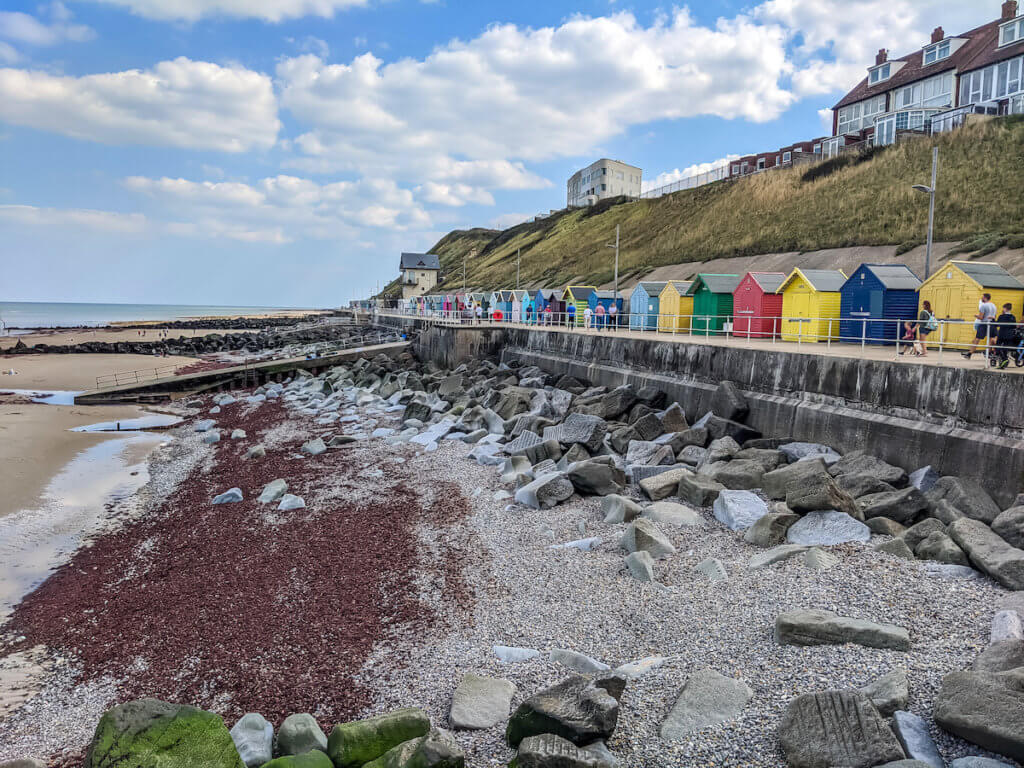 I genuinely think I had the best fish and chips of my life here, and I've eaten a lot of fish and chips.
Once you're done with the tea rooms and independent shops in the village, it's time to hit that Norfolk Coastal Path for the incredible views along this section. Pick up the Coast Path by the promenade's bright beach huts and follow it in a westerly direction to Weybourne along the crest of cliffs.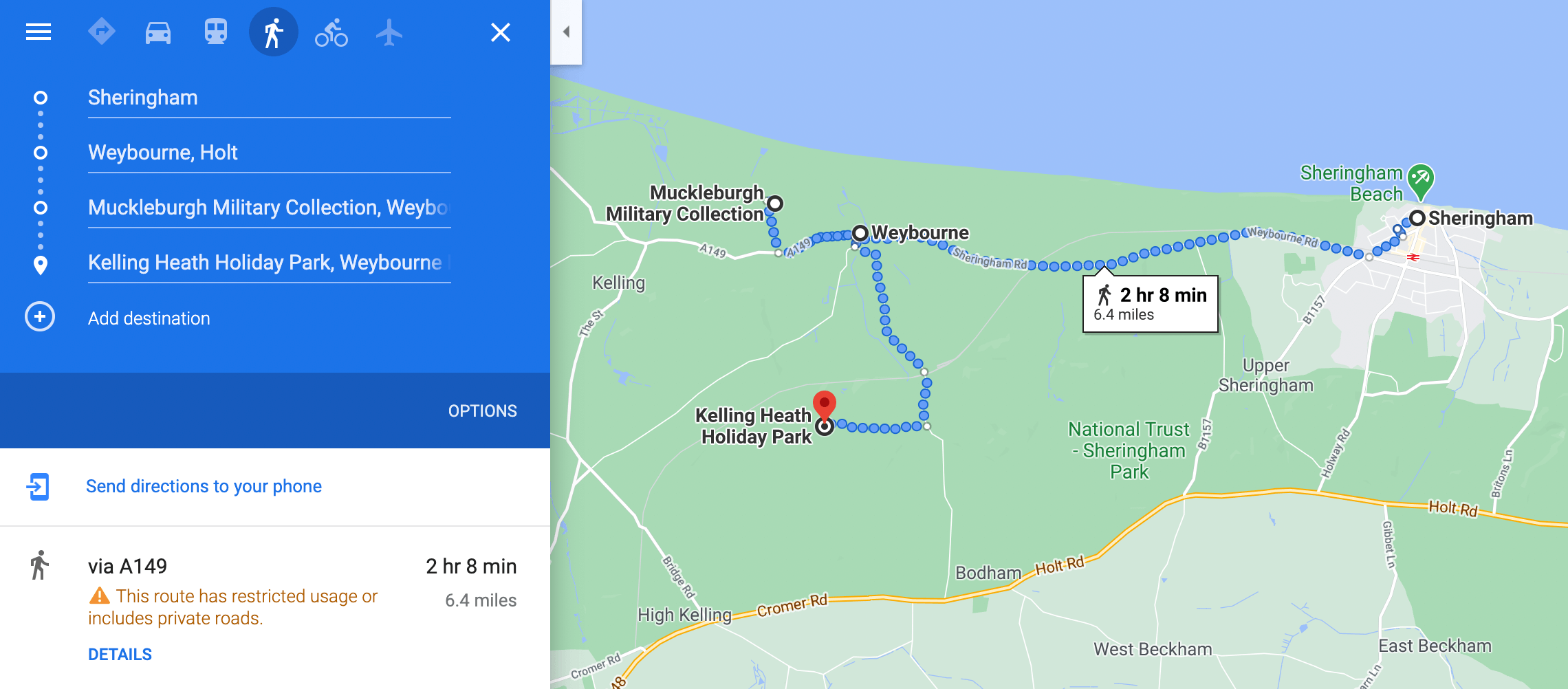 Norfolk's Deep History Coast
Walk this part of the path and you'll be walking along Norfolk's Deep History Coast – along a path formed two million years ago. If the tide is low on your visit look down to Robin's Field – you won't be able to see it but there are over 350 different marine species in there, some only found here.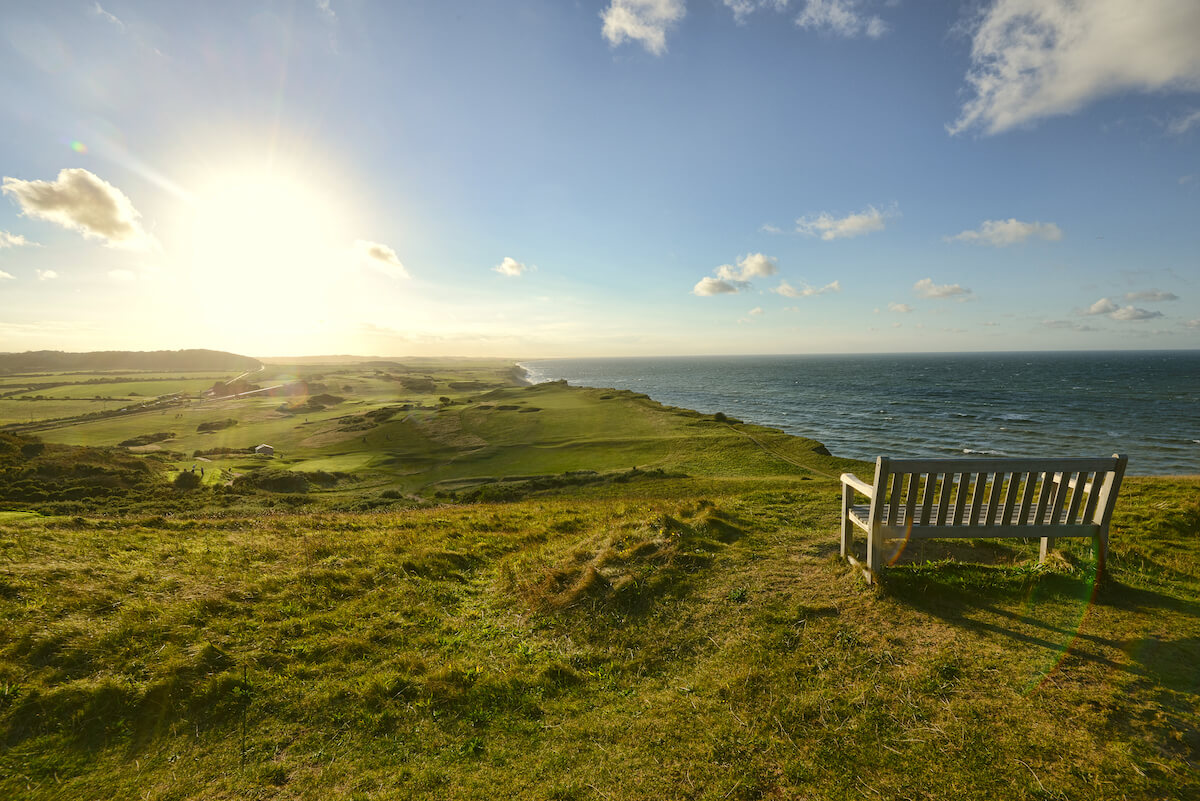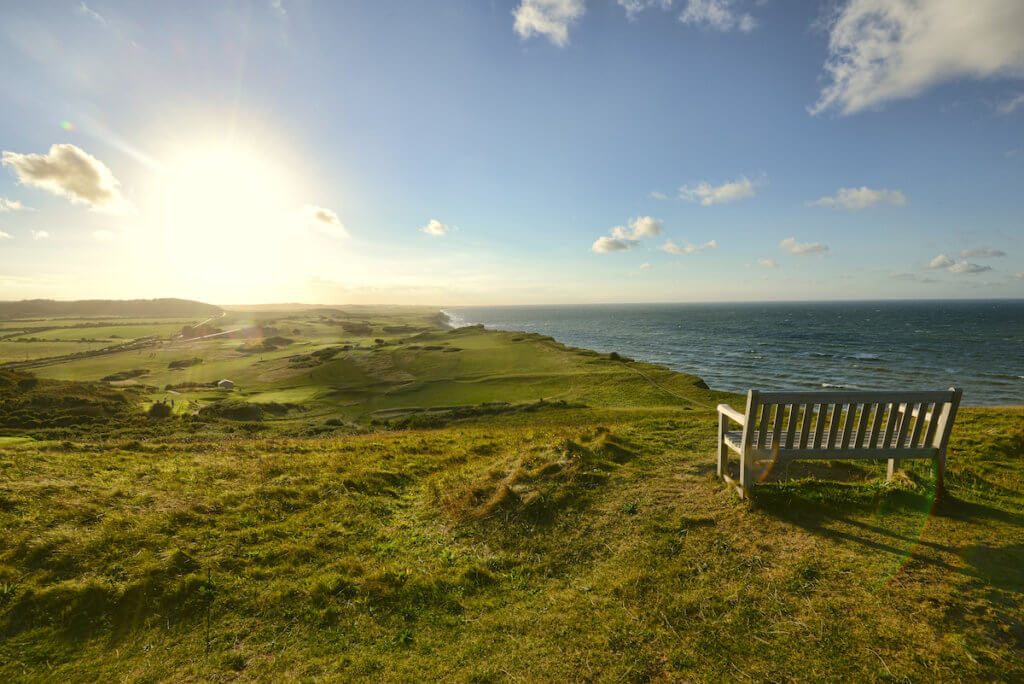 Weybourne
Three miles later and you'll arrive into Weybourne in a haze of fascinating history, stunning views, and a hungry tummy from all those steps. It's time to eat, again.
The top spot for some food in Weybourne is The Ship Inn, a traditional North Norfolk pub serving fish caught at the beach nearby. So good. They also have over 100 gins – good opportunity to see how many you can get through…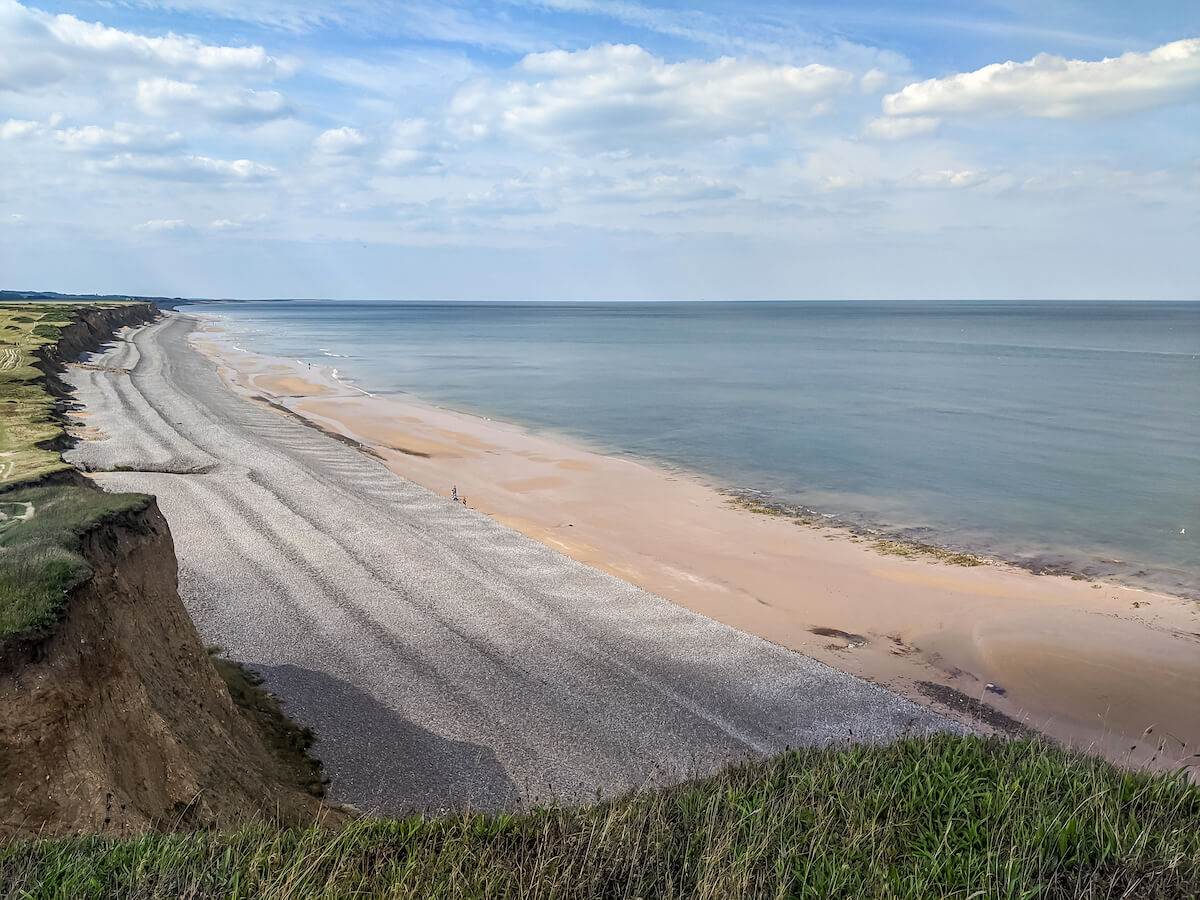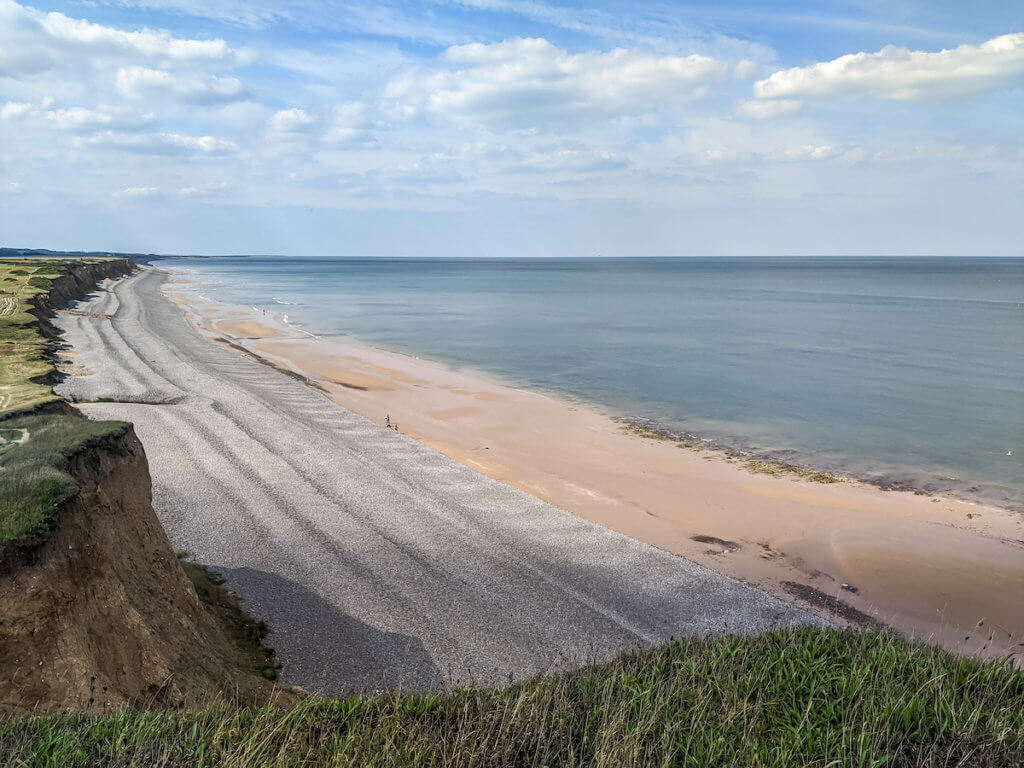 If you like the idea of a military museum then you're going to love what the nearby cliff-top Muckleburgh Collection has in store for you. This is the UK's largest privately owned military museum, sited on a former army camp. It's packed with all manner of missiles, weaponry and armoured vehicles; you can even take a ride in a tank.
Check it's open before you make the trek up there though, as it's a little out of the way. There's a cafe and shop here if you didn't fancy the pub grub in Weybourne.
No problem if all that military memorabilia is not for you – head back to Sheringham but venture further inland for a route back through the woods and gardens of Sheringham Park, designed by Humphry Repton in 1812. If you want a better view and some perspective then climb the towers for a (low flying) birds eye view, and when you're back down to earth grab a coffee at the cafe.
As you can tell, we've got you covered with the food stops here on Day Out in England!
Steam train to Sheringham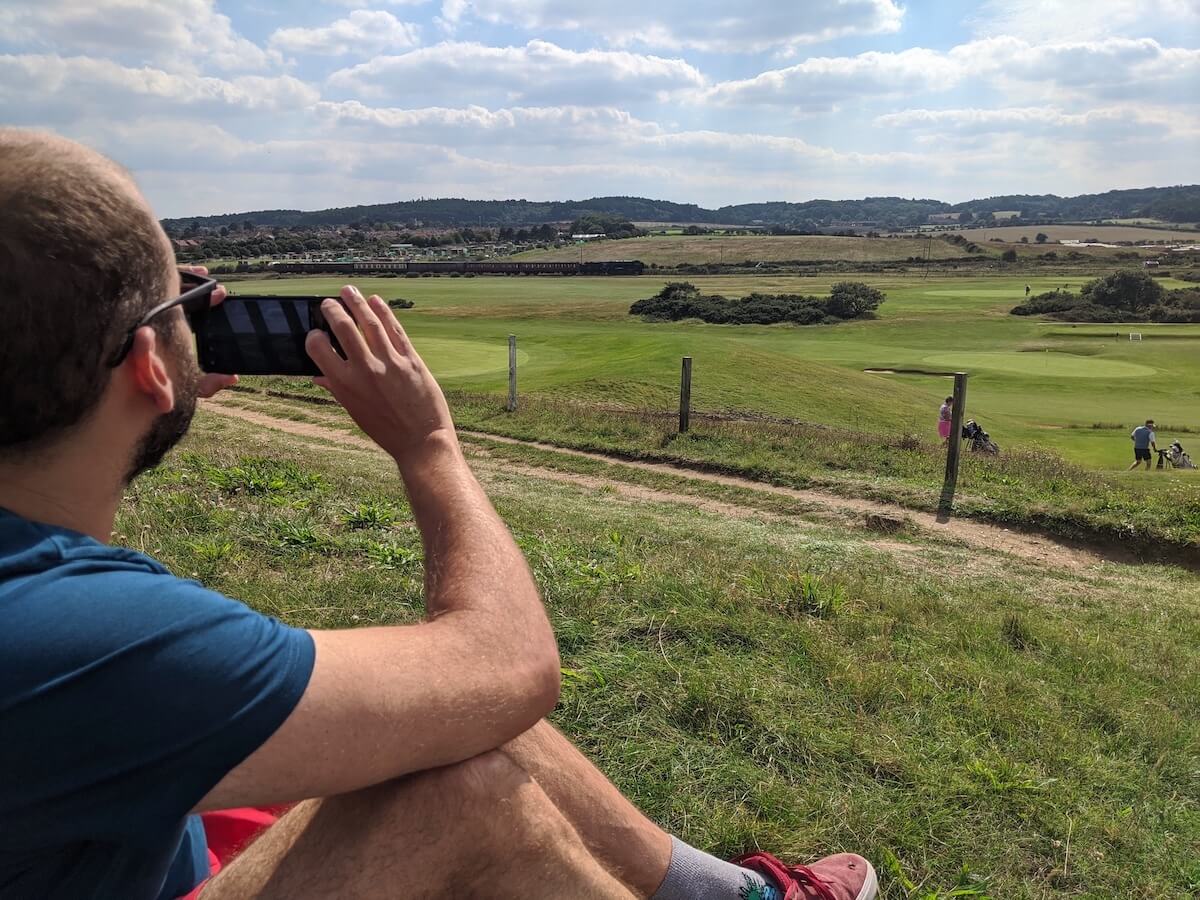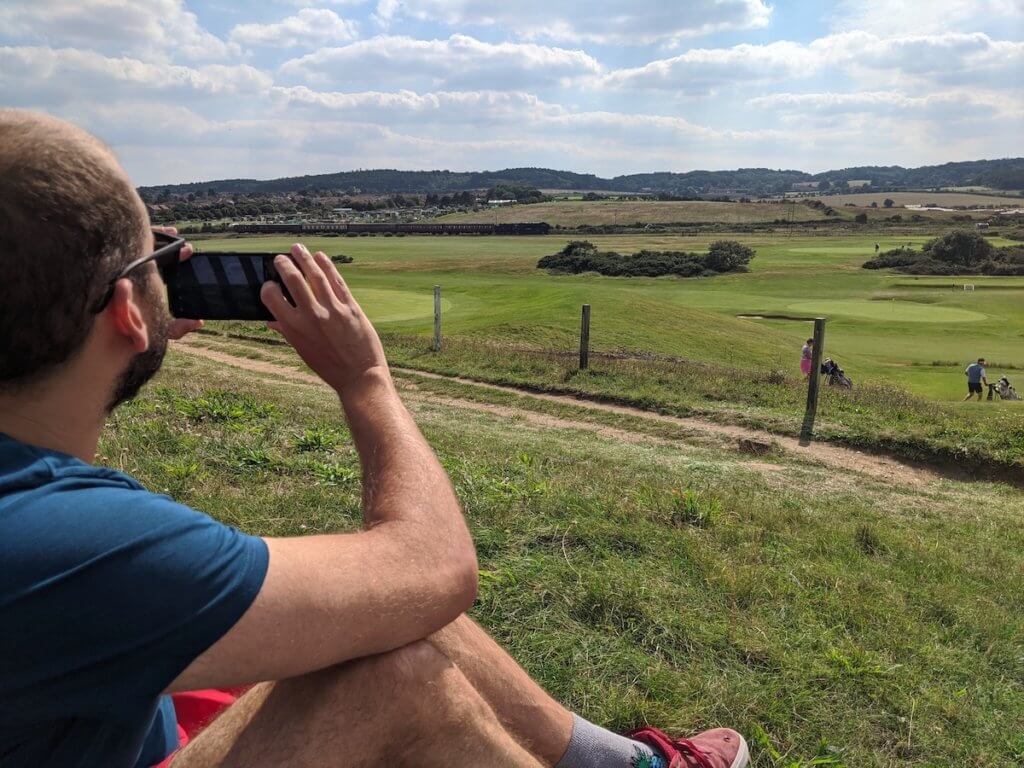 Another alternative is to catch a steam engine back to Sheringham from Weybourne. The Sheringham-Holt Poppy Line North Norfolk Railway uses steam engines to pull an array of historic carriages. Hop aboard and head back to Sheringham in style, or head over to the Georgian market town of Holt and back.
This makes a lovely alternative if you want to take the Norfolk Coast path slowly and just do a few hours a day.
READ MORE: The Best Day Trips from Norwich
Kelling Heath Holiday Park
You need to experience Kelling Heath Holiday Park when darkness falls. Kelling Heath Holiday Park has been awarded official Dark Sky status: light pollution is so low here that it's possible to see the Milky Way with the naked eye. Wow!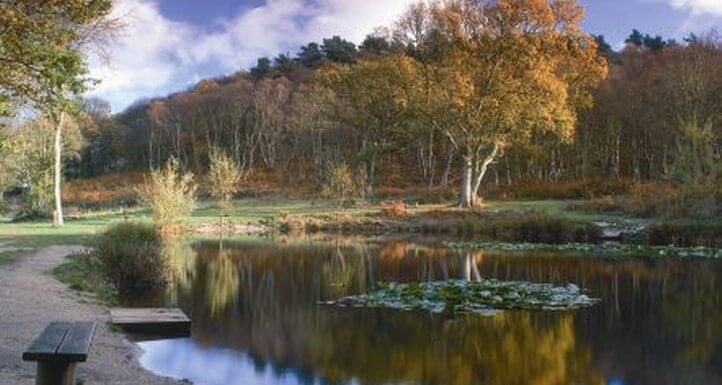 It's right near Weybourne Station but I'd recommend heading back to Sheringham to your accommodation and then popping out later, in the car, especially if its a cold night.
Where to stay in Sheringham
Craft Cottage, Sheringham – this cute accommodation also has courses including stained-glass creation, silk painting and making mosaics.
Dales Country House Hotel, Sheringham – stay here for great rooms in the middle of a park.
Hooray Henrys, Sheringham – this is the best Sheringham accommodation if you just want to be near the station. It's a quirky B&B with everything you need. Great choice if you're not taking a car on your Norfolk Coastal Path adventure.
---
This post is in collaboration with Visit England and Discover England's Great Walking Trails, but I went on the trip independently last year. If you'd like to know more about the coastal paths in England, check out NationalTrail.co.uk.
Click here if you'd like more details on walking the North Norfolk Coastal Path, but read this post first!
READ MORE: Where to Walk the Coast in Northumberland
---
2. Day out in Cromer & West Runton for cliff views and crabs
Today's day out on the North Norfolk Coastal Path will take you along the incredible cliffs between Sheringham and Cromer.
After a great breakfast either at your hotel or in one of the tearooms in Sheringham – get out on that coastal path. Walk along the Cromer Ridge, a stretch of coast formed by retreating glaciers, thousands of years ago, and about as undulating as notably flat Norfolk gets.

Visit West Runton
Keep walking up Beeston Bump and then down into West Runton. Back in 1995 there was a mass excavation in the village, which unearthed the most complete mammoth skeleton ever found in Britain. It's amazing to think of the ancient beasts that once walked this area.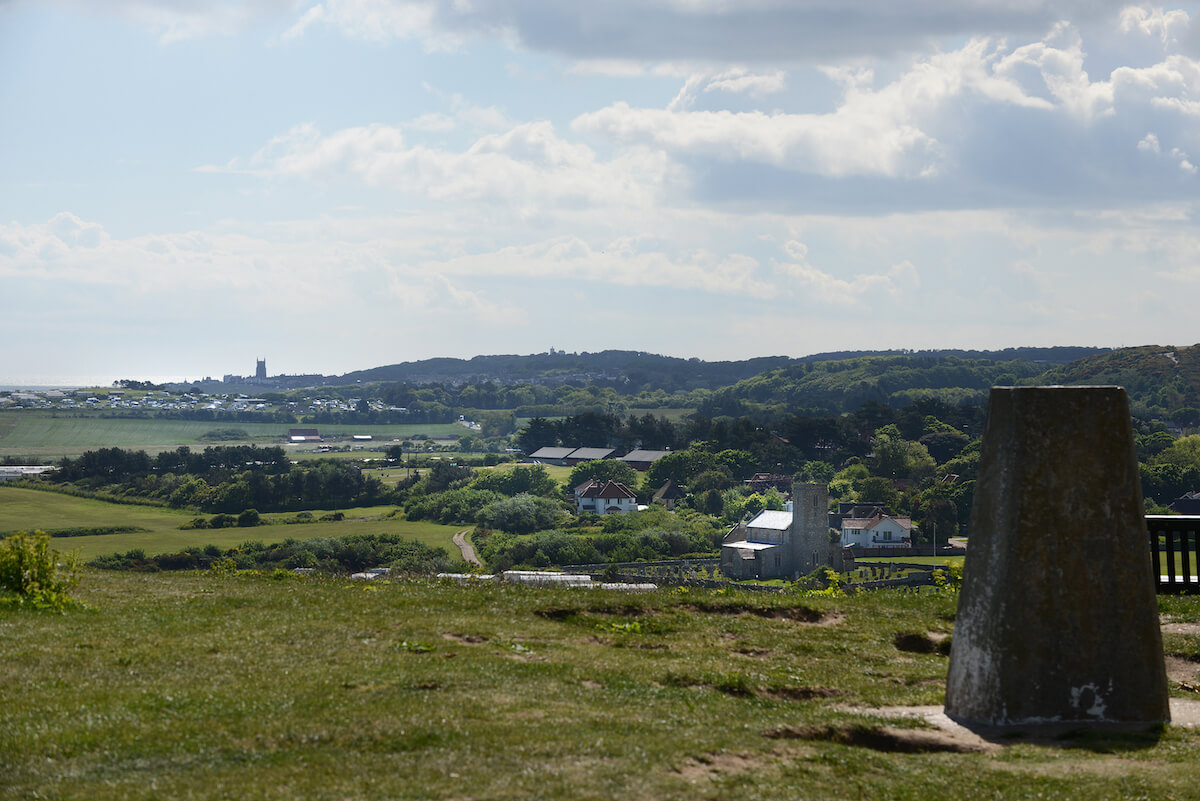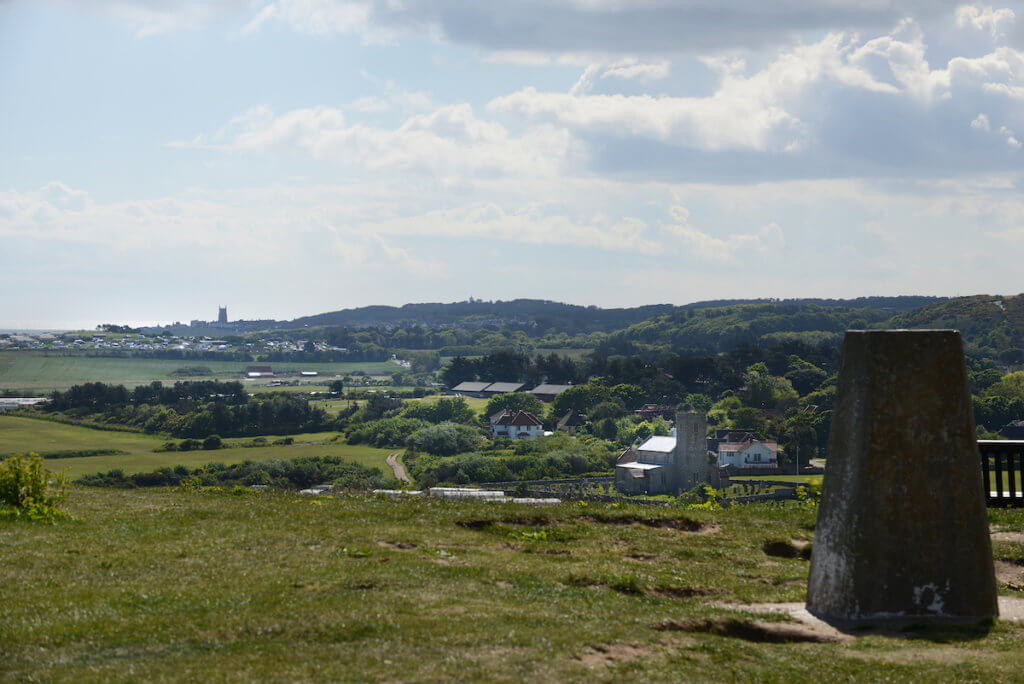 It's a good idea to get something to eat here, to prepare yourself for the climb you're about to do Beacon Hill.
If you're feeling fancy the Links Country Park Hotel does a great afternoon tea, or there's Rocky Bottoms where you can indulge in some local seafood.
Right, Beacon Hill, Norfolk's famous highest point, at 105m! You can do it.
Take the obligatory pictures at the top and then follow the inland trail to Incleborough Hill – another high point with sweeping panoramic coastline views.
When I was exploring the Norfolk Coastal Path last year we camped very near here, at Woodhill Park Camping. It's a great campsite where you can wake up to wonderful views in the morning.
Spend the afternoon in Cromer
From here Cromer isn't far.
Cromer is known as the 'Gem of the Norfolk Coast'. Expect late-Victorian and Edwardian architecture, high cliffs and wide beach. It's most famous for the Cromer Pier though, at 151 metres long. There's a theatre at the end – one of only five end of pier theatres in the UK – and great views back to the Norfolk coastline.
One of the best ways to see the pier is from the No1 Restaurant. While you're there try a Cromer Crab to really enjoy the local speciality cuisine.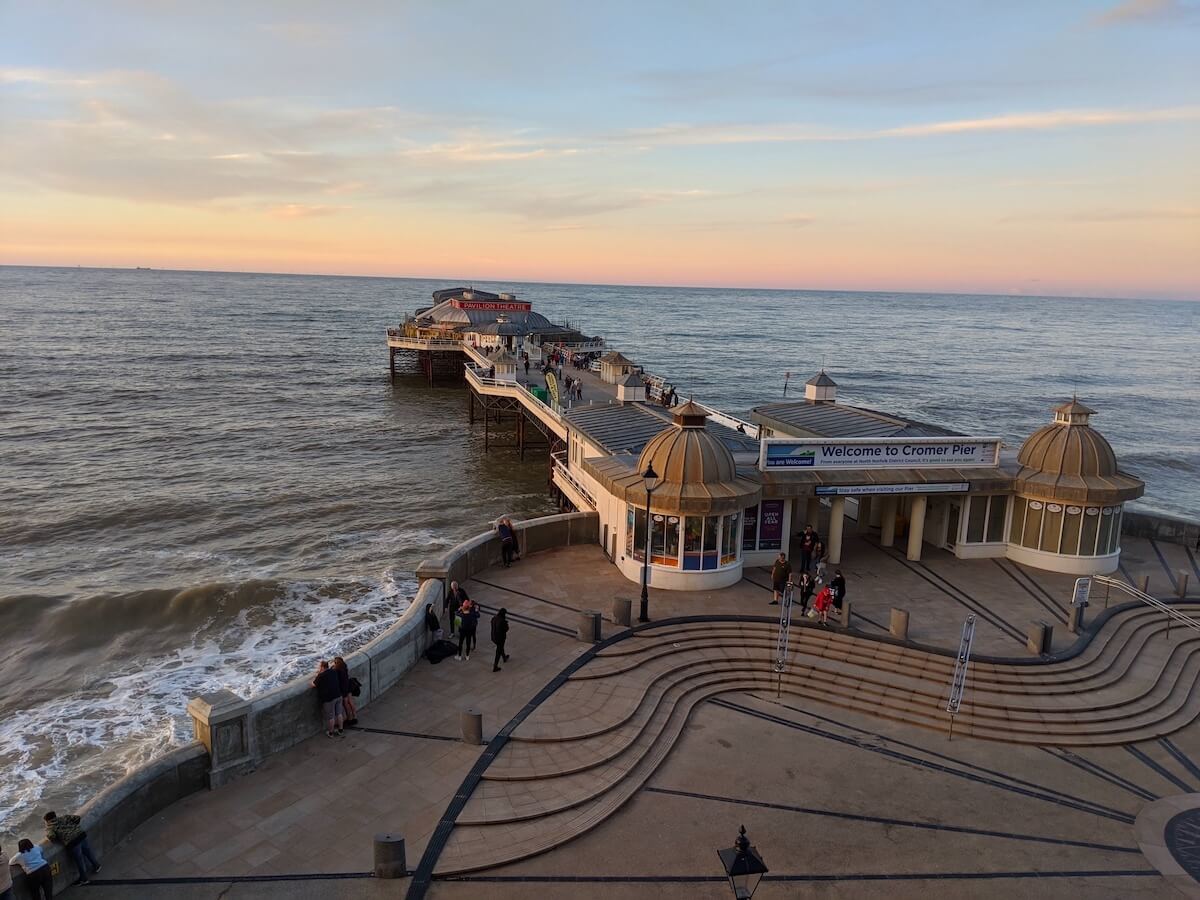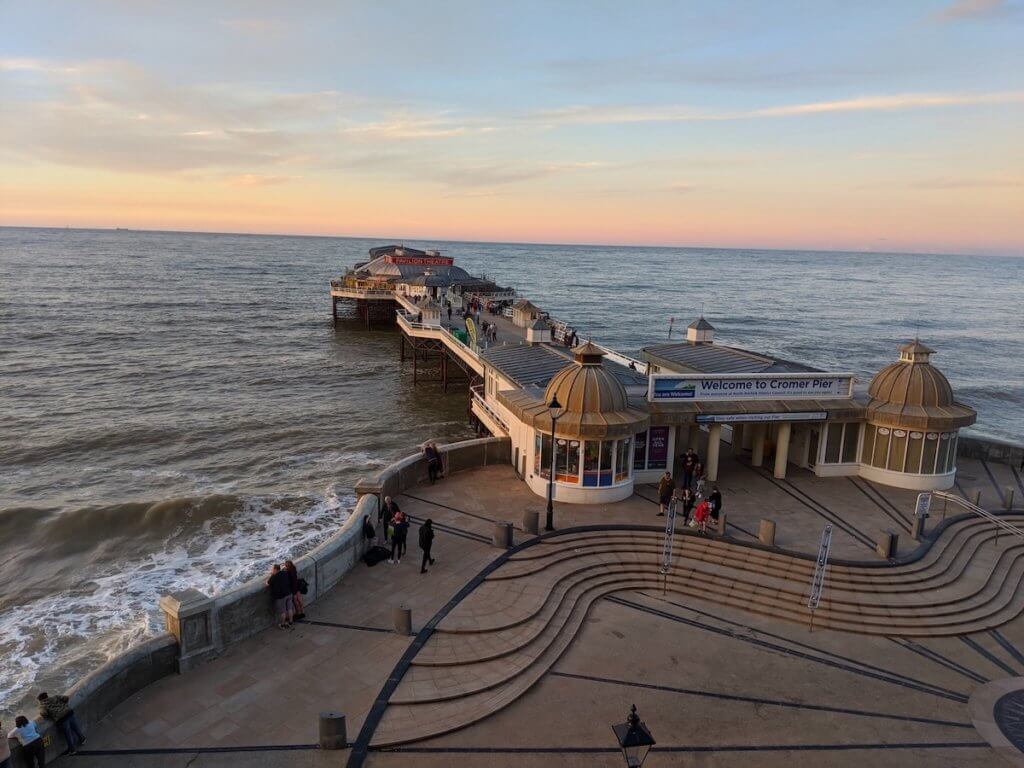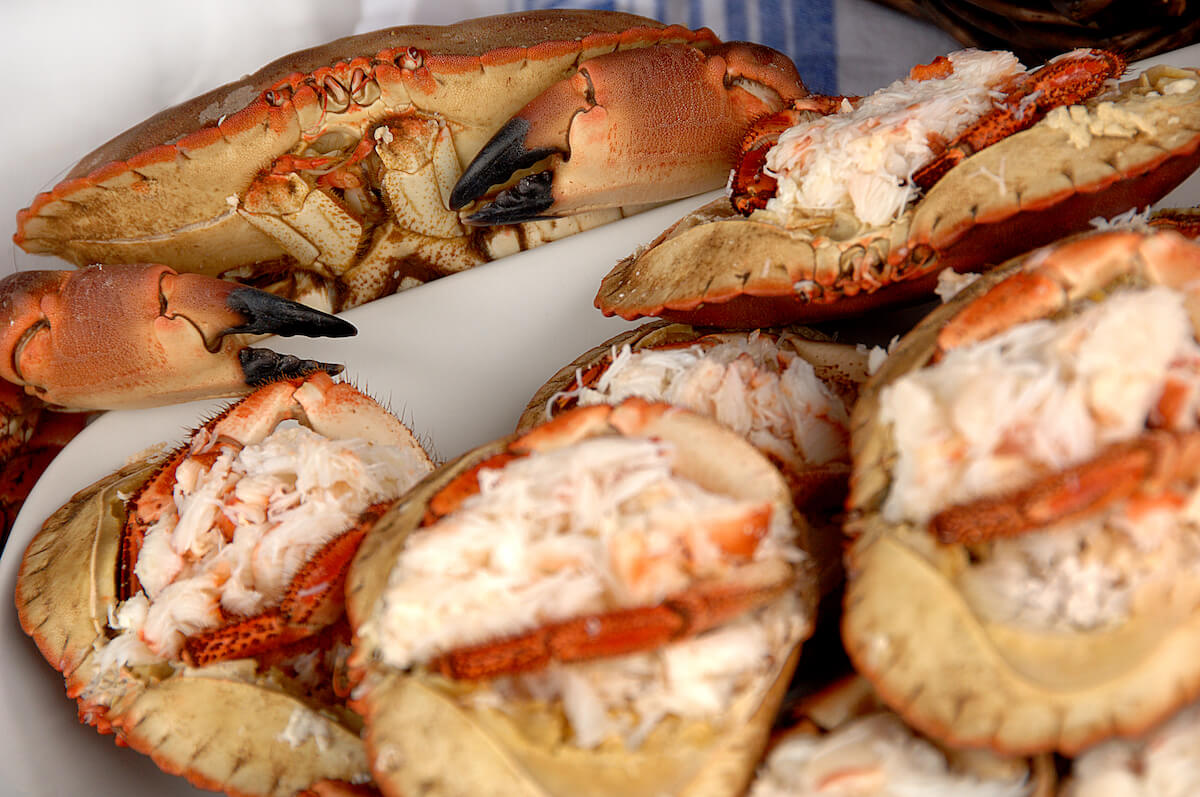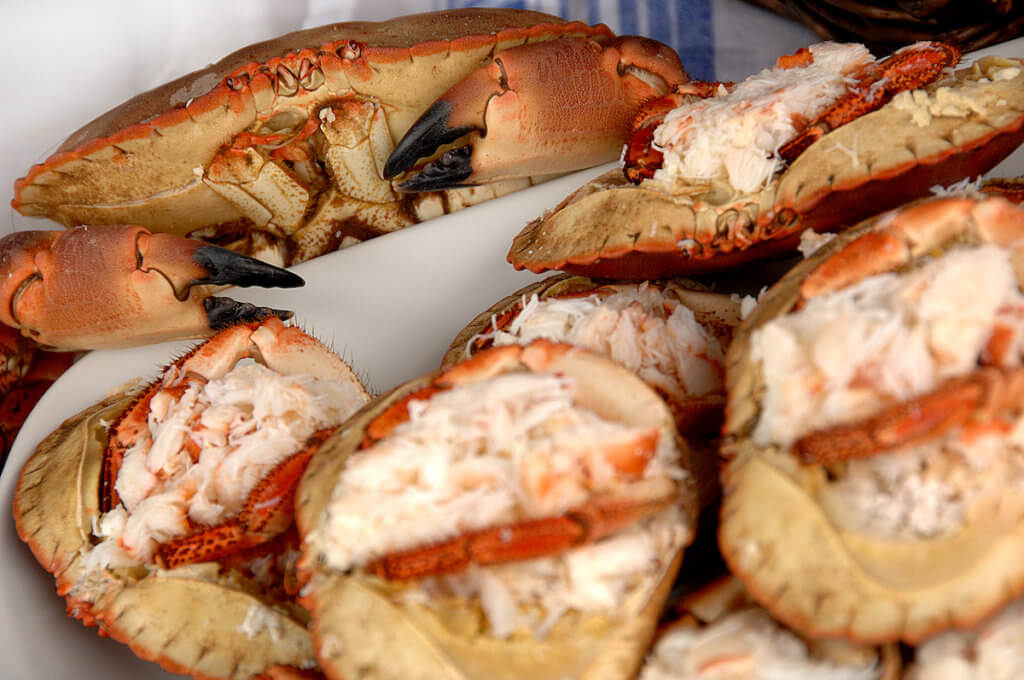 You can get back to your accommodation in Sheringham from Cromer easily by using the Coasthopper bus. Or, you could stay in one of the great hotels in Cromer, namely the Cromer Country Club resort (with a pool) or the Dormy House Hotel, which has great sea views.
---
3. Day Out on Weavers' Way for a Georgian house & countryside
Right, it's time to leave the beautiful North Norfolk Coastal Path for a bit, to see what delights this area has to offer inland.
The Weavers' Way links Cromer to Great Yarmouth 100km down the coast, but inland past woodland, farmland, rivers, Broads and great country estates. This is a great way to spend a day in North Norfolk seeing another side – yes, there's even more than the stunning coastline to enjoy here!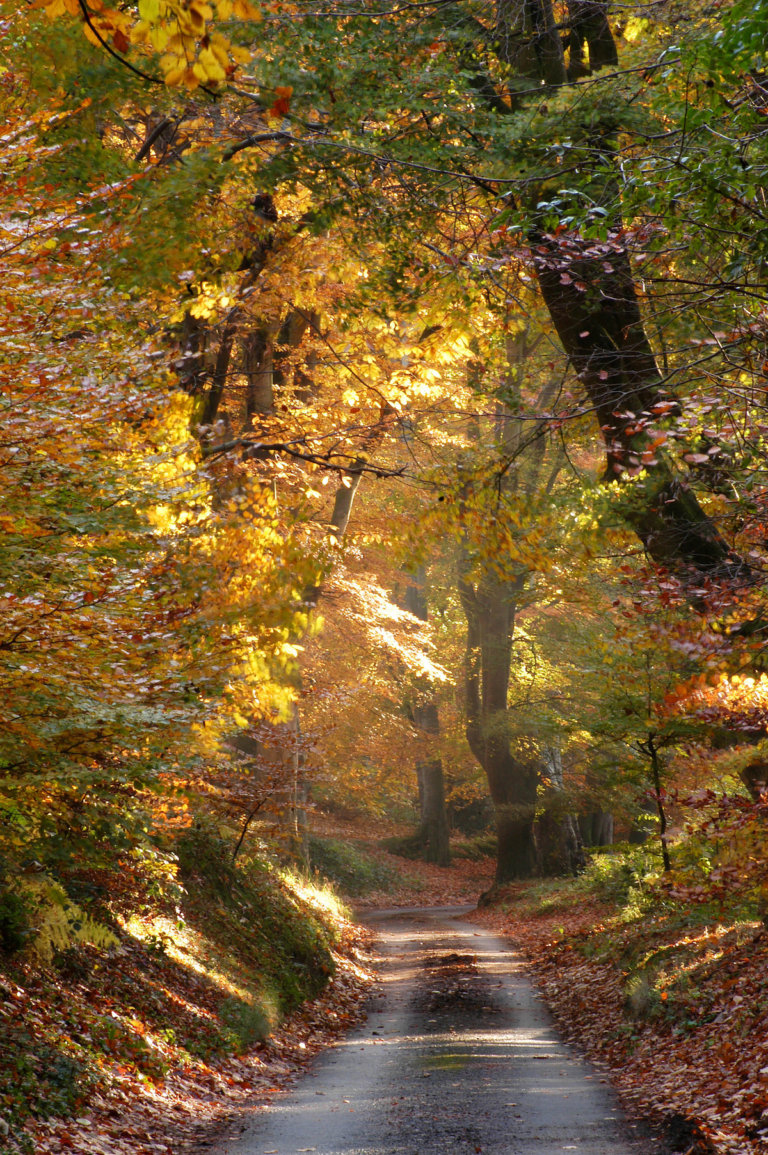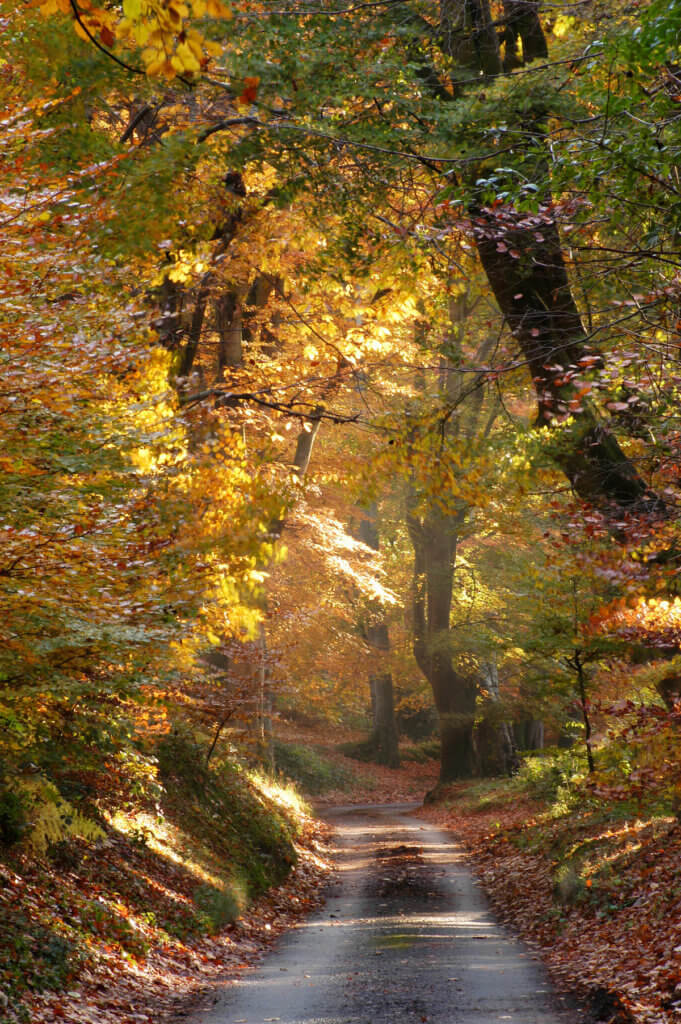 Follow the Weavers' Way to Felbrigg Hall – a 17th-century house with a grand Jacobean facade, an elegant Georgian interior and innumerable treasure. There's a lot to see here, from the walled garden to the Chinese Bedroom but don't take too long as you need to get walking to the next village along, Erpingham.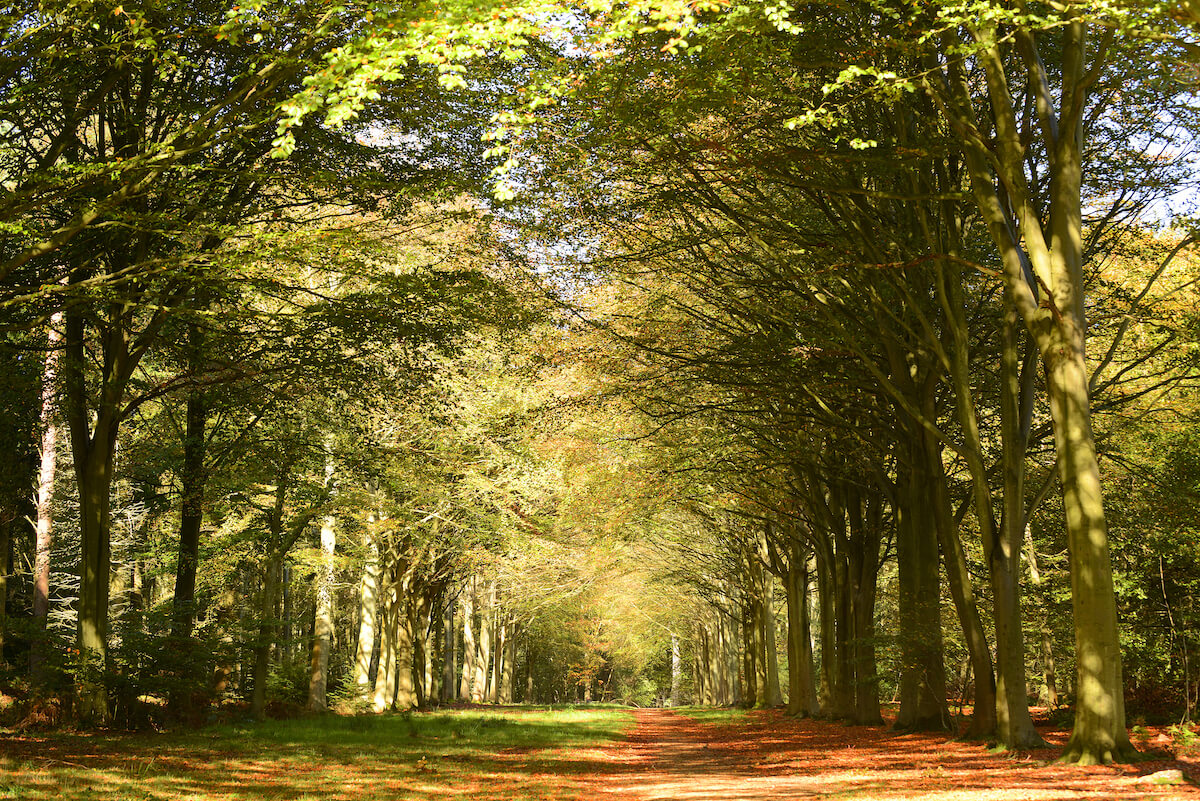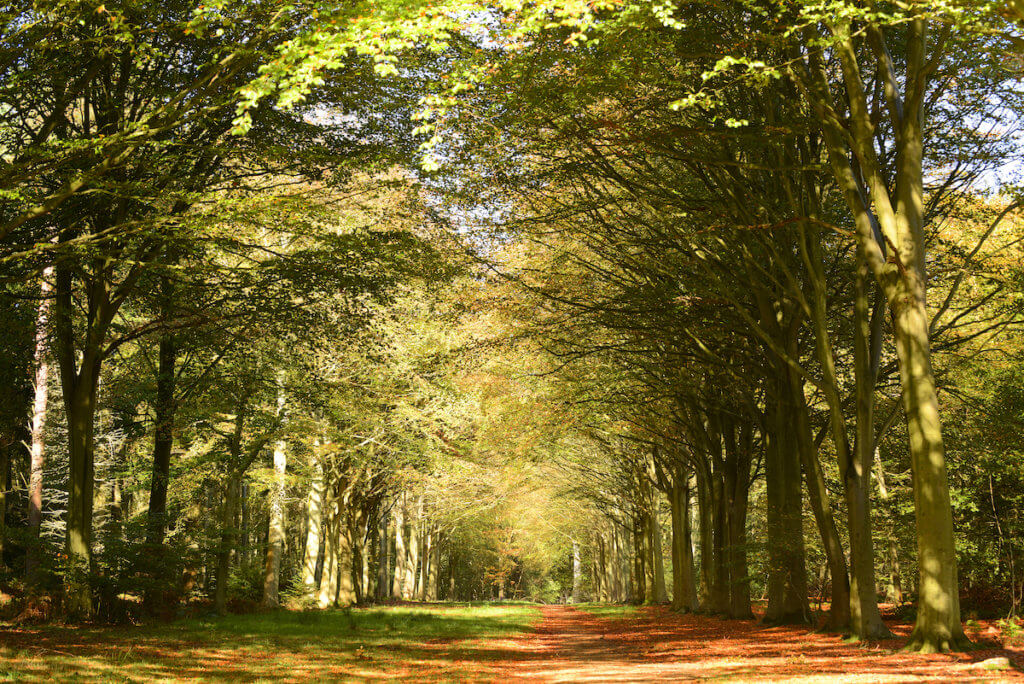 Have a look around and then carry on the Weavers' Way to Aldborough. Here you can pick up the Cromer Explorer Loop onto Maninghall Hall – a medieval manor with beautiful gardens, and a tearoom of course.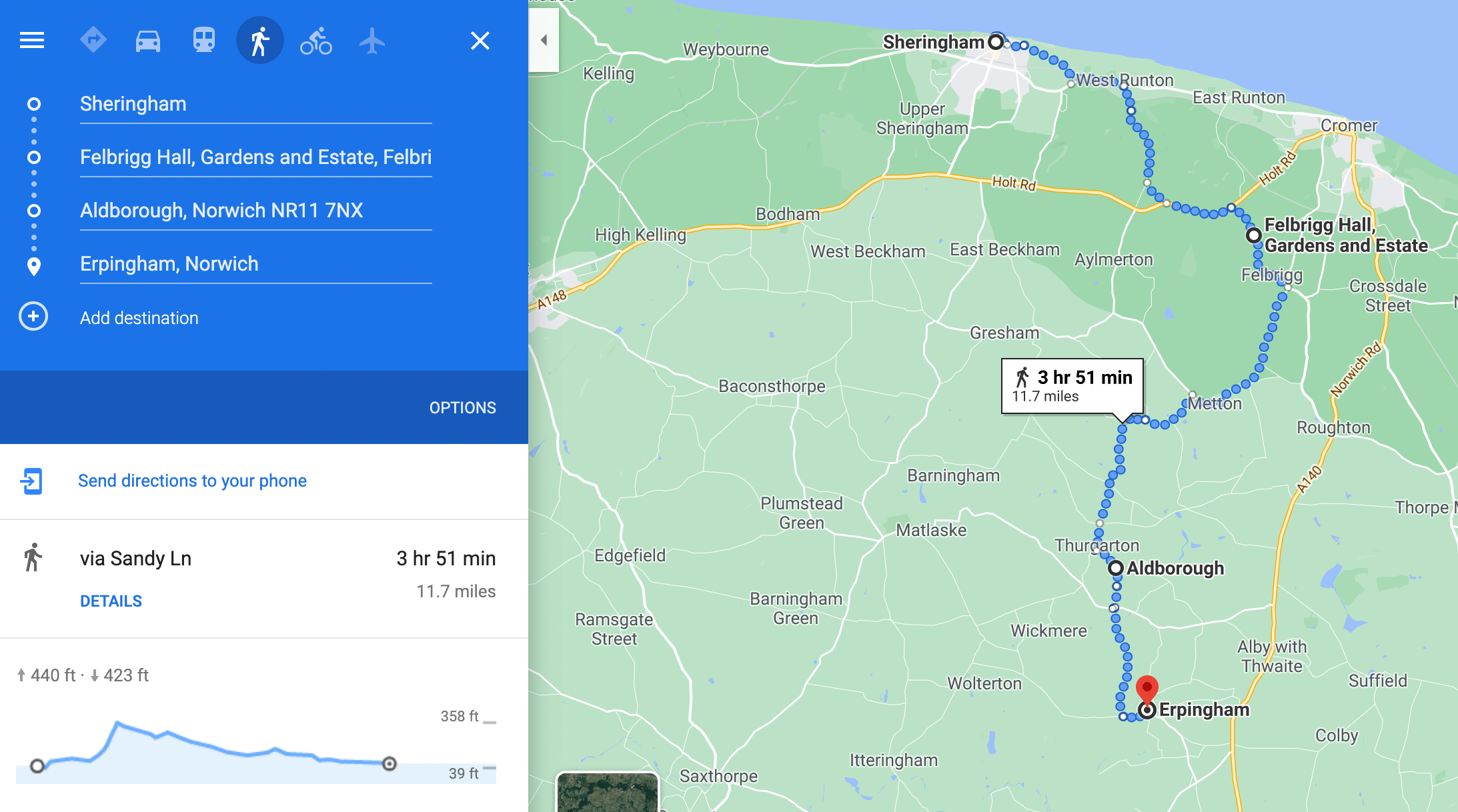 Complete the loop and finish your day at the Saracens Head in Erpingham, a wonderful oddity, nestled in the Norfolk countryside. Built for Lord Walpole in 1806 in a distinctive Italianate style, it's now a welcoming inn offering real ales, big log fires, homecooked food and comfy beds to passing travellers.
If you don't want the drama of moving and carrying your stuff, then you can just get a taxi back to your accommodation in Sheringham.
---
4. Day out in Aylsham
Make sure you have a good breakfast at the Saracens Head to set you up for the day.
Today your day trip in North Norfolk involves the stunning Blickling Estate – you can follow the Weavers' Way route right there.
The Blickling Estate is a stunning Jacobean mansion nestled in the beautiful North Norfolk countryside. There's loads to see and do at this National Trust site, including the Long Plantation, the Great Wood, the Mausoleum and the lake too. Inside you'll find the Long Gallery, with its moulded ceiling and impressive collection of over 10,000 books.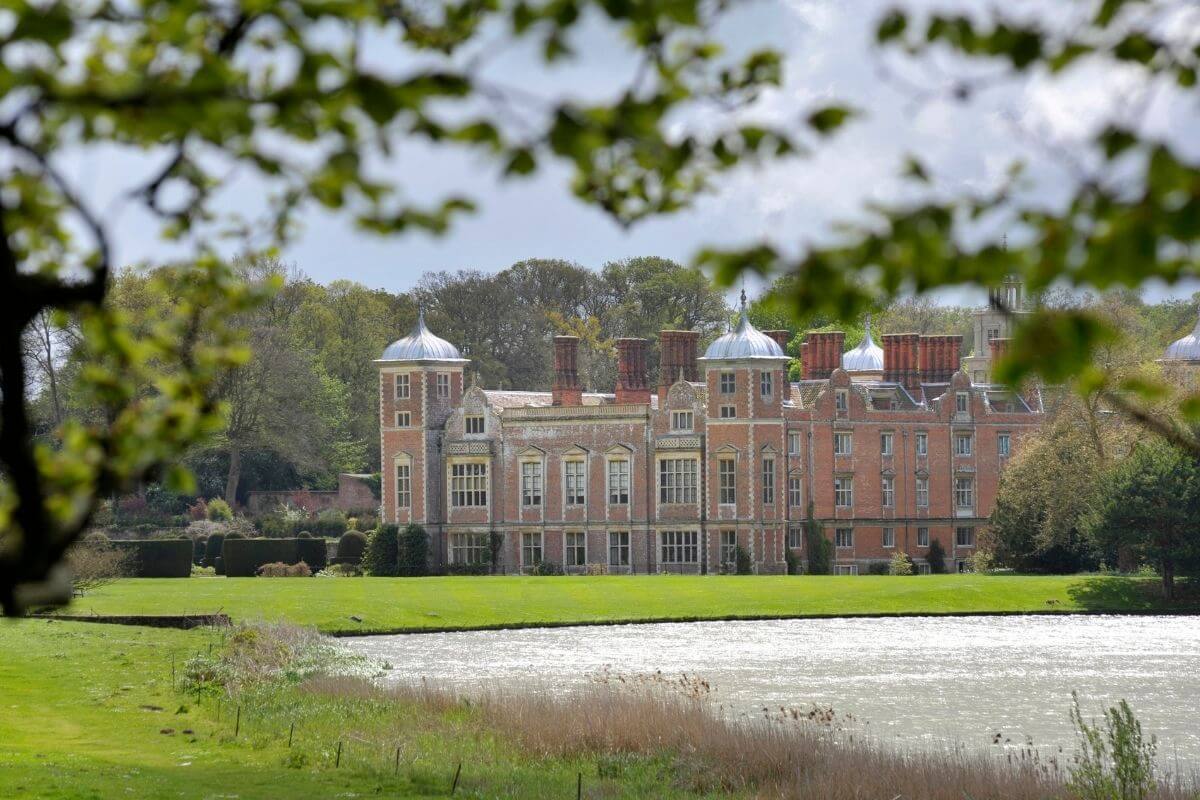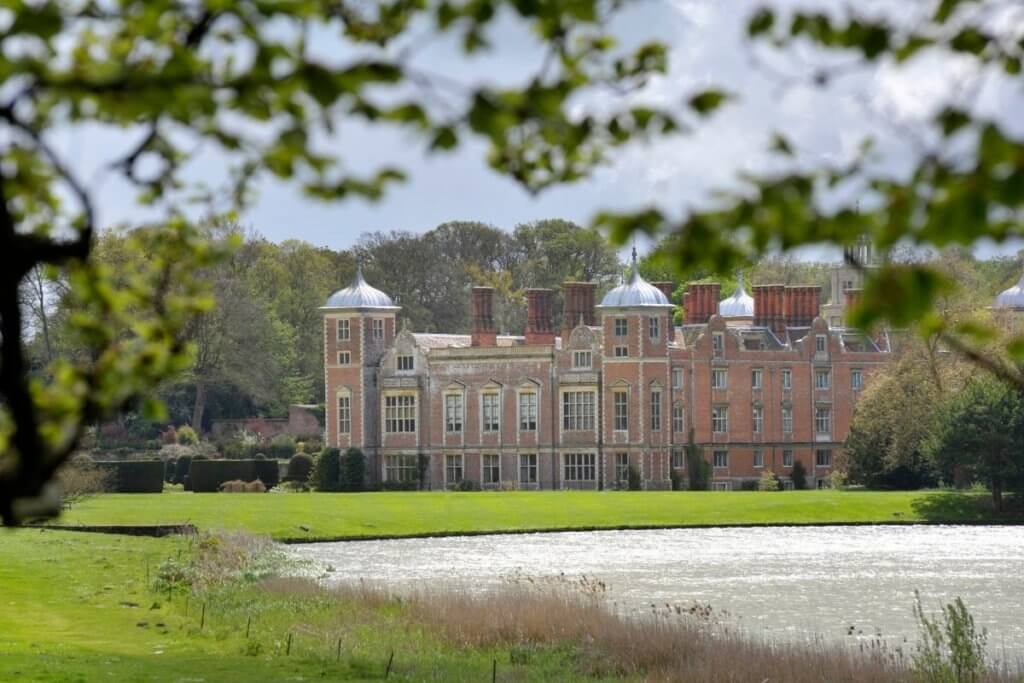 From here you can walk to Aylsham – one of only four England 'Cittaslow' towns. Cittaslow is a designation that highlights the quality of life and community spirit in a town. As you'll have guessed, it's got to be pretty high to win the accolade!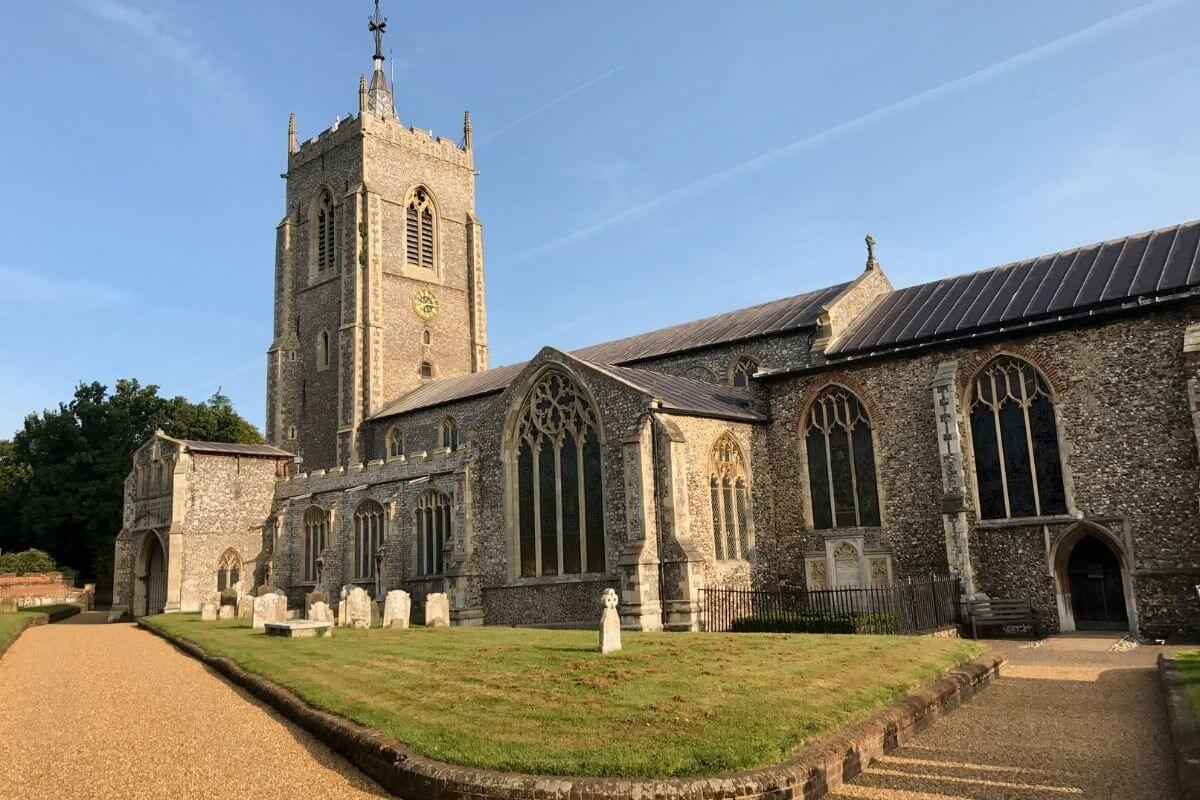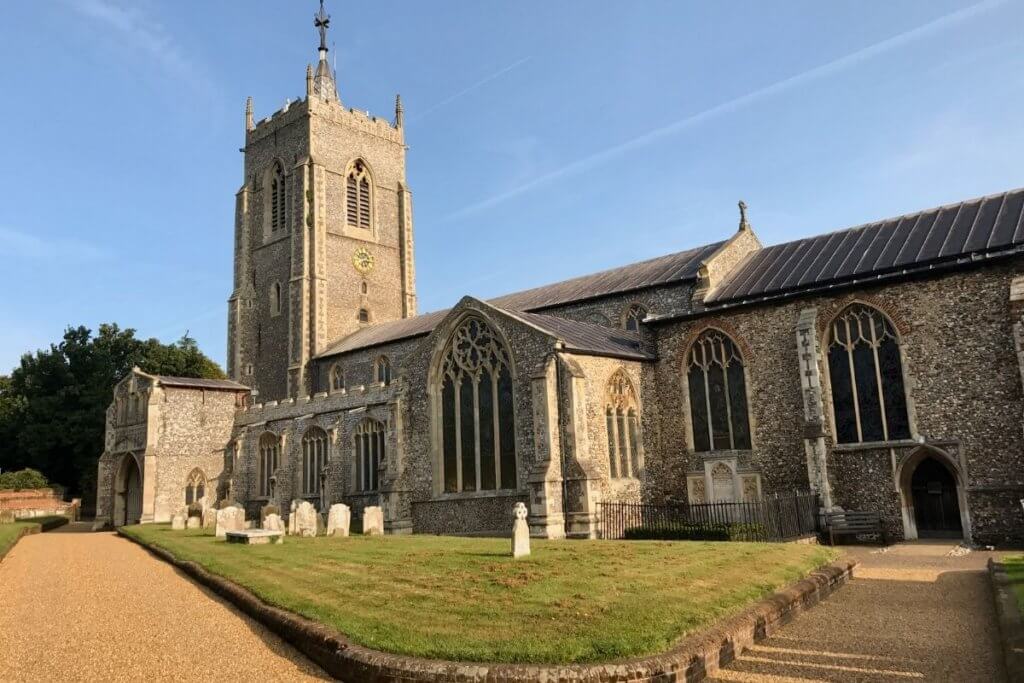 In Aylsham you'll find pretty 18th century houses, a market, cute shops, pubs and tearooms too. It's a really lovely spot to spend an afternoon. The Walpole Arms is a lovely pub, well known for its tapas.
You can get back to Sheringham using the X44 bus (45 minutes away), or to Erpingham its 12 minutes on bus number 12. Or, you can get a taxi.
Where to stay in Aylsham
If you do want to stay in Aylsham you can stay at the Black Boys Hotel – a Grade-II listed inn at the heart of the historic market town. Or at Tinsmith's House – a stylish two-room B&B with terrace.
---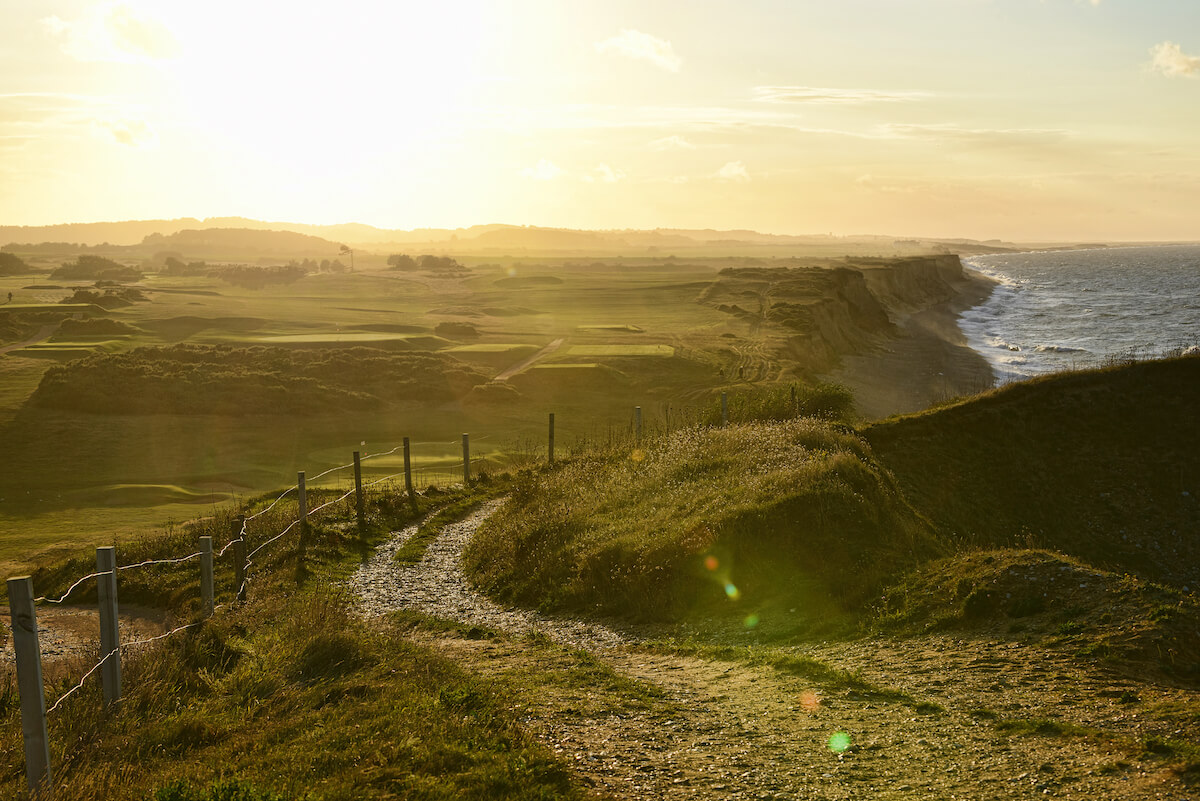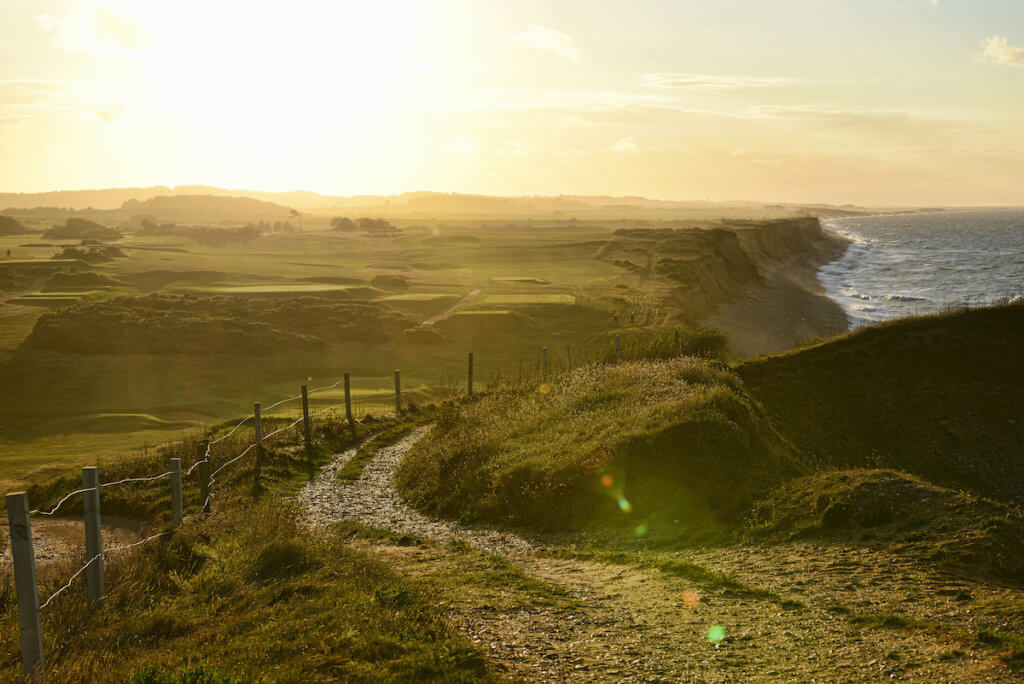 READ MORE: The Best Places to Go Paddleboarding in Norfolk
4 days out along the Norfolk Coast Path
The Norfolk Coast Path is part of the longest continuous coastal trail in THE WORLD, the England Coast Path. With this, of course, there are so many days out along the route to enjoy. These are just a few Norfolk Coast Path days out to inspire you to get out there and enjoy the views.
This post is in collaboration with Visit England and Discover England's Great Walking Trails, but I went on the trip independently last year. If you'd like to know more about the coastal paths in England, check out NationalTrail.co.uk. Click here if you'd like more details on walking the North Norfolk Coastal Path, but read this post first!
4 Great Days Out on the North Norfolk Coast
Here are the best North Norfolk Coast days out, in short.
1. Sheringham to Weybourne circular, 15km
Trail starts on the Esplanade and follows the coast before cutting into Weybourne Village to return to Sheringham via Sheringham Park. Optional steam train to return!
2. Sheringham to Cromer, 10km
Via West Runton, Beeston Bump, Beacon Hill, Roman Camp National Trust Wood into Cromer; to continue from Cromer to Felbrigg along the Weavers' Way adds 5km.
3. Felbrigg Hall and Weavers' Way, 12km
The Weavers' Way leads from Felbrigg to the Saracens Head and Erpingham village; walkers can add part of the Cromer Explorer Loop from Aldborough to Mannington Hall, around 6.5km.
4. Saracens Head to Aylsham, 13km
Combines the Mannington Hall circular (if not completed the previous day) and Blickling Hall, finishing in Aylsham; without the circular, Saracens Head to Aylsham is 9km. And you're done!
---
PIN THESE DAYS OUT ON THE NORFOLK COASTAL PATH FOR LATER