Outlet shopping can be a great way to save money without having to spend time searching for hidden bargains in traditional shops. Knowing where the best outlet shopping in England is can actually save you a lot of money, so if you're looking for designer discounts and luxury sales, we've rounded up the top 10 spots.
Whether you're travelling to England from afar or you've lived there all your life, nothing beats a bit of shopping, especially when it's at some of the best designer outlets in England (and the UK, in fact!). All across the country there are brilliant outlet shopping options, from giant shopping centres with huge ongoing discounts, to cute villages that are just perfect for grabbing a bargain on a day out shopping in England.
Outlet shopping allows you to feel like you're getting some big names for less. It's a luxury shopping experience without the huge price tag that usually comes with it, and many of the options below offer great child-friendly activities to entertain the rest of the family while mum and dad shop 'til they drop — a brilliant family day out, too.
We've travelled far and wide, and can confirm, this is the best outlet shopping in England.
10 Spots with the Best Outlet Shopping in England
Where to find the best outlet shops in England.
1. Gunwharf Quays, Portsmouth
Address: Gunwharf Quays, Portsmouth, PO1 3TZ
Shopping at Gunwharf Quays is included in our best itinerary for a day out in Portsmouth, and it's not difficult to see why; rock-bottom prices for high-quality items.
Located right by the water in Portsmouth, this outlet centre has the atmosphere to make it a lovely day out whether you're on the hunt for something specific or just browsing to see what's around. It's home to labels like Hugo Boss, Armani and Lacoste, with tonnes of great restaurants surrounding the harbour so you can fuel up and head back to the shops for round 2.
Gunwharf Quays is a popular shopping destination in the area, and definitely offers some of the best outlet shopping in England.
2. Clarks Village, Somerset
Address: Clarks Village, Farm Road, Street, Somerset, BA16 0BB
Clarks Village is a quaint little village setting with some big savings. Located in the heart of Somerset, it offers a great shopping experience that can be followed up with some of the many other day-out activities Somerset has to offer.
With up to 60% off the usual prices of around 90 designer and high street brands, you're sure to walk away from Clarks Village with bags and bags of bargains, not to mention happy little faces if you have young kinds — the adventure play park is a great place to keep them entertained between shops.
This is definitely some of the best outlet shopping in England, where you'll find well-known brands like Ben Sherman, Hotel Chocolat, Levis, Sweaty Betty, and of course the Village's namesake, Clarks. New shoes, anyone?
Once you're done shopping, here are 13 great days out in Somerset to keep the fun going in the Somerset area.
3. London Designer Outlet, London
Address: Wembley Park Blvd, Wembley Park, Wembley, HA9 0FD
Is this the best outlet in London? We think so. London Designer Outlet offers up to 70% off RRP on a huge number of brands, so it's well worth a visit while in the London area.
As part of Wembley Park there's always tonnes to do in this area, whether you're bringing the family along or not. With stores like Converse, Guess, New Balance, Next, Puma and much more, you could spend hours and hours here browsing, window shopping, and picking up more than a few great deals.
Looking for somewhere to take the kids to eat after? You have to try Big Moe's Diner — a great experience to end a busy day of shopping at some of the best outlet shopping in England.
4. Junction 32, Leeds
Address: Junction 32 Outlet Shopping, Tomahawk Trail, Castleford, WF10 4FR
Junction 32 is a relaxed shopping experience away from the busy city, where you can stroll around picking up plenty of great deals with up to 60% off RRP on over 80 high street brands.
With brands like Barbour, Fatface, Moss Bros, Tog 24, Victoria's Secret and more on offer, you won't be stuck for choice here (in fact you may struggle to leave at the end of the day!) Luckily there's plenty to entertain the kids if you're bringing them.
Have a snack at The Nutella Donut Co., hit the kids play area, or take your day out to the next level with nearby XCAPE, offering everything from trampolining to laser tag to adventure golf. This has to be some of the very best outlet shopping in England, with lots more to do in the area for a great day out.
---
What about online bargain shopping?
The internet opens us up to way more shopping experiences in the UK. For example, Diamondère's handcrafted jewellery has plenty of great choices for a decent price. Their headquarters are in the US, but you can still order from England.
Many of the labels on this list of the best outlet shopping in England give customers access to last year's styles on their websites. For example, Zara discounts their clothing heavily every single year, and you can pick up some absolute bargains second hand.
---
5. Cheshire Oaks, Chester
Address: Cheshire Oaks, Kinsey Rd, Ellesmere Port, CH65 9JJ
As designer shopping outlets go, Cheshire Oaks is definitely up there with the best of them in England. With a great selection of designer outlets offering discounts worth travelling for, a day out here is one you'll look forward to every time you go.
Cheshire Oaks is home to brands like Michael Kors, Ted Baker and Paul Smith for those who love to find a designer label at a low price. It's a lovely place to walk around so even if you don't find anything you want to buy (unlikely!) you'll still have a great day out wandering around this cute village surrounded by some of the best outlet shopping in England.
It's definitely one of the best days out in Cheshire too.
6. McArthurGlen Designer Outlet, Swindon
Address: McArthurGlen, Kemble Dr, Swindon SN2 2DY
McArthurGlen has outlet shopping centres all over England and the rest of the UK, with some brilliant brands up for grabs. Swindon's Designer Outlet is one of the biggest, offering some of the best outlet shopping in England.
With brands such as Polo, Superdry, Vans, Tommy Hilfiger and much more to choose from, you won't go home empty-handed. Swindon Designer Outlet also has a number of great restaurants to stop at and fuel more shopping later, so plan your day accordingly to get the most out of it. There's a play area too, so bring the kids if you like!
7. Boundary Outlet, Lancashire
Address: Boundary Outlet, Vivary Way, Colne, BB8 9NW
The Boundary Outlet centre in Lancashire is a must-shop if you like bargain designer fashion and homewares for up to 60% off RRP. Who doesn't?! Definitely a spot for the best outlet shopping in England.
There's free parking, plenty of restaurants and snack stops, and lots of brands to explore. You'll find a few more niche brands on offer here, but you'll still find the likes of Clinique, Crew Clothing, M.A.C, Regatta, Wrangler and much more, making it a great place for the best outlet shopping in England.
8. Braintree Village, Essex
Address: Braintree Village, Chapel Hill, Braintree, Essex, CM77 8YH
With up to 60% off more than 75 brands and lots of free parking on offer, Braintree Village is a great stop in Essex if you're looking for outlet shopping and designer deals.
There, you'll find brands like Armani, Calvin Klein, Denby, Kate Spade, Kurt Geiger, Under Armour and many more, so you can save on the big names you've always wanted. Braintree Village is also a good spot if you're coming by train, as it conveniently has its very own train station just an hour from London. All aboard for bargains!
Finished with the best outlet shopping in England? Here are 14 other great days out in Essex for all the family.
9. Gloucester Quays, Gloucestershire
Address: St Ann Way, Gloucester, Gloucestershire, GL1 5SF
Shopping by the waterside. What could be better?! Gloucester Quays is a stunning location to enjoy some retail therapy, as well as a multi-screen cinema and the Waterways Museum, making it a great choice for a day out.
Shop 'til you drop with 70% off brands like Barbour, Dune, Le Creuset, M&S, Skechers, Ted Baker and many more. Then catch a movie at the cinema afterwards, or head to a waterfront restaurant or bar to finish off a brilliant day in this excellent shopping location. The architecture here makes it one of the most visually beautiful spots for the best outlet shopping in England.
10. Bicester Village, Oxford
Address: Bicester Village, 50 Pingle Dr, Bicester, OX26 6WD
We've saved the best for last, or at least, the most well-known for last. Bicester Village is renowned as thee spot for the best outlet shopping in England. Maybe even the whole of the UK! This luxury designer outlet is even on our list of 16 unique days out in Oxfordshire for all the family, because it really is worth a visit.
Located in Oxfordshire, Bicester Village has become a must-see spot thanks to its excellent offers, huge selection of luxury and premium labels, and deliciously discounted prices. Not to mention it's a beautiful village to walk around in, with hosts dressed in distinctive red cloaks giving it that luxury edge over the other outlet centres on this list. If you're looking for the best outlet shopping in England, you must visit Bicester Village. Don't forget your bank card!
10 Spots with the Best Outlet Shopping in England
No matter what kind of designer labels you're looking for, you're sure to find them at one of these great outlet shopping centres in England. With a large selection of top brands at low prices, you can find quality clothing items, gadgets, homewares, trinkets, gifts and much, much more, all without breaking the bank.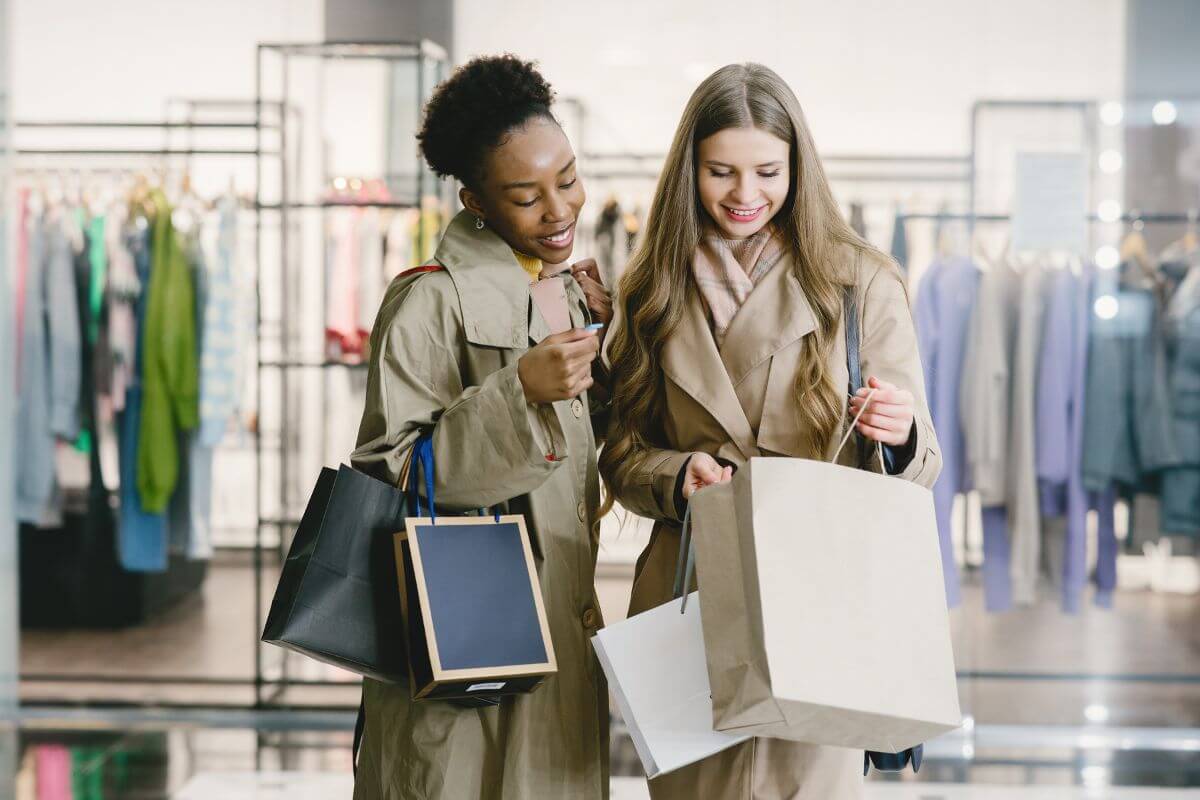 Found another spot that should be on our list of the best outlet shopping in England? Let us know so we can add it and help people find their favourite brands for less!
Quick List: Best Outlet Shopping in England
Gunwharf Quays, Portsmouth
Clarks Village, Somerset
London Designer Outlet, London
Junction 32, Leeds
Cheshire Oaks, Chester
McArthurGlen Designer Outlet, Swindon
Boundary Outlet, Yorkshire
Braintree Village, Essex
Gloucester Quays, Gloucestershire
Bicester Village, Oxford
---