The fact that our favourite wizard is from here, means there are some great Harry Potter days out in England to enjoy. Here's where you can revel in the HP magic on English soil…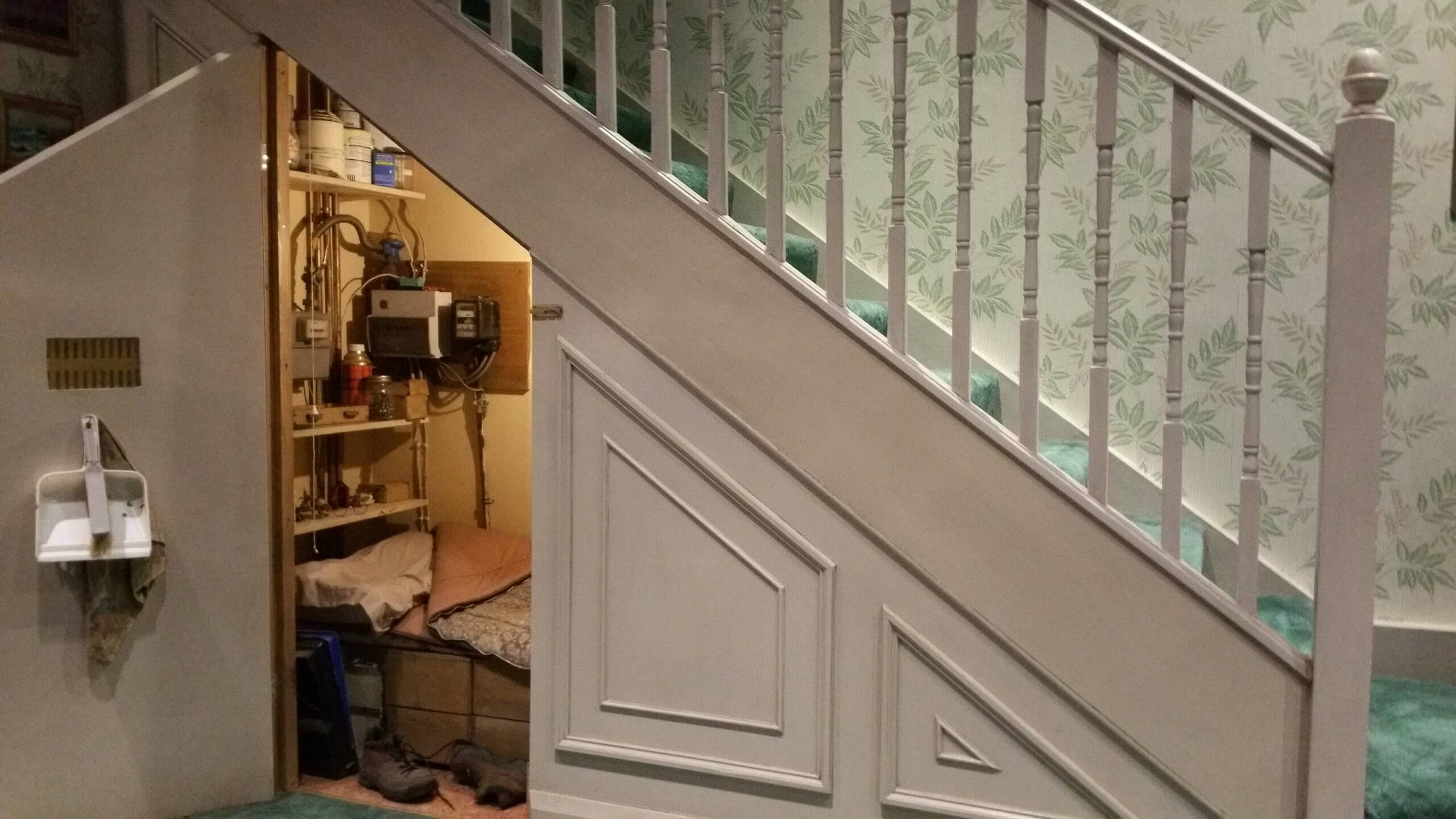 Are you an absolute Potterhead? Read all the books numerous times? Watched all the Harry Potter movie over and over again?
Looking for Harry Potter days out to satisfy that wizardy yearning?
Who'd've thought, that a novel from 20 years ago could have such an incredible impact on where to go for a day out in England? Harry Potter fans are known for being dedicated and passionate. We know our Harry Potter, and many of us would give our right arm to get one of those letters inviting us to Hogwarts on our 11th birthday.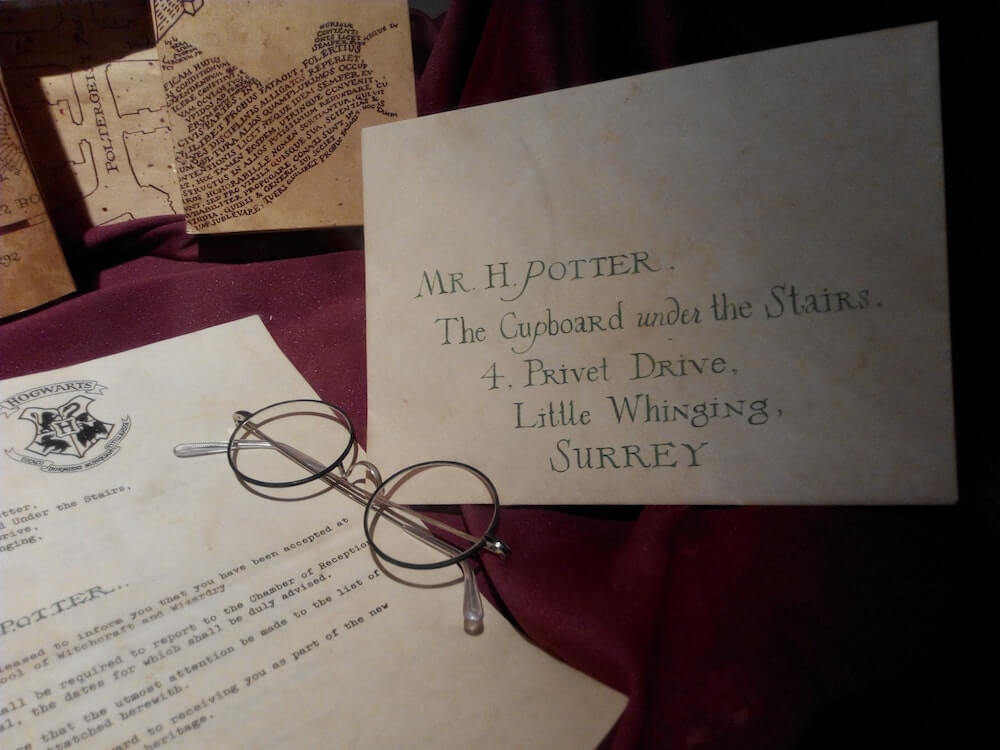 But, given that none of us will, we need to recreate that Harry Potter magic as best we can in a muggle world.
If you want a taste of those Hogwarts vibes and feel like a wizard or a witch in the making, then here's a list of the Harry Potter days out in England you need to get yourself on.
Best Harry Potter Days Out in England
Here are the best Harry Potter day trips to satisfy your Harry Potter day out needs. Alohomora!
---
1. Kings Cross Station, London
Remember the scene where Harry had to pass through the 9 ¾ platform at Kings Cross Station?
Well, you can experience that too!
Now all you trainee wizards and witches can take pictures while you pass through a brick wall and settle on the Hogwarts Express. Sounds fun right?
Well, even MORE fun, if you don't manage to make it through that is, is to go and visit the Harry Potter Platform 9 3/4 gift shop to pick up your London souvenirs.
Here you can buy all the Harry Potter merch you've ever wanted, with scarves, robes, clothes, stationary and, most importantly, snacks for all. Bertie Botts Every Flavour Beans? Gringotts Galleons Coins? Or Chocolate Frogs? You can buy them all.
Definitely one of the best Harry Potter days out there is, and one of our top days out for book lovers too!
While you're in London, you might like the Harry Potter Film Locations Tour which takes you around locations like the Leaky Cauldron, the entrance to the Ministry of Magic, the streets of Diagon Alley, and more. You can book tickets through LoveToVisit, here.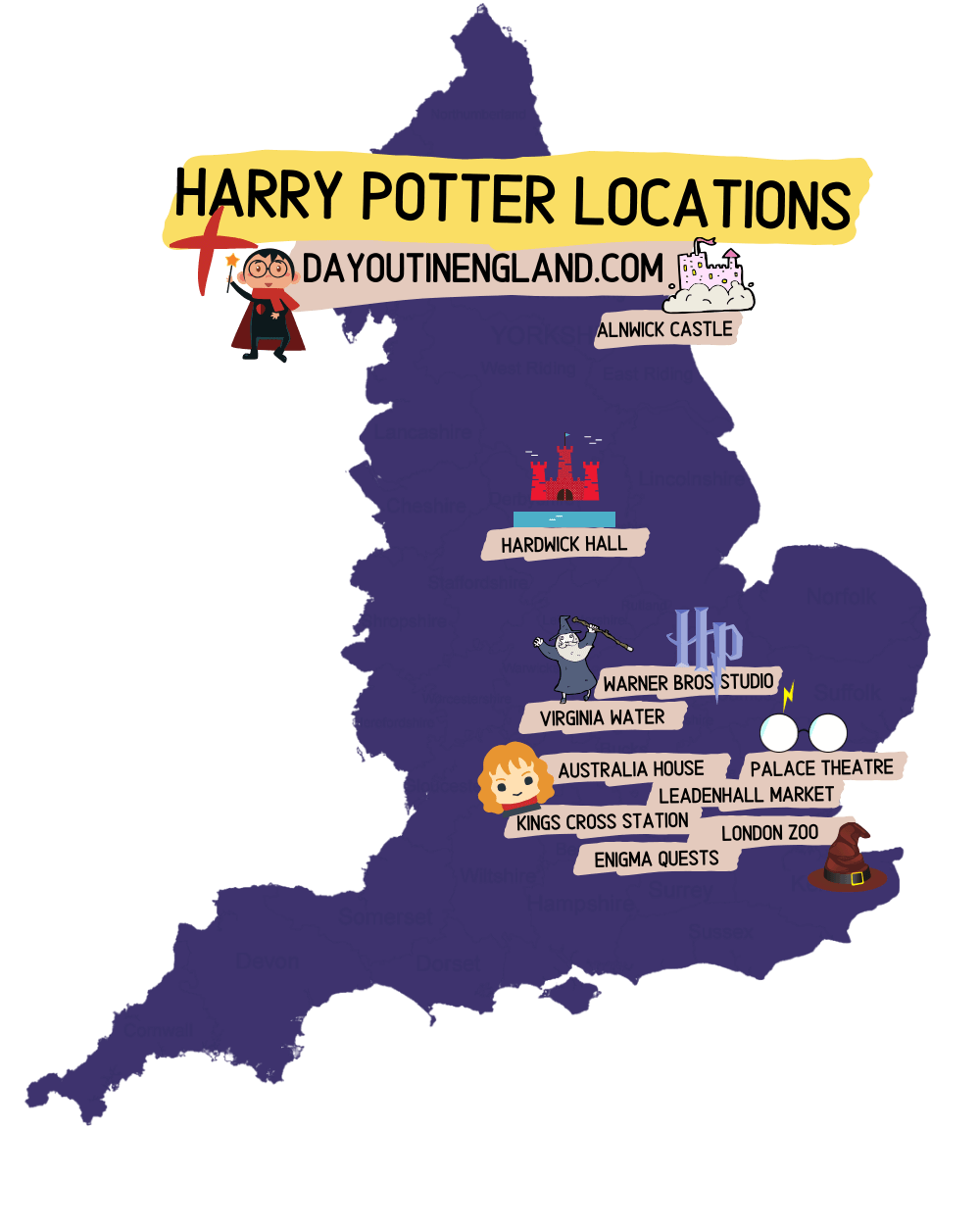 2. Harry Potter Studios, Leavesden
Visiting the Warner Bros Studio in Hertfordshire is a guaranteed wholesome, and blummin incredible, experience for all the Potter heads out there.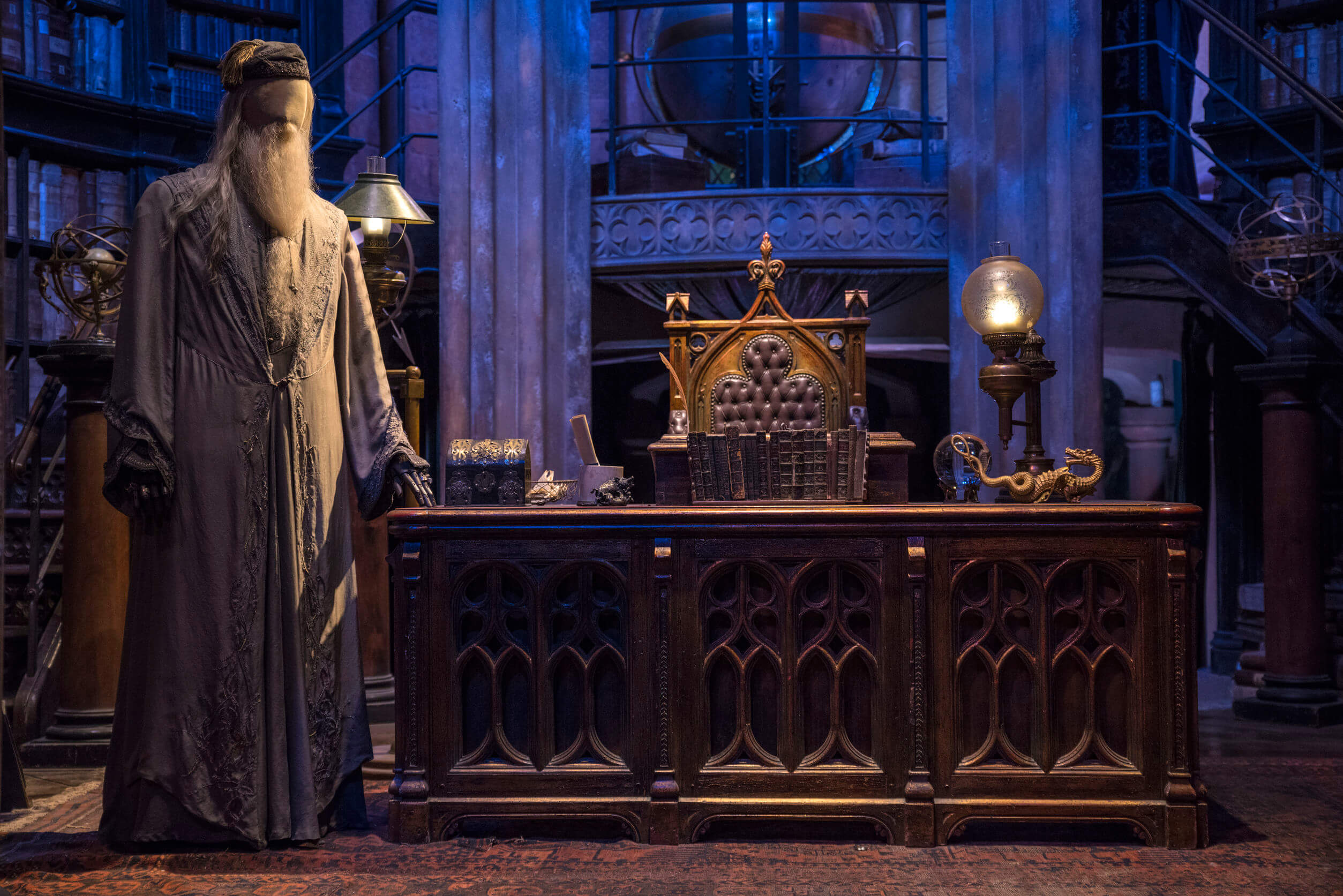 Seriously, this is the best Harry Potter day out in England. I went for a hen party once and couldn't actually believe how much they had there.
Harry Potter fans get to ride a broomstick here and feel like they're flying. You can also drink butterbeer and enjoy and discover plenty of props.
The Warner Bros Studio also has The Forbidden Forest with lots of creatures, and all the animatronics are there to see. You can see just how intricate and amazing the mechanics of the animatronics are.
And there's more!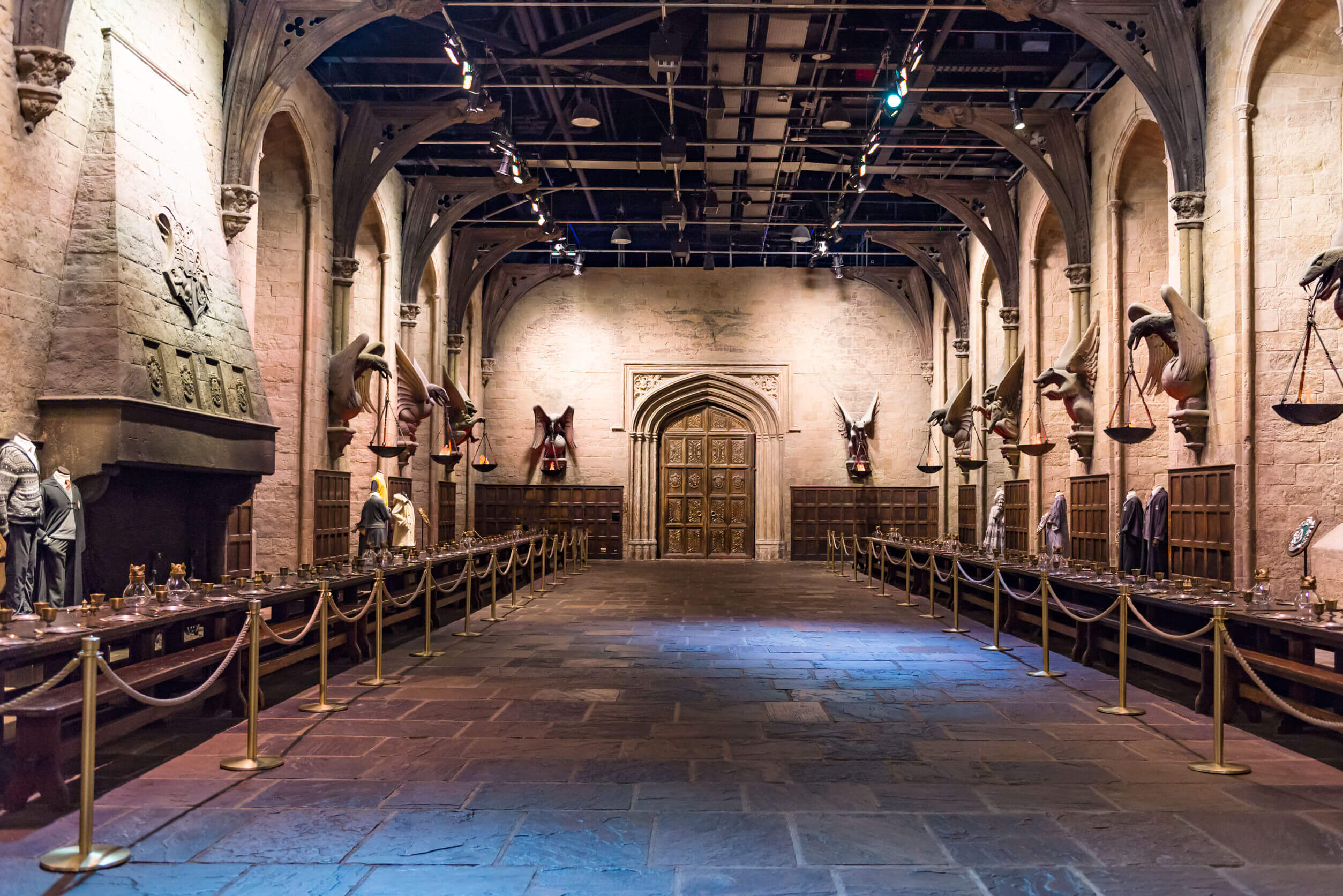 If you always wanted to know how it feels to see Hogwarts Castle – the most famous castle in England – then this is the place for you. The banqueting hall is set up in all its glory and you can see what it's like for the students to sit and enjoy their meal. If only you could get yourself in there, hey?
There's been another addition to the Warner Bros Studio recently, now you can enjoy the Gringotts Wizarding Bank too!
Check out the Harry Potter Studio and Locations Tour and Harry Potter: Warner Bros. Studio Tour with Transfer – compare and contrast which tour you think is best for you based on prices and times.
---
READ MORE
14 Best Days Out in Hertfordshire
---
3. London Zoo
You'll recognise the London Zoo from Harry Potter immediately. This is the place where, in the reptile house, Harry conversed with a snake before realising he had magic powers and could speak to snakes. In the movie a black Python is shown, however in real life there's a black mamba in the tank instead. It's one of the best zoos in England.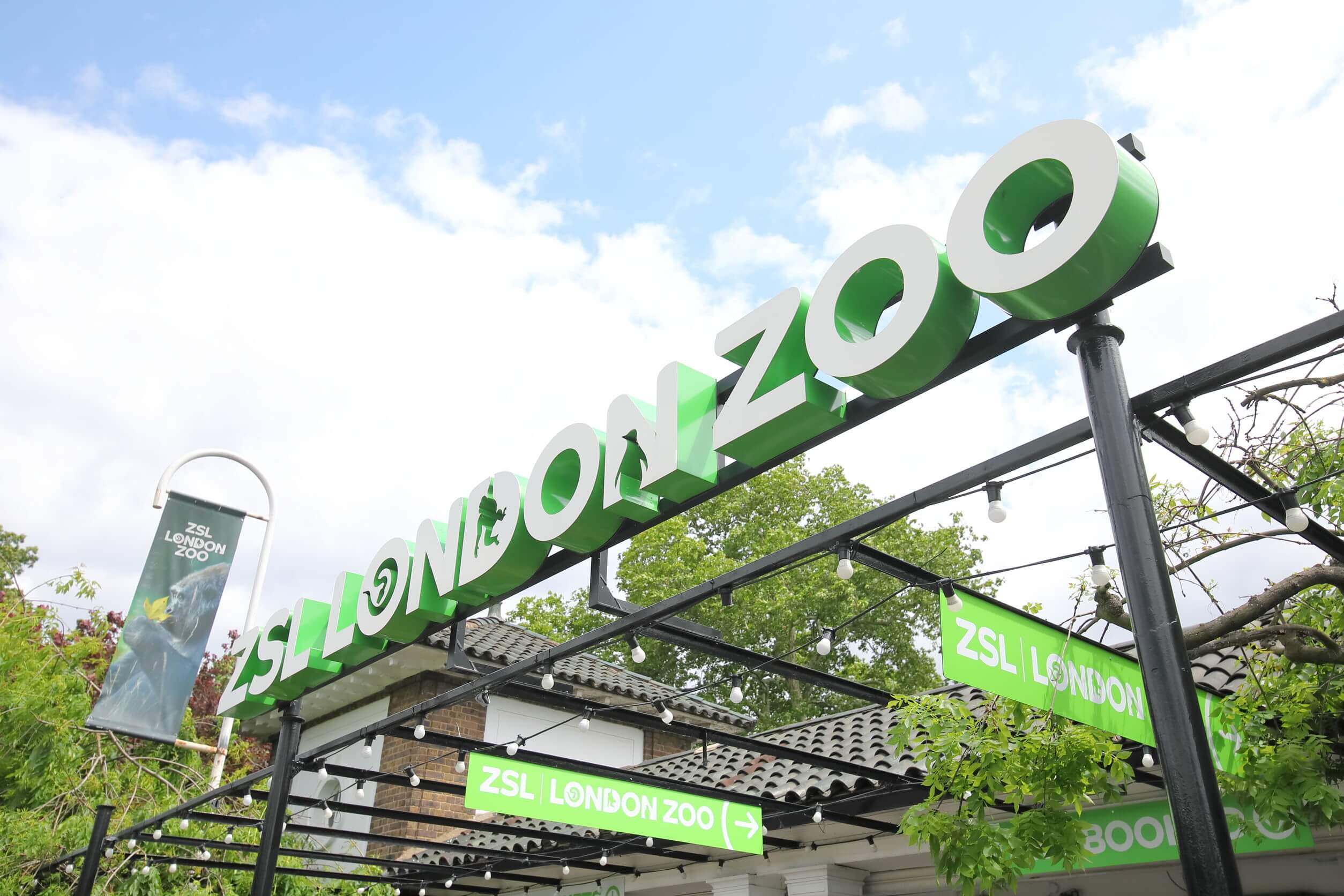 As well as being a great Harry Potter day out, the London Zoo is also just a lovely day out in England anyways. I've been about five times!
London Zoo has the largest collection of different species of animals. There are over 19,000 animals at London Zoo of hundreds of different species.
Book online in advance to receive 10% off standard gate ticket prices and save time on the gate.
Tickets bought online on the day of your visit will be charged at the standard rate (same price as on the gate).
4. Leadenhall Market, London
Ever feel like visiting the shops Harry went to in the Harry Potter and Philosopher's stone movie?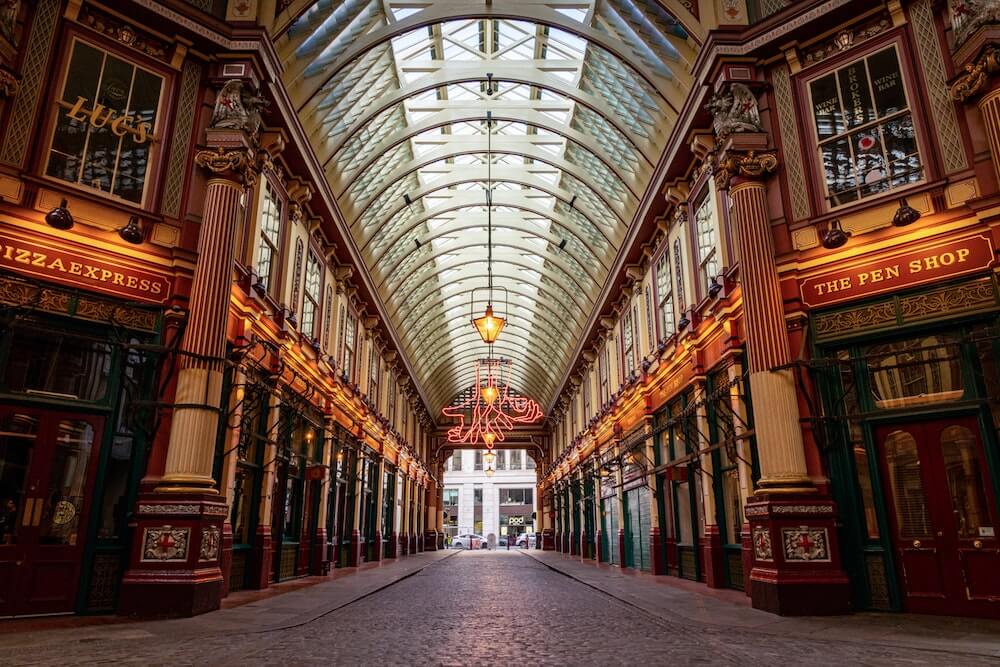 Well, this is the place to get the feel of it because the shopping scenes in the Diagon Alley were shot here. The beautifully covered pathways are where Hagrid and Harry come in the first film. They walk through the market and then enter the Leaky Cauldron Pub through a blue door (at 42 Bull's Head Passage).
It's easy to get to Leadenhall Market in London, just get the tube to Monument or Bank. It's pretty quiet round here at weekends, so have fun!
If you don't feel confident enough to work out the Harry Potter locations yourself, then join this Harry Potter walking tour around London. You'll get to see all the top sights, and have someone to point out those nuances too – makes for a great Harry Potter day out in the city!
Do you like books?
Have a go at our English Literature Quiz to really test your knowledge.
There are Harry Potter questions!
READ MORE: The Best Guidebooks About England
---
5. Palace Theatre, London
I'm sure you already know this, given that you're reading this post on Harry Potter days out in England, but the Harry Potter and the Cursed Child part one and two play is on in London.
Visit Palace Theatre in the West End and enjoy the award-winning 8th story on the stage.
The story revolves around Harry Potter, Hermione and Ron as adults. Kinda like the College Years. Make the most of the experience by watching both parts consecutively on the same day.
That's what a true Harry Potter fan would do.
6. Alnwick Castle
At Alnwick Castle you can experience how it feels to actually be inside the halls of the real Hogwarts Castle. One of the most amazing Harry Potter sights in England!
They run broomstick lessons here, just the way Harry, Ron and Hermione did, at the same place! Could you be any more of a Harry Potter fan than to experience this?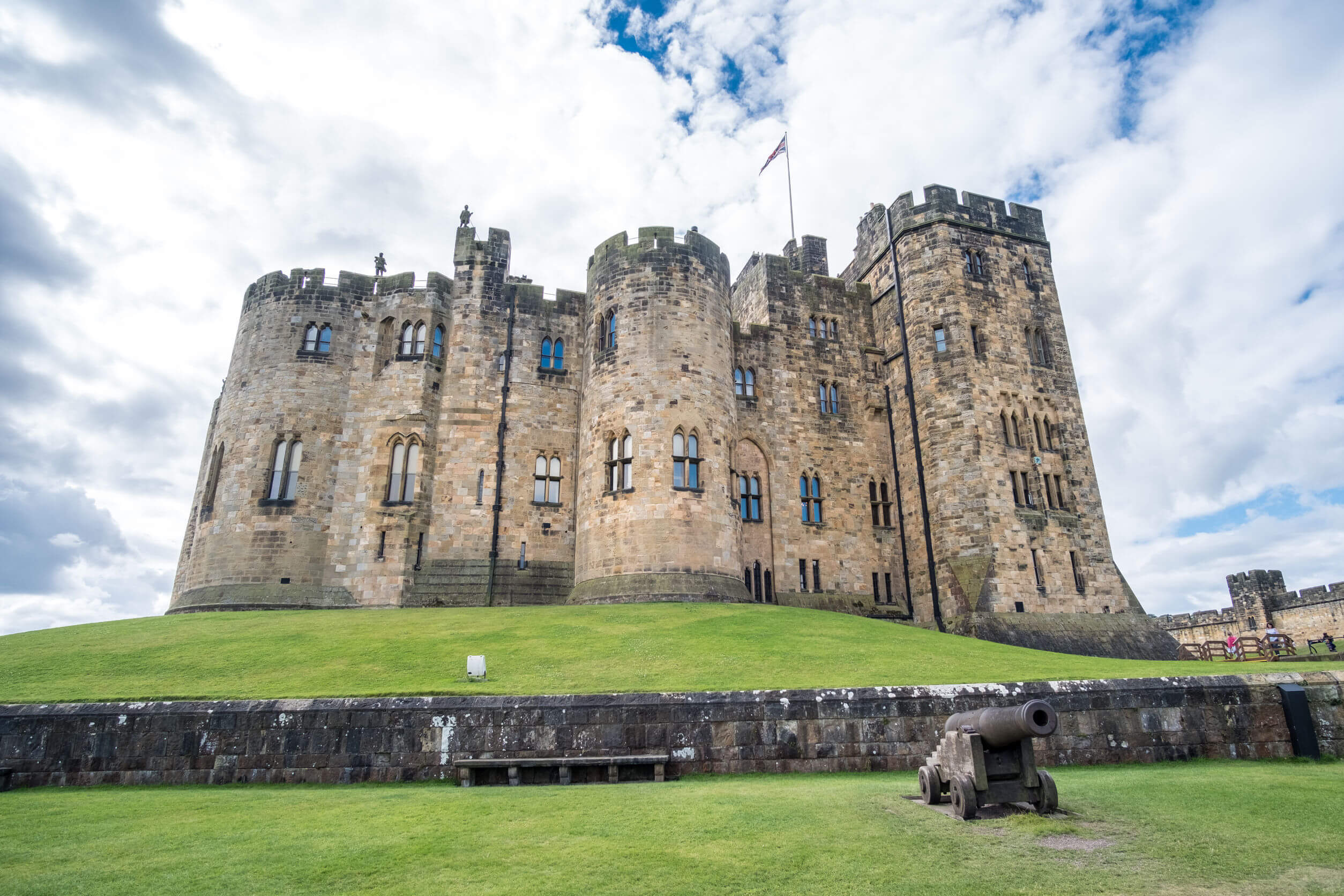 Alnwick Castle in beautiful Northumberland featured in the first and second Harry Potter films. You'll recognise the Outer Bailey from Harry's lesson with Madam Hooch.
There are regular Harry Potter inspired or themed events here – some where you can learn how to make magic wands like the wizards and witches of the film, and see people dressed up as characters from the movie too.
READ MORE: Fun Things to Do for Your Birthday
7. Enigma Quests, London
If you want to experience a day being THE Harry Potter yourself, then this place is a must!
Visit the Enigma Quests School of Witchcrafts and Wizardry. Here you'll be sorted into teams of four to five people and you and your team will be given a challenge to escape Hogwarts. An escape room for Harry Potter fans. Amazing!
This is a one-hour game where you get to enjoy and experience all the wizardry evil and problems Harry and the crew had to face IRL.
Why not combine this with the other London activities for an ultimate Harry Potter day out? This is a brilliant London activity for teenagers by the way.
8. Hardwick Hall
Harry Potter fans will know Hardwick Hall as the Malfoy Manor. And Malfoy Manor was shown as the main base for the Death Eaters in all the later movies. Spoooooky.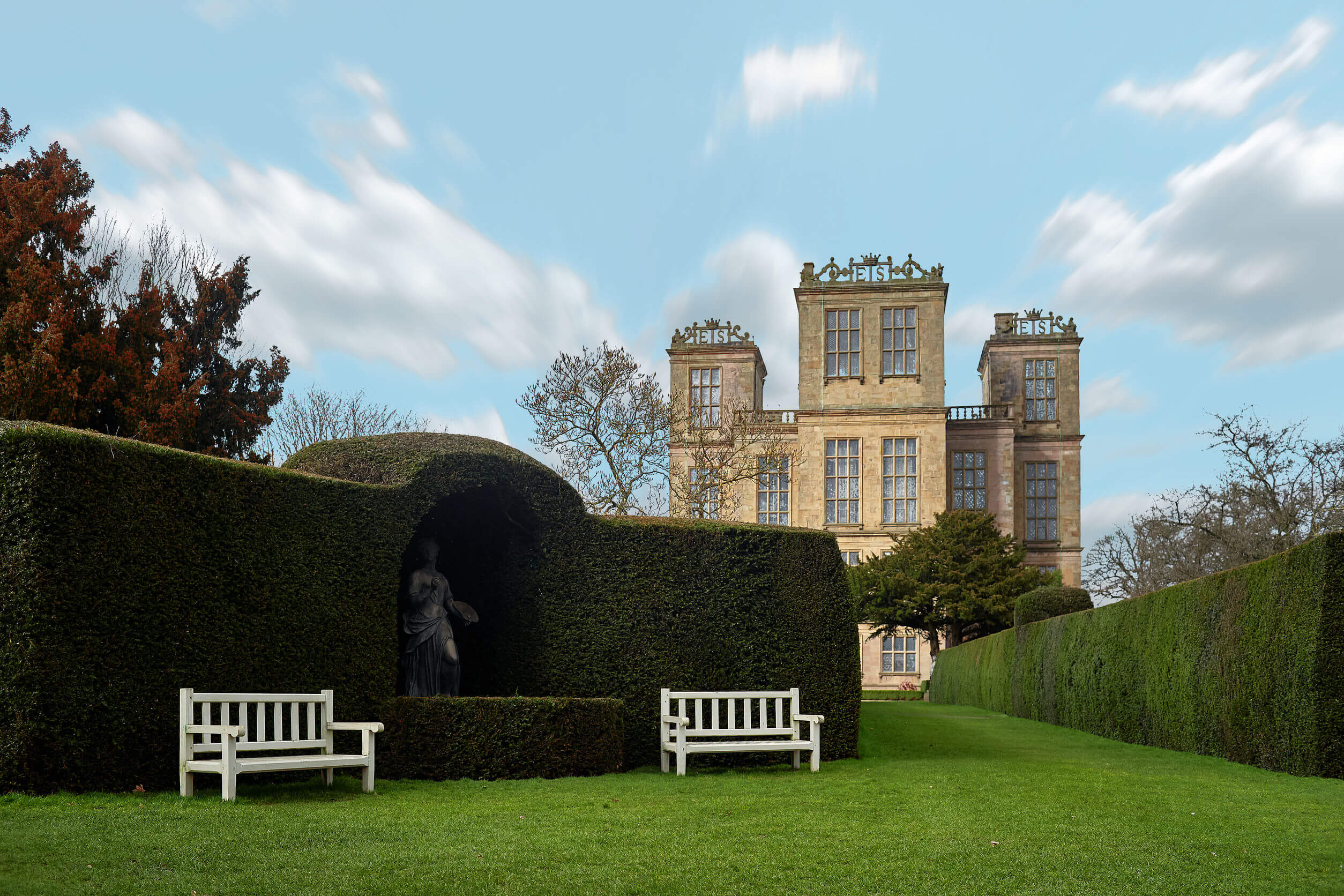 The filming of the scenes of Death Eaters was done inside and outside of Hardwick Hall so there are some great spots to get your Harry Potter fan pics.
To feel even more magic, children can also find and explore the fairy houses outside in the open. And if you need any tips on making your kid's day out one of the best, click through to our helpful post.
READ MORE: The Best Movies Set in England
9. Australia House
Australia House located in Pall Mall, London (one of the most famous streets in London), is the house of Australian High Commission. It's also the house which was shown as the Wizardry Bank for Wizards and Witches, with goblets in them.
The fact it belongs to the Australia High Commission means it's pretty much on lockdown though.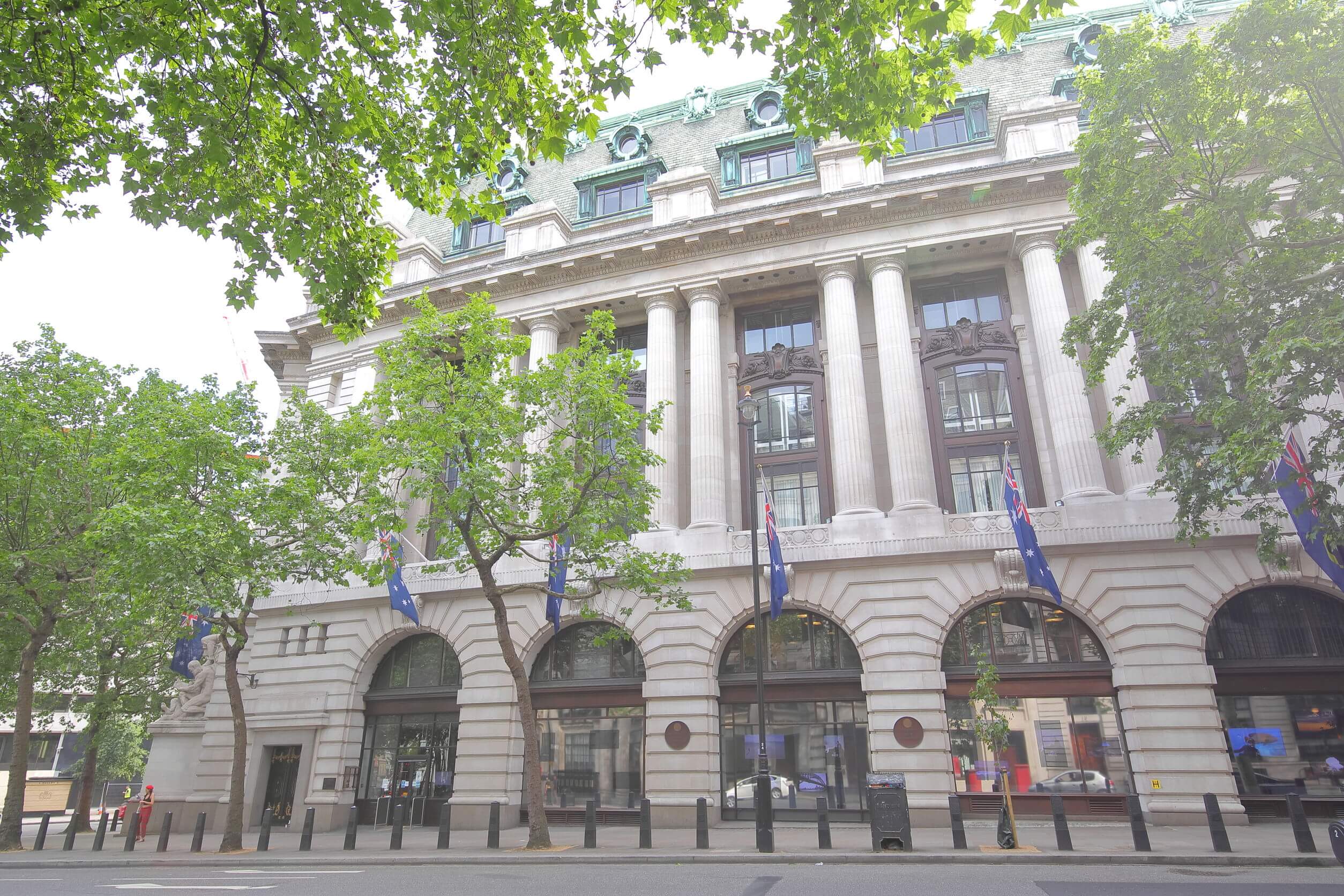 This means you probably won't be allowed to go in, unless you ask the guards VERY nicely and they MIGHT let you in. Or, get a job with a travel company and go for a meeting. I mean that's a bit rogue, and excessive, but that's how I've managed to see the inside.
If you don't manage to get yourself in there, then you can still enjoy the views from the outside. Or sit and watch the scene on your phone while you stand outside, that might be nice. It's one of the most important Harry Potter sights in England.
10. Virginia Water
Virginia Water, located in Surrey, was portrayed as Hogwarts's Black Lake in the third and fourth parts of the movies. Another lake was used in the later movies, but still, well worth getting your pic here.
Virginia Water is also a really beautiful spot just to visit anyway. The car park is an absolute rip off, but apart from that you can have a lovely wander with a snack or two from the coffee shops there. A sunny day and it makes for a lovely Harry Potter day out in England.
---
More Harry Potter day trips in London
World of Wizards and Harry Potter Locations Tour
Harry Potter 3-Hour Bus Tour of London Movie Site
Harry Potter Private Family & Kids Walking Tour
---
Quick list of the best Harry Potter days out
1. Kings Cross Station, London
2. Harry Potter Studios, Leavesden
3. London Zoo
4. Leadenhall Market, London
5. Palace Theatre, London
6. Alnwick Castle
7. Enigma Quests, London
8. Hardwick Hall
9. Australia House
10. Virginia Water
---