Whether you're searching for fascinating history, architectural masterpieces, or perhaps even a ghost, the best castles in England promise a spectacular day out for the entire family.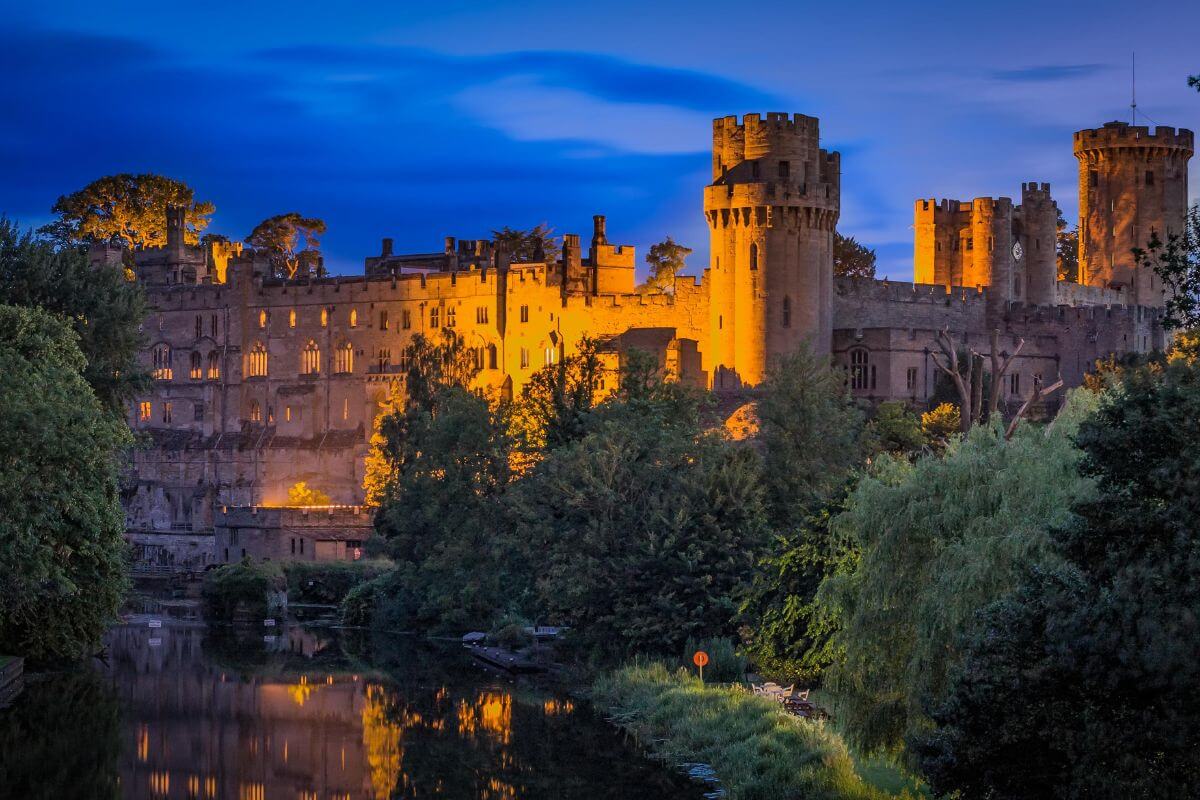 England's landscape is decorated with hundreds of historic castles that pay homage to the engineering, defensive and architectural ingenuity of bygone generations. Some of the oldest castles in England serve as a reminder of the nation's turbulent past, while other centuries-old castles remain inhabited by influential families through to the royals.
Anglo-Saxons, Vikings, Normans, Tudors and Victorians have all left their mark on Great Britain in the form of imposing castles surrounded by acres of scenic parkland and countryside. If you want to make the most of a historical day out for the family, these are the best castles in England to visit.
The Most Fascinating Castles in England
The most interesting castles in England to visit in 2023
1. Tower of London
On top of being one of the most famous castles in England, the Tower of London is one of the nation's most iconic structures.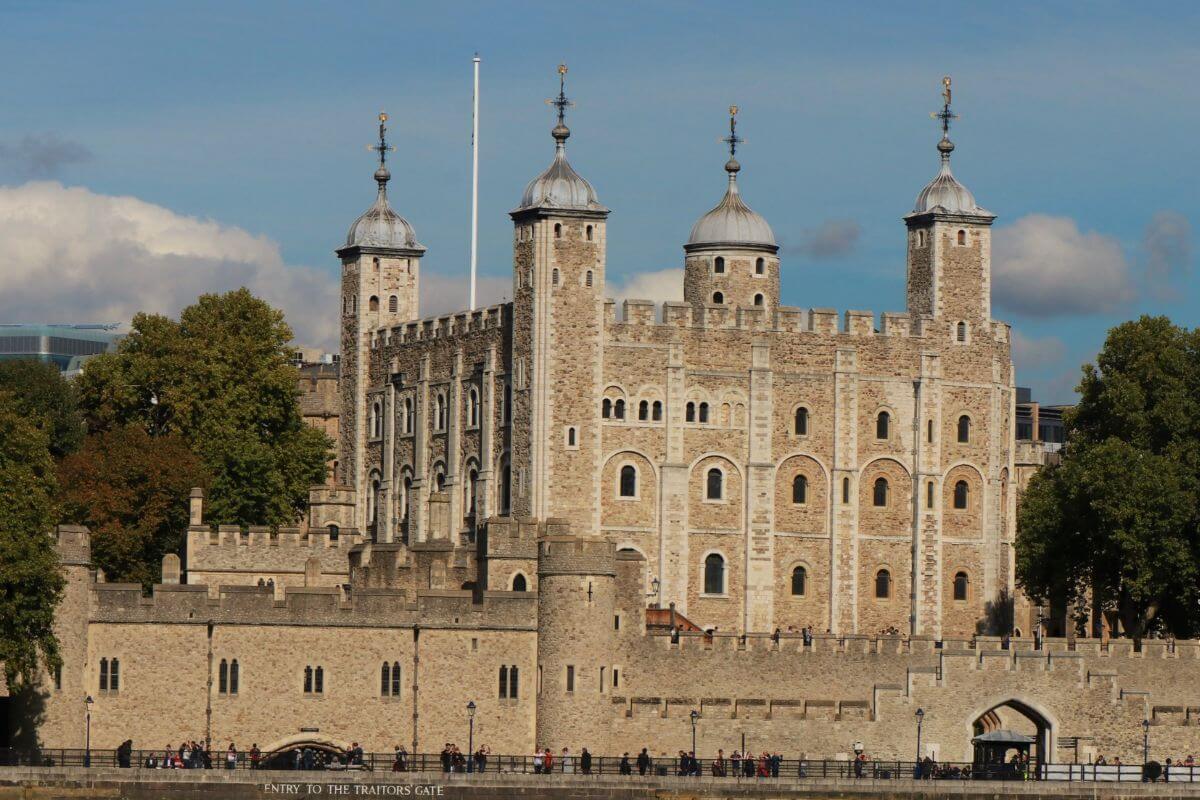 Throughout its 1,000-year history, the Tower of London has been a royal palace, an imposing fortress and an infamous prison. Today, this historic castle is home to the Crown Jewels, which – along with 12 towers – can be seen by visitors.
Notable sights at the Tower of London include the Scaffold Site, the Bloody Tower, Traitors' Gate, and the White Tower. Legend has it that the Tower of London is also one of the most haunted castles in England. Book a Tower Twilight Tour for spooky stories, gruesome insights, and a touch of royal gossip.
The Tower of London is just one of the must-visit iconic landmarks in London, but there are plenty more to see during your stay in the Great British Capital. Tickets cost around £30 per adult and £15 per child aged 5 to 15 years.
2. Windsor Castle, Berkshire
Occupying an area of about five hectares, Windsor Castle is the biggest castle in England, and it also happens to be Europe's longest-occupied palace.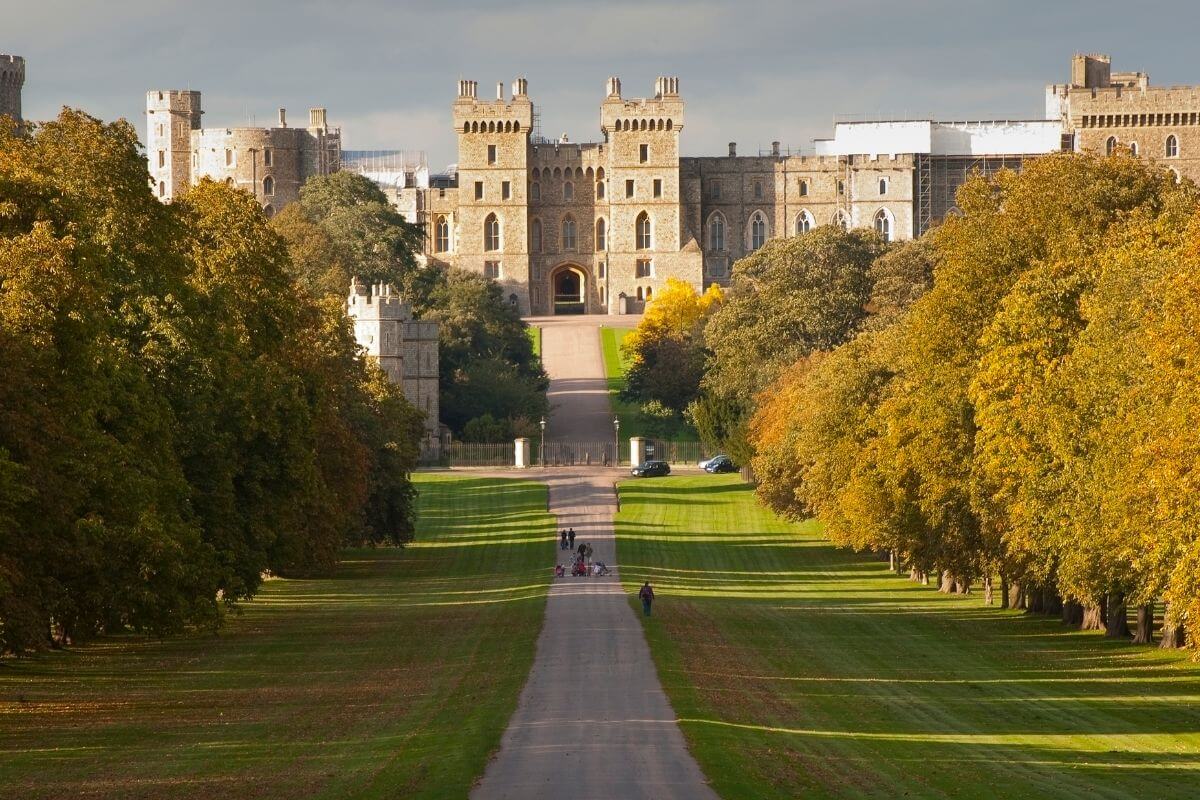 The story of Windsor Castle dates back to the 11th century, when its construction was ordered by William the Conqueror. Today, the castle's façade features Georgian and Victorian elements, and inside is bursting with antique furnishings.
While Windsor Castle is certainly one of the most famous castles in South England (it was the Queen's preferred weekend residence), it gained even more international coverage during and following the wedding of Prince Harry and Meghan Markle.
It goes without saying that Windsor Castle is a must-visit attraction during a visit to Berkshire, which is why we've produced a guide on how to do a day trip at Windsor Castle.
3. Warwick Castle, Warwickshire
Originally constructed from wood in 1068, Warwick Castle was rebuilt using stone in the 12th century. Since then, it has repelled an attack in 1264, survived a besiegement in 1642, and withstood a fire in 1871. Despite all that, Warwick Castle remains one of the best-preserved medieval castles in England.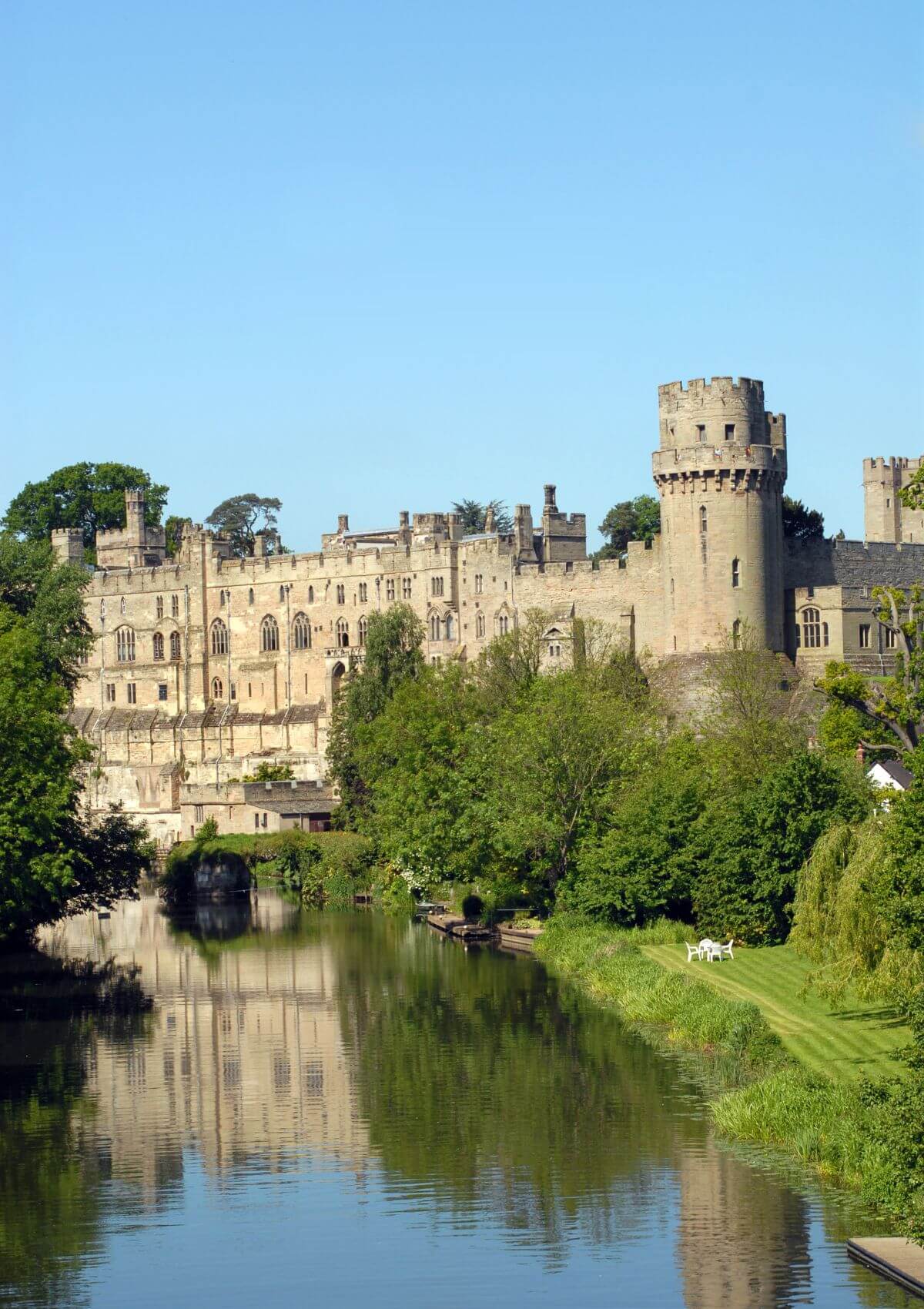 The castle is still the residence of the Earl of Warwick, but public tours allow visitors to see the sophisticated State Rooms and the 17th-century Great Hall, which holds a myriad of invaluable possessions. You can also take in views of Warwickshire from the top of the tallest tower as well as attempt to find your way around one of England's best mazes – certainly not bad for a day out in Warwickshire.
Ticket prices to visit Warwick Castle start at £20. Book your tickets to Warwick Castle before you go to save time and money.
4. Dover Castle, Kent
Dover Castle used to be called the 'Key to England' due to its significance in guarding England's southeastern coastline. Some parts of it date back to the Iron Age. It also has a Roman-era lighthouse, which is one of three surviving Roman-era lighthouses in the world.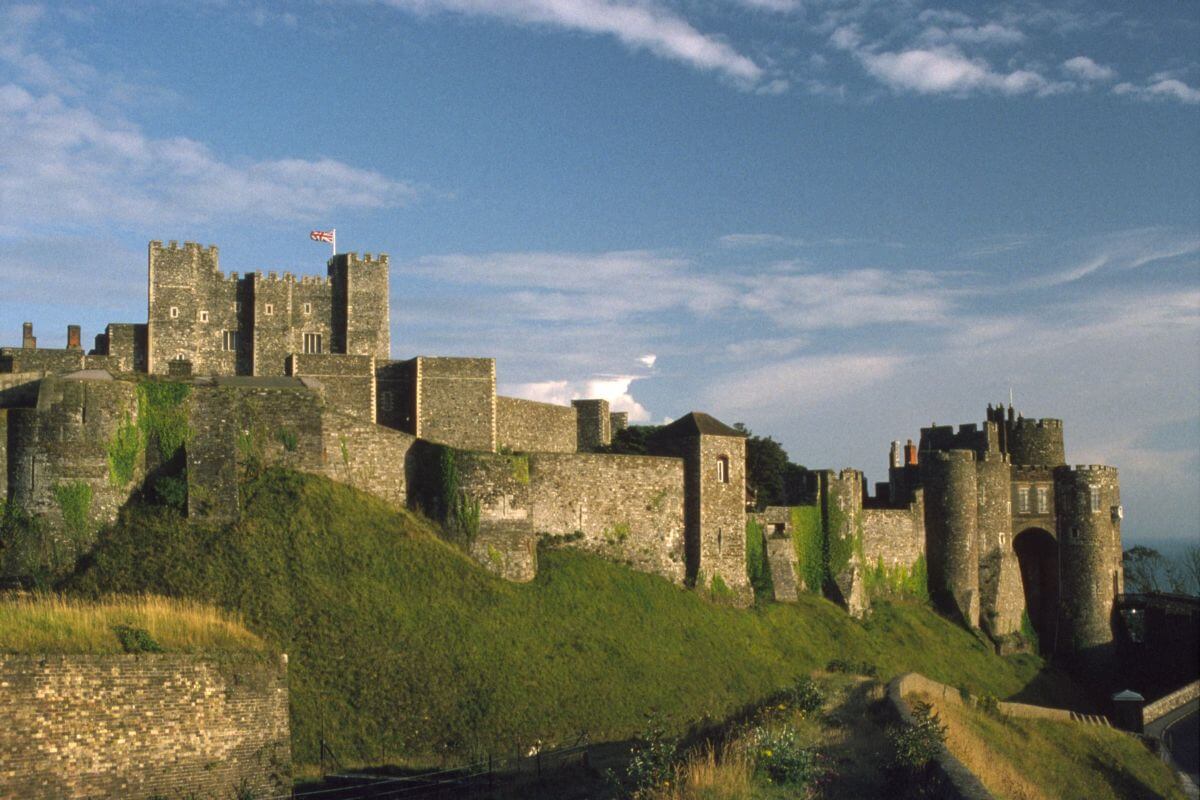 One of the most exciting attractions of the castle is The Bunker, where visitors are taken through the scenarios of the castle's history during the Cold War. There's also a series of secret underground tunnels and chambers that were used during WWII. Join a tour to see a rescue operation recreated using special effects. Make sure Dover Castle is included in your day out in Kent. Tickets start at £20.90 for an adult, and you can book yours through LoveToVisit, here.
5. Bamburgh Castle, Northumberland
Bamburgh Castle is one of the largest castles in England, taking up nine acres on top of a rocky plateau that overlooks the coastline of Northumberland.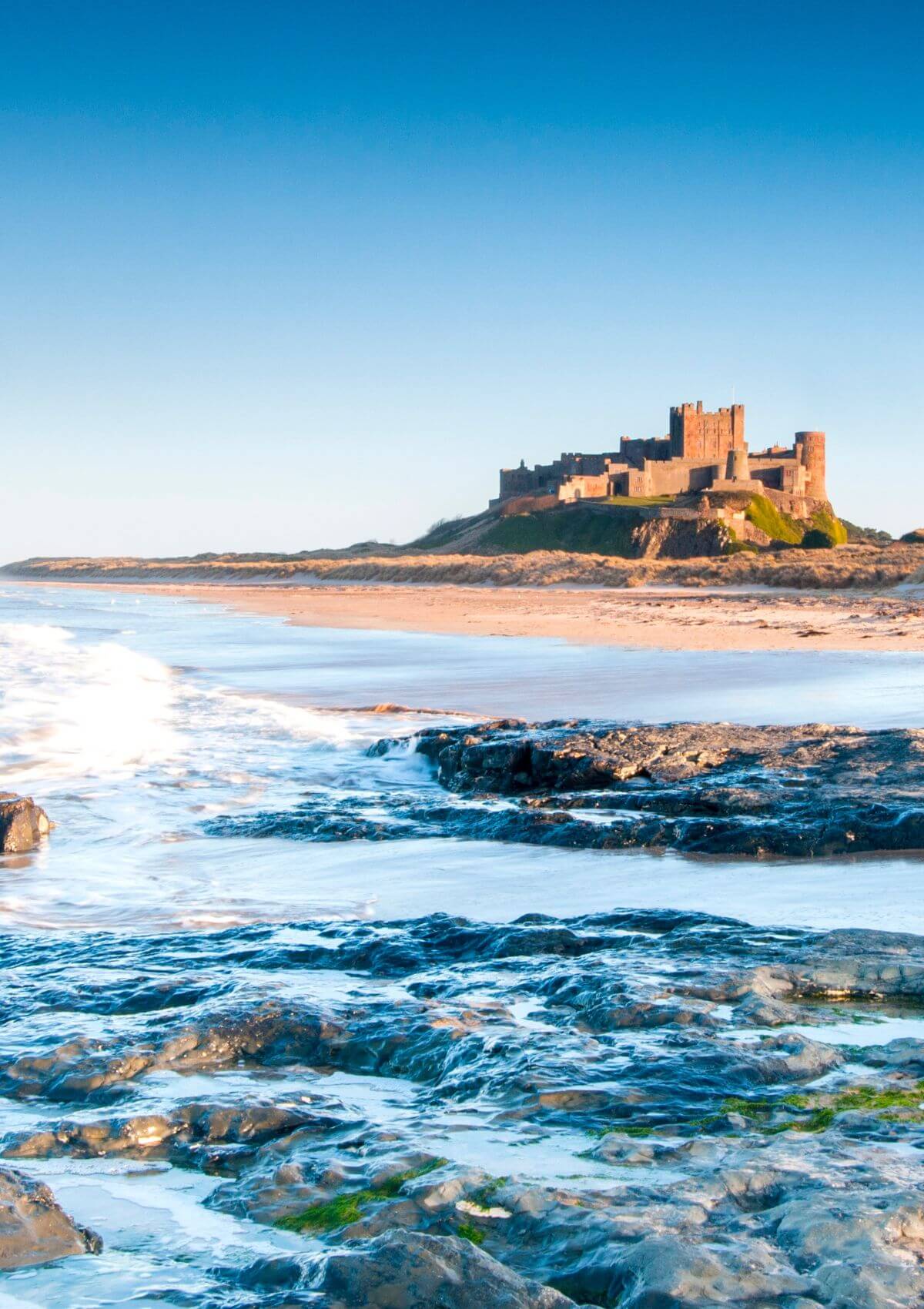 The site on which Bamburgh Castle stands has been inhabited for at least 12,000 years, though the structure you see today was mostly built during the Victorian era. It remains the ancestral home of the Armstrong family, but you can discover over 2,000 historical artefacts ranging from furniture to weaponry in 14 public rooms.
Other notable attractions within the castle grounds include a 12th-century keep, a medieval kitchen, an 18th-century whinstone windmill, and the impressive King's Hall. Tickets cost £15.50 per adult and £7.65 per child aged 5 to 16 years. Days out in Northumberland don't get much better than this.
6. Leeds Castle, Kent
Leeds Castle celebrated its 900th birthday in 2019, and what a story this beautiful castle in England has to tell.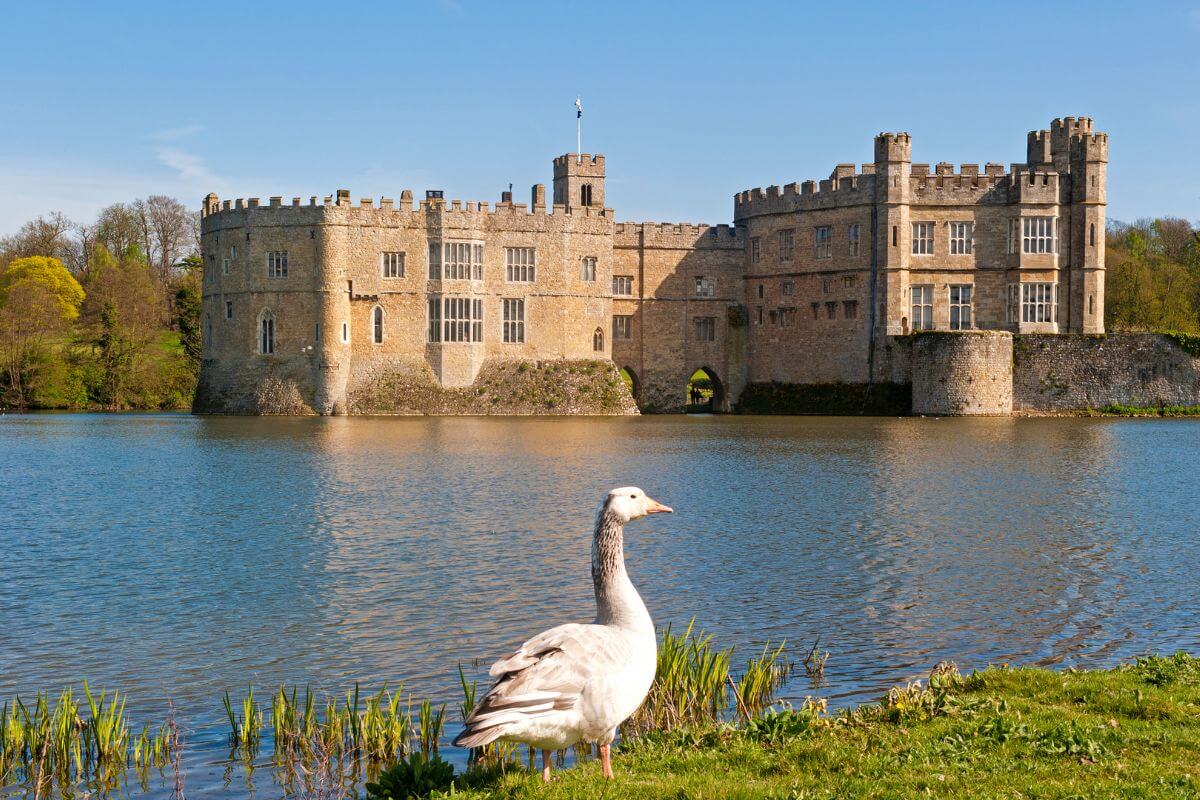 Surrounded by a moat and around 500 acres of parkland complete with adorable wildlife, Leeds Castle has been the property of six medieval queens, a Norman stronghold, a palace of Henry VIII, and a 20th-century retreat for the rich and famous.
You might also recognise Leeds Castle from the big screen – it's been used as a filming location for vintage films including The Moonraker and Kind Hearts and Coronets.
As Leeds Castle is a popular day out in Kent, we recommend booking your visit in advance. Tickets cost £32 per adult and £24 for children aged 3 to 15 years.
7. Alnwick Castle, Northumberland
Another castle in England that dates back to the Norman period, Alnwick Castle has been a military outpost, a refuge for evacuees, a family home and a college. Today, it's the second-largest inhabited castle in the UK, with the top position going to Windsor.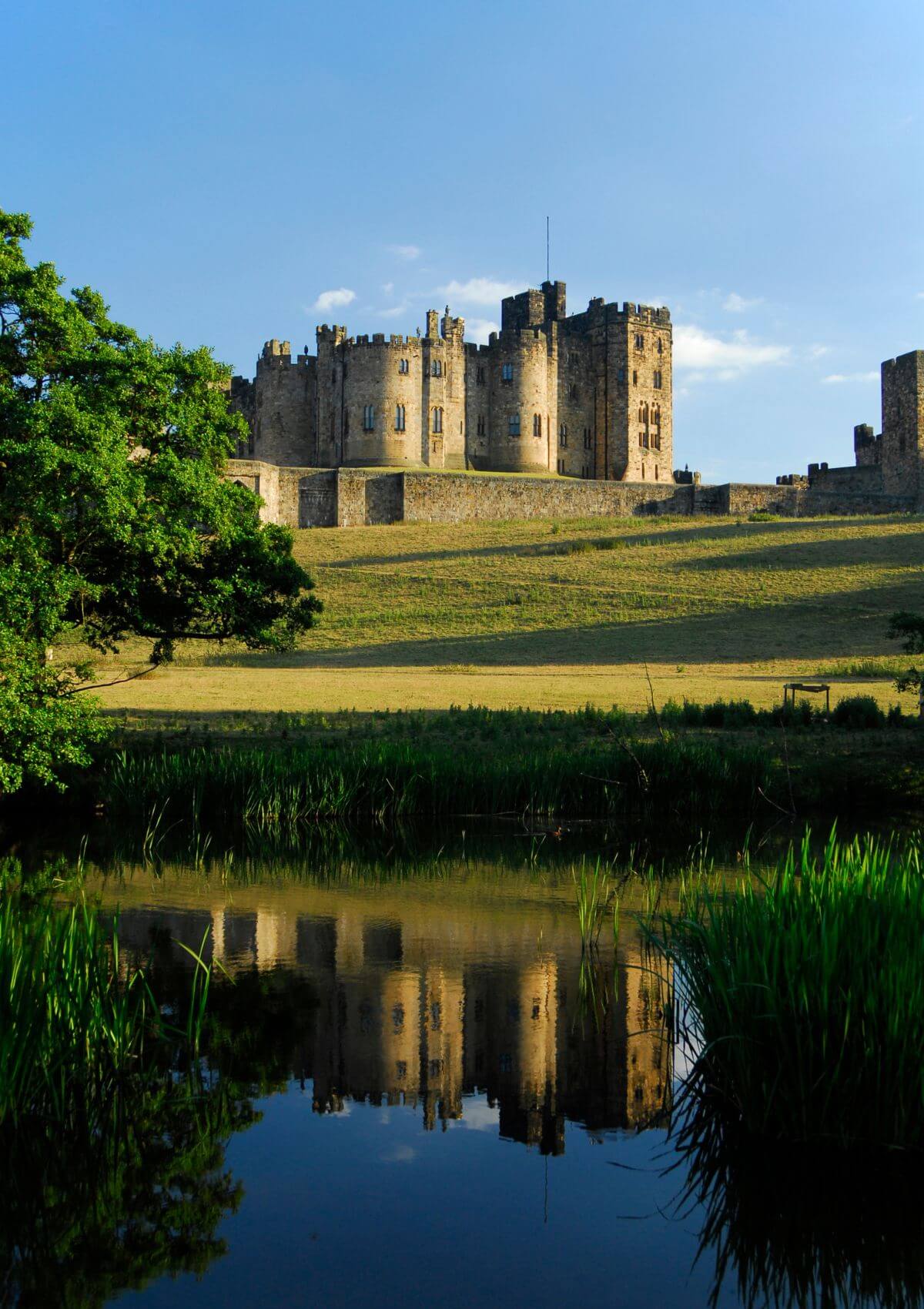 You might recognise Alnwick Castle from the big screen. It's been featured on Downtown Abbey, Elizabeth and, perhaps most notably, Harry Potter and the Philosopher's Stone. When you see the castle's magnificent medieval architecture, Italianate State Rooms and manicured grounds, you'll understand why it's such a popular filming location.
Besides tours, talks and trails, activities and events at Alnwick Castle include Harry Potter-themed broomstick flying lessons, archery and dragon quests. The castle will reopen to the public in spring 2023. Tickets and prices will be released soon, but you can expect to pay around £15 per adult. Discounts will be available for children and families.
If you're a Harry Potter fan, you might be interested in more Harry Potter themed days out in England.
8. Arundel Castle, West Sussex
While Arundel Castle was established in 1067, it was largely rebuilt in the Gothic style during the 19th-century, making it one of the great works of Victorian England. Many original features survive, including the medieval Gatehouse, the Norman keep and the Barbican.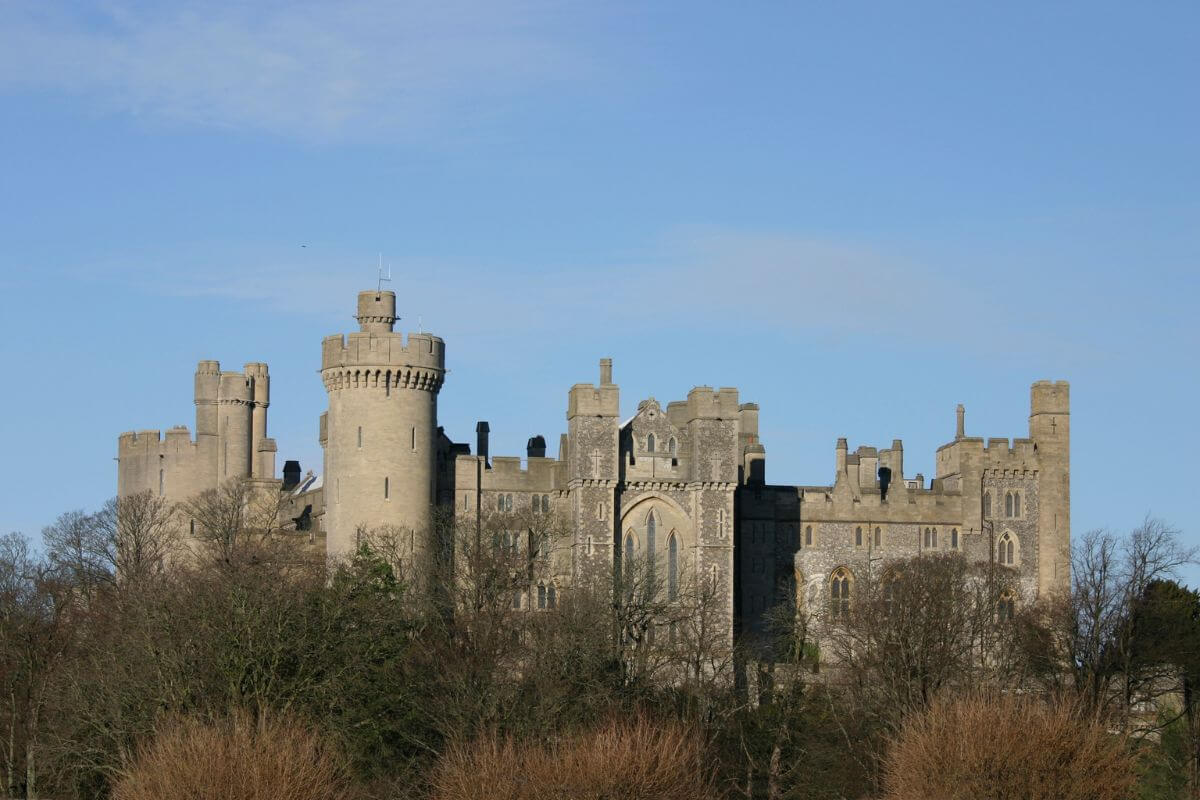 Surrounding this magnificent castle in England are 40 acres of landscaped grounds, which include walled gardens filled with fragrant flora. You can take in sweeping views of the South Downs and the River Arun from the Norman Motte.
Inside Arundel Castle, you can browse a collection of rare antiques, furnishings and paintings by the likes of Canaletto, Gainsborough and Van Dyck. You may recognise parts of the castle from TV hits like The Young Victoria and Doctor Who. If you're a fan of the supernatural, keep your eyes peeled for Arundel castle ghosts.
You can easily spend an entire day out in West Sussex at Arundel Castle, which will reopen in April 2023. As the castle is still the home of the Earls of Arundel and Dukes of Norfolk, it's worth purchasing an admission ticket in advance. Ticket prices for 2023 are yet to be confirmed, but you can expect to pay around £22 to access all areas.
9. Hever Castle & Gardens, Kent
Hever Castle is famous for being the childhood home of Anne Boleyn, the second wife of King Henry VIII, though its history spans more than 700 years.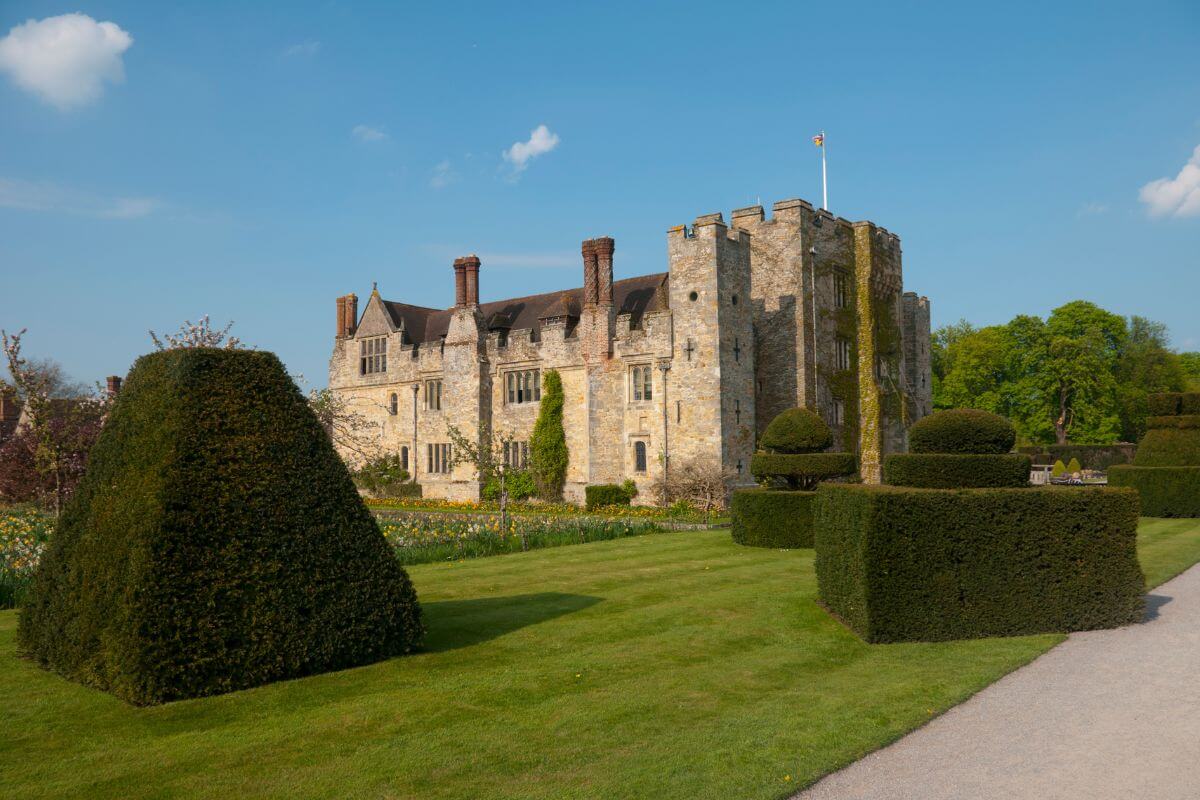 Within the 125 acres of stunning grounds that Hever Castle occupies, you'll find award-winning gardens with katsura trees and dahlia displays, plus a century-old Yew Maze. The castle's walls are packed full of tapestries and portraits from the Tudor era. According to legend, Anne Boleyn is just one of the spirits that roams the halls, making Hever Castle one of the most haunted castles in England.
If you're in Kent for Christmas Hever Castle makes for a great day out – fingers crossed for a thin layer of snow to make it all the more majestic.
10. Bodiam Castle, East Sussex
Built during the 14th century, the quadrangular Bodiam Castle is characterised by its imposing stone battlements and towers that overlook a misty moat.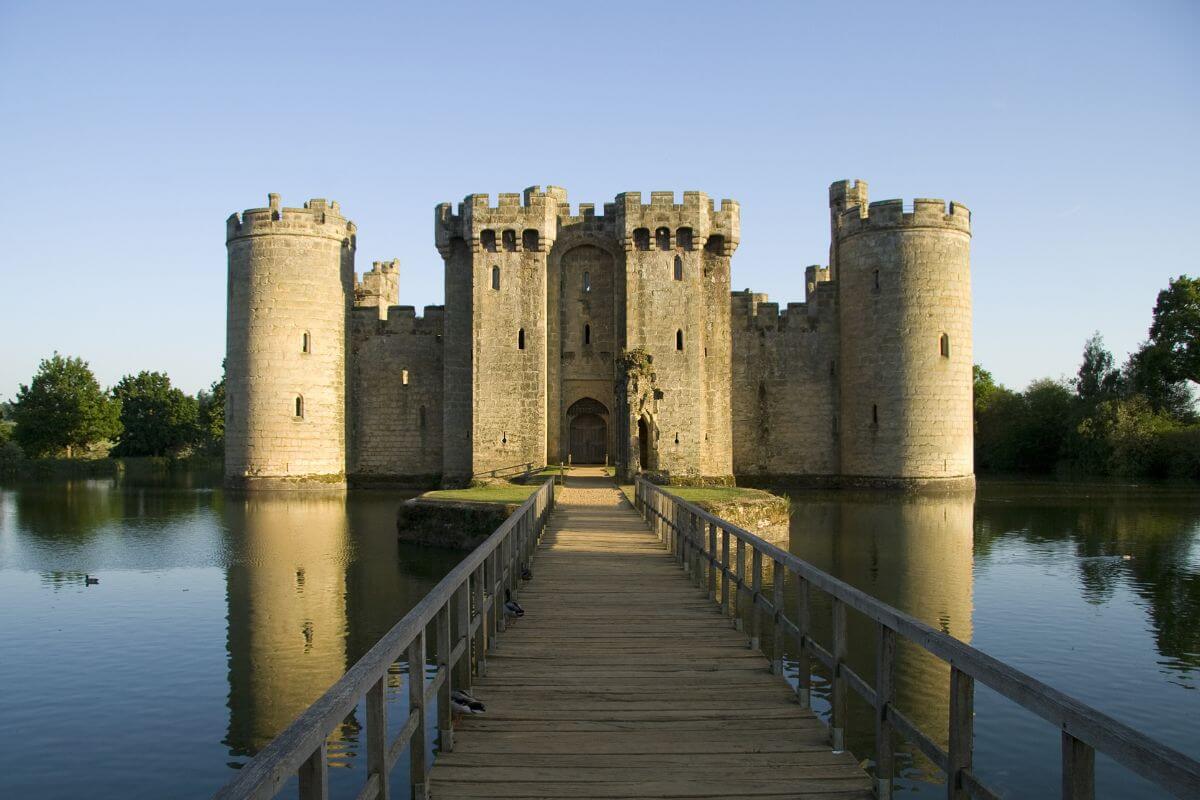 Even though some parts of the castle's open-air interior have fallen into ruin, Bodiam Castle is still one of the most iconic castles in South England, and its surrounding landscapes include grassland, wetland and deadwood habitats.
When you need a break from roaming the grounds, grab a hot beverage from the Wharf Tearoom that overlooks the River Rother. You can also grab bites from the seasonal Castle View Café.
Easily one of the best family days out in East Sussex, Bodiam Castle is open daily from 10am to 4pm, and tickets cost around £11 for adults and £5.50 for children. Discounts for families are available, and kids under five years old can visit for free.
11. Highclere Castle, Hampshire
You'll remember this one from Downtown Abbey. Nestled amid 1,000 acres of parkland, the Highclere Castle estate dates back to the 8th century. An Anglo-Saxon King granted the estate to bishops of Winchester, who then built a medieval English palace here. Sir Robert Sawyer, the direct ancestor of the Earl of Carnarvon, bought it in 1679 and rebuilt it.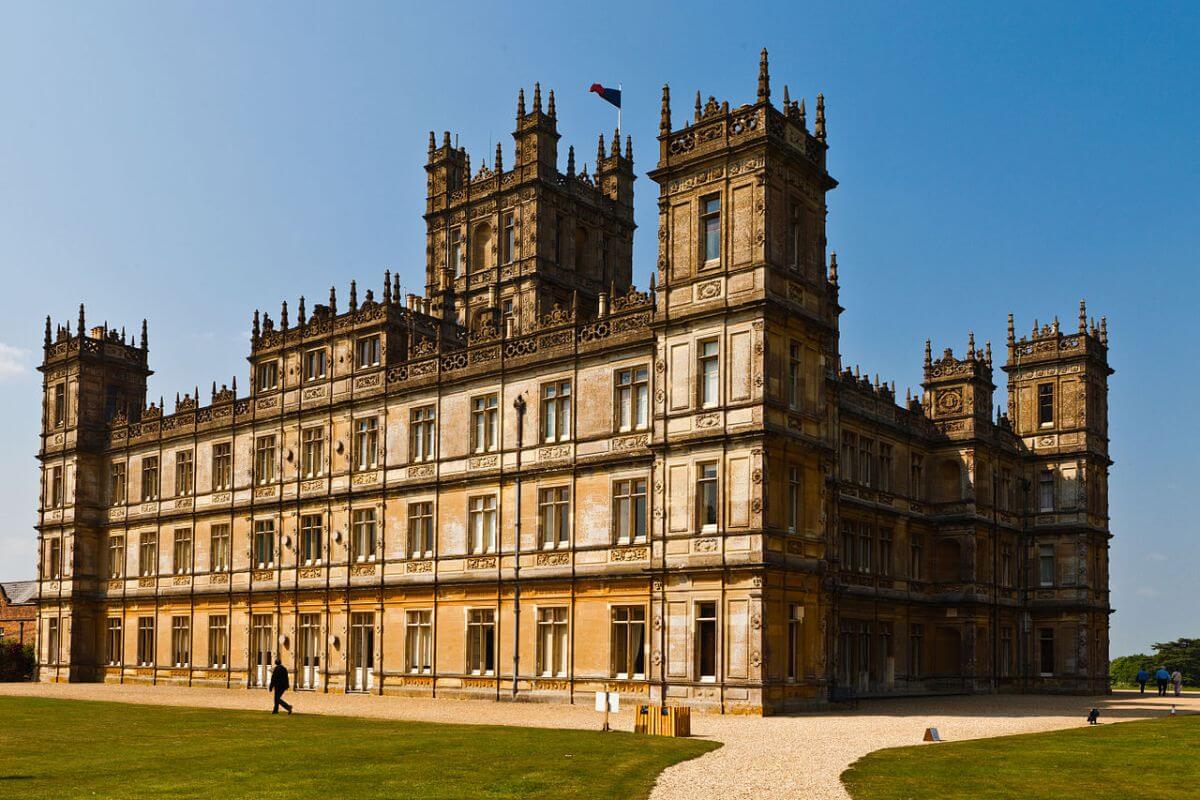 It was then called the Highclere Place House.
In 1842, the renowned architect, Sir Charles Barry, modified the design and turned it into the Highclere Castle. Since then, it's been used as a base for wounded soldiers, a children's home in WWII, and a film set.
There, quick castles of England history for you.
Nowadays, if you go and look round Highclere Castle for a day out in Hampshire, you can expect to find film set tours, afternoon tea, an Egyptian exhibition, beautiful gardens and year-round special events. The castle belongs to The Earl and Countess of Carnarvon, who've said Highclere Castle is haunted by a footman who had an illicit affair.
Highclere Castle will reopen to the public in spring 2023. Tickets to the castle, gardens and Egyptian exhibition cost £29 per adult and £16 per child aged 4 to 16 years. Discounts are available for families, students, and people aged over 60 years.
12. Framlingham Castle, Suffolk
Since the 12th century, the fearsome fortress that is Framlingham Castle has been a home to the Earls of Norfolk, a royal party house, a prison, and a workhouse for the poor. It was also where England's first ever official queen, Mary I, was crowned.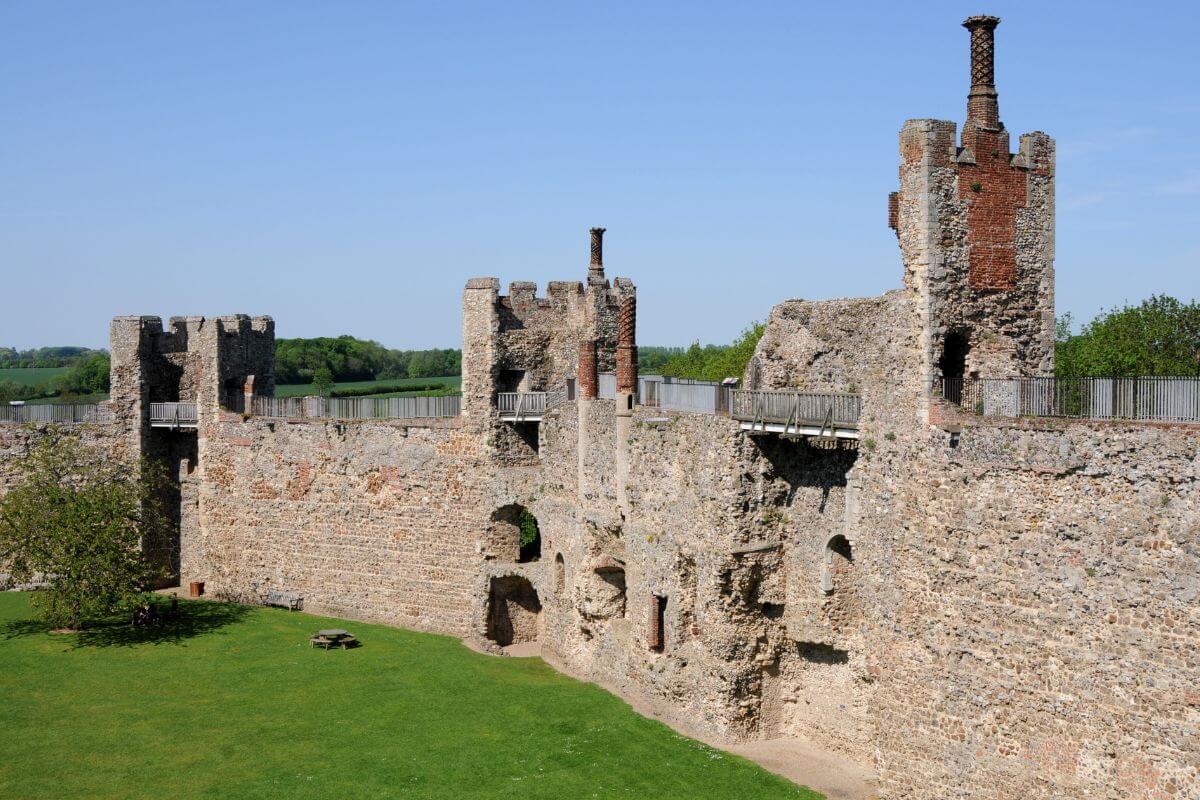 As with many historic castles in England, much of Framlingham Castle is in a state of disrepair, which is hardly surprising given its history of sieges and royal upsets. You can explore the interior to gain insights into the castle's fascinating history. Walk along the castle's ramparts for sprawling countryside views, then head to the café to sample Tudor-inspired bites.
Framlingham Castle is currently open to visitors on weekends, and it'll be open from Wednesday to Sunday from March 2023. Tickets cost just under £12 per adult and £7 per child aged 5 to 17 years. Discounts are available for families.
While you're here, you might want to check out more of the best days out in Suffolk.
13. Bolsover Castle, Derbyshire
Fairy-tale castles in England don't come much better than the 17th-century Bolsover Castle, which offers sweeping views across Derbyshire and the Vale of Scarsdale from its hilltop setting.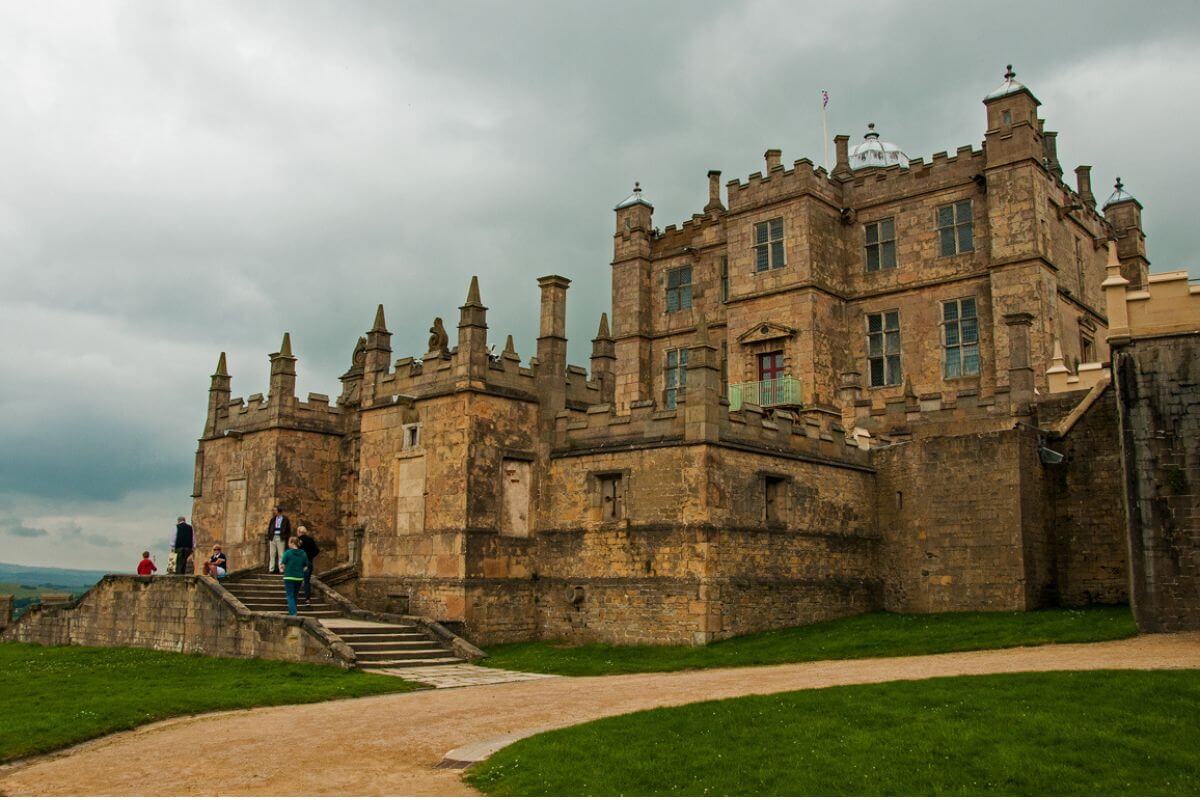 Inside the castle labyrinth, you can admire beautifully restored rooms decorated with colourful art, painted ceilings and carved marble fireplaces. The rooms of the Little Castle are especially lavish. On the castle's exterior, you'll see medieval towers and turrets. Roam through the gardens to soak up the sights of over 5,000 flowers, plants and fruit trees. The Fountain Garden is one of the castle's most photogenic spots.
Until March 2023, Bolsover Castle will be open on weekends only. Tickets cost £12.90 per adult and £7.70 for children aged 5 to 17 years.
After exploring Bolsover Castle, you might be interested in these amazing days out in Derbyshire.
14. Lindisfarne Castle, Northumberland
Standing high on a rocky outcrop on Holy Island off the coast of Northumberland, Lindisfarne Castle boasts a fascinating history that dates back to the 7th century, when the island's monastic community was infamously sacked by the Vikings.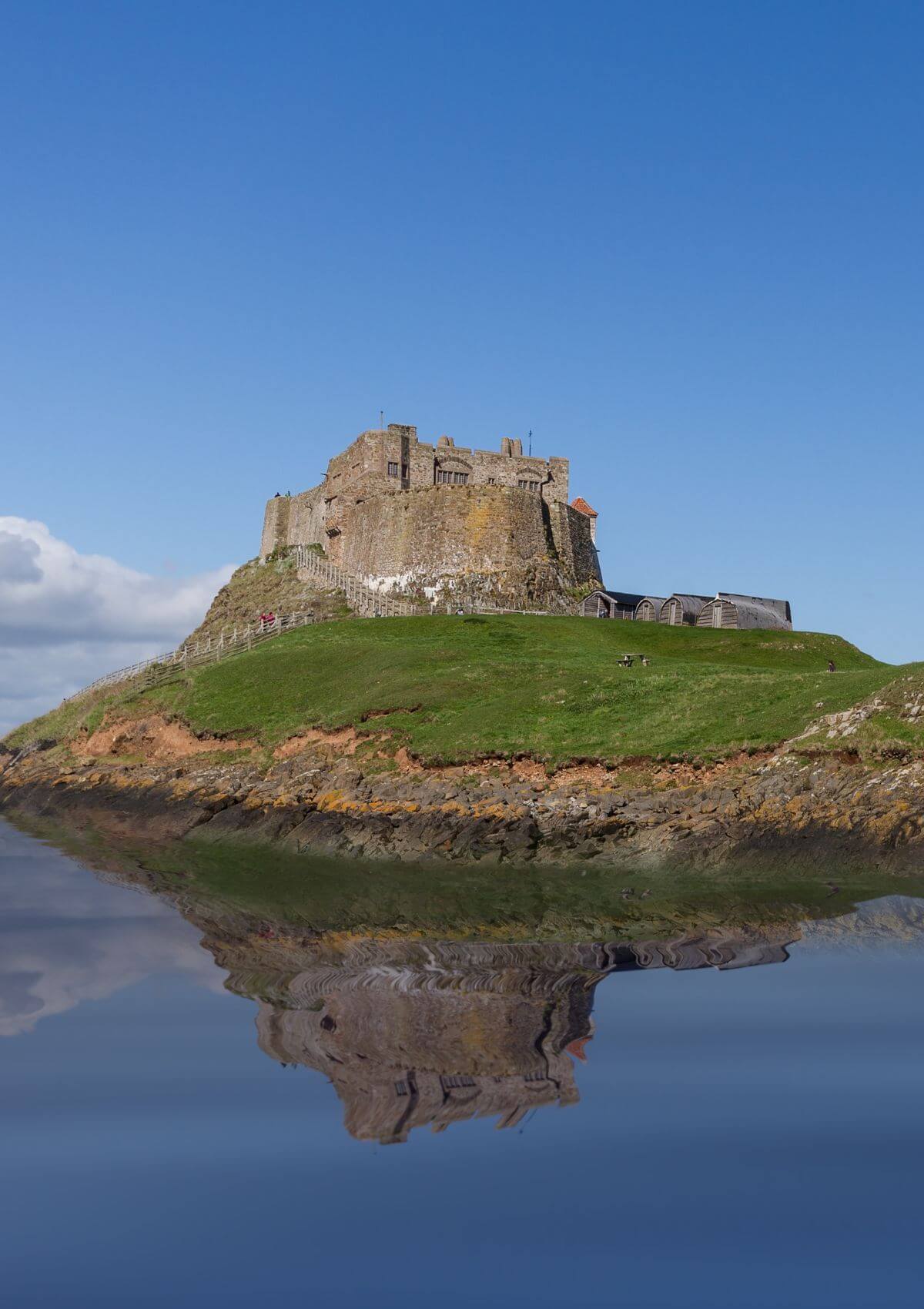 The castle you can see today was built mostly during the 16th century as a Tudor fort. While it has undergone many changes over the years, Lindisfarne Castle retains original features such as the vaulted passages. Additions such as latched doors, moulded roof beams, decorative brick flooring and wood-panelled rooms were designed to mimic the castle's original details.
You can walk across a causeway from the mainland to Lindisfarne Castle during low tide. While you're here, explore the island's historic church, priory, coastal nature reserve, and the beautiful Gertrude Jekyll Garden.
Due to seasonal and partial opening times, we suggest booking your visit to Lindisfarne Castle in advance. Tickets cost £8.50 per adult and £4.25 per child.
15. Raby Castle, County Durham
For a unique family day out in County Durham, head to Ruby Castle to explore a medieval fortress filled with antique treasures, a scenic deer park, and the Plotters' Forest Adventure Playground.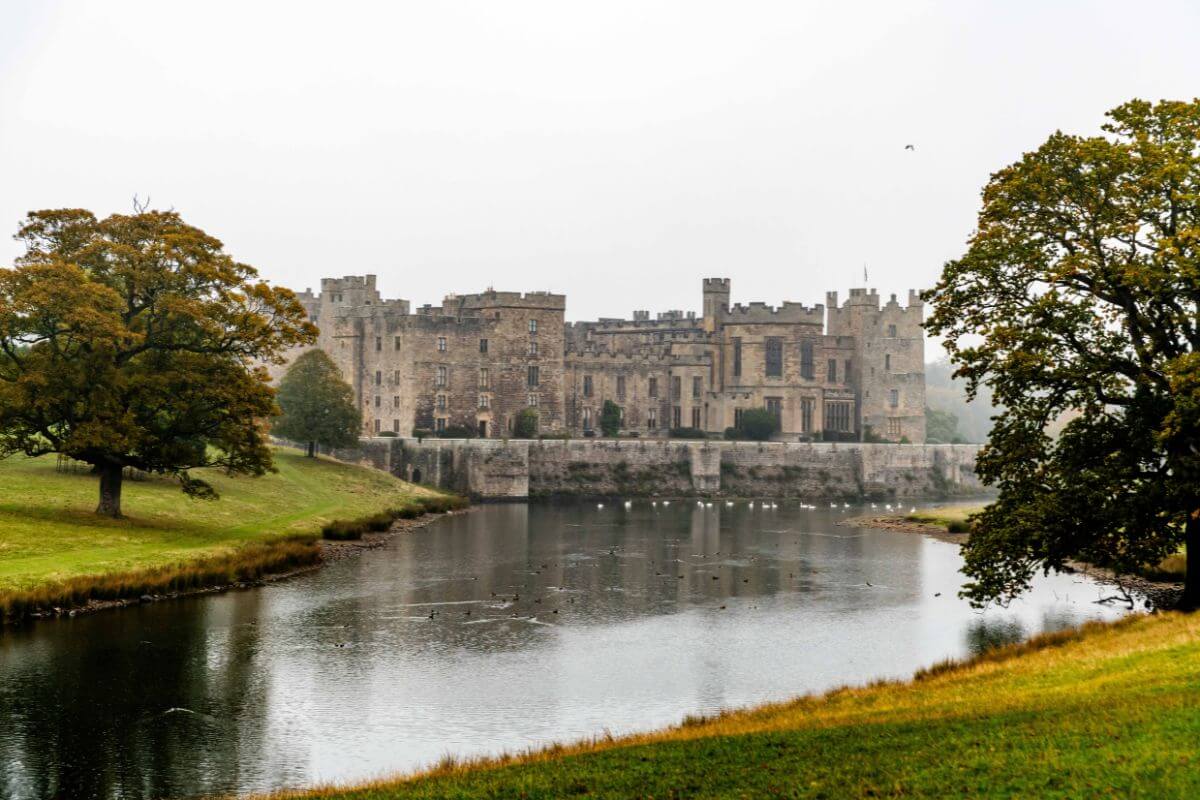 Raby Castle was built on the site of a former fortress during the 14th century, though some medieval turrets, towers and walls date back to the 11th century. Within the castle's 200 acres of parkland, there are ornamental lakes, manicured gardens and historic battlements overlooking the dry moat. However, it's inside where Raby Castle is really special.
As you explore the interior, you'll notice many rooms in medieval, Regency and Victorian styles. Keep your eyes peeled for the Gothic vaulted ceilings in the Entrance Hall, the lavish 19th-century silk touches of the Octagon Drawing Room, and the original antique utensils in the Dining Room.
The Deer Park is open to visitors year-round, but the castle itself won't reopen for tours until March 2023. Tickets cost £13 per adult and £10 for children aged 15 years and under. Kids aged 3 years and under can visit for free.
16. St Michael's Mount, Cornwall
St Michael's Mount sits on a small tidal island about 500 metres off the coast of Mount's Bay. Since being founded in the 12th century, the castle on St Michael's Mount has been a fortress, a priory and a pilgrimage site. Finally, in 1659, the castle became the property of the St Aubyn family, who still own it today in partnership with the National Trust.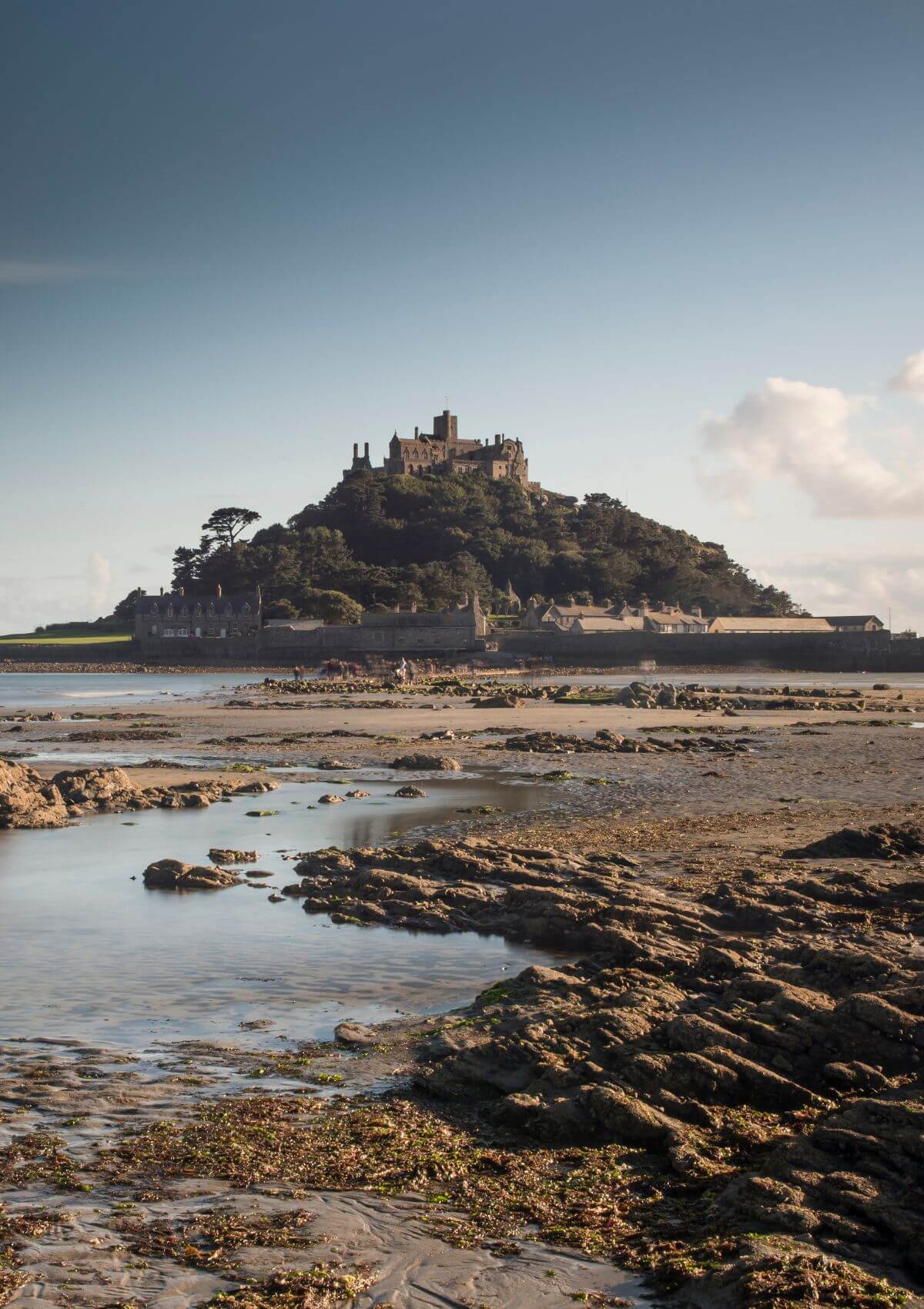 When the tide is low, you can access the castle via a causeway. Boats are available to charter when the causeway is submerged beneath the ocean. When you reach the island, you'll discover a 14th-century church, a medieval armory, a Gothic drawing room, and a maze of corridors and halls that echo stories of the castle's conflicts and sieges.
Unique to this castle in England are subtropical gardens, a harbour and a charming village with a population of about 30. You can also relax on one of Cornwall's best beaches during your visit.
Access to the harbour and village is free from October to May. The castle is open seasonally and tickets should be purchased in advance. You can expect to pay around £14 per adult and £7 per child aged 5 to 17 years. Children under 5 can visit for free.
After visiting St Michael's Mount, check out more amazing days out in Cornwall for the family.
17. Herstmonceux Castle, East Sussex
Nestled between a vast 300-acre estate that accommodates themed gardens, fields, woodland, and a lake, Herstmonceux Castle is unique in terms of layout and architecture. The East Sussex surroundings are so picturesque that you might stumble upon photos and video shoots as it's a popular place for a set here.
Surrounded by a moat and a thick cover of trees, the red brick structure looks stunningly elegant in all weather conditions.
Herstmonceux Castle also serves as the international study centre of Queen's University, Canada, and hosts international students every year who stay and study here. The venue is also available for hire for private events.
It's well known as one of the most haunted castles of England, with ghost sightings reported year-round.
Planning a visit to one of the great castles of England?
So, there you have it – our complete guide to what we believe are the most fascinating castles in England. Which castle do you intend to visit next? And are there any fortresses you think deserve a mention on our list? Let us know by leaving a comment below.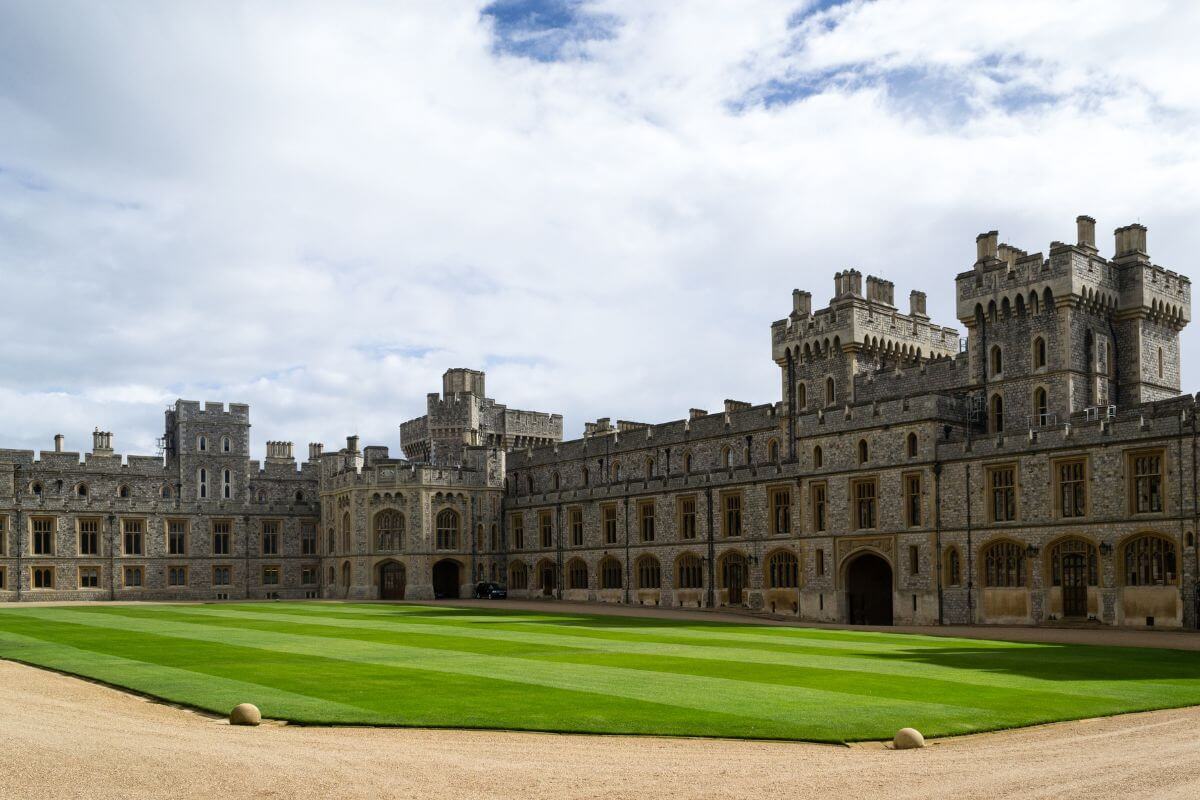 Quick list of the best castles in England
1. Tower of London
2. Windsor Castle, Berkshire
3. Warwick Castle, Warwickshire
4. Dover Castle, Kent
5. Bamburgh Castle, Northumberland
6. Leeds Castle, Kent
7. Alnwick Castle, Northumberland
8. Arundel Castle, West Sussex
9. Hever Castle & Gardens, Kent
10. Bodiam Castle, East Sussex
11. Highclere Castle, Hampshire
12. Framlingham Castle, Suffolk
13. Bolsover Castle, Derbyshire
14. Lindisfarne Castle, Northumberland
15. Raby Castle, County Durham
16. St Michael's Mount, Cornwall
17. Herstmonceux Castle, East Sussex