Hampshire days out are among the best in the country. Here's the ultimate guide to places to visit in Hampshire if you only have a day in the county.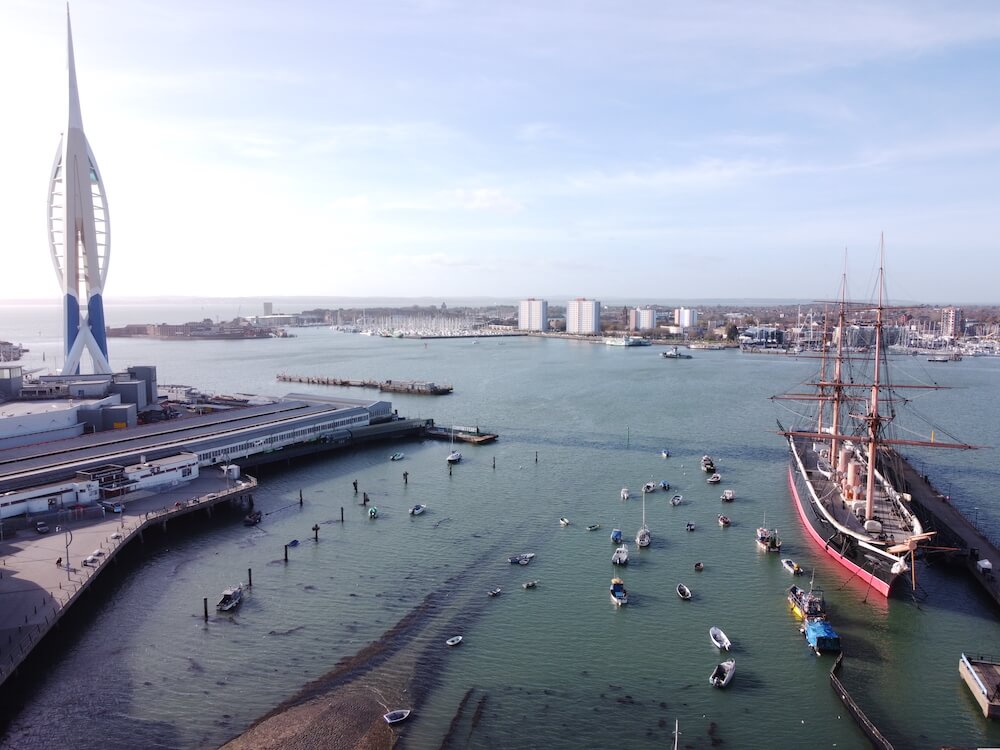 There are so many days out in Hampshire to enjoy. I mean, I might be biased as I've called Hampshire my adoptive home for the last three years, but I would say it's one of England's richest counties when it comes to things to do.
Hampshire days out centre around the outdoors. We have the green of the New Forest, the beauty of the coast and the heights of the South Downs too.
Family days out in Hampshire are plentiful, but if you're looking for things to do in Hampshire with your friends, there's plenty of choice there too. With cute villages, manageable size cities, and a rich history, Hampshire gives us a lot of choice when it comes to a fun day out, whether you're after a cheap one, or you really want to blow the budget.
Here are just a few of the best things to do in Hampshire in a day…
Day out in Hampshire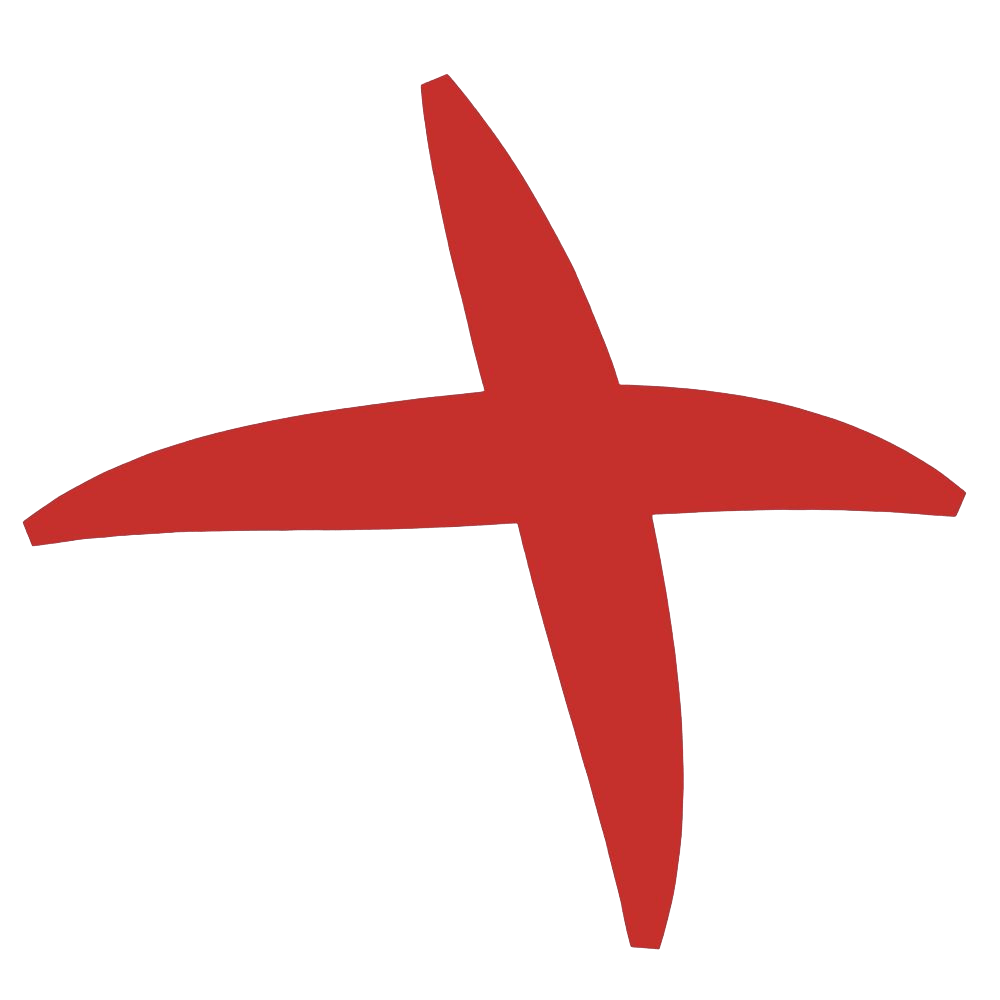 1. Walk and eat your way round Brockenhurst
Brockenhurst is one of the most popular villages in the New Forest, thanks to the transport links, and the amount of things to do there. It's one of the best places to visit in Hampshire.
If you like the forest there are plenty of walks, and anyone need to cool off can do so in the Balmer Lawn waters. Although, check that other locals are doing the same before you get in. There've been rumours of unsavoury waters at certain times of the year.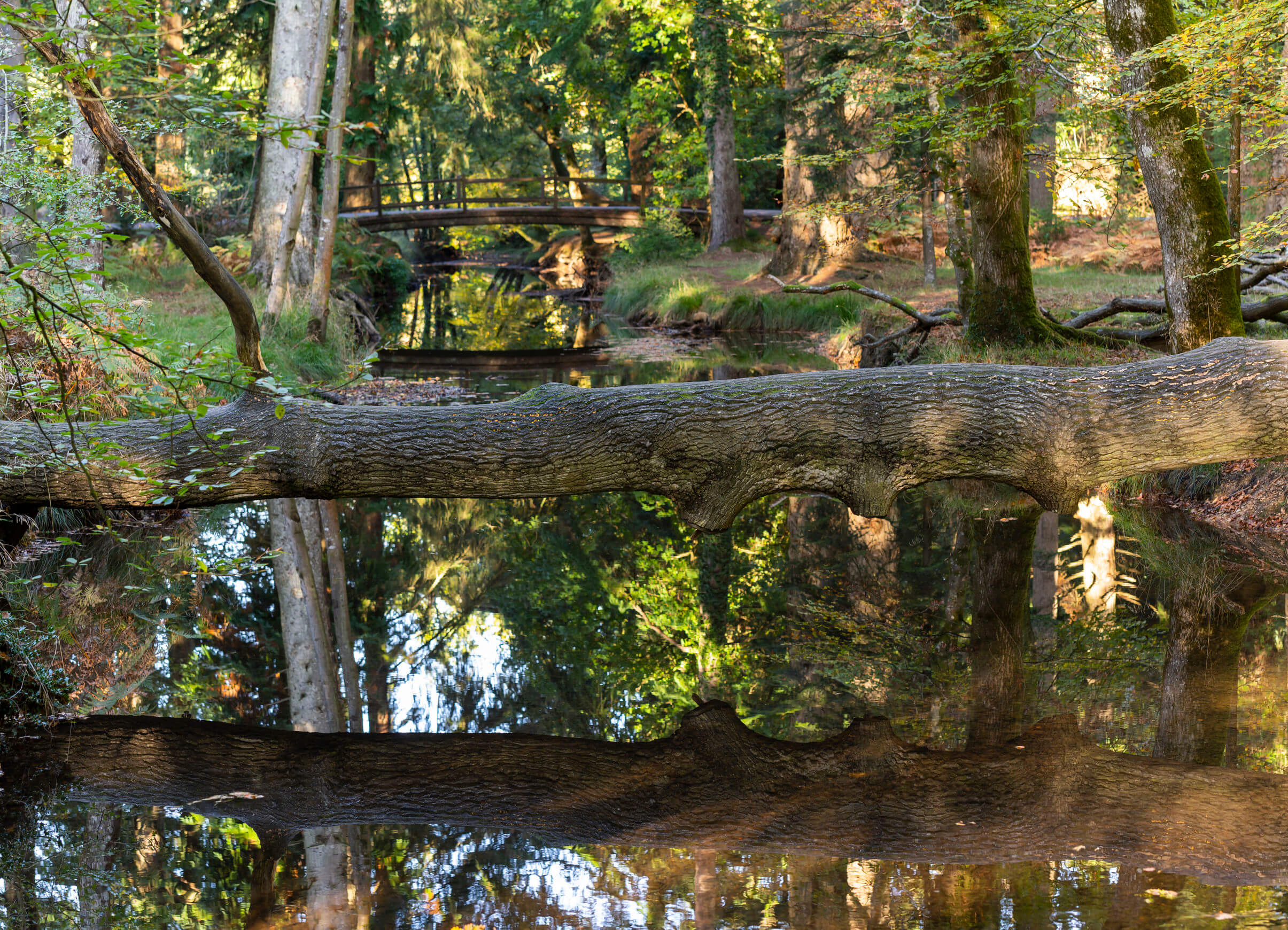 If you're looking for a good lunch stop on your big day in Hampshire, then The Huntsman is an excellent choice. I've been here a few times and the service is great, the place is wonderful and the food is YUM.
I can't mention Brockenhurst without mentioning The Pig. I'm a bit obsessed with this place. My boyfriend took me for lunch for my birthday and it was am-ahzing. You can pop along to look at the animals on site, or book yourself in to eat them instead.
Ooo, aren't I terrible?
Brockenhurst is well linked to the other villages in the New Forest, so if you're looking for a village vibe, boutique shops, cycle rides or nice walks, you'll find it all here. This village makes for a great day out in Hampshire for adults, and you can bring the kids along too.
If you want somewhere to stay then the Balmer Lawn Hotel is wonderful. I stayed for a night and loved the spa, which we had to ourselves, and the on site steak restaurant is fantastic.
And if you want to know the prettiest villages to visit in the New Forest on your day out, click the link!
2. Cycle through Lyndhurst before Afternoon Tea
One of the most popular places to visit in Lyndhurst is the New Forest Lavender Farm. Come in season and you'll find all the photographers laying down for the greatest shots in amongst the purple shoots.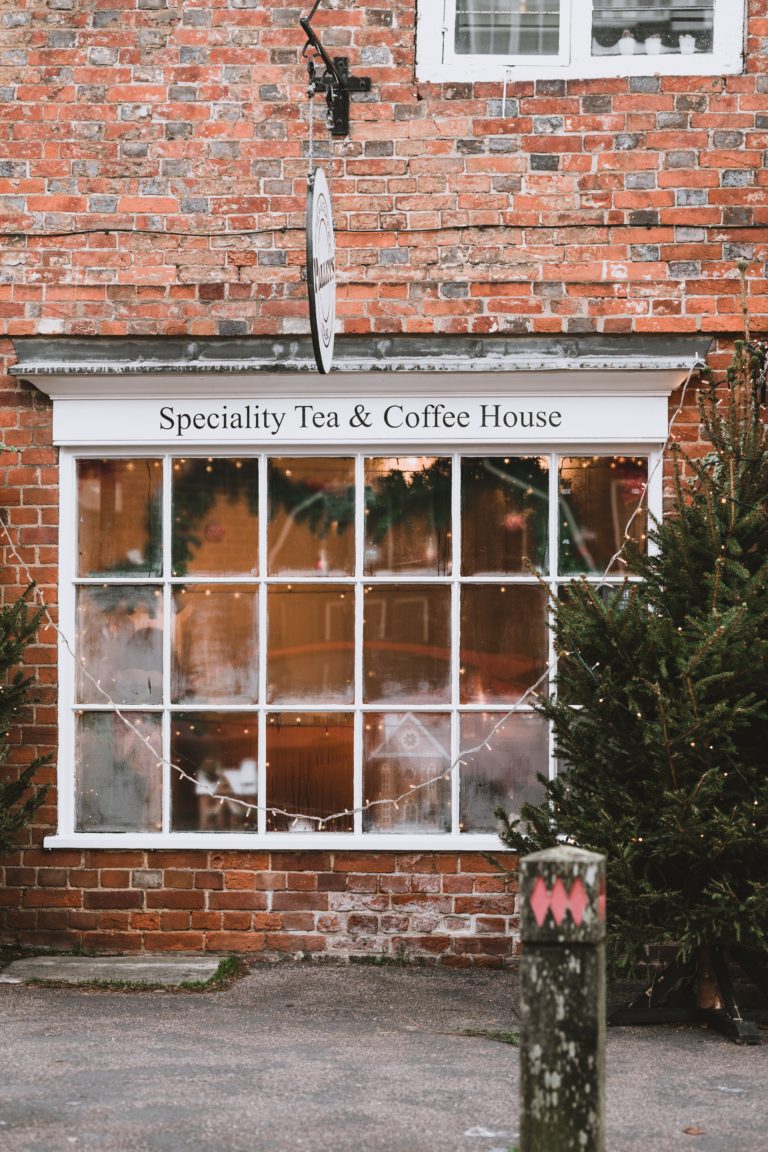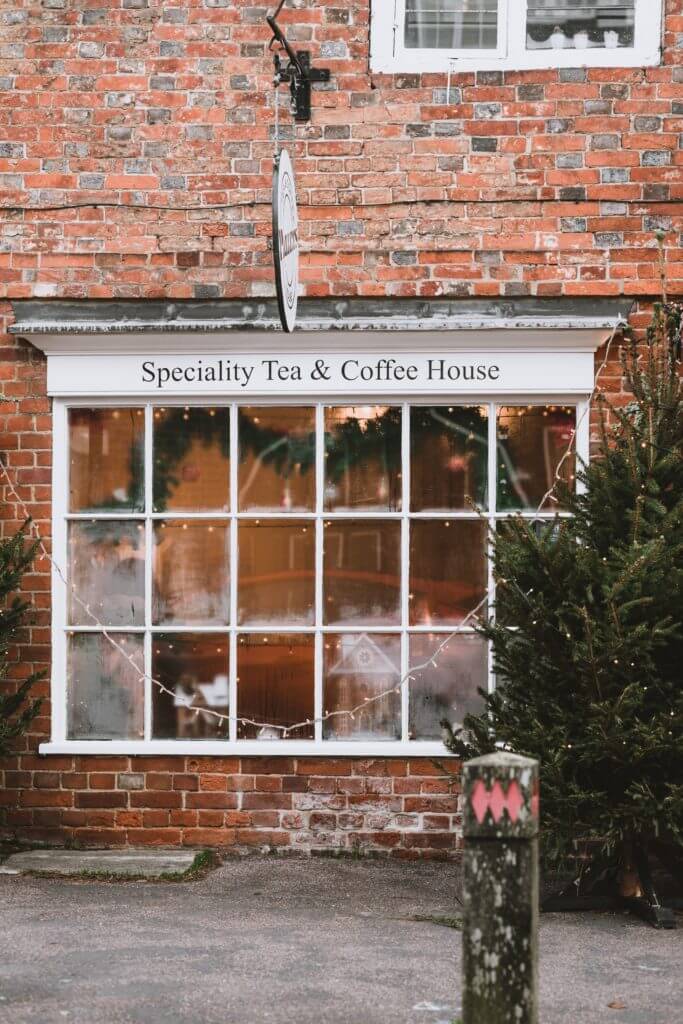 Lyndhurst has a great high street with some great cafes for afternoon tea, unique shops for trinkets and traditional pubs for that essential pint.
There's a great bike rental place in Lyndhurst called The Woods Cyclery. Pick up a bike from here and go get lost in the New Forest somewhere – you'll easily find your way back.
Visiting the New Forest is one of the best Hampshire days out in the county. And if you want a purpose to your trip, check out the great New Forest pubs in the area.
---
Days out in Hampshire in a map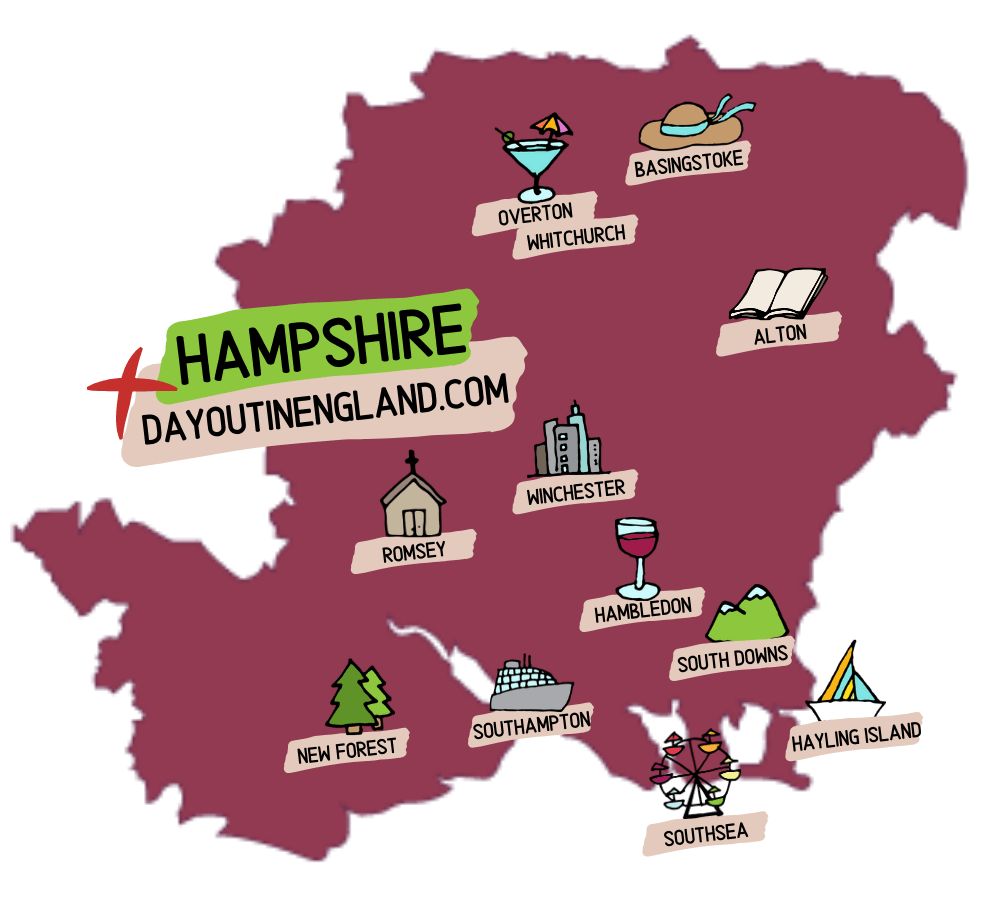 ---
3. Visit the Bombay Distillery
The Bombay Sapphire Distillery is the real deal. It's a beautiful building up in Laverstoke Mill, where you can get married, stay over, or just visit for the day.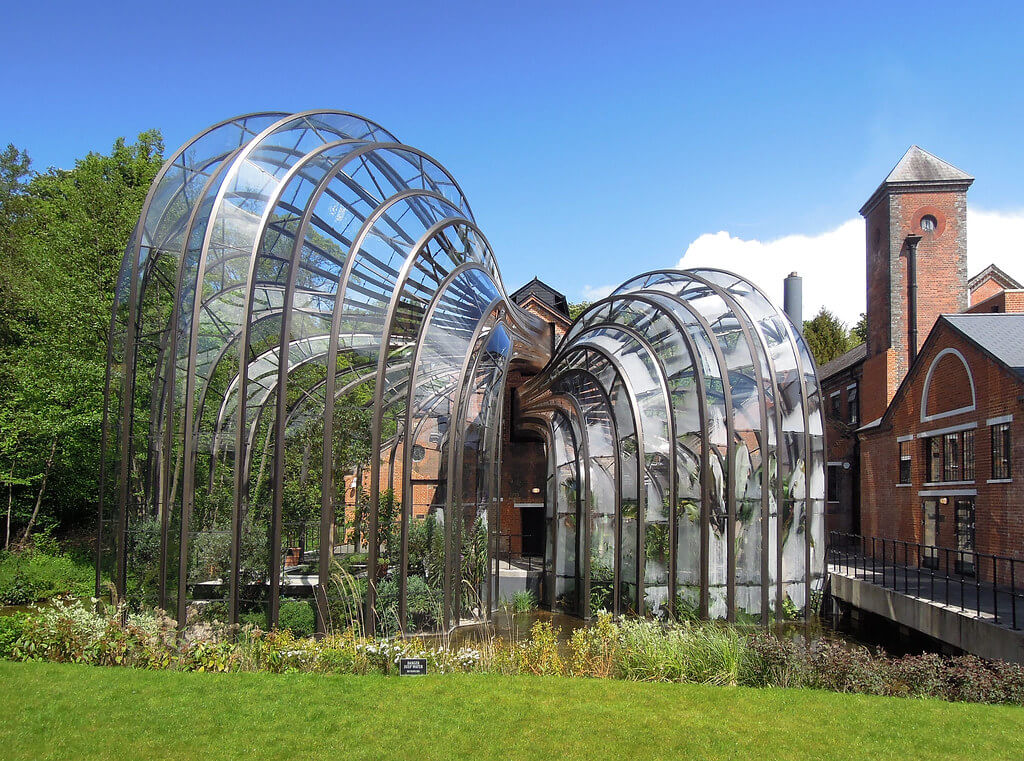 As far as days out in Hampshire go, the Bombay Sapphire Distillery is a top choice. Obviously you're going to need a designated driver, or, you can train up and cycle there. You can buy all kinds of different packages on their website to come and try the produce. This is a great idea if you're looking for something special to do to celebrate an occasion.
The White Hart Pub in Overton nearby would be a great place to stay if you want a few gins there. It's a cute hotel with an on site restaurant too. Overton is a traditional little town where you could easily pass at least five minutes looking round.
The Bombay Distillery is a great day out in Hampshire for adults, with no threat of kids ruining the fun.
Pre-book your ticket to the Bombay Sapphire Distillery to make your day out in Hampshire easier.
---
THINK YOU KNOW HAMPSHIRE?
Best Days Out for Christmas in Hampshire
See how many points you can score!
---
4. Drink coffee in Southsea, and lay on the beach
Yay, Southsea, my home for the past three years.
Southsea is known for its beach, its coffee shop culture and its artistic vibes. It's pretty cool down here and if you're looking for a fun day out in Hampshire, then I can't recommend it enough.
Southsea is totally underrated.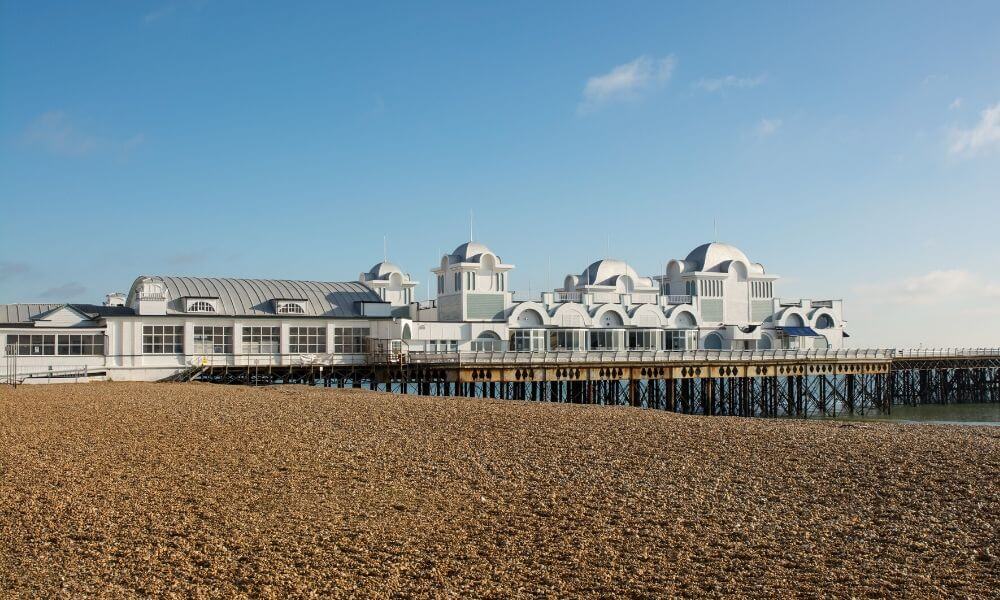 I mean, don't expect a million things to do in this Hampshire hot spot, but that's kind of the beauty. Get a coffee on Palmerston Road, look at the boutique shops on the way to Albert Road, and hit the bars when you make it there.
In between all that, for a bit of history, check out Charles Dickens' Birthplace, the D Day Museum and Henry VIII's Southsea Castle too.
That way you'll get to see Southsea Beach, looking out to the Isle of Wight on a clear day. It's a stone beach, like Brighton, but nowhere near as busy when the sun's out.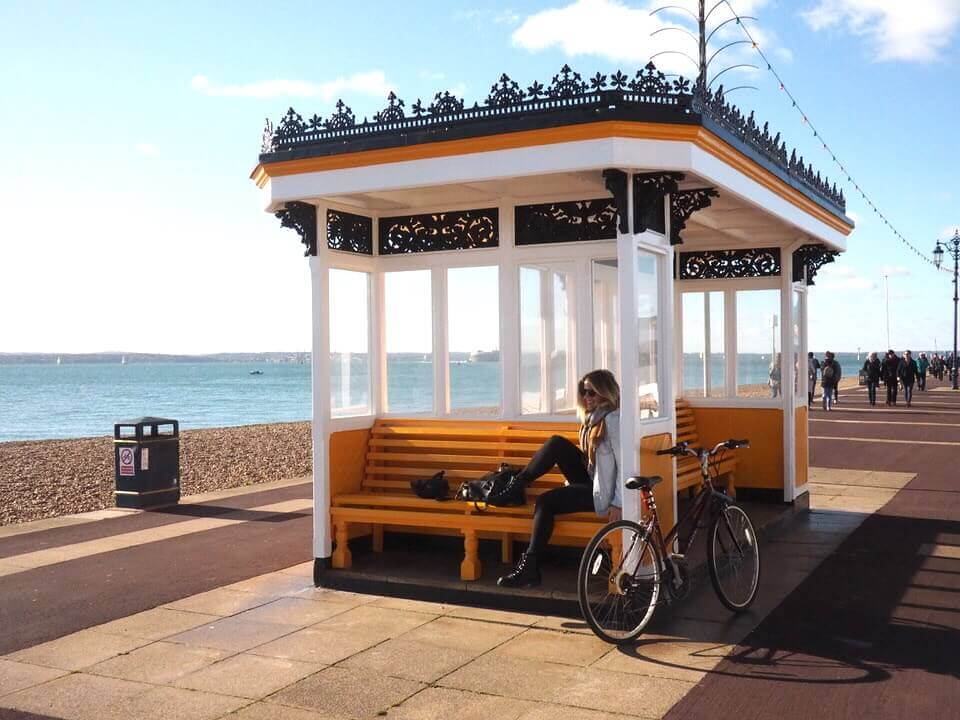 Check out the Southsea Cafe for the excellent brunch and lunch offerings, or The Briny if you want a seafood restaurant on the coast.
Alternatively, if you're on a budget, there's a co op for those beach ciders. We'll keep an eye on the budget for these days out in Hampshire, don't you worry. This is one of the best day trips from Southampton if you want to do the two cities in one day.
5. Peppa Pig World at Paulton's Park
Peppa Pig World, nestled within Paultons Park in Hampshire, is a must-visit destination for families. Dedicated to the beloved animated series, 'Peppa Pig', this immersive theme zone promises a day of fun for young fans. Featuring nine meticulously crafted rides, from George's Dinosaur Adventure to Peppa's Big Balloon Ride, children get to relive their favourite episodes in real-time.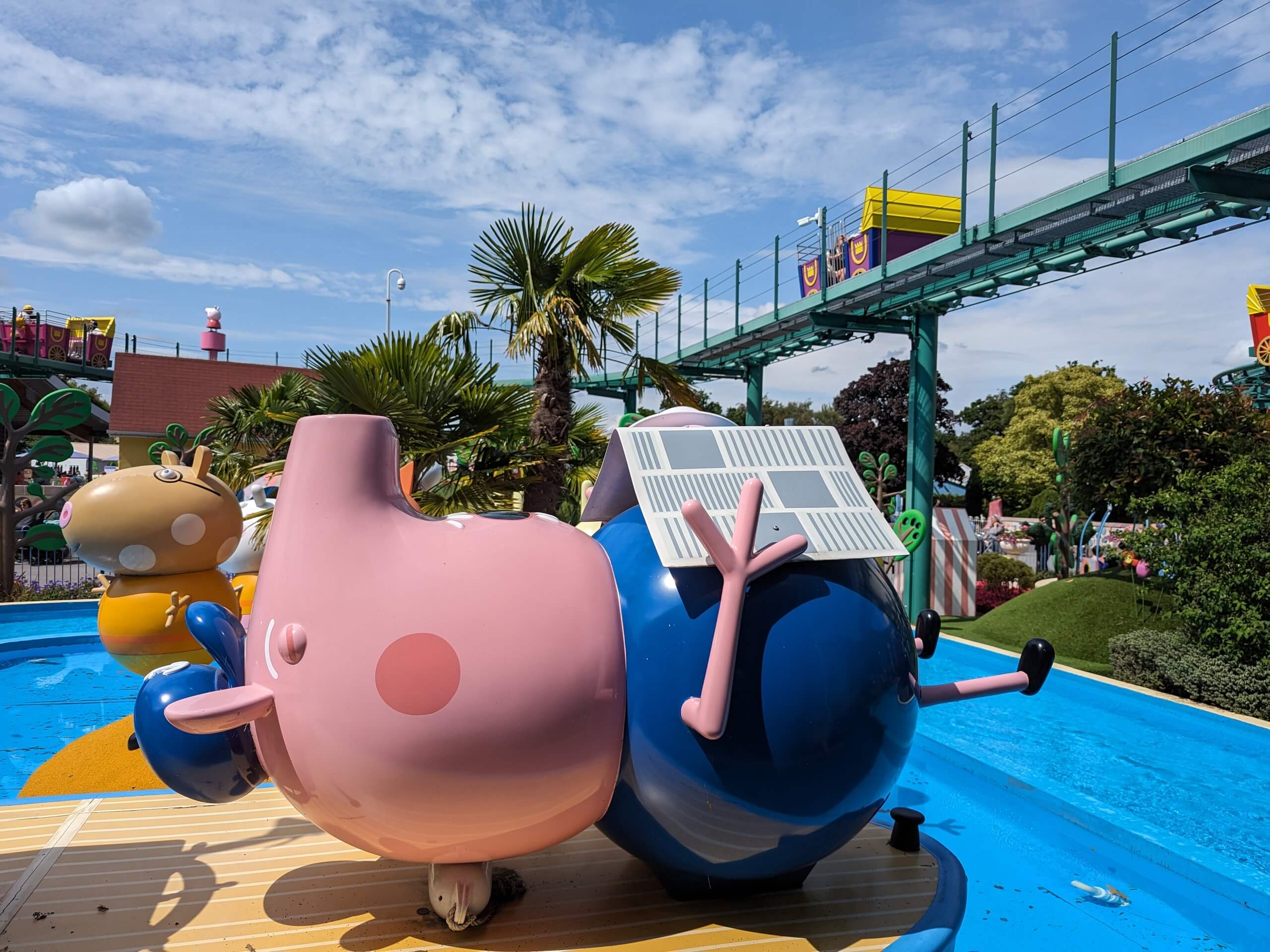 Check out our editor Vicky's review of visiting Paulton's Park with a toddler, here.
Character meet-and-greets, picturesque play areas, and themed dining options add to the experience. Surrounded by vibrant landscapes straight out of the show, Peppa Pig World not only offers fun rides but also an opportunity to step into Peppa's delightful universe. Perfect for a magical family day out!
6. Visit Portsmouth Historic Dockyard and Gunwharf Quays
Portsmouth Tourism lurrrve to promote Portsmouth Historic Dockyard as the key thing to see in the city. Even though I've suggested they should focus on the cool coffee culture, the empty beaches and the arty vibe – but, what do I know hey?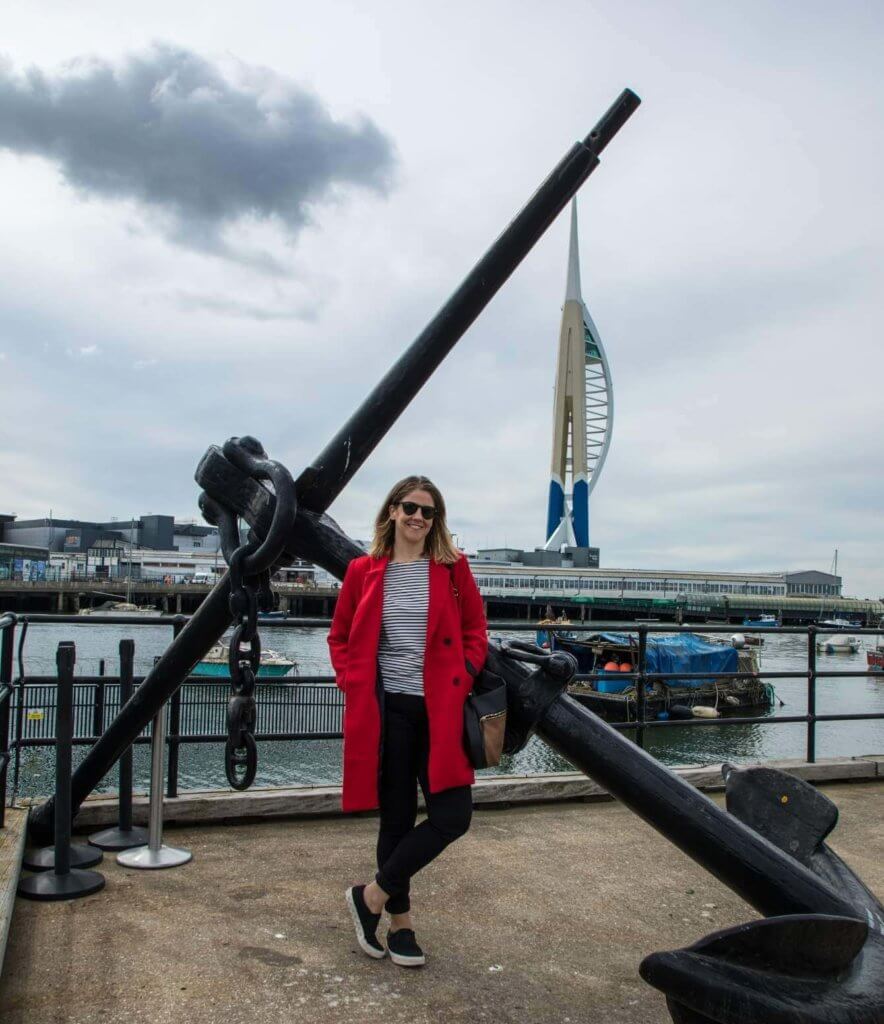 And yes, the Portsmouth Historic Dockyard is pretty cool. I even had a year membership at one point. Here you'll find the actual Mary Rose, or at least the remnants of it in a temperature controlled room. There's also the HMS Victory and the HMS Warrior and you can do tours to wander around them all.
You can buy a day time explorer ticket to see everything at the Portsmouth Historic Dockyard here.
If you're looking for family days out, Hampshire has a lot to offer.
While you're down that end of Portsmouth you can also check out the Spinnaker Tower at Gunwharf Quays. I took my parents once for high tea and they loved it. It was a beautiful day and you could see out for miles. If you fancy, you can abseil down it too.
No?
Gunwharf Quays is a discount outlet centre, with some fantastic bargains. My favourite brands and shops here include The White Company, Vans, Animal and French Connection. There are so many more though. Go grab yourself a bargain in one of the best shopping areas in all of Hampshire.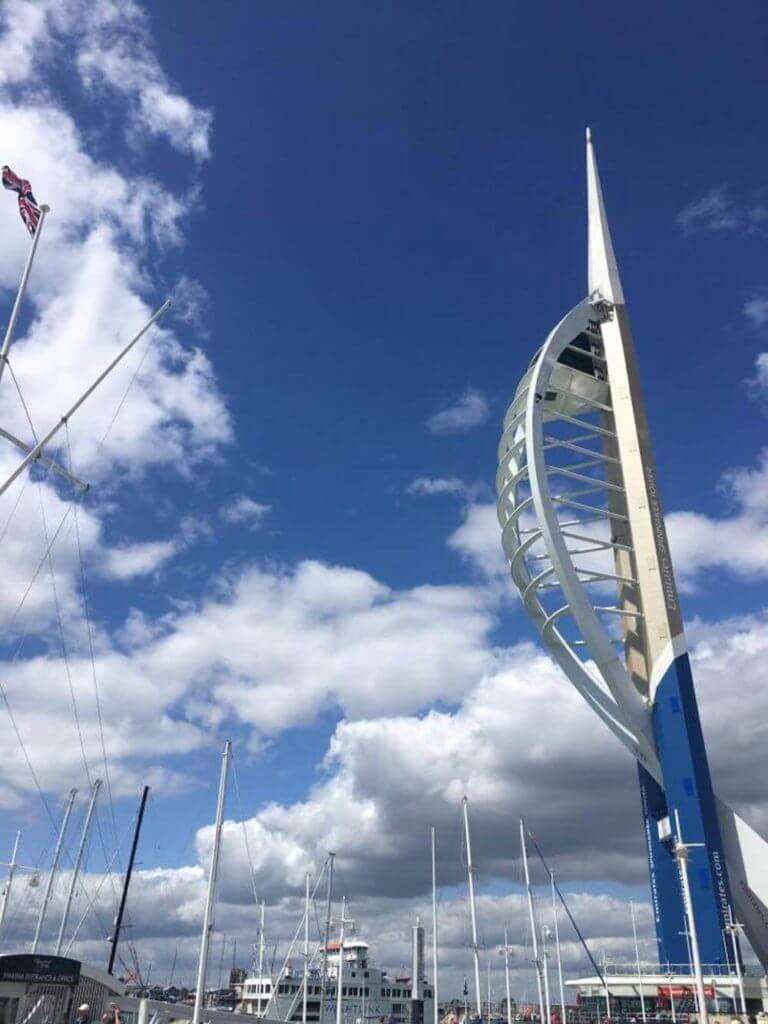 Also, there's every chain restaurant in England available here (although I'd recommend FEED restaurant, where profits go to the homeless). And a VUE cinema where all films are a fiver. Bargain! This is one of the best places to visit in Hampshire.
If you're looking for somewhere to stay nearby Beckett's is lush. They have six boutique rooms, all unique and all as comfortable as each other. Beckett's is run by a local couple and over the last few years has had an incredible makeover to look as amazing as it does today.
If you don't need to stay, it's totally worth just popping along for a meal anyways. Their breakfast menu is a delight.
I have a whole itinerary for a day out in Portsmouth right here, so you can really make the most of your visit and your day in Hampshire. If you're interested in England's wartime past, make sure to check out the D-Day Story too.
---
Fancy walking the Solent Way? It stretches from Emsworth to Milford on Sea in the New Forest. Click the link for everything you need to know from where to park, the route to take, and the best way to do it.
---
7. Go for a day out in Winchester
Most famously, Winchester is home to the Winchester Cathedral. It's a beautiful work of architecture, which holds a great market at Christmas time. Pay your £20 and go in to see what all the fuss is about in one of the biggest cathedrals in the UK.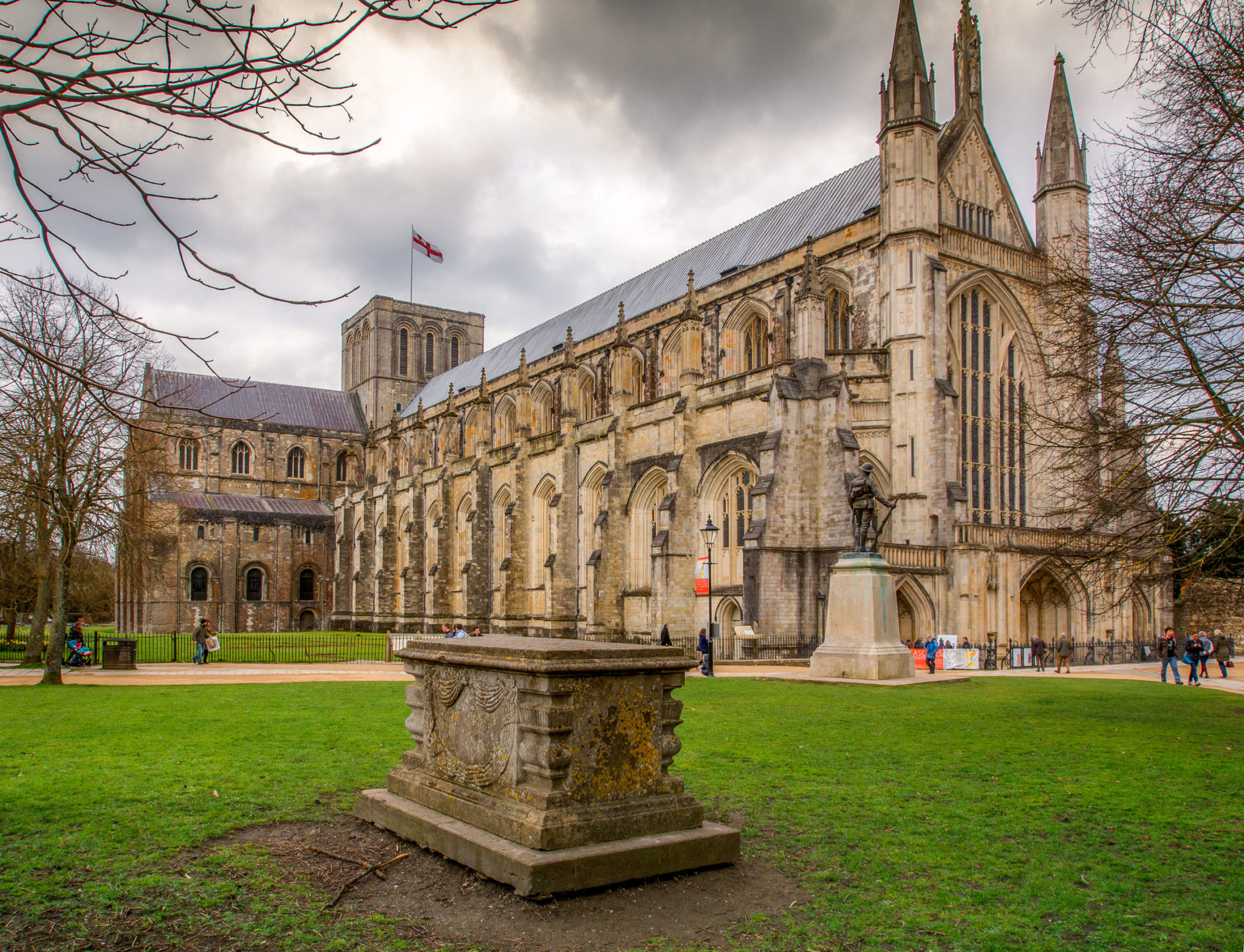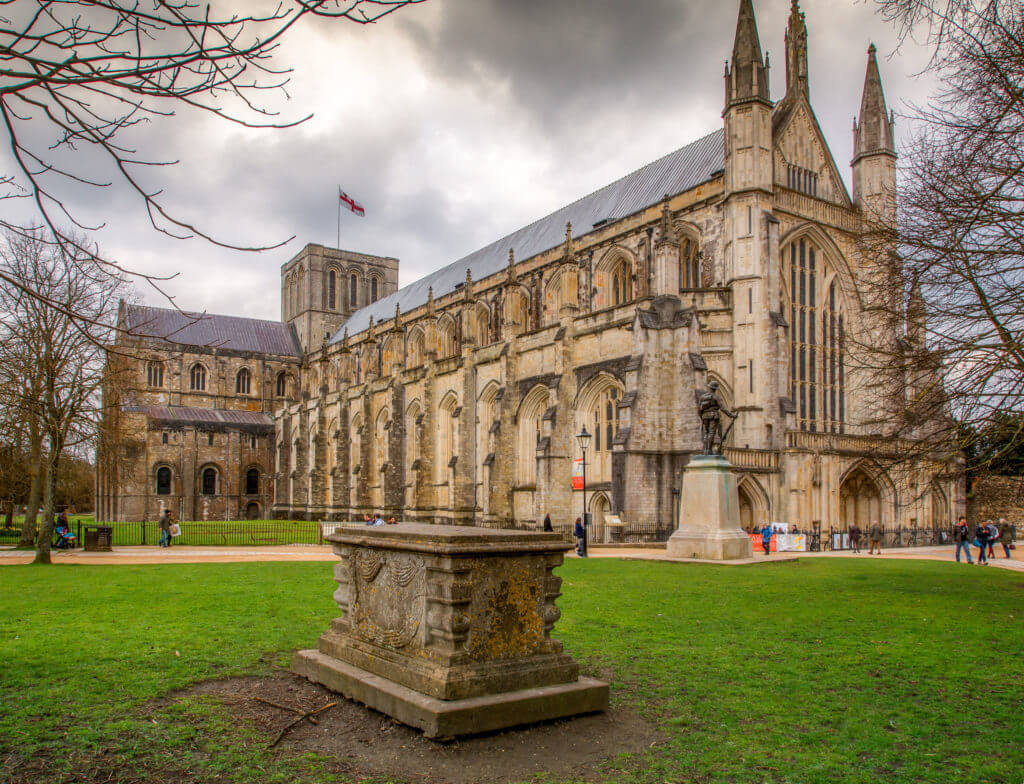 Winchester is a great place for a rainy day out in Hampshire. You could grab a bite to eat in the refectory in Winchester Cathedral, or check out one of the fancy restaurants nearby. River Cottage and Rick Stein's come highly recommended. I actually found a really good reasonably priced cafe near the Cathedral. Their jacket potato with chilli was kinda special. You don't have to pay too much to get some good food in Winchester, although the option is definitely there with all the restaurants nearby.
Another of the big things to do in Winchester is to visit the Gurkha Museum. The museum commemorates the service of Gurkha soldiers to the British Crown and there's lots to see and learn here.
And then of course, there's the shopping in Winchester. The high street is filled with all the usual British faves, and then there's The Square too, where you'll find the more unique brands to titillate the senses.
Winchester is definitely one of my favourite Hampshire days out. I should go more often.
If you need somewhere to stay after your day out in Winchester, try the Wykeham Arms. It's a favourite thanks to the locally sourced food, and the cosy bedrooms especially designed to lure you to sleep.
8. Cycle or walk the South Downs
The South Downs are a range of chalk hills that extend for about 260 square miles (670 km2) across the south-eastern coastal counties of England from the Itchen Valley of Hampshire in the west, to Beachy Head, in the Eastbourne Downland Estate, East Sussex, in the east.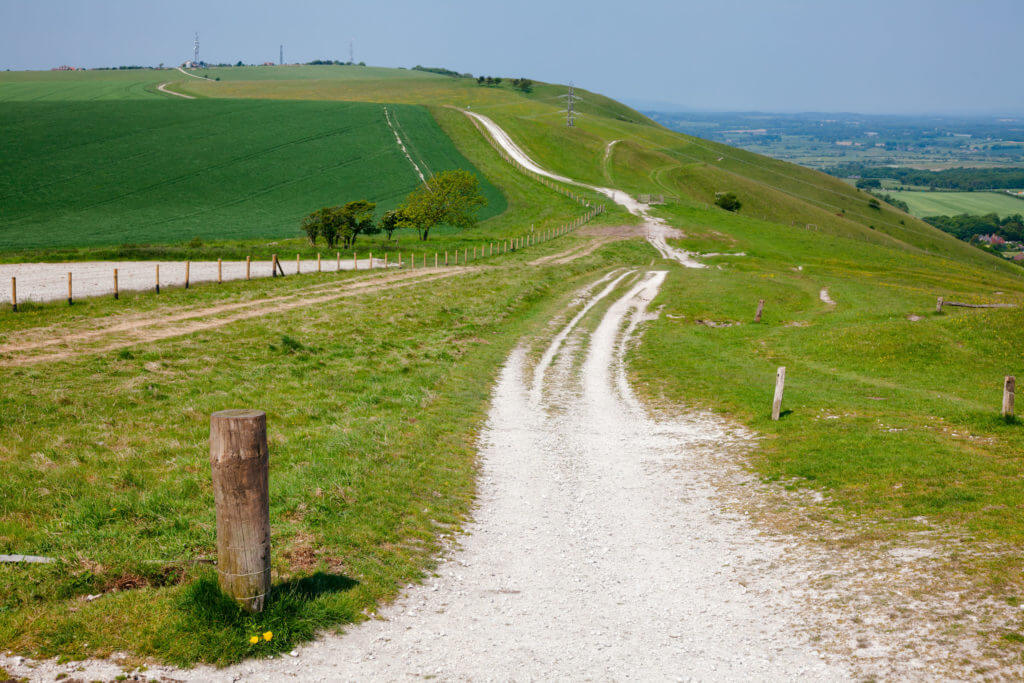 Of course, for this post on the top Hampshire days out, we're focusing on the part of the South Downs that stays in Hampshire.
There's a route through the South Downs called the South Downs Way – it's one of the 14 National Trails in England. And next year, I plan to cycle it. It stretches from Winchester to Eastbourne (Sussex) and you get to stop at cute little pubs and restaurants along the way. You'll also get the glory of completing one of the UK's coolest routes too.
Some people run it, but ewww, not for me. Two wheels over two feet, thank you.
Check out these South Downs holiday cottages for pit stops along the way, or you could book one out and do day trips from there.
9. Get adventurous in the New Forest
Ok, I know I've mentioned the New Forest a few times now, but it's one of the best places to go if you're looking for a free day out in Hampshire. There's a lot to do for the adventurous souls among us.
Check out the New Forest Activities website and you could sign yourself up for archery, or if you like rivers, then sign up for canoeing on the River Itchen in Beaulieu. There's also the famous motor museum in Beaulieu, which I've been meaning to go to for years. Everyone says it's fantastic.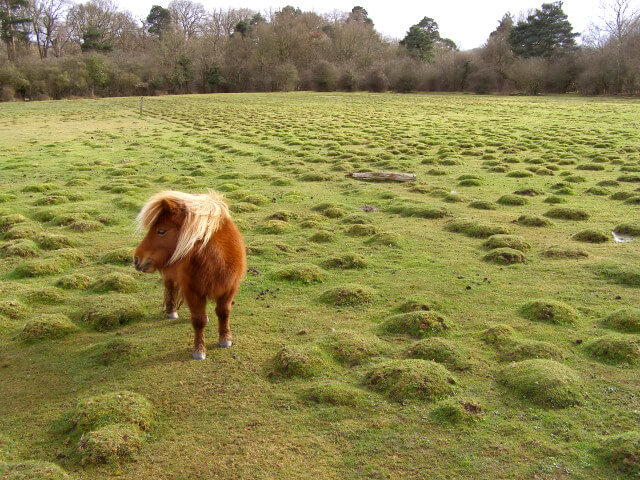 Lepe has a great beach – super popular with dog walkers and kids. And a nice coffee shop if you just want to sit and chill. Expect queues on sunny days though. Walking along the edge of the New Forest makes for one of the best coastal walks in Hampshire.
Exbury Gardens is a great day out in the New Forest, if you're of the green fingered persuasion. I keep meaning to go here, it comes highly recommended.
If you really want to make an impression as you make your way round the New Forest, then hire yourself a vintage car for the day. Heads will turn my friend!
Stay over to extend your trip with these great glamping spots in the New Forest.
---
READ MORE
How to Have a Successful Kid's Day Out
---
---
10. Enjoy a Jane Austen tour
Jane Austen is kind of a big deal in Hampshire. You can visit Jane Austen's actual house in Chawton, in Alton, and continue on the Chawton Circular Walk for 4 miles to venture onto roads she would've walked herself. This is where she got the inspiration for her writing.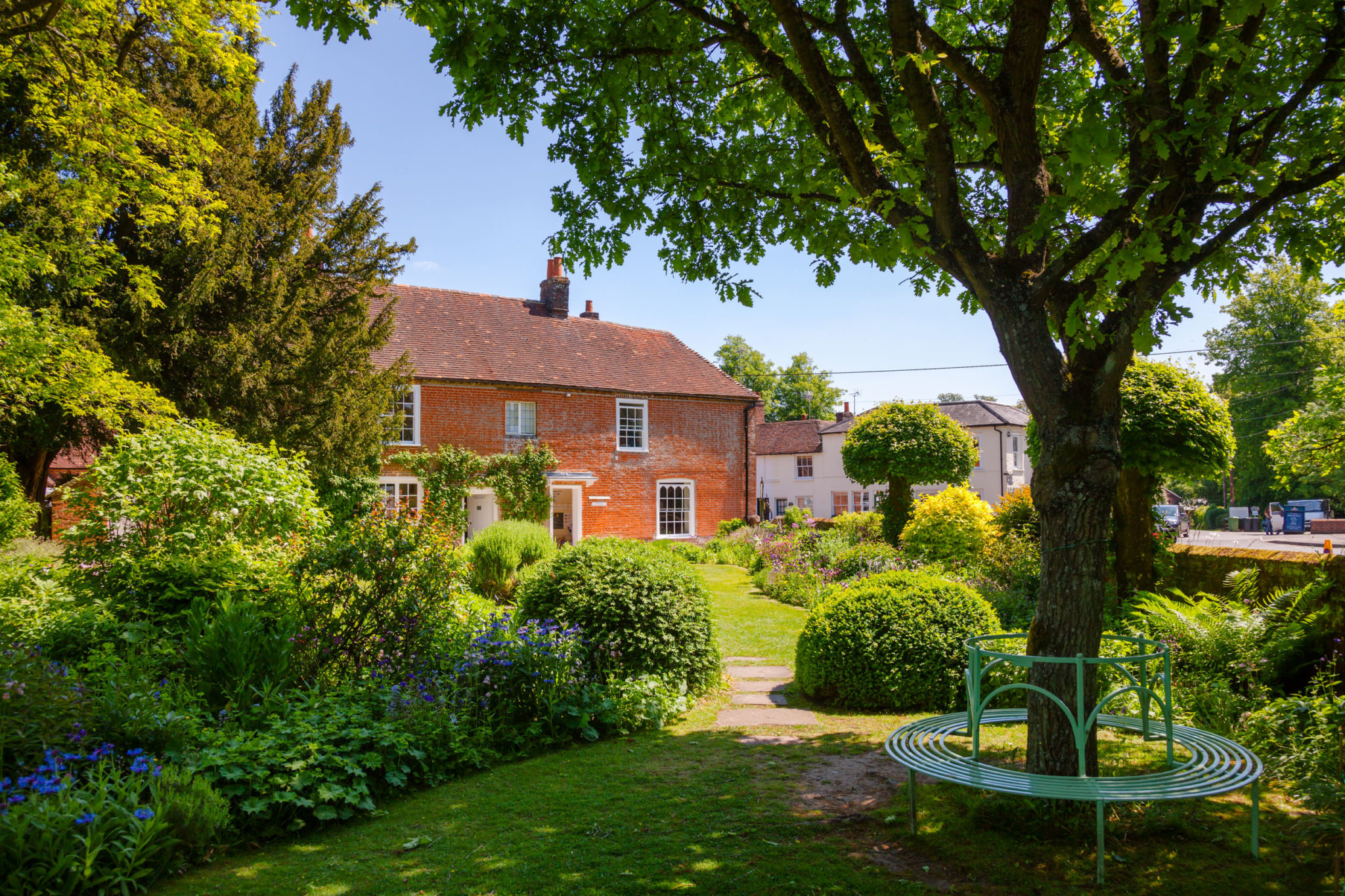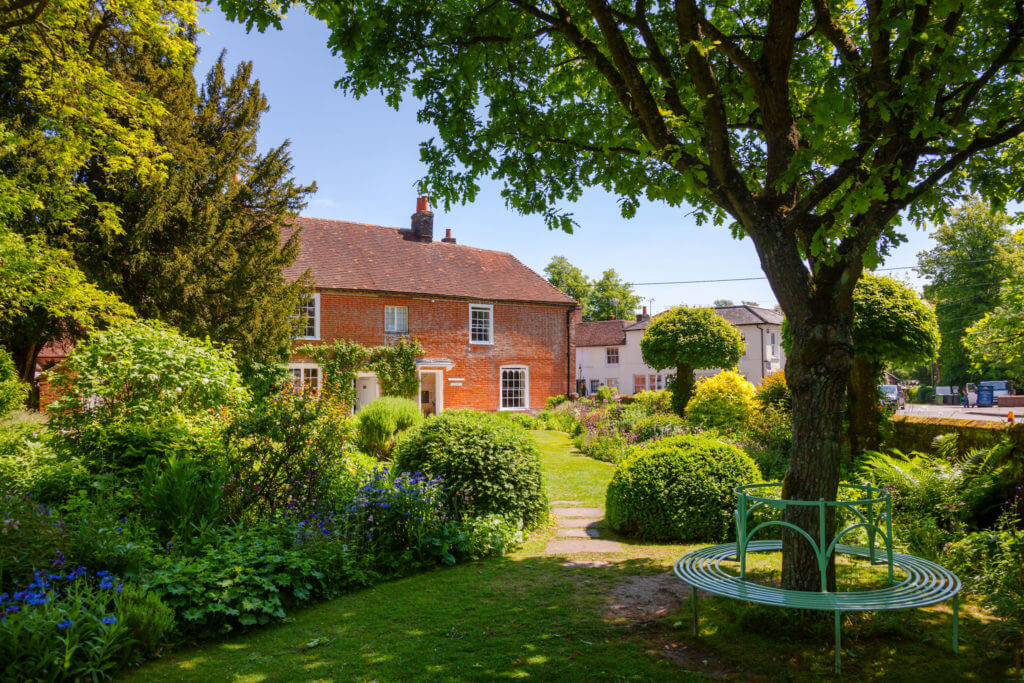 There are tours you can join from Winchester to find out more about Jane Austen's life and death in Hampshire.
This is one of the most popular day trips in Hampshire.
---
If you like books, and Jane Austen, have a go at our English Literature Quiz!
---
11. Day out in Southampton
Southampton makes for a great day out in Hampshire thanks to the West Quay shopping centre. If you like your Zara, Topshop, River Island and Apple you will LURVE it here. As well as the covered shopping centre, they also have a pretty thriving high street.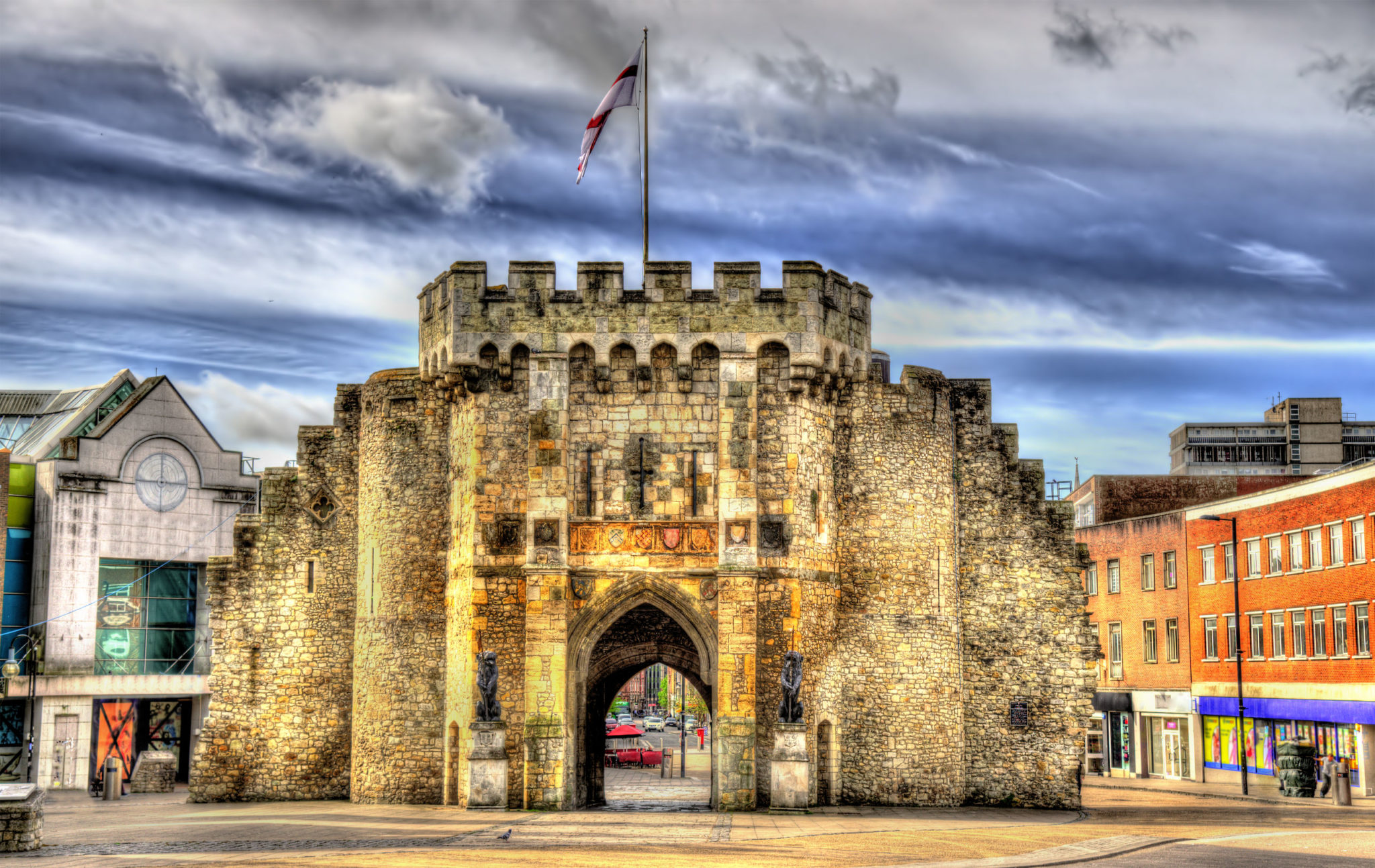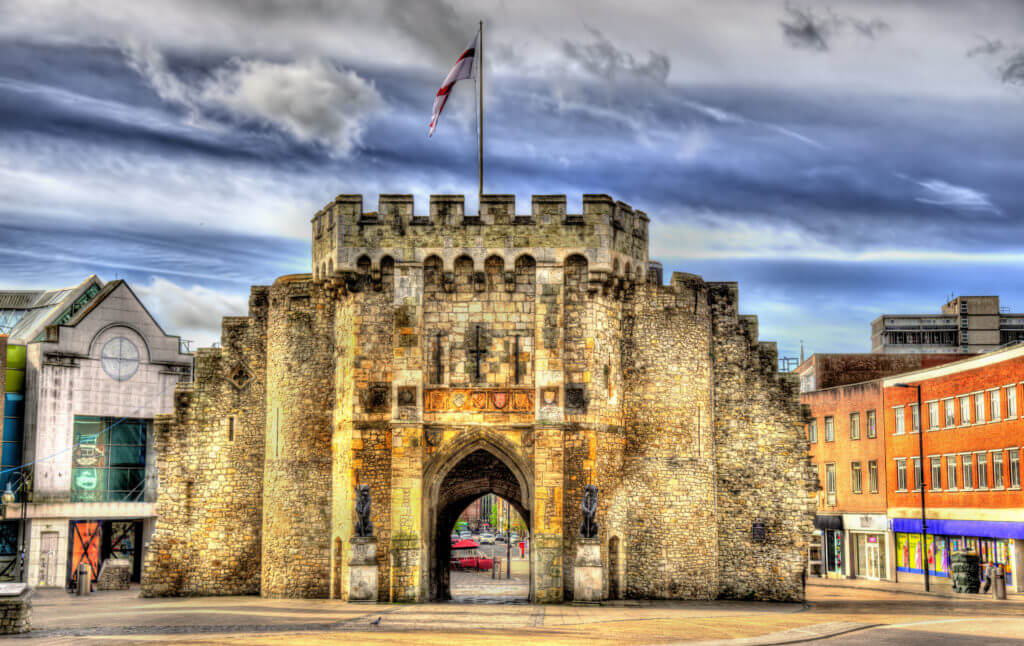 My top picks for bars and places to eat in Southampton include The Pig in the Wall, The Dancing Brewery, The Rockstone (those burgers!) and 7 Bone, also for juicy burgers.
If you need somewhere for brunch, then Portswood is a cool area, or try one of the pubs on the edge of Southampton Common.
If you want something slightly active to do on a rainy day in Hampshire, then I can totally recommend Houdini Escape Rooms – they get you to dress up and everything. Also, 1st Base indoor baseball is pretty fun too. You stand up to bat and smack the ball as hard as you can against the wall, and you'll get points. Great fun for a group of you looking for a fun day out in Hampshire.
If you're out for the evening then head to Oxford Street or Orange Rooms on Vernon Walk for the best bars and drinks.
12. Relax on Hayling Island
Hayling Island feels like a world away from the cities in Hampshire.
If your idea of a great day out in Hampshire is to retreat from other people, be on a sandy beach, without the pressure of lots of things to do, then I think Hayling Island is the one for you.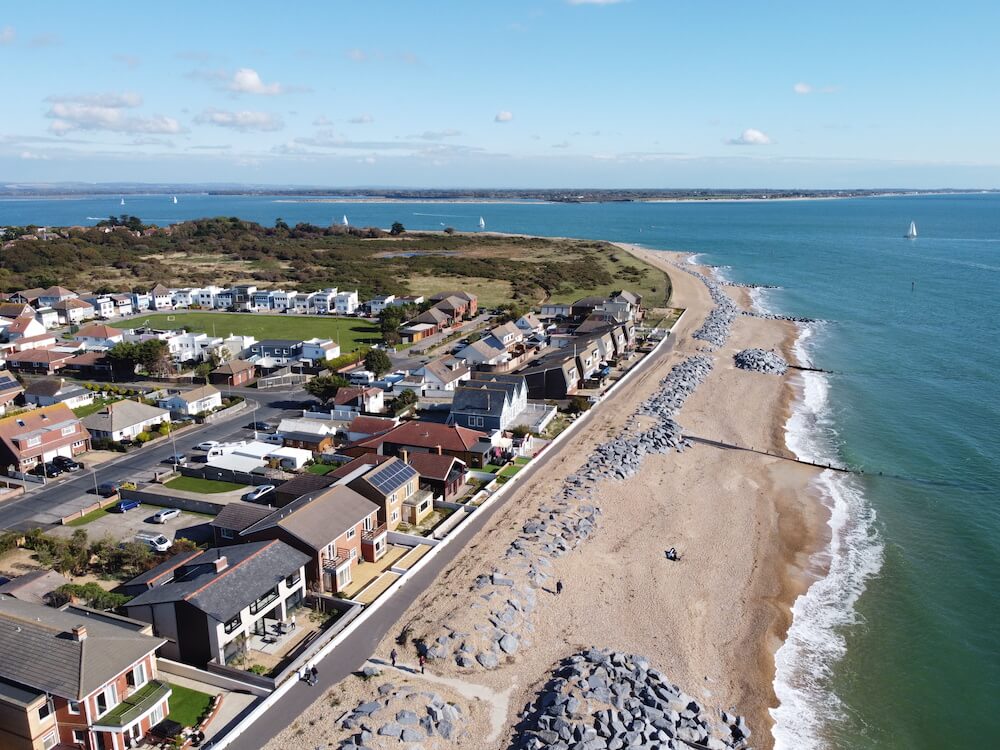 There's not really that much to do here that costs, which means it's also one of the best cheap days out in Hampshire too. The beauty is in the nature.
You can get to Hayling Island on a little boat from Southsea in Portsmouth, or you can drive round and through. There are some beautiful houses here. Once I walked round Hayling Island, it was great, but a challenge…
My top recommendation for a place to eat on Hayling Island would be the Inn on the Beach on the beach front. In fact, I've been to Hayling Island a few times and tried to find somewhere else, but always end up back here. Their fish and chips are HUGE.
13. Go to Highclere Castle in Newbury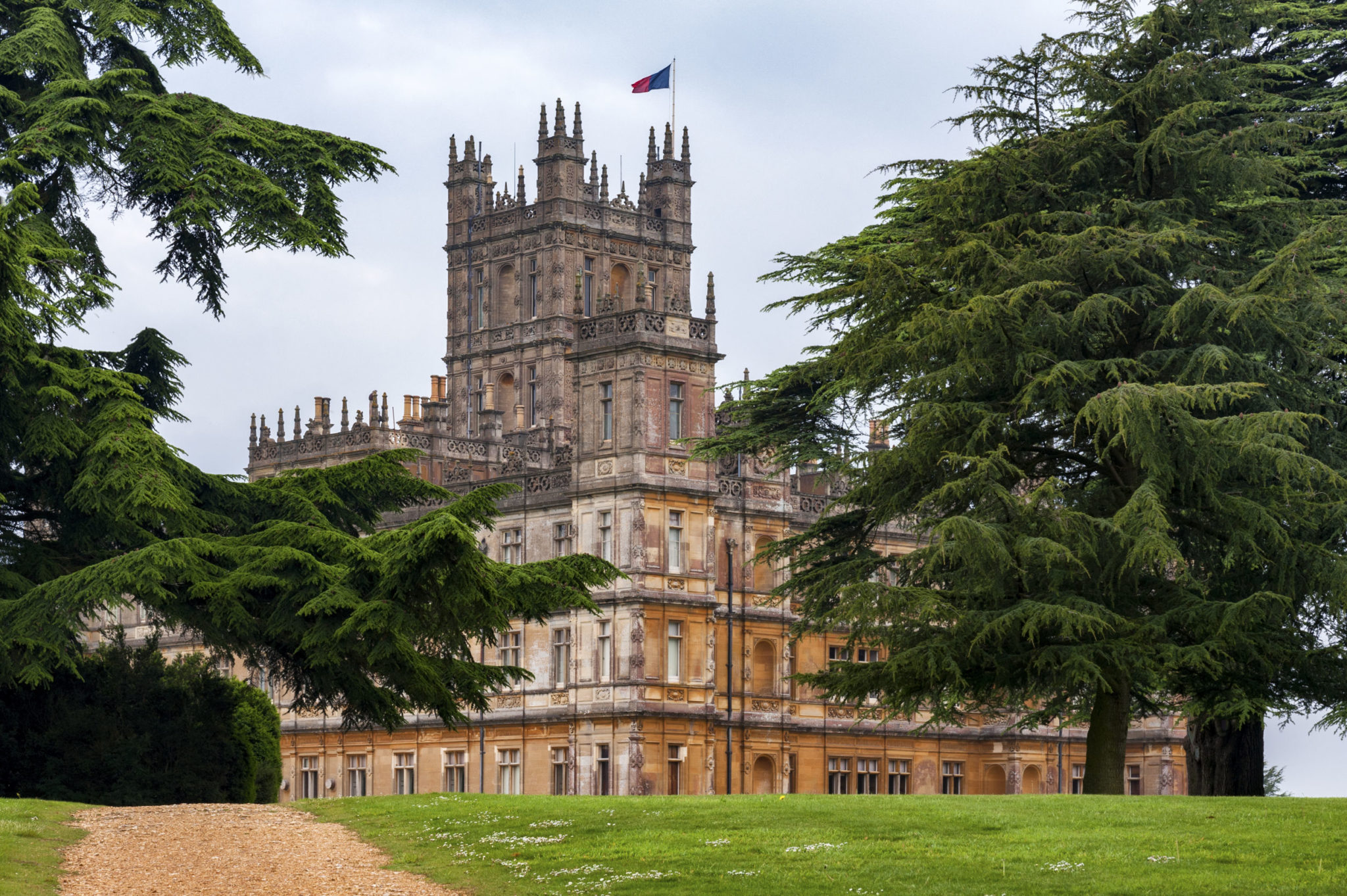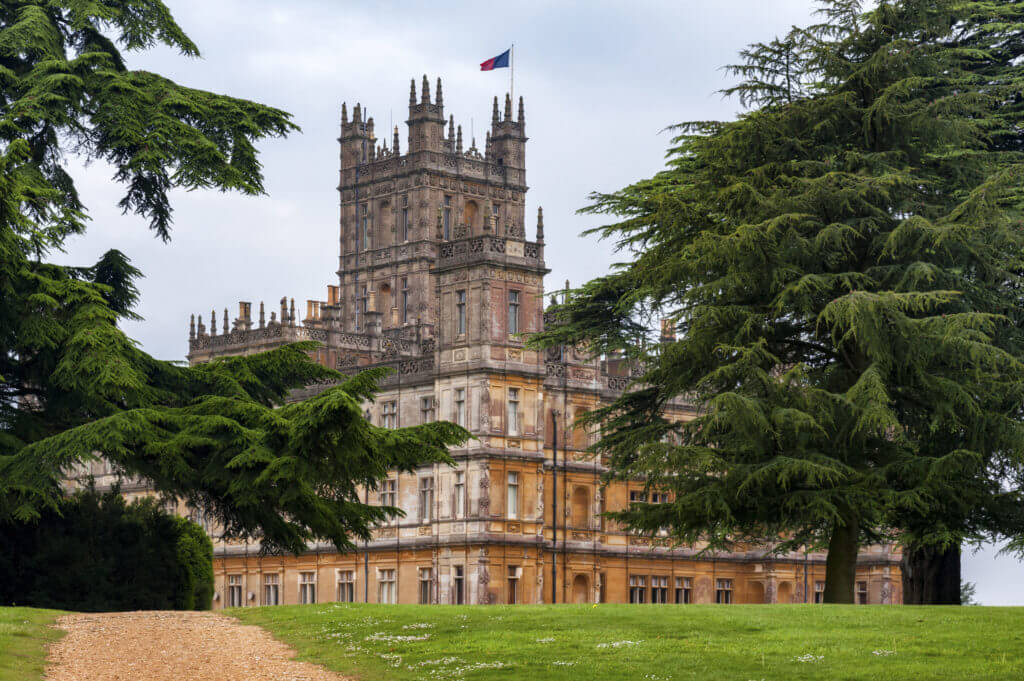 Highclere Castle is one of the best castles in England. Visit and you can walk the grounds, acting like you're some sort of Lord of the Manor.
Built in the 19th Century Highclere Castle is a 5000-acre estate, best known now for being used in Downton Abbey. But of course, its history is a lot more interesting than just a TV show.
Open for tours year round, and for looks around, the interiors of Highclere Castle make it one of the best days out in Hampshire. Keep an eye on the events and activities here, they do love a good festive gathering!
14. Visit Queen Elizabeth Country Park in Petersfield
Easily accessible from the A3, Queen Elizabeth Country Park is a haven in Petersfield. There are pretty woodlands for the walkers among us, or cycling and horse trails if you like your country ambles on the adventurous side.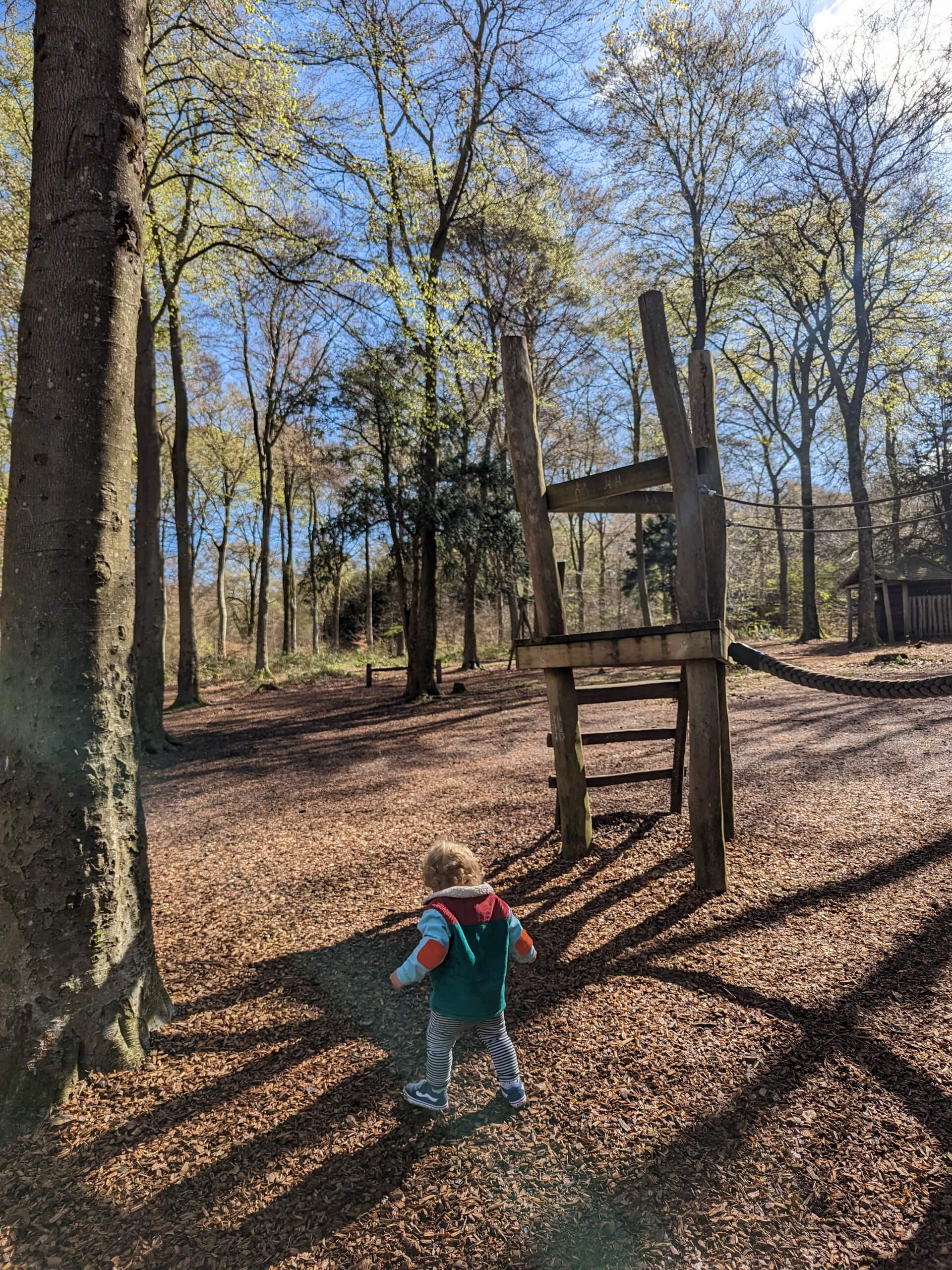 The park is free and open throughout the day, with a cafe and toilets on site. The park is a great introduction to the beauty of the South Downs, as you can pass right through them. There's lots to do in here, but the best thing to do in the Queen Elizabeth Country Park might just be to relax and enjoy your surroundings.
"From wild-foraging to forest yoga, pizza-oven parties to hawk walks. Experience the real South Downs at Hampshire's Queen Elizabeth Country Park."

– Queen Elizabeth Country Park website
15. Drink at Hambledon Vineyard
Hambledon Vineyard is famous for it's sparkling wines, best enjoyed on a sunny day vineyard tour around the grounds. You'll get two hours to follow a guided tour around this South Downs vineyard and learn everything you can about how they produce their award-winning wines.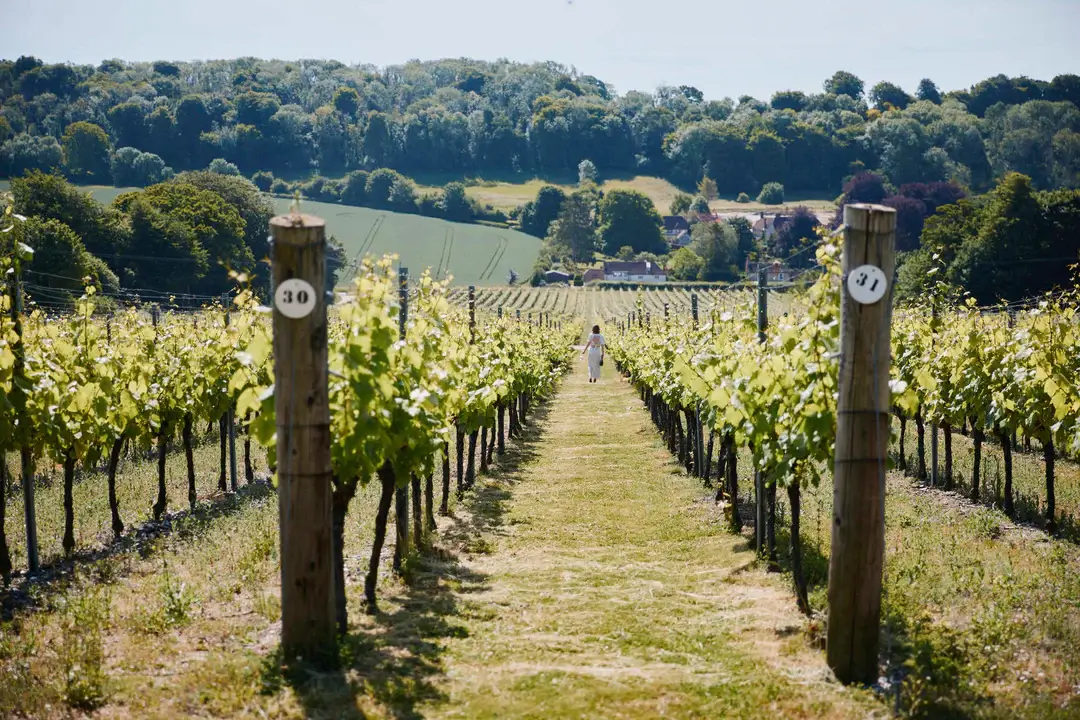 You'll get to try the produce, of course, and can pick up a few bottles to take home in the on-site shop too. Combine this with the Bombay Sapphire Distillery and you've got a fun boozey day out in Hampshire to enjoy!
13. Visit Mottisfont National Trust property
Tour the Rose Gardens of this impressive National Trust property to get you started. Years of gardening expertise has gone into each and every flower to bring them together to create a magical space for you to relax and enjoy your surroundings.
Expect agapanthus, geraniums and peonies mingling with pinks, lilies, phlox and nepeta. Yeah I don't know what any of those are either, but they sound lovely.
READ MORE: National Trust vs English Heritage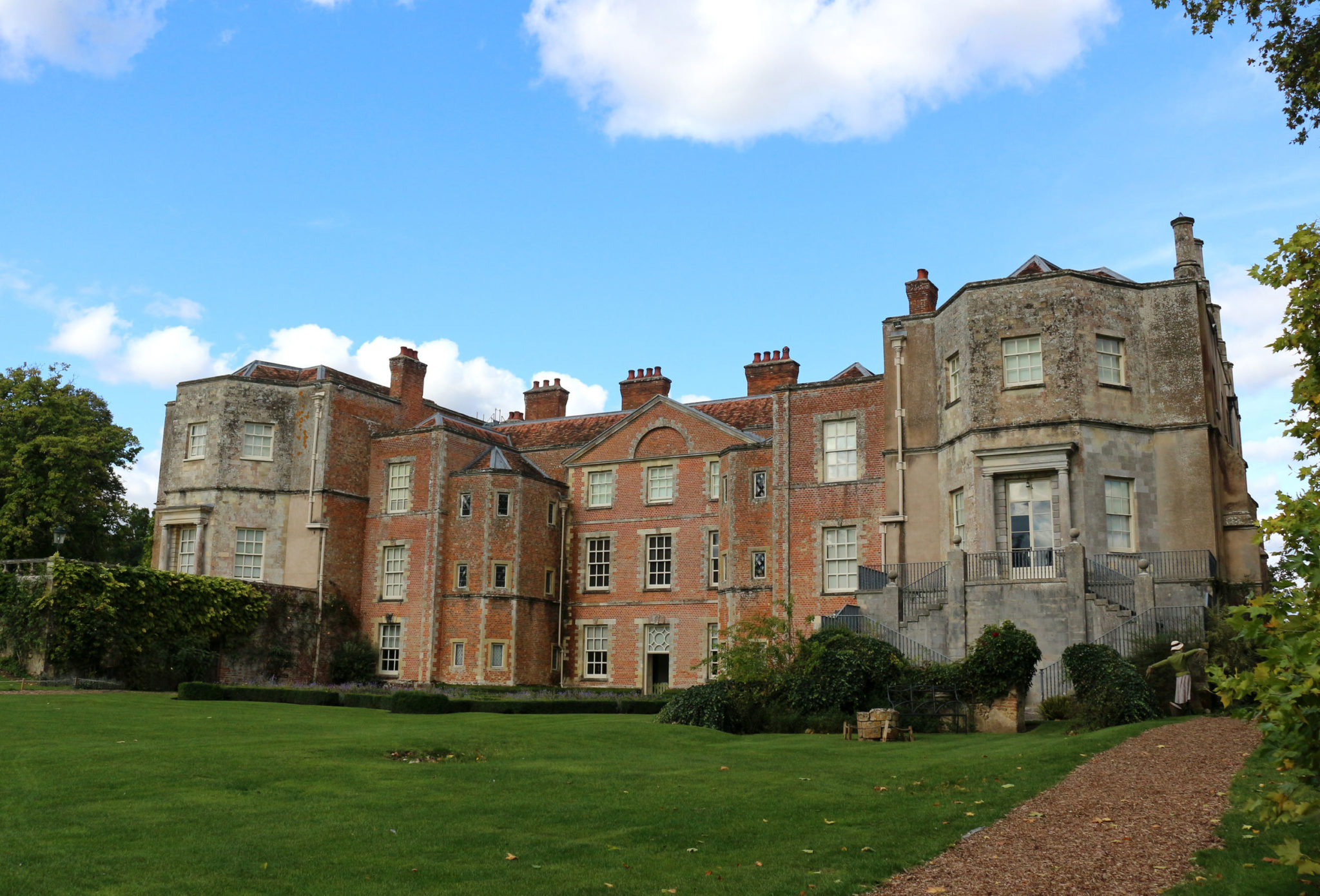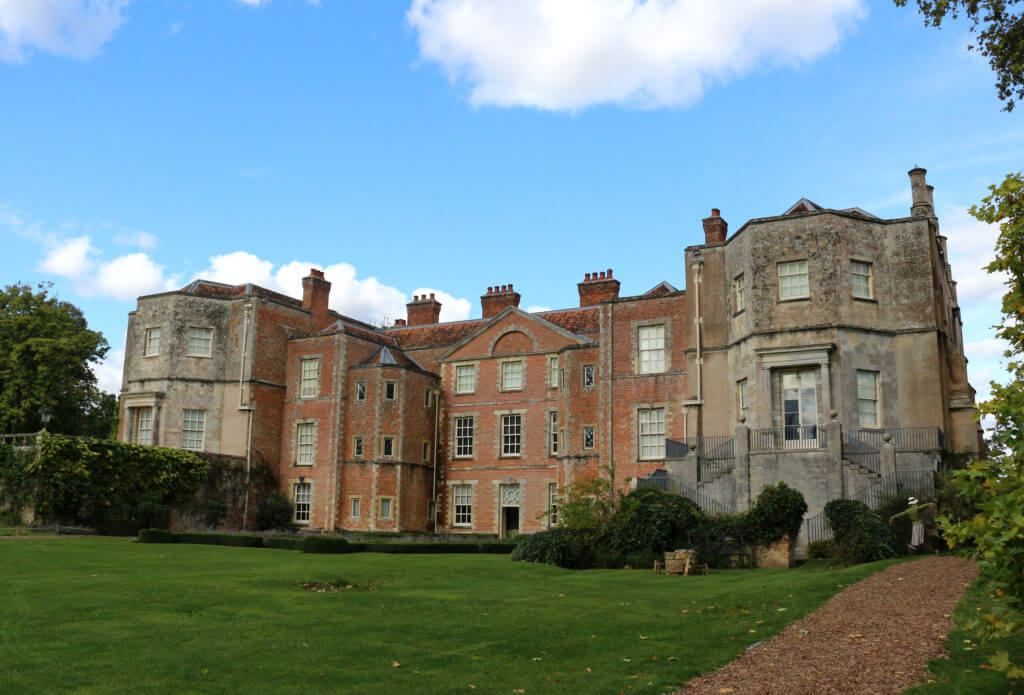 The historical priory, garden and country estate is one of the most impressive in Hampshire, nestled in the valley of the River Test.
Mottisfont's history stretches back to 1201 and since then has had an eclectic mix of owners, all with their own personalities engrained in the estate. Visit to learn more about the gallery, year round performances and riverside gardens.
All makes for a wonderful Hampshire day out for adults.
16. Chill at Hill Head Beach in Fareham
This shingle dog friendly beach is one of the most 'wanted' in the county. If you're looking for a fun day out in Hampshire, that's pretty easy, breezy, then this could be the one for you.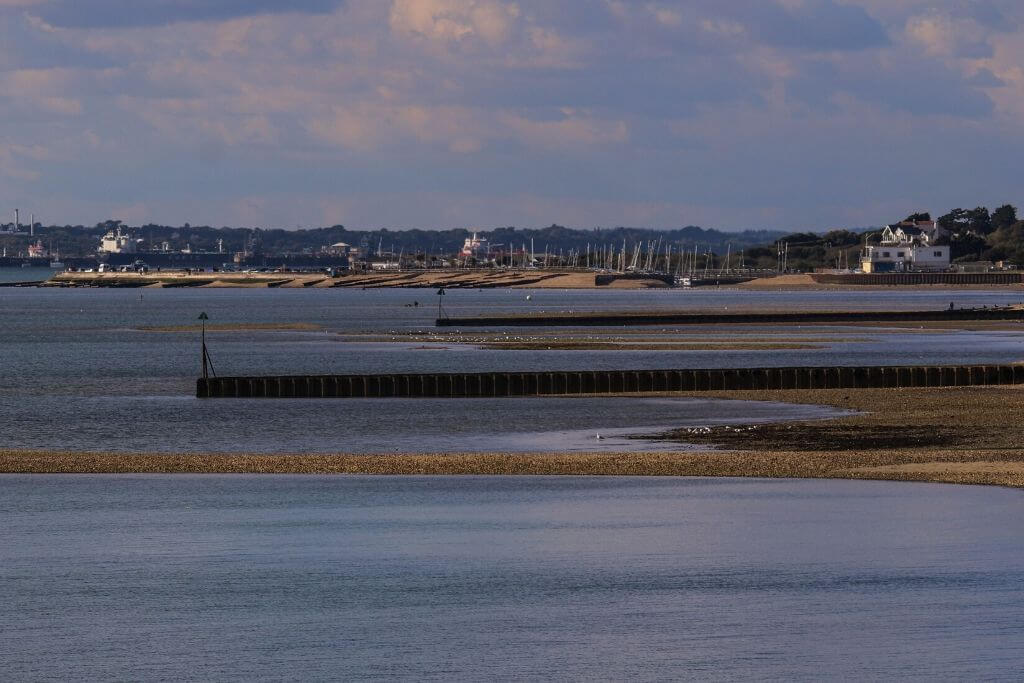 The views from Hill Head Beach are pretty spectacular, and the shoreline overlooks the Solent. If you're into watching boats come in and out, you'll love it here.
Thanks to the relatively windy weather here, it's a popular spot for watersports enthusiasts. If you like paddleboarding and kayaking, you'll love it here. And birdwatchers love the Titchfield Haven National Nature Reserve.
The colourful beach huts here just add to the pretty seaside vibe.
17. Visit Titchfield Abbey
Titchfield Abbey was once the home of a group of canons, like monks but they also serve the local community. But, with the overturning of the monasteries, they got pushed out.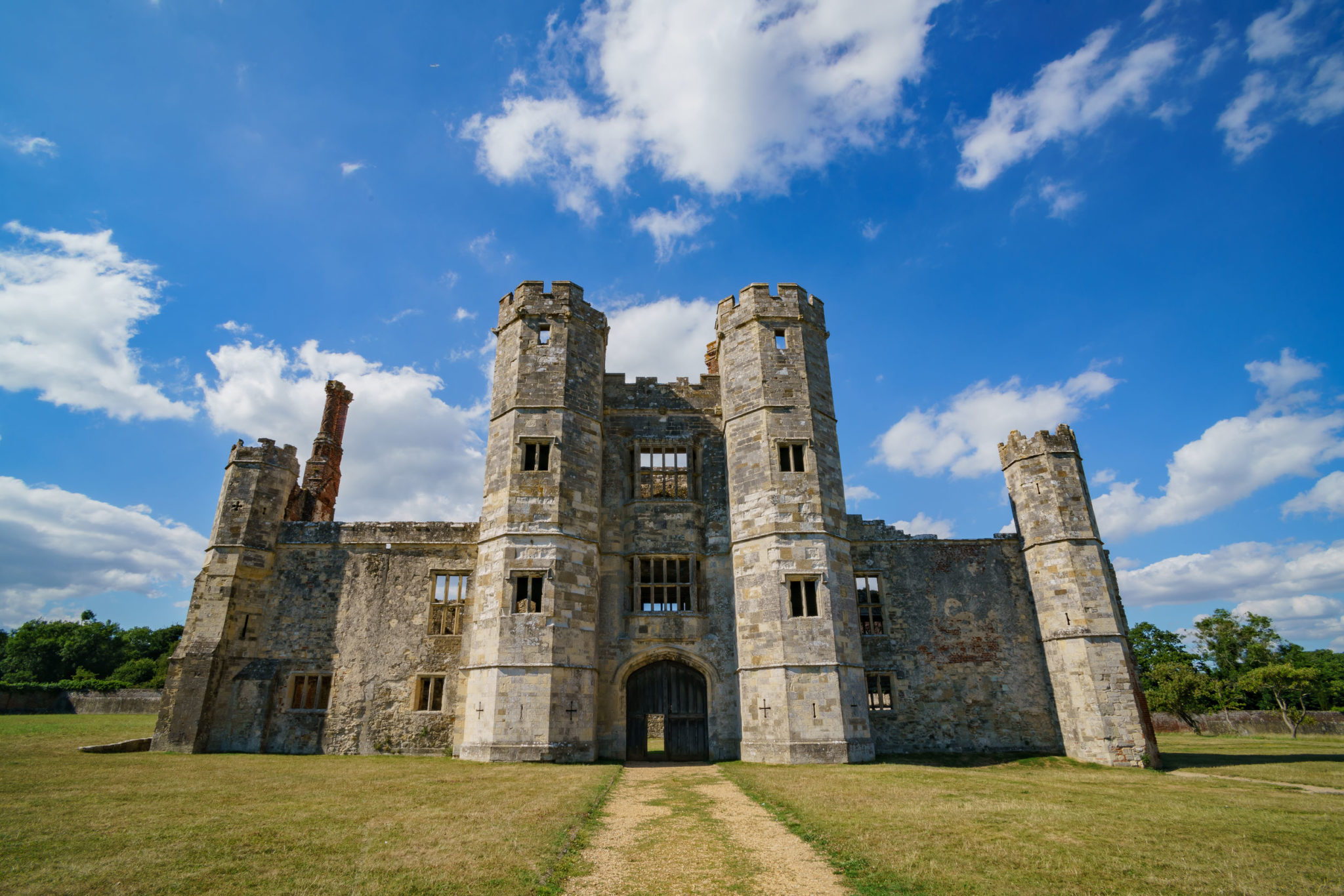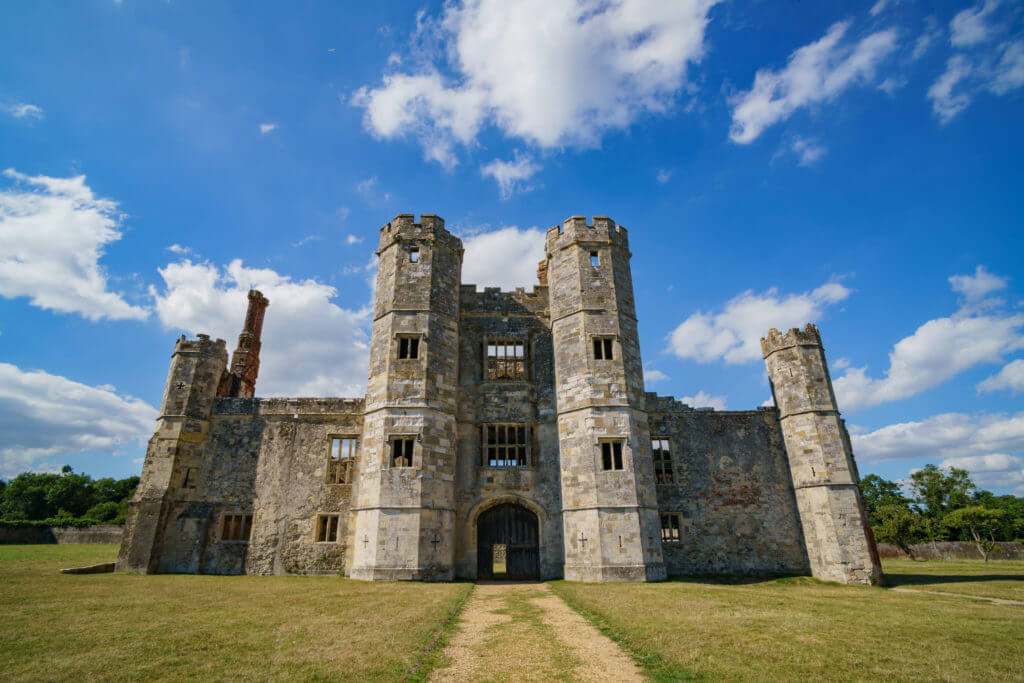 Nowadays it's an English Heritage site you can look round, and up. Much of the abbey has unfortunately been destroyed but you can still go along and learn about the rich history. And take a pic or two.
The most impressive feature of Titchfield Abbey is the grand turreted gatehouse, built across the nave of the church.
Check out the English Heritage site to learn more about how they sold off parts of the Abbey for… building materials. A fun day out in Hampshire for history lovers.
17. Go to Romsey Abbey
Romsey's Parish Church is pretty blummin spectacular. Romsey Abbey has a whole programme of festivals and events throughout the year to keep locals, and tourists, through the doors.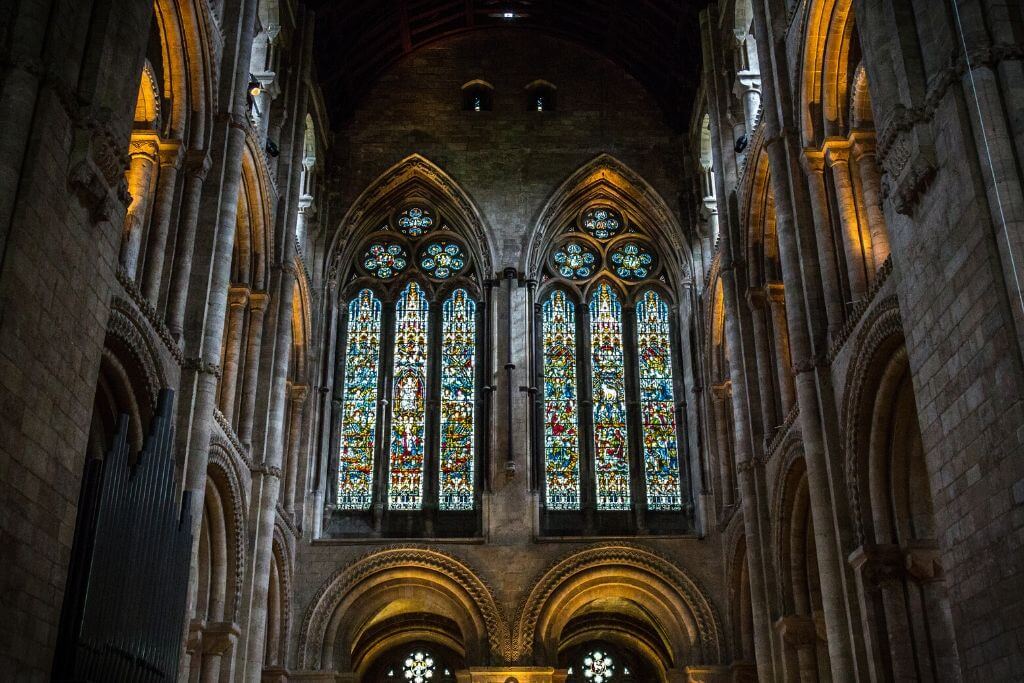 Impressive features inside the church include a lofty nave and round Norman arches, it's one of the most imposing churches in Southern England. Treasures inside include two Saxon roods, a 16th-century reredos (a screen displayed behind an altar) and the tomb of the Lord Mountbatten of Burma, great-uncle of Prince Charles.
Romsey makes for an interesting day trip in Hampshire, combined with a look around the town.
18. Relax at Chewton Glen Spa
Chewton Glen Spa is LUSH. It's a five-star country house hotel nestled in the Hamsphire countryside, in New Milton. There's a cookery school here, a luxury spa, and restaurants on site too.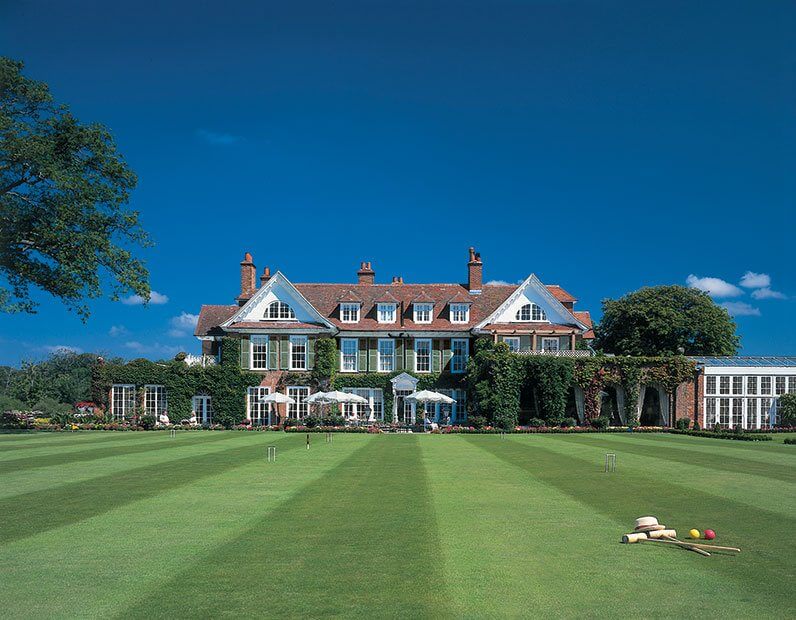 Visit Chewton Glen Spa and you're going to need some serious cash. Over 130 beautiful acres on the edge of the New Forest National Park, this place is truly for a special occasions, and definitely one of the fanciest days out in the New Forest.
Get an evening day spa pass, just so you can have a look around. It'll be worth it, I promise!
This is the kind of Hampshire day out you can do again and again. You can check out the prices and see some more pics of Chewton Glen Spa here.
19. Old Portsmouth Pub and History Treasure Hunt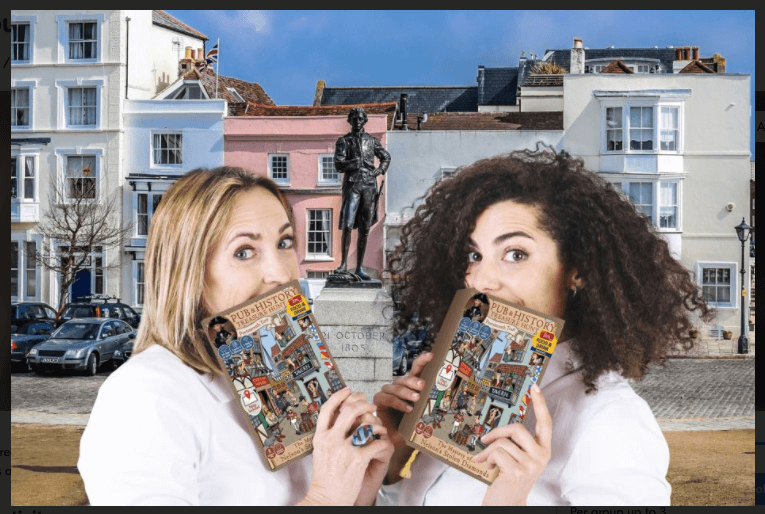 "Turn the historic streets of Old Portsmouth into the world's largest escape room on an interactive treasure hunt tour. Solve 18 clues and discover five pubs as you hunt down one elusive diamond thief in the historic city."
– Discover the historic streets and taverns of Old Portsmouth
– Solve 18 interactive clues and puzzles in your quest for an elusive diamond thief
– Soak up true local stories of Portsmouth's most notorious characters and places
The Old Portsmouth Pub and History Treasure Hunt makes for a fun day out in Hampshire for groups of friends, trust me!
20. Staunton Country Park in Havant
I went to a great yoga festival once at Staunton Country Park, it was fab. I didn't get to look round the house, but randomly my friend knew someone who lived there, so I did get to go in to the private apartments. Random hey?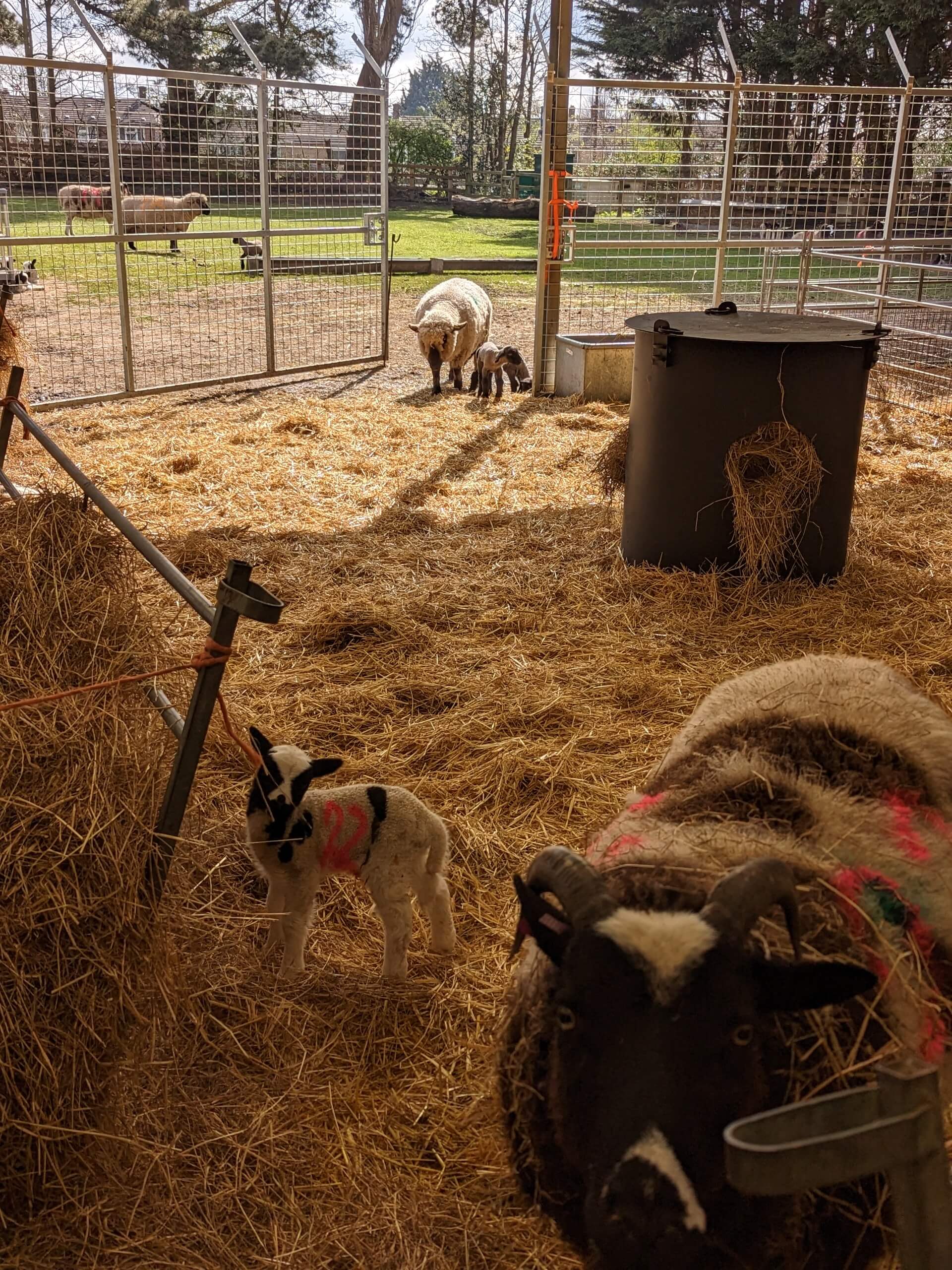 Anyway, what can we do as the general public at Staunton Country Park?
Well, to start with, there's the farm. Kids will love the animal encounter sessions here, and the friendly animals they'll meet (check out my post on the best zoos in England, if that's what you're into). Kids will also love the Golden Jubilee Maze – filled with fun and adventure. And with over 1000 acres in the park, they'll also enjoy a good run around.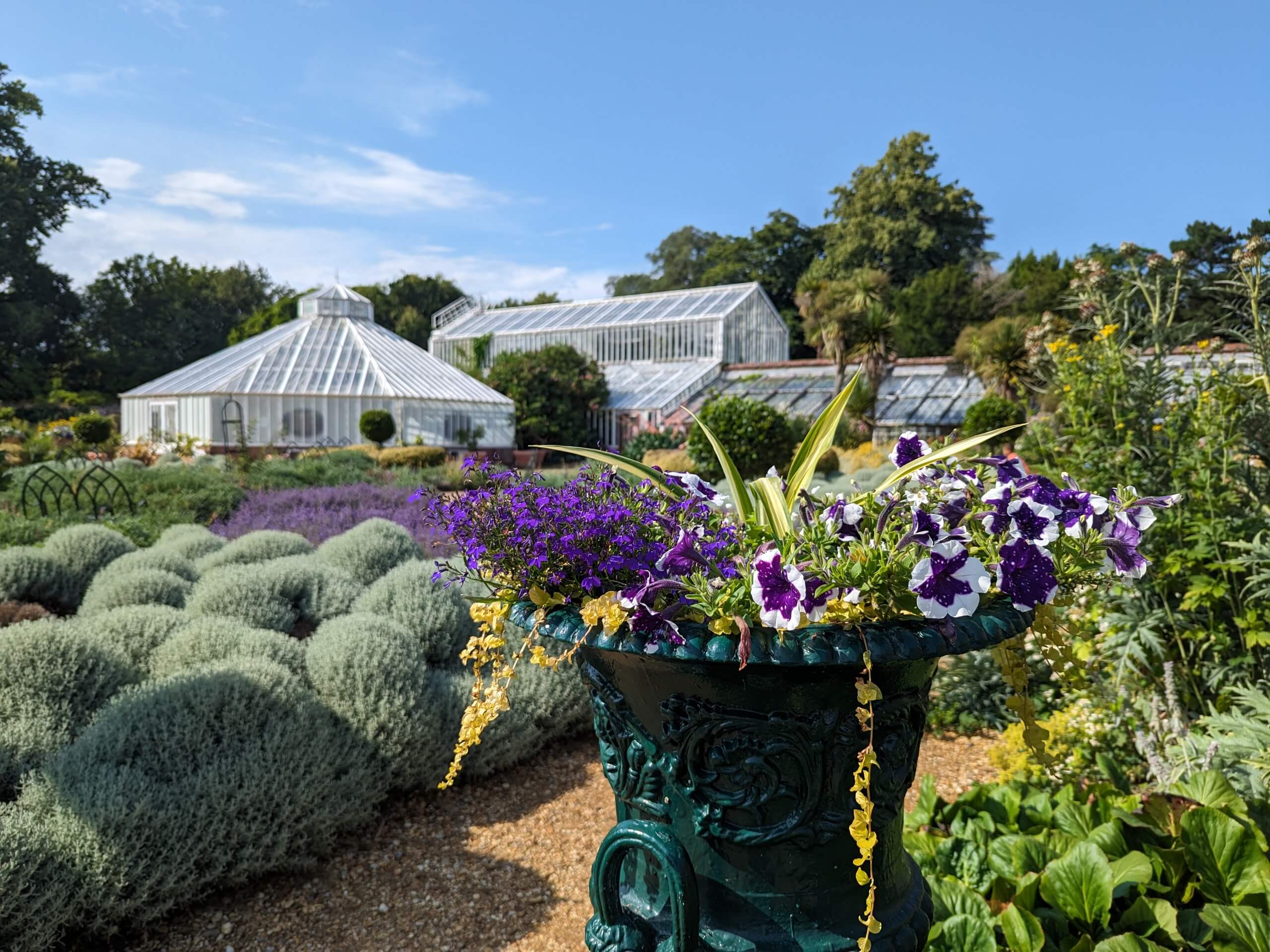 In the Gardens you can enjoy the Victorian splendor behind the beautiful colours, floral displays and fragrances that greet you as you enter the walled garden. Check out the farm shop for some locally produced treats to take home.
Staunton Country Park makes for a lovely, wholesome family activity in Hampshire.
21. Cycle round Portsea Island
Portsmouth is actually on Portsea Island, making it the only island city in England. And when I say that, I mean the entire island is the city. Get me?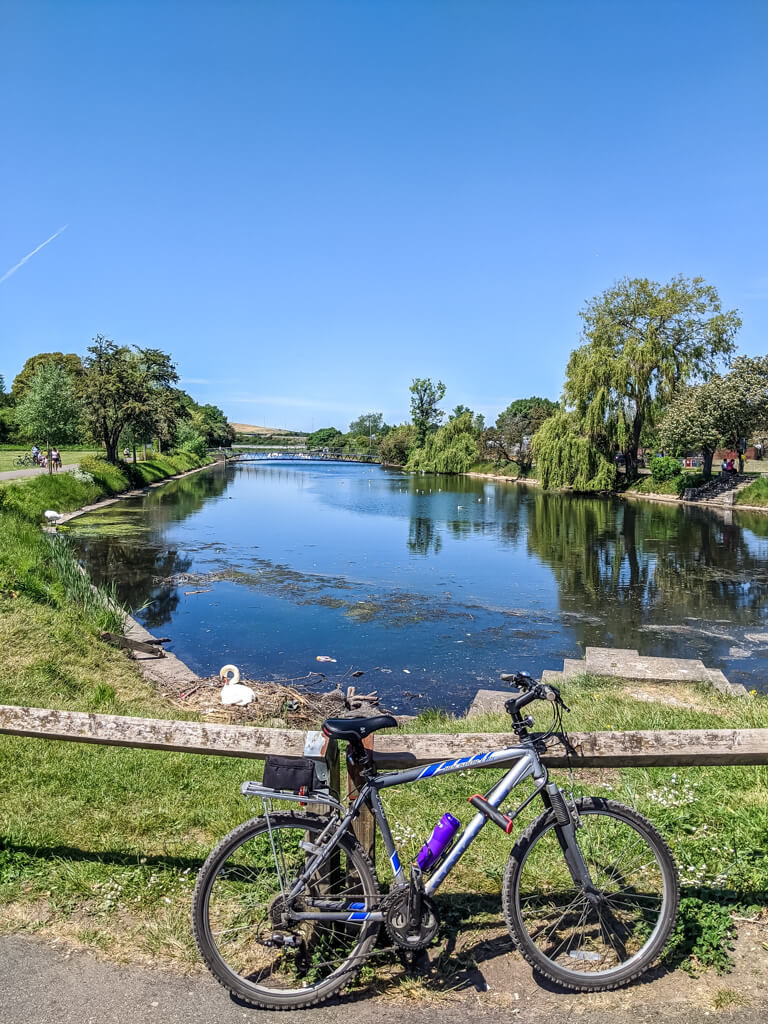 A good idea for a fun day out in Hampshire is to cycle around the whole Portsea Island, around 12 miles of it. You can find out exactly how to cycle Portsmouth here, as I've done it more than a few times over the last few months of quarantine.
Enjoy!
23. No Man's Fort, in the sea
How about a day out in Hampshire at No Man's Fort?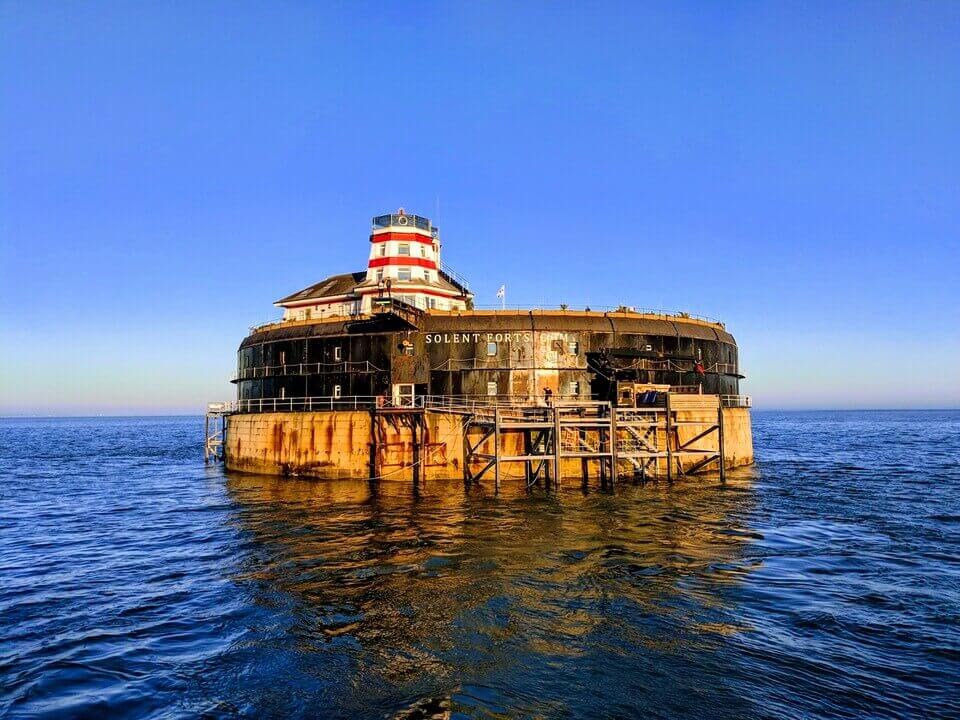 One of the three huge forts in the water between Portsmouth and the Isle of Wight, it really does make for a unique treat.
I've written a whole blog post about my day out on No Man's Fort – check it out here.
24. Wander round Farlington Marshes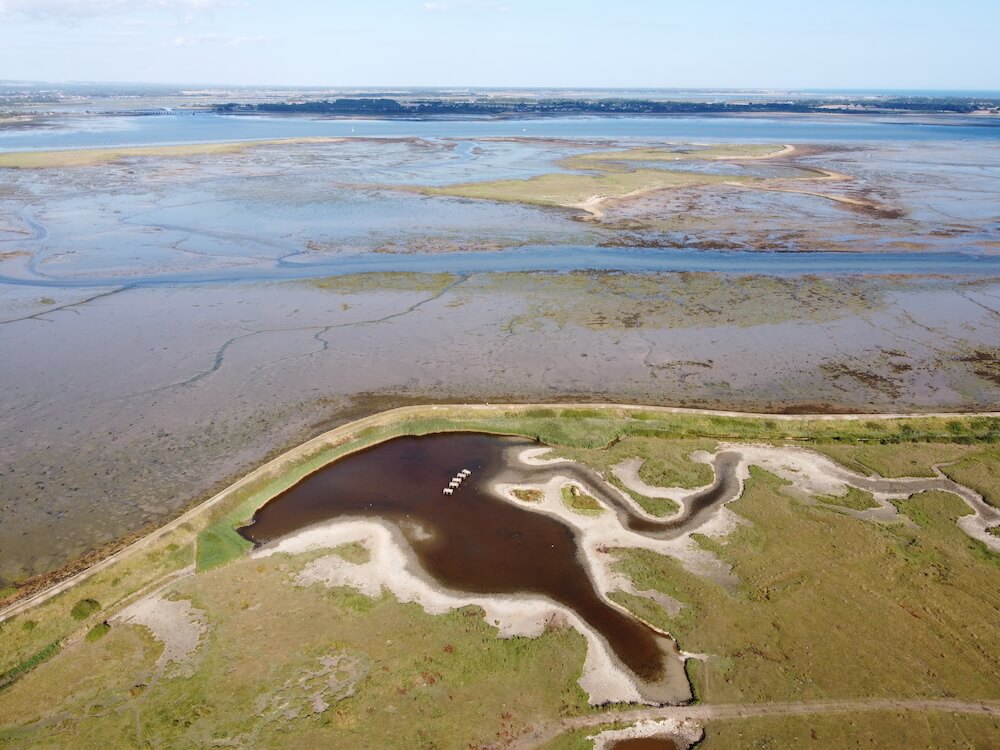 The penultimate Hampshire day out for now involves walking round Farlington Marshes at the top of Portsea Island. It's more of an afternoon or morning but you can combine it with a trip to Hilsea Lines, or go into Southsea for the day.
25. Day out in the Roman city of Silchester
Managed by English Heritage, the ruined Roman city of Silchester can be visited for free and is located just 10 miles south of Reading but in Hampshire. The ruins consist mainly of ancient city walls, dating back to the late 1st century – they are believed to be the most intact Roman defences in the whole of the UK, visible for almost the entire circumference of the city.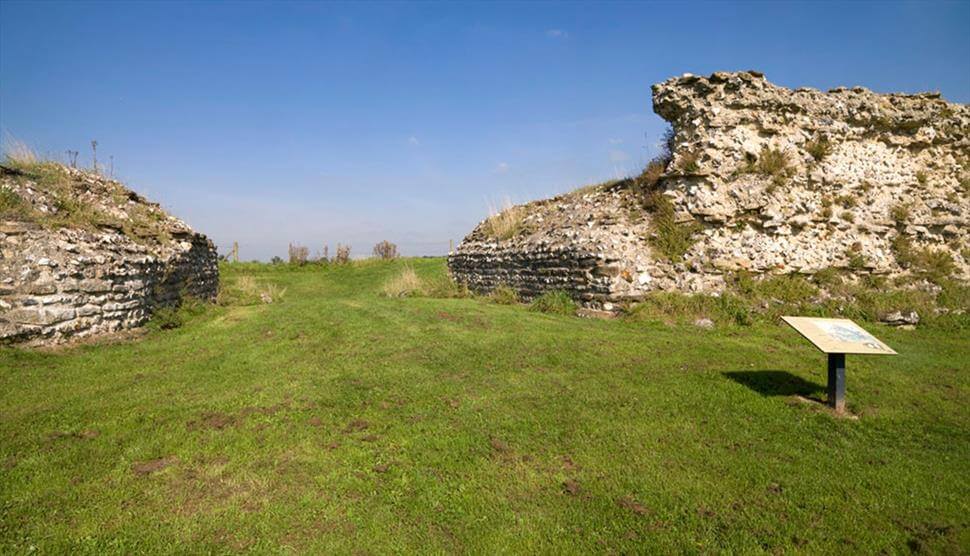 The brook which once fed the Silchester Baths still runs today and visitors can step into what remains of the amphitheatre, which has slowly been reclaimed by trees and shrubs over the following centuries.
This makes for an easy, breezey, chilled out day out in Hampshire for all.
26. Relax at Butser Farm
How about a visit to Butser Farm?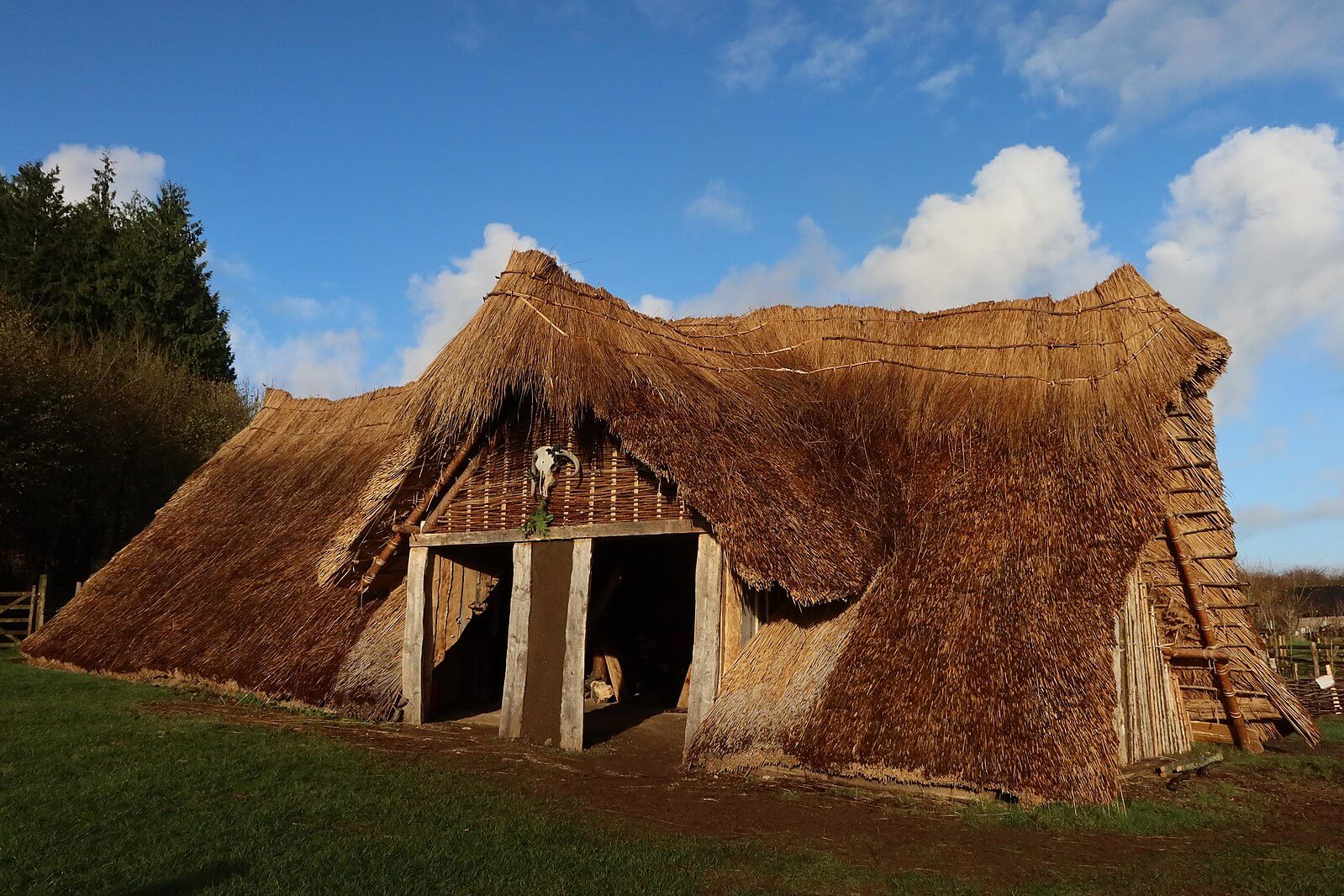 ---
Your day out in Hampshire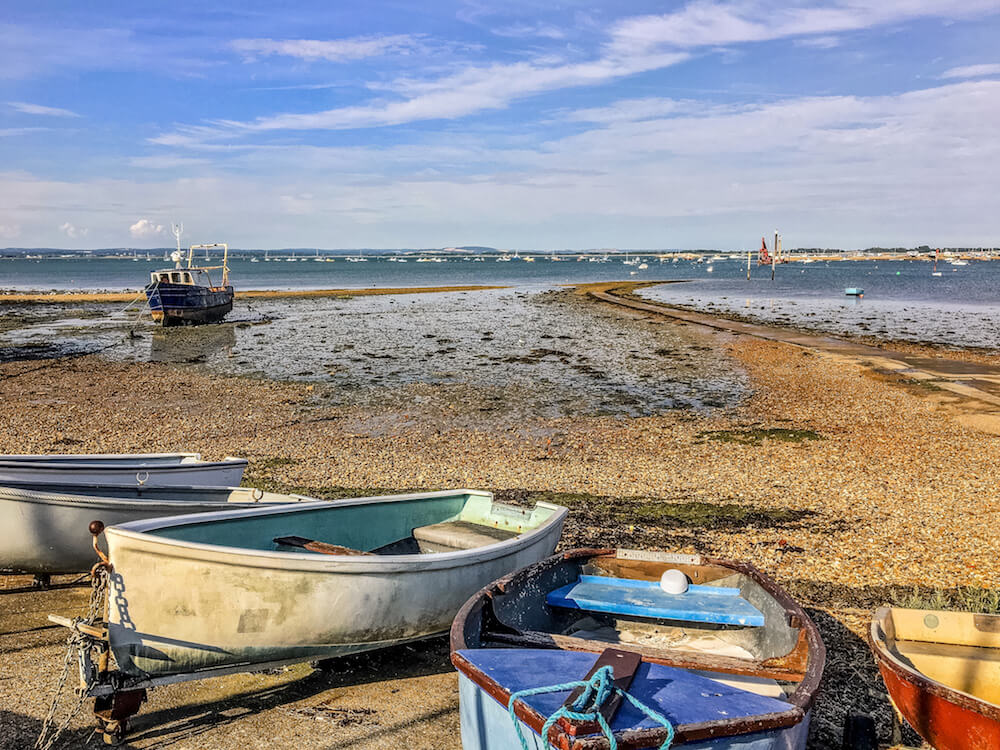 And there you go – 25 great days out in Hampshire for your next adventure into or around the county. As you can see, there are some great adventurous days out in the county.
Anywhere you think I've missed?
Let me know in the comments below!
---
Quicklist: days out in Hampshire
1. Walk and eat your way round Brockenhurst
2. Cycle through Lyndhurst before Afternoon Tea
3. Visit the Bombay Distillery
4. Drink coffee in Southsea, and lay on the beach
5. Visit Portsmouth Historic Dockyard and Gunwharf Quays
6. Go for a day out in Winchester
7. Cycle or walk the South Downs
8. Get adventurous in the New Forest
9. Enjoy a Jane Austen tour
10. Day out in Southampton
11. Relax on Hayling Island
12. Go to Highclere Castle in Newbury
14. Visit Queen Elizabeth Country Park in Petersfield
15. Drink at Hambledon Vineyard
13. Visit Mottisfont National Trust property
16. Chill at Hill Head Beach in Fareham
17. Visit Titchfield Abbey
17. Go to Romsey Abbey
18. Relax at Chewton Glen Spa
19. Old Portsmouth Pub and History Treasure Hunt
20. Staunton Country Park in Havant
21. Cycle Portsea Island
22. Escape Room Experience
23. No Man's Fort, in the sea
24. Wander round Farlington Marshes
---