10 of the Best Surrey Hills Walks to Explore
Off to wander the Surrey Hills? This stunning area of the English countryside has some of the best walks for anyone looking to get their steps in and explore the great outdoors in the south of England. From hikes up hills to historic monuments to wide open green spaces, Surrey has it all. Here are 10 of the best Surrey Hills walks to try out when the weather's nice.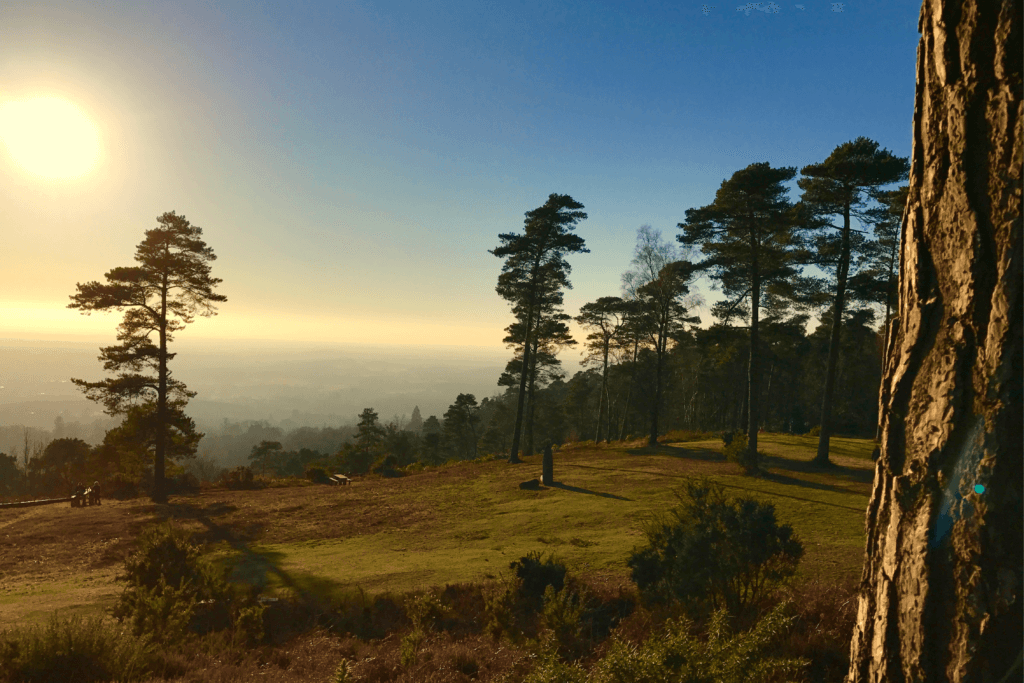 There are some brilliant walks in England, like nature walks in the South East, long and short strolls in Epping Forest, coastal rambling in Hampshire, and much more, so you'll never run out of places to stretch your legs in this county.
From the stunning views atop Leith Hill to the unique landscape of the Devil's Punchbowl, there's so much to see in this area whether you're off on a solo jaunt, a group expedition, or a family day out. So, lace up your walking boots, stick a water bottle in your backpack, and choose one of the best Surrey Hills walks to explore…
10 of the Best Surrey Hills Walks
The best walks in the Surrey Hills are all here for you to peruse.
1. Box Hill, Lodge Hill and Juniper Hill: 11.9km
These three hills make up one of the best circular walks in Surrey Hills territory, and one of the best circular walks in Surrey. The famous Box Hill walks are always a great day out, but add on some more summits along the way to make it more of a challenge. With plenty of steep inclines, this one is perfect for regular walkers who want to feel like they've done some exercise after, while still offering the relaxation of a walk in nature.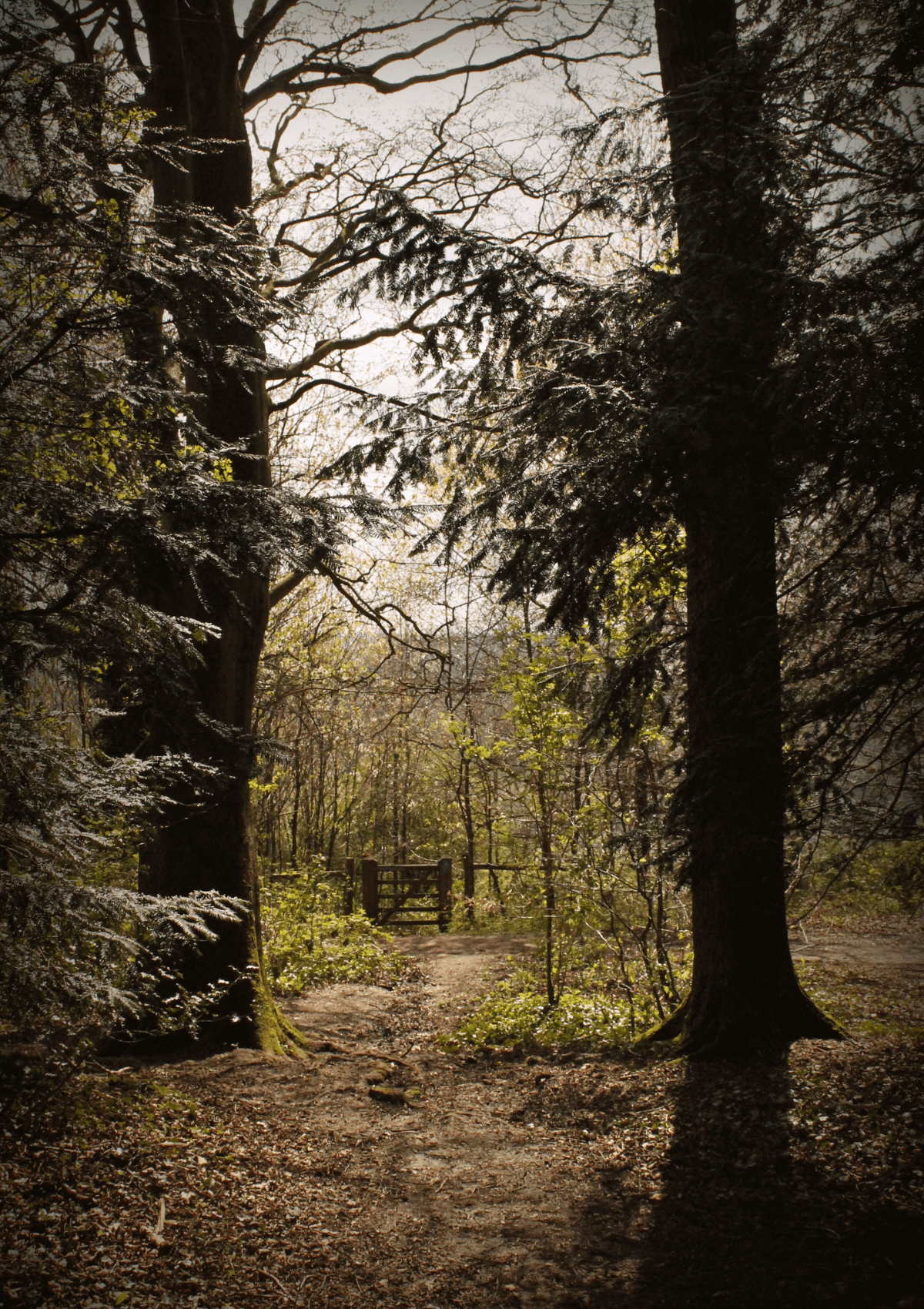 Start at Box Hill car park, but get there promptly as this is a pretty popular route and the car park can fill up quickly. Take this almost 12km walk, heading down into valleys and back up again, through big, open fields and into sections of woods. Don't forget to check out the country pubs and cafes on the journey — The King William IV pub is a cosy spot to stop at and admire the views from their terrace. If you're asking a local for directions to the pub though, they'll know it as 'King Bill on The Hill'!
Enjoy the gorgeous scenery of the Mole Valley area of Surrey at any time of year, but as with most of these walks, a sunny day shows it at its best. This is undoubtedly one of the best Surrey Hills walks you can do.
2. St Martha's Hill and Church: 1.6km
Looking for a picturesque yet short-and-sweet walk in the Surrey Hills? This one's for you. At just 1.6km, this uphill Surrey Hills walk guides you from the car park at Lidwell Copse across a route of moderate difficulty which takes around half an hour to complete, but you'll want to add extra time to admire the beautiful St Martha's Church.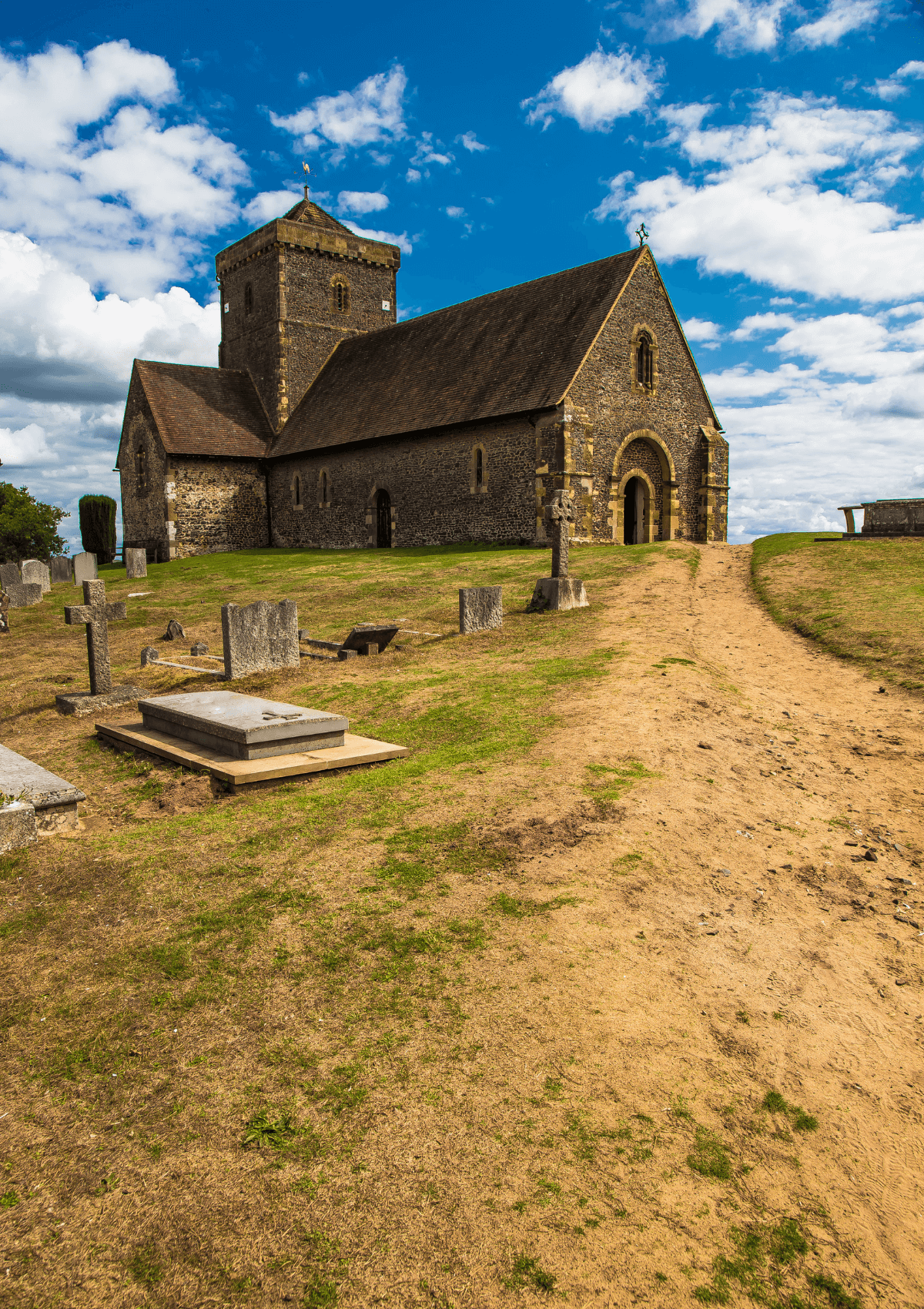 This trail to the summit of St Martha's Hill is a straightforward route which ends at St Martha's Church. The church was built in the 12th century but, after falling into disrepair, it was rebuilt in the 19th century and remains a great landmark to spot in the Surrey Hills. Although a short walk in comparison to others, on a sunny day you'll be thrilled to reach the top and switch to downhill.
This is one of the best Surrey Hills walks if you're looking for a quick one to do with the kids.
3. Shalford Three Peaks: 13km
If you're into longer walks in the Surrey Hills, you can see St Martha's Church on this 13km route instead and take in much more of the scenic countryside. The Shalford Three Peaks is a fantastic walk, especially if the weather's nice and you can see for miles around. This one is all about hitting the three peaks of the trail; High Ball, St Martha's Church, and Newlands Corner, each giving a unique look over the stunning Surrey Hills.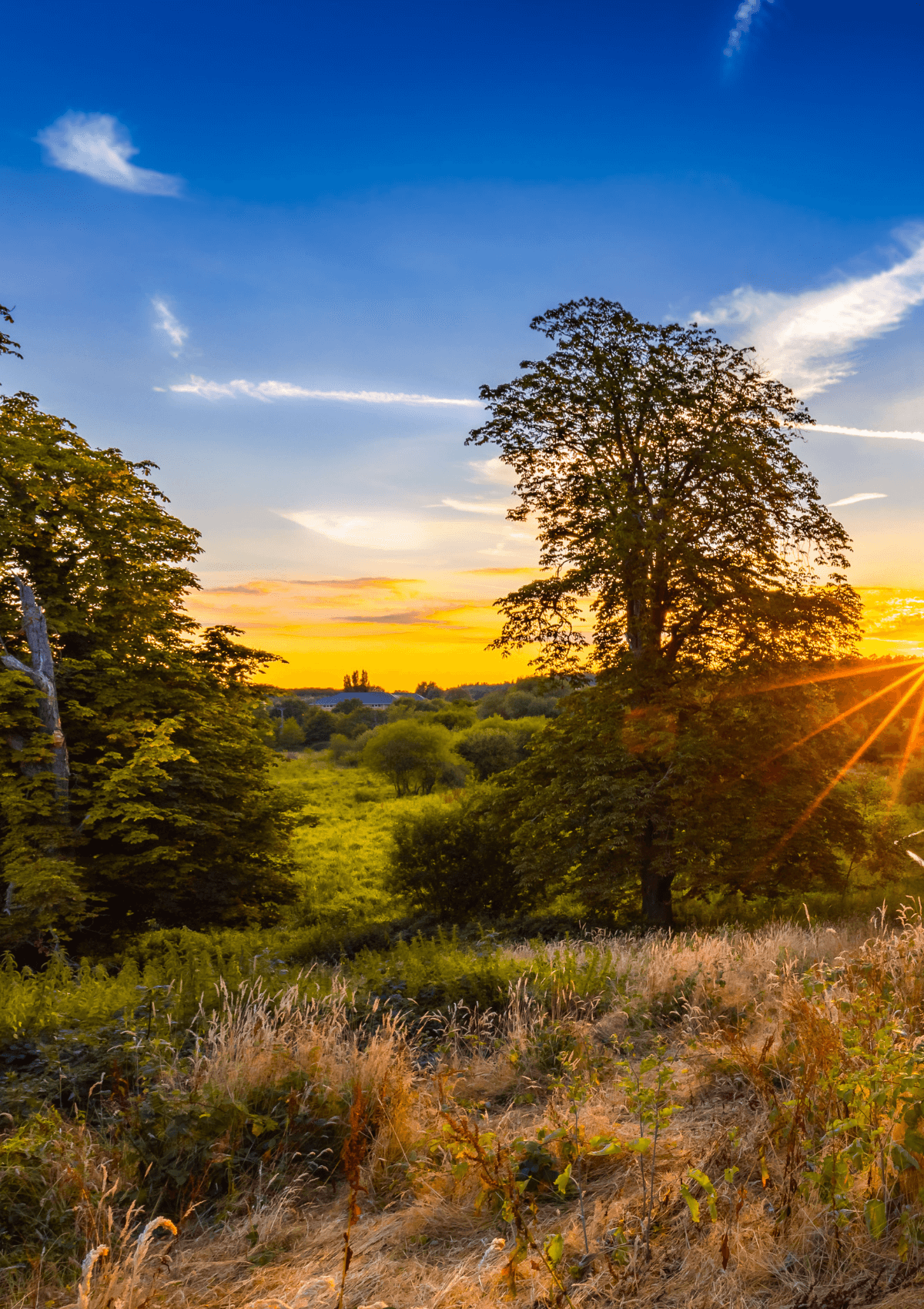 This is a great loop trail if you want to enjoy a picnic too, or if you want to do a bit of nature spotting. Due to its length, this one is moderately challenging, but anyone with a good level of fitness can take it on. If you're lucky, you may catch some of the local wildlife, like falcons, or say hello to some farm animals on the way, like horses. Bonus points if you spot the llamas that are occasionally in the area.
In the rain this trail can get a bit muddy, so if you're braving the elements bring good walking boots that can tackle the mud. You can park up in the incredibly picturesque town of Shalford and start and end the walk there. The best Surrey Hills walks end with a pub, of course, so head to The Seahorse for a delicious pub meal to finish your day.
READ MORE: Where to Go Paddleboarding in Surrey
4. Colley Hill and Reigate Hill: 4.5 km
One of the best walks Surrey has to offer includes two hills; Colley Hill and Reigate Hill. This one is a great one to add to your list if you are bringing your dog along, as they are welcome along this trail and may be allowed off-lead at times too.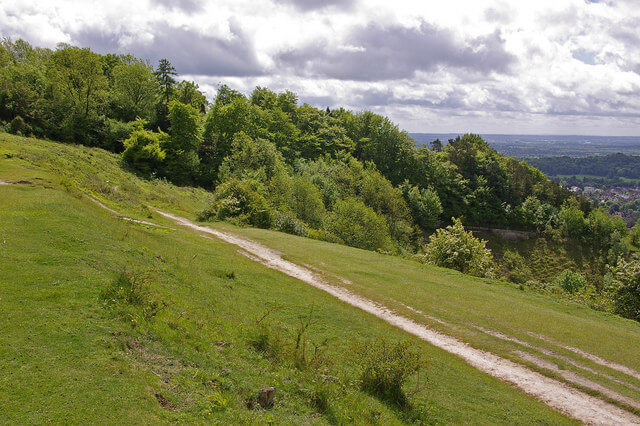 At one point on the trail there are some grazing cattle, so keep your dog on a lead at this section, but the cattle are used to people and dogs strolling by in this popular area. It's also worth noting that some parts of the trail cut through private land, so be respectful when passing through.
All in all, this is one of the best Surrey Hills walks for its epic viewpoints. You can start this walk at the Margery Woods car park, and stop off at the toilets and a cafe along the way to pick up refreshments for the journey.
This is a nice walk if you're looking for an outdoorsy day out at Christmas in Surrey.
READ MORE: Ultimate Guide to Lightwater Country Park
5. Leatherhead to Dorking on the Mole Gap Trail: 9.5 km
There are some great towns in Surrey, and walking between them you'll come across some fantastic scenery, plenty of nature, and a few excellent pubs to stop for a quick bite or a drink. If you're looking for great Surrey Hills walks with pubs, this one is perfect and relatively easy if you want a nice relaxing walk.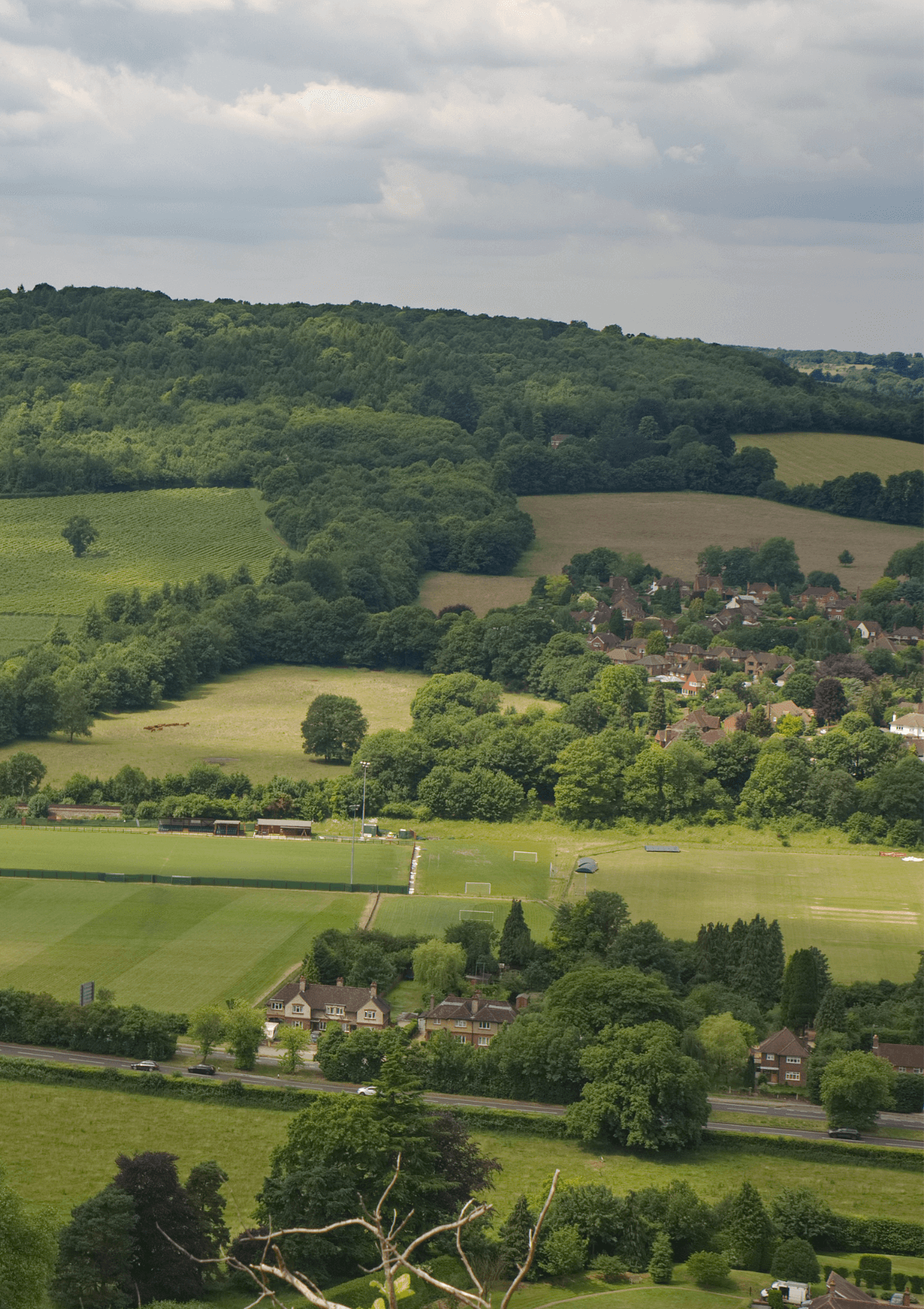 You'll start near Leatherhead and follow the Mole Gap Trail, which encompasses two market towns in Surrey, until you reach Dorking. Don't worry though, there are metal arrows directing you along the trail.
This one is a pretty easy walk with one steep climb that doesn't last long and a few kissing gates to navigate, but otherwise it's straightforward. Along the route you'll find plenty of benches to take a load off if you need to, and Swanworth Picnic Site is of course an excellent place to stop and tuck into whatever snacks you brought along with you.
There are a few pubs on the way too if you want a sit-down meal; The Running Horse pub in Leatherhead, The Stepping Stones pub in Westhumble, and don't miss Denbies Wine Estate — they have tours if you want to break up the trip, and a restaurant for a delicious meal. For those who get hungry along the trail, this is one of the best Surrey Hills walks, by far.
6. The Hidden Hindhead Trail at Devil's Punchbowl: 4.8km
Devil's Punchbowl is a popular walking destination near Hindhead in Surrey, and offers some of the most impressive views if you want more to look at along your walk. It's sort of like the Grand Canyon of Surrey! A huge, natural crater in the land that was formed over years and years thanks to erosion. It's really something to see.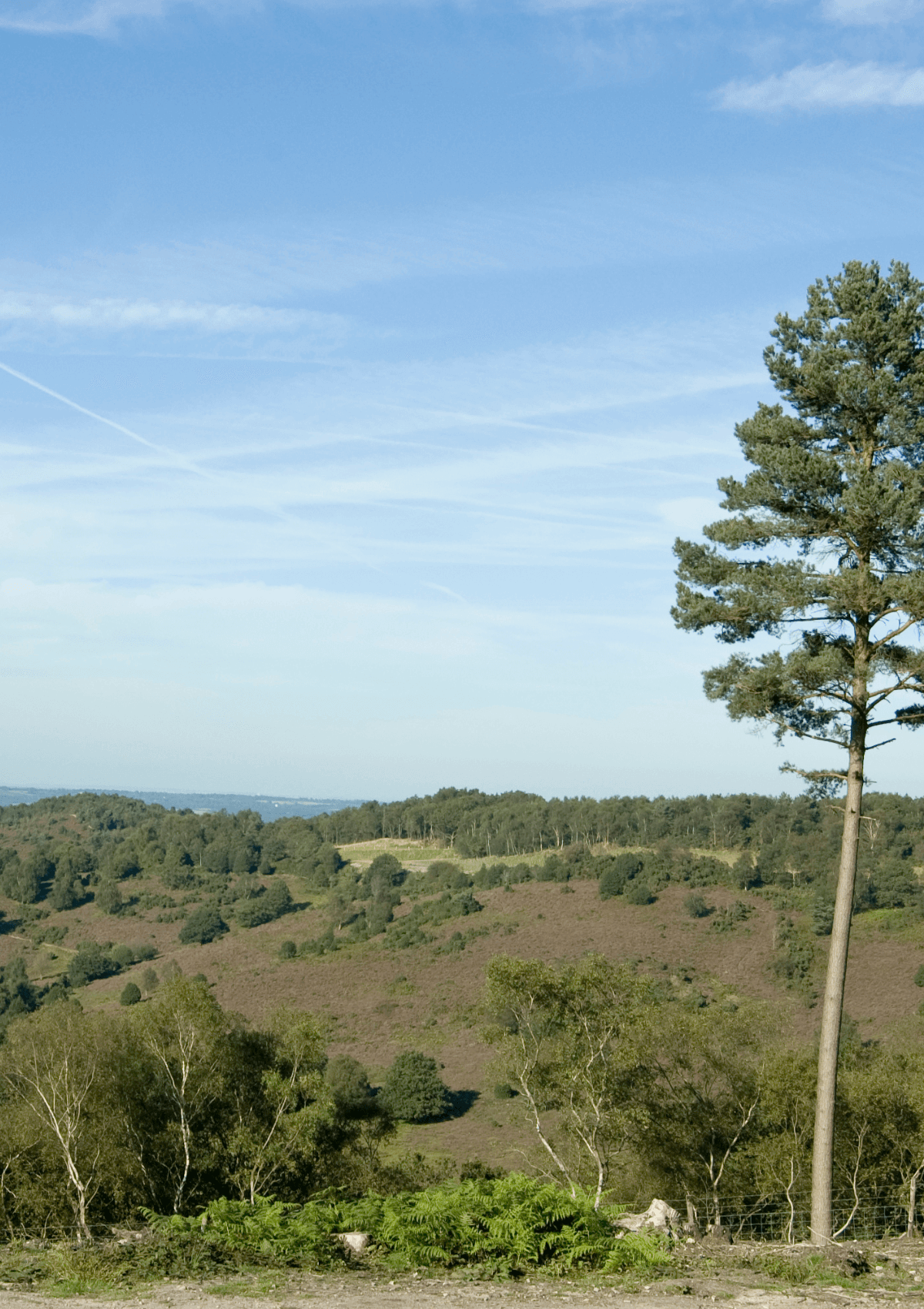 There are several walking trails in the area, all of which begin from the National Trust Cafe. The longest walk at 4.8km is the Hidden Hindhead Trail, which was historically a troublesome area due to the activities of highwaymen and robbers. Today, it's packed with things to see, such as the Sailor's Stone, a 1786 murder site.
There's a lot of history to discover here, so definitely do some Googling before you arrive. Gibbet's Hill is also along the trail, which is the second highest hill in Surrey. With amazing viewpoints, history to uncover, and a section covering Hindhead Common where you might see wild ponies, this is definitely one of the best Surrey Hills walks, and most interesting.
7. Leith Hill: 3.9km
If you live in Surrey, you've probably heard of Leith Hill. If not, you should definitely check it out. This is a beautiful spot and one that's very popular on a sunny day. Leith Hill is the highest hill in Surrey, recognisable for its redwood trees. Its most defining feature is the 18th-century Gothic tower at the summit, which is what you'll be walking towards.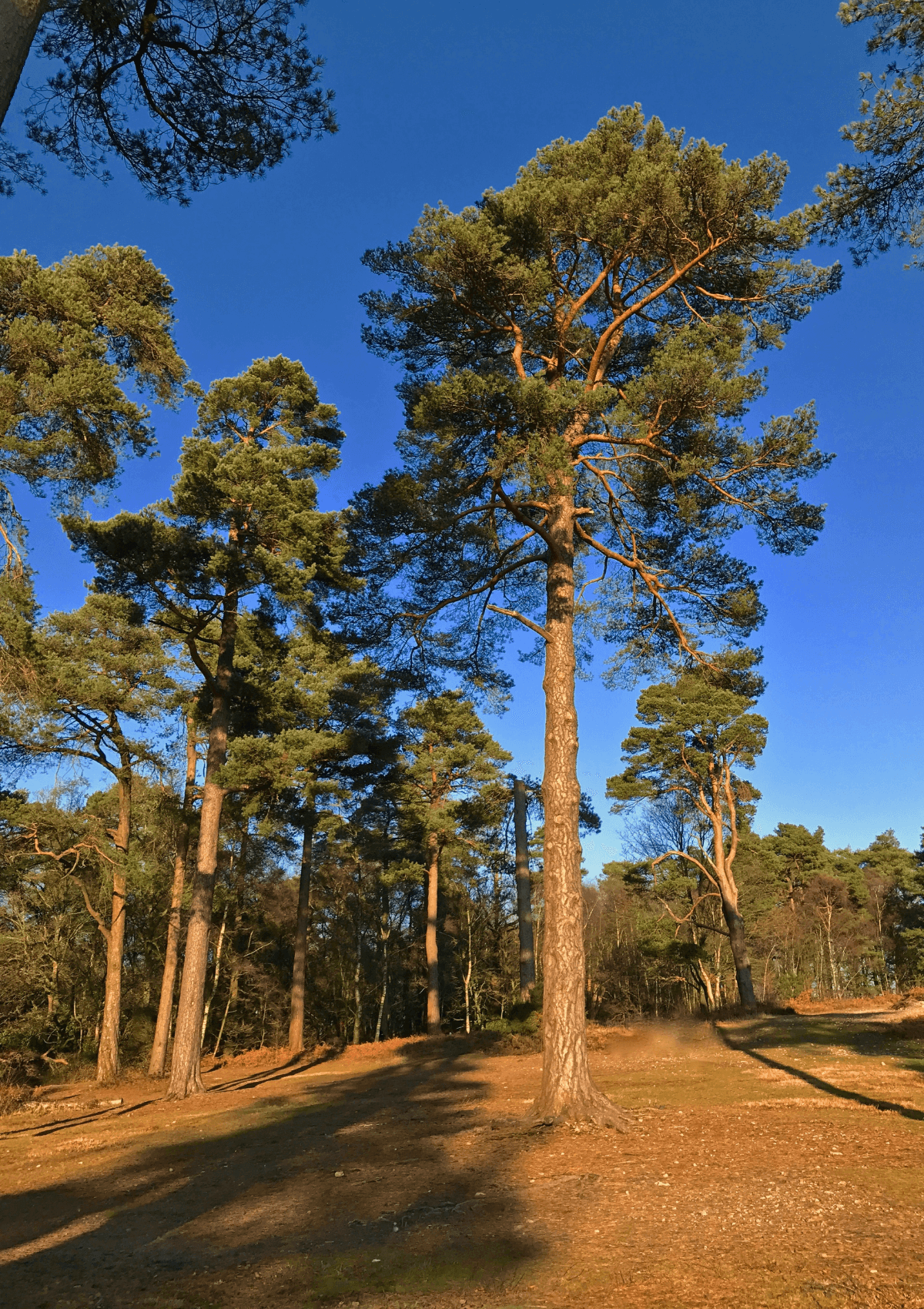 This walk can also pass by a lovely country house from the 1600s with its Rhododendron Woods, which are well worth a wander through. When you make it to the top, if you're happy to pay the entrance fee you can climb the tower which would put you at the highest point in South-East England — a pretty good accomplishment to end your hike on. There are epic views up there, and on a clear day it's even said that you can sometimes spot the Wembley Arch all the way over in London.
Chill out at the picnic benches on the hill and take in the scenery before you head back down. It's not difficult to get lost and end up in a different car park though, so keep a mental note of the one you need to get back to. The Starveall Corner car park offers the easiest route, but be sure to get there early as this is one of the best Surrey Hills walks so it's a very popular spot for hiking and cycling, and the car parks really do fill up fast.
8. Westhumble to Merstham: 16.7km
Box Hill features a few times on this list because it offers such a great walking route. The trail from Westhumble to Merstham includes a section of Box Hill too, giving it a challenging edge right at the start of the route. Then it's on to lovely woodland and beautiful views of Surrey.
This is the longest trail on our list, and it's a great one if you're looking to give yourself a real challenge. The route passes a few roads, so keep this in mind for safety, but it's relatively simple to navigate and doesn't have too many climbs. The quieter sections of this trail feel more remote and natural, so lovely for a day out. If you like going in search of landmarks, this is one of the best Surrey Hills walks for you as you can look out for the beautiful Merstham Church along the trail.
9. Guildford to Godalming along the River Wey: 8.5km
If you want to do some Surrey Hills walks by train, you can head to Guildford by rail and take the route from Guildford to Godalming, or vice versa. Technically this walk is in the Surrey Hills, but this is more of a river ramble as is follows the impressive River Wey the whole time. You'll get the odd view of the hills, but otherwise it's mostly peaceful river views and boat spotting, if that's your thing.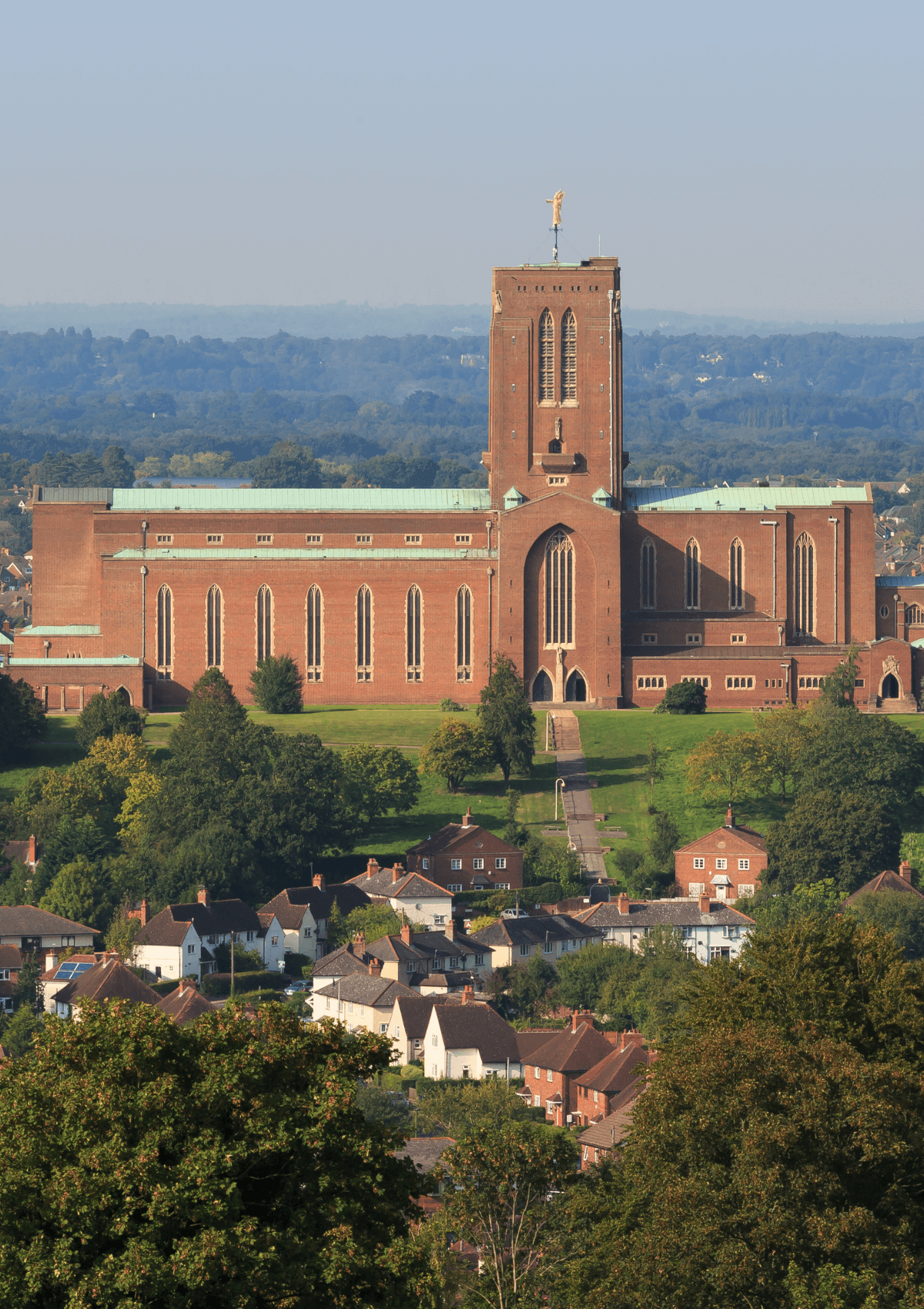 This is a perfect walk if you want to go from point to point along a relatively easy route, while never being too far from civilisation if you want to pop to a shop, cafe or pub. Start at either train station and head along the River Wey to the other one, saying hello to the ducks as you go. It's one of the best Surrey Hills walks if you're bringing the dog or the kids, as it's a clear, flat path the whole way.
10. Woldingham Countryside Trail: 8.4km
Another moderately challenging but brilliant route; Woldingham Countryside Trail is a circular trail which runs near Caterham in Surrey. It can be a popular route with other hikers and runners because it offers such beautiful woodland scenery, and if you're lucky and you visit in April, you might see wild garlic on the trail.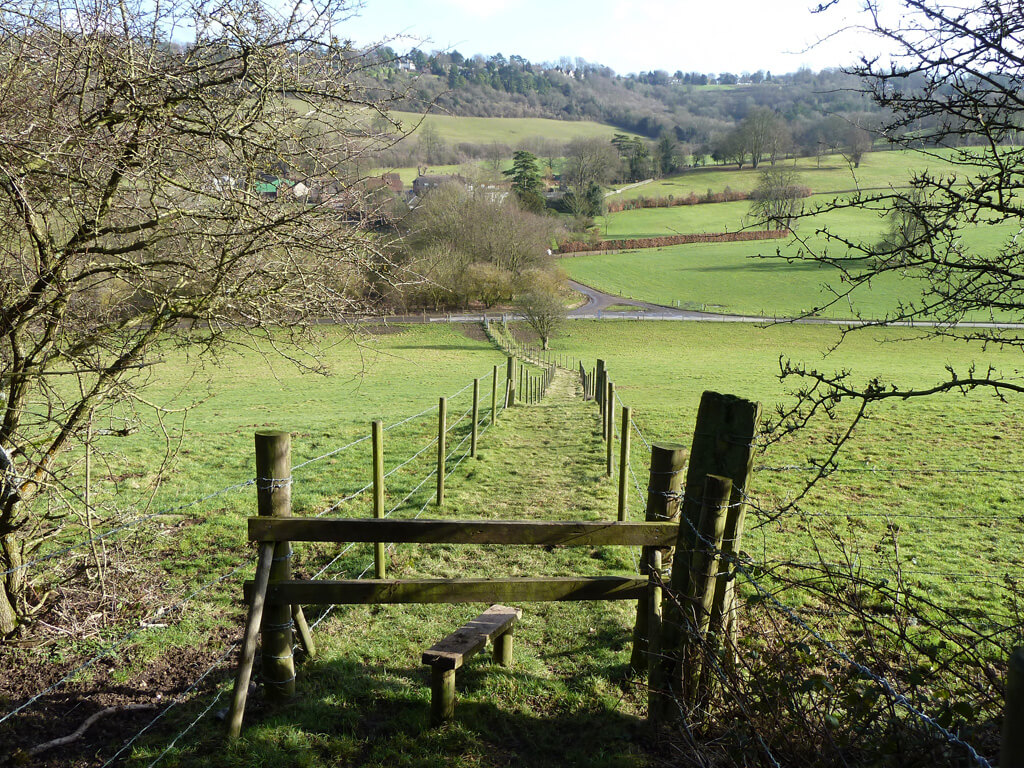 The terrain changes a lot on this trail, but it's great views most of the way. The great thing about this walk is that there are signposts the whole way and shortcuts along the journey, so you can decide to make it as long or short as you like. There are some fantastic, unique plants and shrubs to see here too, so any budding botanists will find this to be one of the best Surrey Hills walks for plant spotting.
10 of the Best Surrey Hills Walks
Surrey is jam-packed with stunning places to check out the scenery, enjoy a picnic, go in search of hidden landmarks, check out the local villages, or whatever takes your fancy in this beautiful part of the country. We recommend choosing one of these wonderful Surrey Hills walks as part of your next day out, and tying it in with some of these ideas for brilliant days out in Surrey for all the family — you won't regret a day spent in this county!
Quick List: 10 of the Best Surrey Hills Walks
Box Hill, Lodge Hill and Juniper Hill – 11.9km
St Martha's Hill and Church – 1.6 km
Shalford Three Peaks – 13.km
Colley Hill and Reigate Hill – 4.5km
Leatherhead to Dorking on the Mole Gap Trail – 9.5km
The Hidden Hindhead Trail at Devil's Punchbowl – 4.8km
Leith Hill – 3.9km
Westhumble to Merstham – 16.7km
Guildford to Godalming along the River Wey – 8.5km
Woldingham Countryside Trail – 8.4km
---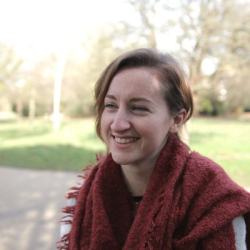 Latest posts by Caitlin McAllister
(see all)