11 Best Caves in England to Discover in 2023
Have you ever ventured underground into the best caves in England? Whether you want to explore an Ice Age caveman dwelling, a prehistoric mine or a natural cavern in a national park, one of England's most amazing caves is right up your street.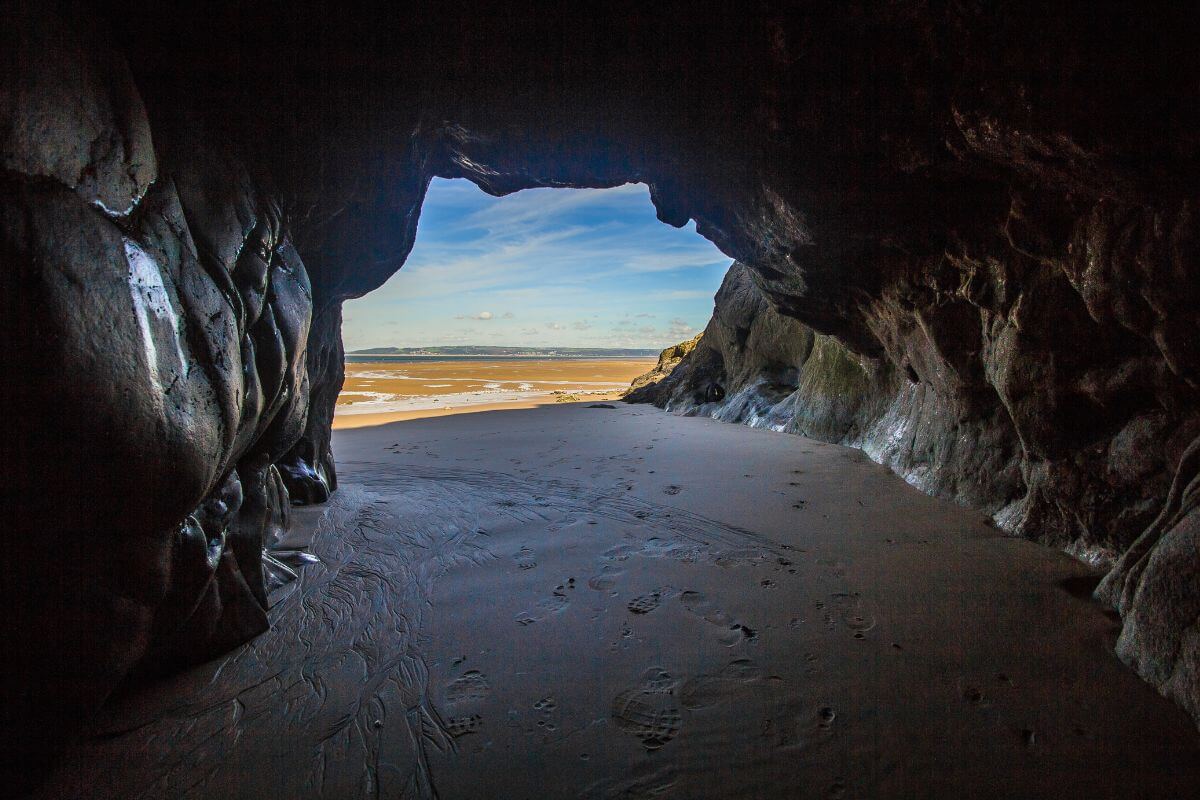 England may be famous for its countryside views, vibrant cities, rich history and not-so-favourable weather, but it's also home to an abundance of ancient natural and human-made cave systems that are truly fascinating to explore.
While many caves in England are hidden beneath cliffs along the rugged coast, others can be found in stunning National Parks like the Yorkshire Dales and the Peak District.
So, whether you want to learn about Britain's mining past, ancient civilisations or natural wonders, one of the best caves in England is perfect for you.
Best Caves in England
From the Cheddar Gorge and Caves in Somerset to the remote Saint Cuthbert's Cave in Northumberland, here's our selection of the best caves in England.
1. Cheddar Gorge and Caves, Somerset
The Cheddar Gorge in Somerset may just be the most famous caves in England. This otherworldly series of caverns are located in the beautiful Mendip Hills, meaning you'll have plenty to do on your day out in Somerset while you're here.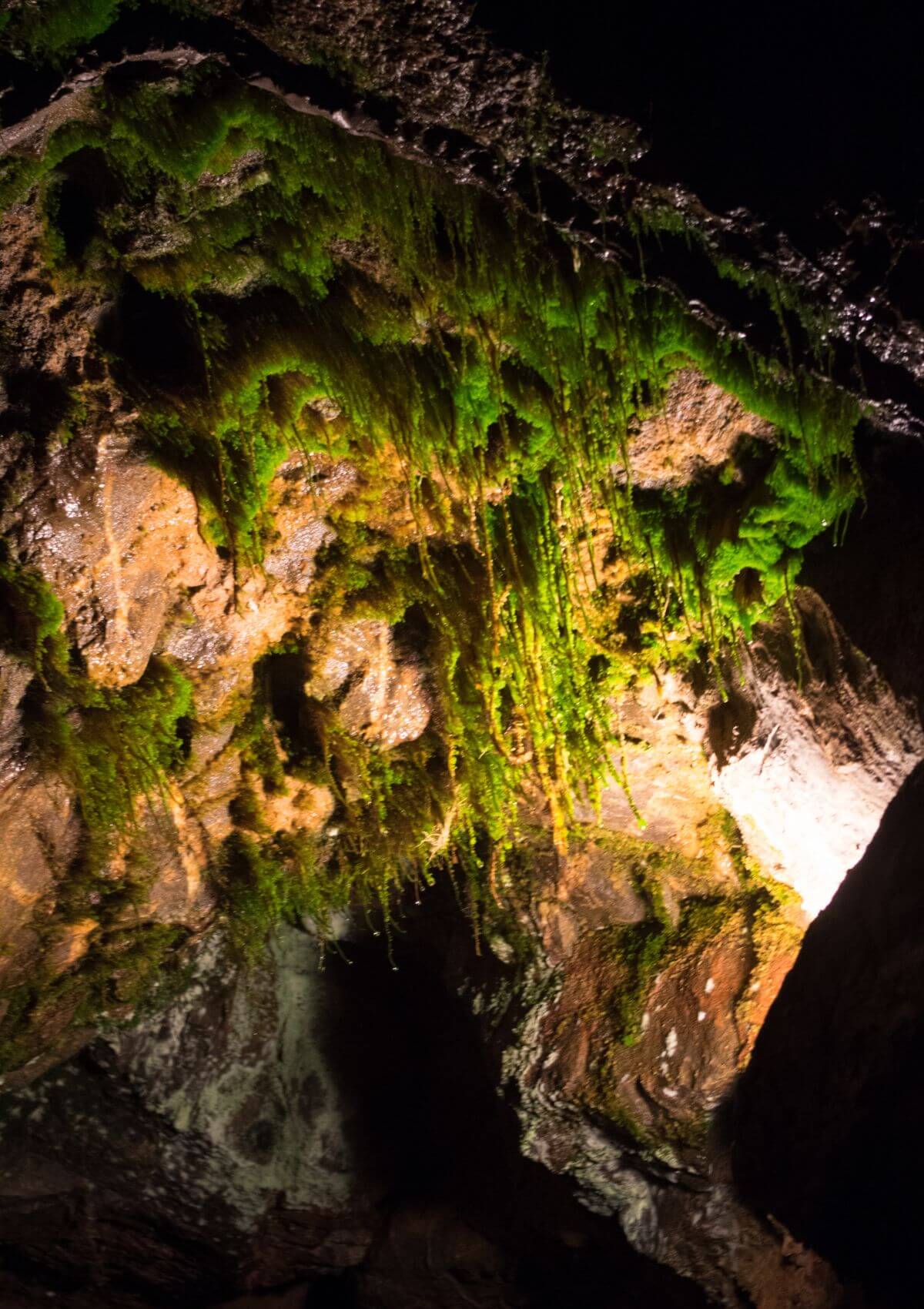 As you walk through the gorge, you'll see a host of stalactites and stalagmites carved into the limestone. You'll also find out about the story of the 'Cheddar Man', which is the UK's oldest complete skeleton.
On top of everything, the Cheddar Gorge is home to the 'Cheddar Cave', which is where cheddar cheese is left to develop its tasty tang.
Ticket prices for the Cheddar Gorge start at £17.50 per adult and around £12 for children aged under 15 years. Children aged under five years can explore these caves in England for free (provided they're accompanied by an adult).
2. Wookey Hole Caves, Somerset
Before leaving Somerset, you should embark on a journey into the Wookey Hole Caves. These vast limestone show caves are illuminated in shades of purple and pink.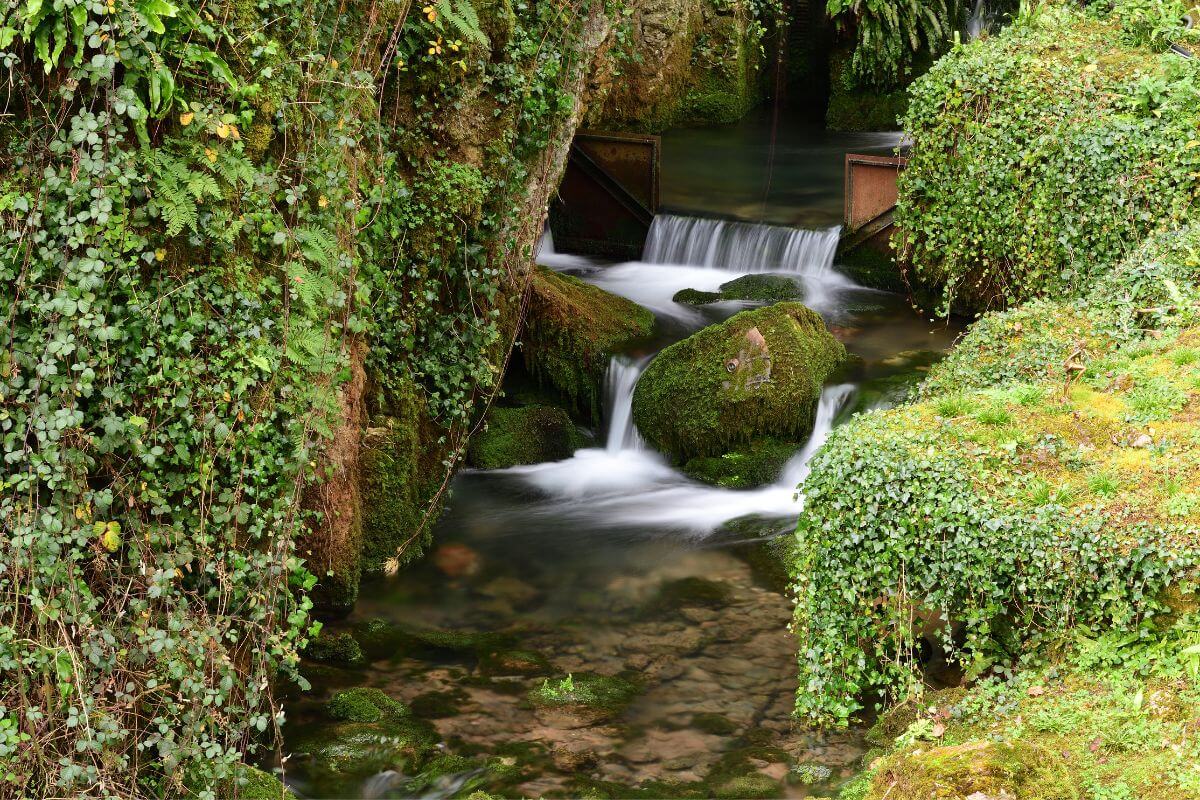 Like the Cheddar Gorge, the Wookey Hole Caves lie on the border of the Mendip Hills Area of Outstanding Natural Beauty.
In the village of Wookey Hole itself, you'll find restaurants, shops, a pub and a campsite. Notable landmarks include the Grade II listed Church of Saint Mary Magdalene and a 19th-century former mill.
3. Kents Cavern Prehistoric Caves, Devon
Fancy exploring an Ice Age cave that has been dubbed as 'Britain's Oldest Home'? Take a trip over to the Kents Cavern Prehistoric Caves near the coast of Torquay.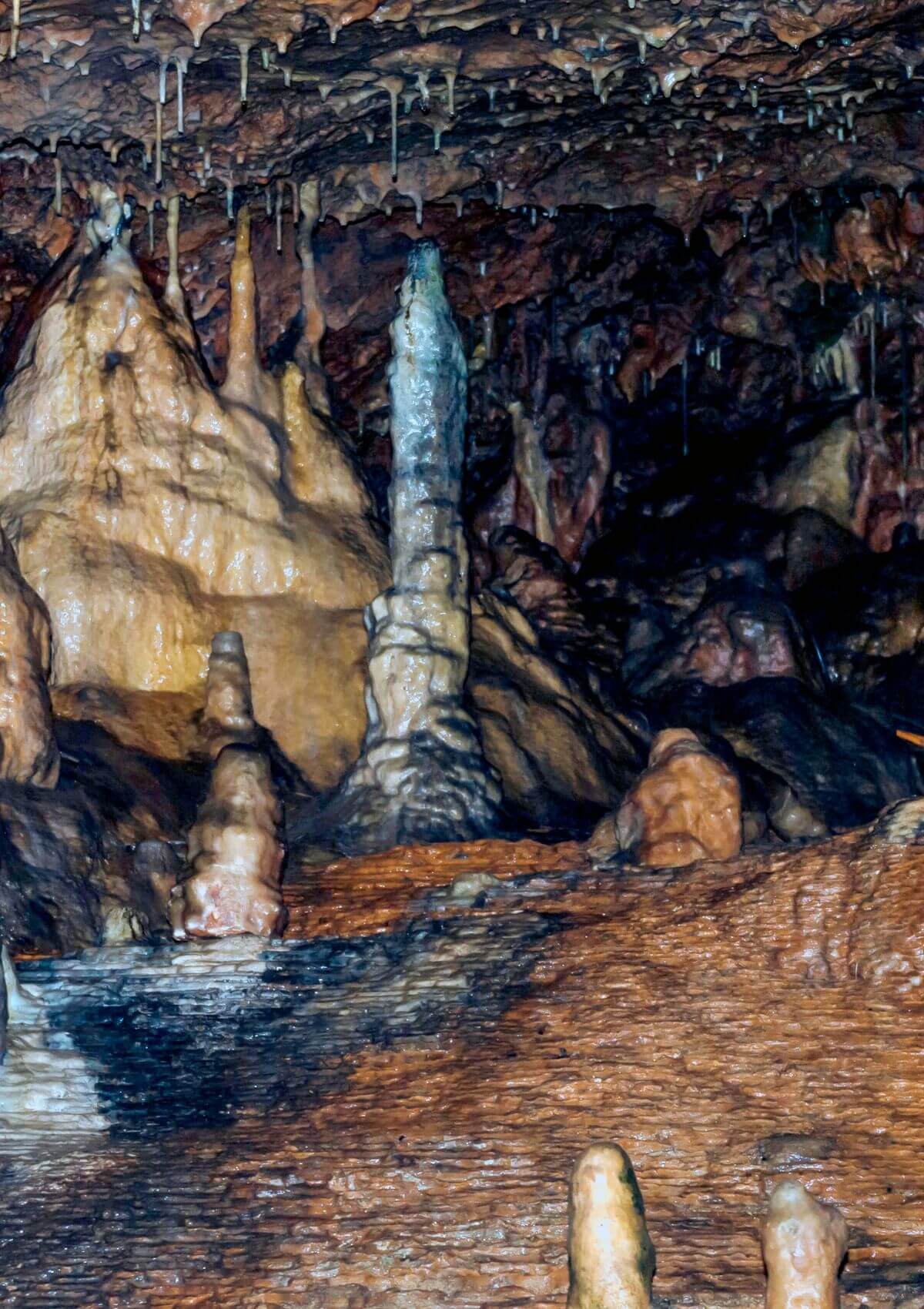 During a tour of the Kents Cavern Prehistoric Caves, you'll see displays of prehistoric bones, tools and teeth, plus fascinating geological features that date back over 400 million years.
Brace yourself for the blackout section of the tour – the atmosphere inside these awe-inspiring caves can be a little eerie when the lights go out.
After taking the kids to the Kents Cavern Prehistoric Caves, you might want to visit more of the most famous attractions in Devon.
4. Peak Cavern, Derbyshire
If you want to explore a mesmerising cave during a visit to one of England's most picturesque National Parks, we suggest heading to the Peak Cavern in Derbyshire.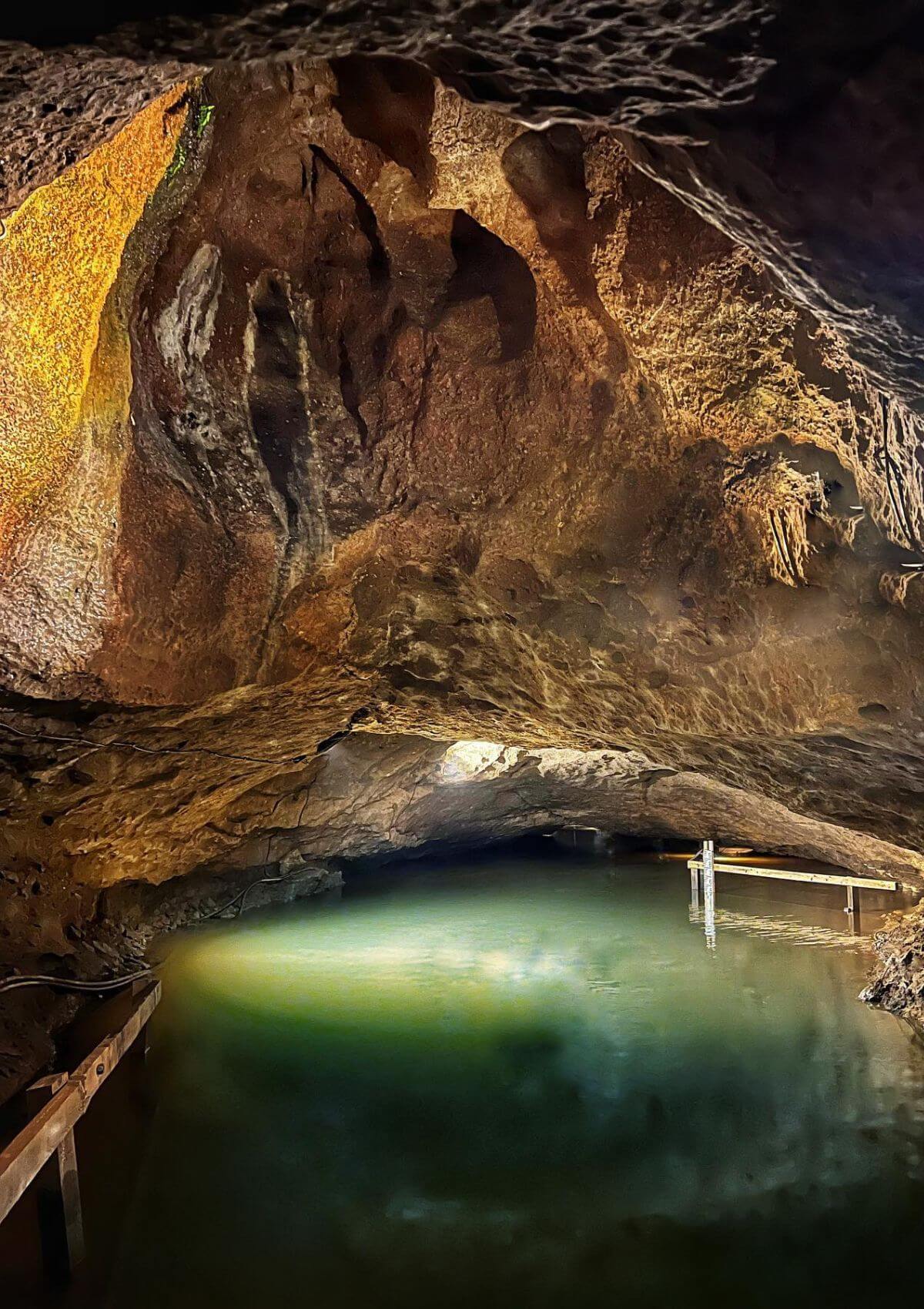 The Peak Cavern boasts the largest natural cave entrance in England. After walking through this vast opening, you'll pass through attractions like Roger Rain's House and the Orchestra Gallery into the Devil's Cellar and Pluto's Dining Room.
Believe it or not, people lived in Peak Cavern until about 1915. Today, the cavern hosts guided tours and a range of special events, which include live music performances, cinema screenings and Christmas Carols.
Peak Cavern is easily one of the best places to visit in the Peak District, but there are also many things to do in Derbyshire.
5. Hellfire Caves, Buckinghamshire
Situated 400 metres beneath the surface of Buckinghamshire are the Hellfire Caves, a vast network of human-made flint and chalk caverns that date back to the 19th century.
You can gain insights into the Hellfire Caves by joining a guided tour. On the way, you'll see lifelike models of historic figures in chambers such as the Circle, Entrance Hall, Franklin's Cave and the Banqueting Hall.
On top of a host of geological features, the Hellfire Caves are home to a subterranean river that goes by the name of Styx. Cross this river, and you'll reach the Inner Temple.
The Hellfire Caves are among our favourite places to visit in Buchinghamshire. While you're here, you might want to visit the Bekonscot Model Village & Railway or the Green Dragon Eco Farm.
6. Chislehurst Caves, Kent
The Chislehurst Caves are one of the top attractions in Kent. It's an ideal place to visit if you're looking for amazing caves near London.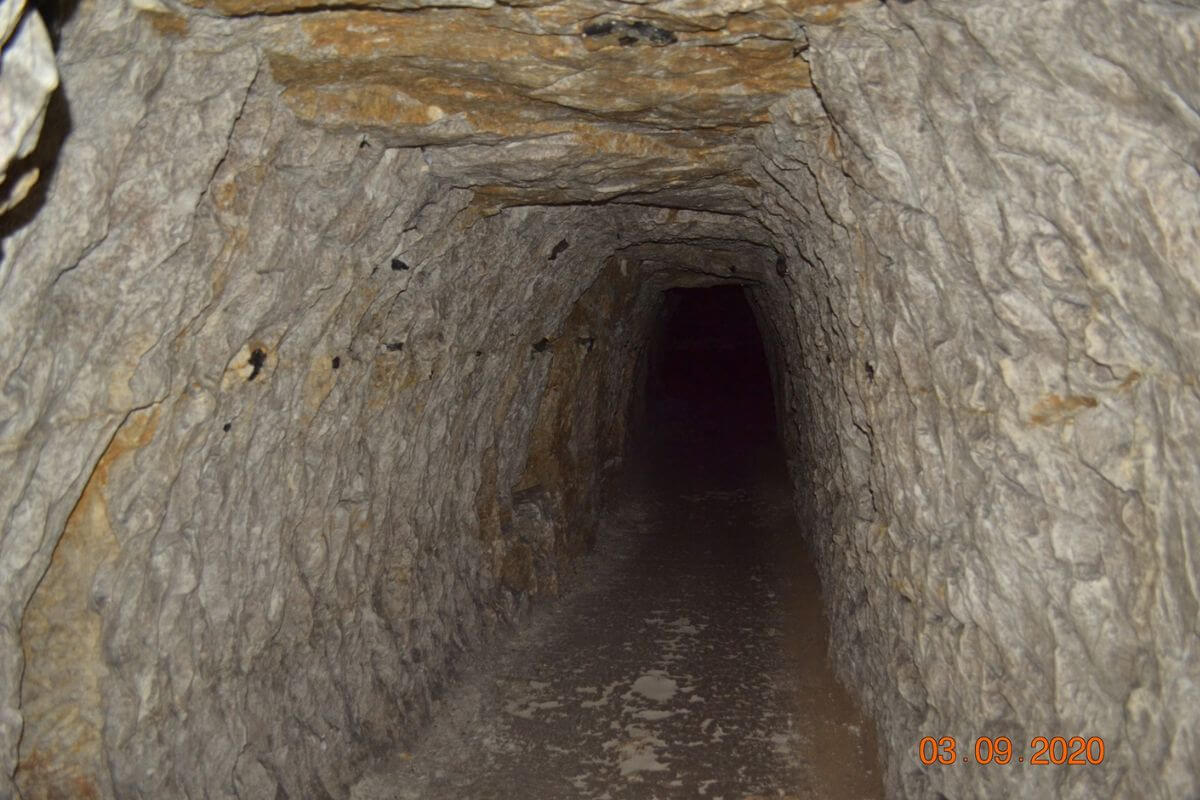 Originally, the Chislehurst Caves were used to mine chalk, though they've also been an air raid shelter during WWII and a concert venue during the 60s and 70s. Today, you can learn about the history of the Chislehurst Caves by joining a guided tour.
After your 45-minute lamp-lit tour of the Chislehurst Caves, you'll find plenty of things to do in London, whether you're looking for more eco-friendly adventures or free days out.
7. White Scar Cave, North Yorkshire
Situated in the picturesque Yorkshire Dales, one of England's' best National Parks, the White Scar Cave is England's longest cave that's open to the public.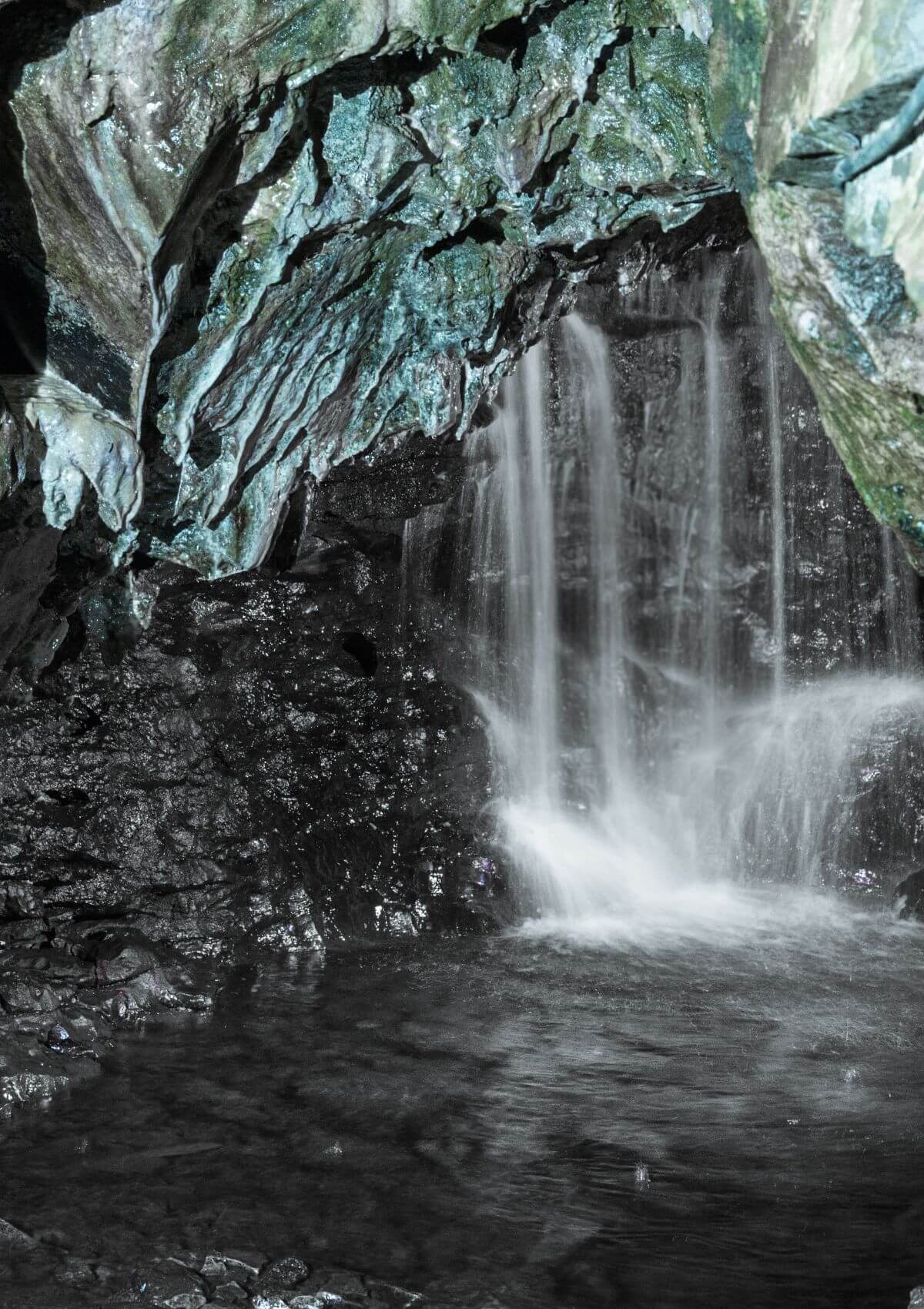 The caverns stretch on for a staggering six kilometres. As you journey into the cave, you'll see underground waterfalls, prehistoric mud pools, incredible chambers, and a host of towering stalagmites and stalactites.
Tours of the White Scar Cave tend to run for about 80 minutes. After your subterranean adventure, you can embark on walks across the Yorkshire Dales.
8. Merlin's Cave, Cornwall
Named after the famous wizard of the same name, Merlin's Cave is a beautiful, 100-metre-long cave that forms a complete tunnel at the foot of the cliffs beneath Tintagel Castle (one of the most interesting castles in England).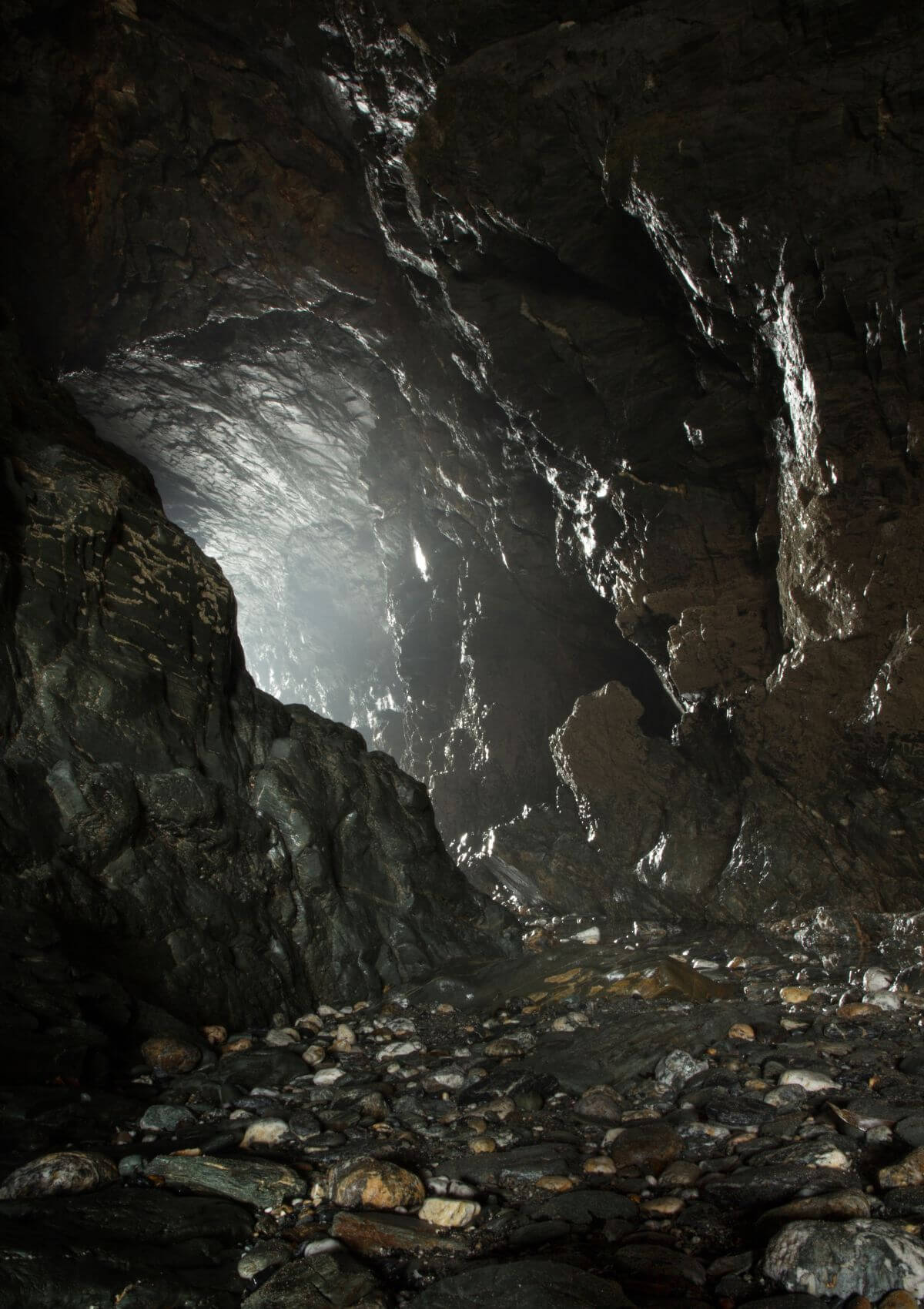 Access to Merlin's Cave is free – you just have to trek down to the beach when the tide is out. You can also explore the cave as part of your Tintagel Castle tour. Don't forget to bring a torch if you want to walk from one end of the cave to the other.
Staying in the tourism hub of Cornwall for a while? Check out Cornwall's postcard-perfect towns and villages, or plan for yourself a day at the beach. There's no shortage of things to do on a day out in Cornwall.
9. Clearwell Caves, Gloucestershire
Located in Gloucestershire, not far from the border with Wales, is the immense Clearwell Caves complex, which is believed to have been a mining site for over 4,500 years.
Inside the Clearwell Caves, you can discover nine different caverns at depths of up to 62 metres plus a frozen waterfall and the infamous 'Skeleton Pool'. You'll also learn about the challenging work of the ancient minors who worked here.
After exploring the Clearwell Caves, you can roam through the Forest of Dean above, which is one of our favourite places to visit in Gloucestershire.
10. Marsden Grotto, Tyne and Wear
The Marsden Grotto was blasted into a rocky outcrop on the coast of Tyne and Wear back in the 18th century. Initially, it was simply created as a rent-free home, but it soon became a criminal and smuggling den.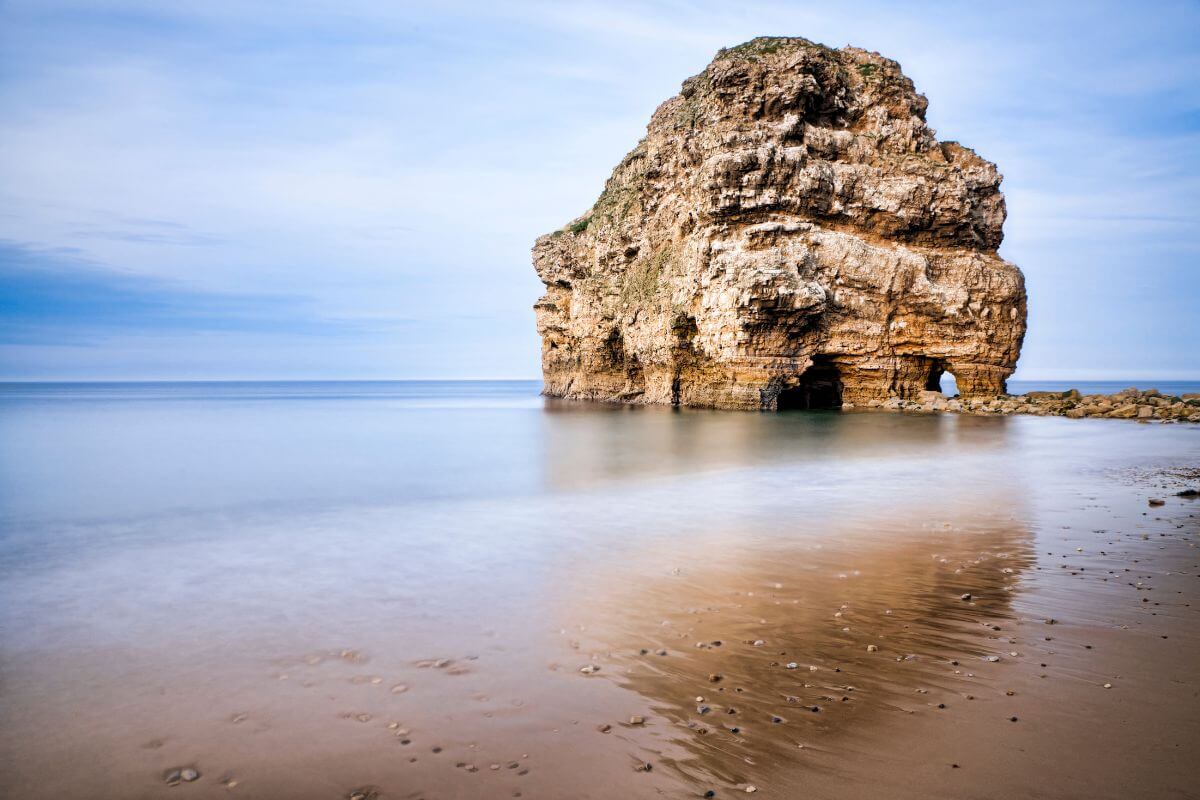 Today, the Marsden Grotto is a hotel and restaurant that appears to belong on a different planet. If you're looking for a unique place to stay in Tyne and Wear, this is the place to go.
The Marsden Grotto opens daily from 10 am to 10 pm. After your meal, check out more of the best things to do in Tyne and Wear.
11. Saint Cuthbert's Cave, Northumberland
Saint Cuthbert's Cave in Northumberland is named after the saint of the same name who lived during the 7th century. It's not the biggest cave in England, but its fascinating history gives it a deserving place on our list.
Arguably, the best thing about Saint Cuthbert's Cave is the walk to it – and the views you can soak up from it. The cave is surrounded by pretty fields and distant peaks that make it an amazing place to enjoy a bit of remote rurality.
While visiting Northumberland, you might want to pay a visit to some of England's most fascinating castles, such as Alnwick Castle, Bamburgh Castle and Lindisfarne Castle.
Where are your favourite caves in England?
As you can see from above, there are so many caves in England that are more than worth a visit. Most of England's caves can be found in stunning National Parks and along the coast. There are also a few caverns and grottos located on the border of vast cities, including London.
Have we missed any caves in England that our readers ought to know about? Let us know by leaving a comment below.
Quick list of the best caves in England
Cheddar Gorge and Caves, Somerset
Wookey Hole Caves, Somerset
Kents Cavern Prehistoric Caves, Devon
Peak Cavern, Derbyshire
Hellfire Caves, Buckinghamshire
Chislehurst Caves, Kent
White Scar Cave, North Yorkshire
Merlin's Cave, Cornwall
Clearwell Caves, Gloucestershire
Marsden Grotto, Tyne and Wear
Saint Cuthbert's Cave, Northumberland
---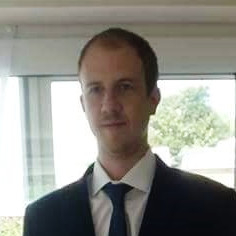 Latest posts by Josh Saunders
(see all)