Looking for the best half term things to do? We've found the top days out in half term to help you keep the kids busy, having fun, and out of mischief!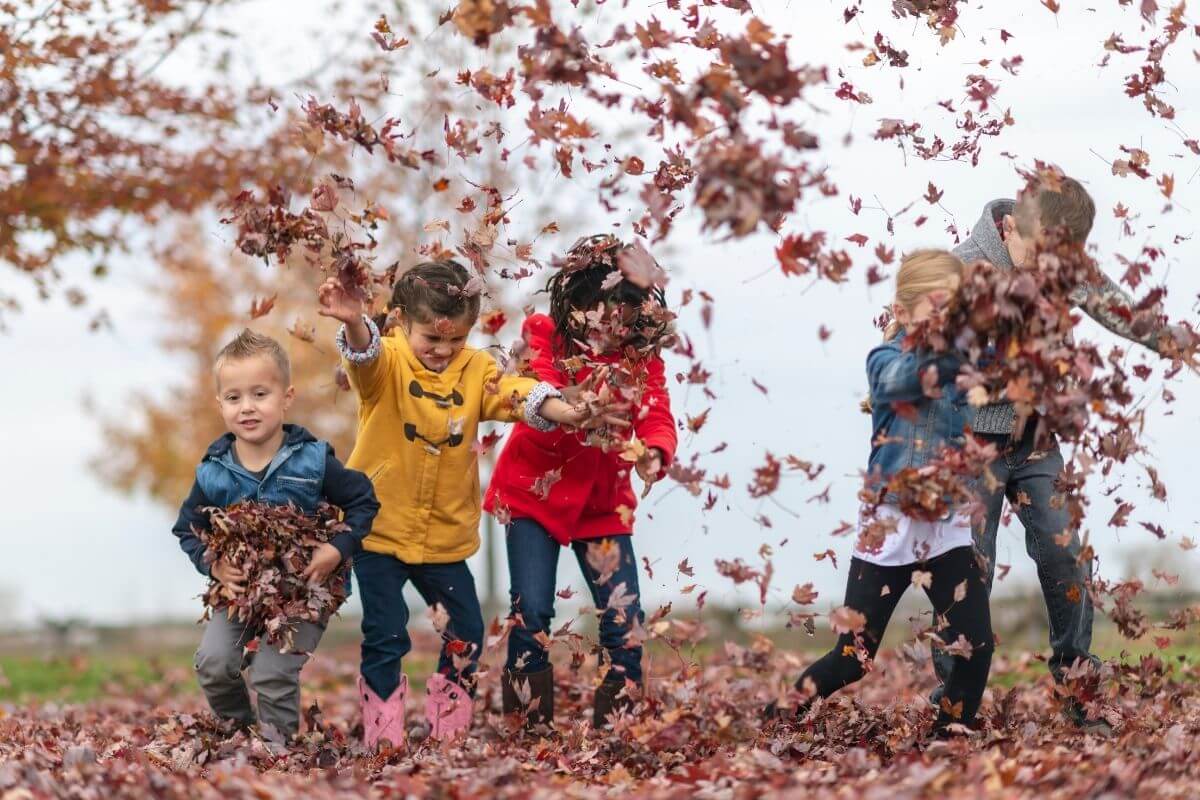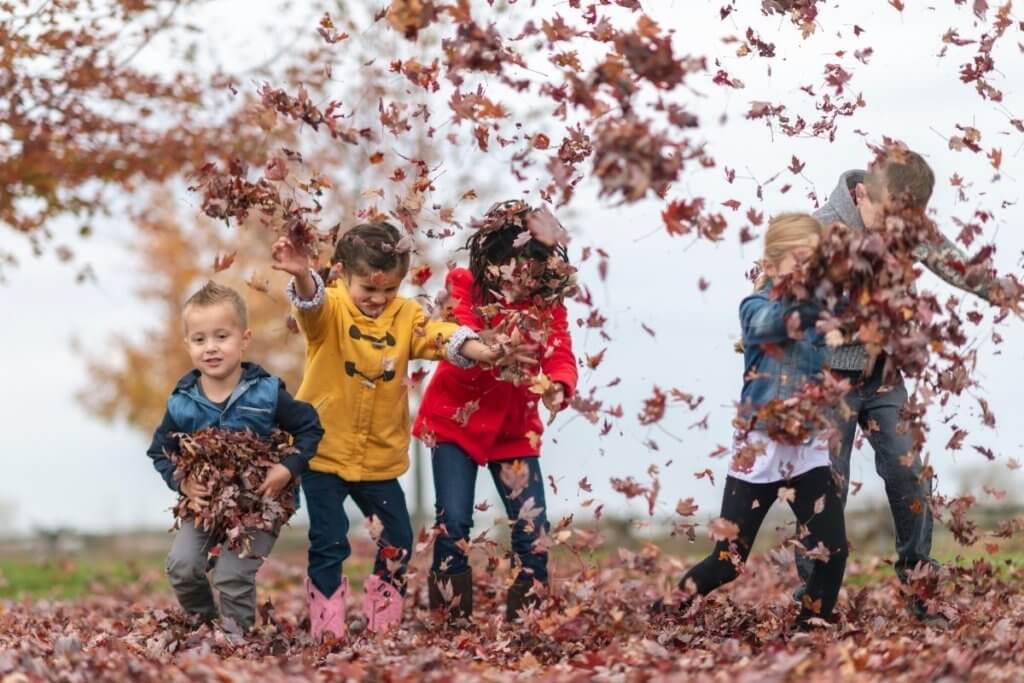 There are plenty of memorable half term things to do with your kids, from interactive exhibitions, children's theatre shows, kid-friendly museums, and much more — a day out in England has never been so fun.
We've rounded up 13 fun half term activities that will make a great day out, and that children of all ages will enjoy. And of course some things on the list will even have you parents entertained, and maybe grandparents too.
Remember, some attractions might require pre-bookings, so it's always worth double-checking in advance, even if entry is free. Here are the best half term ideas around England…
Best Half Term Things To Do
For the most fun half term things to do, these are the best half term attractions to leave you feeling inspired!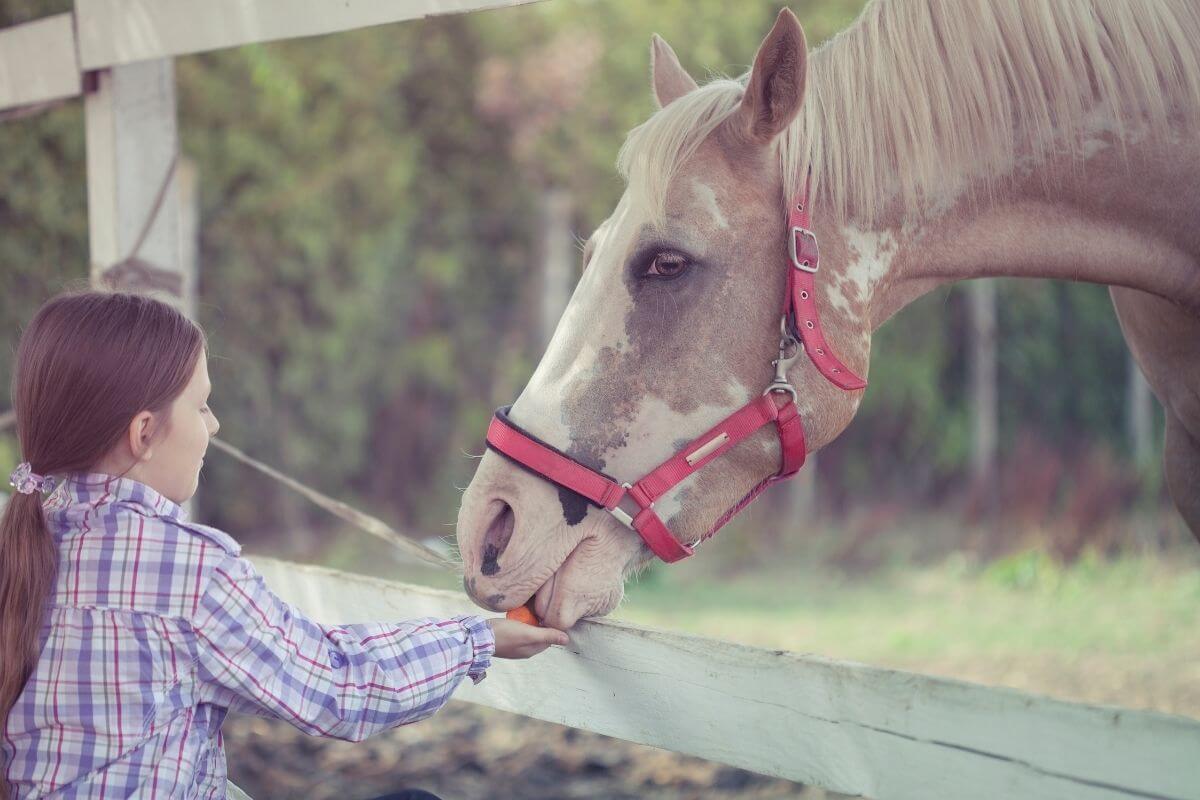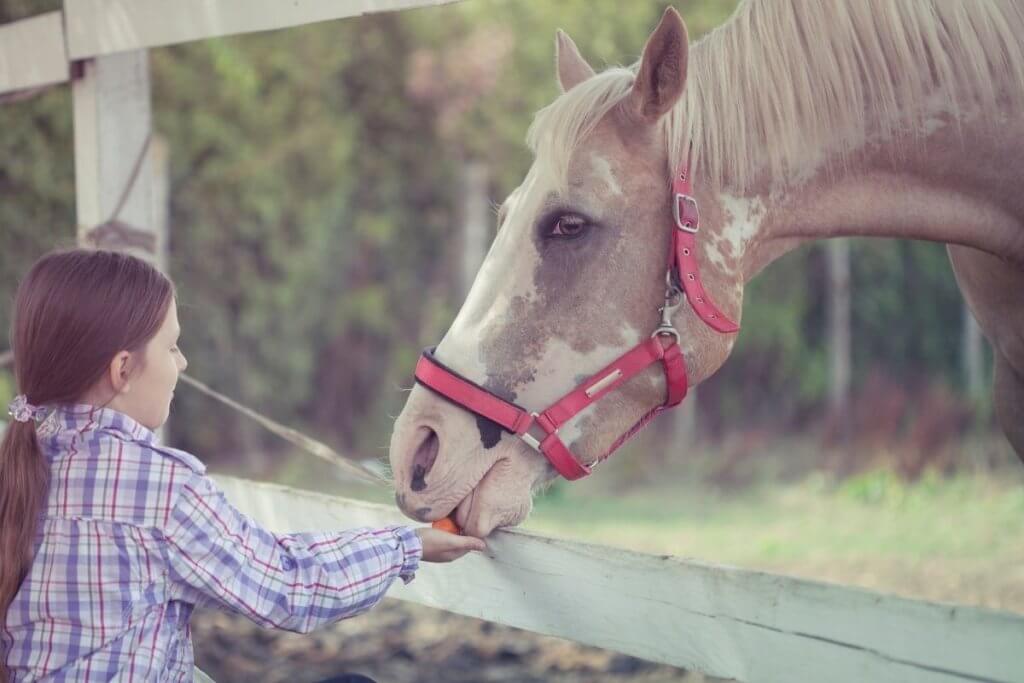 ---
1. Take them to see Wicked in the West End
If you're in or near London, or planning a trip to the Big Smoke, booking tickets to see Wicked is a great way to absolutely dazzle the kids, as well as being a brilliant day out for the whole family. Since it premiered in the West End in 2006 (currently in its 17th year!), Wicked has been considered an absolute must-see musical. Now is the perfect time to take your youngsters because as of 2023 the Hollywood movie adaptation is in the works — make sure the kids see the original stage production before the film… they'll LOVE it!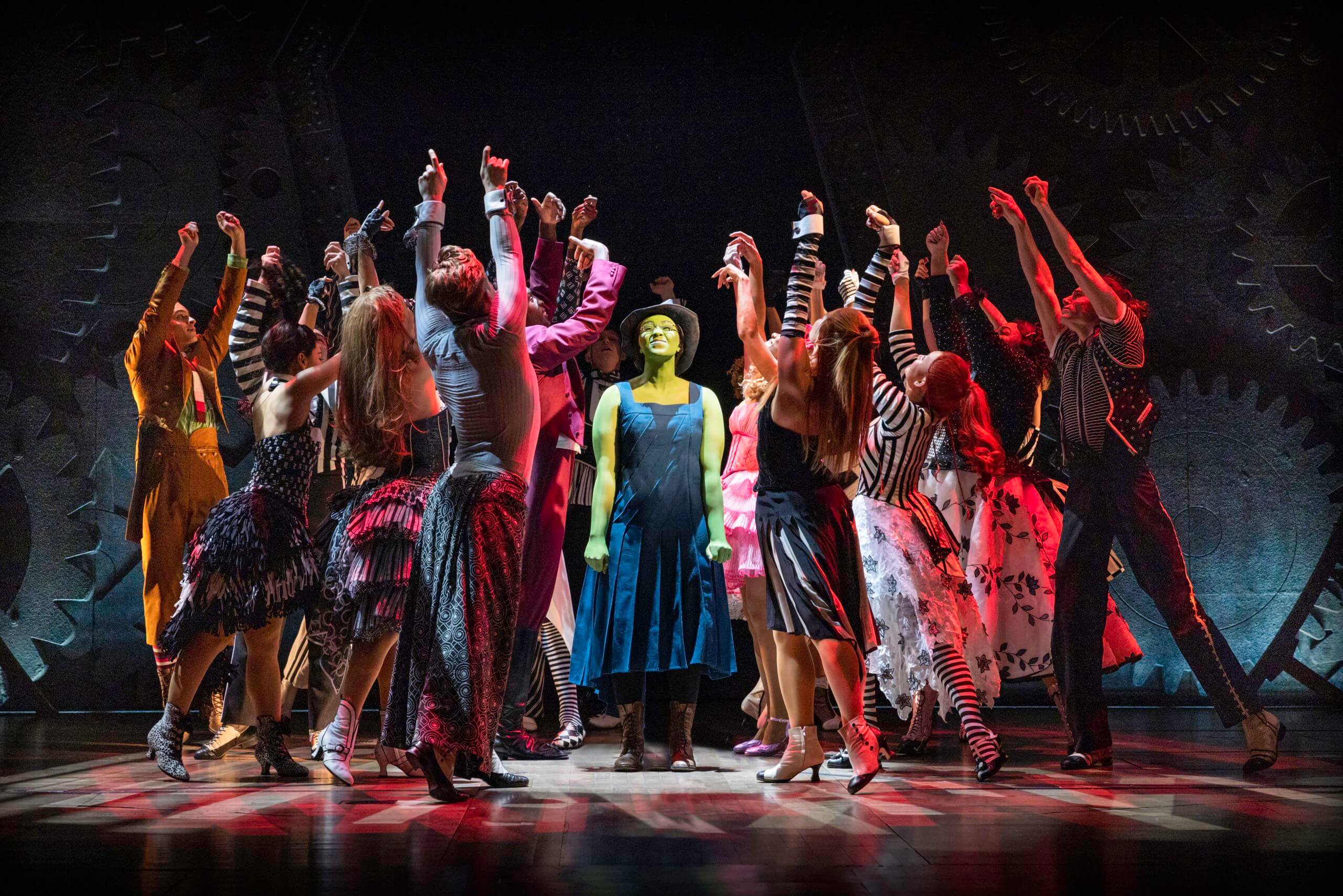 The storyline is perfect for kids. It's the prequel to the famous Wizard of Oz story, which has been called "One of the most influential children's stories of all time" (The Times). Focusing on the Witches of Oz before Dorothy's story begins, the plot of Wicked centres around the unlikely friendship between two young women who first meet at university; popular Glinda and misunderstood (and very green) Elphaba. You can watch the trailer here.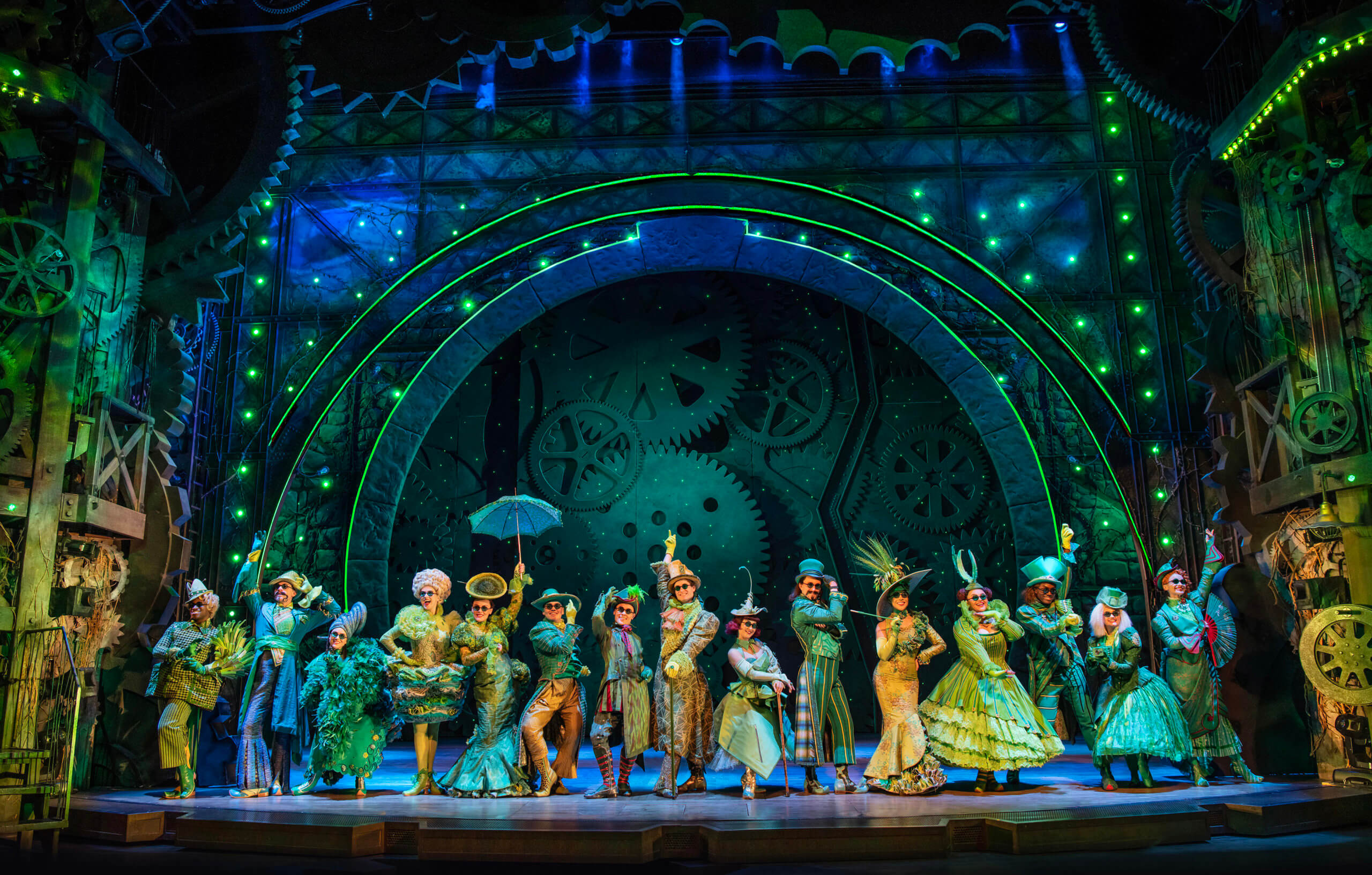 Wicked has fantastic lessons for young people throughout. With an anti-bullying message, plenty of encouragement to accept and embrace your differences, and a strong theme of standing up for what's right, the kids will be learning a whole lot while taking in the spectacular costumes, amazing scenery in the land of Oz, and of course, the absolutely outstanding lead vocals. (Seriously, you'll have chills!)
Wicked is one of the best half term things to do as it's ideal for children ages 7+, and offers the perfect activity for the half term break for the entire family. Book your tickets to see Wicked and prepare to be singing 'Defying Gravity' for weeks after…
2. Go on a boat ride for the day
Small boats, big boats, rowing boats, kayaks, even uber boats. There's a fully accessible boat ride suited for everyone across England. Check out the local lakes and rivers near you to see what they have to offer. This is one of those half term ideas that's best on a sunny day, of course.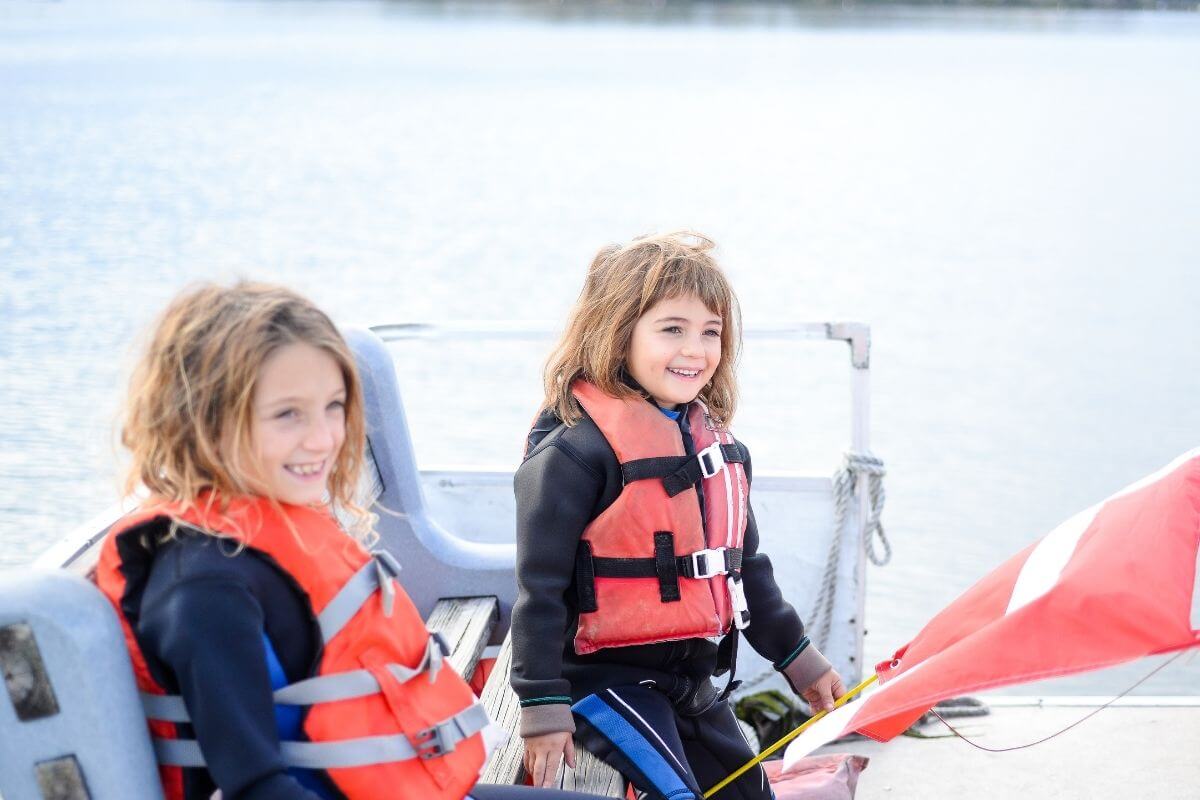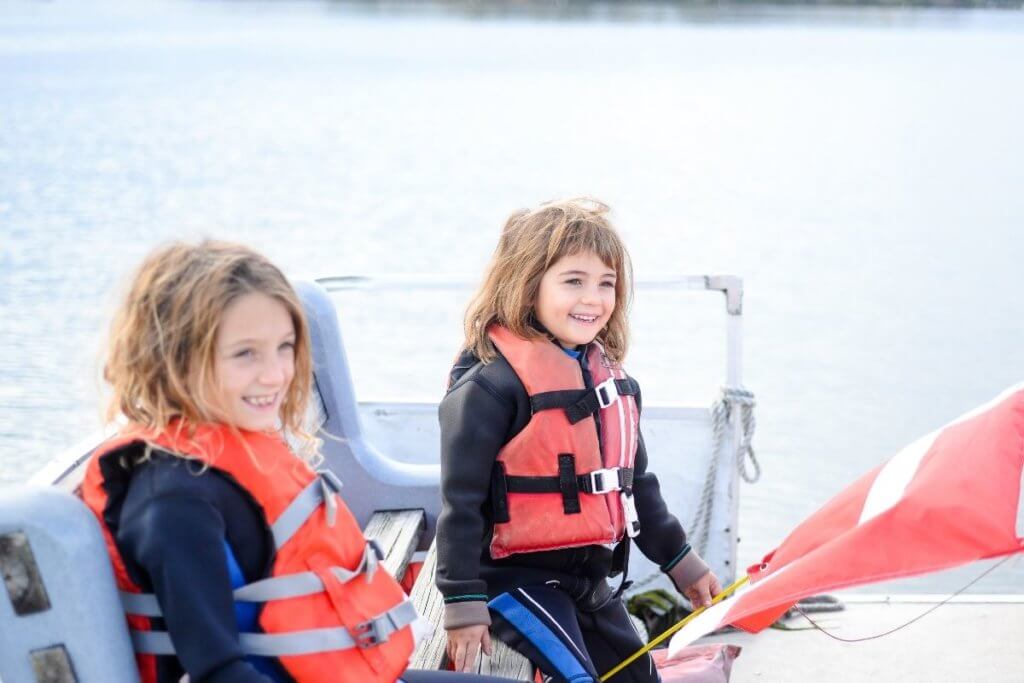 If you're looking to travel and make it a full day out on the water, the Norfolk Broads is a great location. You can join a boat trip to relax, or even hire your own for the freedom. You'll find more ideas for the best spots for a narrowboat in England, here.
Or how about you take the whole family from Poole Harbour to Swanage on a 2-hour Jurassic coastal round-trip cruise to see some of Dorset's greatest landmarks? Pass Brownsea Island, Sandbanks, and the Old Harry Rocks, as you head towards the historical British seaside resort of Swanage. It's one of the best days out from Bournemouth.
There are loads of other boating opportunities around the country if you're looking for half term things to do outside, and you can check out some of the best marinas in England for ideas on where to go too. Most will have some sort of boat rental facility — although check before you just rock up!
3. Take a hike in nature
If you're an active family and love being out and about in nature, then why not spend your time together in the countryside on a hike? It's one of the most fun things to do in England because we have the ideal landscapes for it, and there are almost unlimited options. There's so much to see!
You could climb a mountain, such as Scafell Pike in Cumbria or Pen y Ghent in the Yorkshire Dales. Take a look at some of England's National Trails for some inspiration around England. Although, you really don't have to go too far. Just a walk could be entertaining enough for the kids.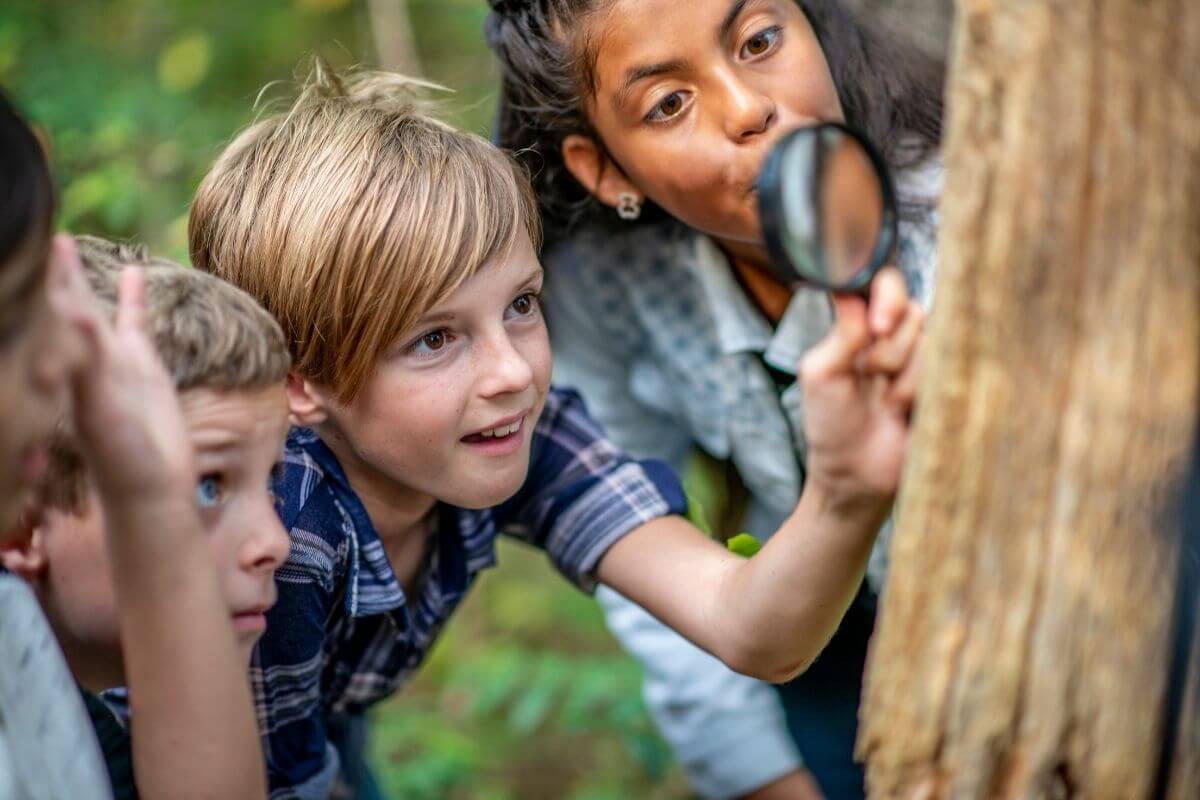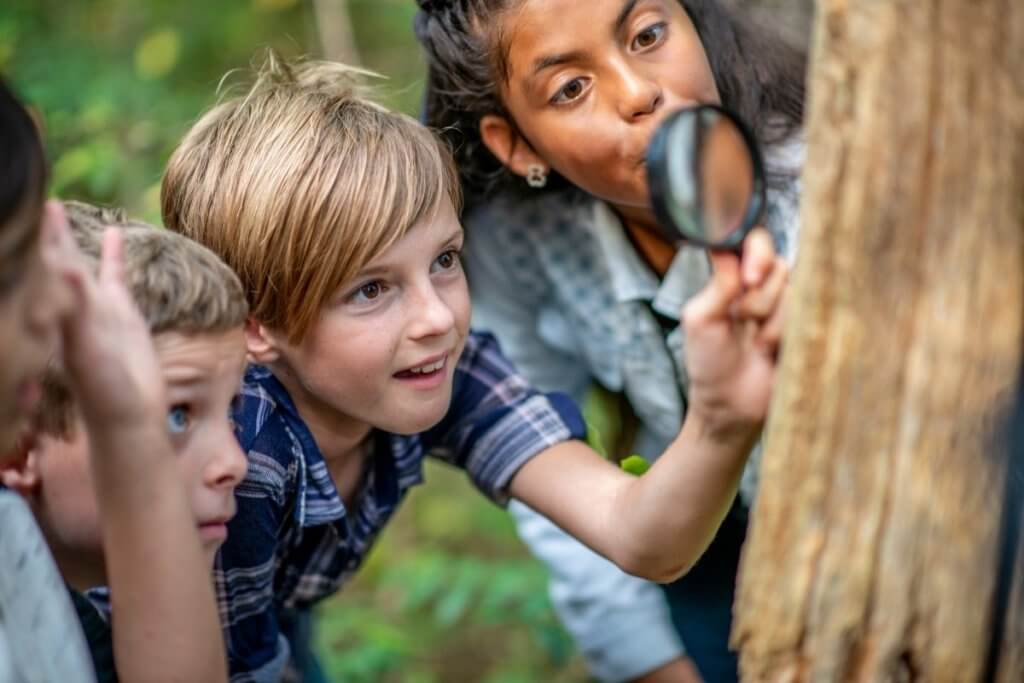 How about a city walk? Bath isn't just famous for the hot springs and spas, you can also enjoy the National Trusts's 6-mile or 3-mile nature trail/walk which you can take at your own pace while still being close to amenities — a good option if you have really little kids. We've got a great guide to a day out in Bath, if you need.
If you prefer something a bit more leisurely, then the Malvern Hills in Worcestershire are perfect! As is the winding path along Hadrian's Wall in Northumberland and Cornwall's South West Coast Path, boasting spectacular coastal views along its entire length.
A good walk or hike is one of the best half term things to do as it's free, you can often do it without much travelling, and the kids will tire out those little legs.
4. See the marine life at an aquarium
A visit to the aquarium never gets old for both little kids and big kids! What makes a better day out than delving into an underwater world of colour, mystery, and fascinating creatures? This is definitely one of the best half term things to do.
There are great aquariums all over England and you can see carefully looked after reefs, sharks, turtles, octopus, and fish species you've never even heard of. Aquariums are great half term attractions for those rainy days in England.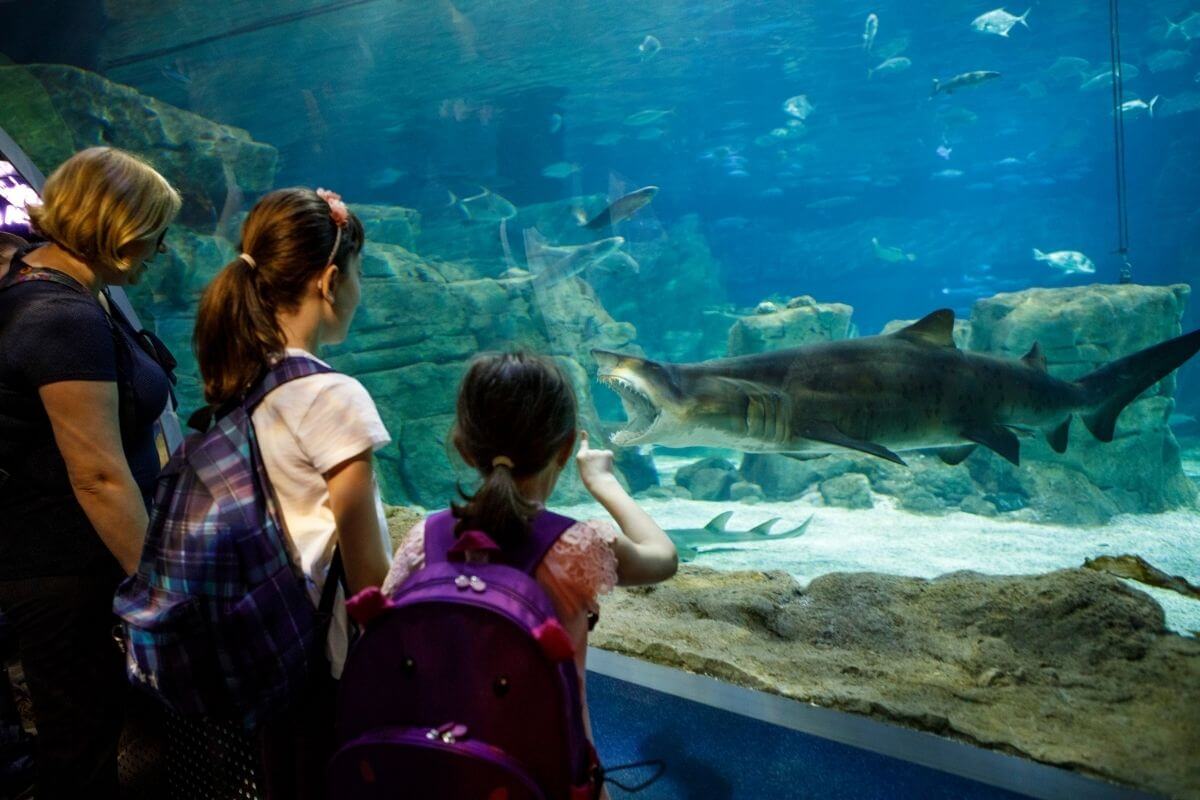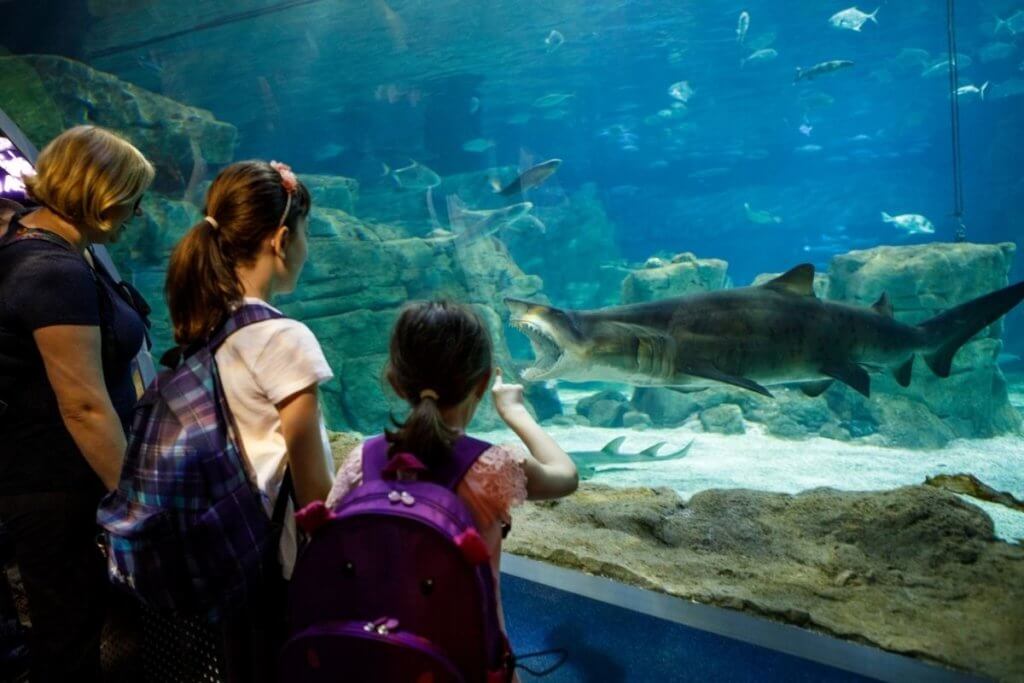 The National Marine Aquarium in Plymouth is home to a colossal variety of fish and other marine species. The Atlantic Ocean display tank is the largest single marine exhibit in the country.
Sea Life Brighton holds a unique record of being the oldest aquarium to be found anywhere in the world. But it's the National Sea Life Centre in Birmingham that's arguably one of the best in the country.
Another great half term idea to add to the list!
5. Go to a safari park
Visiting a safari park or zoo in England is a great idea for a half term day out. Your children will get to see their favourite animals up close and experience all the species in their natural habitat. It's also a great educational opportunity for your children to learn more about animals, and animal care.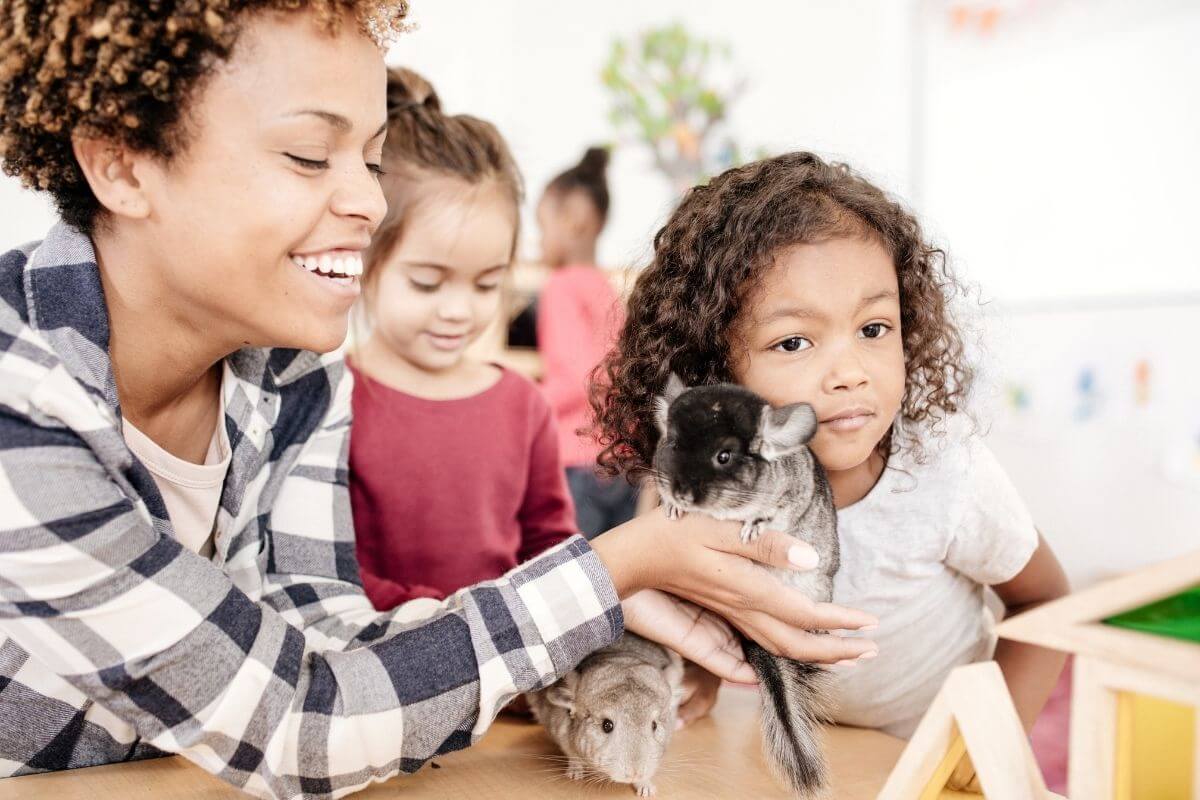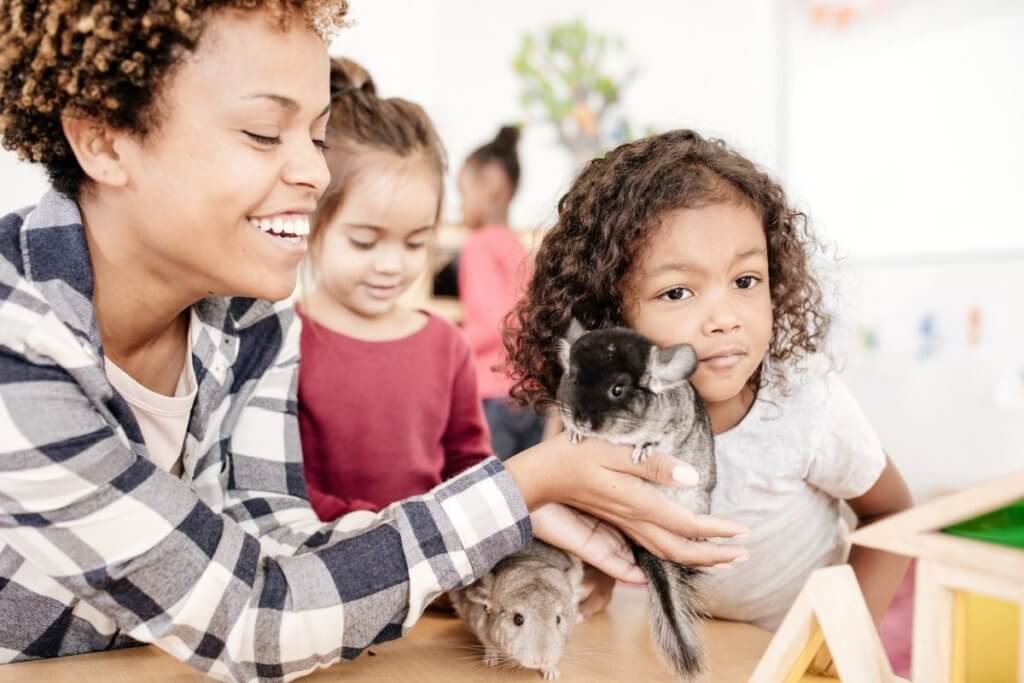 We have some great safari parks in England from Port Lympne Reserve in Hythe, Kent to Woburn Safari Park in Bedford or even West Midlands Safari Park in the West Midlands. Our absolute most favourite one though is Longleat Safari Park in Wiltshire.
Longleat Safari Park was inaugurated in 1966 and back then had the honour of being the first safari park outside of Africa. Visitors love to take on tours of the park, as well as the gorgeous Elizabethan house. Great fun for half term things to do with the kids!
This is one of the best half term things to do if your kids love animals. You'll find the 10 best safari parks in England you need to visit, here.
6. Embrace nature with some glamping, camping or caravanning
Glamping is slightly different from traditional camping because it can involve glamping in fancy lodges/cabins. Or, you could rent a camper van or SUV, or even use your 7 seater car with a tent attachment.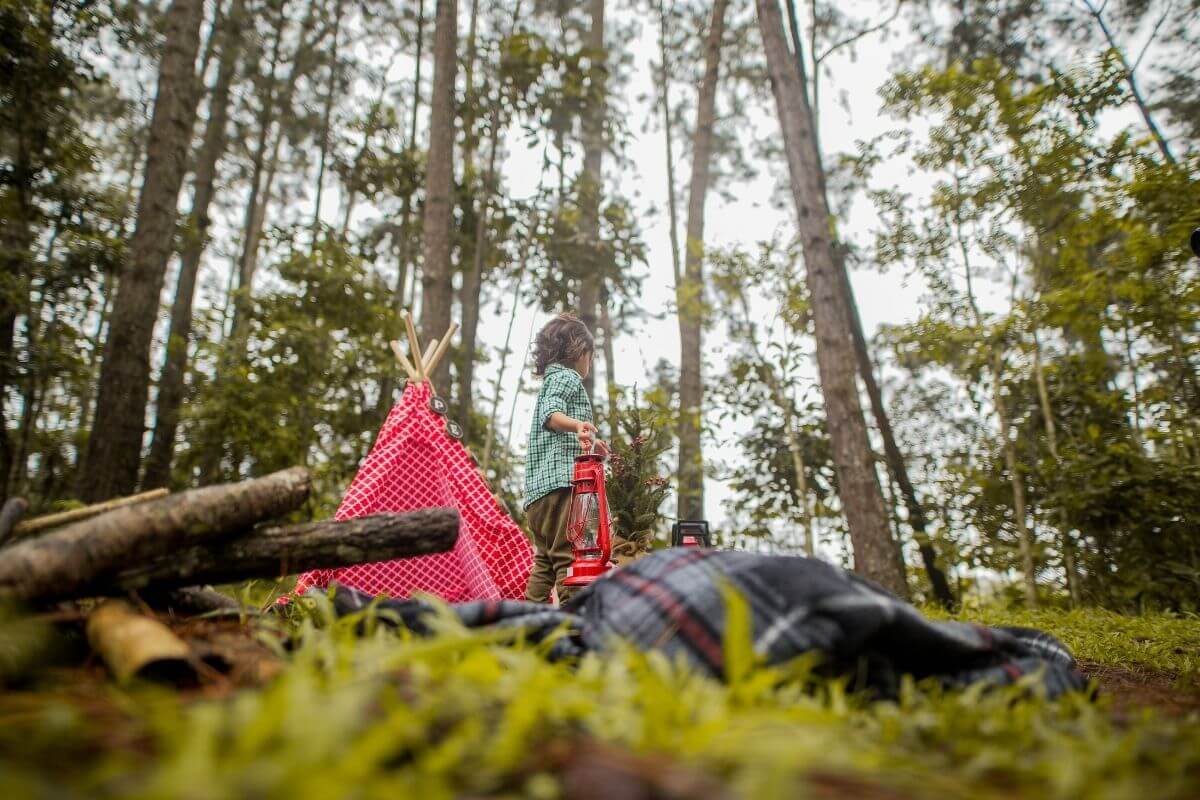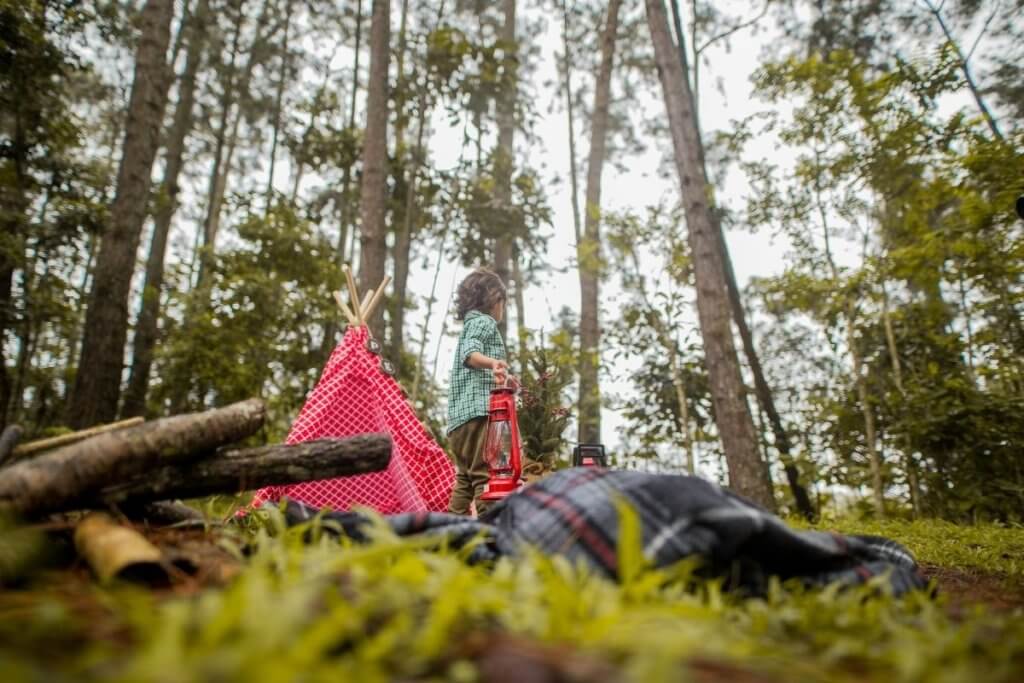 For more experienced camper families with older kids and teens, you could go really wild, getting off the beaten track and away from established campsites, literally pitching your tent in the middle of nowhere. It may be more of a night out than a day out, but we've included it in this list because one of the best half term things to do is to go day camping / glamping / caravanning.
How about just pitching a tent for a few hours in the day on a beach somewhere? It makes for a fun experience for kids somewhere new. And you could just be sat nearby reading a book — that'd be the dream, right?!
Whether you're day camping or traditional camping, it's an adventurous way to spend a few unplugged hours on your days out in England, bonding together as a family playing card games, trivia, and telling stories.
Please make sure that wherever/however you end up camping, you get permission from the landowner first. Otherwise, you could find yourself in a spot of trouble for trespassing!
READ MORE: The Best Days Out in October in England
---
FOLLOW @DOINENGLAND ON INSTAGRAM FOR THE BEST DAYS OUT!

---
​​7. Take on the challenge at outdoor adventure parks
Ready for an English adventure at some of the best half term attractions in the country for adventure?
Zipline and aerial activities are very popular among bigger kids and teens, so they're one of the best half term things to do, and if you decide to plan this for a day out this half term it's sure to be a great adventure for everyone.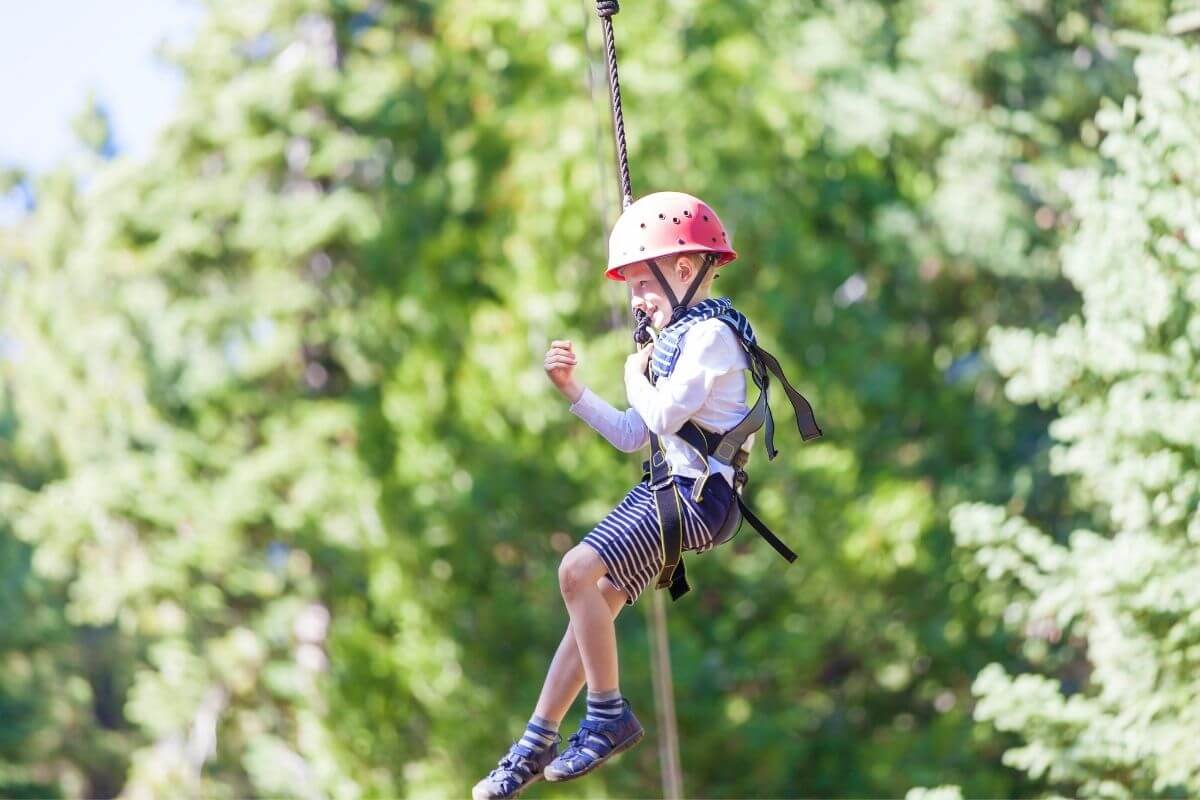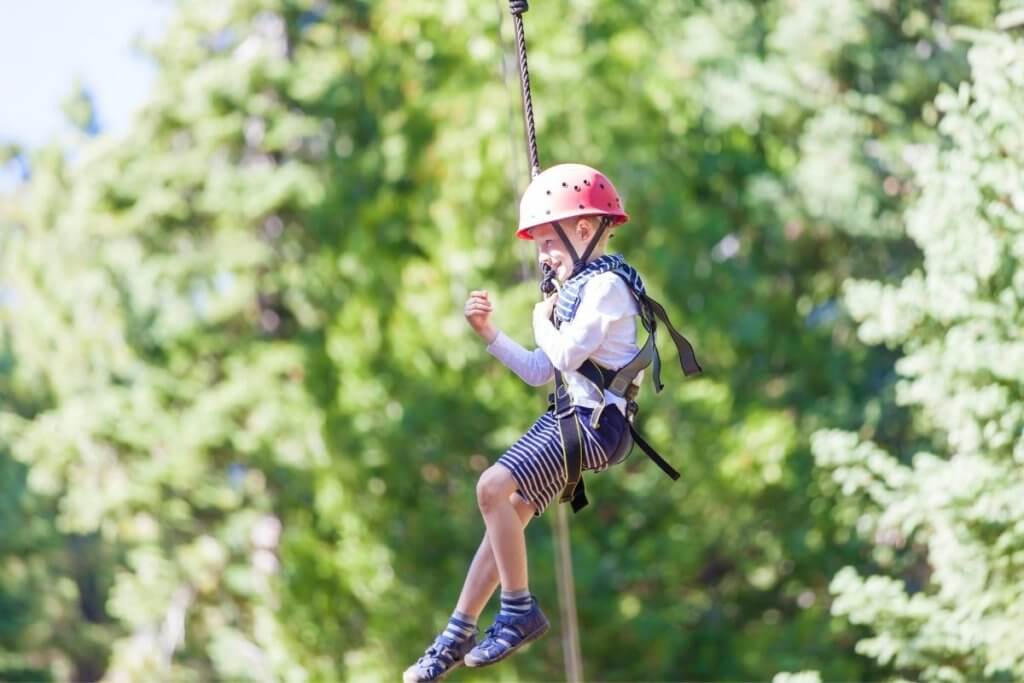 At The Bear Grylls Adventure in Birmingham, there are all sorts of epic family adventures to discover! From taking on the Royal Marines-inspired Assault Course to heading high up in the sky and making your way across Europe's tallest high ropes course, your children can even try out diving or snorkelling too!
Or, if you fancy epic treetop crossings or flying through the forest on a zip wire, then definitely find your nearest Go Ape course. The whole family can wander across wobbly bridges and even explore the forest floor on a Segway, or bounce around with giant inflatable balls in treetop nets!
8. Go stargazing
Stargazing is one of the most magical half term things to do, and a great way to bring science alive and to experience the beauty of our natural world. Looking up at the great canopy of space is a powerful experience that everyone can enjoy. Stargazing is number 27 on the National Trust's list of '50 things to do before you're 11¾' — a fun list of great things to do for kids.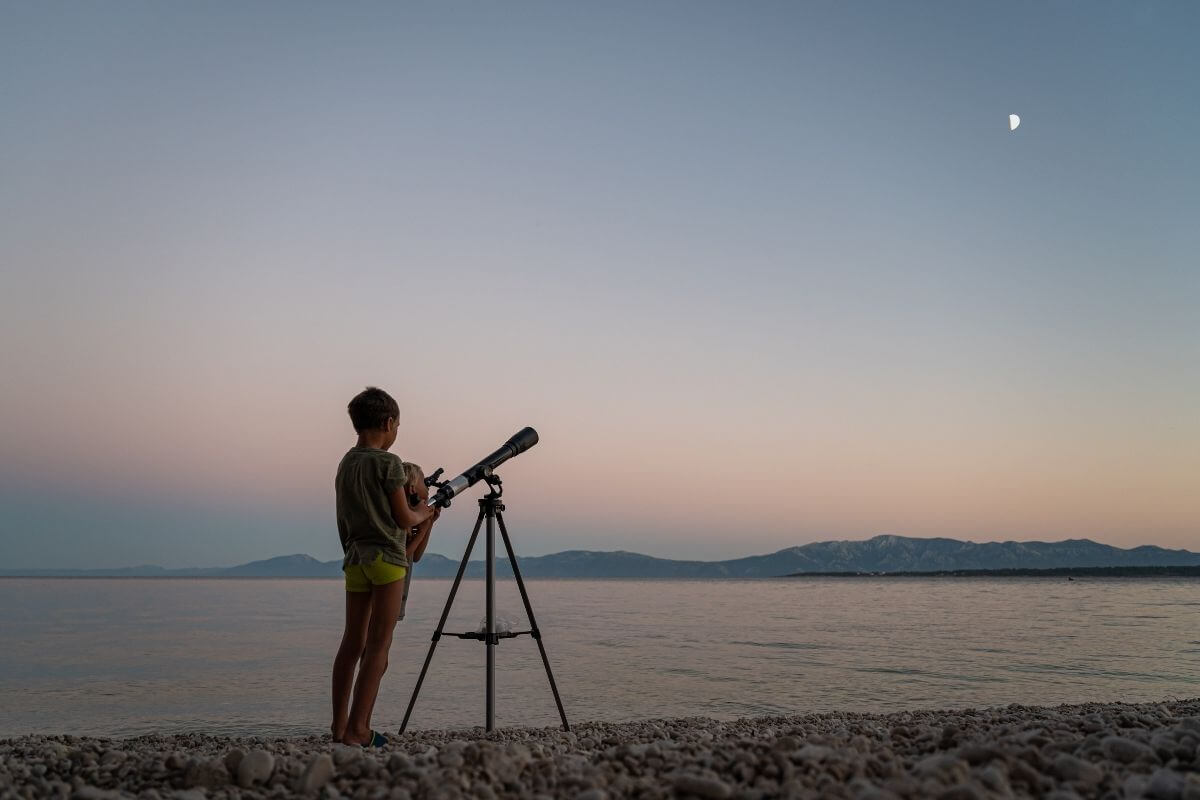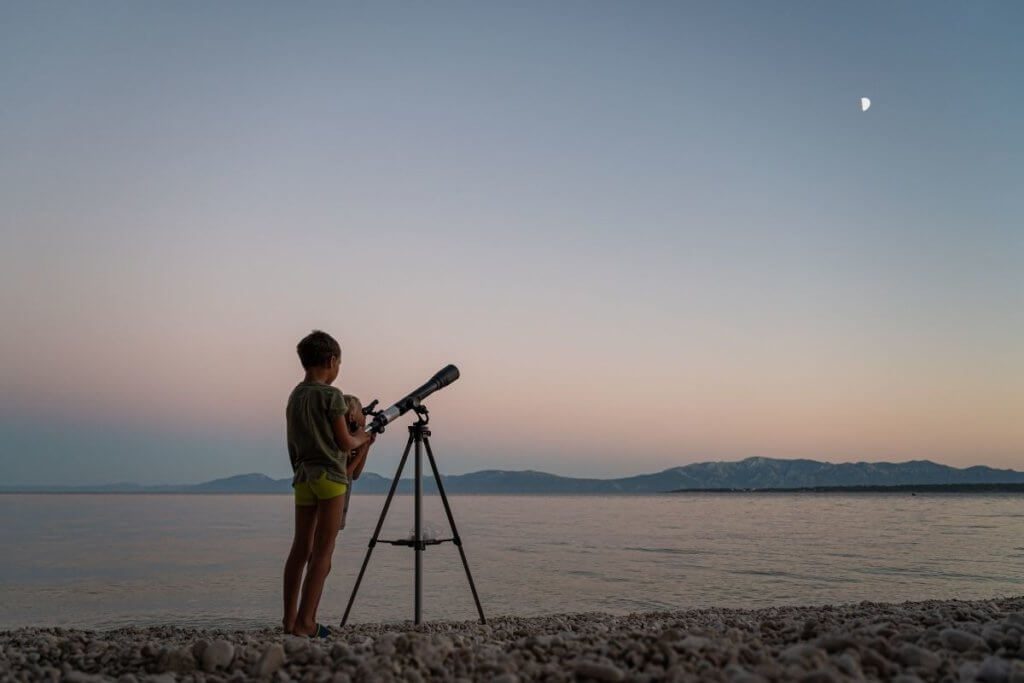 Grab your coats, find a great location or a cosy spot to lie down in your back garden. The longer you look up, the more stars you'll discover. As you gaze, take some time to enjoy the moment — how does it make you feel? What words can you use to describe your special view?
If you've got a star spotter guide with you, the whole family could try to connect the dots of constellations like 'orion' and 'the bull', but it can be just as much fun to find your own shapes and name them. The kids could even try drawing them in their very own star diary. And if you're lucky, you may even get to see a shooting star whizz across the sky.
The perfect observing season, as referred to by astronomers, is the time from when the clocks go back in October (nights become 1-hour longer) to the time they go forward in March (nights become 1-hour shorter). You'll find most stargazing events being held during this period, but you can give it a go and see what you see any time of year.
9. Visit the National Space Centre or an observatory
Our sci-fi and space lovers will appreciate the National Space Centre in Leicester, home to the UK's Largest Planetarium. Your kids can discover the amazing science behind our planet and the exploration of our universe through interactive galleries at this award-winning museum. The whole family will enjoy the Rocket Tower and learn about space oddities.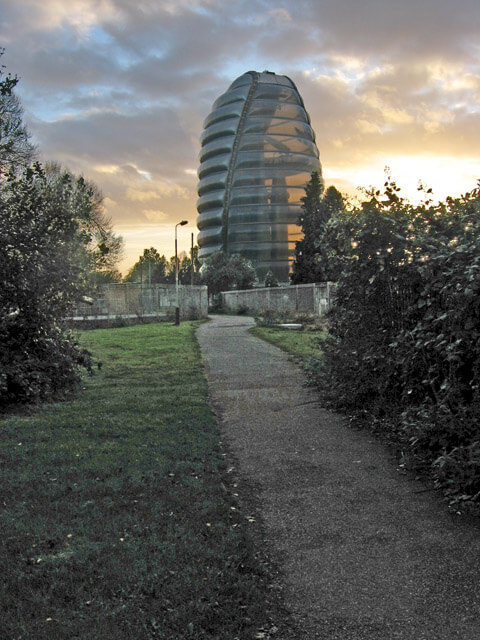 The Royal Observatory At Greenwich Park — home of Greenwich Mean Time (GMT) and the Prime Meridian — is another cool day out at half term, where they put on shows and you can uncover wildlife and heritage in one of London's finest parks.
Some of the best half term things to do can be learning experiences too, and the National Space Centre and the Royal Observatory are great examples of this.
READ MORE: The Best Days Out from Leicester
10. Trampoline around England
If you're looking for great half term things to do come rain or shine, then how about visiting a trampoline park in England? There are loads around!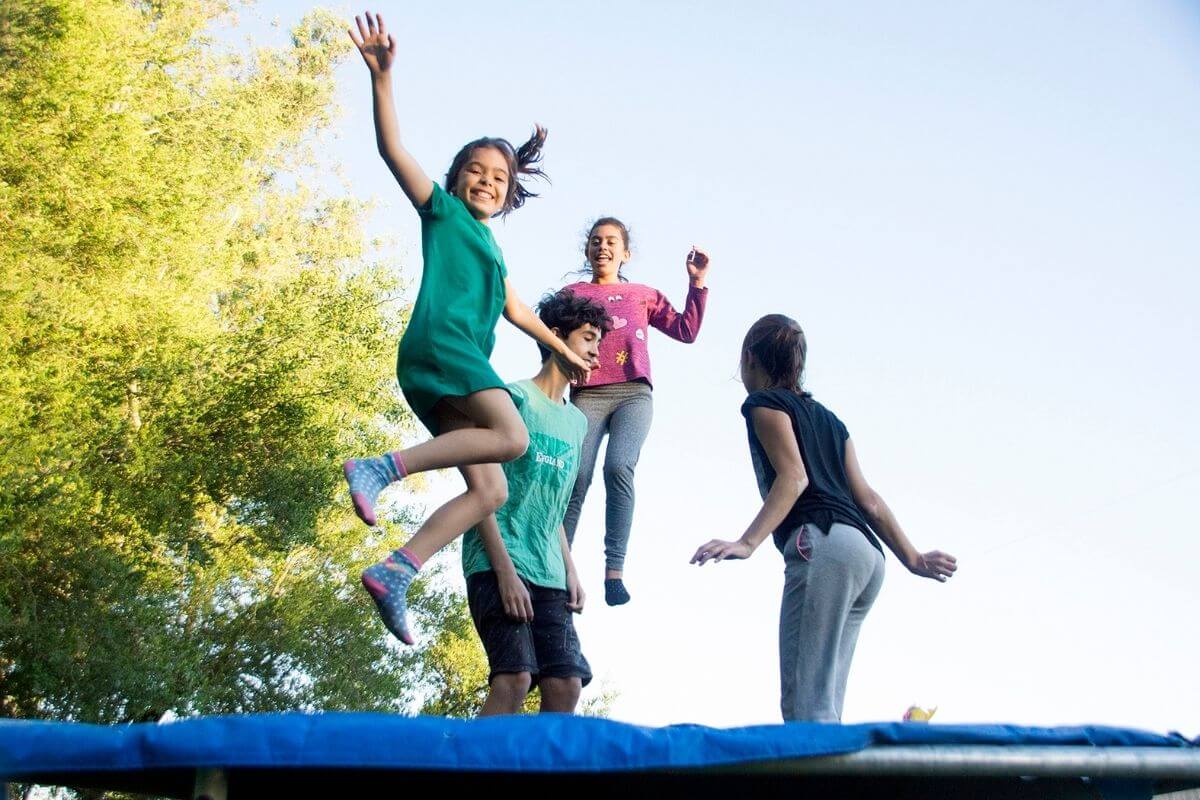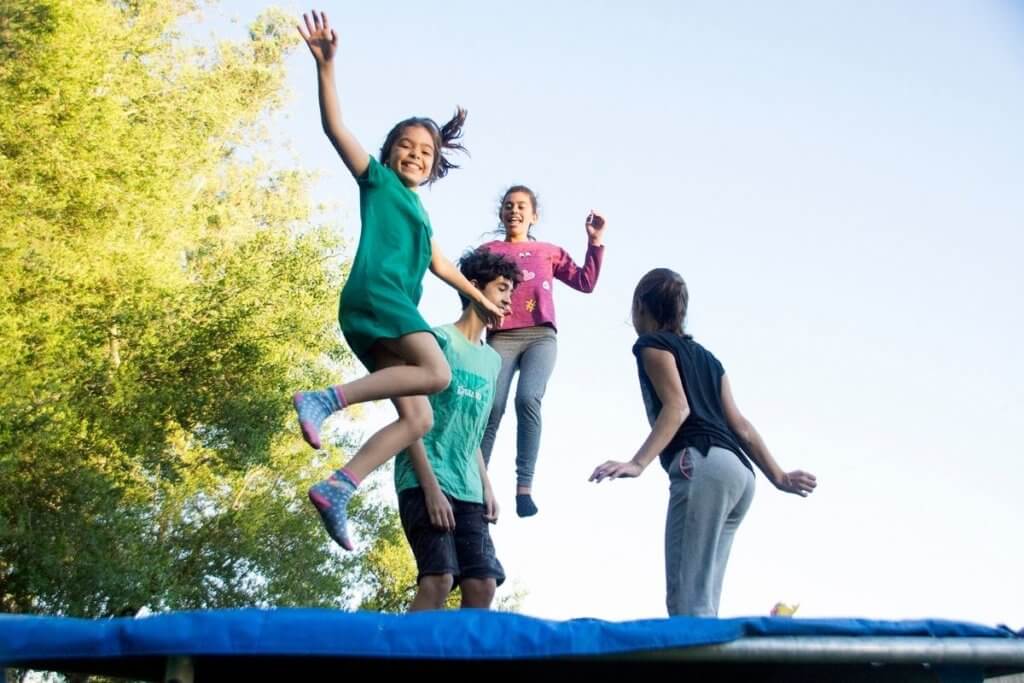 At Air Unlimited Liverpool or Burnley, kids can bounce their way across the great trampoline parks and discover awesome inflatables that are fun for the whole family. For smaller infants, ballparks and soft indoor play centres are awesome to have fun outside of the house in any weather.
Indoors half term ideas can be hard to find, but check out the nationwide FlipOut trampoline parks and Gravity trampoline parks, or if you're in London, here are 5 of the best trampoline parks in London. The kids will love them!
11. Chocolate and sweet-lovers day out
Visit Cadbury World Birmingham or M&M's World in London's Leicester Square, or American candy stores along Oxford Street London — your children will definitely not get bored of this one!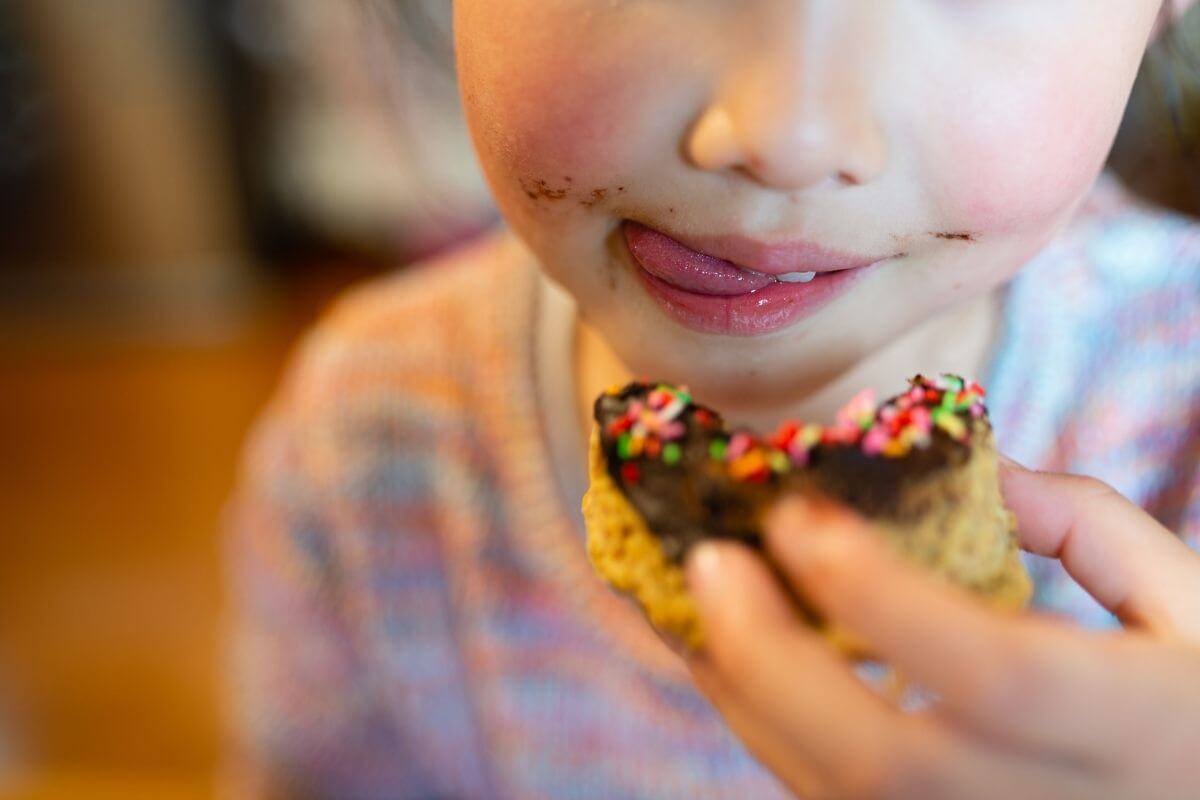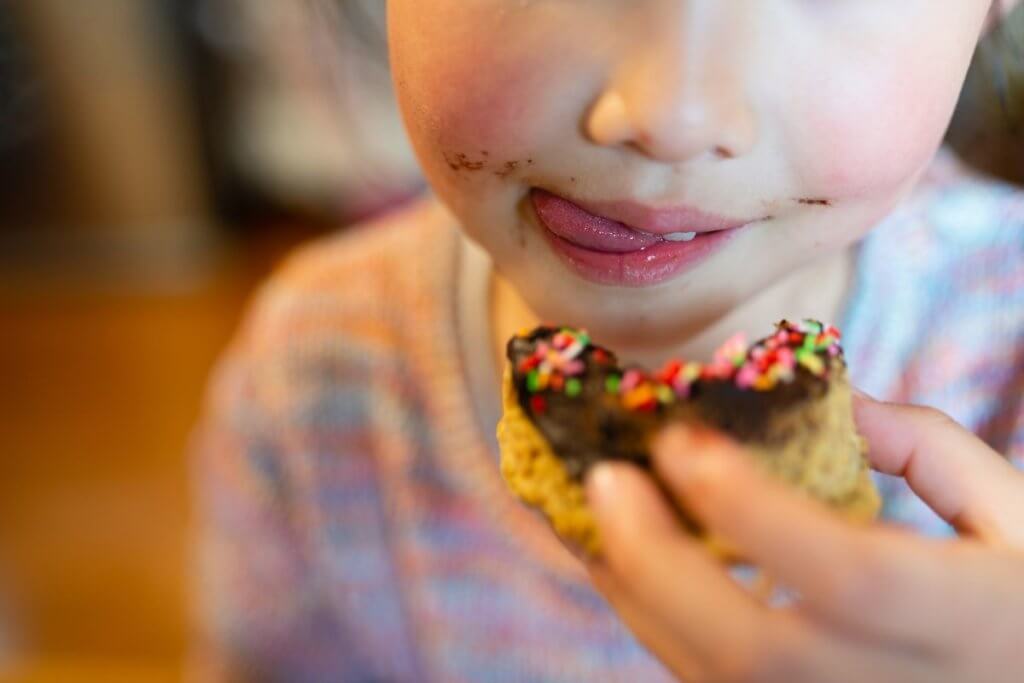 At Cadbury World enjoy a fascinating, fun-packed day out learning how their favourite confectionery is made and uncovering the fascinating story of Cadbury chocolate, to playing in chocolate rain.
M&M'S World London is the world's largest candy store at 35,000 square feet, spread over four insanely colourful, M&M-filled floors. It's also home to the world's biggest chocolate wall with over 100 M&M's selections to choose from and take home with you.
If you're looking for half term things to do with your sweet-tooth kids, there are some great sweets in England to choose between if you fancy a treat for your half term day out.
Book your tickets to Cadbury World in advance to save the faff on the day!
12. Build something at LEGOLAND!
If you're by a beach then it could be a sandcastle, but if you're anywhere near Manchester or Birmingham, how about visiting these incredible LEGOLAND Discovery Centres?
Visit Manchester's LEGOLAND Discovery Centre for the ultimate indoor LEGO® playground. LEGOLAND Discovery Centre is the perfect place to learn and have fun. Learn building tips from their Master Model Builder Workshops or get creative building your own vehicle at their LEGO Racers Build and Test area.
There are also three LEGO rides, eleven LEGO play zones and a 4D cinema at Manchester's LEGOLAND Discovery Centre. As well as the unique opportunity to see all of Manchester's top attractions made from LEGO in their MINILAND display.
Spend the day at LEGOLAND Discovery Centre Birmingham for the ultimate indoor playground. There's lots of LEGO to build, a 4D cinema and soft play too. Take a look at Mini Land — made from an incredible 1.5 million bricks. There's also a Kingdom Quest ride — a magical ride for all the family to enjoy. LEGOLAND Discovery Centre Birmingham makes for a great day out for kids, and the adults will enjoy it too!
And of course, there's the original impressive LEGOLAND Windsor to enjoy — it's one of the best days out in Surrey, and one of the best half term things to do, for sure!
13. Visit London Southbank for the day
There's so much fun to be had in London for the day, but if you've got children in tow then it makes things a lot easier to stick with one area. If you get the train into Waterloo you can easily spend the day on London's Southbank, without having to worry about navigating the rest of the city.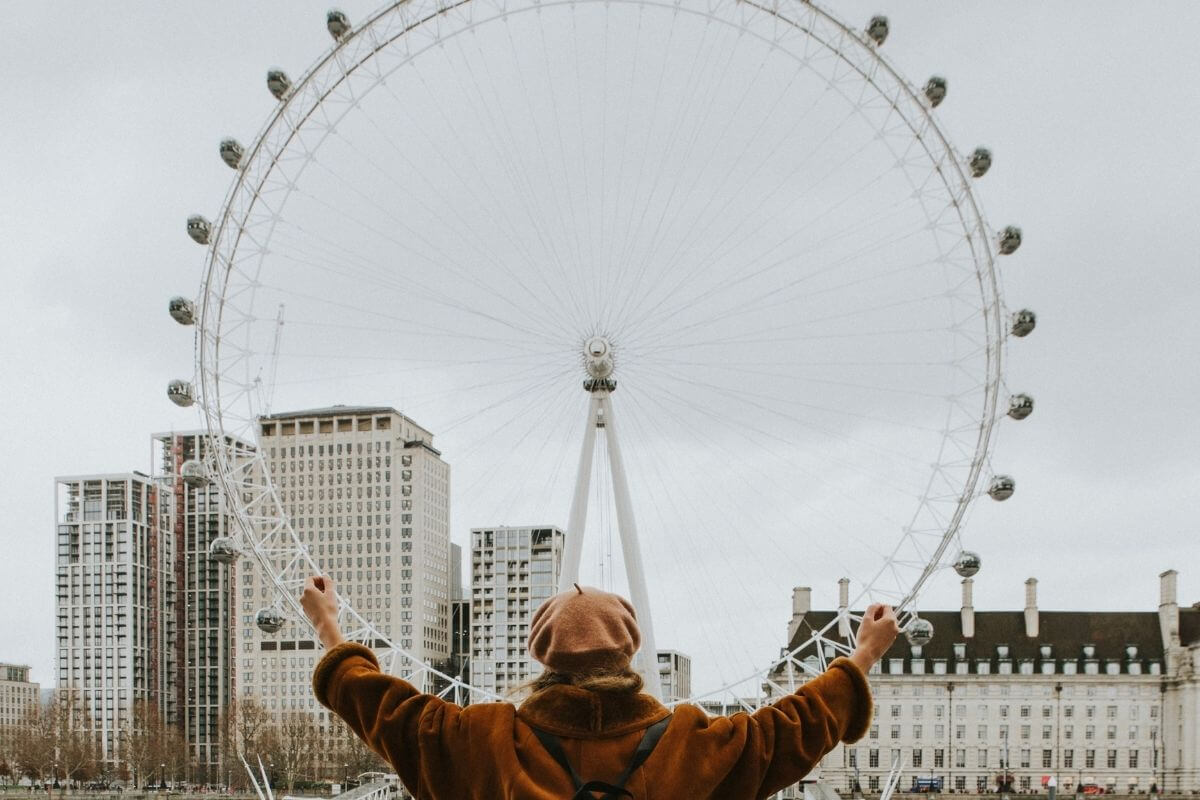 You could wander along the bank before going up on the London Eye to see the impressive views from one of the 32 pods. Then, you could go and check out the new Shrek's Adventure just next door — you get to hang out with Shrek and the gang. It's a bonkers, immersive walkthrough experience anyone around 4 to 7 will love.
If you've still got the energy you could check out London SeaLife Centre just a little further up the South Bank. Book your tickets for everything in advance to get the best deals, and to save time while you're there.
In terms of activities, it has many of the best half term things to do, and you'll find a lot of the best things to do in South Bank have tickets available to book in advance through GetYourGuide, here.
13 Great Half Term Things to Do for a Day Out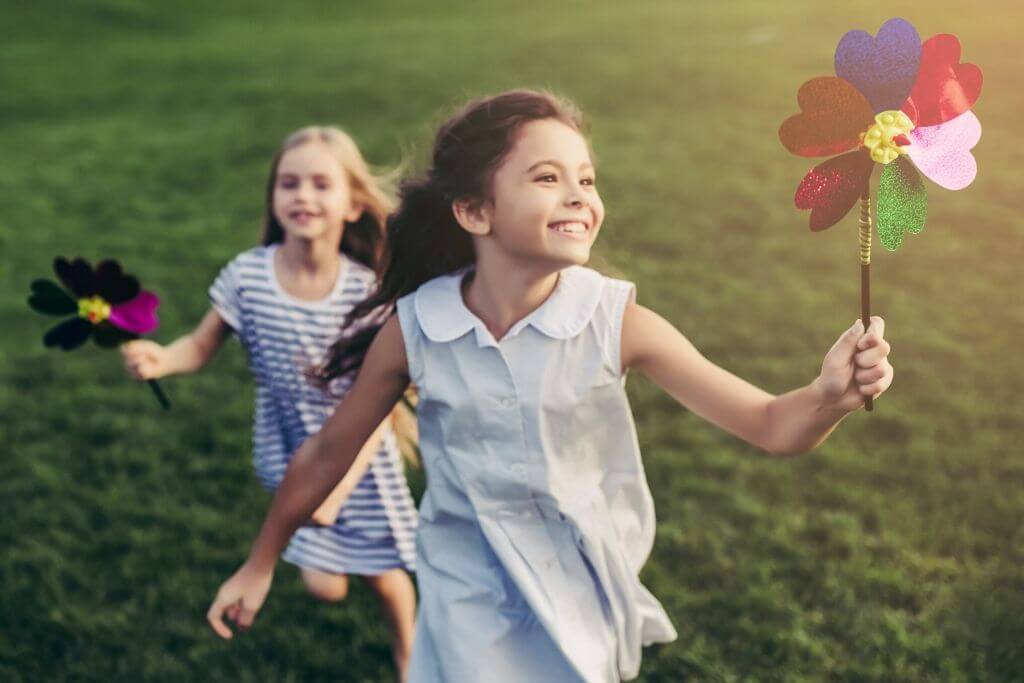 Which one of these half term attractions made you the most excited to try out? Have you got any pre-booked days out that we should definitely add to the list? Share your favourite half term things to do with us in the comments!
---
Quicklist: 13 Great Half Term Things to Do for a Day Out
1. Take them to see Wicked in the West End
2. Go on a boat ride for the day
3. Take a hike in nature
4. See the marine life at an aquarium
5. Go to a safari park
6. Embrace nature with some glamping, camping or caravanning
​​7. Take on the challenge at outdoor adventure parks
8. Go stargazing
9. Visit the National Space Centre or an observatory
10. Trampoline around England
11. Chocolate and sweet-lovers day out
12. Build something at LEGOLAND!
13. Visit London Southbank for the day
---