Best Itinerary for a Day Out in Bath in 2023
Fancy a day in Bath for your big day out in England? As one of the most beautiful cities in the country, a day here deserves some planning. Here's the best Bath itinerary for you.
There's loads you can do on a day out in Bath, it's one of England's most iconic cities. It's also one of our most interesting UNESCO World Heritage Sites.
With cobbled streets, great viewpoints and iconic vistas Bath is one of my favourite day trips in England. I've been a few times now, so let me take you through what you do in a day in the beautiful city of Bath Spa.
And a bit of packing advice: don't forget your swimmers!
---
Brunch in Bath
First stop: brunch.
Good Day Café is a great shout. Run by Steph, who's always known she wanted to run a cafe like this, you can see the passion in the decor, and the food.
You can expect artisan coffees here, and colourful lattes too. Dogs are welcome, but dog or not, you will love the range of tasty breakfasts to choose from.
I'd recommend the tasty banana bread with yogurt and honey.
---
Look at the Roman Baths
The tourist highlight of Bath: the Roman Baths. As one of the most popular tourist attractions in England I'd advise you to get here early to avoid the crowds. And to book your tickets for the Roman Baths in advance.
Bath's Roman Baths are the remains of one of the greatest religious spas of the ancient world. Note though: you cannot swim in them yourself, or even relax. They're for looking at not using. Your swimmers will come in handy later, trust me.
The baths in Bath still flow with natural hot water from the thermal springs underneath. Stick your hand in and you'll feel the warmth. Not sure if you're actually allowed to do this though so don't blame me if you get told off.
If you want to know more about the history of the baths in Bath, there's a whole museum inside featuring relics and artefacts from the time, and replicas of how they'd be used. There are also actors there who can tell you more about the history of the Roman Baths.
READ MORE: The 10 Best Ancient Roman Sites in England
Make sure to walk around the top for some great aerial views of Bath and beyond. Also, I'd strongly advise against tasting the spa water. For some reason this is an option at the end, and it's grim.
I'd recommend an hour or two here, depending on how interested you are in looking at the remains.
Lots more to see on your Bath day trip!
READ MORE: How to Do a Day Trip from London to Bath
---
Snack time in Bath
There are quite a few iconic places to pick up a snack in Bath, including Same Same but Different (for tapas) or Society for coffee and cake.
But if you're on the go, The Fudge Kitchen is an institution around these parts – there's a shop in Windsor too. They let you try samples here, and the salted caramel, and sherbet lemon are clearly the best.
Make sure you pay a visit on your day in Bath.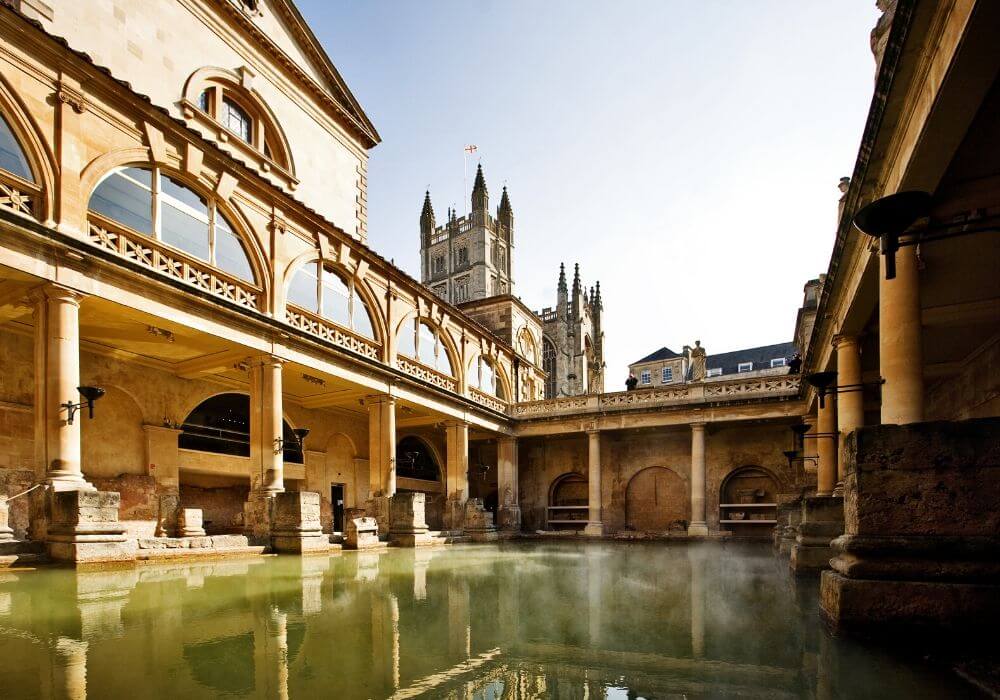 If you're more peckish than a bit of fudge, then Sally Lunn's buns are a legend around these parts. The secret recipe apparently makes them taste like sweet brioche, delicious served warm with butter.
There's a great mini museum downstairs too. The recipe for Sally Lunn's buns were first recorded in 1780, so there's a dedication in the cellar. Go and check it out!
---
Visit the Thermae Spa
The Thermae Spa is definitely the most popular spa in Bath, and for good reason. It's that amazing rooftop pool that draws you in. On a sunny day the way it lights up the buildings all around is magical.
On a not so sunny day, like the day I visited, it's still awesome to be in a hot pool above the city.
The water at the Thermae Spa has over 42 different minerals, so it's meant to be really, really good for you. It's also cooled to the optimum bathing temperature of 33.5°C, from the natural 40C.
Blows my mind!
You need at least two hours to really make the most of the Thermae Spa. Inside the building you'll find steam rooms, a sauna, a relaxing space room, a big pool downstairs with a lazy river, and a jacuzzi, and a cafe too.
Great for a snack to keep you going into the afternoon on your day out in Bath.
Once you're dried off and refreshed, it's time to see what the rest of Bath has to offer us day trippers.
READ MORE: The Best Day Trips from Bath
Visit the Pulteney Bridge
The Pulteney Bridge is one of the best viewpoints in Bath, and if you Google 'days out in Bath', you'll probably get a lot of pics of this back.
For this reason you can expect lots of snap happy tourists here taking pics of the Georgian architecture. Fun fact: the Pulteney Bridge is one of only four bridges in the world to have shops across its full span on both sides. The shops are small by today's standards but when the bridge opened in 1770 they were a total revelation.
The bridge is named after Frances Pulteney – the wife of William Johnstone Pulteney. He was an important landowner in Georgian Bath, and wanted to build a bridge everyone would be talking about.
He did a good job, and what a legend to leave hey?

You can take boats from here heading up river to Bathampton, or just admire the view from the surrounding bars and restaurants.
This is a really nice area to stay for a drink, or, you can follow my guide and go and find this awesome rooftop bar instead.
Rooftop drink
If you fancy a traditional Somerset cider on a rooftop, then Hall & Woodhouse on Old King Street is the one. Even out of season they have blankets up there so you can enjoy the peace and views away from the streets.
I didn't eat here but from the looks of the kitchen, this would be a fab place for a meal while you're in Bath.
Dinner at Koffman & Mr White's, at Abbey Hotel
Koffman & Mr White's French brasserie opened just before Christmas, by legendary chefs Pierre Koffmann and Marco Pierre White.
Looks fancy hey? Well, you can get two courses for around £15, or you can go a la carte, a la me.
I went for the duck pate starter, not quite realising it was a pate, which was totally my fault (would you know what 'Rilettes' was?!). I would never normally order pate in a restaurant, but after I got that layer of fat off it was really good.
"Rillettes of duck, green peppercorns, toasted sourdough"
I went for the mango, chicken and prawn curry for the main course. Gawd it was lush. Absolutely no food envy around the table there, think I had the best one, although apparently the ox cheek was tasty too.
"The Connaught's coq and shrimp curry, fresh mango, ginger, buttered rice"
The bread was freshly baked from a local baker, and was all quaffed down with red wine. I didn't actually get to look at the bottle, but presume it was the house.
Would drink again.
The restaurant is part of a hotel, so if you need a night's kip after your day in Bath, they'll be happy to oblige. Otherwise, enjoy the classy NYC / French ambience of the restaurant, and it's excellent location in the centre of the city.
---
5 More Things to Do on Your Day Out in Bath
1. Free walking tours – like many cities in England, Bath offers free walking tours. These are a great way to learn a bit more about the city, without having to do your own research.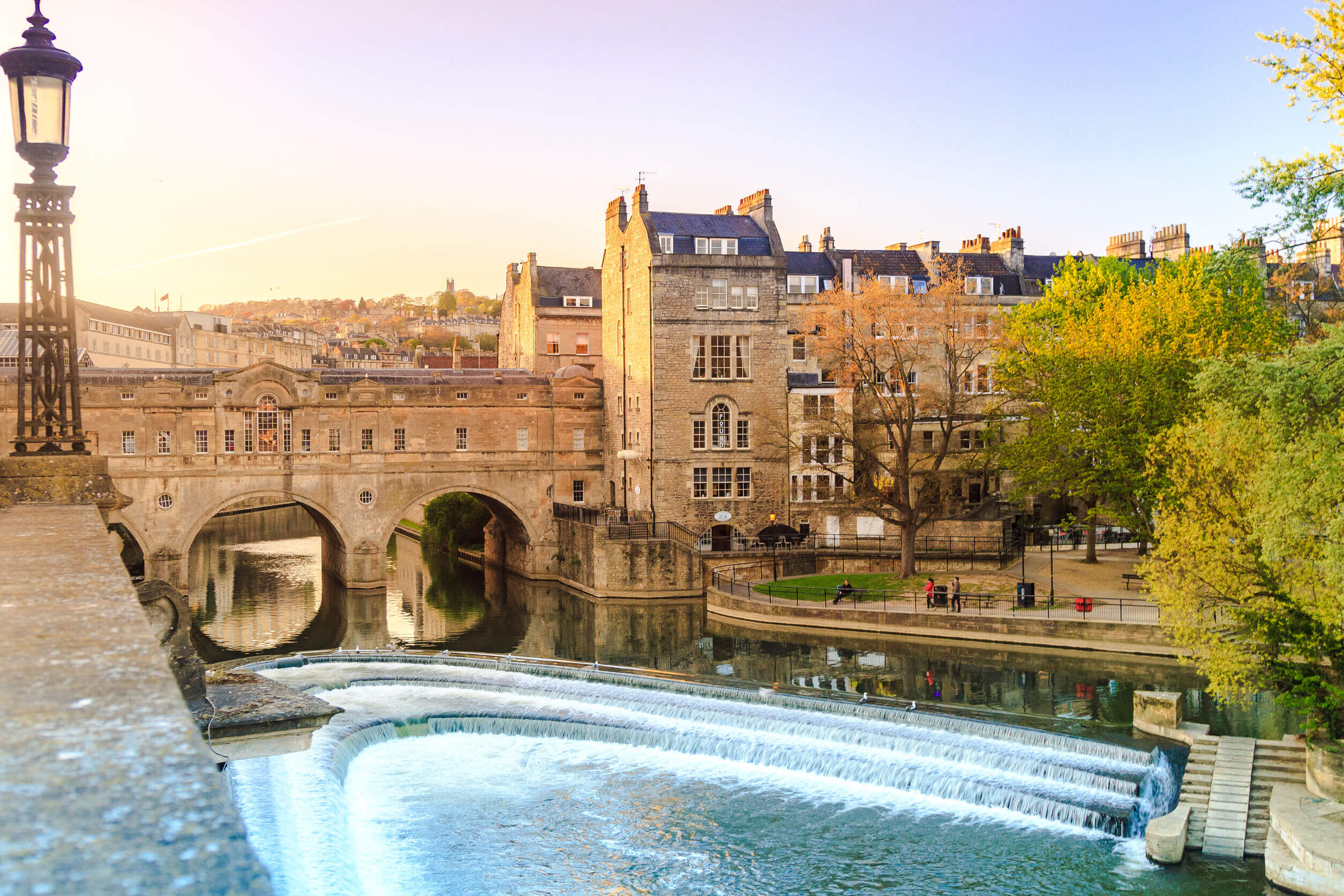 2. Jane Austen Centre – Bath featured as a location in many of Jane's books, and so it's become a pilgrimage for Austen fans. Visit the Jane Austen Centre and you can go to a talks from (imitation) Georgian ladies, read excerpts from her novels and learn more about why Bath was such an important place for her.
3. No.1 Royal Crescent – this stretch of houses is one of the most impressive in Bath. The unique shaped arch is the stuff of Instagram gold. Most of the houses are private residences but No.1 is open to all, and set out just as it would've been in the late 1700s.
4. Climb the Bath Abbey tower – pay £6 and you can climb the tower on a special tour. Easier said than done, with 212 steps to get to the top. It's a bit of a mission but by all accounts, totally worth it!
5. Take a boat tour – if you enjoy the views on the ground in Bath, you'll soon come to realise the ones by boat are even more impressive. Join a boat tour and you can admire the Pulteney Bridge and the Weir from a totally different point of view.
---
More great things to do on a day out in Bath