Did you know there are many Roman ruins in England? In fact, several fascinating Roman towns and ruins have been discovered all over the country, with some being very well-preserved. They provide an interesting glimpse into the lives of the Roman settlers in England. If you're a history lover and curious about Roman ruins in England, these are the top 10 you have to check out…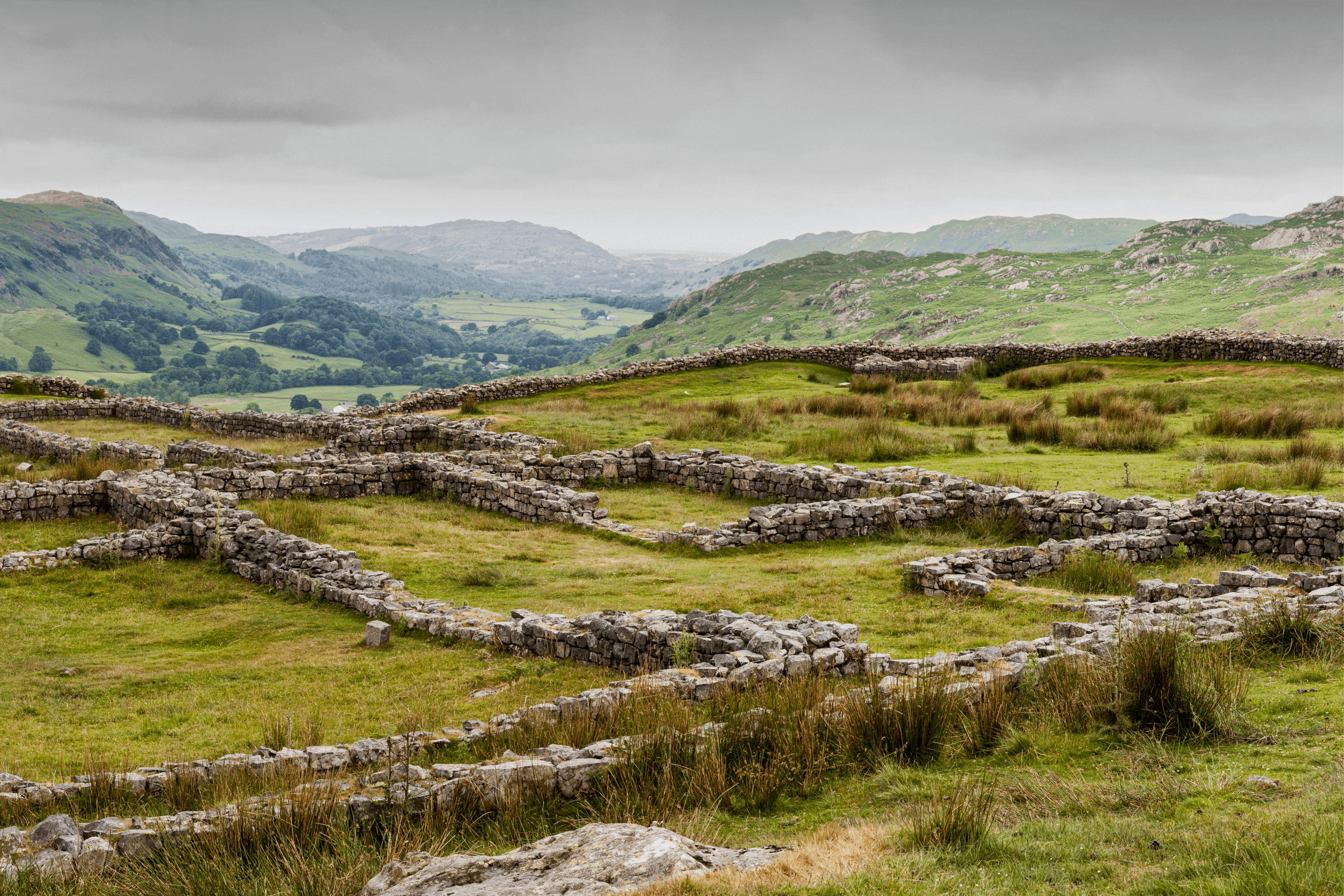 History buff? Archaeology-obsessed? Then you MUST check out some of the best Roman ruins in England. Bring your camera, and your notebook if you like to jot down your learnings, because there will be a LOT to see and explore on a day out at any of these Roman sites in England.
There are many popular England tourist attractions to add to your list, but if you're a fan of all things ancient then this list may be your go-to for a day out.
For Northumberland to the Isle of Wight, and London to Tyne and Wear, these towns, cities and counties offer some of the most interesting Roman remains in Britain. Let's take a look at 10 of the most amazing ancient ruins in England.
10 Amazing Ancient Roman Ruins in England
1. Wroxeter Roman City, Shropshire
The ancient ruins of Wroxeter Roman City are really something to behold. You'll find them in Shrewsbury, Shropshire, and the stunning site holds the remains of one of the most significant monuments of the Roman Empire. There's so much knowledge to soak in at these Roman ruins in England.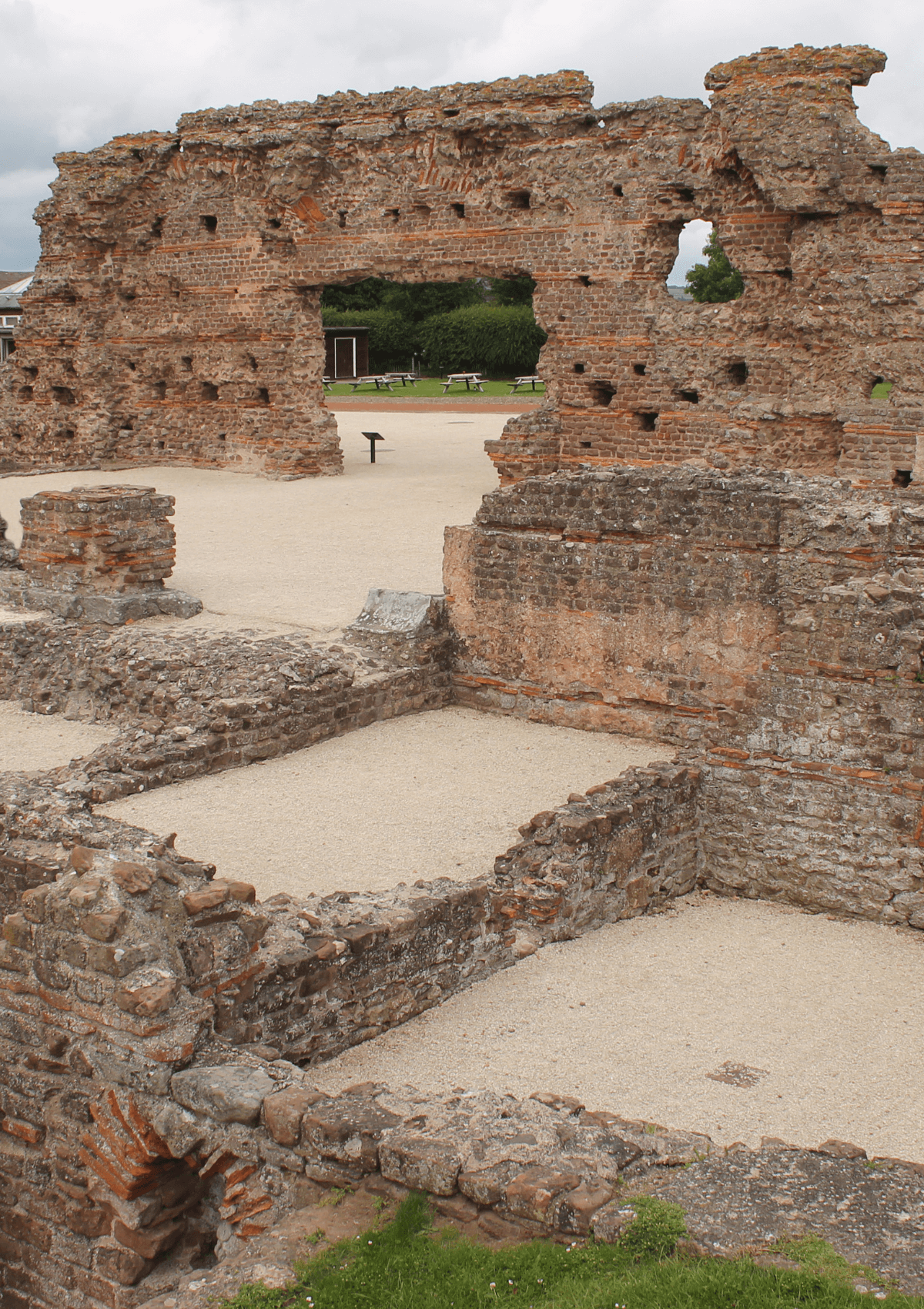 A visit to Wroxeter Roman City gives visitors a glimpse at a variety of remains, from baths to full city walls, and even a temple dedicated to Minerva — the Roman goddess of wisdom, medicine, commerce, handicrafts, poetry, the arts in general, and eventually war. For anyone looking for special insight into life during Ancient Roman rule in England, this is a must-see spot that will quench your thirst for history.
Spending the day in the area? Here are lots more ideas for days out in Shropshire!
2. Temple of Mithras, Northumberland
The Temple of Mithras is located in the Roman fort of Carrawburgh, just outside the town of Hexham in Northumberland. Built by soldiers at the fort around AD 200, and later destroyed around AD 350, this temple was dedicated to Mithras who was a popular god with Roman soldiers.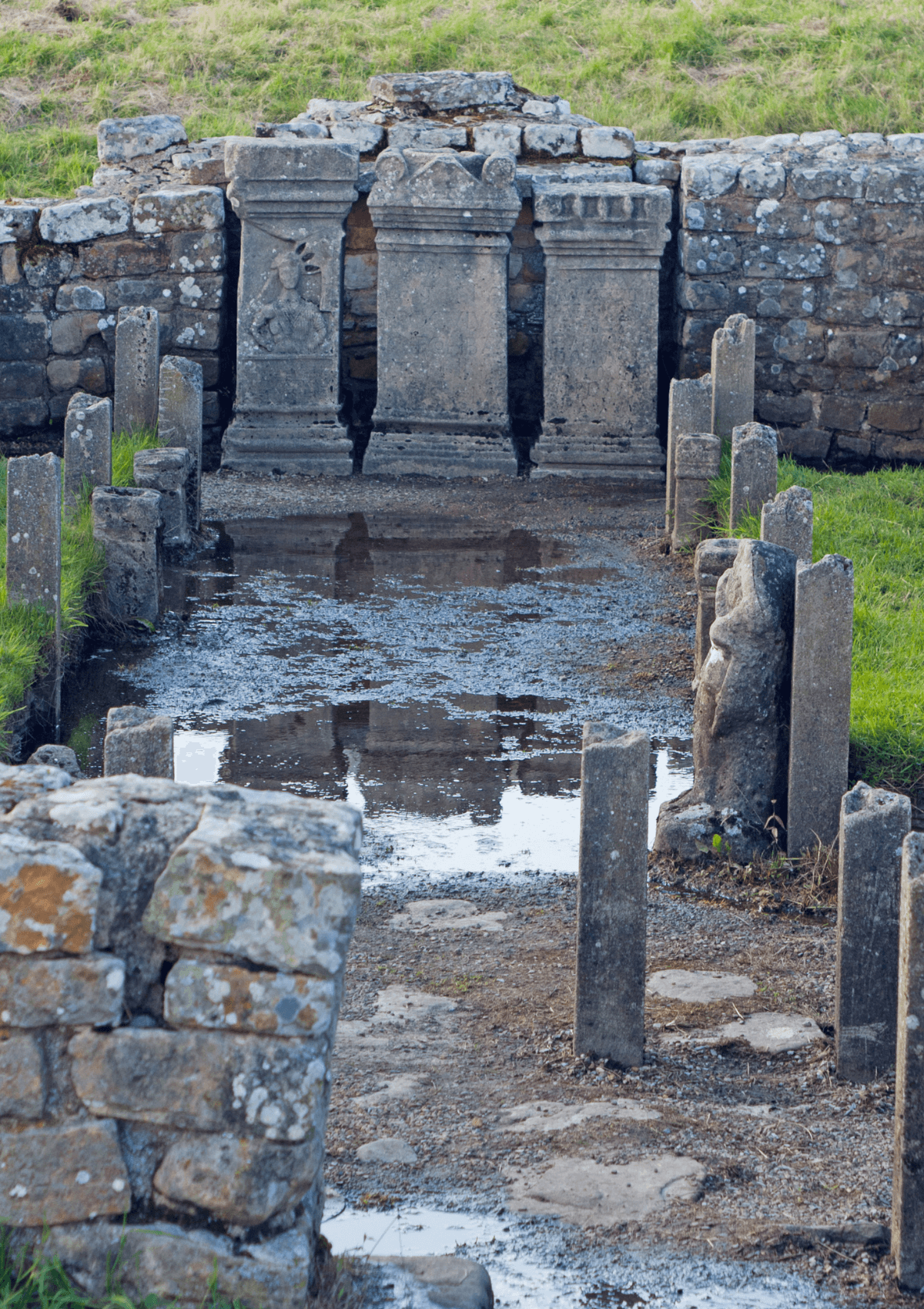 The temple is notably well-preserved, leaving visitors free to explore its underground chambers and other remains. Look out for the fort wall, the shrine, and don't forget to visit the interactive museum where you'll see artefacts unearthed from the site, offering further insight into life at Carrawburgh during Roman times. A walk around these Roman ruins in England is sure to be fascinating!
3. Brading Roman Villa, Isle of Wight
If you're off to the Isle of Wight and you enjoy looking at historical sites, Brading Roman Villa is a must-see. Built around the 1st century A.D., it's a great example of an ancient Roman settlement in England, with lots to uncover.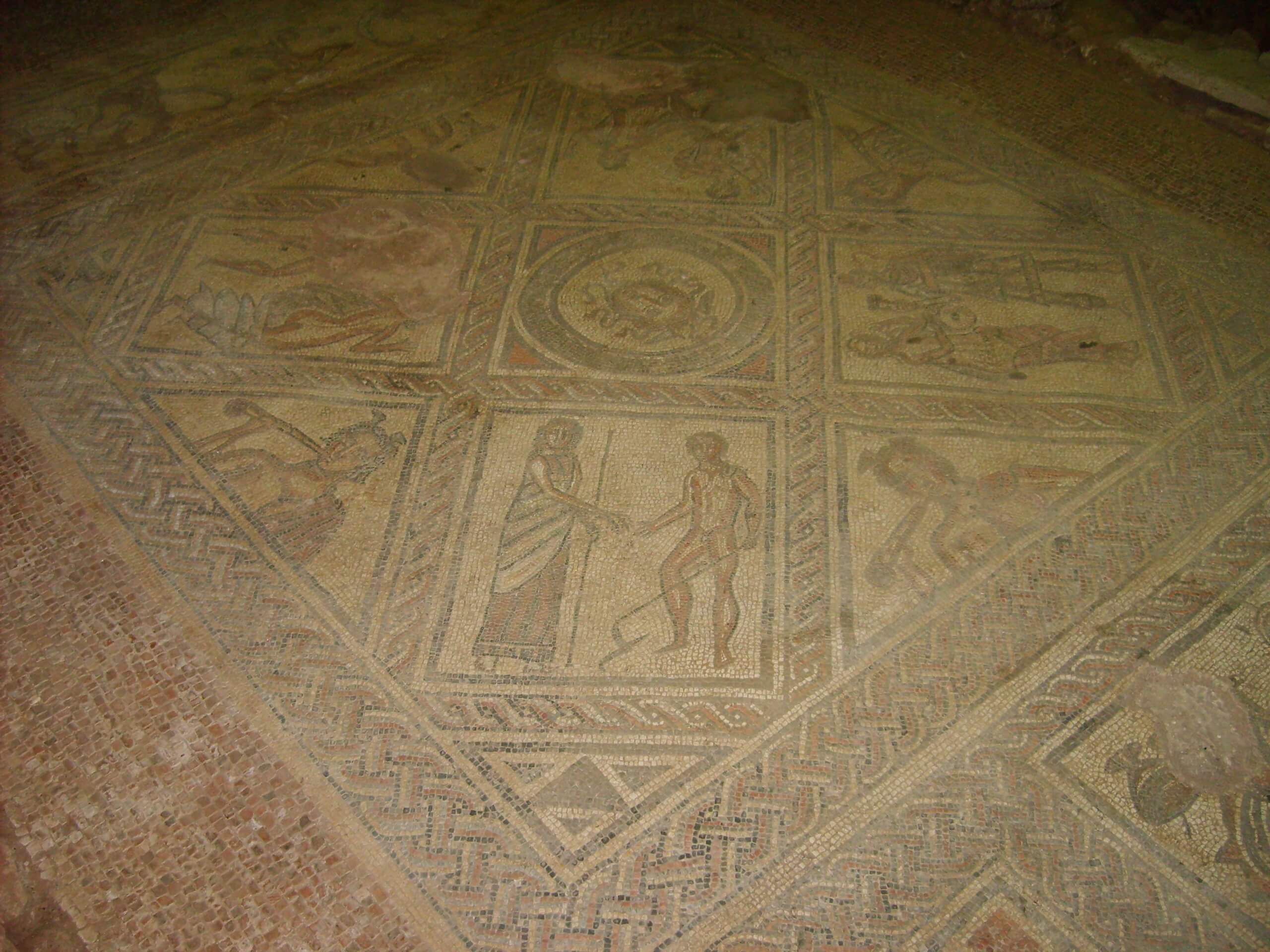 Visitors can explore the range of ruins, including several walls and rooms, and see two fascinating mosaic pavements; one depicting a boar hunt and another scene featuring two flying cupids. These mosaic pavements help you step back in time and imagine life as it would have been before the area became the Roman ruins in England they are now.
During excavation of the site, there were many artefacts uncovered which are now on display in the interactive museum, offering a look at what life was like on the island during Roman times.
If you're spending some time over on the island, you'll find lots more days out on the Isle of Wight here.
4. Verulamium Theatre, Hertfordshire
The Verulamium Theatre really is one of the most significant and spectacular Roman ruins in England. Located in St Albans in Hertfordshire, this ancient theatre was thought to be built around 80–70 B.C. and is believed to be the largest theatre in Britain during Roman times. Imagine the shows that might have gone on there!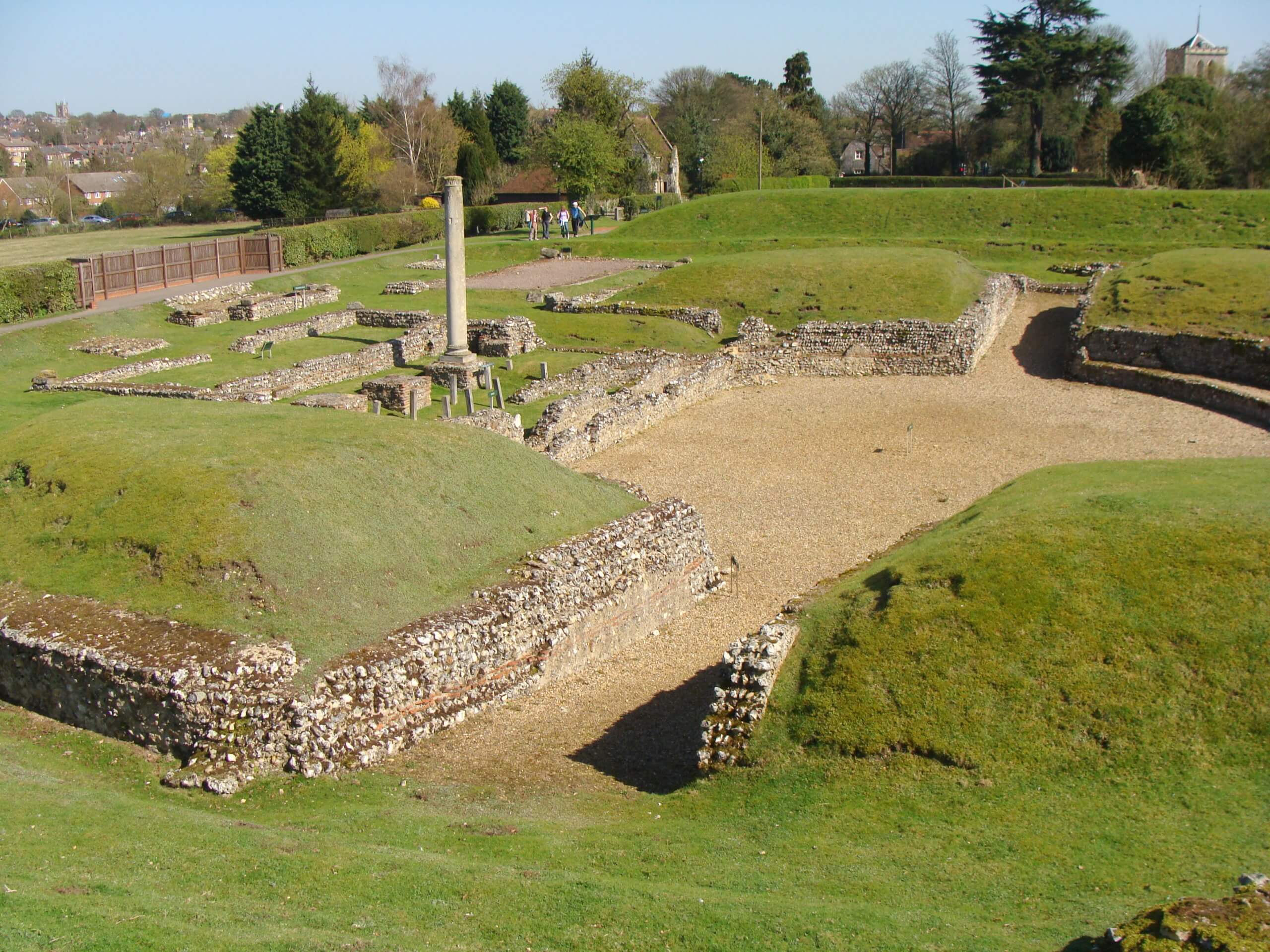 Unfortunately the site has suffered considerable damage over the years, due to agriculture and stone robbing, but visitors can still walk around the remains and see the two tiers of seating made from wooden planks and beams.
You'll also learn fascinating stories about how the Romans in this area entertained themselves by attending plays and gladiatorial fights at this impressive site. It really is one of the most amazing Roman ruins in England, so don't miss this one.
5. Hardknott Roman Fort, Cumbria
Hardknott Roman Fort is a ruin located in a remote location in Cumbria. You can find it near Eskdale's village, and head out to this remote but incredibly well-preserved location. Take your camera for this one and get a picture of how life looked during Roman times.
The ruins include preserved barracks, granaries, and an impressive bathhouse unearthed in the late 19th century. If you want to learn more about its history, there's also an information centre at the site that provides further insight into why this is one of the most interesting Roman ruins in England.
6. Roman Town House, Dorset
Located in Dorchester, Dorset, the ancient Roman Town House really is a marvel! The area is steeped in history, and this structure's claims to fame begin with the town's original founding by Emperor Vespasian himself back in A.D. 43. Once you enter the Town House, you'll feel completely enveloped in its incredible architecture and history.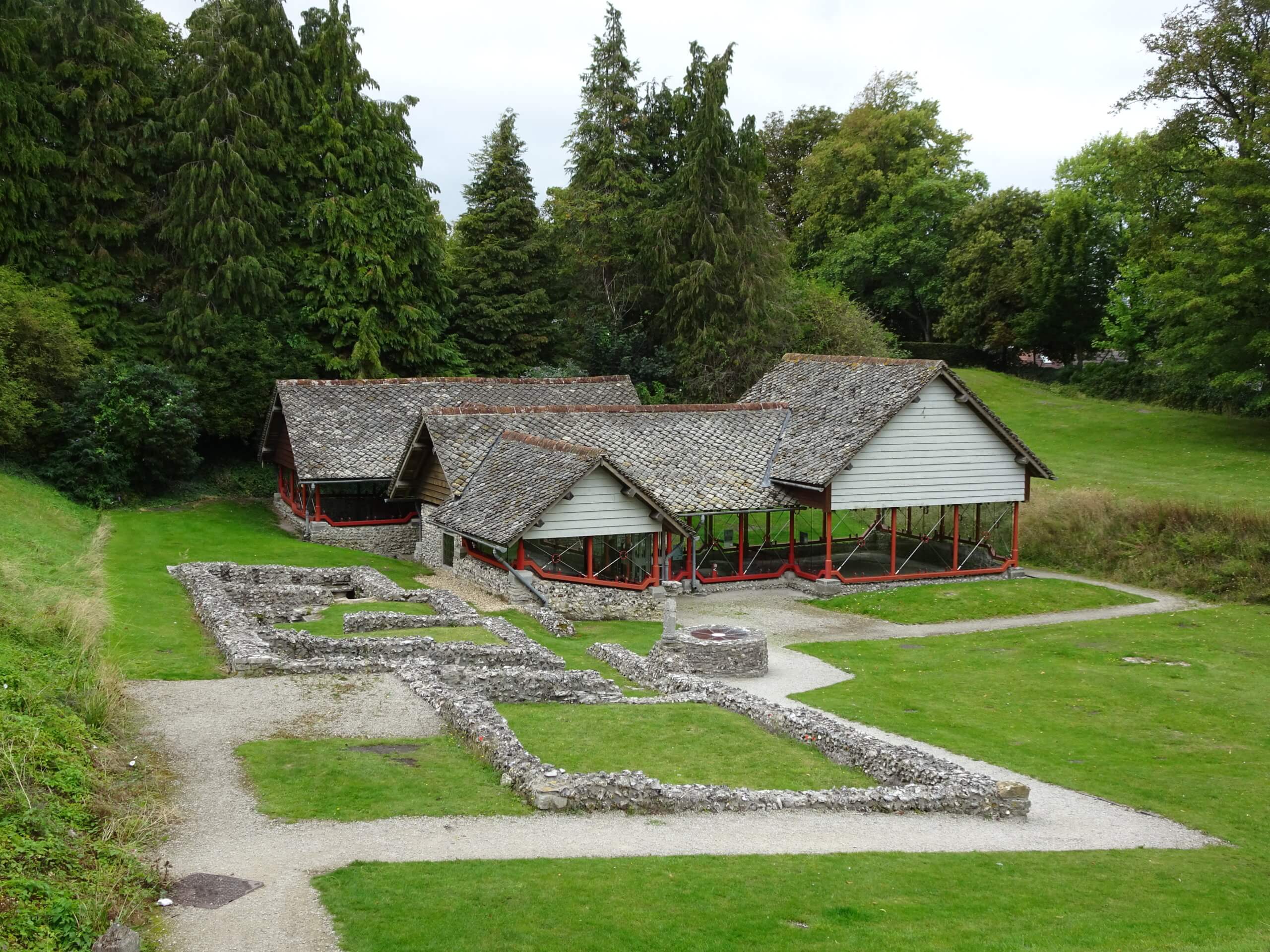 The ancient pillars stretch from floor to ceiling, while porticos ripple outwards and give voice to the past, which is ever-present in this historic structure. At one time it was a busy cultural hub in the area, and still somehow manages to retain some of that energy today. If you're looking to step back into ancient times, these are some of the most impressive Roman ruins in England so you won't want to miss them.
7. Richborough Roman Fort, Kent
Richborough Roman Fort in Kent is particularly special among England's many ancient Roman ruins, and once served as one of several gateways to Britain for the conquering Roman armies. It's also know for holding one of the largest fort portals on British soil, so it's a truly impressive site.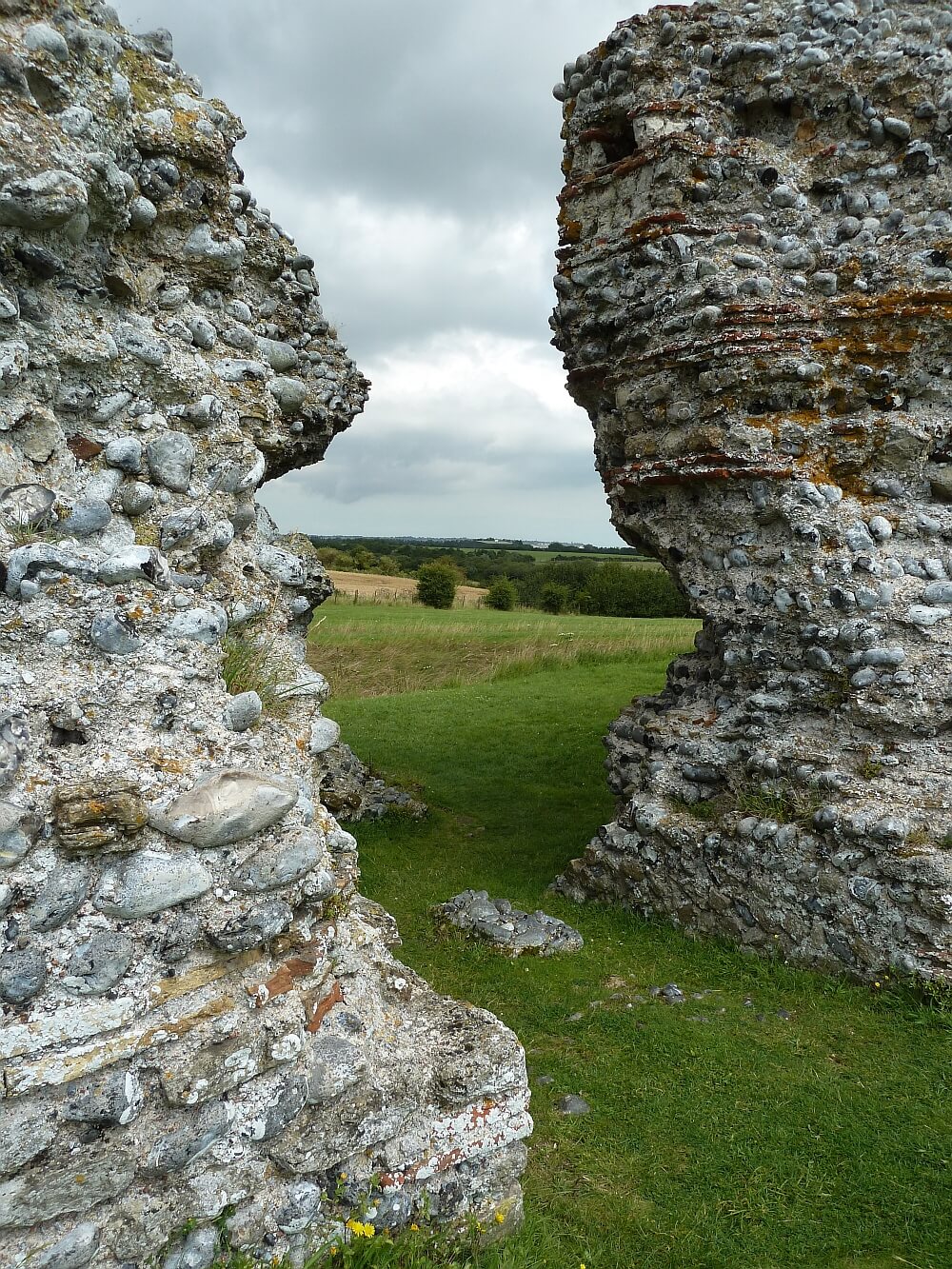 Though crumbled over time, its grand scale and strategic placement still amaze visitors to this day, who come from all over to marvel at its formidable history.
Archaeologists have uncovered everything from ceramics to coins, and many other interesting relics from the site. These artefacts now reside in museums to tell its story, so there is so much learning to be done at this incredible site. Richborough remains a great reminder of how powerful the Romans were during their reign, and these unique Roman ruins in England offer much to explore.
If you're heading to Kent for the day, you'll find many more days out in Kent right here.
8. London Wall, City of London
London is jam packed with things to do, and although history may not be the first thing you think of in this modern metropolis, there are actually some Roman ruins in London that visitors can explore. One particularly impressive one to spot in the city is the London Wall.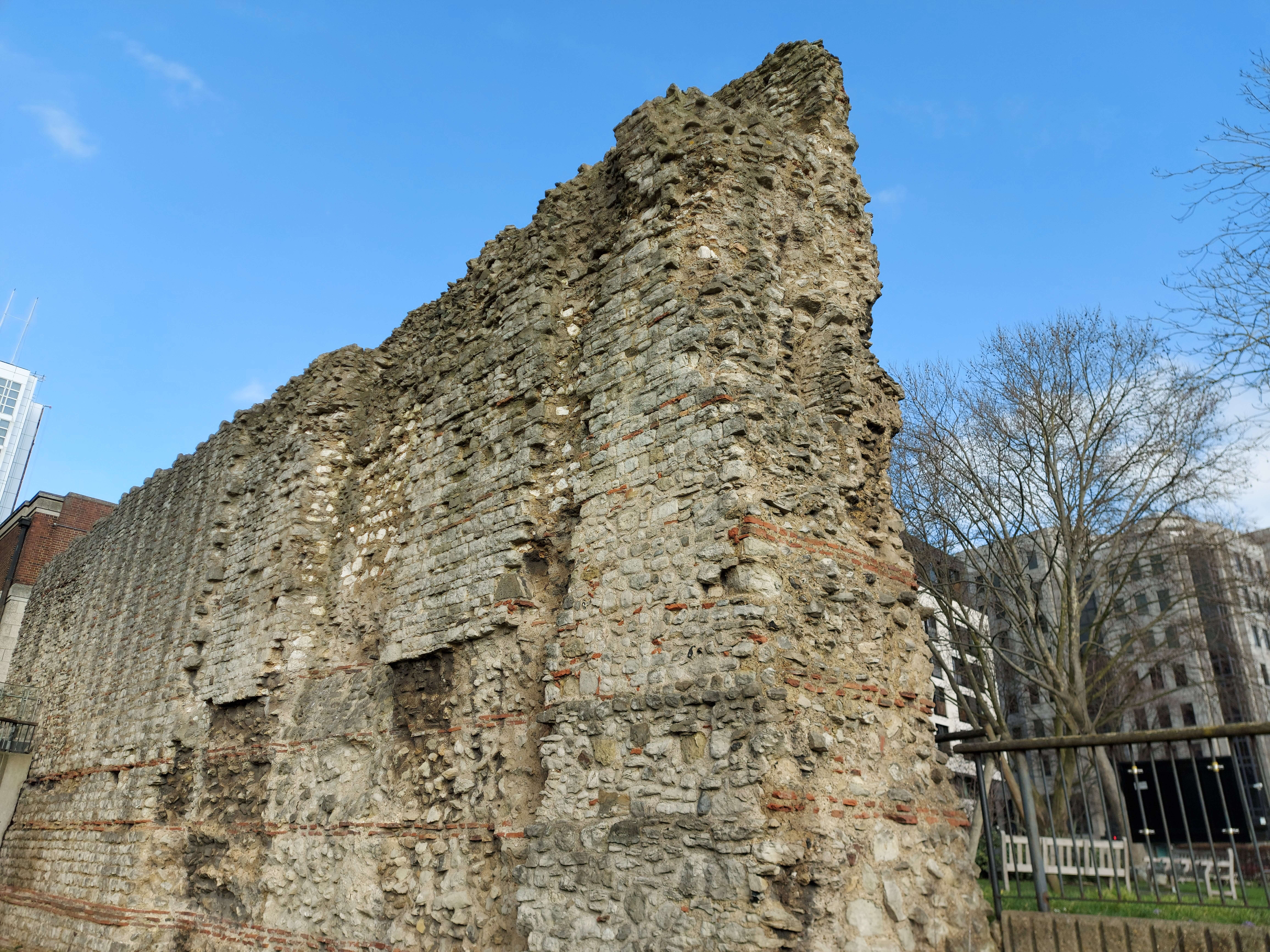 The Romans built the London Wall to protect the city from invaders, and back in the day it stretched 3 miles (4.8km) around the City of London. Since then it has been largely destroyed, but what remained did manage to survive the Great Fire of London in 1666.
Portions can still be visited, and visitors can explore its defensive towers, gates, and a section of its original stone wall that still exists today. The site has an interactive museum for you to learn the detailed history of the impressive structure and its role in Roman Britain.
This is a great site to visit if you're looking for Roman ruins in England, but while in London don't forget to also check out some of these FREE days out in London.
9. Aldborough Roman Town, North Yorkshire
Aldborough Roman Town is a stunning ruin located in Boroughbridge, North Yorkshire. During the Roman Empire it was in fact a flourishing town, and has been incredibly well preserved over the centuries, allowing modern-day visitors to explore the site of one of the most important Roman ruins in England.
You can walk around many impressive sites there, including a theatre, temples, baths, and other interesting buildings. The information centre at the site provides further insight into the history of Aldborough and its importance to the Roman Empire.
10. Arbeia South Shields Roman Fort, Tyne and Wear
Arbeia Roman Fort was once a major trading port in Roman Britain. Located in South Shields, Tyne and Wear, the impressive ruin has been preserved incredibly well over the centuries, as you'll see if you visit.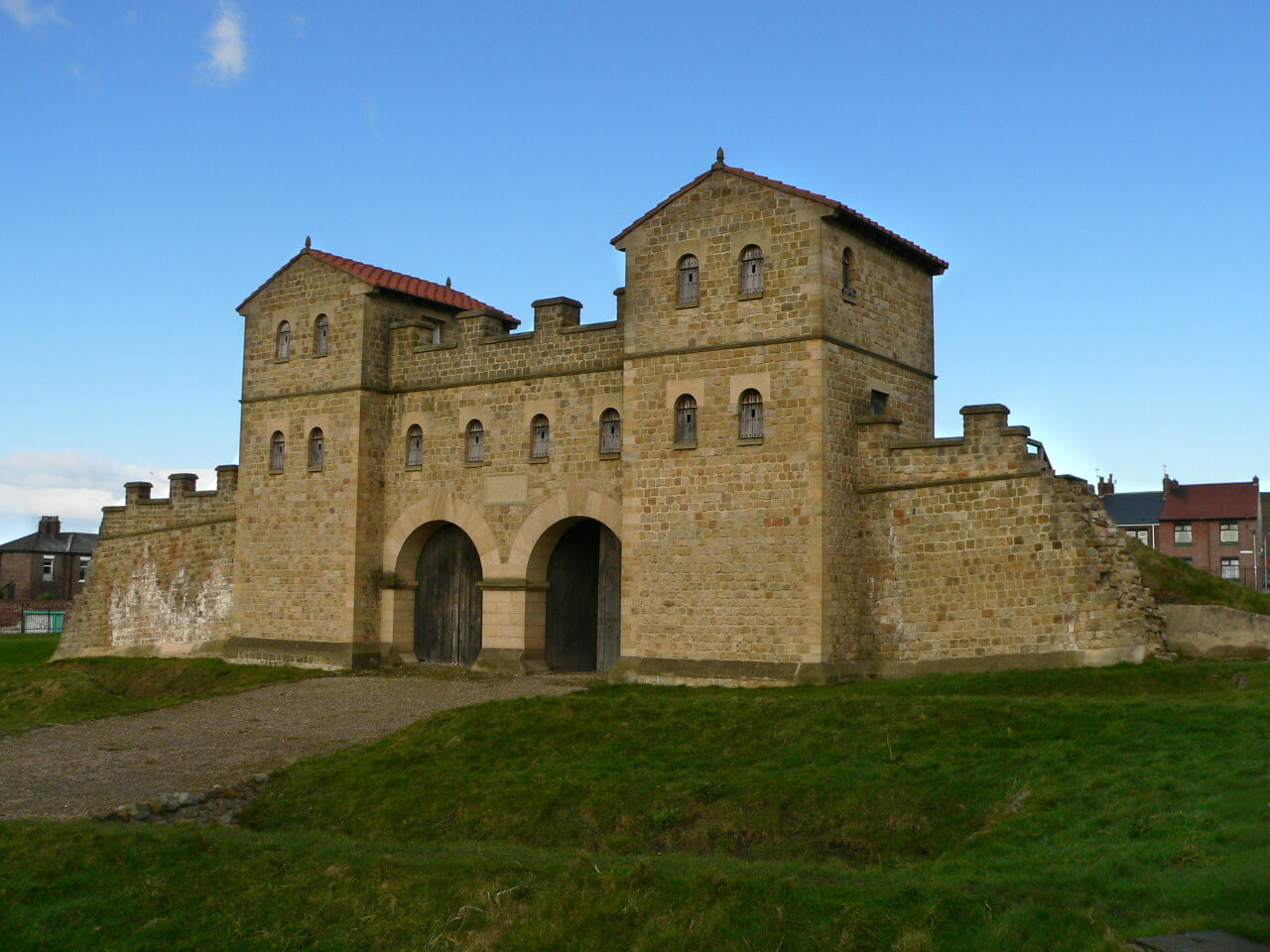 This fort offers visitors a fascinating glimpse into life during Roman times, with the remains of stone walls, barracks and granaries all around to explore. The information centre offers more in-depth knowledge of the history of the fort, and its role as a crucial supply point for the Romans in Britain. This is one of the most well-preserved Roman ruins in England, and definitely one to see if you're near Tyne and Wear.
10 Amazing Ancient Roman Ruins in England
These are just some of the many fascinating Roman ruins in England. A visit to any of these sites offers visitors a unique look at Britain's rich and somewhat mysterious past under Roman rule. Whether you're interested in exploring grand monuments or small villages from this era, these sites offer a snapshot in time and a look into what life was like in some of these impressive Roman ruins in England.
If you're into history, don't forget to find out if any of these fascinating castles in England can be found near you!
Quick List: 10 Amazing Ancient Roman Ruins in England
Wroxeter Roman City, Shropshire
Temple of Mithras, Northumberland
Brading Roman Villa, Isle of Wight
Verulamium Theatre, Hertfordshire
Hardknott Roman Fort, Cumbria
Roman Town House, Dorset
Richborough Roman Fort, Kent
London Wall, City of London
Aldborough Roman Town, North Yorkshire
Arbeia, South Shields Roman Fort, Tyne and Wear
---