Need a bit of body and mind rejuvenation at one of the best day spas in England? From country house spa retreats to subterranean thermal baths, England's best day spas offer a range of revitalising treatments that'll make you feel renewed.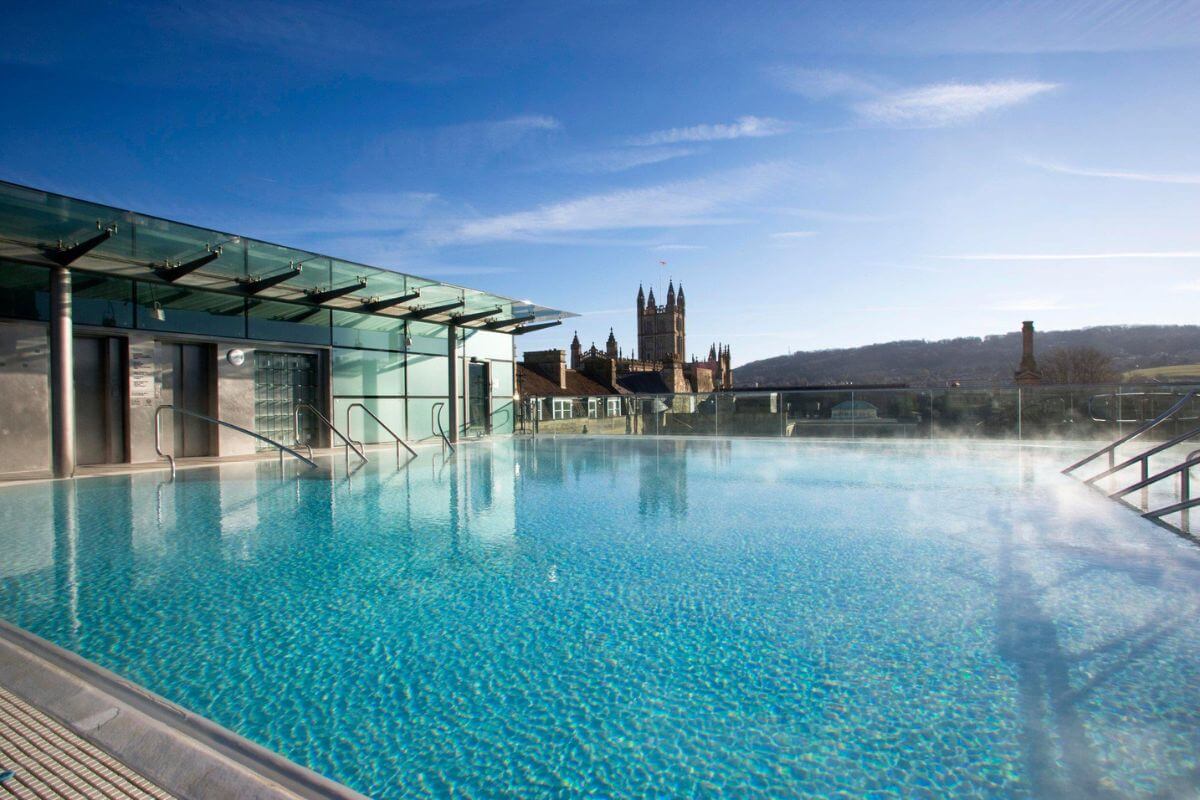 You don't need to embark on an adrenaline-fueled adventure or long countryside walk to make the most out of a day in England. Sometimes, it's better to treat yourself to a relaxing day of pampering, and there's no better place to get pampered than at a luxury spa in England.
Many of England's spas boast facilities such as beauty treatment rooms, heated pools, saunas, steam rooms and Jacuzzis. But at the very best spas in England, you'll find unique features ranging from outdoor pools with countryside views to salt baths beneath the city streets.
Whether you're looking for a new experience or just an opportunity to escape the stresses of daily life, one of the top spa days in England is just what you need.
Day Spas in England
From the Georgian Thermae Bath Spa in Somerset to the underground AIRE spa in London's Covent Garden, here's a selection of some of the most famous spas in England.
1. Thermae Bath Spa, Somerset
The Thermae Bath Spa is situated in an incredible Georgian building in the heart of Bath. It's packed full of luxurious facilities, but its highlight is arguably the rooftop pool. On a sunny day, light reflects off the pool water onto the surrounding buildings, creating a stunning backdrop of Bath.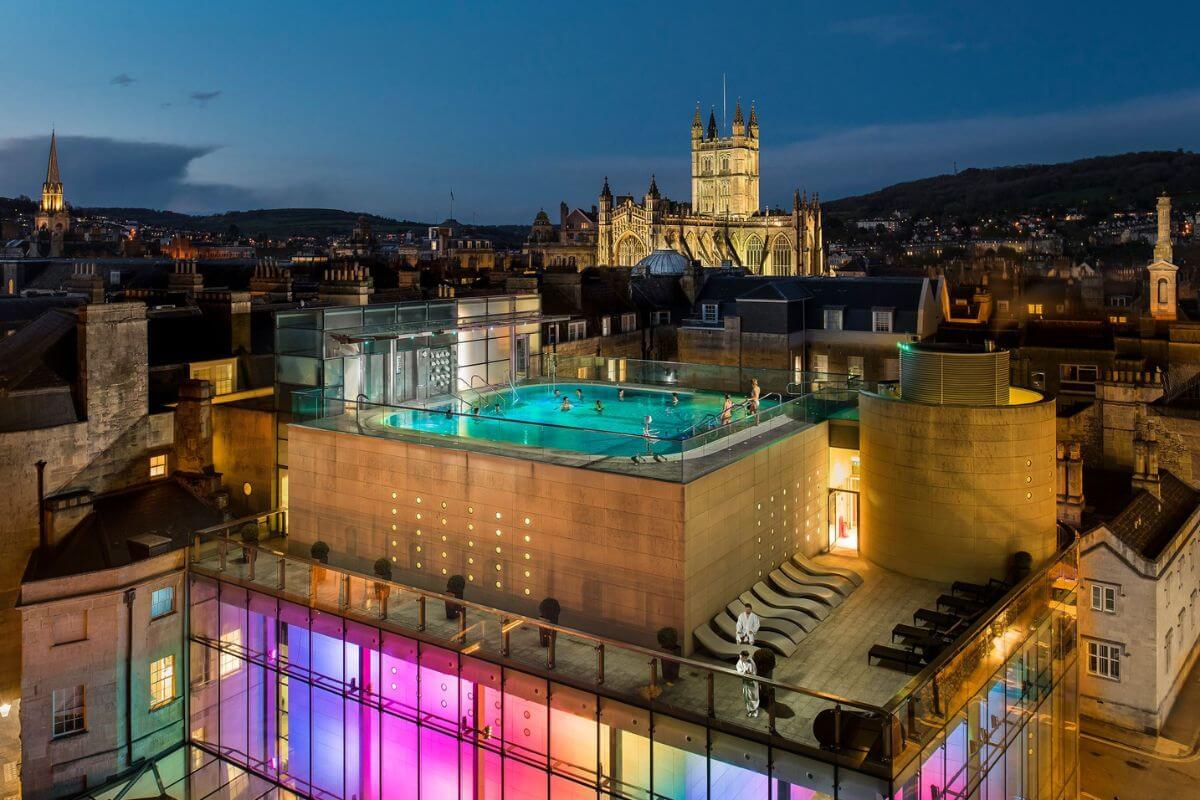 Throughout the spa, the water is cooled from its natural 40 degrees to 33.5 degrees Celsius, the optimum bathing temperature. It also contains 42 minerals that are reported to have a variety of health benefits.
Besides the rooftop pool, Thermae Bath Spa's facilities include steam rooms, a downstairs pool with a lazy river, a sauna and a jacuzzi. There's also a café for when you need to refuel.
You'll need about two hours to make the most of your visit to this famous spa in England, making it an ideal place to squeeze into a day out in Bath. If you're staying in the city, you might want to get out and explore the best attractions in Somerset, such as Burnham-on-Sea Beach and the Exmoor National Park.
2. Low Wood Bay Resort & Spa, Lake District
Fancy making your trip to the Lake District even more relaxing? We suggest booking a spa day in Windermere at the Low Wood Bay Resort & Spa, which boasts a wide array of thermal spa facilities – both indoor and outdoor.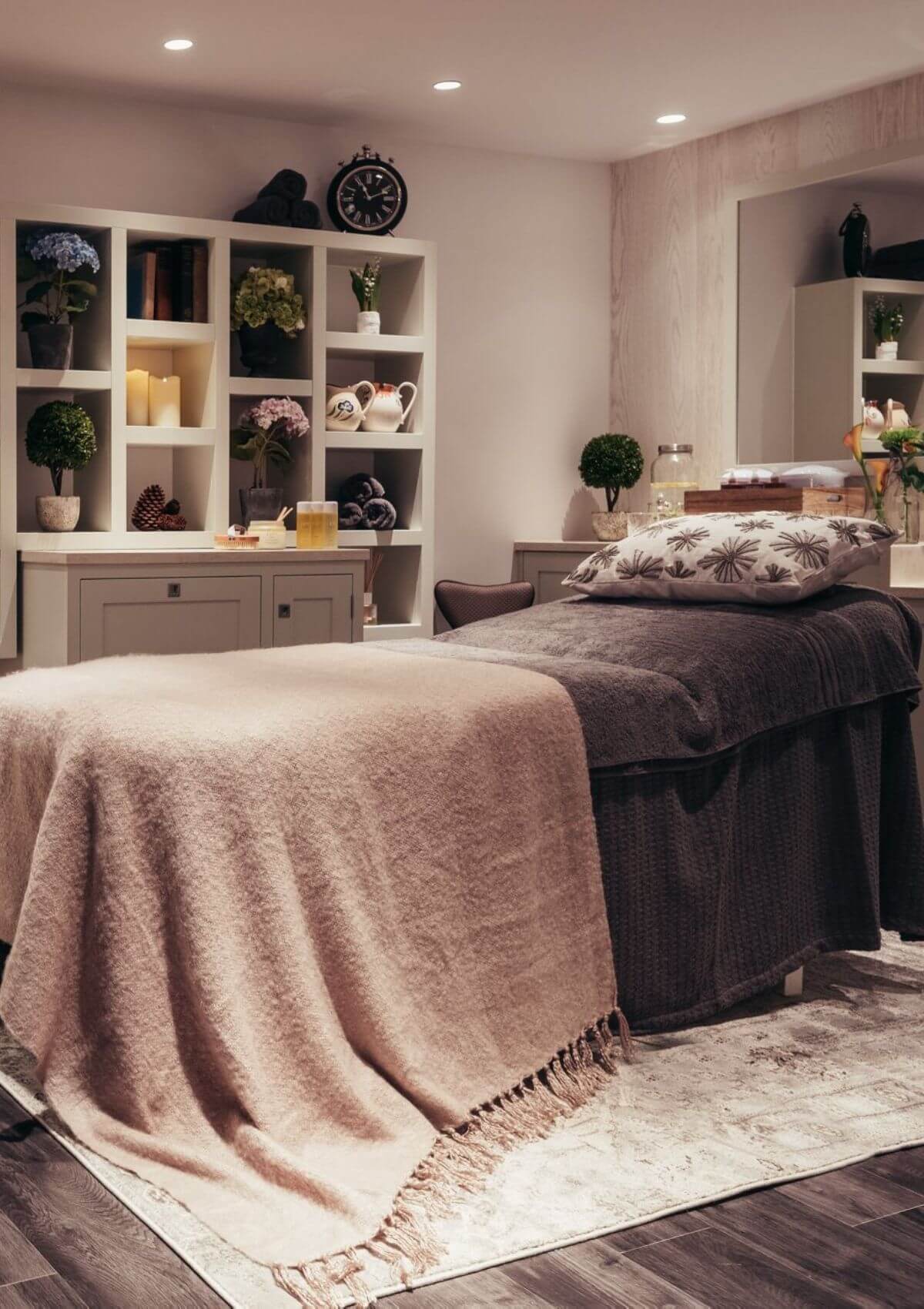 When the weather allows, you can soak in the outdoor hot tub or the infinity pool that overlooks Lake Windermere. If you need to warm up, you can de-stress in the outdoor sauna or grab a spot by the fire pit.
Inside the Low Wood Bay Resort & Spa, you'll find facilities such as a coconut steam room, an herbal lounge, a relaxation lounge, a vitality pool and a dry salt sauna. The spa's therapists offer treatments ranging from massages to body scrubs using Berry & Birch and ESPA wellness products.
You can treat yourself to a spa day at Low Wood Bay for as little as £125. If you need to cut back on spending, you might want to book a half-day session instead. There are plenty of scenic picnic spots in the Lake District for afterwards.
Looking for some slightly different spa facilities and treatments? Find out about the most luxurious day spas in Windermere.
3. Turkish Baths Harrogate, North Yorkshire
It makes sense that 'God's Own Country' is home to some of the most incredible day spas in England. If you fancy a session at one of the most unique day spas in Yorkshire, you should book an appointment at the Turkish Baths Harrogate, which opened in 1897.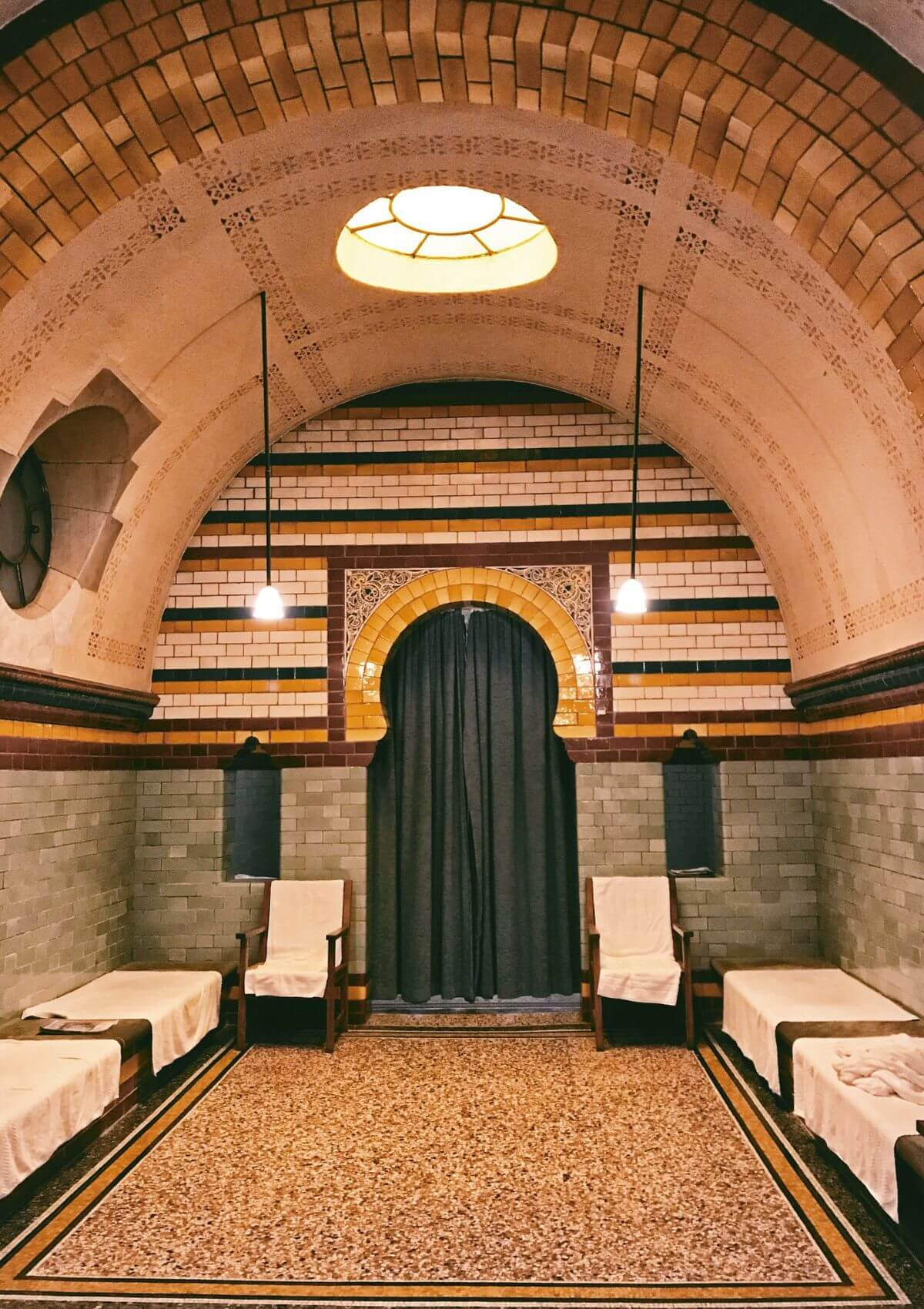 The Turkish Baths are situated in an ornate Victorian building, whose architecture and interior takes influence from Moorish design styles. Inside, you'll see features such as painted ceilings, original tiled floors, glazed brickwork and ornate arches.
With a focus on cooling and heating rituals, the facilities at the Turkish Baths include a caldarium, frigidarium, a laconium dry sauna and a frigidarium. If you need a full-body reset, treat yourself to a Neoms Organics beauty treatment or a holistic massage.
Ticket prices at the Turkish Baths Harrogate start at just £20. During your day out in Harrogate, you might want to visit highlights such as Bettys Café Tea Rooms or the Royal Pump Room Museum. You should also pay a quick visit to Knaresborough, one of the most interesting towns in England.
4. The Spa at Bedford Lodge, Norfolk
Housed inside an elegant Victorian property in Newmarket, The Spa at Bedford Lodge is one of the most luxurious spas in Norfolk, offering treatments from massages to maternity therapies.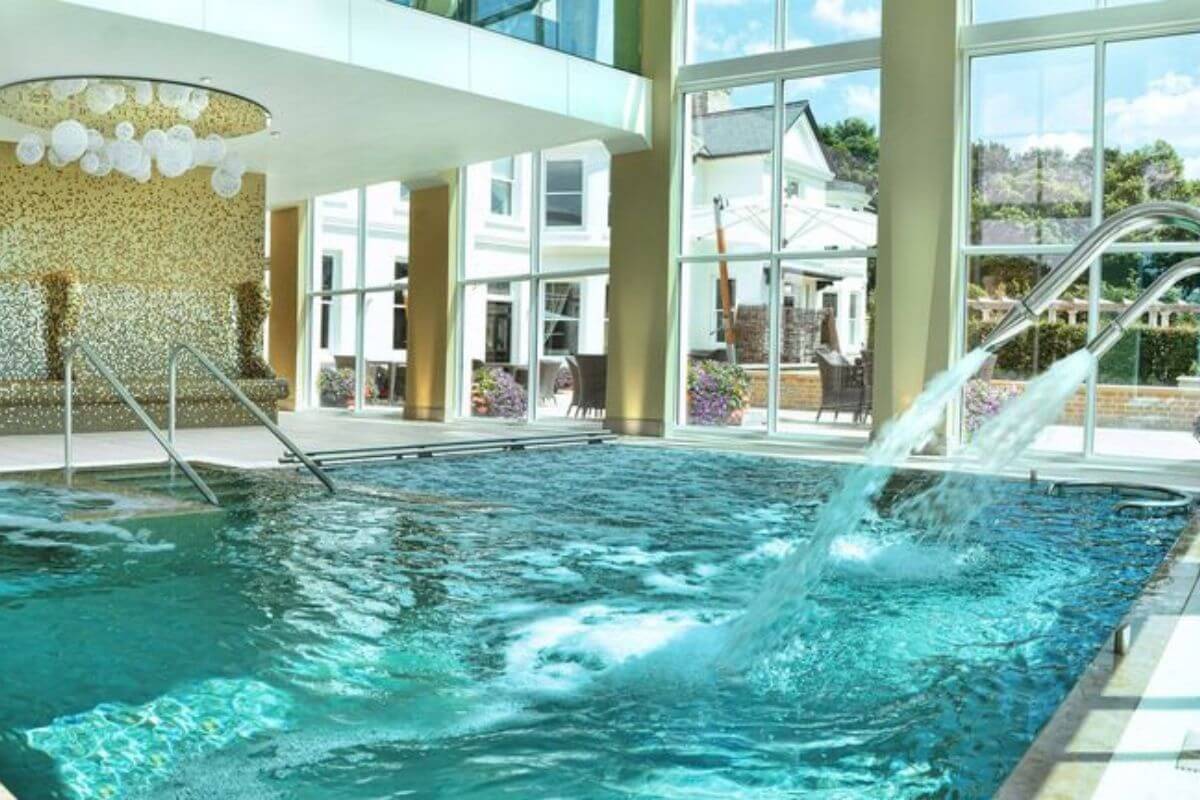 One of the spa's standout features is the rooftop hot tub, which offers sprawling views of the manicured grounds. There's also a hydrotherapy pool, a Rasul for mud treatments, a decadent relaxation room, and a thermal area fitted with a steam room, hammam and sauna.
If you fancy a makeover, you can reserve beauty treatments such as pedicures and manicures. When you just want to put your feet up, you can order healthy and indulgent food in the spa lounge.
With a range of treatments for couples available, The Spa at Bedford Lodge is an ideal place for a romantic day out in Norfolk.
5. Simpsons Boutique Spa, Lincolnshire
At Simpsons Boutique Spa, you can enjoy a range of beauty and wellness treatments within the grounds of the Vedanta (Branston Hall).
Spa therapists deliver expert massages in six well-equipped treatment rooms. For a bit of alone time, you can relax in the sauna, swimming pool, hydrotherapy tub or Arabian herbal steam room. There's also a plunge pool for those interested in hot and cold thermal therapies.
On top of spa facilities, Simpsons Boutique Spa has plenty of stylish places to kick back, such as the Slumber Cabin, Relaxation Conservatory and garden igloos. Delicious bites and beverages are available from the on-site café.
Despite being on the more luxurious side of day spas in England, Simpsons Boutique Spa offers half-day sessions for as little as £115. Full-day pampering sessions start at £175. You can make your spa day extra special by combining it with an afternoon tea experience.
Staying in the area for a while? There's a host of amazing spas in Lincolnshire, such as the eco-conscious Laceby Manor and the bijou-style Grange Spa.
6. The Coniston Hotel Country Estate & Spa, North Yorkshire
Set within the grounds of a pristine 1,400-acre estate, the Coniston Hotel Country Estate & Spa features all the indoor spa facilities you'd expect, plus a range of alfresco amenities such as an infinity pool.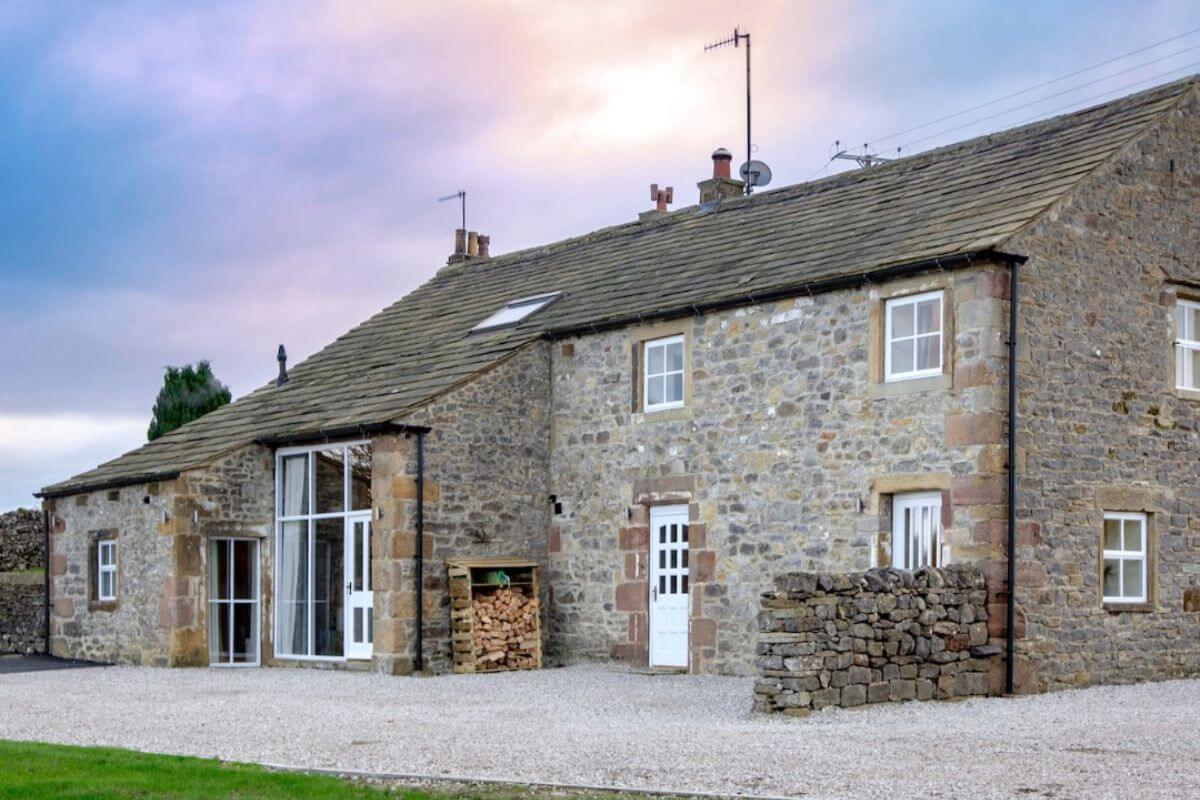 While relaxing in the hydrotherapy infinity pool, you can soak up views of the estate's scenic lake backdropped by the Yorkshire Dales. On chilly days, you can cosy up next to the fire pits on the terrace.
Inside, there's a 15-metre pool and a range of treatment rooms, where aromatherapy associates administer rituals using OTO spa products.
If you need to unwind after a long walk across the Yorkshire Dales, this has to be one of the best places to fit into your day out in North Yorkshire.
7. Cottonmill Club Spa (Sopwell House), Hertfordshire
Whether you want a day of pampering or a spa weekend in England, you can't go wrong by heading to the Cottonmill Club Spa in the grounds of the 4-star Sopwell House.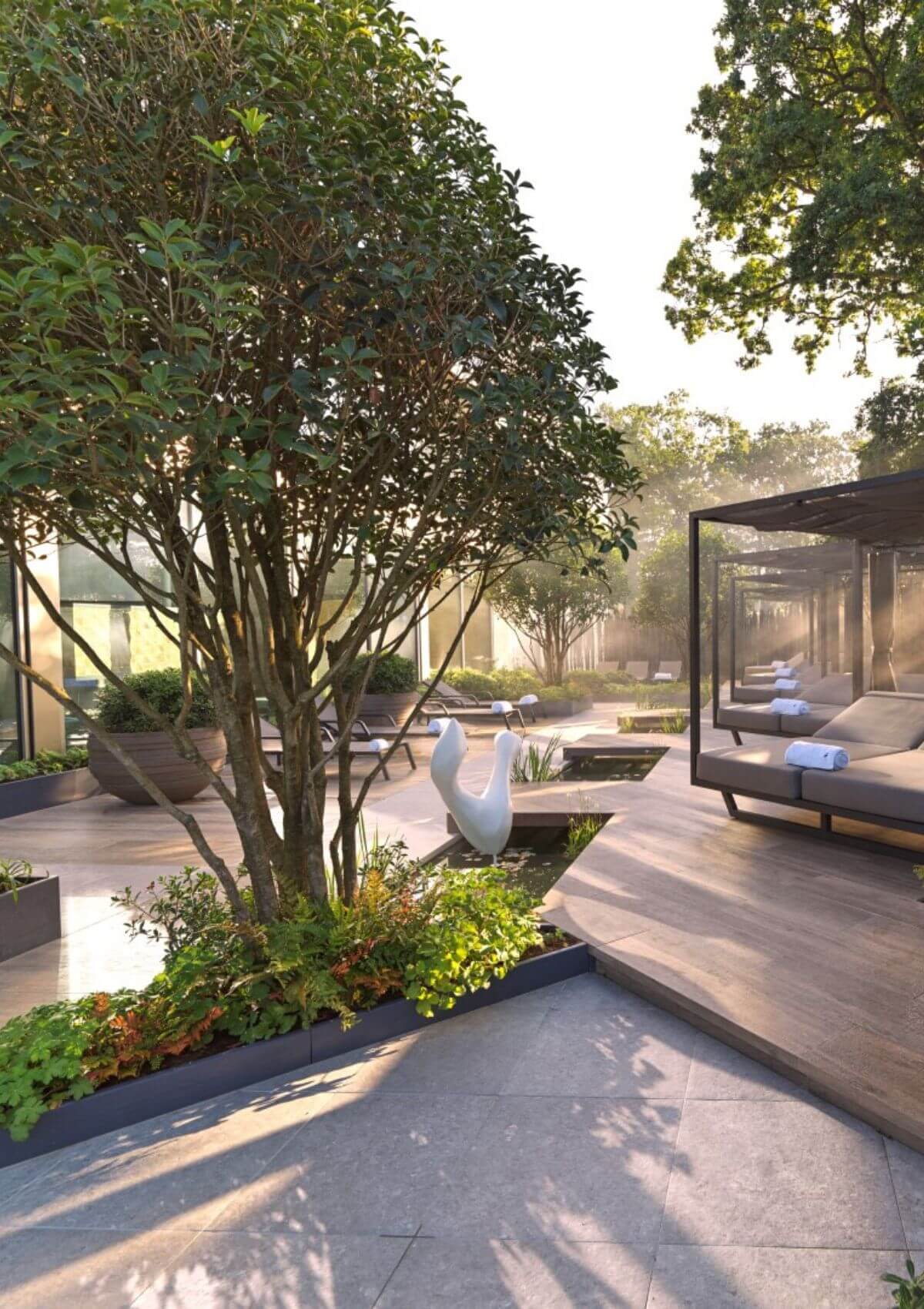 Inside this Georgian country house, you can use superb facilities that range from vitality pools to steam rooms. There's also a poolside terrace and a state-of-the-art gym.
All spa day packages at the Cottonmill Club Spa give you access to the Garden Room, Deep Relaxation Room and the Whisper Room. If the weather is on your side, you can catch some sun in the luxurious spa gardens.
If you're in the mood for a bit of adventure after your day of pampering, you'll find plenty of exciting things to do in Hertfordshire, such as encounter animals at the Paradise Wildlife Park and delve into the past at the Natural History Museum.
8. Chewton Glen Hotel & Spa, Hampshire
Located in a 5-star luxury manor hotel in Hampshire, the Chewton Glen Hotel & Spa is at the top end of opulence when it comes to spa breaks in England.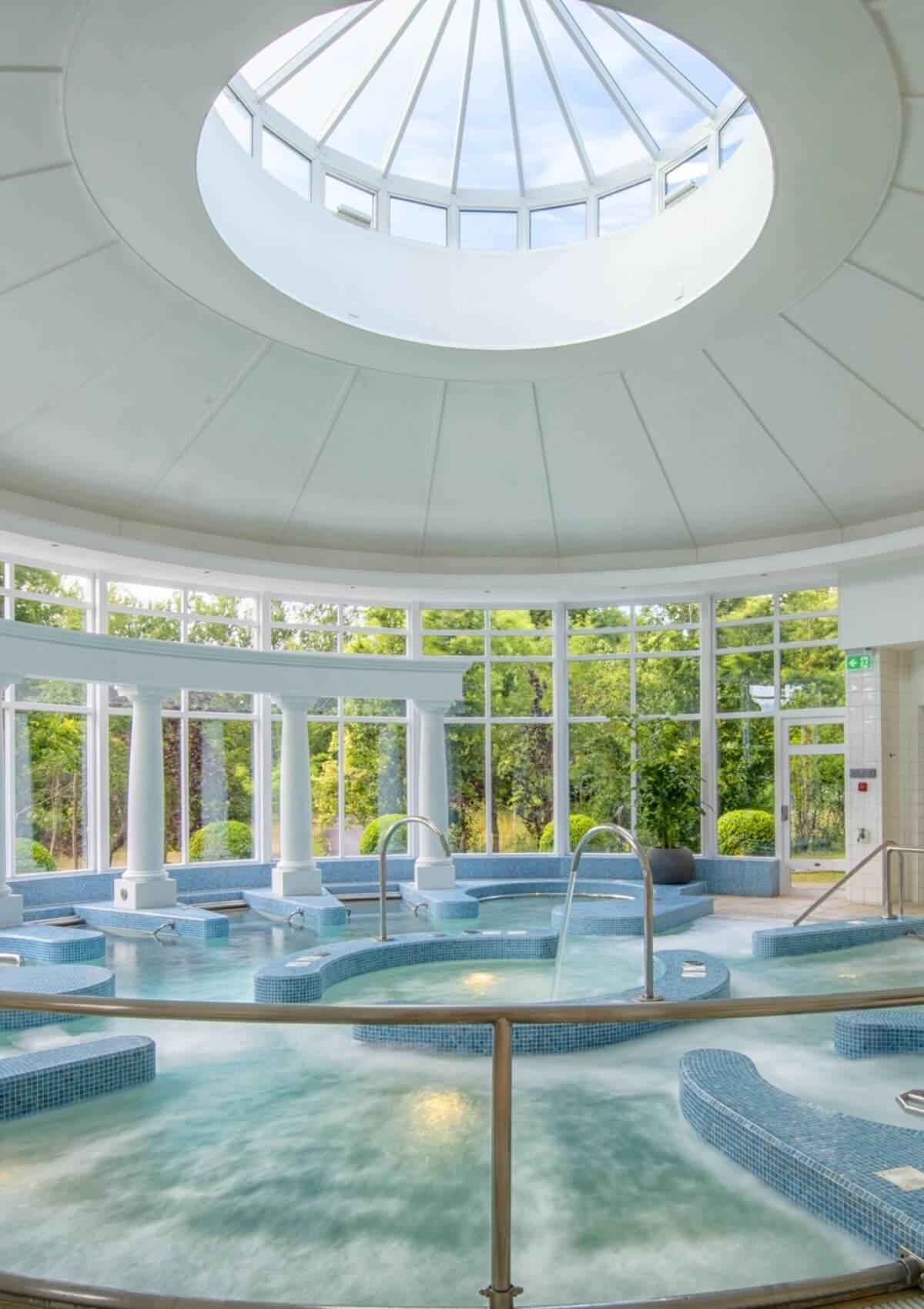 The spa's interior was tweaked by renowned designer, Anita Rosato, and features yellow-tinted Doric columns and Roman-style murals.
Some of the best facilities here include a 55-feet pool, a range of luxury treatment rooms and a fully equipped gym that overlooks the landscaped garden. Treatments include scrubs, massages and wraps with the spa's bespoke signature products.
We highly recommend visiting the Chewton Glen Hotel & Spa on a day out in Hampshire, though if you want to treat yourself, you might consider staying a night or two.
9. AIRE Ancient Baths, London
If you fancy a spa day in England with a difference, head over to the AIRE Ancient Baths in London, which is hidden out of view beneath ground level in the trendy Covent Garden borough.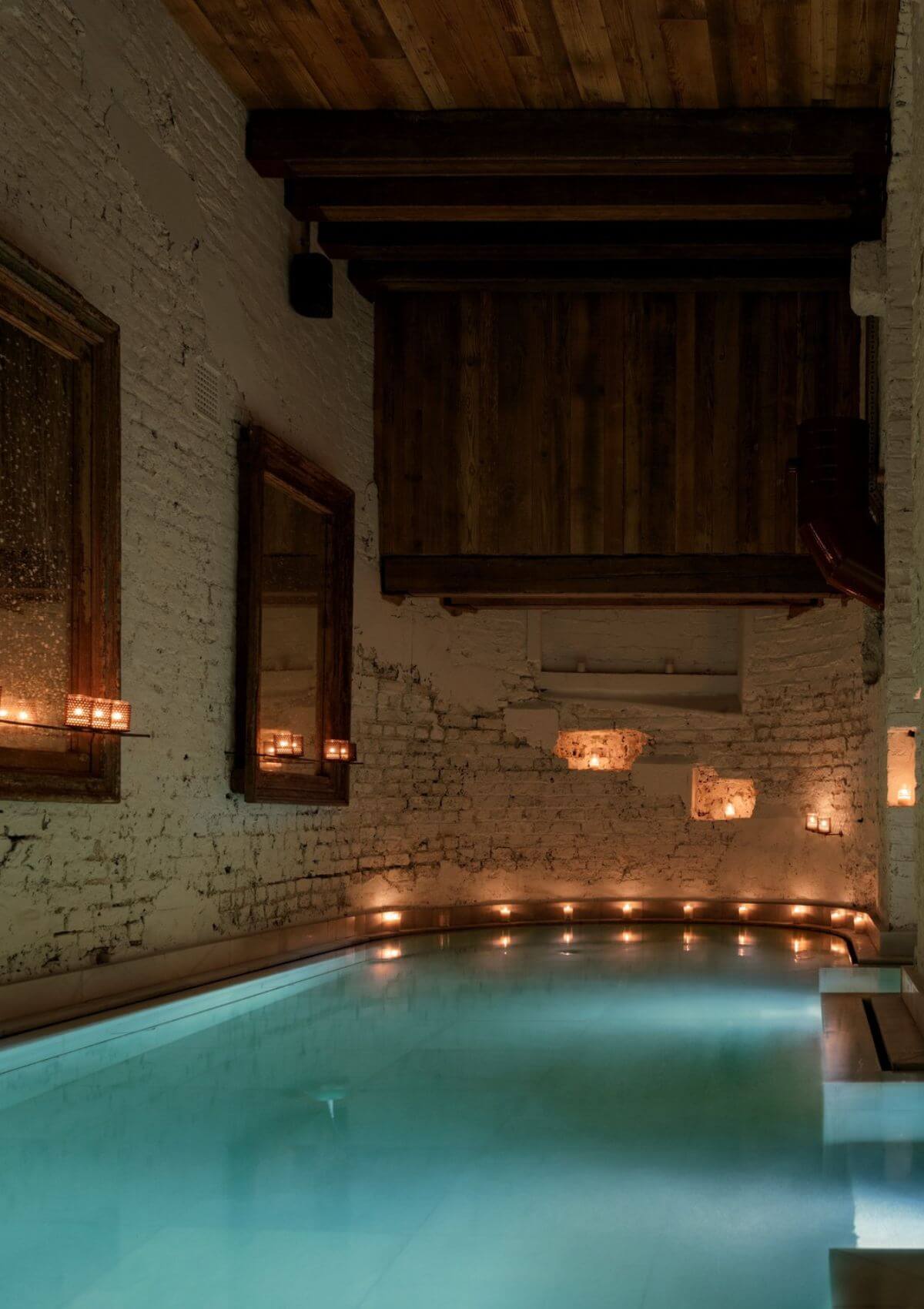 In the former wine cellar of a 17th-century Neoclassical terrace, you can unwind in beautifully designed thermal pools in a truly enchanting space that takes inspiration from ancient predecessors.
In total, there are seven pool-sized baths in rooms such as the Vaporium and the salt-filled Flotarium. If you want to push yourself, you can take a dip in the ice baths. Treat yourself to a well-deserved massage and spa ritual as a reward.
With prices ranging from £98 to just short of £500 per person, the AIRE Ancient Baths are a fantastic place to visit if you want to splash out on yourself a little. To save a bit of money during the rest of your trip, find out about some of the best free things to do in London.
Treat yourself to a pampering at the best day spas in England
No matter where you are in England, you're never far away from one of the nation's most luxurious day spas, many of which double up as hotels that offer rejuvenating spa breaks. Whether you fancy a holistic day of pampering or just a dip in a thermal pool, one of the best day spas in England has you covered.
Have we missed any unique spa days in England that you readers might like to know about? Let us know by leaving a comment below.
Quick list of the best day spas in England
Thermae Bath Spa, Somerset
Low Wood Bay Resort & Spa, Lake District
Turkish Baths Harrogate, North Yorkshire
The Spa at Bedford Lodge, Norfolk
Simpsons Boutique Spa, Lincolnshire
The Coniston Hotel Country Estate & Spa, North Yorkshire
Cottonmill Club Spa (Sopwell House), Hertfordshire
Chewton Glen Hotel & Spa, Hampshire
AIRE Ancient Baths, London
---