Planning a day out in Harrogate? This heritage spa town boasts a wealth of historical, family-friendly and free attractions. There's also plenty to see on the town's doorstep.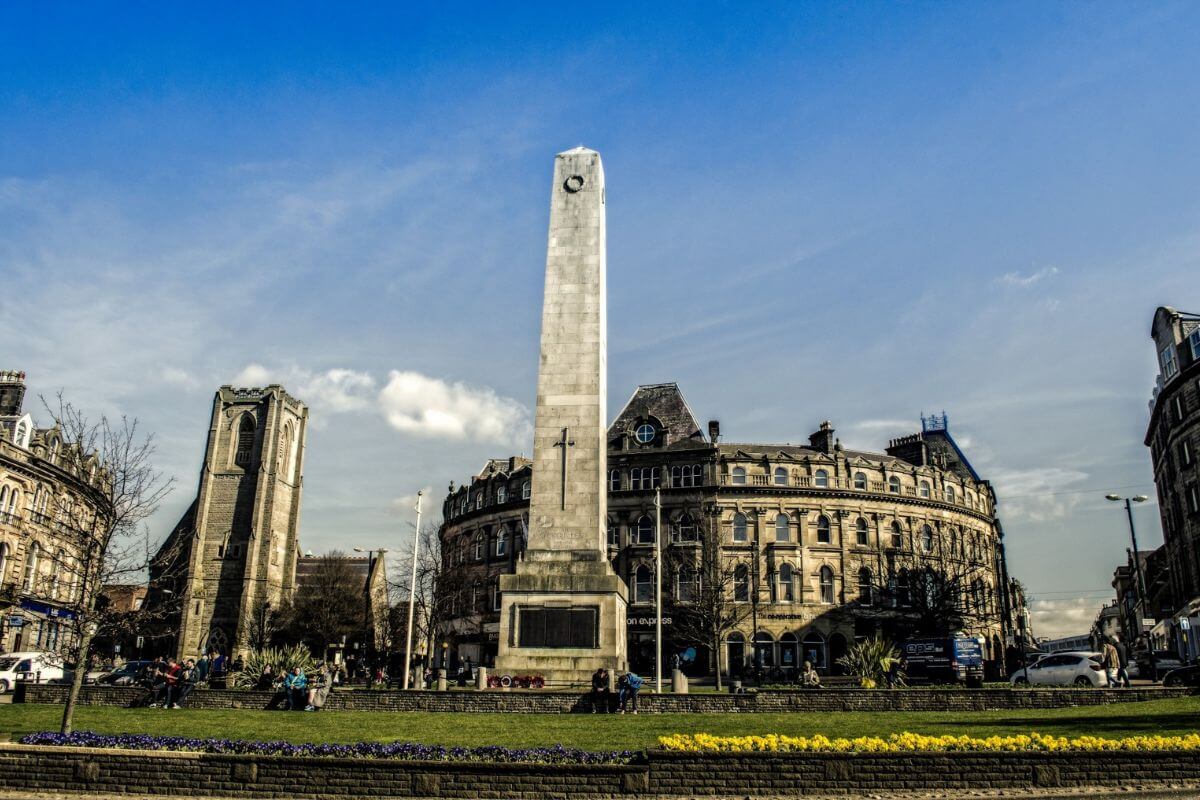 With a heritage of posh tea rooms, thermal spas and incredible Victorian and Georgian architecture, Harrogate enjoys a well-deserved reputation as being one of England's best classic spa towns. Add all that to manicured gardens, a delicious dining scene and picturesque surrounds, and you can see why Harrogate has been a preferred retreat for visitors ranging from famous novelists to Russian aristocrats.
Harrogate's heyday as an international tourism destination may be over, but it's still often named as one of the best places to live in England. Besides the multitude of things to do in Harrogate itself, you'll find plenty of amazing places just beyond the town's limits, including the magnificent Yorkshire Dales. Harrogate really is one of the best places to visit on a day out in North Yorkshire.
Things to Do on a Day Out in Harrogate
Our guide to the must-visit attractions in Harrogate town centre
1. Bettys Café Tea Rooms
Bettys Café Tea Rooms has been a mainstay of Harrogate since 1919, cherished for its menu of British and Swiss-inspired delights.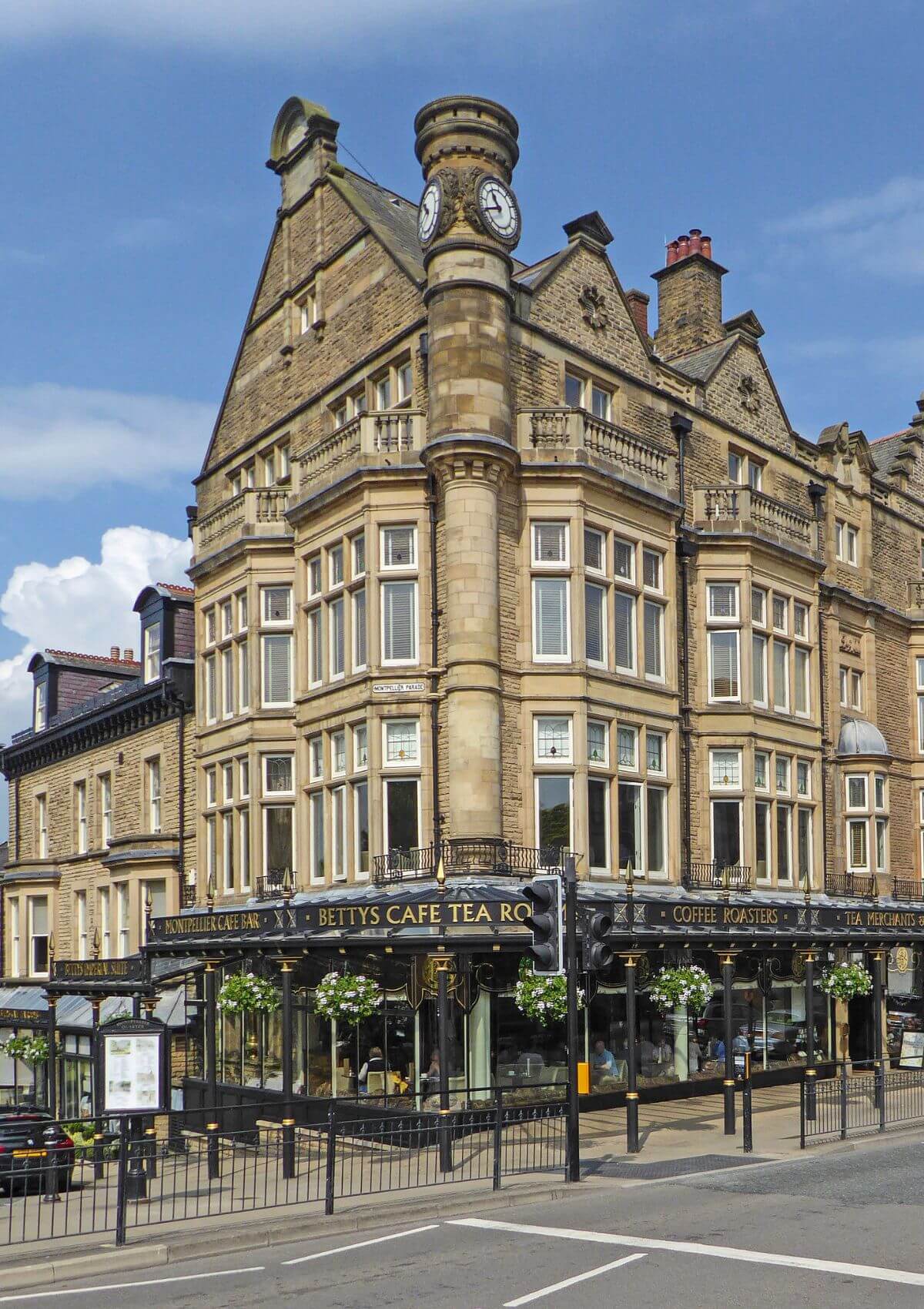 The Harrogate branch was established by Swiss confectioner Frederick Belmont in 1919. Four generations later, Bettys Café Tea Rooms remains a Yorkshire institution for breakfast, lunch and its famous Afternoon Tea.
Besides seasonal British-Swiss breakfasts and brunches like Rösti and Chicken Schnitzel, Bettys serves scrumptious homemade sandwiches, pastries, scones and cakes. If you feel spoilt for choice, try menu highlights such as the Chocolate Torte and the Fat Rascal (a Yorkshire scone). All dishes go great with Betty's wide range of hot beverages and herbal teas sourced from the world-over.
It's not uncommon for queues to form out of the door at Bettys, particularly during Afternoon Tea on weekends. After all, tea is one of the most popular drinks in England. When you taste the food and soak up the traditional atmosphere complete with period-uniformed staff, silver cake stands and views of the Montpelier Gardens, you'll see why visiting Betty's is a must on a day out in Harrogate.
Bettys Café Tea Rooms is open daily from 9am to 5pm – 6pm on Fridays and Saturdays. If you fancy splashing out a little, you can reserve an Afternoon Tea in the opulent Imperial Room and sip a glass of bubbly with your meal.
2. Valley Gardens Harrogate
Spanning 17 acres, the Grade II listed Valley Gardens are filled with heritage monuments, parklands and themed gardens. It's also where 36 of Harrogate's springs were discovered.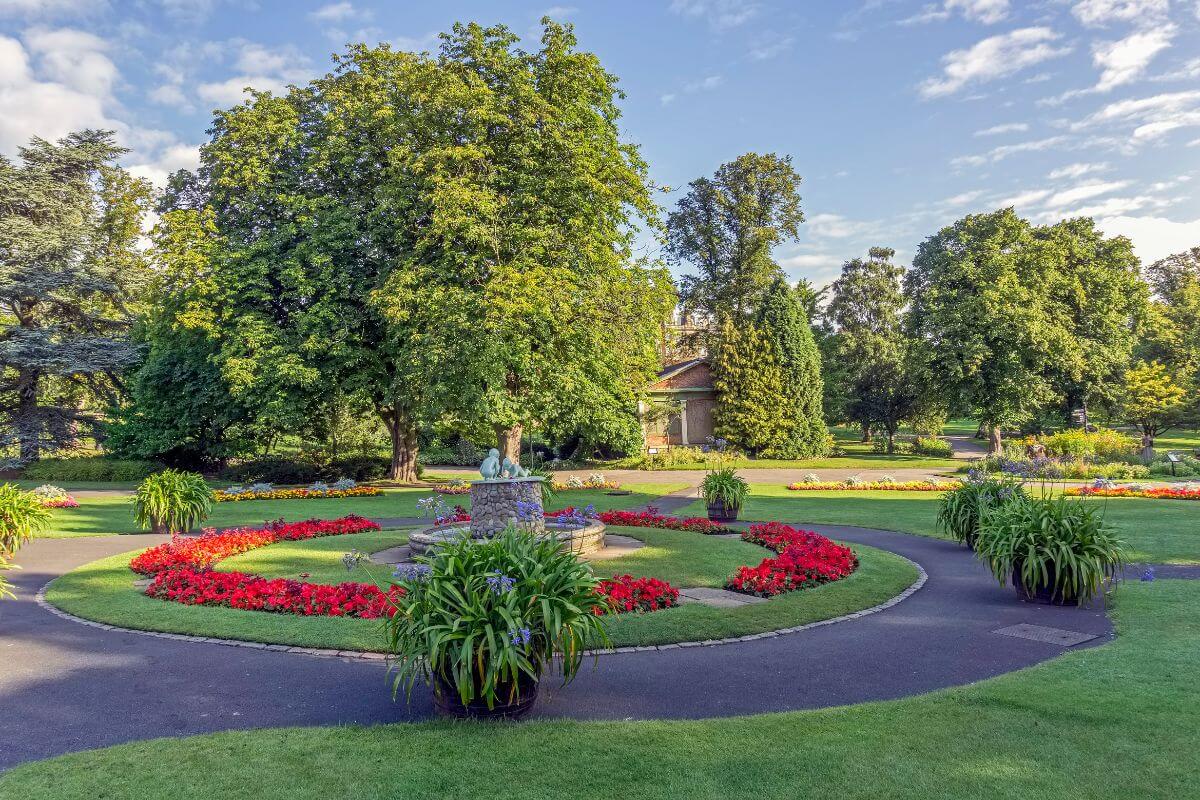 Some of the highlights of the Valley Gardens include the New Zealand Garden, the Japanese Garden, the Sun Pavilion, and the various displays of British blooms. Historical structures include the Magnesia Well Café, the Old and New Magnesia Well Pumps, and the remnants of the mineral springs of 'Bogs Field'.
With facilities including a skate park, boating lake, kid's play area, paddling pool and crazy golf course, the Valley Gardens offer a perfect day out in Harrogate with the kids. There's also a small stage that hosts concerts on most Sundays throughout summer.
No admission fees and an abundance of leisure activities place the Valley Gardens among the best free things to do in Harrogate for families, couples and lone wanderers. To make the most of the outdoors on your day out, follow the walking trail from the gardens through the countryside to Harlow Carr.
While you're here, you might want to check out some more of England's best gardens.
3. Turkish Baths Harrogate
The ornate Turkish Baths helped put Harrogate on the map during the Victorian era, when the town became a prominent spa and wellness retreat.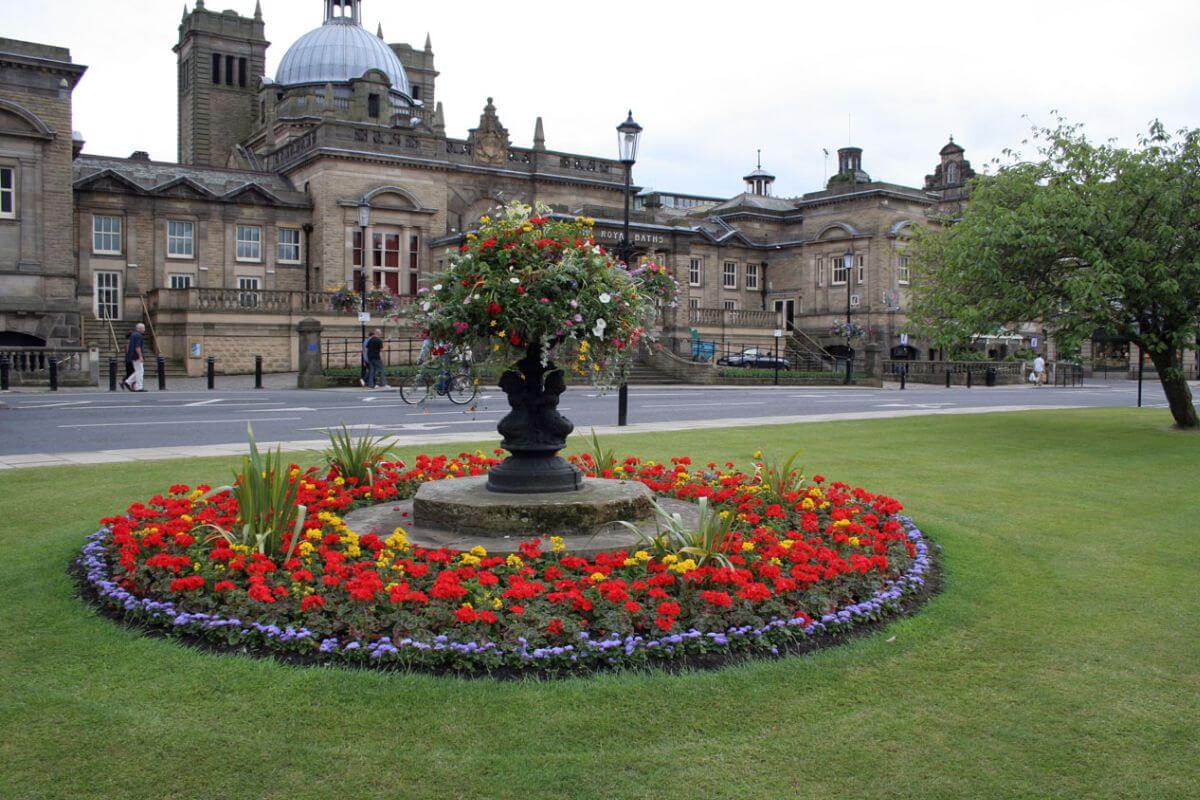 Inside this 19th-century bathhouse that's inspired by Moorish architecture, you'll see mosaic glazed ceilings above Islamic arches and terrazzo floors. Besides an exquisite design, the Turkish Baths in Harrogate boast steam rooms, a plunge pool, heated chambers and a frigidarium.
The bathing ritual that cools, heats and cleanses your mind and body lasts two to three hours. You can also treat yourself to facials, Himalayan salt massages and holistic spa therapies if you need a little extra pampering.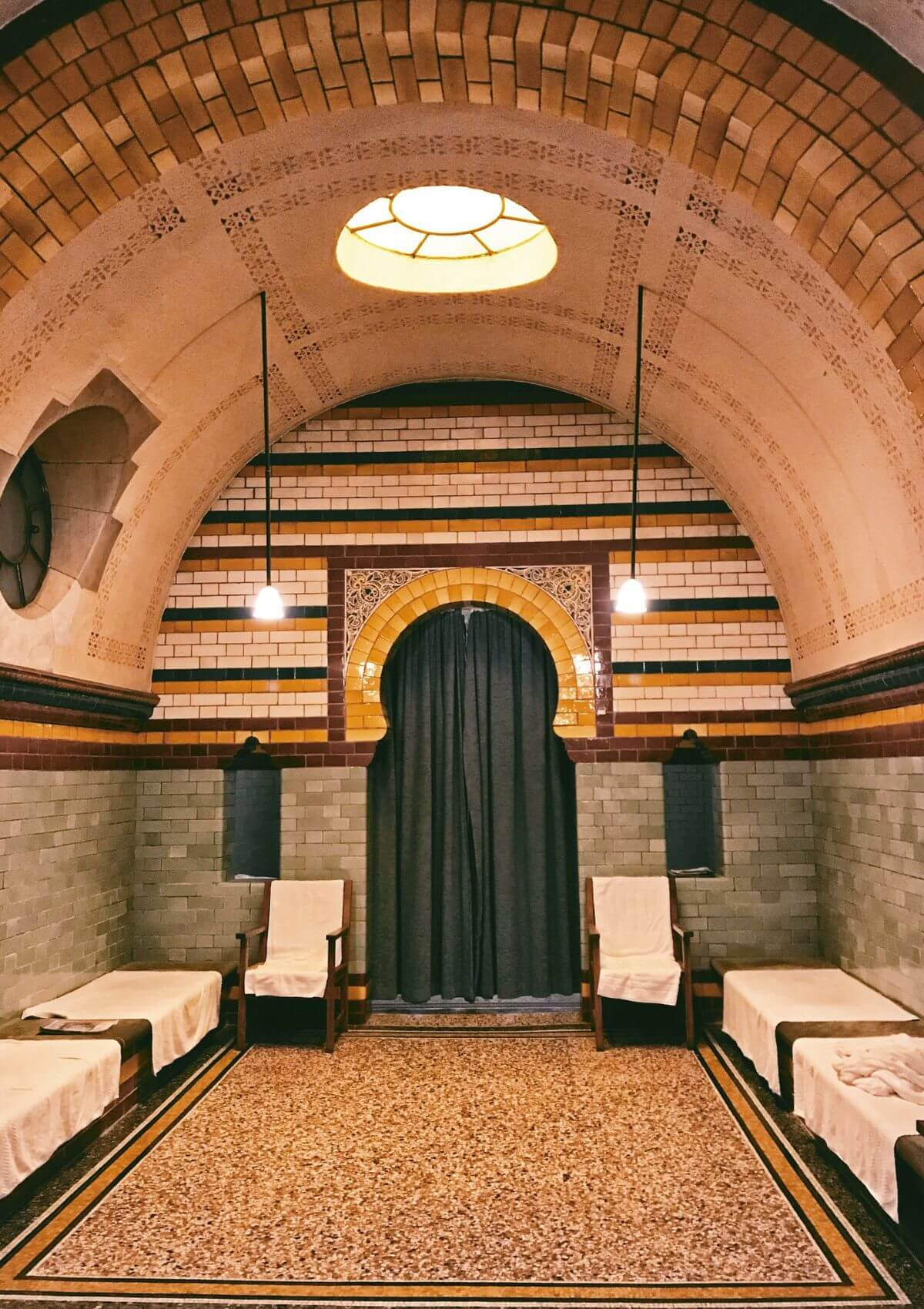 You should book a class at the Turkish Baths in advance as it's one of the most famous tourist attractions in Harrogate. Prices start at £33 per person from Friday to Monday and £20 from Tuesday to Thursday.
4. Montpellier Quarter
The Montpellier Quarter is emblematic of a traditional Victorian spa town and one of the best places for art, architecture and shopping in Harrogate.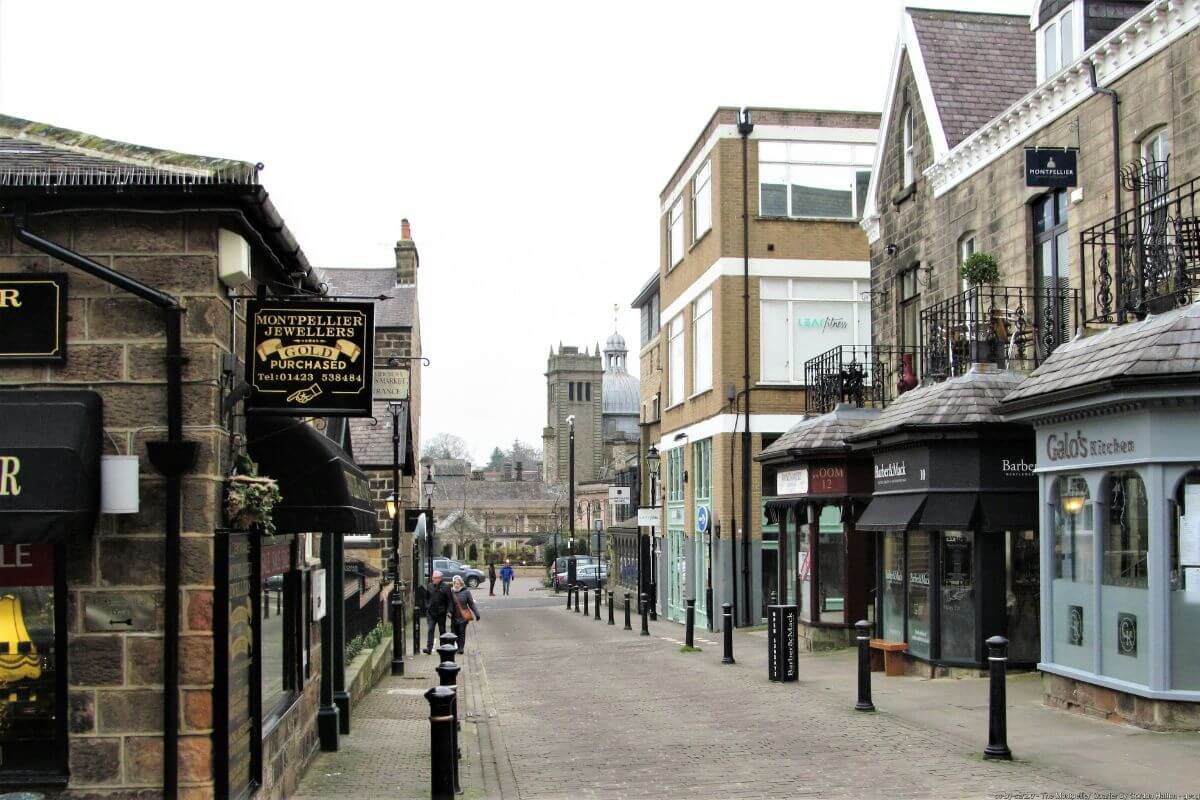 Its pedestrianised, cobbled streets are lined with restored Georgian, Victorian and Edwardian buildings decorated with hanging flower baskets. It's also home to around 50 independent shops, which include tailored jewellery shops, high-end gin stores, design outlets, beauty salons, haute culture fashion boutiques, and many antique shops.
When you need a break from shopping and exploring the area's art galleries during your day out in Harrogate, you can refuel at award-winning restaurants, tapas bars, pubs and pavement cafés. The locals love the delicious toffee from Farrah's Olde Sweet Shop. The famous Bettys Café Tea Rooms are also located in the area.
5. Cold Bath Road
Cold Bath Road in Harrogate is Yorkshire's answer to Notting Hill. Along this bohemian street, you can shop, dine and drink at over 50 locally run venues that include boutiques, pubs, cafés and salons.
Some of the best places to eat in Harrogate along Cold Bath Road include the Spanish-style La Feria, the classic British William & Victoria and the seafood paradise of FISK Montpellier Mews. Prefer bites and cask ales from a traditional English pub? Try the Last Post or The Fat Badger.
To stock up on fashionwear on Cold Bath Road, browse the Scandinavian and British labels at Bias or the vintage clothing at Catherine Smith's Vintage Fashion. Even if you're just here for a spot of window shopping, Cold Bath Road is a must-visit street on days out in Harrogate.
6. Crescent Gardens
One of the bests parks in Harrogate is Crescent Gardens, a 19th-century greenspace bordered by landmarks such as the Royal Hall, the Mercer Art Gallery and the Turkish Baths.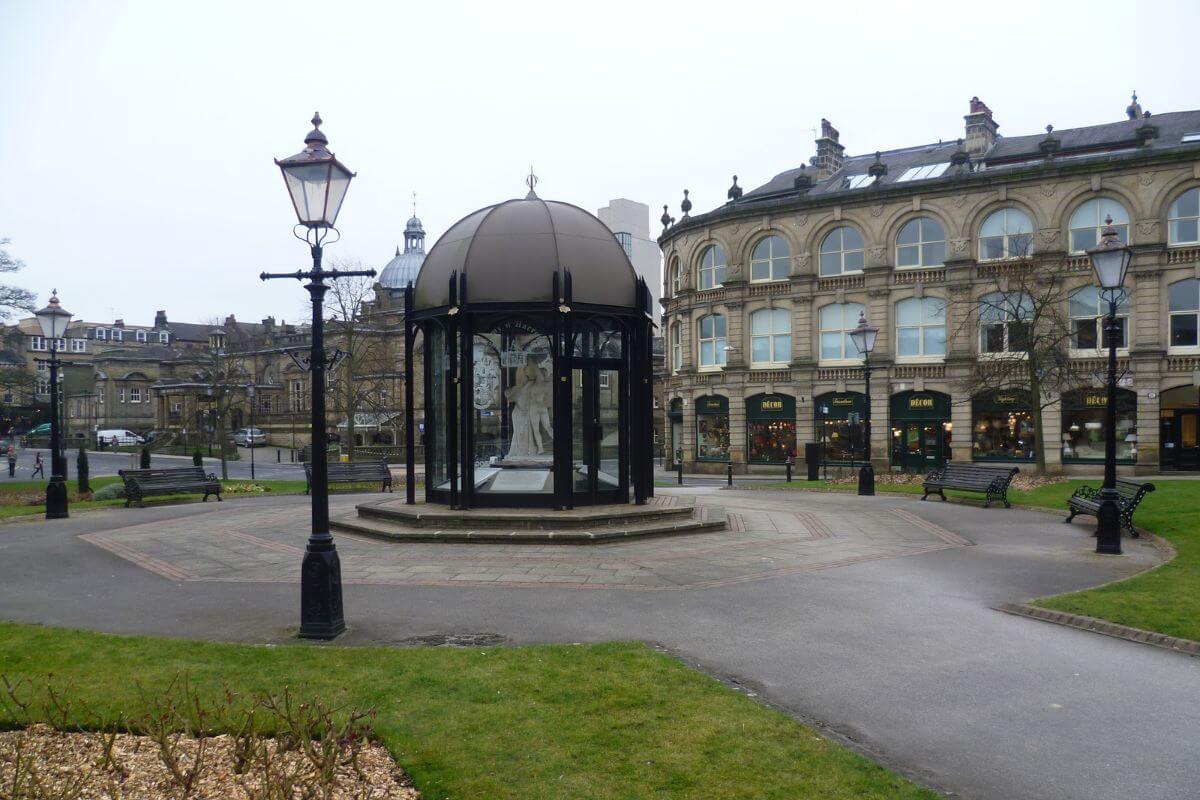 The gardens look particularly impressive when the flowers blossom in spring. In the centre of Crescent Gardens, you'll see statues of Psyche and Cupid encased in a glass dome. You'll also spot a former spa building that now contains some of the priciest apartments in the North of England.
7. Harrogate Convention Centre
Standing on the site of the 19th-century Spa Rooms is the Harrogate Convention Centre, which contains several auditoriums and hosts local acts through to global stars.
It famously hosted the Eurovision Song Content in 1982, the same year its 2,000-capacity main auditorium was opened. Other exhibition halls include the 600-seater Queens Suite and the 978-seater Edwardian Royal Hall, which opened in 1903.
Since then, comedians and musicians such as Jimmy Carr and Van Morrison have graced the stages of the Harrogate Convention Centre. The complex has also hosted events such as the Wildlife & Safari Travel Show and the LEGO® The Great Brick Adventure exhibit, making it one of the best places to visit for families in Harrogate. It's certainly one of the most interesting places to end a Harrogate day out.
8. Harrogate Theatre
If you're looking for things to do in Harrogate at night, you might want to see whether any performances are taking place at the Harrogate Theatre.
Housed inside a 1900s' redbrick building with a globular façade, Harrogate Theatre features a Victorian-inspired interior with velvet seats. The theatre hosts acts in dance, drama, music, comedy, poetry – you name it. It also hosts festive pantomimes and children's productions.
The theatre's box office is open from Tuesday to Saturday between 10am to 4pm as well as at least an hour before each live event. You can grab drinks before the show from the traditional pubs and international bars along Oxford Street.
9. Royal Hall, Harrogate
The Royal Hall was first opened in 1903 and is one of the most iconic theatres in Harrogate. After an extensive renovation, the Royal Hall was reopened by King Charles II (then Prince Charles) in 2008. It now forms a part of the Harrogate Convention Centre, but it deserves a listing to itself.
The Royal Hall was designed by Frank Marcham, a well-known architect of his time, who took inspiration from 19th-century Kursaal Oostende in Belgium. In fact, the theatre was initially named the Kursaal, but it was renamed when World War One broke out.
Inside, you can admire the Beaux-Arts interior with majestic touches like large arched windows, patterned ceilings with chandeliers and gold-leaf balconies. The regal auditorium has seats for over 950 people and hosts acts ranging from comedy to musicals.
10. Royal Pump Room Museum
Home to one of Europe's strongest sulphur wells, the Royal Pump Room Museum tells the story of Harrogate's rise to fame as a world-renowned spa town during the Georgian and Victorian eras.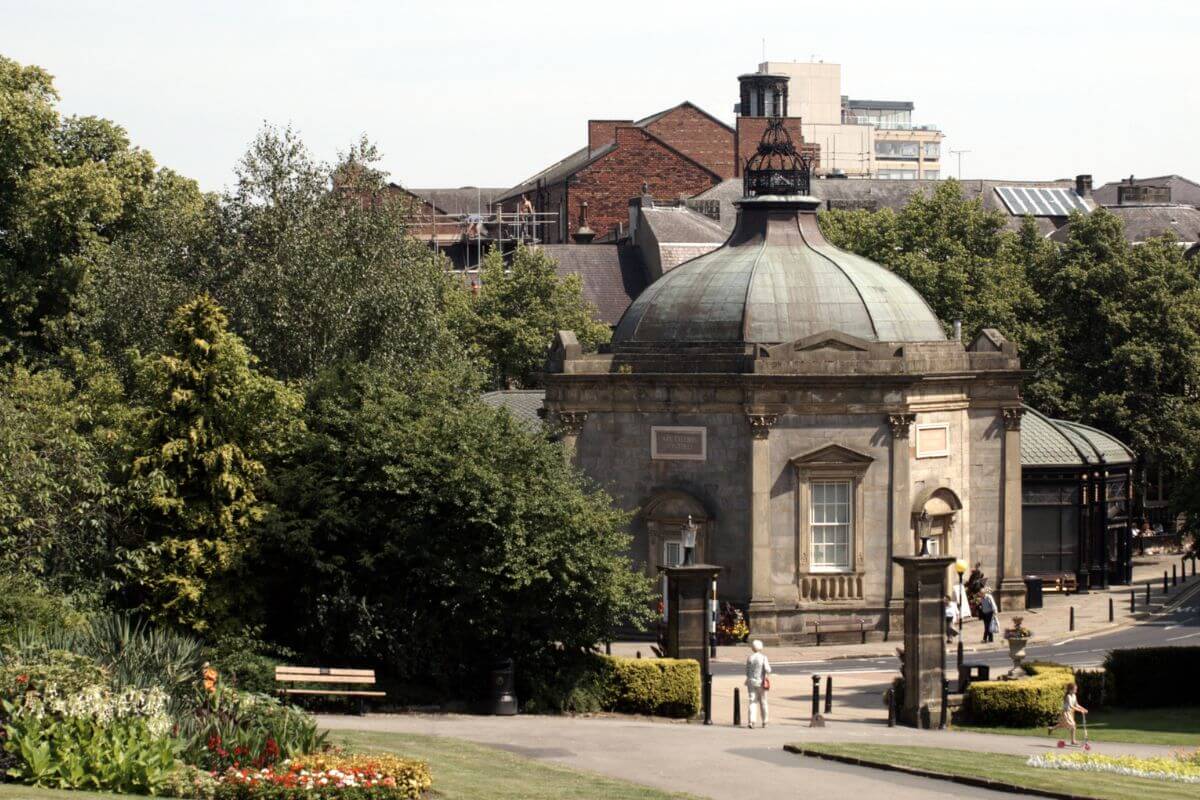 The museum is situated inside the Grade II listed Royal Pump House, which was constructed in 1842 to serve wealthy visitors and town residents with mineral water.
In Harrogate's heyday, the spa would attract around 15,000 people from across the globe every summer to treat conditions such as epilepsy, scurvy and skin complaints. Notable visitors included Charles Dickens and Russian aristocrat Tsarina Alexandra. The poor were confined to use the water from a tap on the outside of the building.
Following the introduction of the NHS in 1948, Harrogate's Royal Pump Room fell out of fashion, and it was turned into a museum in 1953. Today, exhibitions such as recreated shops and authentic Georgian and Victorian artefacts detail Harrogate's growth as a spa town through the ages. You can drink, take home, and smell the pungent water from the sulphur well in the basement. There's also an incredible exhibition on Egyptology, making it one of best places to visit in Harrogate for families.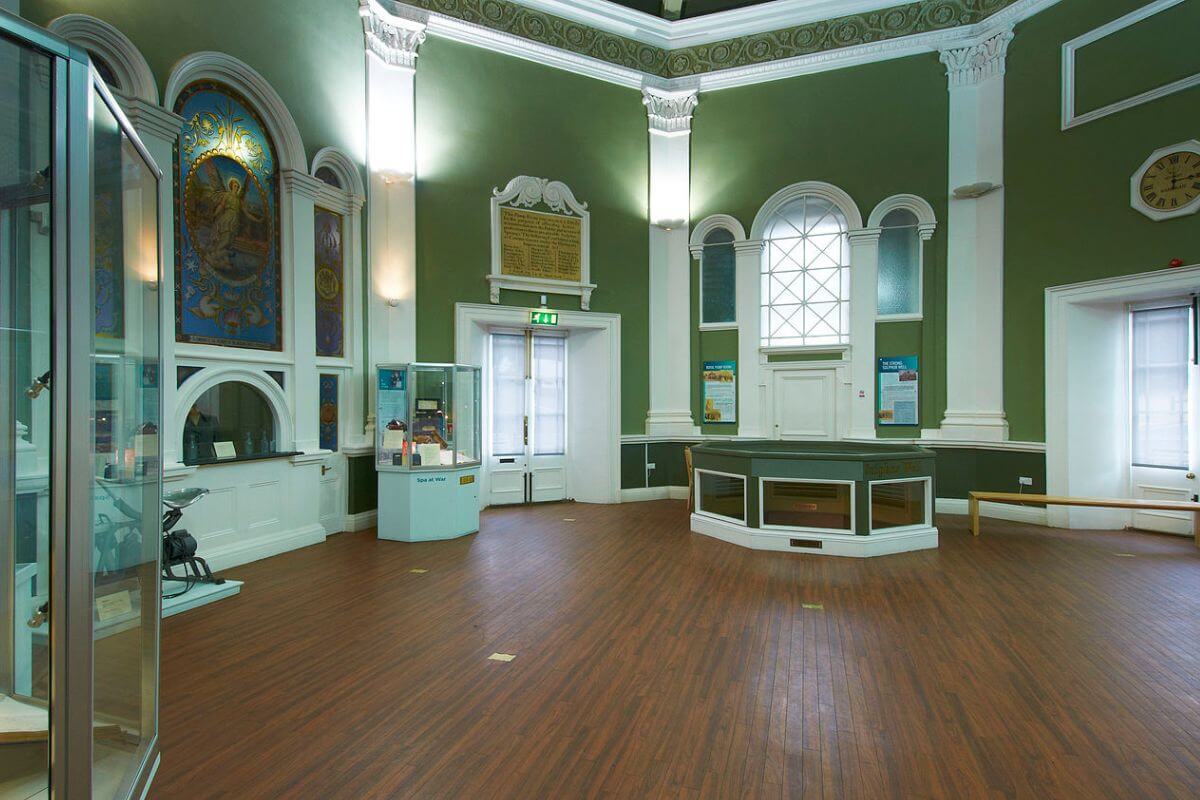 The Royal Pump Room Museum is open Tuesday to Sunday from 10am to 4pm. Tickets start at £3.50 for adults, £2 for children aged 16 years and under, and £10 for families of two adults and up to three children. Season tickets that remain valid for a year and grant entry to Knaresborough Castle cost between £7 and £30, giving you two places to visit on your day out in Harrogate.
11. Mercer Art Gallery
The Mercer Art Gallery boasts a collection of over 2,000 works of fine art from local artists of the 19th and 20th centuries.
The gallery is situated in the elegant former Promenade Rooms, which were built in 1805 as one of Harrogate's first spa houses. Inside, you'll see paintings by Victorian-era artists like William Powel Firth, John Atkinson Grimshaw and Edward Burne-Jones, plus 20th-century painters including Laura Knight and Alan Davie.
There are also temporary exhibitions that can include prints, drawings, sculptures, photos and crafts dedicated to specific movements and themes.
People typically spend up to an hour perusing the Mercer Art Gallery, which is open every day except for Monday from 10am to 4pm. With no admission fees, it's one of the best free things to do in Harrogate, and it's just a stone's throw from other famous Harrogate attractions such as the Turkish Baths Harrogate and the Royal Pump Room Museum.
Famous attractions to see on a day out near Harrogate
There are so many amazing places to visit near Harrogate with the family.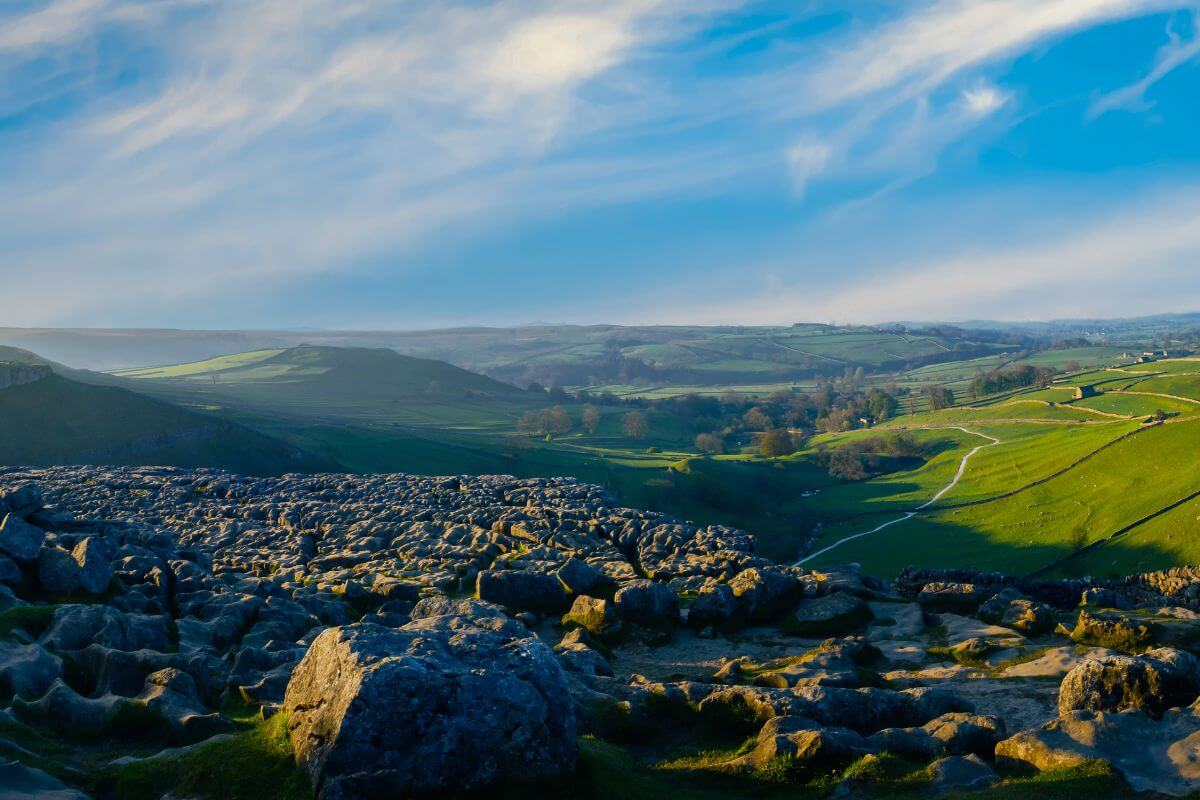 12. Yorkshire Dales National Park
If you're looking for outdoor things to do near Harrogate, you can't go wrong by driving, cycling or hiking through the Yorkshire Dales National Park.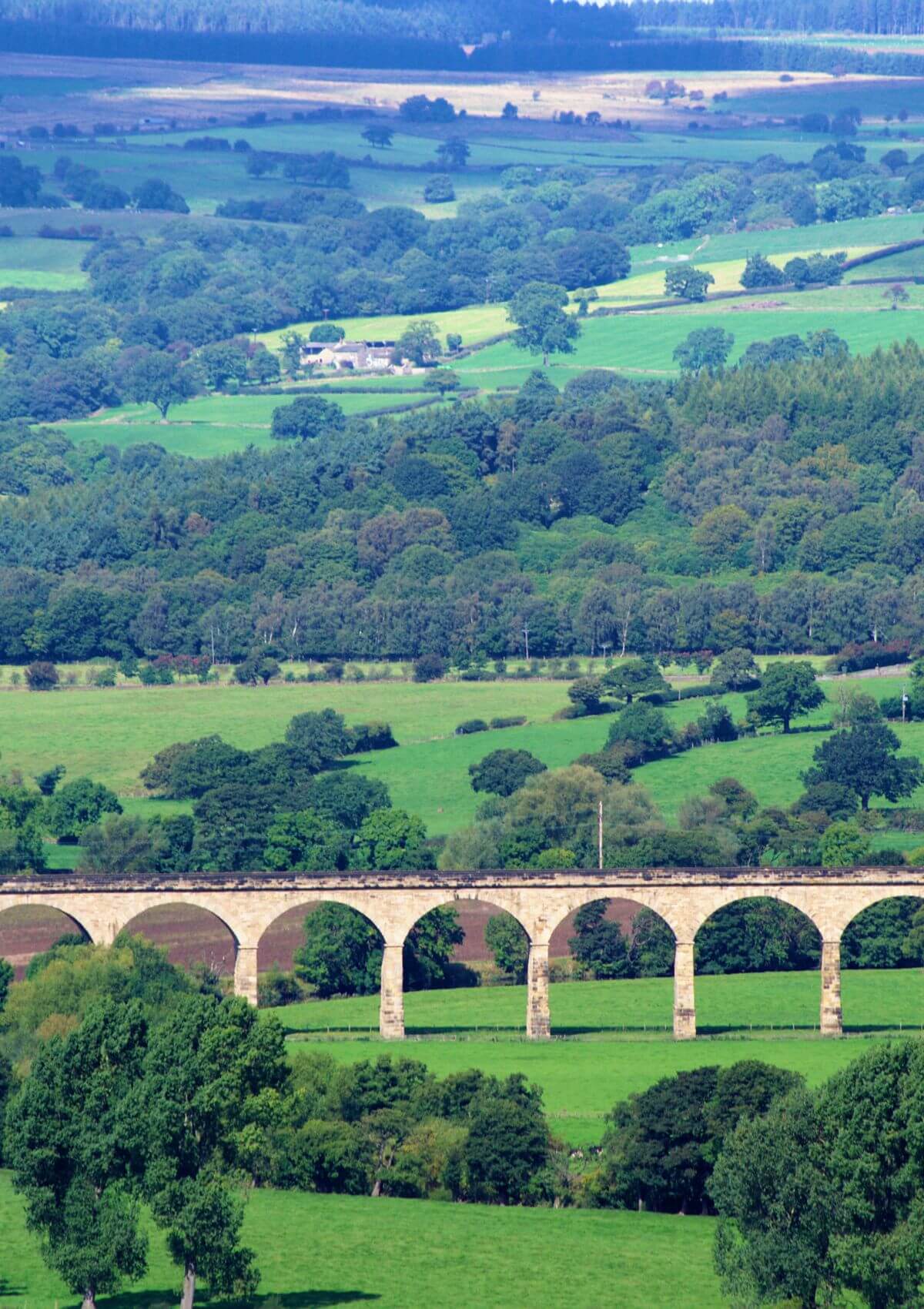 Within the National Park, you can visit beautiful villages and towns nestled amid landscapes such as moorlands, mountains, caves and waterfalls. Some of the best attractions near Harrogate in the Yorkshire Dales include the Fewston Reservoir, Lippersley Pike, Beamsley Beacon and the Nidderdale Area of Outstanding Natural Beauty, which are all less than a 30-minute drive away. Start early if you want to visit many highlights of the Yorkshire Dales during your day out in Harrogate.
13. RHS Garden Harlow Carr
Situated at the foot of the Yorkshire Dales just ten minutes from Harrogate's town centre, RHS Garden Harlow Carr was opened in 1950 on the site of a Victorian spa. 58 acres are filled with manicured woodlands, meadows, streams, and gardens that recreate a variety of environments, perfect for a family day outdoors near Harrogate.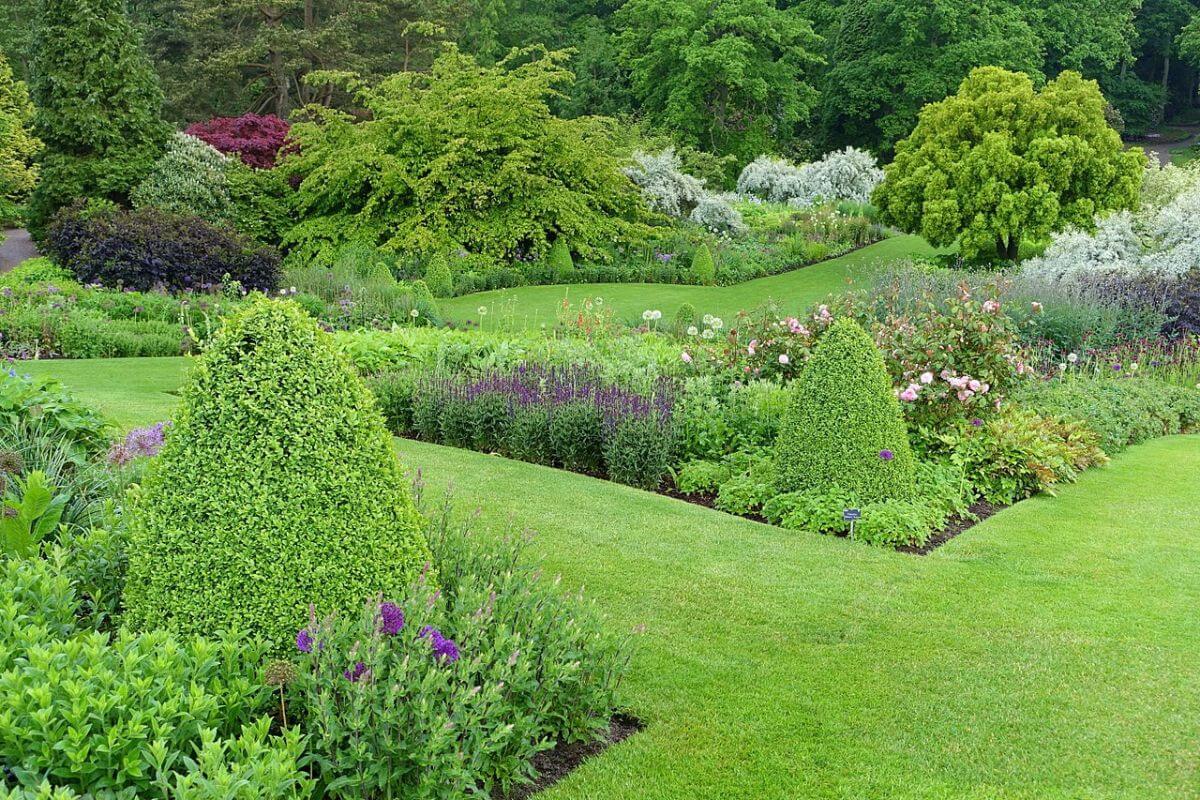 While strolling through the RHS Garden Harlow Carr, you'll see sections dedicated to local agriculture and a scented garden brimming with lavender, lilies and roses. You'll also see an alpine house, a capped spring in the Limestone Rock Garden, an arboretum and a lake.
When you need a break, you can order delicious treats and hot drinks from the Harlow Carr branch of Bettys Café Tea Rooms. For the kids, there are rope bridges, treehouses, an exciting slide and a log maze.
Buses travel from Harrogate to Harlow Carr frequently, with bus X6A taking the most convenient route. Parking is also available for free outside the main entrance. Admission ticket prices start at £12.95 per adult, £6.55 per child aged 16 years or under, and £32 for families. There's no need to book in advance.
14. Brimham Rocks
Brimham Rocks is a National Trust site located in the Nidderdale Area of Outstanding Natural Beauty – and they're arguably the most outstanding part of it.
Otherworldly millstone rock formations carved by the elements over millions of years rise as high as 30 feet and take on names such as the Sphinx, the Watchdog, the Turtle and the Camel. There's also a gigantic boulder called Idol rock that balances on a small nub rather precariously. Guided walks are available if you want to learn about the area's geology.
Surrounding the rocks are woods, meadows and moorland, which add to the place's paradisical natural beauty. A well-marked path that's suitable for children takes you through this distinctive landscape. For a family day out near Harrogate, Brimham Rocks offers something truly unique.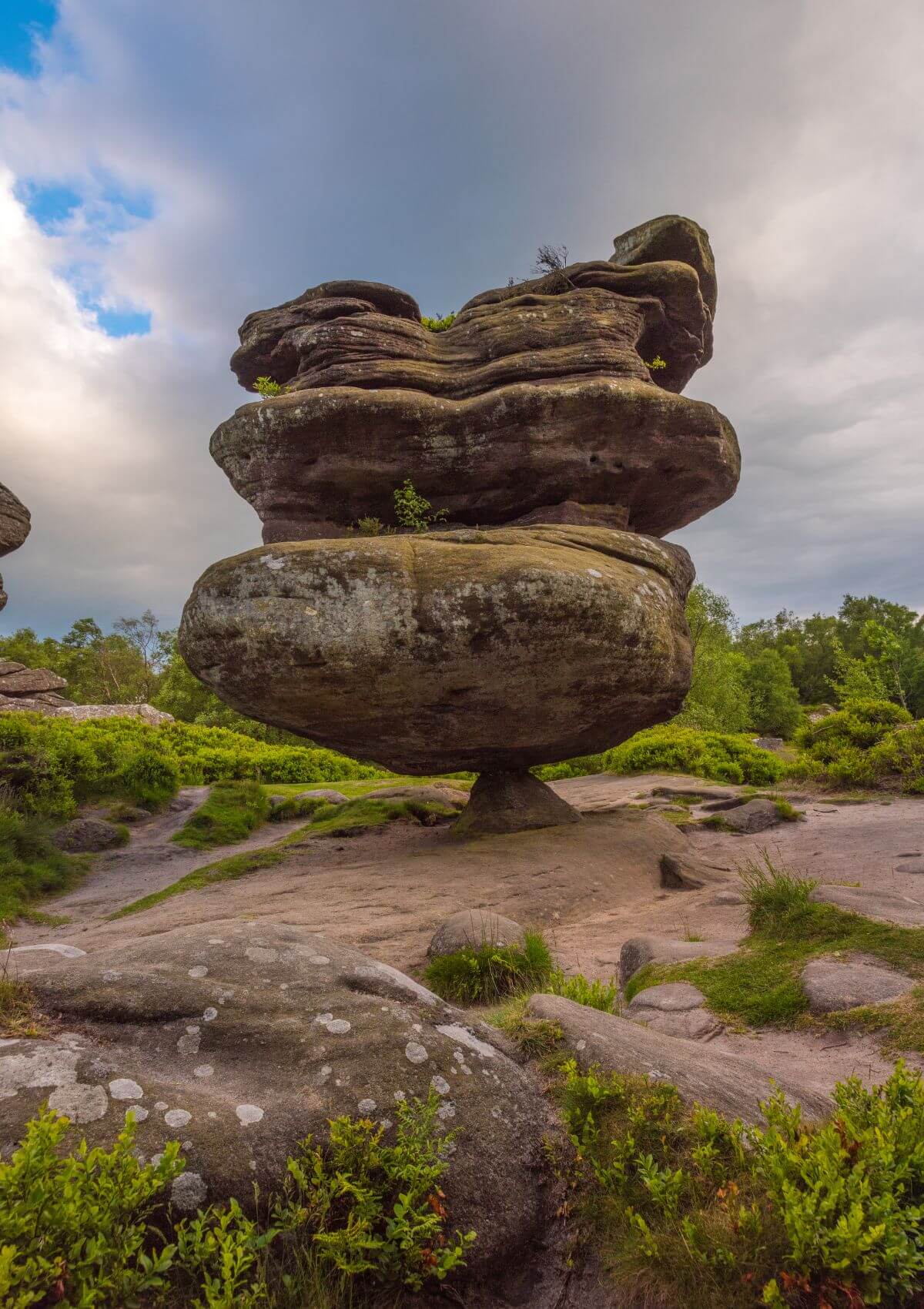 It takes just 25 minutes to drive from Harrogate to Brimham Rocks. Admission to Brimham Rocks is free, but parking can cost up to £9 for the day. Alternatively, you can ride bus number 24 for just over an hour to Summerbridge, then hike two kilometres to Brimham Rocks.
15. Knaresborough Castle and Courthouse Museum
One of the most famous attractions near Harrogate is Knaresborough Castle, which overlooks the River Nidd in the neighbouring town of Knaresborough just 15 minutes away.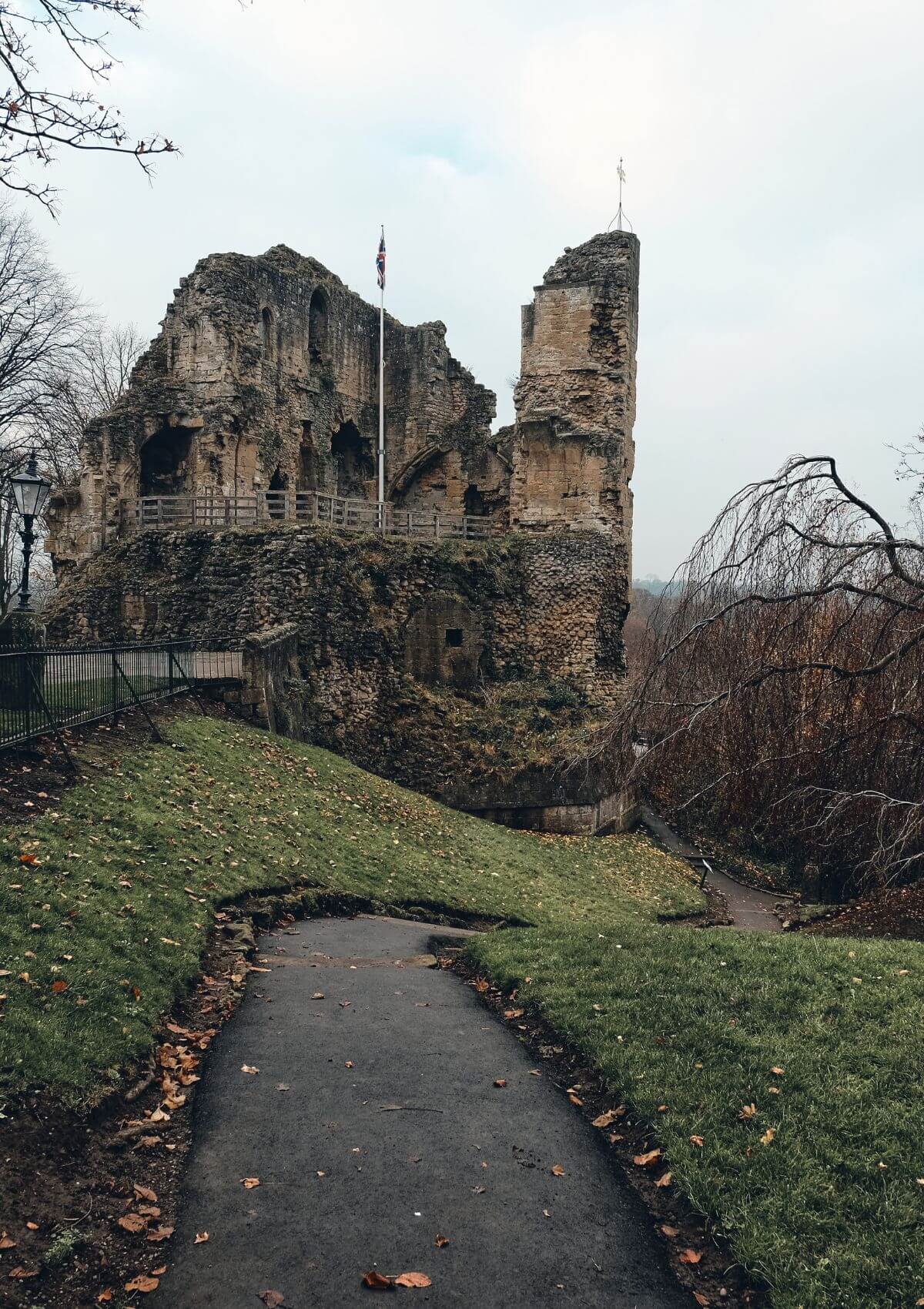 The castle dates back to the 11th century and has been a stronghold for English monarchs including Henry I, King John, Edward I and Edward II. In the 1170s, Hugh de Moreville took refuge at this castle in England after taking part in the assassination of Thomas Becket. The Parliamentarians tore most of the castle down during the English Civil War.
Within the grounds, you can explore the ruins of dungeons, tunnels and former royal chambers. From the castle's hilltop location, you can take in views of woodland and the viaduct that crosses the Nidd Gorge. The Courthouse Museum on the upper floor of the castle's adjacent courthouse features Tudor Court furniture and computer reconstructions of Knaresborough Castle in its heyday.
Knaresborough Castle is open from 10am to 4pm every Wednesday, Friday, Saturday and Sunday in July, August and September. The Courthouse Museum operates throughout winter on Wednesday, Saturday and Sunday from 10am to 4pm. Ticket prices for Knaresborough Castle start at £3.50 per adult, £2 per child aged 16 years or under, and £10 for families of two adults and up to three children.
If you enjoy Knaresborough, you'll love these interesting towns in England.
16. Ripley Castle
Around three miles away from Harrogate is the Grade I listed Ripley Castle, which dates back to the 14th century and has belonged to the Ingilby family for 26 generations.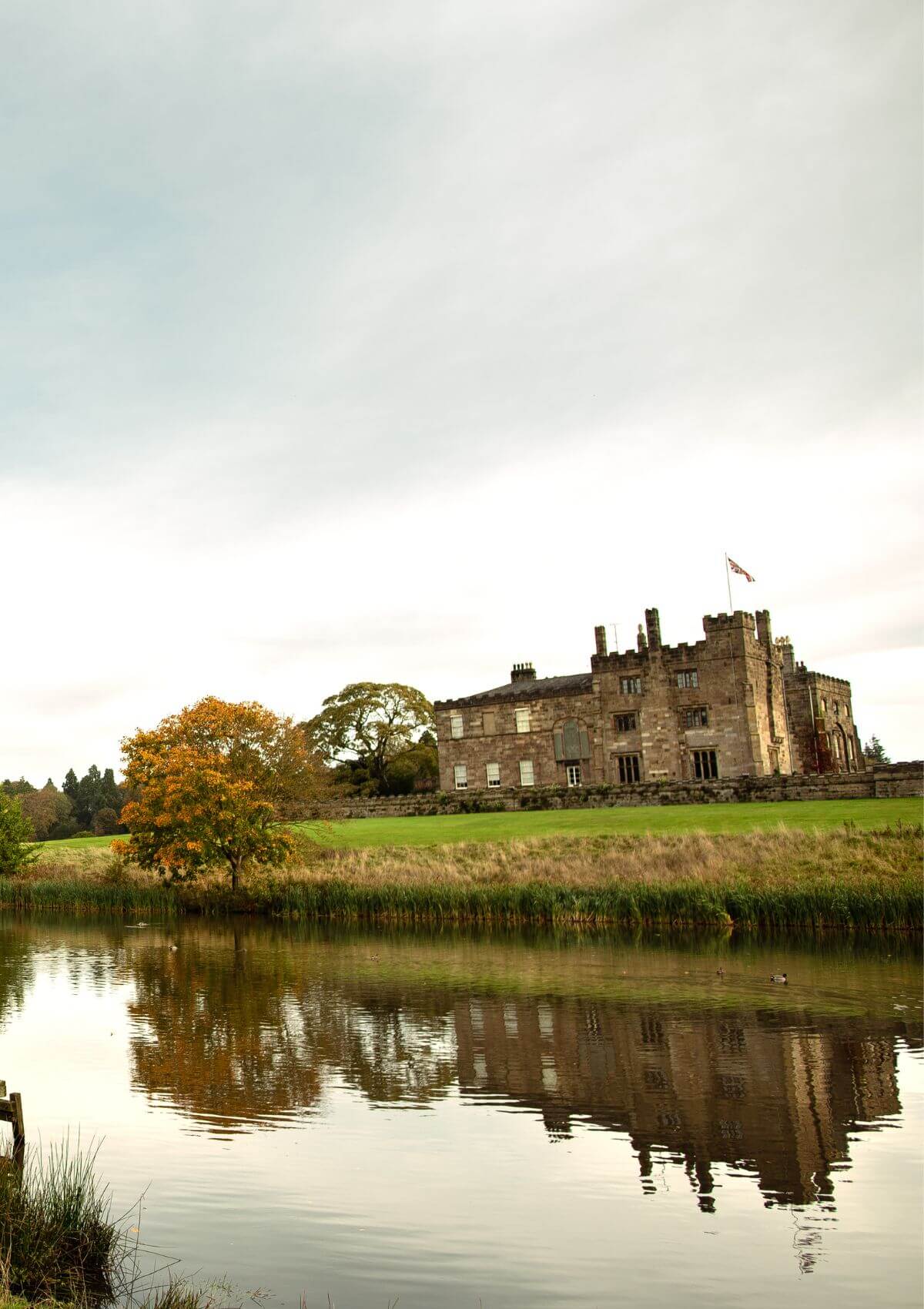 You can trace the history of Ripley Castle and the Ingilby family on tours that introduce you to six rooms that include the library and 16th-century Old Tower, where you'll see armour, chandeliers and antique books. The castle grounds boast a lake, a deer park, a kid's play trail, and woodlands and gardens with over 150,000 flower bulbs.
Ripley Castle is usually open during spring and summer from 10am to 4pm, though it's worth checking the website before visiting as tours aren't always available at this historic country house residence. Ripley Castle ticket prices start at £5 per adult. Children can enter for free, and adults can too by purchasing a hot drink.
Driving to Ripley Castle from Harrogate takes a matter of minutes, and bus number 26 takes less than 20 minutes. If you enjoy exploring Ripley Castle, you might be interested in visiting some of the best stately homes in England.
17. Spofforth Castle
Yet another castle that makes for a great place to visit on a day out near Harrogate is Spofforth Castle, which was established shortly after the arrival of William the Conqueror by William de Percy.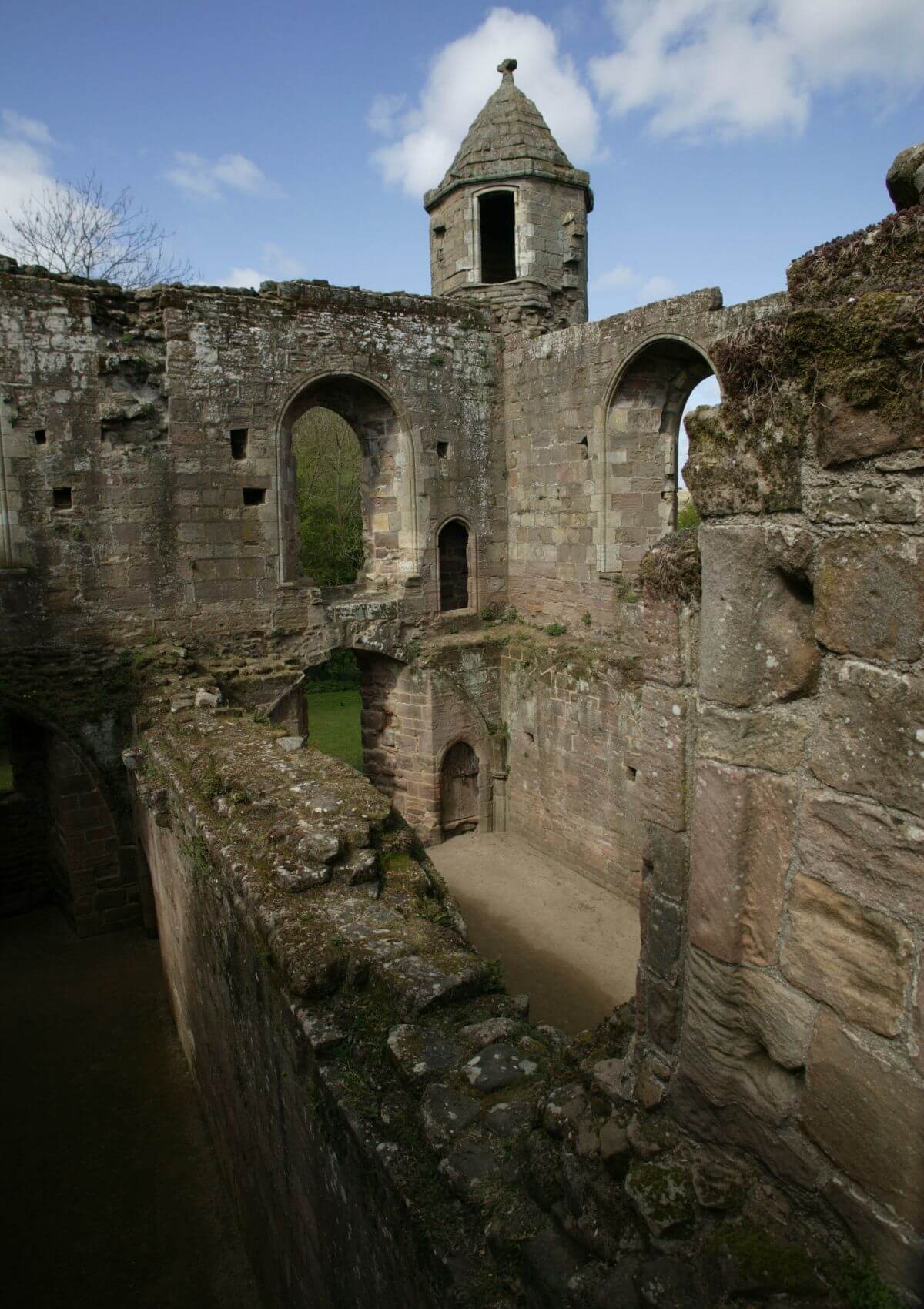 Most of the remaining architecture dates from the 14th and 15th centuries, with the rest being destroyed during the English Civil War. It is believed that the Magna Carta may have been written here in 1215.
Spofforth Castle is situated about five miles from the town centre of Harrogate, and with no admission fees, it's one of the best free places to visit nearby. You can explore the castle any time between 10am and 4pm.
18. Nidderdale Museum
The community-run Nidderdale Museum occupies a former Victorian workhouse in Pately Bridge about 13 miles north of Harrogate. It details the history of the Yorkshire Dales and the local people.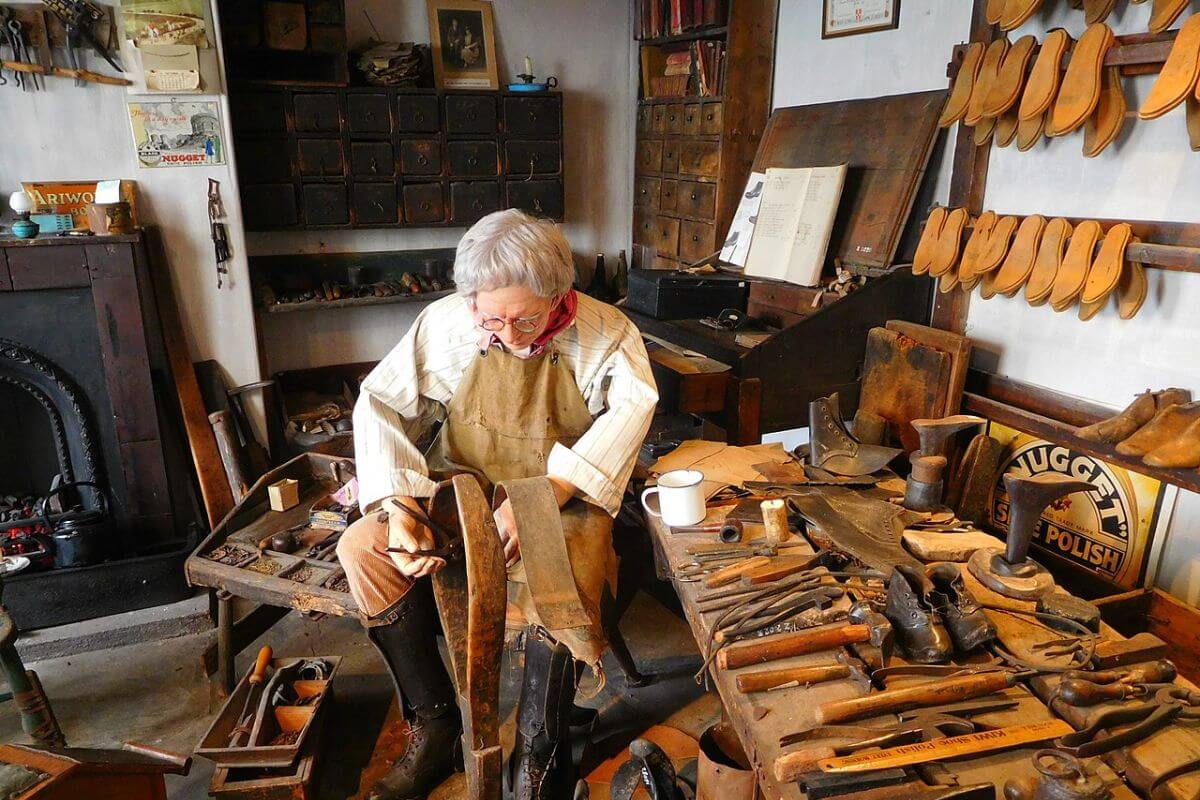 Inside the museum, you'll see reconstructed scenes of life during the Victorian era. There's a school room, cobbler's shop, solicitor's shop, general store, joiner's shop, and a Victorian kitchen and parlour. You'll also see various costumed wax figures and 19th-century artefacts such as religious paraphernalia and agricultural tools.
Nidderdale Museum is open every day except for Monday at 1.30pm to 4.30pm from April to the end of October. It's also open on weekends from November to the end of March. As admission is free for children and just £3 for adults, the Nidderdale Museum is one of the best cheap attractions near Harrogate.
19. Plumpton Rocks
Plumpton Rocks is a Grade II listed pleasure garden that dates back to the 1760s. Spread across 30 acres, it boasts a human-made lake surrounded by woodland with bluebells and rhododendron. It's also teeming with millstone grit formations that have been carved into strange shapes over millennia.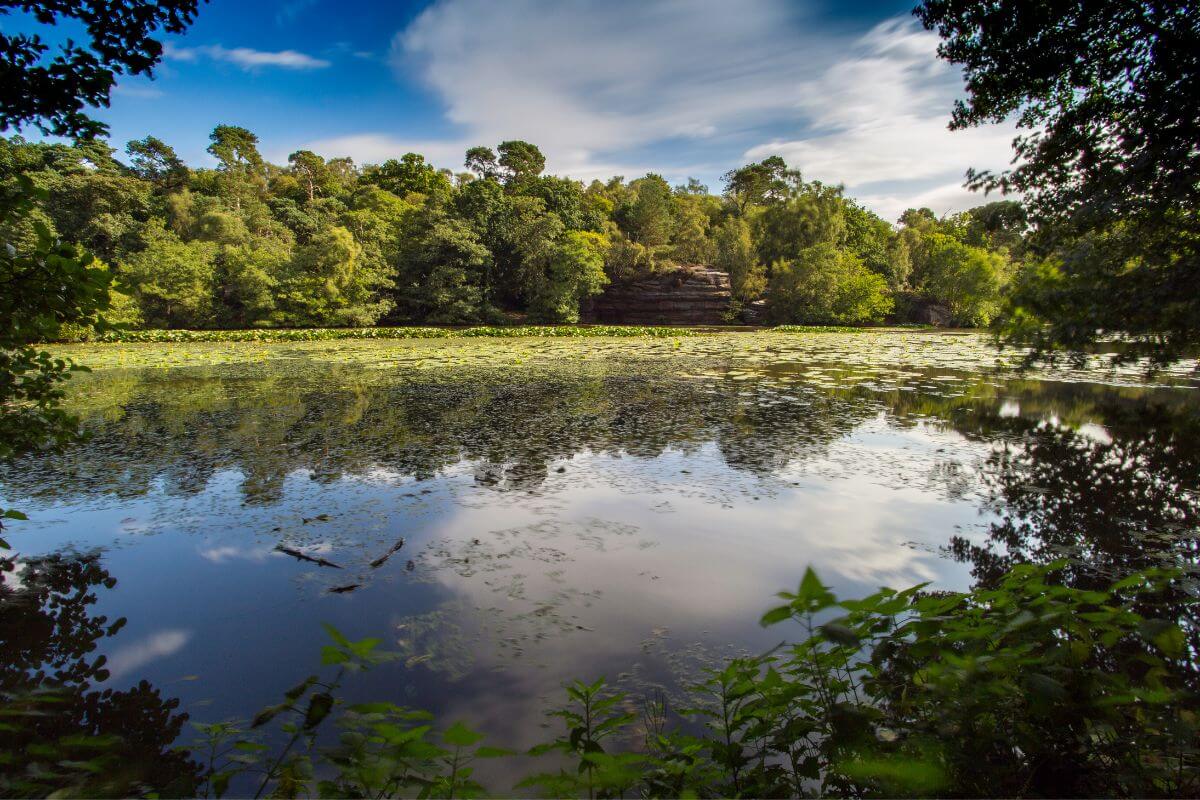 Some of the most otherworldly formations have names such as Needle's Eye, Lion's Den and Lover's Leap. For the most romantic views of Plumpton Rocks, head to the south of the lake and look north.
Plumpton Rocks is just a 15-minute drive from Harrogate. You can also take bus number 7 or the X70 Velvet ConneXion from Harrogate Bus Station. Tickets cost £5 per person, and children under the age of 16 years can visit for free.
Want to spend more than just one day out in Harrogate?
As you can see from the sheer number of famous attractions in Harrogate, this spa town can keep you occupied for more than just a day. Some of the top hotels in Harrogate include the Hotel du Vin and The Yorkshire Hotel. If you want to grab dinner from a local haunt, we recommend Major Tom's Social, Hales Bar and The Fat Badger.
Have we missed any top Harrogate attractions or places to visit that only the locals know about? Let us know by leaving a comment below. When you're ready to see more of North England, check out these top day trips from Leeds.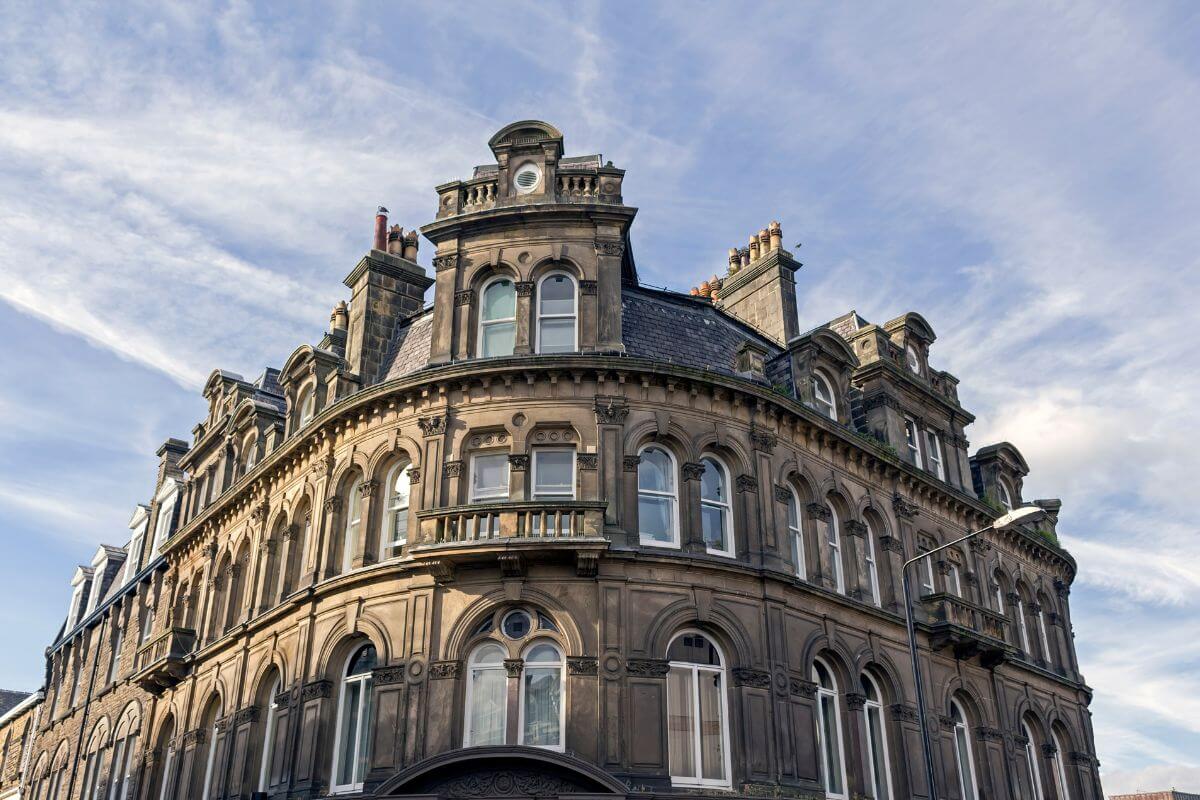 FAQ about a Harrogate day out
Now that you know about the best places to visit on a day out in Harrogate, you might be left with a few questions. So, here are the answers to some of the most frequently asked questions about a Harrogate day trip.
What are the best family days out around Harrogate?
If you enjoy the outdoors, the best things to do around Harrogate with kids include scenic walks at Brimham Rocks, the Valley Gardens and RHS Garden Harlow Carr. Also, the castles of Knaresborough, Ripley and Spofforth almost guarantee to fascinate the family.
Besides history and outdoor adventure, Harrogate is home to bowling venues, climbing walls, museums, and cafés that include the iconic Bettys Café Tea Rooms.
Are there any Harrogate indoor activities to do when it's raining?
The best activities for a rainy day in Harrogate include museum, theatre and gallery visits – plus shopping and fine dining.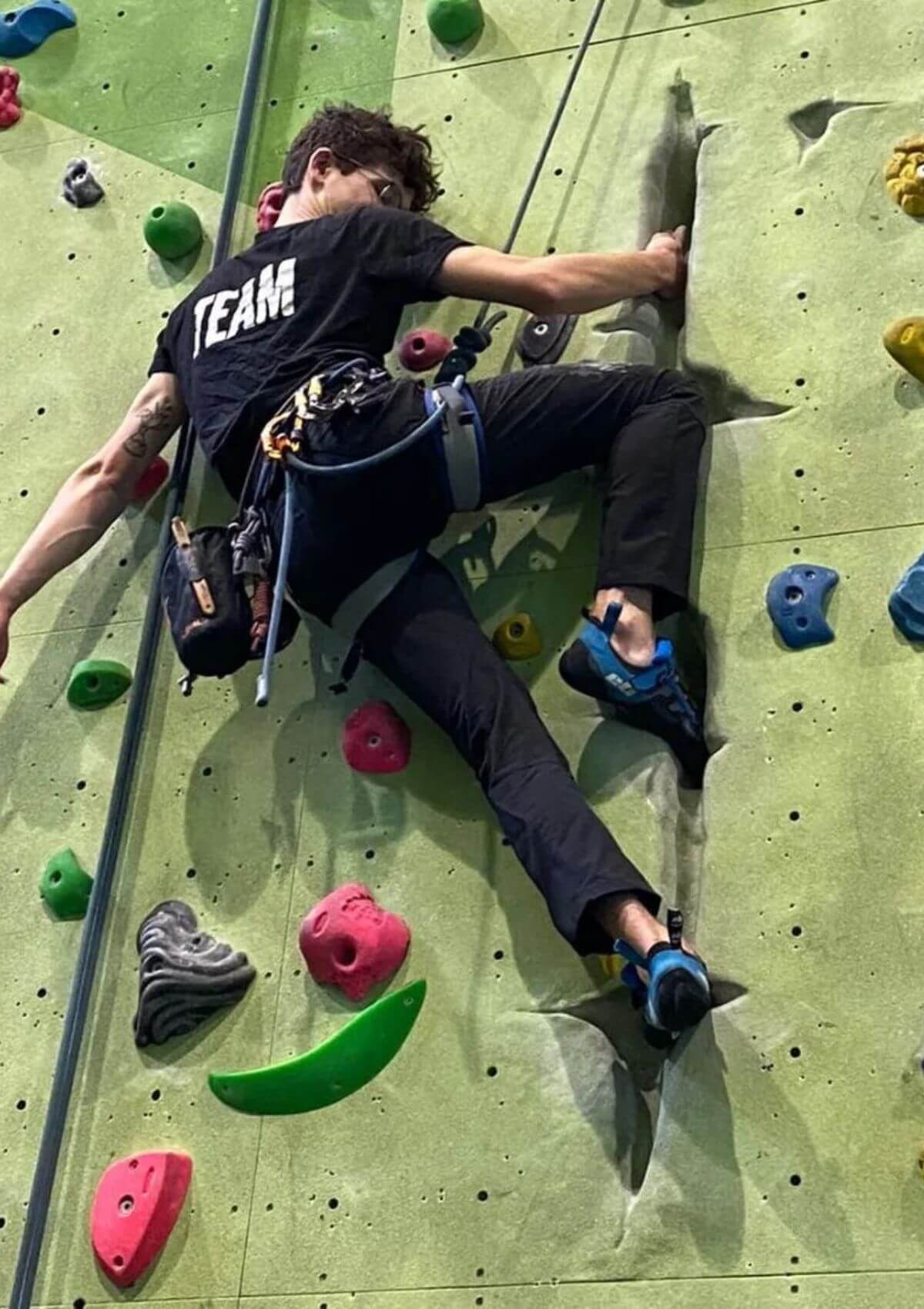 For a look into Harrogate's heritage as a spa town, explore the Royal Pump Room Museum on a rainy day. Alternatively, take the kids to Parthian Climbing, or soak up some local culture at the Mercer Art Gallery. At night, Harrogate indoor activities include watching performances at the Harrogate Theatre or the Royal Hall. With so many fantastic indoor activities, Harrogate is a great place to visit any time of the year.
What's the quickest way to get to Harrogate from Leeds?
Harrogate is just 15 miles north of Leeds, meaning you can drive there in just over 25 minutes via the A61 if you avoid the traffic. You can also take the train from Leeds to Harrogate in around 35 minutes, with at least two trains running per hour. Bus number 36 will take you from Leeds to Harrogate in 40 to 55 minutes, depending on the time.
With so many convenient transport options available, Harrogate is an ideal place to visit on a day out from Leeds.
How much is a taxi from Leeds to Harrogate?
A taxi from Leeds to Harrogate will cost you between £35 and £45, making it an ideal option if you're travelling as a group and want to split the cost – or if you want to get from Leeds to Harrogate as quickly as possible without using your own car.
It usually takes around half an hour to travel to Harrogate from Leeds in a taxi, but be aware that it can take over an hour during rush hour.
Are there any quirky things to do in Harrogate?
If you're looking for cool and unusual things to do in Harrogate, we recommend checking out the Old Swan Hotel to see where Agatha Christie mysteriously went missing in 1926. The Moorish-style Turkish Baths offer a spa experience with a difference, while Brimham Rocks is home to some truly otherworldly geology. For an encounter with animals you don't get to meet every day, head over to see the Nidderdale Llamas.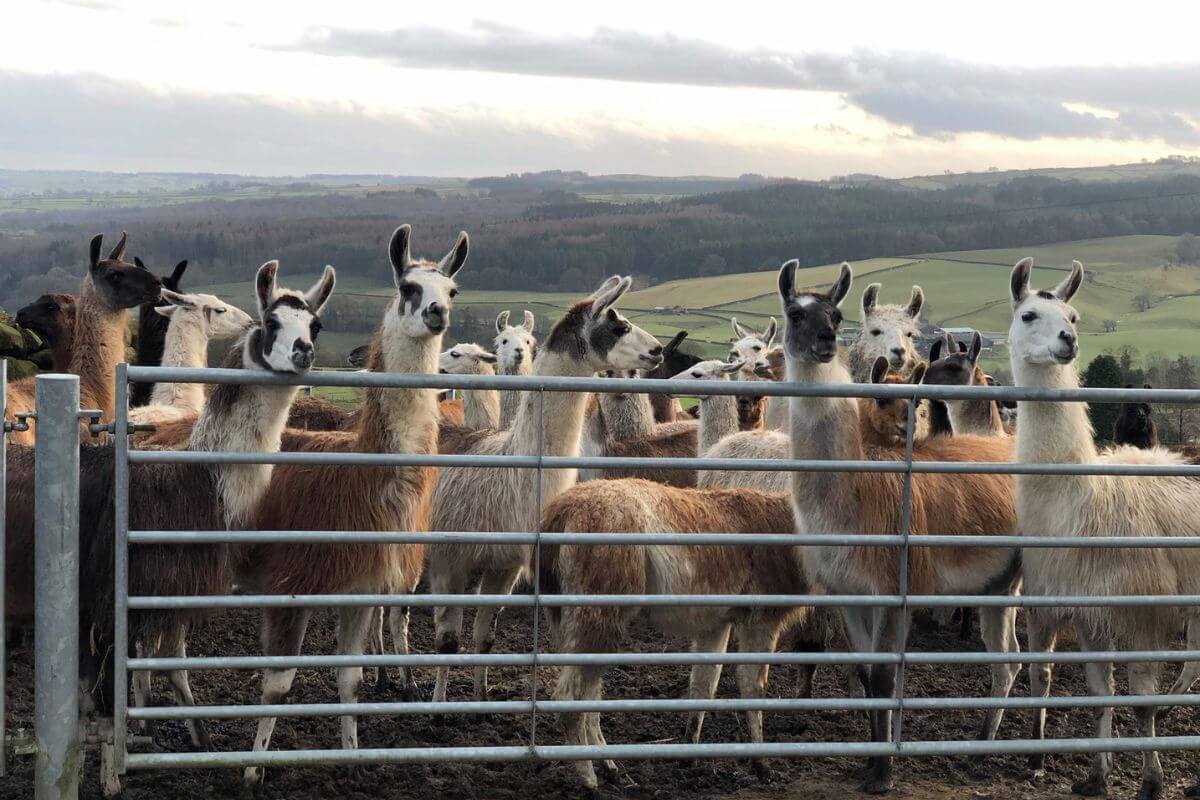 What are the best things to do in Harrogate on a night?
If you're spending the night in Harrogate, you might want to sip a craft ale at a traditional pub such as The Little Ale House or the Harrogate Tap. For something a little fancier to mark a special occasion, grab a seat at The Champagne Concept. The Disappearing Chin is one of Harrogate's quirkier independent pubs that stays open until midnight on Friday and Saturday.
Rather avoid booze when looking for things to do in Harrogate on a night? Enjoy a soft or hot drink to the sound of live music at the Blues Café Bar, or catch a stage show at the Harrogate Theatre or the Royal Hall.
What are the best places maintained by the National Trust Harrogate has to offer?
Of the 13 National Trust sites located in North Yorkshire, the closest one to Harrogate is Brimham Rocks, which is characterised by its strange millstone rock formations surrounded by scenic woodland. It's a great place to visit in Harrogate with the family.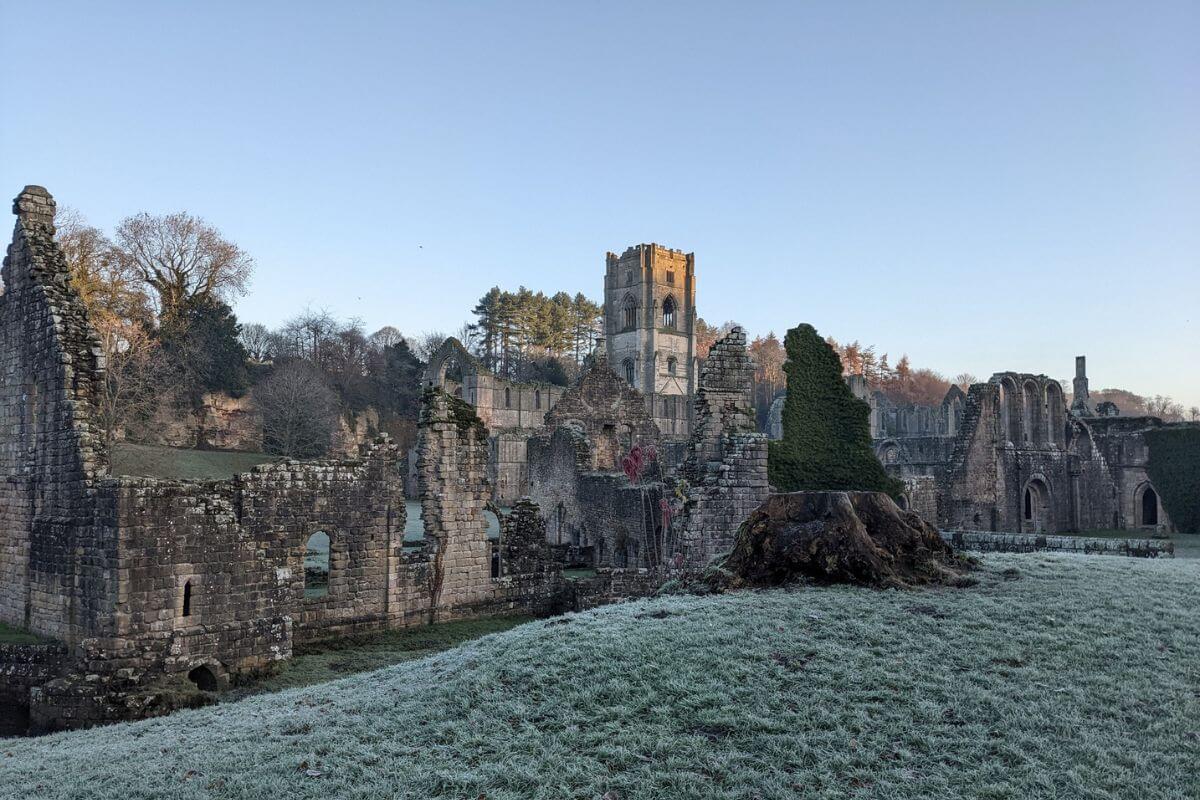 Just a tad further afield in Ripon – which is still within the borough of Harrogate – is the UNESCO-listed Fountains Abbey, which is arguably the best-preserved Cistercian monastery in England. It's an amazing place to visit on a day out in Harrogate, particularly since it's only 25 minutes away.
Is there a Harrogate day bus pass available?
The cheapest way to get around Harrogate for the day is to purchase a PlusBus day ticket, which provides you with unlimited bus travel for the day on any Harrogate Bus Company bus. The PlusBus Harrogate day ticket currently costs just £2 per adult. Following March 2023, the price will return to £4.60 per adult.
With a Harrogate bus day ticket, you can travel around the town of Harrogate as well as nearby destinations like Knaresborough, Ripon and Harewood Hall
Quick list of what do to on a day out in Harrogate
1. Bettys Café Tea Rooms
2. Valley Gardens Harrogate
3. Turkish Baths Harrogate
4. Montpellier Quarter
5. Cold Bath Road
6. Crescent Gardens
7. Harrogate Convention Centre
8. Harrogate Theatre
9. Royal Hall, Harrogate
10. Royal Pump Room Museum
11. Mercer Art Gallery
12. Yorkshire Dales National Park
13. RHS Garden Harlow Carr
14. Brimham Rocks
15. Knaresborough Castle and Courthouse Museum
16. Ripley Castle
17. Spofforth Castle
18. Nidderdale Museum
19. Plumpton Rocks