Only have time for one day out on the Isle of Wight? Maximise your Isle of Wight days out with these Isle of Wight suggestions for day trippers!
The Isle of Wight makes for the perfect day out. It's just a 10-minute hovercraft ride from Southsea, Portsmouth – ideal for cyclists or pedestrians. If you want to take the car to get more from your day out on the Isle of Wight, then you can get the ferry from Portsmouth (45 minutes) or from Southampton (one hour).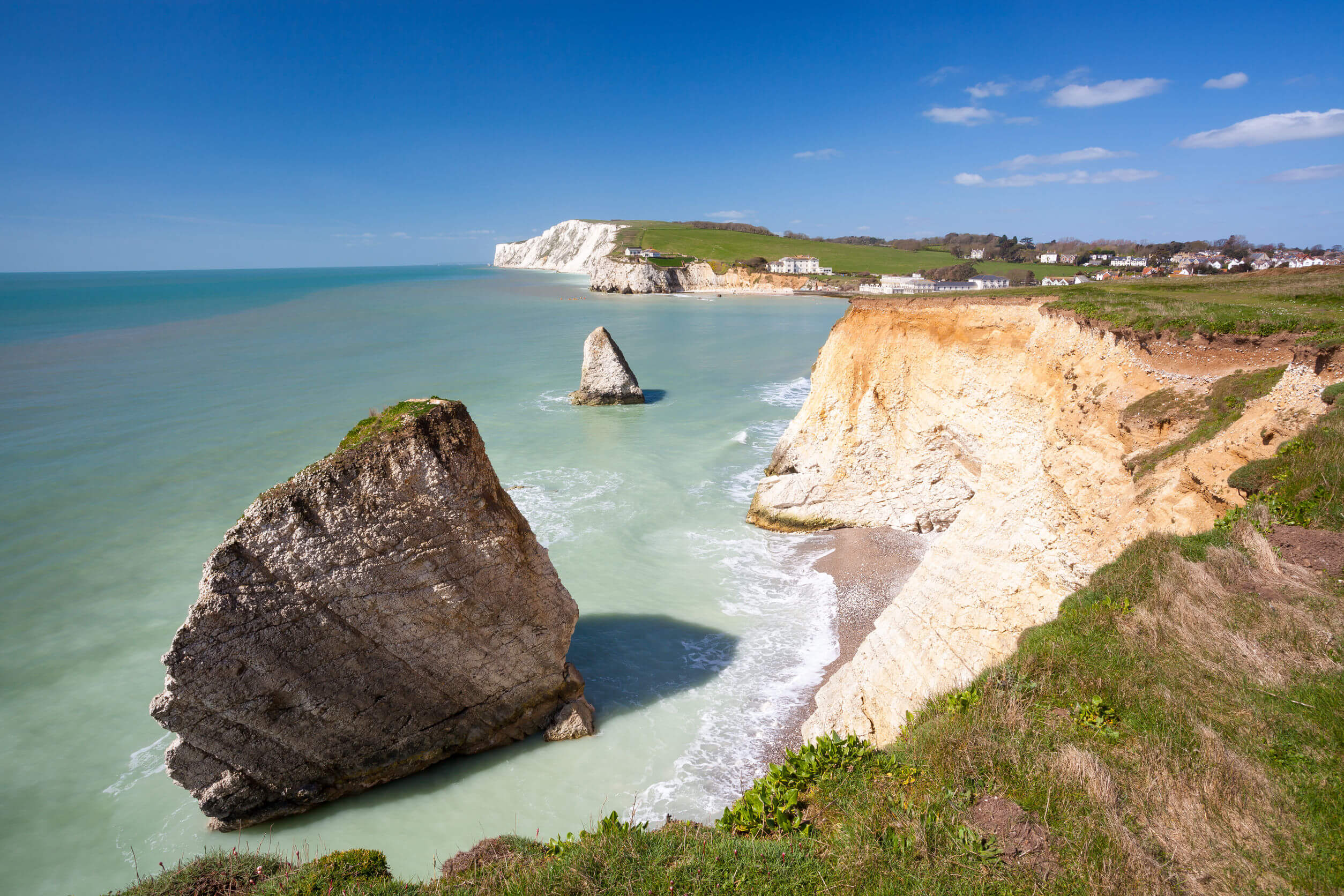 There's so much to do on the Isle of Wight for the day for adults and children. Seriously, I think it's one of the most underrated areas of England, among those who've never been, anyway.
All ages can enjoy the beaches, the wealth of restaurants, and the feeling that you have actually travelled, even if was just for a few minutes across the Solent. That little boat journey makes it all the more exciting.
If you live further away, or want to see more than just a day out on the Isle of Wight, then I'd totally recommend you stay for longer. But, seeing as we're all about days out in England, here at Day Out in England, here are a few of the best, based on a few wonderful experiences.
The Isle of Wight is often described as going back in time – and I agree – to a simpler, easier and more relaxed pace of life. It's definitely one of my favourite places to spend a day out in England.
Day out on the Isle of Wight
Here are the best places to visit on the Isle of Wight for a fun day out.
1. Visit the famous Osborne House
Osborne House is one of the most famous buildings on the Isle of Wight, so this has to be number one on your day tripper list, right?
I was genuinely amazed by Osborne House the first time I saw it. It is a beautiful building. And it makes for the perfect Isle of Wight day trip. It's one of the best homes in England.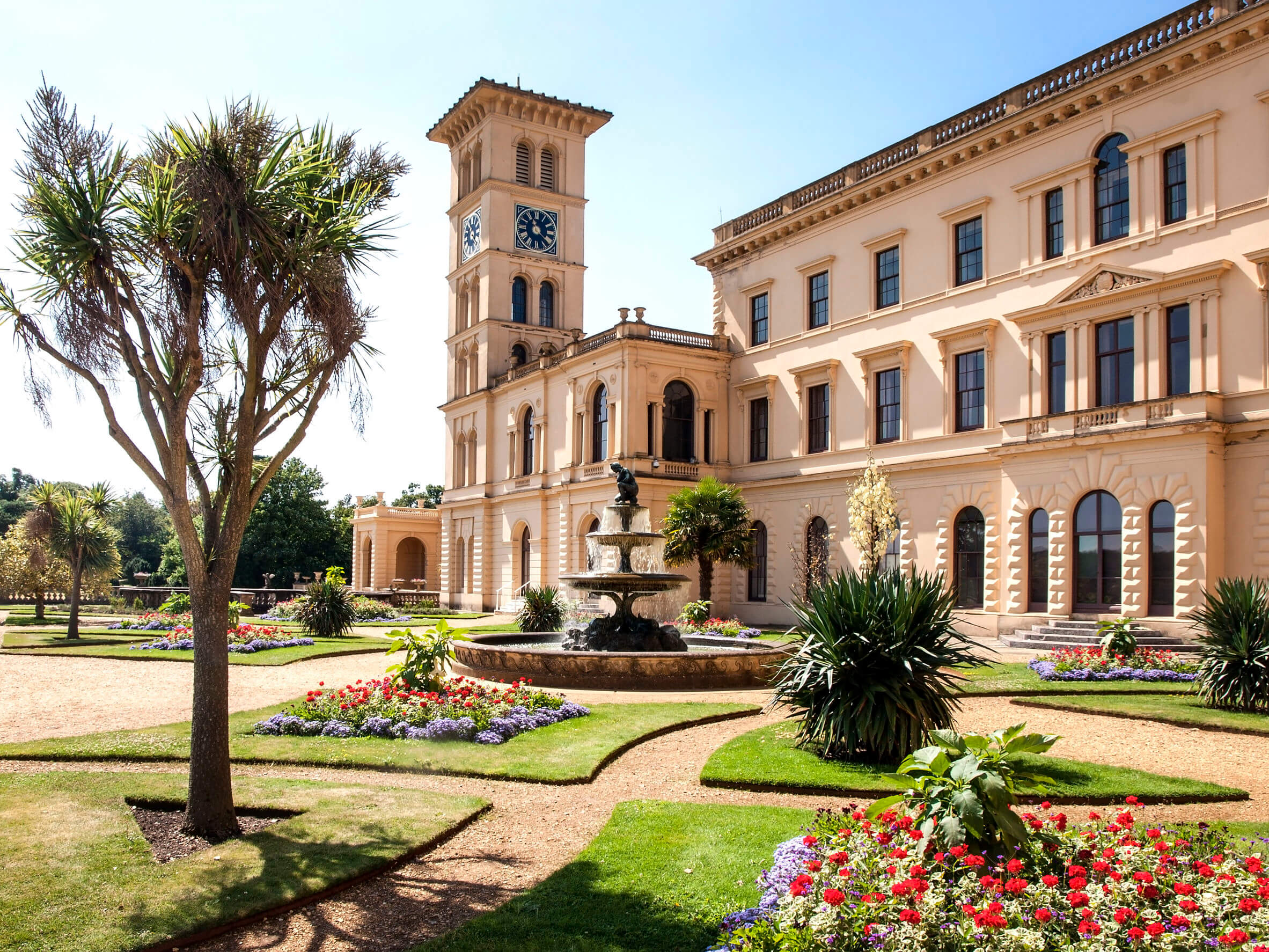 It's famous as the holiday home of Queen Victoria, who loved spending time here with her children and grand children. It's most famous as being the place where she came to mourn the death of her husband, Albert. Make sure to watch the film Victoria and Abdul before you go to get a sense of just how important Osborne House is to the history of England, and our monarchy.
This is one of the most popular things to do on the Isle of Wight.
You could easily spend a whole day at Osborne House. As well as the impressive rooms inside, there's also a pretty beach that looks out to Portsmouth. You can buy an ice cream here and just soak up the history.
There's also the area where the kids used to play – known as Swiss Cottage. There's a playground here, a museum and a little cafe. It's in amongst the vegetable patch, where some of the original seedlings were planted by Prince Albert – crazy to think!
The grounds of Osborne House are extensive. Don't miss the shop at the end – some great little treats in there.
I'm going to assume you won't have much time left after chilling at Osborne House for the day, so, if I were you I'd head back to the ferry port area.
If you're visiting the Isle of Wight for Christmas, Osborne House is a great idea as it's all dressed up for the festive season.
CLICK HERE to BOOK YOUR TICKETS FOR OSBORNE HOUSE IN ADVANCE TO SAVE TIME & MONEY
2. See the animals of the Isle of Wight
There are lots of great animal experiences to enjoy for a day on the Isle of Wight. If you prefer those with four legs to two, then you'll love it.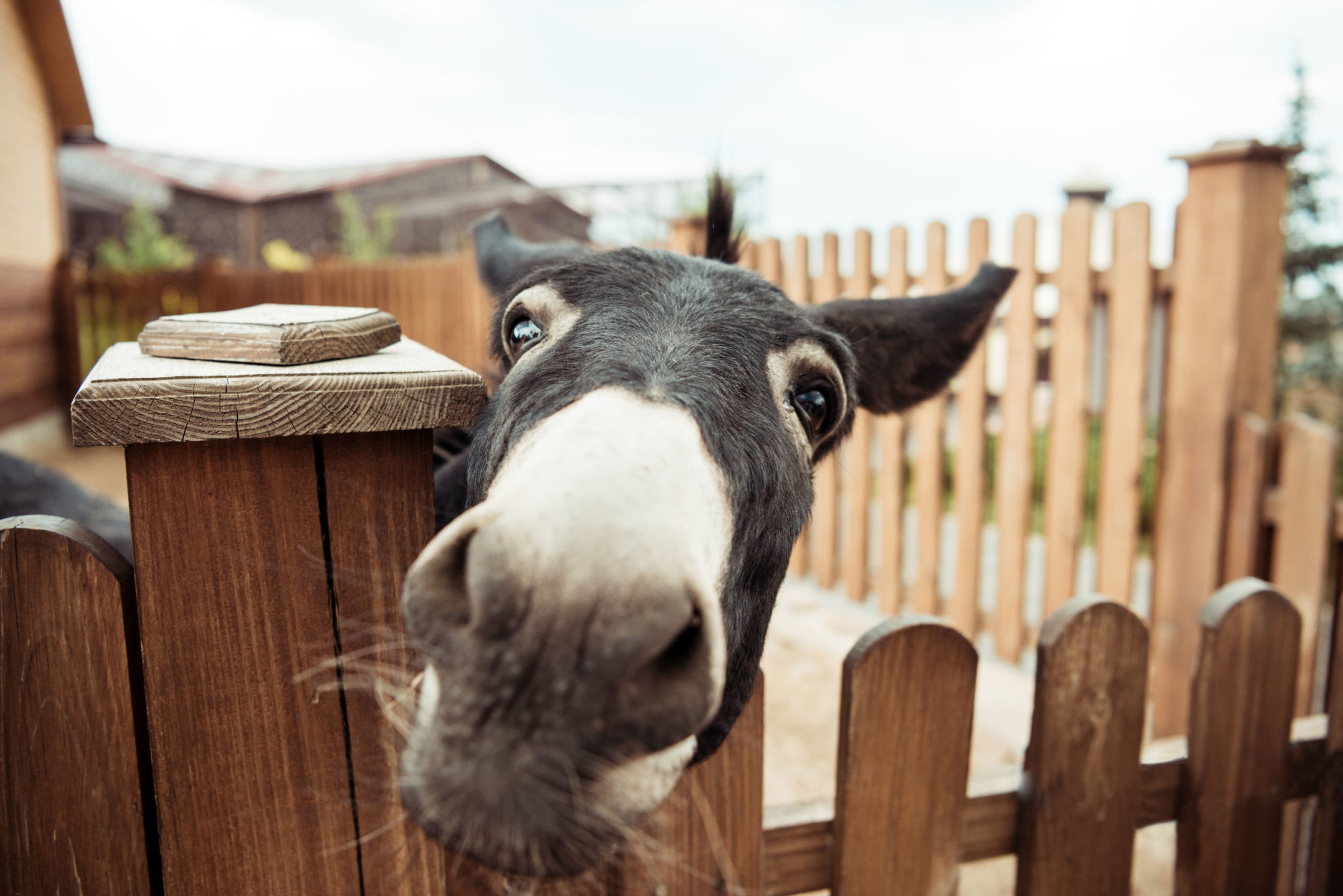 You could spend the morning at the Donkey Sanctuary. It's a volunteer service set up to help protect the ex beach donkeys they used to have on the Isle of Wight. Back in the days of donkey rides the poor little guys had to trudge up and down the Isle of Wight beaches with kids on their backs.
These days they're given lots of space to mooch about, and fed and watered to their hearts content. No more candyfloss-filled kids giving them a go-faster boot!
They're in permanent retirement. The donkey sanctuary is a really lovely place to visit on the Isle of Wight.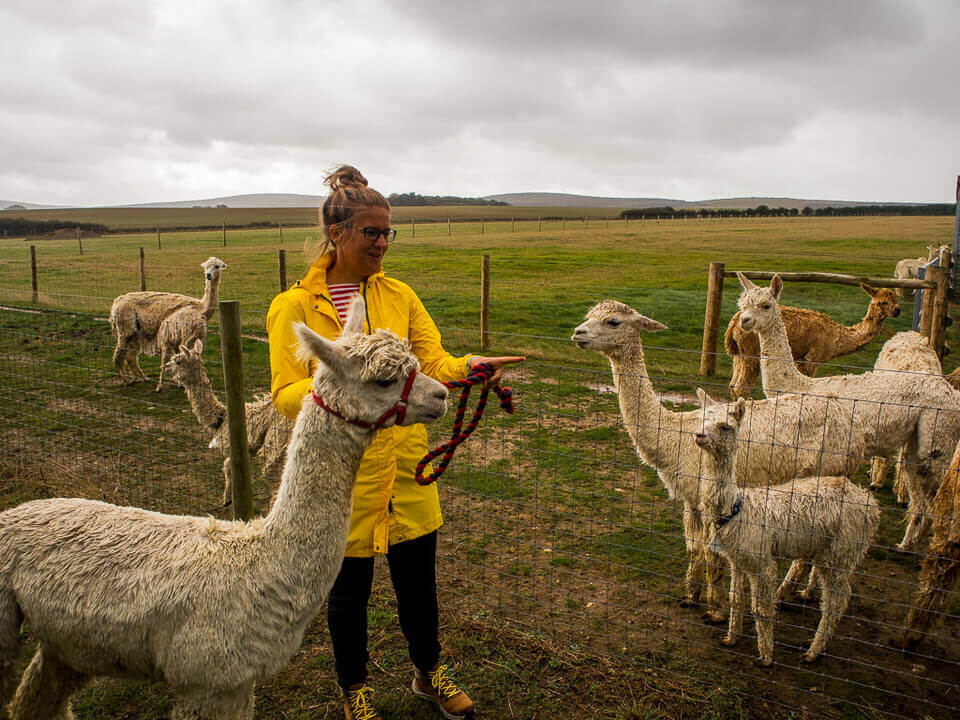 Not far from there you can visit the West Wight Alpaca Farm. Here you can walk an alpaca, hang out with the chickens, see some goats, and enjoy some food and drink at their coffee shop too. This is a great place for a day out on the Isle of Wight.
Still want more animals on the Isle of Wight?
Here you can pet the wallabies and feed the pigs and sheep. They have loads of animals here, and a really nice burger pub too. Maybe give a bit of space between scoffing your burger and petting the cows hey? They can probably smell it on you.
Tapnell Farm is well set up for kids, and for lovers of the outdoors. I stayed here once, at Tom's Modulogs. They were amazing, and the views from the hot tub – incredible. Watch my little video above to see what it was like.
As you drive around the Isle of Wight, look out for cows and sheep. They're famous round these parts, and one of the best Isle of Wight attractions.
If you still want more animal fun on your day out on the Isle of Wight, then check out Wildheart Animal Sanctuary in Sandown.
---
Map of the Best Isle of Wight Attractions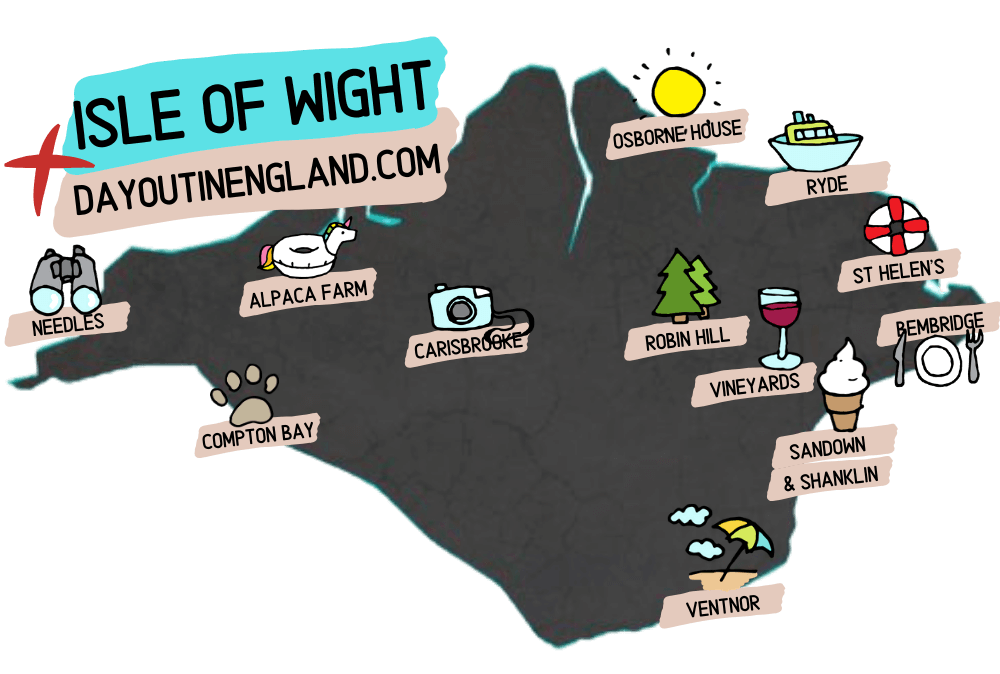 ---
READ MORE
Best Glamping Spots on the Isle of Wight
---
3. Hit up the beaches of Sandown and Ryde
The beaches of Sandown and Ryde are some of the best in England, in my opinion. Long white sands, and if you catch them on a sunny day you can pretend you're in the Caribbean. Yet, you haven't even had to board a plane for your Isle of Wight day out.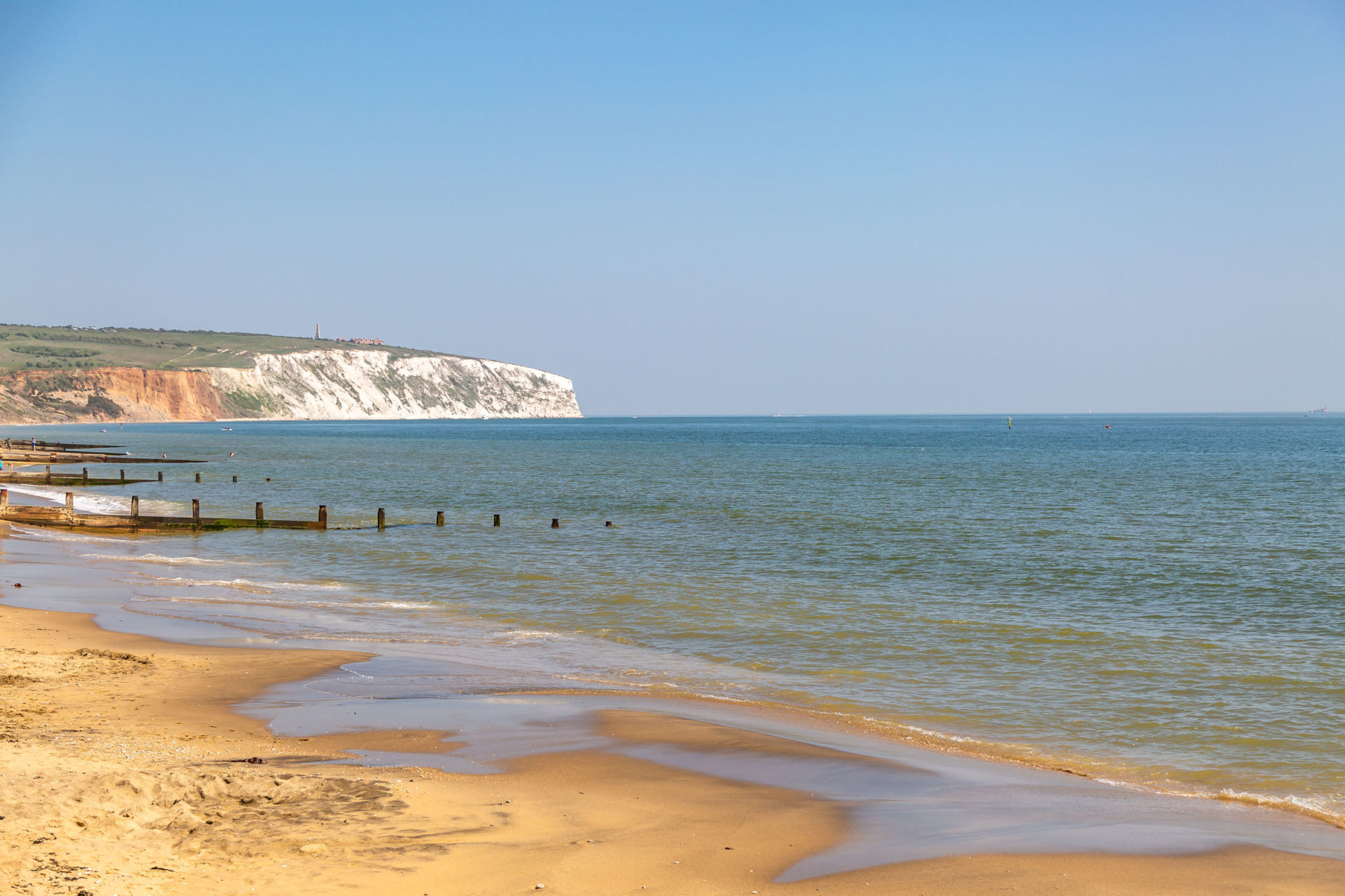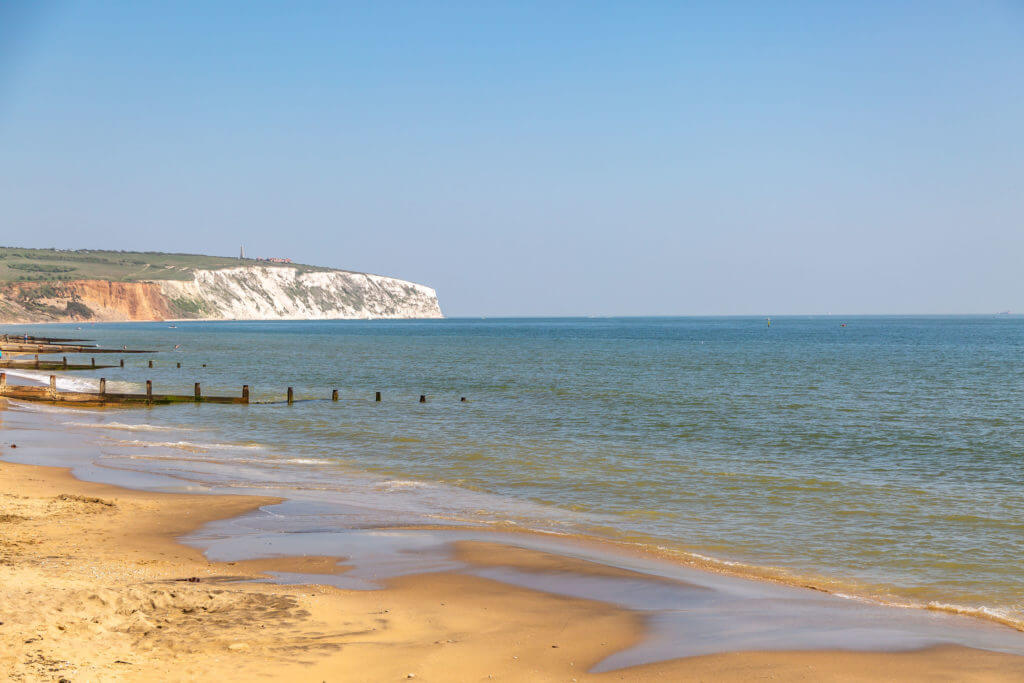 You can expect all the trinkets of the seasides here. From buckets and spades to traditional fish and chip shops.
You could just go on an Isle of Wight day trip to the beaches, trust me.
The beaches of Sandown and Ryde make for a great day out on the Isle of Wight – and cheap too!
4. Boozy day on the Isle of Wight
The Isle of Wight is well known for producing their own sprits and drinks. Their Mermaid Gin is legendary, and the bottle is so pretty too. If anyone wants to bring me back a bottle from their day on the Isle of Wight, please drop it off with me in Portsmouth as you leave.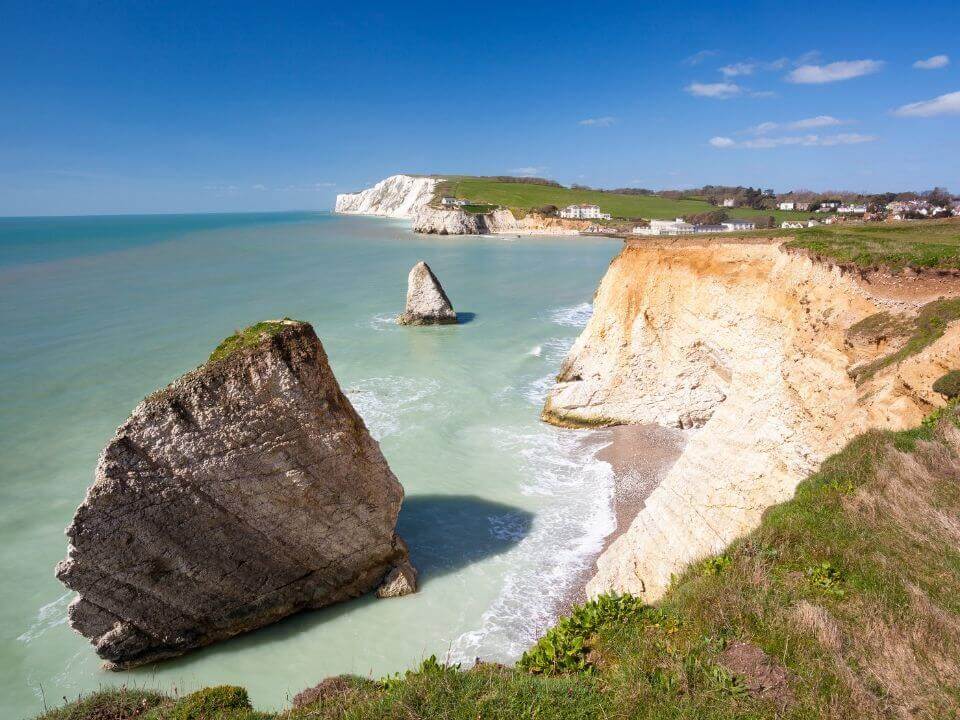 So, first stop on your boozy Isle of Wight day trip is to the Mermaid Gin Distillery. Now, be under no illusions, this is a small distillery, maybe only about 20 minutes of entertainment, but interesting nonetheless.
Just around the corner you'll find the Rosemary Vineyard, and the Adgestone Vineyard too. Both vineyards alike in mission, but different in taste – they just want to give us the best wine possible. Definitely one of the days out on the Isle of Wight more suited to adults!
You'll have to visit both to see which one takes the crown for you.
Obviously you'll need a designated driver for this little excursion, or you can plan your trip with taxis so that you end at the Adgestone Vineyard and can stay overnight there. It's one of the oldest vineyards in England.
5. Take to the water
All the water babies among us, please raise your hands now.
Given the fact that the Isle of Wight is an island, you can expect lots of water activities here. Bring a pair of dry clothes if you want to spend your day trip to the Isle of Wight checking out the water activities, or it'll be a cold ferry home.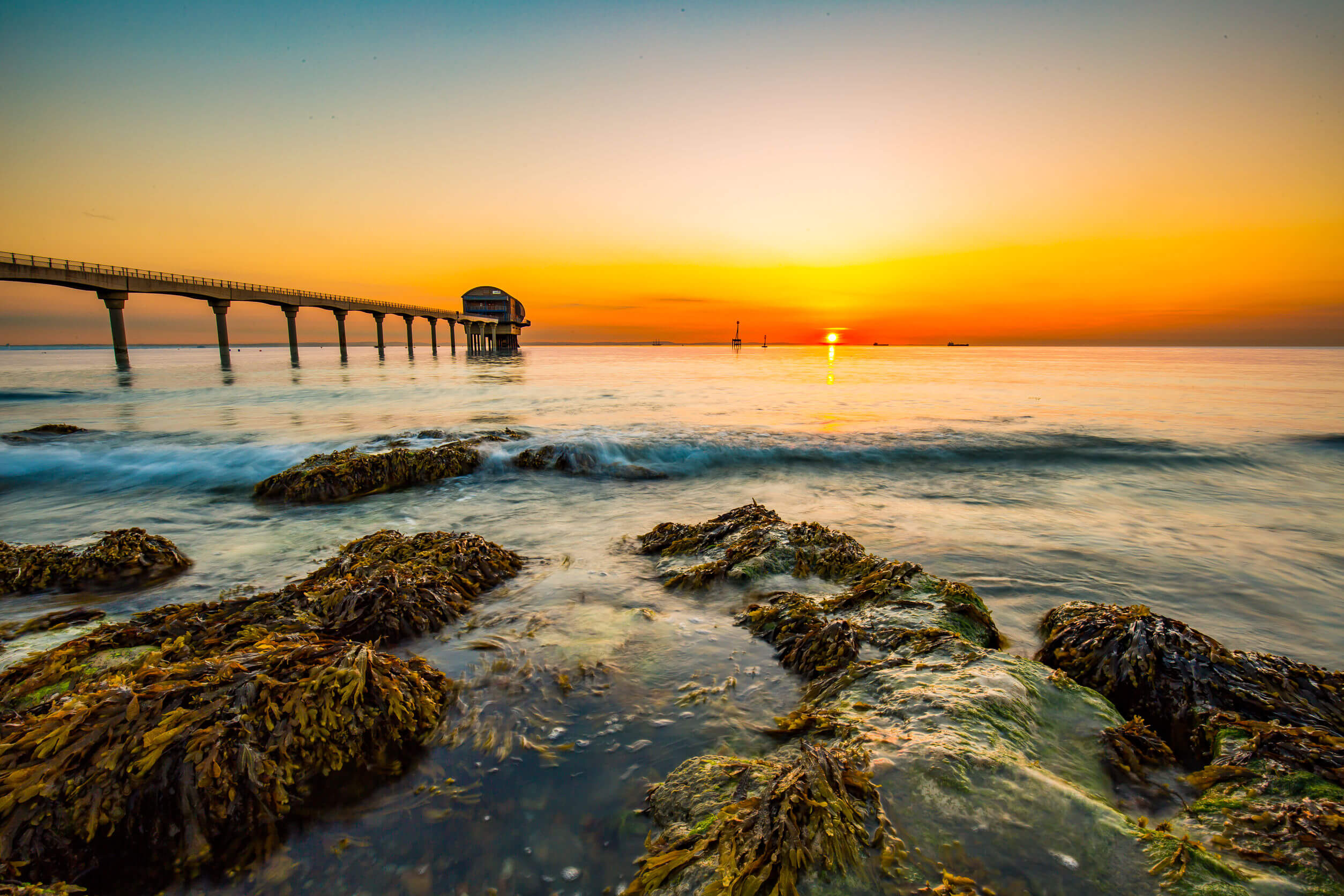 Last time I went to the Isle of Wight I went kayaking with Tackt-Isle Adventures off St Helen's Beach, through Priory Bay and round to Seagrove Bay. I was so nervous about being cold and wet – given that it was a blustery late September day – but I was absolutely fine thanks to all the garb they gave us.
They also do stand up paddleboarding and windsurfing too, both of which could add up to a great day out on the Isle of Wight for adventure seekers.
If that all sounds like too much exercise for you then how's about you join a boat trip instead? You could pay up to join the Needles boat trip for a dramatic cruise around the rocks and lighthouse and panoramic views of the Alum Bay sand cliffs for your IOW day trip.
6. Cycling on the Isle of Wight
Cycling on the Isle of Wight is kinda a big deal. It's actually one of my low key life ambitions to cycle all the way round, although that would take longer than a day on the Isle of Wight to complete.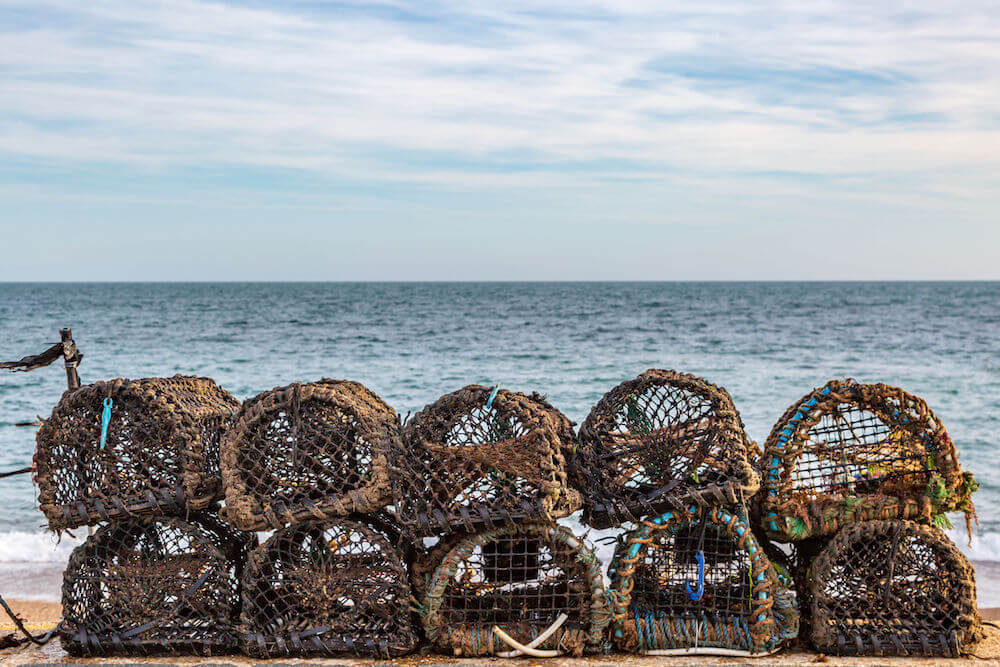 There's an annual cycling festival on the Isle of Wight, and the cycle routes are well mapped out for anyone who wants to partake. A day trip to the Isle of Wight with your bike is a wonderful way to see the island, and enjoy the coastline, and you can just take the hovercraft.
Keep an eye out for coastal places to eat, there'll be plenty!
7. Day out in Ventnor
Ventnor is kinda like the cool kid on the Isle of Wight. It's where the famous Ventnor Fringe Festival is, that I totally plan on going to this year. A few teenagers came together about 10 years ago and wanted to do something to get people to come to the island. They succeeded.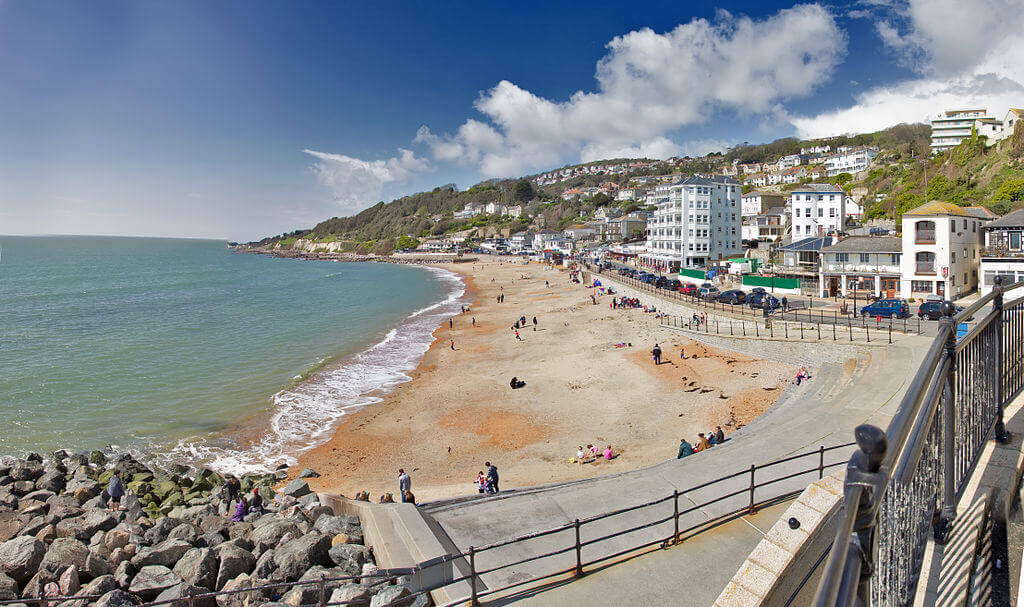 Ventnor is one of my favourite parts of the island and makes for a great day out on the Isle of Wight. You can mooch in the cafes, drink coffee or just cruise around and pick out a great brunch spot – I recommend Tramezzini for their huge portions.
Go down to the beach and you can wander along admiring the views. Although if it's windy watch out for getting knocked over by passing waves. They're huge!
Down at Ventnor Beach there are a few places to eat, including the Smoking Lobster and The Spyglass Inn – pirate themed and with great views. I'd totally recommend visiting the Royal Hotel for their Afternoon Tea, it's perched up on the hill and just adds a bit of extra class to your Isle of Wight day out.
Dress up nice!
We love Ventnor and have crowned it one of the best undiscovered places in England.
Nearby the Ventnor Botanical Garden makes for a lovely few hours in among the shrubs, plants and trees. They have a Japanese Garden and a cafe and shop, and a walkway down to the Steephill Cove too. With over 20,000 plants in 22 subtropical acres of grounds, there's a lot to see here.
From here you can drive back through Ventnor for one last look, or carry on the other way to Appuldurcombe House. Unfortunately it's now only the ruins after being bombed in World War II, but it's an interesting ruin and totally free to get in, so why not?
8. Big dinosaur day out
Dinosaurs lived on the Isle of Wight, we know that as FACT. If you want to see the evidence, then drive up to Compton Bay on your Isle of Wight day trip to see the genuine dinosaur prints in the ground.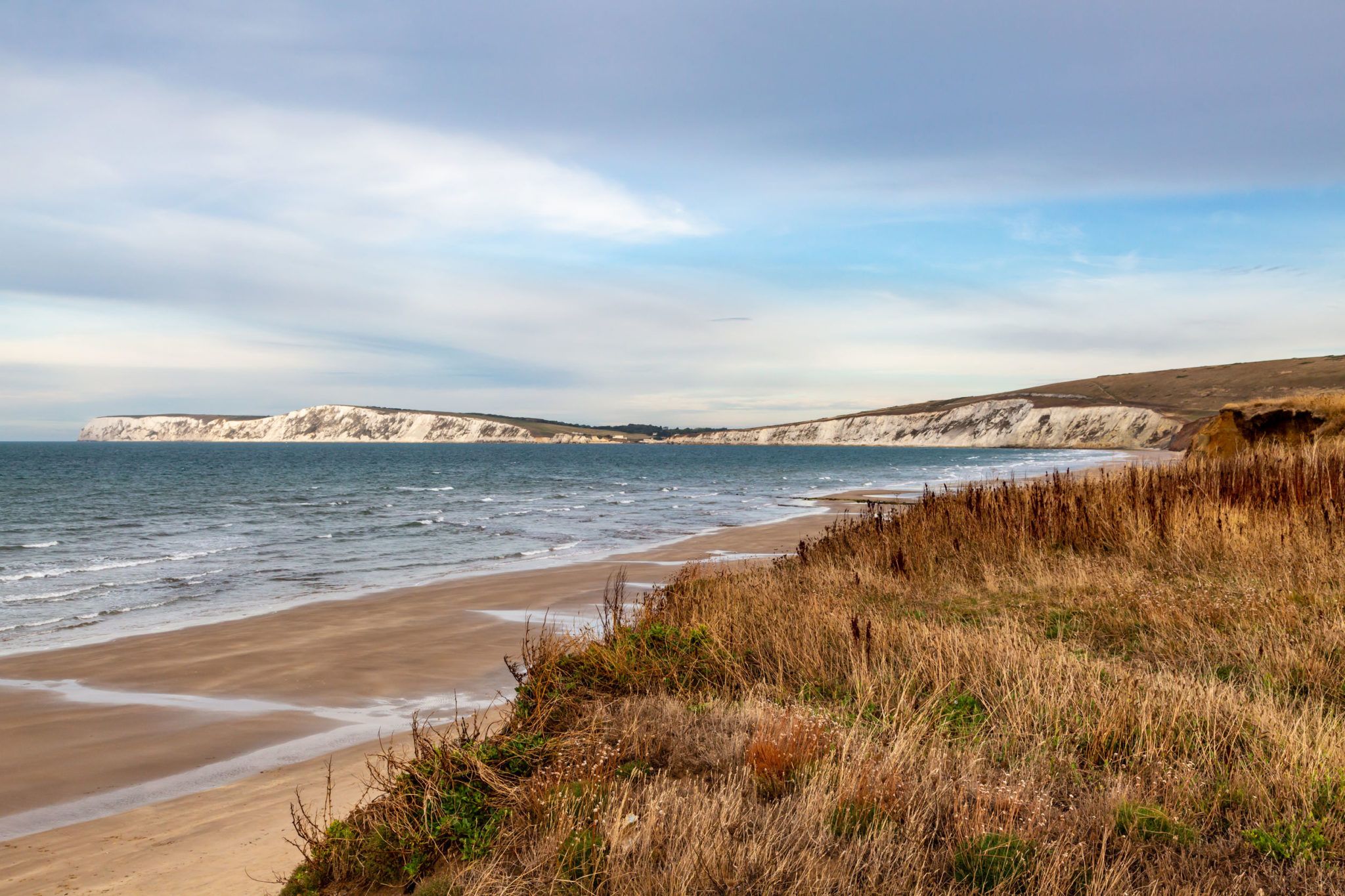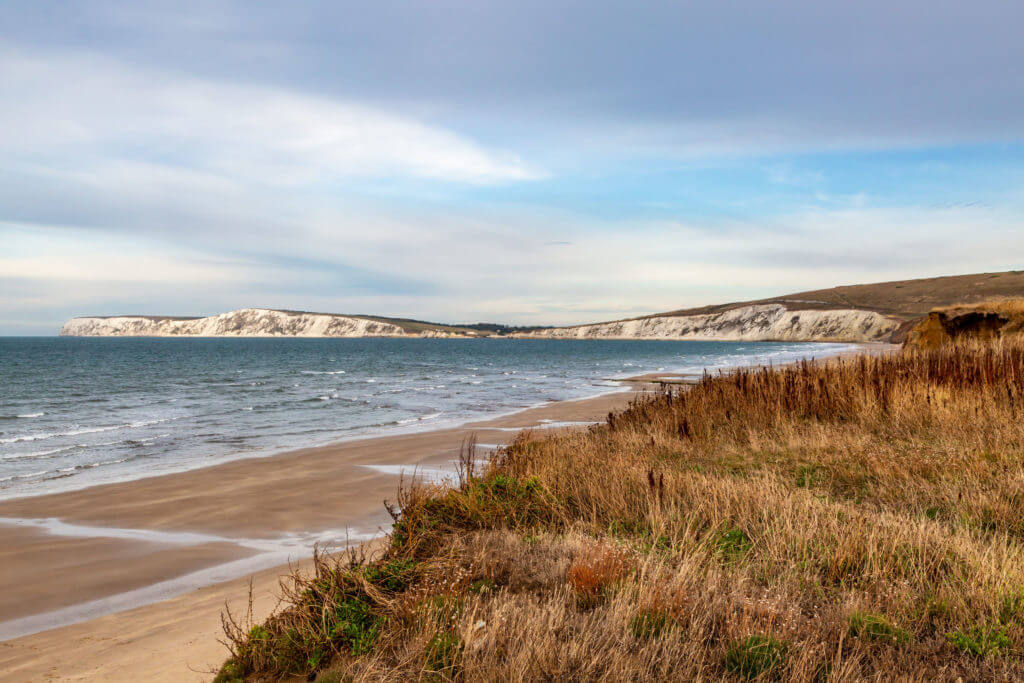 If you want to know more, you can join a tour along the beach and the surrounding areas, to know more about the Isle of Wight's dinosaur history. Some people just take a day trip to the Isle of Wight specifically for the palaeontology possibilities.
Just 15 minutes away from Compton Bay is the Off the Rails restaurant. It's in an old train carriage, on a train track, with rail themed menu and drinks. I can strongly recommend the fish sandwich – huge and an absolute taste sensation.
It is 40 minutes away, but back on the side of the island for the ferry port, you can find the Dinosaur Isle Museum. Here you can learn everything there is to know about dinosaurs on the Isle of Wight. It's one of the best dinosaur days out in England.
Enjoy a thoroughly dinosaur themed Isle of Wight day out!
9. Castles on the Isle of Wight
You could easily go to the Isle of Wight for the day to explore the many castles there. The top choice would be Carisbrooke Castle, which is the one usually pictured on any Isle of Wight promotional material.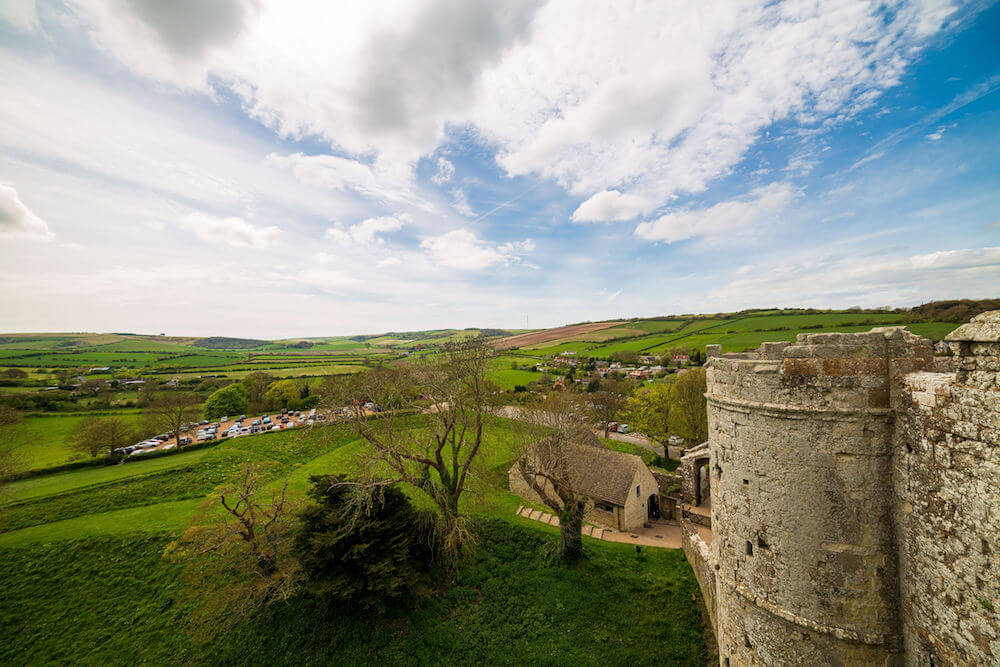 King Charles was once imprisoned here while he awaited trial. Time to learn a little more about the history – book your tickets for Carisbrooke Castle in advance to save money and time queuing. You have to book your tickets at least a few hours in advance for Carisbrooke Castle.
The 16th Century Yarmouth Castle is also worth a look. It was built to defend the island's defences, although, never actually had to be used. Pop along to see what they've done with the space today. Both castles have cafes so you can take some time out to relax.
These are top spots for days out on the Isle of Wight for history lovers.
10. National Trust Membership sites
National Trust membership turns out an absolute bargain. You can pay £72 straight up, and then have access to 100s of sites around England. I've actually written an entire article about whether you should get National Trust membership, or English Heritage membership here.
The National Trust sites to enjoy on a day on the Isle of Wight include: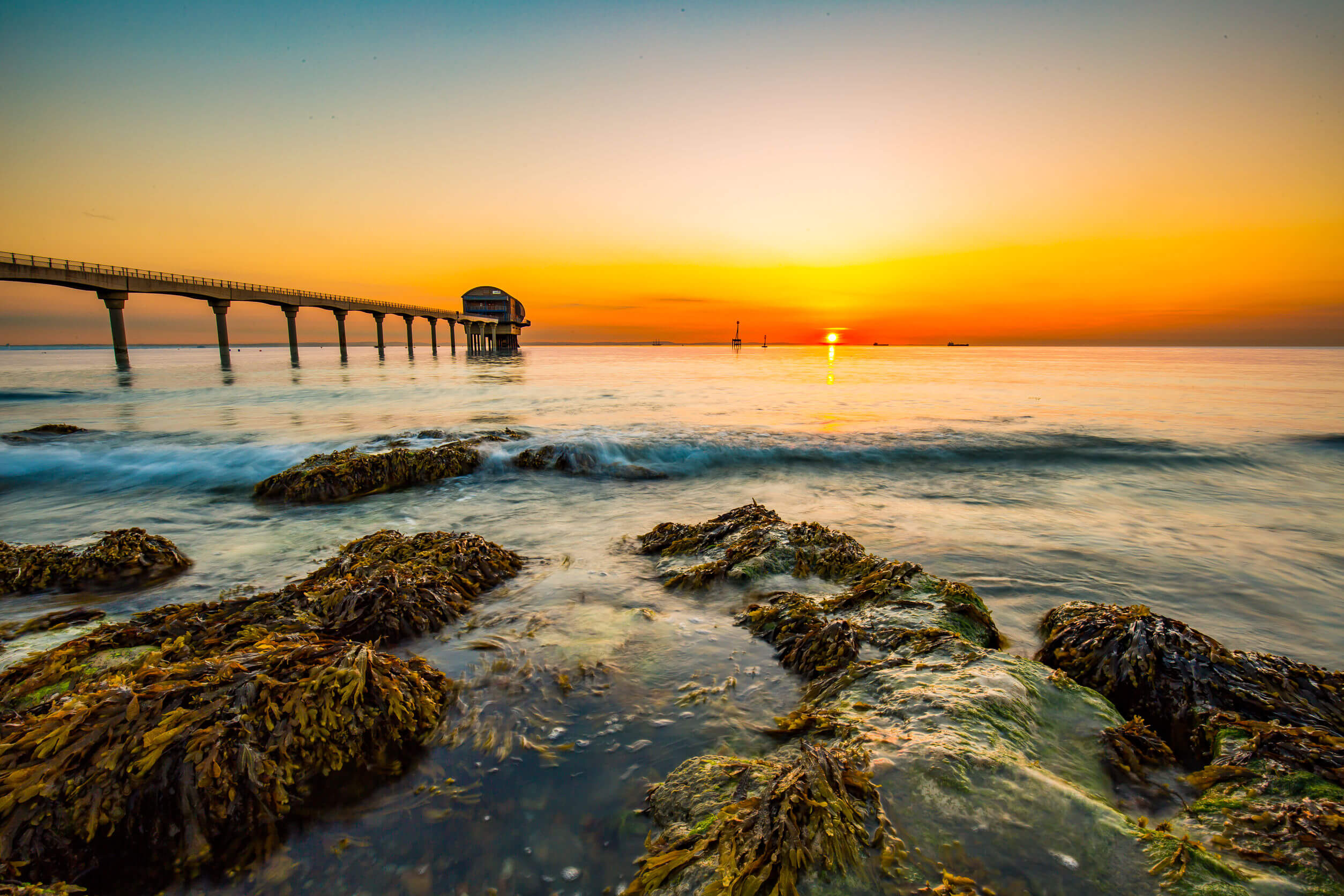 Bembridge Fort – an unrestored Victorian fort built in the 1860s on top of Bembridge Down.
Bembridge Windmill – one of the oldest attractions on the Isle of Wight, where you can climb to the top.
Newtown Old Hall – bit basic, but you might enjoy it. Basically an old town hall.
Mottistone Manor Garden – one of the best green spaces on the Isle of Wight, with beautiful gardens and pruned borders.
Needles Old Battery – this is the number one attraction on the Isle of Wight, and included in your National Trust membership.
If you spent your Isle of Wight day out driving between the included National Trust sites, you would spend nothing on entrance fees and cover a good few miles of wonderful Isle of Wight wilderness.
11. English Heritage Membership sites
I've got English Heritage membership, mainly because it covers you at Osborne House, which is where I bought it. When I bought it in September 2019 they were actually doing an offer where you got 18 months for the price of 12, so that was pretty sweet.
The English Heritage sites to enjoy on a day on the Isle of Wight include:
– Osborne House
– Carisbrooke Castle
– Yarmouth Castle
You can sign up for English Heritage membership here.
If you're visiting England from abroad, the English Heritage: Attractions Pass for Overseas Visitors is a great deal. Valid at over 100 places including Stonehenge and Dover Castle, this Pass gives you the flexibility to get the most out of your trip to England. Get the best value for money and a simple way to explore England's greatest historical attractions by booking the Attractions Pass for Overseas Visitors in advance here.
12. Day out in Shanklin
You can't beat Shanklin for a good old fashioned Isle of Wight day out. This is the epitome of an English day out, with fudge shops, afternoon teas, cute houses and friendly locals walking their dogs.
It's picture card perfect olde Isle of Wight. Just look at that pink tea shop!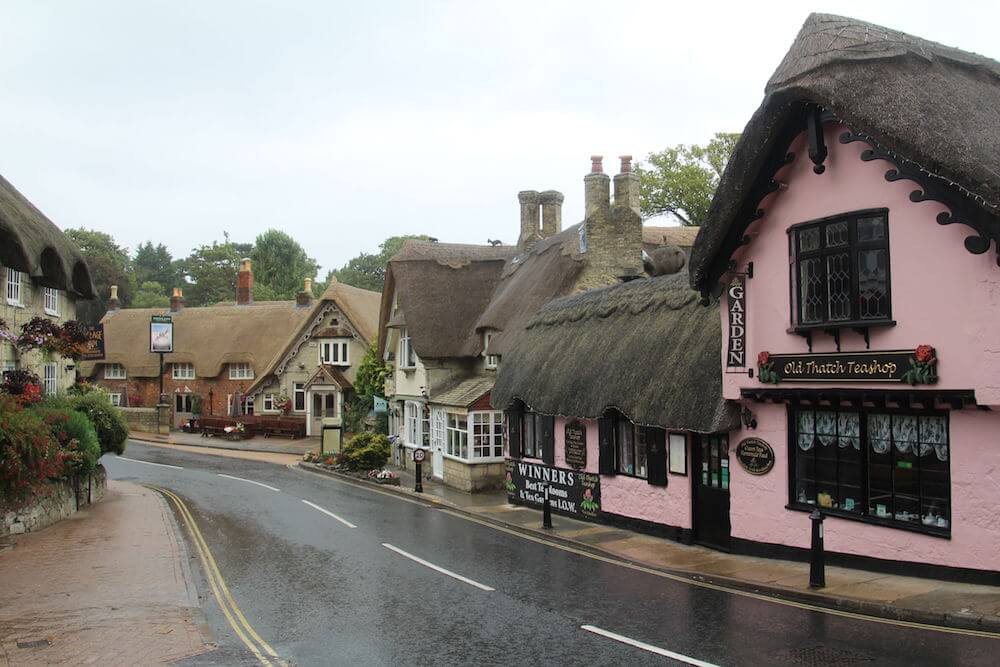 There are some cute shops here, and Shanklin Chine is one of the most visited tourist attractions on the Isle of Wight too.
I can strongly recommend the Kynges Well in Shanklin for dinner. It's quite the unassuming pub but the food is amazing. I had pork medallions in a tarragon sauce with mushrooms and it was absolutely delicious.
Or, Pavarotti's looks amazing, but I've never been. Come back and tell us what it's like in the comments below.
13. Day out at the Needles
The Needles are the number one tourist attraction on the Isle of Wight, can't believe I haven't mentioned them already. If you're visiting for the day, for the first time, it's probably high up on your list of things to do on the Isle of Wight.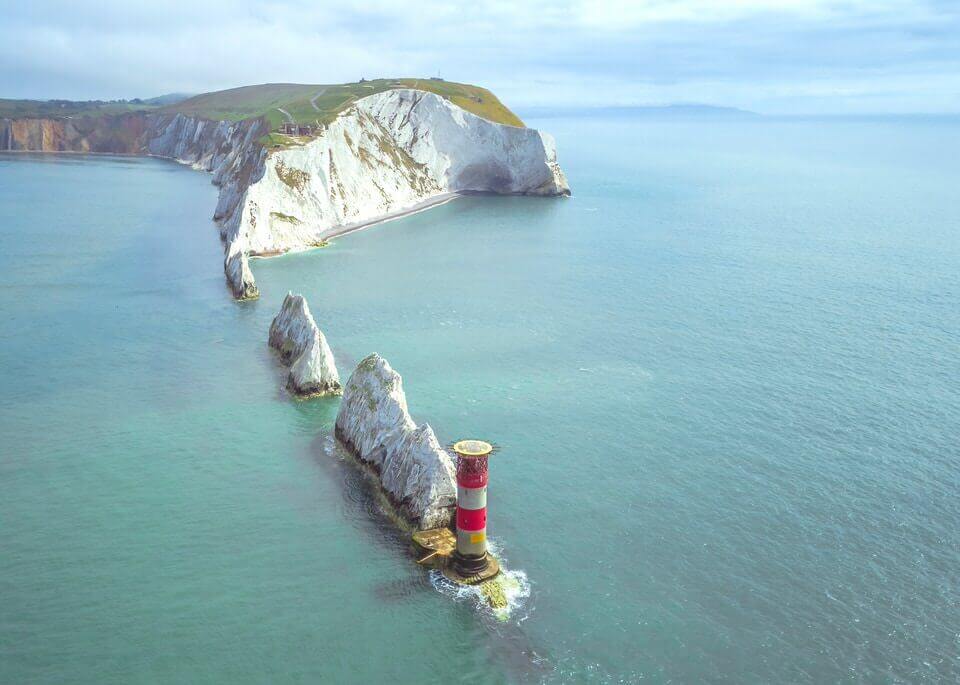 This is the iconic image of the island. The Needles landmark is made up of three stacks of chalk that rise up off Alum Bay, to the west of the island. There's also a lighthouse here that you'll need to capture in your pic to get the ultimate photo of the Isle of Wight.
The name, 'The Needles' comes from what was once the fourth stack. It was shaped like a needle but collapsed in a storm years ago.
There is a tourist area built up around The Needles, but, to be honest, apart from the little cable car, I wouldn't bother. Unless, the only caveat to that, is if it's gorgeous weather. Otherwise it's a little sweet shop and factory – where you have to pay to watch them make the sweets – a golf course, and some seaside arcades.
There's also a dedication to Marconi and his telecommunications innovations, in the form of a stone plath. As for a day out on the Isle of Wight, this is more of an afternoon.
You could fill the rest of your day with a visit to the Pearl Farm, or to the Garlic Farm. Both iconic things to do on the Isle of Wight.
"Our historic Brighstone venue is not only home to an unmissable collection of pearl jewellery – but there are spectacular cliff-top views over the English Channel, a butterfly meadow, and a café where you can enjoy a day like no other."

– PEARL FARM
"We've been growing garlic on the Isle of Wight ever since Granny Norah planted those first few cloves in her garden over 60 years ago. We have spent the many years since exploring its history and origins, experimenting with the many different varieties here on "the Island" and creating a range garlic infused products from garlic mayonnaise to garlicky chutneys and from black garlic beer to garlic ice cream."

– GARLIC FARM
14. Peace and quiet at Compton Bay
Wait until the tide is low, start at Compton Bay and walk back along the coast to Whale Chine or further and back again. Then get an ice cream from the ice cream van sat at Compton and chill on the beach for a bit. Perfect and even better if low tide happens to be around late afternoon/early evening. It's even quieter there then.
Great opportunity to have a swim along the route too.
This is one of the most peaceful areas on the Isle of Wight for a day out. Perfect when its topped off with some fish and chips too.
15. Visit Robin Hill Country Park
Nestled in the heart of the Isle of Wight, Robin Hill Country Park holds an adventure like no other.
This award-winning country park is a treasure trove of natural beauty, thrilling rides, and enchanting experiences. Set in 88 acres of lush woodlands, Robin Hill offers an idyllic escape for families, couples, and nature enthusiasts alike.
16. Go to Blackgang Chine Theme Park
Delight in the whimsical wonders of Blackgang Chine Theme Park, where magical memories come to life. Experience the enchantment of the UK's oldest family theme park and embark on an extraordinary journey with the family today.
At Blackgang Chine, you can explore a huge range of rides and attractions, as well as 'Lands of Imagination' that'll set you and your kids off on wondrous journey where anything can happen! 
Buy your tickets for Robin Hill and Blackgang Chine for a combined reduced cost of £30.
---
Day out on the Isle of Wight
If you're only visiting the Isle of Wight for a day, then the hovercraft from Southsea is the best option. You can book your hovercraft tickets in advance here to save time and money.
Quicklist: best days out on the Isle of Wight
1. Visit the famous Osborne House
2. See the animals of the Isle of Wight
3. Hit up the beaches of Sandown and Ryde
4. Boozy day on the Isle of Wight
5. Take to the water
6. Cycling on the Isle of Wight
7. Day out in Ventnor
8. Big dinosaur day out
9. Castles on the Isle of Wight
10. National Trust Membership sites
11. English Heritage Membership sites
12. Day out in Shanklin
13. Day out at the Needles
14. Peace and quiet at Compton Bay
---
PIN THESE ISLE OF WIGHT DAYS OUT FOR LATER