Best Itinerary for a Day Out in Portsmouth
Let us help you plan your day out in Portsmouth. Just off the coast of England, Pompey (as it's known locally) is one of the sunniest spots in England for a day out.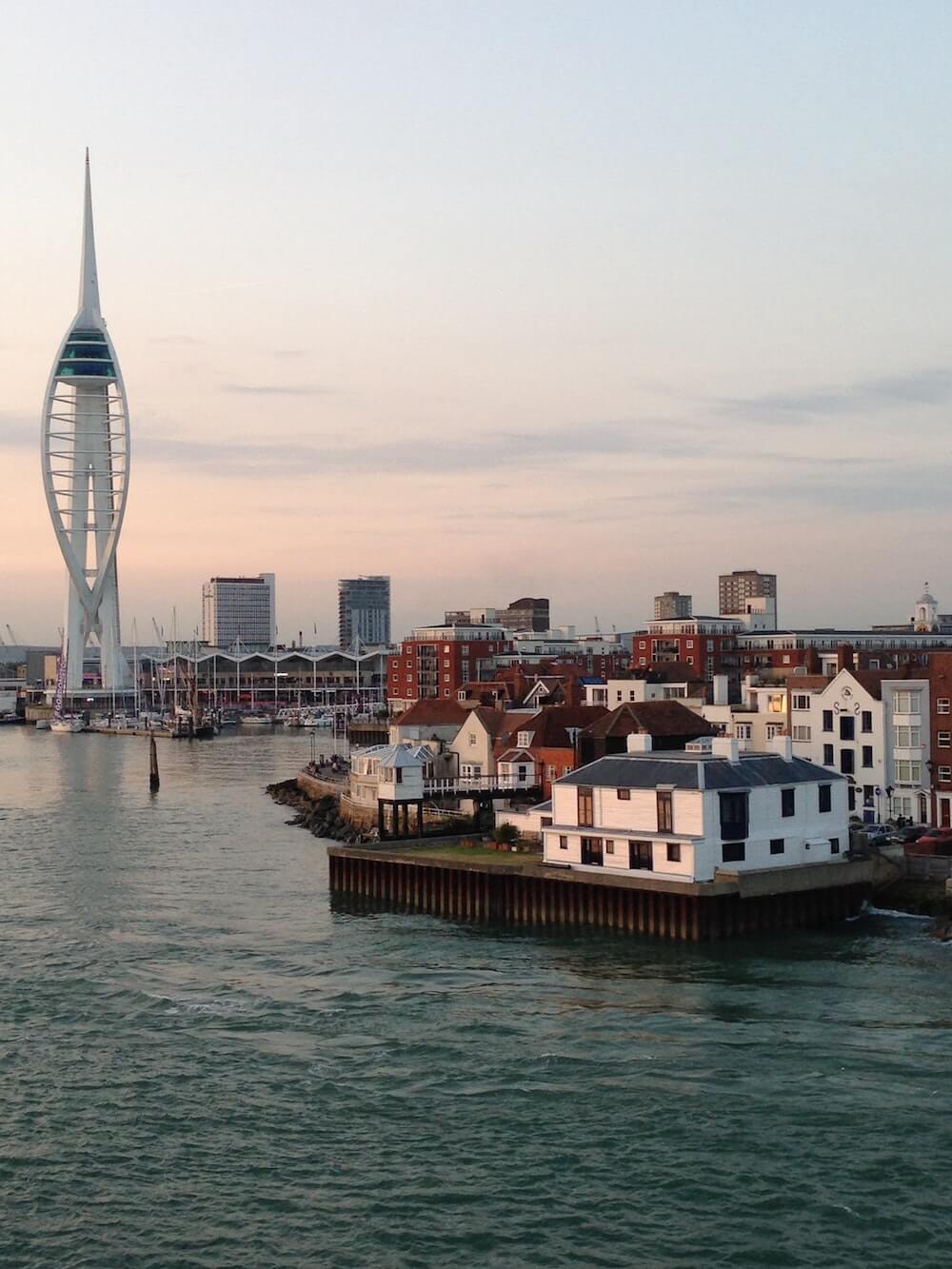 A Portsmouth day trip is always a good idea, but it's even better when it's sunny!
As the only island city in England, Portsmouth has a rich marine history. Henry VIII lived here, the Mary Rose sunk just off the coast, and much more recently, the HMS Queen Elizabeth came through here to stay for a few months for repairs. Also, we have the Portsmouth Historic Dockyard.
As well as the deep maritime history, Portsmouth is known for its arty area of Southsea – where I live. Here you can wander from coffee shop to artisan bakery, enjoying the independent businesses as you go.
And you can't visit Southsea without going to the beach.
Lakes, outlet shopping, hills and history – the city makes for a great day out in Portsmouth. Let's take a look at the Portsmouth itinerary broken down hour by hour, shall we?
How to Have the
Best Day out in Portsmouth
I'd recommend you start at one end, at Portsmouth Harbour, and travel on through to the other, towards Eastney.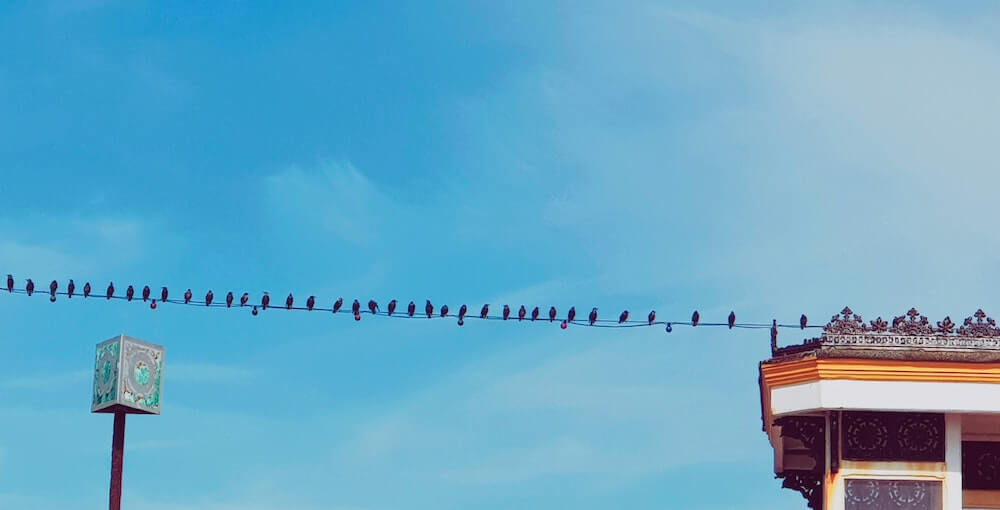 9am: Brunch and shopping
Right, first up, you need a good feed. There are all kinds of chain restaurants at Gunwharf Quays shopping centre – everything you could ever want – but I'd suggest NEED, just outside the Quays, for a bit of independent Portsmouth goodness.
They do an epic brunch here, and pancake fans will love it. Also, the profits go to homeless people in the city.
With a good breakfast in you, you'll be ready to take on your day trip in Portsmouth.
You can either check out some of the best outlet shopping in all of England at Gunwharf Quays – including my favourites; Vans, The White Company and Nike. There are over 90 shops here, all at crazy discount prices. Come for the sale and have a field day!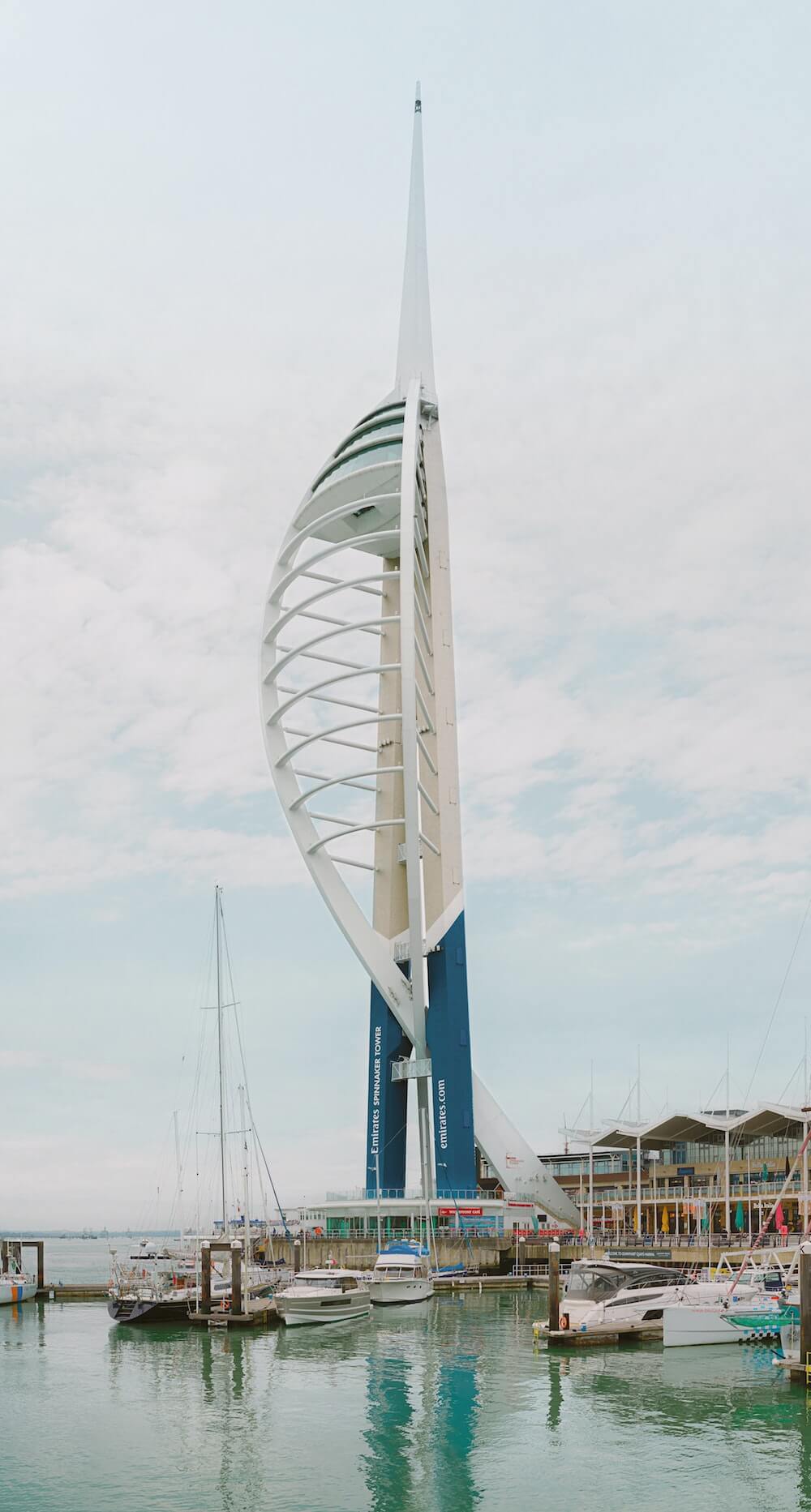 If you want a bird's eye view over the waterfront shopping outlet I can't recommend going up the Spinnaker Tower enough. They do afternoon tea up there and if you go on a clear and sunny day, you can see all the way out to the Isle of Wight.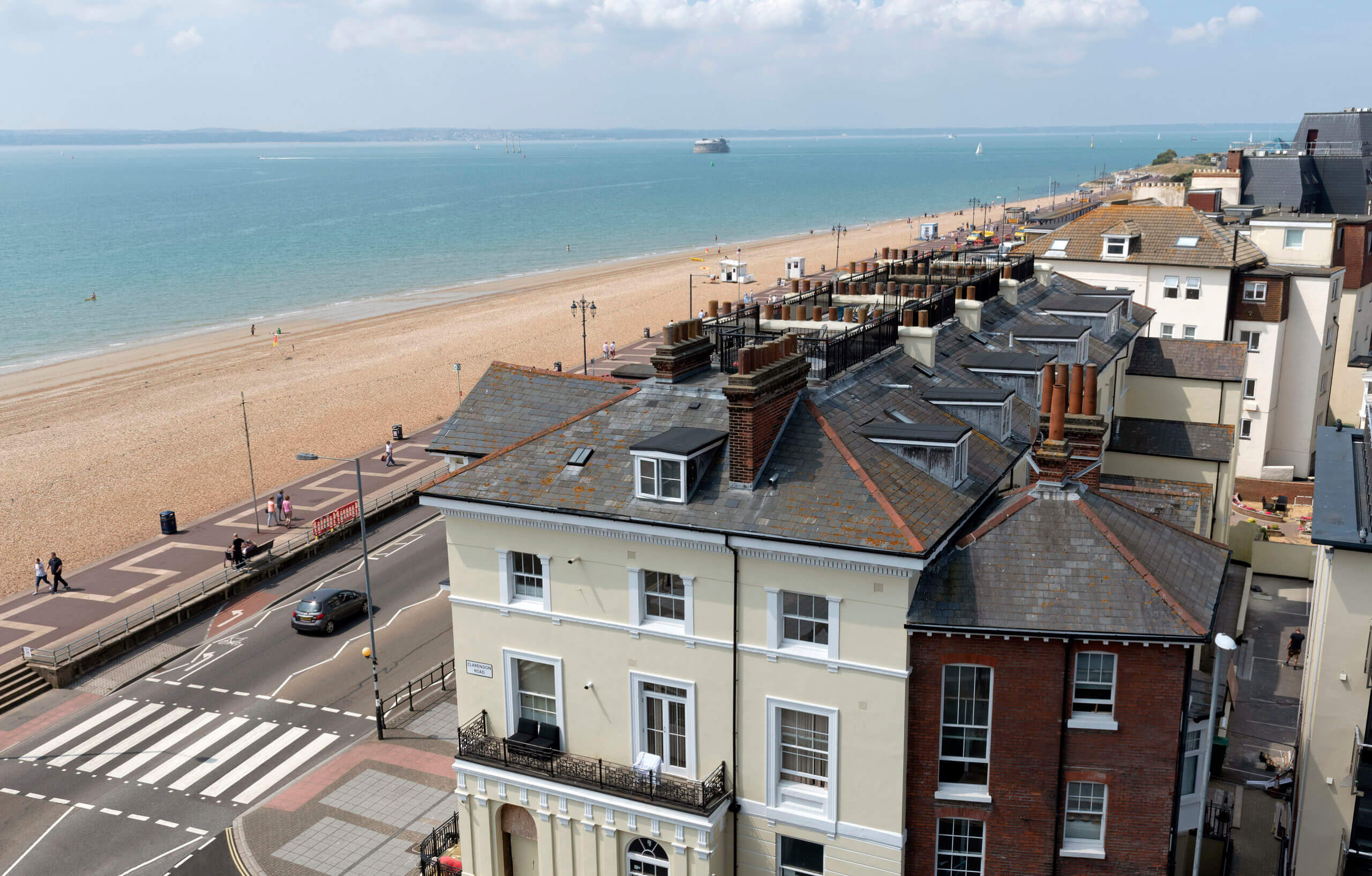 If you're more of a history lover, than shopper, you could walk on over to Portsmouth Historic Dockyard. Here you'll find the Mary Rose, the HMS Victory, the HMS Warrior and a ferry to the Royal Navy Submarine Museum in Gosport. I've seen them all, multiple times. Check the times as soon as you arrive to see if there's a tour you can join.
There's also a working boatyard there where you can see the crafters at work, and look round the little gift shop.
---
HOW TO SEE PORTSMOUTH NEXT TIME
Fancy cycling Portsmouth next time you're here? I've written a guide to cycling round Portsea Island, and most of the city, for any keen cyclists. It'll take just over an hour, and is around 14 miles. Take a look!
---
12ish: Walk the seafront to lunch
Right, time to move on. There's lots to see on your days out in Portsmouth!
I'd recommend walking into Portsmouth, but if you need to, it's easy to get an Uber. You won't pay anything more than a few quid wherever you want to go in Pompey.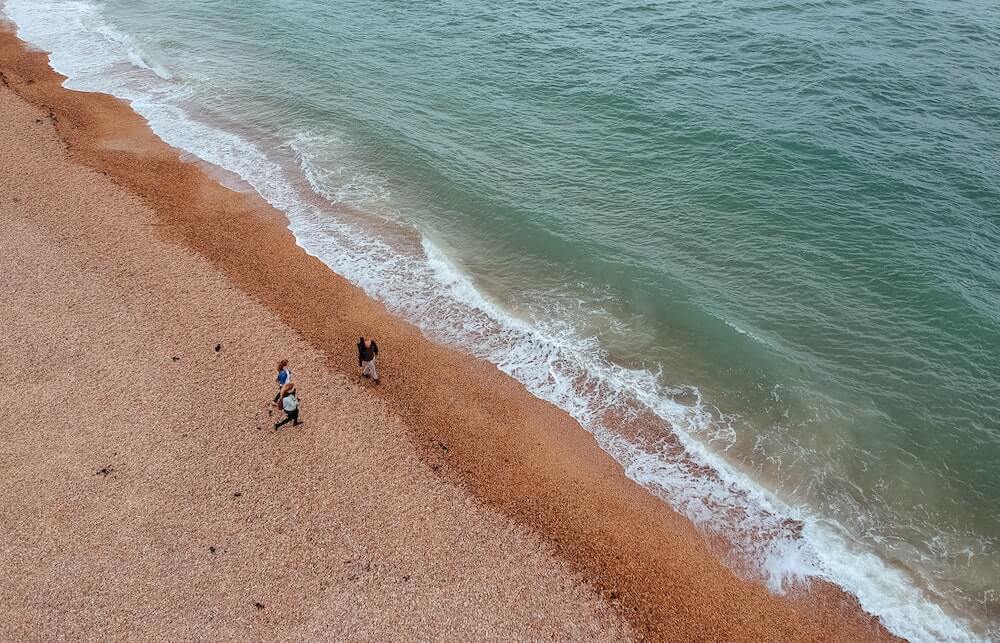 – Southsea Beach makes for a great day out in Portsmouth
You'll walk through Old Portsmouth, with all its fabulous colourful houses. There are also some great pubs – locals love to sit outside at Spice Island and Still and West to watch the sun set over the harbour. But we're not ready for that yet.
Carry on and you'll walk past Hot Walls Studios, an awesome arty area located in the old walls of the city's historic fortifications. The Hot Walls Studios are an initiative to help artists showcase and sell their work. Pop in and they'll be glad to show you what they're up to. Or, just go to the ice cream shop – they've got some great flavours.
While you're here check out The Canteen. It's a little deli-style restaurant nestled in the historic barracks of the fortifications. You can sit outside with a glass of vino and watch as the boats and ferries attempt to get into the harbour. Go on, give those passing passengers a wave.
Take a little detour to poke your head in at Portsmouth Cathedral – it's a really beautiful venue to see, whether you're religious or not. Known as the Cathedral of the Sea, they won't mind if you have a little look round.
Keep following the walls round, and the coast, and you'll come to the start of the huge Southsea Common.
You could stop off at Royal Garrison Church – one of the only churches in England without a roof. Or just keep going and enjoy the views across the water to the Isle of Wight.
Clarence Pier has a fun pirates golf, arcade machines, and a few rides. Stop and admire the hovercraft setting off with all its furore.
Southsea Bandstand, and all the benches of Southsea. You're never short of somewhere to sit down here on your Portsmouth day trip.
2pm: Lunch on the beach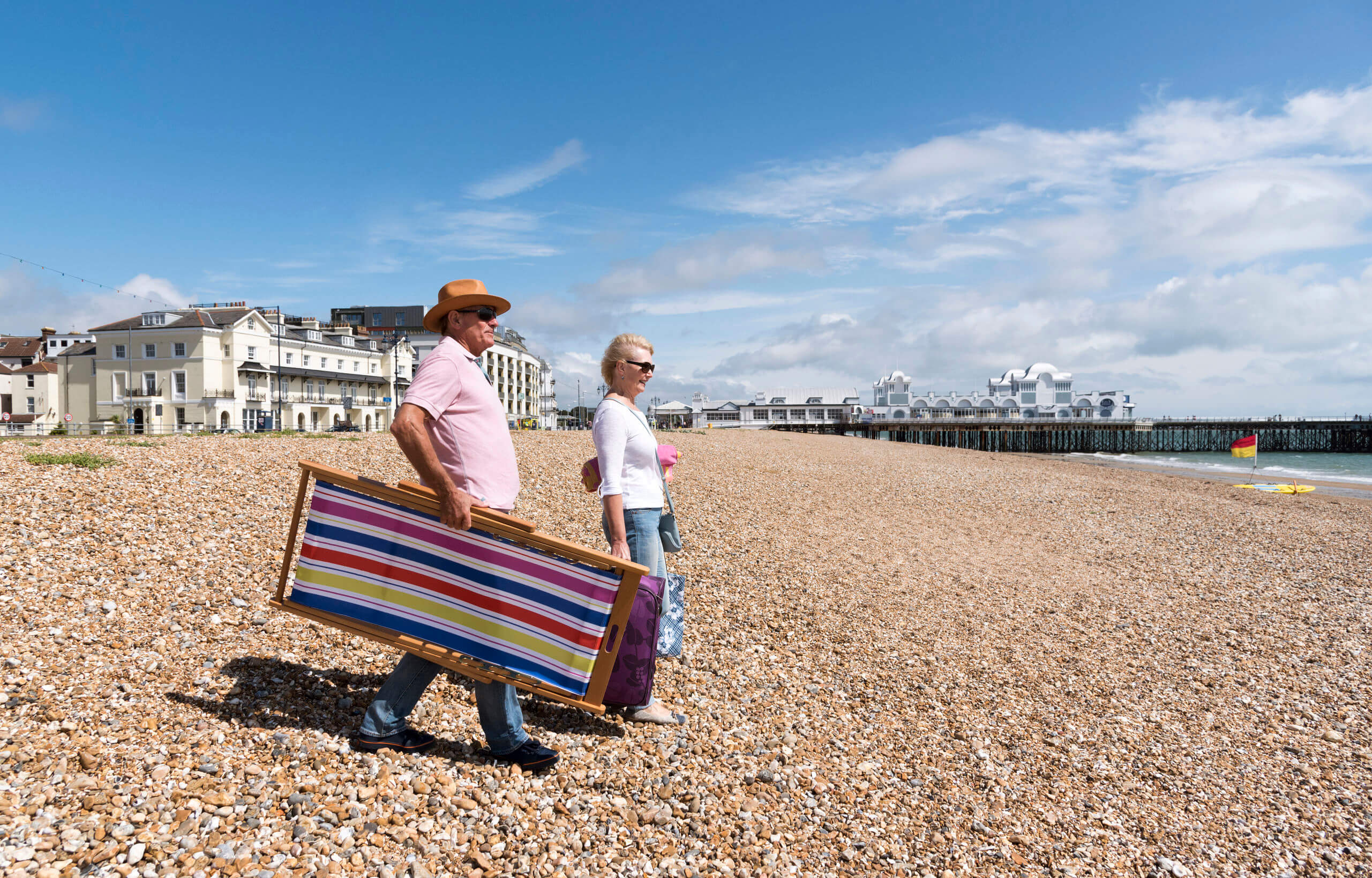 Carry on along the beach, to one of my Portsmouth favourites, Southsea Beach Cafe. This is where you'll lunch and I'm sure you'll be ready for the stop by now after all that walking. This is also where you'll fine Southsea Parade Pier – one of the best piers in England.
The fish and chips here are amazing and you can eat right on the beach on a sunny day on their terrace.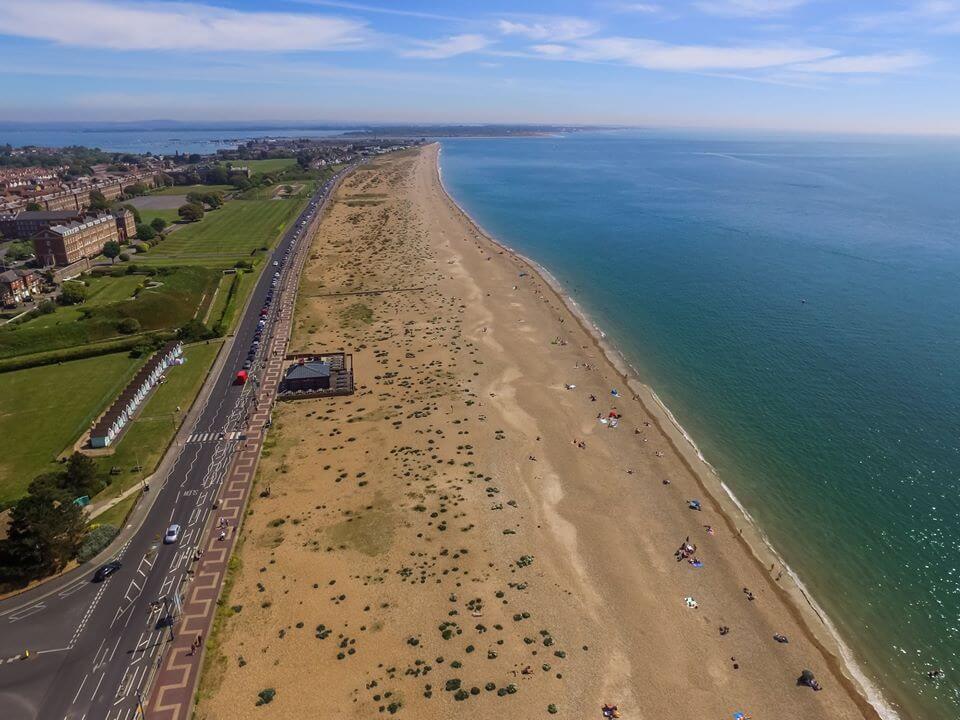 They also do coffee take away, and have a great selection of ice cream if you didn't manage to pick some up earlier.
3pm: Museum time?
You could check out a museum?
Portsmouth is the proud home to the Charles Dickens' Birthplace Museum, the D-Day Story Museum and the Portsmouth City Museum. The aforementioned has the largest collection of Sherlock Holmes memorabilia anywhere.
They're all within pretty easy access of Southsea Beach Cafe, although you might have to go back on yourself, and please check the opening hours on Google too.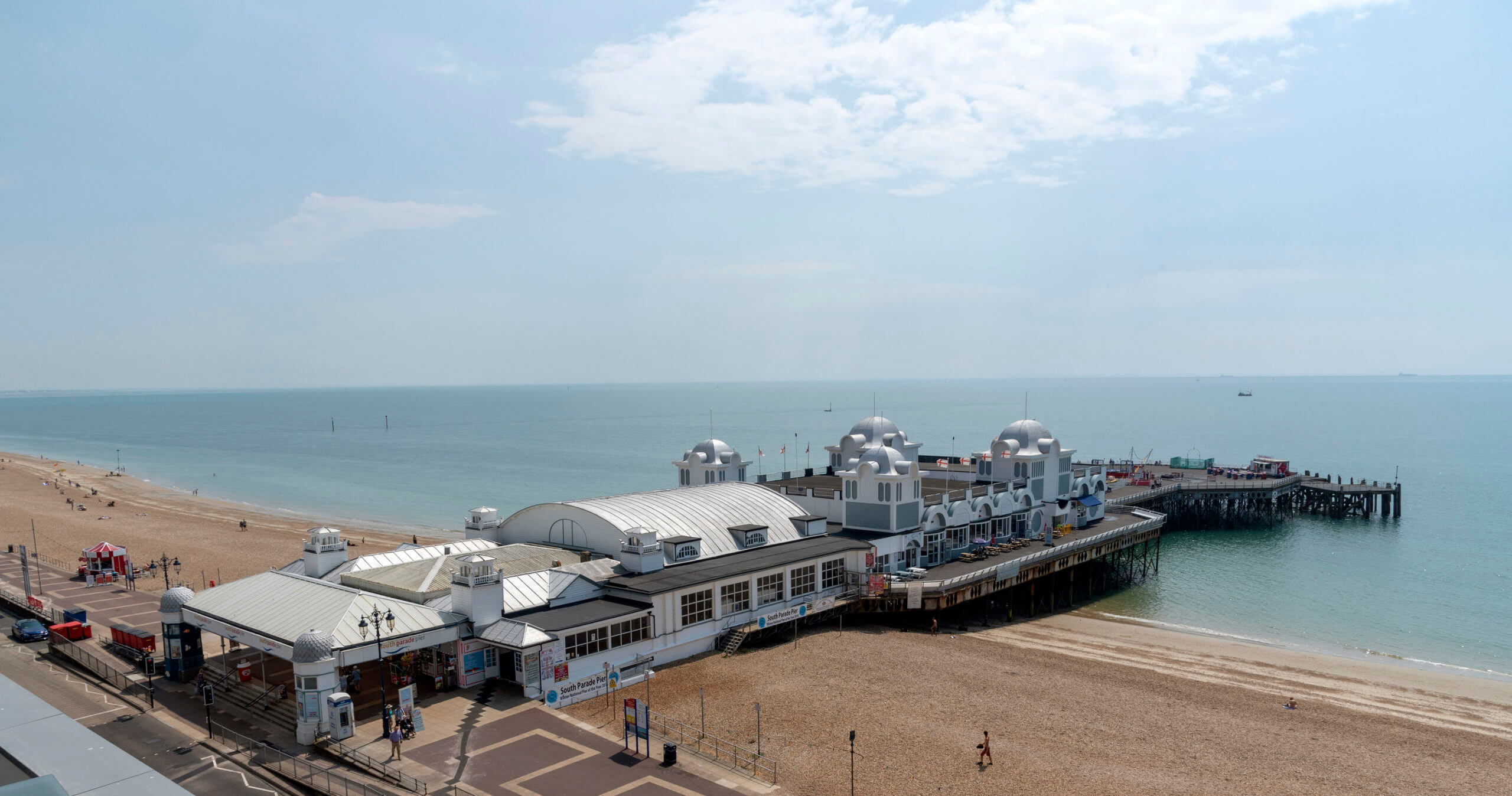 Or, you could go into Southsea. Expect craft breweries, cool restaurants, charity shops, and coffee shops to keep you busy.
Once you've finished mooching around on Palmerston Road, head to Albert Road for the evening.
There are so many great museums in and around Pompey, you'll need a few days out in Portsmouth to see them all.
5pm: Drinks on Albert Road
Albert Road is the epicentre of Southsea, where we go to drink, eat and look round the quirky shops. Try Victoriana for furniture, Bored of Southsea for Southsea-emblazoned products and The Beehive for everything you never knew you needed.
If you want to pick up a little souvenir from your day out in Portsmouth, go to Strong Island. Here you can find clothes with the iconic Bronx logo on, and the famous 'Costa Del Southsea' catchphrase.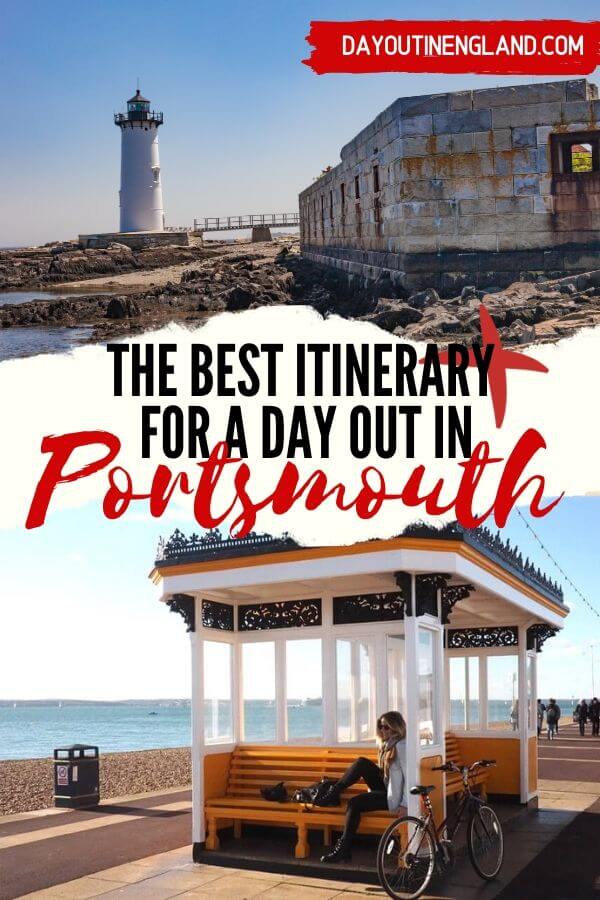 If you want to get to the standard High Street shopping of any city in England, then Portsmouth won't disappoint. H&M, New Look, Primark and Debenhams are all there for you. But I'd suggest you don't.
Stick with Albert Road and have a few drinks instead!
Sit outside around 5pm for the ultimate Southsea look – there are some great little sun trap outdoor spaces to catch the last of the famous Southsea sun.
READ MORE: The Best Day Trips from Portsmouth
7pm: Dinner time!
Southsea is an amazing place for restaurants – there are just so many to choose from. My top 3, after three years of experimentation are:
Sakura: the most amazing sushi in all of Hampshire, I reckon.
Fah Thai: gawd, the ribs in this Thai restaurant are just incredible. Bring your own booze too, fab!
Sant Yagos: here you'll find Spanish tapas with an English twist. Seriously, so good, so tasty. There's a great cocktail bar downstairs too.
8pm: Drinks on Albert Road
Stay on Albert Road and pop into the Wine Vaults for a glass of wine, or Johnny Russells for a JD and coke, or Gin and Olive for a G+T.
If you fancy staying out later head up to the famous Wedgwood Rooms, where people like Vampire Weekend and Primal Scream have played live.
Or you could check out the King's Theatre in anticipation of your visit to Portsmouth and see what's on. The Portsmouth Guildhall has some great things on at weekends too. You could plan your days out in Portsmouth according to the events schedule in the city.
How to get to Portsmouth
The best station to start this day itinerary for Portsmouth is Portsmouth Harbour. Start here and you'll be right next to Gunwharf Quays, and at the beginning of this Portsmouth itinerary, exactly where you need to be for the best Portsmouth days out.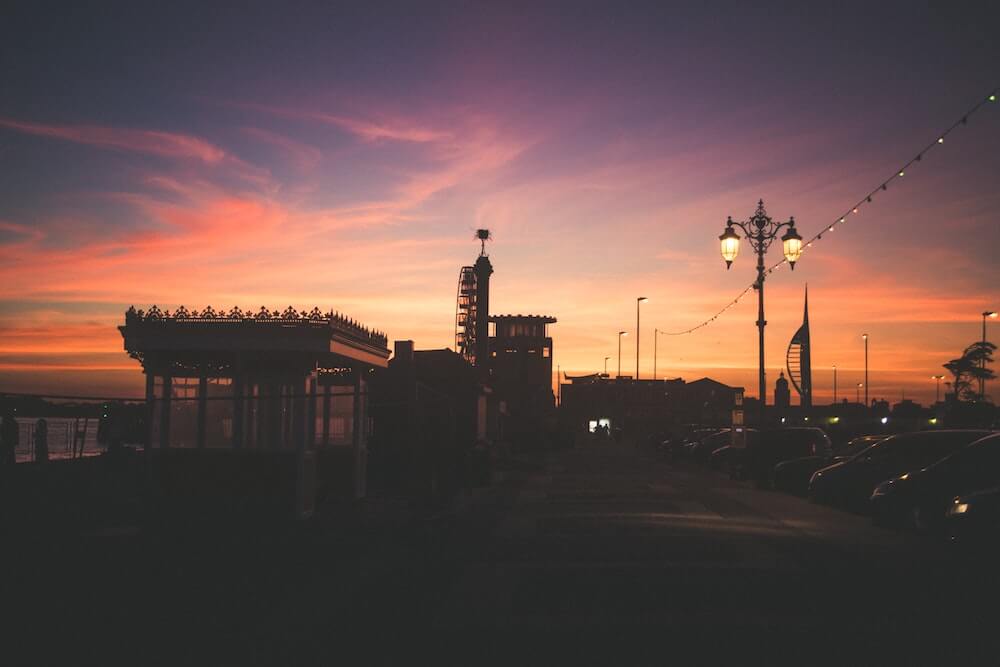 Then, you can pick the same line up from Portsmouth and Southsea Station, or Fratton Station.
If you want to go home to get changed most Uber taxi rides in Southsea are around £4-5. If there are two or more of you then there's really no point working out the buses down here.
Next adventure: how about walking the Solent Way? It's 60 miles from Emsworth to Milford on Sea, through Portsmouth, and we've broken it down into 6 awesome day trips. Click the link!
Day out in Portsmouth
Portsmouth really does make for a great day out. There's so much to do in the city, thanks to the beach and the marine history. And the fact that Southsea has so many great restaurants and pubs.
If you have any more time in Portsmouth, then how about going paddleboarding off Southsea Beach or enjoy a coastal walk on Hampshire's beaches? The wonderful Hayling Island is just next door too – go explore!
---
Pin this Portsmouth day out for later?