Fancy strolling along a few historic piers in England's iconic seaside resorts? From protected heritage monuments to thriving amusement parks above the ocean, the best piers in England are home to a diverse range of attractions.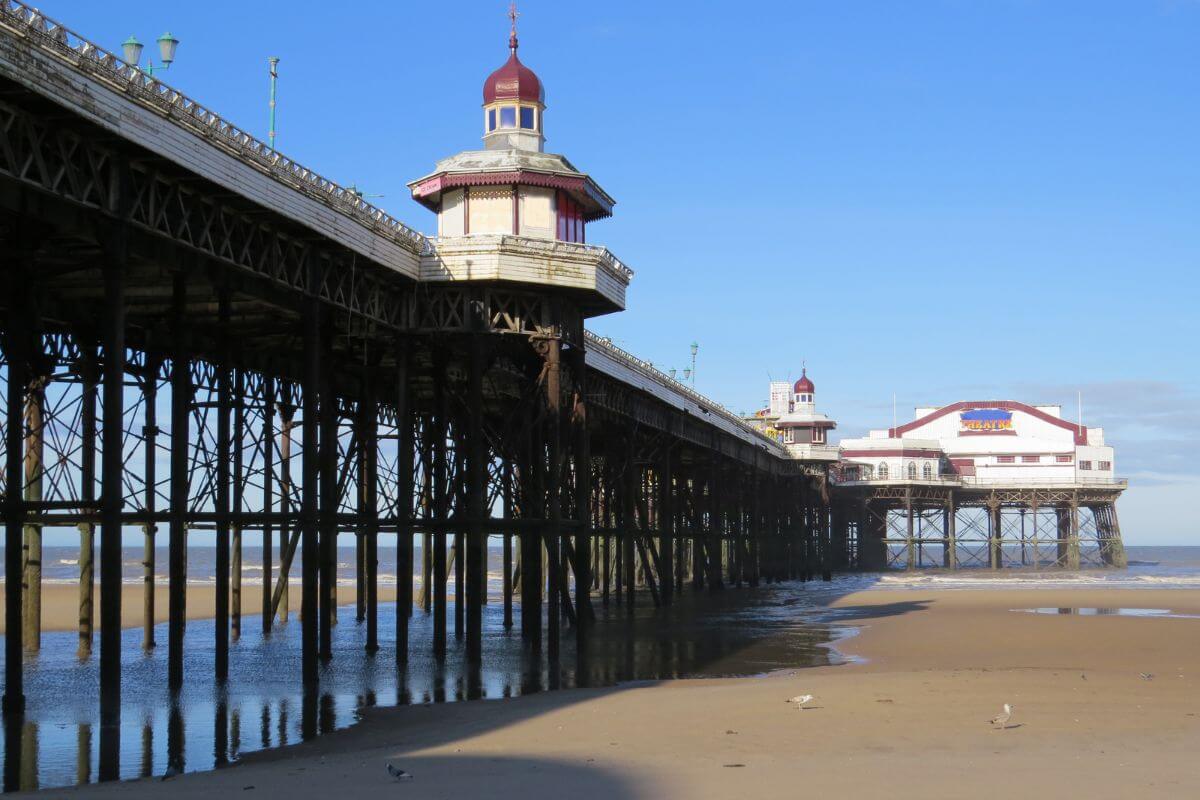 From the famous seaside resorts of Blackpool and Brighton to local hotspots like Southend and Clevedon, England is home to some of the most picturesque and historic piers in the world.
These magnificent structures have been an integral part of the country's coastal culture for over two centuries, attracting tourists and locals alike with their stunning architecture, panoramic views and family attractions.
Whether you're looking for a traditional amusement park experience, a romantic stroll along the pier or a family-friendly day out by the sea, one of the best piers in England is waiting for you.
So, without further ado, let's take a look at what makes the historic piers in England so special, from their unique histories to their incredible leisure facilities.
Best Piers in England
From the extravagant piers of Brighton and Blackpool to the heritage piers of Clevedon, Hastings and Southport, here's our pick of the most interesting piers in England.
1. Brighton Palace Pier, East Sussex
Opened in 1899 as a pleasure pier, the Grade II listed Brighton Palace Pier (formally the Brighton Pier) is the last of three piers that remain open in Brighton today.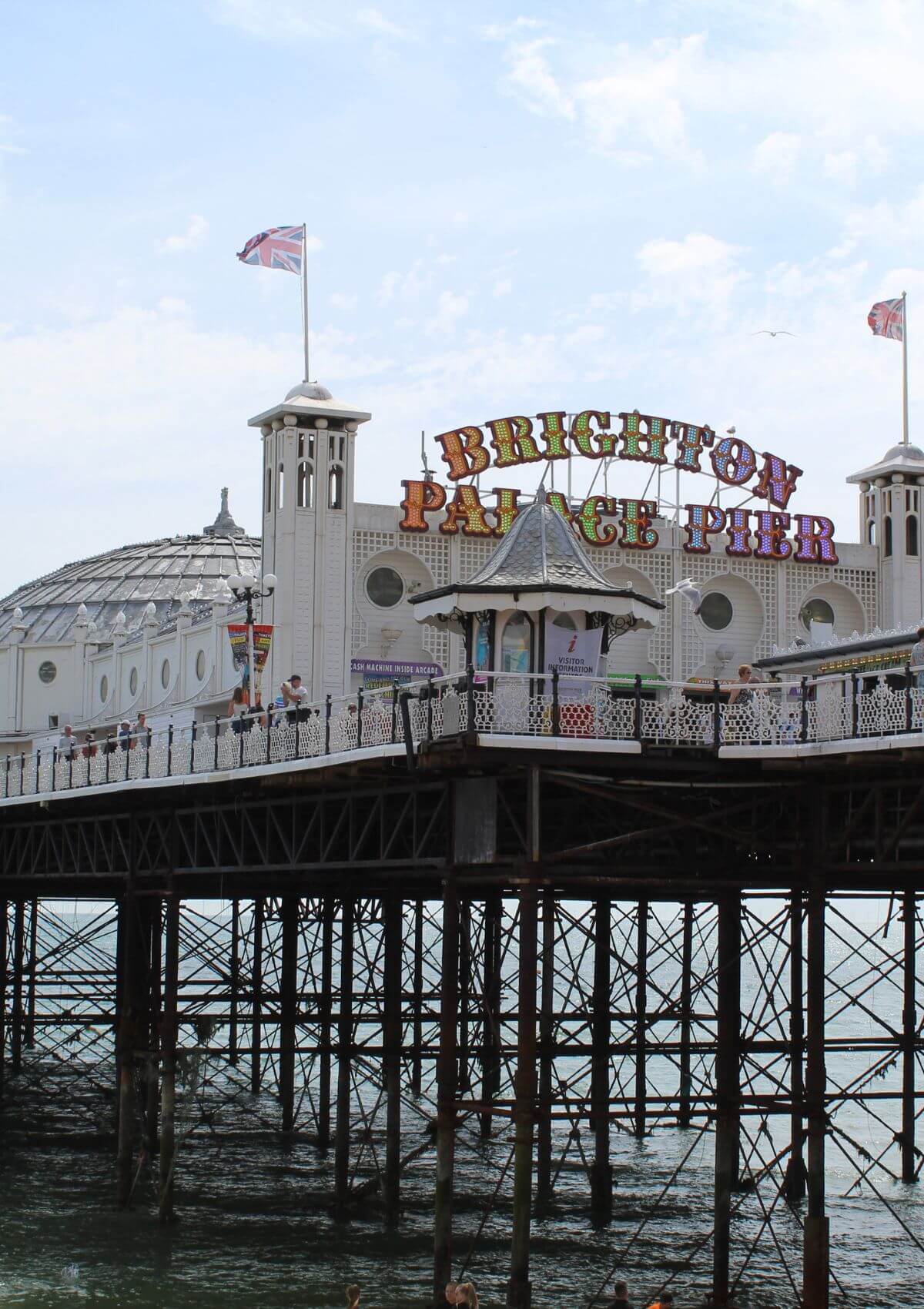 Along the pier, you'll find an exciting amusement park with traditional fairground rides plus a few family-friendly rollercoasters. When you need a break, you can grab a bite and a drink from a host of restaurants and cafés. Or, find a spot on the beach just next to the pier – it's one of the best beaches in England for adventure seekers.
Keep your eyes peeled for the starlings that frequently roost under the pier. These wonderful creatures certainly add a touch of magic to this popular tourist destination.
For more things to do in Brighton check out our day itinerary, and Brighton at Christmas is a fabulous time to visit too – although the pier will be a little chilly of course.
2. Eastbourne Pier, West Sussex
The Eastbourne Pier is one of the most popular attractions in West Sussex, largely because it boasts so many entertainment options but also because of its rich history.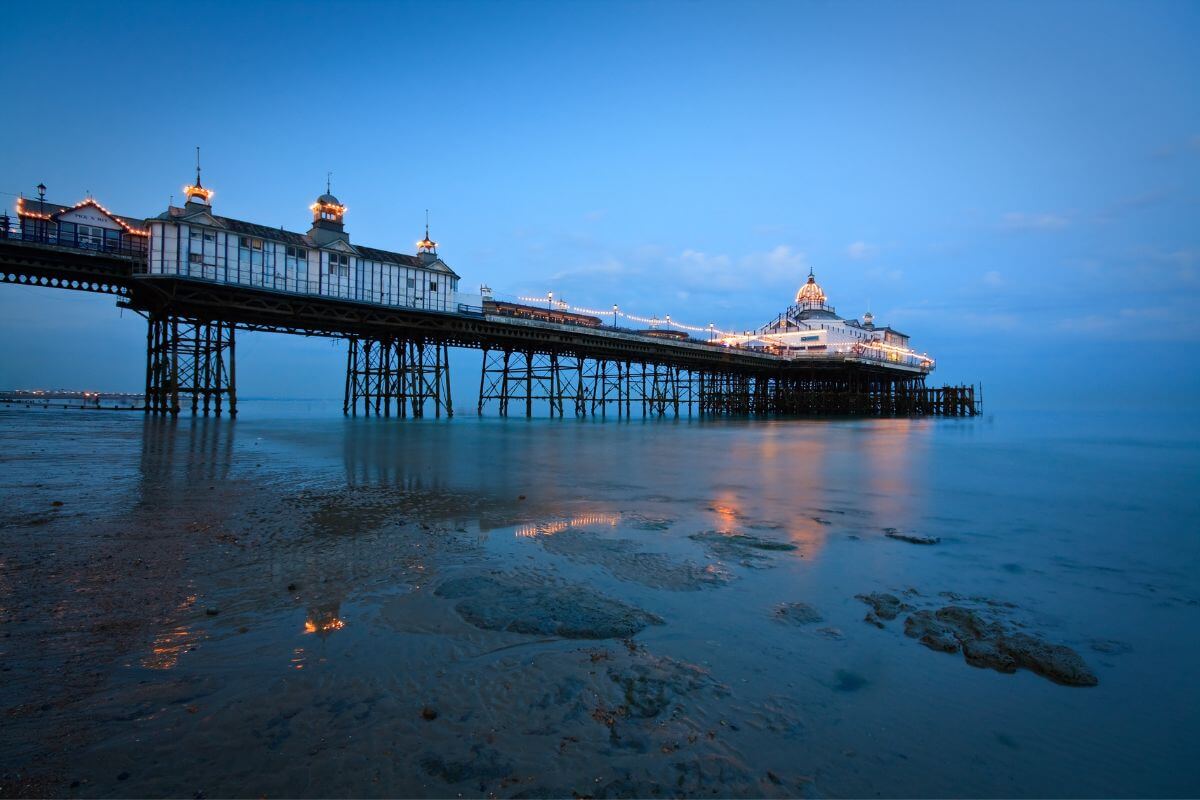 In addition to being a pleasure pier, Eastbourne Pier was used as an anti-aircraft gun site during 1942. After the pier and a few nearby hotels were destroyed during the war, Eastbourne Pier had to be almost entirely rebuilt.
The pier was also home to a variety of theatres until 1970, when the final fire-damaged venue was converted into a nightclub, which it remains today. On top of this club, Eastbourne Pier is home to jazz bars, cafés and traditional fish and chip shops.
3. Blackpool North Pier, Lancashire
One of the most famous piers in England, Blackpool North Pier has been open to the public since 1868. It's one of three piers that remain standing in the popular seaside resort of Blackpool.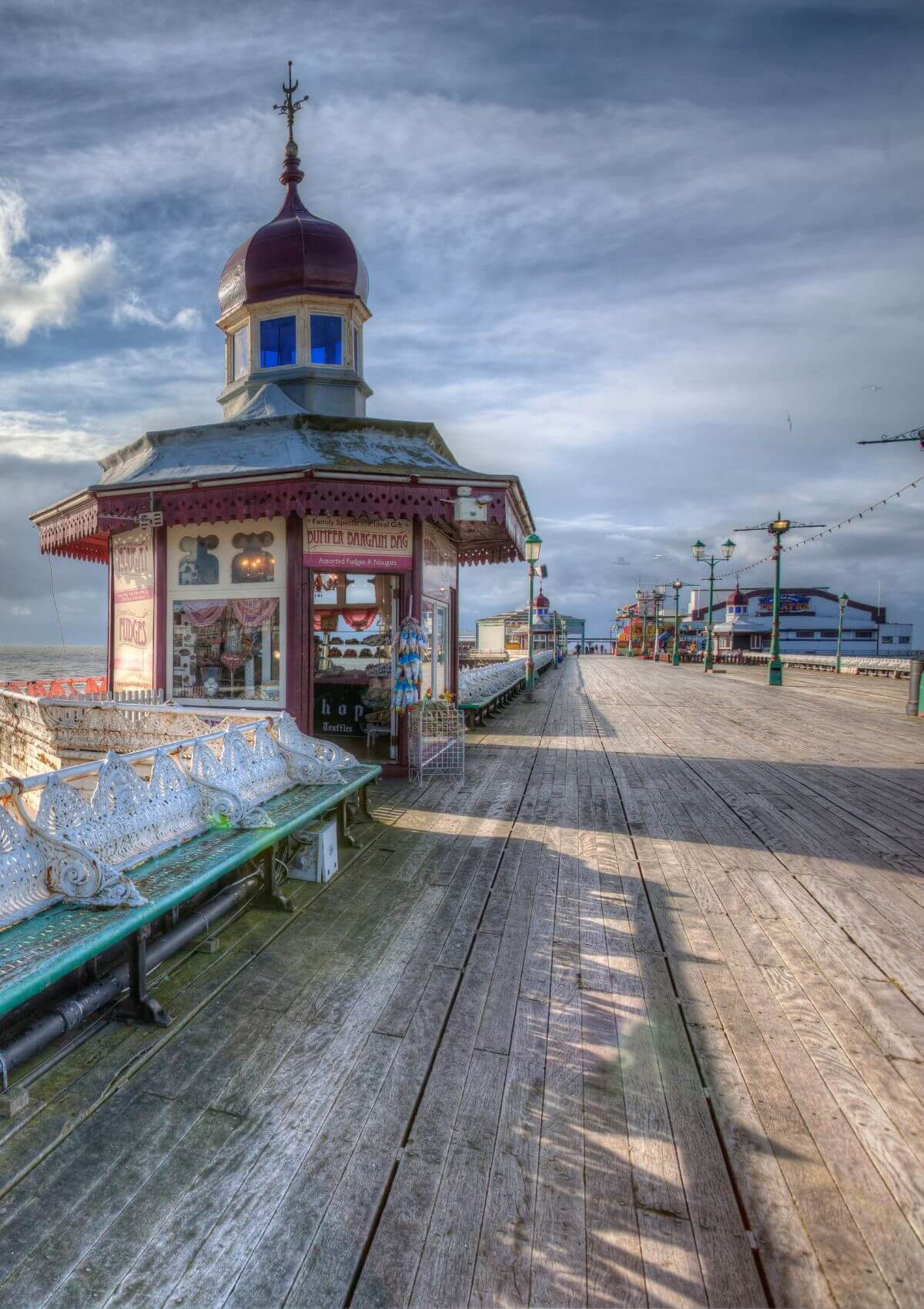 Even though the pier has been modified significantly during its lifespan, it was restored to its Victorian appearance in 2011.
You'll find a myriad of traditional seaside entertainment outlets along the Blackpool North Pier. Some of the quirkier attractions include a historic carousel, a fortune teller and a 33-metre-tall Ferris Wheel. You'll also see fish and chip shops, fairground activities and an amusement arcade.
When you need to take a load of your feet on your activity-filled day out in Blackpool, stop for a local ale at the historical Merrie England bar towards the shore end of the North Pier.
4. Bournemouth Pier, Dorset
Bournemouth Pier was opened to the public by the Lord Mayor of London in 1880. Due to constantly battling with fierce gales, Bournemouth Pier's shape has changed considerably, but it still retains many traditional features – plus a host of innovative attractions.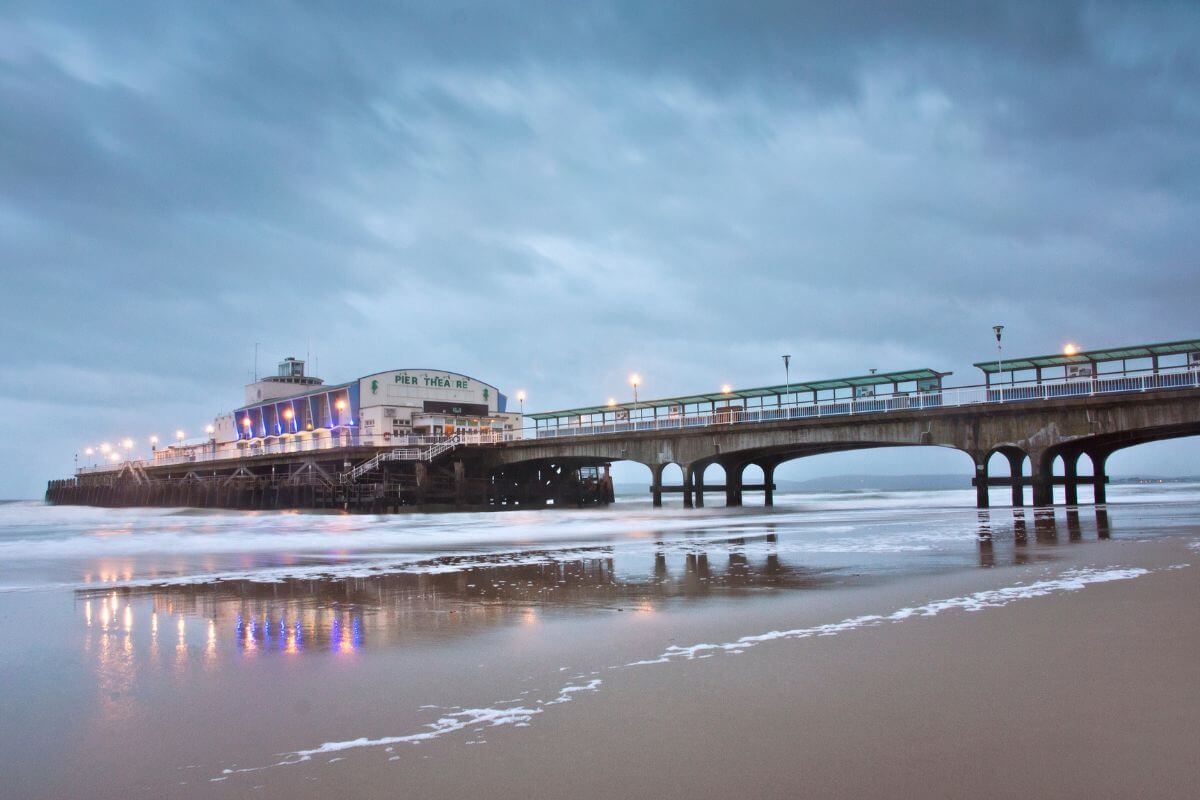 One of our favourite aspects of this famous pier in England is its zipline, which transports visitors through the air from the pier to the shore. There's also a former theatre that has been converted into an activity centre called Rock Reef, which houses climbing walls and an aerial obstacle course.
Unique entertainment options aside, Bournemouth Pier is home to souvenir shops, ice cream stalls and a variety of arcades, perfect for one of your days out in Dorset.
Fancy trying out a few water activities while you're in the area? Check out Dorset's best paddle boarding spots. 
READ MORE: The Best Day Trips from Bournemouth
5. The Grand Pier, Weston-super-Mare, Somerset
Weston-super-Mare's Grand Pier dates all the way back to 1904, though the structure you can see today was mostly built in 2010. While this pier appeals to history buffs, its main draw is its large indoor theme park.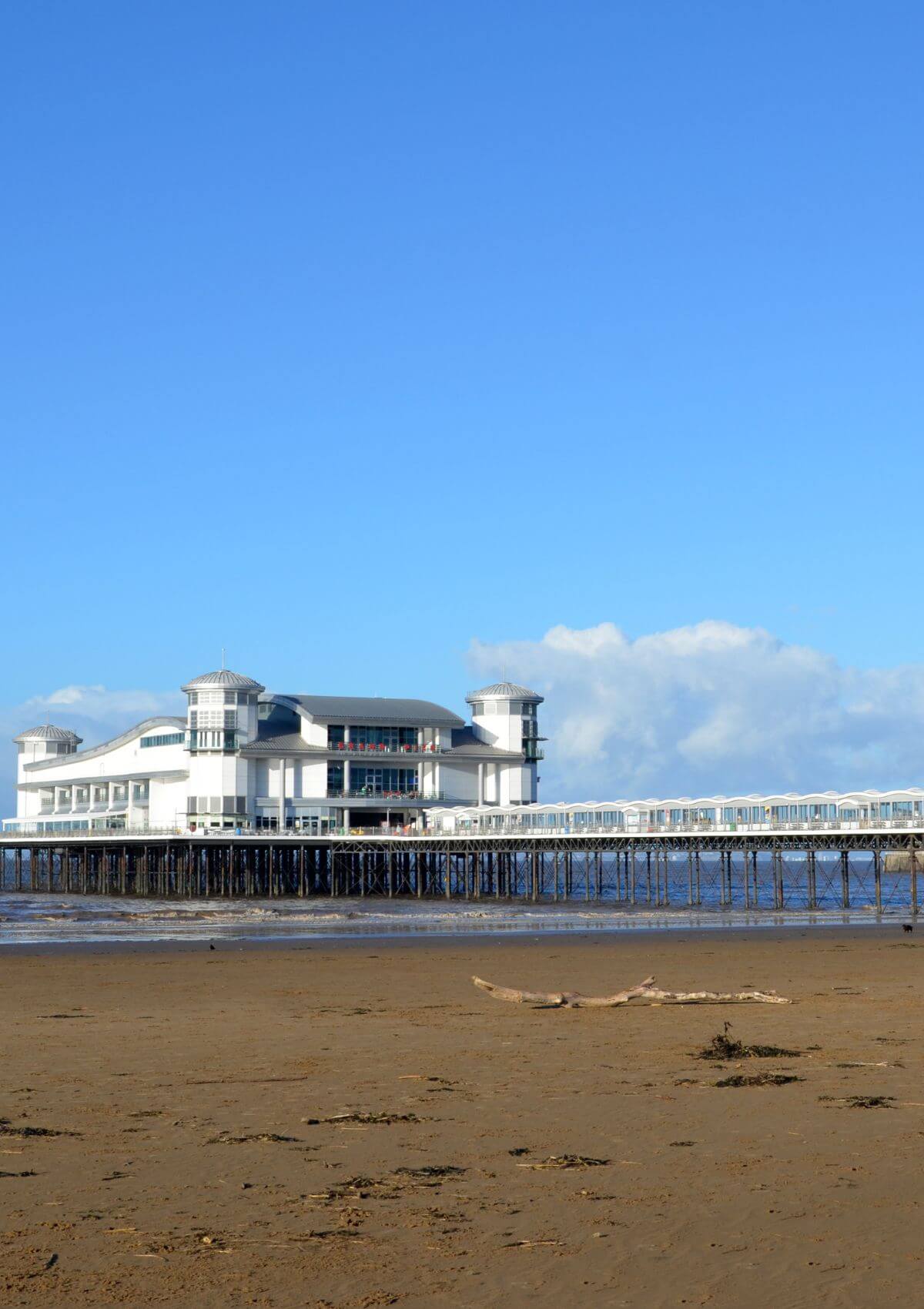 Just some of the amazing attractions along the Grand Pier include a 300-metre go kart track, the Crystal Maze, a 4D cinema and even a few rollercoasters. Entertainment aside, the Grand Pier boasts around 30 shops, bars and restaurants, which include a charming Edwardian tearoom, ice cream parlours and fish and chip shops.
With so many exciting things to do on the Grand Pier, it has to be one of the best places to visit in Somerset with the family.
6. Hastings Pier, East Sussex
One of the most famous historic piers in England is Hastings Pier, which originally opened way back in 1872. You might recognise it from TV hits such as Foyle's War.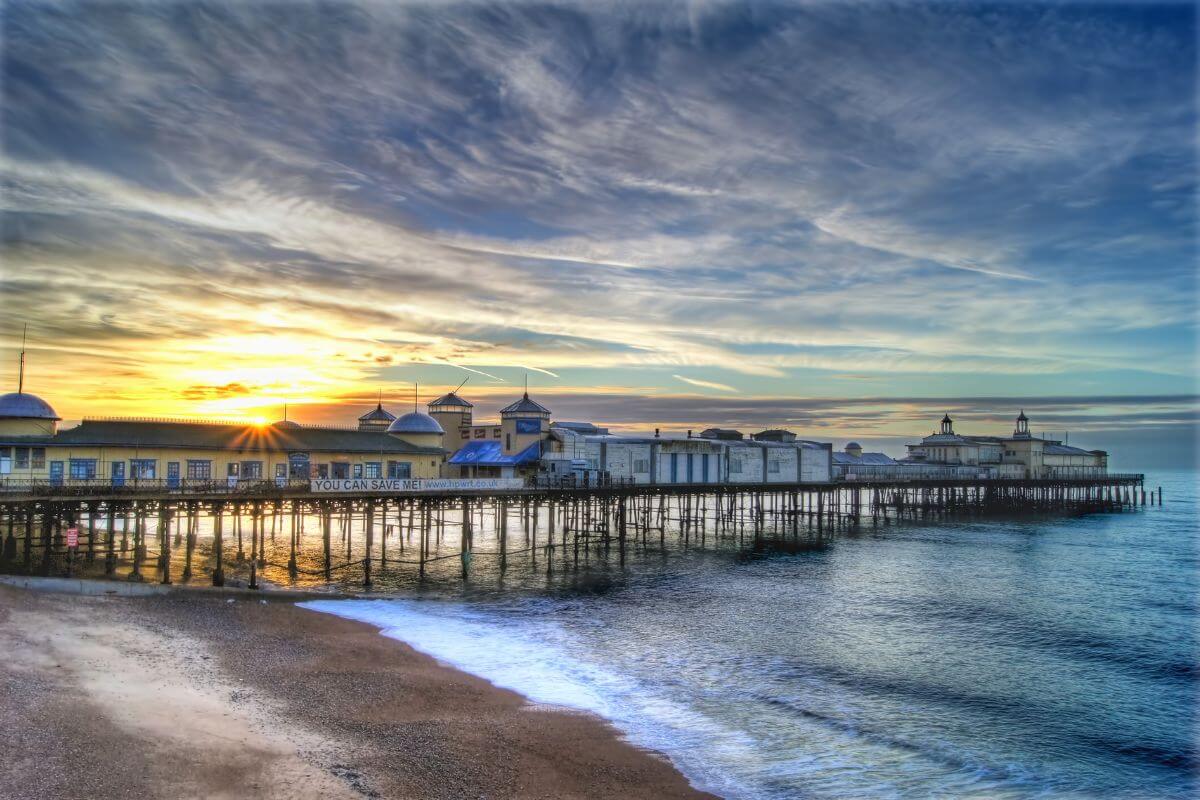 Reopened in 2016 following a fire in 2010, Hastings Pier won the Stirling Prize for architecture in 2017. Today, it's one of the most famous landmarks and viewpoints in Hastings. Events here include open-air concerts and even weddings.
7. South Parade Pier, Portsmouth, Hampshire
Located on the coast of Southsea in Portsmouth, the 110-year-old South Parade Pier offers sprawling views across the English Channel towards the Isle of Wight.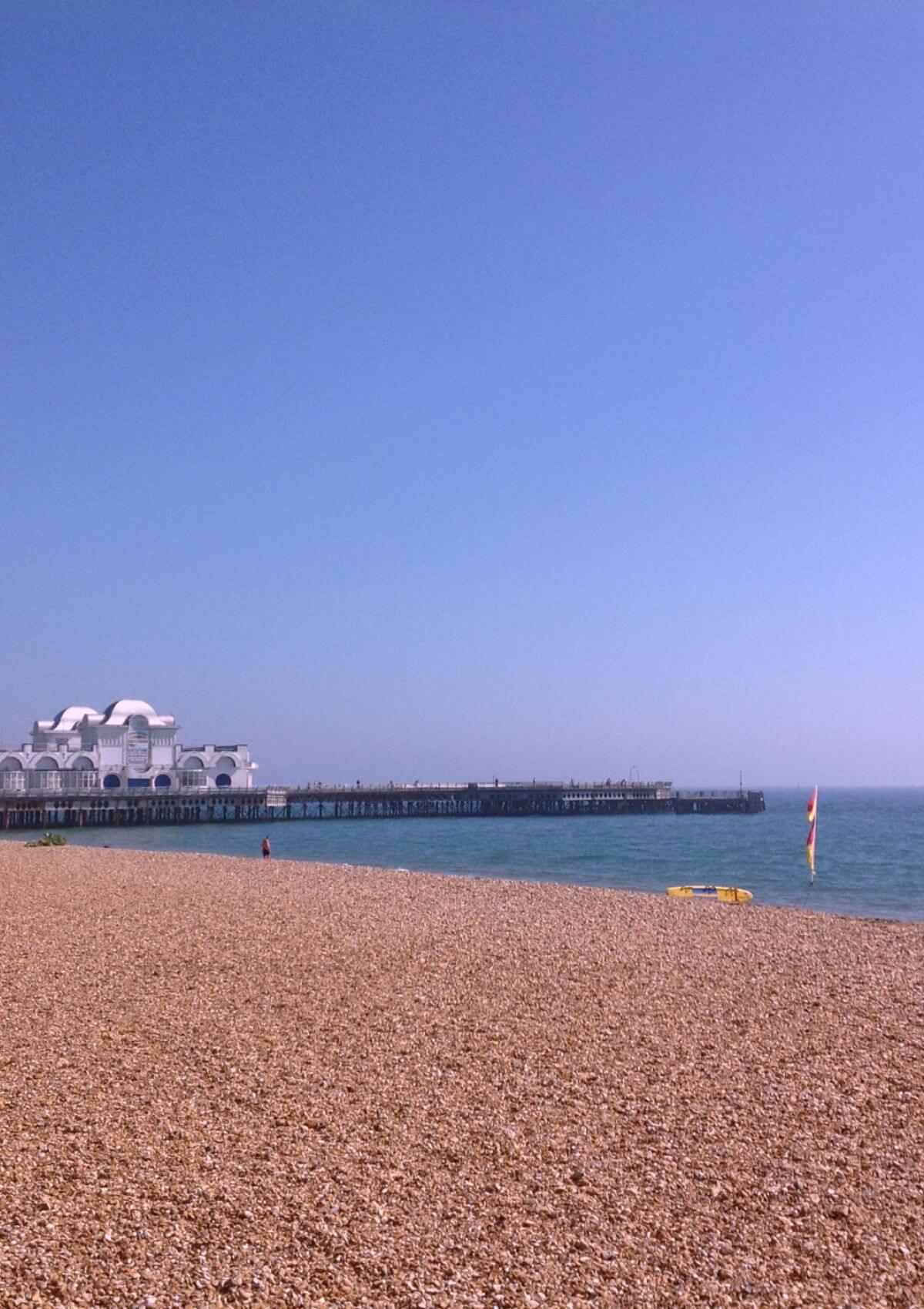 Prior to 2018, the pier was closed for five years when it was thought to be at risk of collapsing. Fortunately, South Parade Pier has been revamped and rejuvenated with a range of trendy bars, delicious restaurants and traditional seaside facilities.
One of the highlights of the South Parade Pier is the Gaiety Bar, where The Who's rock opera Tommy was filmed. We also recommend digging into fish and chips while taking in views of the Isle of Wight at the Deep Blue restaurant. It's one of the top places to squeeze into a one-day Portsmouth itinerary.
While you're here, you might want to find out how to cycle around Portsea Island or walk around the Farlington Marshes Nature Reserve. There are plenty of amazing days out in Hampshire to enjoy.
8. Southport Pier, Merseyside
Southport Pier in Merseyside is one of the oldest iron piers in England, having stood the test of time for over 150 years. At 1,109 metres in length, Southport Pier is also one of the longest piers in England, home to amusements, cafés and amazing views of the Irish Sea.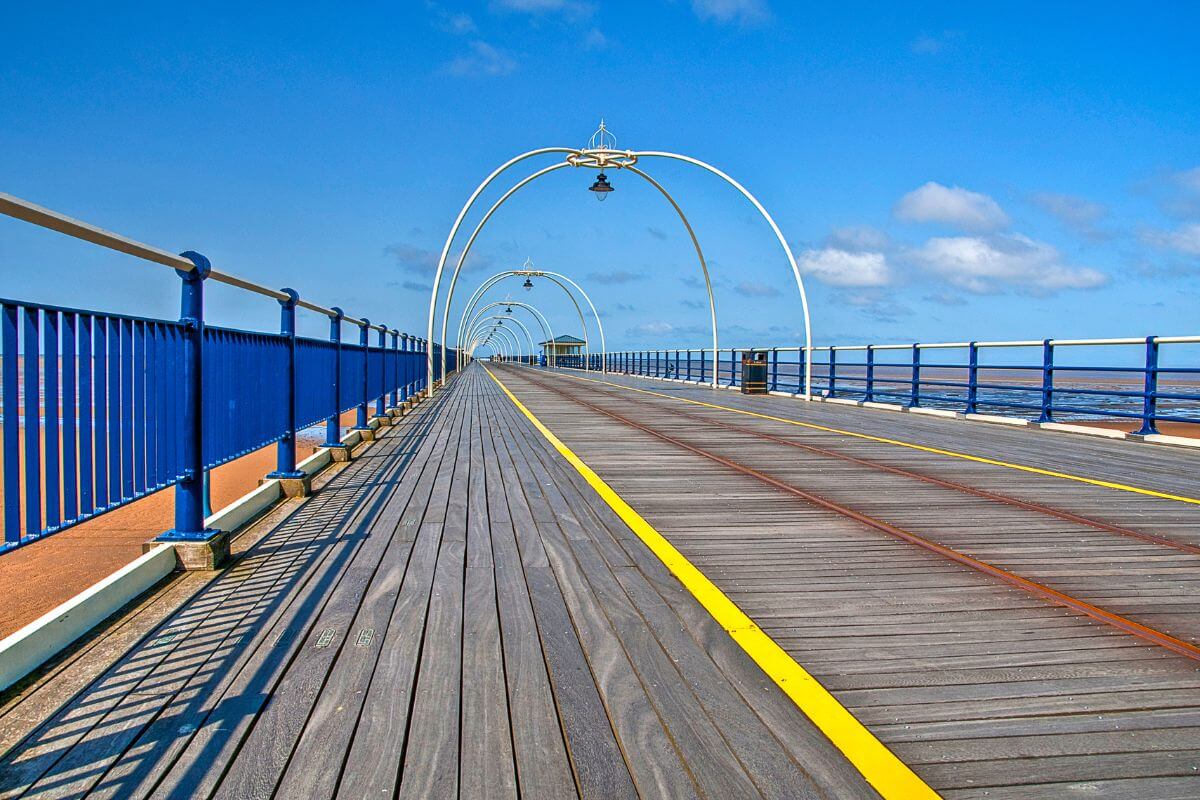 Back in its heyday, Southport Pier was a major entertainment hub. Charlie Chaplin performed here in the early years of his career. Today, Southport Pier is pending repairs, but there are grand plans for its future. 
If you're a fan of the water, check out our guide to where to go paddleboarding in Merseyside to flex that board.
9. Southend Pier and Railway, Southend-on-Sea, Essex
Extending 1.34 miles out into the Thames Estuary, the Grade II listed Southend Pier is the longest pleasure pier in England. It's so long that it has its own train.
Throughout summer, Southend Pier hosts a mini golf course, a fish and chip shack and the Tall Ship Mercedes. You can also embark on a tour of the RNLI Lifeboat station and look out for birds such as oystercatchers and terns.
Whether you're a fan of history, wildlife watching or fishing, Southend Pier promises an amazing day out in Essex.
10. Clevedon Pier & Heritage Trust, Somerset
Cleveland Pier may not be one of the most extravagant piers in England, but it's certainly one of the most charming. It's the only Grade I listed pier in England that's still standing.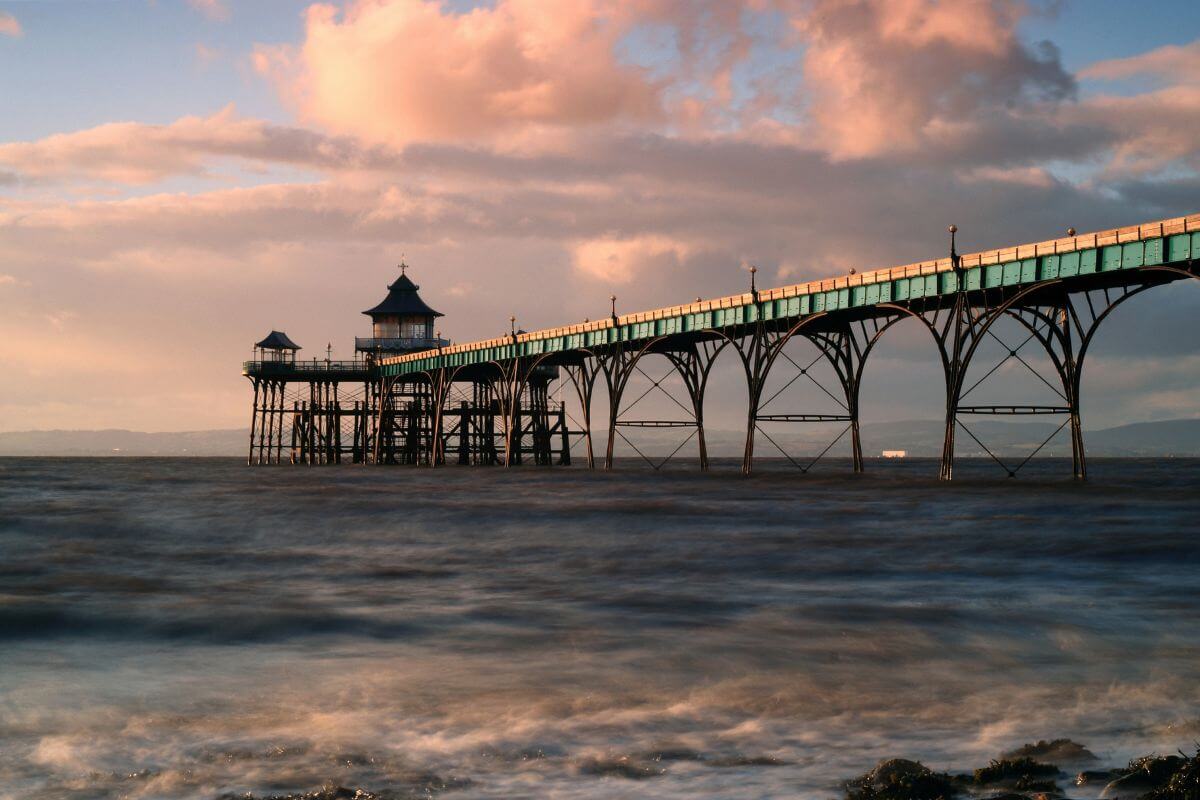 The most striking architectural features of Clevedon Pier are the distinctive wrought iron arches. In September, the pier welcomes the Waverley, which is the largest seagoing paddle steamer in the world. Also, a café overtakes the Japanese-style pagoda at the end of the pier. Head to the toll house to browse the upper-floor gallery.
Looking for more places to visit in Somerset? We recommend the Cheddar Gorge or the Exmoor National Park. You might also want to explore a few of Somerset's best towns.
What are your favourite historic piers in England?
If you fancy a day of ocean views at a historical landmark complete with arcades, fish and ship shops, souvenir stores and traditional bars, you won't regret paying a visit to some of the best piers in England. Whether you want a quiet stroll along a peaceful boardwalk or a day of extravagant family entertainment on a world-class pleasure pier, one of the most amazing piers in England is right up your street.
Have we missed any England piers that our readers should know about? Where are your favourite piers in the UK? Let us know by leaving a comment below.
Quick list of the best piers in England
Brighton Palace Pier, East Sussex
Eastbourne Pier, West Sussex
Blackpool North Pier, Lancashire
Bournemouth Pier, Dorset
The Grand Pier, Weston-super-Mare, Somerset
Hastings Pier, East Sussex
South Parade Pier, Portsmouth, Hampshire
Southport Pier, Merseyside
Southend Pier and Railway, Southend-on-Sea, Essex
Clevedon Pier & Heritage Trust, Somerset
---