Brighton is a guaranteed great day out, especially if you have the weather on your side. With a huge beachfront, plenty of shops, cafes and restaurants, and lots of attractions to suit every age and interest, it really is one of the best days out in England. If you're planning a day trip to this beautiful seaside resort, these are the best things to do in Brighton for a day out to remember…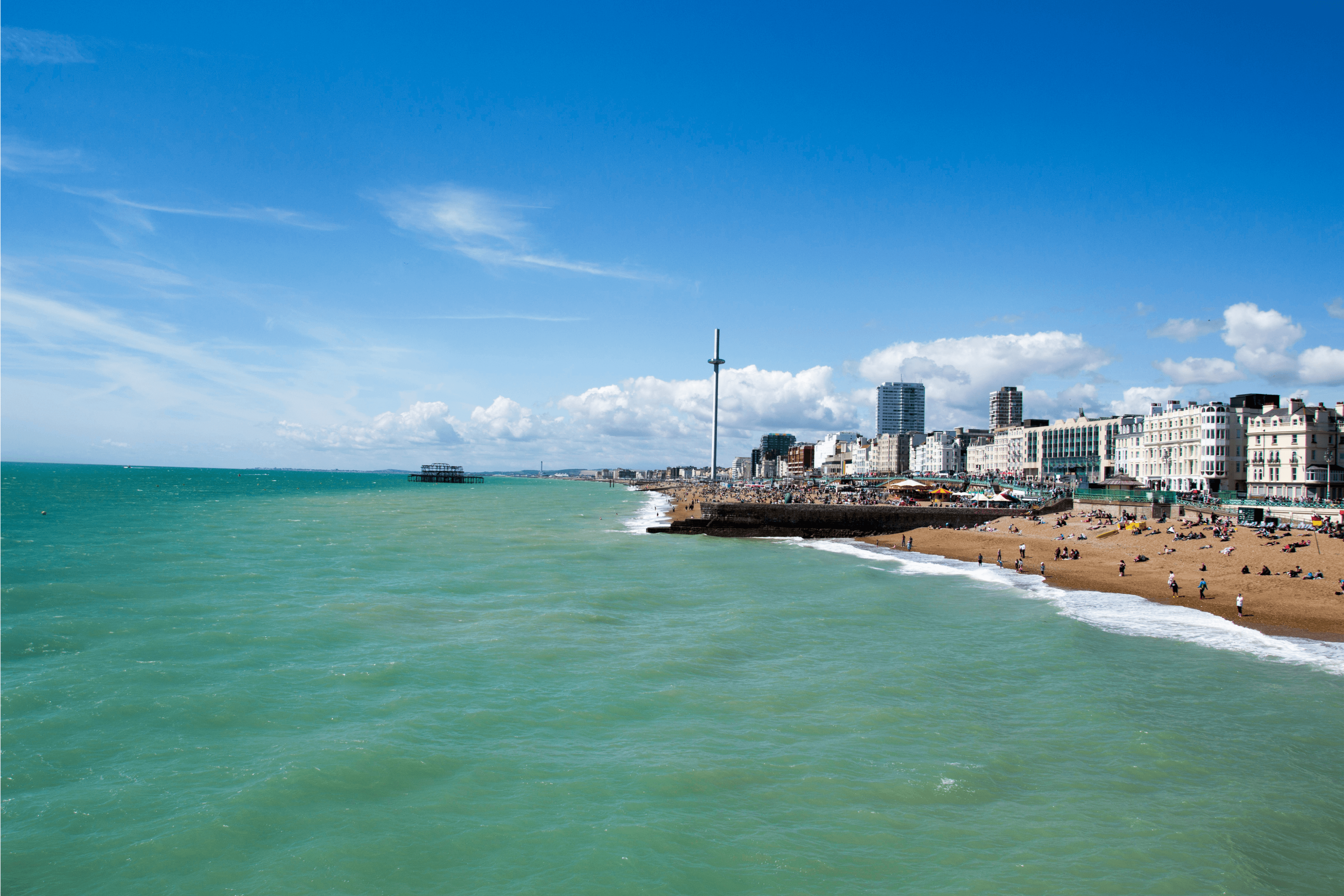 Brighton is located right by the water, in the city of Brighton and Hove. You may know it for its seaside atmosphere, its famous Lanes, its iconic pier, its lively Pride Festival (one of our 11 best days out in August in England!), or one of the many other well-known attractions and tourist sites that make Brighton so unique.
A day trip there is always a great idea since you could do absolutely nothing except walk around and still have a good day. If you're bringing the kids, doing a date day, or visiting with family and you're looking for a varied itinerary to suit all, there are tonnes of things to do in this vibrant seaside city. Whether you're looking for things to do in Brighton this weekend, or planning a trip for later in summer, we know just the thing!
From your meals out to your must-see tourist spots, to the attractions that will keep the kids entertained, these are the very best things to do in Brighton for a great day out.
Things to Do in Brighton for a Day Out
All you need to know to have a great day out in Brighton…
1. Wander through the famous Lanes
The bustling Lanes in Brighton are a well-known area that everyone should see at some point on a trip there, so why not kick start your day by taking a wander around the fun shops and cafes that snake all around the centre of Brighton?
This is a good place to begin your day out as the Lanes are rather small and can become very busy at peak shopping times.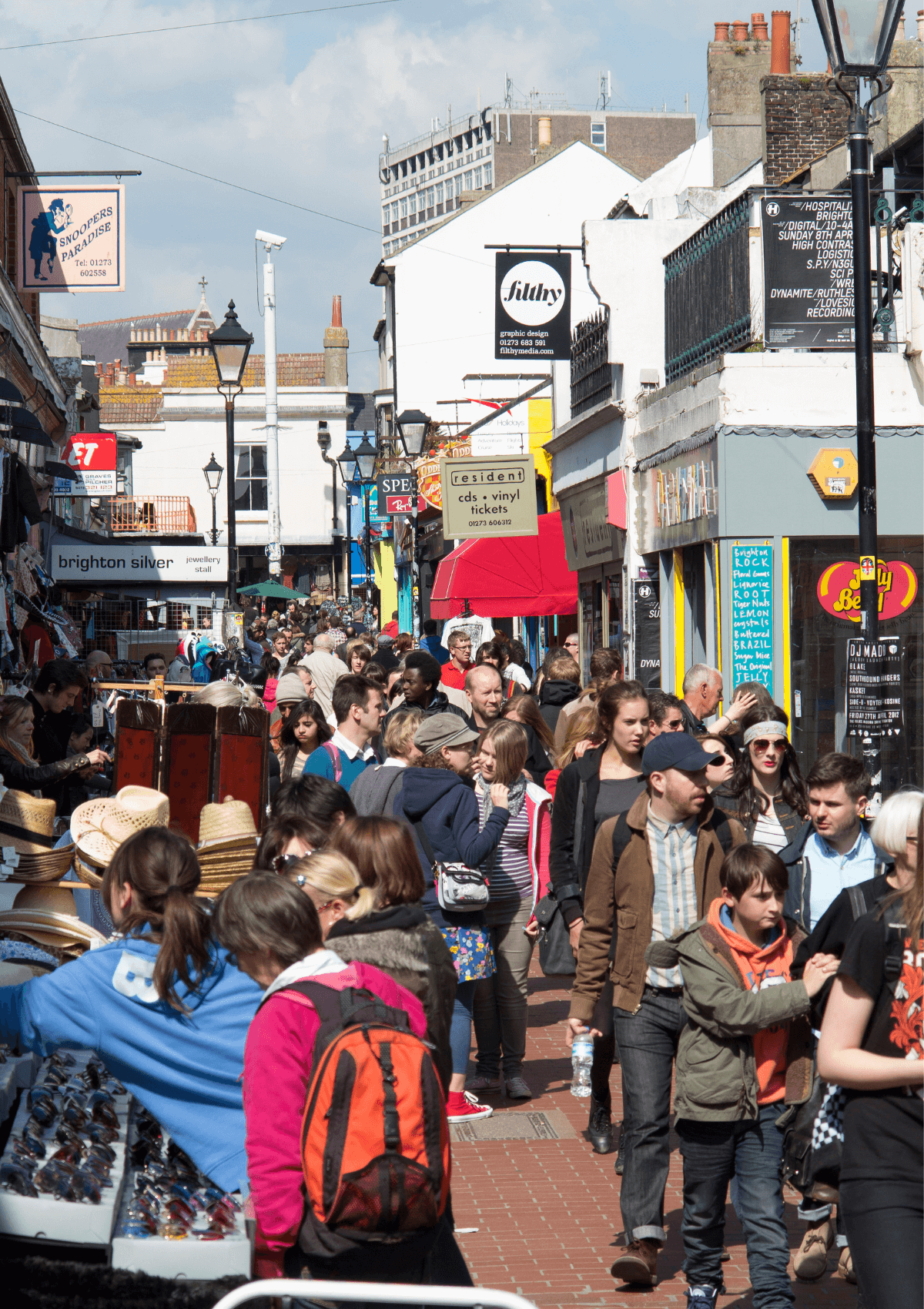 In the Lanes, you'll find antique shops with historical artefacts, unique homewares and gift shops, gorgeous jewellery shops, quirky clothing shops with one-of-a-kind garments, record stores, fascinating book shops, and so much more.
Stop off in a cute little cafe (there are lots!) and have a cup of tea if you want to rest your legs, and don't forget to check out some of the mini art galleries inside the Lanes. Brighton is a hugely creative place where many artists live, so you're bound to find some interesting pieces if you browse. The Lanes are definitely one of the most noteable things to do in Brighton, so don't miss having a wander around these streets.
2. Have breakfast at The Breakfast Club
You may have seen the movie, but if you haven't eaten at The Breakfast Club it's time to book a spot in this cool breakfast cafe — and Brighton is the perfect place to do it. The Breakfast Club is a chain restaurant, but its quirky and unique interior mixed with great food make it well worth a visit while on a day out in Brighton.
From your classic British fry up, to weird and wonderful dishes like their Smashed Avocado & Mojo Picon, Nashville Fried Chicken Benedict, and their T.B.C. Breakfast Burger, there's something to suit every type of breakfast lover on the menu, and the American diner aesthetic gives it a great atmosphere. This is one of the best things to do in Brighton if you want to fuel up before a big day out.
3. See the Royal Pavilion
The Royal Pavillion Brighton is an iconic piece of architecture that, even if you just walk past it, you need to make sure you've seen during your trip to Brighton. It's one of the best things to do in Brighton, and one that everyone will ask 'did you see the Royal Pavilion?' — make sure you can say YES!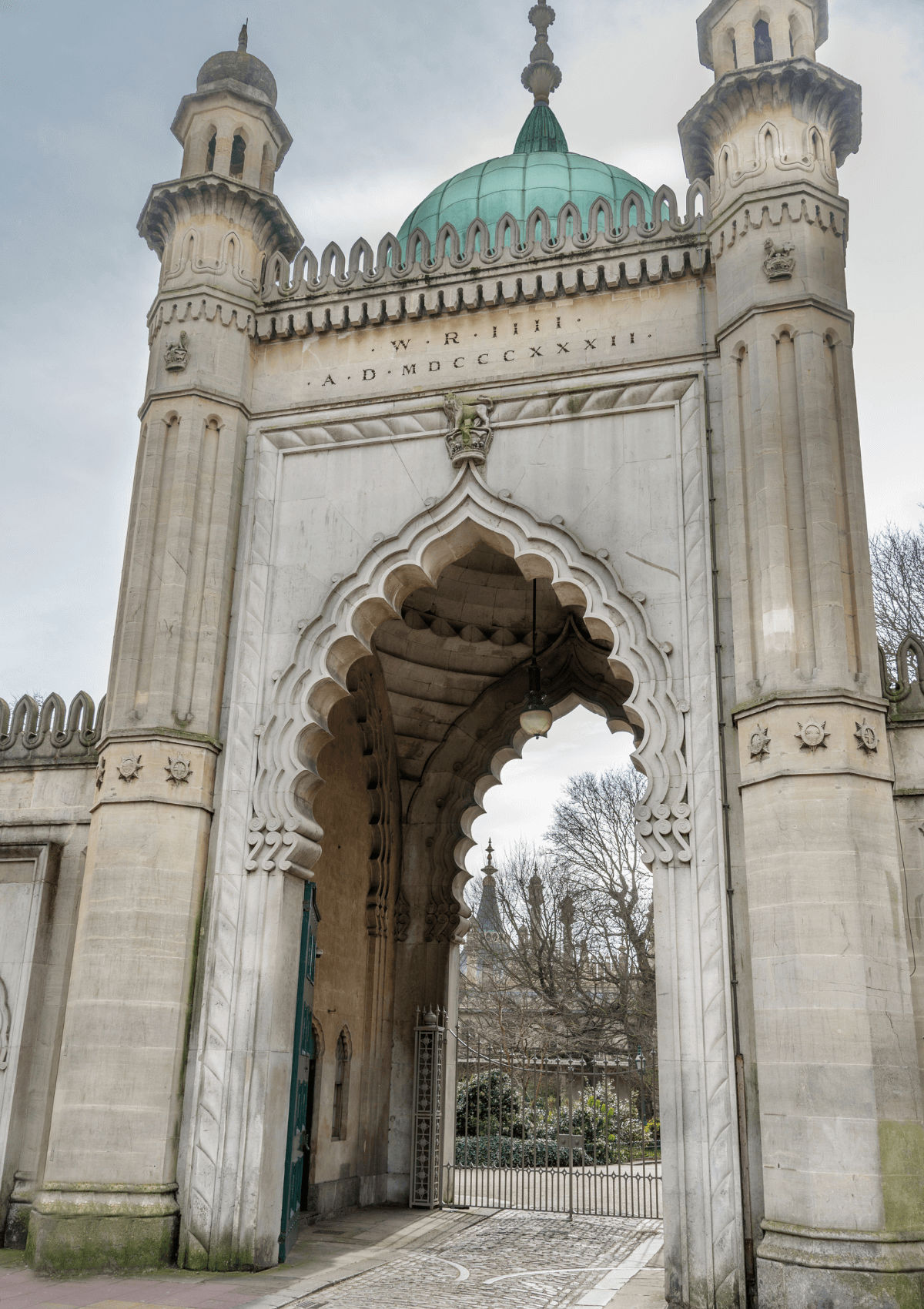 The Royal Pavilion is part of the Brighton and Hove Museums, and it stands out against other nearby buildings as it was built in Indo-Saracenic style, which was popular in India throughout the 19th century. Later in 1815, the Pavilion was extended to include domes and minarets, thanks to architect John Nash.
The Pavilion and its surrounding gardens are well worth a visit whether you're going inside or just walking around. It is a Grade I listed building, and the former residence of King George IV who built it as a seaside retreat for himself. It is rich in history with many fascinating stories to discover about what went on inside the walls, so if you do want to learn more, you can book tickets for the Royal Pavilion through Get Your Guide, here.
4. Walk along the beach (and grab a deck chair)
You can't go wrong with a walk along Brighton's beachfront, where you'll spot the iconic brightly coloured deck chairs dotted along the pebble beach. You do need to pay for deck chair hire, so keep this in mind, but if you want to rest your legs or take advantage of the sun (fingers crossed it comes out for you while you're at the beach!) then grabbing some deck chairs could be a great idea.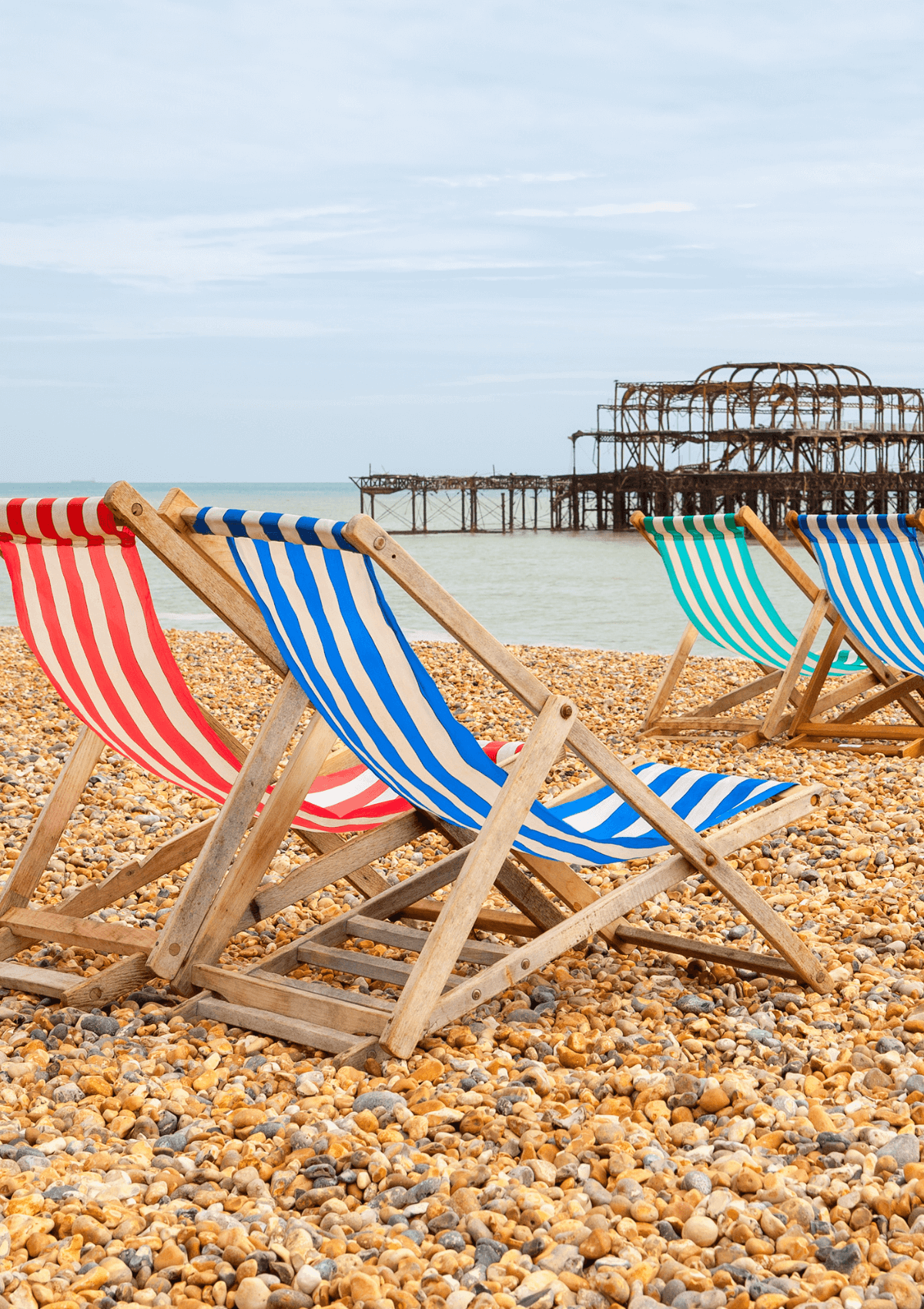 A walk along the seafront has to be one of the best things to do in Brighton. Although there are so many other things to do in this city, you simply cannot visit without a trip to one of the most famous beaches in England.
Look out across the water and spot the old Brighton Pier that was closed to the public in 1975 and has been damaged by storms and arson fires. It's a famous landmark in the area. You can also go seagull spotting, try to skim pebbles, and if you're reeeally brave, take a dip in the chilly waters!
5. Visit the Sea Life Aquarium
The Sea Life Centre in Brighton is said to be the world's oldest aquarium, and with prime position by the seaside, it's packed with amazing, curious creatures that you'll love to discover. This is a brilliant activity to take the kids to, and one that you could spend all day inside. Chase after fish, sharks, turtles, octopus, jellyfish, seahorses, and much, much more.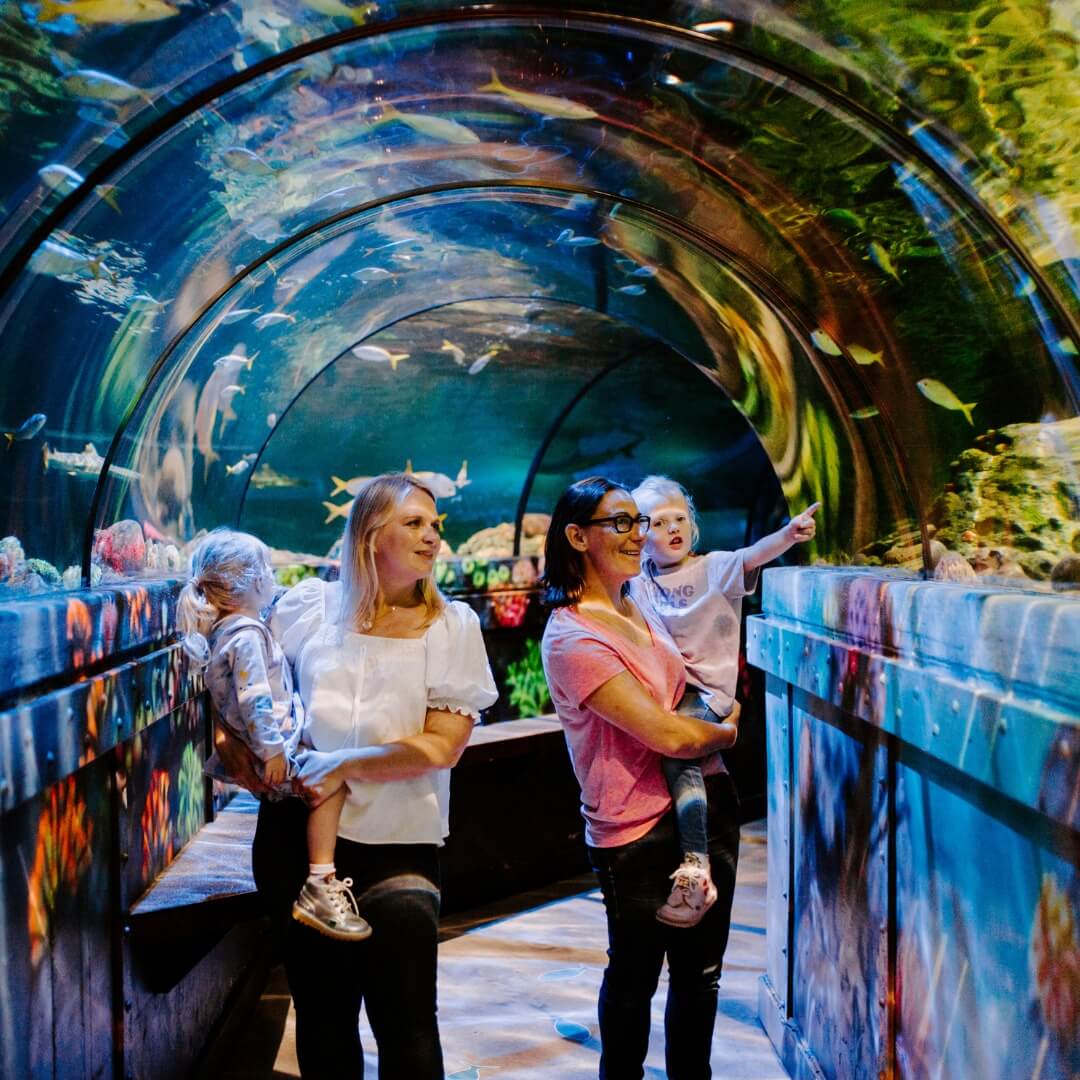 The centre has some amazing VIP experiences, especially if you have a little one who's obsessed with turtles. Take them along to turtle feeding time to make some unforgettable memories, or take the whole family on the glass bottomed boat experience to get an up-close-and-personal view of the underwater world just below.
If this sounds like the perfect activity for your day out, you should definitely book to visit the Sea Life Centre Brighton as it's easily one of the best things to do in Brighton.
6. Tuck into fish and chips for lunch
Lunch time is easy in Brighton, as fish and chips are an absolute must here. Fresh fish by the sea and tasty chips that you'll need to hide from the hungry overhead seagulls… nothing could be more British!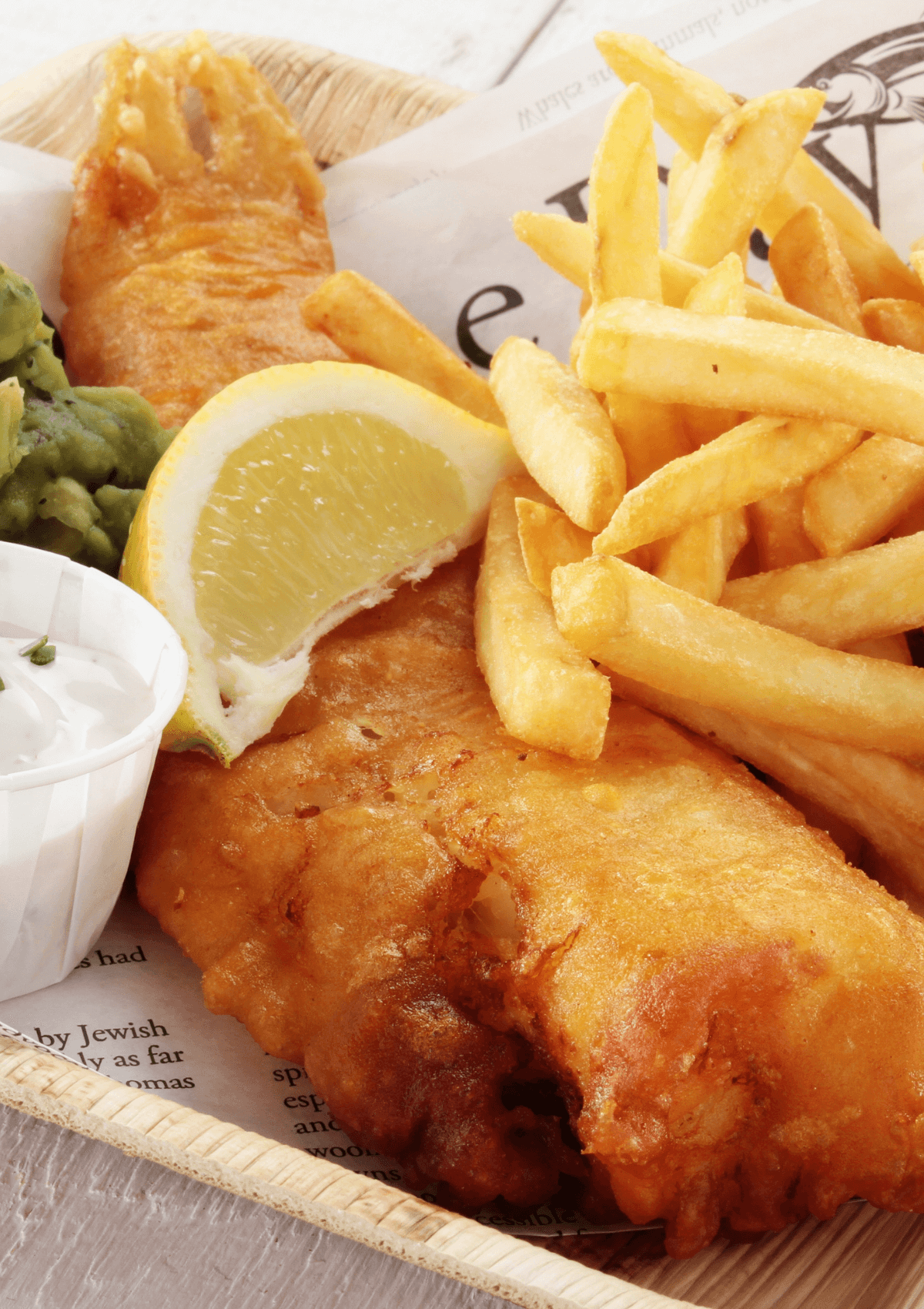 Head along the beachfront until you reach the little cafes under the promenade, and you'll find your fair share of fish and chip shops and other places that do great seafood.
You can get fish and chips on Brighton Pier, or head to Big Fish Trading Co., Captain's, or Brighton Zip Fish and Chips to feel that nostalgic feeling of having a hot, greasy paper poke of fish and chips, and a tiny wooden fork to eat it with. Definitely one of the best things to do in Brighton if you want a traditional British meal for lunch.
7. Whizz along The Brighton Zip
If you don't fill up too much on fish and chips and can stomach doing an adrenaline activity immediately after eating, the famous zip wire that takes you all along Brighton beach is a great way to get a seagull's-eye view of the waterfront.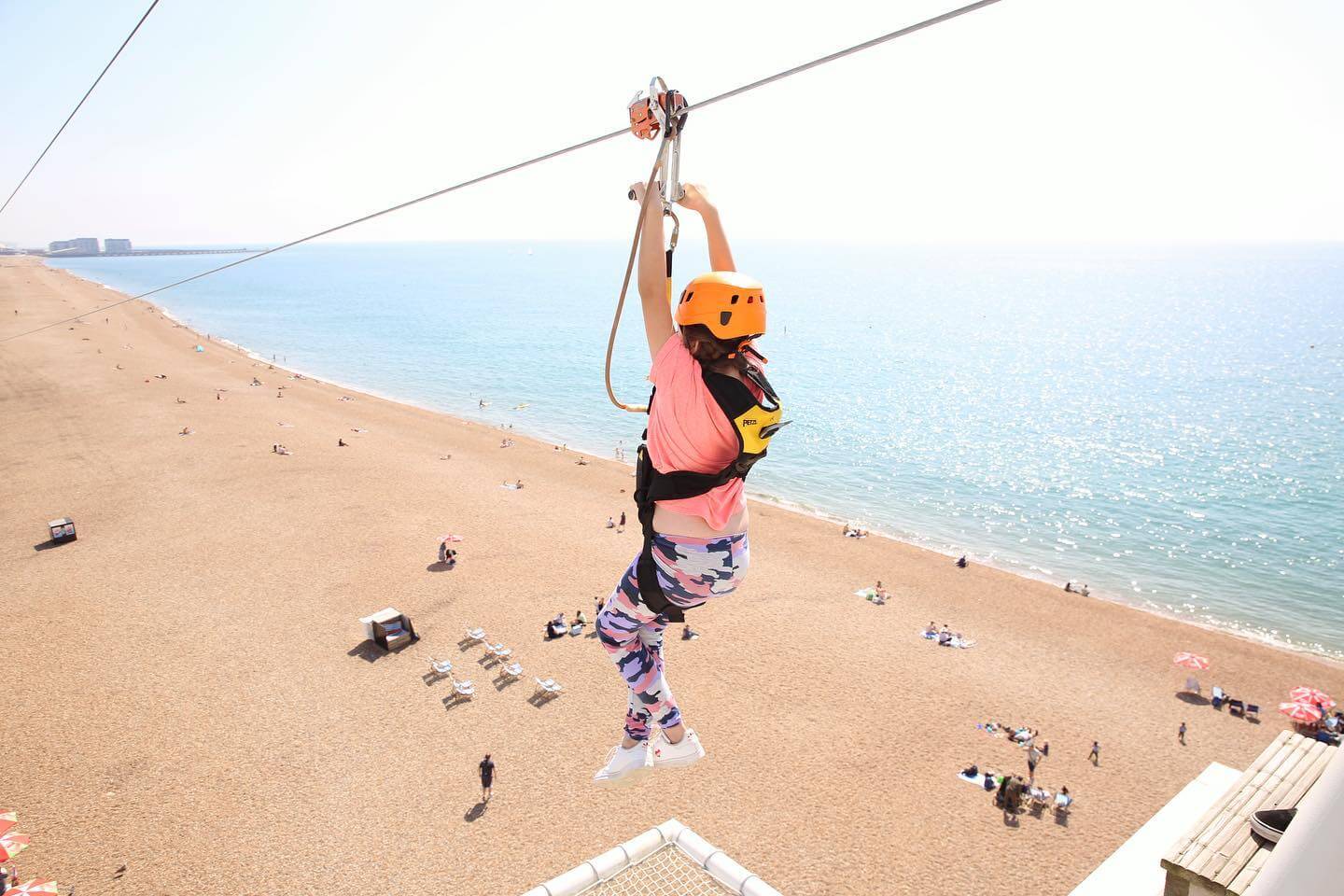 This one is apparently the longest zip wire on the south coast of England, so you're bound to get some seriously stunning views! Climb up the 30 metre tower, get clipped into a safety harness, and fly 300 metres across the pebble beach below while looking out at the endless horizon — one of the best things to do in Brighton for any adrenaline junkies looking for a fun day out.
8. Spend the afternoon on Brighton Pier
Brighton is one of the 21 most popular England tourist attractions, as voted for by our readers, and one of the best things to do in Brighton according to them is the famous Brighton Pier. Part amusement park, part restaurant, part walking route, and part sea lookout point, it's got something for everyone.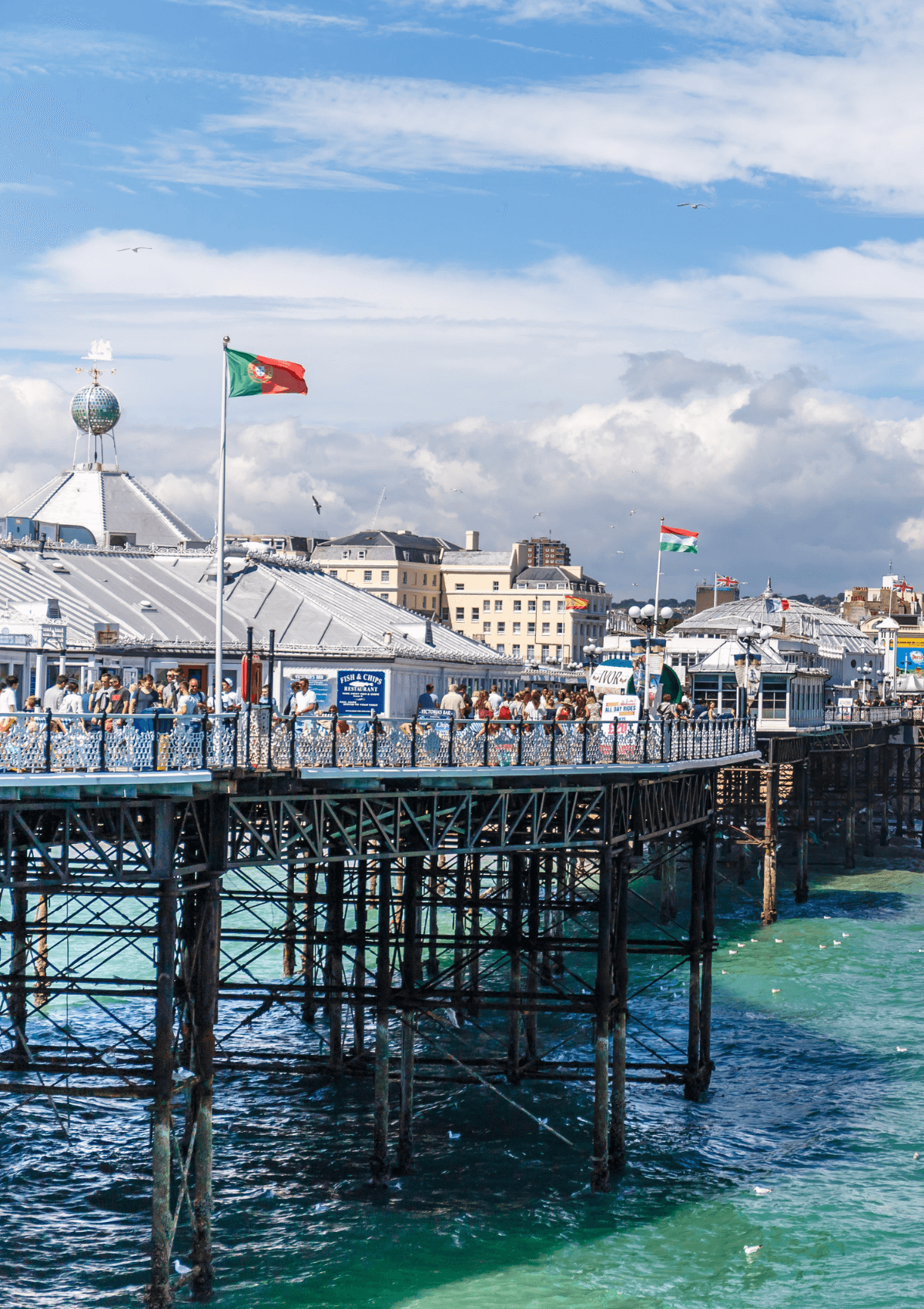 Whether you and your group want to grab a bite at Palace Pizza or have a lovely sit down meal at Palm Court restaurant, or you want to walk around with an ice cream cone or stick your face in the character cut-outs for a goofy family picture, you can do it all on Brighton Pier.
With funfair rides, candy floss stations and arcade games, you'll travel back in time to childhood and the olden days of British holiday resorts.
9. View the whole coastline from the i360
If you never visit a new place without finding the tallest lookout point you can, that's easy in Brighton; it's the i360. Check out the coast from 450 feet in the air, inside a giant glass pod.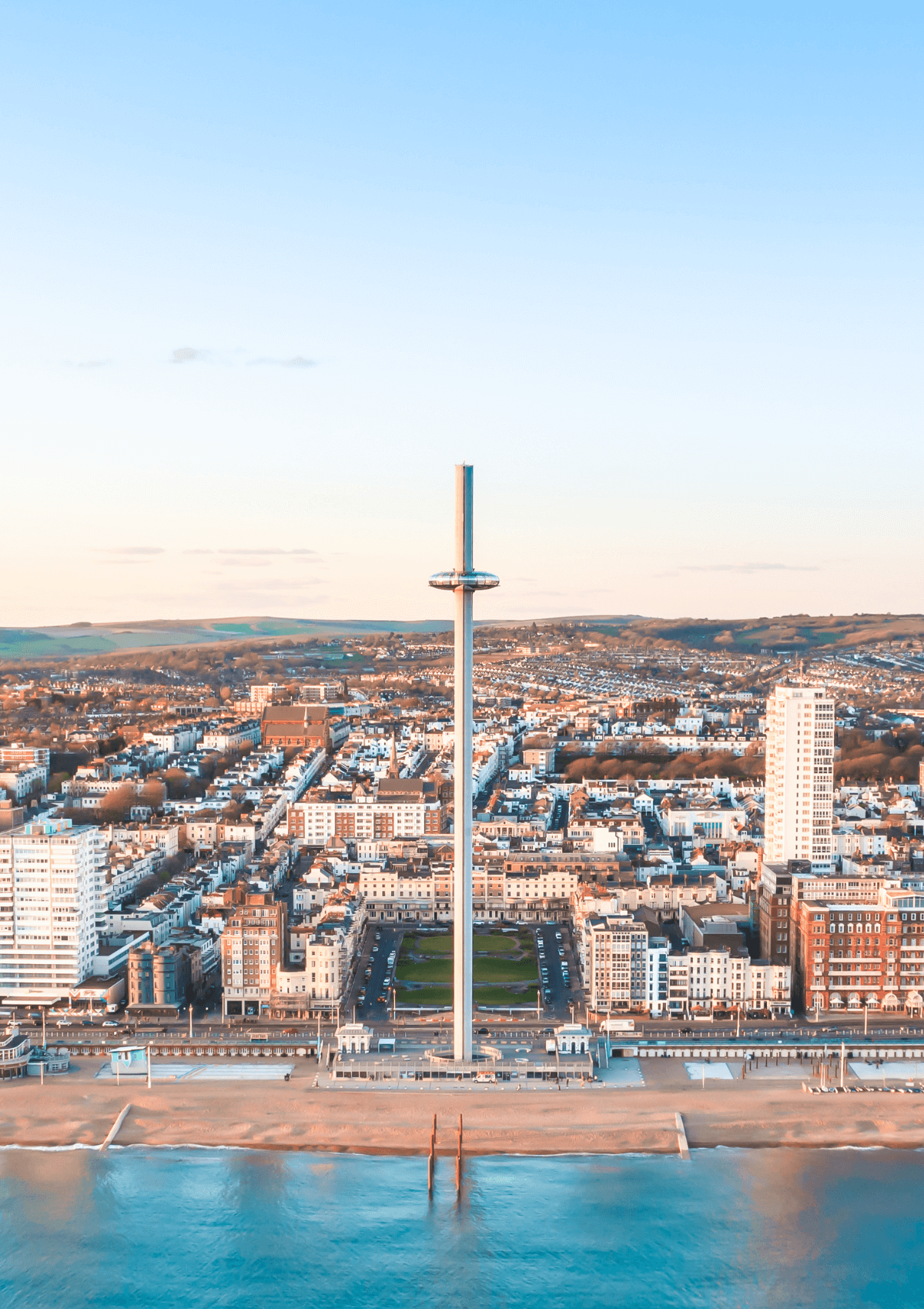 The i360 offers stunning views of Brighton, the South Downs and the South Coast, and you can do other activities up there if you fancy, such as have a drink in their sky high bar, enjoy a delicious afternoon tea in the clouds, and they even do fitness classes up there. Daredevils can also get involved by walking around 138 metres up with a harness on, climb up the tower or abseil down it. Whatever will get your heart racing!
This is one of the most thrilling things to do in Brighton, so check out what i360 offers as you may be able to conquer your fear of heights during your trip to Brighton.
10. Enjoy dinner at Terre à Terre
Brighton is known for its veggie and vegan food, so while you're visiting, why not enjoy a meat-free meal! One of the best restaurants for this (and one that was awarded 3rd place in the extremely tough Best Restaurant in Brighton category at the BRAVOS Awards 2023) is Terre à Terre.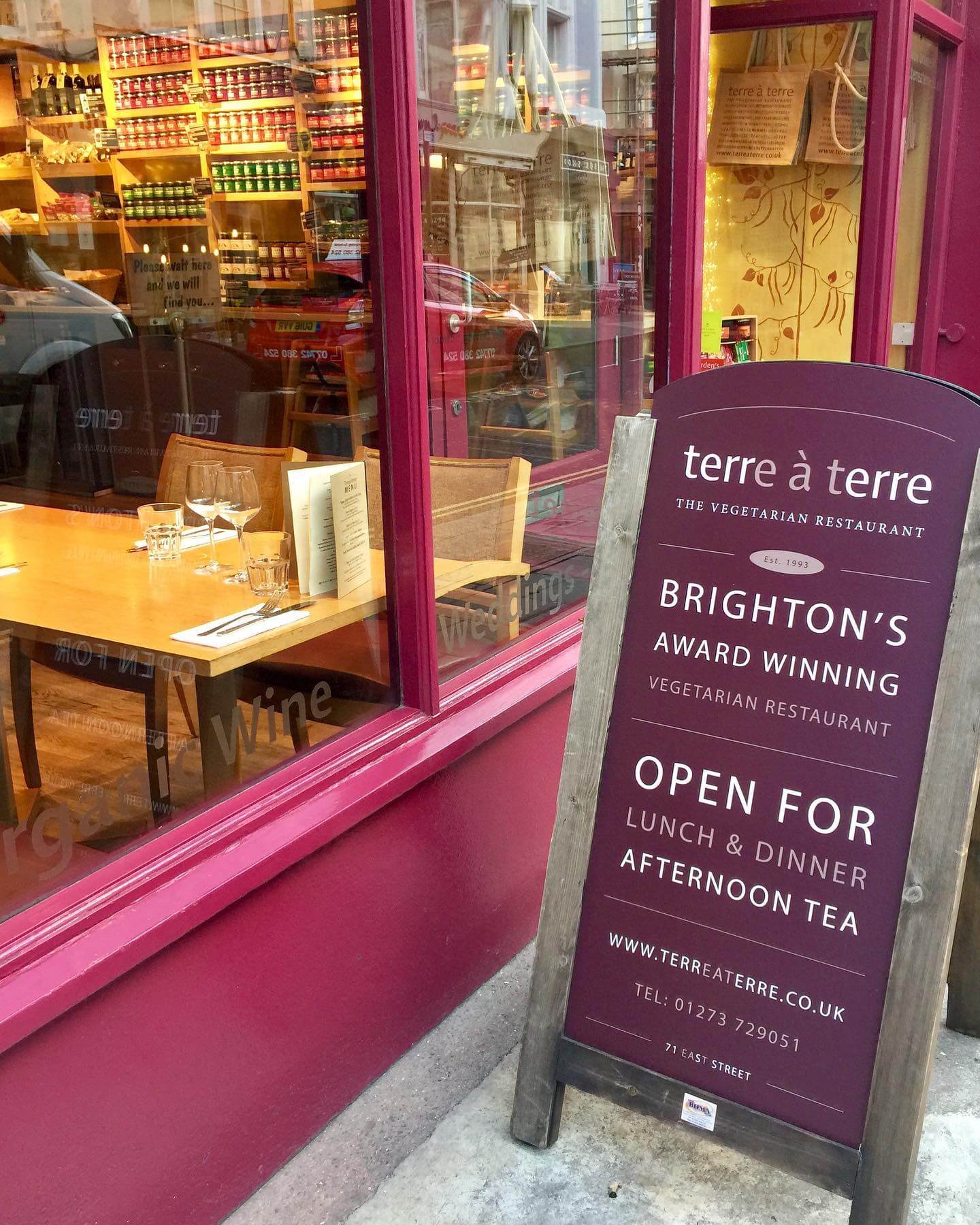 Terre à Terre offers vegetarian fine dining, and is well known today as one of the most influential restaurants in Brighton with an incredible menu. They focus on sustainable and ethical cuisine, and offer some delicious vegetarian and vegan dishes that will suit all. Head chef Danny Yates is behind the menu magic, and with an epic wine list, you're sure to have a brilliant date night here if that's the vibe you're looking for.
Things to Do in Brighton for a Great Day Out
Brighton is jam-packed with amazing things to do, from the range of fabulous restaurants and cafes, to the eclectic mix of activities for all ages, to the general atmosphere it creates on a lovely sunny day out — it's hard to find someone who doesn't enjoy a day trip to Brighton. With so much to do, the city can become very busy during the summer months, so we recommend looking up what you'd like to do in advance and booking as much as possible to avoid crowds and ensure a fantastic day out.
Have you discovered other brilliant things to do in Brighton? Let us know so we can add to our list!
If you're in Brighton and looking to explore further afield, you may be interested in these 11 best day trips from Brighton, or you can join the Brighton and Beyond tour to visit some other nearby sites of interest (book your tour tickets through LoveToVisit).
Quick List: 10 Best Things to Do in Brighton
Wander through the famous Lanes
Have breakfast at The Breakfast Club
See the Royal Pavilion
Walk along the beach (and grab a deck chair)
Visit the Sea Life Aquarium
Tuck into fish and chips for lunch
Whizz along The Brighton Zip
Spend the afternoon on Brighton Pier
View the whole coastline from the i360
Enjoy dinner at Terre à Terre
---