8 Spots for the Best Afternoon Tea in Brighton
Brighton is known for its great shops, tasty restaurants, brilliant shows, and having so much to do even if you're just walking around this seaside city. If you're looking for afternoon tea in Brighton to treat someone (or just treat yourself!), we've rounded up the best ones…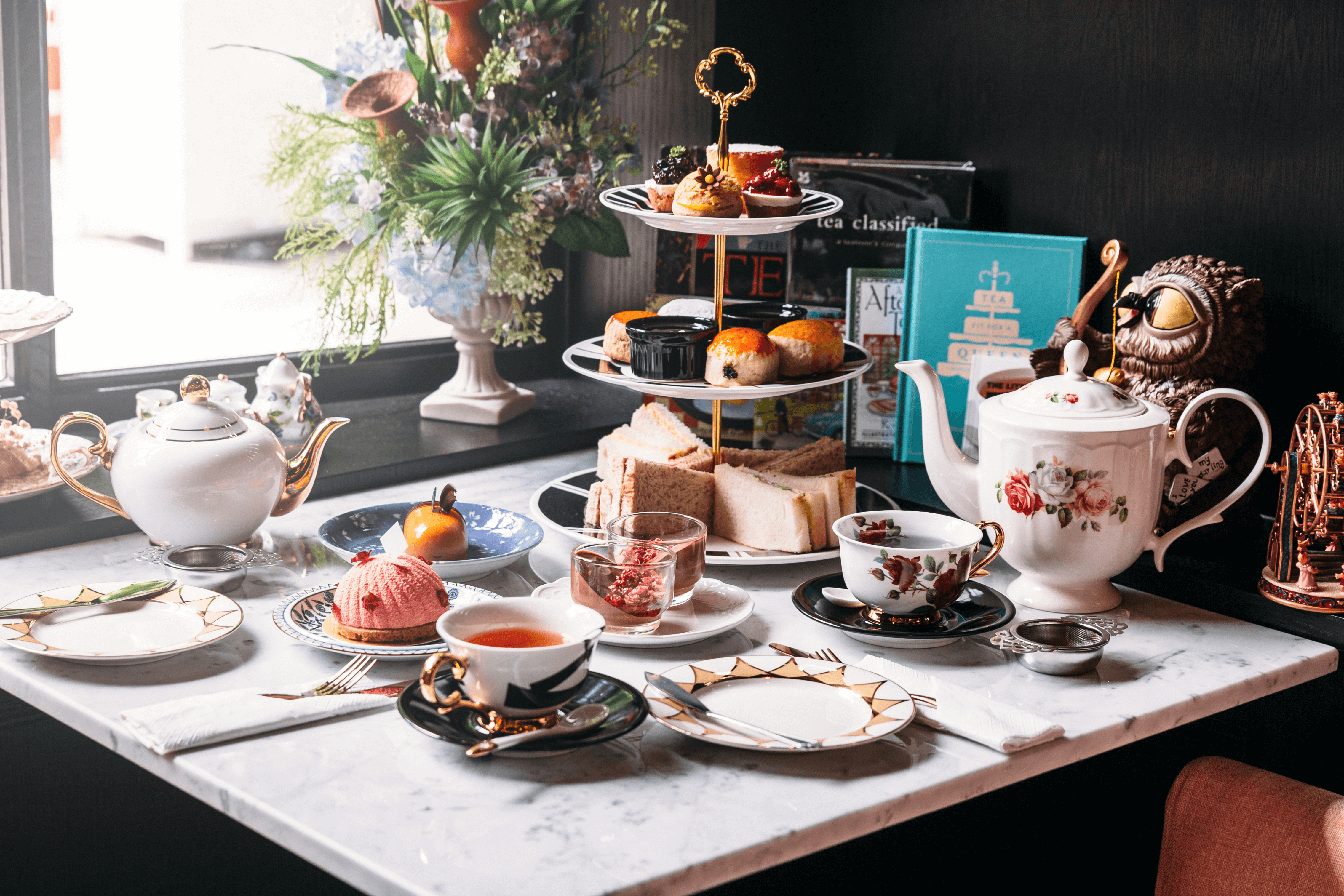 What does it take to make a great afternoon tea? Scones, jam, cream, tasty sandwiches… and some great company, of course! But the location is pretty important too. Whether you like those cute, vintage tea rooms for your afternoon tea, or somewhere elegant and fancy to clink your glasses of Prosecco, Brighton's got it.
There are plenty of afternoon teas in London just up the road, but Brighton is where you should head to if you want to add a touch of seaside air and quirky charm to your afternoon tea. There are tonnes of options, so if you're on the lookout for the best afternoon tea in Brighton, you're in the right place…
Best Afternoon Tea in Brighton
Where to go for the best afternoon tea in Brighton
1. Afternoon Tea at Leman Tea Room
Address: 15A Madeira Pl, Brighton, BN2 1TN
Price: P.O.A.
Leman Tea Room is as cute as they come, and the perfect little tea room to enjoy an English afternoon tea with family or friends… if they can all fit inside. This teeny tea room may be small but it's big on service and tasty food.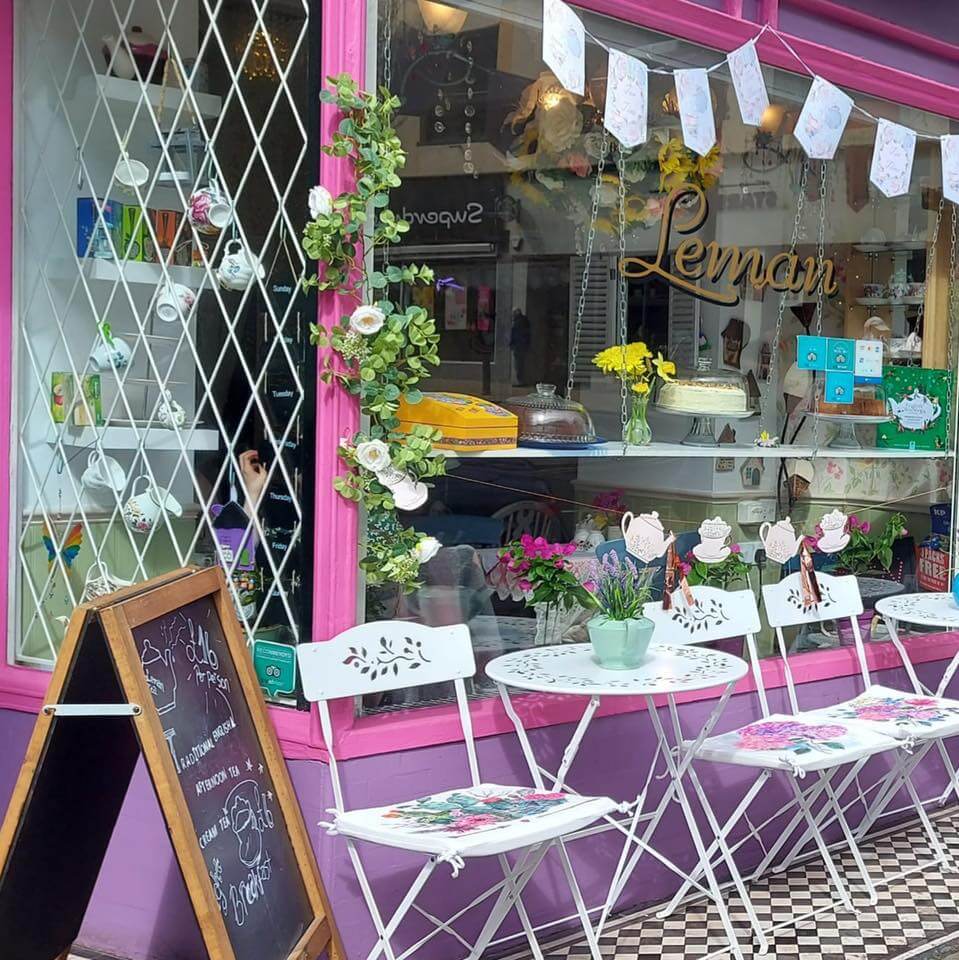 Leman Tea Room does your classic afternoon tea and cream tea options, with dainty finger sandwiches, scrummy cakes, and of course scones and jam, all served on 3 tiers for that traditional afternoon tea feel.
With quirky vintage decor, delicious homemade food, and cakes worthy of an Instagram post, you should definitely check out Leman Tea Room if you're looking to treat someone special to a tasty afternoon tea in Brighton. And if the weather's nice? Be sure to sit outside and watch the world go by from their little Parisian-style tables and chairs out front.
2. Afternoon Tea at The Ivy In The Lanes
Address: 51A Ship St, Brighton, BN1 1AF
Price: From £29.95 per person
The Ivy afternoon tea is appropriately named the Dreams Afternoon Tea, probably because it's absolutely dreamy. This is on the fancier end of the afternoon tea in Brighton scale, but it's so worth splashing out for.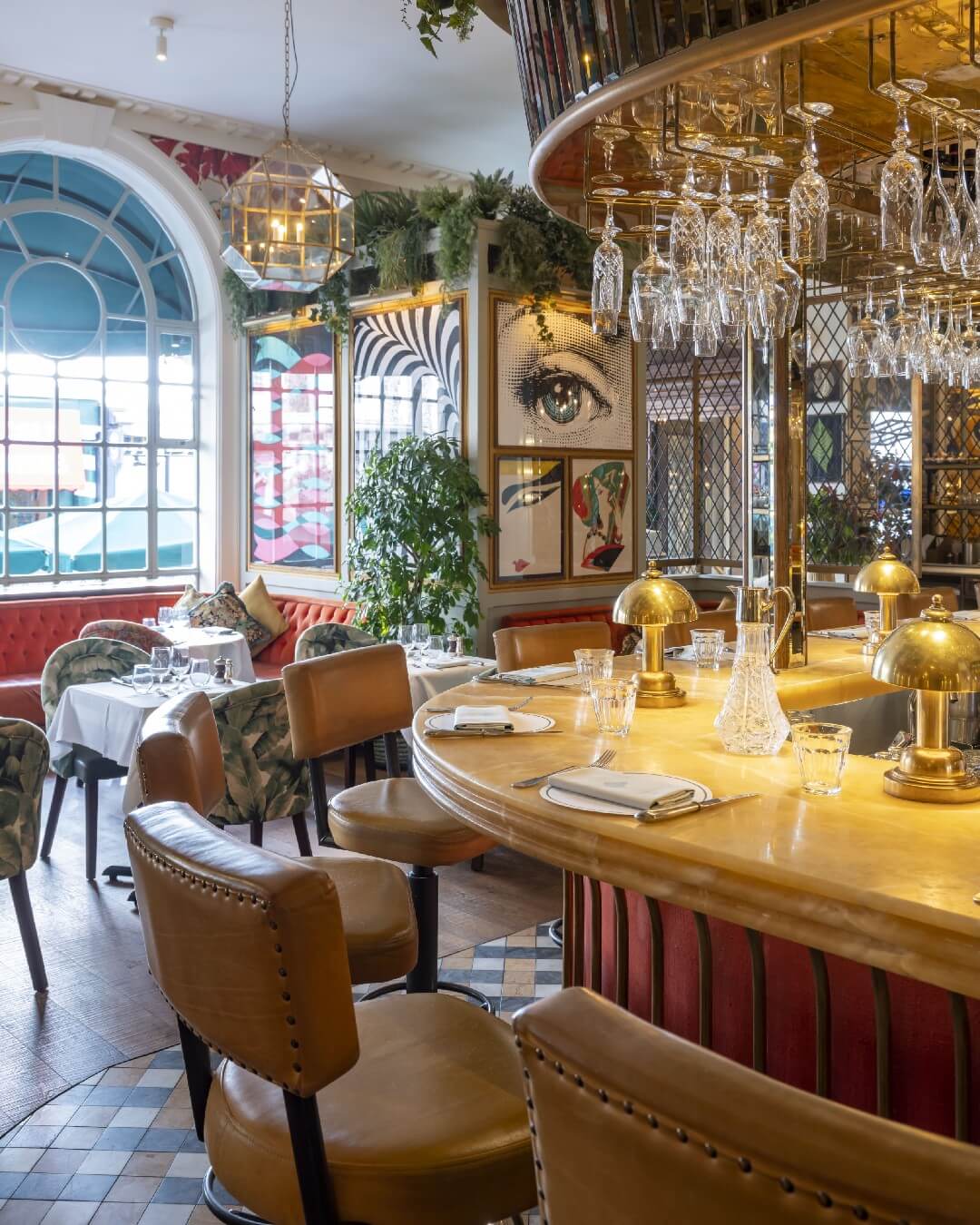 With gorgeous sandwiches like their Ivy cure smoked salmon and cream cheese finger sandwich, and warm, plump scones just waiting to be eaten, this is one gorgeous afternoon tea in Brighton you won't want to miss out on. And you can't walk away without trying the delicious desserts; honeycomb and dark chocolate plant pot, and almond and black bee honey macaron are just a few of the ones you'll be coming back for again and again.
If you're in the mood to spoil yourself even more, you can pay £10 extra to upgrade to the Nyetimber English Sparkling Wine Afternoon Tea. Oh go on…
3. Afternoon Tea at Brighton Royal Pavilion
Address: 4/5 Pavilion Buildings, Brighton, BN1 1EE
Price: Price on booking
We have to start this one off by saying that the Brighton Royal Pavilion doesn't appear to currently be serving afternoon tea, however they have done in the past on many occasions. We're confident that a Royal Pavilion Brighton afternoon tea will be available once again, so we thought we'd keep this popular afternoon out mentioned on this list so you can double check if it's back on by the time you're booking your afternoon tea. If it is, grab a ticket, pronto!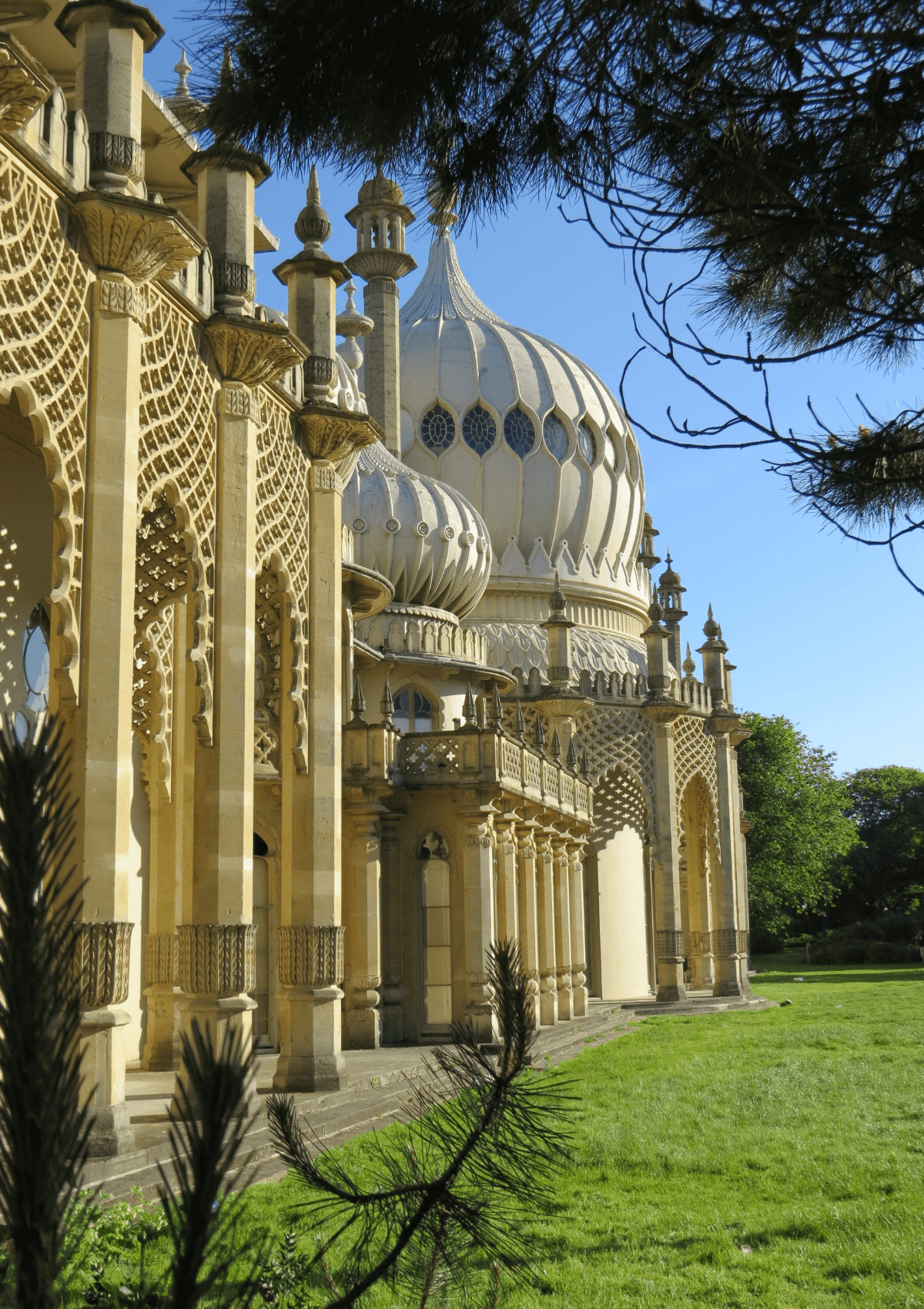 This impressive building is a stop-and-stare piece of architecture in the middle of Brighton, and is a must-see for anyone visiting Brighton as it's one of the most well-known structures in the area. Its grand interior makes it the perfect location for a great afternoon tea. In fact it might just be the best spot for afternoon tea Sussex has to offer.
It was previously possible to book afternoon tea there and through external sites such as Virgin Experience Days, so we are hopeful they will start this up again in future. For the grandeur of this afternoon tea location alone, we recommend it, and hope that they will soon start their afternoon tea offering up again so everyone can tuck into scones surrounded by history and elegance!
4. Afternoon Tea at Brighton i360
Address: Lower Kings Road, Brighton, BN1 2LN
Price: From £35.20 per person
High flyers will love the Brighton i360 afternoon tea experience. Let the iconic pod take you up to 450ft above the city and sea, while enjoying a glass of Nyetimber Sparkling Wine, then float back down and get stuck into your afternoon tea with an ocean view in the beachfront restaurant, West Beach.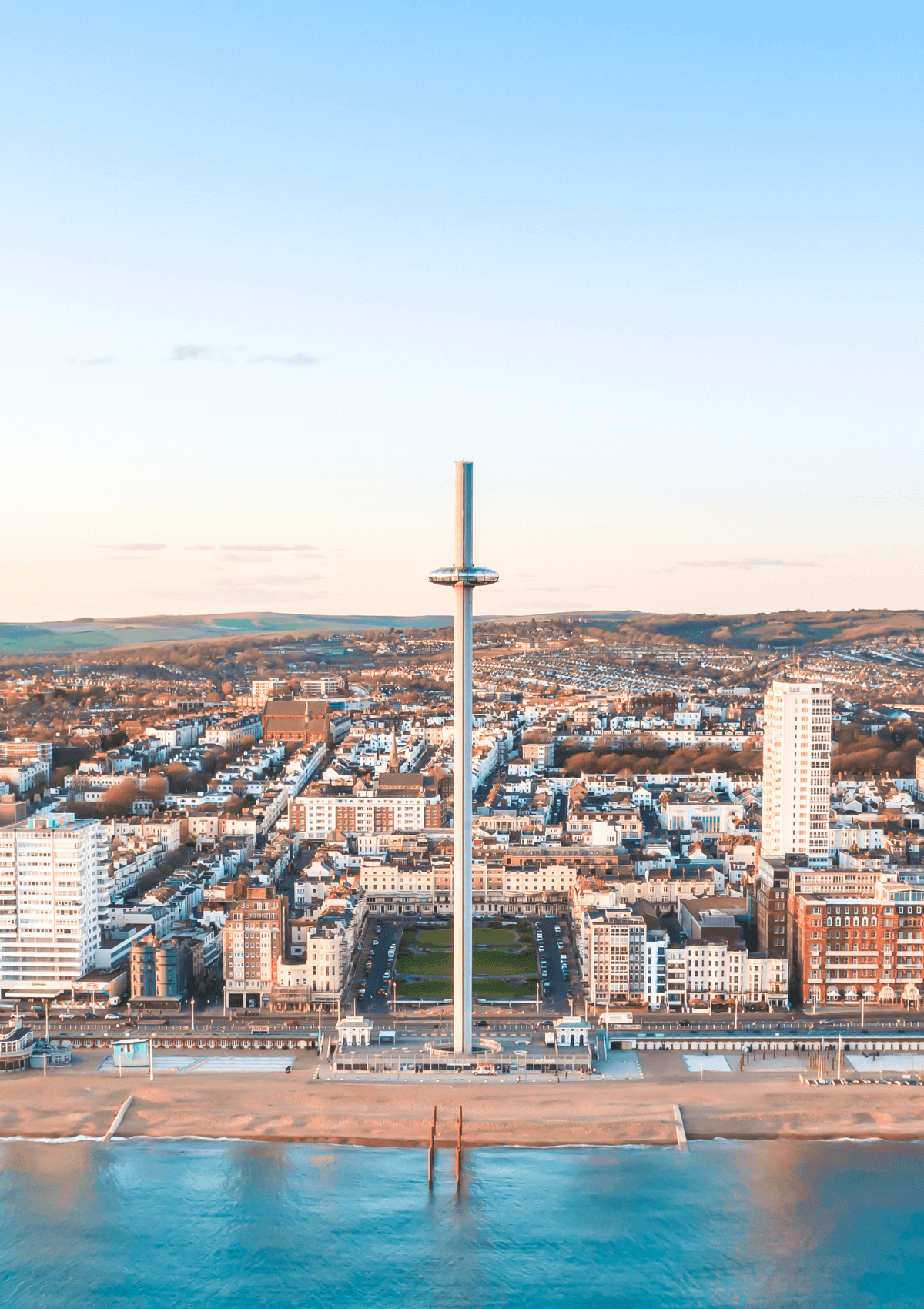 This is a brilliant experience if you're looking to celebrate something special with a loved one, as you can say cheers high above the rest of the city, then relax on solid ground with a scrumptious afternoon tea complete with all the trimmings; sandwiches, scones, jam, and some more tasty treats. You can book this afternoon tea in Brighton on the Brighton i360 website.
It's easy to believe that these tourist attractions won't focus on food quality, but the Brighton i360 afternoon tea comes highly recommended, with gluten free, vegan and vegetarian options available, and all made using locally sourced ingredients. Yum!
5. Afternoon Tea at That Little Tea Shop In The Lanes
Address: 17 Meeting House Ln, Brighton, BN1 1HB
Price: From £11.95 per person
And the award for best named tea shop in Brighton goes to… That Little Tea Shop In The Lanes. Even though they're hidden away in Brighton's famous Lanes, you won't miss them; look out for the bright blue awning and lady holding a teapot.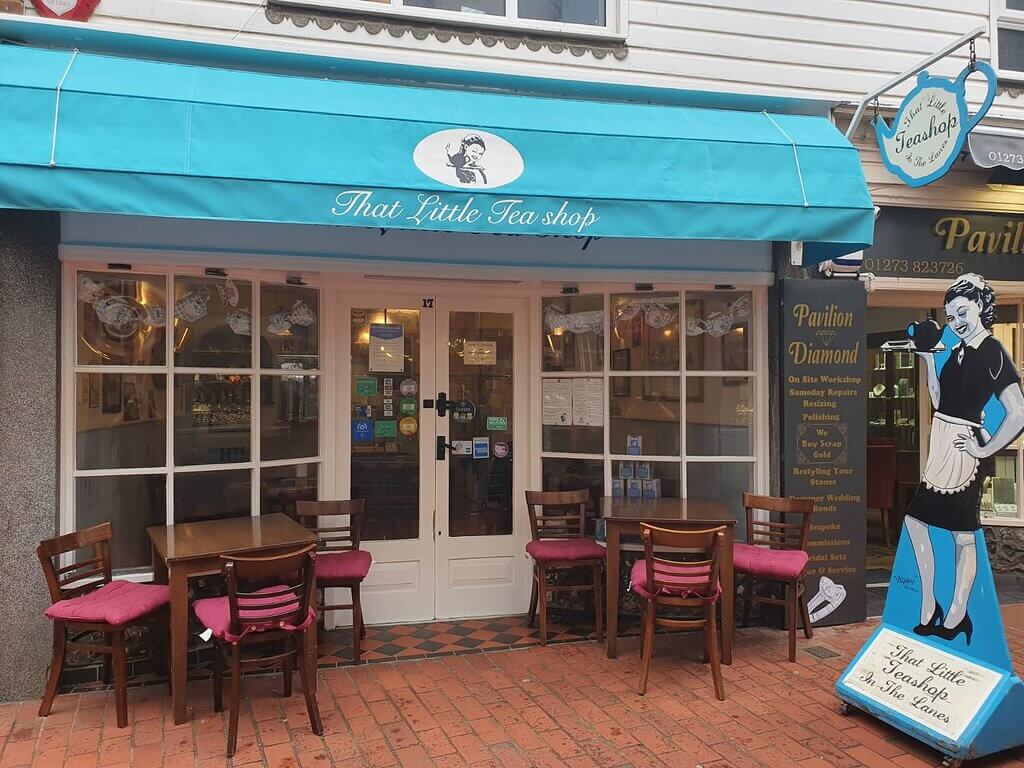 That Little Tea Shop has a standard afternoon tea option, a more minimalist cream tea, or you can opt for the Meeting House Tea if you want an extra slice of cake with it (who doesn't?!). They have gluten free, dairy free and vegan options at the same prices, and their scones are freshly baked. Other great tea room snacks are available if you want more, but we reckon you'll feel stuffed when you leave the Lanes.
This is one of the cheapest Brighton afternoon tea deals around, and it's a great spot if you're treating someone. They do personalised gift vouchers too, which make a lovely present for someone special.
6. Afternoon Tea at Mercure Brighton Seafront Hotel
Address: 149 Kings Rd, Brighton, BN1 2PP
Price: P.O.A
The Mercure Brighton Seafront Hotel offers a really great spot for your afternoon tea as it overlooks the seafront. There, you can watch boats, seagulls, lapping waves, and all the other relaxing features of Brighton's oceanside location.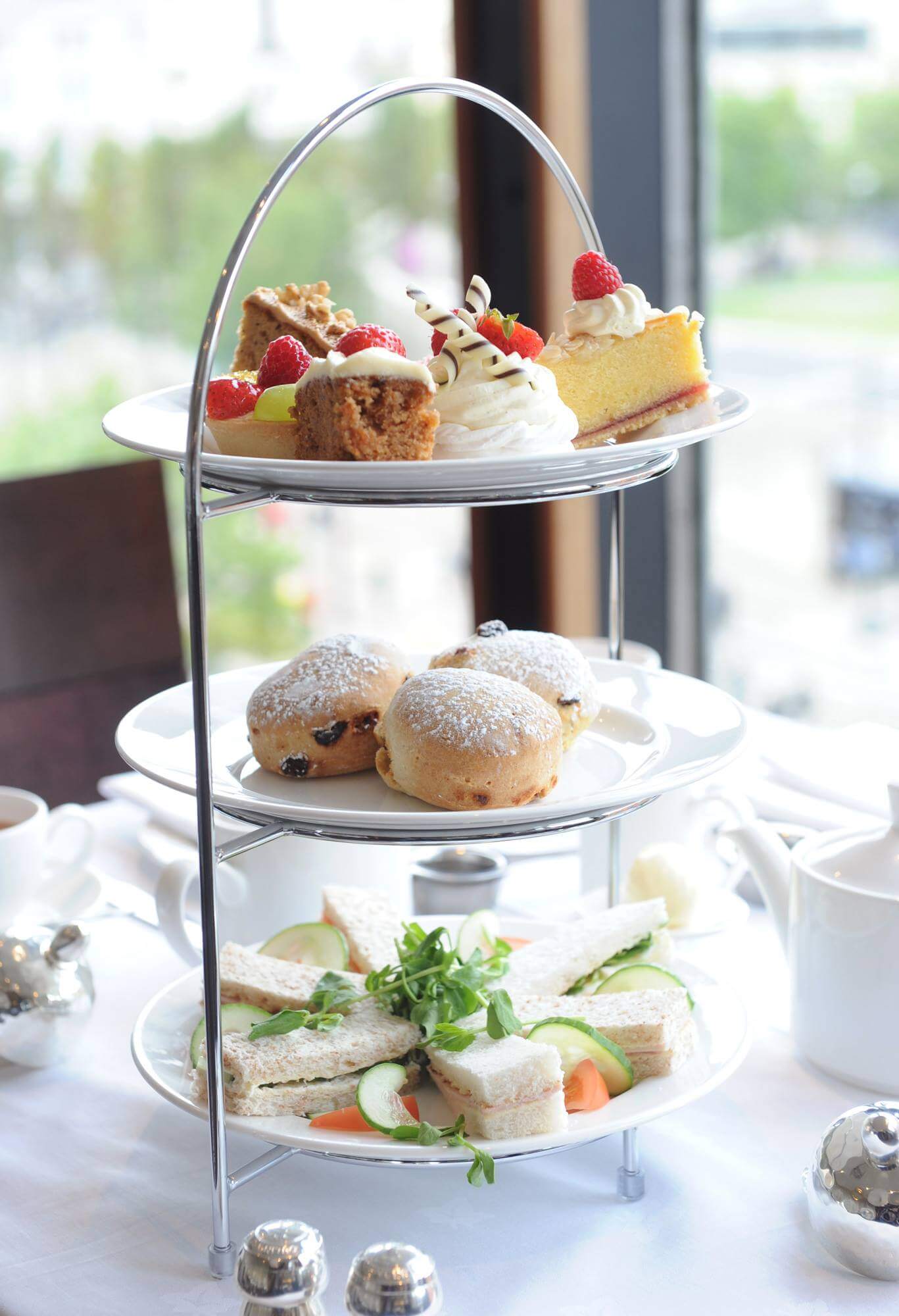 Served on an elegant 3-tier stand and featuring all the delicious treats you want from your afternoon tea — carefully cut sandwiches, squishy scones, and cakes that look too good to eat — this is a really special day out whether you're celebrating something or just having a 'treat yourself' day. What better way to show yourself some TLC?
Post-afternoon tea, you can take a stroll along the seafront to walk off all those scones…
7. Afternoon Tea at Malmaison, Brighton Marina
Address: The Waterfront, Brighton, BN2 5WA
Price: From £29.50 per person
This boutique hotel offers serious luxury, and their afternoon tea does too. There's the classic cream tea or the full afternoon tea, and you can upgrade to include a cocktail or glass of Champers. If you're celebrating something (and it could be anything!) we recommend this top notch spot.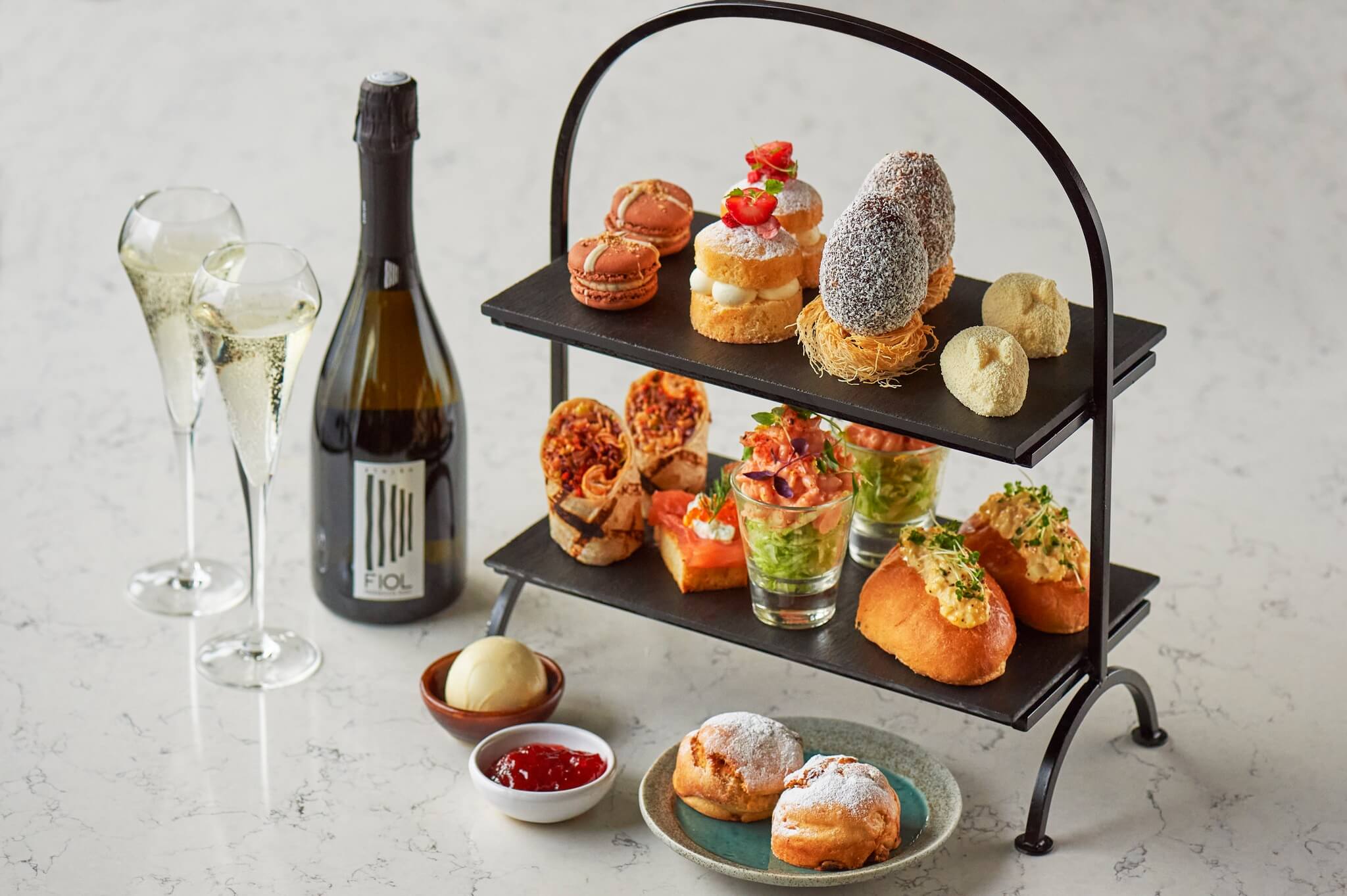 They've switched up the traditional sandwiches to include some other options, such as their Chez Mal slider and crunchy Thai sticky beef & sesame wrap, so you'll want to come here for the most quirky afternoon tea Brighton has to offer. Plus their dessert options sound so mouthwatering; Calamansi citrus meringue tart, dark chocolate & salted caramel tart and raspberry ripple & white chocolate sundae… hungry yet?
If you're looking to enjoy the best afternoon tea Brighton Marina has to offer, this is 100% the one!
8. Afternoon Tea at The Grand Brighton
Address: 97-99 Kings Rd, Brighton, BN1 2FW
Price: From £38 per person
The Grand afternoon tea is another fancy one that you'll enjoy if you love all things luxury! Afternoon tea at the Grand Brighton is an experience like no other you can have in the city, with its elegant dining and bespoke selection of delicious food.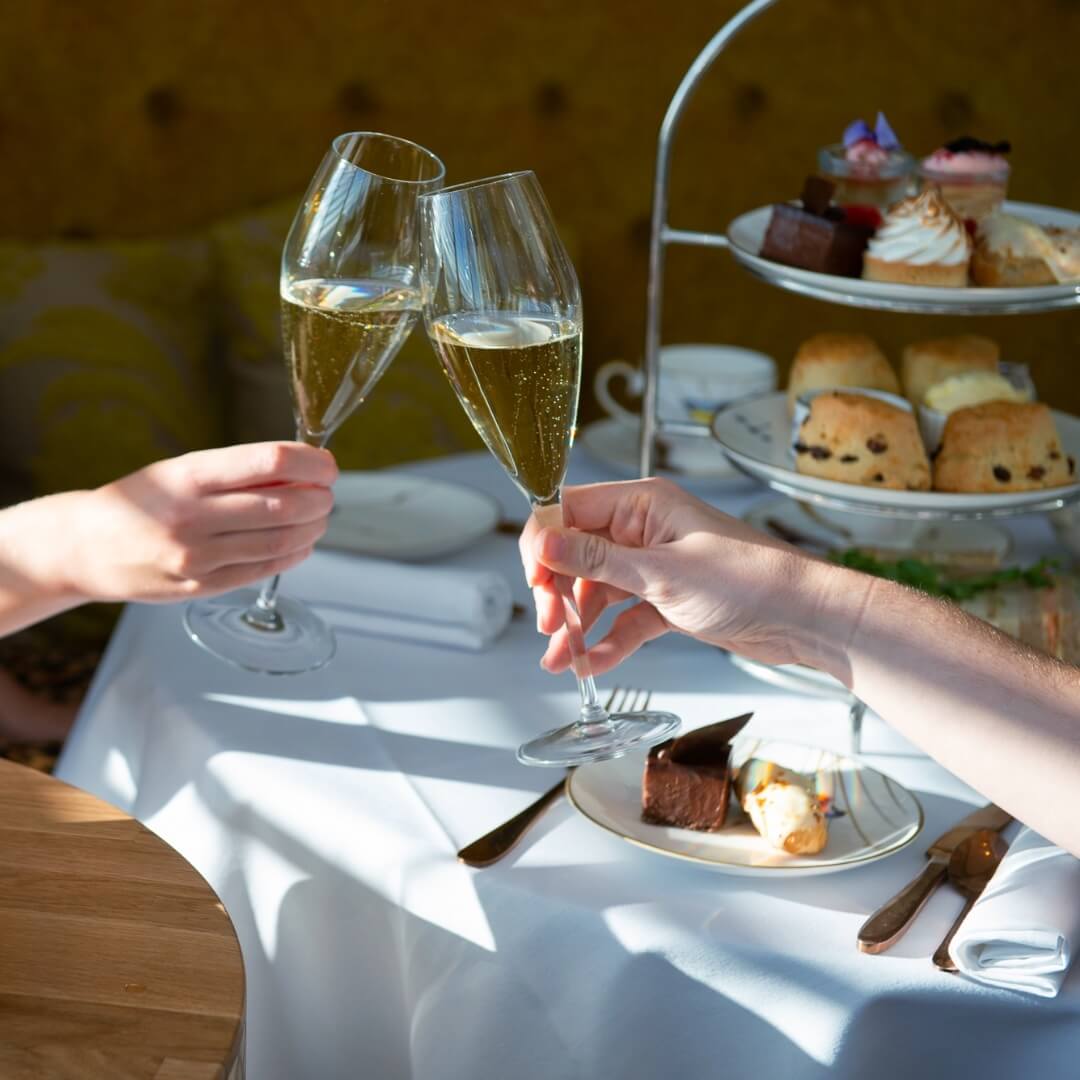 Their 'Afternoon Tea by the Sea' was designed by The Grand's Executive Head Chef, Neil, and is served in the Victoria Terrace & Lounge on 3 tiers. It includes an exclusive collection of gorgeous savoury and sweet treats. The selection of teas is amazing, and you'll be offered a slice of one of their spectacular Grand cakes from the cake trolley… now that's luxury!
They offer vegan and gluten free options too, so everyone can come along and enjoy this elegant experience. The Grand Hotel afternoon tea menu is on their website, so take a look and start getting excited for your visit before you go — that's half the fun!
Been browsing for the best afternoon tea in Brighton? This list has got your sandwich, scone and sweet treat choices sorted! Afternoon tea is always a great idea for a birthday day out to remember, so if you're in or around Brighton and you have an upcoming birthday celebration to plan, this is a great idea. Bring on the tiny sarnies!
Want more day out ideas? Here are the 11 best day trips from Brighton you NEED to try.
Quick List: The 8 Best Places to Go for Afternoon Tea in Brighton
Afternoon Tea at Leman Tea Room
Afternoon Tea at The Ivy In The Lanes
Afternoon Tea at Brighton Royal Pavilion
Afternoon Tea at Brighton i360
Afternoon Tea at That Little Tea Shop In The Lanes
Afternoon Tea at Mercure Brighton Seafront Hotel
Afternoon Tea at Malmaison, Brighton Marina
Afternoon Tea at The Grand Brighton
---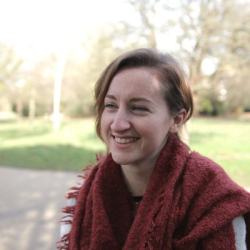 Latest posts by Caitlin McAllister
(see all)