17 of the Best Afternoon Teas in London for 2023
In the mood for afternoon tea? We've created a list of some of the very best afternoon teas in London so you can enjoy them throughout 2023!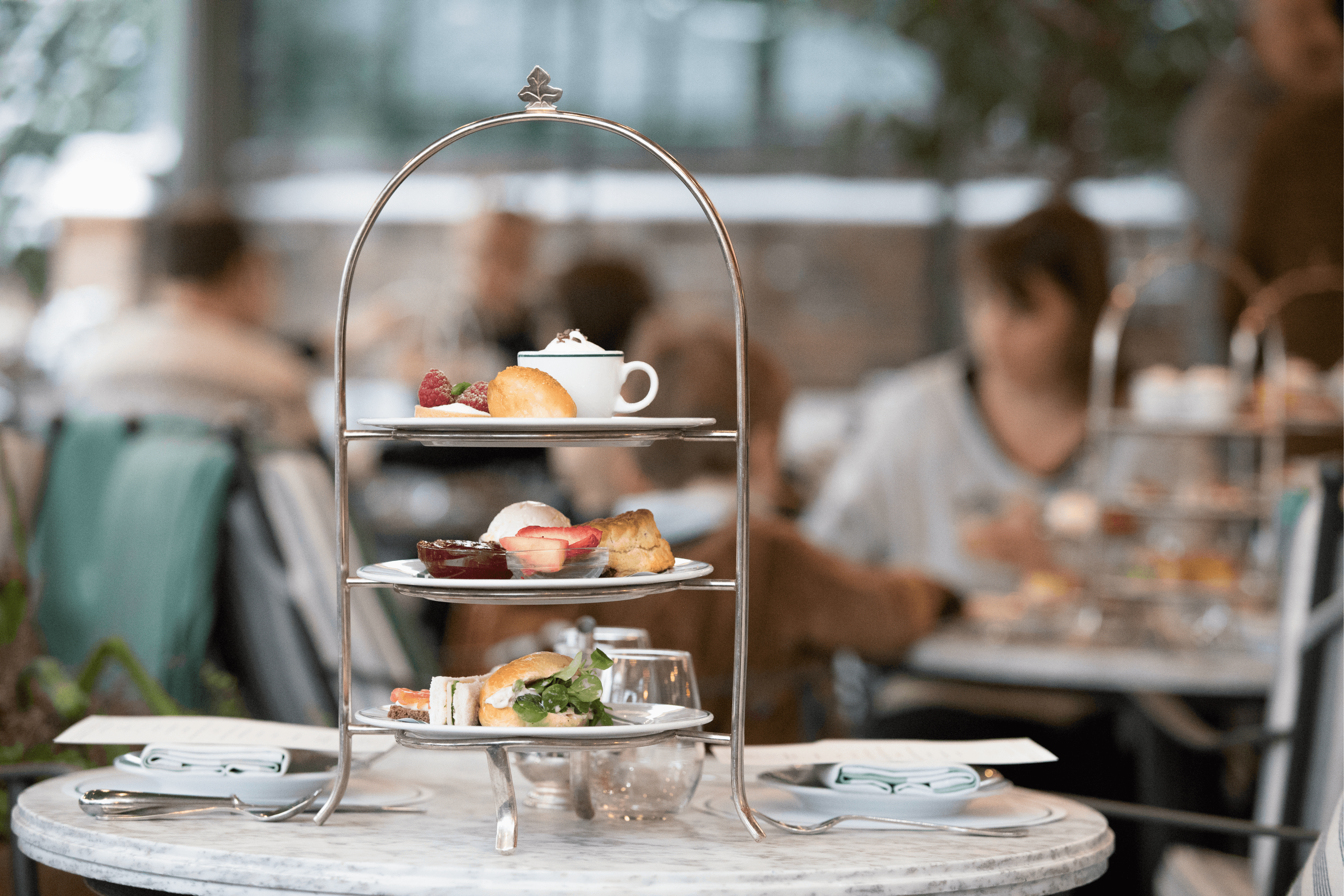 An afternoon tea is always a great idea to have one of the best days out in London, and it's an experience that everyone can enjoy, whether you're a local or visiting the city from elsewhere. From luxury hotels to quirky tea rooms to cute cafes, there are so many weird and wonderful afternoon teas in London to choose from.
Afternoon teas in London are definitely not in short supply. In fact, you might struggle to find a café, bar or restaurant that doesn't offer some sort of afternoon tea options. But finding the very best spots for your day out in London is worth the research so you can enjoy the crème de la crème of afternoon teas.
Don't worry though, we've rounded up the very best afternoon teas in London for 2023, with options suitable for all tastes and budgets, so you don't have to lift a finger. Save your strength for lifting all those tea cups and finger sandwiches…
Here are the 17 best afternoon teas in London for 2023.
1. The Afternoon Tea London Bus Tour with Brigit's Bakery
Afternoon tea on a bus?!
Yes, you can enjoy the sights of London from the comfort of a famous red double decker bus, while tucking into a unique afternoon tea. This guided bus tour of London comes with a tasty afternoon tea provided by Charing Cross-based Brigit's Bakery, serving up a range of tea and cake options, as well as sandwiches and more.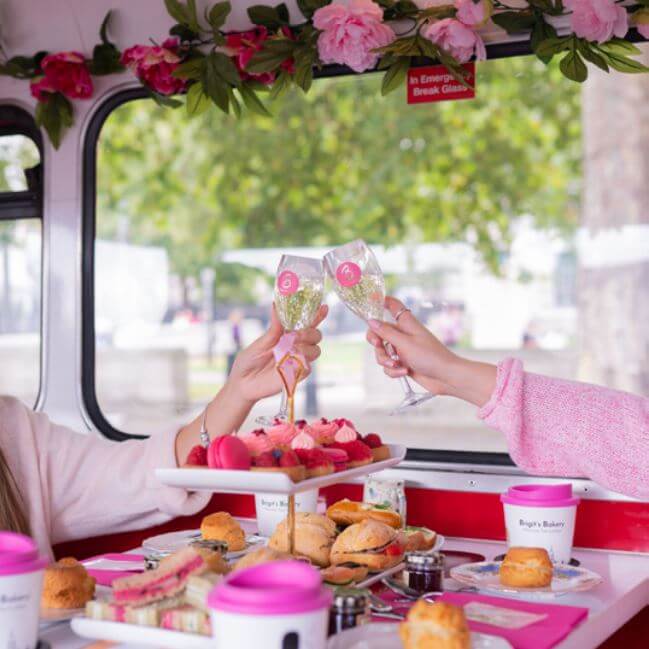 The bus takes you around some of London's most famous landmarks while you sip your tea. See iconic sights such as Buckingham Palace and Westminster Abbey, and snack on classic afternoon tea bites like scones and tiny sandwiches. This really is the quirky afternoon tea London needs for folks who prefer to stay on the go at all times.
Prices start at £45 for adults and £35 for children, and you can book on their website.
2. Afternoon Tea at Café Rouge
We like to pepper in some of the well-known high street restaurants too, because many of them offer lovely no-frills afternoon teas in London if you want something simple. Café Rouge is one of them.
The French bistro chain offers an afternoon tea with a selection of sandwiches, savoury choices, and of course scones served alongside other tasty desserts and cakes. This French-style afternoon tea is a great option if you don't need any themes or fancy location. It's always cheerful, and the selection is good so you'll always find something you like.
Prices start at just £15 per person for this afternoon tea, and you can book on their website.
3. Cream Tea at Harrods with a River Cruise
If you want to mix adventure with a touch of elegance, you'll love the cream tea experience at Harrods which also includes a river cruise for two on the Thames. You might not think Harrods and boats go together, but turns out they do.
This afternoon tea is served in the stunning Harrods Tea Room which overlooks Hyde Park, so before you've even stepped foot on the boat you're getting a great view.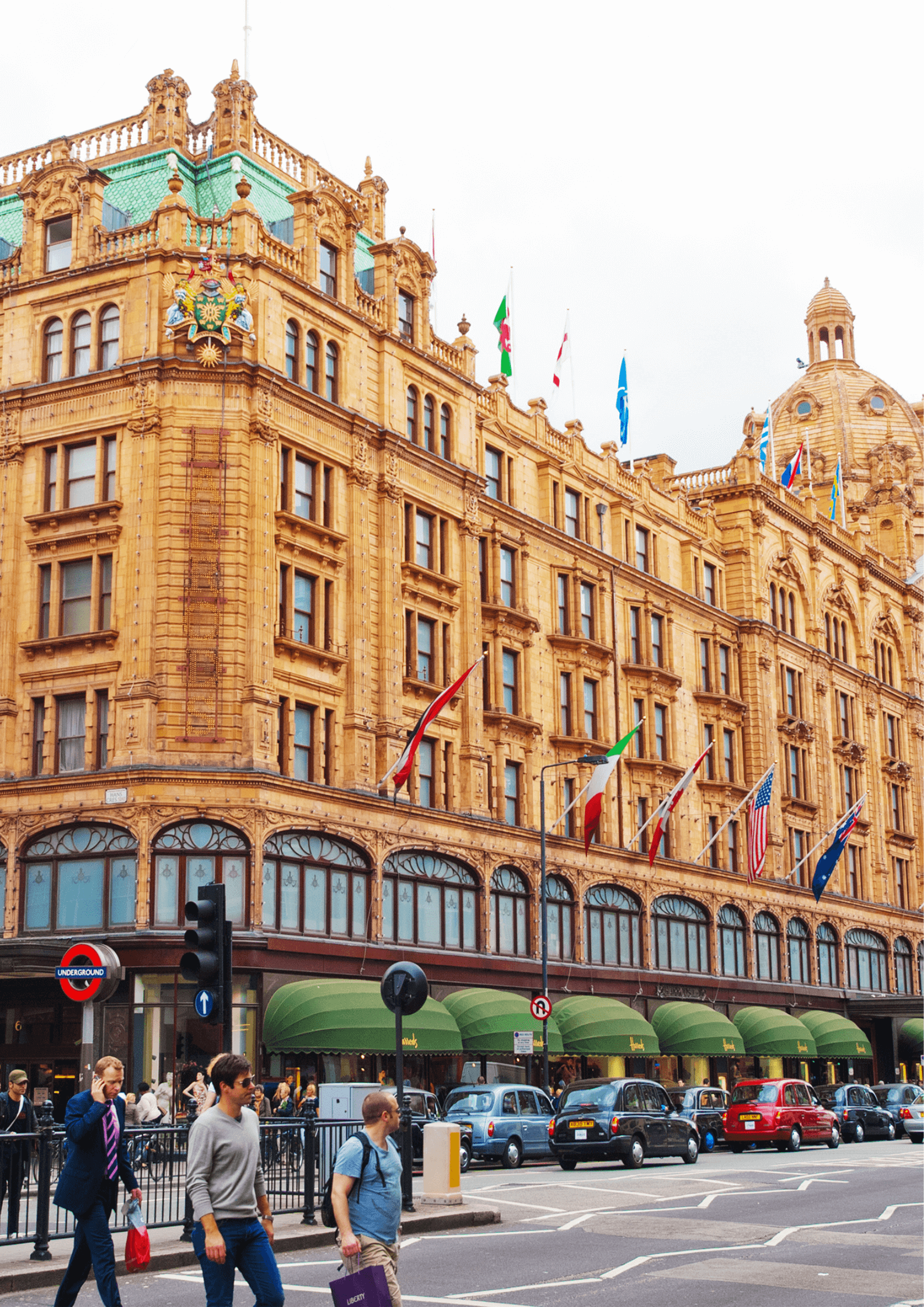 This is a lovely day out that offers something a little different, with a fancy afternoon tea followed by a river cruise departing from Embankment Pier to take in the sights and famous London landmarks afterwards.
Wave hello to Big Ben and the Tower of London on your journey, and don't forget to take your complimentary Harrods souvenir cup and saucer home with you. Prices start at £70 for two people, and you can book the experience here.
4. Afternoon Tea at Caffè Concerto
You'll find Caffè Concerto restaurants dotted all over London, so this is a great option if you are visiting somewhere specific on your day out and need an afternoon tea in London close by for wherever you end up.
Caffè Concerto is always a good time, and their simple London afternoon tea option lets you choose from finger sandwiches and little brioche rolls, fresh-from-the-oven scones, and a selection of pastries or cakes.
This is also a great option for tea lovers. Their selection of fine loose leaf teas is excellent, so don't fill up on scones, leave room to taste some of their many teas. Prices for this one vary, but you can book on the Caffe Concerto website here.
5. Afternoon Tea at Patisserie Valerie
You can never have enough French-themed afternoon teas, right?
Patisserie Valerie offers afternoon teas in London that are a surprisingly popular choice. It could be the range of sweet and savoury pastries that lures people in, or it could be its accessibility, with multiple locations dotted around the city.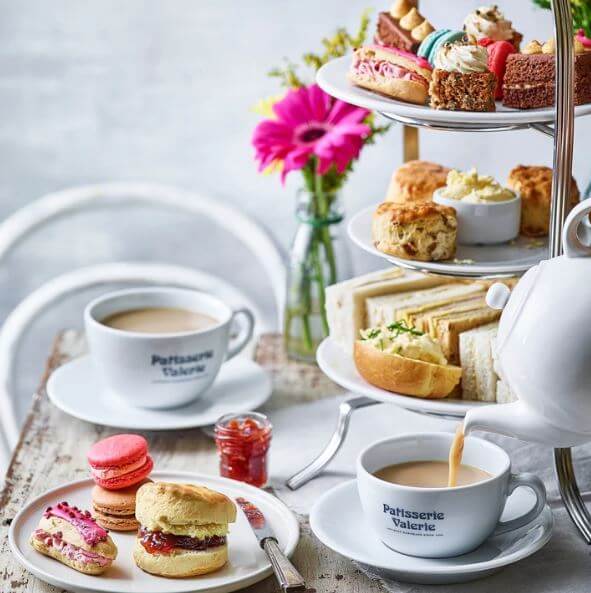 There's a Patisserie Valerie near Covent Garden, so why not book this one and turn it into a great day out? You can't NOT have a great day out when there are sandwiches, cakes, and scones with cream and jam involved. They have options to get afternoon tea delivered, or you can visit one of their many locations.
6. Afternoon Tea at Corinthia London
Approaching the Corinthia in London is pretty spectacular, and a beautiful building is sure to offer a beautiful afternoon tea (which it certainly does). This luxurious afternoon tea in London is elegant and will make you feel extra decadent for the day. Tea is served with finger sandwiches, scones with clotted cream and jam or lemon curd, pastries and chocolate tartlets.
When it comes to the tea selection they have classic options like Earl Grey, but for something a little different try their Darjeeling or Keemun black tea, or be tempted by a hot chocolate or chai in winter. The view is also excellent at the Corinthia London, so you're sure to have a good time here – one of the best afternoon teas in London.
Prices start at £85 per person.
7. Champagne Afternoon Tea in the Park Room at Grosvenor House
Afternoon tea? And champagne? It doesn't get much better. Except that it does in The Park Room at Grosvenor House, which takes luxury afternoon tea to a whole new level.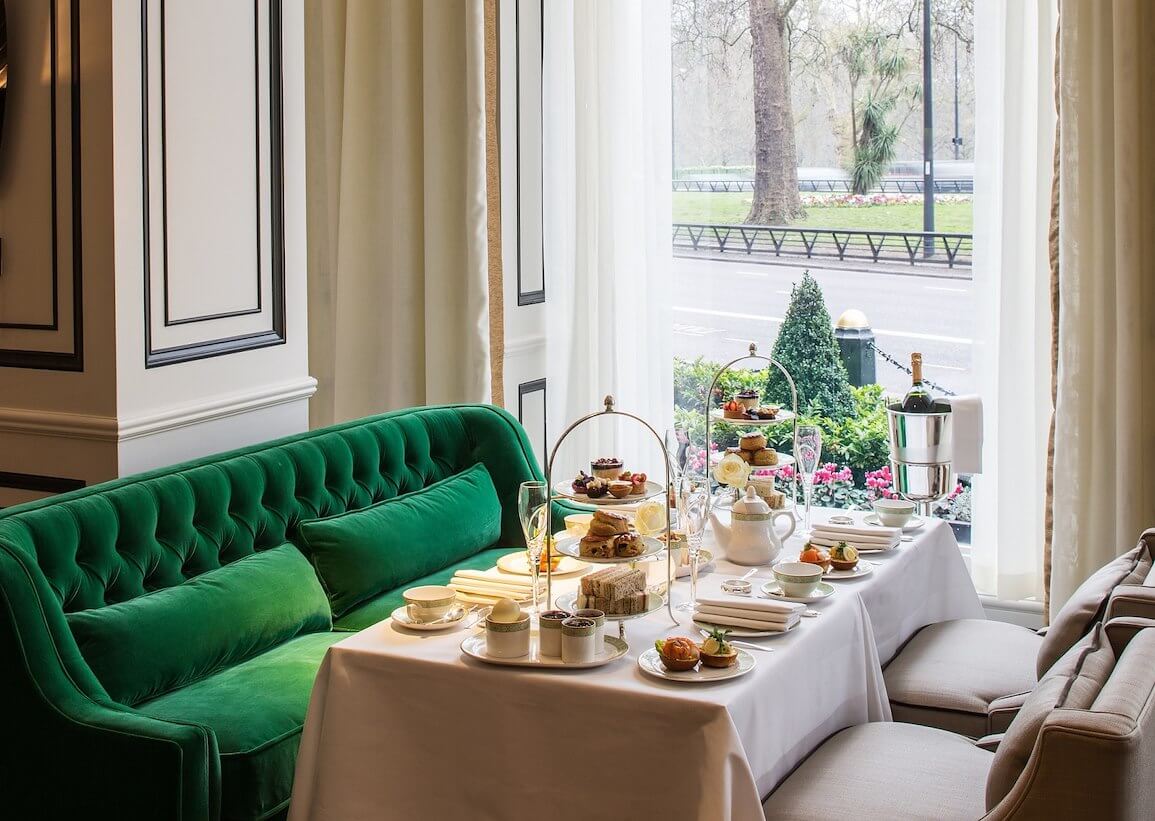 Grosvenor House is one of London's most prestigious hotels, and naturally their afternoon tea option is one of the best. A range of sandwiches, pastries, cakes and scones are done to perfection here, and of course you can enjoy a glass of champagne while you gaze out over Hyde Park. It's a really special day out if you like the finer things, or you're looking to celebrate something important.
This is one of the more luxurious afternoon teas in London, and prices start at £62.50 per person.
8. Afternoon Tea Aboard the Glass Room
Afternoon Tea on a boat gives this traditional English pastime a whole new lease of life. Head to Embankment Pier and board the Glass Room to set sail on the famous River Thames and take in some of the most iconic landmarks the city has to offer. You'll dig into a selection of tasty finger sandwiches, cakes, scones, pastries, tea and coffee, all while listening to a solo pianist play.
This is one of the most exciting afternoon teas in London, and the trip costs £46 per adult and £22 per child and lasts 1 hour 15 minutes.
9. Afternoon Tea at The Potion Room
There are lots of Harry Potter days out in London, but if you're looking to take a break in between your other Potter-themed activities, this is a great pit-stop to refuel. For The Potion Room at Cutter & Squidge, you'll descend downstairs into a potion class where you'll be cloaked up and sat at a school desk, ready for your Potions Master to talk you through the day's activities.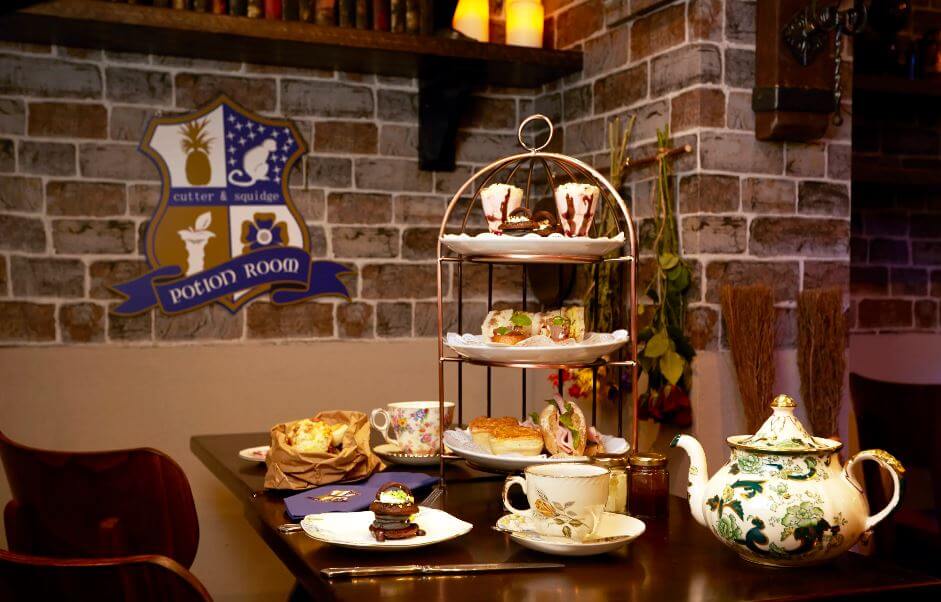 This is one of the best afternoon teas in London if you want to make it interactive, i.e. playing with your food before you eat it! They have customisable options for kid's parties, corporate outings, hen parties and more, so this is a really great activity for lots of occasions. Prices start from £49.50 for adults and £39.50 for kids, but always check their website for up-to-date information.
10. Afternoon Tea at Oblix at The Shard
On their review of the best afternoon tea in London 2022, this one was chosen as BBC Good Food's best afternoon tea in London with a view… so you know it's worth the long elevator ride up to Oblix in London's tallest building, The Shard. It's also the tallest building in the UK, in case you're keeping score.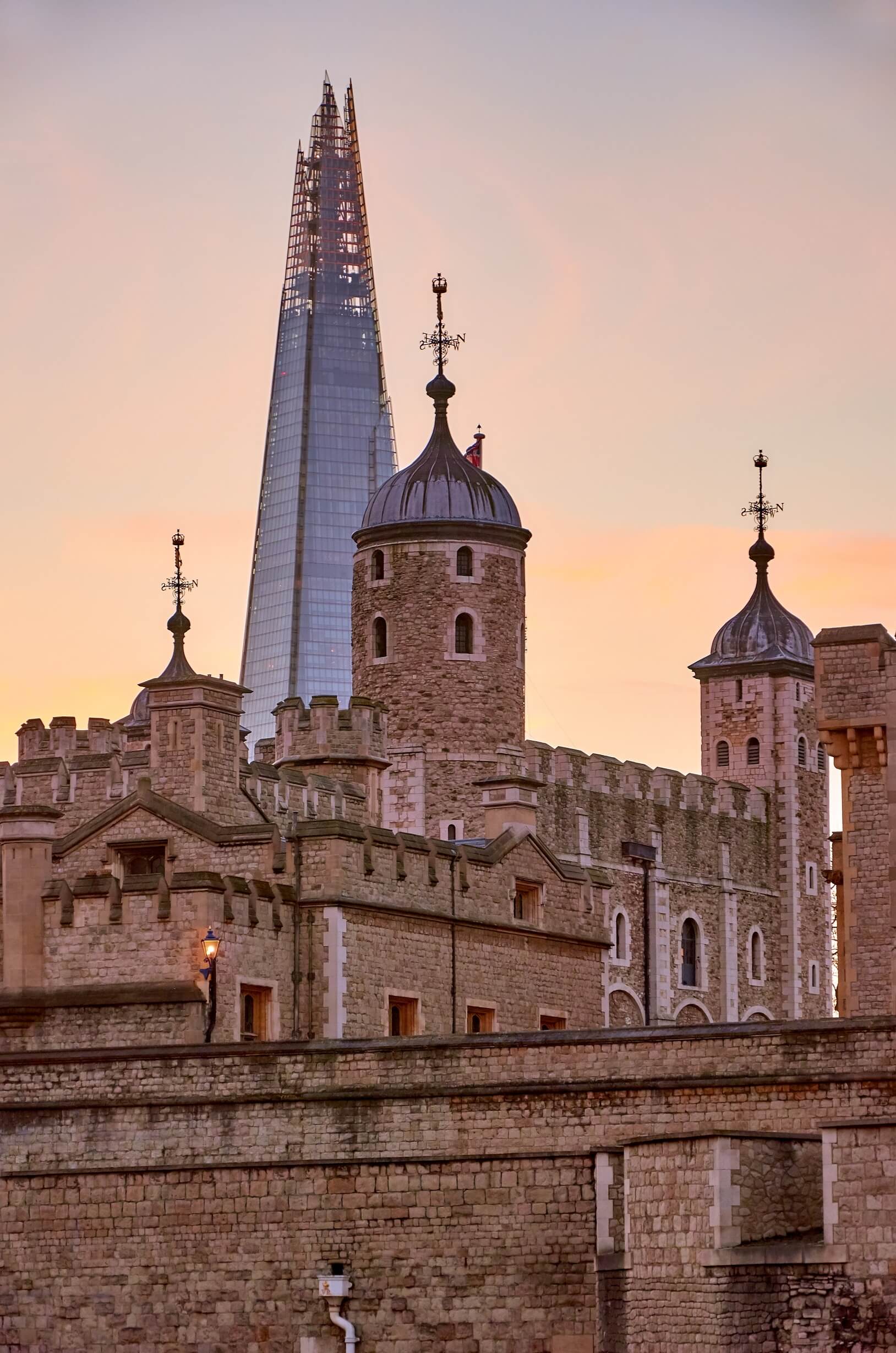 Their afternoon tea is described as 'an exceptional gastronomic afternoon tea experience', and since Oblix is a renowned London restaurant offering delicious food and a view, this one should be high up on your afternoon tea in London bucket list. Look out over the London skyline and enjoy a menu designed using a blend of ingredients sourced from local vendors in London's many boroughs, such as chai spices from the famous Brick Lane, and honeycomb from local bees in Harrow.
Prices start at £58 per person for this luxury experience, but always check the most up-to-date info on their website.
11. Afternoon Tea with Cats at Java Whiskers
Cat lovers… form an orderly queue. If you fancy your afternoon teas in London with a side of cats (many of whom are on the lookout for forever homes), then Java Whiskers will be your new favourite place. It's the only cat café in Europe with a Kitten Lounge – which is as cute as it sounds – and they offer relaxing afternoon teas in London surrounded by furry friends.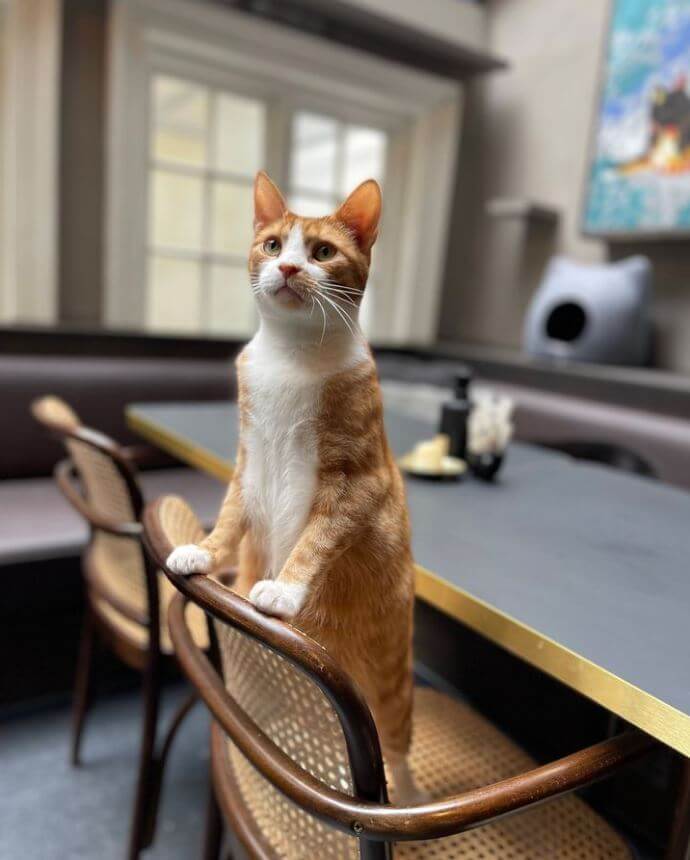 Java Whiskers doubles as a foster home for cats, so you're supporting their work by booking this lovely afternoon tea experience. And considering petting animals has been found to lower stress and blood pressure, you'd probably be doing yourself a favour too. Relax and unwind in this purrrrrfect afternoon tea, with prices starting at £34.99 per person and increasing depending on how long you want to spend with the cats.
12. Afternoon Tea at The Swan
Located next to the iconic Shakespeare's Globe theatre, this is a lovely London afternoon tea experience for before or after any show you go to see at the Globe. Traditional but with a theatrical twist, these are great afternoon teas in London, taking inspiration from the one and only William Shakespeare.
With a view of St Paul's Cathedral, you'll enjoy delicious finger sandwiches, warm scones and tasty pastries and cakes inspired by Romeo and Juliet, for example, their 'Thus With A Kiss' is smooth dark chocolate mousse infused with peppermint and wormwood, inspired by Romeo's words before he drinks the poison and kisses Juliet. Spoiler alert; he dies.
If you're off to see a show at the Globe or you're just a fan of the works of Mr Shakespeare, you'll love afternoon tea at The Swan.
13. Afternoon Tea at The Ritz
The Ritz is an iconic hotel in London that almost everyone knows about thanks to its history of having many a famous face stay there, and their dining options have retained an elegant atmosphere synonymous with affluence. Their afternoon teas in London add a special kind of glamour to the tradition.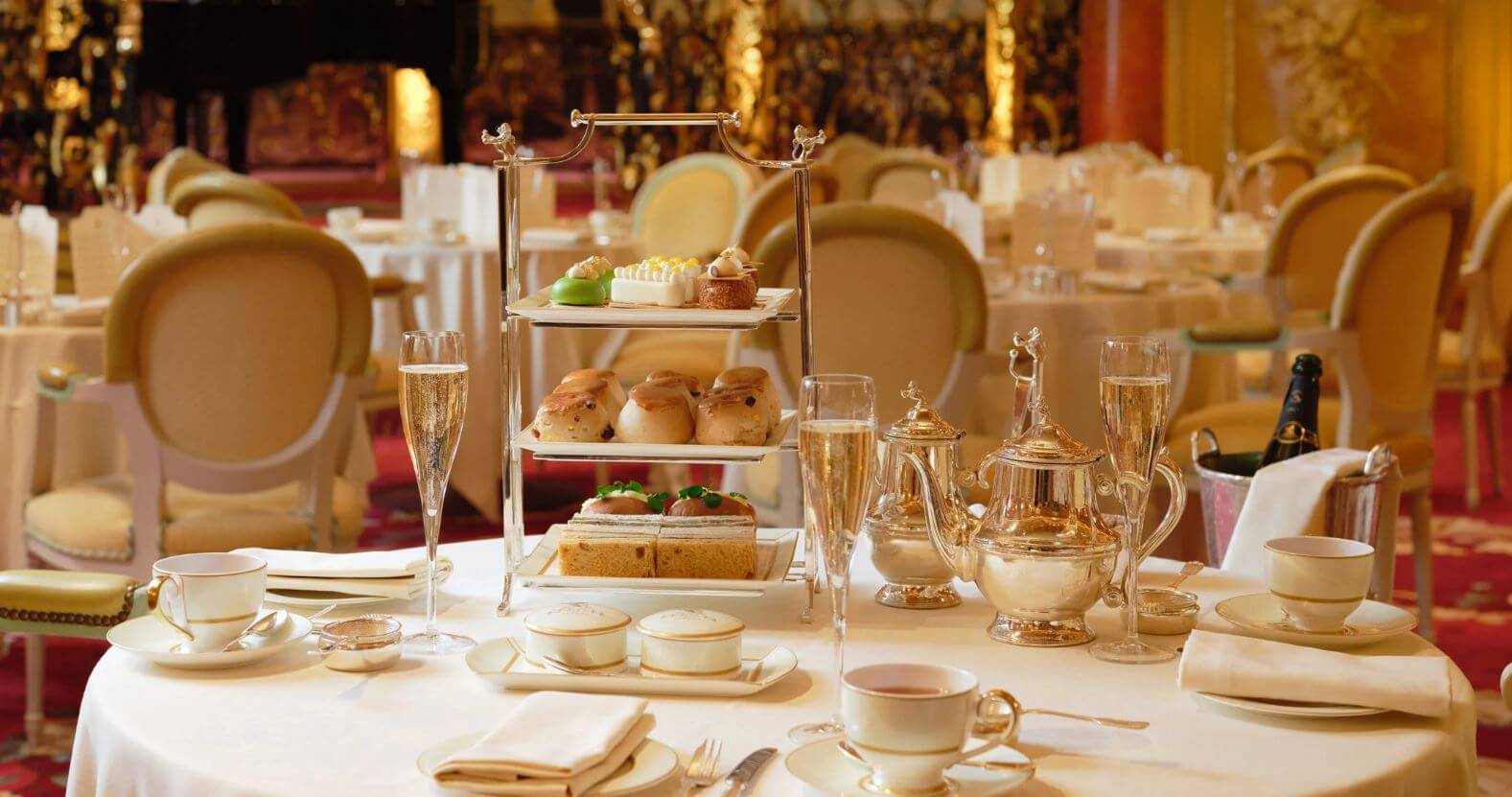 The Ritz offers a selection of finely cut sandwiches, freshly baked scones with Cornish clotted cream and strawberry jam, and what they describe as "a mouth-watering range of exquisitely presented pastries and teacakes, replenished on request". Don't mind if we do! There are 18 types of loose-leaf tea to choose from, and champagne too, but it's the atmosphere that people come for as it's really second-to-none.
The Ritz is the only hotel in the UK to have a certified Tea Master who travels the world to source tea from various plantations. The Ritz will give you the perfect atmosphere if you're trying to have a great royal day out in London, and prices start from £70 for adults and £48 for children, but keep in mind you're also getting a performance from their resident pianist, making this an unforgettable experience.
14. Afternoon Tea at Fortnum & Mason
The Fortnum and Mason afternoon teas in London are well-known as one of the best, due to the prestigiousness of the Fortnum & Mason name. Their perfectly-sliced sandwiches, freshly-baked cakes, and delicious scones to accompany your tea make for an exquisite afternoon in their Diamond Jubilee Tea Salon, opened by Her Majesty the Queen in 2012.
There's a great atmosphere in Fortnum & Mason, and there are lots of personal touches which make it a special day out, such as the Fortnum's Strawberry & Champagne and Wild Blueberry Preserves you can slop onto your scone. Lovely!
Prices start from £75 per person for the afternoon tea here, and you can book to visit the Tea Salon on their website.
15. Children's Teddy Bear Picnic Afternoon Tea at Podium
If you're looking for afternoon teas in London for kids, this really is the best choice. Podium offers delicious bite-sized goodies for little bellies, and every child that visits is gifted a cute teddy bear. A nice touch at this Teddy Bear's Picnic themed afternoon tea.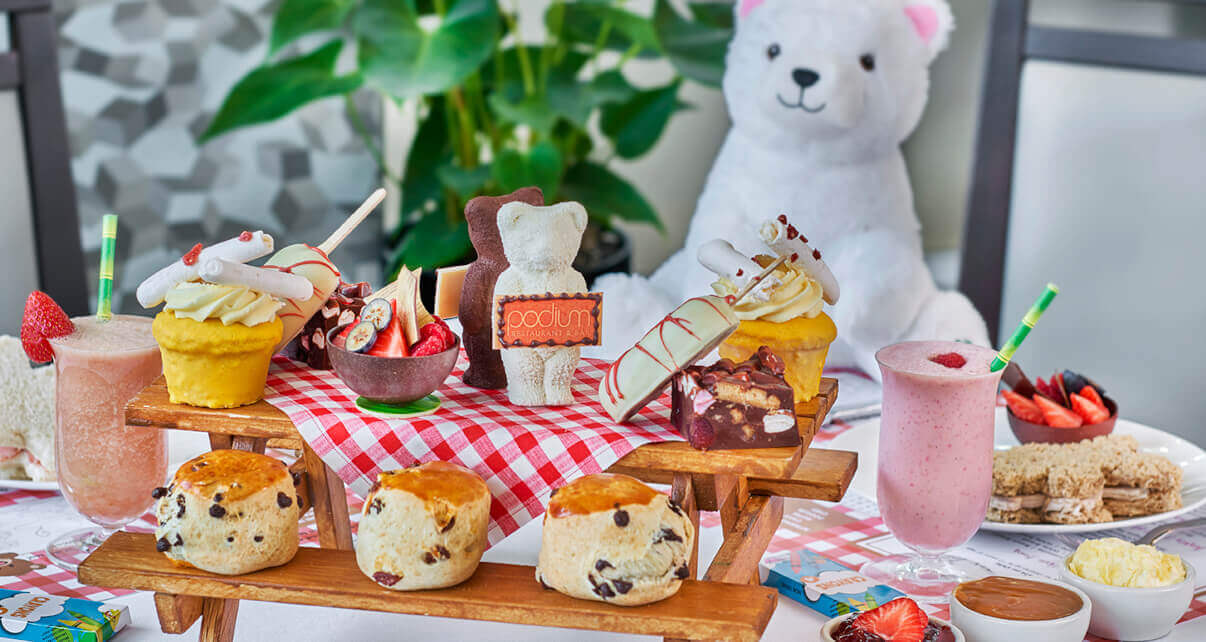 The fun menu sees teddy bear sandwiches mixed with cake-pops and miniature fancies, turning traditional afternoon tea on its head with some childlike wonder. And of course, your little people can wash it all down with hot chocolate, milkshakes or smoothies, whatever they fancy.
This one is £26 per child, and you can book on their website. They also have afternoon teas in London for grown ups, don't worry!
16. Afternoon Tea at Theatre Royal Drury Lane
The Lane is a must-have for your bucket list of afternoon teas in London, mainly because of the location. Their seasonally changing menu is created by renowned Queen of Cakes, artisan baker and cake designer Lily Vanilli. Anyone called the Queen of Cakes is alright in our book.
This is an exquisite, traditional afternoon tea with an added touch of elegance thanks to the Grand Saloon and its eye-catching chandeliers, intricate ceilings and stunning furnishings and fine art, not to mention the custom fine bone china that serves the delicious food.
This one is listed at £49 for adults and £35 for children.
17. Mad Hatter's Afternoon Tea
This has to be the most well-known themed afternoon tea London has to offer, and for good reason. Go down the rabbit hole at Sanderson for their Mad Hatter's afternoon tea party where you'll dive into the world of Alice. The detail in this experience is fantastic if you love all things Alice in Wonderland, but even if you don't it's a great day out.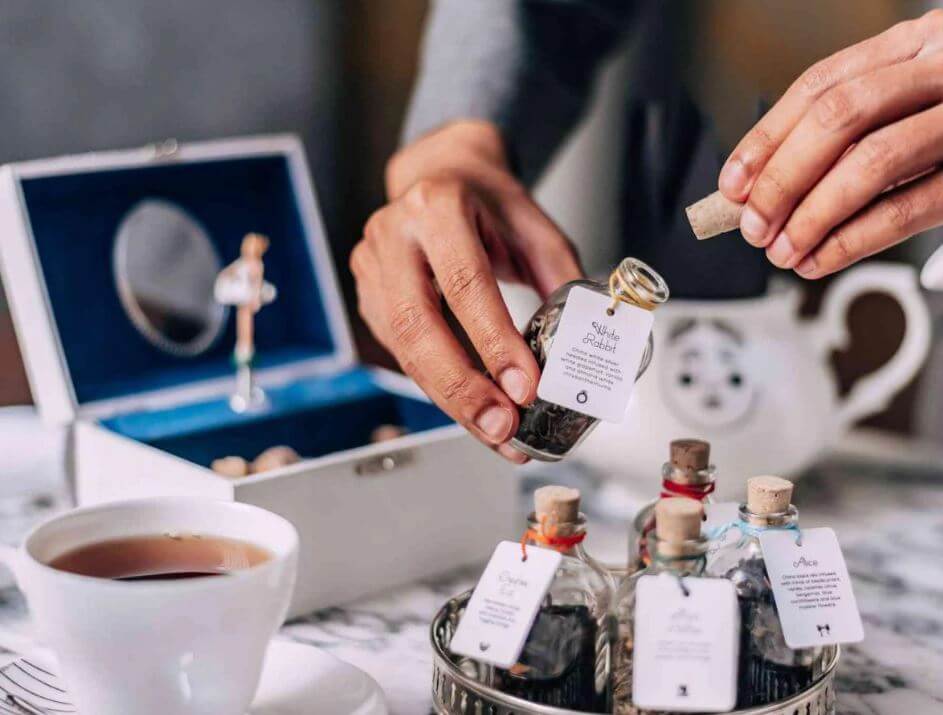 Try their Grow Me, Shrink Me, and Bring Me Back glittery potions, Tweedle Brothers Choux Pastry, Red Knight Army Shortbread Cookies, and of course classic scones. Mustn't forget those! We're not sure why they specify 'no fancy dress' on their website as it seems like the perfect place to get dressed up, but if you're willing to leave your little blue dress at home then this is a brilliant afternoon tea experience, with speciality teas available to purchase and take home, too.
Prices start from £48 per person, and you can add a glass of champagne for £10 if you like.
London afternoon teas FAQs
What is afternoon tea?
Afternoon tea is a small meal typically eaten between 3pm and 5pm, which usually consists of sandwiches, pastries, cakes and scones. The tradition of afternoon tea is believed to have begun over 200 years ago when the Duchess of Bedford got a bit peckish between lunch and dinner, and invited her friends over for 'tea and a light refreshment' at Woburn Abbey. It caught on when everyone realised how great afternoon tea is, and here we are!
Which tea is famous in London?
London is famous for its classic black tea, but you'll find lots of tea options whenever you go for afternoon tea. Whether you're in the mood for Earl Grey, Darjeeling, or something more fruity, there will be an option to suit. If choosing black tea, you can have it with or without milk and sugar or sweeteners.
What is the difference between afternoon tea and high tea?
Good question. The main difference between afternoon tea and high tea is that high tea is typically a heavier meal consisting of savoury dishes like meat pies and sausage rolls. Afternoon tea, however, is traditionally light and focuses more on scones, pastries and cakes.
17 of the Best Afternoon Teas in London
Will you be booking any of these amazing afternoon teas in London?
This beloved British tradition is the perfect way to catch up with friends or enjoy spending time with family, while taking in the sights of London and tucking into delicious food. You will never be short of places to go for afternoon tea in this city, but if you want to cut straight to the really, really good ones, save this list of the best afternoon teas in London so you can try them all out for yourself.
Want to make a day of it? Pair your afternoon tea outing with one of our 15+ Brilliant FREE Days Out in London for 2023, or visit one of these 11 Iconic Landmarks in London for Your Day Out.
Quick List: 17 of the Best Afternoon Teas in London
The Afternoon Tea London Bus Tour with Brigit's Bakery
Afternoon Tea at Café Rouge
Cream Tea at Harrods with a River Cruise
Afternoon Tea at Caffè Concerto
Afternoon Tea at Patisserie Valerie
Afternoon Tea in London at Corinthia London
Champagne Afternoon Tea in the Park Room at Grosvenor House
Afternoon Tea Aboard the Glass Room
Afternoon Tea at The Potion Room
Afternoon Tea at Oblix at The Shard
London Afternoon Tea with Cats at Java Whiskers
Afternoon Tea at The Swan
London Afternoon Tea at The Ritz
Afternoon Tea at Fortnum & Mason
Children's Teddy Bear Picnic Afternoon Tea at Podium
Afternoon Tea at Theatre Royal Drury Lane
Mad Hatter's Afternoon Tea
---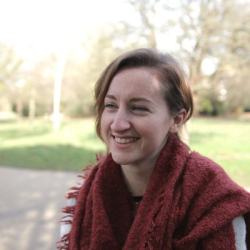 Latest posts by Caitlin McAllister
(see all)