15 Brilliant Days Out for Christmas in Surrey 2023
It's the most wonderful time of the year, in one of the most beautiful counties in England. Here are all the Christmas markets, Santa days out, pantos and more you should add to your 'nice' list in 2023 for your best ever Christmas in Surrey…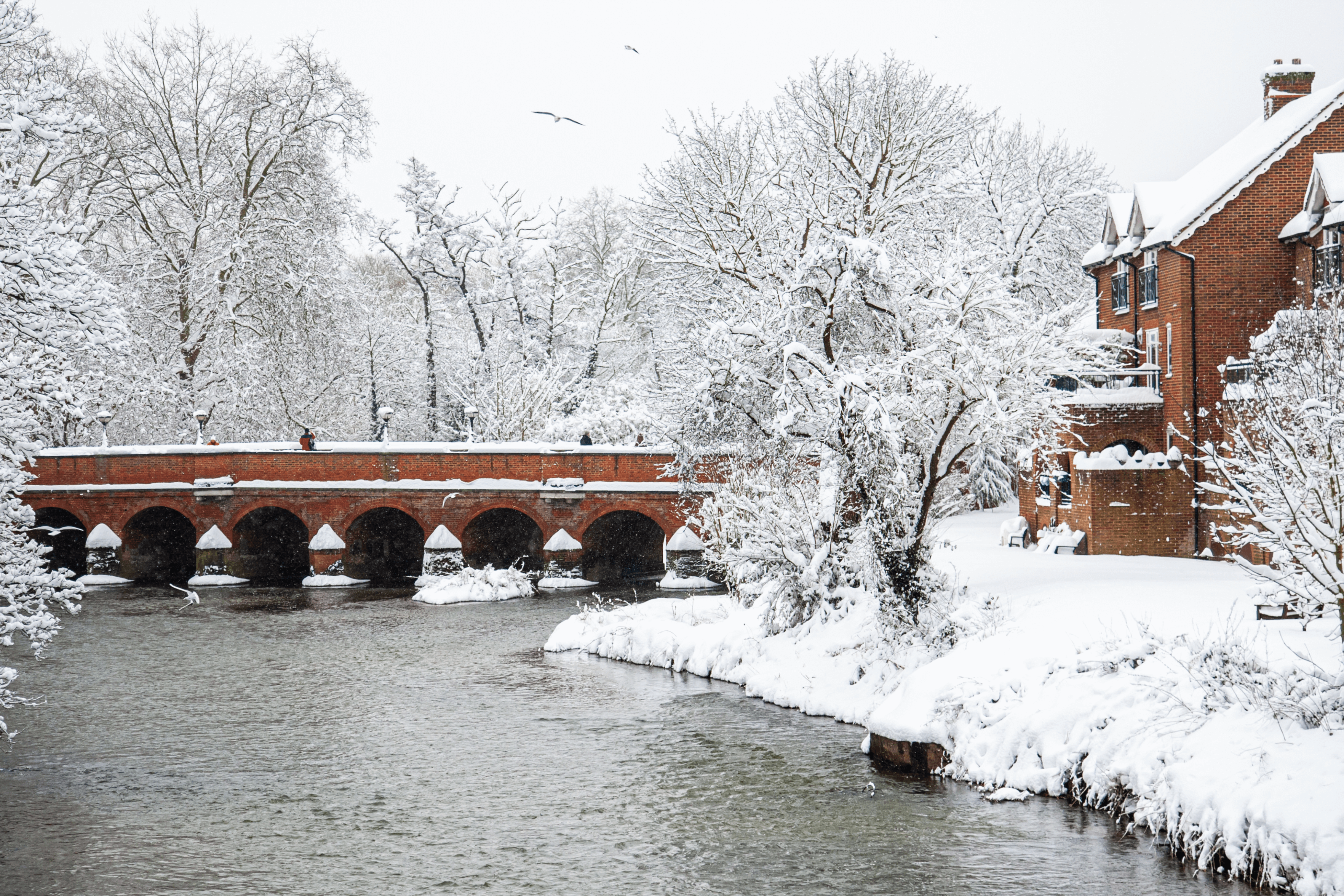 Who doesn't love Christmas in Surrey? With its picturesque villages and towns, stunning scenery and range of activities, Surrey is one of the best places in the country to experience the festive season. On Day Out In England, we have added fantastic lists of Christmas days out all across the country, including Christmas days out in Essex, Christmas days out in Kent, Christmas days out in Hampshire and many more, but now it's Surrey's turn to shine.
Whether you are looking for entertaining things to do with the little ones, great days out you can do as a couple, or fun activities your friends will love to celebrate the season with, we've rounded up some of the very best winter activities Surrey has to offer, so get ready for amazing lights, fun shows, December days out with the family, and… a festive rave?
Christmas in Surrey
Here are all the best things you can do at Christmas in Surrey this year…
1. Enjoy a day out at Santa's Grotto in Surrey
Kids go absolutely wild for a day out to meet Santa, and if your little ones are the right age, you'll love to see their faces light up so much that it'll become your highlight of the season too. Surrey has lots of Santa experiences where you can take your child to meet Santa, who will chat to them about the festive season and usually give them a small toy. A lovely day out for the whole family.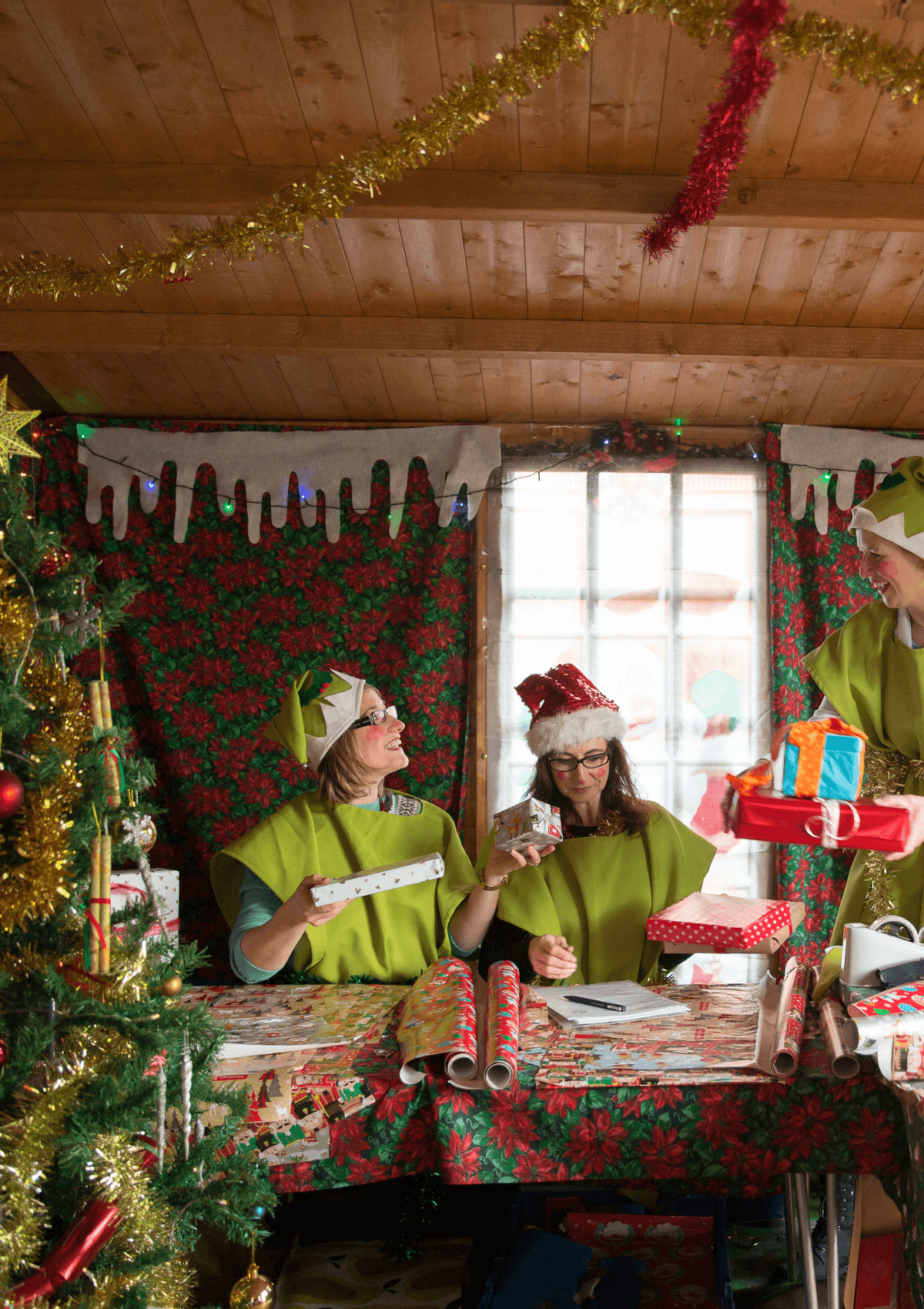 This year, meet Santa at:
Rural Life Living Museum: Between 10am and 4pm on the 2nd, 3rd, 9th, 10th, 16th and 17th of December, you can visit Santa in his Grotto at the museum where he will meet and greet visitors in the magical North Pole. There will also be a Christmas market that the grown ups will love, selling handmade, vintage and artisan items.
Ashtead Park Garden Centre: On Monday 4th and 11th December, get booked in for a meet and greet with Santa, where he'll treat you to some lovely cookies. You'll get a hot drink as you wait to meet the man himself. This one is in aid of the Royal Marsden Cancer Charity, so your donations will be going to a great cause.
Hans Christmas Andersen Christmas Tree Farm: This family-run Christmas tree farm is hosting Santa for meet and greets (no booking required, just queue) on the 2nd, 3rd, 9th, 10th, 16th and 17th of December. This one is also in aid of a number of charities, and with a surrounding Christmas tree farm, it's a lovely one to visit for Christmas in Surrey.
2. Watch a panto in Surrey
If you're looking for the best children's Christmas shows Surrey has to offer, the pantomime is the place to be. There are lots on in theatres big and small all over Surrey, but here are some of the best: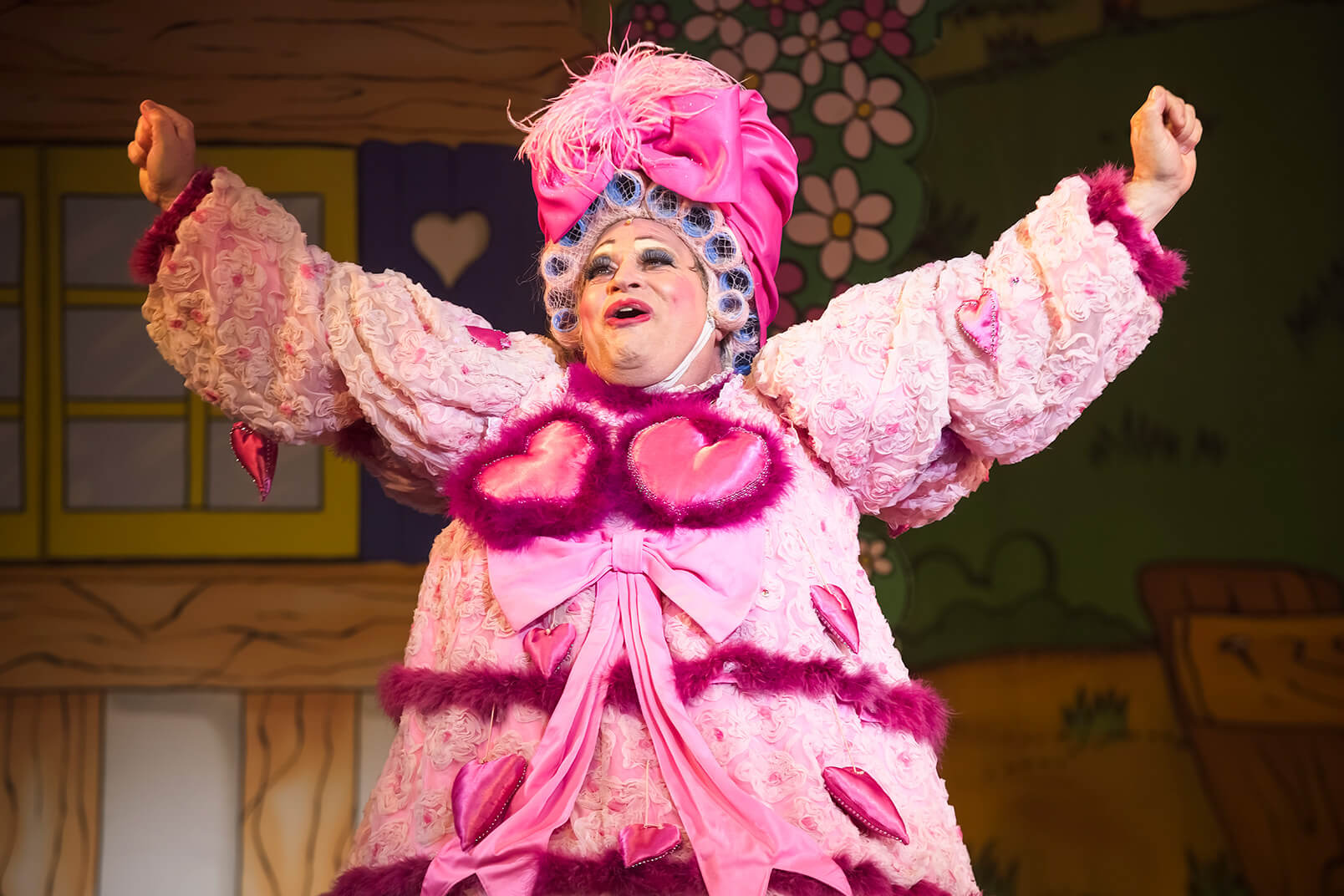 Beauty and the Beast at the Harlequin Theatre in Redhill: From 8th to the 31st December 2023, catch everyone's favourite classic fairy tale story at the Harlequin. Kids and adults will both love to boo and cheer at this one!
Dick Wittington at Richmond Theatre: Dick Wittington is a popular panto choice, because he's also at Richmond Theatre from 9th December 2023 until the 7th January 2024. Paul Merton from Have I Got News For You stars in this one.
Snow White and the Seven Dwarfs at Dorking Halls: From 16th December until 28th December 2023, this lovely Disney classic will be on the stage just waiting for you to take the whole family along and get in the festive spirit for Christmas in Surrey.
3. Visit a Surrey National Trust house at Christmas
If you live in England, you'll know that National Trust historic houses with their surrounding parkland are a great day out all year round, but they get especially stunning and exciting at Christmastime. In Surrey, the must-see NT site is Polesden Lacey in the Surrey Hills.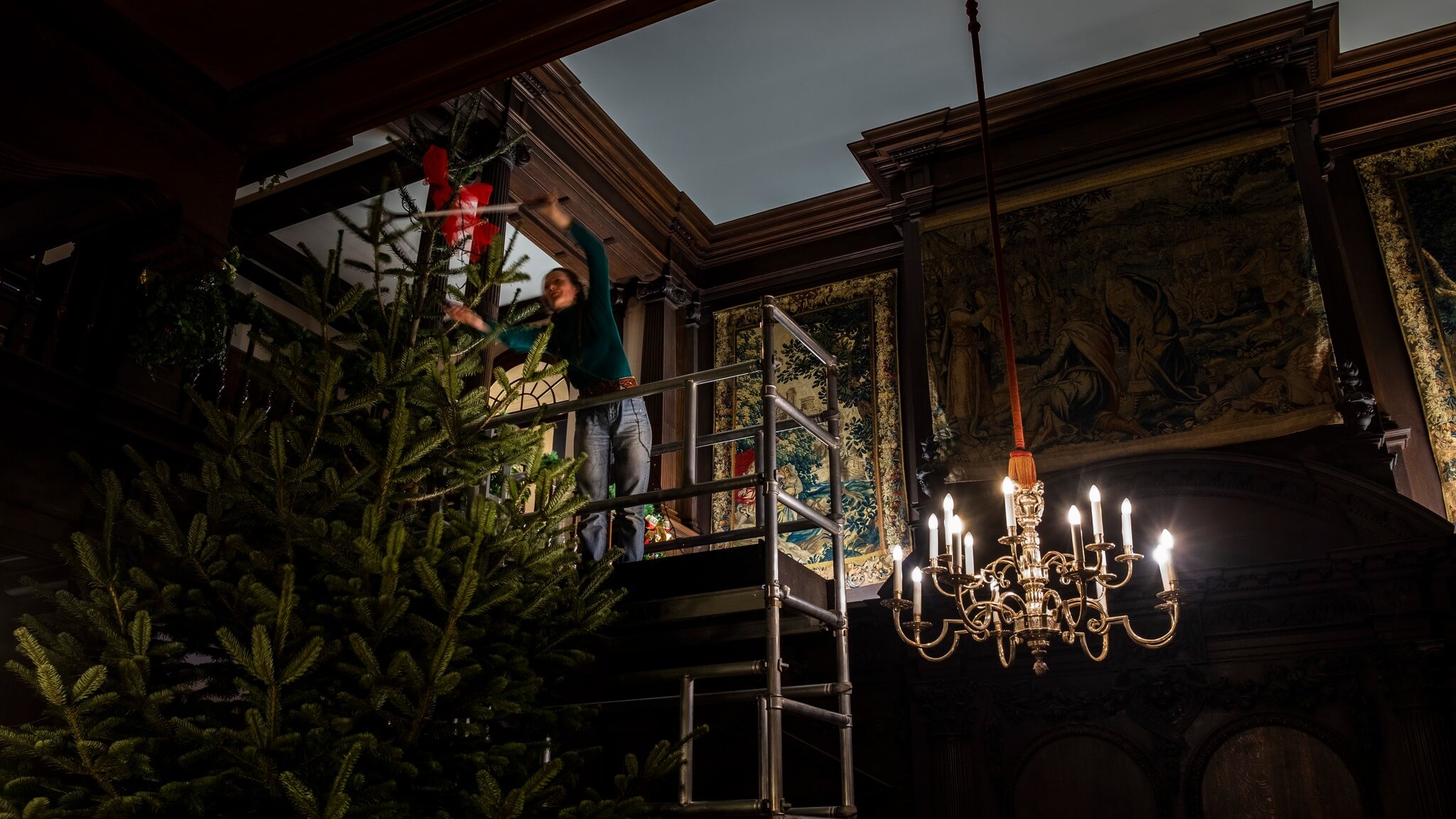 This beautiful historic house is putting on a spectacular Fairytale Christmas experience from Saturday 25th November 2023 until Sunday 7th January 2024 to get you in the spirit of things. The house is decked in all the trimmings including a 20ft Christmas tree, creating immersive fairytale scenes. You'll need to spread Christmas cheer to transform Cinderella's pumpkin into a carriage, make sure Peter and Wendy get to Neverland before the snow storm, and try not to wake Sleeping Beauty.
There's also an outdoor fairytale-inspired Christmas trail, a traditional carousel playing festive tunes, wreath-making workshops, Christmas sculptures, and a cafe with delicious festive treats, all making this one of the best days out for the season. Definitely spend at least a day of your Christmas in Surrey right here.
4. Travel on a festive train in Surrey
There's no way to explain why, but young and old love a train ride at Christmas. The lights, the festive cheer… whatever it is, this day out will make your Christmas in Surrey special.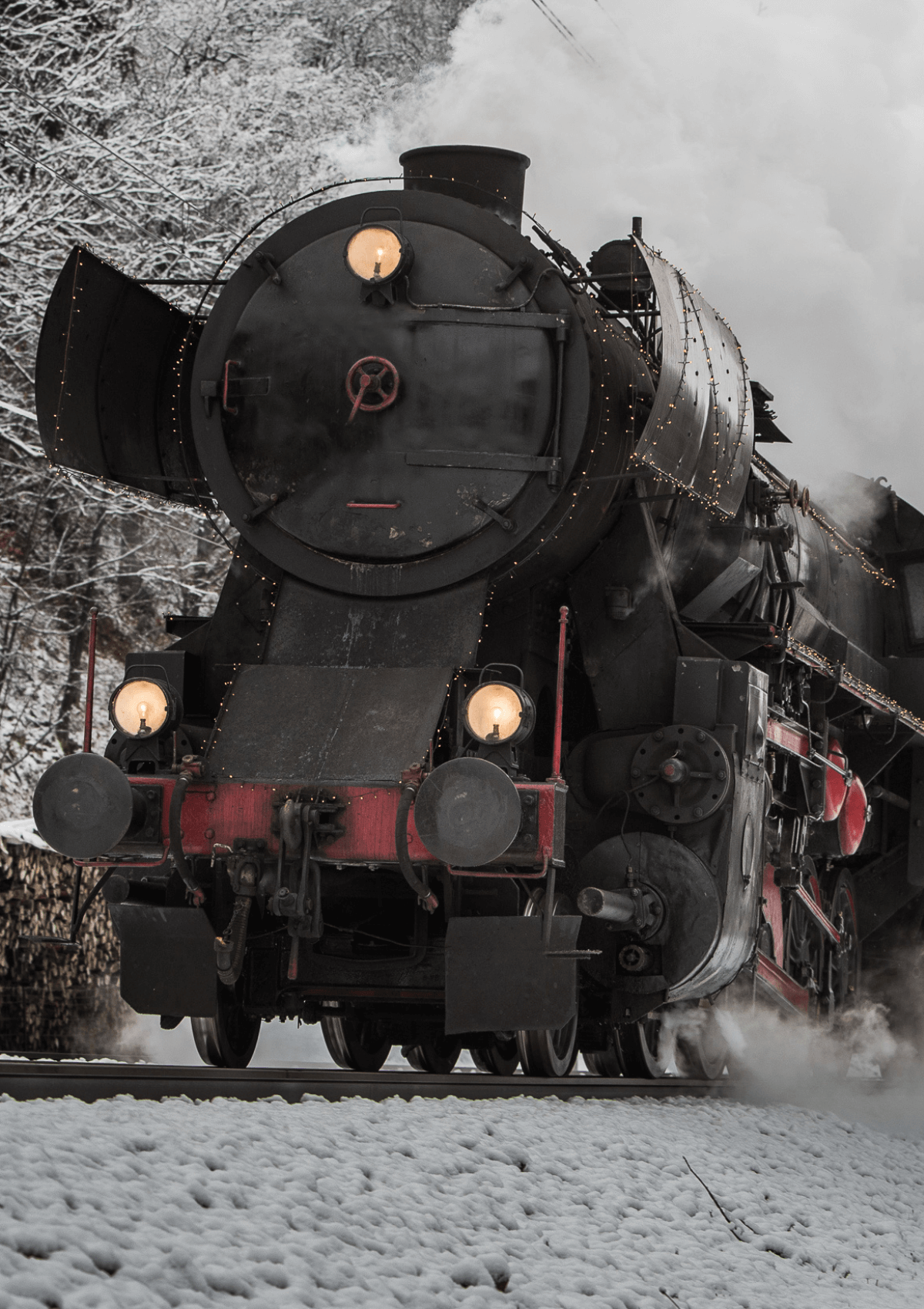 Embrace it this year with one of these train rides:
Hop aboard the Denbies Santa Express: Trains run from 9am – 3pm throughout the festive season, and you'll receive a special passport from Santa for a ride through the vineyard, and a gift at the end of your ride.
Take the Mizens Railway from Woking: You can hop on this teeny tiny train on the 3rd, 10th or 17th of December 2023 for their Santa Specials. Booking is a must, so be sure to do this in advance.
5. Get creative at Christmas
Throughout Surrey, you'll find lovely workshops offering to teach small groups to make a number of Christmassy crafts.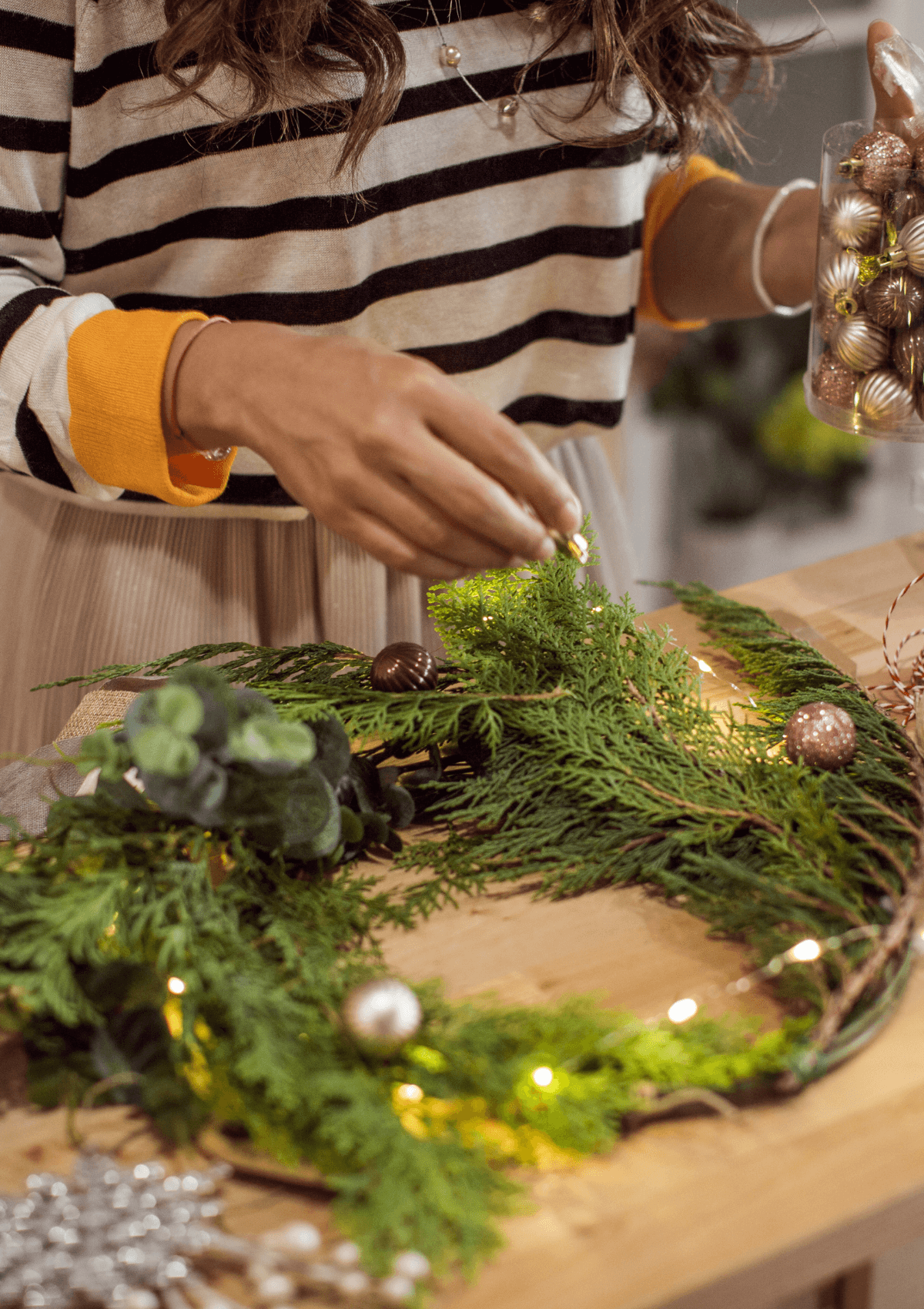 Here are a few great workshops:
Make a Christmas wreath to hang on your door, at Nower Wood Educational Nature Reserve on Saturday 9th December 2023. Enjoy mulled juice, holiday snacks and festive music to inspire you as you create.
Make a macrame stocking at Cranleigh Arts Centre on Saturday 2nd December 2023. A great gift idea for someone special!
Make Christmas pottery at West Horsley Place in a two-part workshop that's suitable for beginners. You'll create your own unique gingerbread house tealights and decorations for your Christmas in Surrey.
Starting your Christmas shopping?
Check out the best gift vouchers for days out for Christmas…
6. Visit a Christmas market
You can't beat a Christmas market, and there are tonnes of local Christmas markets all over Surrey that you'll love. Get your woolly mittens on and head to one of these fantastic festive markets for Christmas in Surrey:
Creative Makers Christmas Market takes place at Gildings Barn on Sunday 10th December from 10am – 4pm. It's free entry, free parking, and you'll find artwork, beauty products, candles, fashion, jewellery, gifts and more.
Denbies Wine Estate are putting on a pop-up Christmas shopping experience where you can pick up some Christmas gifts. It's happening Sunday 12th November from 11am – 4pm. Free parking and free entry.
Guildford Cathedral Christmas Fair will be on from Friday 17th November to Saturday 18th November from 10am – 4pm. It's £3 to get in, and you'll be able to check out over 50 exhibitors with a range of Christmas gifts.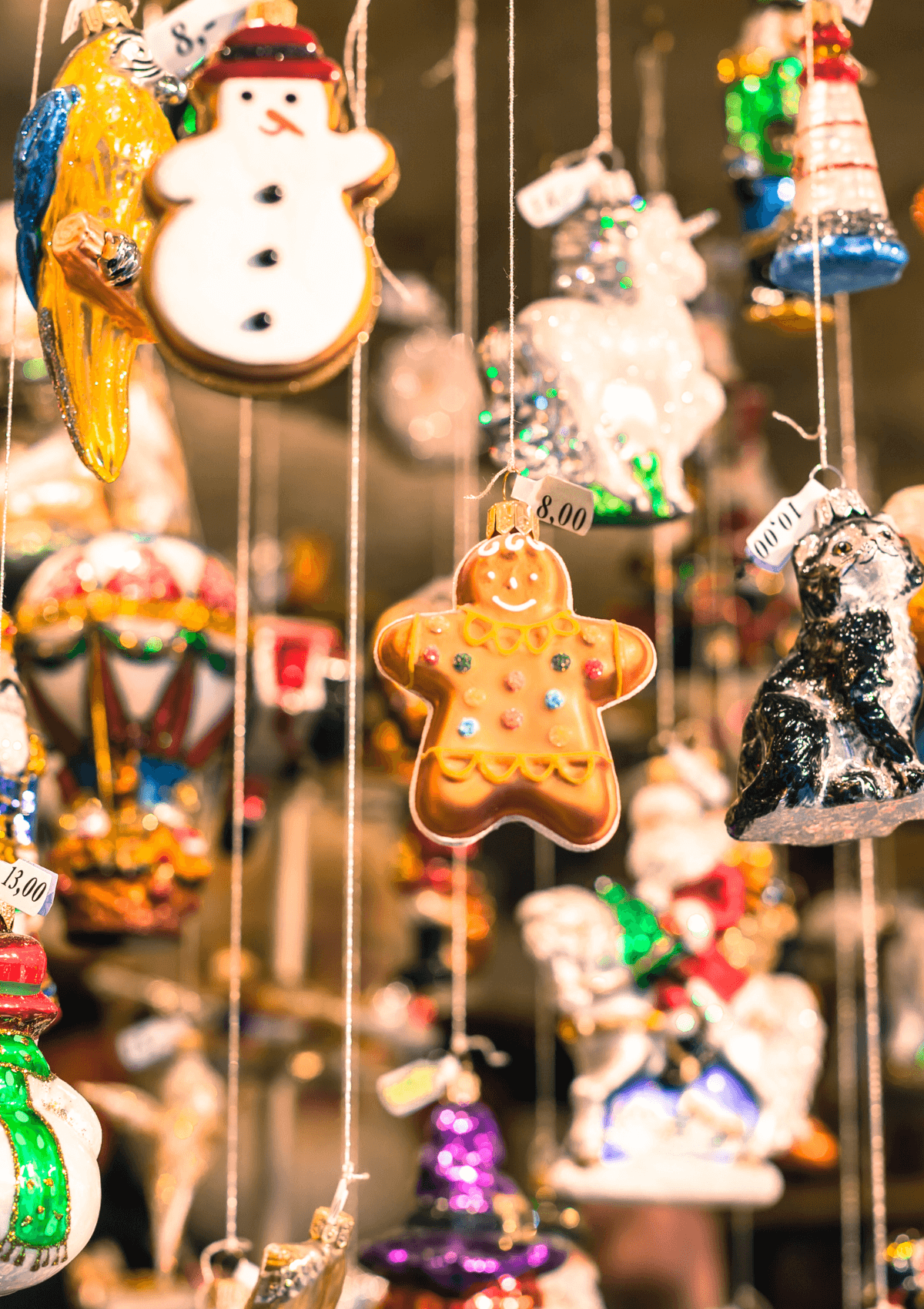 7. See Alice in Wonderland On Ice
For something really unique that you may not have been to for past Christmases, Alice on ice might be a great activity that the whole family can enjoy, from little ones to grandparents.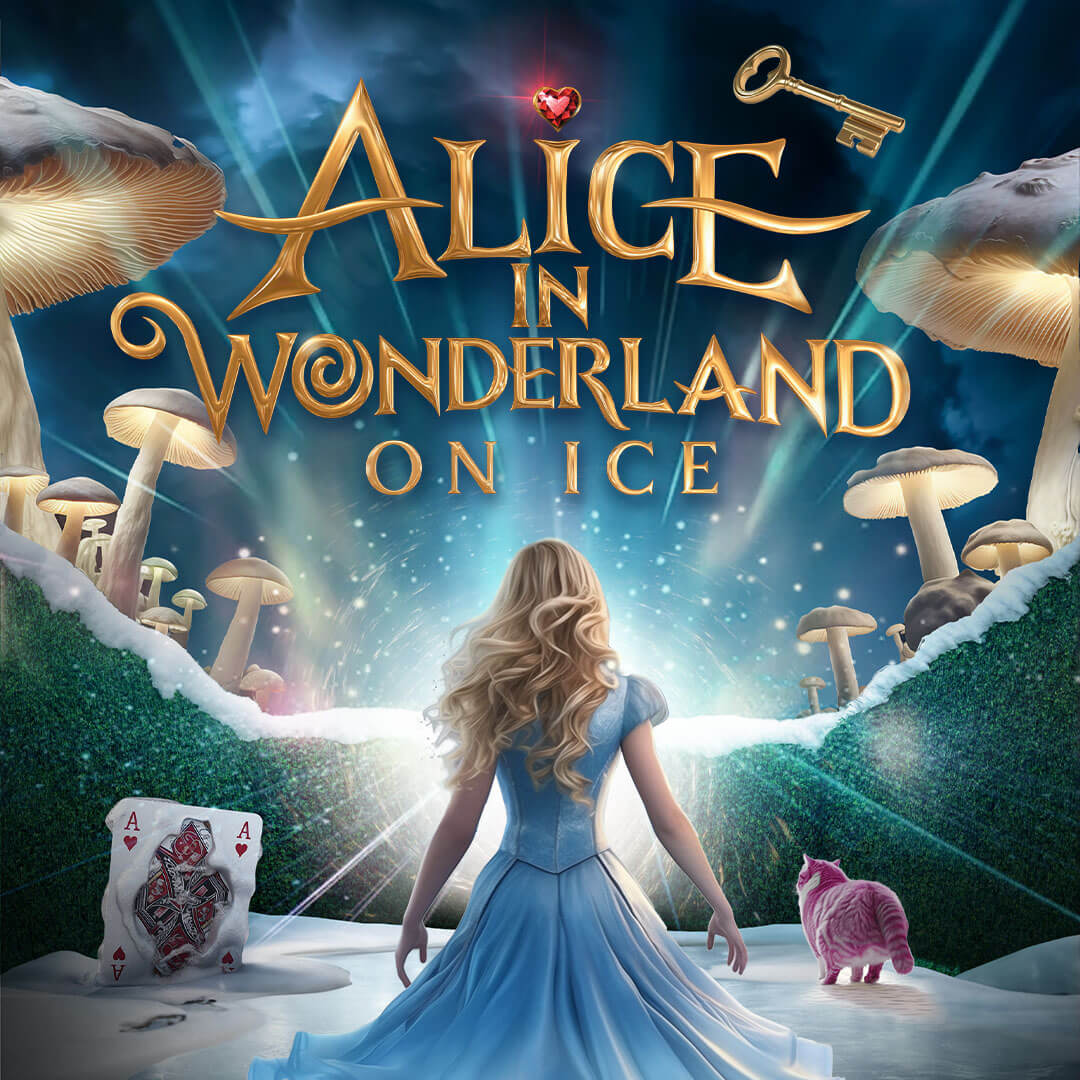 On Friday 8th, Saturday 9th and Sunday 10th December this year, the ice rink at Guildford Spectrum will turn into Wonderland for a very special performance of Alice in Wonderland. You're in for an enchanted adventure, with skaters from Spectrum Ice School, lavish costumes and amazing sets. It's the perfect alternative to a panto this Christmas in Surrey. You can book tickets here.
8. Tuck into a swanky Christmas dinner
We all love a good Christmas night out with our office pals, but if you want to do the same with a group of friends who are all in a festive mood, tucking into a swanky Christmas dinner could be just the ticket.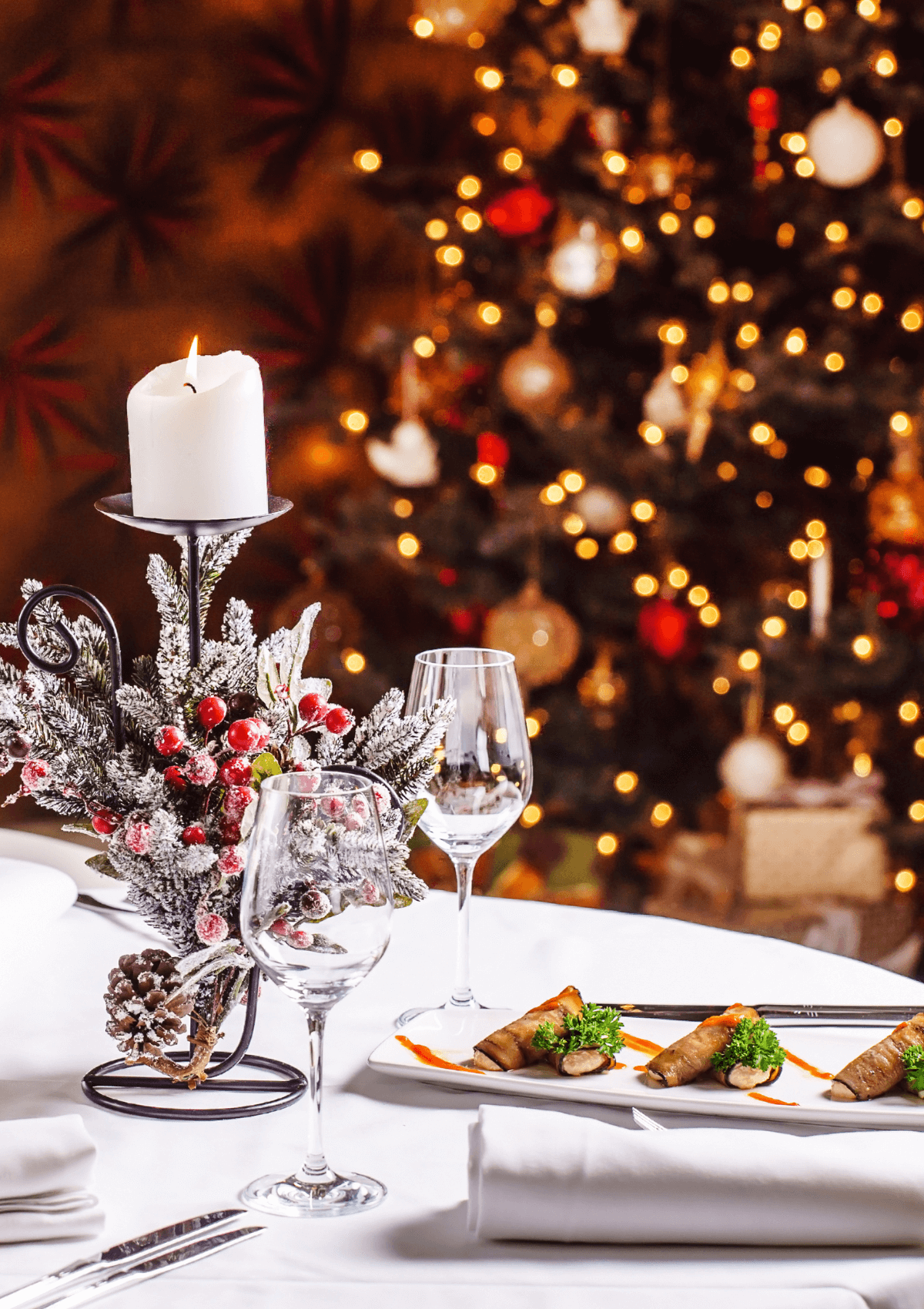 There are quite a few you can choose from this year all over Surrey. For example:
Epsom Downs Racecourse is having a Diamonds are Forever Christmas Party on Friday 15th December. This sophisticated soiree will definitely put you in the spirit, as everyone gets all glammed up for this festive '007' themed evening. Expect a welcome drink, a three course meal, entertainment and dancing until the early hours. You can get tickets here.
Denbies Wine Estate is busy this Christmas, and they're putting on 'A Taste of Christmas' Sparkling Wine Tasting with dinner in their Gallery restaurant on Fridays and Saturdays from the 25th November onwards. Sip sparkling wine, look out over panoramic views across the vines, and tuck into a three course dinner, followed by coffee and festive bites. You can get tickets here.
9. Visit one of Surrey's most picturesque villages (used to film a famous movie!)
Christmas in Surrey is just perfect, especially since there are tonnes of quaint little villages to explore which bring the Christmas atmosphere. If you're a fan of the movie The Holiday starring Kate Winslet and Cameron Diaz, then you MUST visit the gorgeous village of Shere. Its charming cottage-style buildings look straight out of a Christmas card, and you can visit the tiny museum or stop off for lunch in one of two cosy pubs.
When you're done in Shere, you can head to nearby Newlands Corner which boasts incredible views over the Surrey Hills and is the perfect spot for a winter walk. This is a great activity if you're trying to have a free Christmas in Surrey, as you can walk around Shere and Newlands Corner without spending a penny. Perhaps bring a pre-made hot chocolate from home to feel extra Christmassy.
Fun fact: Shere was also used to film scenes from Bridget Jones: The Edge of Reason!
READ: 15 Prettiest Villages in England You Need to See
10. Check out Chessington at Christmas
Chessington World of Adventures is a guaranteed great day out, and at Christmas it's extra magical. This year they are putting on their Winter's Tail show, where you can meet jolly elves, reindeer, and Father Christmas himself in his log fire grotto. It's got panto energy but you can get involved too.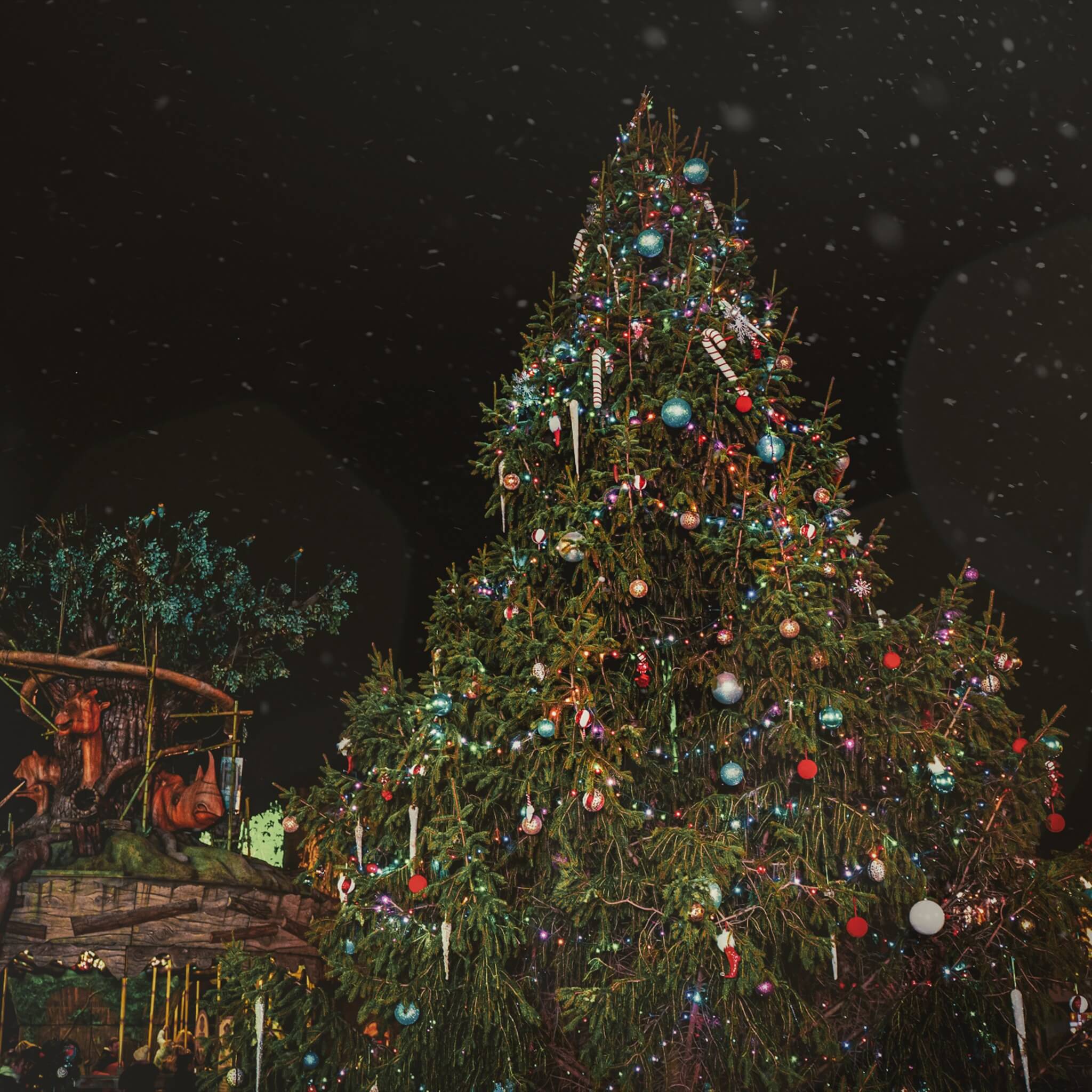 Also, you can visit Enchanted Hollow to help them count down to Christmas in amongst all the lights and Christmassy decor you will ever need. If you're looking to do Christmas in Surrey right this year, a visit to Chessington is a great idea for adults and kids alike.
You can book your tickets for the theme park and their Chrismas events here.
11. Take part in a Santa fun run
Want to do something fun and challenging this Christmas to tick off a goal before the new year rolls around? On the 2nd December this year, there will be a 5K fun run in Stoke Park, Guildford to raise money for the charity Challengers, a fantastic local charity working with young disabled people in the community.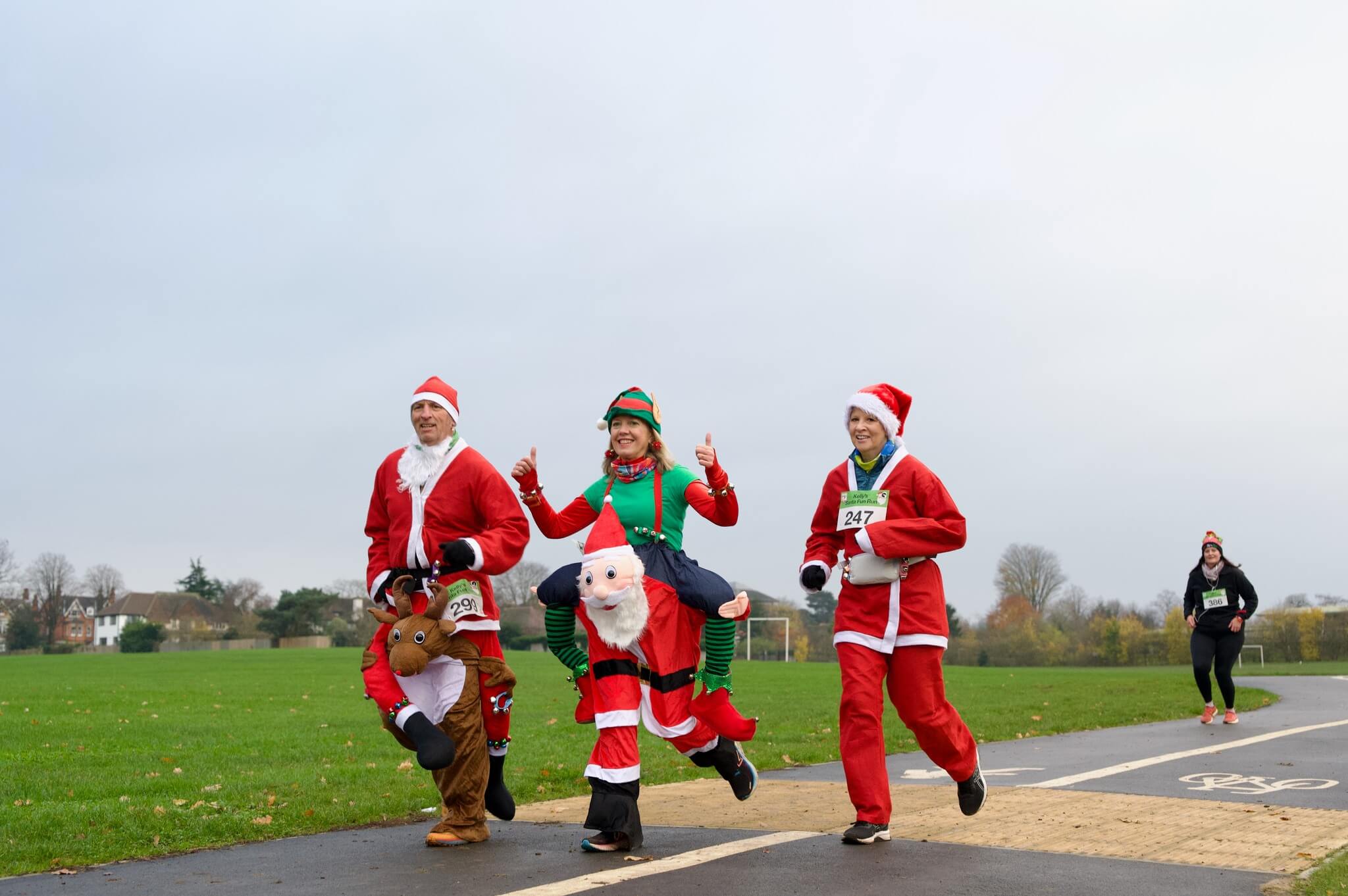 If you're thinking "hang on, a fun run at Christmas?" the fun part is that you can dress up in your festive best and run alongside lots of Santas. This is a Christmas photo op for sure!
There are options of 2.5K or 5K depending on how sweaty you want your Santa suit to get, and you can sign up here.
12. Enjoy a Christmassy show
If you're not a fan of yelling "Oh no he didn't!" at a stage for several hours, and would prefer less panto vibes and more of a family Christmas show instead, there are plenty of options for your Christmas in Surrey too. Here are a few you'll love:
For the kids, 'Santa's Christmas Wish' will be playing at the Epsom Playhouse, where you can sing along to festive favourites like Rudolph the Red-Nosed Reindeer, Jingle Bells, When Santa Got Stuck Up The Chimney, and more – the kids will love it! The show is interactive and family-friendly, particularly suitable for 2-8 year olds. It's 45 minutes long and afterwards the kids can do a special meet, greet and treat with Santa. Santa's Christmas Wish is on from Sunday 3rd to Sunday 24th December.
Christmas in Surrey isn't always snowy, but you can make it a white Christmas at

Snow Play

in the Cranleigh Arts Centre. On 16th December at 2pm Lyngo Theatre will be bringing their popular show to the stage in an interactive way, which is perfect for ages 3 and up. This snowy spectacular brings a showdown between Winter and Spring over who gets to stay and who has to go away, and the kids will get to make a giant snowman, cover a house in snow and have a super snowball fight.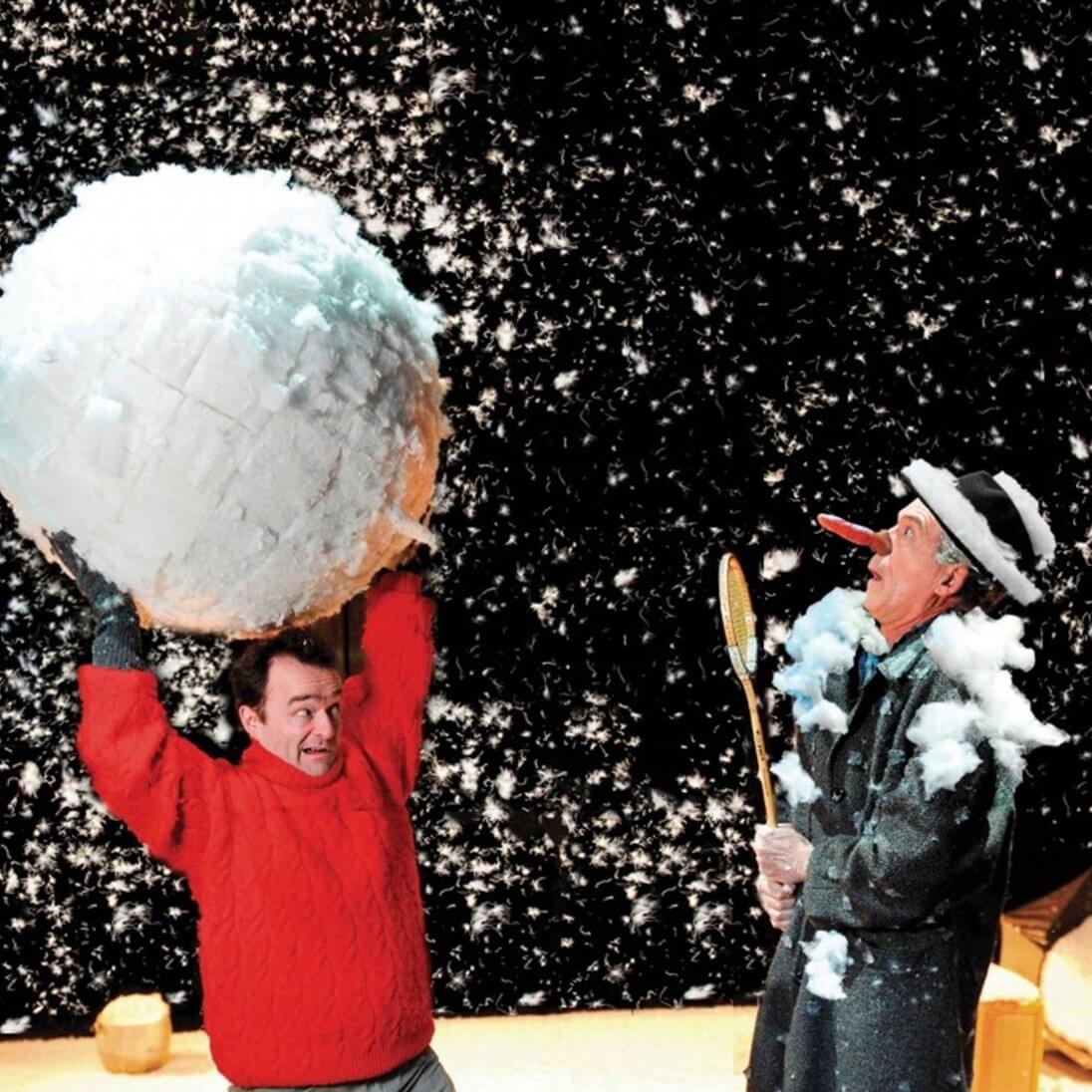 On Tuesday 21st November, G Live in Guildford is putting on the '

That'll Be The Day Christmas Show

', bringing timeless Rock 'n' Roll Christmas tunes to kick off your festive season in the best way. The show promises to take you on a "seasonal, nostalgic sleigh ride through the golden age of Rock 'n' Roll and Pop". With amazing voices and musicians, comedy sketches and more, you'll love this night out with your nearest and dearest.
If you prefer Christmas crooners, Cranleigh Arts Centre is also putting on '

Christmas With Sinatra

' with Paul Rich on the 23rd December. Head back in time through the most iconic Christmas classics, with Frank Sinatra of course, but also swing kings Sammy Davis Jr, Dean Martin, Michael Bublé and more.
This one is the perrrrfect Christmas treat for grandparents! Back at Cranleigh Arts Centre, '

Andre Rieu: White Christmas

' is playing in their cinema on 3rd December at 2pm, where you can immerse yourself in André's winter wonderland. Sing and dance to timeless Christmas carols, romantic waltzes and beautiful songs from all over the world.
13. Attend a festive family-friendly rave
Nothing gets you in the Christmas spirit quite like… a rave? Oh yes, the Rudolph Rave is coming to G Live in Guildford, where you can dance to the fabulously festive DJ, complete with glow sticks, glitter and giant balloons. The whole family can attend this one as it takes place from 2pm on Saturday 16th December, but don't worry – adults can enjoy a tipple from the bar!
Anyone can attend the Rudolph Rave, but it's aimed at families with kids aged from babies to 8-year-olds. An energetic, fun-filled day out for Christmas in Surrey.
14. Enjoy a Christmas day out with the family
There is no shortage of things to do at Christmas in Surrey for families, and below are a few of the best days out you'll definitely want to book before the festive season is over: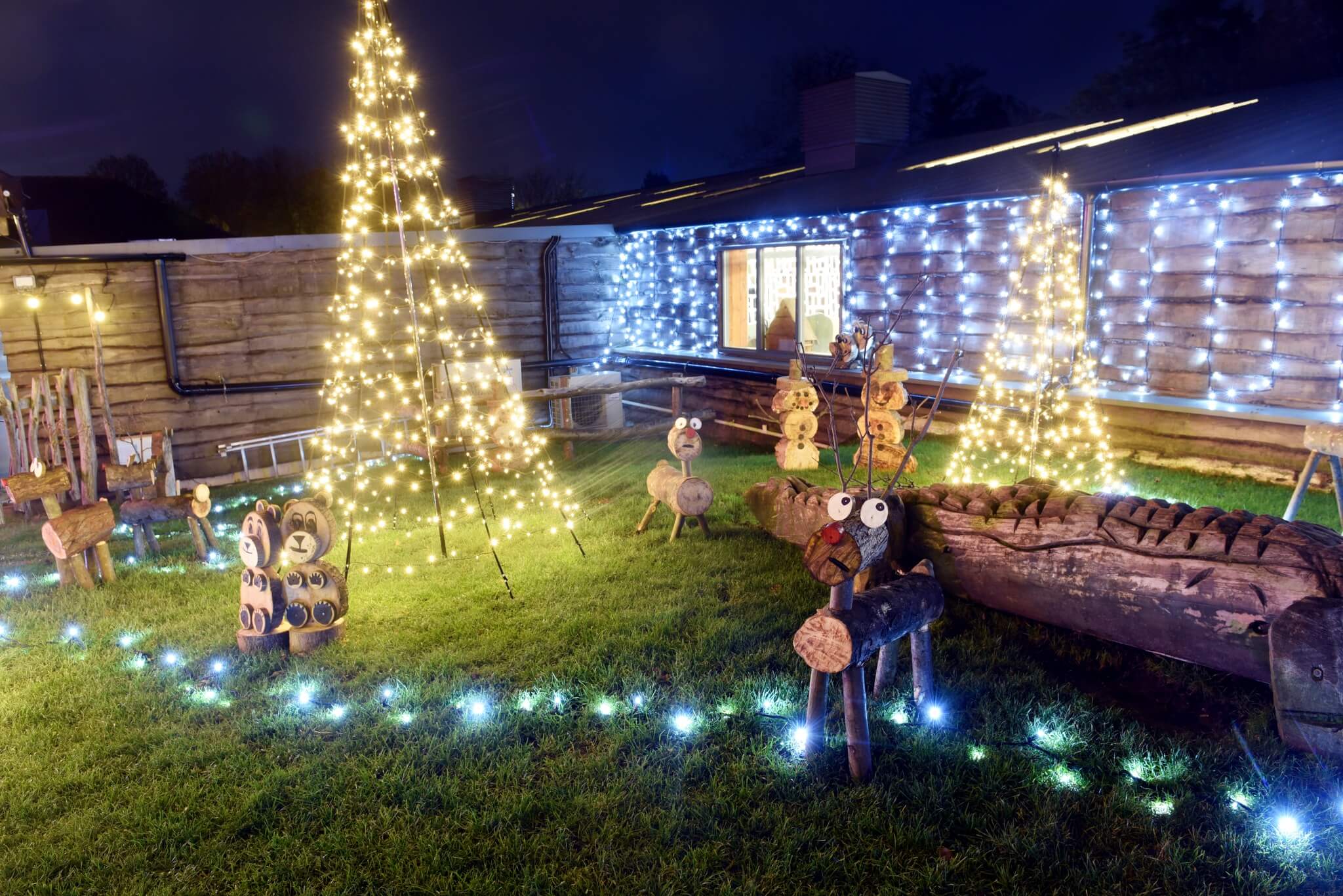 Christmas at Kew Gardens: Selected dates between 15th November and 7th January – Christmas at Kew Gardens has become an iconic light trail every year, and one of the must-do activities in Surrey at Christmas. The botanical gardens are transformed each year with thousands of twinkling lights and seasonal music for a truly magical atmosphere. Walk through glittering light tunnels, watch amazing lakeside projections, and see trees covered in spectacular lights. This one always books up quick, so grab your tickets while you can.
15. See the Festive Fayre at Hampton Court Palace
There are few festive market events more impressive that Hampton Court Palace's each year, which is why it has its very own spot on our list. The famous home of Henry VIII in Hampton is stunning at the best of times, but at Christmas it becomes an absolute must-visit. On 1st – 3rd December and 8th – 10th December, the magnificent courtyards and grounds will be transformed into a food lover's winter wonderland.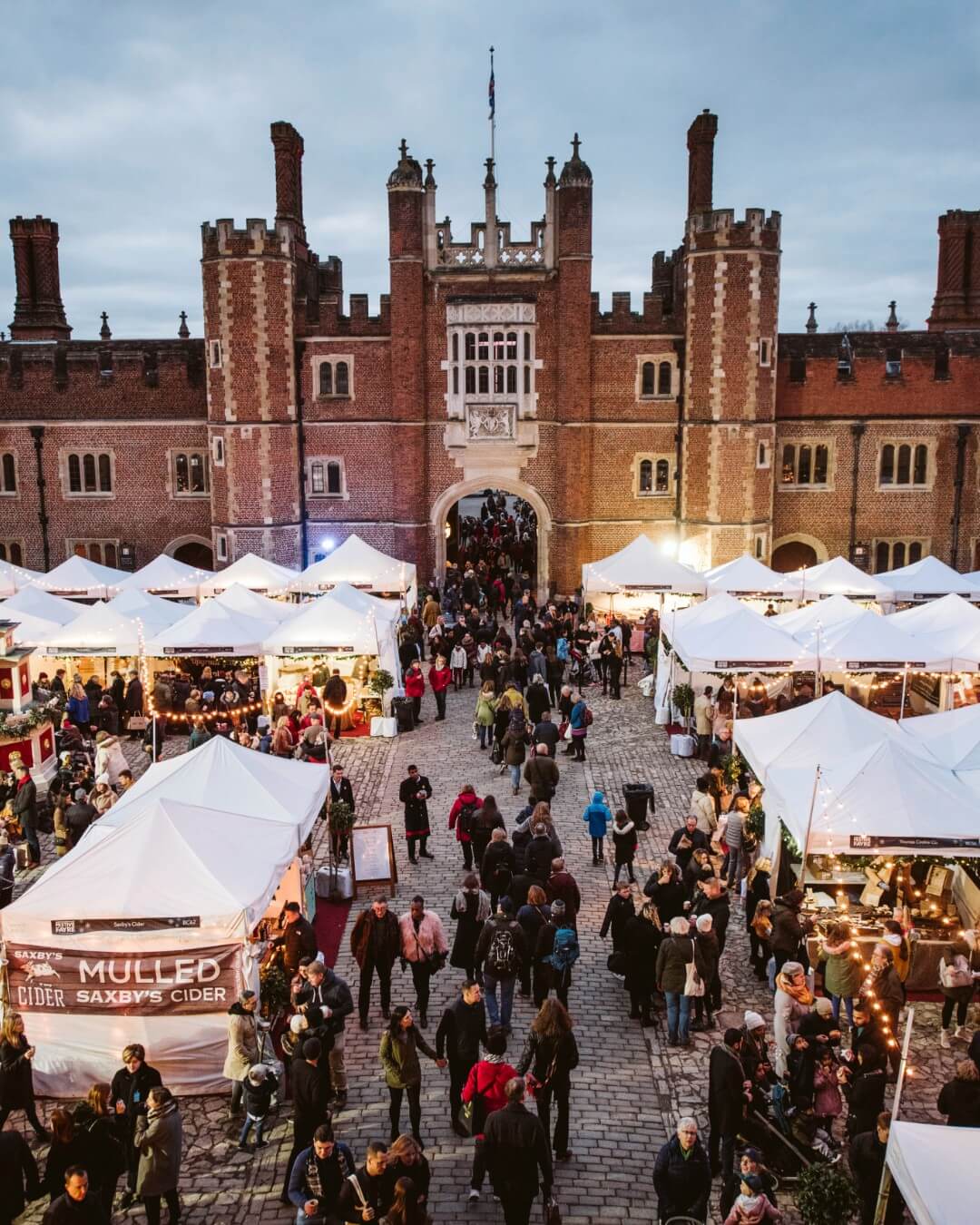 Shop with over 100 independent artisan producers for your Christmas presents, eat tasty food and watch it made in foodie masterclasses, tuck into mulled wine and enjoy the festive atmosphere… you won't regret taking the family to this super Christmassy day out for your perfect Christmas in Surrey. Book your Christmas at Hampton Court Palace tickets here (and be quick, because they get snapped up fast!)
Christmas in Surrey
You won't run out of festive things to do on your days out during Christmas in Surrey. With gorgeous villages to explore, and plenty of seasonal markets and events on offer, it's the most wonderful time of the year in Surrey!
Do you know of a great Christmassy day out that should be on our list? Let us know in the comments so we can share with others.
Quick List: 15 Brilliant Days Out for Christmas in Surrey 2023
Enjoy a day out at Santa's Grotto
Watch a panto
Visit a stunning National Trust house at Christmas
Travel on a festive train
Get creative at Christmas
Visit a Christmas market
See Alice In Wonderland on ice
Tuck into a swanky Christmas dinner
Visit one of Surrey's most picturesque villages (used to film a famous movie!)
Check out Chessington at Christmas
Take part in a Santa fun run
Enjoy a Christmassy show
Attend a festive family-friendly rave
Enjoy a Christmas day out with the family
See the Festive Fayre at Hampton Court Palace
---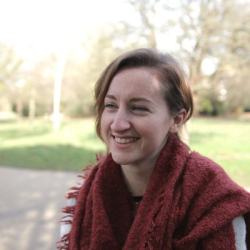 Latest posts by Caitlin McAllister
(see all)