Christmas in Hampshire is a wonderful reason for a day out. From Peppa Pig World to Winchester Cathedral there are plenty of activities to get you feeling festive.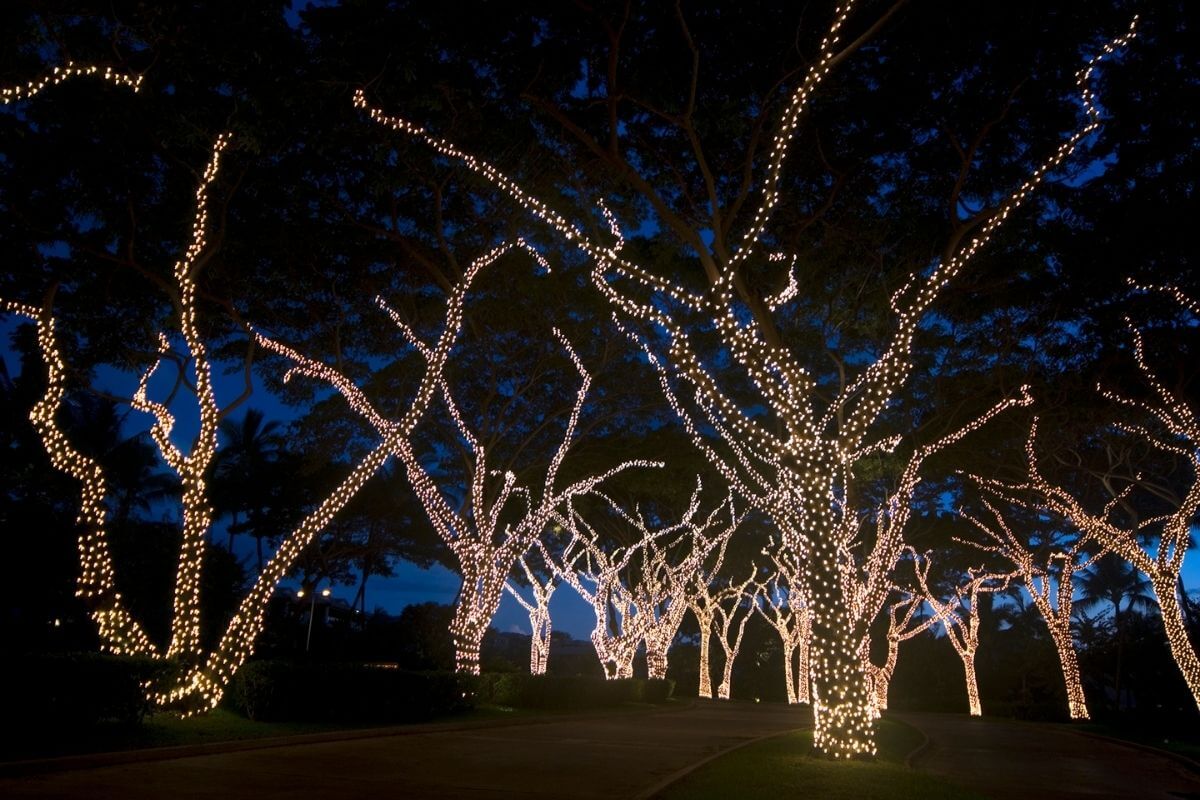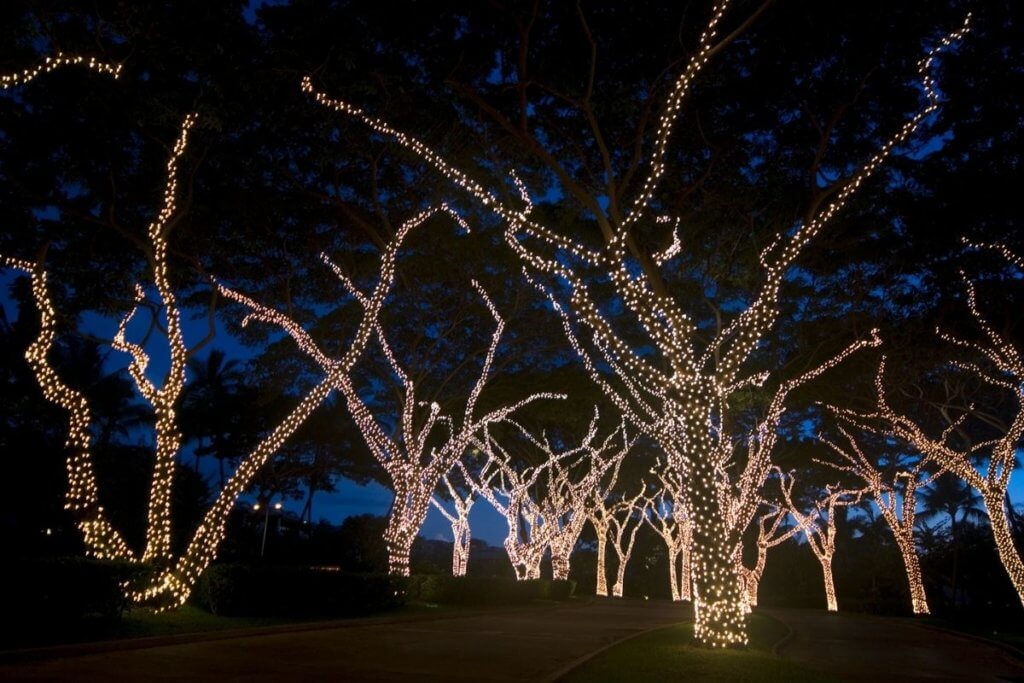 If you're looking for great things to do for Christmas in Hampshire in 2022 look no further. We've rounded up some of the best Christmassy activities so you can plan your weekends and Christmas holidays.
Whether you're a Hampshire local, or visiting on a festive staycation, here are our Christmassy highlights in the ancient county of Hants.
Days Out for Christmas in Hampshire
All times, dates and confirmations correct at date of publishing (November 2022). Please double check and pre book before you leave the house!
---
1. Christmas with Peppa Pig
CONFIRMED FOR 2022: selected dates from 3rd December to 23rd December 2022.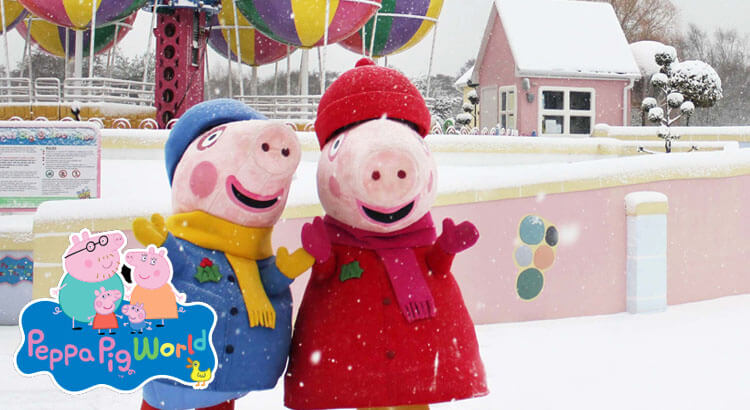 Paulton's Park is one of the most popular theme parks in the UK, and a definite winner with the kids. Running from the 3rd to 23rd December, the entire Peppa Pig World will be decorated for Christmas, right down to characters sporting their favourite holiday outfits. There's even Santa's Christmas Wish Show, starring the main man himself!
The best part is, all of the special Christmas extras are included in the price of a standard Paulton's ticket. If you're looking for Christmas events for kids near you, this is the one!
2. Christmas Canoe with Santa
CONFIRMED FOR 2022: 10th to 23rd December
Venture into the New Forest and experience a Christmas Canoe Paddle with Santa Claus. This active outdoor activity is thrilling (and chilling – dress warm) for the whole family.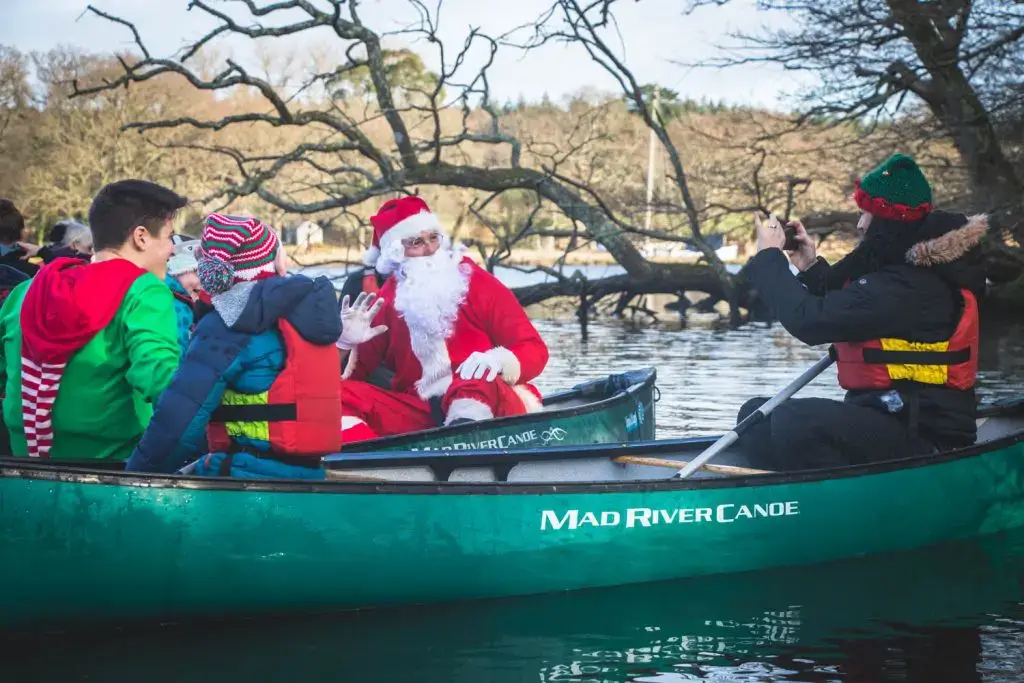 Hot chocolate is on tap to keep you nice and warm as you enjoy the trip out on the Beaulieu River searching for Santa.
What's included?
Meet and greet with your super instructors
90 minutes of festive fun
Paddle our canoes with your qualified river guide to meet Santa
All children receive a Christmas gift
Hot drinks and mince pies to enjoy on arrival
Dress warmly!
READ MORE: The Best Santa Days Out in England
3. Go deer spotting in the New Forest National Park
CONFIRMED FOR 2022: Whenever you please!
Also in the New Forest, how about a romantic wintery walk amidst the gathered deer and crisply chilled trees. There are many beautiful winter walks to enjoy in Hampshire with your significant other. The New Forest is a great place for a winter's day out in England.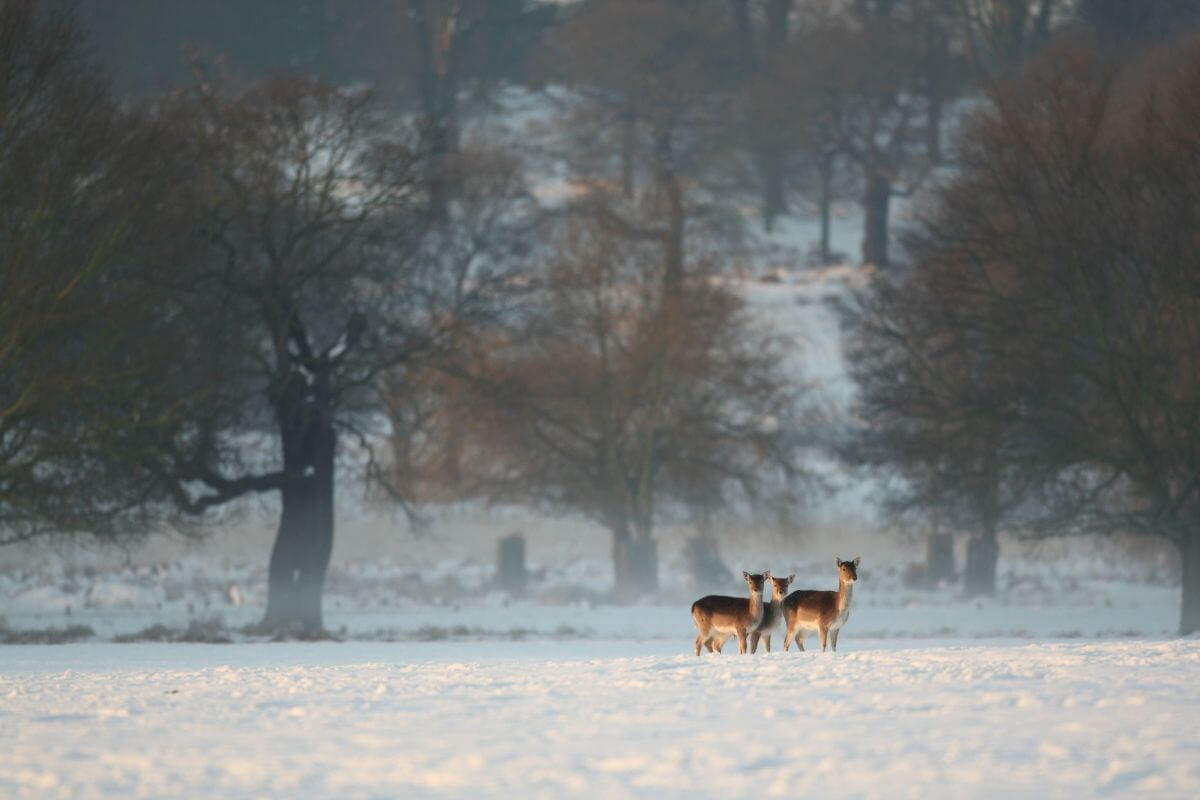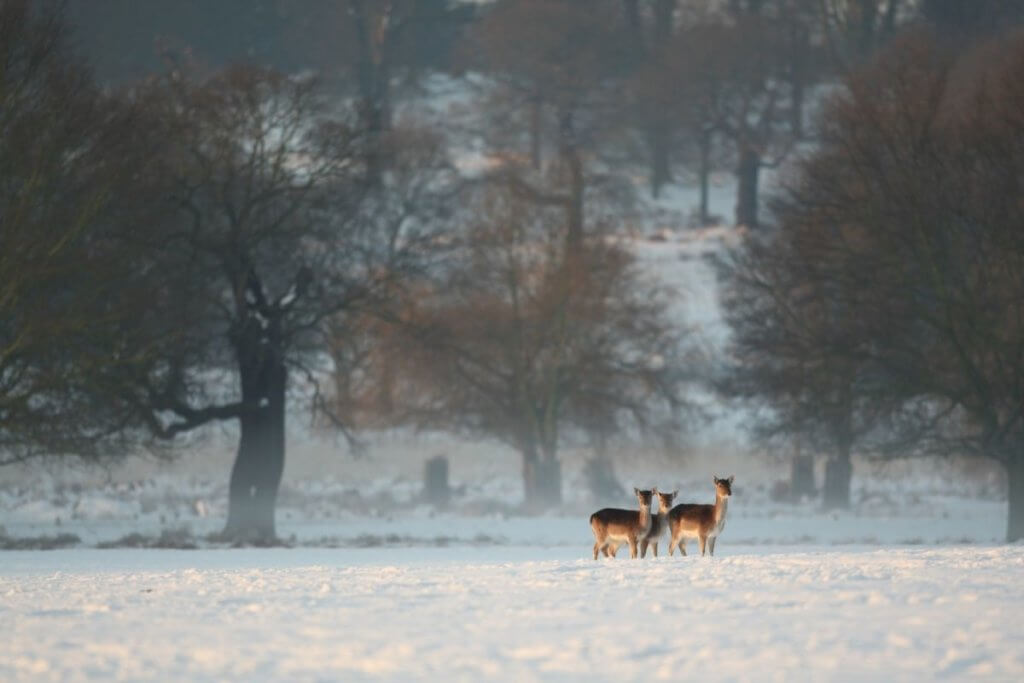 The Bolderwood Deer Spotting Walk is a nice brisk walk that will take less than an hour and can end in a toasty New Forest pub, with a couple of seats by the crackling fire.
Here's the Deer Spotting Walk Routes Map from the Forestry Commission, England.
4. Christmas at Marwell Zoo
CONFIRMED for 2022: Selected dates between 18th November and 30th December 2022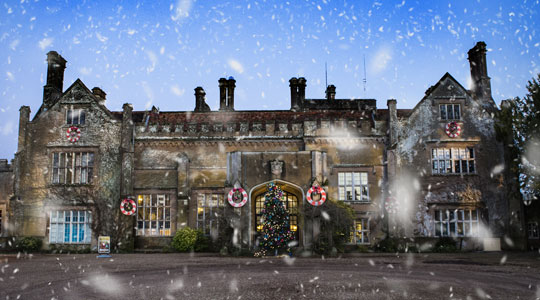 A visit to Marwell Zoo in Winchester deserves a spot on your Christmas List. This year they're hosting GLOW, a magical light experience. This winter trail is an "immersive light extravaganza" where the grounds of Marwell will turn into a twinkling wonderland full of fairy lights and magic. After having to cancel their Christmas plans during the pandemic, this is a really exciting event you won't want to miss.
5. Steam Illuminations returns to the Watercress Line
CONFIRMED FOR 2022: 18th NOVEMBER to 7th JANUARY
There's something intrinsically Christmassy about steam trains. Who remembers Tom Hanks' Polar Express?
Get the family together and choo-choo down to the Steam Illuminations on the Watercress Line at either Alresford or Alton. You'll marvel at an incredible LED light show whilst chugging along in a steam train on a roundtrip journey. This train is absolutely mesmerising, inside and out, so bring your camera for 10 miles of pure Christmas magic.
6. Mark the Winter Solstice as the ancients did
CONFIRMED FOR 2022: Wednesday 21st DECEMBER 2022
Winter isn't all about Christmas – shocking, we know.
Back in the day, Anglo Saxon communities would mark the Winter Solstice, and this tradition continues at Butser Ancient Farm on the 21st December.
"Gather in the Great Roundhouse at Butser Ancient Farm as we mark the shortest day of the year with an afternoon of storytelling and meditation led by Woodland Bard Jonathon Huet."

– BUTSER ANCIENT FARM
Or visit on the 9th December to enjoy two special performances of their Tales of Winter Magic event with storyteller Red Phoenix. With mead for the adults and hot chocolate for all, you'll soak up the ancient festive atmosphere around a roaring fire in the great roundhouse. Arrive early for an exclusive look around Butser Ancient Farm in Chalton in the South Downs before the storytelling begins.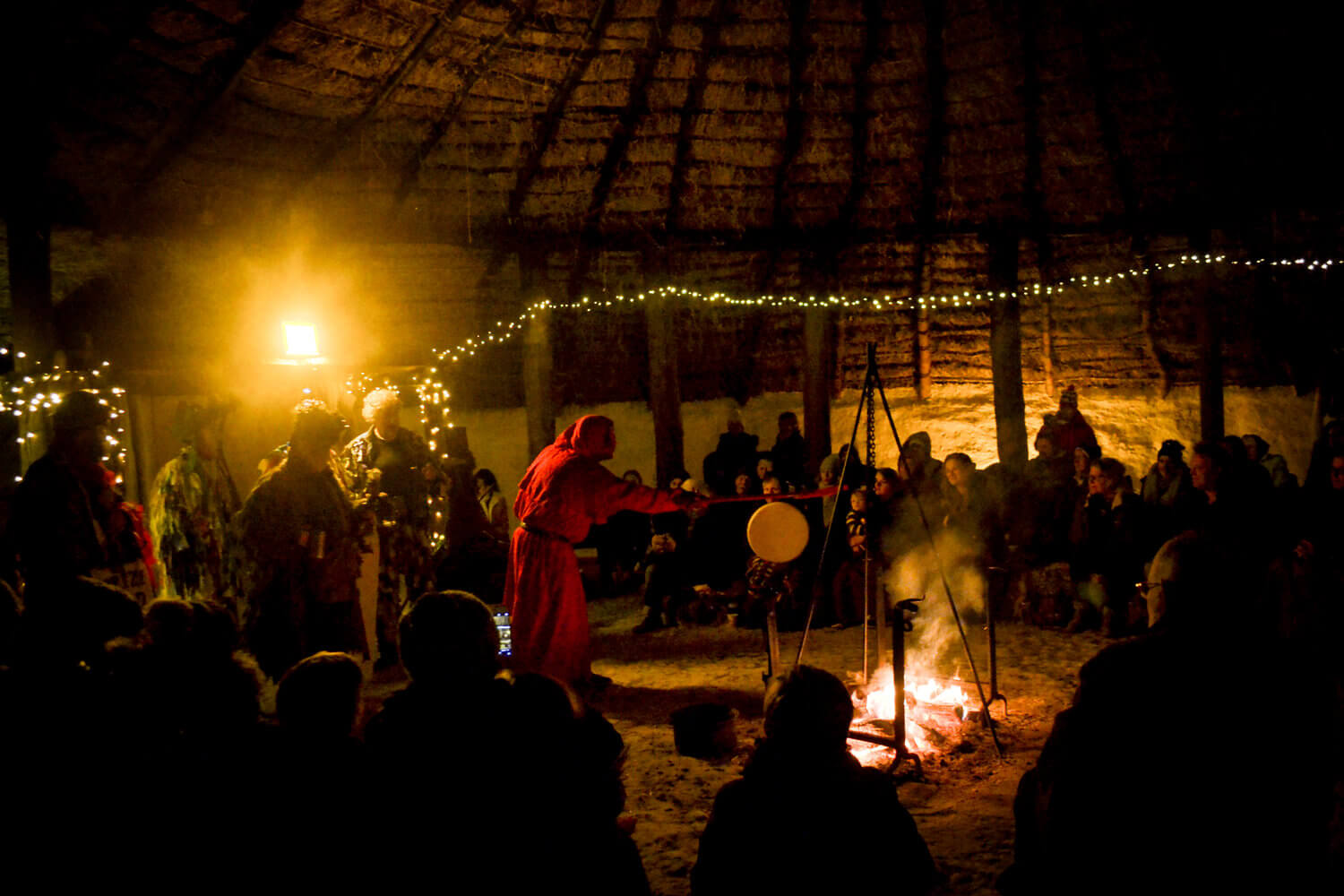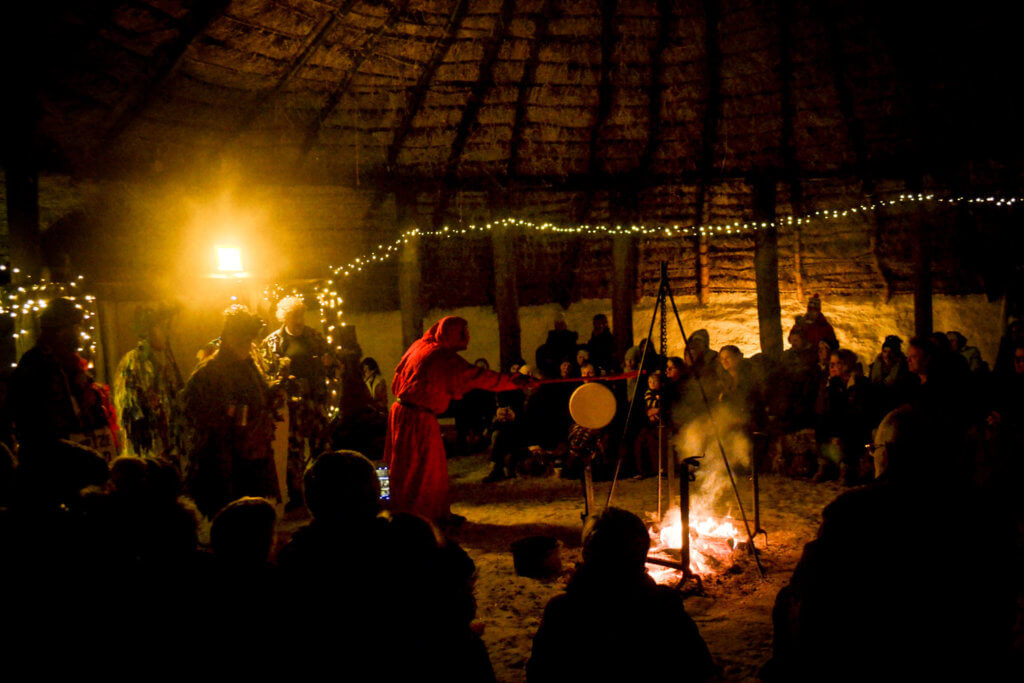 Butser Ancient Farm has an exciting addition to their festive programme for 2022, An Ancient Winter Magical Adventure. It's a great Christmas day out for families in Hampshire. The trail is an alternative way for families to celebrate the season, connecting them with nature to discover the ancient folklore of Winter. The beautiful houses will be open, and families can meet the Deer Queen and Holly King, do make-and-take crafts and warm themselves around crackling fires.
They'll be serving hot, mulled drinks and sweet treats, and the shop will be open for Christmas gift shopping too. It all takes place on Saturday, December 3rd 2022 from 10am to 3pm, and on Sunday December 4th at the same time.
7. Breakfast with Santa… and a view
CONFIRMED FOR 2022: various dates 3rd to 24th DECEMBER
Santa is returning to his favourite breakfast spot at the top of the Spinnaker Tower in Portsmouth this Christmas. Join Santa and his elves in the Spinnaker Kitchen and Bar, at the top of this Portsmouth landmark.
Children can write their letters to Santa and pop it in the post box, before actually meeting the man in red for a photo, which can be purchased afterwards. All children who visit Santa receive a special gift too.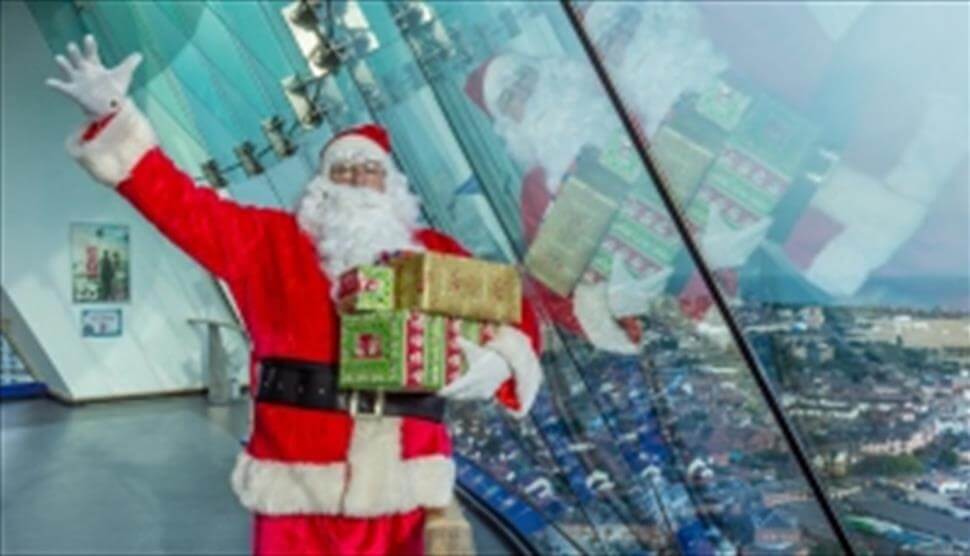 Breakfast with Santa includes access to the incredible Sky Walk, with mind-blowing 360° panoramic views of Pompey (Portsmouth).
Two breakfast sessions are available: 9am and 10:30am. Both sessions include 45 minutes for breakfast with Santa, followed by unlimited time to enjoy the views.
Note that if you're booking for the 9am breakfast, you'll need to hang around until the viewing platform opens at 10:30am. Otherwise, you can pop back anytime on the day of your booking until 4:30pm.
8. Revel in Christmas tradition at Winchester Cathedral
CONFIRMED FOR 2022: 18th NOVEMBER to 22nd DECEMBER
What better way to immerse yourself in the Christmas spirit than at Winchester Cathedral?
The monumental Gothic cathedral, in the centre of Britain's former capital city, towers imposingly over the quaint English Christmas Market, which promises tidings of joy. Winchester has one of the best Christmas Markets in Hampshire, if not England.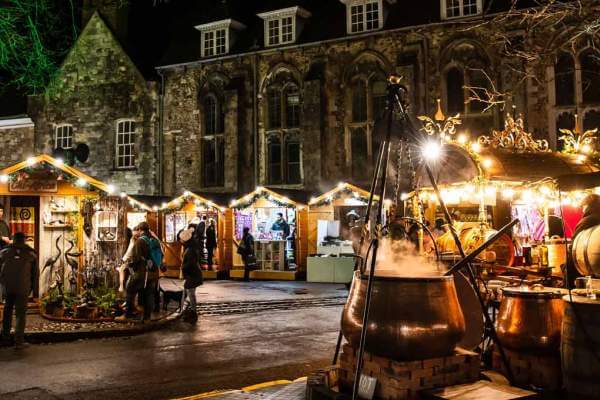 Follow your nose to stalls touting fine food and drink. Mulled wine in hand, then follow your ears to join the gathered crowd singing along with the carolling choir. And, full of golden festive spirit, mooch around the stalls and support local craftspeople and traders whilst you do your Christmas shopping.
9. Goldilocks at the Mayflower Theatre
CONFIRMED FOR 2021: 10th DECEMBER to 31st DECEMBER
Jason Donovan will be starring in this year's Mayflower pantomime, alongside Coronation Street and musical theatre star Faye Brookes, with the triumphant return of Richard Cadell & Sooty in Goldilocks and the Three Bears.
With sets and costumes from The London Palladium, Goldilocks and the Three Bears follows Dame Betty Barnum and her daughter Goldilocks, who are battling to save their circus from the Evil Ringmaster who is intent on stealing their three loveable bears and leaving them in ruin.
Jason Donovan plays the Evil Ringmaster following his successful panto season at Birmingham Hippodrome, with Faye Brookes playing the title role of Goldilocks. Sooty will play himself with Richard Cadell as his best friend Joey the circus clown and Adam Strong will be making his dame debut as Dame Betty Barnum.
For three weeks only, the theatre will be transformed into a sensational circus, where everything is possible, and anything could (and will) happen. This festive extravaganza is packed with riotous comedy, extraordinary special effects, hair-raising stunts and international circus acts!
Produced by Crossroads Pantomimes, Goldilocks and the Three Bears will bring all the laughter, spectacle, special effects and festive magic audiences have come to expect each year from Southampton's ultimate pantomime.
READ MORE: What to Do at Christmas on the Isle of Wight
---
10. Celebrate Christmas with the National Trust at Mottisfont
CONFIRMED FOR 2021: 26th November to 8th January
Hampshire is one of the most beautiful counties in the UK, and the National Trust plays an important part in maintaining some of our most stunning historical buildings and natural landscapes.
This Christmas, they'll be sprinkling some fairy dust across their Hampshire estates with trails and activities for the whole family to enjoy.
A particular highlight is the winter wander trail at Mottisfont Stately Home, with Percy the Park Keeper and his animal friends. Explore the tranquil winter garden, strolling through paths thoughtfully planted with winter-flowering shrubs to brighten the winter months.
Once you've explored the stunning grounds, head into the warmth of the main house and experience the glow of Christmas that will set your Instagram a-frenzy. A Mottisfont Christmas is always a good one!
Christmas in Hampshire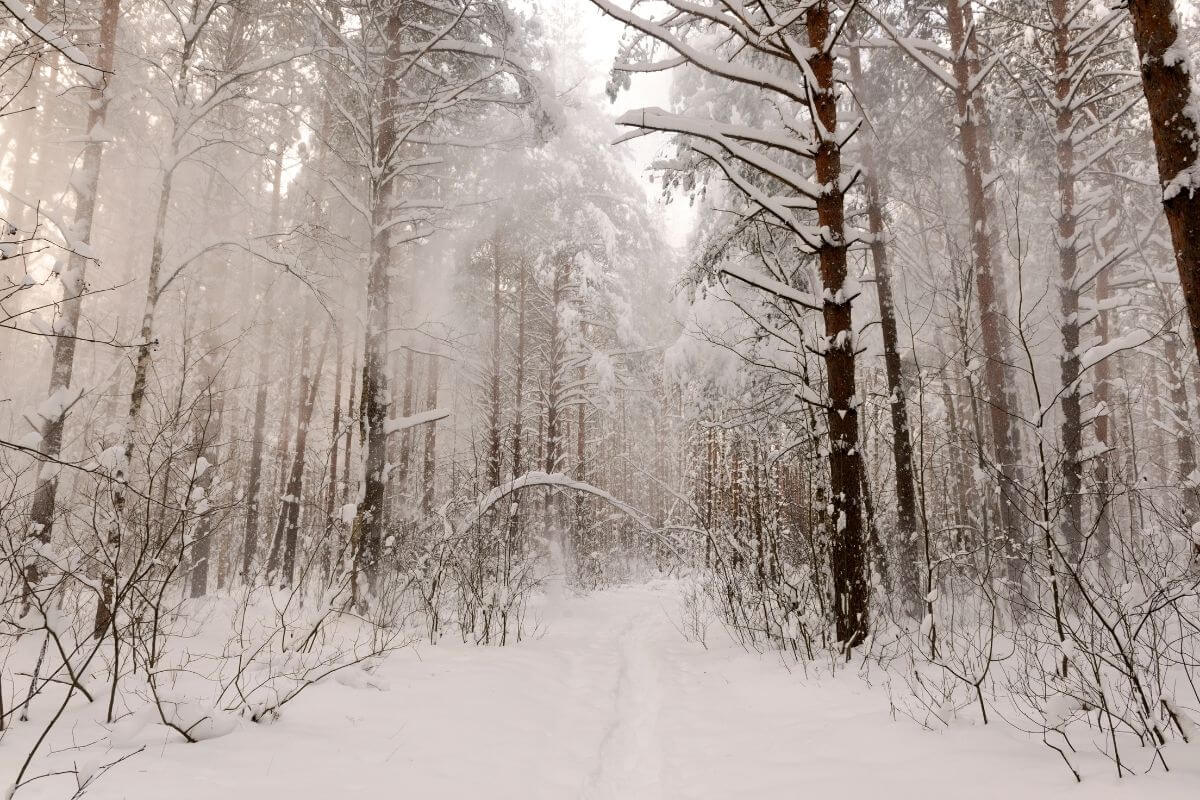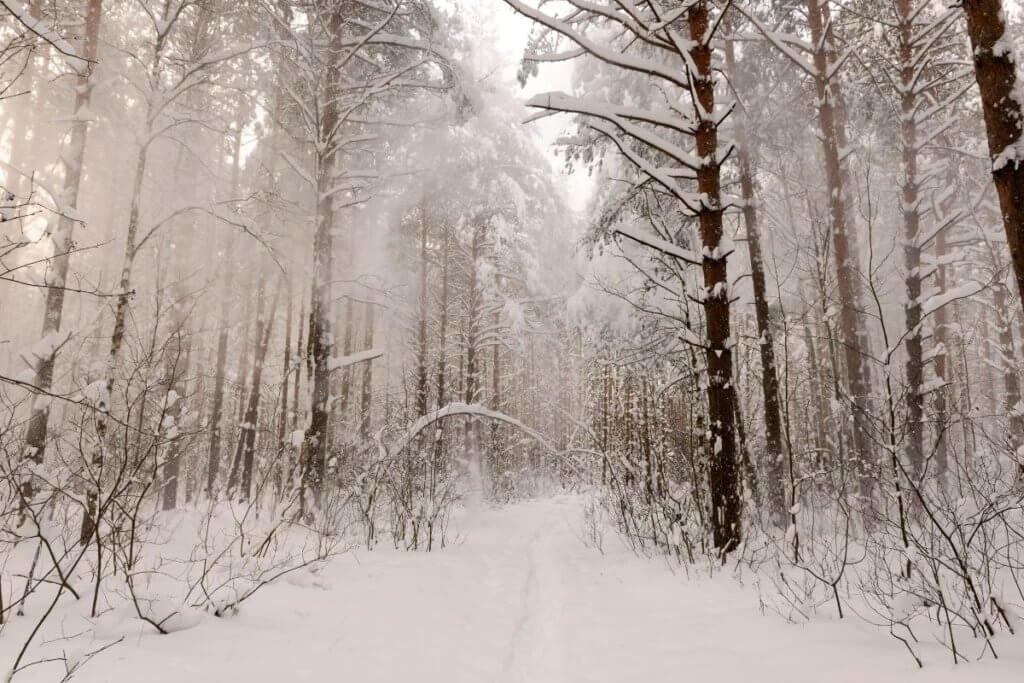 There are loads of great things to do for Christmas in Hampshire. Whether you want a Christmassy Hampshire day out with the kids, or just with the adults, as you can see there's plenty to festive fun to choose from. Portsmouth at Christmas is always fun – no word on whether the Historic Dockyard is running its annual Victorian Christmas this year though. And Southampton at Christmas means ice rinks and festive markets – go!
Living in England we really are spoilt when it comes to where to celebrate Christmas.
Do let us know if you know of any more fun ways to spend Christmas in Hampshire below…
Ooo how about an afternoon tea in Southampton for Christmas?
---
Christmas in Hampshire quick list
1. Christmas with Peppa Pig
2. Christmas Canoe with Santa
3. Go deer spotting in the New Forest National Park
4. Christmas at Marwell Zoo
5. Steam Illuminations returns to the Watercress Line
6. Mark the Winter Solstice as the ancients did
7. Breakfast with Santa… and a view
8. Revel in Christmas tradition at Winchester Cathedral
9. Cinderella at the Mayflower Theatre
10. Celebrate Christmas with the National Trust at Mottisfont
---