13 Brilliant Days Out for Christmas in Hampshire in 2023
Christmas in Hampshire is a wonderful reason for a day out. From Peppa Pig World to Winchester Cathedral, there are plenty of activities to get you feeling festive…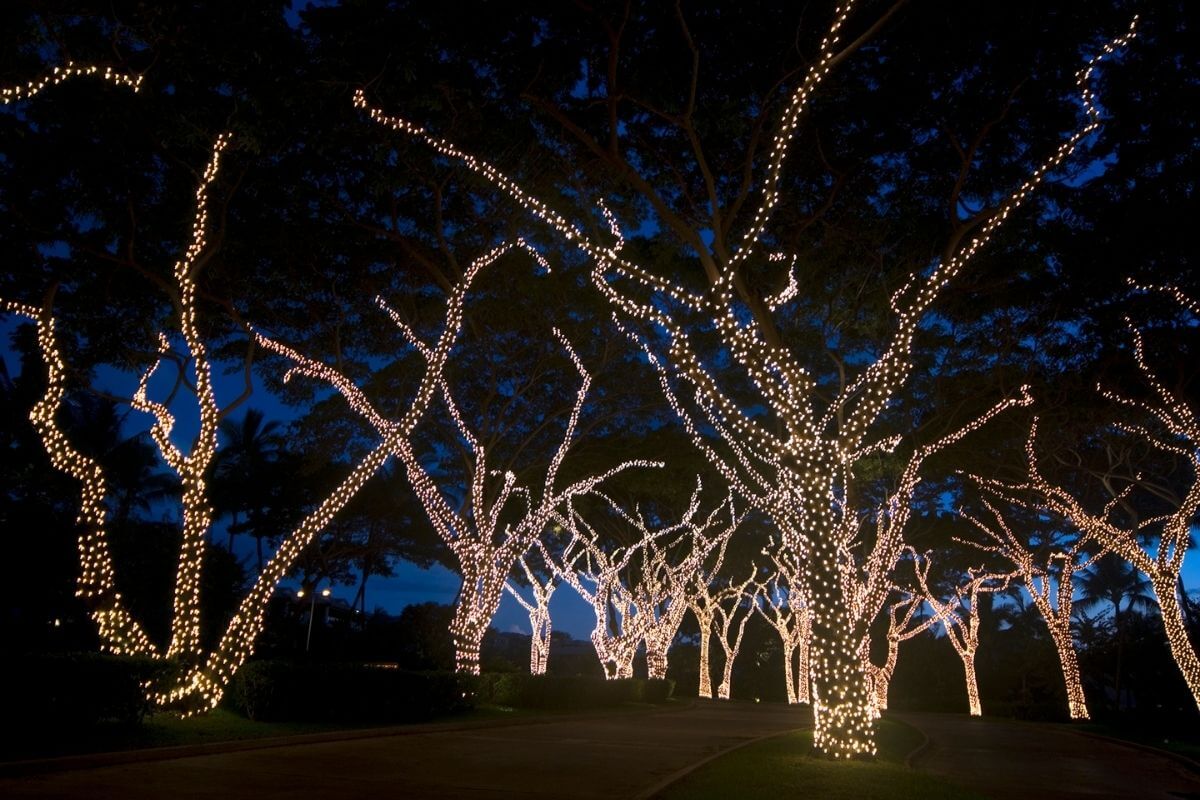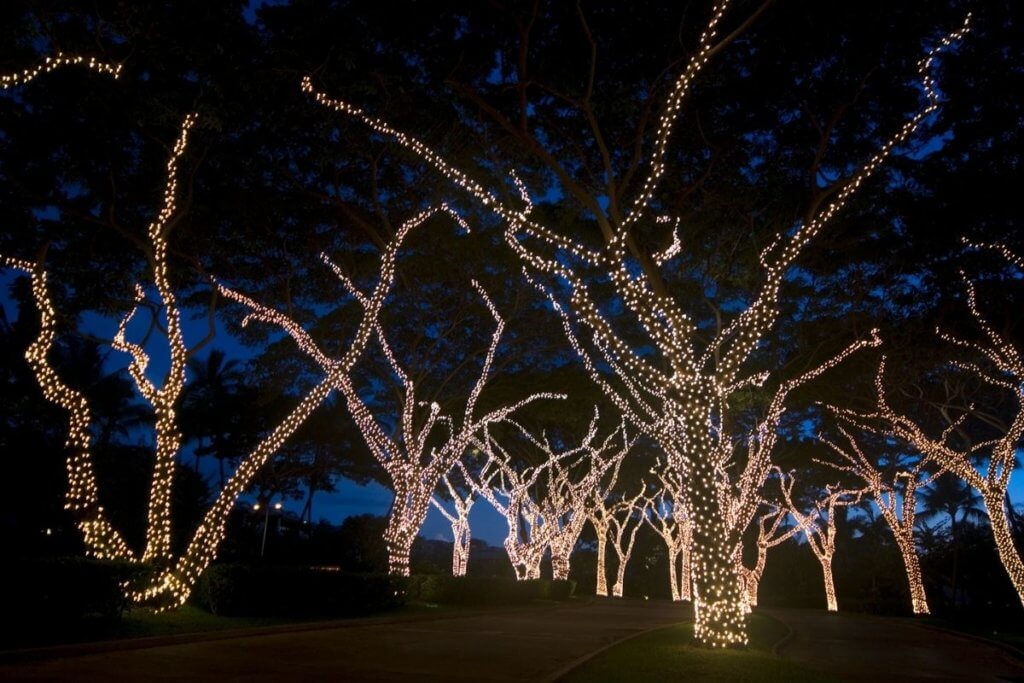 If you're looking for great things to do for Christmas in Hampshire in 2023, look no further. We've rounded up some of the best Christmassy activities so you can plan your weekends and Christmas holidays.
Whether you're a Hampshire local, or visiting on a festive staycation, here are our Christmassy highlights in the ancient county of Hants.
Days Out for Christmas in Hampshire
All times, dates and confirmations correct at date of last update (October 2023). Please double check and pre book before you leave the house!
---
1. Spend Christmas with Peppa Pig
CONFIRMED FOR 2023: Selected dates from 2nd December to 23rd December 2023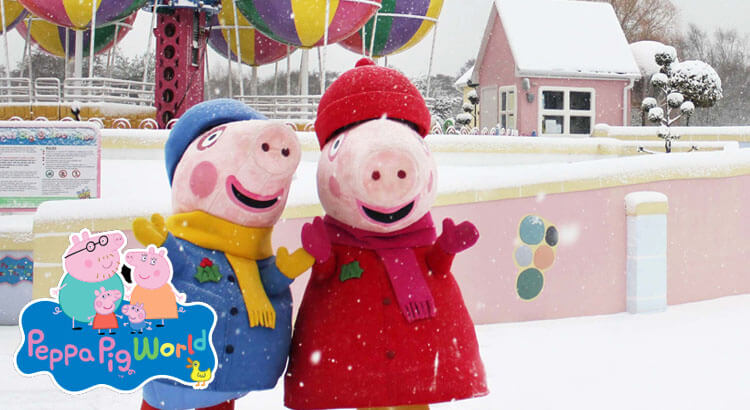 Paulton's Park is one of the most popular theme parks in the UK, and a definite winner with the kids. Running throughout December, the entire Peppa Pig World will be decorated for Christmas, right down to characters sporting their favourite holiday outfits. There's even Santa's Christmas Wish Show, starring the main man himself!
The best part is, all of the special Christmas extras are included in the price of a standard Paulton's ticket. If you're looking for Christmas events for kids near you, this is the one!
Make sure to check out our editor's article on how to make the most of your Peppa Pig World day trip here before you go.
2. Sail in a Christmas Canoe with Santa
CONFIRMED FOR 2023: 9th December to 23rd December 2023
Venture into Beaulieu in the New Forest and experience a Christmas Canoe Paddle with Santa Claus. This active outdoor activity is thrilling (and chilling – dress warm) for the whole family.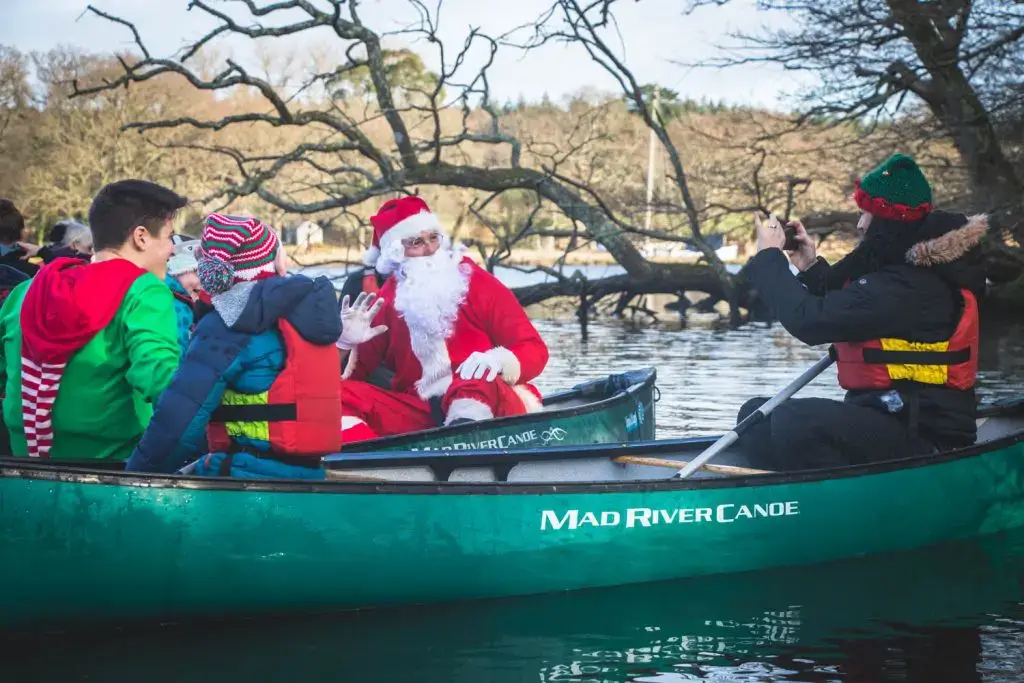 Hot chocolate is on tap to keep you nice and warm as you enjoy the trip out on the Beaulieu River searching for Santa.
What's included?
Meet and greet with your super instructors
90 minutes of festive fun
Paddle our canoes with your qualified river guide to meet Santa
All children receive a Christmas gift
Hot drinks and mince pies to enjoy on arrival
Dogs are welcome (but do bring a blanket or towel for them to sit on in the boat)
READ MORE: The Best Santa Days Out in England
3. Go deer spotting in the New Forest National Park
CONFIRMED FOR 2023: Whenever you please!
Also in the New Forest, how about a romantic chilly walk amidst the gathered deer and wintery trees? There are many beautiful winter walks to enjoy in Hampshire with your significant other. The New Forest is a great place for a winter's day out in England.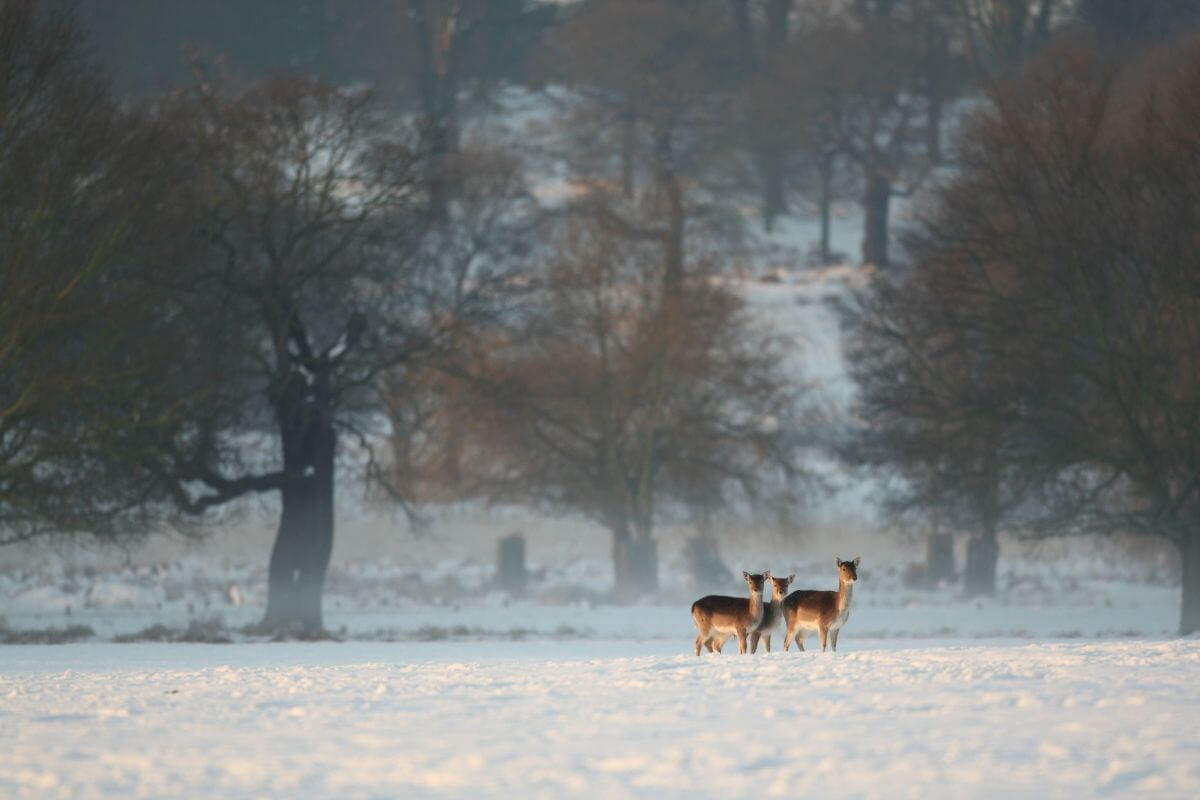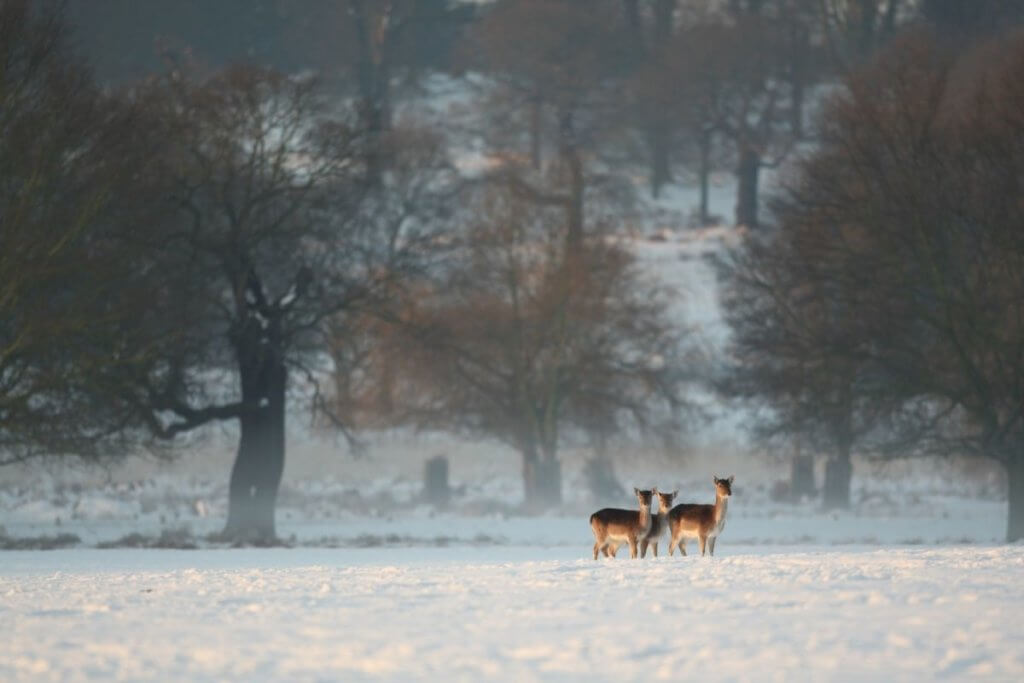 The Bolderwood Deer Spotting Walk is a nice brisk walk that will take less than an hour and can end in a toasty New Forest pub, with a couple of seats by the crackling fire.
Here's the Deer Spotting Walk Routes Map from the Forestry Commission, England.
4. Visit the animals at Christmas at Marwell Zoo
CONFIRMED for 2023: Selected dates between 24th November and 30th December 2023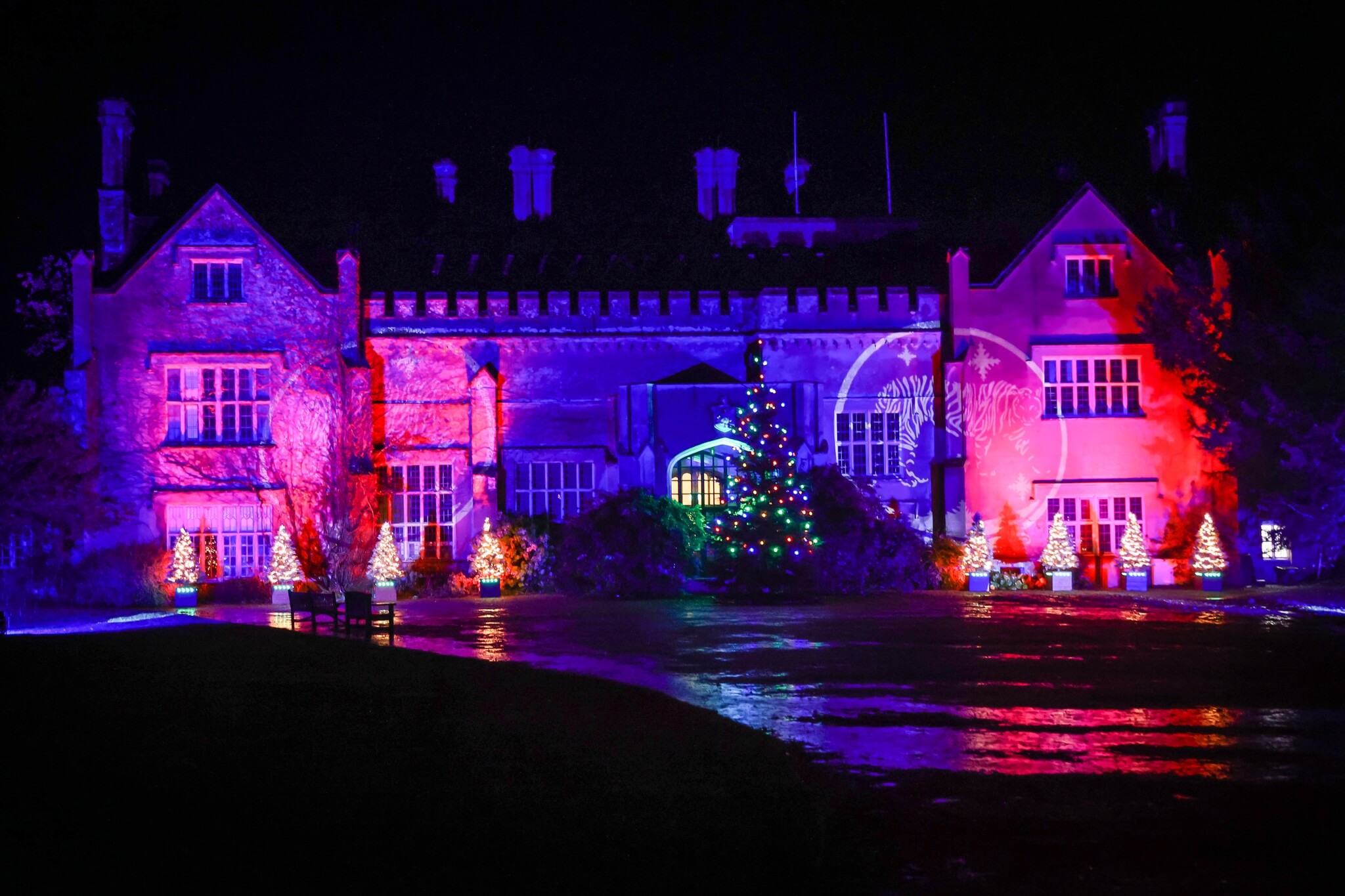 A visit to Marwell Zoo in Winchester deserves a spot on your Christmas List. This year they're hosting GLOW, a magical light experience. The winter trail is an "immersive light extravaganza" where the grounds of Marwell will turn into a twinkling wonderland full of fairy lights and magic. This enchanted nature trail features brand new illuminations and immersive displays with over 500,000 lights in a rainbow of colours.
5. See Steam Illuminations on the Watercress Line
CONFIRMED FOR 2023: 24th November to 23rd December 2023
There's something intrinsically Christmassy about steam trains. Who remembers Tom Hanks' Polar Express?
Get the family together and choo-choo down to the Steam Illuminations on the Watercress Line at either Alresford or Alton.
Check out the trailer for this year's experience…
You'll marvel at an incredible LED light show whilst chugging along in a steam train on a roundtrip journey. This train is absolutely mesmerising, inside and out, so bring your camera for 10 miles of pure Christmas magic.
6. Celebrate Christmas at Highclere Castle
CONFIRMED FOR 2023: 22nd November to 13th December 2023
If you loved Downton Abbey then you'll be extra excited as you step into Highclere Castle for the most incredible Christmas experience around.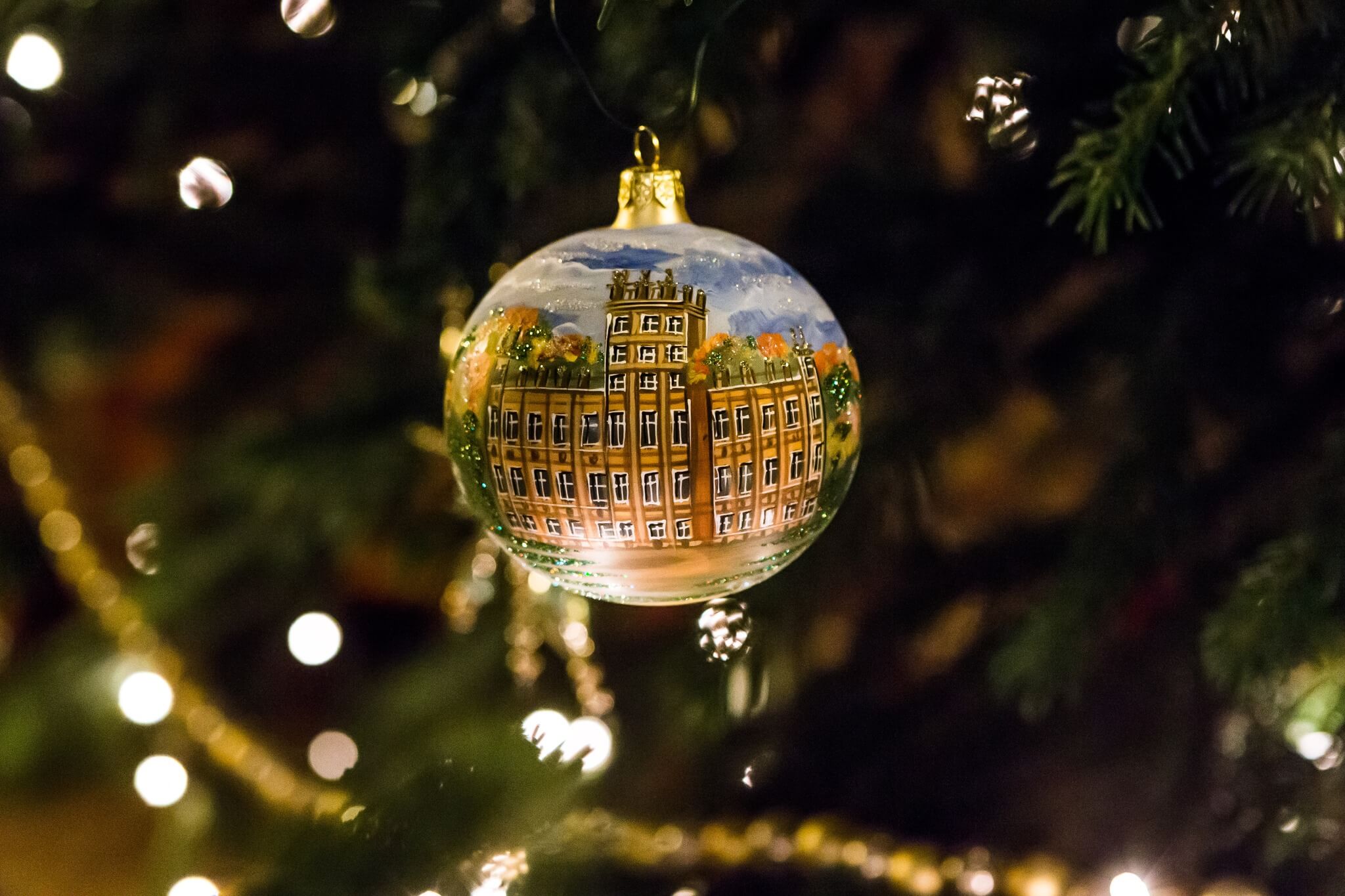 With Christmas guided tours, themed afternoon teas, and of course stunning Christmas trees and staircase garlands fit for Lords and Ladies, you don't want to forget your camera for this one!
View a tour of the State Rooms, the upstairs bedrooms, the Egyptian Exhibition in the cellars, and much more. There are also lots of great gifts in the gift shop to do some Christmas shopping for loved ones, making this a fantastic Christmas day out in Hampshire.
7. Mark the Winter Solstice as the ancients did
CONFIRMED FOR 2023: 21st December 2023
Winter isn't all about Christmas – shocking, we know.
Back in the day, Anglo Saxon communities would mark the Winter Solstice, and this tradition continues each year at Butser Ancient Farm on the day of the Winter Solstice.
"Gather in the Great Roundhouse at Butser Ancient Farm as we mark the shortest day of the year with an afternoon of storytelling and meditation led by Woodland Bard Jonathon Huet."

– BUTSER ANCIENT FARM
They typically put on an event at this time of year, and in the past there has been mead for the adults, hot chocolate for all, an ancient festive atmosphere, a roaring fire in the great roundhouse, and more. Butser Ancient Farm in Chalton in the South Downs is a fantastic day out throughout the year, but it's extra special in winter.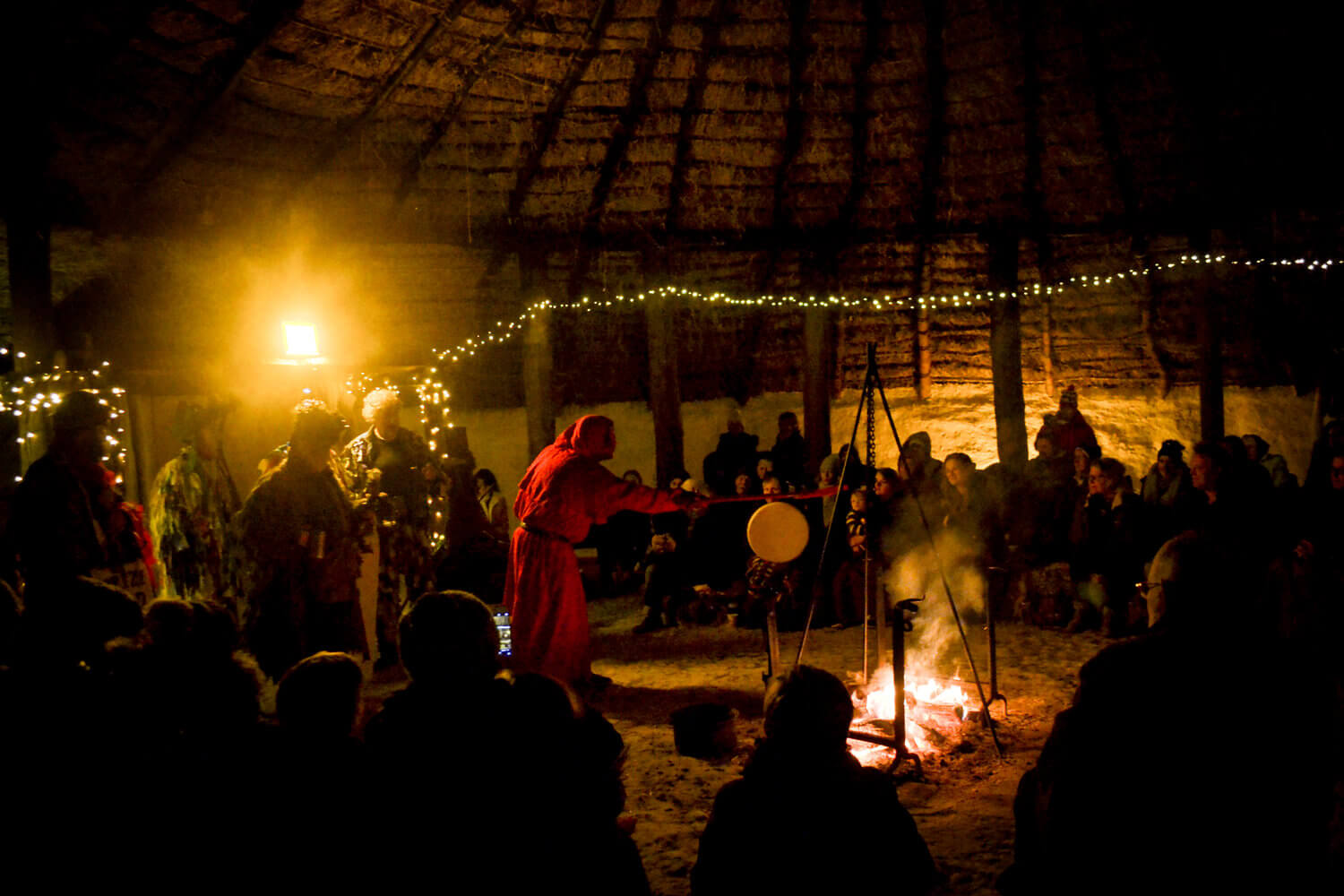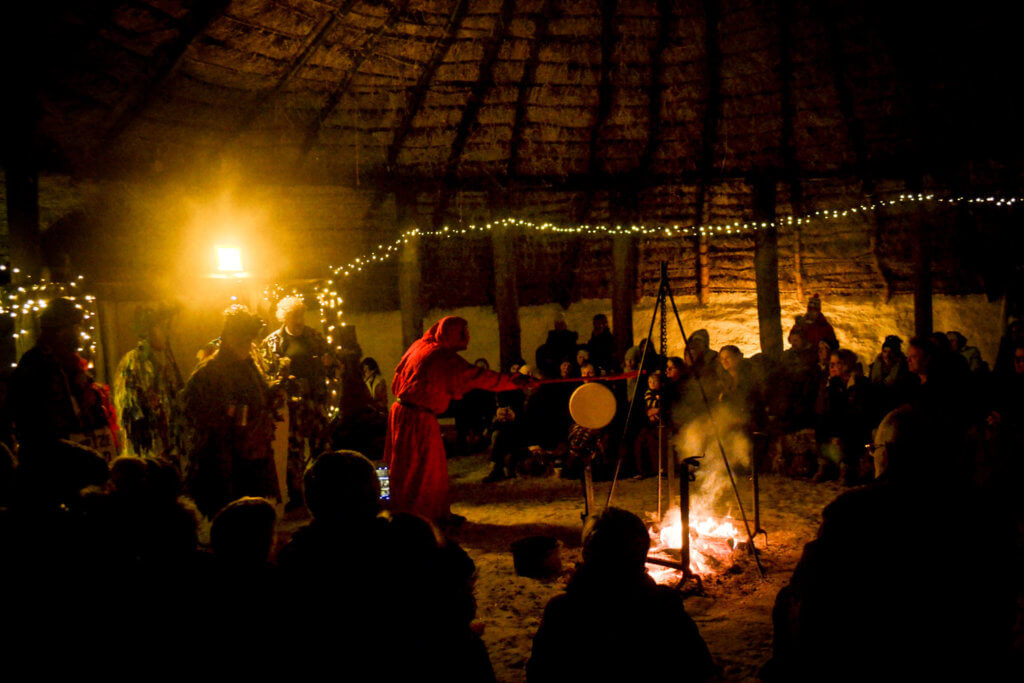 Butser Ancient Farm has also announced their event 'A Pause at Winter's Gate – storytelling with Bernadette Russell' which will see attendees gather around the fire, listen to ancient folk tales of adventures, ancestors and ghosts, and fairytales full of ice palaces, wolves, snow, long shadows and the pale moon. All while you sip on locally produced cider, mead or other alcoholic and non-alcoholic drinks. A really unique way to celebrate the winter season!
8. Attend the Christmas Tower Toymaker's Workshop
CONFIRMED FOR 2023: 25th November 2023 – 24th December 2023
Ever wanted to make your own toy? This year at the Spinnaker Tower, you can join Santa's elves in the workshop as they make the last batch of toys for Christmas. Children can name their cuddly toy, stuff it, put a charm inside and seal it up to start the magic. Then it's off to see Santa in his grotto!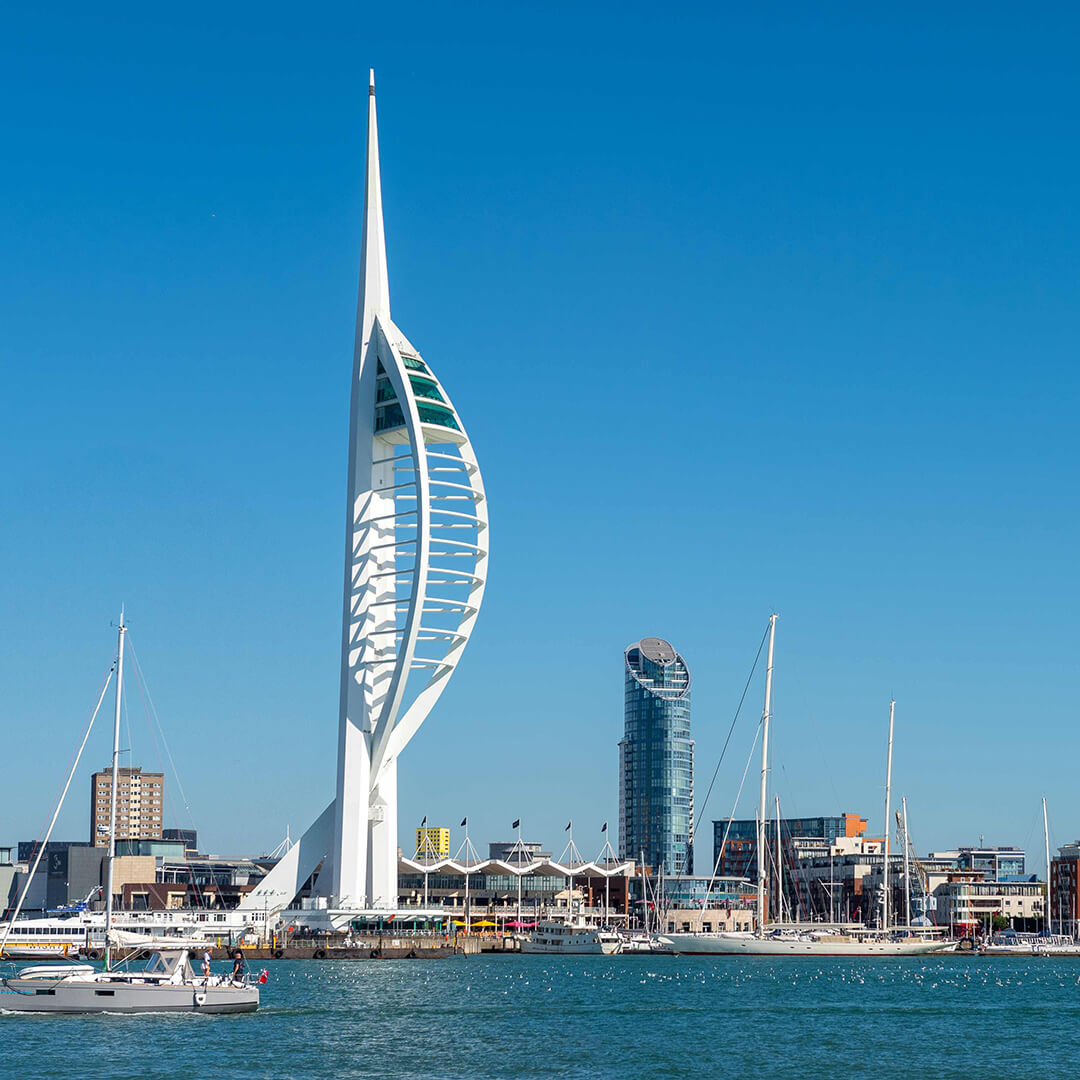 Included in this toy making experience is:
The chance to make your own cuddly toy with Santa's elves in the Toymaker Workshop
A trip to see Santa in his grotto
The Christmas trail, where you'll find mischievous elves hiding
Free hot chocolate for every child
All day admission to Spinnaker Tower
9. Walk around Winchester Cathedral and Christmas Market
CONFIRMED FOR 2023: 17th November to 21st December 2023
What better way to immerse yourself in the Christmas spirit than at Winchester Cathedral?
The monumental Gothic cathedral, in the centre of Britain's former capital city, towers imposingly over the quaint English Christmas Market, which promises tidings of joy. Winchester has one of the best Christmas Markets in Hampshire, if not England.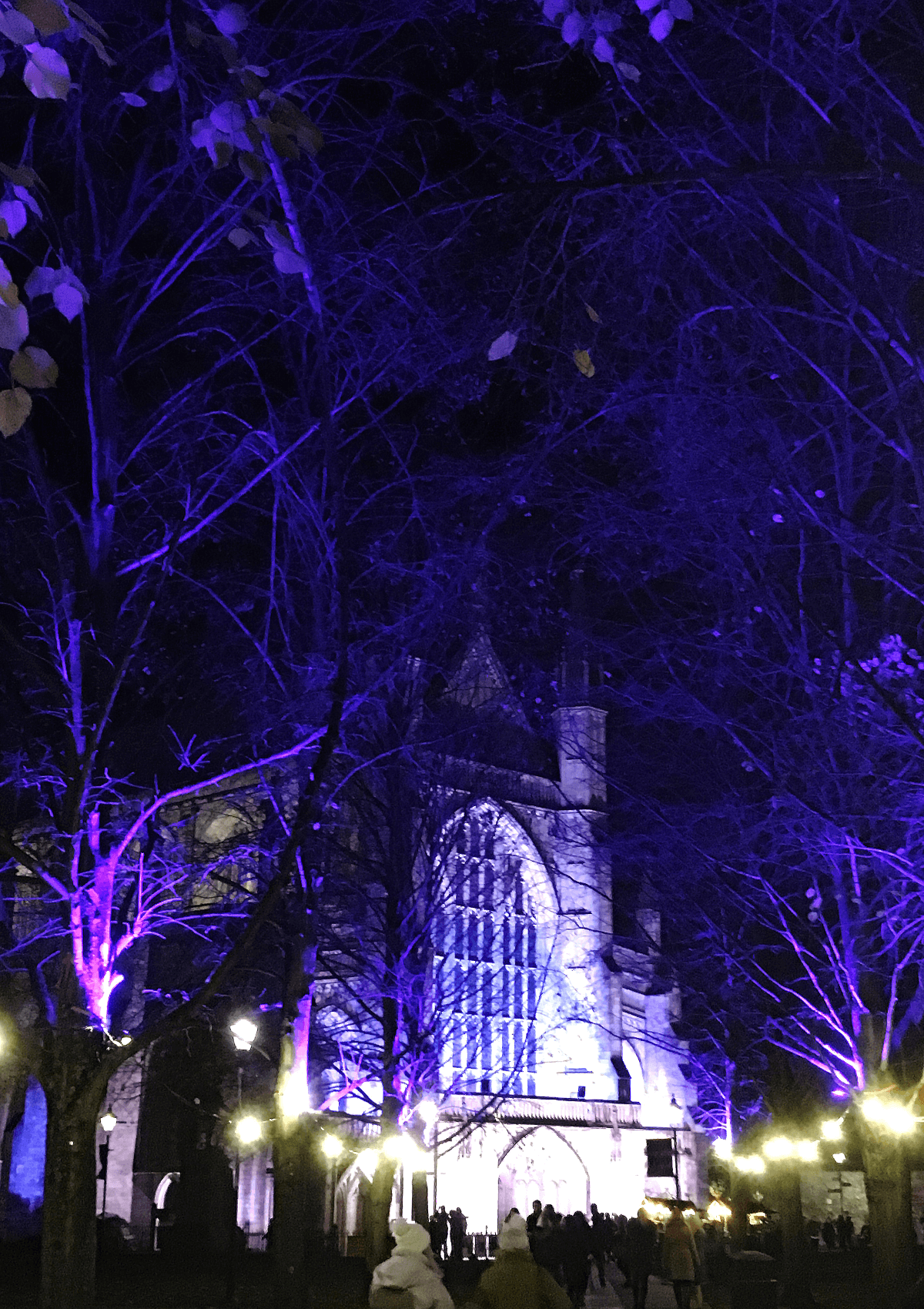 Winchester Christmas Market is right outside the cathedral from 17th November to the 21st December 2023.
Follow your nose to stalls touting fine food and drink. Mulled wine in hand, then follow your ears to join the gathered crowd singing along with the carolling choir. And, full of golden festive spirit, mooch around the stalls and support local craftspeople and traders whilst you do your Christmas shopping.
READ MORE: How to Have the Best Day Out in Winchester
10. See Cinderella at the Theatre Royal Winchester
CONFIRMED FOR 2023: 30th November 2023 – 1st January 2024
This year's pantomime in the Theatre Royal Winchester is a classic; Cinderella! This retelling of the famous fairytale is brought to you by the team that previously performed The Wizard of Oz, and is a perfect Christmas story for the whole family.
There are original songs, all the cheesy jokes you like, plenty of "oh no he didn't!", and a few surprises throughout, too. Tickets start at £10.50, and you'll want to get the whole family together for this one.
READ MORE: What to Do at Christmas on the Isle of Wight
---
11. Take a Christmas journey to the North Pole at Mottisfont
CONFIRMED FOR 2023: 25th November to 7th January 2023
Hampshire is one of the most beautiful counties in the UK, and the National Trust plays an important part in maintaining some of our most stunning historical buildings and natural landscapes.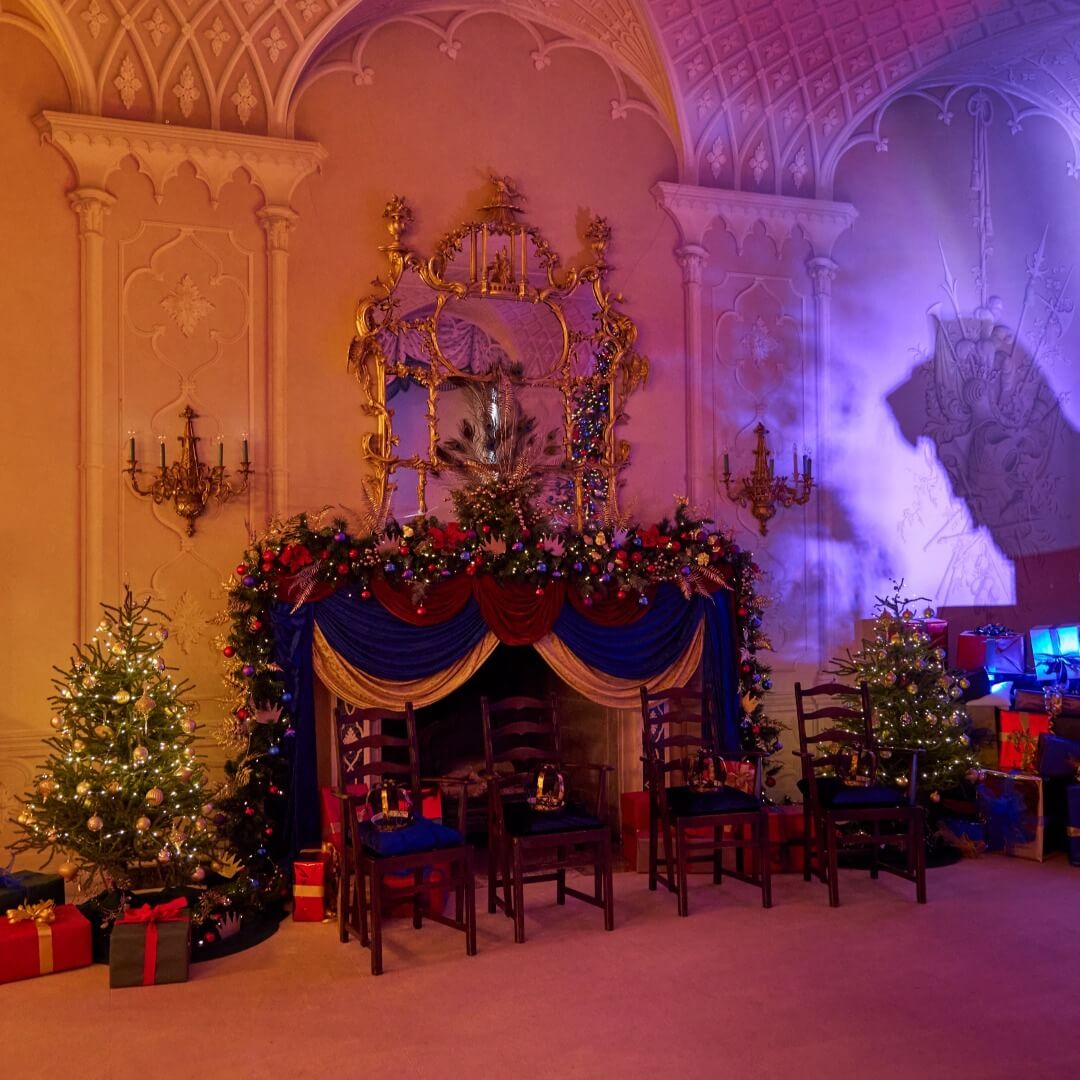 This Christmas at Mottisfont, a National Trust site, you can follow letters to Santa on a magical journey to the North Pole. You'll see festively decorated bedrooms, and even catch a glimpse of the northern lights. If you're looking for serious Christmassy atmosphere, this is the place to be with the whole family.
You can also board the 'Christmas Express' into the North Pole, which will take you straight to the polar bear's ball!
12. Spend Christmas at 4 Kingdoms Adventure Park
CONFIRMED FOR 2023: 25th November to 24th December 2023
4 Kingdoms Adventure Park is paradise for adventurous kids, and it's even better at Christmas. All year round, you can enjoy over 21 play zones, a petting zoo, laser tag, giant slides, dinosaurs and much more, but they up the ante this time of year to ensure everyone leaves thoroughly entertained.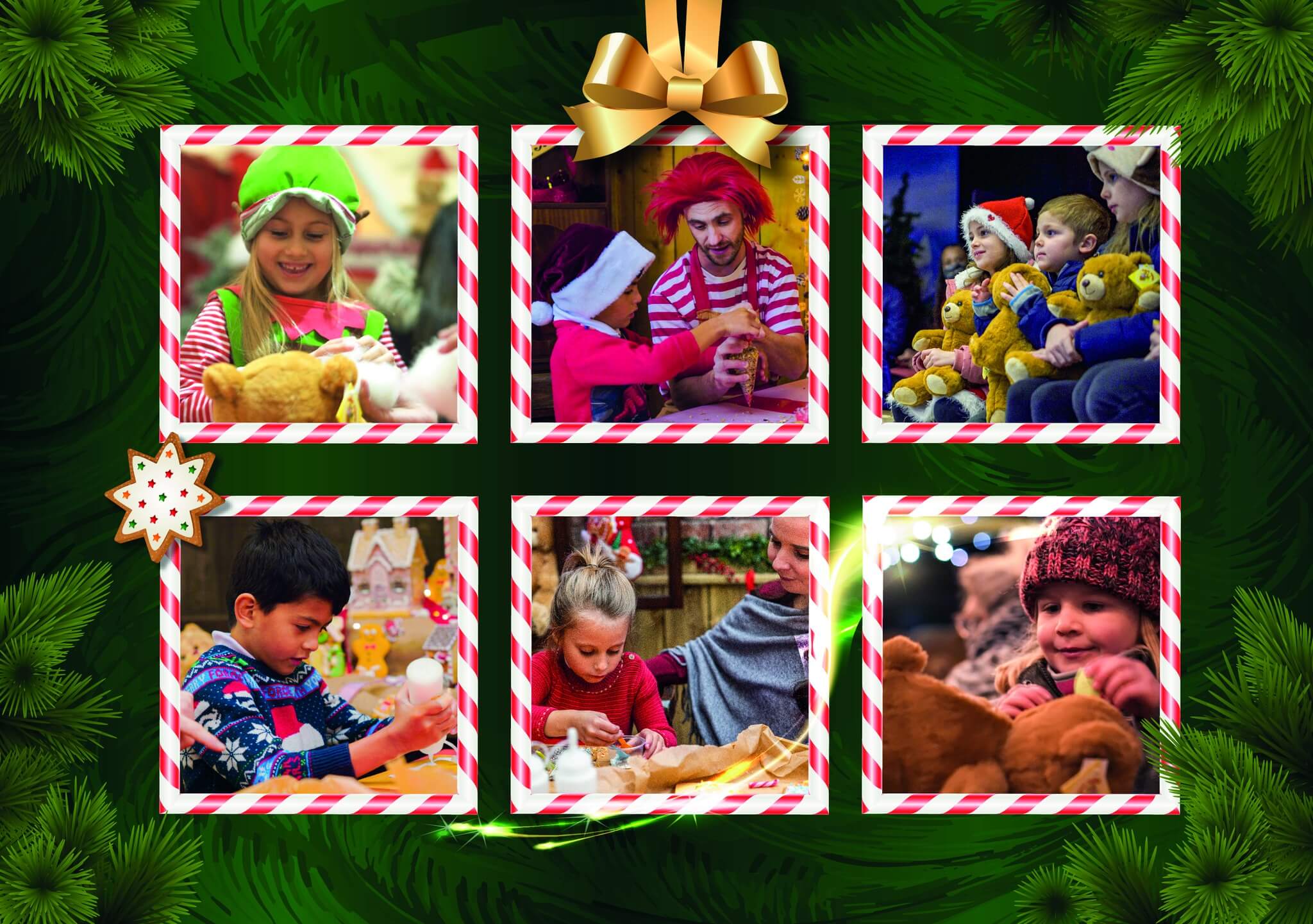 At Christmas, you can meet Santa there, make your own bear, feed the reindeer, decorate cookies, and see shows in their theatre, among many other things. It'll be the magical day you're looking for, while tiring them out just in time for Santa to pop down the chimney!
How about an afternoon tea in Southampton for Christmas?
13. Visit Winter Wonderland on Hayling Island
CONFIRMED FOR 2023: 2nd December to 24th December 2023 (selected dates)
Funland on Hayling Island comes alive during the Christmas season, and this year it's bigger than ever. This spectacular wonderland experience sees you meeting Santa's elves, his reindeer, and Santa himself, who will give you an early Christmas present.
Plus you can walk through the wonderland, and board the Funland Express which will take you past the elf village. Keep your wits about you though, as the Grinch has been spotted from time to time!
While the kids play in the Kidz Kingdom Indoor Play Area, adults can enjoy a mince pie and a tipple at the polar bar.
13 Brilliant Days Out for Christmas in Hampshire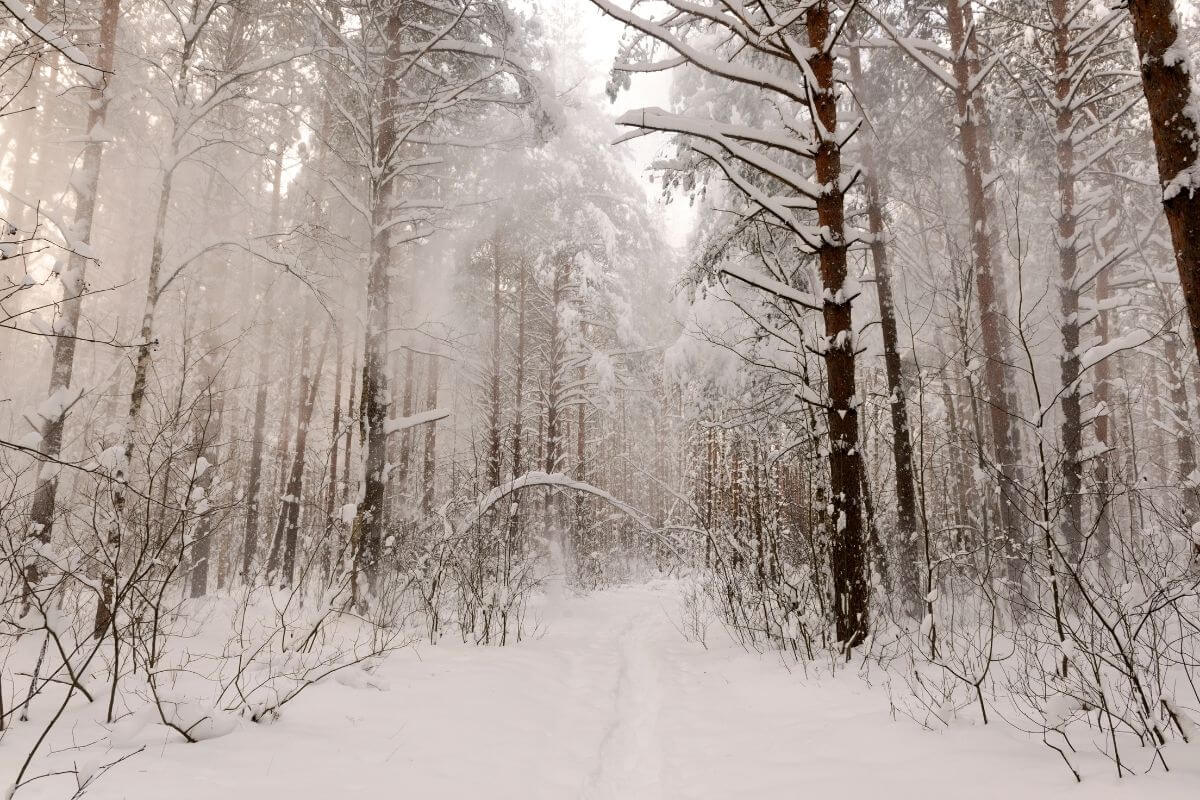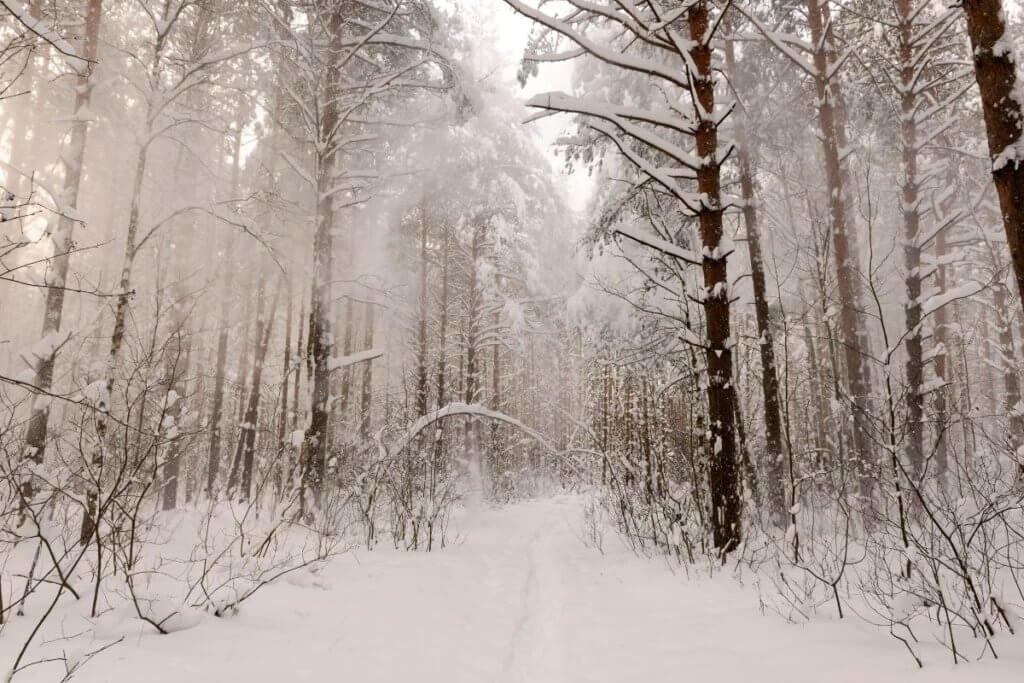 There are loads of great things to do for Christmas in Hampshire. Whether you want a Christmassy Hampshire day out with the kids, or just with the adults, as you can see there's plenty of festive fun to choose from. Portsmouth at Christmas is always fun – no word on whether the Historic Dockyard is running its annual Victorian Christmas this year though. And Southampton at Christmas means ice rinks and festive markets – go!
Living in England we really are spoilt when it comes to where to celebrate Christmas.
Do let us know if you know of any more fun ways to spend Christmas in Hampshire below…
---
Quick List: 13 Brilliant Days Out for Christmas in Hampshire in 2023
1. Spend Christmas with Peppa Pig
2. Sail in a Christmas Canoe with Santa
3. Go deer spotting in the New Forest National Park
4. Visit the animals at Christmas at Marwell Zoo
5. See Steam Illuminations on the Watercress Line
6. Celebrate Christmas at Highclere Castle
7. Mark the Winter Solstice as the ancients did
8. Attend the Christmas Tower Toymaker's Workshop
9. Walk around Winchester Cathedral and Christmas Market
10. See Cinderella at the Theatre Royal Winchester
11. Take a Christmas journey to the North Pole at Mottisfont
12. Spend Christmas at 4 Kingdoms Adventure Park
13. Visit Winter Wonderland on Hayling Island
---