Looking for some inspiration for Christmas markets in England this festive season? Here are 8 of the best for you to add to your wish list.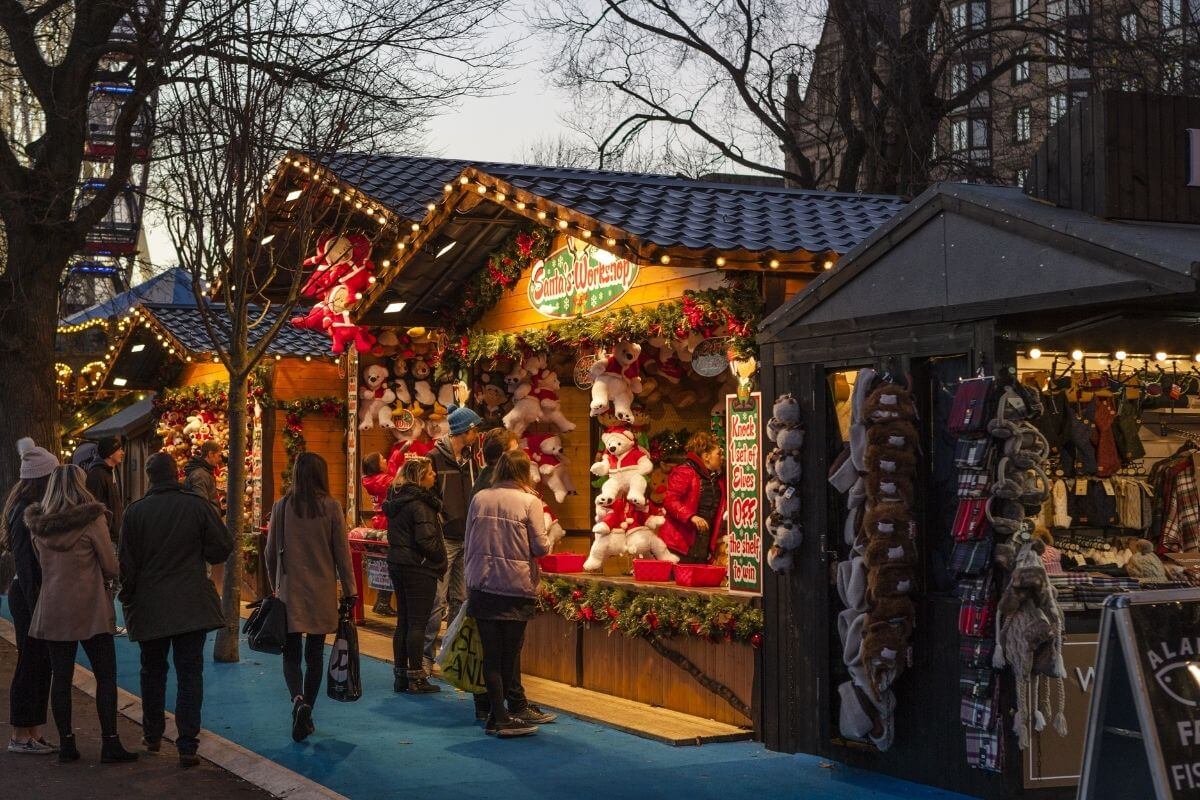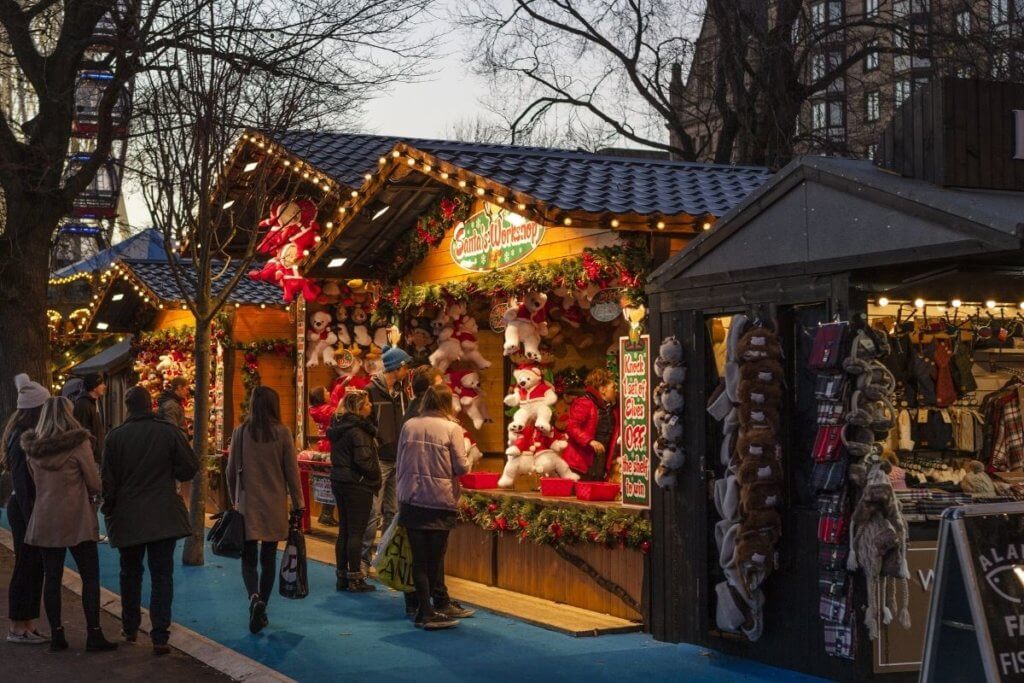 The festive period is fast approaching and what better way to celebrate than with a trip to a Christmas market in England? Christmas markets in England mean sparkling lights, gorgeous presents, carol-singers, ice rinks, and mugs of mulled wine, making the winter holiday season a delightful time of year.
England's cities host some of the most magical Yuletide celebrations, each with a unique look and feel. We've compiled a list of the top Christmas markets in England for you to visit during the festive season.
Best Christmas Markets in England
Read on, and let us know if we've missed your favourite Christmas market below!
---
1. Manchester Christmas Markets
Albert Square, Manchester
STILL TO BE CONFIRMED FOR 2022: BUT POTENTIALLY 12th of November to the 22nd of December
Manchester is home to some of the best Christmas markets in the country and is known as one of the best markets in Europe. There are more than nine of them scattered throughout the city centre, which makes it a true paradise for Christmas enthusiasts!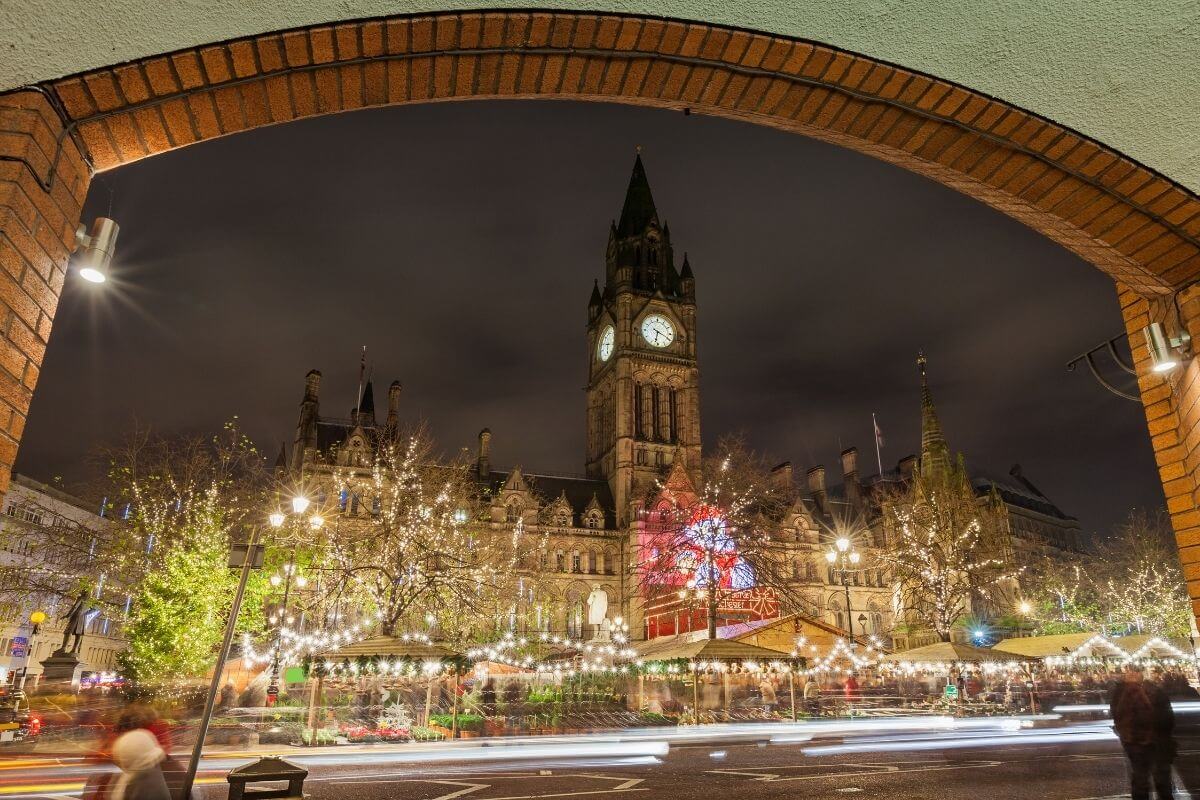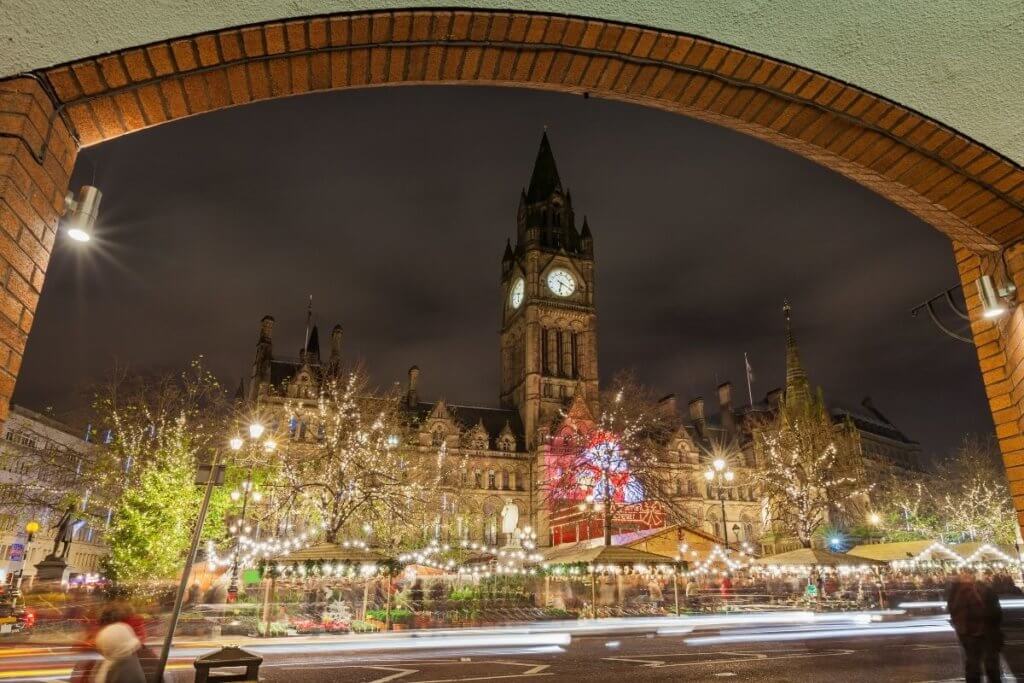 You'll find a diverse range of food and drink stalls at all of them, each offering a unique experience. The largest market is in Albert Square, which features a German village packed with food and drink stalls. If you're visiting Manchester in December, it's a must do!
This could be the perfect opportunity to pick up some great gifts for 'him' too.
Manchester Christmas Market Locations and opening dates and times in 2021 (will be similar in 2022)
Albert Square: Friday 8 November to Sunday 22 December, 10am to 9pm.
Cathedral Gardens: Friday 8 November to Sunday 5 January, 10am to 9pm
Piccadilly Gardens: Friday 8 November to Sunday 22 December, 10am to 9pm
Market Street: Friday 8 November to Saturday 21 December, 10am to 9pm
Exchange Square: Friday 8 November to Saturday 21 December, 10am to 9pm
New Cathedral Street: Friday 8 November to Saturday 21 December, 10am to 9pm
King Street: Friday 8 December to Saturday 21 December, 10am to 9pm
St Ann's Square: Friday 8 November to Saturday 21 December, 10am to 9pm
---
2. Winter Wonderland
Hyde Park, London
GOING AHEAD IN 2022: 18 November 2022 to 2 January 2023
The annual Hyde Park Winter Wonderland is situated in one of the city's most spectacular parks. You'll find over 100 illuminated wooden chalets decorated in Bavarian style selling handicrafts and gifts from around the world. You can also enjoy traditional German street food and mulled wine.
Other festive activities at this, one of England's top Christmas Markets, includes rides, the largest outdoor ice-skating rink in Britain, Santa's Cave, a Ferris wheel, circus shows, and themed bars with live music are also available on the premises. We'd recommend trying to go on a weekday to avoid queues, or in the evening early on in the festive season.
---
3. Birmingham Frankfurt Christmas Market
Victoria Square, Birmingham
CONFIRMED FOR 2021: 4 Nov 2022 – 23 Dec 2022
In Birmingham, you can find the largest authentic German Christmas Market outside of Germany. Anyone looking for some Christmas gifts will find beautiful decorations and handcrafted items to choose from, but the real reason to go is for the fab food and drink.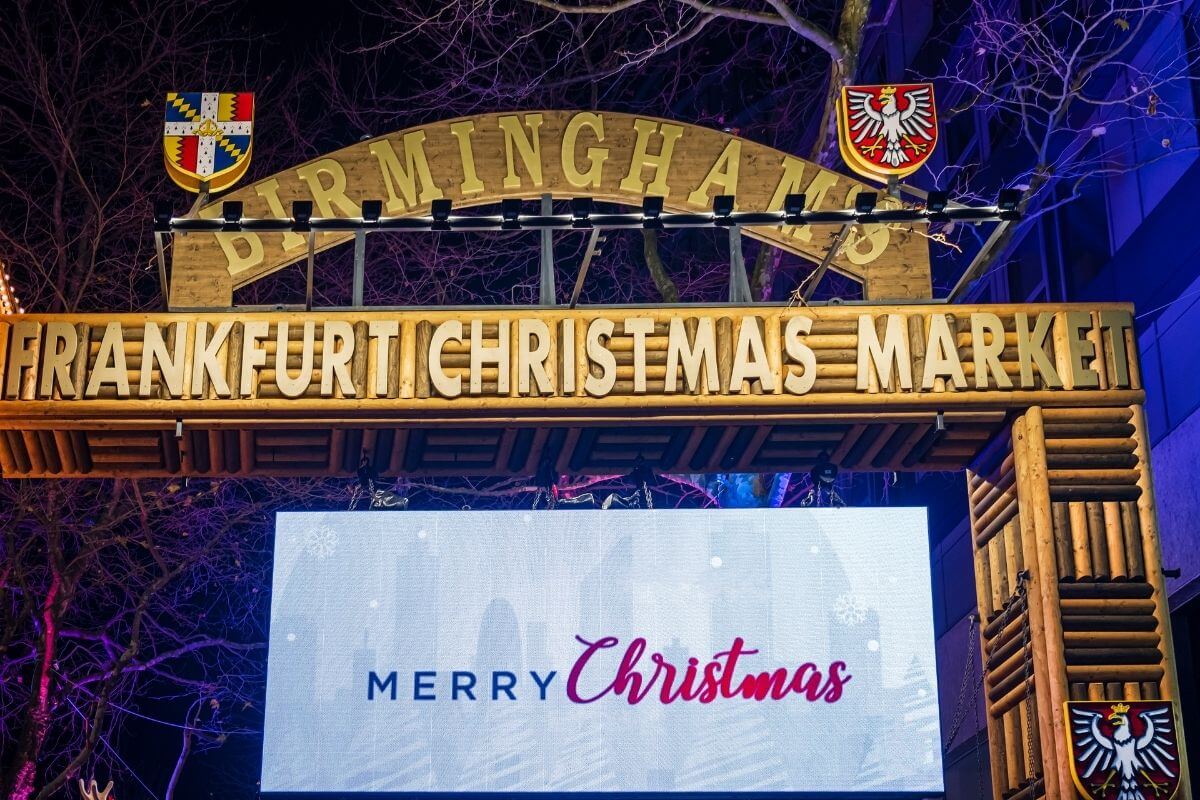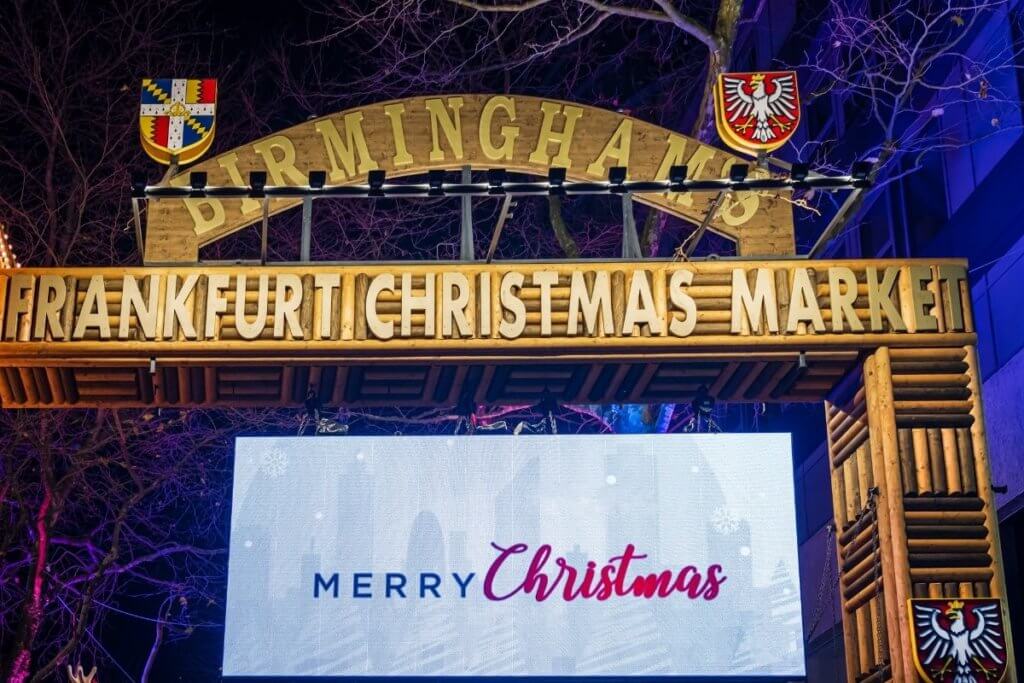 Victoria Square is filled with the most delicious smell of Christmas as stalls sell traditional German food. You can sample authentic bratwurst, pretzels, schnitzels, and hot chestnuts. You can even get half-metre sausages, if that sounds good to you – and if you're thirsty there are four pint jugs of beer or sweet little mugs of flavoured gluhwein too.
Birmingham is one of the best Christmassy days out in England and the perfect place to enjoy a truly festive Christmas in England.
---
4. Leeds Christkindelmarkt
Millennium Square, Leeds
CONFIRMED FOR 2022: Nov 5 – Dec 18, 2022
Leeds Chrsitkindelmarkt is one of the oldest German Christmas markets in England. Throughout the square are wooden stalls selling beautiful toys, jewellery, crafts, decorations, and other items. A jingling carousel ride with lively Christmas music and vibrant coloured lights creates a festive mood throughout the entire Christmas village.
The fairground style rides for children and its 'Breakfast with Santa' experience are among its most popular attractions. This is a ticketed event that happens on Saturday and Sunday.
The Bavarian style restaurant Alp Chalet is in the centre of Millennium Square, and during Christmas, families and kids are invited to enjoy a Christmas breakfast with Santa in traditional German style.
---
5. Bath Christmas Market
Abbey Churchyard, Bath
GOING AHEAD IN 2022: Thursday 24th November to Sunday 11th December
Bath hosts one of the most beautiful Christmas markets in England every year.
During the winter months, Bath isn't only wonderful due to its gorgeous architecture, but even more beautiful thanks to its festive atmosphere, and the excellent Bath Christmas Market. A day out in Bath is always a good idea, particularly in winter when it's definitely one of the best festive days out in the Cotswolds.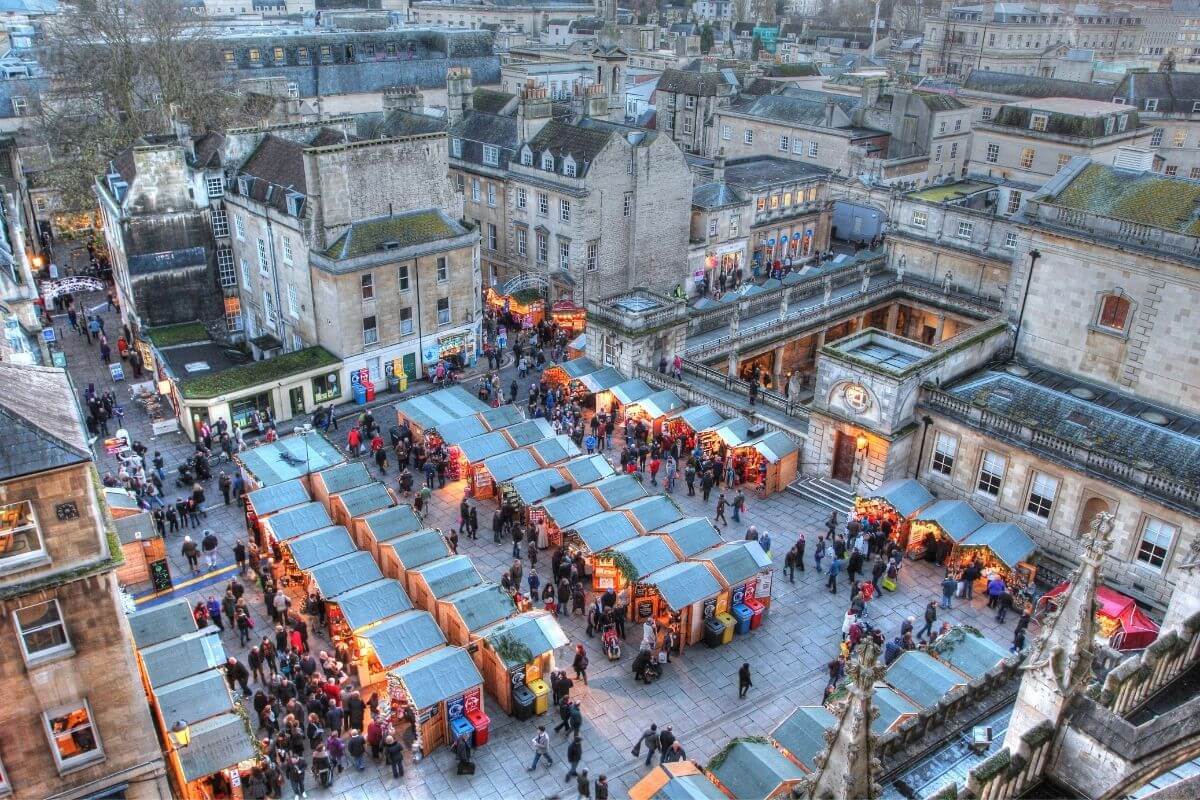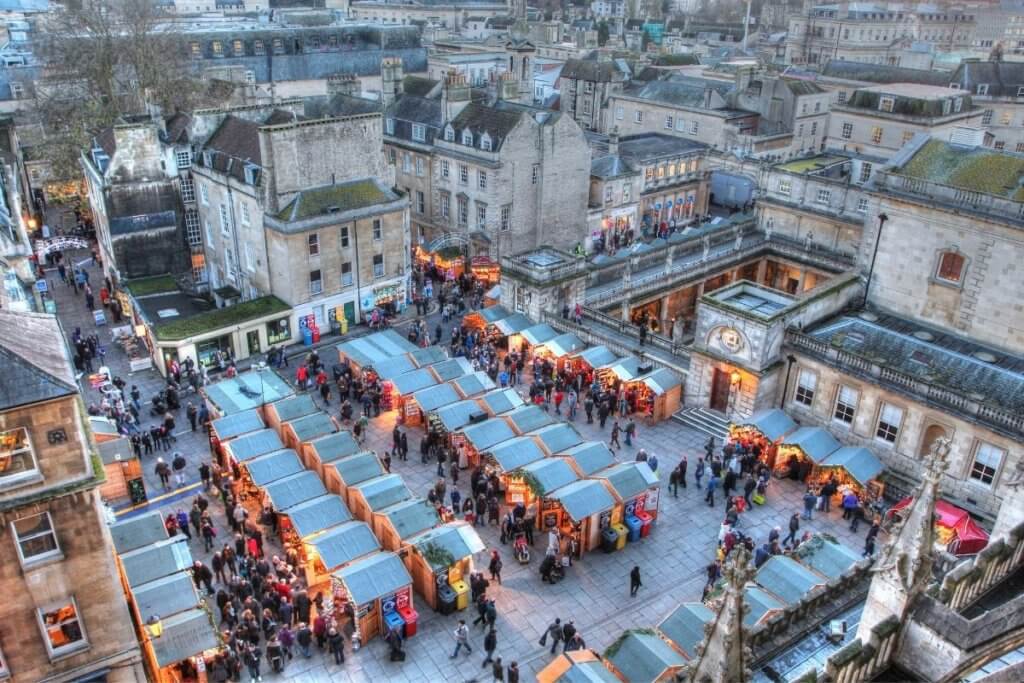 Christmas Markets with stalls are spread all over Bath, on its streets and in small squares surrounding Bath Cathedral. It's possible to find independent producers selling their products on many stalls. It's a great place to find all kinds of handcrafted gifts and decorations, as well as some of the best food and mulled wine. Festive streetlights are strung on the town's most iconic buildings and streets. A major feature of Bath Christmas Market is the Victorian merry-go-round, suitable for children and adults on the horses or in carriages.
---
These Christmas markets make for some of the best days out in November for all.
---
6. York's St Nicholas Christmas Fair
Parliament Street, York
GOING AHEAD IN 2022: 17th November to 23rd December 2022
York's Christmas Market is one of the most picturesque Christmas markets in England. Wooden, alpine-style chalets border York's pedestrianised city streets, selling locally manufactured crafts, art, food, and drink. Shoppers can enjoy a range of tantalising free samples to try as well as one-of-a-kind presents to purchase. A big, decorated Christmas tree, live entertainment, and beautiful night time illuminations help to create a bright festive mood.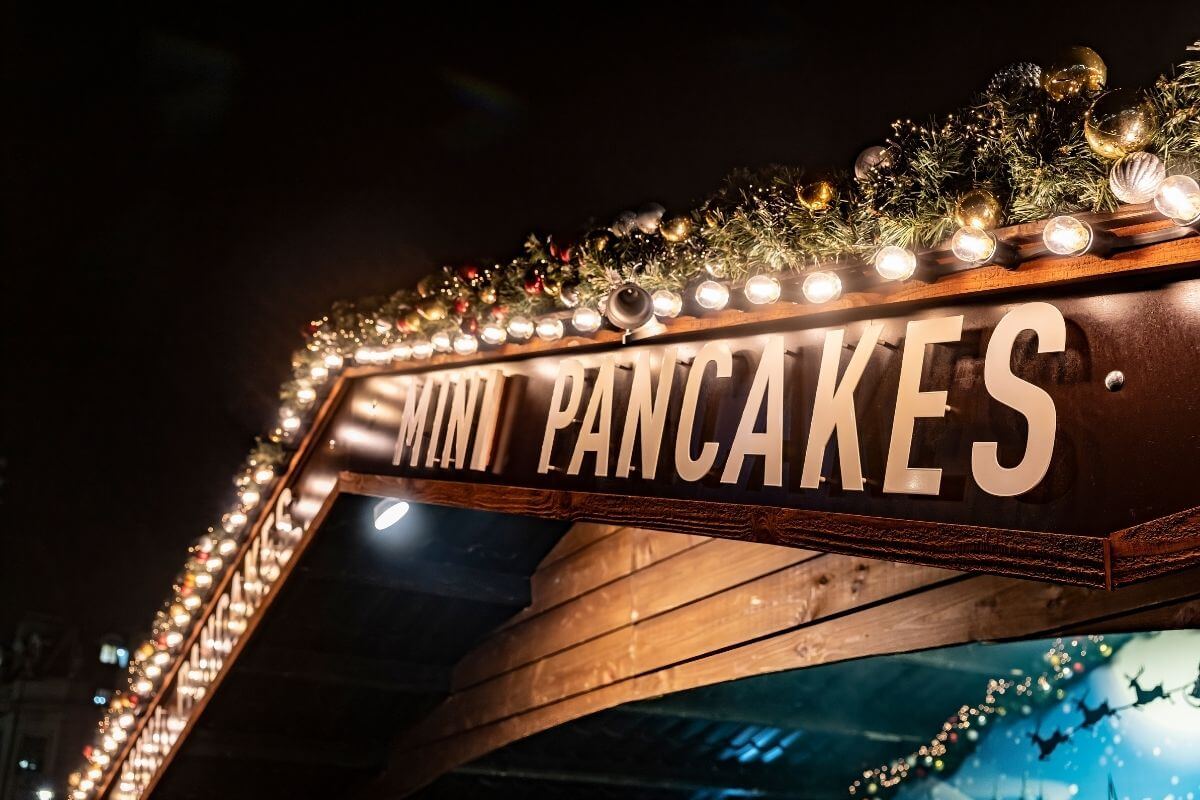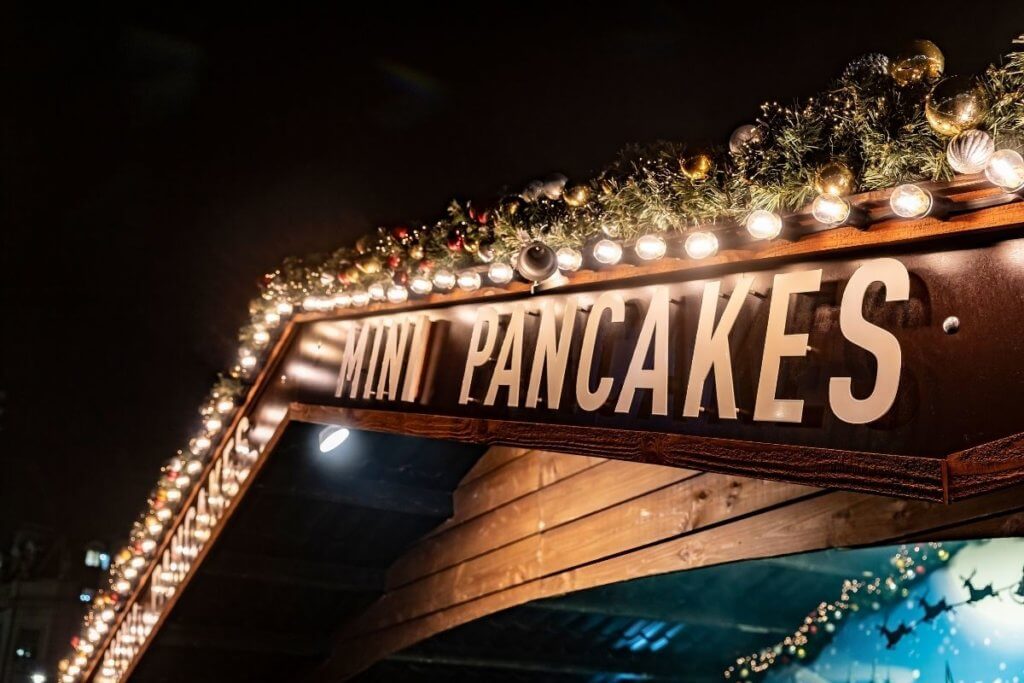 Thor's Tipi, a massive canvas tipi specially created for the Christmas season, is the show-stopper at the Christmas market. Foot-sore customers can relax on soft blankets in front of a roaring log fire and sip mulled wine or creamy hot chocolate and soak up the atmosphere. York Christmas Market is one of the best Christmas days out in Yorkshire!
---
7. Bristol Christmas Market
Broadmead, Bristol
GOING AHEAD IN 2022: 4 Nov to 23 Dec 2022
Bristol Christmas Market in England is more about spending time to appreciate the ambiance and allowing yourself the opportunity to relax or see friends. The Bristol Christmas Market takes place in Broadmead, the city's Shopping Quarter. It's a compact but well structured market with a well-planned assortment of booths offering something unique, ensuring you'll discover the ideal one-of-a-kind Christmas gift.
The bar at the heart of the market attracts families with a singing reindeer at the entrance, and while they do serve alcoholic drinks, you can also get a reasonably priced hot chocolate to keep you warm while listening to your favourite festive tunes and watching the frantic last-minute shoppers running past. Check out our itinerary for a great day out in Bristol to see what else there is to do while you're there.
READ MORE: 10 Best Day Trips from Bristol You NEED to Try
---
8. Chester Christmas Market
Northgate Street, Chester
GOING AHEAD IN 2022: Thursday November 18th until Wednesday December 22nd 2022
This mediaeval city in northwest England is notable for its Roman fortifications and walls, as well as Tudor-style timber houses. Then there's the magical Chester Christmas Market. This is one of the greatest English Christmas markets to visit if you're looking for something a bit more traditional. Over 70 traditional wooden chalets are situated on the city's Town Hall Square, with the magnificent Chester Cathedral as a backdrop. Visiting makes for a great day out in Cheshire.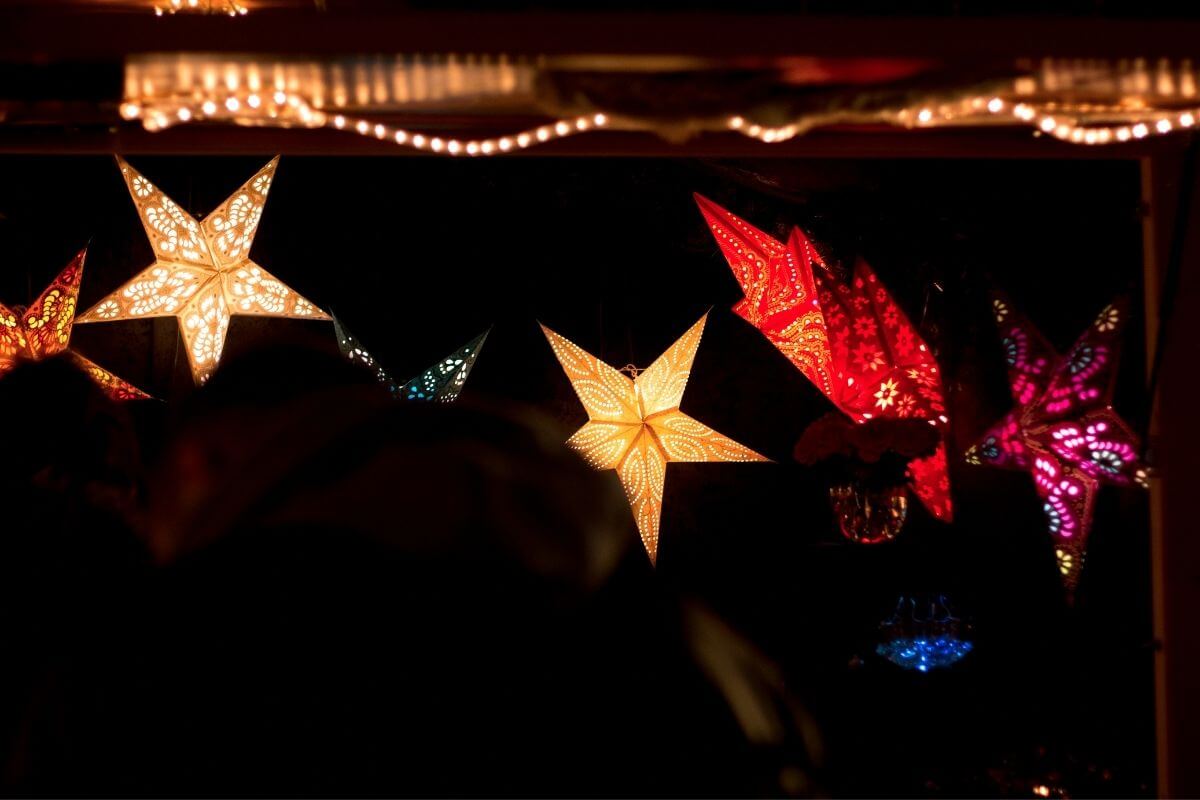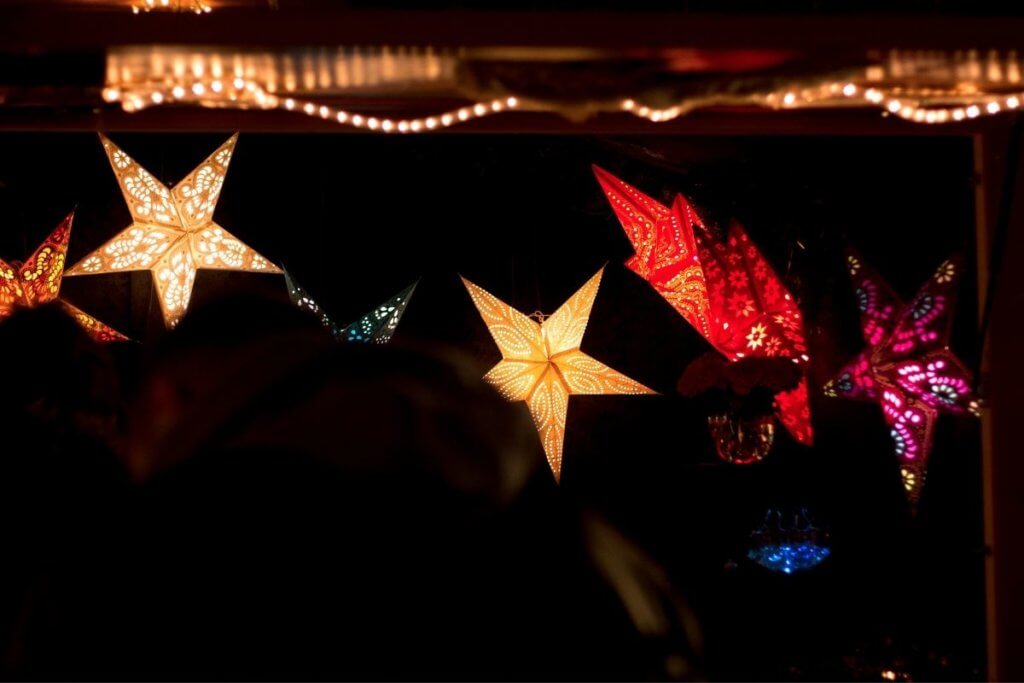 Pick up some mulled wine or a tasty hog roast bap after browsing the stalls for handmade crafts, clothing, jewellery, and local produce. Stop by the Real Ale Bar for a Christmas drink or a local cask ale and take a photo in front of the spectacular Christmas tree to really make your Chester Christmas Market experience.
---
9. Winchester Christmas Market
Winchester Cathedral, Winchester
GOING AHEAD IN 2022: 18TH NOV – 22ND DEC 2022
What better way to immerse yourself in the Christmas spirit than at Winchester Cathedral?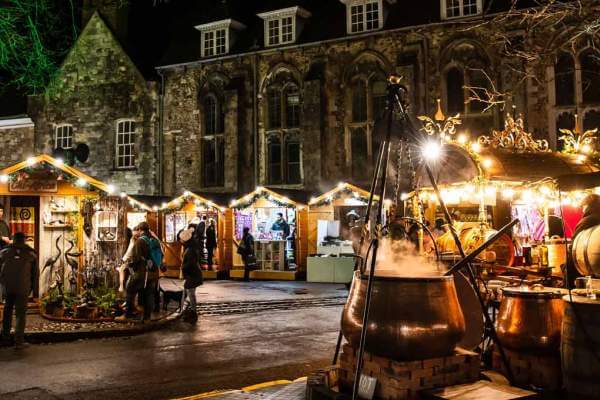 The monumental Gothic cathedral, in the centre of Britain's former capital city, towers imposingly over the quaint English Christmas Market, which promises tidings of joy. Winchester has one of the best Christmas Markets in Hampshire, if not England.
Follow your nose to stalls touting fine food and drink. Mulled wine in hand, then follow your ears to join the gathered crowd singing along with the carolling choir. And, full of golden festive spirit, mooch around the stalls and support local craftspeople and traders whilst you do your Christmas shopping. Winchester is a great city for a wintry day out.
---
READ MORE: 10 Best Christmas Days Out in Oxfordshire
---
Christmas Markets in England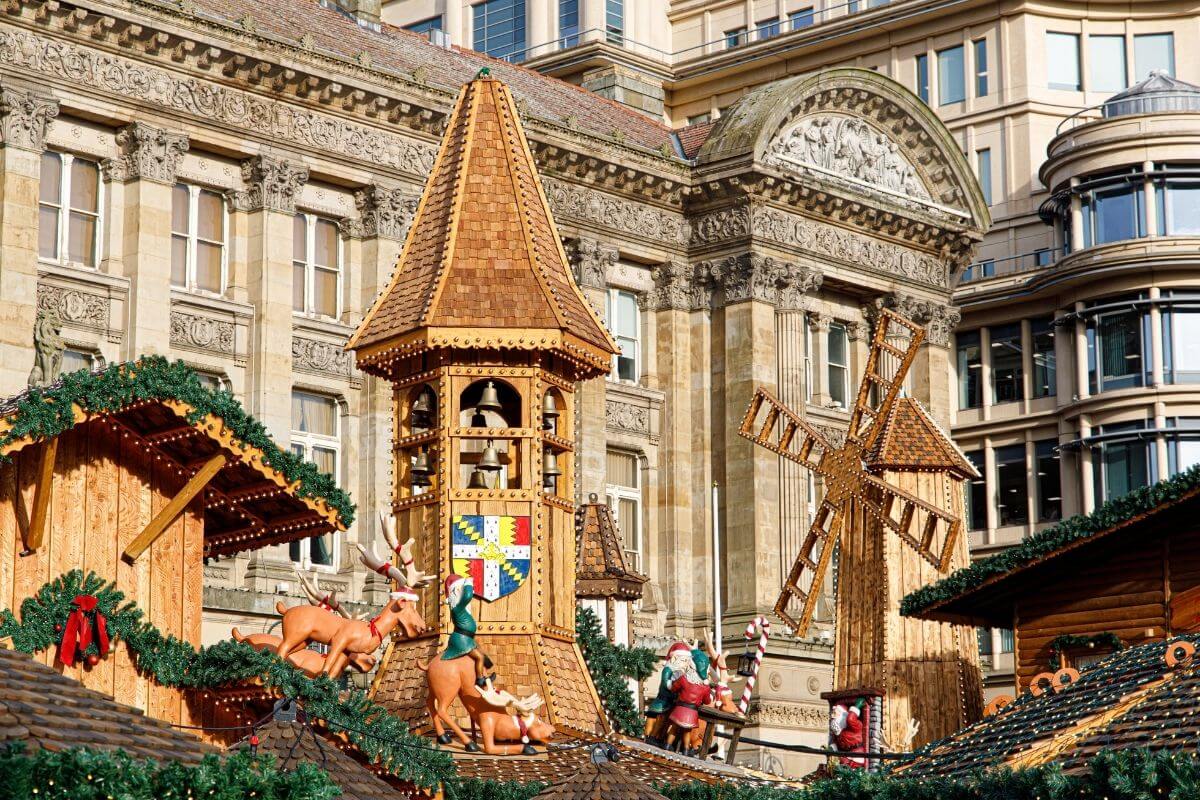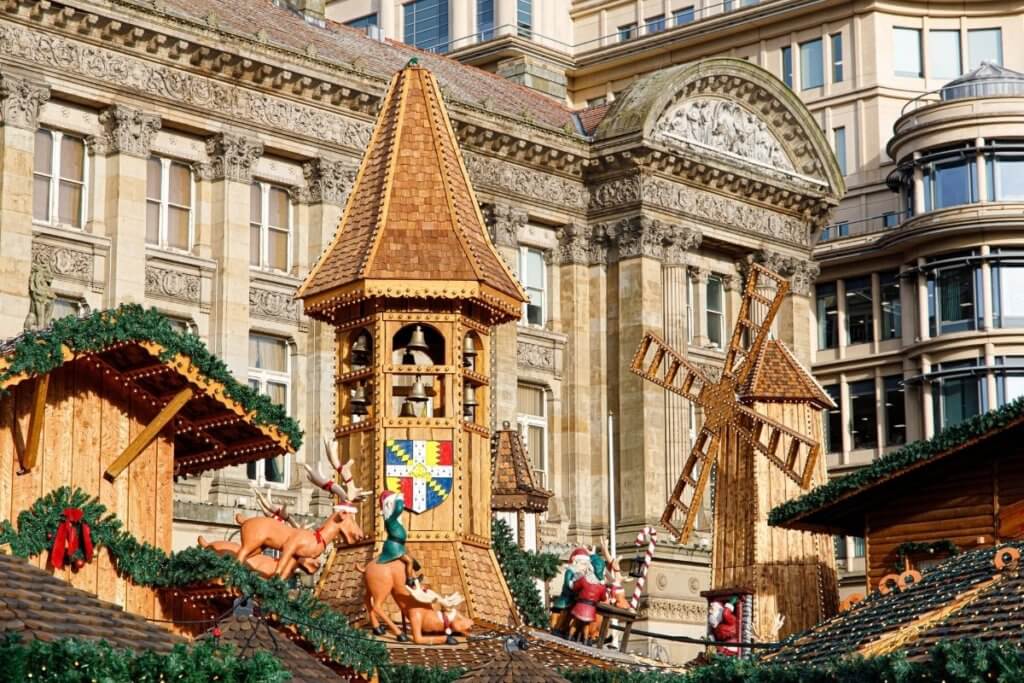 Every big city has a Christmas Market when the time is right – we haven't even mentioned London or Winchester yet!. England's Christmas Markets are fun, they're festive and the fragrance of mulled wine on the airwaves keeps the punters coming. Choose your local one, choose the best sounding one, and choose a wild card, and then have a great time exploring England via its fabulous Christmas markets!
---
Quick list of the best Christmas markets in England
1. Manchester Christmas Markets
2. Winter Wonderland
3. Birmingham Frankfurt Christmas Market
4. Leeds Christkindelmarkt
5. Bath Christmas Market
6. York's St Nicholas Christmas Fair
7. Bristol Christmas Market
8. Chester Christmas Market
9. Winchester Christmas Market
---