The best days out for Christmas in the Lake District attract visitors in their droves every year. From festive markets and Dickensian fayres to lake cruises and steam train rides, here are some of the most popular annual Lake District Christmas attractions.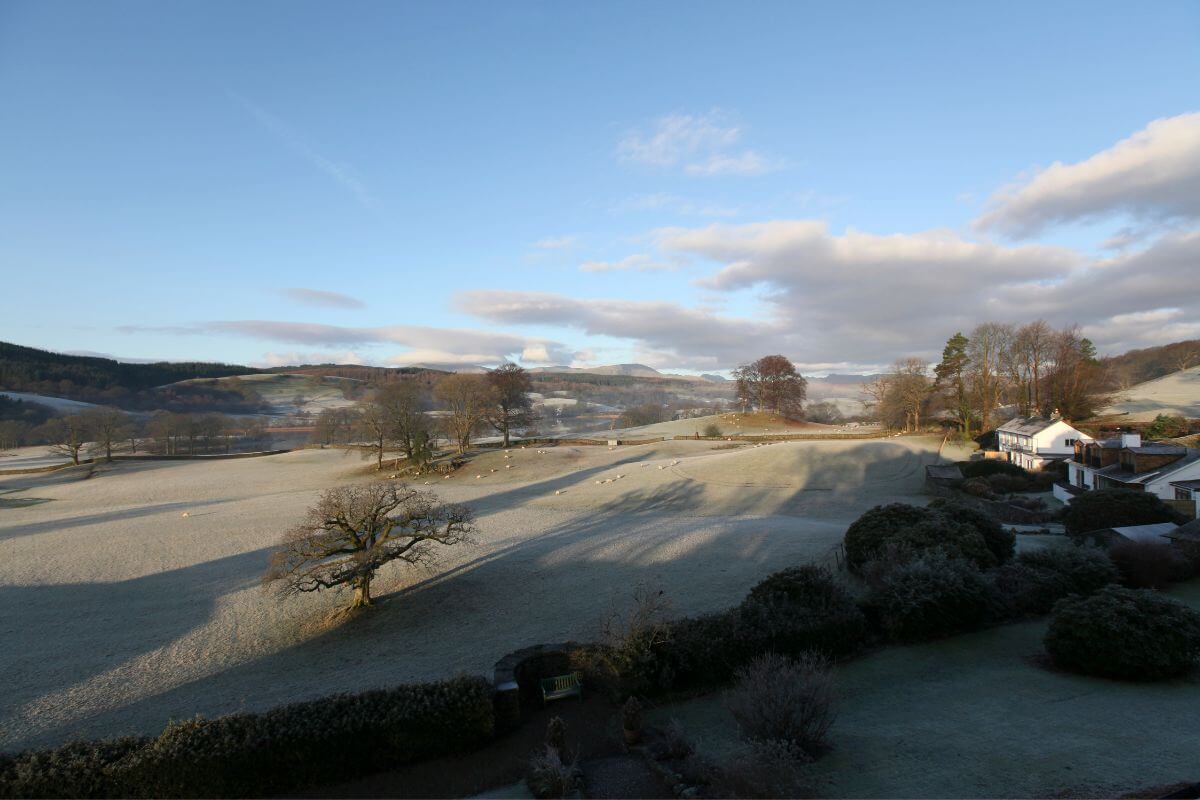 The Lake District may be at its busiest during summer, but there's no reason to let cold weather conditions put you off a visit to the Lake District at Christmas.
This beautiful region hosts a diverse variety of events during the festive season, from Santa-themed steam train rides to Dickensian street festivals.
Whether you want to visit a Christmas market, see colourful illuminations, attend a festival or simply take in the views of snow-capped peaks, there's plenty to do at Christmas in the Lake District.
So, let's dive into some of our favourite days out at Christmas in the Lake District.
Best Days Out at Christmas in the Lake District
From Victorian-themed parades to festive lake cruises, there's no shortage of amazing things to do in the Lake District at Christmas.
1. Ambleside Christmas Lights
During the festive season, many of the Lake District's prettiest villages and towns become even prettier with the addition of Christmas decorations and fairy lights that illuminate streets and historic buildings.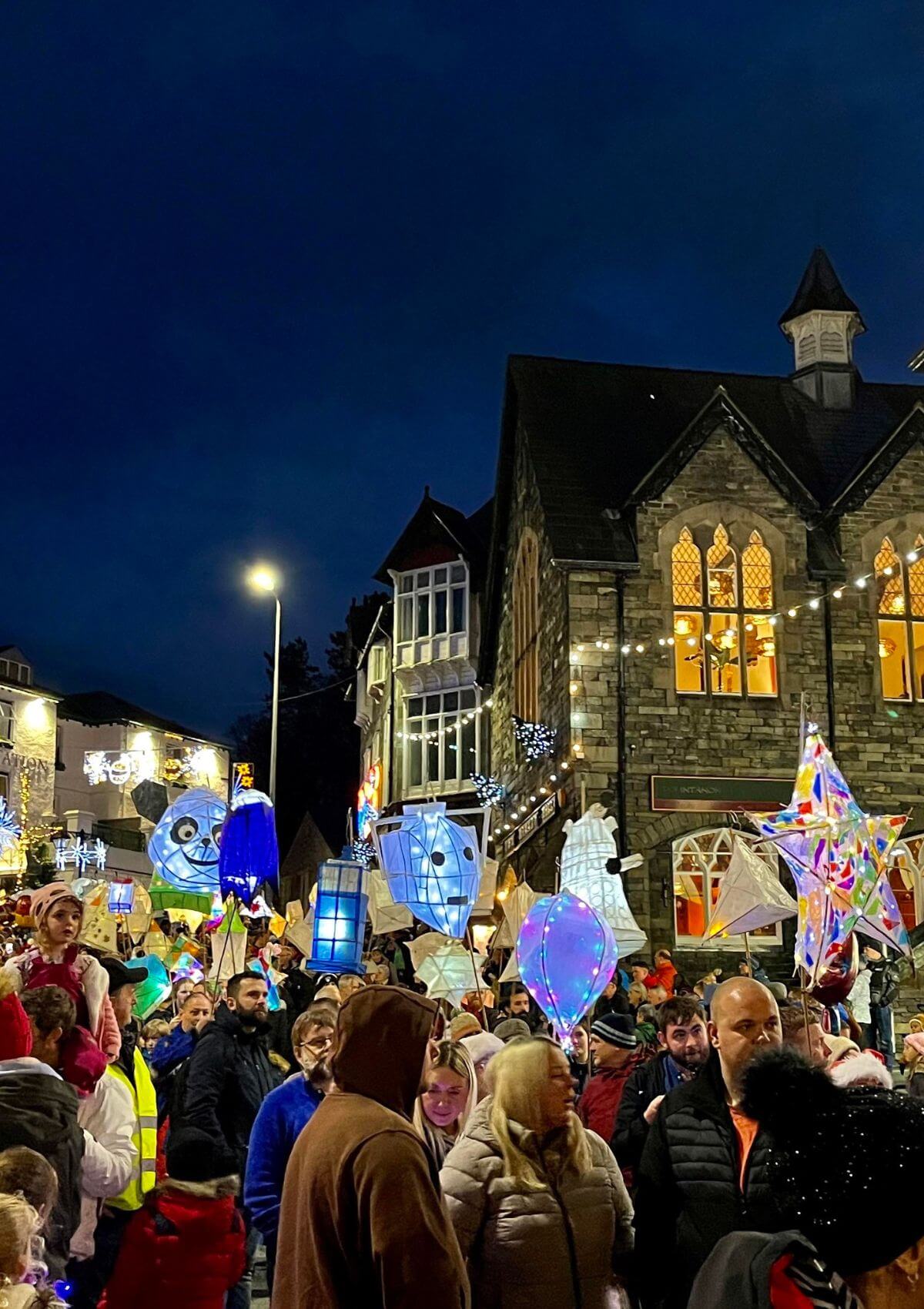 One of the most popular places to see Christmas illuminations in the Lake District is Ambleside, which can be buzzing with tourists at any time of the year. The town's Christmas lights are usually turned on in November and add colour to the area throughout December. There's also usually a lantern parade and an appearance from Santa.
Other towns in the lake district that boast annual Christmas illuminations include Ulverston, Cockermouth and Kirkby Lonsdale, which is one of the best places to spend Christmas in the South Lakes. Keep your eyes peeled for event and date confirmations for Christmas events in 2023! 
2. Hawkshead Christmas Market
During the festive season, we love stocking up on quirky gifts and digging into delicious bites at Christmas markets, and the Lake District is home to some of the best.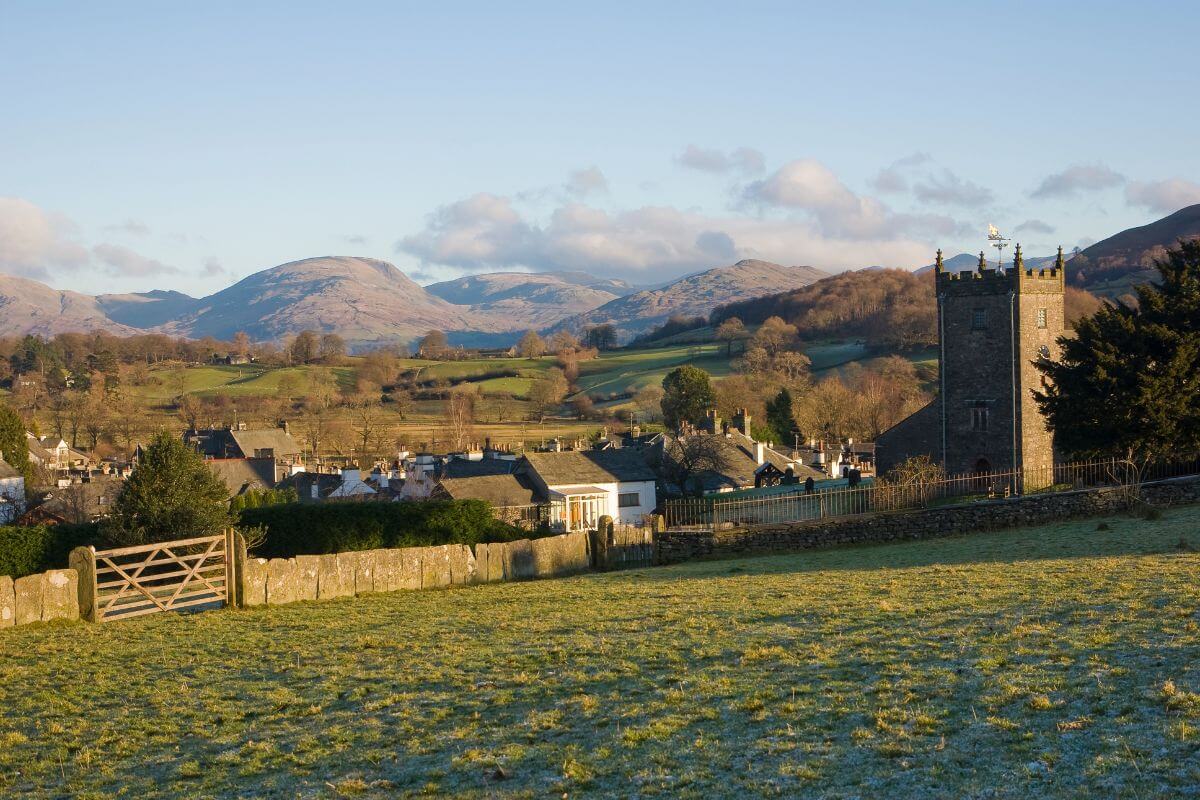 One of the most magical markets takes over the cobbled streets of Hawkshead, where around 50 stalls sell festive food, crafts and presents. Entertainment is provided in the form of street performances, live music and even circus acts. On top of those treats for the kids, Santa usually makes an appearance.
Adults are well catered for at the Hawkshead Christmas Market, too. Most years, several pubs in the village host a mini beer festival. If you enjoy a tipple at the 'right time and place', the Hawkshead Christmas Market is it.
In 2023, the Hawkshead Christmas Market is scheduled to be held on the 2nd and 3rd of December. You'll also find Christmas markets in the Lake District in towns and villages such as Windermere, Ambleside, Kendal and Penrith.
If you still haven't decided where to spend Christmas, you might want to read about some of the best Christmas markets across England.
3. Rydal Mount Christmas Fair
Given the region's literary heritage, it's no wonder that many Lake District Christmas events pay homage to legendary authors that have called the place home. For a festive experience with insights into the life and work of William Wordsworth, head to the Rydal Mount Christmas Fair.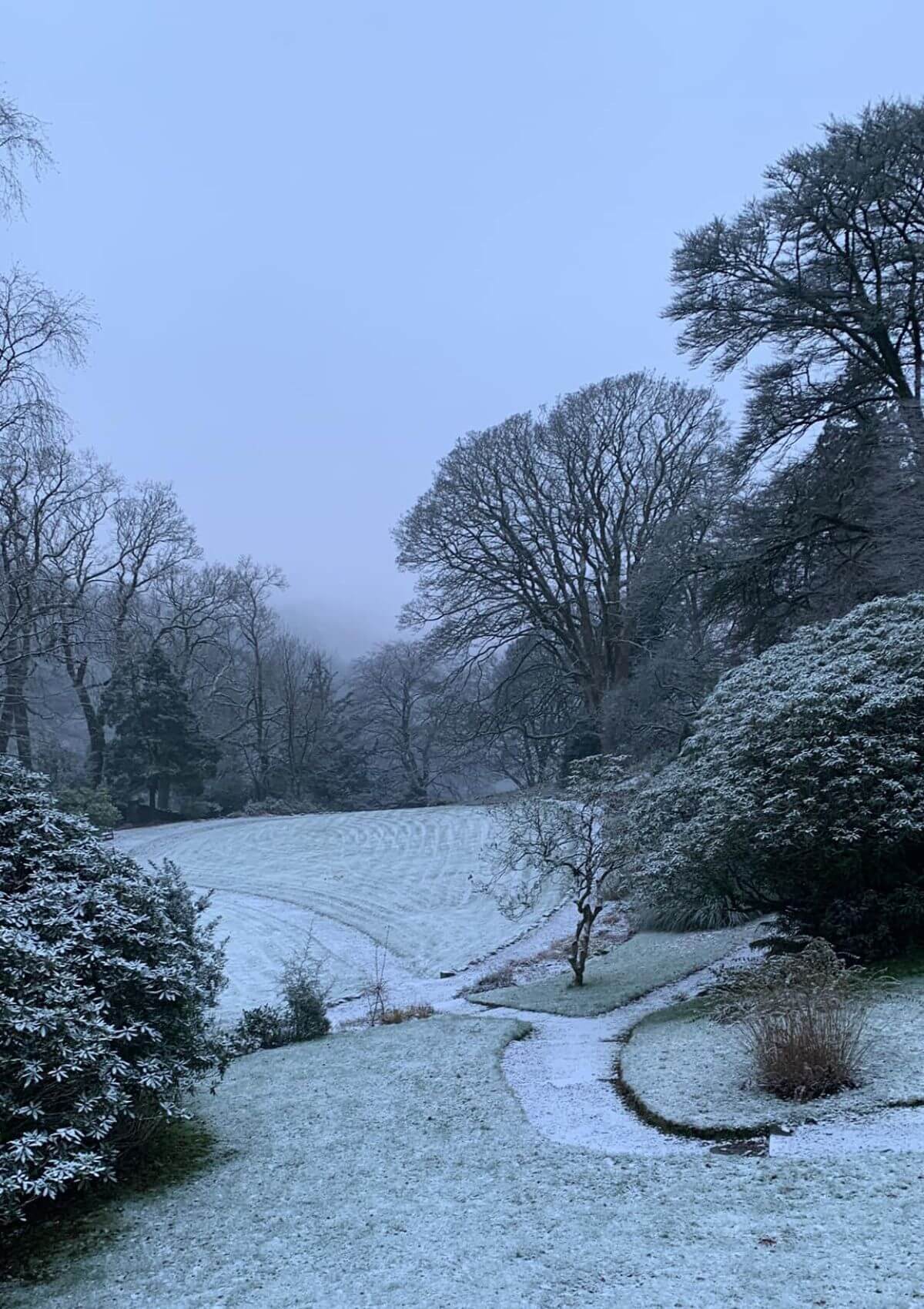 Past Christmas events in the Lake District at Rydal Mount – the former home of William Wordsworth – have included craft workshops in garden gazebos, live music and samplings of minced pies and mulled wine. Visitors could also browse the house's interior and its exhibits as well as stock up on festive goods from local market vendors.
Rydal Mount isn't just one of our favourite Christmas events; it's also one of the best places to visit in the Lake District regardless of the season.
4. Ulverston Dickensian Festival
Another one of the Lake District's annual Christmas events that celebrates a legendary writer is the Ulverston Dickensian Festival, which – as the name suggests – honours Charles Dickens, author of Christmas books such as the famous 'A Christmas Carol'.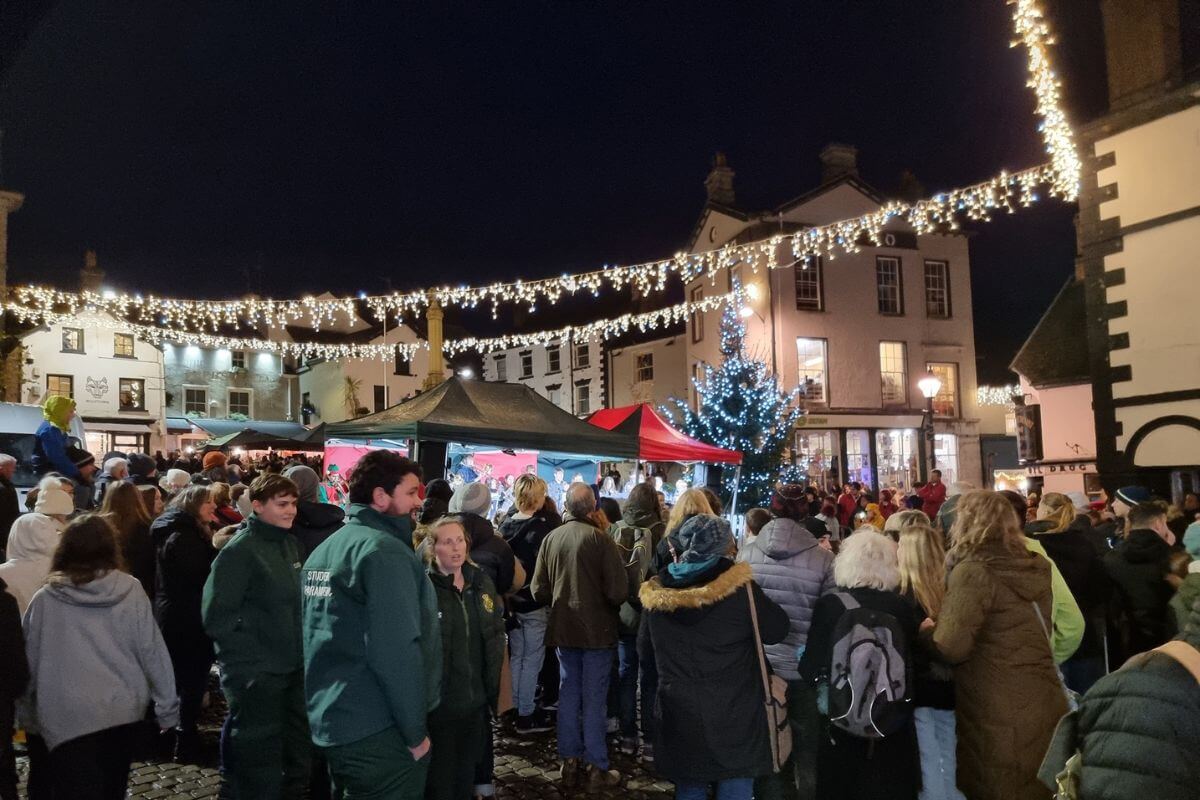 Run entirely by local volunteers, the Ulverston Dickensian Festival takes over the streets of Ulverston every year, usually late in November. While 2023's event is yet to be confirmed, the festival usually features market stalls, free entertainment, charity fundraisers, and plenty of people in Victorian-era costumes. This wonderful festival is certainly one of the best Christmas days out in England.
5. Keswick Victorian Fayre
While we're on the subject of Victorian-themed Christmas festivals in the Lake District, we need to give a quick mention to the annual Keswick Victorian Fayre.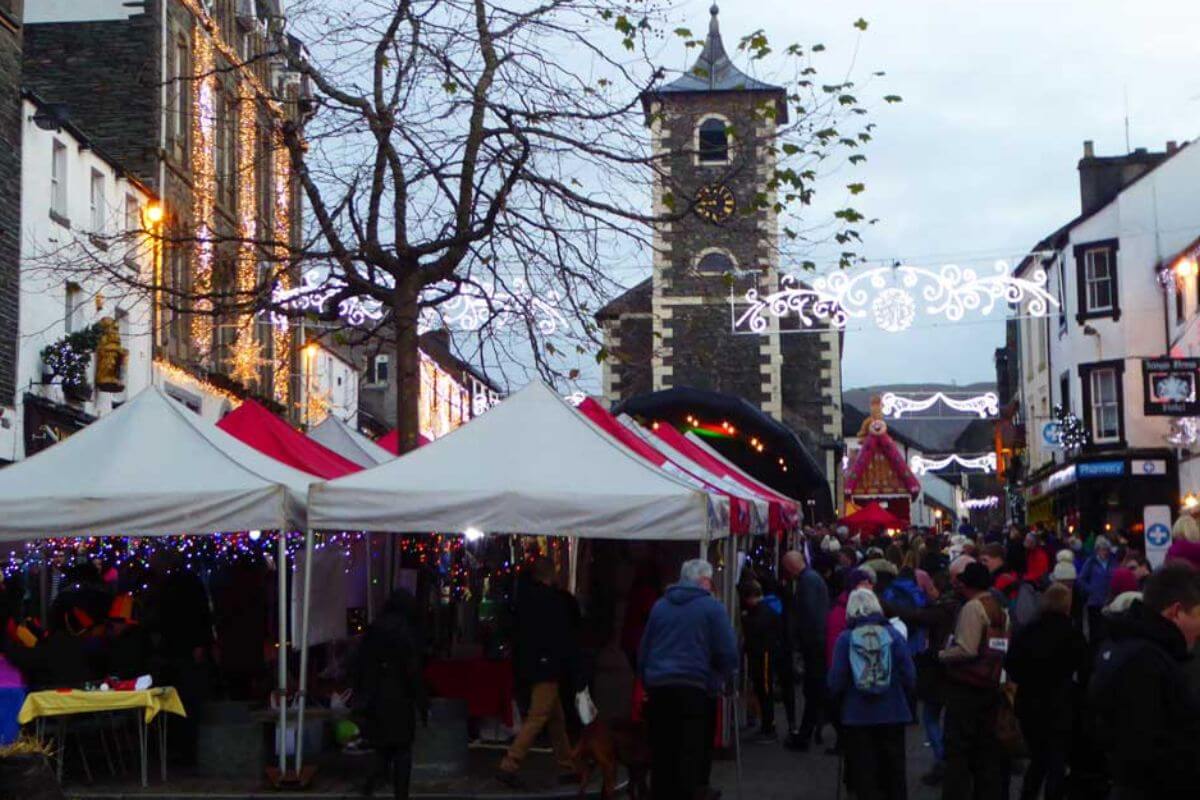 In the spirit of the season, the Keswick Victorian Fayre raises money for local charities by hosting around 30 stalls selling festive bites, homemade crafts and local produce. Live entertainment is provided by local choirs, artists, musicians and dancers. For the kids, there are fairground rides plus traditional games like tombolas.
We'll keep you updated with the latest news regarding the Keswick Victorian Fayre line-up for 2023.
6. Ravenglass and Eskdale Railway Santa Express
There's so much more than just markets and illuminations at Christmas in the Lake District. If you're looking for a unique adventure through the region's frost-covered landscapes, hop aboard the Ravenglass and Eskdale Railway.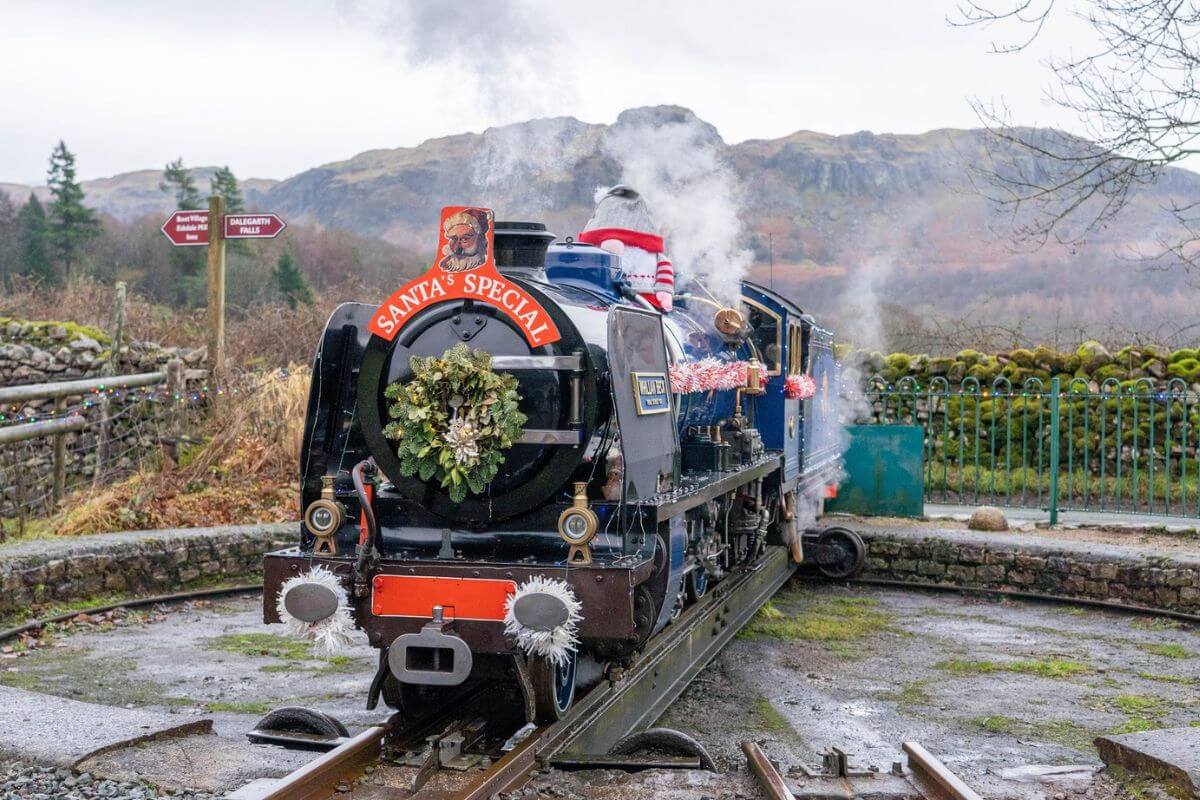 Every year, the Ravenglass and Eskdale Railway runs Santa Express trains from Late November through December. Visitors board the miniature steam train at Ravenglass and are then transported to Dalegarth Grotto to meet Santa in the heart of some of England's highest mountains.
The Ravenglass and Eskdale Railway is one of the most sought-after Christmas activities in the Lake District, so make sure you buy your tickets in advance. Most of the year, the Ravenglass and Eskdale Railway is pet-friendly, making it one of the best days out for dogs in England.
7. Windermere Lake Cruise
If you're interested in seeing the winter landscape of the Lake District without riding a train, you can enjoy a more tranquil journey by embarking on a lake cruise across Windermere or Derwentwater.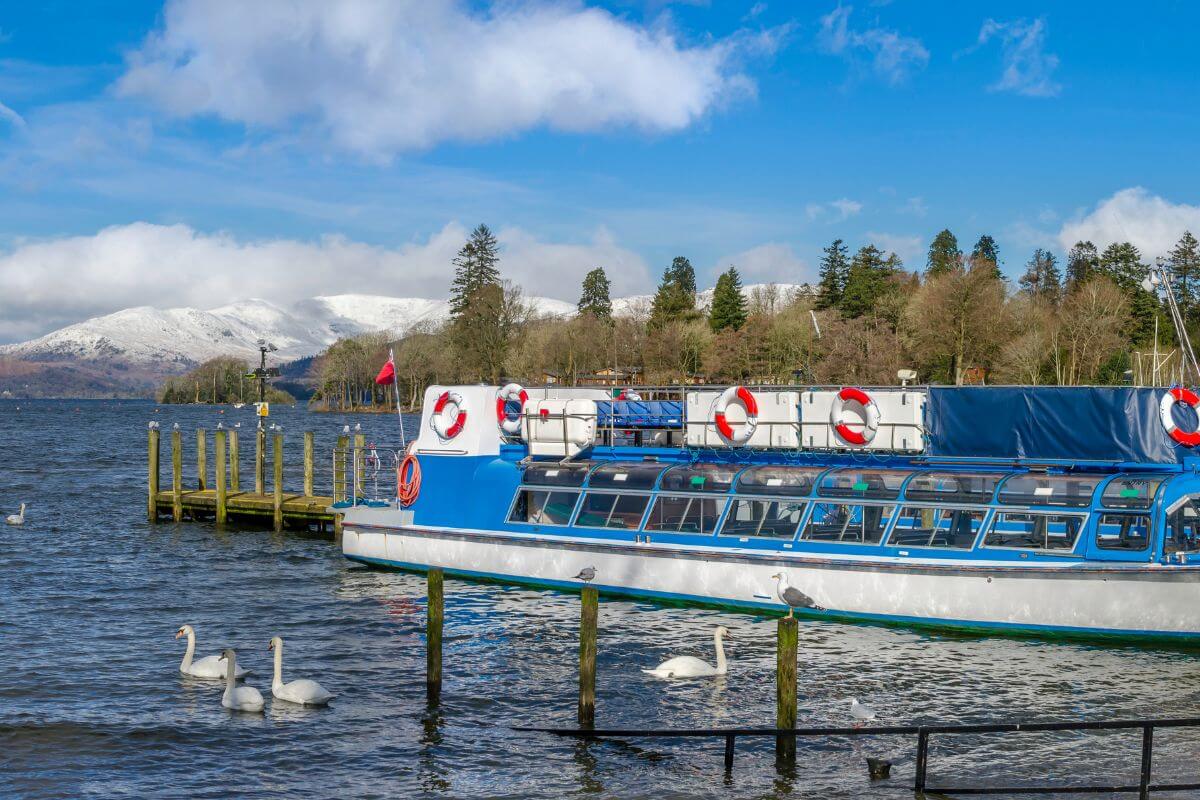 From the water, you can take in uninterrupted views of the Lake District's snow-capped fells and mountains. Most years, Windermere lake cruises take on festive themes. Expect a meeting with Santa Claus, gifts for kids, and mince pies with sherry for the adults.
If you're staying in the Lake District for Christmas and New Year, you might want to treat yourself to one of the best spa days in Windermere. If you're returning to this stunning national park in summer, read about some of the Lake district's easiest walks and best paddle boarding spots.
8. The Christmas Pudding 10K
If you refuse to let the cold winter weather put you off a trek through one of England's most beautiful National Parks on foot, then you might want to take part in the annual Christmas Pudding 10K.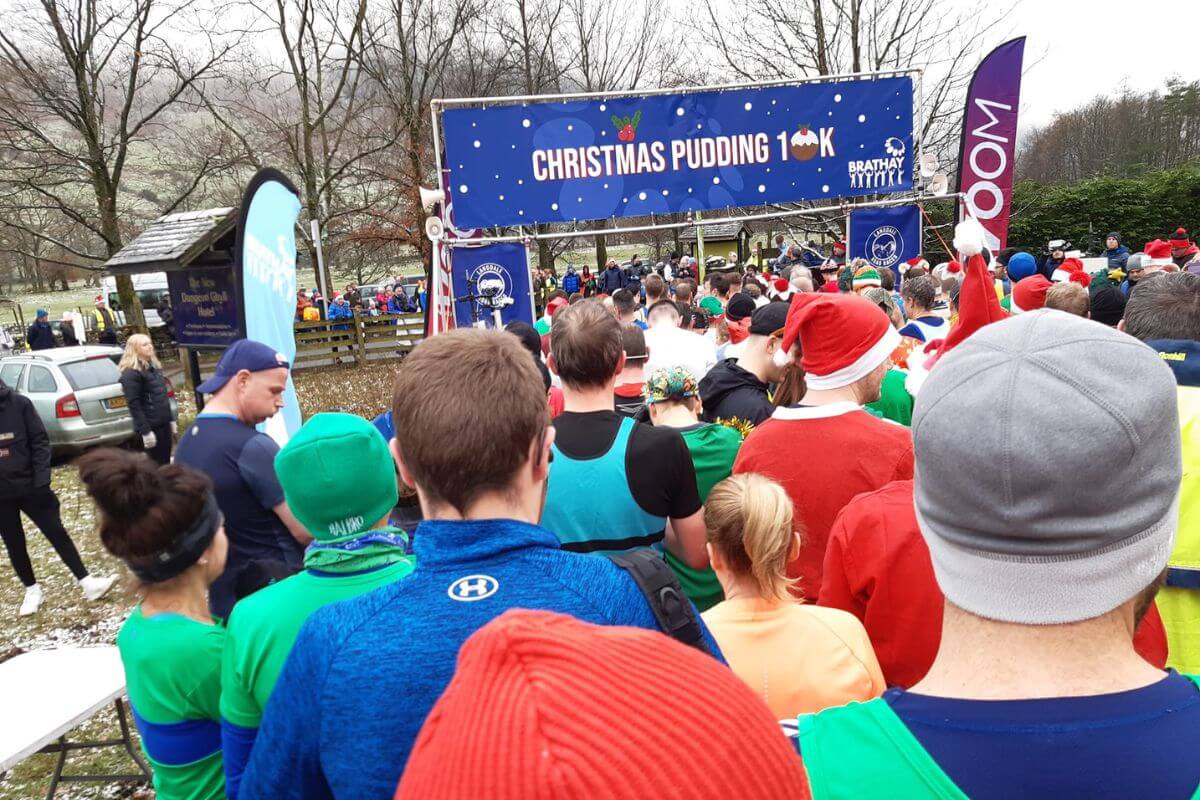 There's no denying that this 10km run over frost-covered countryside landscapes is challenging, but what better way to take in the view of the snowcapped peaks of the Langdale Valley while giving your health a boost? 
Most runners wear bright and colourful costumes to display their festive spirit, so you can rest assured the Christmas Pudding 10K is just as fun and rewarding as it is tough. Besides, you can tackle the route at your own pace. There's no need to sprint, but at least a bit of jogging will keep you warm!
The Christmas Pudding 10K is scheduled to take place on the 9th of December in 2023. If the Christmas Pudding 10K sounds a little too demanding, you can join slightly easier and shorter Santa Dashes in places like Kendal and Keswick.
9. Yuletide Afternoon Tea
For a cosy indoor Christmas in the Lake District, why not treat yourself to a festive afternoon tea?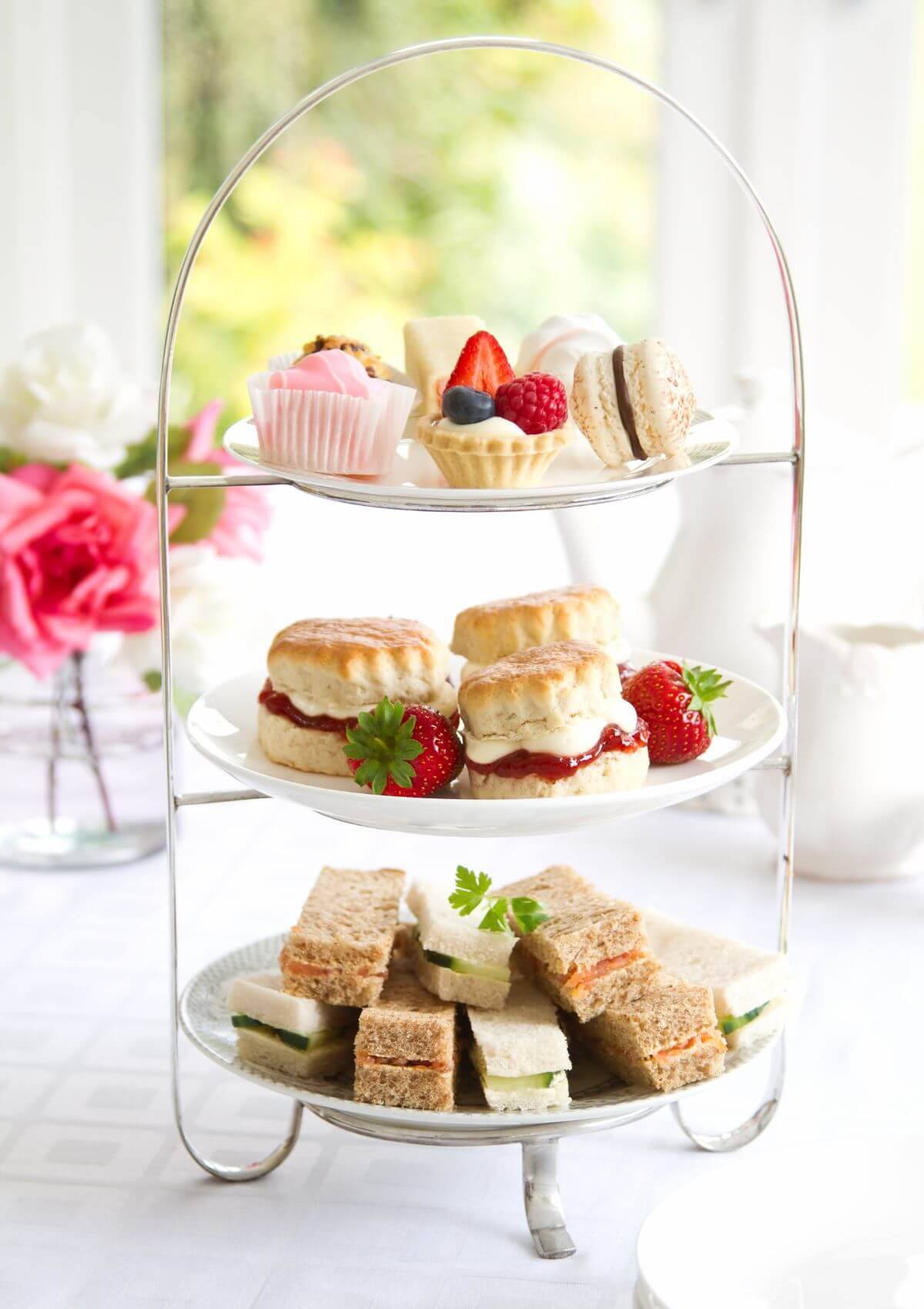 Many cafés, restaurants and hotels offer afternoon tea in the Lake District, but one of the best-known afternoon teas is the Yuletide Afternoon Tea at the 4-star Lodore Falls Hotel & Spa. A few hot drinks to wash down some delicious baked treats is well-deserved during the festive season. 
10. Muncaster Castle
Set beside the River Esk (one of England's most scenic rivers), the Grade I listed, privately owned Muncaster Castle dates back to the 13th century. In addition to being a haven for history buffs, Muncaster Castle is a fantastic place to spend Christmas in the Lake District.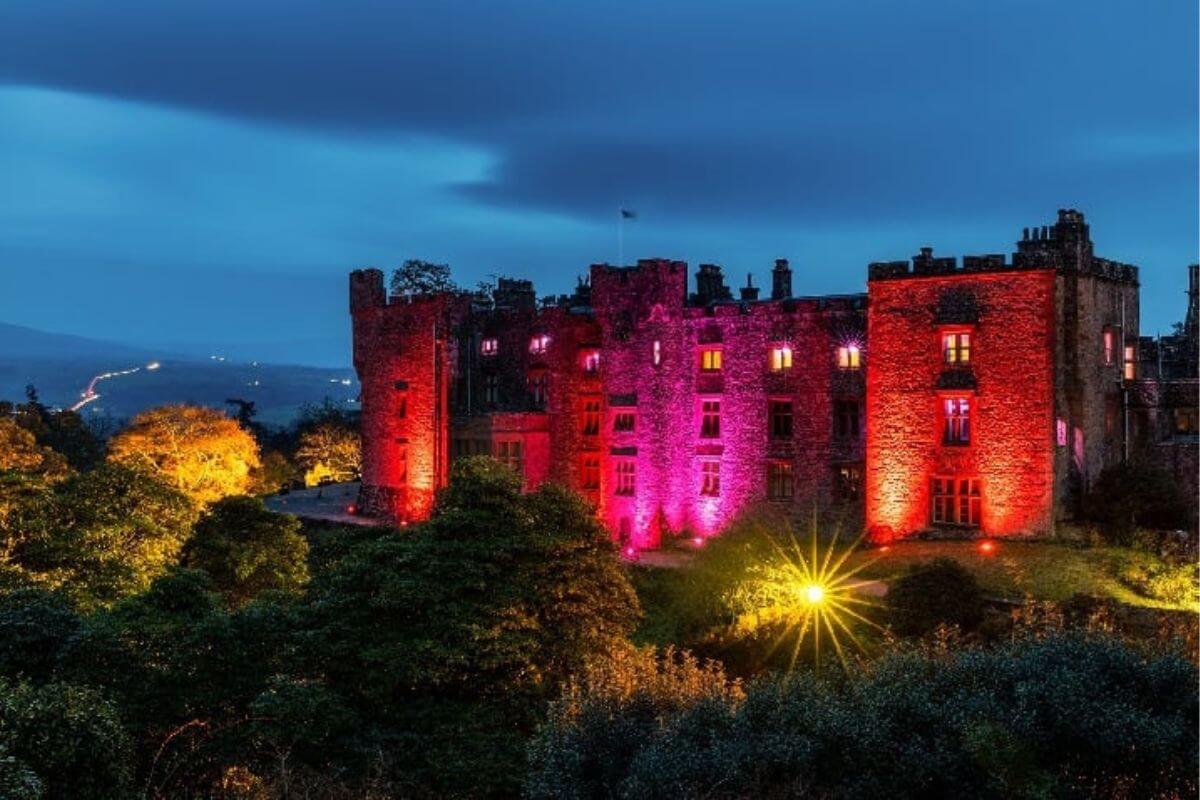 Most years, Muncaster Castle hosts afternoon tea, Victorian-themed tours and its own Christmas illuminations. It's one of the best English castles to visit any time of year, but it looks particularly dazzling when decorated in lights for the festive season.
On top of its grand architecture, Muncaster Castle is widely acclaimed for its stunning gardens. If manicured outdoor spaces are your thing, read about the biggest and best gardens in England.
11. Taste Cumbria Christmas in Cockermouth
Taste Cumbria holds a series of festivals for foodies throughout the year, but the Christmas event in Cockermouth has that added festive season touch.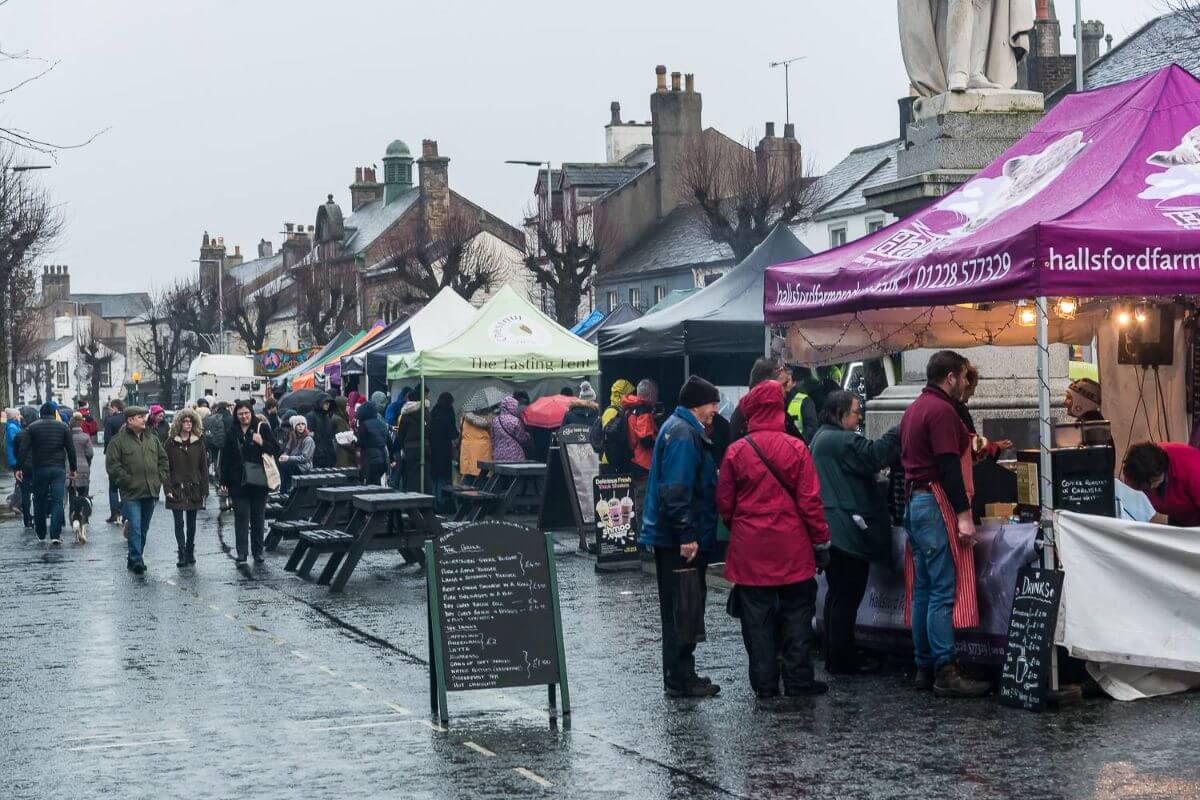 During the Taste Cumbria Christmas in Cockermouth festival, food markets will showcase and sell the very best local produce plus a range of crafts and gifts. You can wash your food down with beer and fizz available at various stands and tents. There's also fairground rides and games for the kids, making the Taste Cumbria festival one of the best places for a family Christmas in the Lake District.
In 2023, the Taste Cumbria Christmas festival is scheduled to take place on the 10th and 11th of December. If you decide to visit a Lake District food festival at a different time of year, it still guarantees to be an amazing day out in Cumbria.
What are your favourite Lake District Christmas days out?
As you can see from these festive events, Christmas is an excellent time to visit the Lake District, whether you want to cosy up indoors at a museum or run through the snow-covered fells in a festive costume.
Are there any Christmas events in the Lake District that deserve a mention on our list? Let our readers know by leaving a comment below.
Quick list of the best days out at Christmas in the Lake District
Ambleside Christmas Lights
Hawkshead Christmas Market
Rydal Mount Christmas Fair
Ulverston Dickensian Festival
Keswick Victorian Fayre
Ravenglass and Eskdale Railway Santa Express
Windermere Lake Cruise
The Christmas Pudding 10K
Yuletide Afternoon Tea
Muncaster Castle
Taste Cumbria Christmas in Cockermouth
---