Looking for the highest mountains in England for a challenge? Here's where you can find the tallest mountain in England, and a few tips for getting yourself up there.
The highest peak in England is a stunner. If you're looking for an active day out, and a memorable day trip to show off about to your friends, this is the ultimate England mountains list for you. Climb to the highest point in England and you'll get serious cred points. Climb them all, and even we'll be impressed.
Read on for straight to point info on the highest mountains in England for your day tripping needs.
Where are the highest mountains in England?
Scafell Pike is the highest mountain in England, in the Lake District.
What is the highest mountain in the UK?
The highest mountain in the UK is the iconic Ben Nevis, which stands at an impressive 1,345m tall.
Highest Mountains in England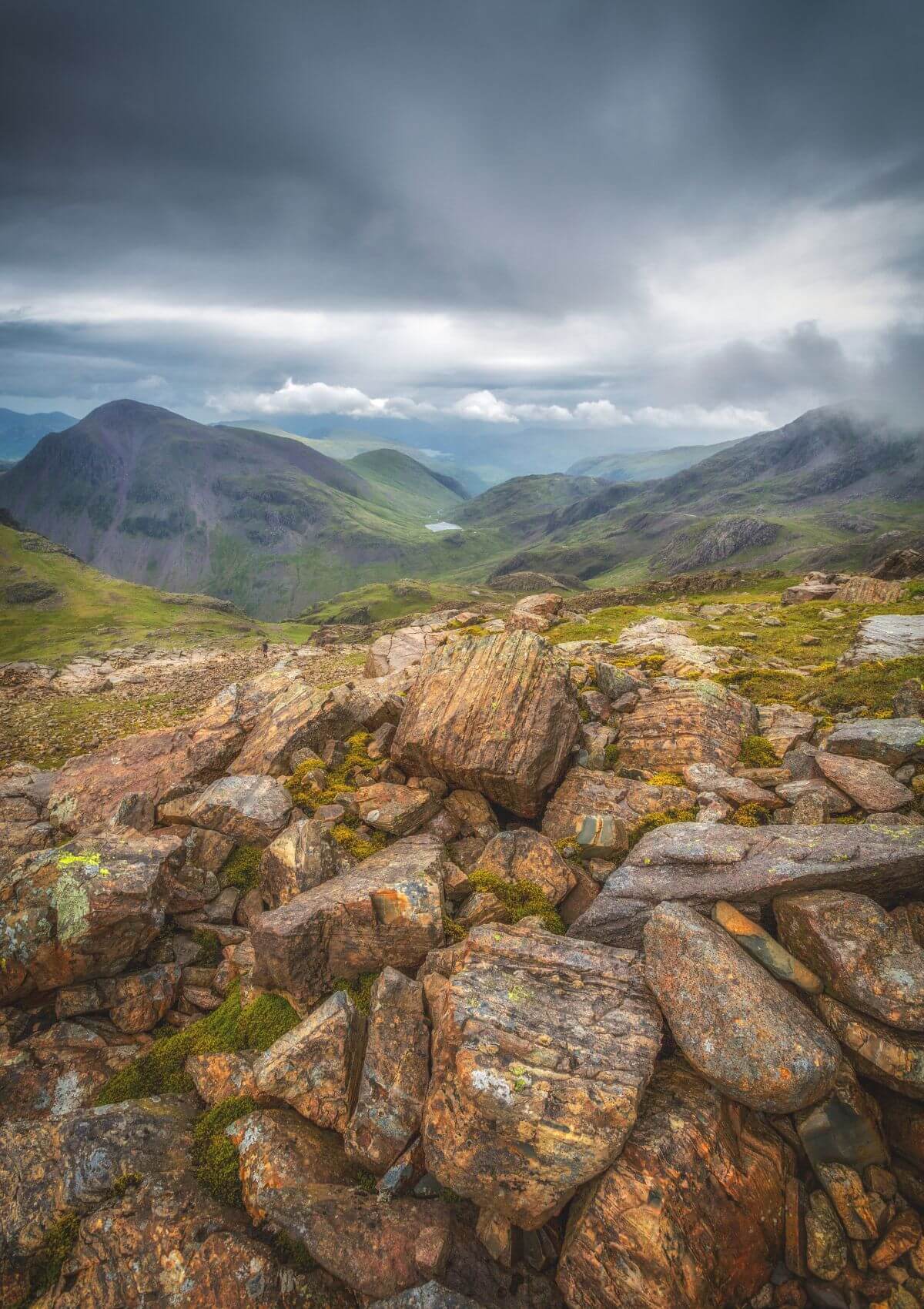 Highest mountains in the North of the Lake District
1. Helvellyn
Within the northeast quadrant of Lake District is the 3,117 feet / 950 metres tall Helvellyn Mountain. To get there, most hike the route between Legburthwaite to Glenridding. It'll take you along Sticks Pass and Raise, over Striding Edge and to the summit of Helvellyn.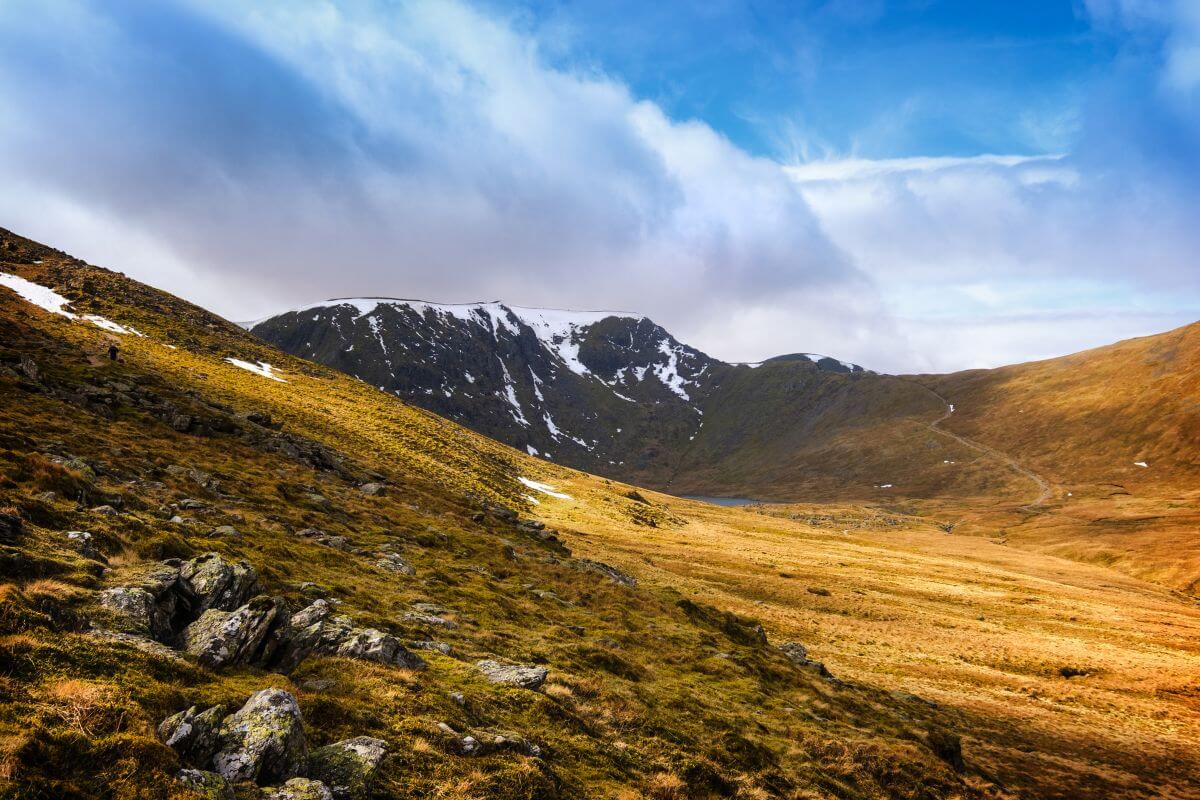 Your trek starts with tree-laden views over Keswick and Thirlmere, which eventually gives way to grassy plains. At Raise, you get sweeping views of Ulswater, Haweswater and upland landscapes. The highlight comes when you challenge the narrow and exposed ridge of Striding Edge – a glittering tarn.
We don't recommend doing the hike from Glenridding as you won't be able to see the craggy ridge. It's difficult to prepare for it.
2. Skiddaw
Dominating the north Lake District landscape is another of England's highest mountains: 3,054 feet / 931 metres-tall Skiddaw sits at number four. The most popular route runs from Latrigg via a wide, well-made path. Adventurous spirits may prefer to take a linear route from Dyke Nook plantation, up the steep Ullock Pike and approach Skiddaw over the ridge.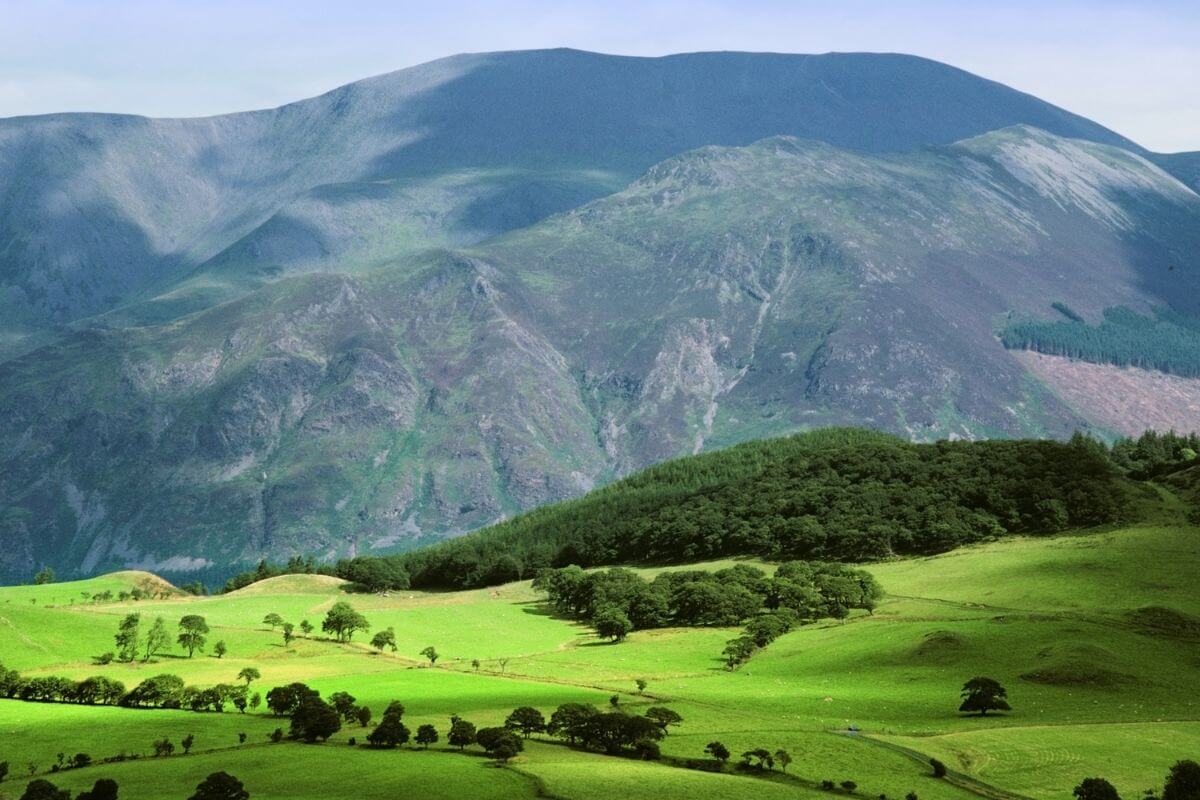 Don't expect to see a lot of vegetation; only some sections have both bush and grass. You will however, spot the grand slate summit of Skiddaw along the way. Take in Alfred Wainwright's Lakeland Fells (all six of them!) and the cairn circle that marks Skiddaw's summit.
Highest mountains in the South of the Lake District
3. Scafell Pike
Towering over the Lake District is the highest mountain in England: Scafell Pike. At 3,209 feet / 978 metres, the peak overlooks Borrowdale Valley's dips and curves.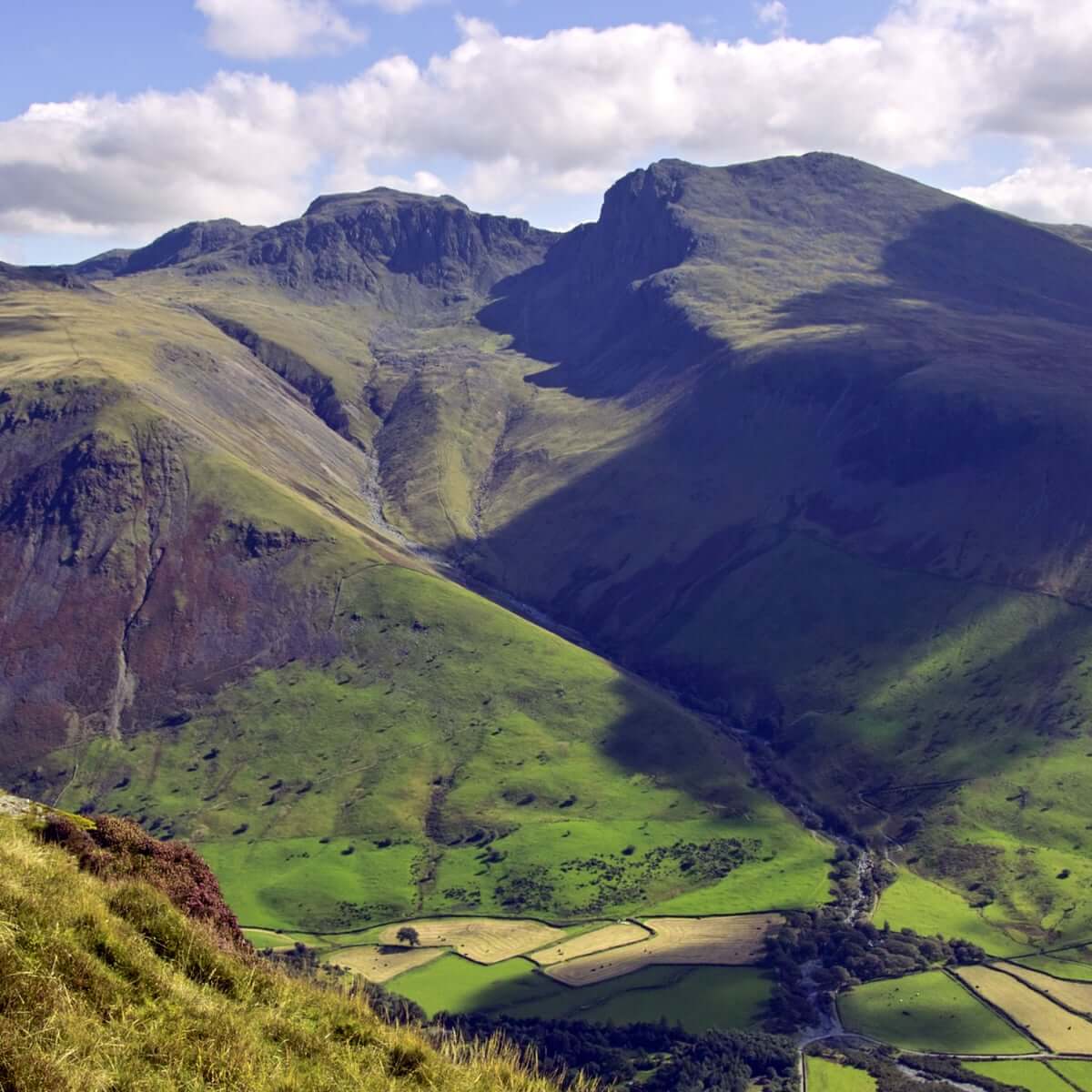 Typically, you'd start the route at Seathwaite Farm and transition onto Corridor Route, turning the loop at Dropping Crag. The 11-mile hike takes you up rocky ledges and multiple gullies, featuring views of Stockley Bridge, Styhead Tarn, waterfalls and panoramas to Wast Water.
Another simple route to Scafell Pike is by taking a bus from Ambleside to the Old Dungeon Ghyll Hotel. From there, follow along Mickleden and follow where the path bears left.
There's little to no shade on this open path, so be sure to slather on the sunscreen and make sure you pack your day hike bag well!
4. Scafell
The second highest mountain in England is actually neighbour to the first – Scafell, standing at 3,163 feet / 964 metres, is on the other side of Mickledore col.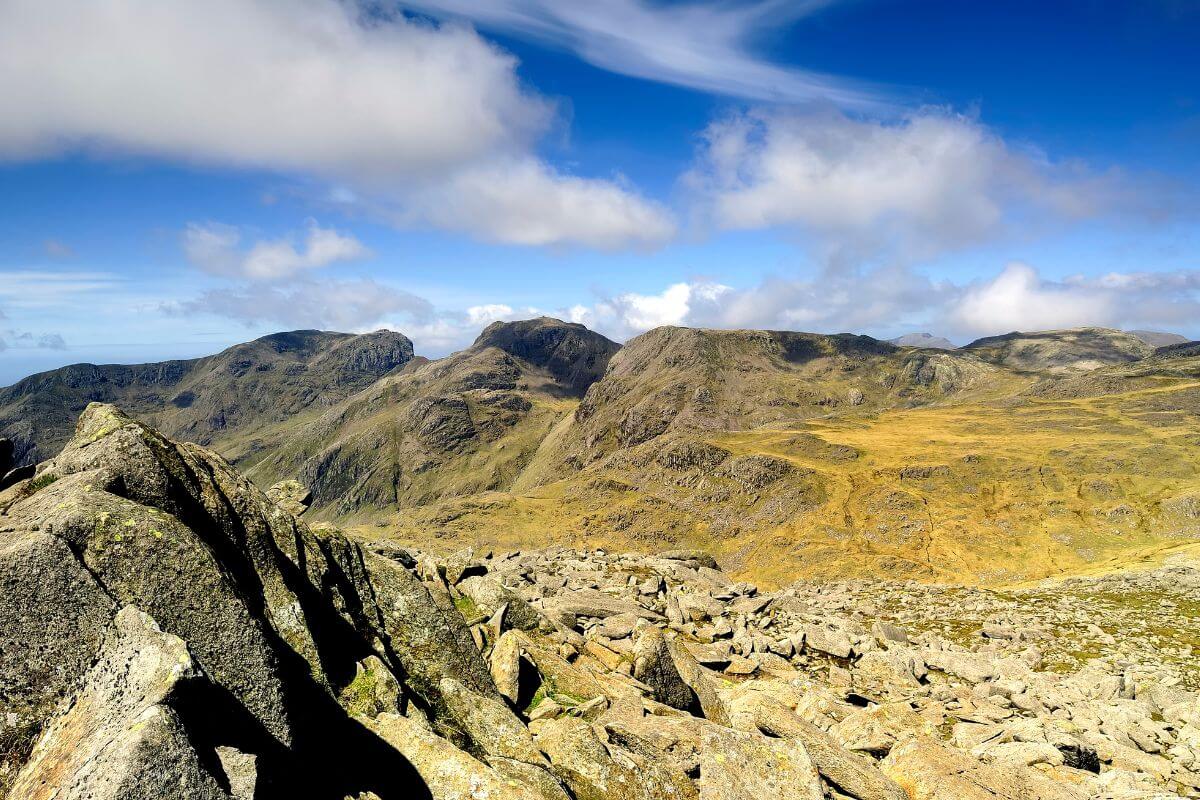 You can expect a wide range of landscapes to gaze upon. To the south, smooth slopes lacking in vegetation; in the east and north, the finest rock scenery in the Lake District. There are also a number of tarns on the ascent, which lead to a large cairn and cross of stones at the summit. Climb to the north top for views straight down to Mickledore and fine vistas of the Western Fells.
Most people take the classic route of Lord's Rake path from Wastwater; this follows the main Scafell Pike footpath. For a more pleasant walk, start your trek from Boot in Eskdale and follow the River Esk upstream.
Once you're done hiking, here are some great places to go paddleboarding in the Lake District to complete your trip.
Highest mountains in the Northern Pennines
5. Cross Fell
The highest mountain in England outside of Lake District, Cross Fell lies within the North Pennines Area of Outstanding Natural Beauty. Perched above historic Cumberland, the stony plateau rises over Eden Valley in the Southwest and slopes toward South Tyne and Tees Valley in the Northeast.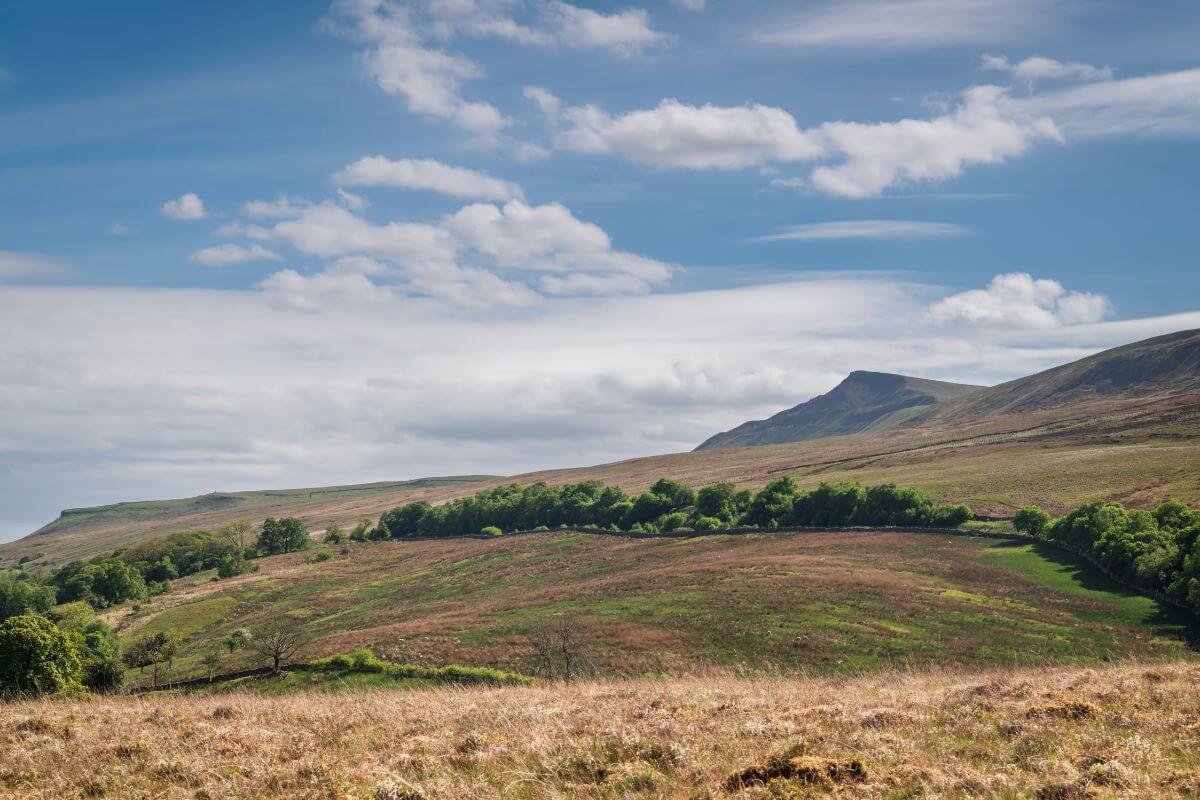 Crowned by a cross-shaped dry-stone shelter at 2,930 feet / 893 metres, the summit looks out across Eden Valley to Lake District; even the Southern Uplands of Scotland on clear days. Grassland and rare alpine plants span the surface, which may carry patches of snow as late as July.
The easiest way to get there is via the well-constructed Pennine Way track. It's a 10.75 mile circular walk that's popular but gruelling.
6. Great Dun Fell
Falling within the boundaries of Westmorland, Great Dun Fell is just 3 kilometres away from Cross Fell. At 2,782 feet / 848 metres high, it's actually home to Britain's highest road.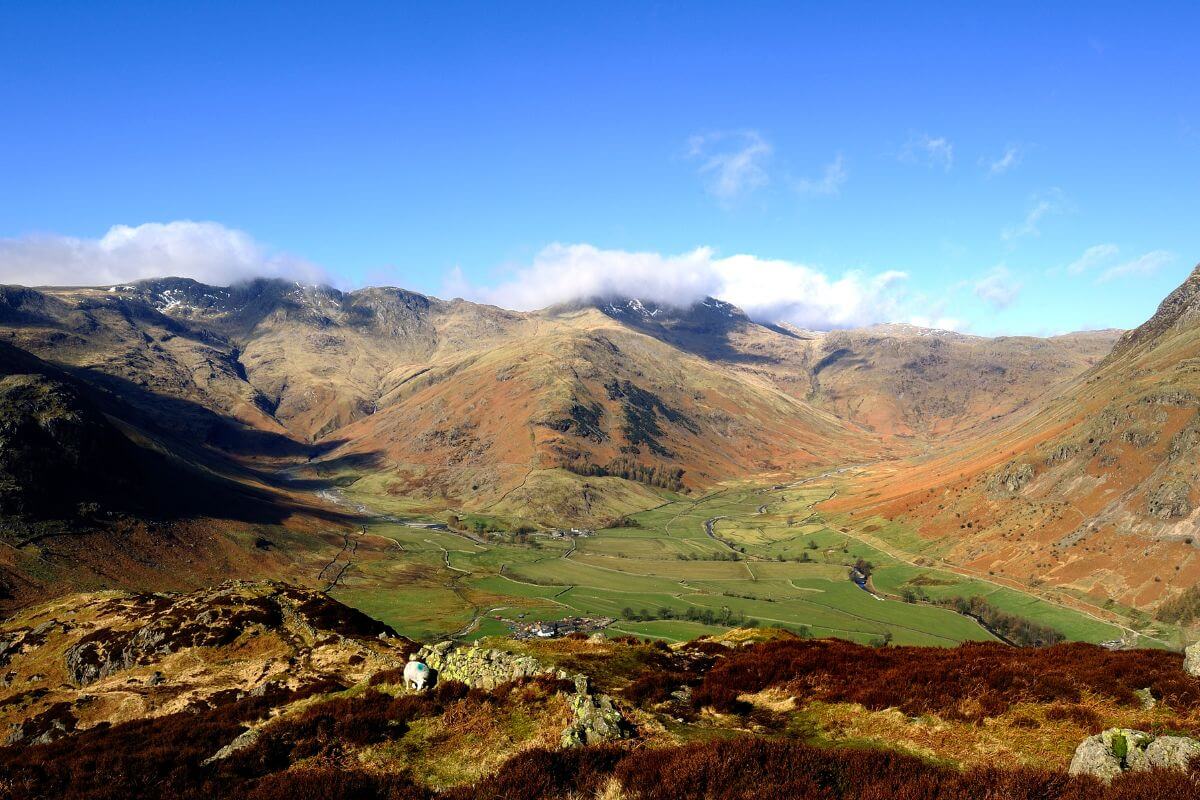 The Civil Aviation Authority's air traffic control radar sits at the summit, accessible via a paved road. While the upper section is marked private and fenced off from cars, it's open to walkers, cyclists and horse riders. Hikers will probably prefer something off road. As Great Dun Fell Lies on the Pennine Way route between Dufton and Cross Fell, you can wind through the wild moorlands.
Views are mainly other Pennine tops, but you'll find abandoned Silverband mines along the west side. These overlook the Vale of Eden in Cumbria.
Highest mountains in the Cheviot Hills
7. The Cheviot
Just 2 kilometres from Scotland's borders is the extinct volcano and highest mountains in England's extreme north: The Cheviot. Located within the Northumberland National Park, this 2,674 feet / 815 metres jut is accessible through the Pennine Way. You'll find that most hiking routes start from Harthope Burn. There's a parking area at Langleeford if you're road tripping the region.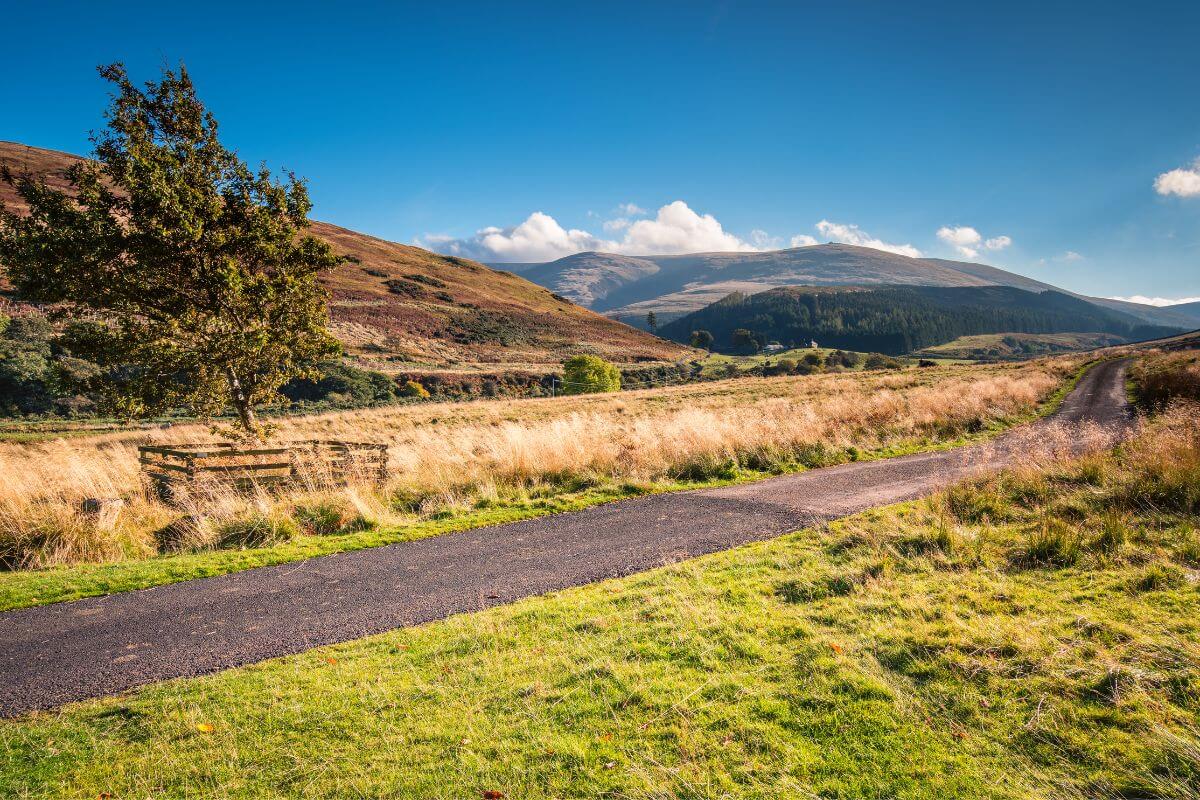 As The Cheviot summit is a triangular plateau, the flatness obscures top-down views. On good days, you may spot Broad Law and Cross Fell, maybe even Scafell Pike. Remnants of a B-17 bomber aircraft can be found in peat bogs, while the landscape is rugged and wild. Expect foggy rolls down the mountainside which do little to cover Harthope Valley's stunning autumnal bushes.
8. Hedgehope Hill
Hedgehope Hill is located around 5 kilometres from the Scottish border to be one of the highest mountains in Cheviot Hills. Peaking at 2,343 feet / 714 metres, it offers excellent views from all angles. Summit views stretch down to Blyth down the coastline and Lindisfarne Castle.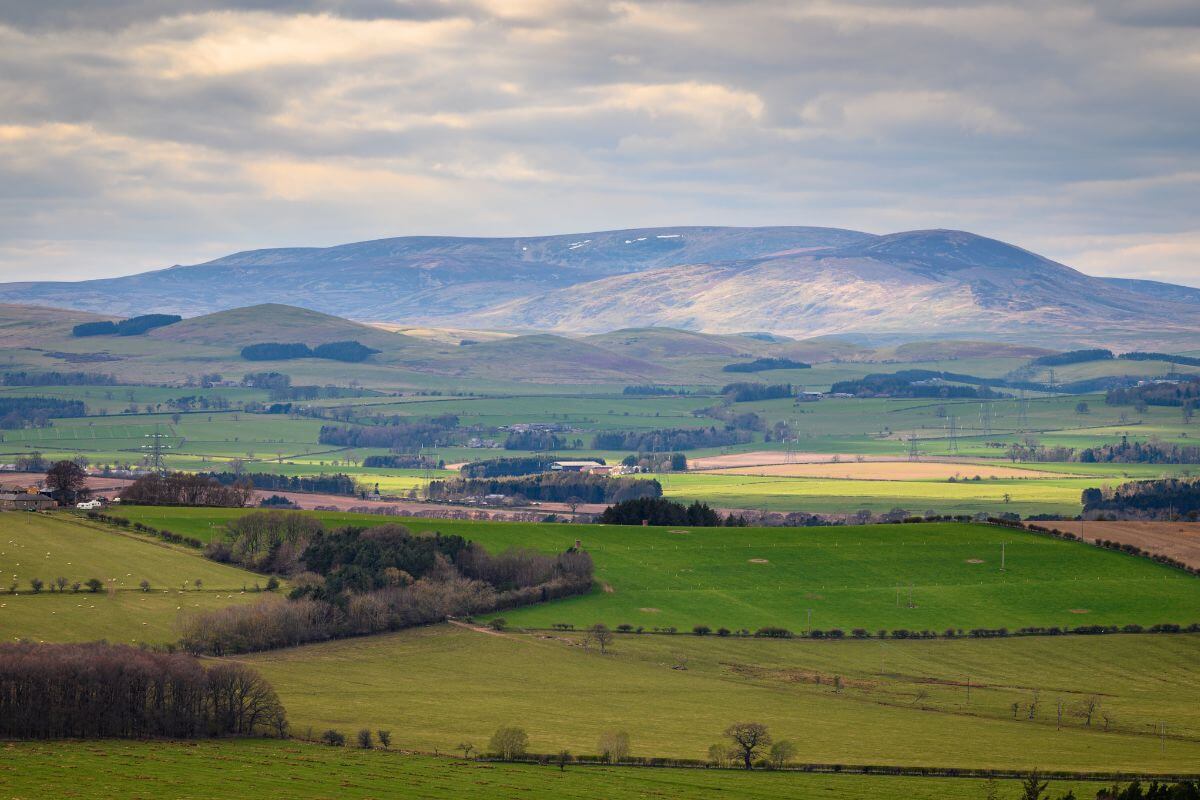 This English mountain is best climbed from Langleeford in the Harthope Valley, accessible by a minor road near Wooler. The popular town is a great base for hikers exploring the region. You can also approach from Linhope, but at a longer distance. Either way, it's a steep climb up, especially towards Housey Crags and Long Crags.
Highest mountains in England: the Yorkshire Dales
9. Whernside
Situated within Yorkshire Dales National Park, Whernside is the highest of the Yorkshire Three Peaks at 2,415 feet / 736 metres. The most common way to get there is taking the footpath alongside the Ribblehead Viaduct, which is an attraction in itself.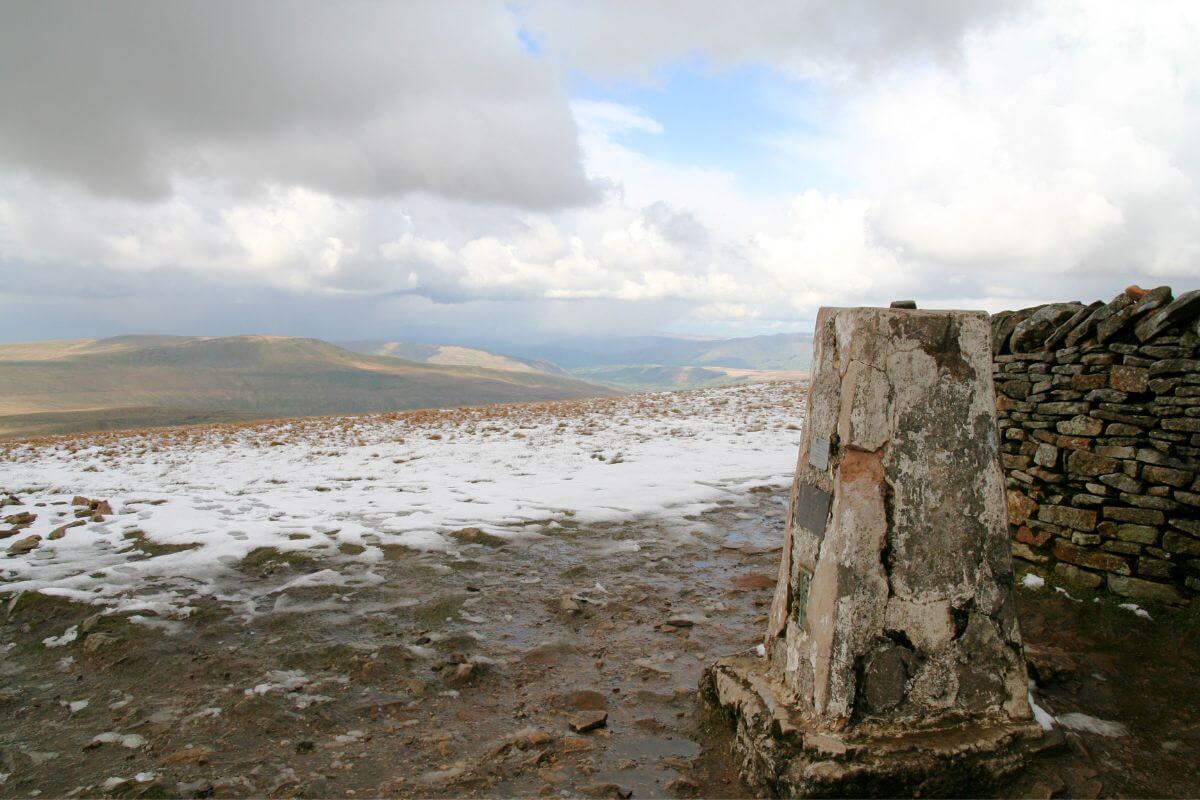 Farmsteads and rambling lanes make up much of the initial walk, which later leads you to Force Gill Waterfall and other natural sights. As you climb up to the summit which straddles the Cumbria county boundary, the views open up towards the Howgills, Lake District and Morecambe Bay.
Hiking here is one of the best days out in North Yorkshire.
10. Ingleborough
Just 12 meters shorter than Whernside, Ingleborough is another famous Yorkshire Peak. But unlike other English mountains on this list, the 2,372 feet / 723 metres mountain hides an amazing secret: a complex series of cave systems.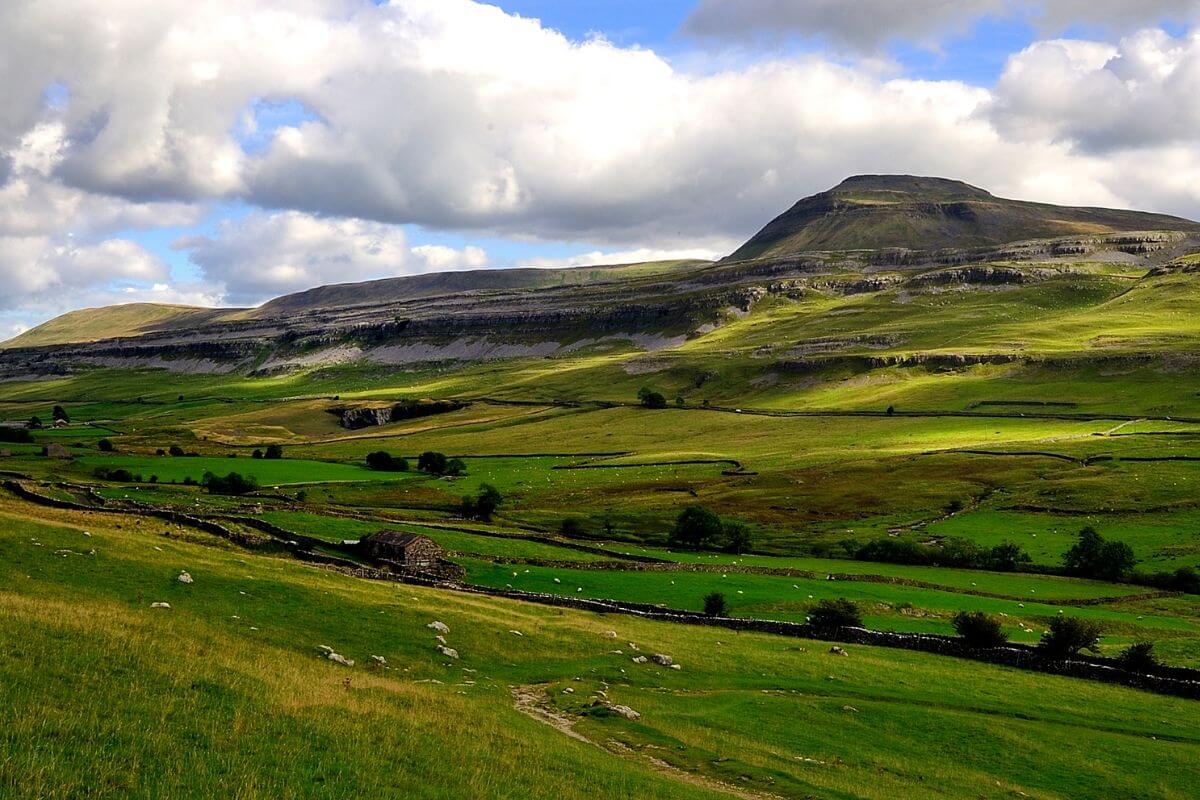 This 'hollow mountain' is known for two underground wonders in particular, the Ingleborough Cave and White Scar Cave. Other random attractions include sprawling cairns and cross shelters at the peak, not to mention the foundations of a 'hospice tower' and Iron Age hut ruins. Of course, views over Yorkshire Dales are guaranteed.
You can get there via a variety of routes. Old Hill Inn in Chapel-le-Dale is short but steep; Clapham route blows past Trow Gill and Gaping Gill but is a roundabout route.
Highest mountains in the Peak District
11. Kinder Scout
Kinder Scout is a moorland plateau and national nature reserve in the Dark Peak of the Derbyshire Peak District. It houses the highest point in Peak District of 2,087 feet / 636 metres, and spectacular views to go with it.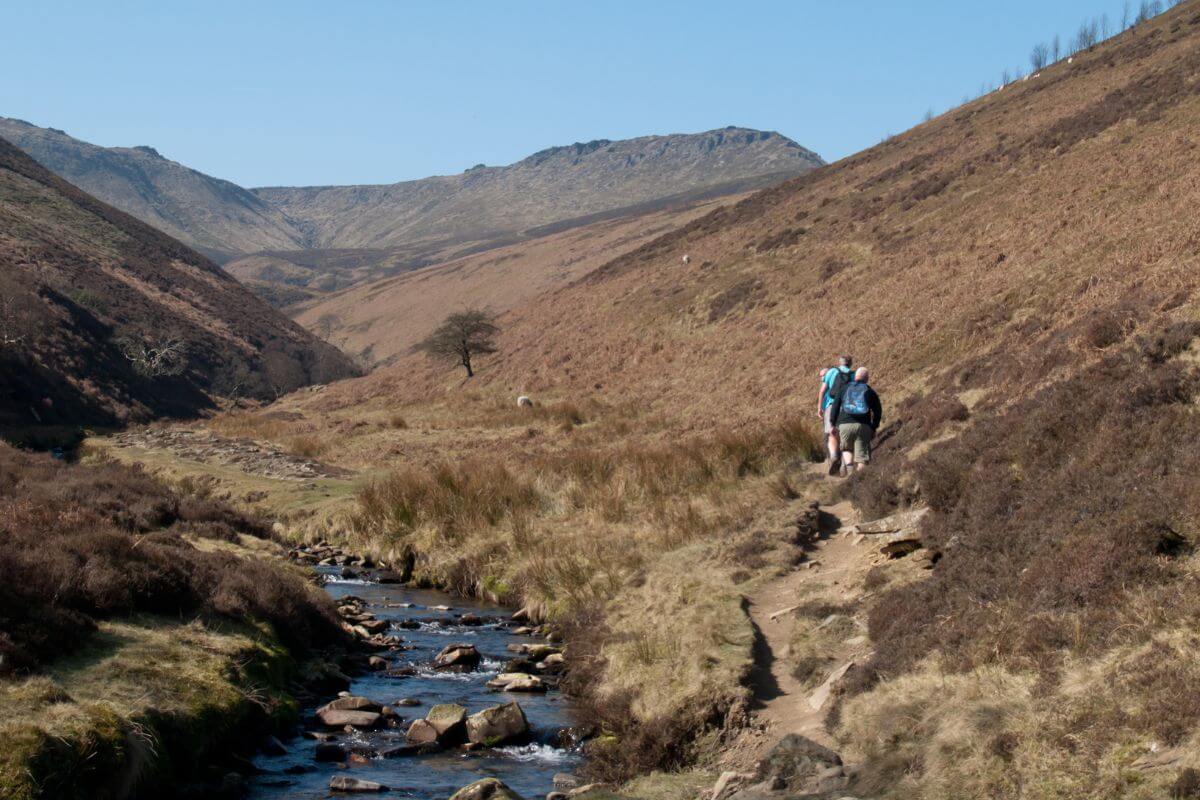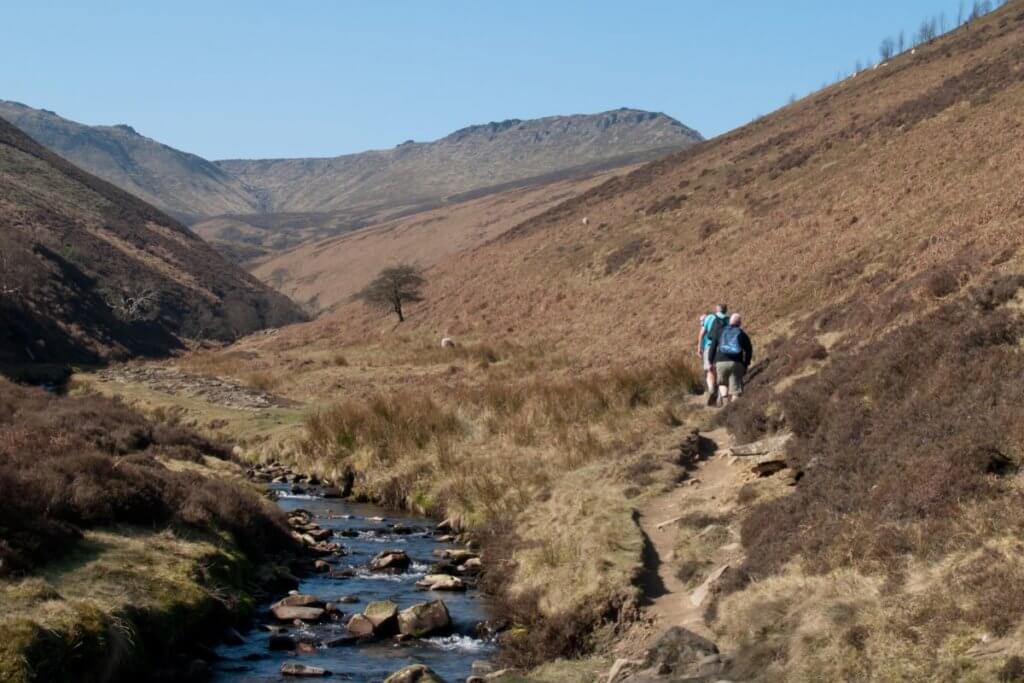 Accessible from the villages of Edale and Hayfield, it yields various hiking trails. Some paths take you over gentle streams and dark gritstone; others lead you through unique peats and towards the glorious Kinder Downfall waterfall. Picturesque Jacob's Ladder trail crosses an old packhorse bridge while Serene Mermaid's Pool and interesting rock formations like the Boxing Gloves are other local highlights.
Note that it's not for the inexperienced – there are no way markers and signs, unclear footpaths once you're on the plateau.
12. Bleaklow Head
If you're attempting to walk Bleaklow Head, know that it's part of Bleaklow's peat-covered, gritstone moorland. The walk itself is comfortable, gently ascending and partially paved. The occasional boggy ground though, calls for proper hiking boots.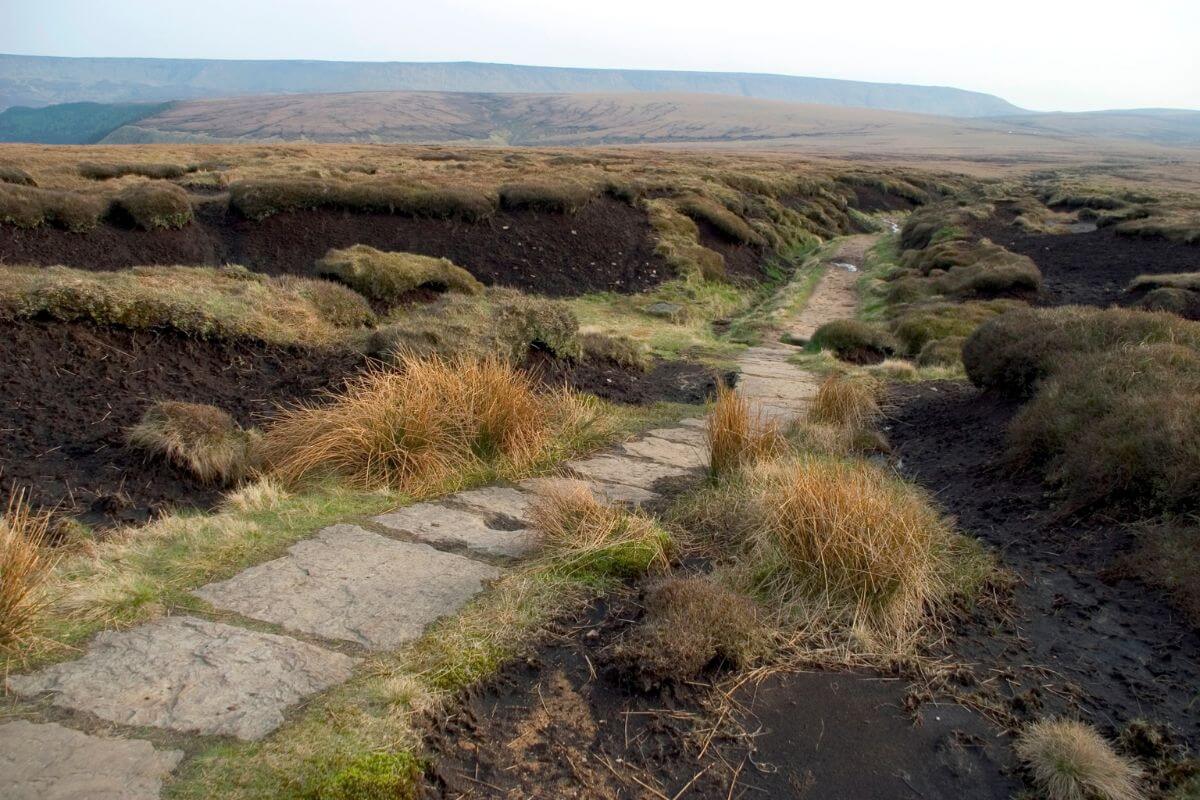 The summit, at 20,77 feet / 633 metres, is marked by a huge cairn of stones with a wooden pole stuck in it. Enjoy wonderful views across Greater Manchester, Lancashire, Chesire and the Hope Valley. It's also home to wreckage of a historic military aircraft and memorial.
Its position near the town of Glossop makes it a popular walkway. The challenging trail is accessible from the Longdendale Trailhead at Torside Reservoir, which cuts into the Pennine Way and past Skyes Moor.
Highest mountains in England
If you're looking for a fun day trip with some actions, why not explore some of the highest mountains in England?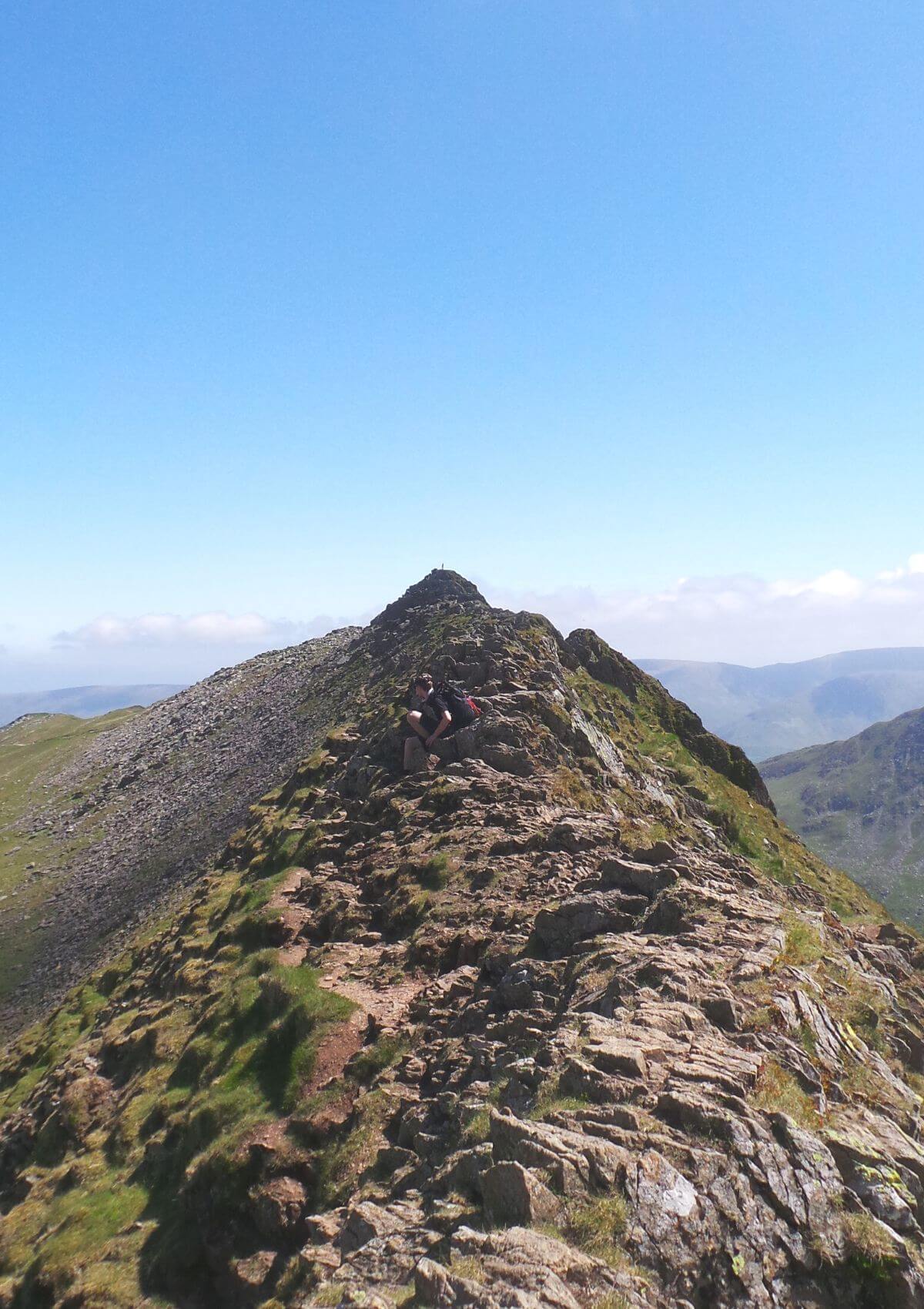 The Lake District holds an incredible number of England's highest mountains, but more of these natural attractions are spread across the North Pennines and the Peak District.
You don't even have to climb Scafell Pike, England's tallest mountain, to experience the dynamic terrain. From cairns to waterfalls, aircraft wreckage and boggy moorlands, the landscapes across these mountains are extremely diverse. England is a paradise for hikers, both experienced and not. Check out England's National Trails for more.
And if you want to know more, check out the highest mountain in the UK here!
---