Think 'skiing', and you might not think 'England' but there are plenty of places to practice and get a lesson from a pro, whether you're improving your technique or a complete beginner. Here are 8 of the best places to take ski lessons in England.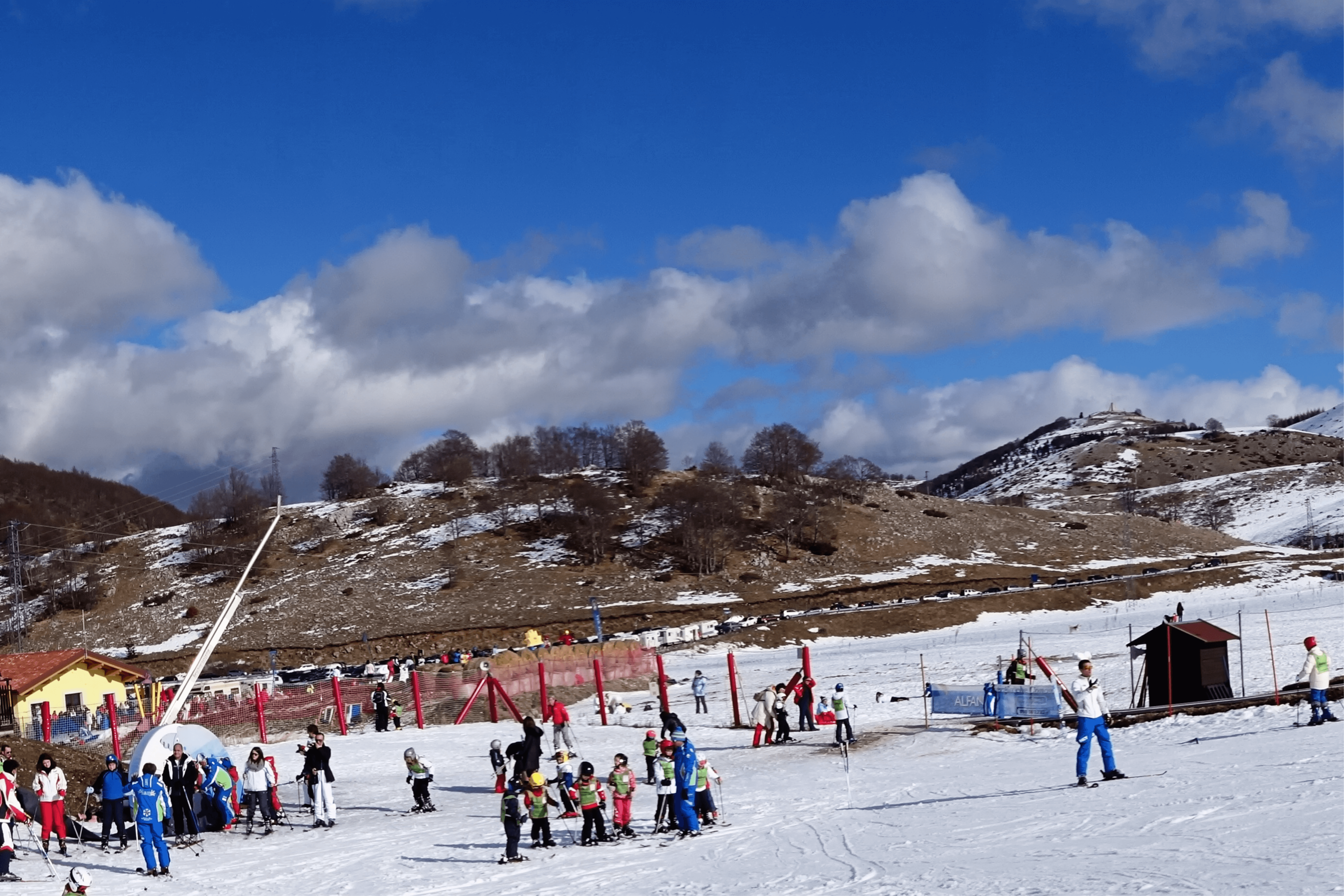 While England's mainly known for our tea, scones and rolling green hills, the snow does appear at certain times of the year to let you out on your skis, if you know where to go. Your best bet though, is to book yourself some ski lessons to practice for your skiing holiday. There are many great places for ski lessons in England, so if you want to start learning to ski (or improve on your current skills), this list will point you in the direction of some of the best places to learn in the country.
If you're a fan of adventurous days out in England, skiing is something you can do all year round in England as there are both indoor and outdoor slopes to try.
So, if you've been Googling 'ski lessons near me' and getting nowhere, here are 8 great places to take ski lessons in England…
8 Great Places to Take Ski Lessons in England
Where to go in England for skiing!
1. Ackers Adventure, West Midlands
Located near Birmingham in the West Midlands, Ackers Adventure is one of the best places in the area for ski lessons. Whether you're starting to learn the basics for the very first time or picking up where you left off from a previous lesson, the team at Ackers Adventure can help you.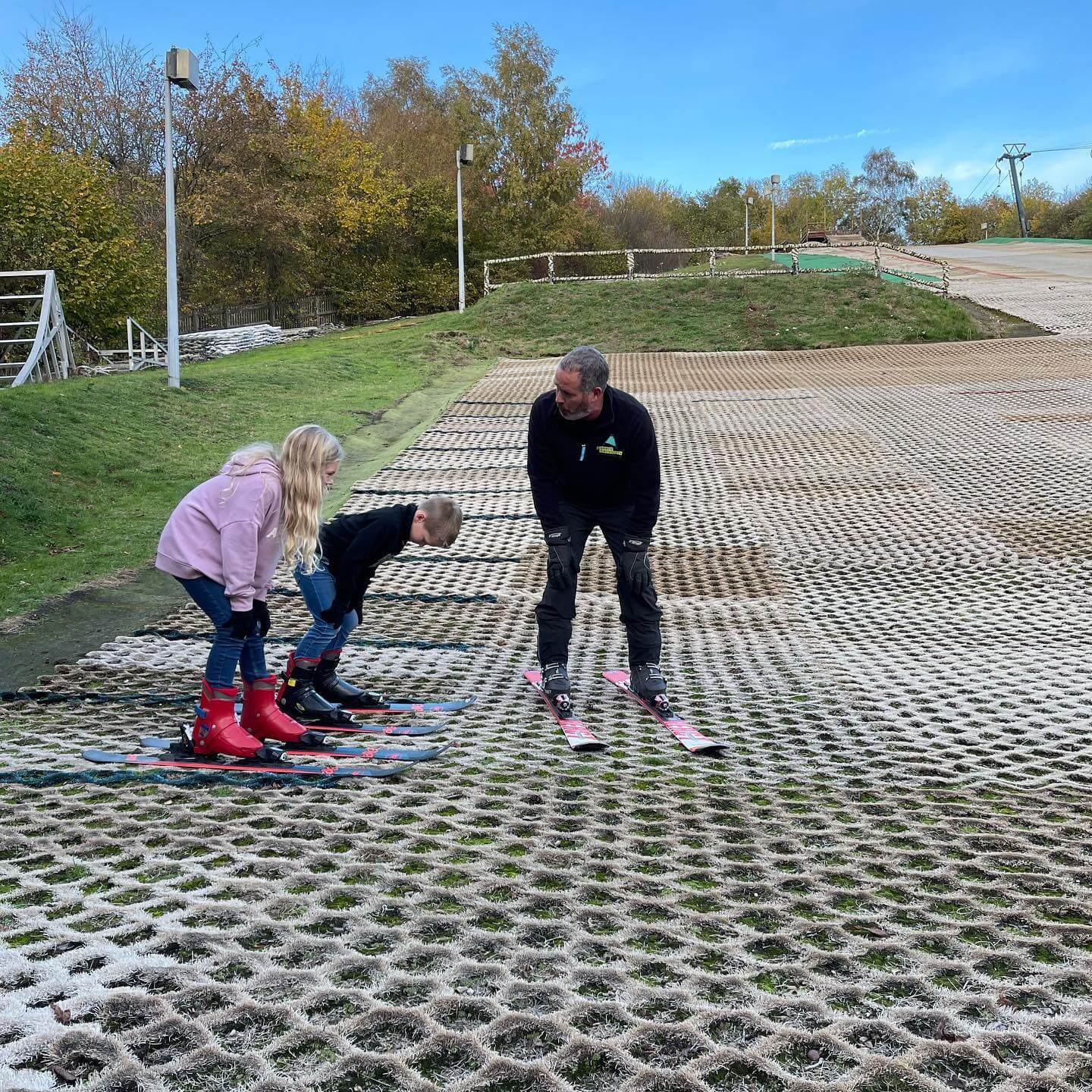 Their range of courses and lessons means there is something to suit all levels and needs, plus you can switch to snowboarding if you prefer. With floodlit synthetic bristle matting slopes, the lesson area can be used at any time during the year (not just when it's snowing!). If you're worried about getting in the way of the pros on their 100 metre main slope, don't panic. Ackers Adventure also has a 30-metre nursery slope which is where any beginners will have their lessons.
Choose from private lessons, group lessons or family lessons, and choose how long you would like your session to be. One of their best courses is somewhat of a crash course (don't worry, they'll teach you not to crash) where you can 'Learn to ski in a day' and leave the full-day session with a fantastic grasp of everything you need to know to start skiing solo.
For its flexibility and ability to teach all the basics in one day, this is one of the best places to get ski lessons in England.
2. Silksworth Sports Complex and Ski Slope, Tyne and Wear
Based in Sunderland, Silksworth Sports Complex and Ski Slopes is one of the best ski facilities in the area and provides an excellent place to learn to ski near Newcastle. With 3 slopes all offering a 160 metre floodlit and misted main slope, and two nursery ski slopes for beginners, it has everything you need to start ski lessons with confidence.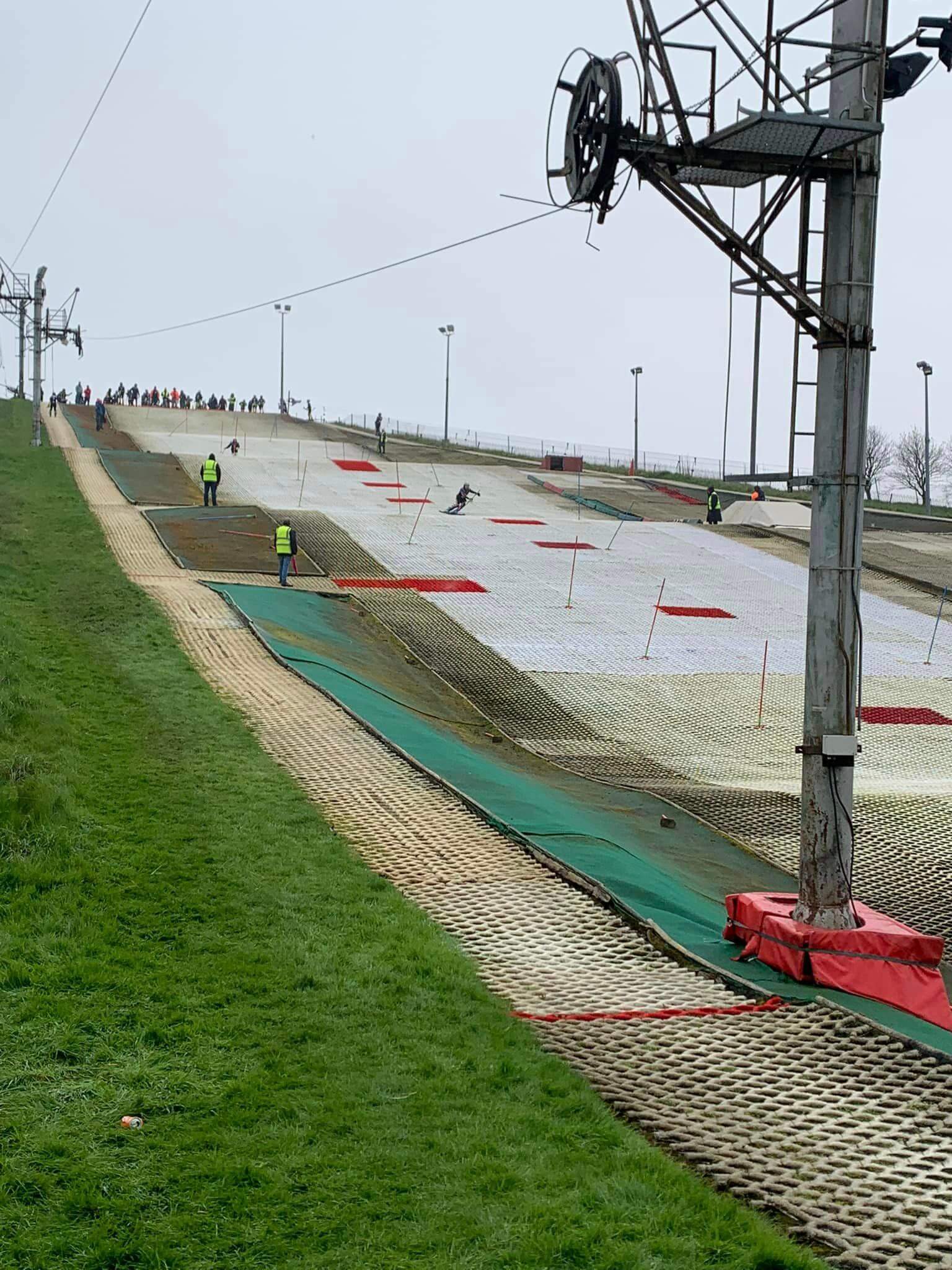 Their highly qualified instructors offer a range of lessons and courses to help you get to grips with whatever you most need/want to learn. From absolute beginners up to seasoned skiers, the Silksworth staff can help everyone increase their confidence and skill level in just a short space of time.
Its artificial slope means that even without a drop of snow in sight, you can enjoy shoop, shooping down without delay. Silksworth is easily one of the best places to take ski lessons in England.
3. Snozone, Buckinghamshire
This might just be one of the best ski lessons Milton Keynes has to offer. Many people refer to this excellent spot as the Milton Keynes Snow Dome, and it's no surprise since there is real snow onsite. It's replenished every day and kept neat and tidy, so you'll feel a little like you're in a gorgeous chalet resort.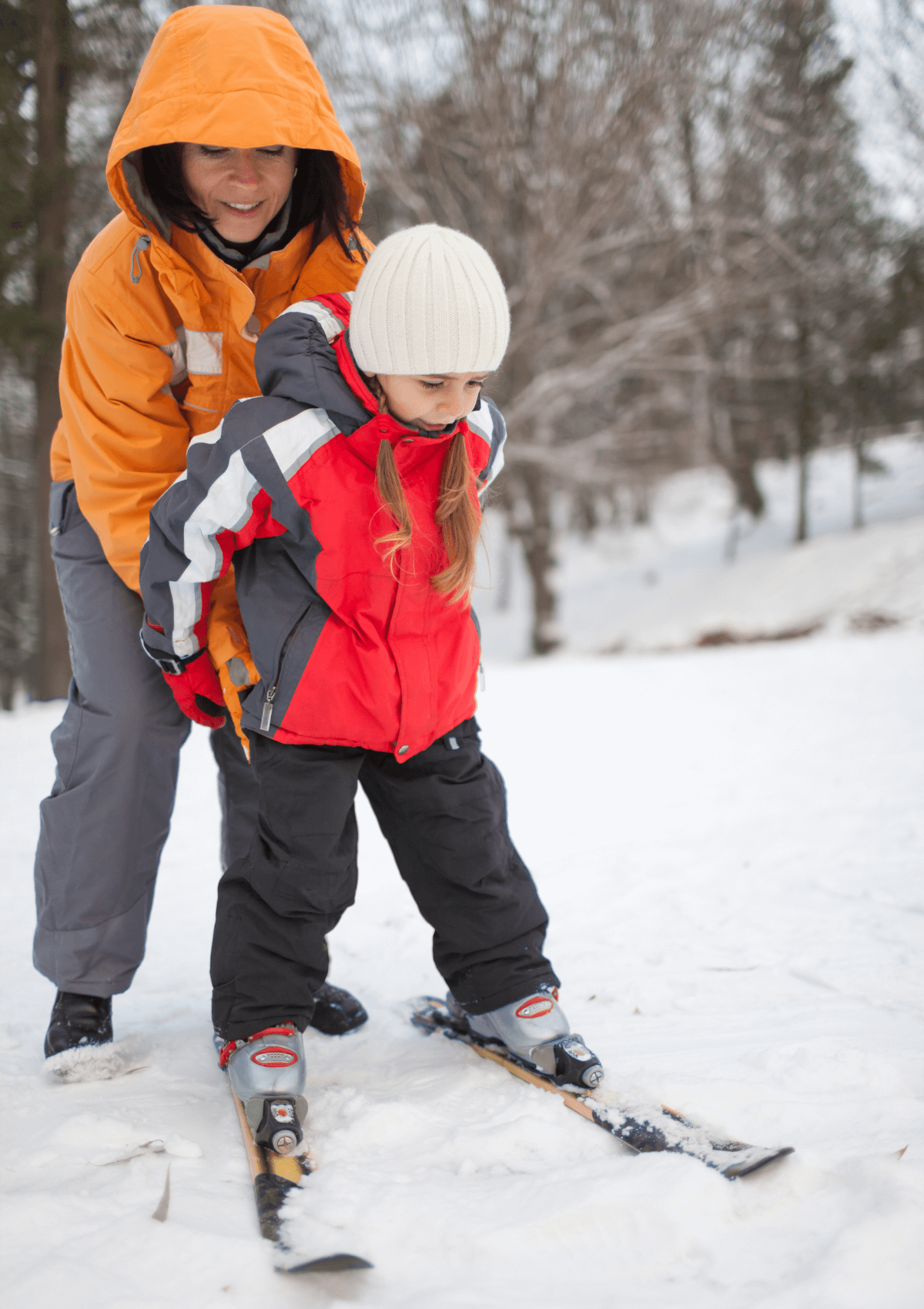 You'll learn from one of their expert, fully qualified coaches who can talk you through everything if you're a beginner or nervous, and will do so at your preferred pace so you don't miss anything and have plenty of time to try out different techniques.
Once you book, you'll also receive your equipment as part of the hire, and can sign up to one of their many lessons or courses. From a beginners' day course to adult ski plough to parallel day course, to lessons for levels 1 – 6, to private ski lessons and much more, there is quite literally a lesson option for every taste, ability and age (from 3+ years).
In fact, their amazing Children's SnoAcademy offers a great space for young children to come along and try it out. This could be one of the best places for ski lessons in England if you want to make sure your child feels at home on the slopes.
4. Mendip Activity Centre, Somerset
Near the Mendip Hills in Somerset, you'll find the Mendip Activity Centre which offers one of the most stunning places to learn to ski in England. Especially in the evening (so it's great for date ideas!). Lined with trees all the way down and floodlit so you can see well into the evening, this is a wonderful spot to learn to ski.
You'll feel super safe learning from their experienced, qualified instructors who will make sure you have all the equipment you need (skis, boots, a helmet, etc.) and talk you through what will happen in the lessons. The aim is to increase your confidence over time with small moves you can start to apply.
For complete beginners, you may want to book their 90 minute long 'Try Skiing' session. They have small-group lessons all year round, and when you're finished learning lots, you can head to the toboggan slope which is one of their most popular activities for families. If you're looking for ski lessons in England near Somerset, this place is a snow brainer.
5. Chatham Snowsports Centre, Kent
If you're based in Kent and looking to up your skiing game to hit the slopes (or pop yourself into skis for the first time ever), Chatham Snowsports Centre is the best place to be. They offer excellent group ski lessons, tots group lessons, private lessons and family lessons for levels 1 to 7. It's one of the best days out in Kent there is.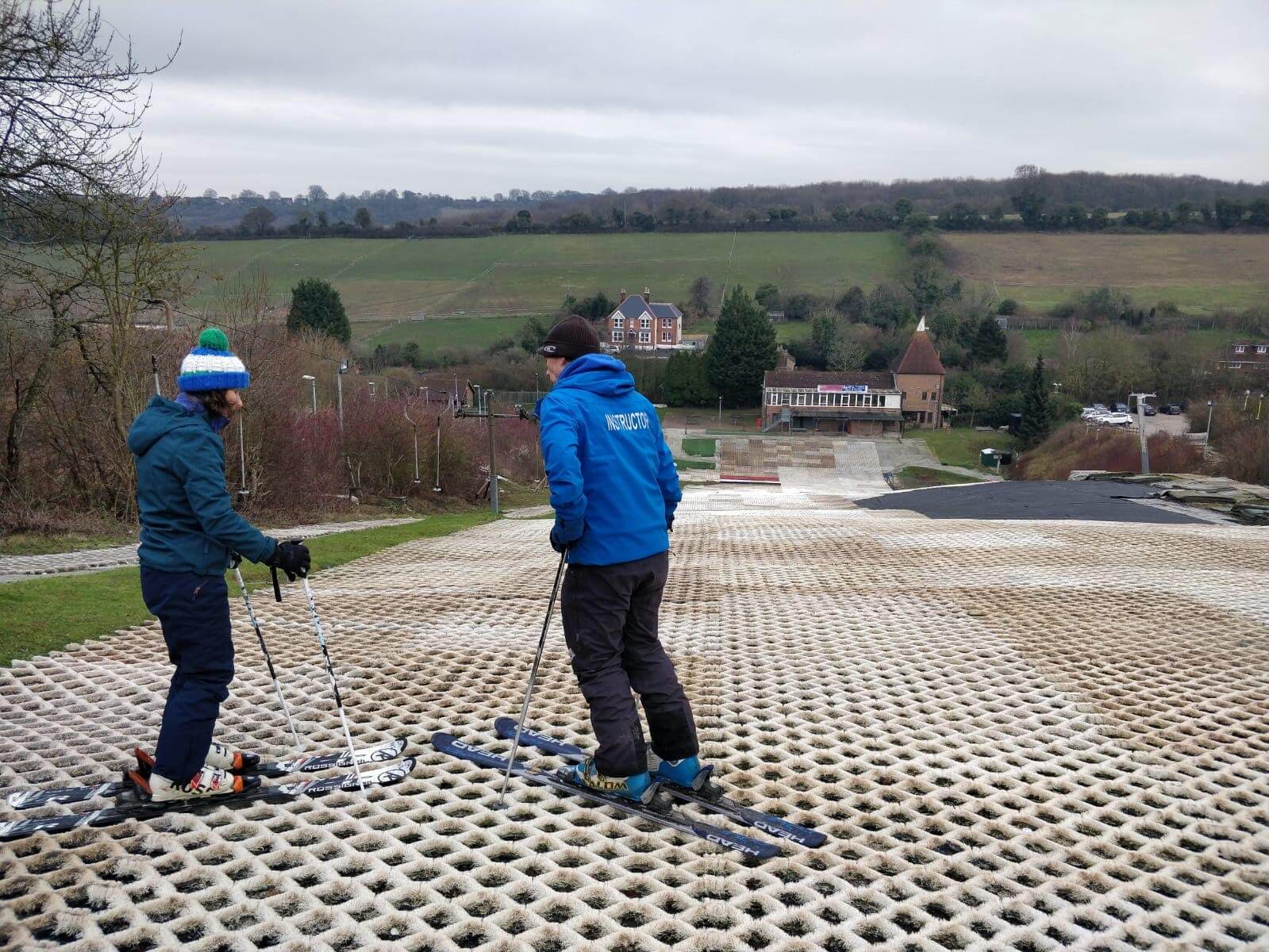 As well as the likes of indoor skiing UK and snowboarding, they have other really fun activities like tubing. If you're visiting with the kids this could be a good activity to keep them entertained.
If not, and you're just looking for a ski school for adults, they have plenty of courses and lessons for big kids too. This is easily one of the best places in the country for beginners to have ski lessons in England.
6. Sandown Ski, Surrey
Sandown Ski has some of the best ski lessons London has to offer (although they're technically in Surrey, but close enough!). If you're looking for the best indoor skiing London can find, this has got to be on your list. Located in Esher, this excellent spot looks out over Sandown Park Racecourse and the London skyline, and offers four dry slopes to glide down.
Sandown has professional instructors who can tackle all manner of lessons, so their courses are suitable for all abilities — beginners to advanced — plus they have many junior courses suitable for little legs so the whole family can get involved.
Sandown stands out as their instructors focus on providing friendly instruction and making all lessons fun. And that tactic seems to be working, as their Sandown Park Ski Race Club competes all over the country and has had several Olympians within its ranks.
If you're just there to watch the kids learn to ski, this place is by far the best to sit by the sidelines; the stunning views over London can be enjoyed with a hot chocolate in their ski chalet clubhouse, so you get a little of the après-ski experience without ever having to strap on a ski!
One of the best places for ski lessons in England, by far.
7. Torquay Alpine Ski Club, Devon
Even in the warmest part of the country, skiing is an option. If you fancy trying your hand at skiing in the beautiful county of Devon, Torquay Alpine Ski Club is one of the best places to learn skiing or snowboarding. The club offers lessons and courses to help you pick up the very basics or improve your current ski skillset.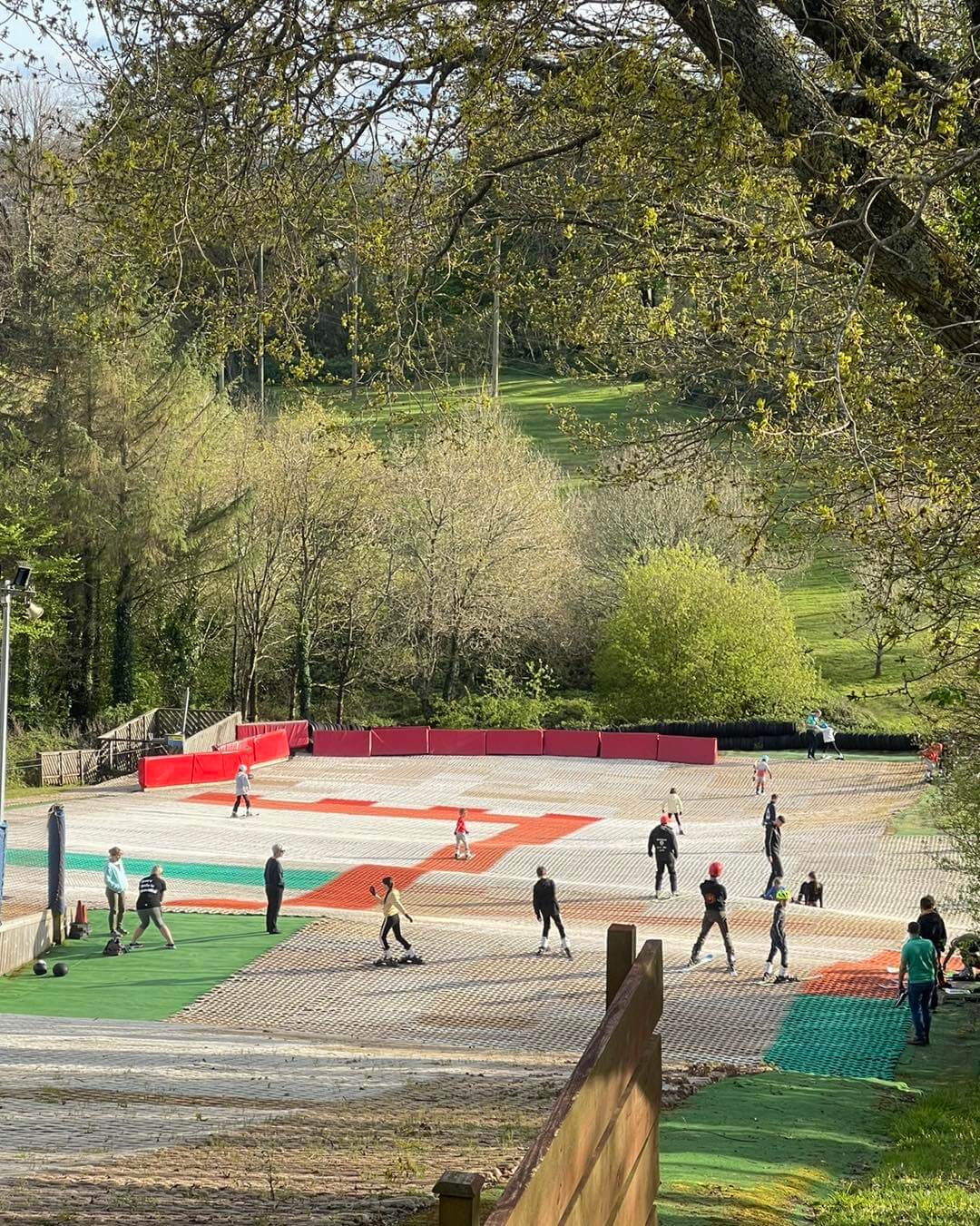 Their nursery slopes offer a great place to build up your skills and confidence before heading out onto the big slopes, which are made from Dendix — a plastic slope surface that many believe is the closest thing to real snow feel.
Once a week the Torquay Alpine Ski Club has their ski coffee morning, where more nervous skiers can come along and try the slopes in a quieter, more relaxed setting, i.e. no pros whizzing past you. You'll get two 45-minute ski sessions with a 30-minute break for some coffee or tea, and yummy homemade cakes. When you add cake to the mix, this definitely becomes one of the best places for ski lessons in England.
8. Moving Mountains, West Sussex
Located in Henfield near the South Downs, Moving Mountains offers something a bit different. Their unique lessons use a rolling floor that gives you the feeling of going down the slopes, and allows you to practice the moves… but doesn't actually move you anywhere — a very clever way to teach people to ski with less risk involved. Think giant treadmill that feels like snow.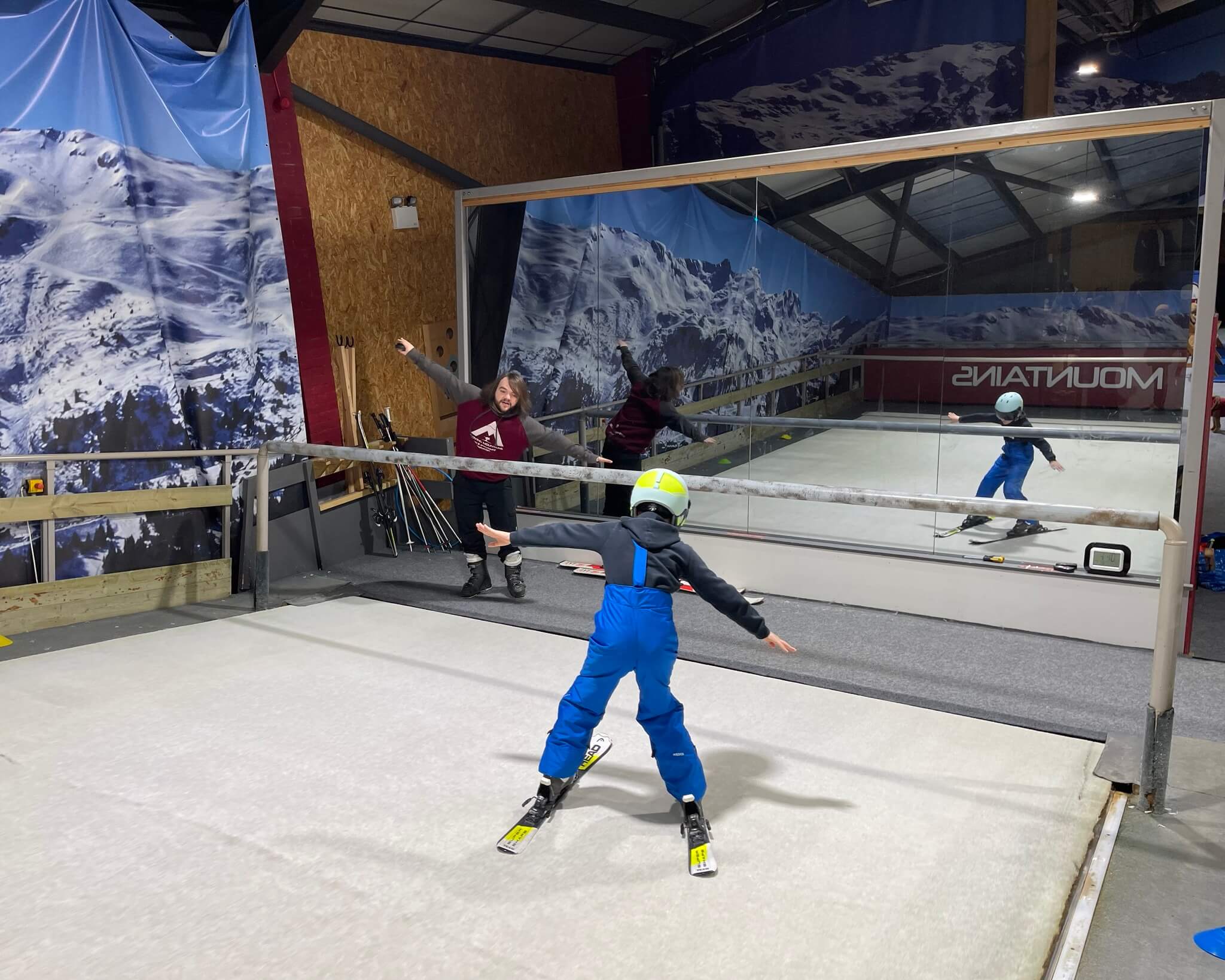 Their rolling floor also means you waste no time during your lessons, as you can ski for miles without having to take the ski lift back to the top. More lesson time, more instruction, and more for your money.
They promise an 'intense learning experience, both mentally and physically', so you're bound to see progress by choosing one of the ski lessons or courses available at Moving Mountains. For time with the instructor and amount of lesson time involved, you'll find Moving Mountains is one of the very best places to take ski lessons in England.
8 Great Places to Take Ski Lessons in England
Ready to sign up to ski lessons in England? This list breaks down some of the best places to do this in the country, so whether it's time to up your ski game after a long hiatus, to level-up from intermediate to advanced, or to just learn to strap on skis for the first time and stay upright, there's a lesson or course here for you.
Quicklist: 8 Great Places to Take Ski Lessons in England
Ackers Adventure, West Midlands
Silksworth Sports Complex and Ski Slope, Tyne and Wear
Snozone, Buckinghamshire
Mendip Activity Centre, Somerset
Chatham Snowsports Centre, Kent
Sandown Ski, Surrey
Torquay Alpine Ski Club, Devon
Moving Mountains, West Sussex
---