Looking for incredible viewpoints in London? This is the place! London is famous for landmarks like St Paul's Cathedral, the Shard, Big Ben and the Gherkin, which make up its unique skyline, but where are the best spots to view them from? Read on…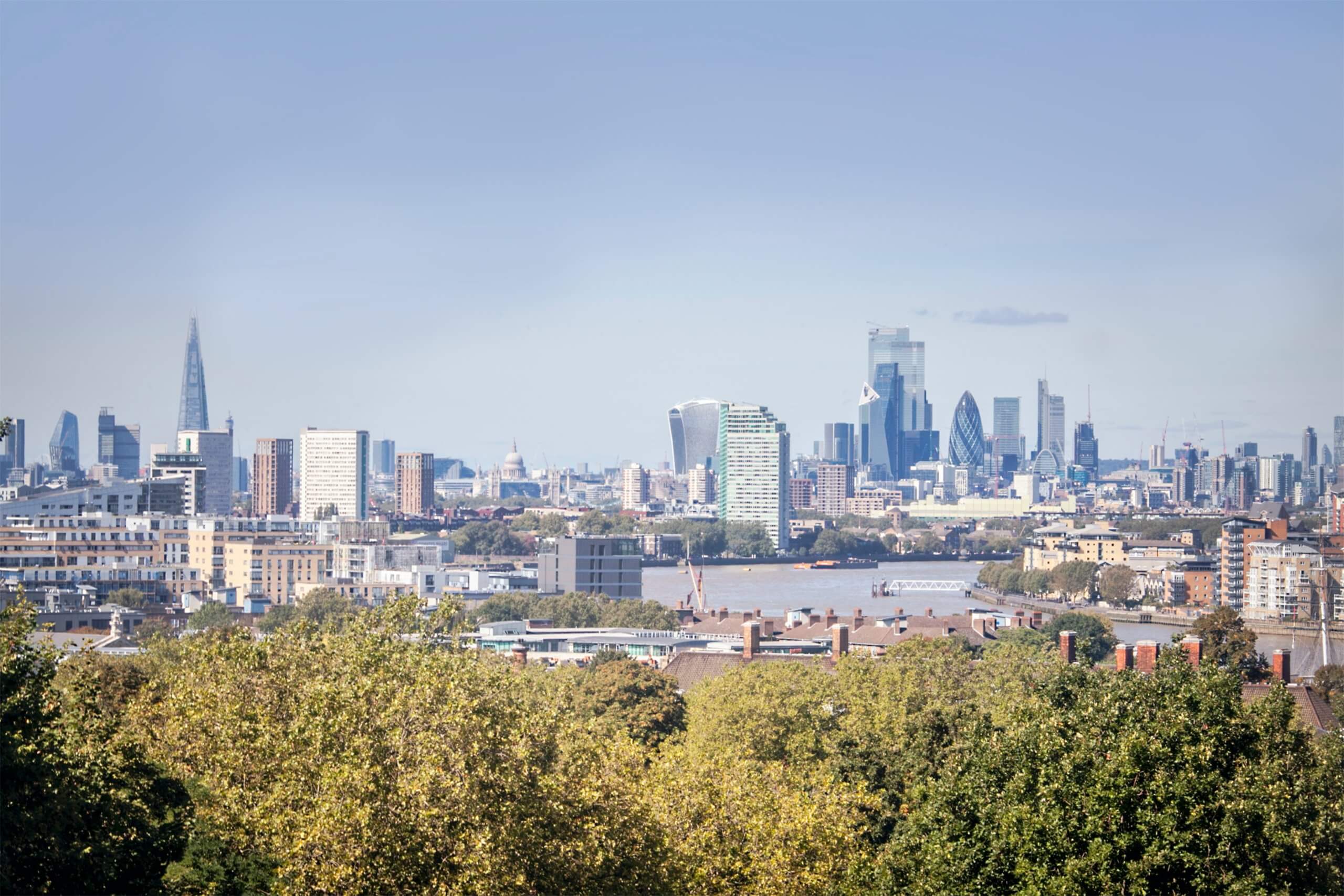 If you happen to be in the city on a clear day, it's certainly a great idea to visit one of the many great viewpoints around London – especially if you're there at sunrise or sunset. There are a few places to check out around the city that offer the best viewpoints in London, let us show you where.
We're full of brilliant ideas for the best days out in London, but it's always worth adding somewhere to your itinerary that gives you a stunning view of the city.
If you're not sure of the best place to go, we're breaking it all down here; this is our list of the best rooftops, hills, buildings and attractions offering a jaw-dropping perspective of the country's capital.
See if you can spot any of London's most iconic landmarks, or if you live nearby, bring binoculars and try to pick out your own house! Let's take a look at some of the best viewpoints in London…
Hilly London viewpoints
The hills are alive with some seriously good London viewpoints!
1. Parliament Hill, Hampstead Heath
This is probably one of the best-known photo spots for a great view of the city, but it feels like every time you go you'll find something new to look at. It's possible Parliament Hill could win highest natural viewpoint in London, since you'll need to hike up an incline of 98 metres to make it to the summit.
Out of breath?
It's OK, you'll remember why you started when you reach the top.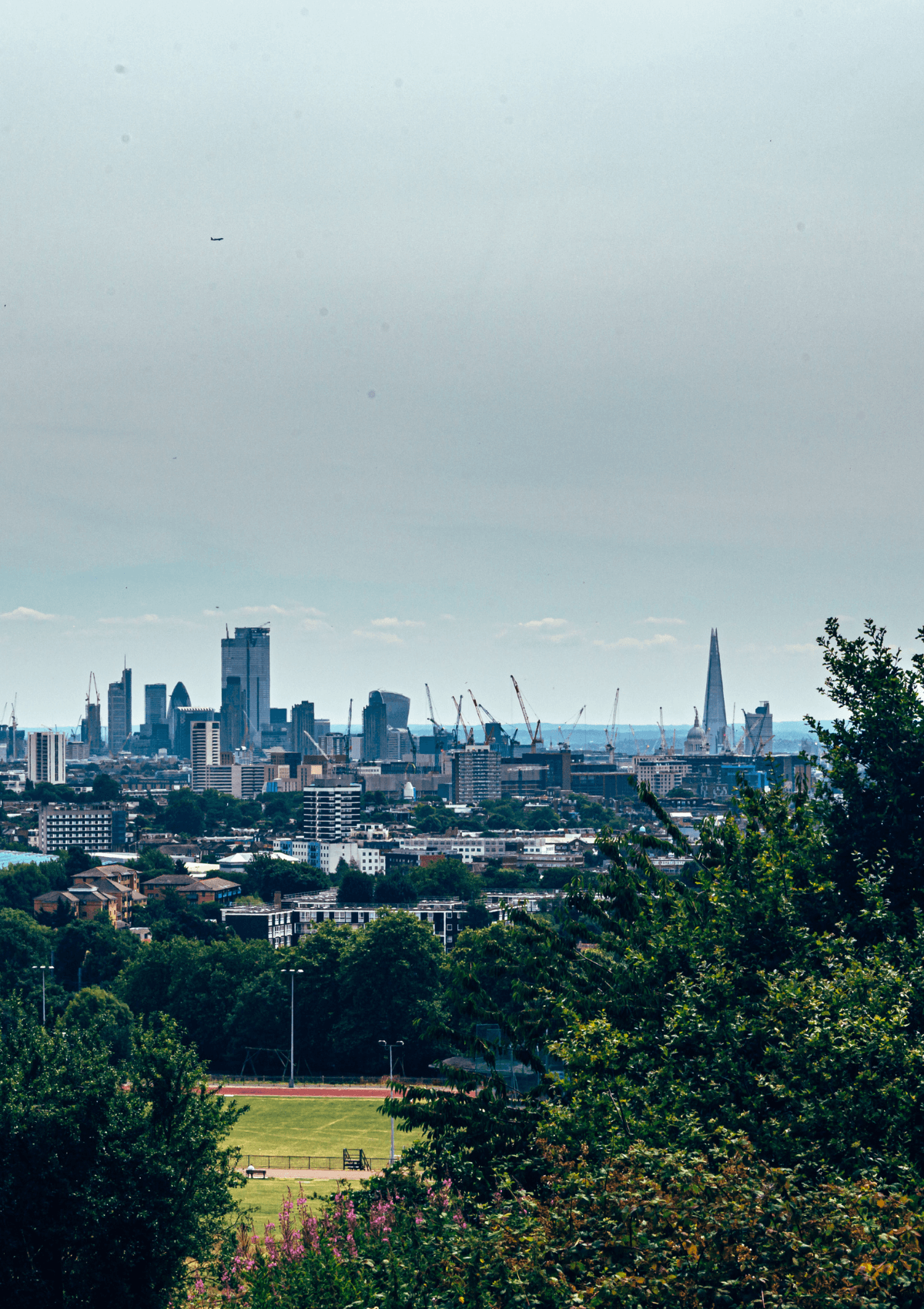 Up-level your experience by bringing a picnic along if the weather permits, or take a dip in Hampstead Heath's famous ponds which are definitely one of London's best spots for outdoor swimming. Parliament Hill is easily one of the best viewpoints in London, and on a clear day, you'll see the Palace of Westminster popping up to say hello, as well as the dome of St Paul's Cathedral.
2. King Henry's Mound, Richmond Park
Richmond Park may feel far away from the city, with its countryside atmosphere, famous deer and squawking parakeets, but King Henry's Mound offers one of the best viewpoints London has to offer that'll help you maintain that connection with the City.
King Henry's Mound is named as such because it was apparently one of King Henry VIII's favourite spots. It's not always easy to find which makes it a great activity for a free London day out.
Start at Pembroke Lodge car park and follow the trail through the gardens until you come across the gold telescope. You can use it to peek through the trees and enjoy a view of St Paul's Cathedral, or on a clear day you'll be able to see it with your own eyes. The view is protected by law, so no foliage or buildings can obscure it. While it's not the closest view of the city, its certainly a unique take on one of the best viewpoints in London.
READ MORE: The Best Walks in the Surrey Hills
The Best Non Touristy Things to Do in London
3. Greenwich Park
This corner of the capital has some of the best viewpoints in London, and Greenwich Park is the spot to add to your list of London panoramic views. If you get the weather right, you'll see Canary Wharf, the Leadenhall Building, the National Maritime Museum and of course the iconic London Eye.
Picture perfect!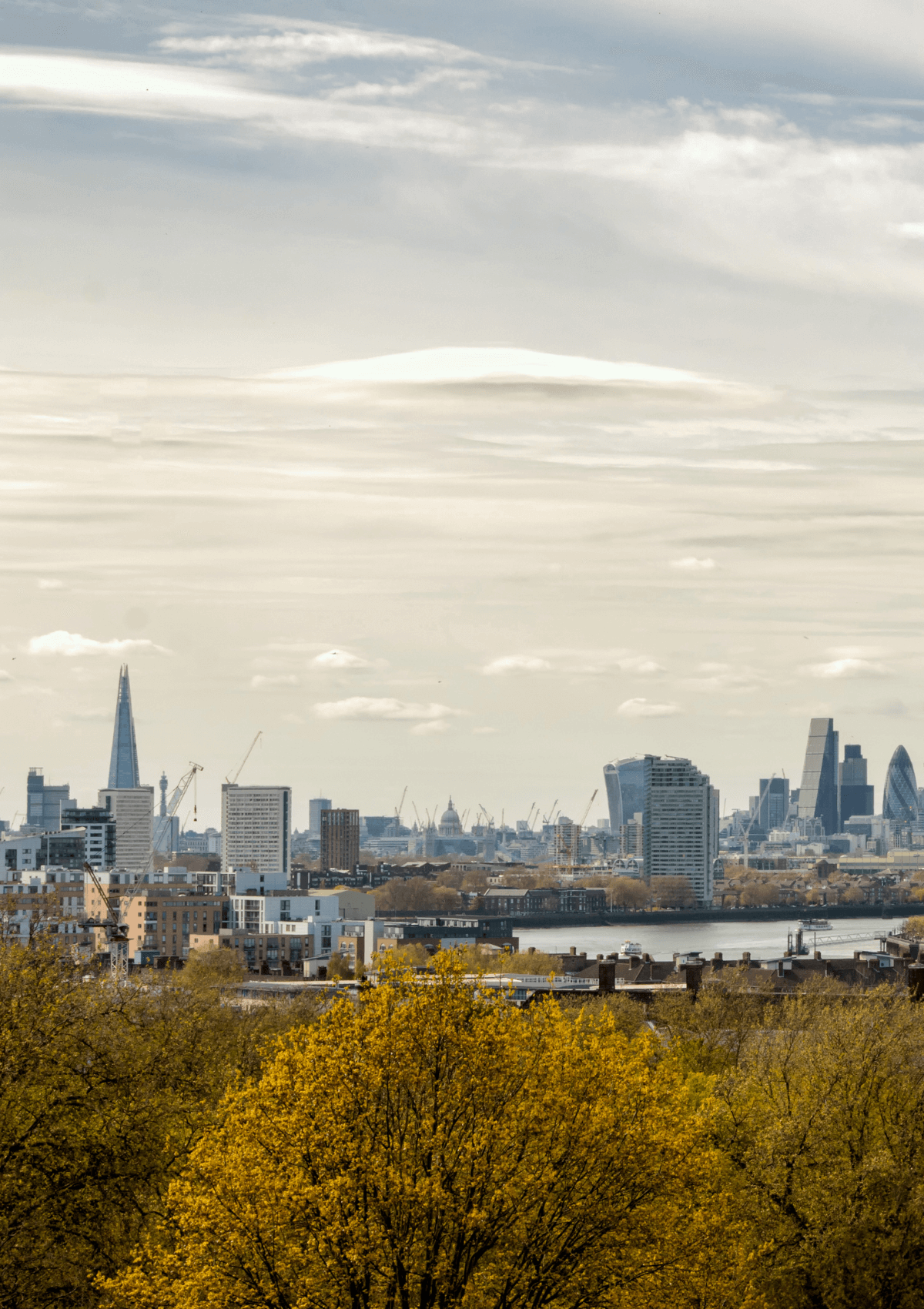 Check out Greenwich Observatory which is home to the UK's biggest telescope, as well as the Prime Meridian Line which splits the western and eastern hemispheres. Fascinating stuff for your day out in London, plus this place has one of the best London viewpoints if you're looking for a really clear view of some of the capital's key buildings.
4. Alexandra Palace
Ally Pally is one of London's best gig venues, and if you happen to have been there to see a concert in the past you've probably walked past the epic views of the city. It's always worth getting there early to take in some of the best panoramic views of London. The hike from the train station is quite a feat, but the reward is at the top!
There's also a boating lake, an ice rink, and 196 acres of parkland for you to explore if you have extra time in the area, so it's a great day out. Anyone who's been to Ally Pally knows it's a great spot whether you're there for a gig or to take in one of the best viewpoints in London.
READ MORE: The Best Trampoline Parks in London
Rooftop London viewpoints
See if your ears pop as you ascend in the elevators of some of the most iconic buildings in London, all with incredible views to behold…
5. The OXO Tower
The eighth floor of the OXO Tower on the South Bank is where it's at for London views. While not one of the tallest viewpoints in the city, you'll be able to enjoy one of the very best views of the River Thames while treating yourself to a cocktail at the brasserie inside.
The nearby restaurant in Sea Containers offers a similarly magical view, so don't forget to add that one to your list if you're looking for dinner with a view. Definitely one of the best London viewpoints to enjoy!
6. The View from the Shard
This has got to be up there with the best views in London at night, hands down! It's the capital's tallest building as well as the tallest building in the whole of the United Kingdom, so of course the views are incredible. Quite literally nothing beats it!
There are viewing platforms on floors 68 and 69, and an open-air platform on level 72.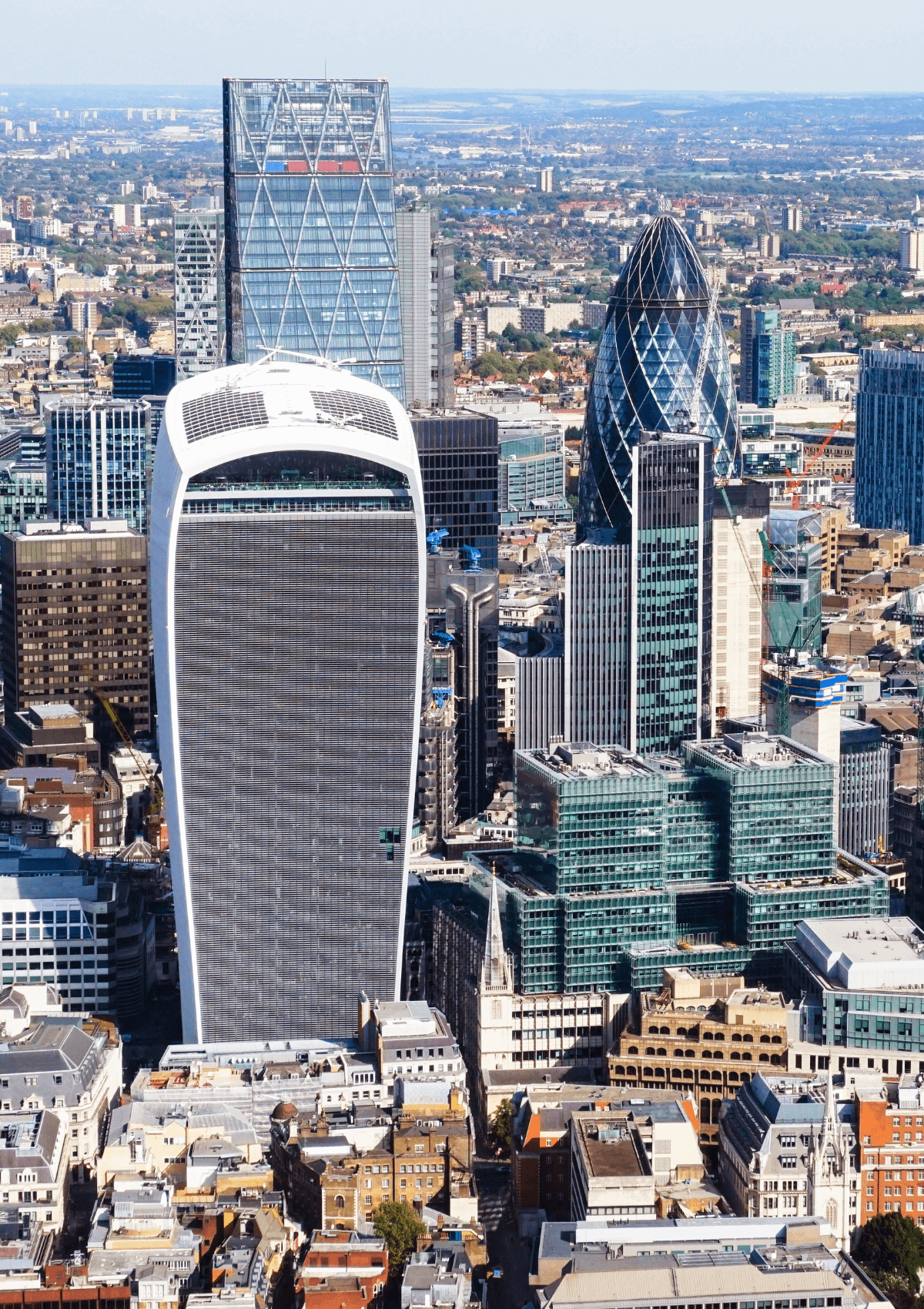 With 360-degree, panoramic views and a bar for celebratory drinks, it's a great activity for your day out in London. Plus, if you live within about a 40 mile radius of the Shard then there's one factor that will determine if this is one of your best viewpoints in London… whether or not you can see your house!
7. Frank's Cafe, Peckham
Frank's Cafe in Peckham closes for the winter season, as many outdoor spots do here in England, but in summer this is a must-not-miss day out that offers spectacular views and a brilliant rooftop bar. It's been a Peckham fixture since 2009 and resides on the 10th storey of Peckham Levels, a former car park.
Run by a non-profit that supports local artists and traders, this is a great spot to try out on your tour of the city's best viewpoints. The views are worth the queues, so don't be discouraged if you have to wait for a while to get in.
8. Sky Garden, The Fenchurch Building
Sky Garden offers a unique vantage point as one of the best free views in London. As London's highest public garden, you can escape the city chaos by ascending the elevator to the top of this gorgeous plant-covered oasis, with 360-degree views of the skyline incorporating some of London's best-loved buildings.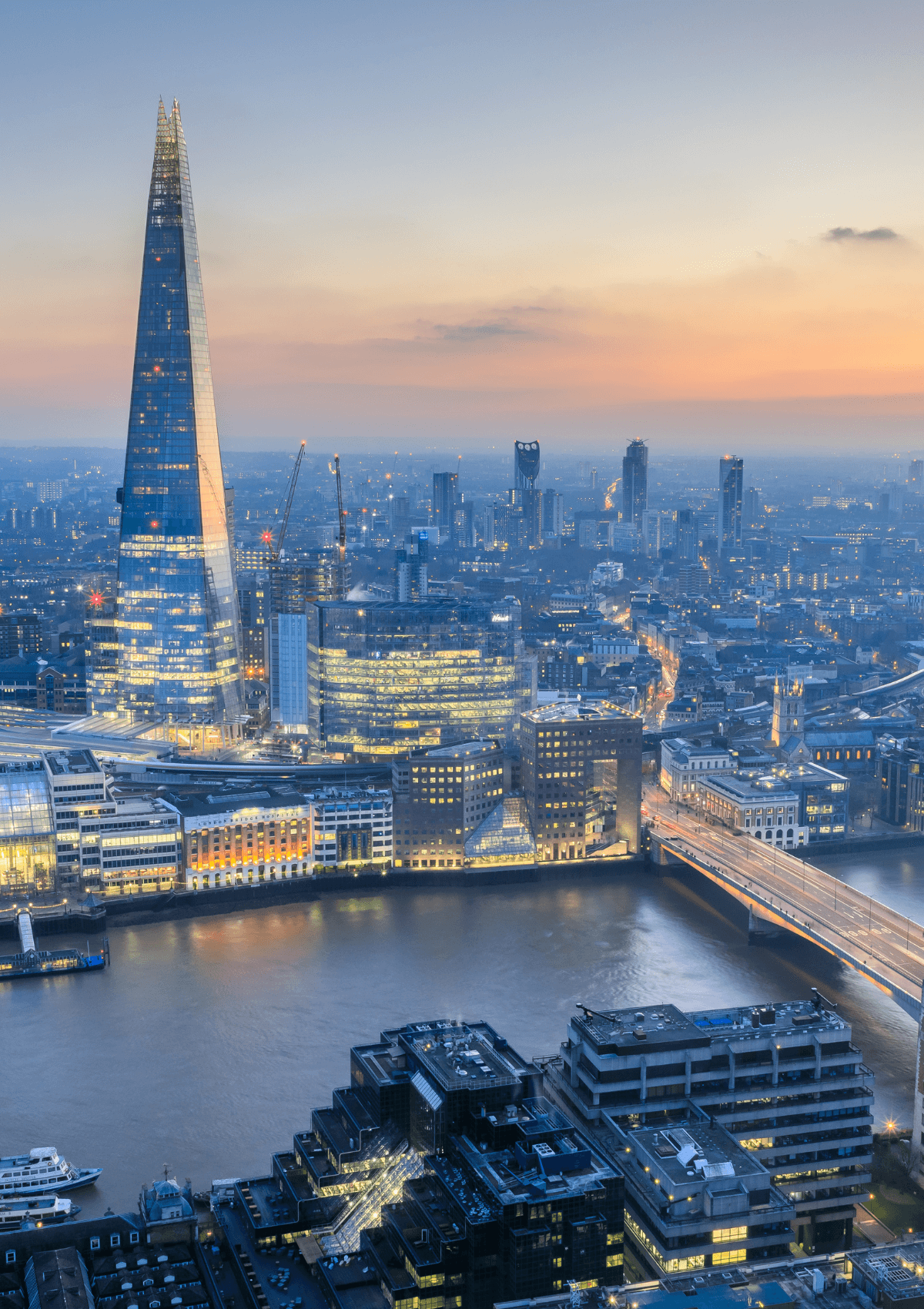 The award-winning landscaped gardens, observation decks and open-air terrace make it a must-see in summer, but it really is beautiful all year round. This is a great spot to see in London whether you live there or are visiting, but be sure to book the Sky Garden as far in advance as possible because spaces fill up quick.
London viewpoints from other landmarks
Panoramic views of London's skyline from atop some of its own best attractions.
9. The London Eye
It might be one of the main tourist hot-spots in the city, but it offers an exceptional view that's well worth braving the crowds for. Hop into one of the London Eye pods and ride this huge ferris wheel all the way to the top to see some of the main sights near Westminster and St Paul's Cathedral.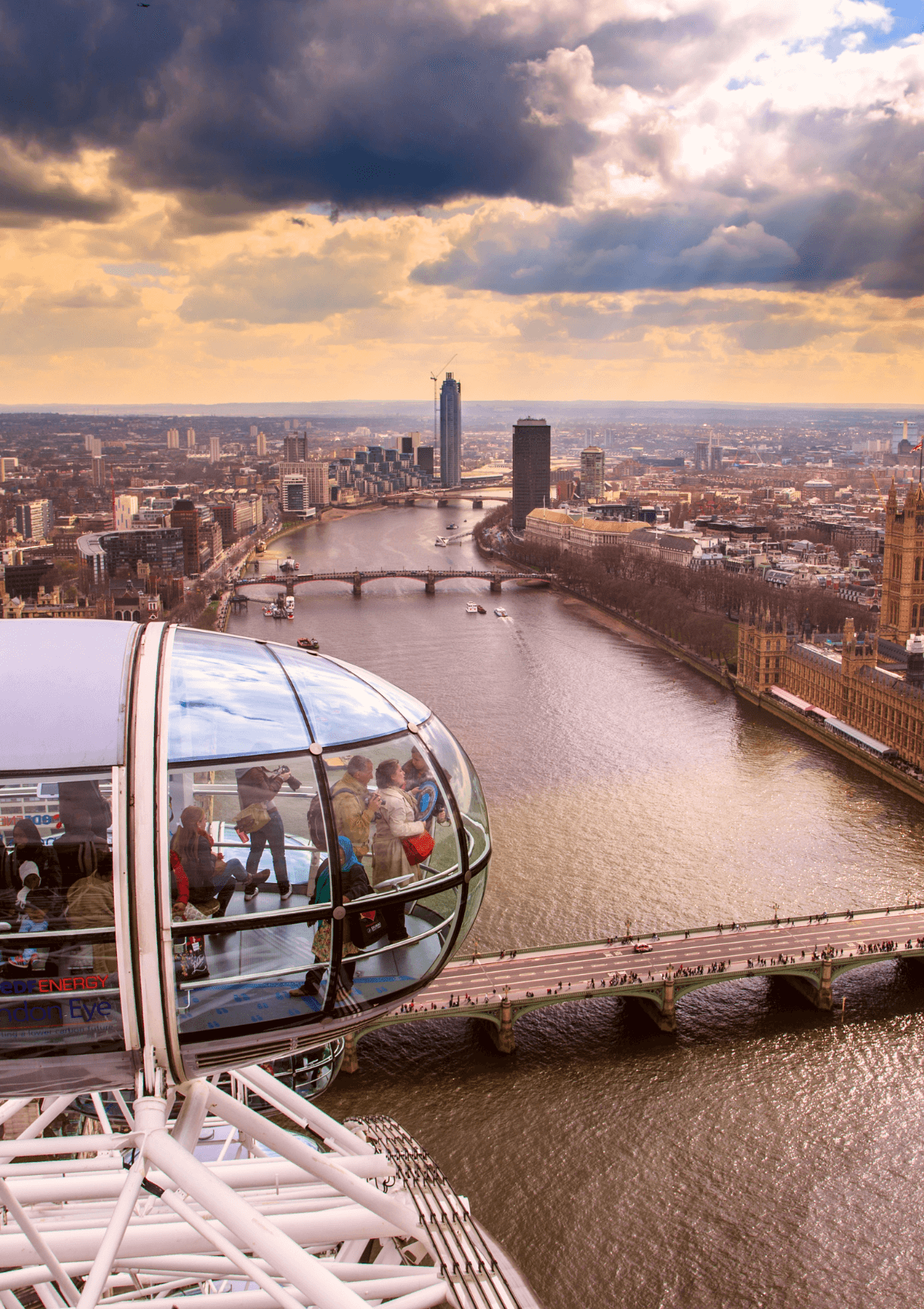 It's certainly one of the best viewpoints in London if you want to see more of the Thames, and pre-booked tickets cost around £32.50 so it's best to wait for good weather and visibility to make the most of your trip.
10. The ArcelorMittal Orbit
Officially the world's longest tunnel slide, this strange-looking structure was at first a head-scratcher for Londoners, but has since become a fun activity that many will happily climb for the epic views and the fun ride down. It first opened in 2012, offering brilliant views looking over the Olympic Park and the Square Mile.
While many climb the slide only to whizz back down again at lightning speed, don't forget to pause and take in the view. It's one of the best in the city so it's not to be missed (no matter how excited you are about the giant slide below!)
10 of the Best Viewpoints in London
Whether it's some sunny day photography, a rooftop bar kind of day out, or a classic climb to the top of one of London's most iconic buildings, there's something on this list to suit everyone. The skyline is one of the most famous in the world, so on your next day out in the capital don't miss an opportunity to gaze over the city and its many features, including some of the best London canals. Enjoy some of the best free views in London!
Quick list of the best viewpoints in London
Parliament Hill, Hampstead Heath
King Henry's Mound, Richmond Park
Greenwich Park
Alexandra Palace
The OXO Tower
The View from the Shard
Frank's Cafe, Peckham
Sky Garden, The Fenchurch Building
The London Eye
The ArcelorMittal Orbit
---