There's something about being beside the water that can lift your mood and put a smile on your face, and a canal walk offers a great chance to explore new areas along an easy-to-follow trail that's hard to lose! Here are 9 of the best canal walks in London…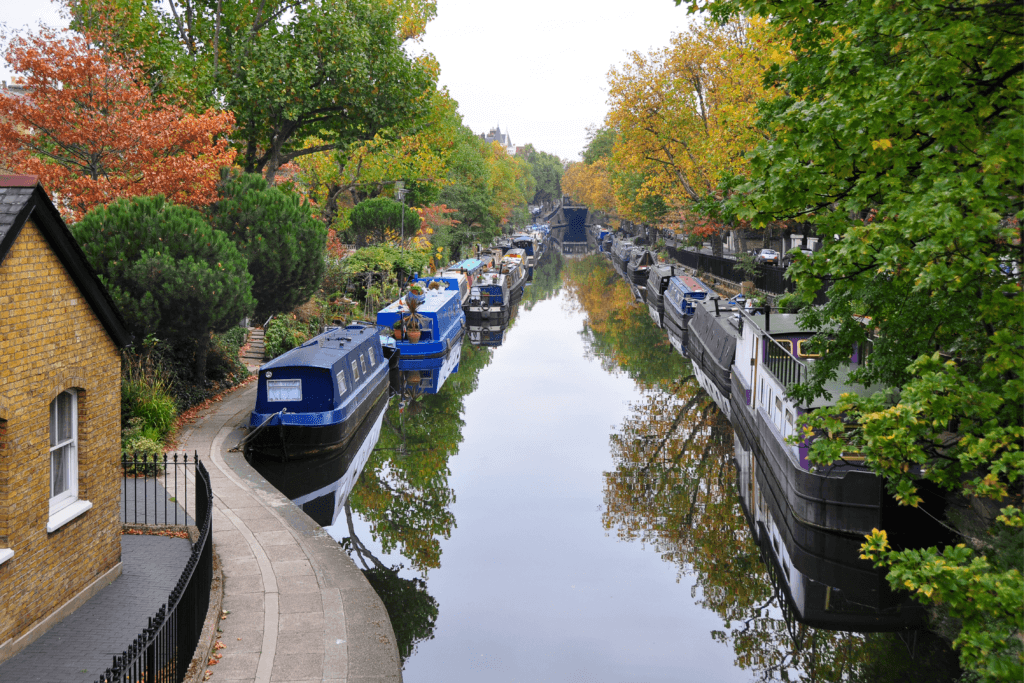 Whether you enjoy barge spotting, taking pictures of wildlife or just strolling along somewhere new, canal walks in London are excellent activities for all ages. While there are plenty of waterways throughout England, London is home to some of the most picturesque and interesting stretches of canal in the country, so there's loads to see and do here.
If you're looking for great free days out in London, one of the many canal walks could be a good idea. So strap on your walking boots and check out this list of some of the best canal walks London has to offer.
9 of the Best Canal Walks in London
Want to walk along a canal in London? Here are your best options…
1. Regent's Canal Towpath Walk
If you're interested in learning about the canal walks in London, Regent's Canal Towpath Walk should probably be your first point of call as it's the root of many other sections of canal in the city. It's a great route if you're a tourist as it passes more than a few famous London landmarks along the way.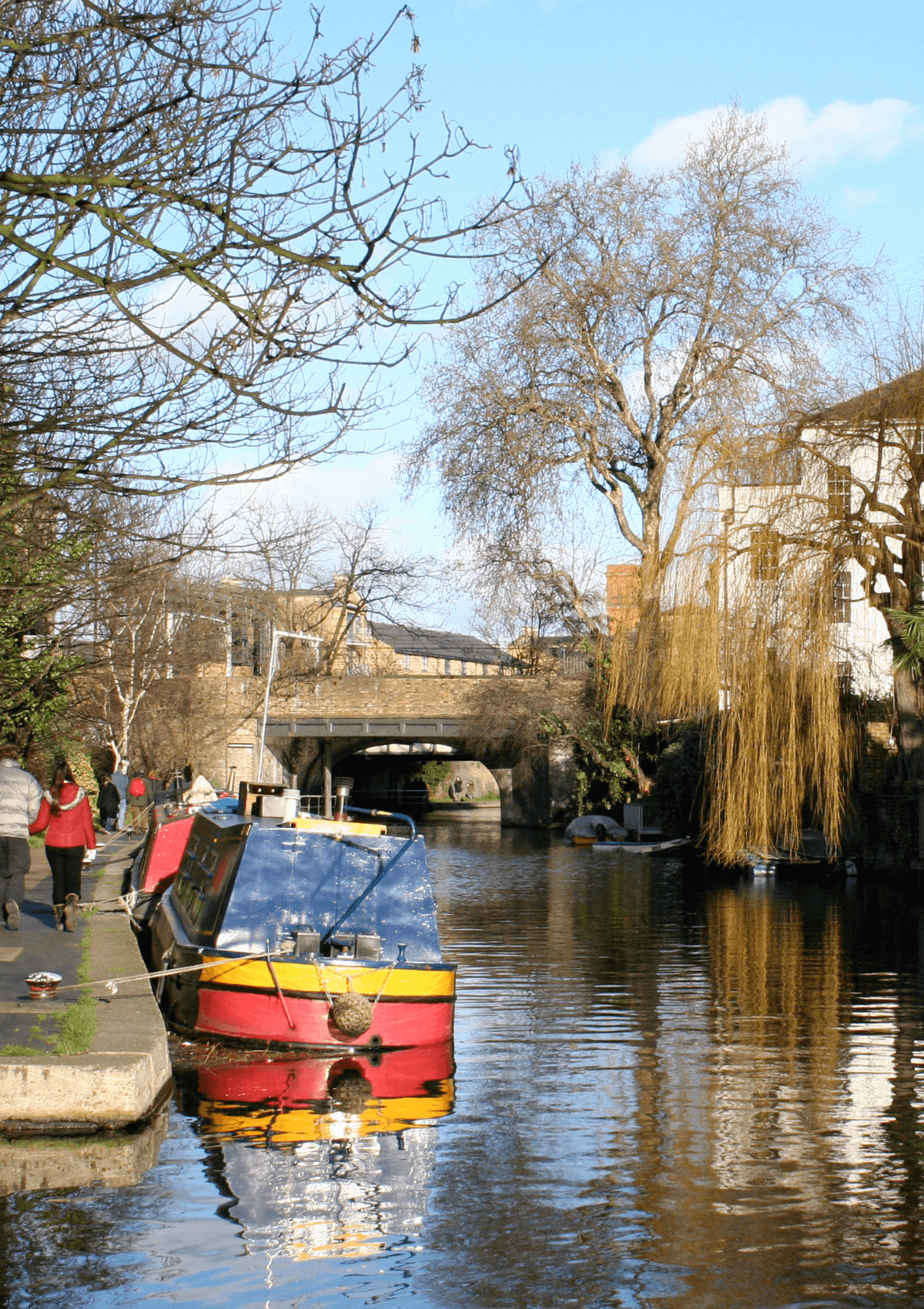 Starting at Camden, you'll easily see where the canal walk begins and you can spend an afternoon ambling along the towpath, with plenty of great restaurants and cafes along the way.
Technically the entire Regent's Canal Walk is 9 miles long, but we recommend the 1.5 mile stretch from Camden ending at none other than the London Canal Museum! It'll take around 30 minutes at a moderate pace, and it has the perfect end point for enthusiasts. This is one of the most well-known canal walks in London, and for good reason!
2. Camden Lock Walk
If you've started your walk in Camden you may discover that there's so much to do there, you don't need to go far! Camden High Street is known as one of the most famous streets in London, but what makes this area extra special is its proximity to the canal. Camden Lock is part of the same Regent's Canal Walk described above, but Camden Lock is a great option if you're looking for a shorter section to cover.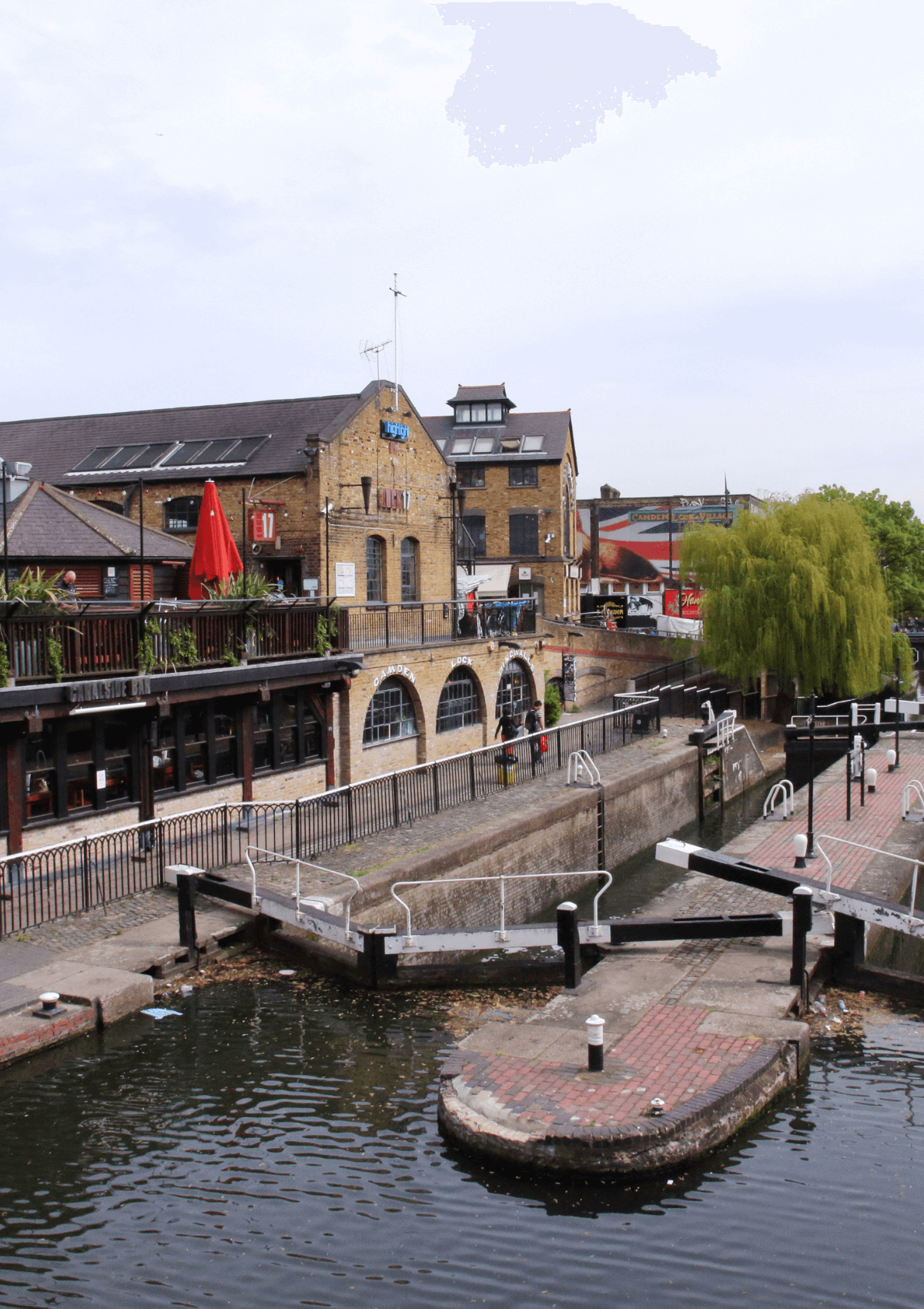 Stroll along the canal path in this bustling part of the city and don't forget to browse around Camden Market while you're in the area as it's full of amazing food vendors, quirky shops and unique souvenir stalls – well worth a visit. From here, Regent's Park is also not far away if you want to stop off for a picnic in the summer months, or if you want another great activity for the kids, ZSL London Zoo is close, which is easily one of the best zoos in England.
Don't miss one of the busiest, colourful and vibrant canal walks in London — Camden Lock has everything!
3. Little Venice Canal Walk
Little Venice canal walk is just beautiful, and had to go on our list of the best canal walks in London. Little Venice feels like a small slice of Italy in London and sits right between Grand Union Canal and Regent's Canal, so it's a perfect spot for a day out. There's tonnes to do whether you're a child or a big kid, with plenty of boat ride options, the beautiful Little Venice Island Gardens, and the famous Puppet Theatre Barge!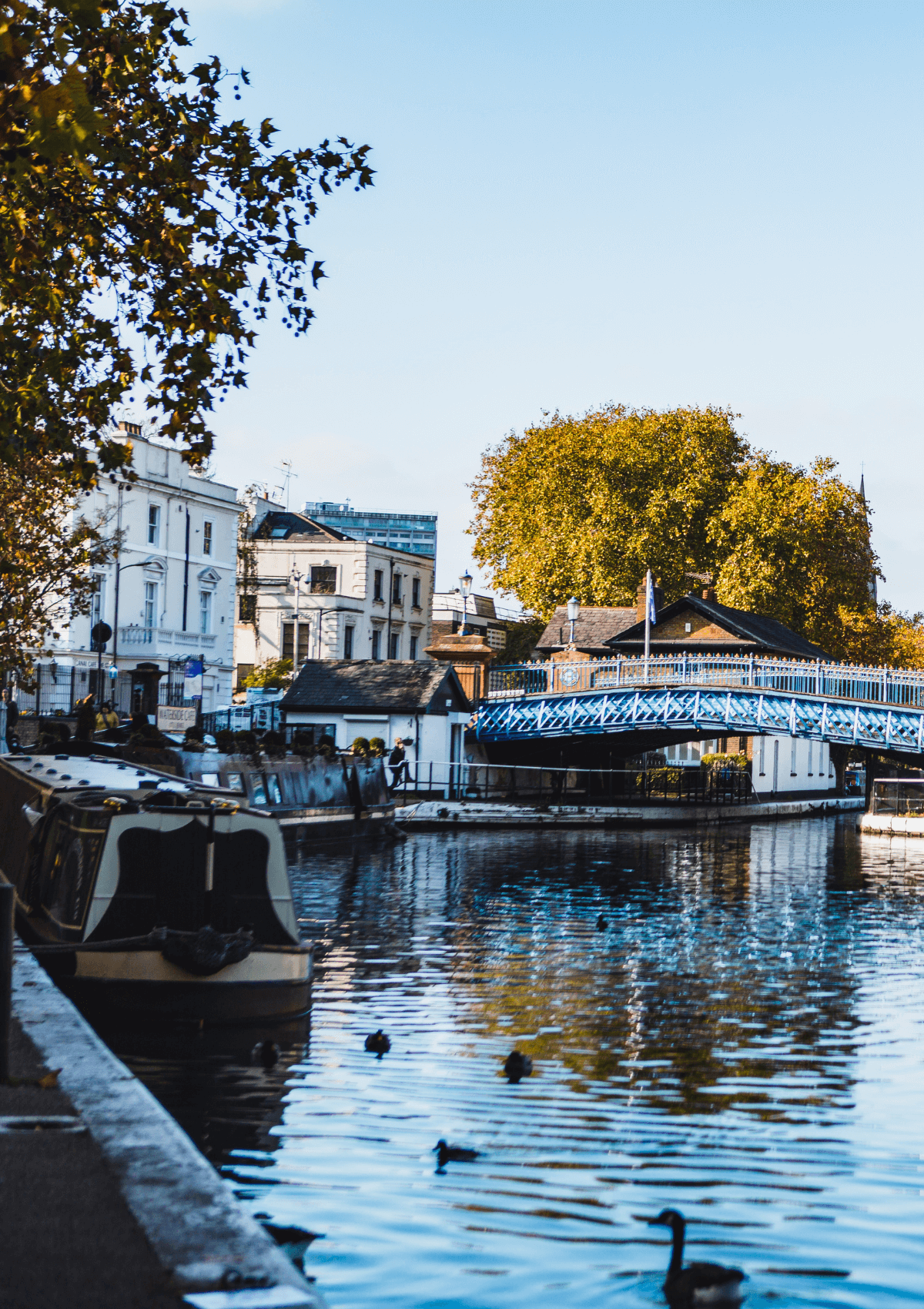 While not the longest canal walk in London, it has enough to occupy you for hours and is a perfectly picturesque spot you'll want to bring your camera along to. Head to Warwick Avenue tube station to start this stunning walk and leave time to stop off at one of the lovely cafes or coffee shops along the way. You may want to visit nearby Portobello Road Market afterwards too!
4. Limehouse Basin Canal Walk
Limehouse Basin might just be the best canal walk East London has to offer, and with so much going on in the area to entertain you, you won't even realise the whole walk around the Basin is less than a mile. It's a great little walk if you're looking for a quick one, but with lots to do if you want to make an afternoon of it.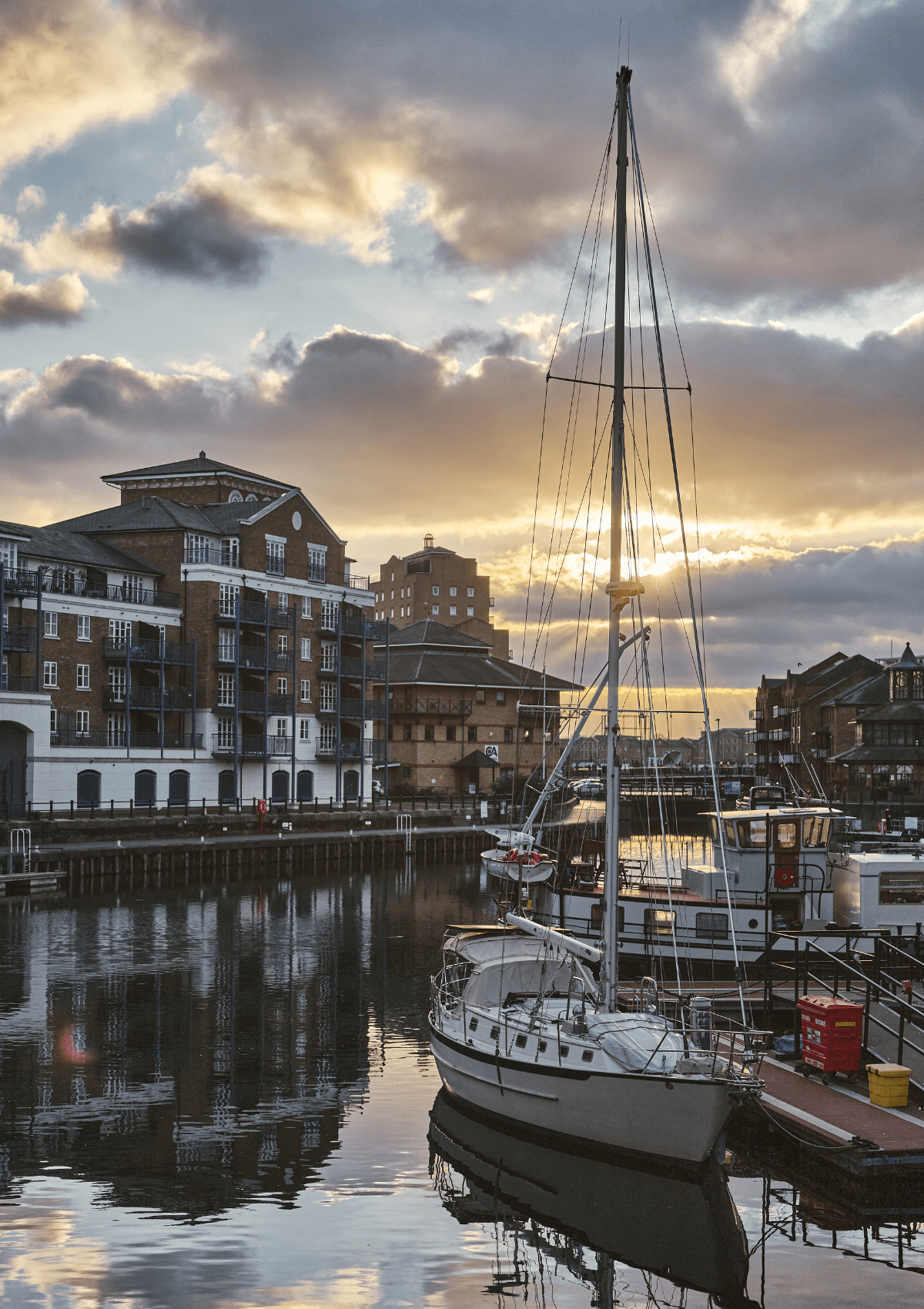 A walk around Limehouse Basin is definitely one of our favourite canal walks in London as it offers great views of the marina, nice restaurants in the area, and if you're keen to take a dip in the water, it's also one of the best places to go paddleboarding in London!
Get the DLR to Limehouse and take a walk around Limehouse Basin Marina and Limehouse Basin Lock to see the swans and other city wildlife. If you're not tired yet, you can head up Limehouse Cut — more on that later!
5. Canary Wharf Canal Walk
Canary Wharf is a famous area in London known as the business district and defined by huge towering buildings that dwarf the canal below. The imposing towers offer very different scenery to other canal walks in London, but there's no denying it's a lovely area for a city stroll.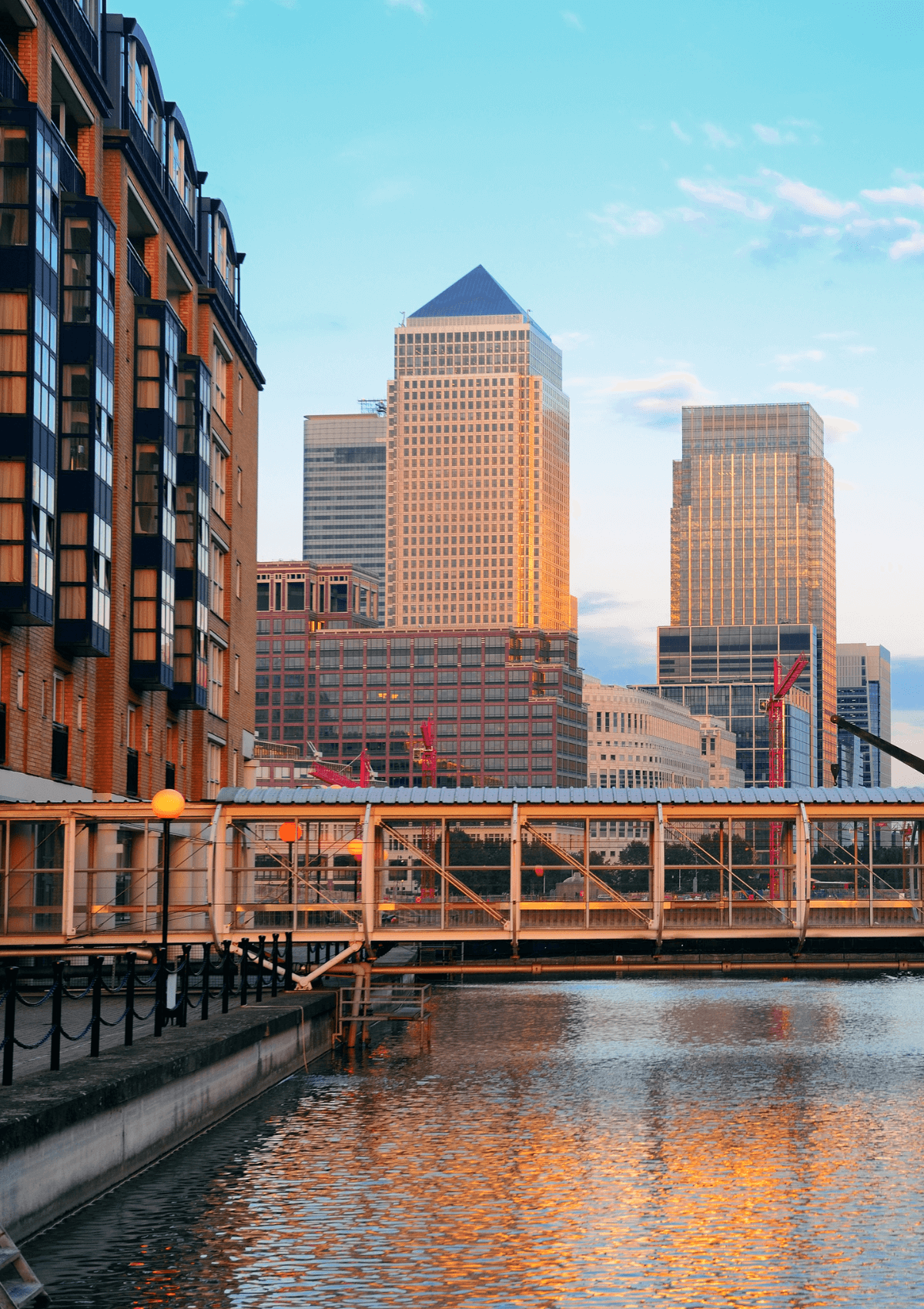 While not a particularly long walk, you can get off at Canary Wharf station and wander around the area — our recommendation would be to go around sunset on a nice night to see the low sun reflecting on the tall buildings above. When night falls it's also beautiful and glittery, so don't miss this one on a warm summer evening.
There are plenty of amazing restaurants and bars nearby, the Museum of London Docklands for if you're there in the daytime, and a shuffleboard club (yes, really!) so it's a brilliant area to visit along one of the many canal walks in London.
6. St Katharine Docks Canal Walk
The canal walk at St Katharine Docks is well worth a visit for a seaside feel in the heart of the city — in fact, it's known as central London's only marina. Being so close to the Tower of London it's almost always a busy area, but lovely to walk around all the same.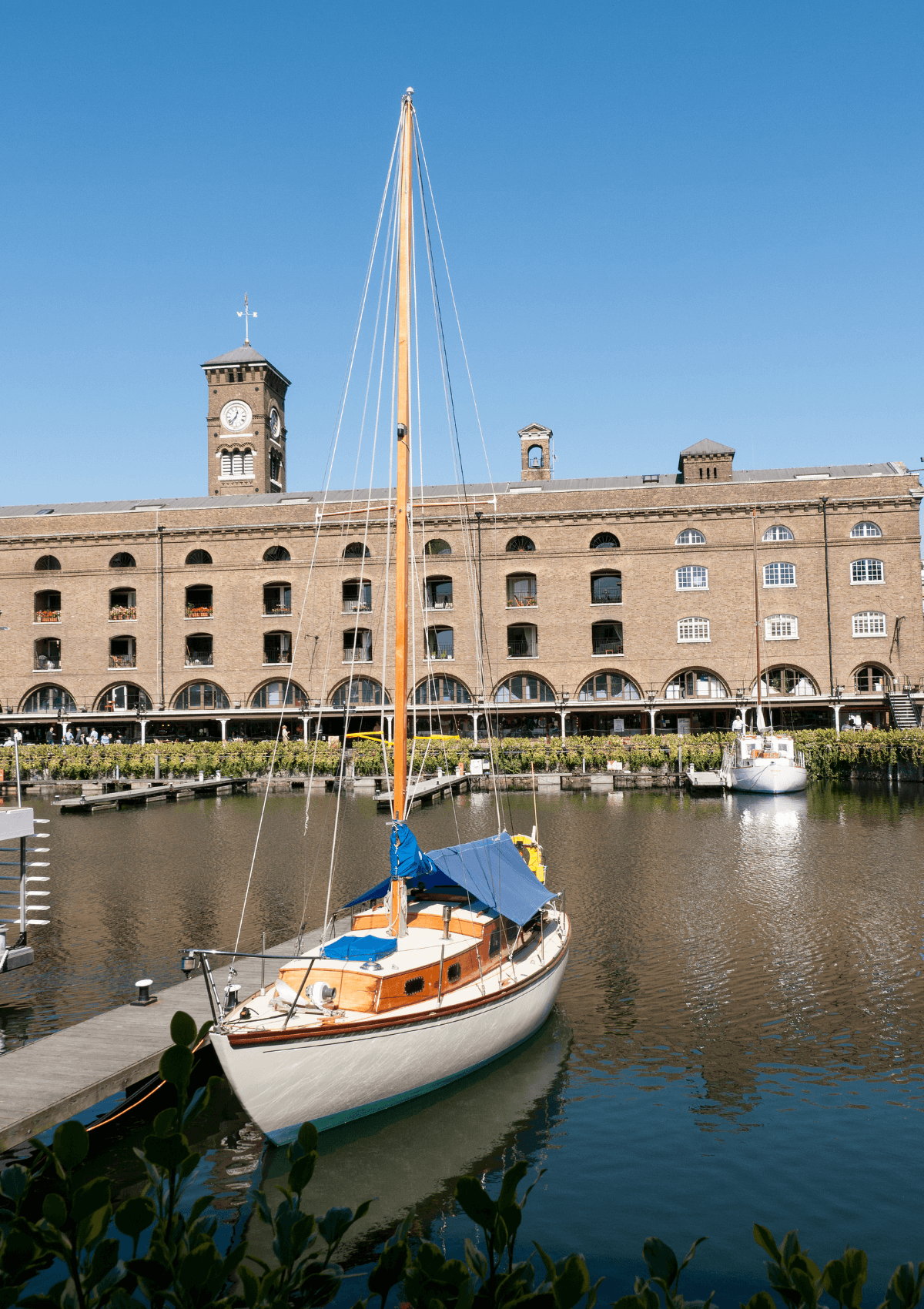 You can get there by going straight to Tower Hill tube, or for a more scenic walk head to London Bridge tube and walk over Tower Bridge for a great view of the River Thames before wandering around the marina at the other side.
There's always tonnes to do at St Katharine Docks, with regular events, lots of restored World War II boats, and even the late Queen Elizabeth's royal rowbarge, Gloriana. When your feet get tired, stop off at one of the many cafes in the area for a cuppa. This is truly one of the must-see canal walks in London if you're visiting the city.
7. Limehouse Cut Canal Walk
If you liked the sound of the Limehouse Basin canal walk we mentioned earlier, you'll definitely want to add a longer walk along Limehouse Cut to your London itinerary. This 30 minute walk goes from Bow Locks (you'll want to head to Bromley-by-Bow tube station to start this walk) and ends at Limehouse Basin, following a perfectly straight line the whole way.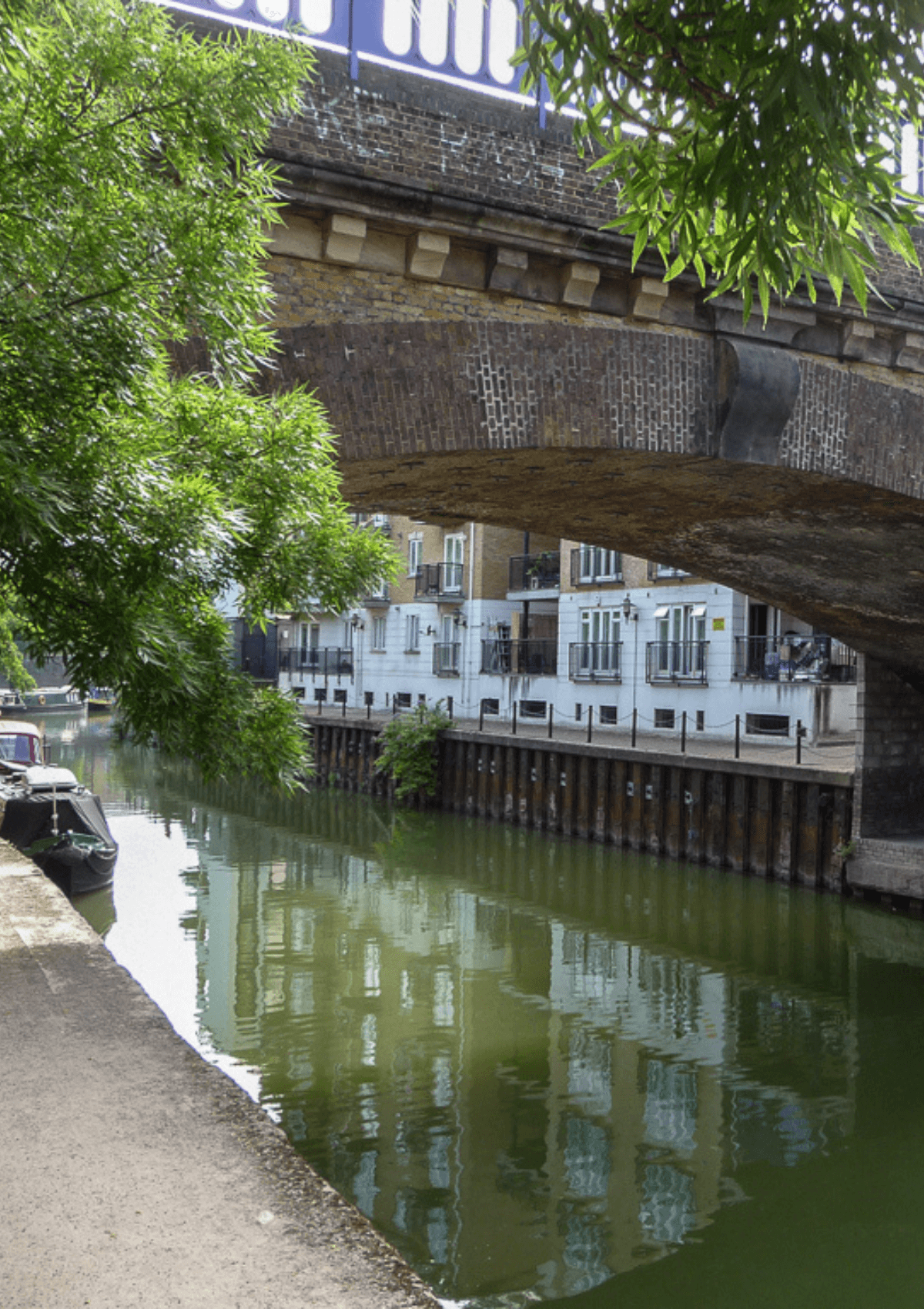 This walk offers a lovely stretch of London canal to explore. If you're up for a real challenge, you can start at Limehouse Basin instead and walk all the way past Bow Locks, following the River Lea until you reach the famous Olympic Park.
At 3 miles long, this walk will take about an hour at a moderate pace, so be sure to leave enough time and stop for lunch at Olympic Park when you finish. This is one of the longer canal walks in London, and definitely one to add to your next day out in the city.
8. Kingston Barge Canal Walk
The journey from Kingston to Hampton Court Palace is technically described as a 'riverside walk', and it's also a tiny bit south of London, but if you do this walk you'll forgive us for adding it to the list! It's a stunning stroll taking you from Kingston upon Thames in Surrey to Hampton Court Palace along the river route. It's often referred to as the 'Barge Walk' because you'll spot many barges moored along the banks of the river.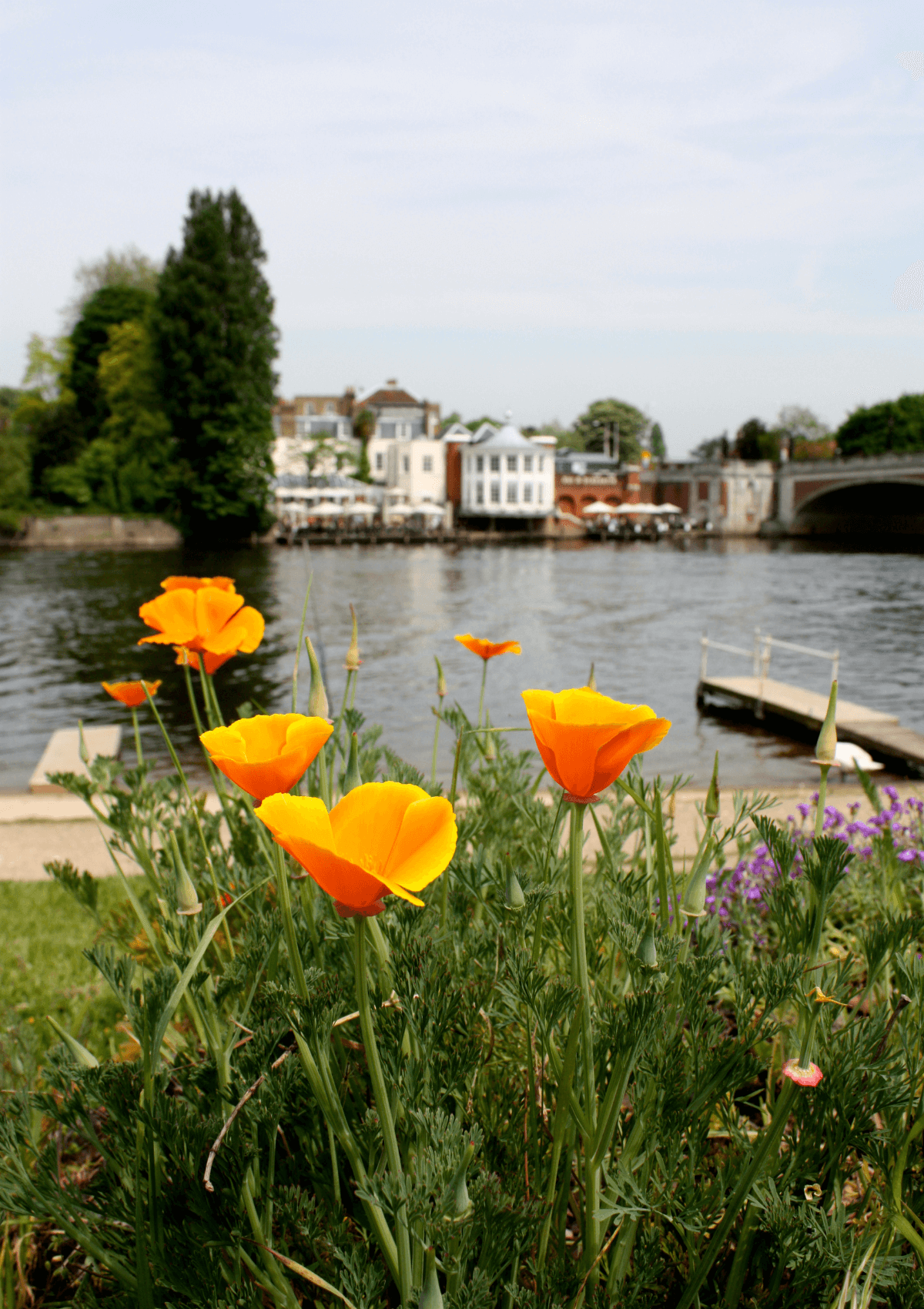 Ending your walk at Hampton Court Palace is really something special, and if you love history then don't miss a chance to pop inside when you're done. This palace was the home of Henry VIII back in Tudor times, so there's plenty to learn while you're meandering around the palace grounds.
There are tonnes of lovely, cosy pubs in the area too so stop in for a spot of lunch if you have time. If you're happy to venture a little bit further out of the centre of the city, this is one of the nicest canal walks in London.
9. King's Cross Canal Walk
As mentioned above, Regent's Canal incorporates a lot of different sections, some of which we have mentioned. But one section you should definitely add to your list is the King's Cross canal walk. There's always so much going on here, from outdoor movie screenings in summer to mini festivals with food stalls to music performances.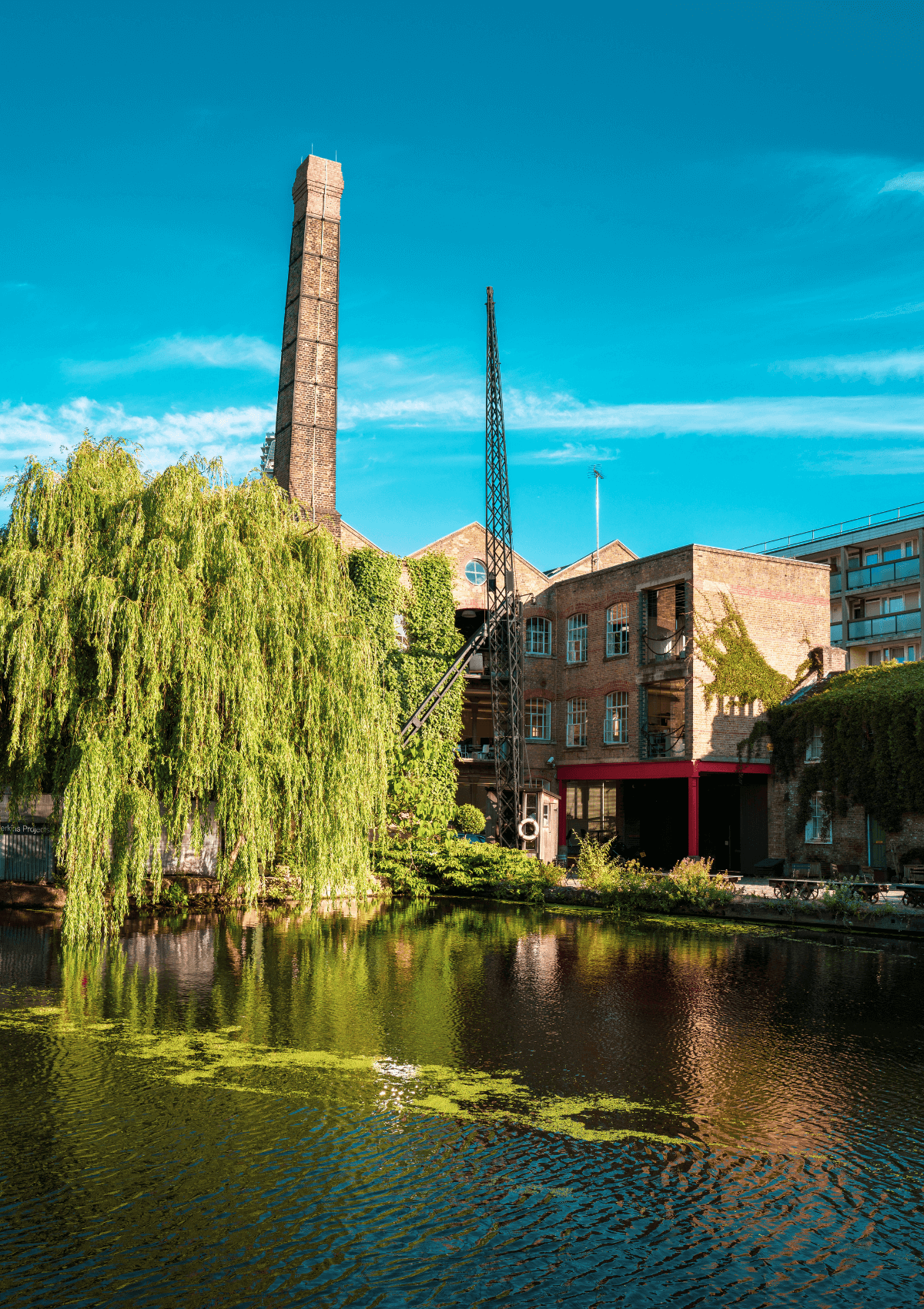 It's a busy area, but a lovely place to walk around and take in the sights of this vibrant city. In summer you should absolutely take a picnic with you to sit by the canal at King's Cross, as there are several grassy spots and seating areas to relax and enjoy.
If you're into watching the world go by, this is undoubtedly one of the best canal walks in London.
9 Best Canal Walks in London
Whether you're a city-dweller in need of some time by the water, or a canal enthusiast looking for some of the best canal walks in London for when you next visit, this is the perfect list for you, offering a range of different types of walks all over the city.
Each has a unique atmosphere and lots to do, so add one of these walks to your day out in London. However long you are visiting the capital for, you'll find lots more brilliant days out in London here. Enjoy!
Quick List: 9 Best Canal Walks in London
Regent's Canal Towpath Walk
Camden Lock Canal Walk
Little Venice Canal Walk
Limehouse Basin Canal Walk
Canary Wharf Canal Walk
St Katharine Docks Canal Walk
Limehouse Cut Canal Walk
Kingston Barge Canal Walk
King's Cross Canal Walk
---