Looking for the most famous streets in London for your day out? Here are all the popular spots in the city for the best shopping, entertainment, people watching and photo taking…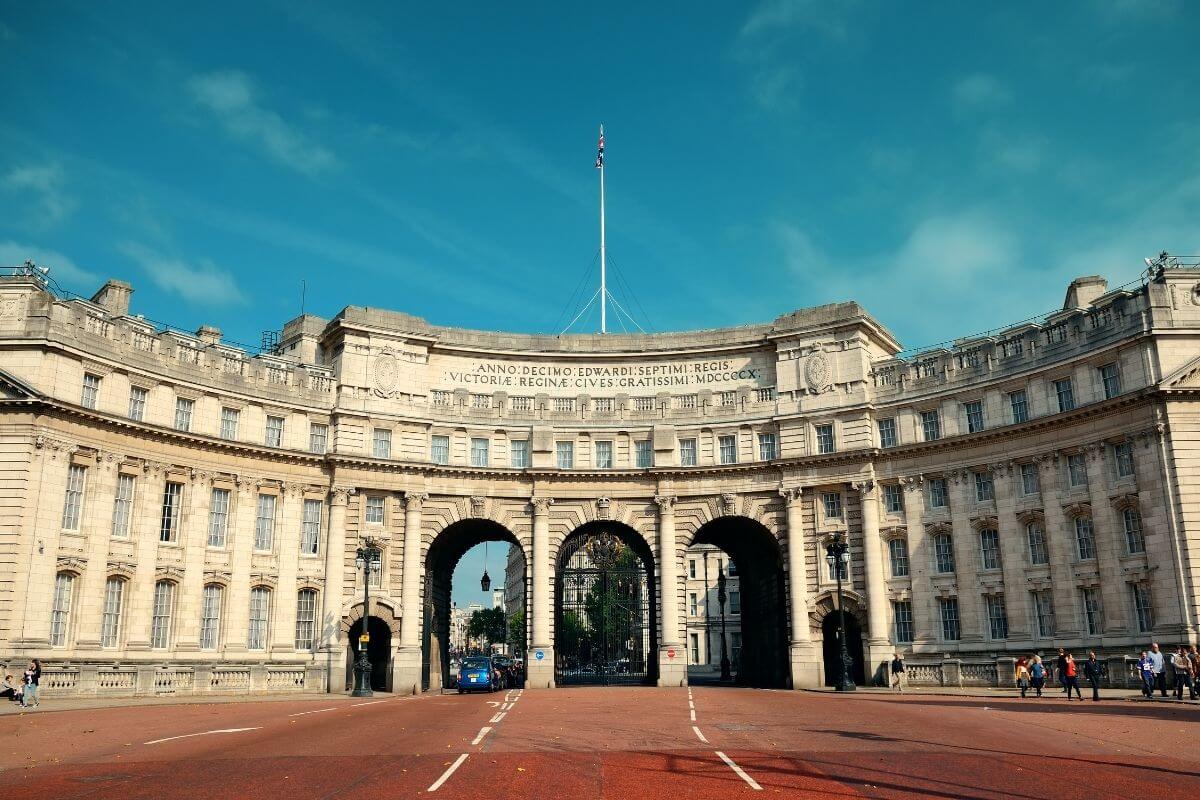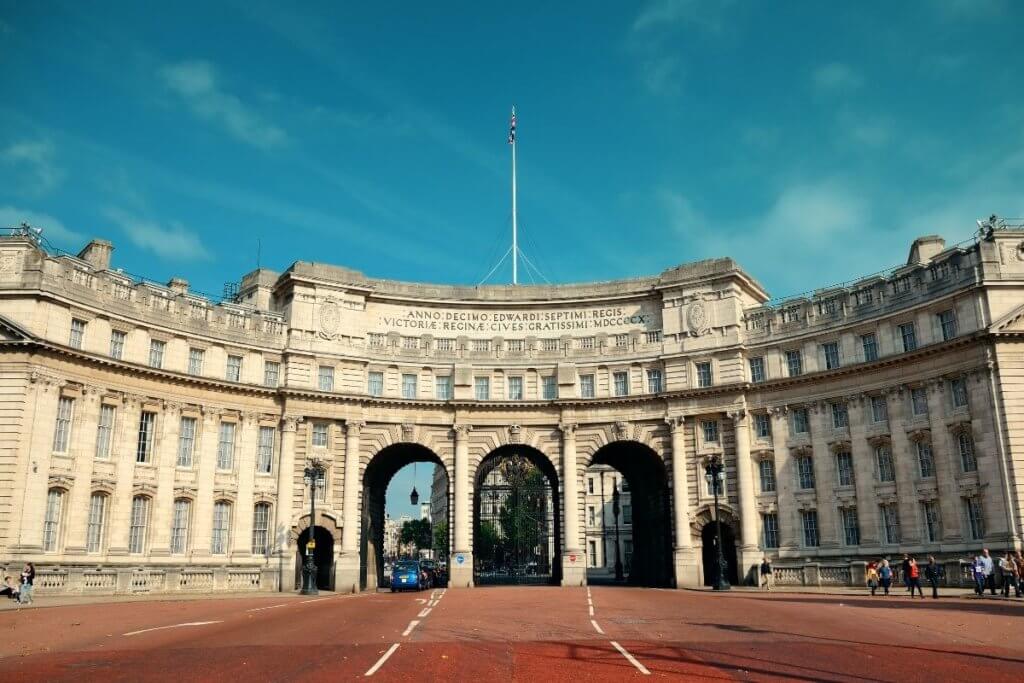 London is home to some of the most well-known streets in the world. Made famous by the Monopoly board game and home to iconic landmarks, London street names such as Piccadilly and Oxford Street are instantly recognisable to many people. Other names of London streets will be familiar, the home of the British Prime Minister on Downing Street, the famous Beatles album cover taken at Abbey Road and the world-class tailors located along Savile Row.
In this article, we'll highlight some of London's most famous streets for a day out, and what you can expect to find if you wish to visit.
Most Famous Streets in London
Here are the most well-known London streets to make your trip to London all the more iconic. These famous London streets make for a great hook for your trip – if you walk between them all you'll have covered most of Central London!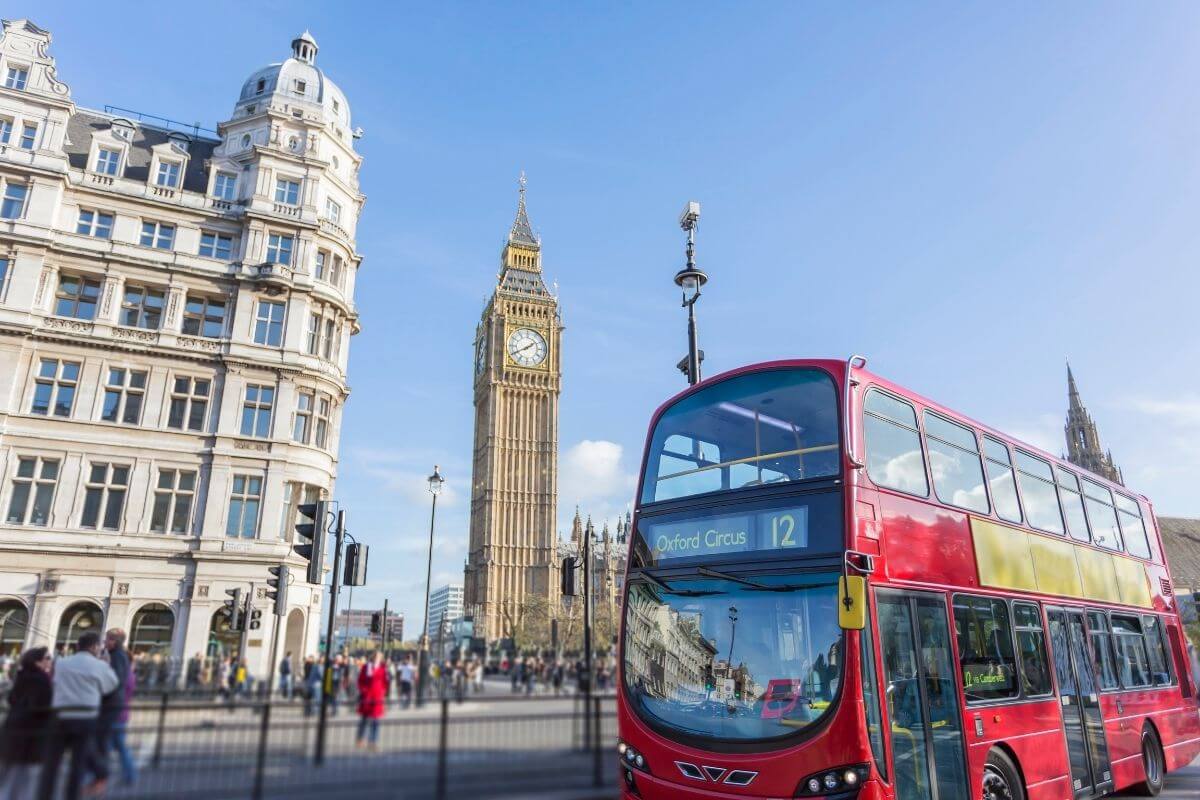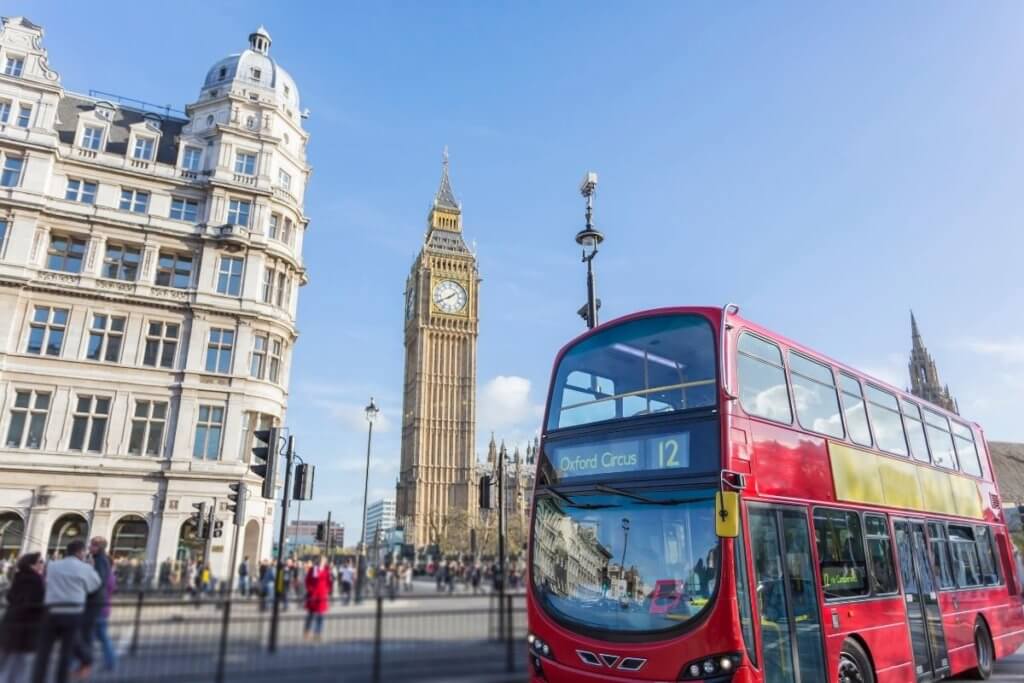 1. Oxford Street
If you're looking for places to avoid on Christmas Eve, then look no further than Oxford Street. One of the most famous London streets for shopping, Oxford Street boasts more than 400 stores, with many brands housing their flagship shops along the street. House of Fraser, Marks & Spencer, H&M, John Lewis, and Nike are just some of the brands to have secured a slice of real estate on Oxford Street.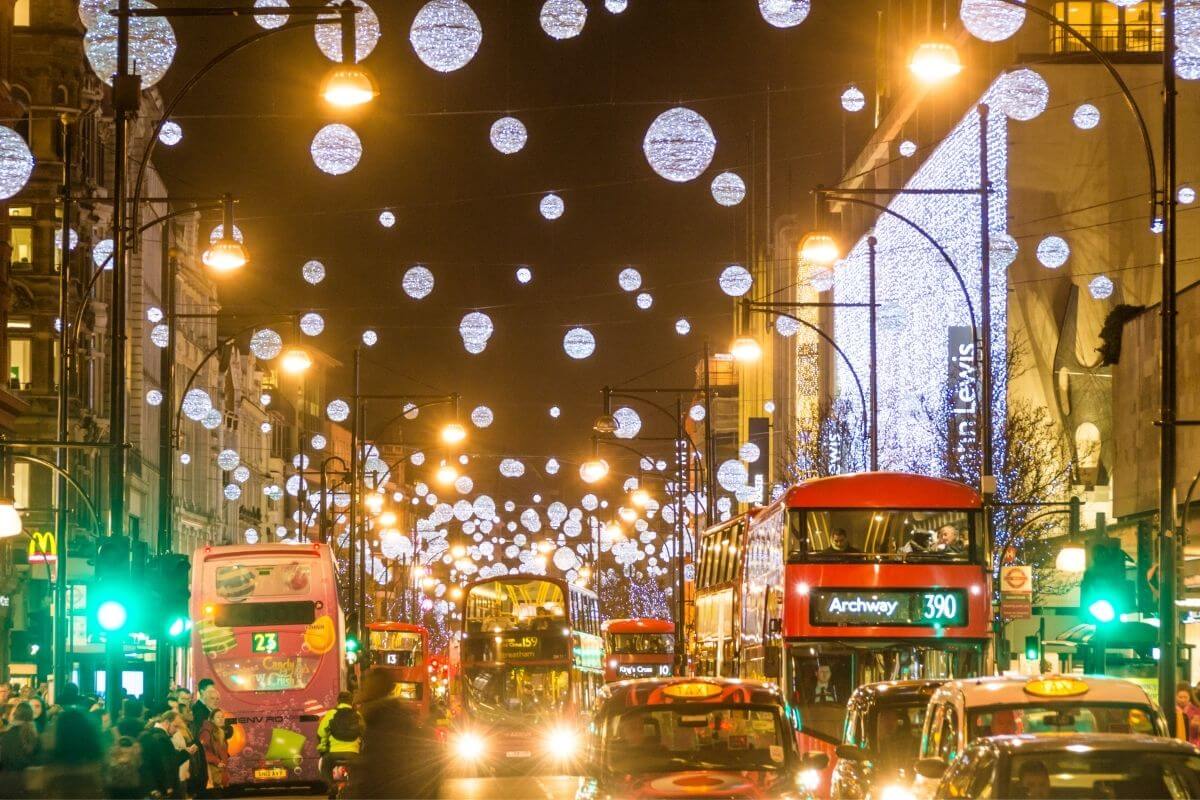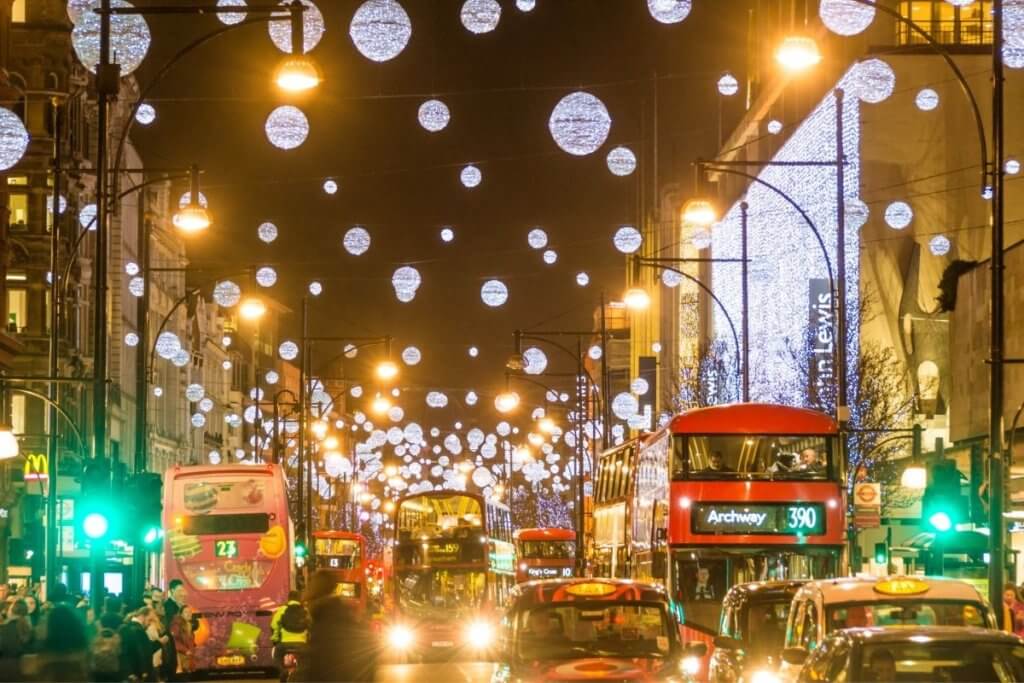 It has become quite a touristy part of London, so as well as the shopping opportunities, there are loads of trendy cafes and pubs to visit as well, a good way of breaking up the exhausting shopping missions!
2. Baker Street
When it comes to London, famous streets can be found around virtually every corner. You will most likely recognise the name of Baker Street as the home to iconic fictional detective Sherlock Holmes. In both the books and TV series 'Sherlock', the Arthur Conan Doyle character lives at 221B Baker Street. Although this house doesn't actually exist, Baker Street has cashed in on the trend.
There's a Sherlock Holmes museum and a tube station of the same name makes this street easily accessible. It's one of the best known film sets in England.
3. Abbey Road
With all of London's incredible highlights, it's slightly odd that a zebra crossing has become one of the must-visit highlights of the city. But Abbey Road is without a doubt one of the most famous roads in London, thanks entirely to the Beatles.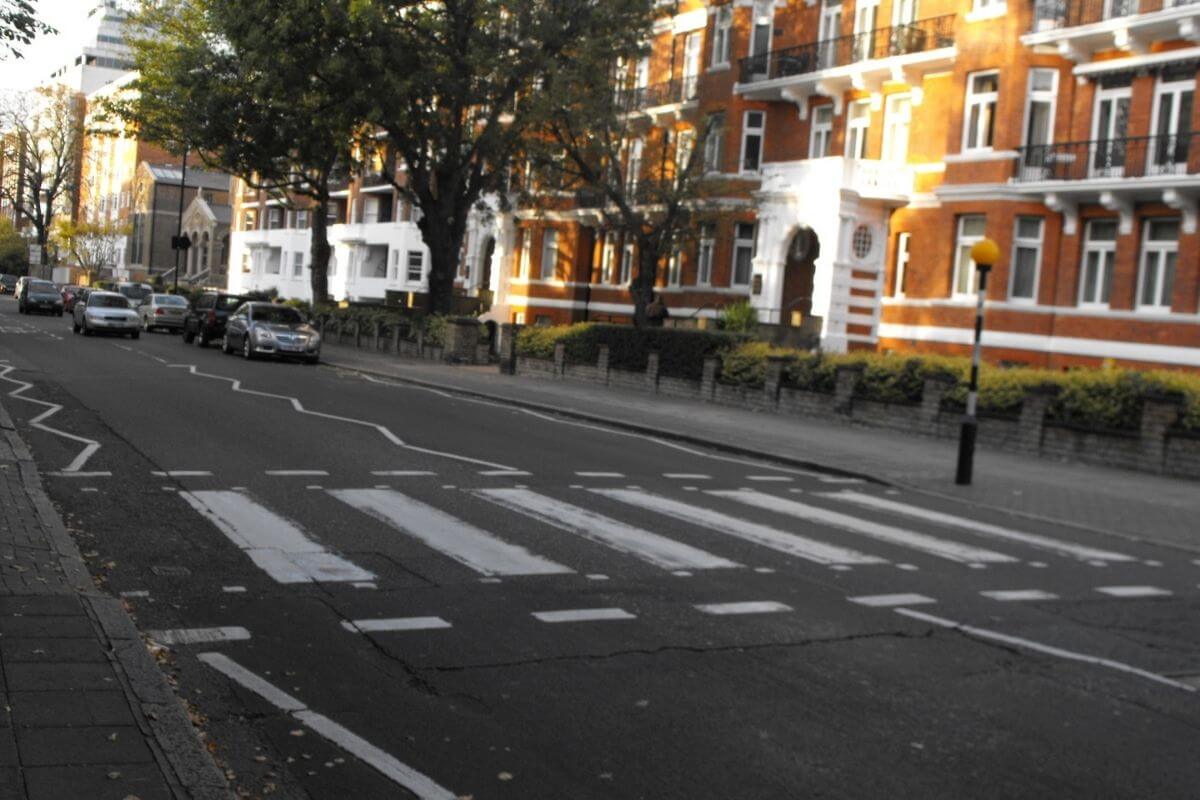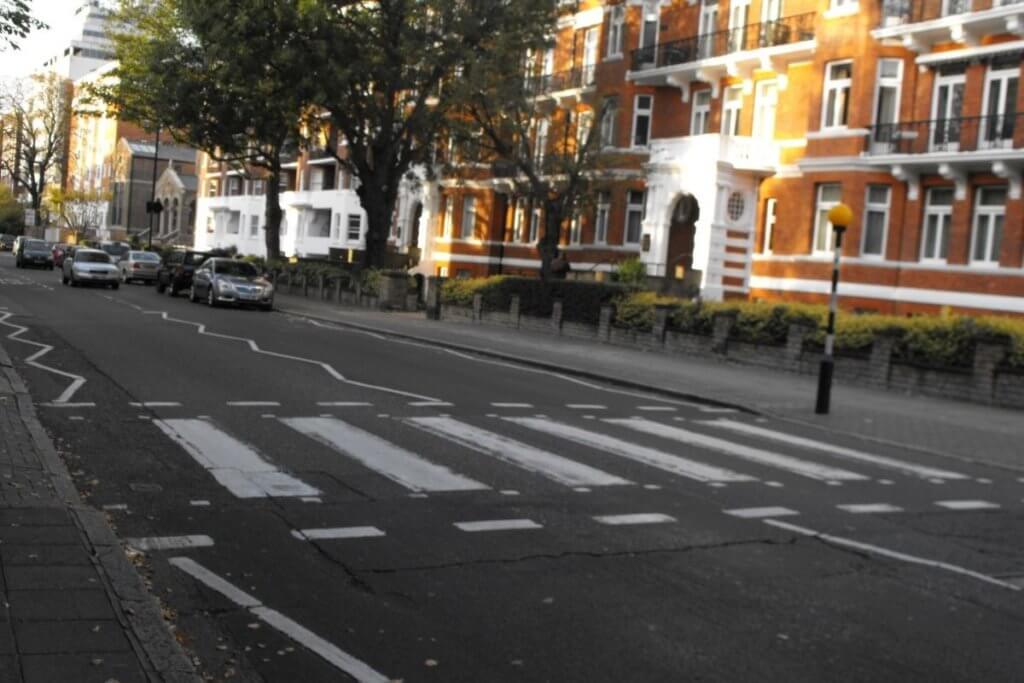 Their 1969 album was named after the road and the famous cover featured the four members (Paul McCartney, John Lennon, George Harrison, Ringo Starr) crossing the street at the zebra crossing. It has become a pilgrimage site for fans of the band, with the zebra crossing still located in the same place, although much of the backdrop has changed in the decades since. The Abbey Road music studios where the album was recorded can still be found here too.
4. Downing Street
Now you can't actually walk down Downing Street (making it one of the least busy streets in London), this would be considered as something of a security breach with gates and armed police at the end of the road. This is because 10 Downing Street is the home of the British Prime Minister, currently Boris Johnson.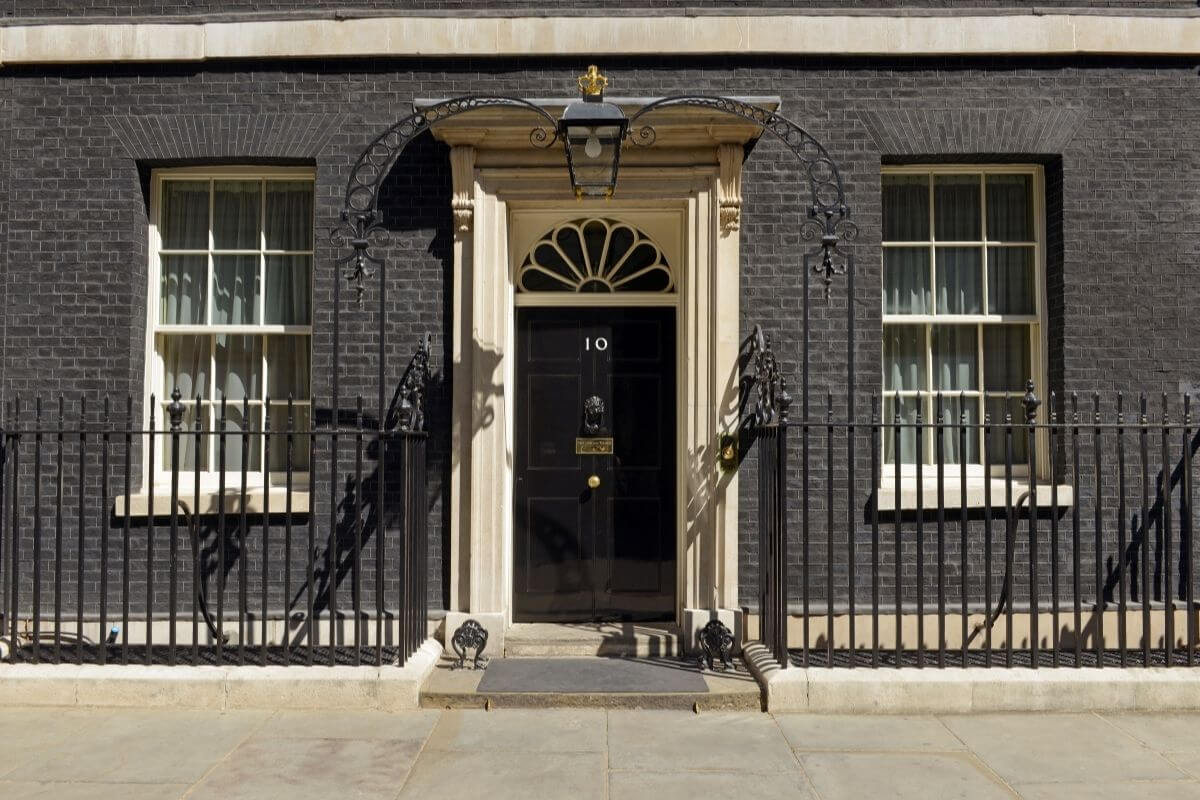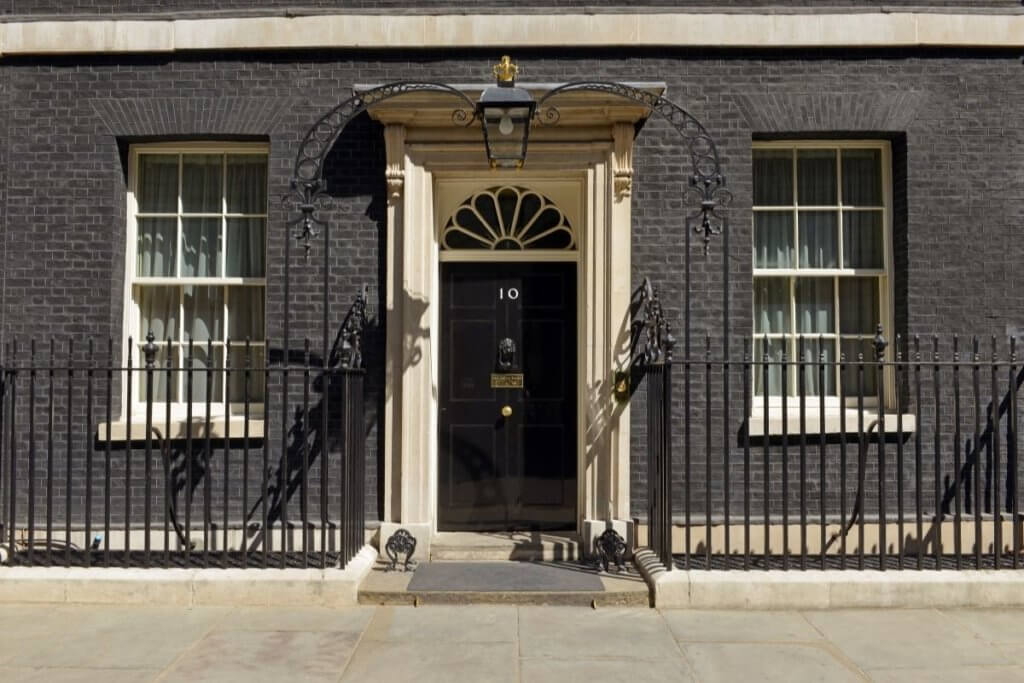 The British Premier has resided on the street since Sir Robert Walpole was gifted the house by the king in 1735.
You can walk past the secured entrance and get a quick glimpse at the most recognisable house in the city, which you'll have seen countless times before on the news as the Prime Minister comes and goes, and the cat hangs around outside. This is definitely one of the most famous streets in London – usually shown on every British catastrophe TV drama ever.
Visiting here makes for a great free day out in London!
5. Bond Street
Another of London's famous shopping streets, Bond Street is best regarded as a sort of extension to the retail opportunities on Oxford Street. It is home to more high end brands, such as Burberry, Dolce & Gabbana, and Louis Vuitton, so it's a great place to visit if you've got some cash to splash.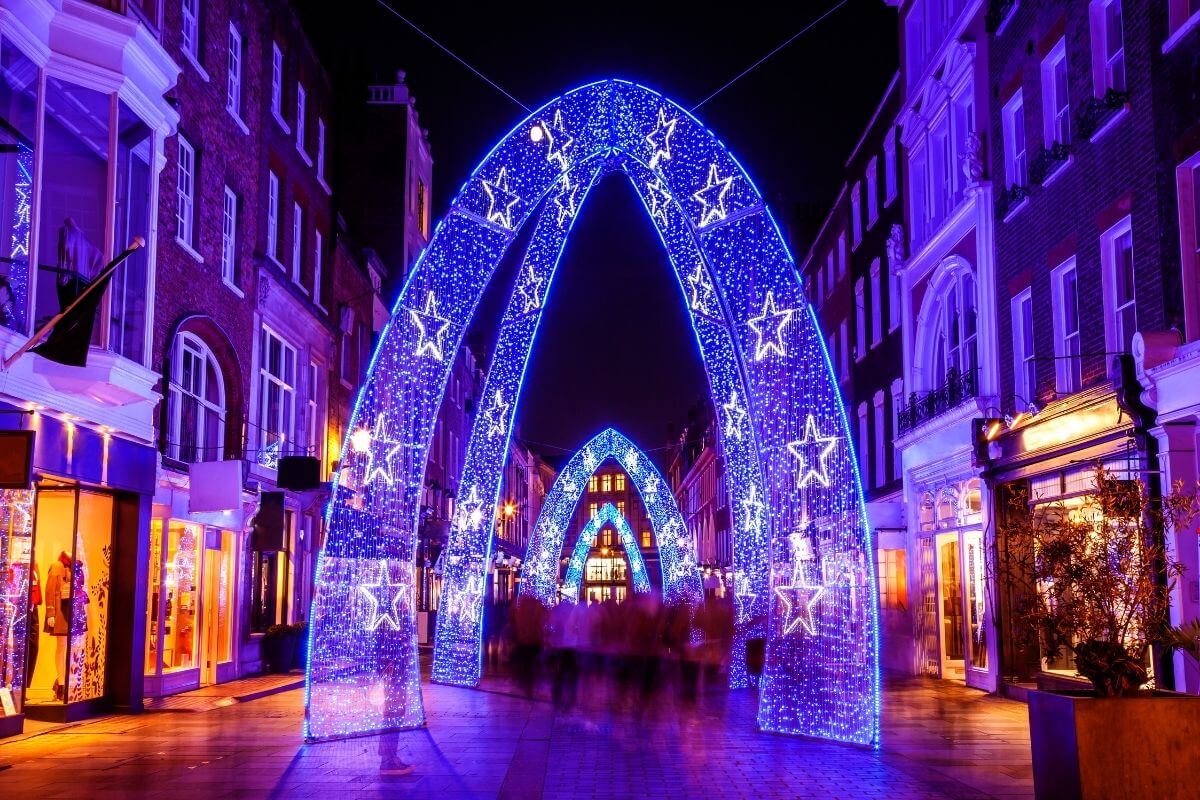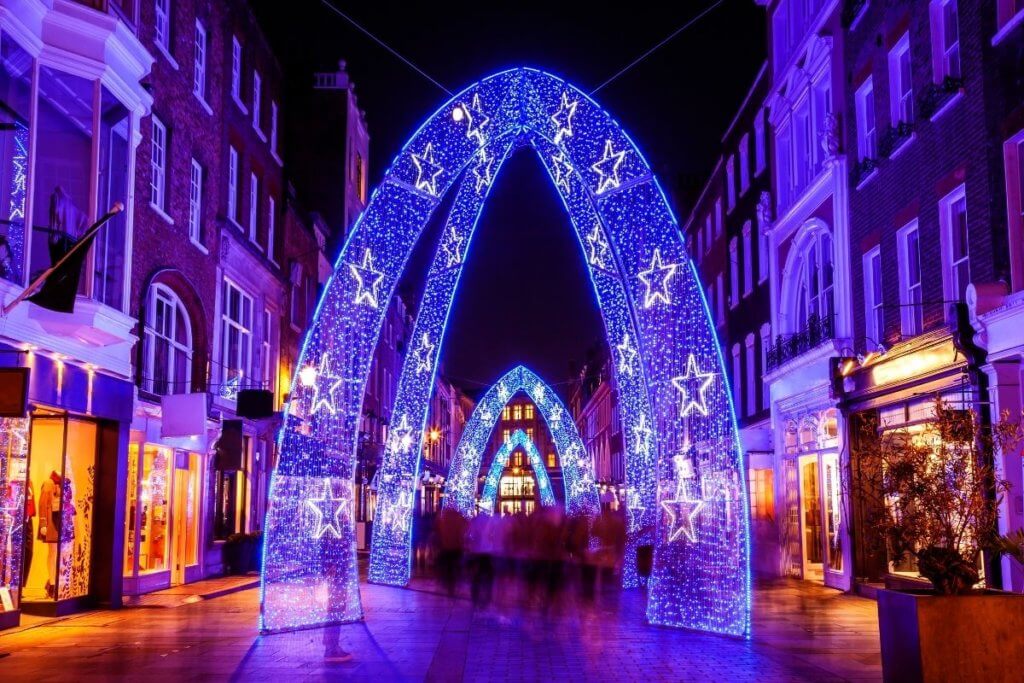 If you haven't, there's always the window shopping. There are also loads of great cafes where you can sit outside and watch the world go by, cars, important people and all.
6. Carnaby Street
Yet another shopping street surrounding Oxford Street, the charm in Carnaby Street lies in the fact that the entire road is pedestrianised. It's in Soho, one of the most fashionable parts of London. Soho once epitomised the 'Swinging Sixties' thanks to its on trend shops and hangouts. Nowadays, one of the most famous streets in London, Carnaby Street, is home to numerous independent boutiques, selling all manner of unique goods and clothing.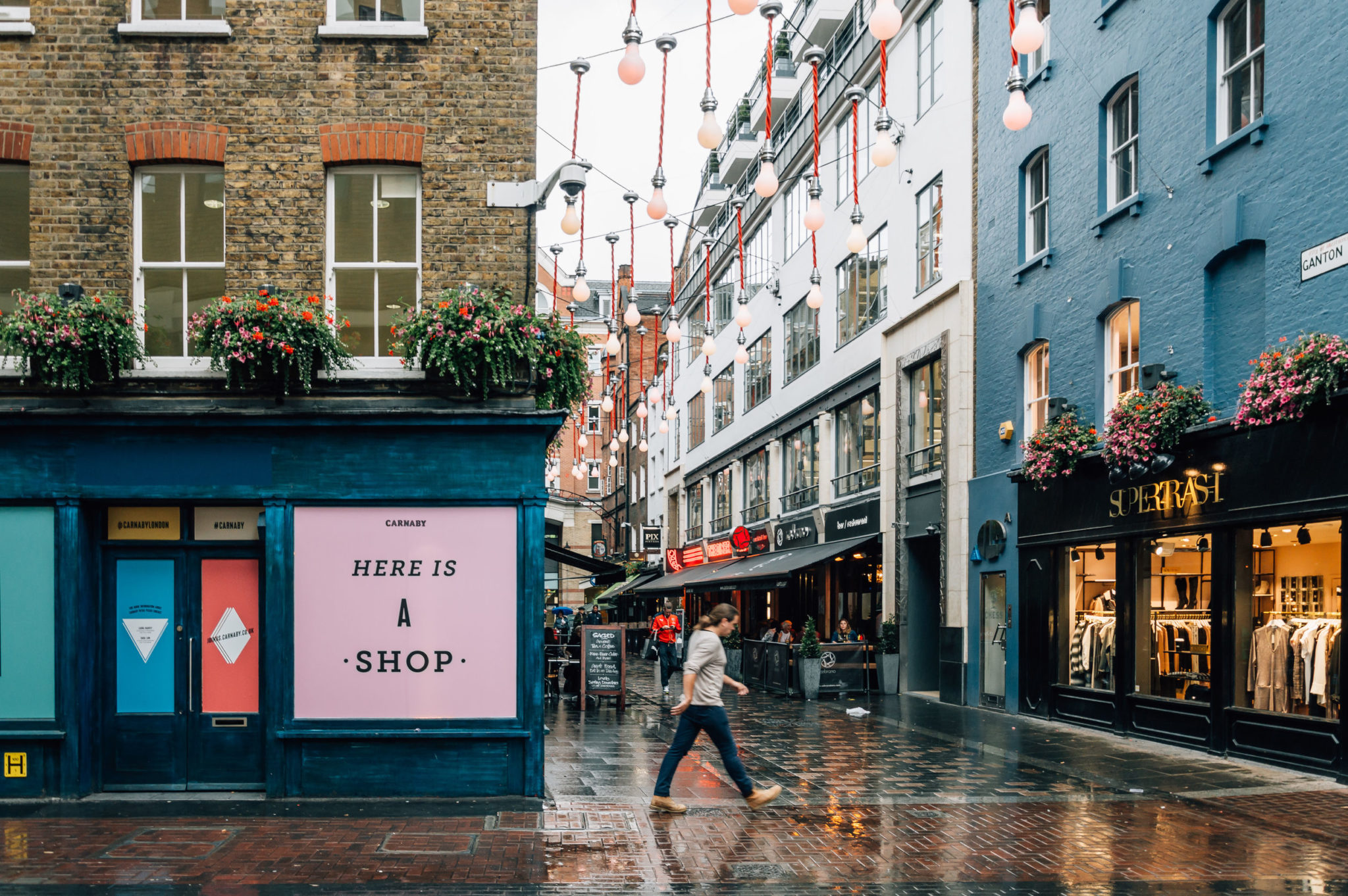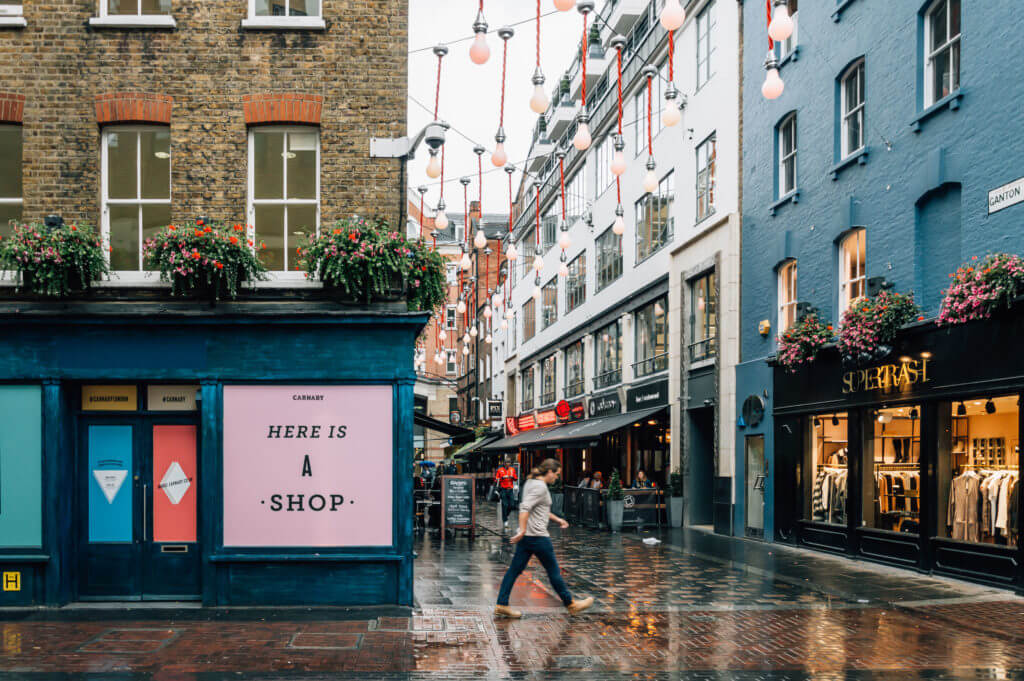 There are also more than 60 different restaurants and eateries in the vicinity of Carnaby Street – making it one of the best London streets to do your own self-guided food tour on.
Definitely one of the most important fashion streets in London. If you're looking for things to do in London with a teenager, Carnaby Street is a great shout. It's also a great place to pick up a gift from London – for yourself, or someone else!
---
Love London? See how well YOU can do in our BIG London Quiz.
---
7. Savile Row
Mayfair is the most coveted street on the Monopoly board and Savile Row is its most famous street. It's known as 'the tailor's street' and has been occupied by the makers of men's clothing for centuries. The tuxedo was invented on Savile Row, as was the concept of bespoke tailoring – where a suit is cut and made to order to fit the measurements of the customer.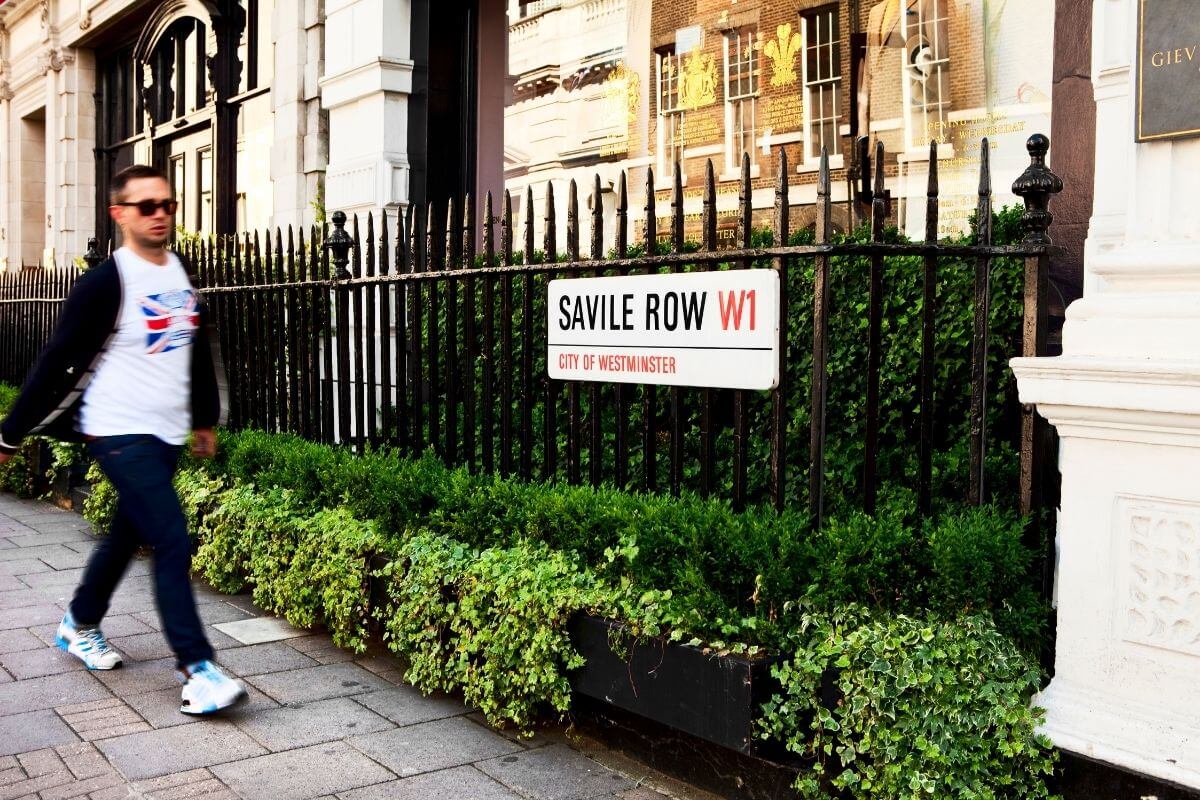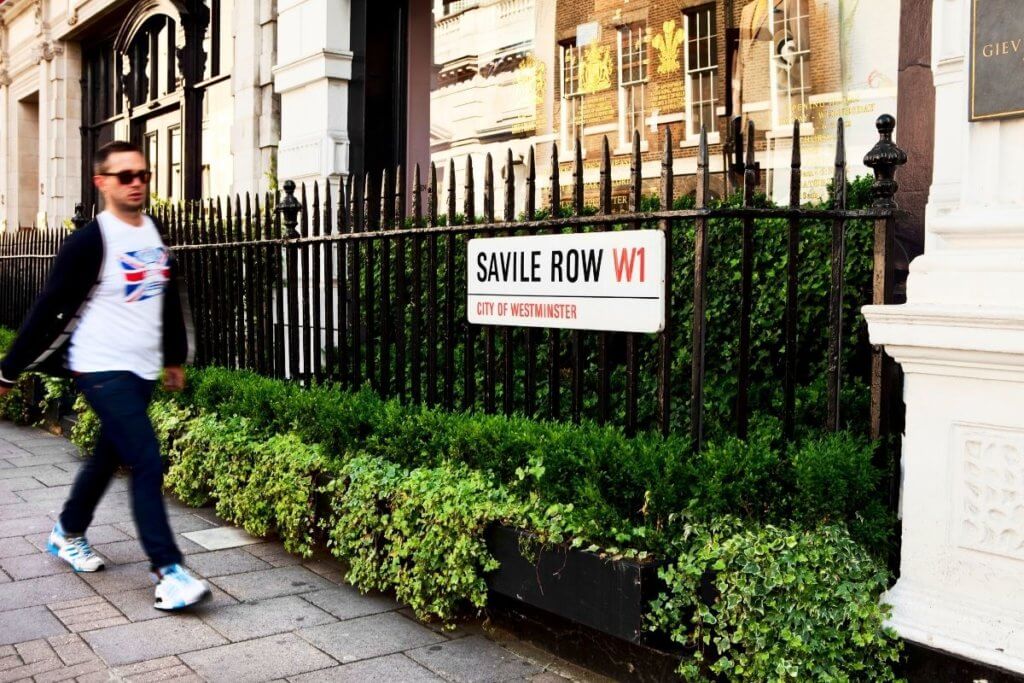 Savile Row remains THE place to visit if you need a new suit, especially if you're a celebrity or flashy CEO.
This is one of the most famous streets in London to see famous people, so pick up a takeaway coffee and hang out on a street corner looking casual.
8. Portobello Road
One of the most famous roads in London, Portobello Road featured heavily in the 1999 film, 'Notting Hill'. You'll recognise lots of the street from the film, which starred Julia Roberts and Hugh Grant.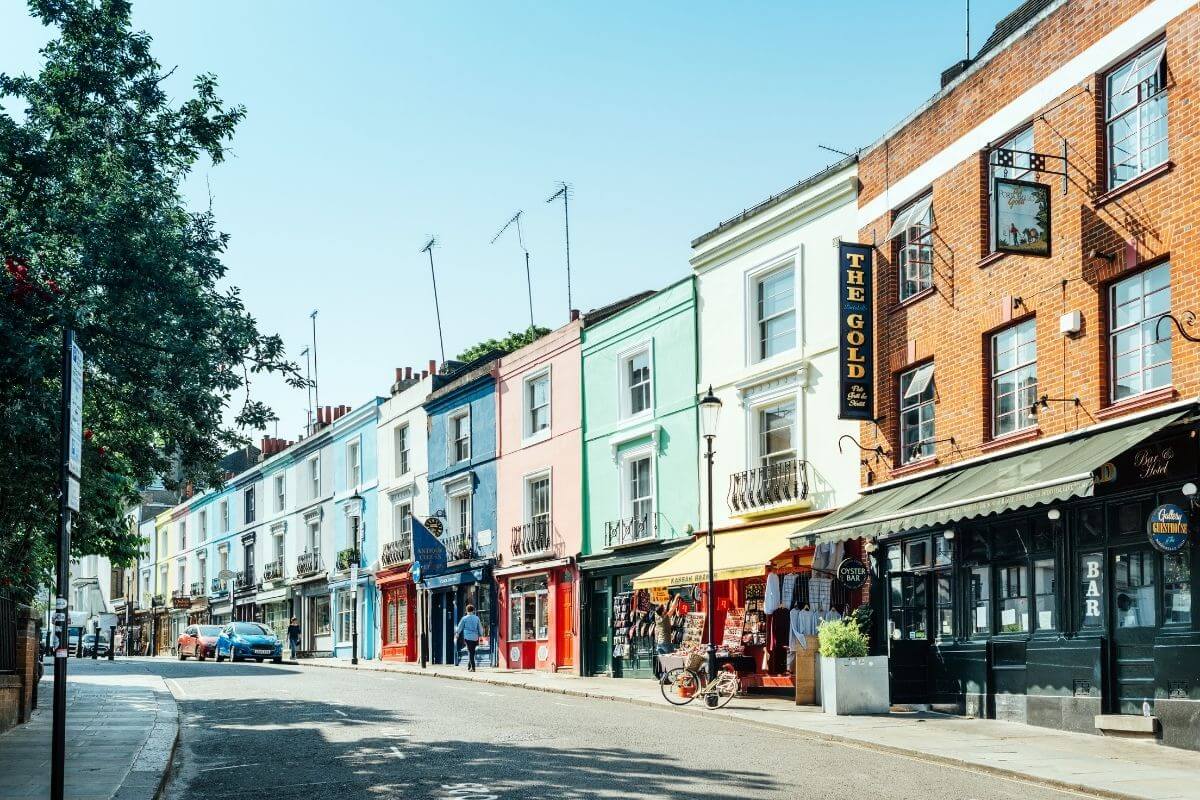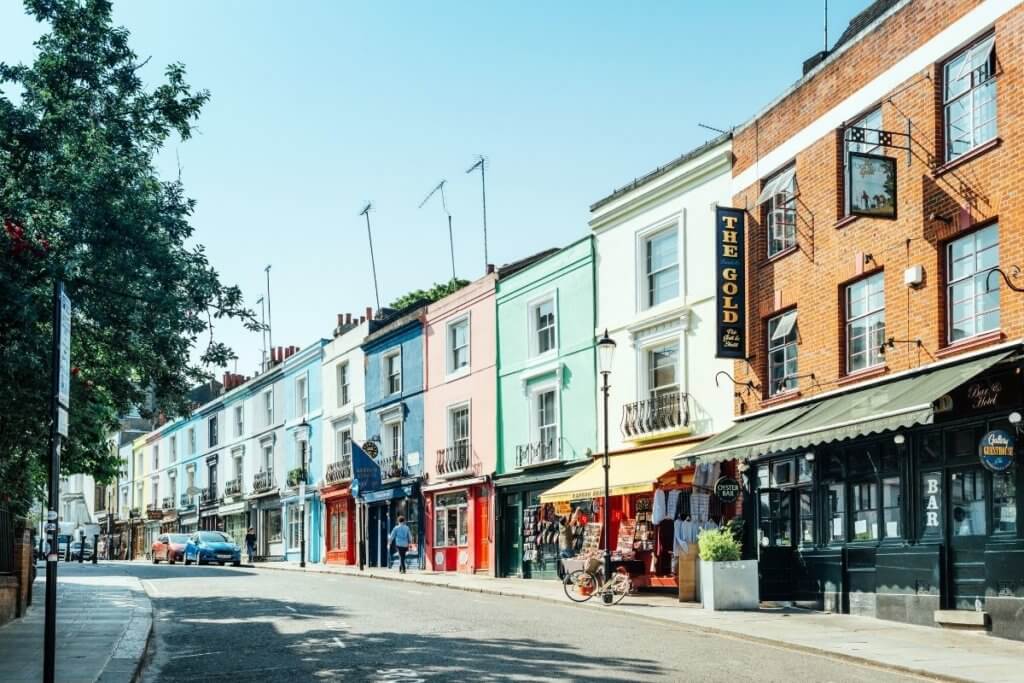 The street is also home to the Portobello Road Market, which is open six days a week and sells all sorts of food, antiques, trinkets, clothing and more, a proper London market. Although it's open throughout the week, Saturday is the best day to visit, when every stall is open, and the market is in full swing. At the weekend this is definitely one of the most famous London streets to be on.
9. The Mall
If you've ever watched a royal wedding, then you'll recognise The Mall. This is one of the most iconic streets in London, and one of the main streets in London too. The red road cuts through Green Park and is adorned with flag poles at intervals along the road, often home to Union Jacks billowing in the breeze.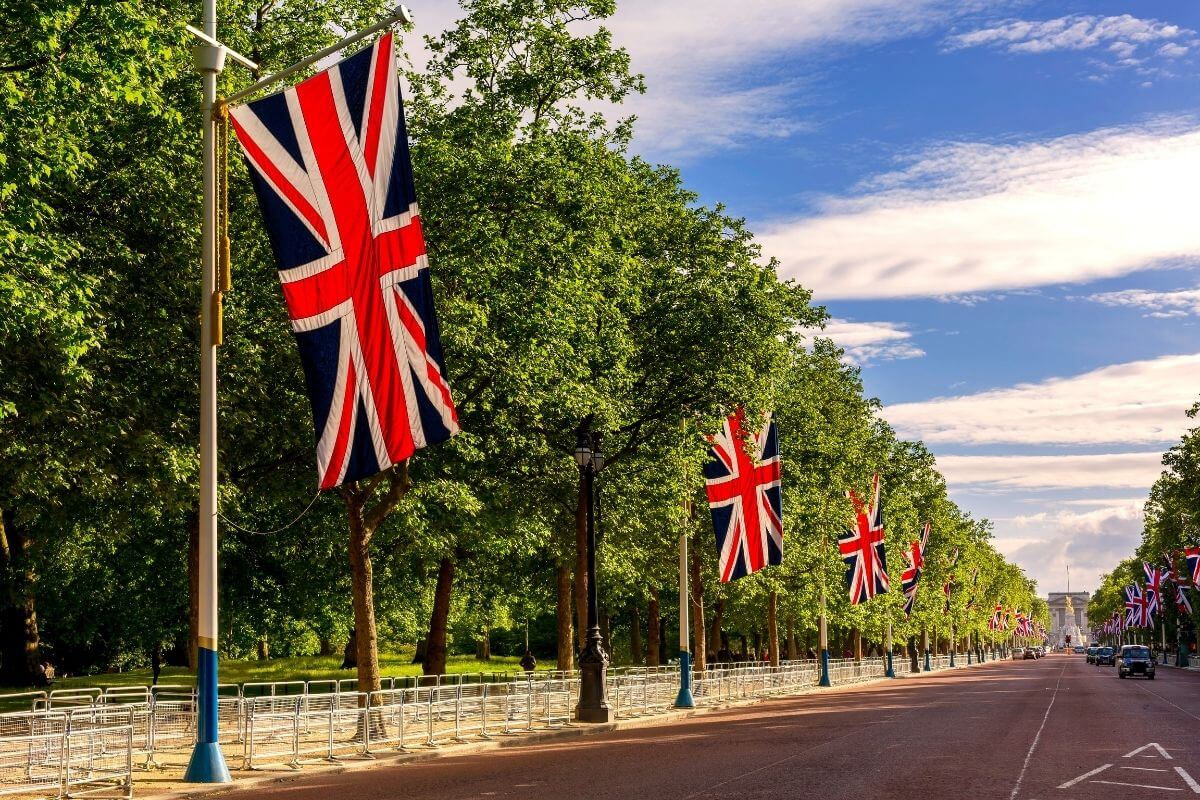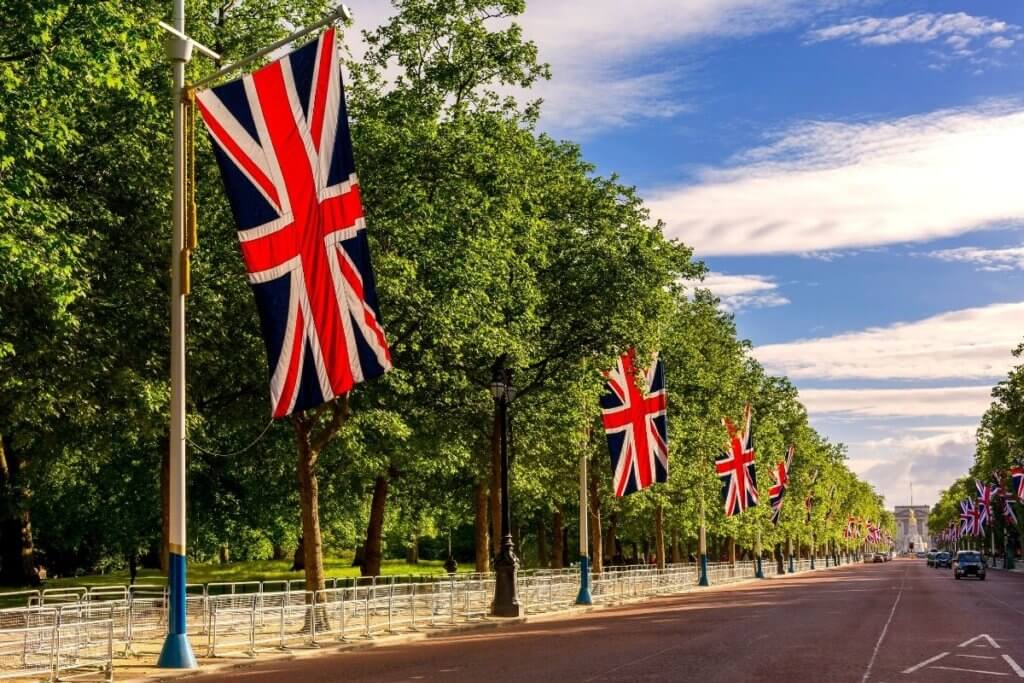 At the far end of The Mall is Buckingham Palace, the home of the Queen of England. The Mall is open to the public most of the time, and you can stroll right up to the palace itself. During ceremonial events it is closed. The Prime Minister drives up The Mall every week for his audience with her majesty. This is one of the most iconic views of London.
The London Marathon also finishes here, a fitting end point for the pinnacle of British running.
Walking is a great thing to do with babies in London!
10. Regent Street
By now you've probably realised that shopping is behind many of the most famous London streets, and Regent Street is no different. Another Monopoly classic, this particular road is most famous for Hamley's, the iconic toy store which is a dreamland for every youngster growing up.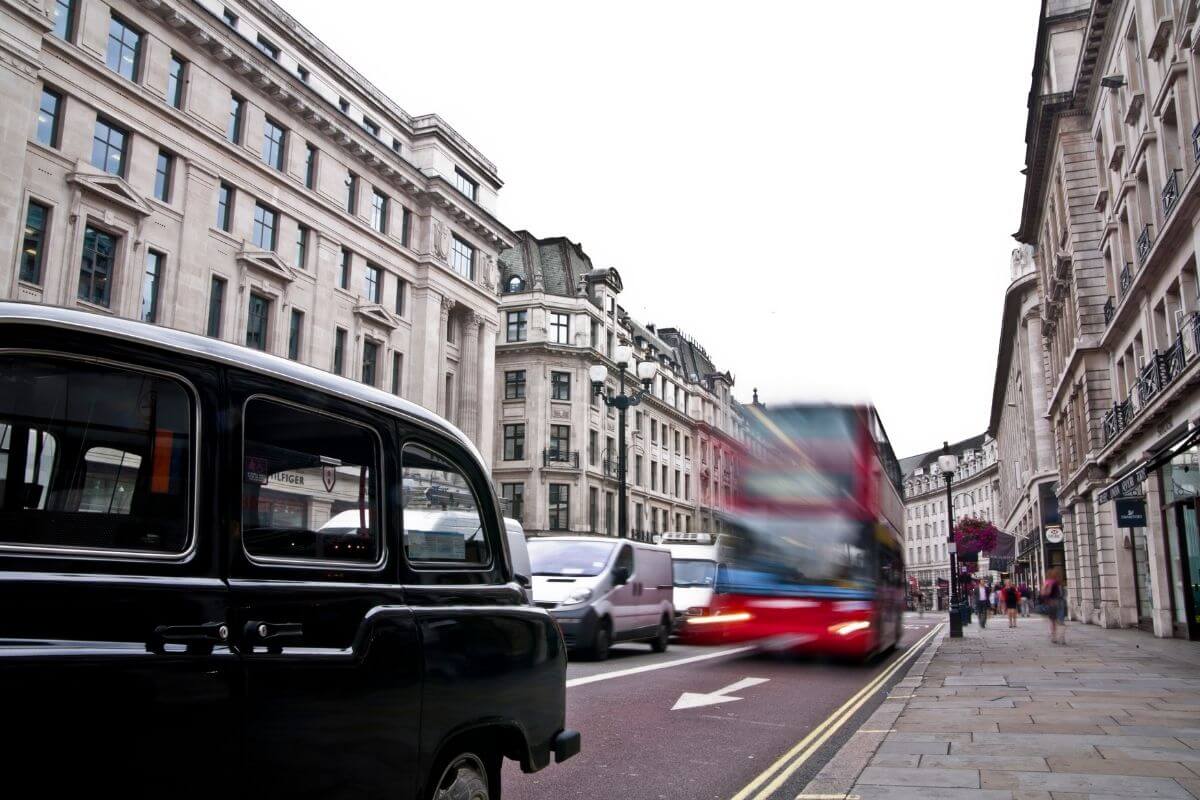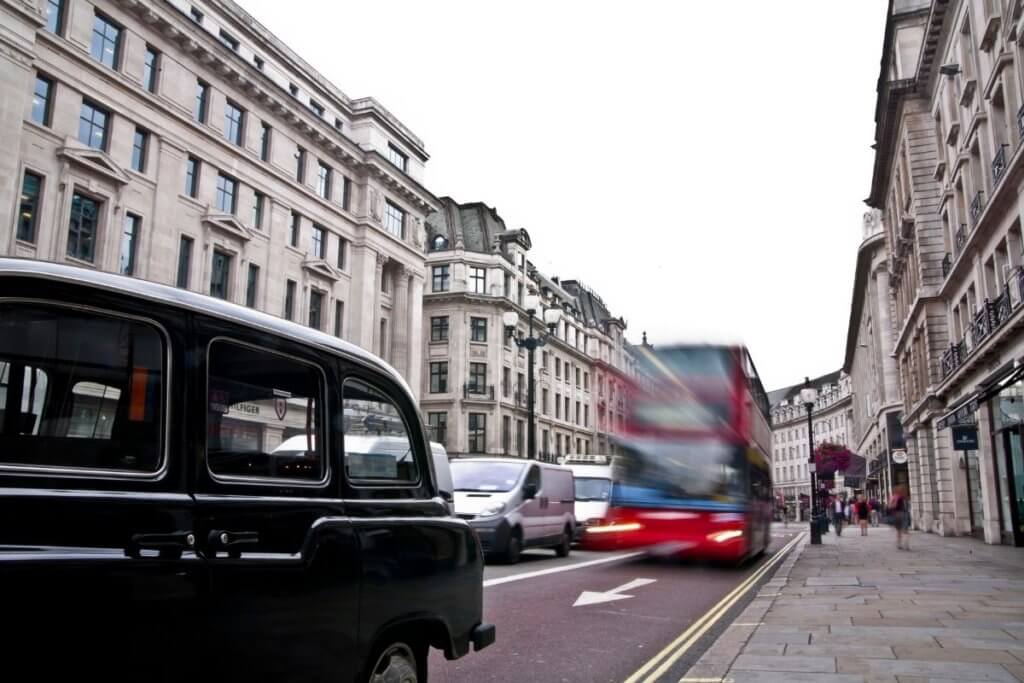 Hamley's is the oldest and largest toy store in the world, stocking thousands and thousands of the latest toys at any given time. It's a super famous shopping street in London.
Regent Street is also known for its Christmas lights – just like nearby Oxford Street it is beautifully illuminated throughout the festive period, making the giant crowds of shoppers slightly more tolerable.
11. Whitehall
Running south from Trafalgar Square, Whitehall is home to numerous important ministries and departments of government. It runs past Downing Street and ends at Parliament Square, home to the Palace of Westminster. The Ministry of Defence, Cabinet Office and the Horse Guards are just some of the important aspects of government to be housed along Whitehall.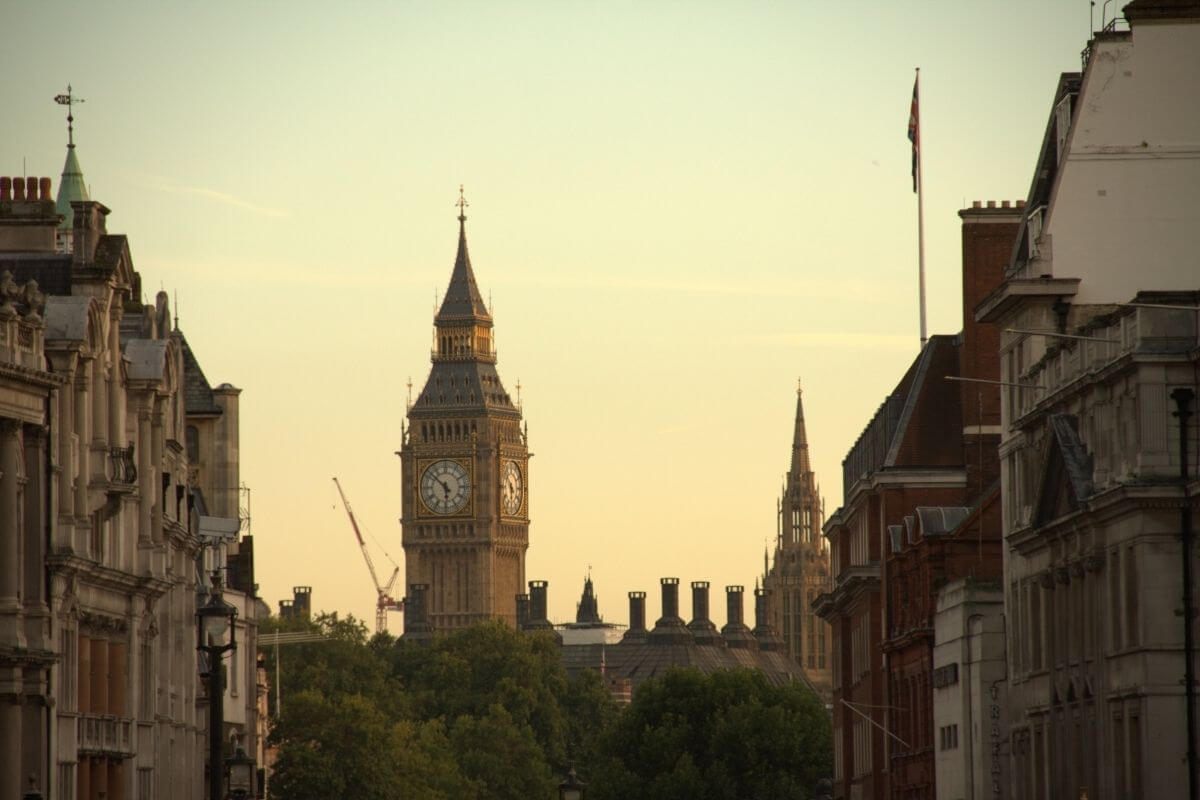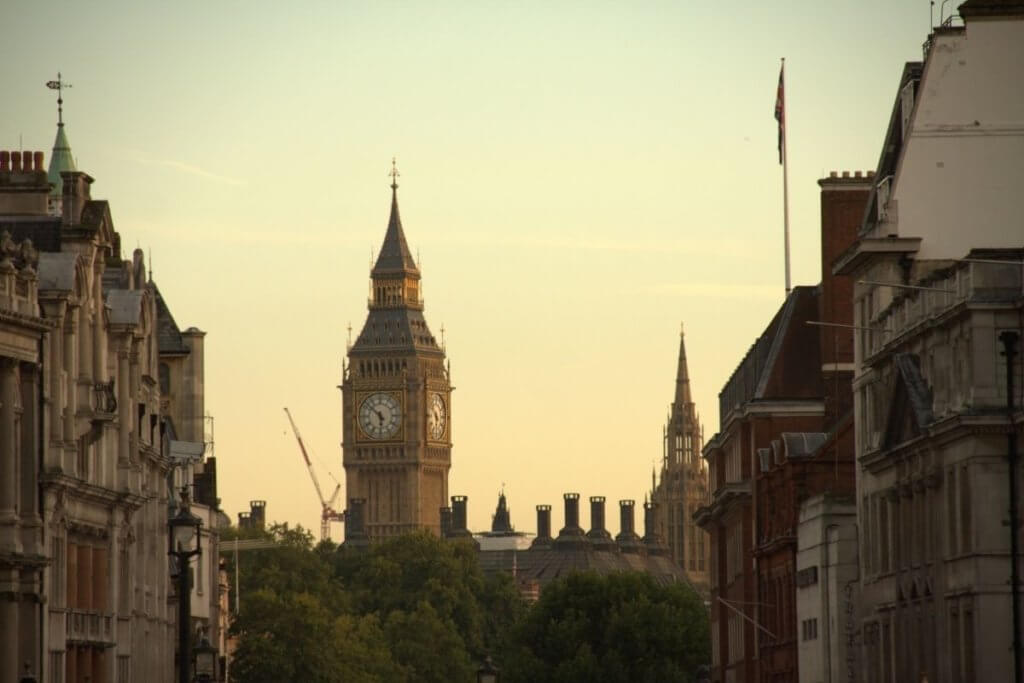 Whitehall is also home to the famous Cenotaph war memorial, which forms an important part of annual war commemorations. The Queen, other senior royals and key parliamentary figures all lay wreaths at the Cenotaph during these commemorative events.
12. Brick Lane
Brick Lane isn't one of the most well-known roads in London, but it's definitely a must-visit destination, nonetheless. In our opinion, it's one of the best streets in London for sure.
Brick Lane is a kaleidoscope of culture. Home to one of London's largest Bangladeshi communities, it's well-known for its 'bring your own bottle' curry houses, many of which are open well into the night, forming a great end to an evening out with friends.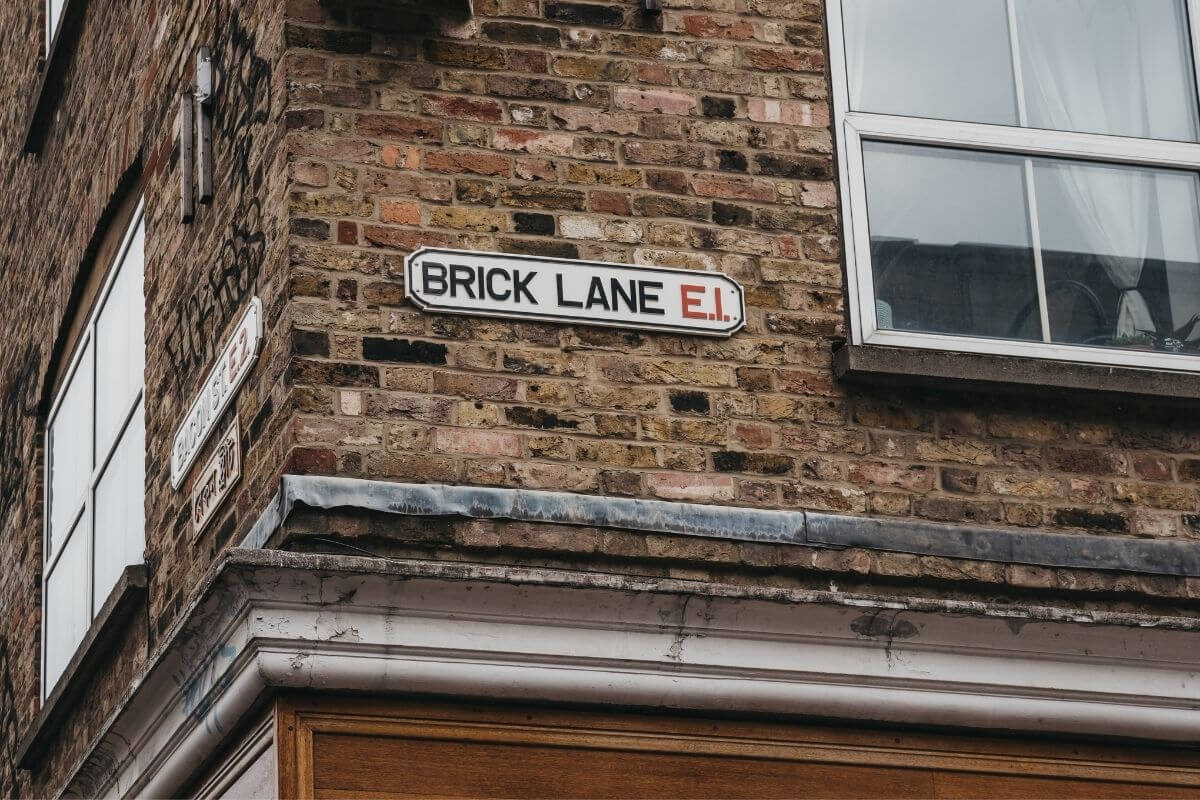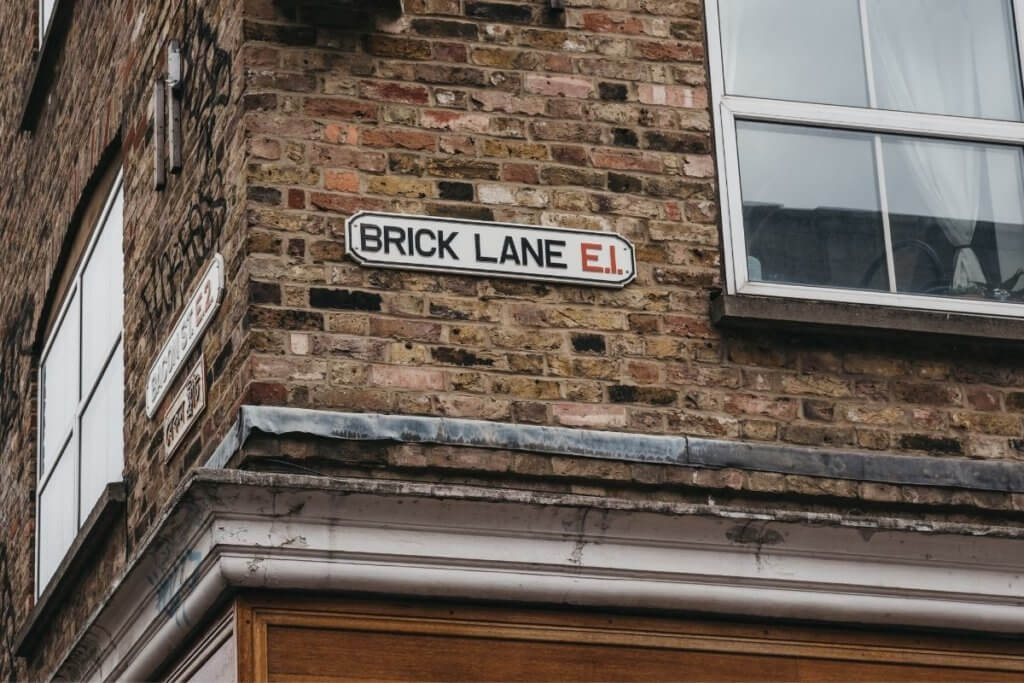 The Brick Lane Market operates on Sundays and a dive into the surrounding area will yield all sorts of retro antique shops, record stores, vintage clothing pop ups and amazing street art. It's London culture in a nutshell, and is an incredibly diverse part of the city.
This is one of the most famous streets in London among the cool kids. If you do go to Brick Lane, make sure to pop into the Brick Lane Beigel Bake Bakery – those bagels are incredible.
"Once a heavily industrialised part of London, Brick Lane and Shoreditch as a whole has become a super trendy and a popular destination for visitors," comments Ruban Selvanayagam of Property Solvers.
13. Piccadilly Circus
The picture postcard Piccadilly Circus junction is London's equivalent to New York's Times Square and is one of the most famous London streets.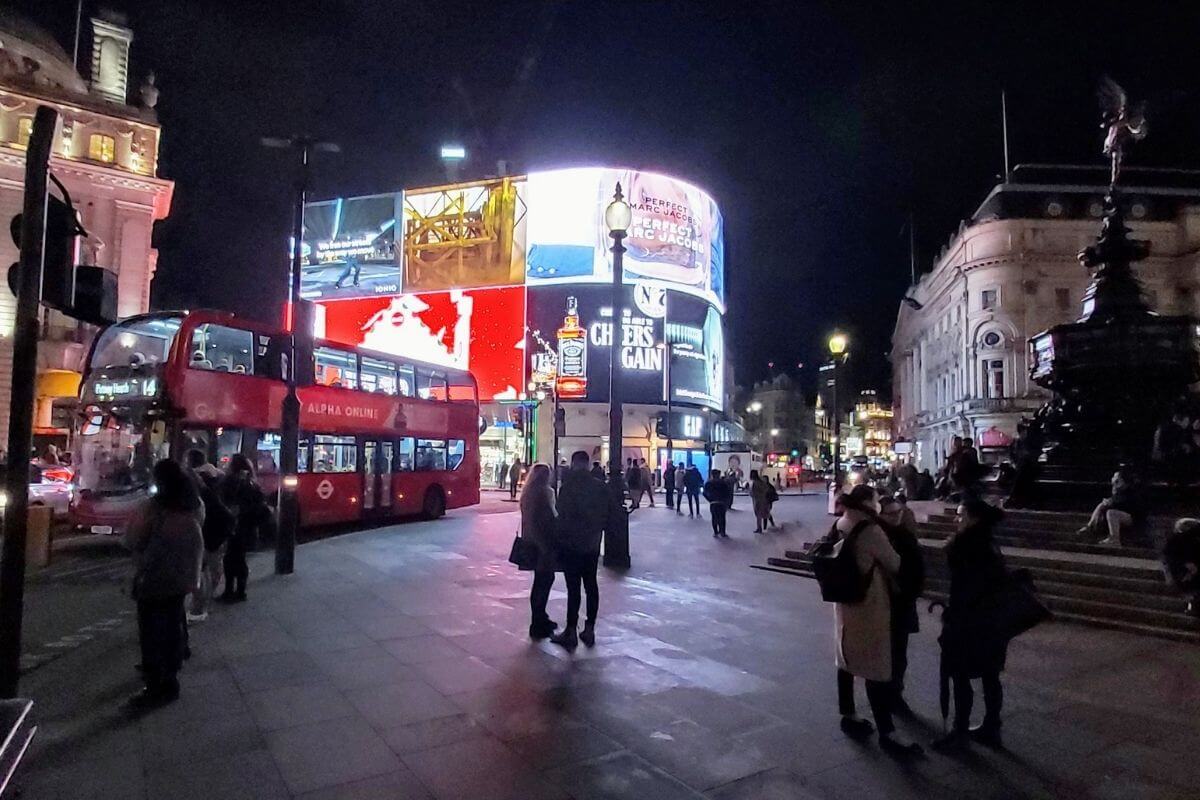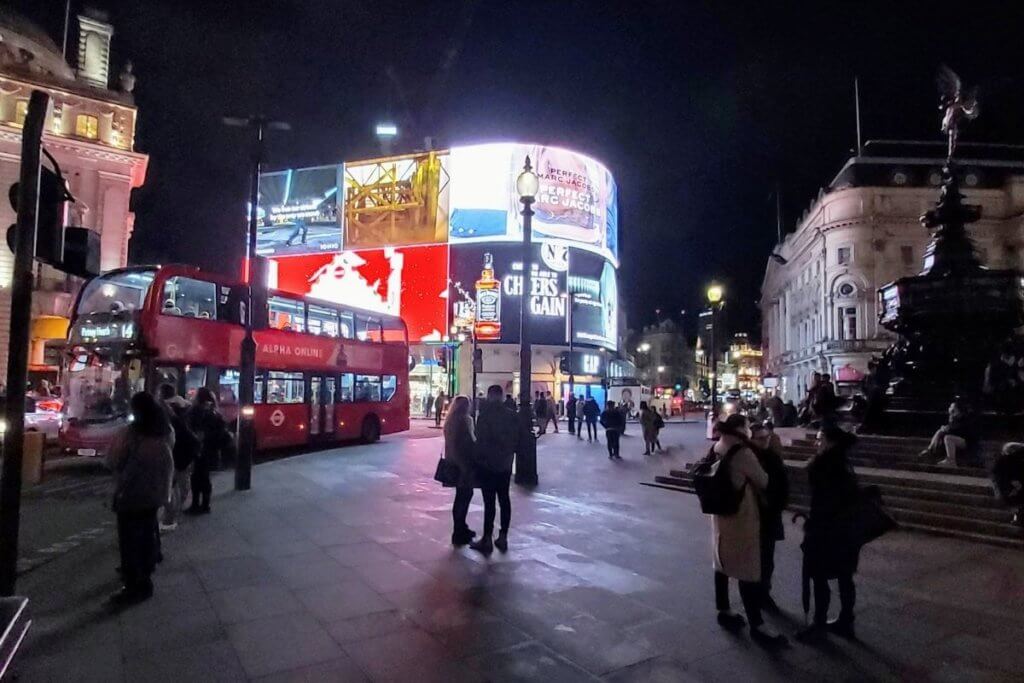 Giant advertising screens, iconic red buses and a large number of theatres are just some of the attractions you'll find in the area. There's also the grand Fortnum & Mason department store, a Harry Potter gallery, the iconic Ritz hotel and Hatchards, the UK's oldest bookshop. Piccadilly has even featured as an online map in the video game series 'Call of Duty', as well as being a permanent fixture on the Monopoly board (last mention of Monopoly, I promise).
14. Knightsbridge
Knightsbridge is one of the wealthiest parts of London, the place where you're most likely to see the latest Ferrari for real. This is a really expensive street in London to live on.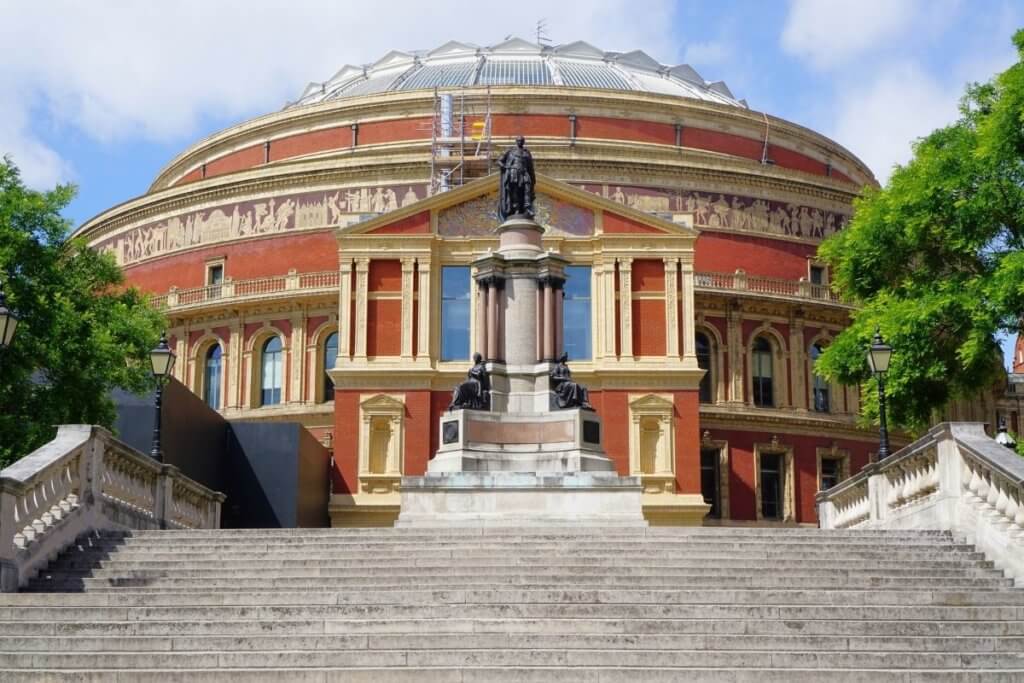 Home to all sorts of international celebrities, successful businessmen and even international royalty, it's one of the most desirable locations in the world. Bordering Hyde Park, it is home to mansion after mansion, and a quick look online yields some truly outrageous property prices, enough to make this millennial squirm!
This exclusivity lends itself to the success of Harrods department store, which is in the area. There's also the Victoria & Albert Museum, affectionately known as the V&A, and the National History Museum too.
The best way to explore Knightsbridge though is to simply grab a takeaway coffee and take a walk, who knows what (or who) you'll bump into.
---
CLICK HERE for some great ideas for Sustainable Days Out in London
---
15. The Strand
Rounding out our list of famous London streets is The Strand. Running along the banks of the Thames, highlights of The Strand include the famous Adelphi Theatre and the glitzy Savoy hotel. Numerous famous intellectuals have resided on The Strand, from Charles Dickens to Virginia Woolf. There are also two famous churches in the form of St Mary Le Strand and St. Clement Danes.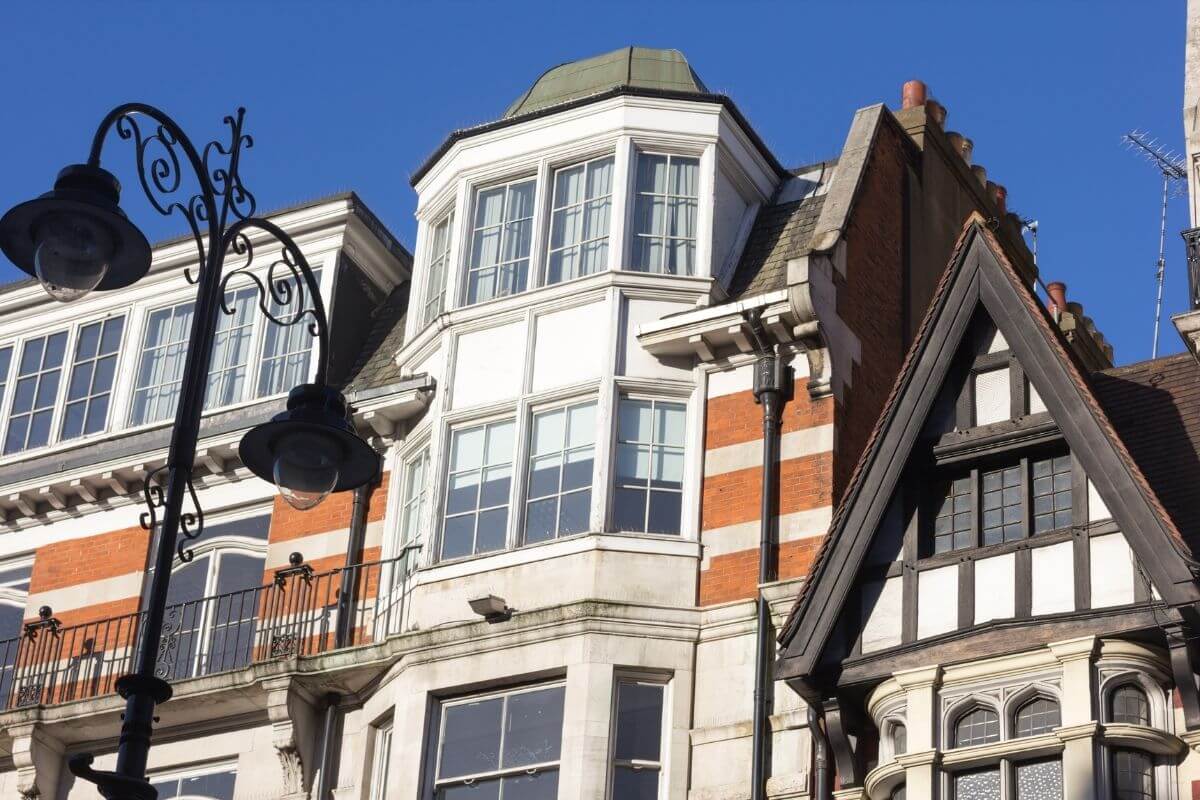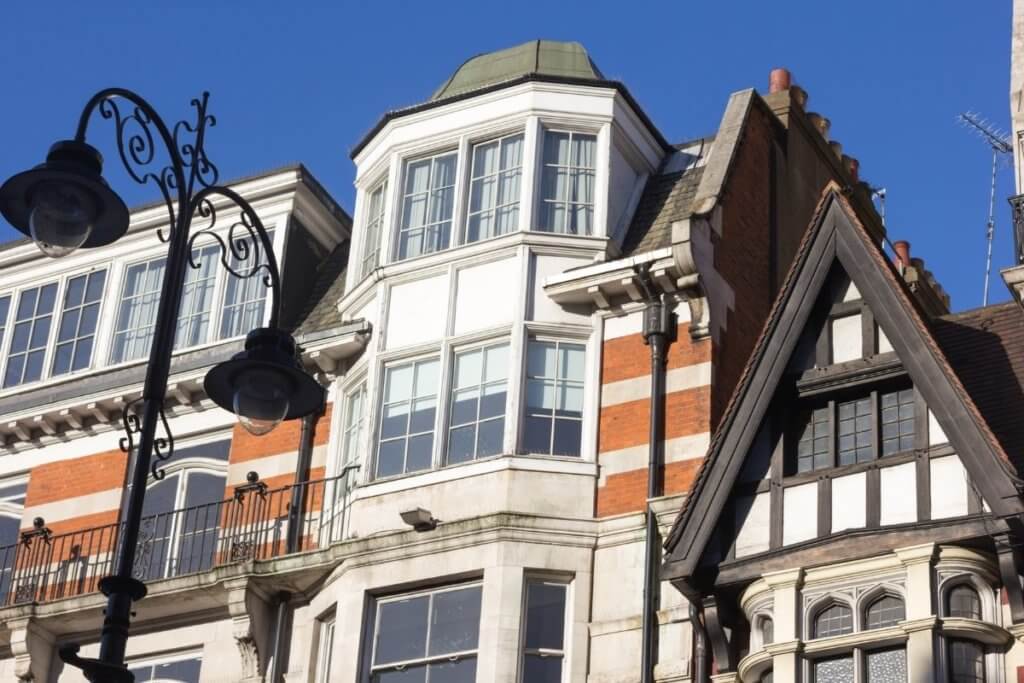 The eastern section of The Strand is home to Kings College, one of the two original founding colleges of the University of London. That's a lot of reasons to pay The Strand a visit.
16. Camden High Street
Camden High Street is filled with rocker shops and indie designers. If you walk north from Camden Tube up Camden High Street you'll pass all kinds of unique cafes, coffee shops and bars. There's also the Regent's Park Canal that runs through, giving Camden Town all its character.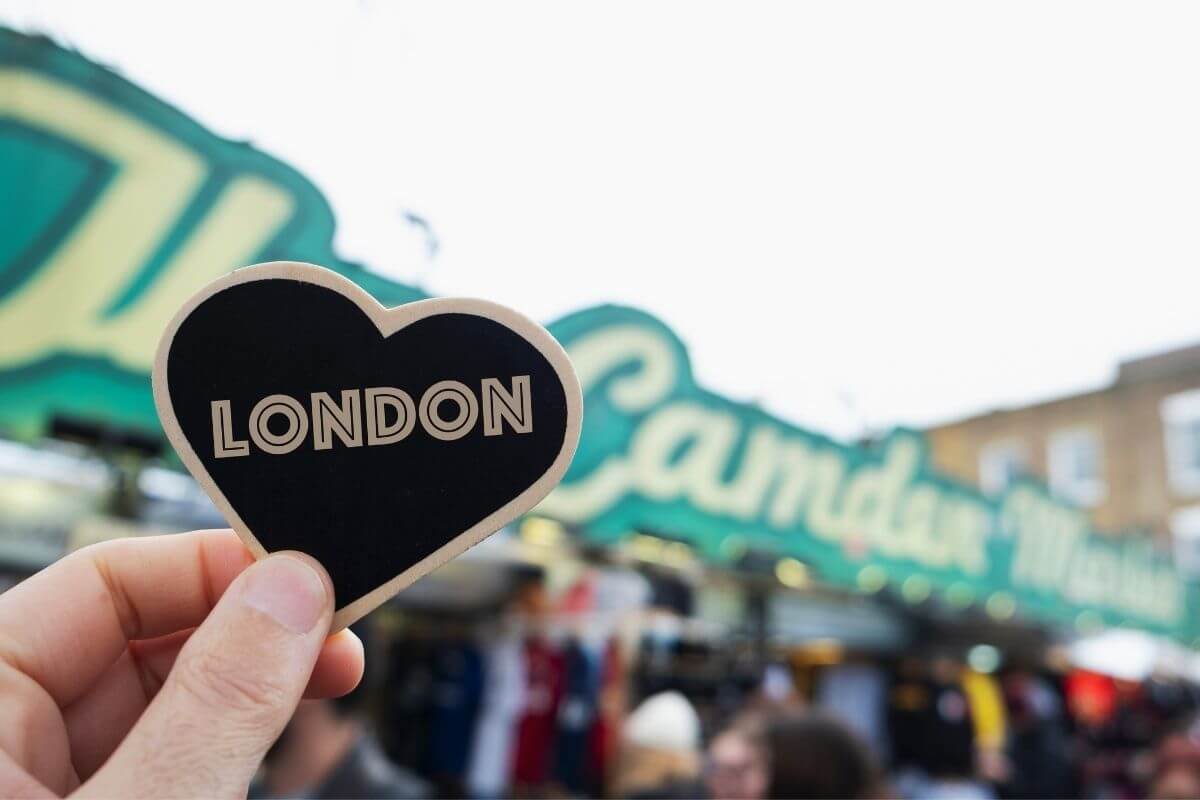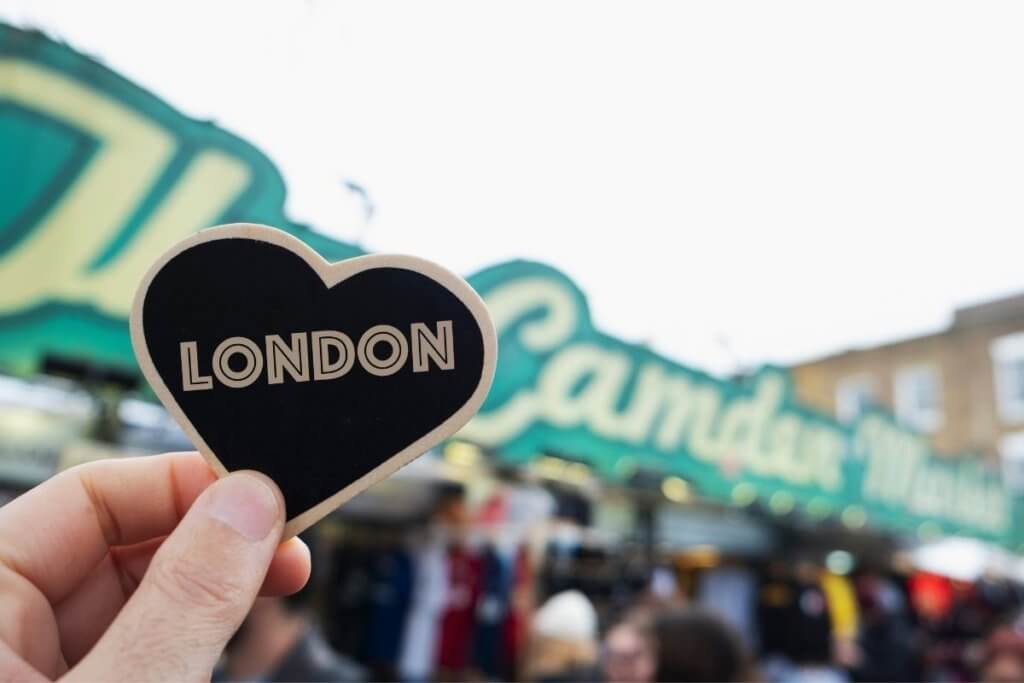 Keep walking to the top and you'll reach Primrose Hill – a great spot for picnicking and admiring the view.
Come back to Camden High Street for the evening though, seriously, anything could happen here. The bars, pubs and clubs are some of the best in all of London.
17. Neal's Yard, Covent Garden
Neal's Yard is a lovely square in the heart of Covent Garden in Central London. This is a great spot for Instagrammers as there's normally some cute shop displays going on. It's a great spot for a street coffee or cocktail, and ideal for people watching!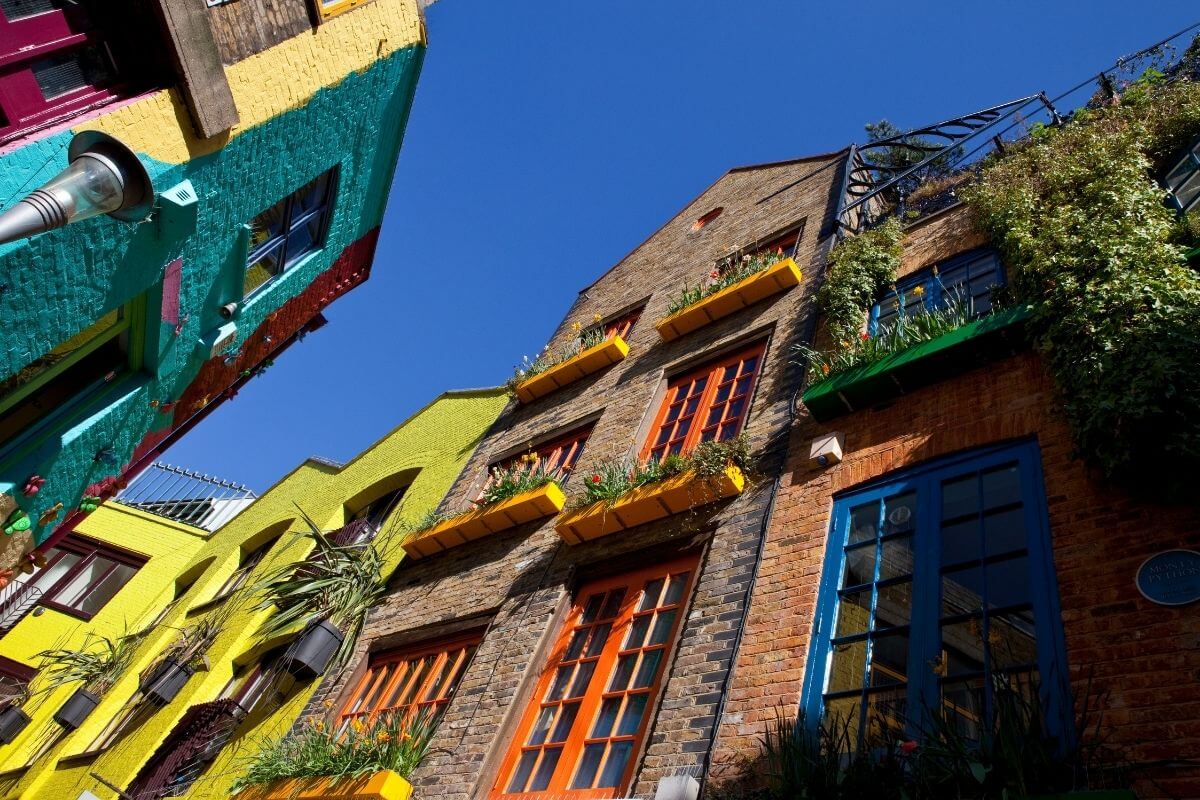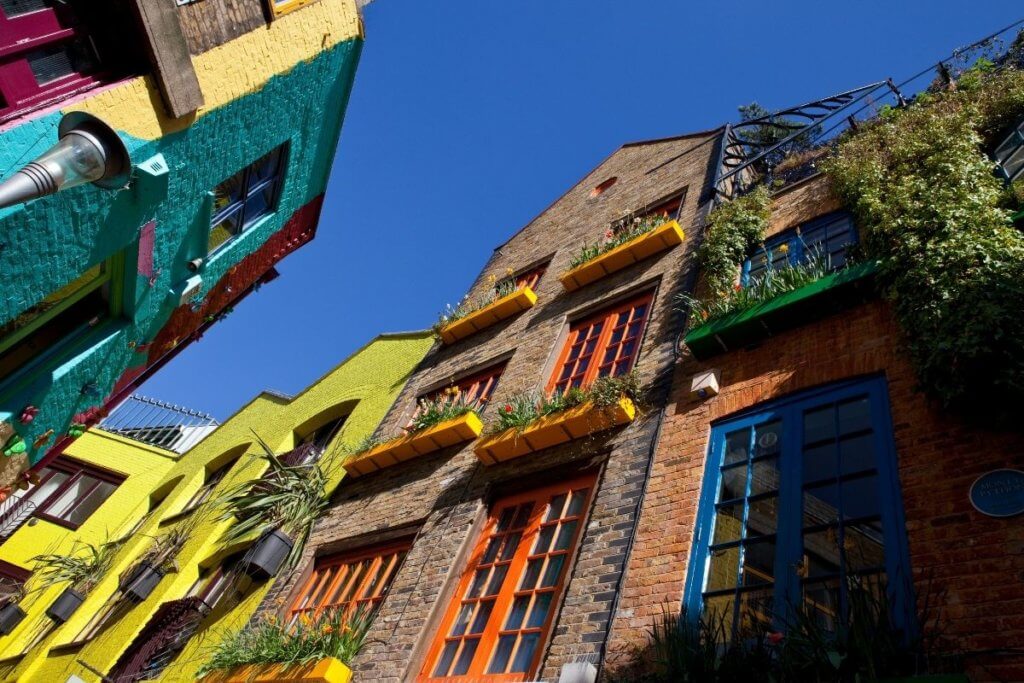 If London is represented in films, you'll usually see Neal's Yard. It's one of the most famous streets in London.
More famous roads in London, if you have the time…
Here are some of the best streets of London for photos, vibe, excitement and fame!
Jermyn Street, Frith Street, Columbia Road, King's Road, Fleet Street, Harley Street, Compton Street, St Martin's Lane, ChinaTown and Tottenham Court Road.
Famous streets in London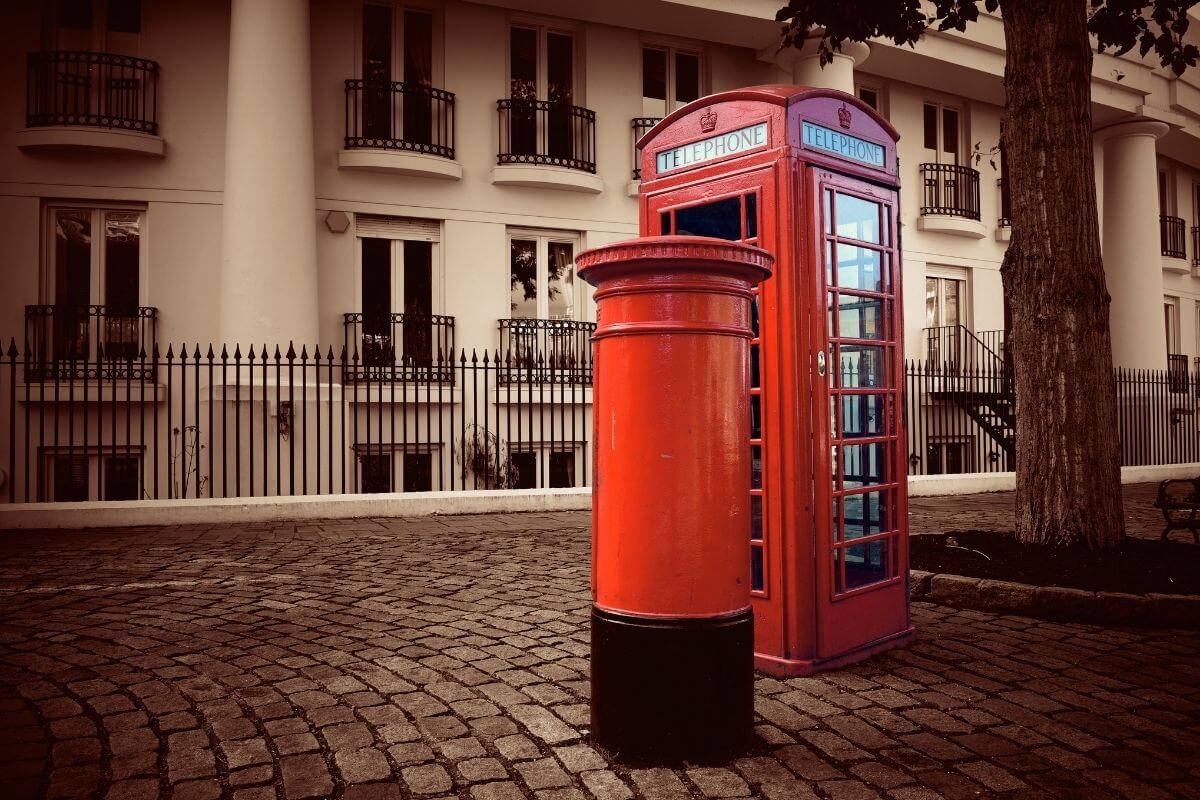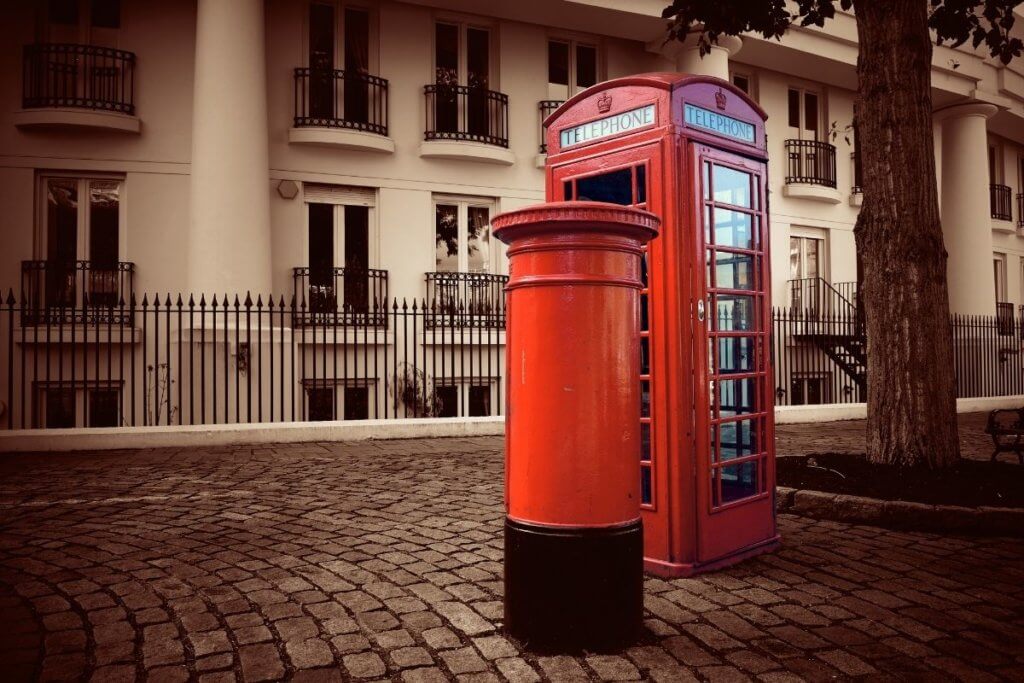 Virtually every road in London has a story to tell. After all, the English capital has a long history and is home to many of England's most important and recognisable landmarks. Whether it's to see the seat of English political power, go for a royal day out, to explore the museums or simply to enjoy some fantastic shopping opportunities, your trip to the capital is sure to see you exploring several of the famous London streets on this list.
Click for the best DAYS OUT IN LONDON FOR SPORTS FANS
---
PIN THESE FAMOUS STREETS OF LONDON FOR LATER