Brighton is great all year round because of its proximity to the seaside, but it really comes alive at Christmas. Whether you're looking for Brighton Christmas events like Brighton's best Christmas markets or the Brighton Christmas Festival, or you just want to spot some lights or go for a cold water dip, there are some fantastic Christmas days out and things to do in Brighton at Christmas.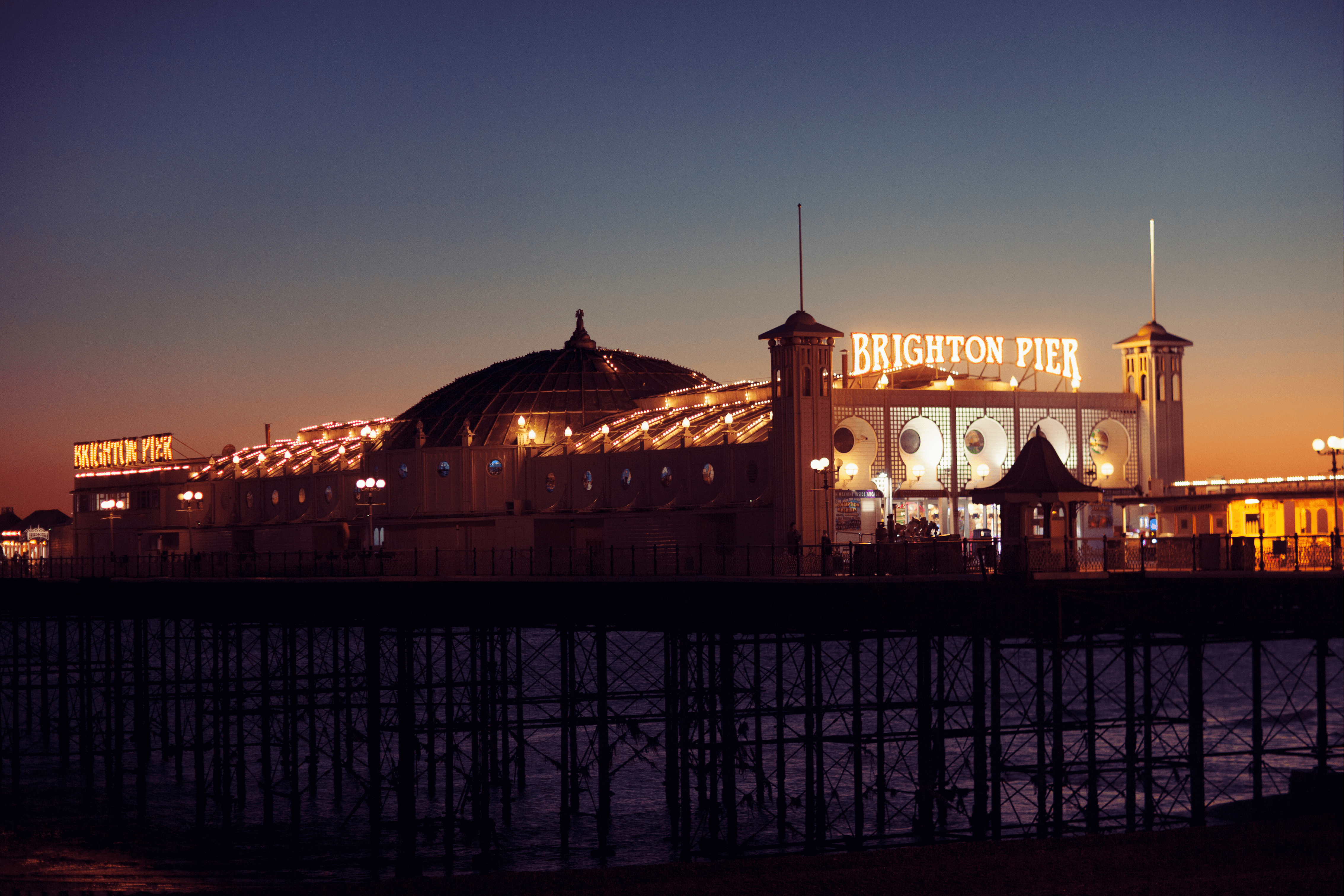 It's time to have a very Brighton Christmas! From the Brighton Christmas Festival to the Brighton Christmas Market, everything we love about this seaside city turns festive this time of year, so whether or not you have a Brighton postcode, you'll love these days out in Brighton at Christmas.
Want a sneak peek of what's to come below? We've found places to spot Christmas trees, places to look out for beautiful Christmas lights, places to visit Santa in Brighton, and much more!
Here's what's on in Brighton at Christmas and the festive season…
1. Visit the Brighton Christmas Festival
Dates: 18th November 2022 – 24th December 2022
The Brighton Christmas Festival is the ultimate thing to do in Brighton at Christmas. From the 18th November to the 24th December this year you can get in the festive spirit with five weeks of fun for the entire family. The Brighton Christmas Festival runs every year and really is a must for your December calendar.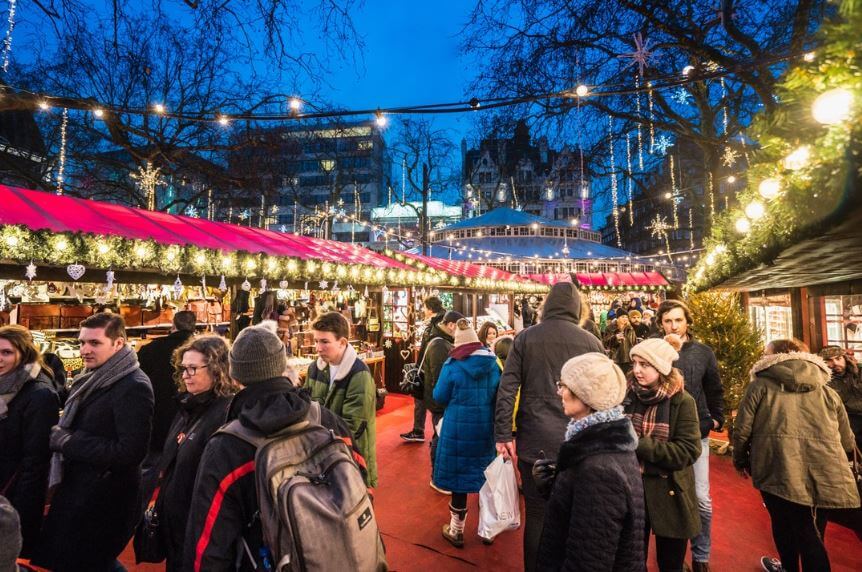 There's a Christmas market, an après ski lodge for drinks, and food stalls too. You'll see the big wheel for miles around, and there are plenty of shows and attractions, including a talent show called Sussex Stars, where you can cheer on the best of the county's talent (or get involved yourself!). Don't miss the Brighton Christmas Festival as it's a really great day out.
2. See the Elf Express Show
Dates: 26th November 2022 – 22nd December 2022
As part of the Brighton Christmas Festival, there's the Elf Express. The story goes; it's Christmas Eve, and Santa Claus has been feeling under the weather while delivering Christmas gifts. The only place in the world he didn't deliver to this year was Brighton and Hove (uh oh). Elves to the rescue! But they need the Elf Express, and YOU to help them.
You'll need to book for The Elf Express, and tickets start at £10 (plus booking fee). This one's great if you're looking for things to do with kids in Brighton at Christmas.
READ MORE: The Best Places to Visit in England in 2023
3. Watch the Aladdin Pantomime
Dates: 22nd December 2022 – 27th December 2022
If you're looking for a pantomime to entertain the family, Aladdin is playing at the Brighton Centre this December to round up the Christmas Festival. This classic tale has all the comedy, singing, and "oh no you didn't!" drama you need for a great panto night out.
With tickets from £15 (plus booking fee), it's a really fun Christmas night for families, or even groups of fun-loving adults keen to wear their festive jumpers and deely boppers out on the town. Grab your panto tickets early and board your magic carpet.
"Follow the story of Aladdin and Princess Jasmin as they embark on their true-love story, alongside hilarious comedy capers from Aladdin's brother Wishee Washee and their eccentric but much-loved mother Widow Twankey – without doubt the funniest Dame in the land! All will need the audience's help to defeat the evil Abanazar with those gut-busting boos, loudest singing voices and maybe even some help on stage."

– Aladdin at Brighton Centre
4. Go up the i360 and see Santa
Dates: Selected dates between 3rd December 2022 – 24th December 2022
Fancy a view over Brighton from 450 feet high? You can see out to the South Downs, and the Seven Sisters from the top of the i360 viewing point, and at Christmas it's extra magical when you can do some Christmas tree and Christmas light spotting from up high.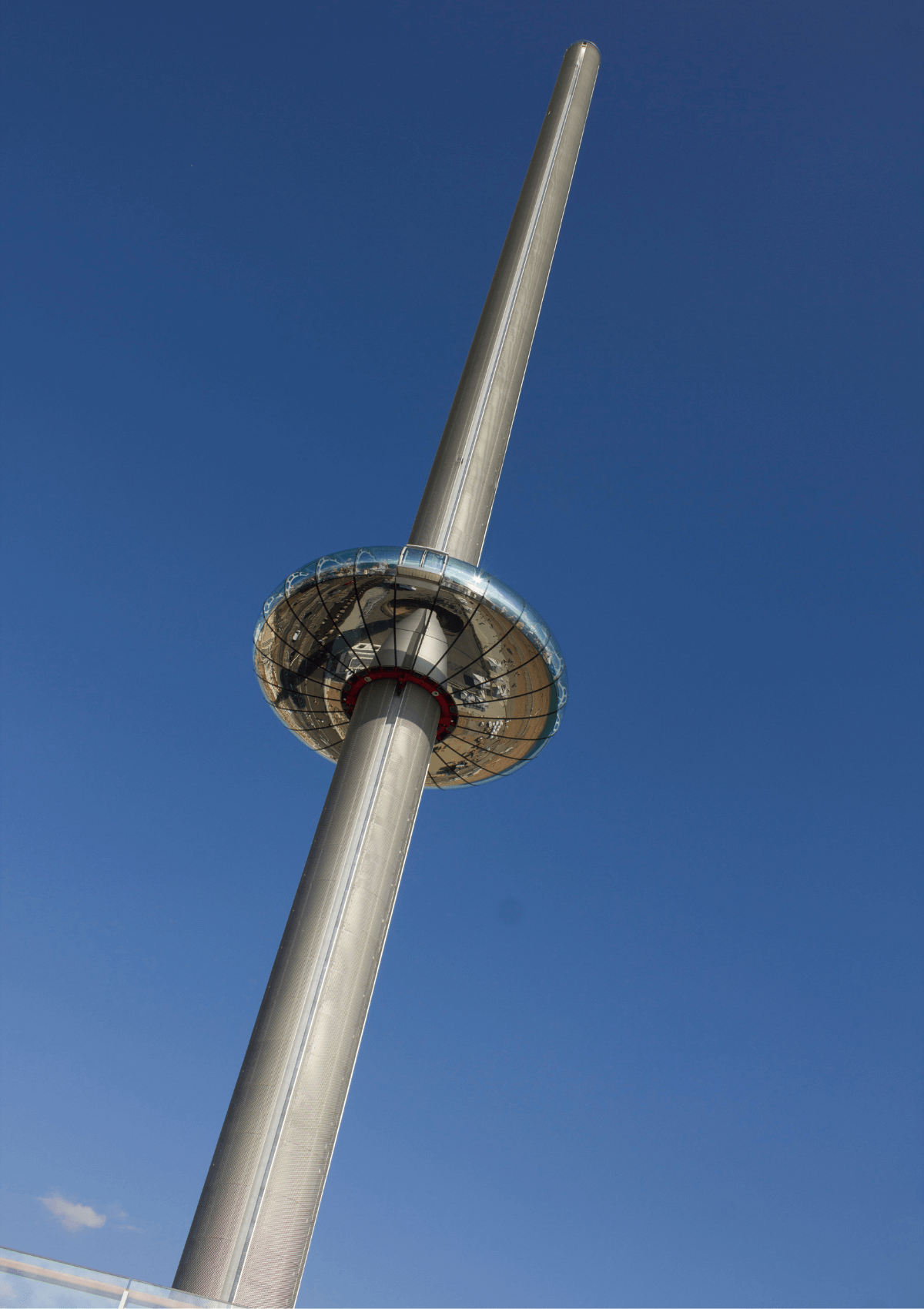 For a truly iconic activity in Brighton at Christmas, buy your ticket to see Santa up the top. It's called 'Santa in the Sky', and gives the kids a chance to meet both Santa and his elves. Santa experiences on the pod don't have to be just for kids! While up there, the adults can also enjoy a festive tipple from the highest bar on the South Coast, the Nyetimber Sky Bar.
5. Skate at the Royal Pavilion Ice Rink
Dates: 29th October 2022 – 8th January 2023
The iconic Royal Pavilion really is a stunning place to skate, offering a beautiful backdrop for gliding across the ice.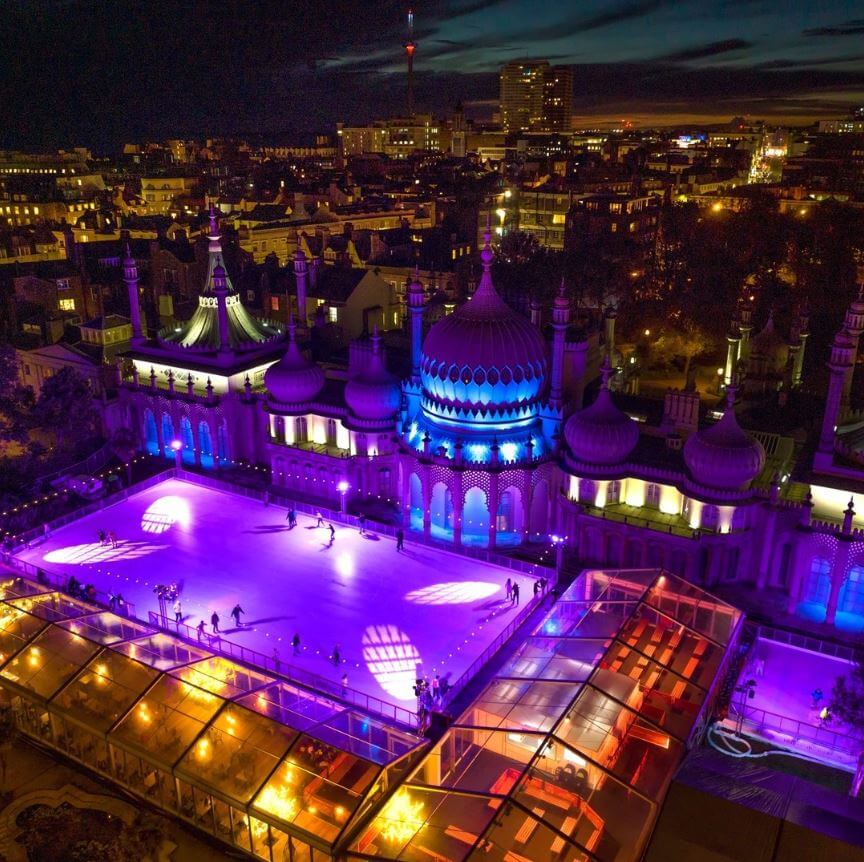 A great romantic date night for couples, a fun activity for families with adventurous kids, and even a great night out with friends in Brighton at Christmas. Plus, this year Brighton's Royal Pavilion Ice Rink is powered entirely by green energy – so it's a guilt-free activity for fans of all things eco-friendly. The Independent newspaper said it "Must win hands down for atmosphere". It's best to book tickets in advance.
READ MORE: The Best Day Trips from Brighton
6. Walk in the Burning the Clocks parade for Winter Solstice
Date: 21st December 2022
The Winter Solstice (which marks the shortest day of the year and celebrates the longer days coming back) is celebrated in different ways around the country, but in Brighton it's particularly spectacular. It's celebrated with a paper lantern parade through the city and a ceremonial beach bonfire.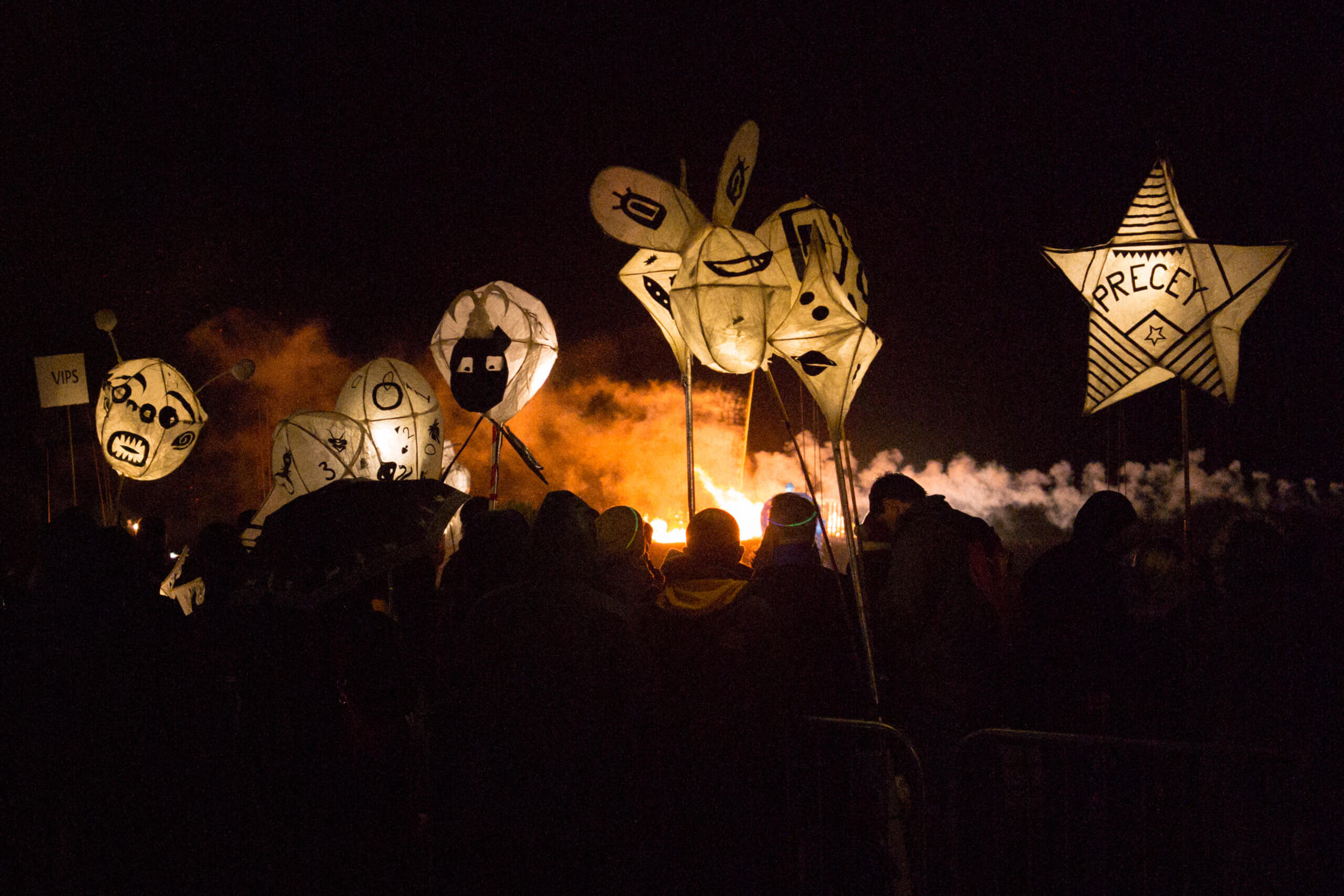 This event has been running for over 20 years, and this year it's happening on the 21st of December. Around 2,000 people are set to join the procession to the beachfront, which ends with a dazzling fireworks display. Lantern Kits are available to purchase from stores – there's a list here – if you want to take part, and the event itself is free.
7. Enjoy the Brighton Komedia Christmas Party
Dates: Selected dates between 2nd December 2022 – 23rd December 2022
If you're looking for a truly festive night out in Brighton at Christmas, book a ticket to the Komedia Christmas party. Expect work parties and Christmas jumpers galore at this event in the Komedia basement.
This is the ultimate night out if you're organising a festive get-together for work, or for a group of friends to celebrate the season. Included in the ticket price is a delicious 3-course Christmas meal, an award-winning comedy show (two top stand-up acts and an MC), and an after-party 'til late. Get a ticket before they're snapped up.
8. Watch the BFC Christmas Concert
Date: 11th December 2022
It just doesn't feel like Christmas until you've heard a choir sing! And the BFC Christmas Concert has that covered for you this festive season with the Royal Philharmonic Orchestra, and Brighton Festival Chorus and Youth Choir.
This family-friendly concert features all your best-loved carols and seasonal songs, some chortle-worthy Christmas jokes, and (if you're lucky) you might even get a chance to try conducting the orchestra! Tickets must be purchased in advance, and are £12.50.
9. Sing along at the Christmas Carol Concert
Date: 15th December 2022
If you're reeeally into carol singing and want to double down on the services this year, the Christmas Carol Service at the Royal Pavilion is an iconic Brighton Christmas tradition for many families.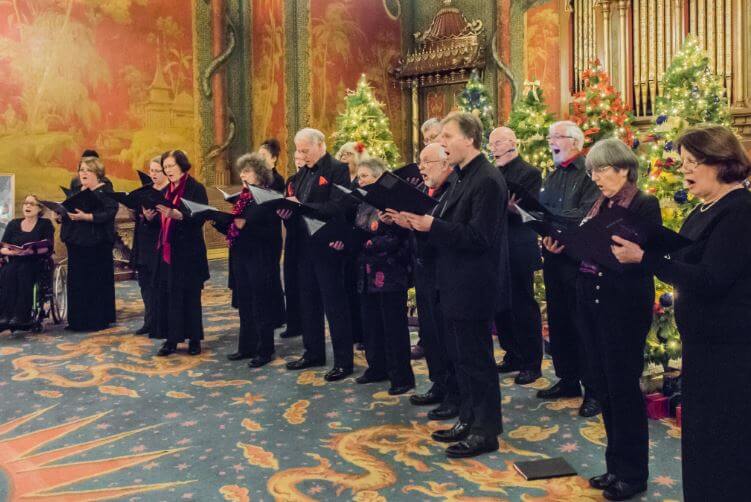 The Royal Pavilion's Music Room will be decorated for the season, and you'll listen to Christmas carols performed by two talented Sussex-based choirs. During the interval you can even enjoy a glass of prosecco and a mince pie in the Banqueting Room. Grab a ticket in advance before they sell out, from £34 which includes an interval glass of prosecco or a soft drink, and a mince pie. Lovely stuff! This is a great one if you're looking for something cosy and festive in Brighton at Christmas.
10. Watch A Christmas Carol at the Royal Pavilion
Dates: 21st December, 22nd December and 23rd December 2022
The Royal Pavilion has lots to do this time of year, and Charles Dickens' A Christmas Carol is on the agenda for 2022. European Arts Company will be bringing the classic tale, as told by the author himself (played by actor John O'Connor).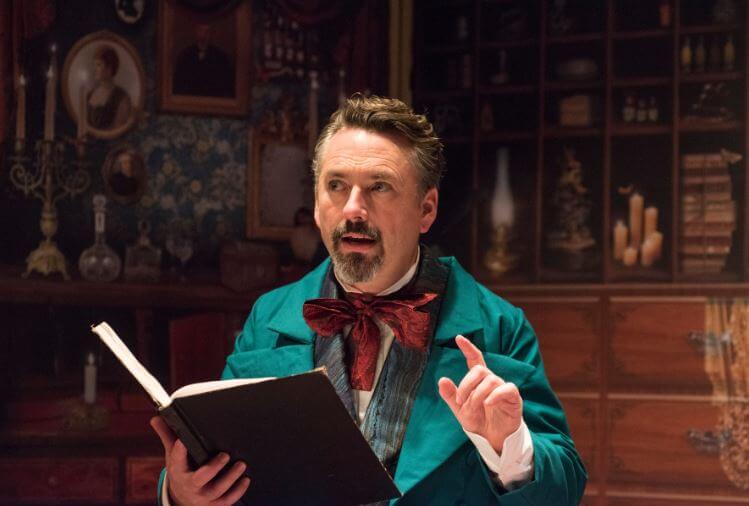 They use Dickens' own performance script, so this is really a special night for all sorts to enjoy in the past, present and future!
11. Take the kids to SeaLife Brighton
Dates: 17th December 2022 – 31st December 2022
SeaLife Brighton is said to be the oldest continually operating aquarium in the world, and one of the best aquariums in England. At Christmas this year their 'A Very Merry Octonauts Christmas' is great for the kids. The mission is a scavenger hunt where children must answer Christmas conundrums hidden around the aquarium.
Along the way they'll also take part in craft activities, see quirky creatures, and get a photo op with Peso (if you visit after the 17th December). This event is included in standard ticket prices which start at £17, and it's a brilliant day out for the whole family.
12. Go for a swim on Brighton Beach
Dates: All year round!
If you're not afraid of a little chill (or let's face it, a BIG chill) then no trip to Brighton at Christmas is complete without a brrrrrr-ave dip in the water. Brighton Beach is one of the most popular beaches in England, and for good reason.
Take up a spot on the pebbles, and get in your swimming cossie (and Santa hat for seasonal effect) for a dip in the freezing cold water of the English Channel.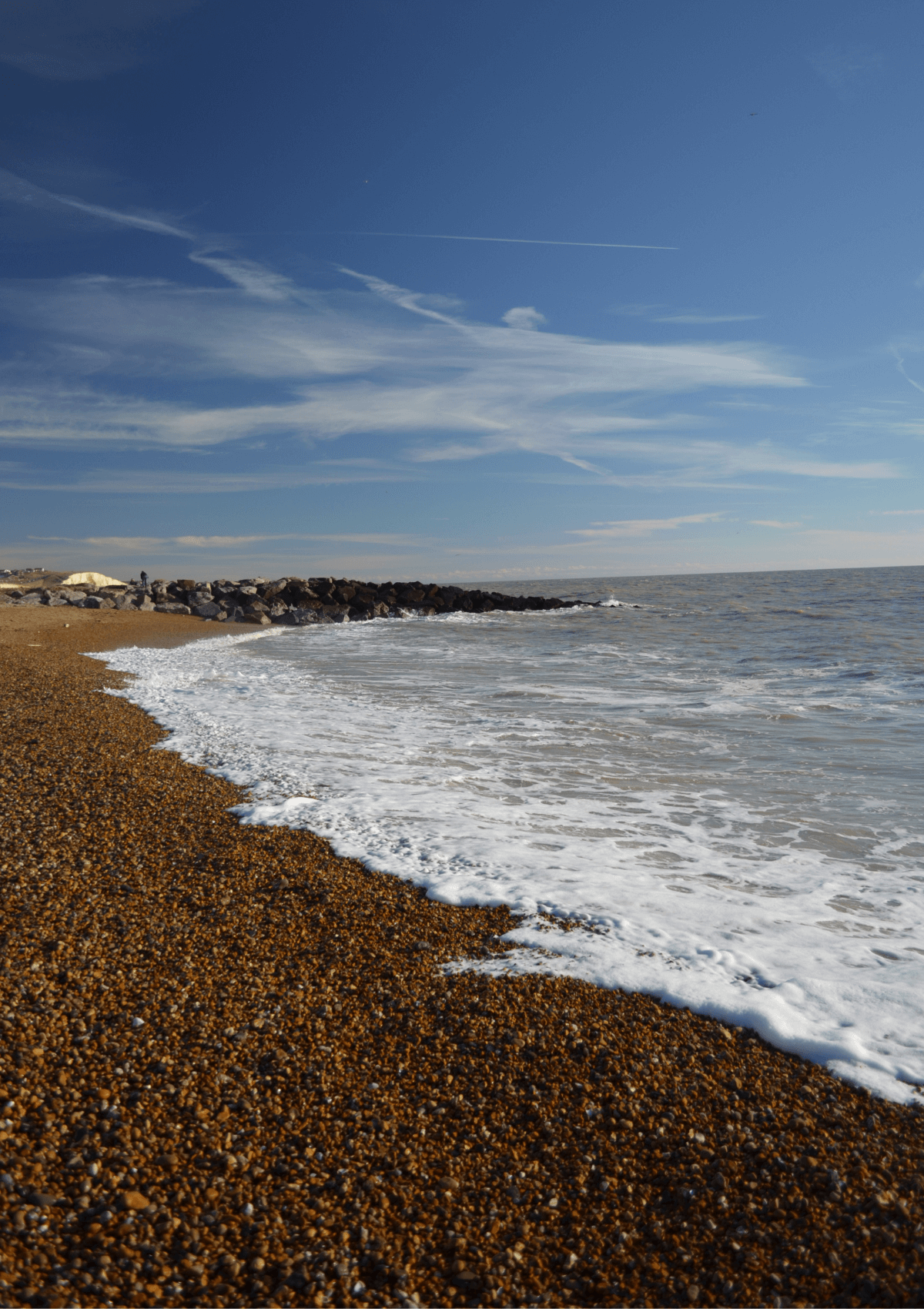 You can do a few laps of the shoreline if you're a strong swimmer, but honestly just a quick dunk will do for an invigorating winter activity that'll leave you with a holiday glow and a Rudolph nose! Finish off with plenty of towels, blankets and jumpers to get the heat back in you, and then grab some hot chips from one of the many seaside vendors. Watch out for seagulls, they love 'em.
---
13. Visit some of the Artist Open Houses Winter events
Dates: 26th November 2022 – 11th December 2022
Artist Open Houses are really nice days out, and they're back in Brighton at Christmas for 3 weekends from Saturday 26th November. Artists and makers from Brighton & Hove and surrounding areas will literally open their houses and studios to showcase a range of their artwork.
Art fanatics will absolutely love these artists open houses, but everyone can enjoy browsing the art, hearing from the artists themselves, and shopping for really unique Christmas presents in a relaxed setting.
Food and drink in Brighton at Christmas
Since a BIG part of Christmas is the delicious food, we're also rounding up the best eating experiences in Brighton at Christmas.
14. Eat at Brighton's Open Market
Dates: Christmas events on the 3rd and 17th of December 2022
Visit the Open Market in Brighton at Christmas and you'll get to enjoy the selection of great food stalls – from home cooked Bangladeshi food from Spice of Life, to the Tacos de Mole at Casazul.
This Christmas they have their Christmas Maker's Market on the 3rd December, featuring a range of gifts, crafts, artwork and snacks from the talented makers. Plus, the Christmas Vegan Market on the 17th December, where you'll find a tasty range of plant-based hot and cold food, alongside gifts, crafts, beauty products and more.
15. Try new dishes at Shelter Hall Food Market
Dates: Christmas events on selected dates throughout December 2022
Visit the Shelter Hall Food Market on the seafront where they partner with the best chefs in Sussex and are always changing their menu to include delicious new recipes. And they have some scrummy new ones hitting Brighton at Christmas.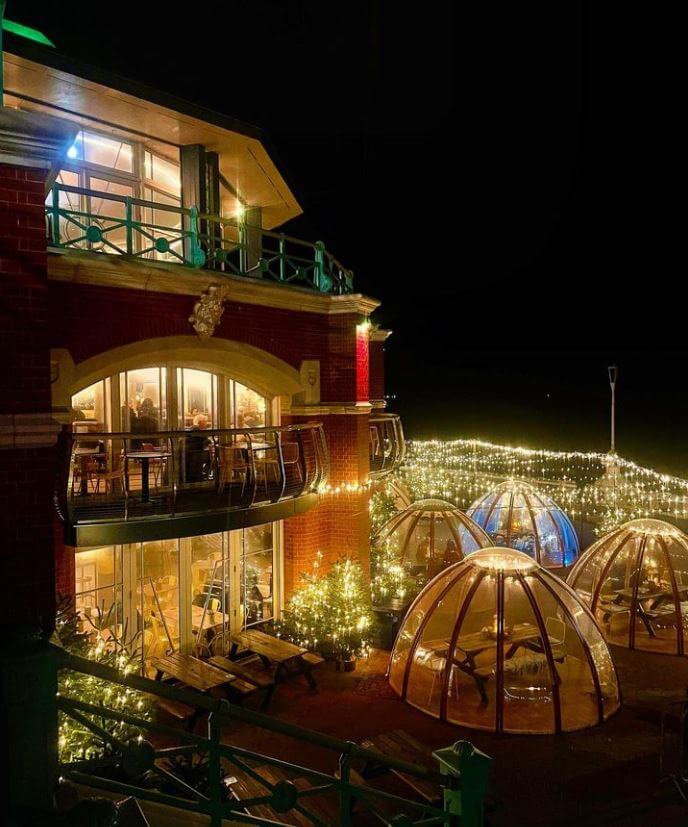 There are cocktails, and you can visit the Skylark Bar for amazing views over the seafront. This season there are winter igloos available to book, a gospel Christmas choir on the 6th and 20th of December, and an "après-ski oompah band" on the 13th December. Book early to grab a spot.
16. Eat Christmas lunch in The Lanes and beyond
Dates: Christmas menus available throughout December, check individual restaurants
There's delicious food to be found in the iconic, historic alleys of The Lanes, a must-visit in Brighton at Christmas. Enjoy steak at Kokedama, brunch at Lost in the Lanes and Sunday lunch at The Mesmerist.
The Black Lion and The Cricketers serve expertly cooked pub favourites, and if you're looking for seafood in Brighton at Christmas, Riddle & Finns in The Lanes is often regarded as the best seafood restaurant in Brighton.
If you're exploring outside of the Lanes and looking for a Christmas lunch option, the Salt Room restaurant is known as one of the best places for Christmas lunch in Brighton, and has a great view of the iconic West Pier ruins to give you that local feel.
Then there's The Coal Shed, who are "masters of cooking over fire" and have a festive menu with all your favourites. The Walrus has some great Christmas options, and North Laine Brewhouse is good for drinks.
Or if you're in the mood for a little more entertainment with your Christmas lunch, Proud Cabaret Brighton is hosting their Christmas Cabaret All Stars, with performances from an all-star cast of dancers, circus performers, aerialists, and fire breathers.
17. Check out brunch at Rockwater
Dates: Christmas events on the 11th, 19th, 20th and 22nd of December 2022
If you're looking for somewhere a bit different for a more relaxed time in Brighton at Christmas, definitely check out Rockwater on the coast. This unique beachside spot has everything; yoga, sea swims, craft workshops, comedy nights, live music, cocktails and more.
It has everything you could ever want for a chilled out Christmas, including their Christmas quiz on the 11th of December, a Christmas bauble making workshop on the 19th December, kids Christmas yoga on the 20th December, and Christmas cupcake decorating on the 22nd December. Get booked in before the spots fill up.
18. Enjoy Festive Afternoon Tea
Dates: 23rd November 2022 – 31st December 2022
Everybody loves a visit to Dobbies, but especially at Christmas when it feels extra magical. Their Festive Afternoon Tea this year is available from 23rd November – 31st December 2022, where you'll enjoy unlimited tea and coffee, with 3 tiers of delicious treats in a choice of traditional, vegan or festive. This afternoon tea is £20 for 2 people, so a great deal for your Christmas days/nights out with friends.
19. Have breakfast with Santa at Dobbies
Dates: Unconfirmed on the Dobbies website
Ever wanted to have brekkie with Santa? Then there's a Santa's Breakfast event at Dobbies you'll love. The whole family can come along to meet Santa, enjoy a Christmas fry up, take part in fun activities, and take home a gift. Kids aged 3-10 will enjoy this event most, and younger children can still take part but may need an adult's help with some of the activities.
20. Check out what's on at the Royal Pavilion
Dates: Selected dates throughout December 2022
One of the most spectacular places to visit in Brighton at Christmas has to be the Royal Pavilion, and there are lots of events and activities to take part in this year. Here are a few of our favourites:
See the decorations – At Christmas, the palace is transformed with festive decorations and twinkling trees, and you can walk around to take it all in. Watch for the beautiful winter sleigh in the Music Room, and the festive mice hiding in the trees!
Learn about the Magic of Pantomime – On the 29th November, actor and speaker Ian Gledhill takes you through the origins of panto and its many traditions and superstitions.
Hear some Christmas Tree Stories – Enjoy a special tour of the stunning Christmas trees at the Royal Pavilion from Marcus Bagshaw, Creative Lead for this year's Christmas at the Royal Pavilion, to hear the history, and snack on coffee and mince pies.
Check out the Brighton Museums website to grab a spot for one of these exciting events.
21. Indulge at the Royal Pavilion Christmas Banquet
If you want to celebrate Christmas in "regal splendour" (and have a slightly bigger budget!) then the Royal Pavilion Christmas Banquet will be the star on top of your Christmas festivities. On selected dates in December, put on your black tie best and join for a drinks and canapé reception in the palace's stunning Great Kitchen.
You'll then enjoy a 3-course dinner with wine in the Banqueting Room. Tables are in groups of 10, so if you're in a smaller group you may be asked to share a table – all part of the merry fun! Spaces fill up fast for this popular event, so grab your spot as soon as you can.
Brighton at Christmas
Brighton at Christmas is really special for all ages, whether you're a local or not! Brighton is one of the most popular days out in East Sussex at the best of times, but this time of year there's tonnes to do. If you're going further afield, don't forget to check out these 12 Great Days Out for Christmas in Sussex.
Quicklist: 21 Great Things to Do in Brighton at Christmas
Visit the Brighton Christmas Festival
See the Elf Express Show
Watch the Aladdin Pantomime
Go up the i360 and see Santa
Skate at the Royal Pavilion Ice Rink
Walk in the Burning the Clocks parade for Winter Solstice
Enjoy the Brighton Komedia Christmas Party
Watch the BFC Christmas Concert
Sing along at the Christmas Carol Concert
Watch A Christmas Carol at the Royal Pavilion
Take the kids to SeaLife Brighton
Go for a swim on Brighton Beach
Visit some of the Artist Open Houses Winter events
Eat at Brighton's Open Market
Try new dishes at Shelter Hall Food Market
Eat Christmas lunch in The Lanes and beyond
Check out brunch at Rockwater
Enjoy Festive Afternoon Tea
Have breakfast with Santa at Dobbies
Check out what's on at the Royal Pavilion
Indulge at the Royal Pavilion Christmas Banquet
---