Are you on the lookout for sustainable shops in London to pick up plastic-free shopping and eco-friendly clothing? You're in the right place. We've rounded up the best zero-waste food shops, eco-friendly food markets, sustainable fashion shops and charity shops in the city so you can discover London's sustainable side. Check out these sustainable shops in London to help make the planet greener every time you shop.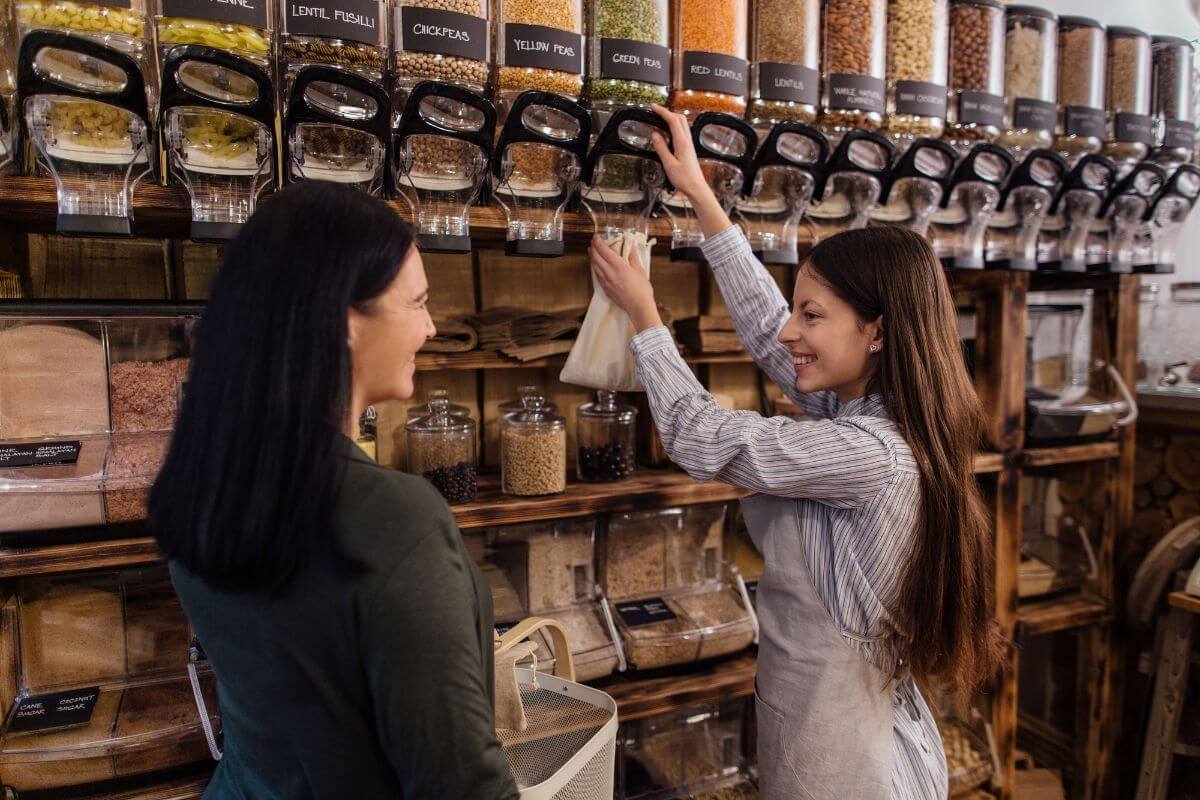 Zero-Waste Food Shops
First up on our list; places to pick up your groceries that promote zero-waste. There are plenty of small supermarkets and shops in London that aim to cut down on packaging and food waste by encouraging customers to bring their own containers and fill up. Here are our favourite food-based sustainable shops in London that promote zero food waste.
1. BYO
BYO stands for Bring Your Own (as in, bring your own containers), and you'll find it in Tooting Market in South London. This food store aims to reduce the unnecessary packaging you receive from the likes of Tesco, Sainsbury's and other big food shops by letting you pick up only what you need and taking it home in your own reusable containers every time.
One of the largest issues our planet faces is plastic waste, so initiatives like this from BYO are so helpful in reducing the everyday plastic waste many of us contribute to. Take your own containers and refill them with food, spices and condiments, cleaning products, personal hygiene and menstrual products, and much more. If you're looking for the best zero waste shop London has to offer, this might just be it. BYO and reduce your impact on the planet as you shop.
2. Unpackaged
Up next is Unpackaged. Same concept, different location. In fact, it has multiple locations, which makes this store accessible to lots more Londoners and helps spread the sustainable mission even further. You'll find their stores in Islington, Westbourne Grove, Chiswick and Muswell Hill, and they offer a big range of refillable products to help you reduce your waste in the city.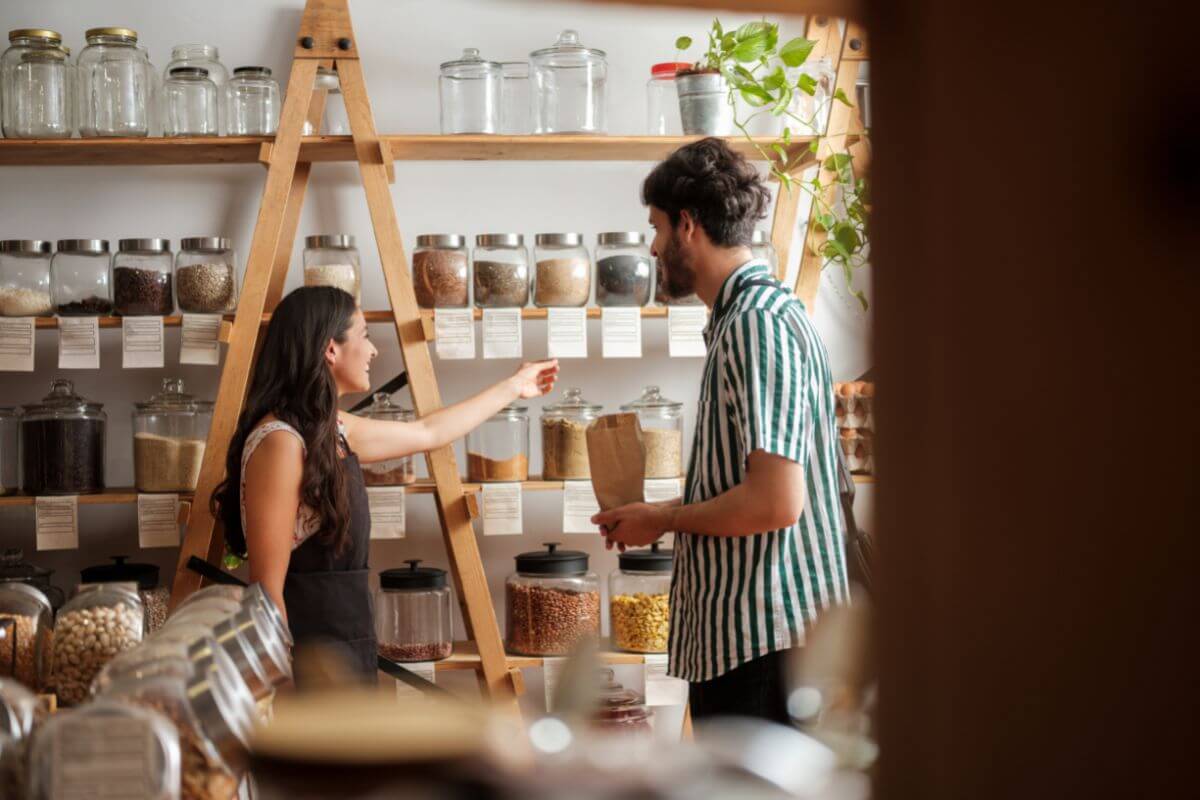 Unpackaged is partered with UK supermarkets such as Waitrose, Morrisons, M&S and many more, and they have concessions inside some Planet Organic stores too. This is one of the best sustainable shops in London offering sustainable food shopping to people living in the city. If you take the packaging you need, they'll fill it up — goodbye plastic waste!
READ MORE: Great Ideas for Days Out that are Good for the Environment
3. The Source Bulk Foods
This food store is another chain known in the London area, but with a twist — they focus on buying in bulk in order to further reduce the packaging waste that is generated in our society. The Source Bulk Foods have over 500 bulk foods and sustainable personal and household products that are all 100% plastic free.
So if you are trying to up your sustainability game and want to make sure you don't miss out on choice when shopping for your favourite foods, THIS is the place to go. If you want the best sustainable bulk shop London has to offer, check it out.
READ MORE: The Best London Farms to Visit in the City
Eco-Friendly Food Markets
Looking for somewhere sustainable for your next date night or lunch with friends? London's eco-friendly food markets have some excellent choices, and there are plenty of them. If you're checking out the sustainable shops in London and want to grab a bite to eat, next on your itinerary should be some of these food markets as they're bursting with delicious eco-friendly foods. 
READ MORE: How to Avoid the Tourists in London
4. Buck Street Market
Up first is Buck Street Market in Camden. Camden is a must-visit by itself as it's packed with fun things to do (it's included in our list of brilliant ideas for the best days out in London, after all), however, Buck Street Market is somewhere you just have to stop if you're looking to stick to an eco-friendly lunch.
This busy food market offers vegan burgers, tasty sustainable snacks, coffee, and much more, all housed in fantastic colourful shipping containers which have been repurposed. This eco-conscious market is great for both food and fashion so you could easily get lost wandering around here for a full day.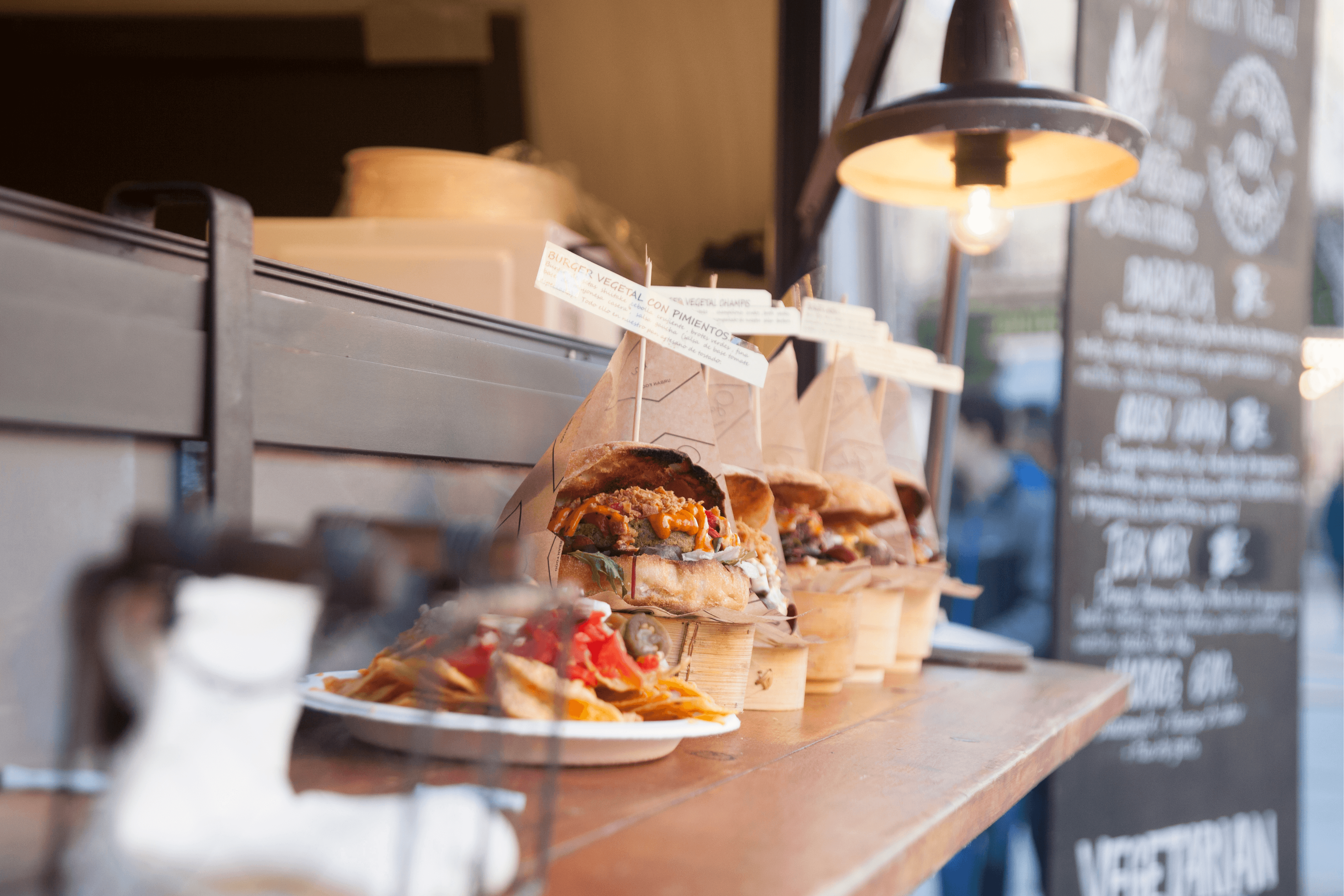 5. Mercato Metropolitano
For another sustainable community food market, the Mercato Metropolitano features fantastic cuisine offered up across 5 different sites — two in Elephant & Castle, one in Mayfair, one in Wood Wharf and one in Ilford. If you have a choice, Mercato Mayfair would be our pick since it's housed in an old church so comes with a stunning backdrop.
The incredible choices in this food market offer over 40 food stalls that sell sustainable tasty food products. Keep in mind if you're visiting that as a sustainable community market, they do not allow plastic on site and will confiscate any single-use plastic bottles. Best to bring your reusable one. This spot offers some of the best sustainable shops in London if you're looking for tasty food on the go or to sit down and eat.
Sustainable Fashion Shops
Fashion lovers… time to lose yourself in the heart of London with some of the best sustainable shops in the capital. There's nothing better than going on a spending spree in London when every single shop you visit is sustainable, meaning you can shop completely guilt-free. These sustainable shops in London are all carefully curated, sustainable clothing shops to help you find the eco-conscious clothing you need.
6. AIDA
If you find yourself in the Shoreditch area, this multi-concept fashion store offers a wide range of clothing, homewares, menswear, accessories, and a cafe where you can grab one of their speciality lattes. This store has been open since 2012 and is family-owned by four sisters. They host a range of events in-store too, so it's certainly an experience to visit AIDA.
They take their sustainability mission very seriously, and although they don't claim to offer solely sustainable brands in their range, they do prioritise eco-conscious brands that operate with full transparency in their supply chains, and those introducing organic and recycled materials into their collections. They are all about longevity, and they stock brands that prioritise quality over quantity, so anything you buy here is likely to last a lot longer than your standard high-street brands.
7. Rokit
Rokit offers a fun, alternative style and vibe when you visit their stores, of which they have several in London. They're all about promoting ethical fashion so whether you are in the Camden area or exploring Covent Garden, browsing their rails is definitely worth your time. This shop is for those that love their vintage fashion and are looking to reduce the number of fast-fashion garments in their wardrobe.
Everything in their Rokit Originals collection is produced by their small team of local designers and machinists, and it's all made from remnant fabric and damaged vintage so as little as possible goes to waste. Definitely one of the most sustainable shops in London for fashion lovers.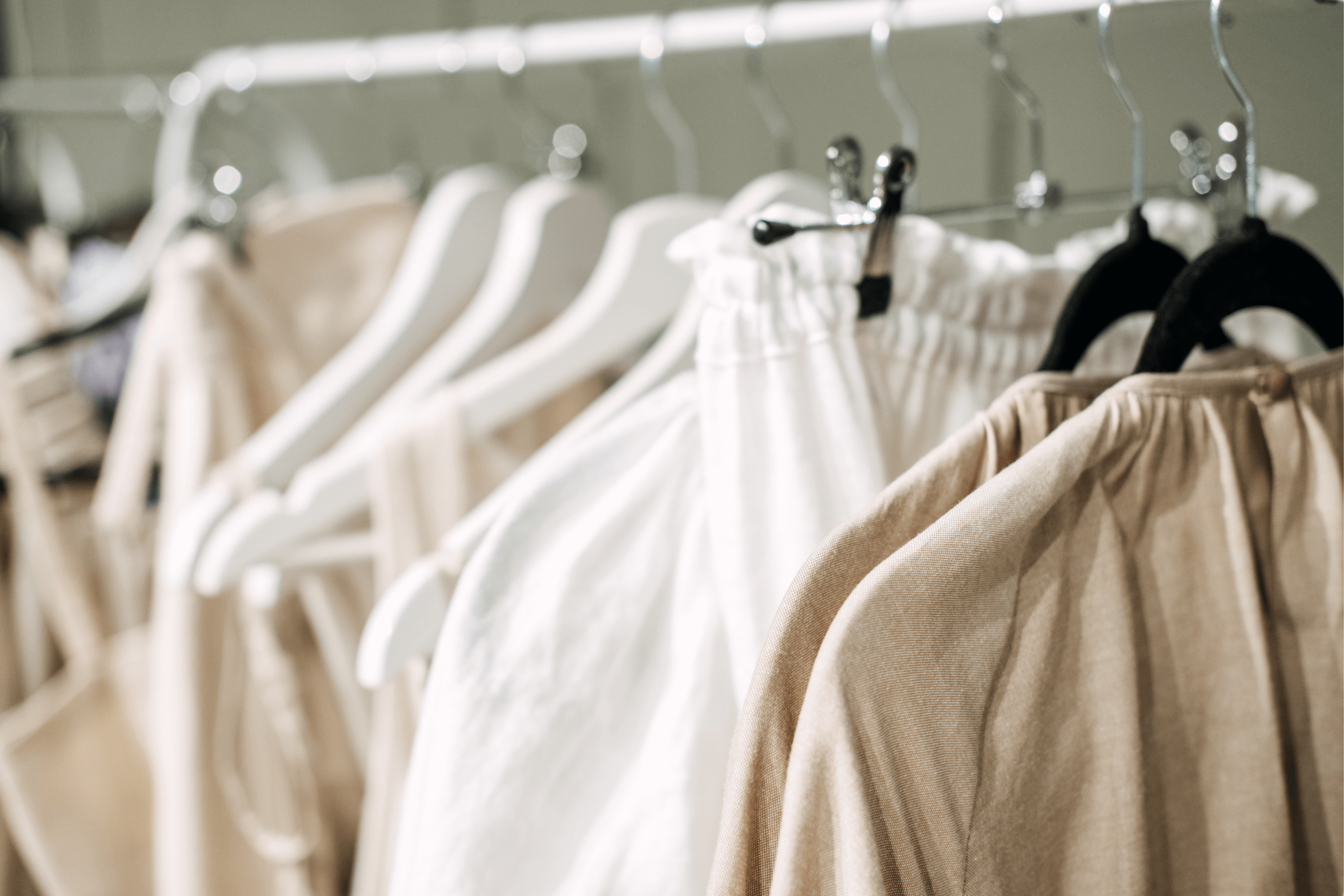 8. Reformation
Reformation is another brand with multiple stores all over the world, but if you're in London you can visit them in Notting Hill, Shoreditch, Covent Garden, or Battersea to check out the sustainable shopping experience they offer. Their sustainability missions include reducing more emissions than they make, creating all recyclable clothing, using high quality fabrics so you don't need to replace them as often, and more. Plus they're climate neutral certified, which is pretty cool.
Reformation is most famous for its vintage-inspired designs and sustainability from the factory to the shop floor. Not to mention they apparently donate textile scraps to be waste neutral. Definitely one of the best sustainable clothing brands London has to offer.
9. Varana
Heading over to Mayfair? It's home to some of London's most famous streets and is a great area to visit for a massive spending spree. A massive sustainable spending spree, that is. You'll want to head to Varana, which combines eco-conscious with luxury clothing items — a match made in heaven. This international fashion house aims for quality Indian craftsmanship with clean lines and cuts of modern design.
They only use natural, 100% biodegradable fabrics that involve minimal waste during production, and they've ditched synthetic fibres like polyester and nylon to avoid contributing to plastic pollution and climate change. Plus, they reuse and repurpose all of their fabrics and garments. That's guilt-free shopping indeed. There is plenty of parking in central London so head to Mayfair and visit one of the most sustainable shops in London; Varana.
Charity Shops
London is not short of charity shops, which is great for those eco-conscious shoppers in the capital. There are the obvious ones such as Oxfam, the British Red Cross and Cancer Research UK, however there are a few brilliant lesser-known charity shops too. If you're looking for sustainable shops in London, you must check out these charity shops to purchase pre-loved garments — a treasure trove for sustainable fashion lovers.
10. Boutique
If you're near King's Cross, head to Boutique to find high-quality vintage items. This store is run by Shelter, so when you shop you are not only giving items a second home, you're also making a donation to this excellent charity — every penny goes to fight homelessness. You stand the chance of finding designer and vintage pieces at a fraction of the original price in Boutique.
They carefully select high quality items to go on display in this store, so if you're not usually a fan of rummaging through charity shop rails to find the odd good-quality item, you'll love this experience.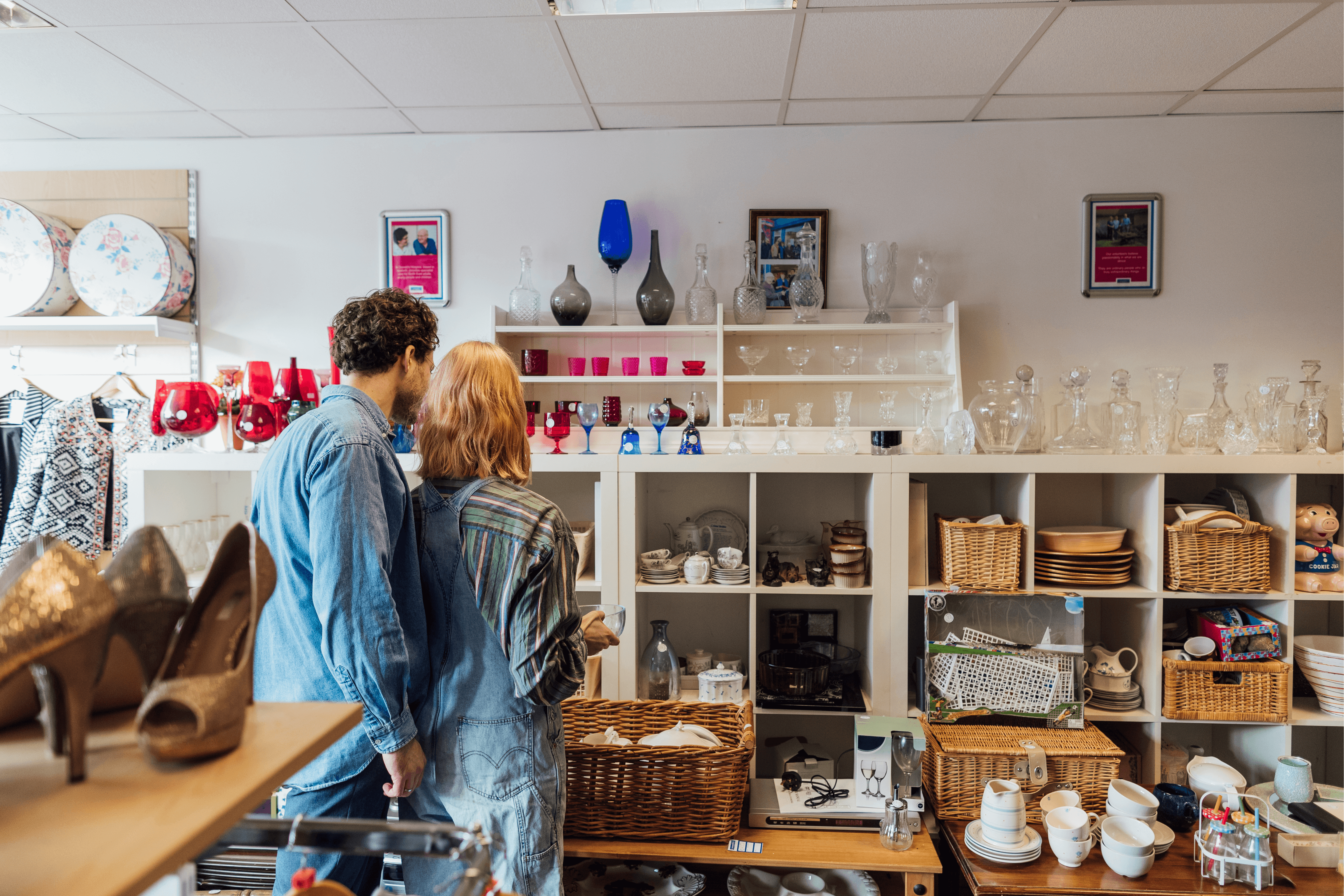 11. Traid
Traid has a few stores in London, and visiting this store is a double whammy if you want to help the environment. Their mission is to stop clothes being thrown away, so when you buy second-hand clothes there, they use the funds to help international development projects that improve conditions and working practices in the textile industry, and educate people on the impacts of textiles on the environment.
You'll find their stores all over London, but some of the big ones are in Brixton, Camden, Clapham and Shepherd's Bush.
12. FARA Chiswick Kids
When it comes to sustainable fashion, one of the worst culprits is undoubtedly children's clothing, since little ones tend to grow out of their clothing at lightning speed. If you're a parent or carer looking for sustainable shops in London to search for pre-loved kids clothing, FARA Chiswick Kids in Chiswick is a great spot.
Buying there helps support vulnerable children and families in poverty, so not only are you helping the planet but you're helping others by supporting the fantastic work that FARA does. You'll find it close to Turnham Green station, so head there and shop for environmentally conscious clothing, second hand toys, baby equipment, and other great finds for ages zero and up.
Sustainable Shops in London for Food and Fashion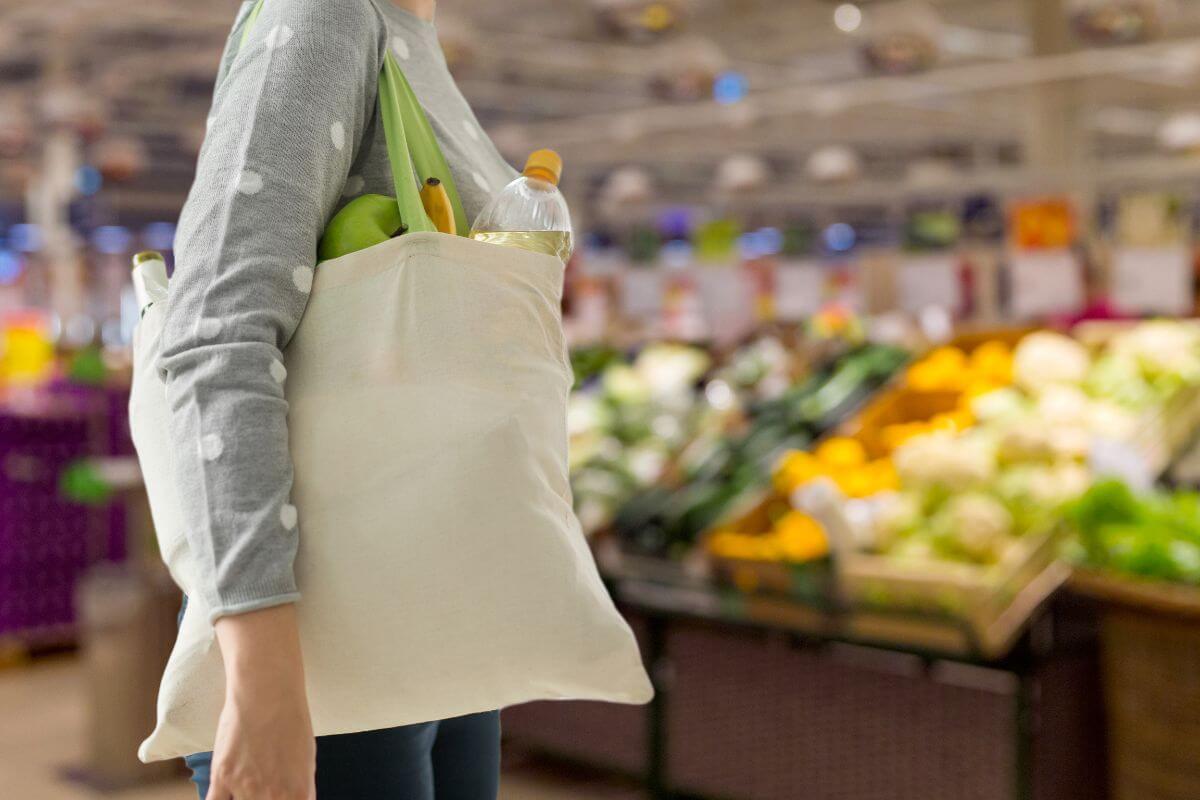 If you're on the lookout for sustainable shops in London but don't know where to start, hopefully this list provides plenty of excellent choices whether you're looking for delicious food on a day out in London, to shop for eco-friendly fashion, or to fill up your containers with zero-waste treats. There are so many sustainable shops in London to explore that will allow you to relax and enjoy being environmentally conscious.
Continuing your day out in London? Check out these 5 super sustainable things to do in London for a simple day out.
---