Wondering what there is to do on a day out in St Ives? Here are all the best things to do in St Ives to make sure your day is as action packed as you want it to be.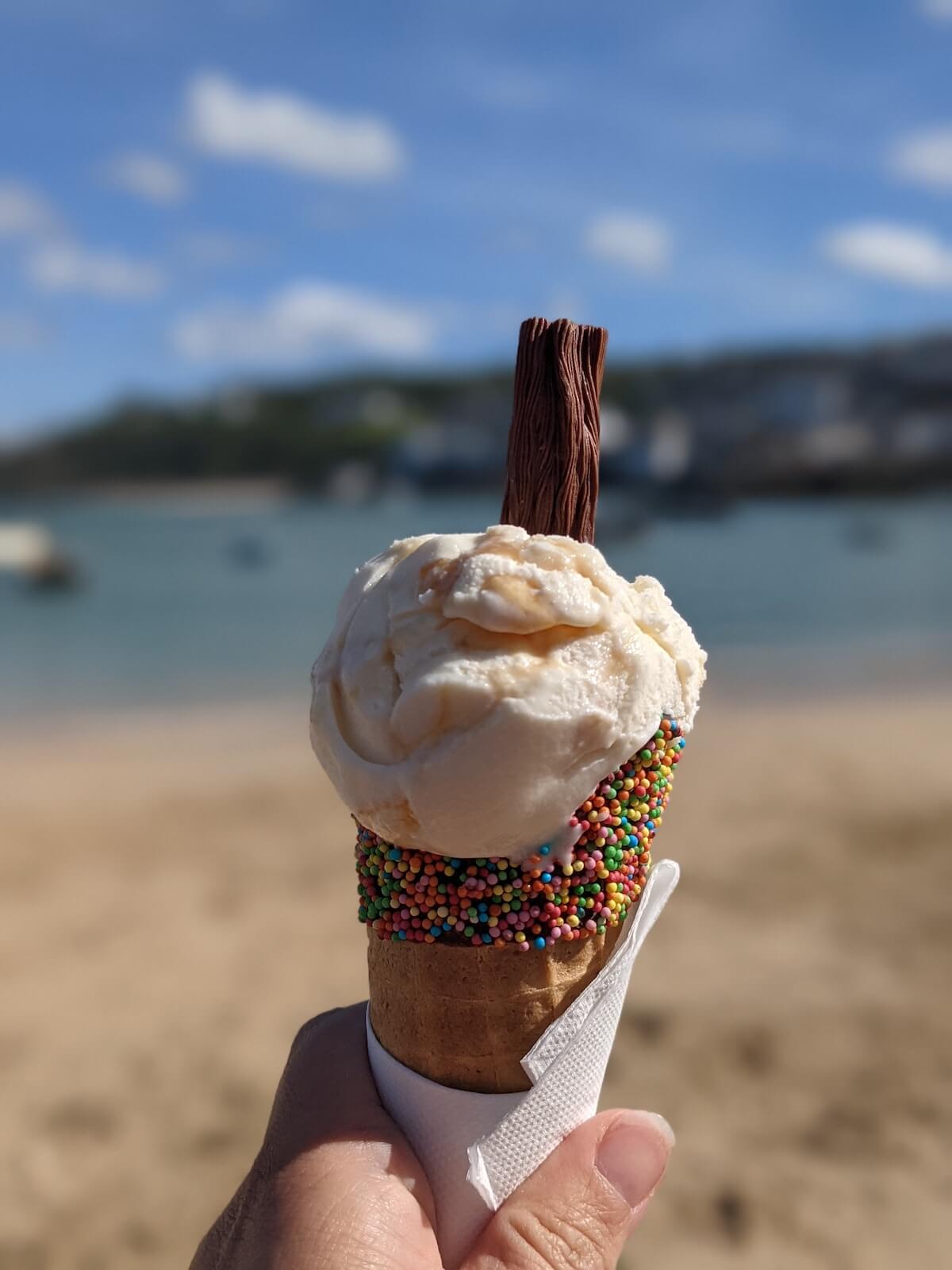 Your day out in St Ives doesn't just have to be about the beach, although, they will feature pretty heavily seeing as they're so amazing here. St Ives is one of the cutest and best towns in Cornwall, if not all of England. There's lots to do, but there's also the super cool beachy vibe to slow you down.
In St Ives you'll be spoilt for choice when it comes to where to eat – and with all those hills, there are plenty of places to quench your thirst too. In fact, there's so many great things to do on a day out in St Ives, let us take you through the perfect itinerary for the best St Ives experience.
Your Day Out in St Ives
All the best things to do in St Ives for a great day out.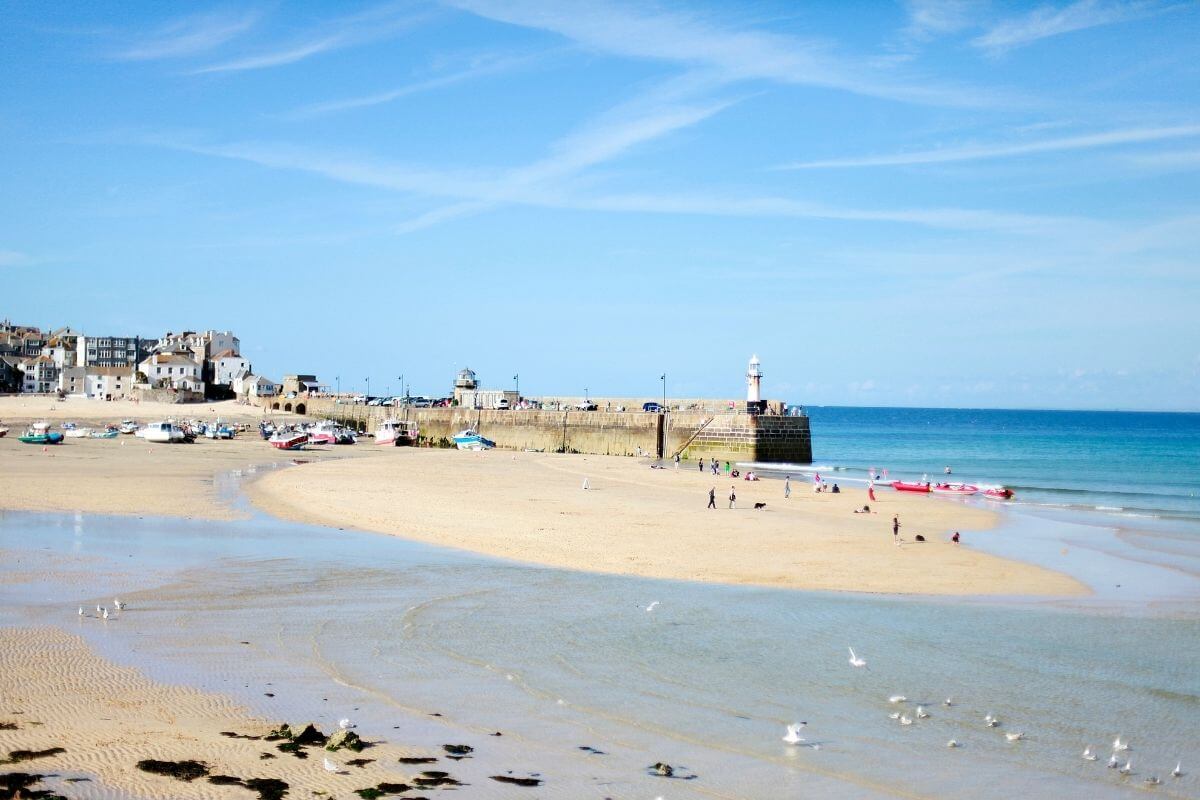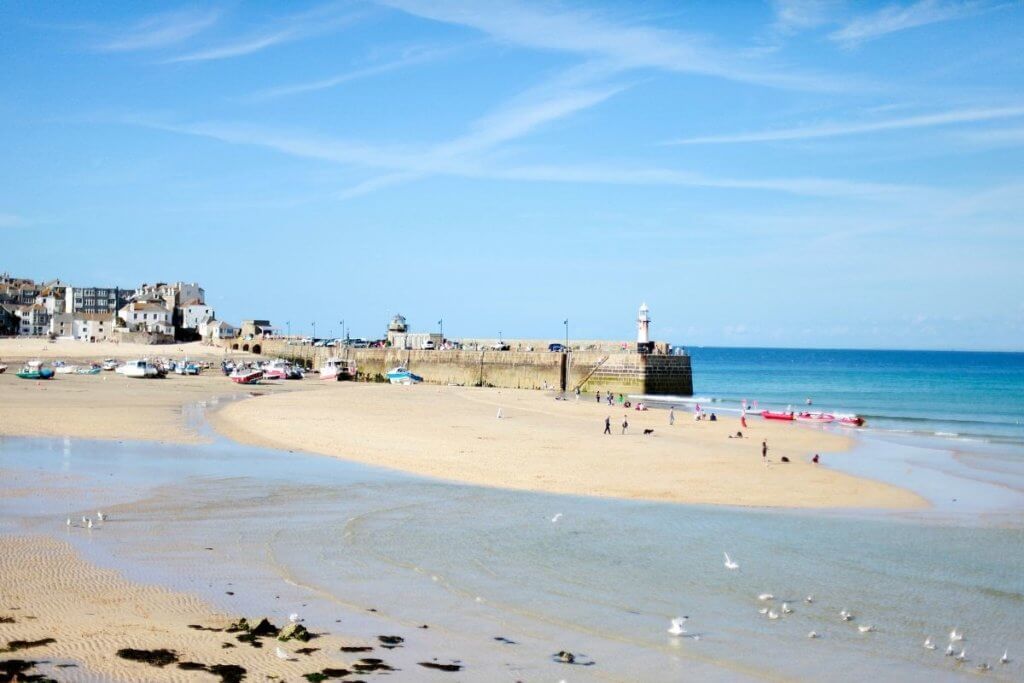 10am: breakfast in St Ives
After a busy morning strolling along the harbourside and browsing in some of St Ives' great shops, it'll be time for a delicious breakfast. Start your day out in St Ives with a hearty full English at one of the many cafes lining Porthminster Beach or try one of the variety of sweet pastries on offer at the St Ives Bakery.
Be sure to try a scone with Cornish clotted cream – very St Ives. Although, you might want to save that for your afternoon tea.
Eating is one of the best things to do in St Ives so arrive hungry!
11am: St Ives Harbour Cruise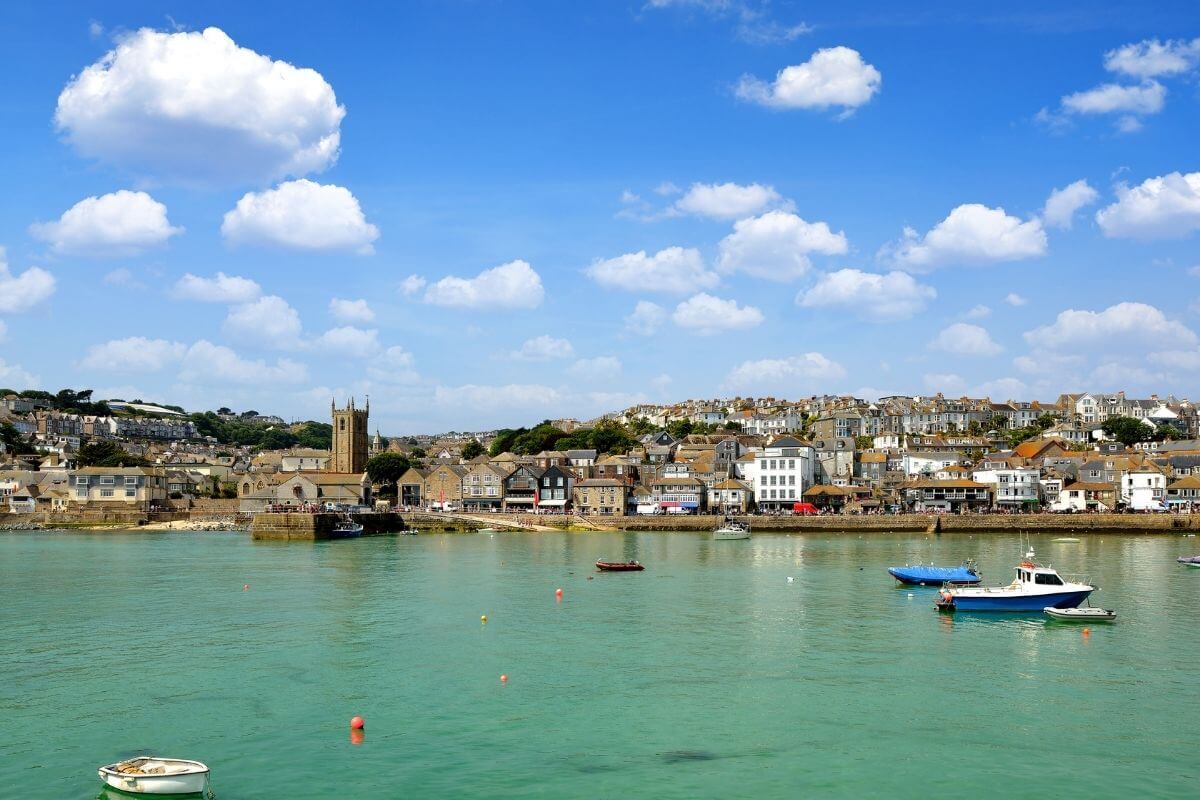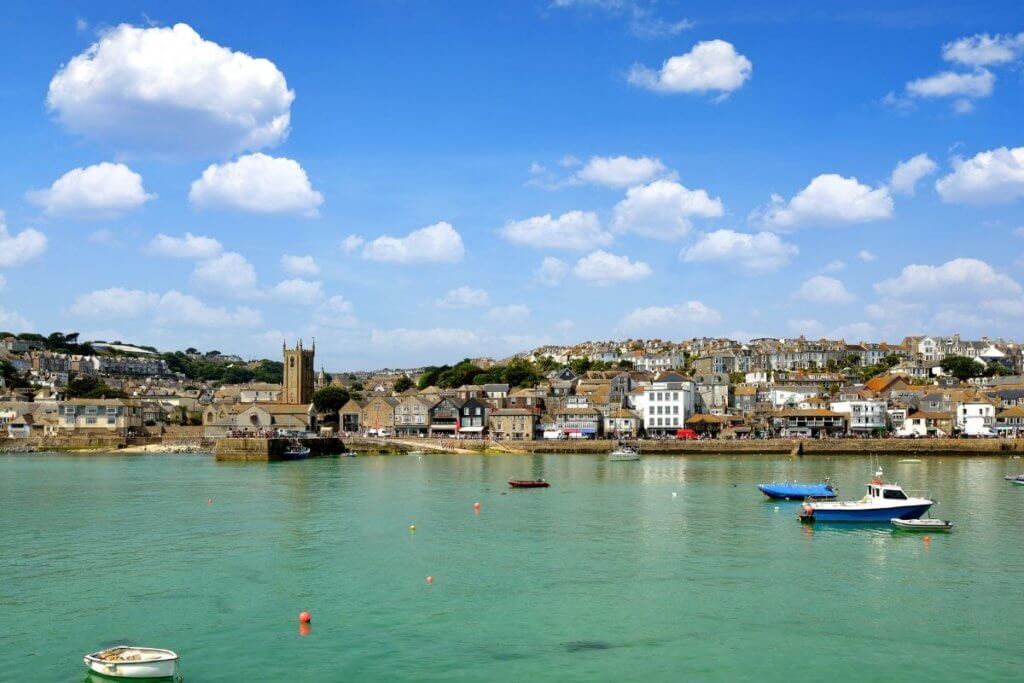 A cruise around St Ives Harbour is great for spotting seals and seabirds, and maybe even dolphins if you're lucky. The boat stops off at Porthkidney Sands, where you can take a break and stroll on the beach before heading back for your day in St Ives.
This is one of the best things to do in St Ives to get a different perspective, learn about the area and get your bearings.
12: Browse the St Ives art galleries
There are many St Ives art galleries exhibiting original works from some of the best artists St Ives has to offer.
Start your day out in St Ives at Tate St Ives which features work by St Ives-born artists such as Barbara Hepworth and Richard Long. You could even book a tour of the gallery beforehand – it's so interesting that you'll definitely want to know more about its history! Entrance is just over £10 and you will need to book in advance.
From here, head over to Poltair House Gallery. It's home to one of Britain's most extensive collections of Pre-Raphaelite art; for anyone looking for arty things to do in St Ives.
If you've still got time, the St Ives Museum is a lovely experience too. It'll help you to understand a bit more about the area, and how it came to be. There's a Freehouse Gallery inside, which showcases many works by local artists.
1pm: lunch in St Ives
Next up on your St Ives itinerary is lunch – St Ives is one of the most popular places to visit in Cornwall for a meal, there's so much choice!
Lunch in St Ives should be eaten outside and in the fresh air. There are also many bakeries on St Ives Quay which provide sandwiches or homemade cakes with stunning views. These provide a cheap but tasty lunch, and it's worth checking out St Ives High Street either afterwards or before your meal – there are more restaurants here too.
The St Ives Seafood Cafe serves local fare in the town. See the prawns below.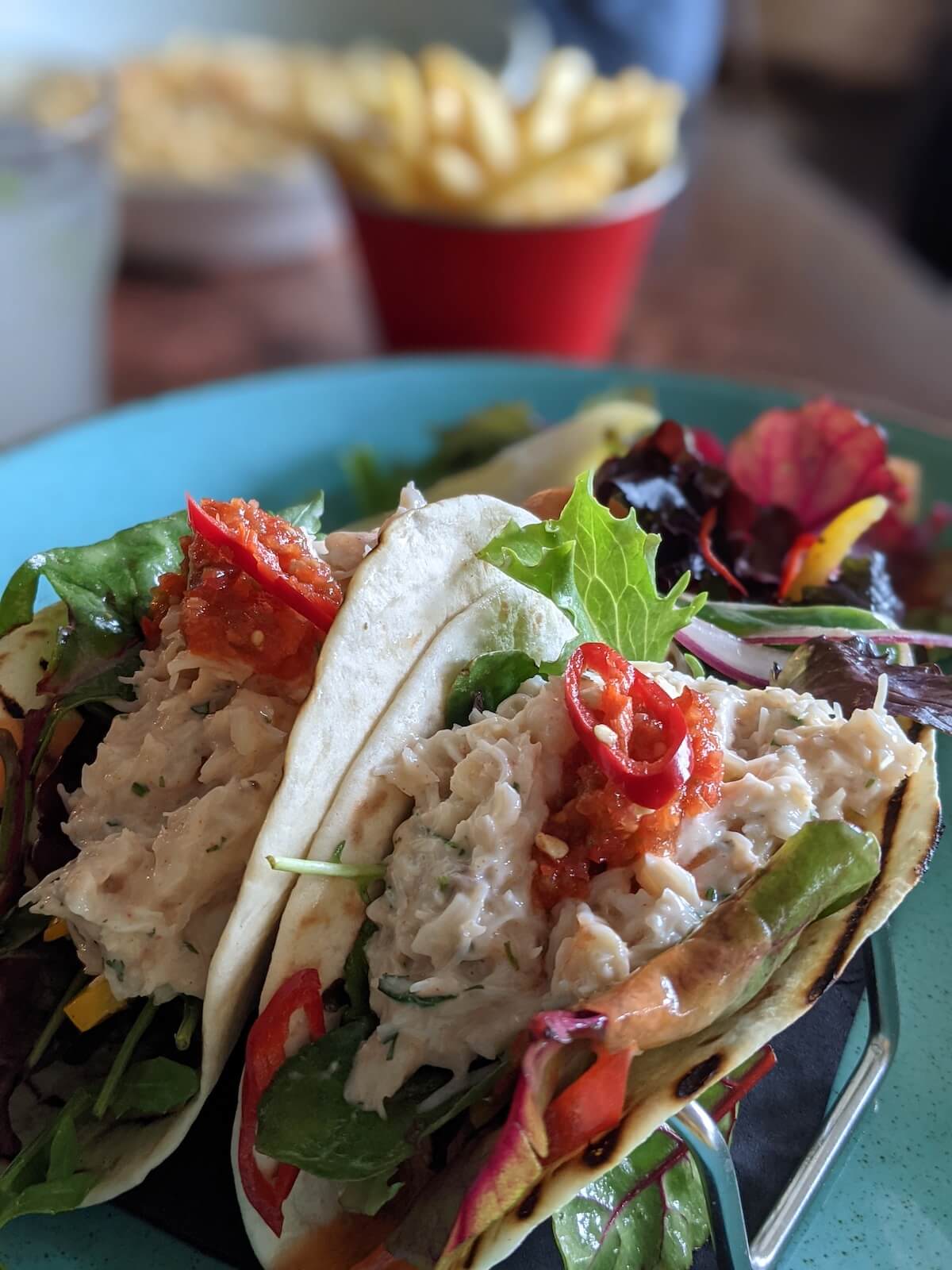 Or these crab tacos from the Rum & Crab Shack were delicious!
3pm: Relax on the beach in St Ives
If St Ives isn't already beautiful enough, you'll also find one of the county's best-loved beaches right on its doorstep!
Porthmeor Beach below is popular with surfers and the restaurant there is great to grab a drink to enjoy in the sun. Try out some rock pools – there are a few dotted along, or just enjoy the soft and clean sand. The best thing to do in St Ives is to just relax, and this is the perfect spot to do it.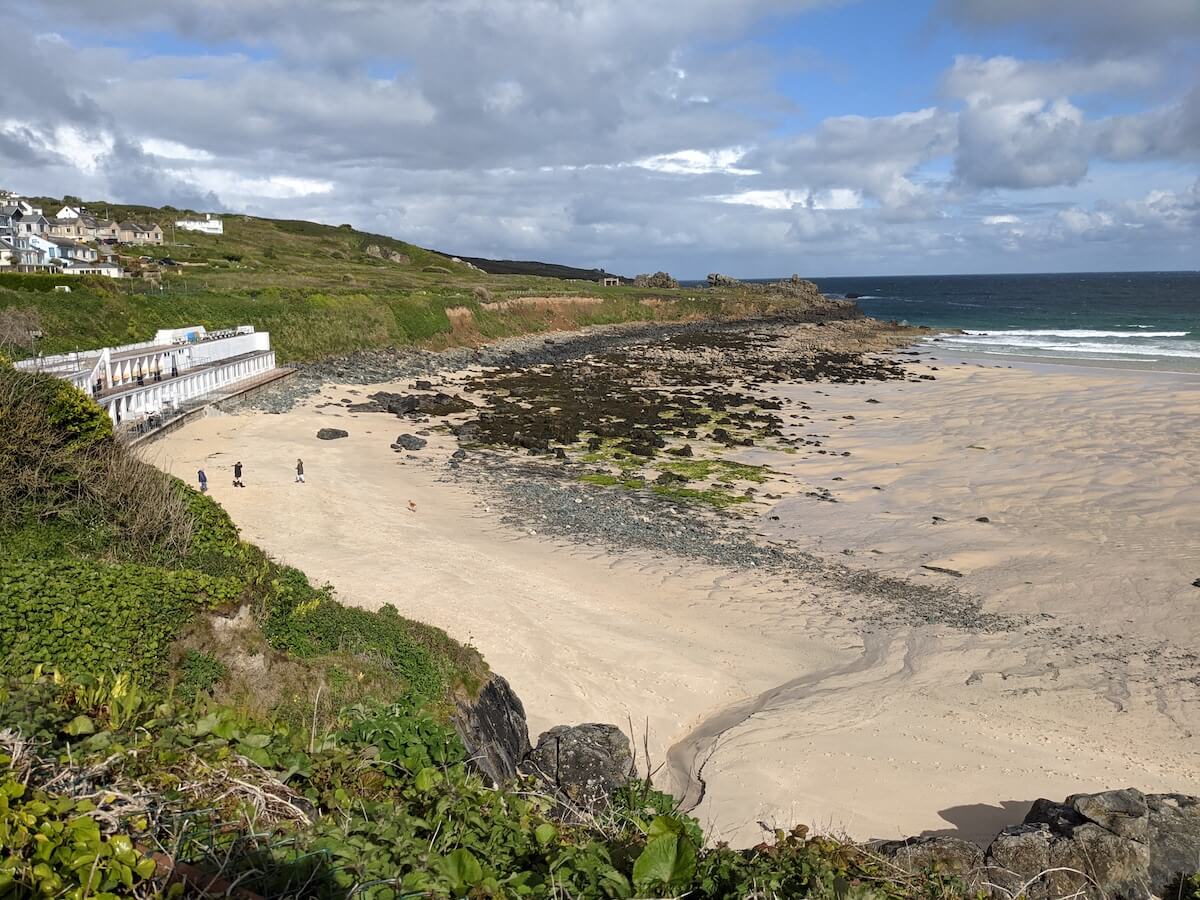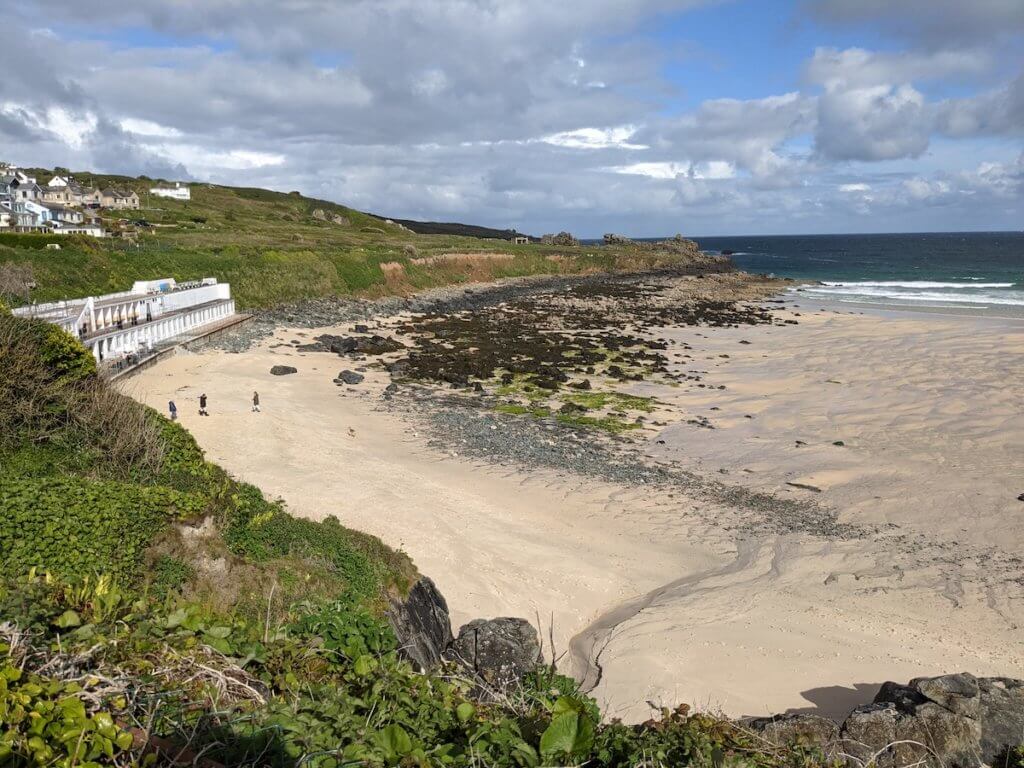 You can get take out drinks from The Sloop Inn on Harbour Sands Beach, another of St Ives' best beaches, and just relax there with the buzz of the town going on around you.
7pm: dinner in St Ives
There are a few great places to eat your dinner in St Ives!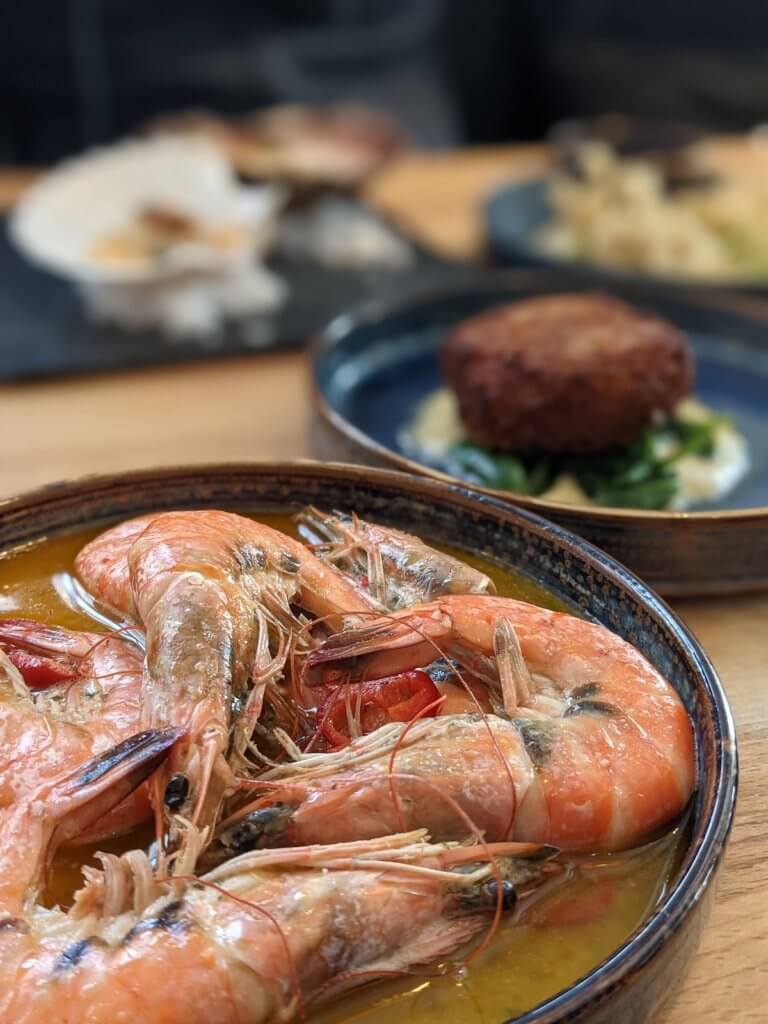 Our favourite venues include;
– Porthminster Beach Café: for a true taste of the sea in your mouth with beautiful views. Try the seasonal fish if it's available!
– The Cornish Arms: go local and enjoy pub grub at its finest.
– The Mermaid: in the centre of St Ives, on Fish Street, you'll find this great seafood restaurant known for its epic seafood platters.
They all serve up delicious dishes with a high standard of service.
In the evening stroll along St Ives' Harbour with its twinkling lights whilst watching the boats bobbing about in the water, or simply take a lovely sunset walk around St Ives Bay before you find your next stop. Or go back to your Cornwall holiday cottage!
More things to do in St Ives on a day out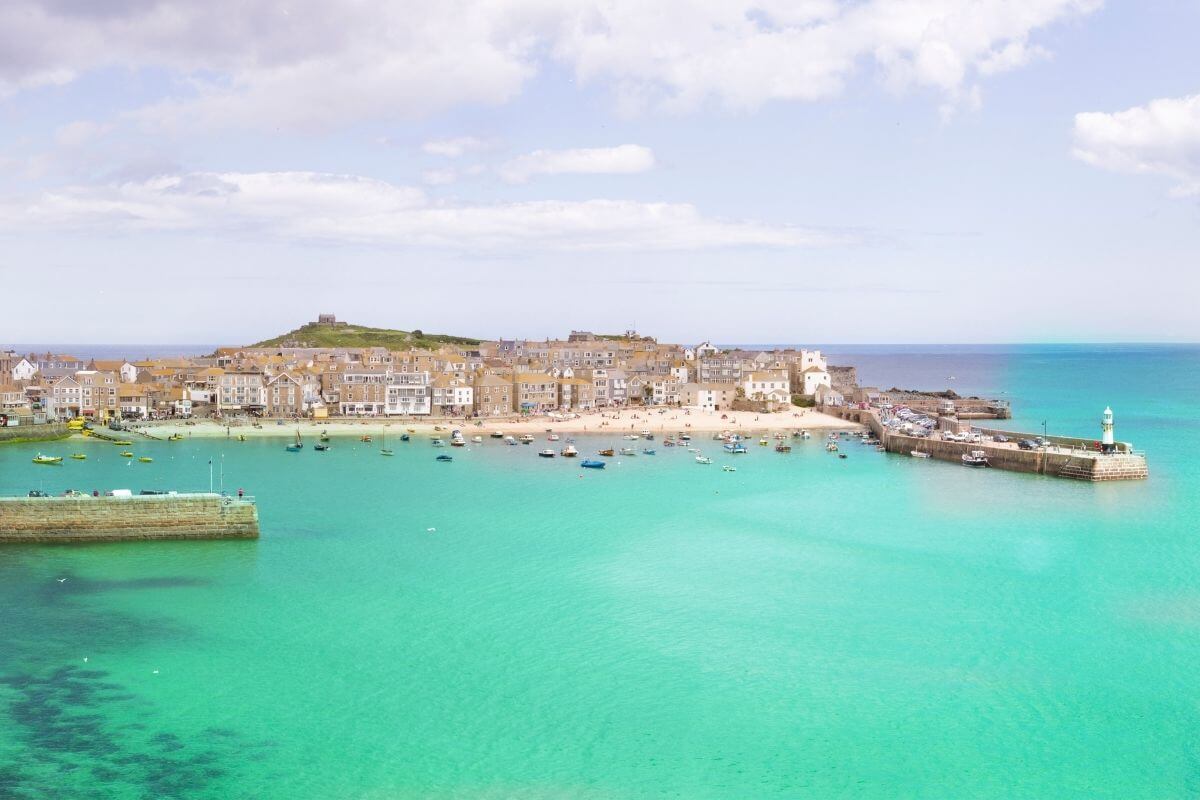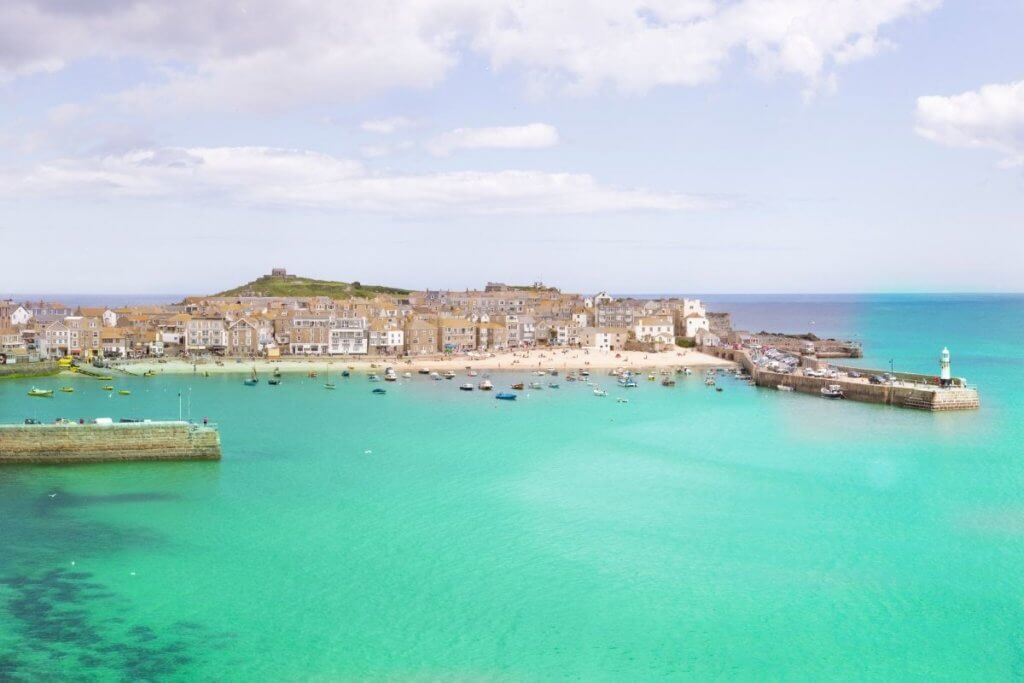 Walking to Lands End
Surprising, Land's End is only 6 miles from St Ives. Grab some supplies from the local convenience store or supermarket and get it done in one day. It's not all flat either so make sure you've got your walking shoes on!
It's a fun Cornwall fact that Land's End is the most western point in the whole of England. Think of that when you're standing on the edge – not too close though!
Day walking to Chapel Porth Beach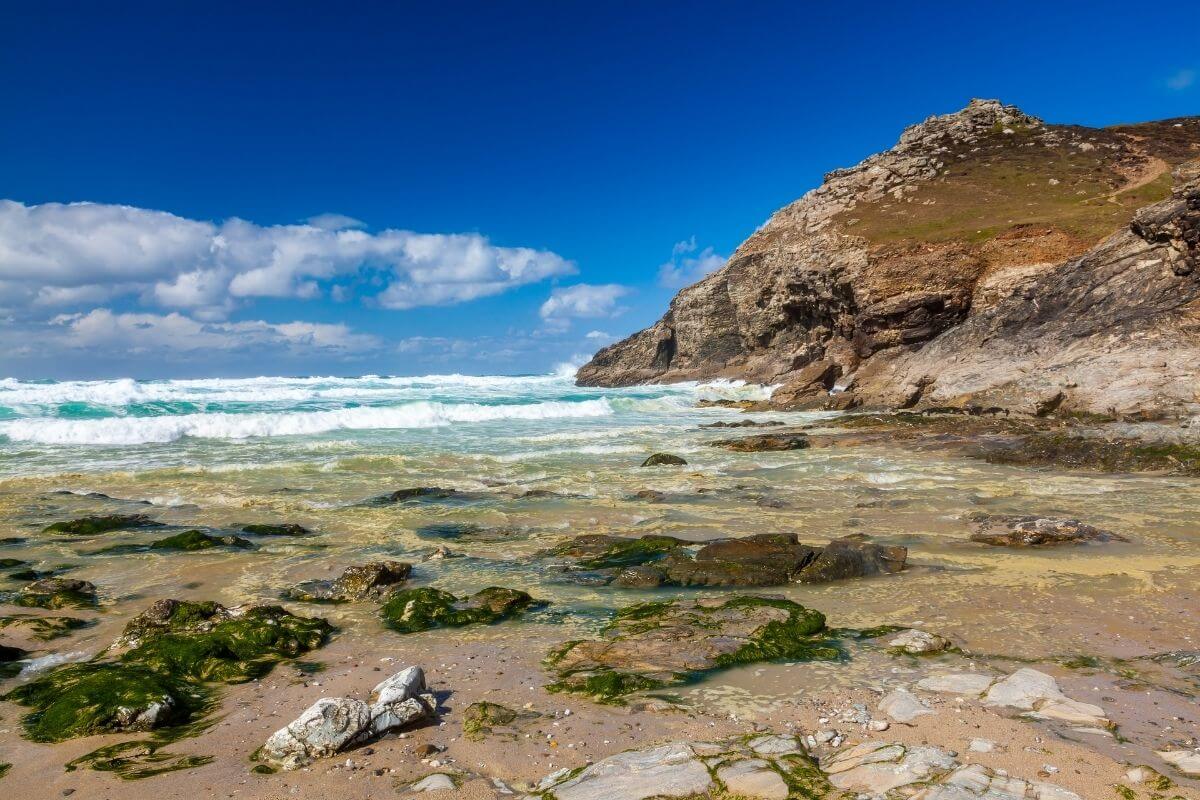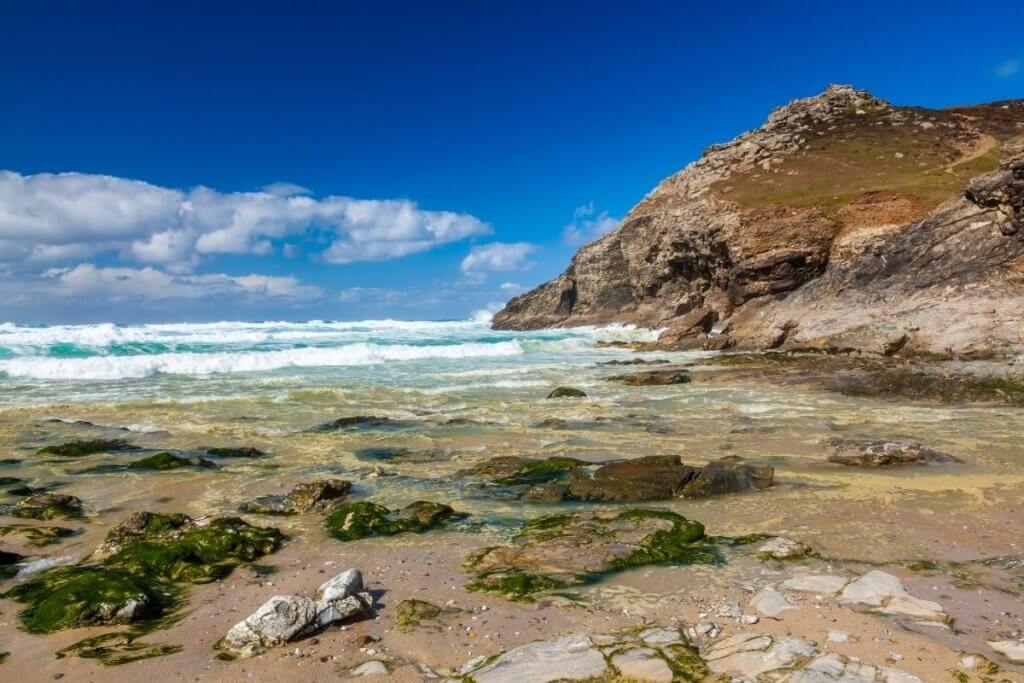 If you want a shorter walk from St Ives, how about walking along Chapel Porth beach? It's only about 3 miles out of St Ives and will see to your need for a picnic/sightseeing trip in one go!
If you want to see more of the great walks in St Ives, check out this list.
---
Think you know Cornwall? Take our fun Cornwall Quiz to test your knowledge!
---
Day on the Land's End Coaster
One of the most popular things to do on a day out in St Ives is to take a trip on the Land's End Coaster bus. It's an easy way to see all of the best parts of this beautiful part of Cornwall without getting tired. And you can hop off at any point if you want to go and explore some more.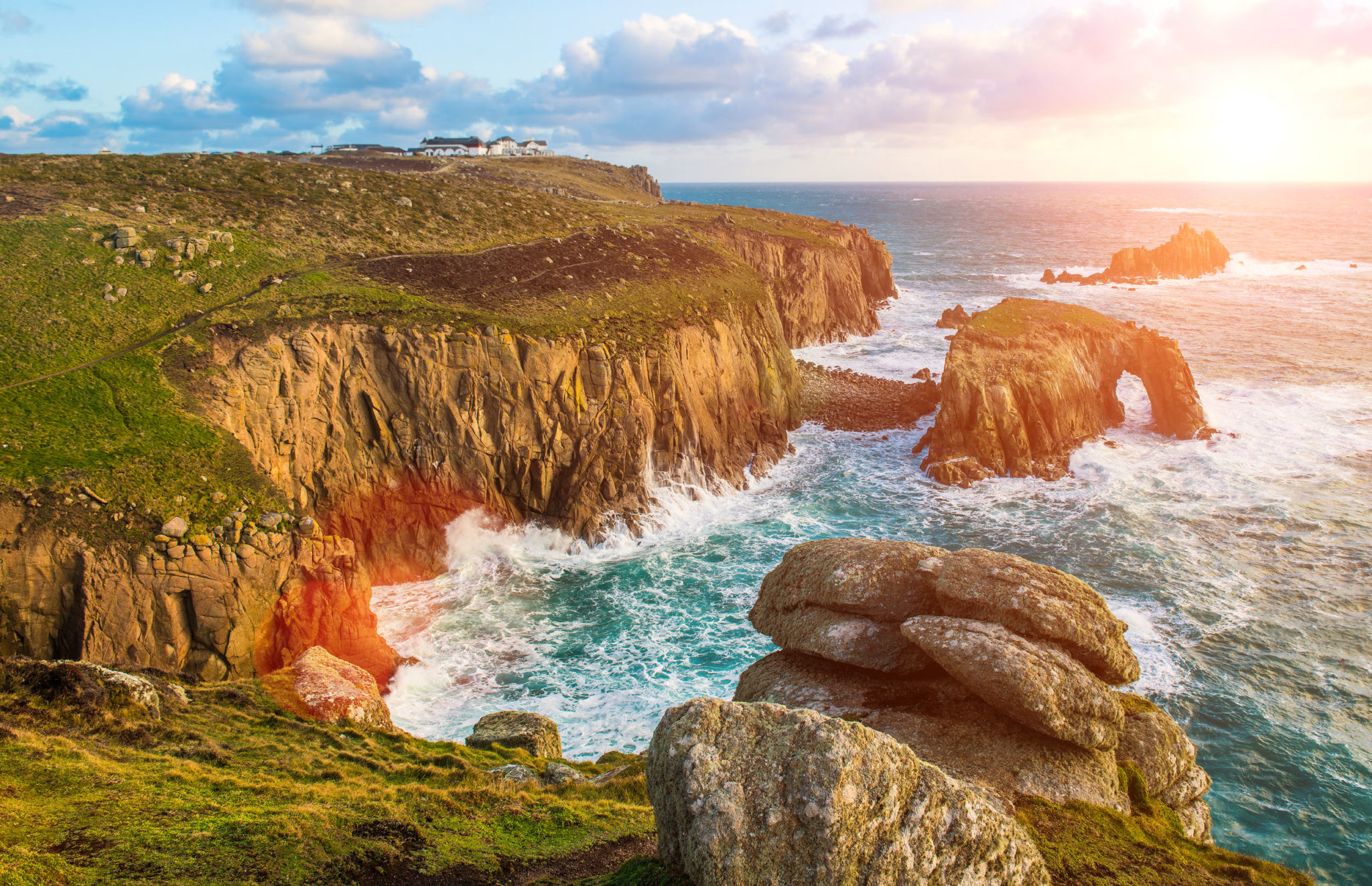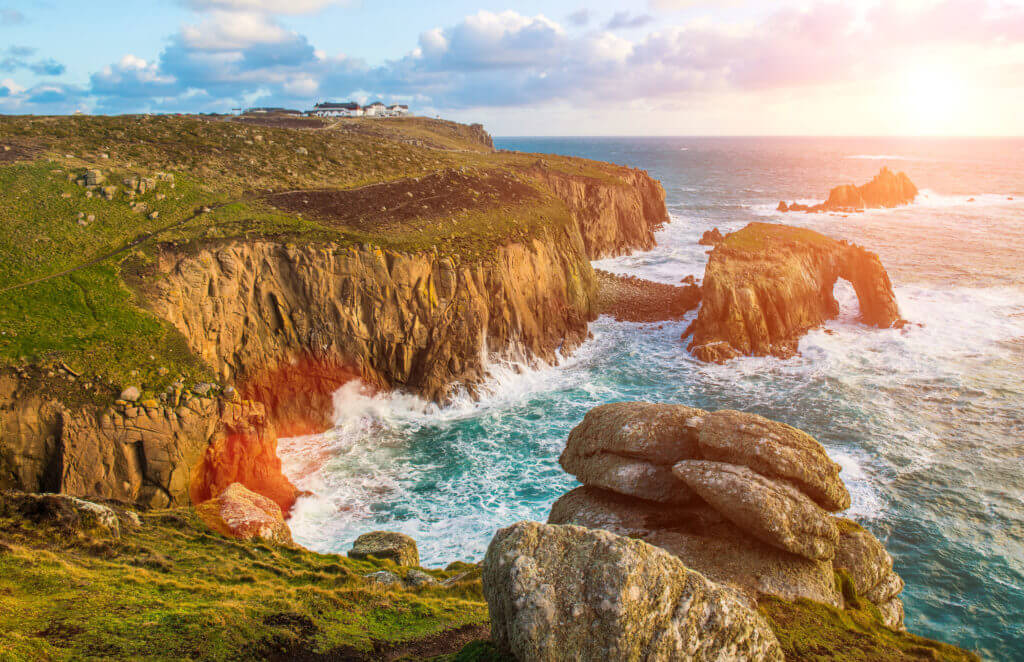 At every stop on the tour, an audio commentary will tell you everything that's going on in the picturesque scenery around St Ives. Everything from history about st ives castle to information about where your kids are learning this year is included in this audio commentary!
Just make sure to book in advance if you're taking your day trip out from st ives during peak season as you may find that the buses get too busy, and the St Ives boats for that matter. This bus ride actually makes for one of the best stress-free days out in Cornwall!
Day at Tregenna Castle
Tregenna Castle is only a six-minute drive from St Ives, and makes for a great stop in a St Ives day out.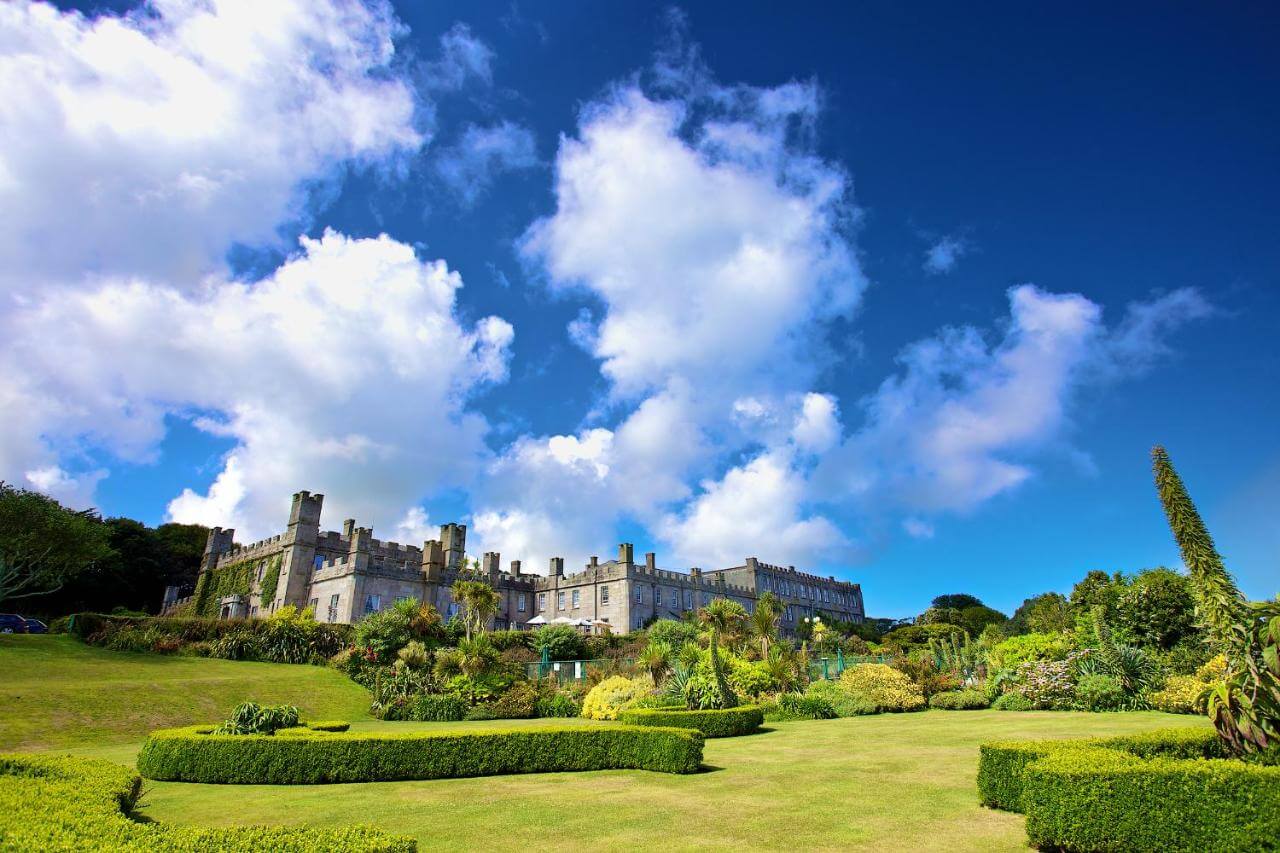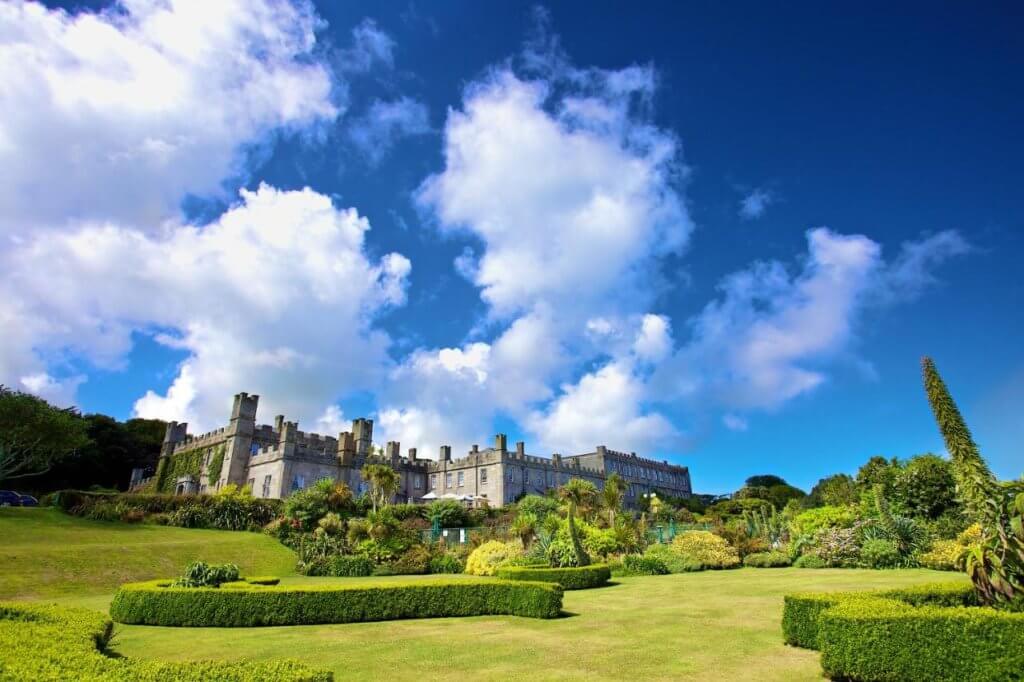 Tregenna Castle was built in 1774 by Samuel Stephens Esquire, a wealthy Cornishman. It was built from local granite on Tregenna Hill, because of the impressive sea views. In 1838 Tregenna Castle became a railway hotel and is now a stunning hotel resort with an outdoors swimming pool which is open to non residents during term time.
There are some of the most beautiful gardens in England here, and it's where Joe Biden, President of the US, stayed during the G7 Summit.
Your day out in St Ives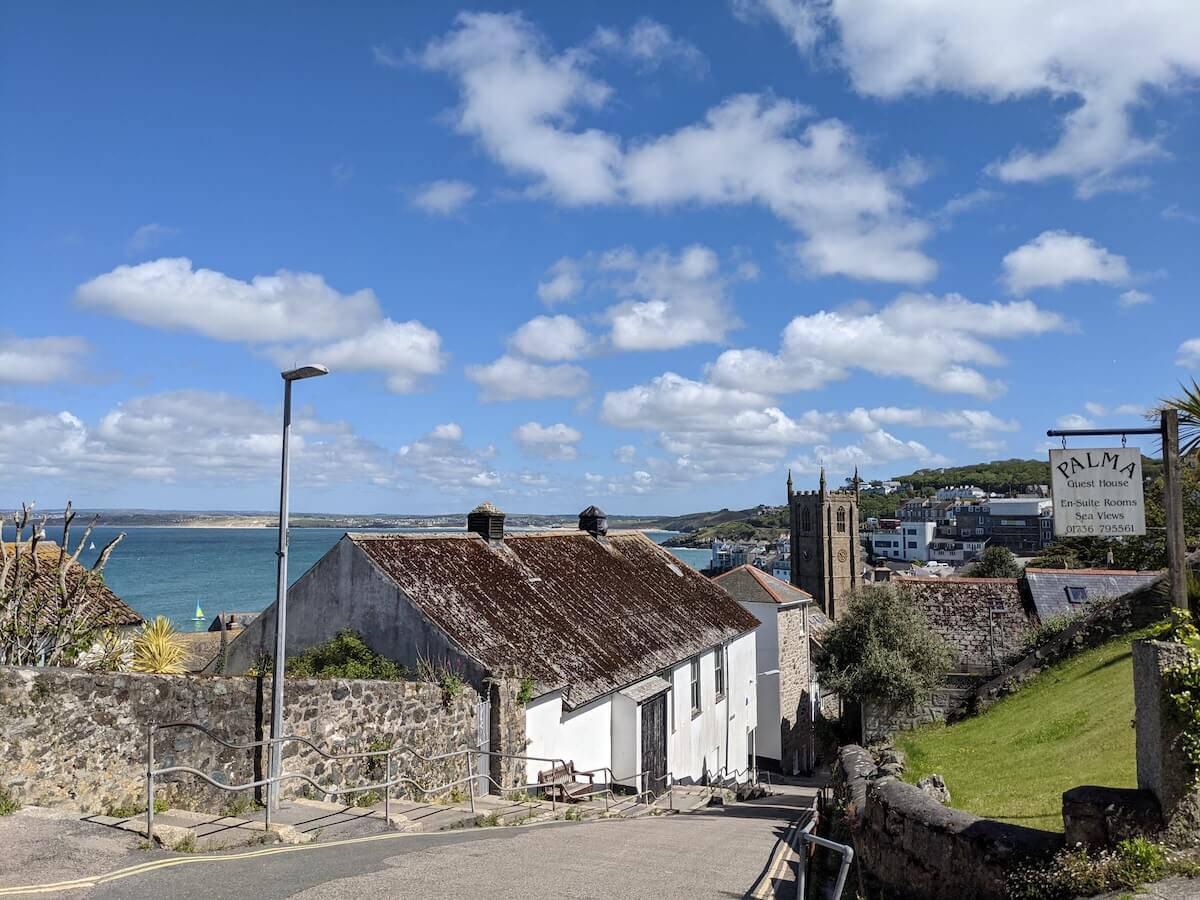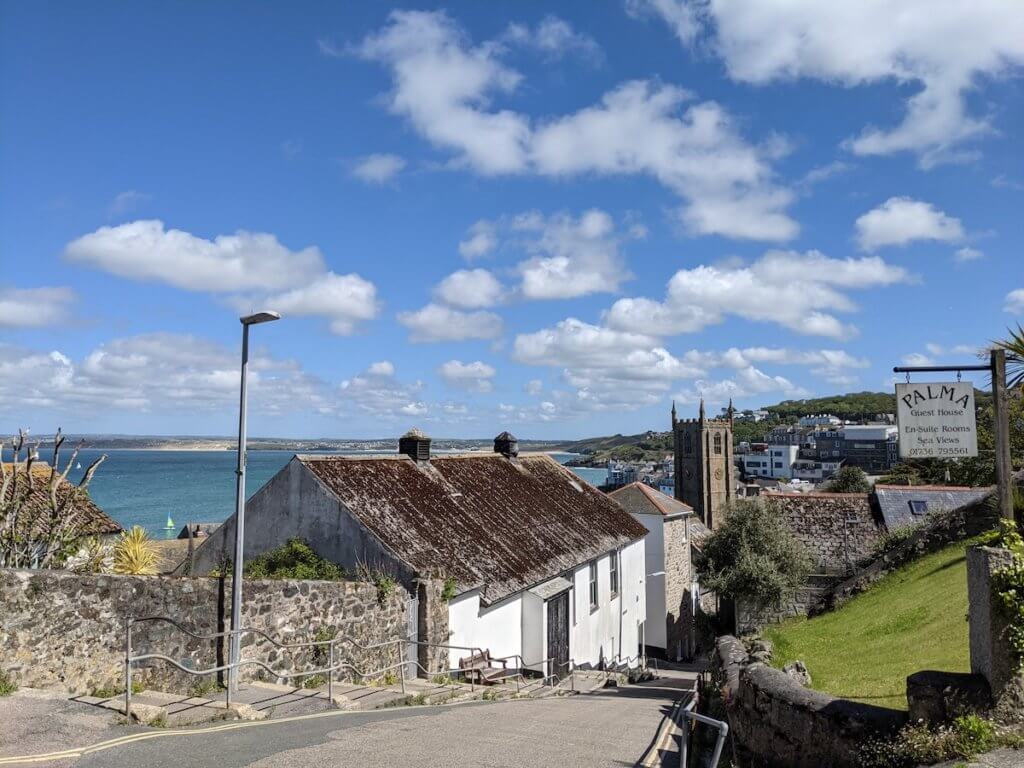 A day out in St Ives is great for kids as well as adults. There's so much to do here in a relatively small area, you will probably want to rent a holiday cottage in St Ives and stay for a while.
You can take a little boat trip around St Ives to get your bearings and see some beautiful scenery. You can go to the markets, where you'll be able to pick up some great gifts as well as eat whatever it is that you fancy. There are plenty of pubs and restaurants and the beaches are just amazing. So many great things to do in St Ives – it's one of Cornwall's prettiest towns!
Hope you have a great time on your day out in St Ives – let us know how you get on!
---
Quicklist of what to do in St Ives
10am: Breakfast in St Ives
11am: St Ives Harbour Cruise
12: Browse the St Ives art galleries
1pm: Lunch in St Ives
3pm: Relax on the beach in St Ives
7pm: Dinner in St Ives