Are you looking for white sand beaches in England to bury your toes in the sand, build a sandcastle and paddle in the sea? Here's what you need to know…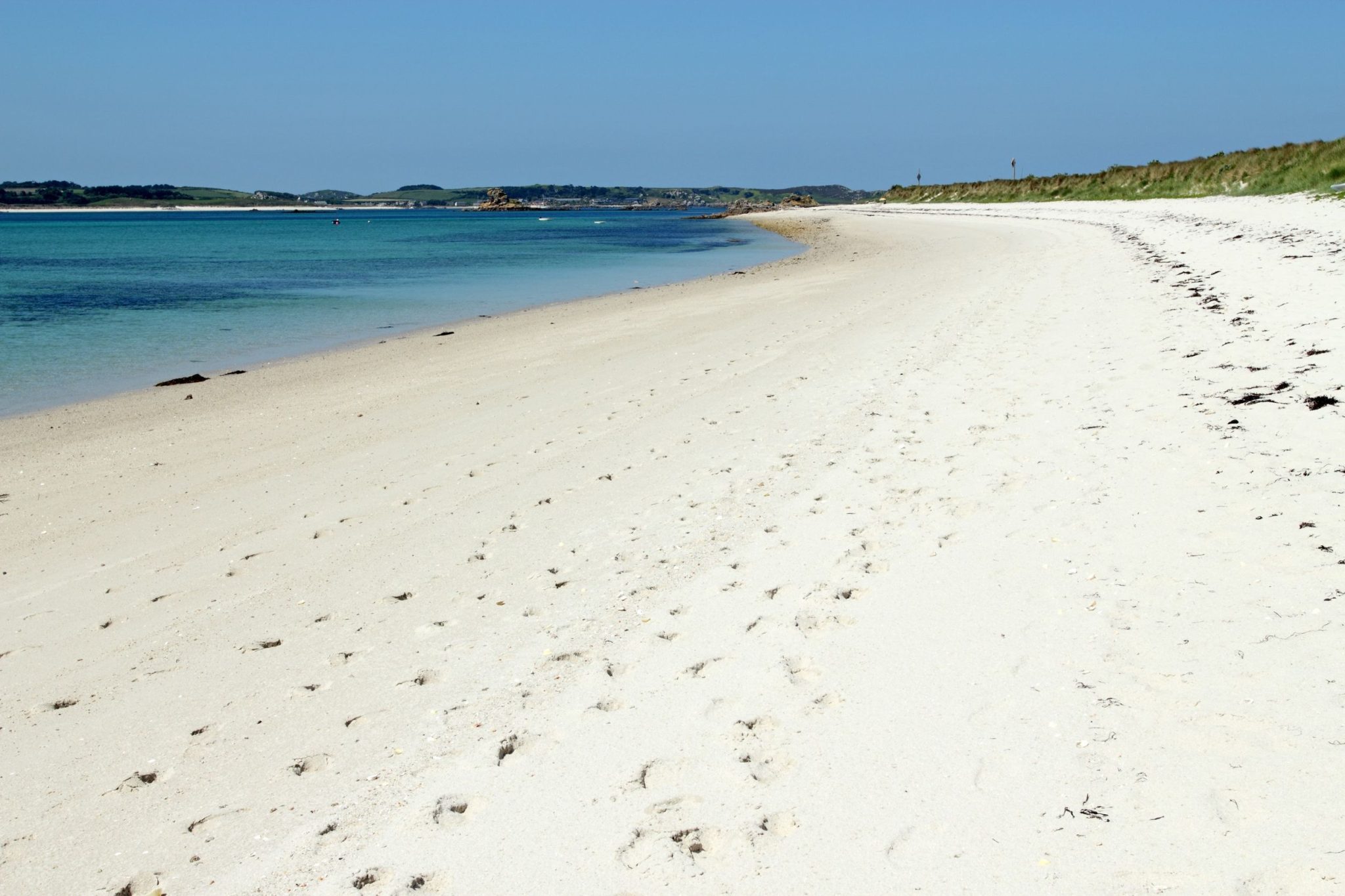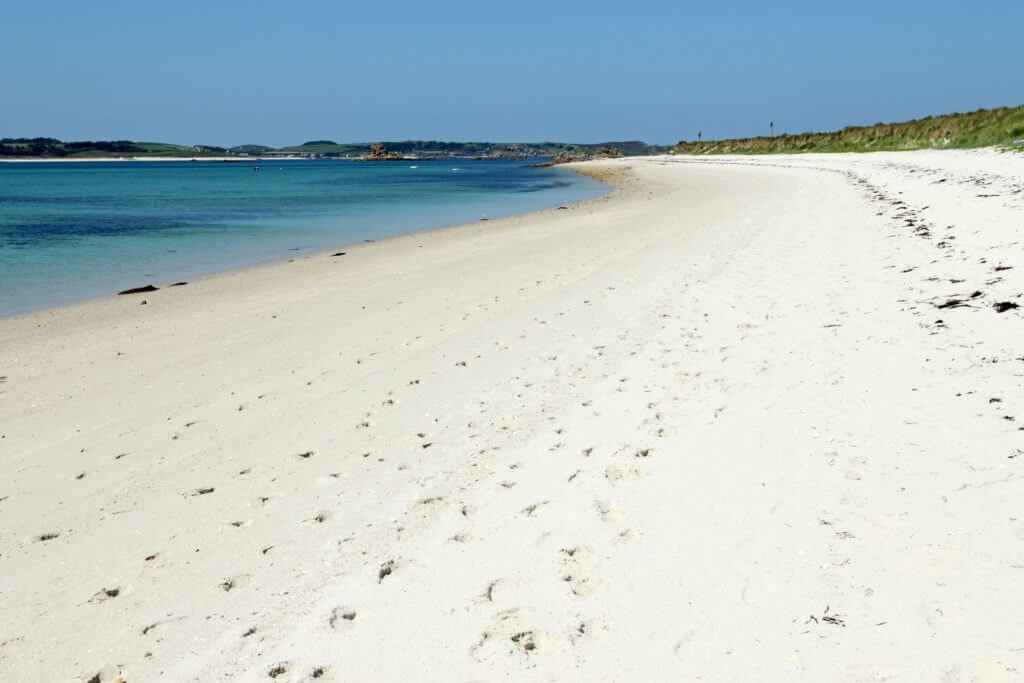 England definitely has its share of beautiful white sand beaches. For some people there's nothing better than a swimming cossie, a rucksack full of yummy picnic and a day of fun on one of England's white sand beaches. Whether you're looking for a white sand beach to catch some waves or a place to get the perfect tan – we've got your back!
Here is the list of England's most incredible white sand beaches.
England's best white sand beaches
Sure, shingle beaches are great when you don't want shoes full of sand, but a white sand beach is what you need to really feel like you're on holiday. Lucky for us, there are some stunning white sand beaches in England to enjoy.
1. Kynance Cove, Cornwall
One of Cornwall's most beautiful beaches is surrounded by spectacular serpentine rocks, as well as crystal clear water, rocky islands and an incredible selection of fauna and flora. Due to its magical setting and fascinating wildlife, it has become a local's and tourist favourite.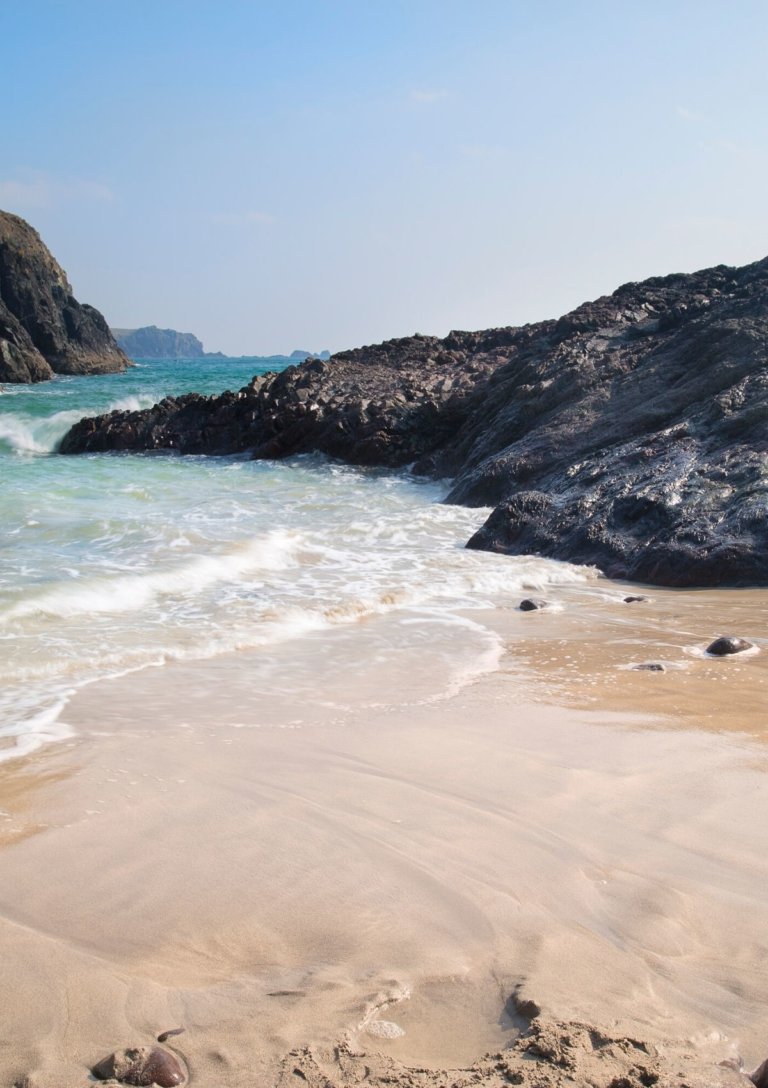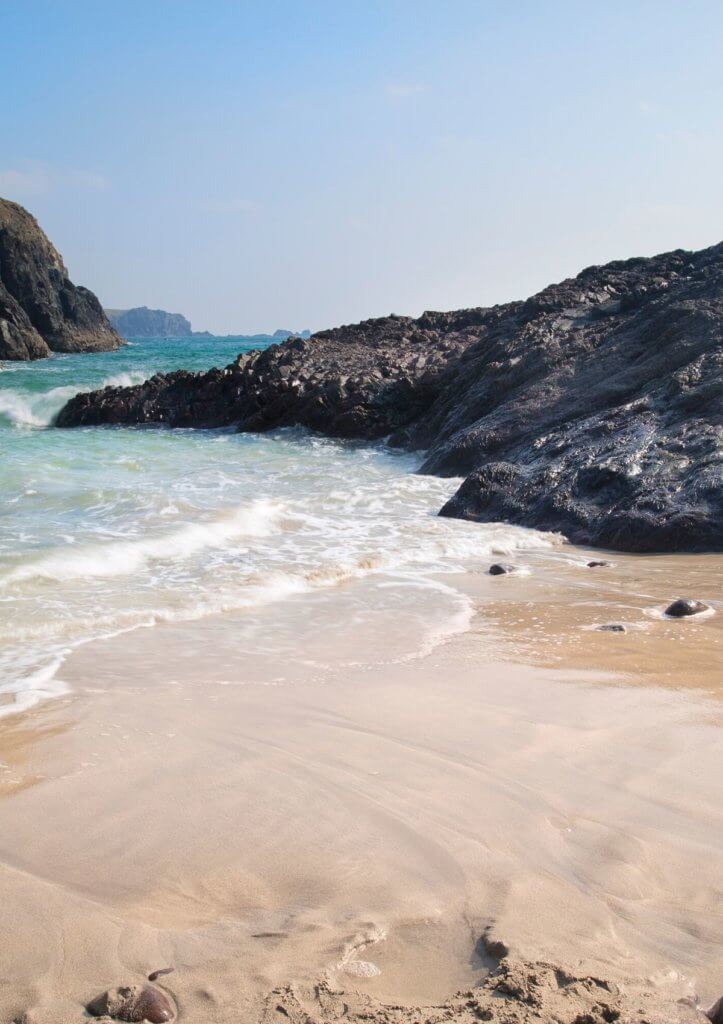 If you decide to visit Kynance Cove, remember – at high tide, the sandy beach usually is covered with water. Those who prefer being more active may indulge in some fun activities, for example, rock pooling, painting and photography. Kynance Cove is a great place to visit throughout the whole year, although the sunbathing may be off the agenda in December.
READ MORE: Best Days Out in Cornwall
---
2. Appletree Bay, Isles of Scilly
Appletree Bay is excellent proof there's no need to hop on a plane and fly somewhere across seas and oceans to experience some genuinely magnificent turquoise waters, you can hop on a 20-minute plane ride in England and be at this beautiful beach on the Isles of Scilly.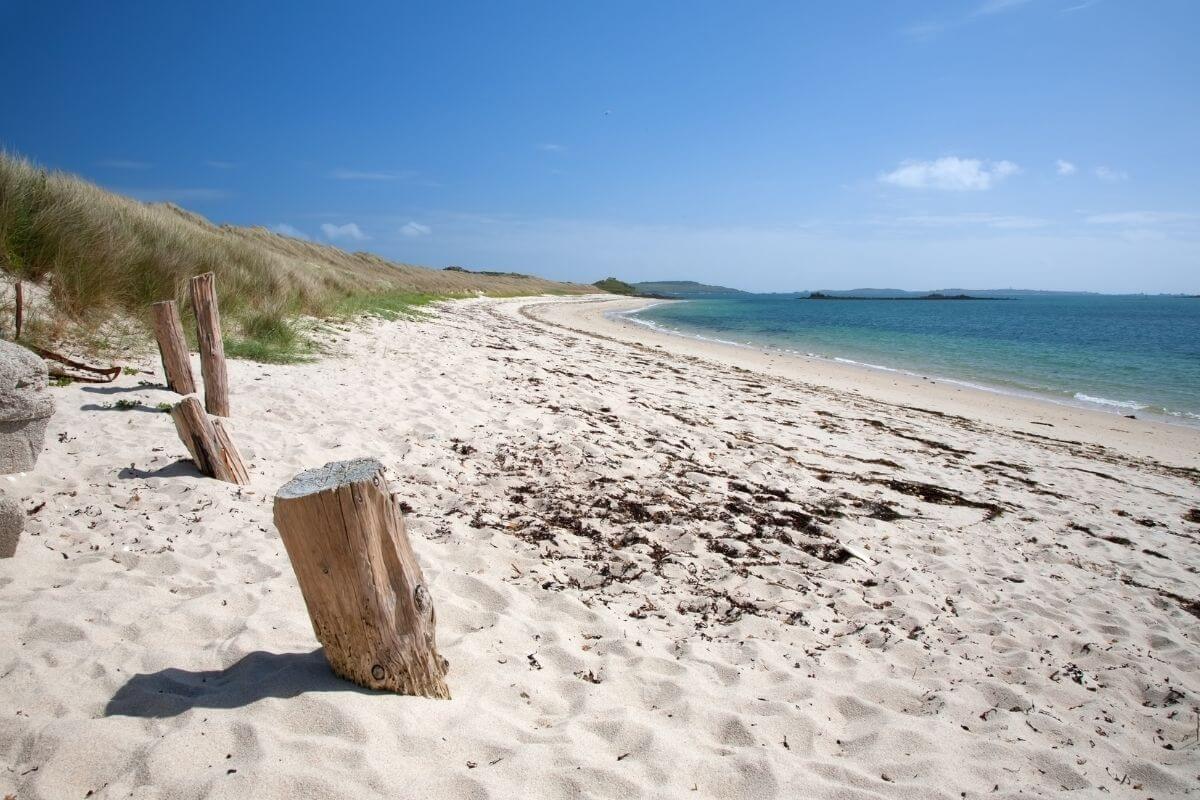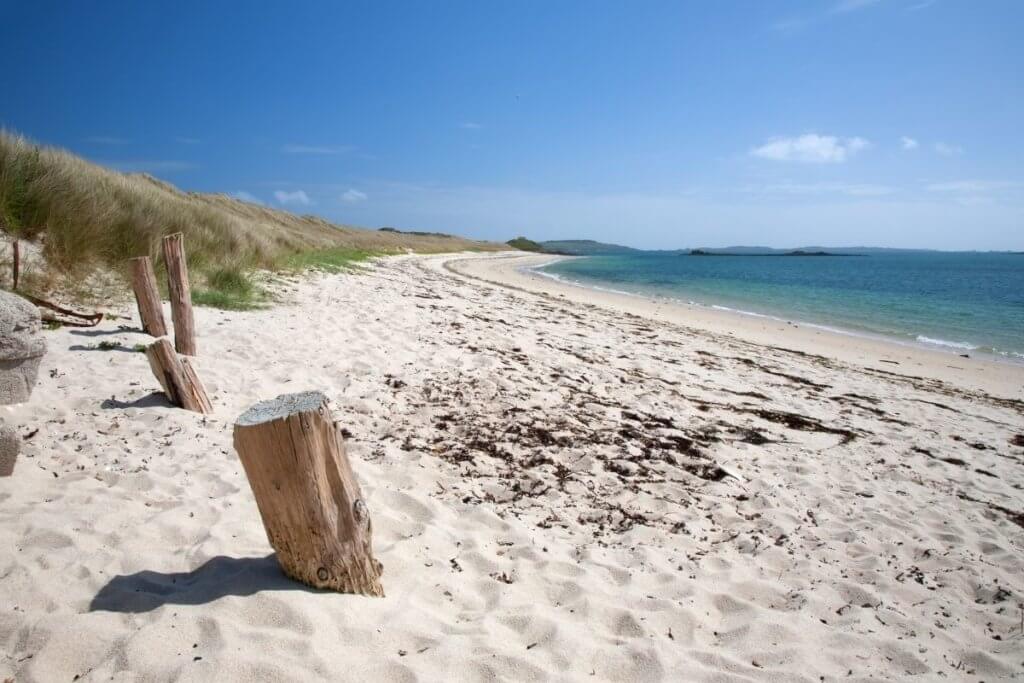 The Isles of Scilly is definitely one of Britain's most incredible places, as it is home to more than 35 paradise beaches. Thanks to its shallow waters, Appletree Bay on the island of Tresco is an excellent spot for snorkelling and paddling.
If you want to find out more about these incredible islands, check out these interesting facts about the Scilly Isles.
READ MORE: How to Do a Day Trip to the Scilly Isles
---
3. Porthmeor Beach in St Ives, Cornwall
BLUE FLAG BEACH: Porthmeor Beach has a Blue Flag award, and the season runs from 15th May to 30th September.
St Ives is considered to be the home for some of Cornwall's best beaches. Each of them has its own personality, which is why you should explore as many as you can.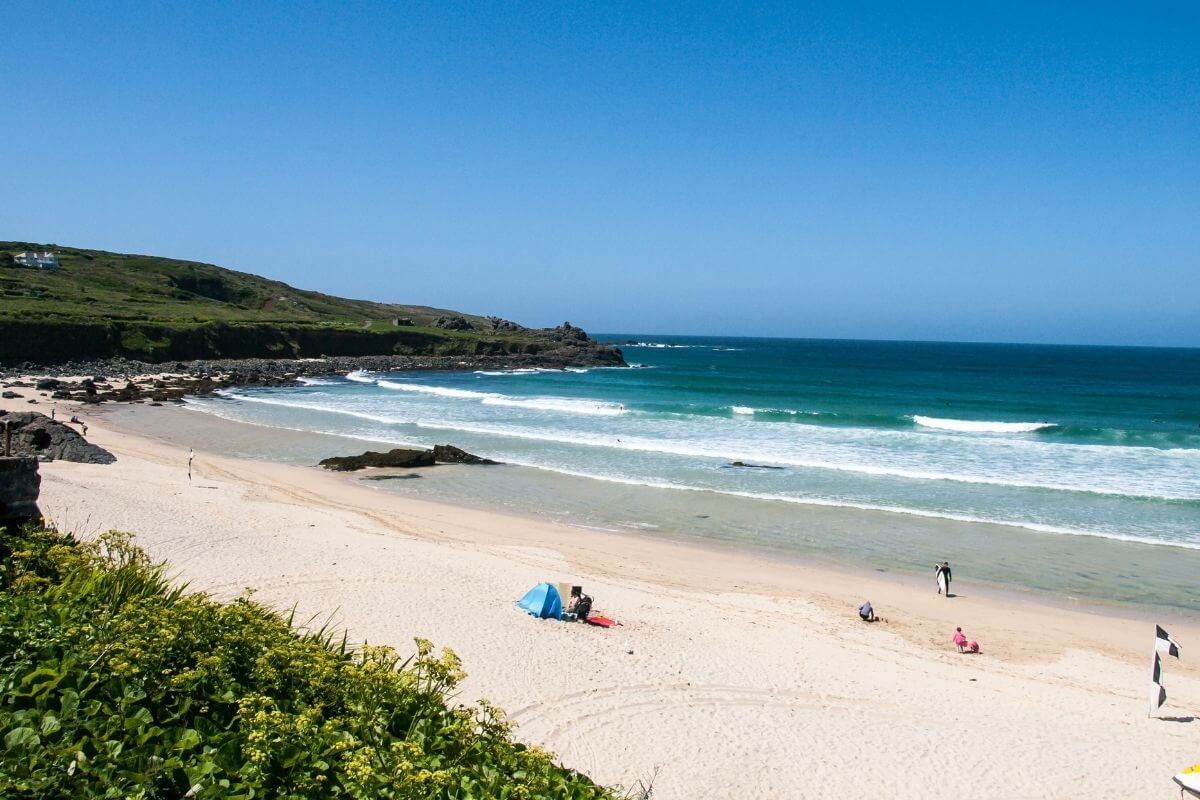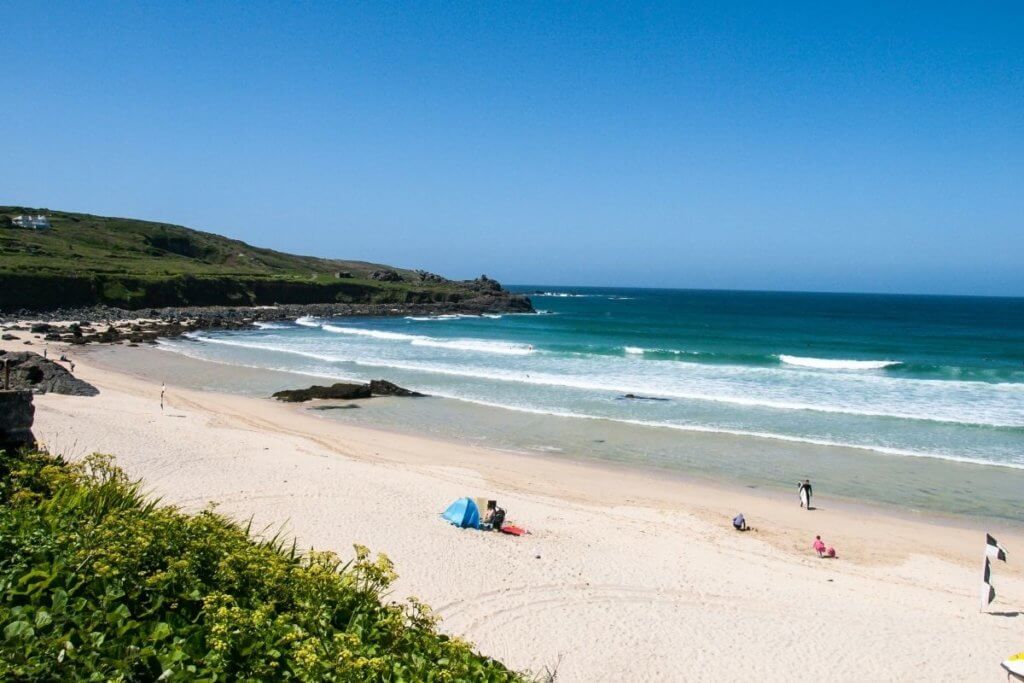 If you're looking for a place to learn how to surf or have a cocktail watching the sunset, head to Porthmeor Beach on a day out in St Ives.
If you wish to visit the seaside with your furry friend, have a relaxing day at Bamaluz Beach.
To do a bit of kayaking or simply enjoy its Mediterranean vibe – hang around the Carbis Bay Beach.
We'd recommend doing all three!
---
4. Studland Bay, Dorset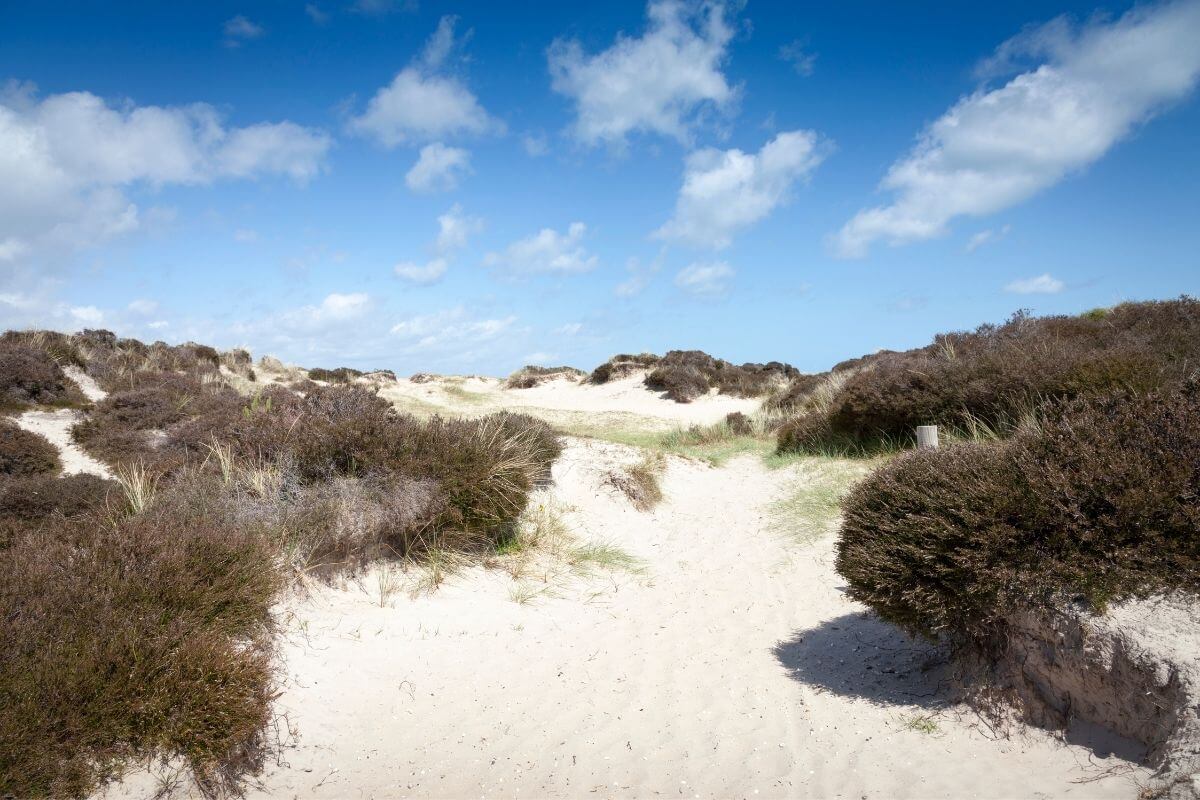 The pristine golden sands you'll notice at the beaches around Studland Bay are stunning. Have a fun-filled family day, building sandcastles or playing games in the water while you're here.
Whether you're a kid or a grown-up, Studland Bay is the place to visit for a white sand beach in Dorset. If the sea conditions are still, you can paddle all the way to Old Harry Rocks to enjoy looking back at the beach from afar.
READ MORE: Great Days Out in Dorset
---
5. Bournemouth Beachfront, Dorset
Sure, having a relaxing day at the beach is great, but sunbathing for hours may not be everyone's cup of tea. In that case – a perfect place to visit is the Bournemouth beachfront in Dorset, where you'll find an array of bars, great cafes and fun activities to do as well as lying on the beach.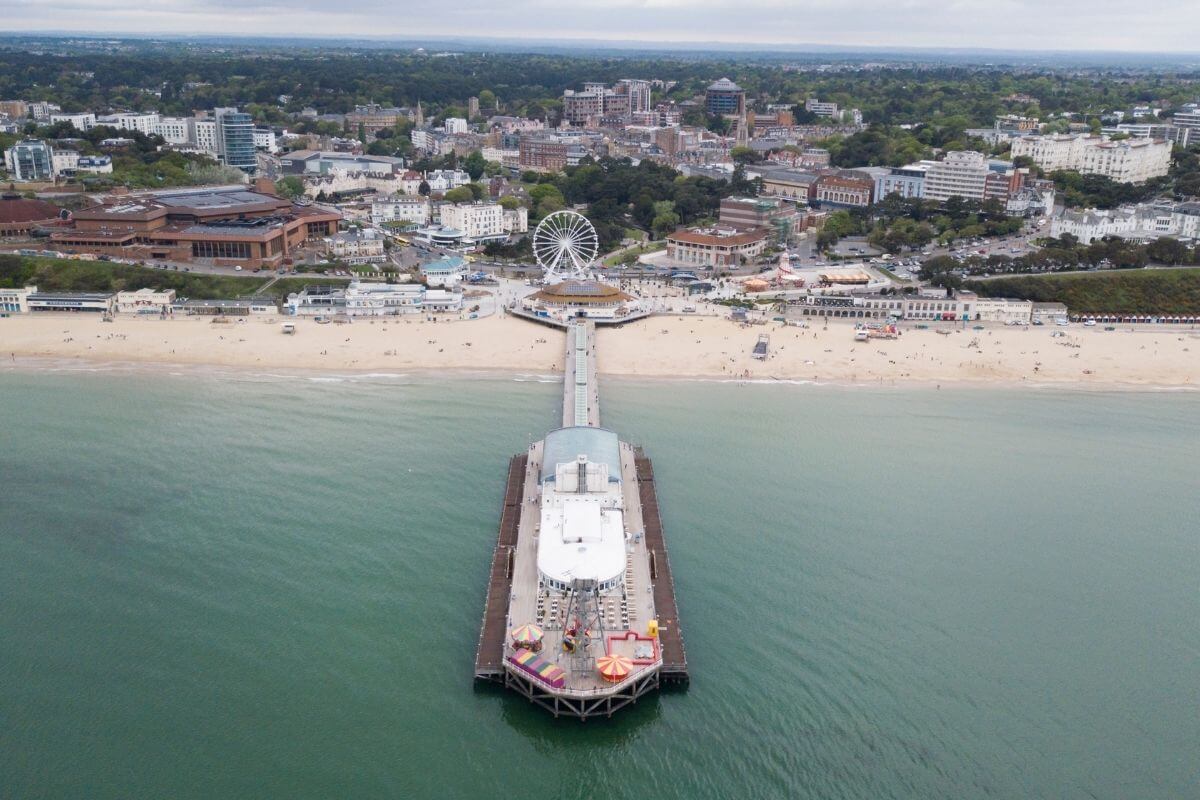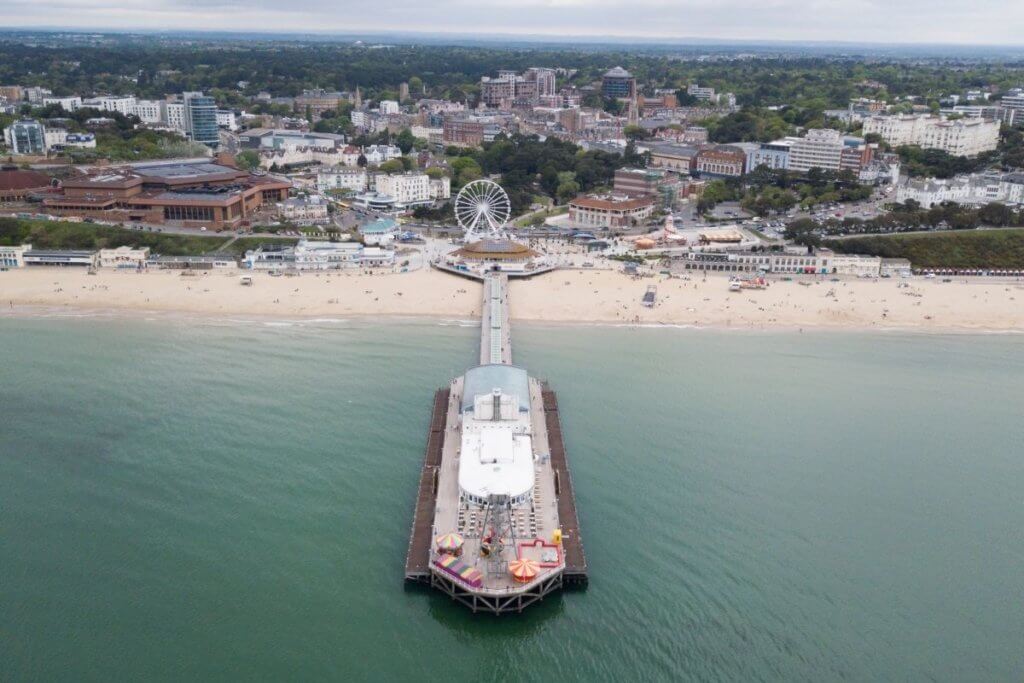 If you're feeling a bit more adventurous, head to Rockreef to launch yourself from the pier to shore with a zip-wire.
---
6. West Wittering, East Sussex
A good place for spotting wildlife and one of East Sussex's best beaches – West Wittering. If you're lucky, you might spot some skylarks, which usually nest in the marram grass near the dunes.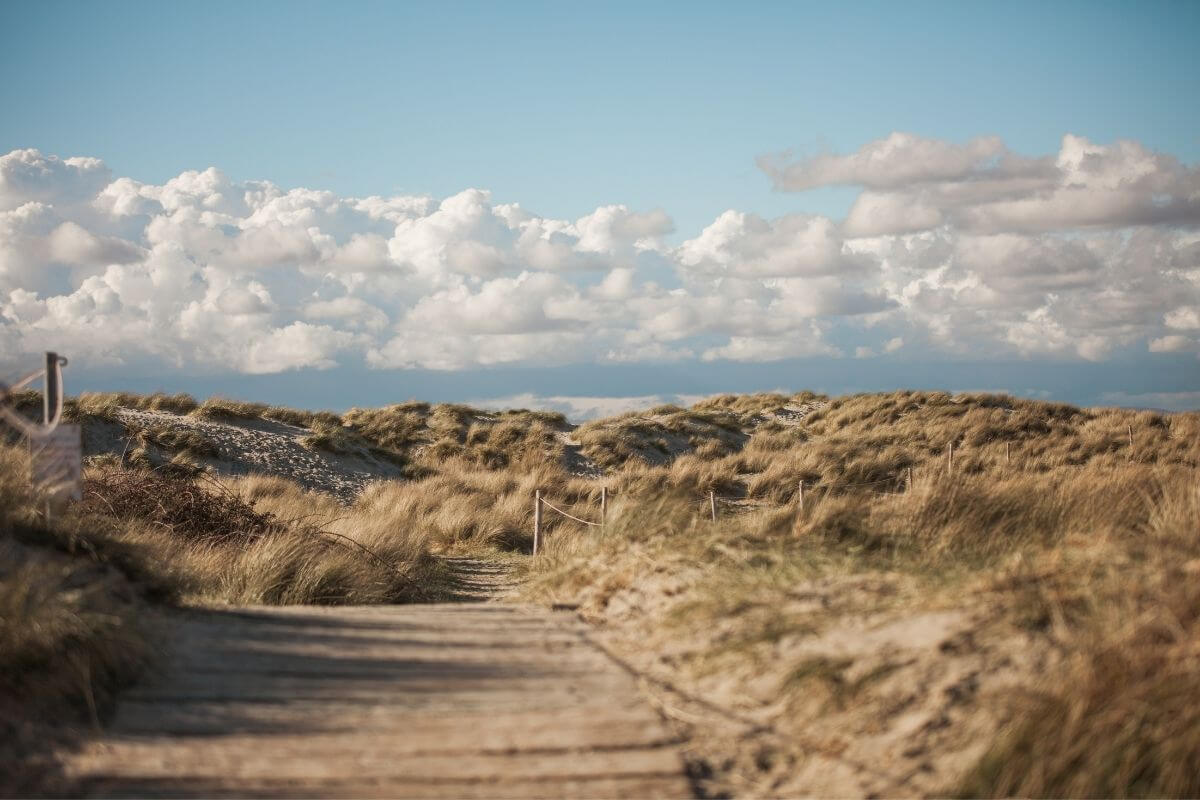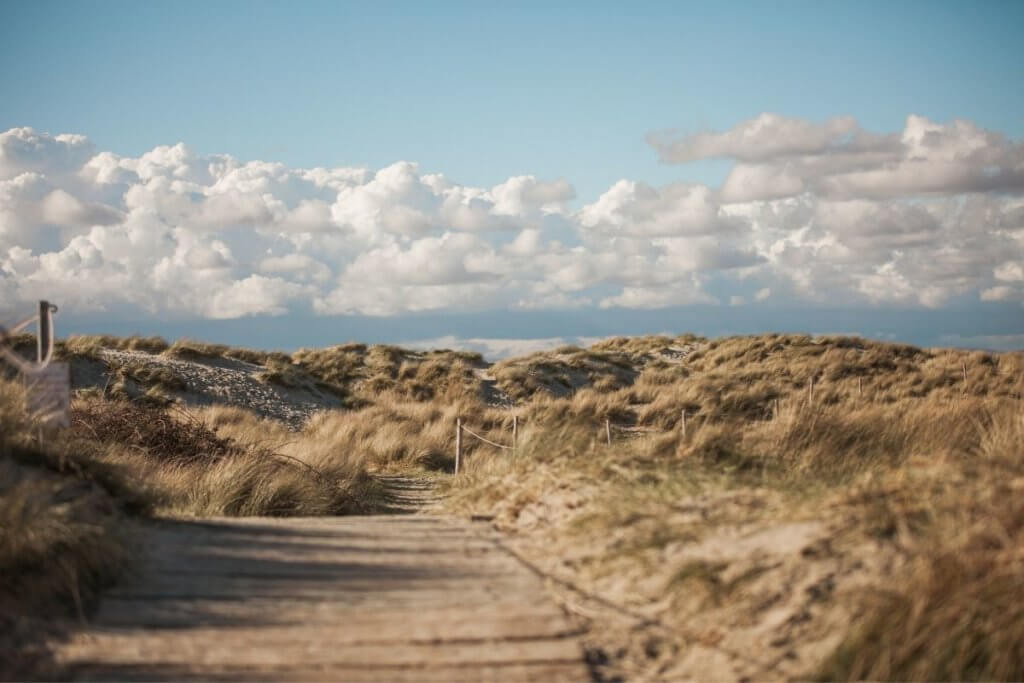 At low tide, keep your eyes open – you might notice seals laying on the mudflats. Keep in mind – the area has been designated a Special Site of Scientific Interest, so try not to harm the incredible habitat in any way.
If you want to find out more about West Wittering Beach, check out our guide to Chichester Harbour AONB. There are some great places to explore around West Wittering too – check out the video on that link.
---
7. Brancaster Beach, Norfolk
Have you ever wondered what would it be like to be a captain?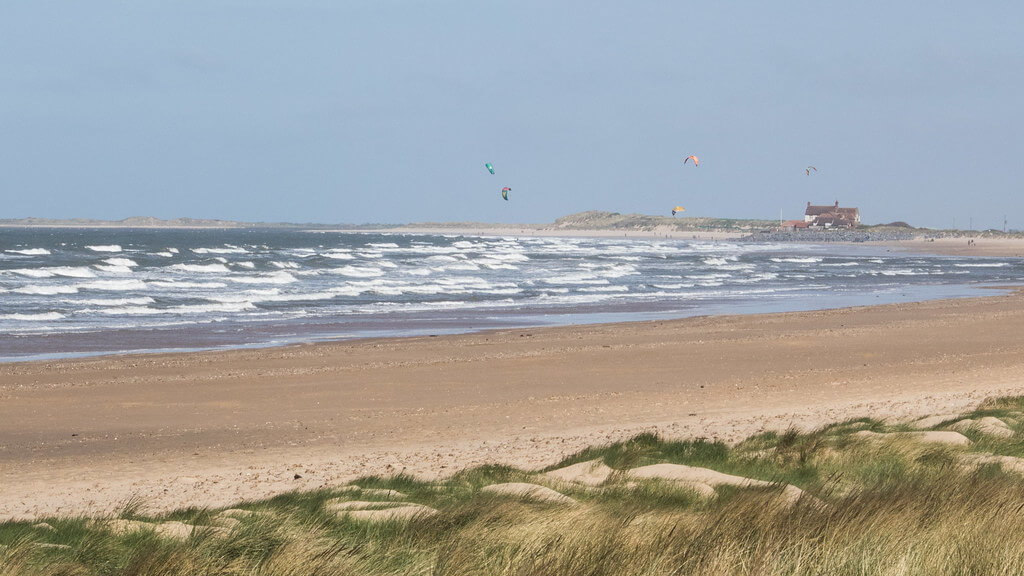 Well, in Brancaster Beach, you can live out this fantasy – at least in some way, since it is retaining the remains of an old shipwreck, which can be seen when the tide is out. What's more – the beach is child and dog friendly, so you'll be able to bring along the whole family for a day of fun.
This is a great white sand beach to stop off at if you're walking the North Norfolk Coast Path or just want a beachy day out in Norfolk.
---
8. Fistral Beach, Newquay
A paradise for surfers – Fistral Beach is truly a magical place to see. Whether you're looking to enjoy the simple pleasures of swimming and playing around the turquoise waters, or you're searching for first-class seafront facilities, it's the right place to be!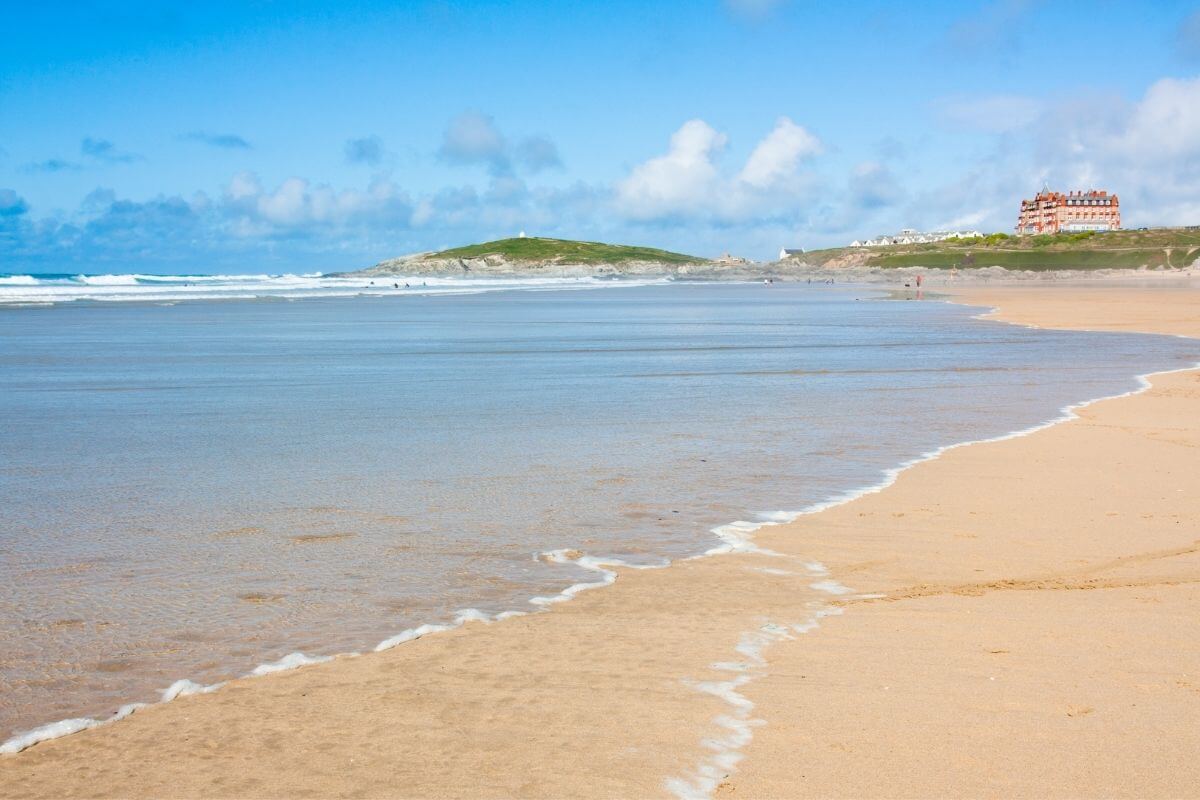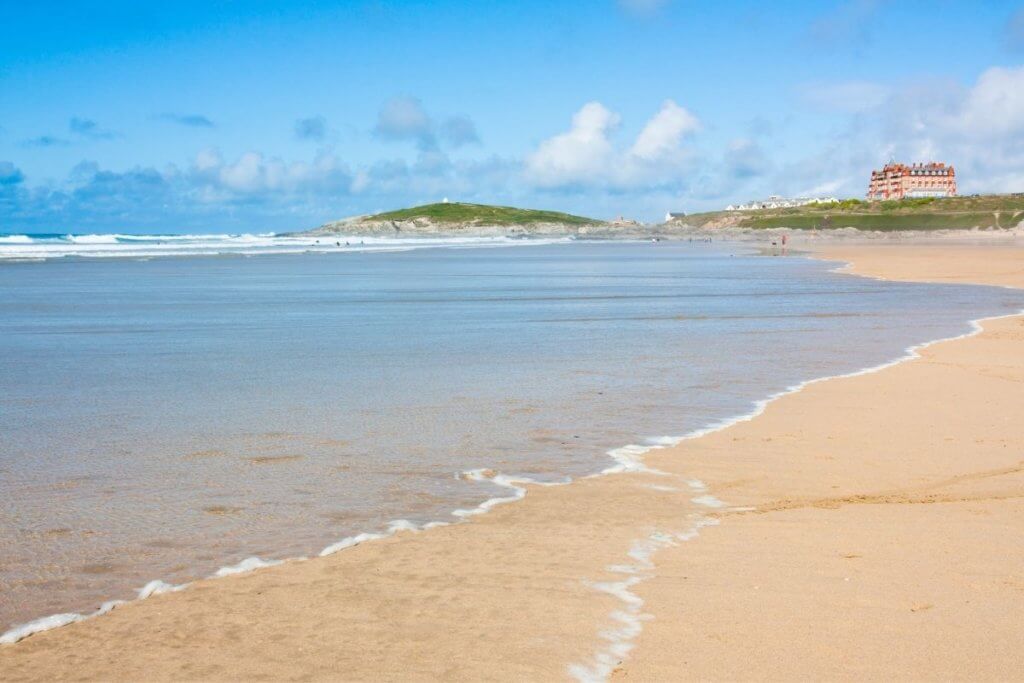 Before the pandemic, it was also the setting for many festivals and events, such as Boardmasters. Keep an eye on Newquay events listings pages for more information on what's going on down there to time your trip just right. There are loads of fun things to do in Newquay for a day out, too.
READ MORE: Fancy doing a Cornwall quiz?
---
9. Bamburgh Castle, Bamburgh
On a hot summer (or spring) day, some of the white sand beaches in England can get quite crowded, and surely – there's nothing more annoying than sweating next to other people (in less than 2 metres distance). Well, if you're not a fan of crowds, Bamburgh Castle in Northumberland might be your ideal destination.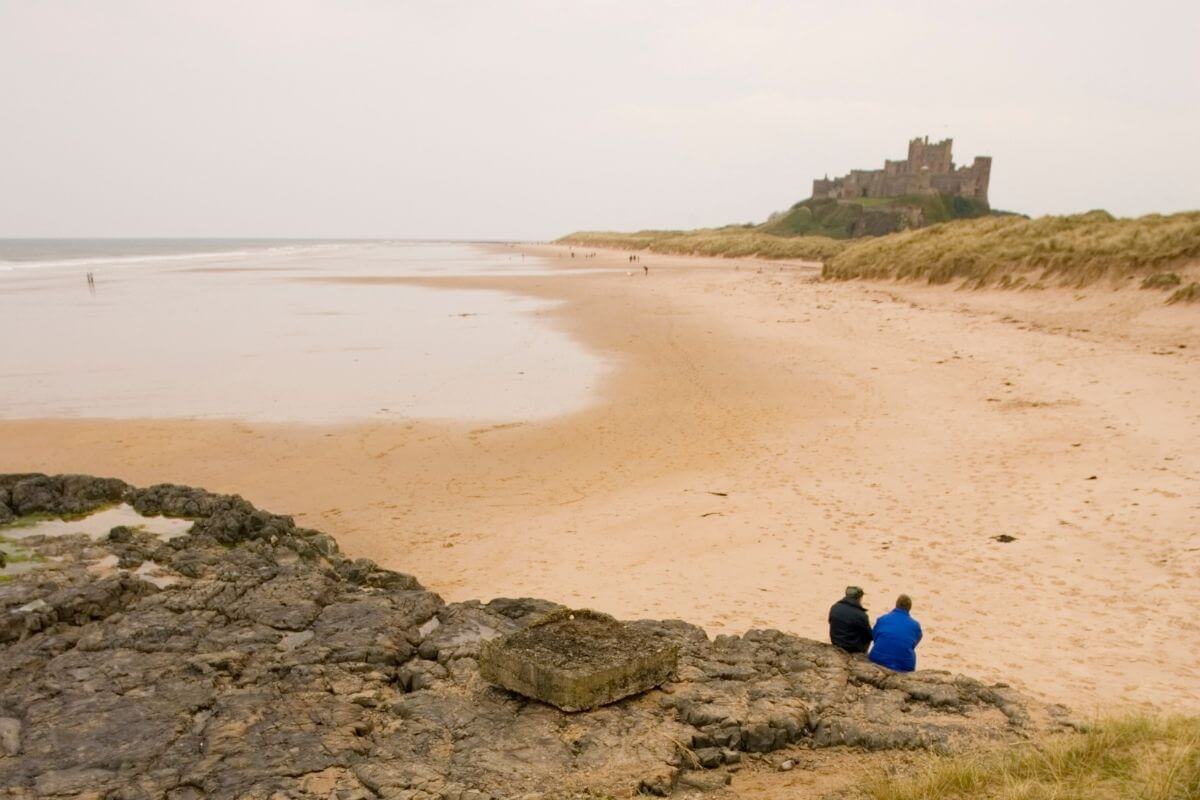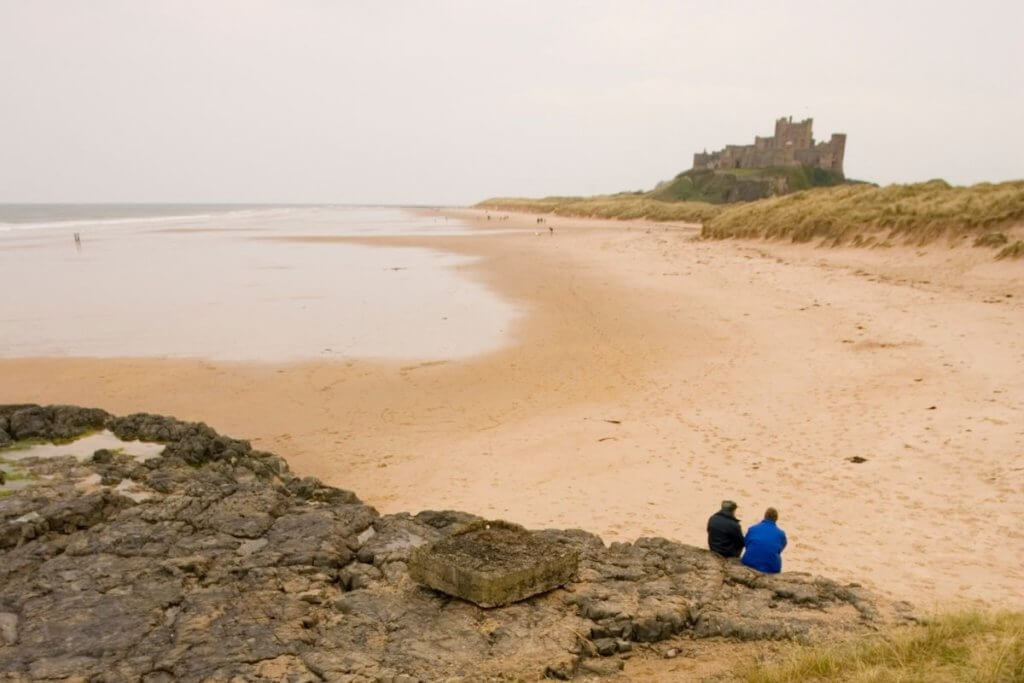 The unspoilt shoreline is backed by incredible dunes and, of course, the Bamburgh Castle. A little bit of history combined with some beach fun. What could be better?
You can read about all the other best beaches in Northumberland here.
---
10. Pelistry Beach, Isles of Scilly
Similarly to Bamburgh Castle, Pelistry Beach on St Mary's on the Isles of Scilly is an excellent destination for anyone trying to avoid crowds. Have a little picnic while gazing at an incredible sunset (or – if you're an early bird – a fantastic sunrise) and try to relax while listening to the sound of waves. Make sure to visit Toll's Island when the tide is low.
What's more – yummy cafe's are less than five minutes walk away.
READ MORE: The Best Beaches in Yorkshire for a Day Trip
---
11. Scolt Head, Norfolk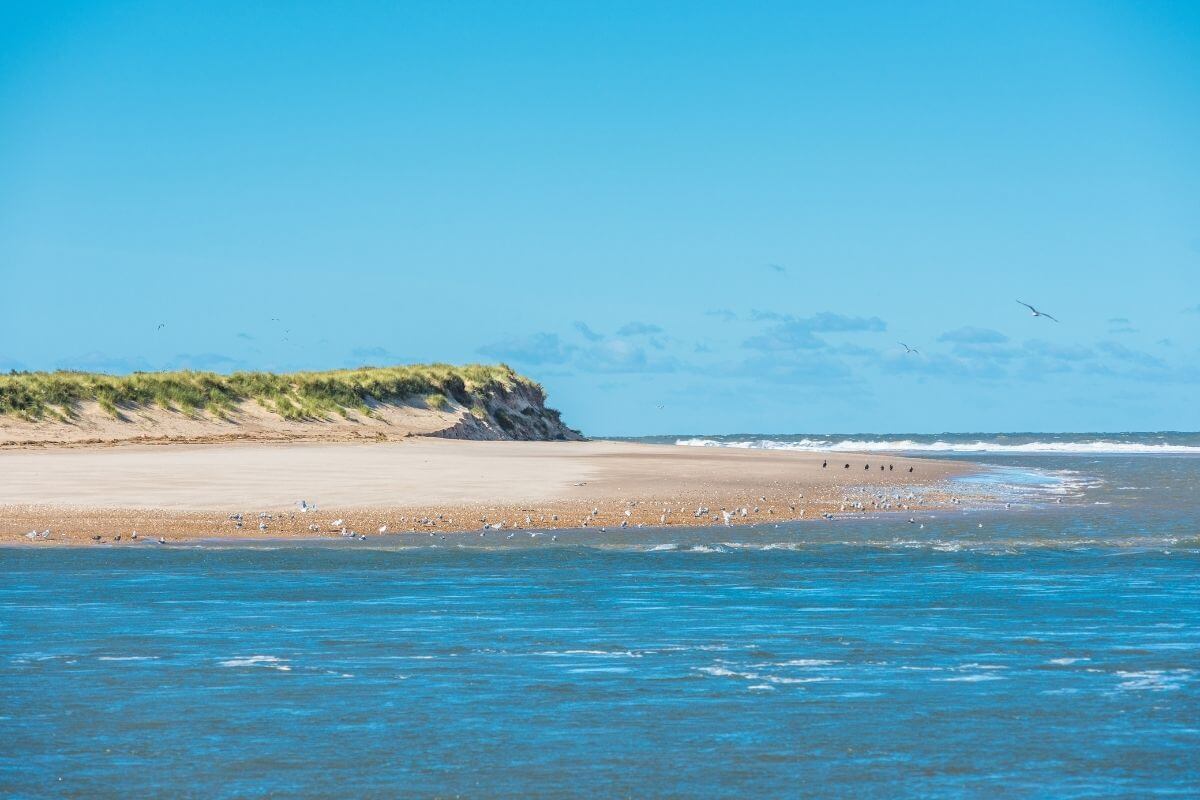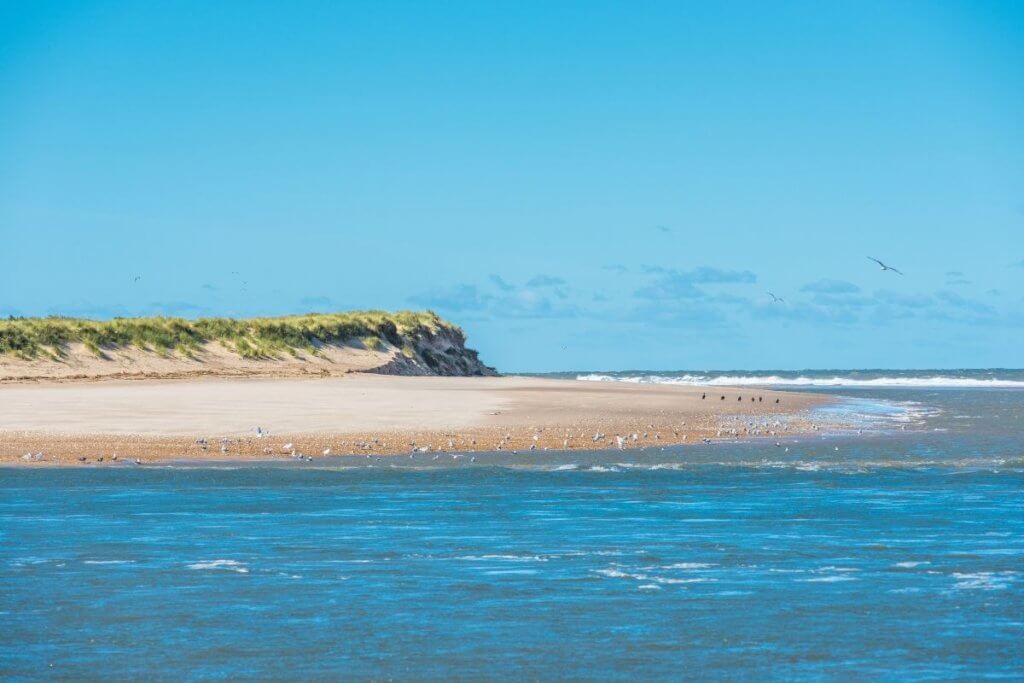 Getting to Scolt Head Island is an adventure in itself as it requires crossing creeks and low tide beaches. Once you arrive on the island, you won't be bored!
Lay on the beach, go bird watching (the habitat is quite impressive) or have a dip in the sea. This is one of the most impressive white sand beaches in England.
---
12. Beadnell Beach, Northumberland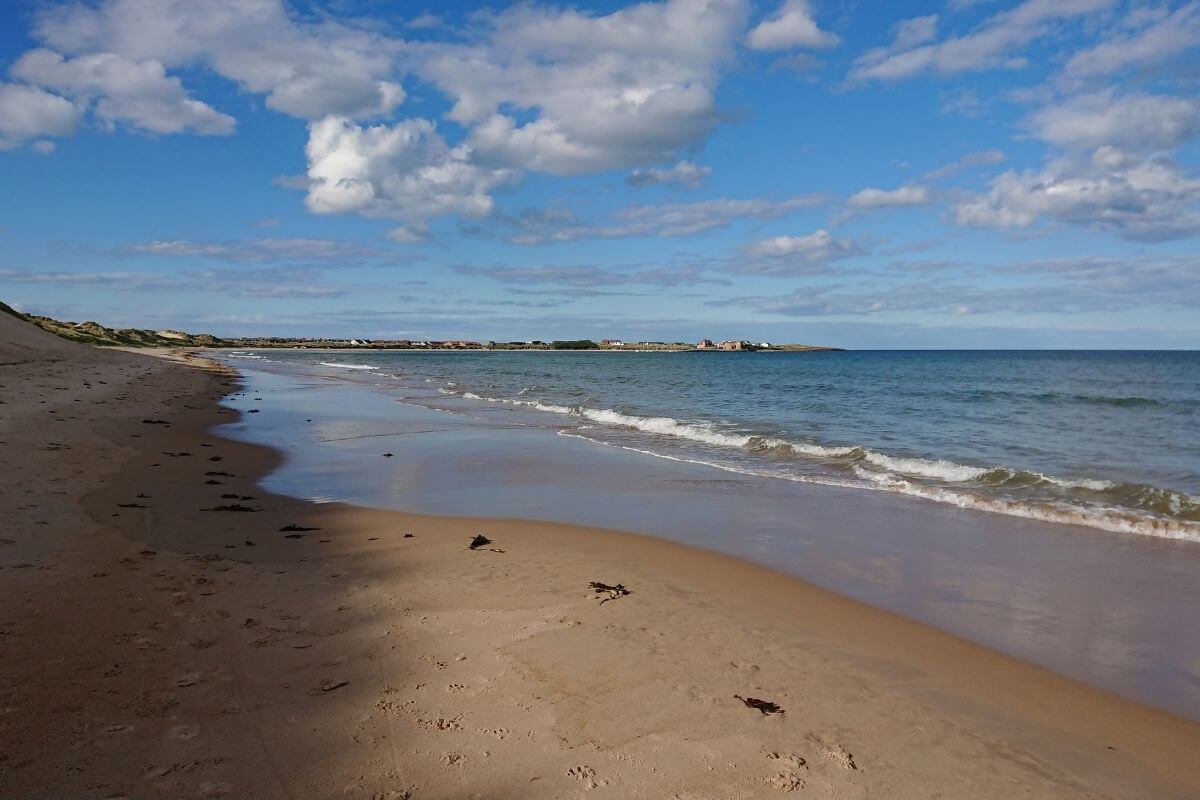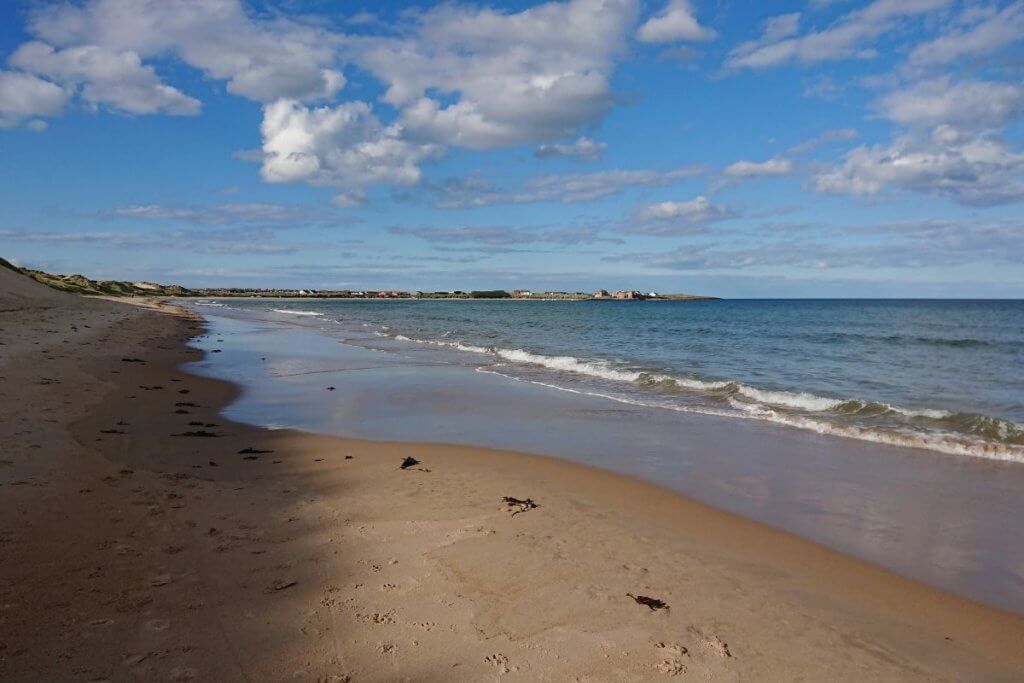 Are you looking to do some water sports or admire some truly magnificent sunsets?
Well, be sure to put Beadnell in your itinerary. Build epic sandcastles, try beach cricket or simply enjoy the beautiful surroundings. Whatever you choose, you're in for a lovely time enjoying the sun on the white sands of Beadnell Beach.
---
13. Blackpool Pleasure Beach, Lancashire
If you're looking to experience a beach day with plenty to do around, then heading to Blackpool Pleasure Beach might be the right choice.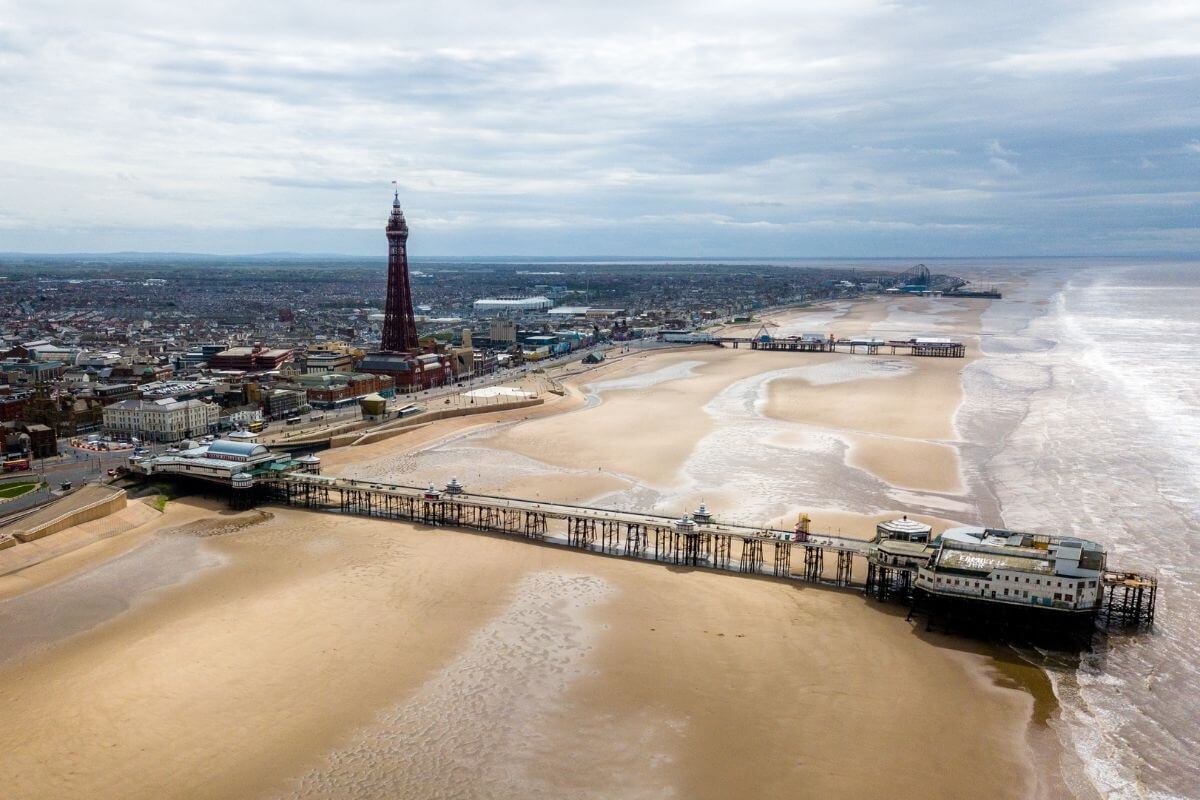 An impressive amusement park is situated on Blackpool's South Shore, which offers fun-filled rollercoaster rides for anyone craving an adrenaline rush. There are also nostalgic carousels and traditional seaside games for those who prefer more chill activities too. Get a ticket to go up the Blackpool Tower for the best views!
You can also check out Madame Tussauds in Blackpool, and the Blackpool Dungeons too. Check out our post on the best things to do for a day trip to Blackpool for more inspiration!
---
14. Longsands, Tynemouth
The stunning beaches of Longsands have been a favourite for both tourists and locals, as they're fun to visit year-round.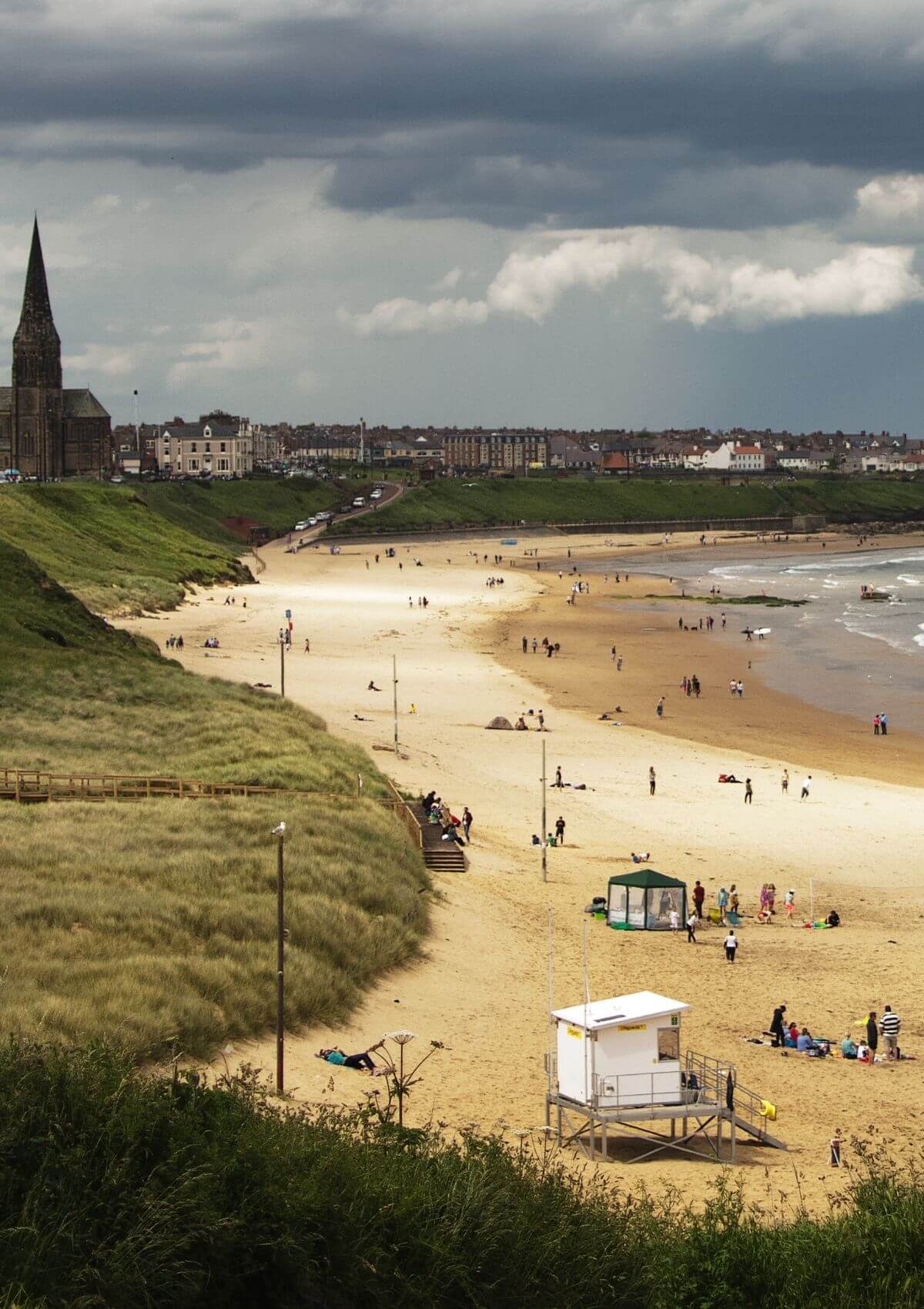 Longsands is one of the most painted and photographed beaches in the country and has developed a national reputation for being a top surf destination. If you're only a beginner, don't worry – there are many great spots to have surf lessons here.
READ MORE: The Best Places for Surfing in England
---
15. Man O'War Beach, Dorset
For some breath-taking views, make sure to visit the smaller of Durdle Door's two beaches – Man O'War Bay.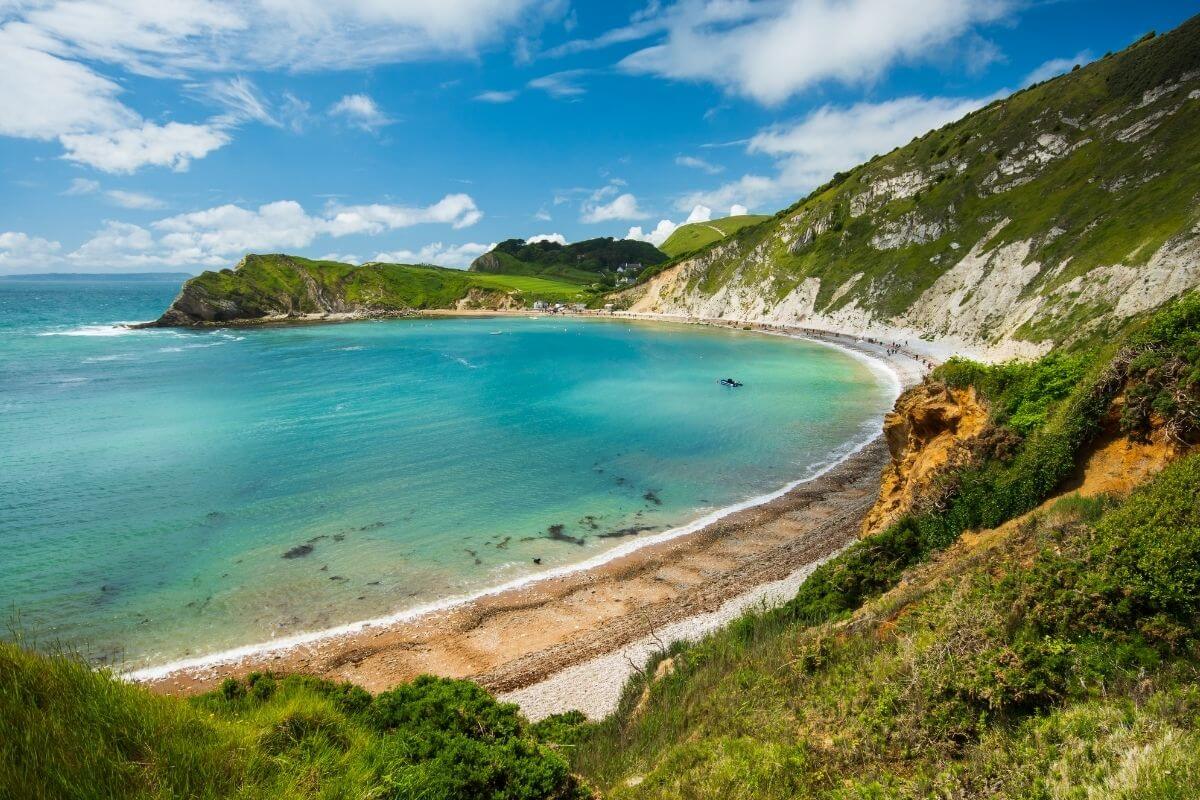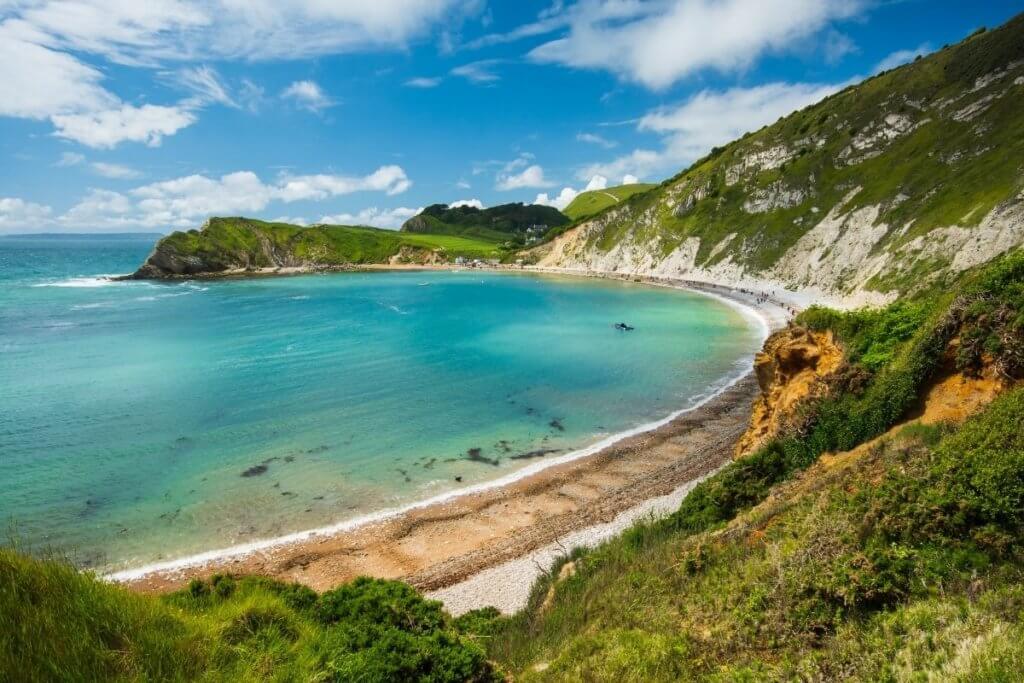 Keep in mind that there is a steep downhill walk from the car park, which takes about 30 minutes to the steps above the beach. This is one of the most popular white sand beaches in England so get there early to grab a spot.
Also, just a note to take your rubbish home with you as it seems many people forget to bring it back up the steps with them.
---
16. Hengistbury Head, Bournemouth, Dorset
Over a million visitors come to Hengistbury Head each year, and it's no wonder – Hengistbury Head is a fascinating place due to its significant habitats and internationally important archaeology and geology. It's also a Site of Special Scientific Interest.
Visit this white sand beach for the day, enjoy a calm walk, and soak in all the panoramic views.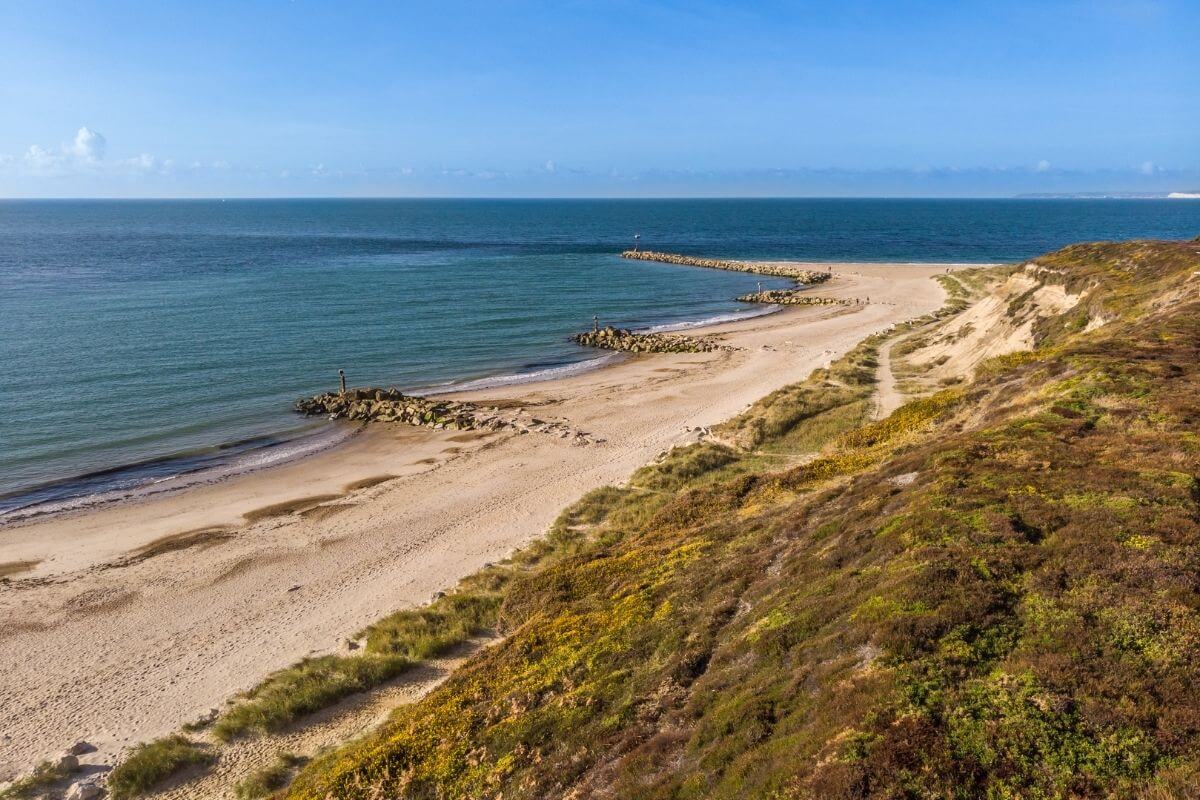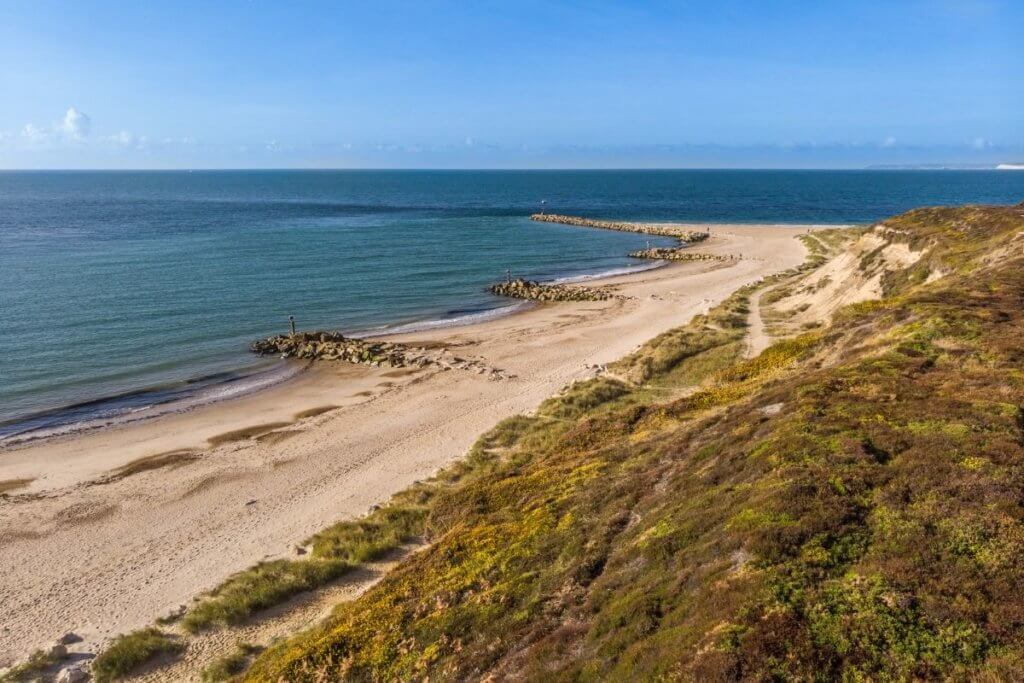 If you're lucky, you might catch a glimpse of the life of reptiles, a superb variety of insects and also small mammals, for example, natterjack toads, which are one of Britain's rarest creatures.
Hengistbury Head isn't only for lovers of nature. Enjoy everything the beach has got to offer. If hunger kicks in, nearby you'll find some great cafe's, and don't forget to bring your four-legged friend with you as dogs are welcome.
---
17. Thorney Island, West Sussex
Thorney Island is one of the best beaches in the south of England. It's also often very quiet as you have to walk a few miles to get to it. The Thorney Island beach is pure white sands and an incredible site with the paddle boarders and wind surfers.
If you want to find out more about getting to the white sand beach at Thorney Island, watch the video above. You can also find written instructions on getting round Thorney Island here.
18. Rushy Porth, Tresco, Isles of Scilly
---
Quicklist: White sand beaches in England
1. Kynance Cove, Cornwall
2. Appletree Bay, Isles of Scilly
3. St Ives Beach, Cornwall
4. Studland Bay, Dorset
5. Bournemouth Beachfront, Dorset
6. West Wittering, East Sussex
7. Brancaster Beach, Norfolk
8. Fistral Beach, Newquay
9. Bamburgh Castle, Bamburgh
10. Pelistry Beach, Isles of Scilly
11. Scolt Head, Norfolk
12. Beadnell Beach, Northumberland
13. Blackpool Pleasure Beach, Lancashire
14. Longsands, Tynemouth
15. Man O'War Beach, Dorset
16. Hengistbury Head, Bournemouth, Dorset
17. Thorney Island, West Sussex
18. Rushy Porth, Tresco, Isles of Scilly
---
PIN THESE WHITE SAND BEACHES FOR LATER