The beaches in Northumberland are incredible. They're totally underrated and you could spend days visiting the miles upon miles of unspoilt coastline. From secluded bays to sandy strips next to castles, here are the best beaches in Northumberland to explore.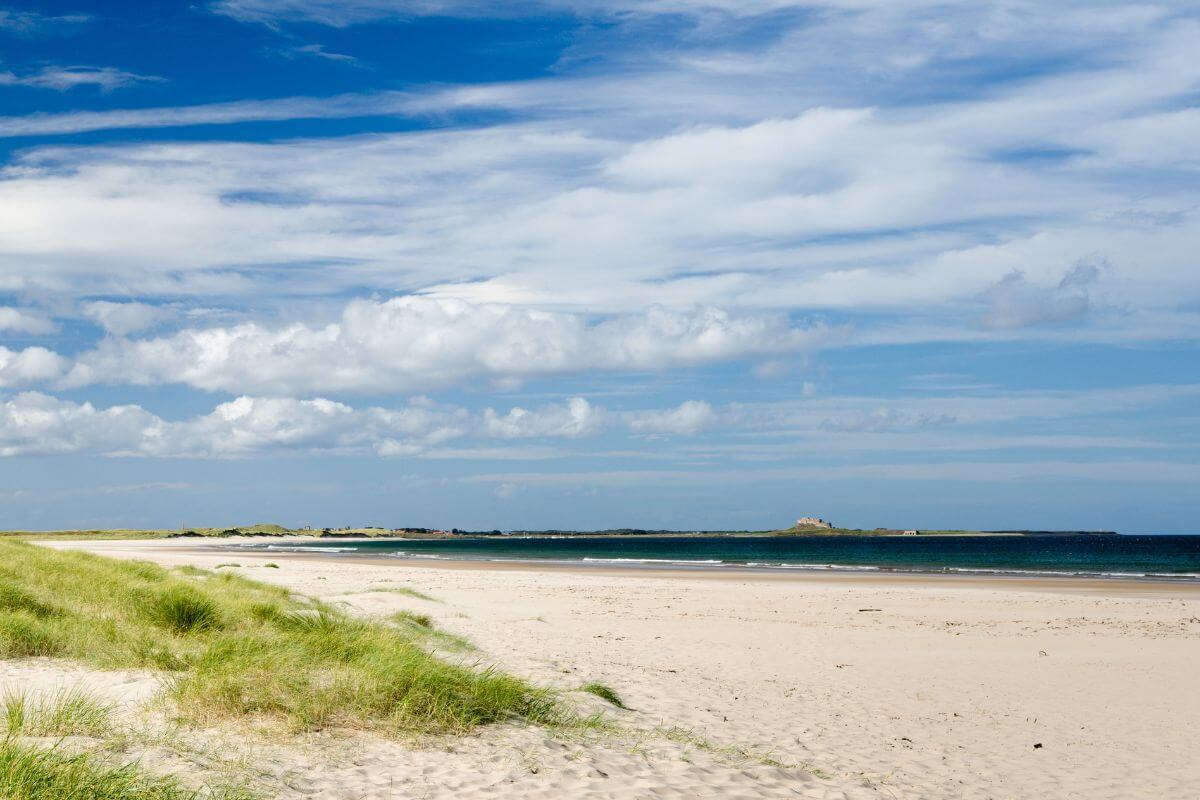 The Northumberland coast is a designated Area of Outstanding Natural Beauty that stretches for over 40 miles. With their pristine sandy strips, ocean views and traditional British seaside attractions galore, the best beaches in Northumberland attract visitors in their droves, regardless of the season.
With so much coastline to explore, deciding which beach to visit for the day can be tricky. But fear not! We're about to give you a rundown of the most picturesque beaches Northumberland has to offer.
From popular tourist destinations like Bamburgh to deserted stretches of sandy shore, Northumberland has a beach to suit everybody, whether you're travelling as a family or alone. Pack your best swimwear, find that perfect spot on the sand, and you'll be all set for a day at the beach.
So, let's dive into the most popular Northumberland beaches, along with plenty of information on where to park, what to do, and where to grab yourself an ice cream to cool down on a hot day.
Best Beaches in Northumberland
Whether you're looking for a secluded bay, the perfect shore for paddling or a sandy strip that's overlooked by a magnificent castle, one of Northumberland's best beaches is right up your street.
1. Alnmouth Beach
The best thing about Alnmouth has to be its location. As you head up the coast to Alnmouth, you can take in gorgeous views of the rolling hills that fringe the coast and out towards the Coquet Islands.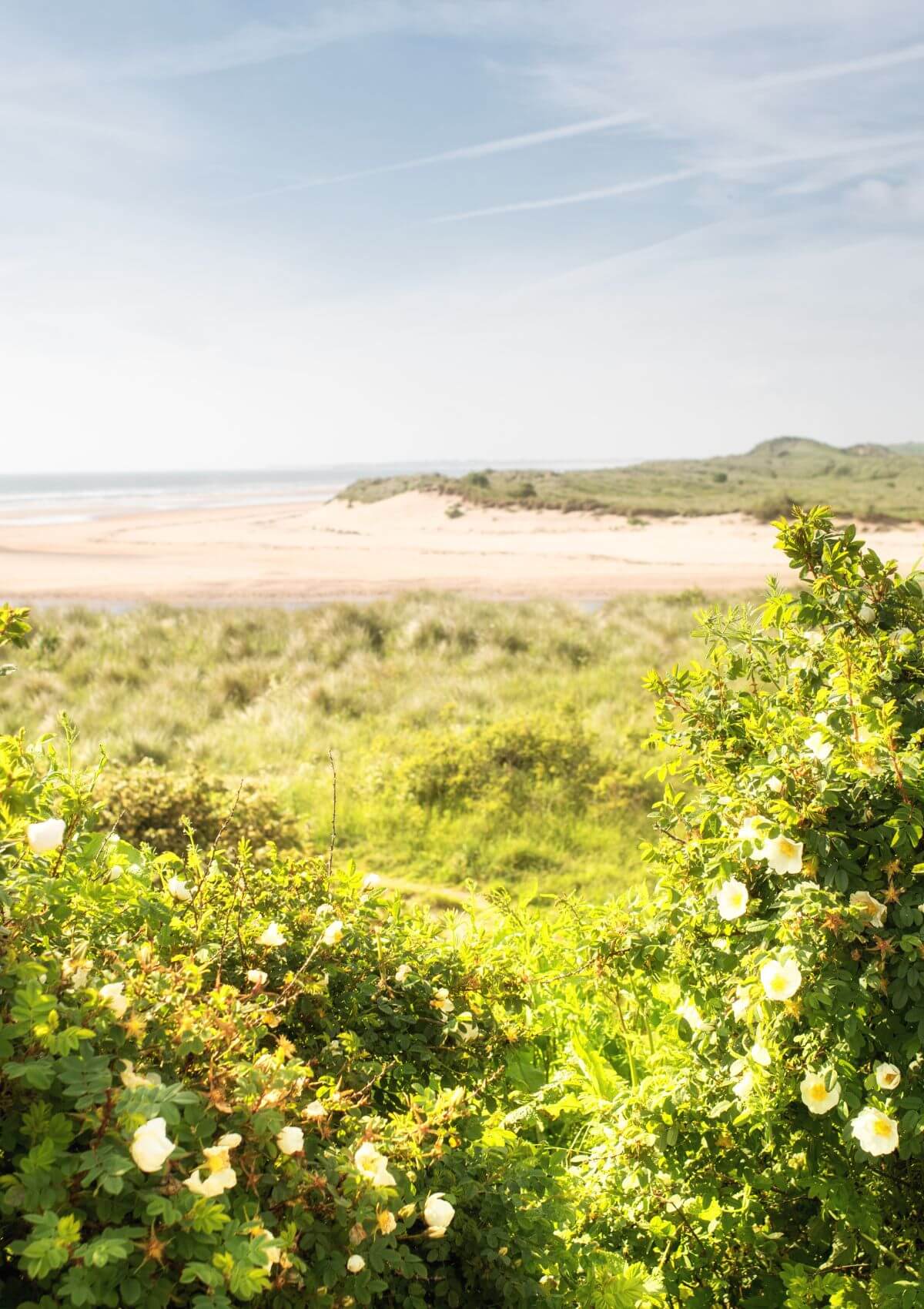 The car park is right on the beach, perfect for if you're lugging around a lot of gear. Situated north of Amble and Warkworth but south of Seahouses and Bamburgh, Alnmouth provides a perfect taste of what Northumberland beaches have to offer.
There's a play park just around the corner from the beach for the kids. There's also an ice cream van that frequently visits during summer for kids and adults alike. The village of Alnmouth itself has some quaint coffee shops and pubs, which provide a welcome retreat from the sun on a hot day.
Parking at Alnmouth beach is £3 per car for the day. Please note that you must pay using a debit or credit card.
READ MORE: The Best Things to Do in Seahouses
2. Beadnell Bay Beach
A family holiday to Northumberland wouldn't be complete without a visit to Beadnell Bay. With its huge sand dunes and near-flat seabed, this beach is ideal for visiting with kids. It's a popular area for water sports, so don't forget to bring your paddle boards, jet skies or kayaks.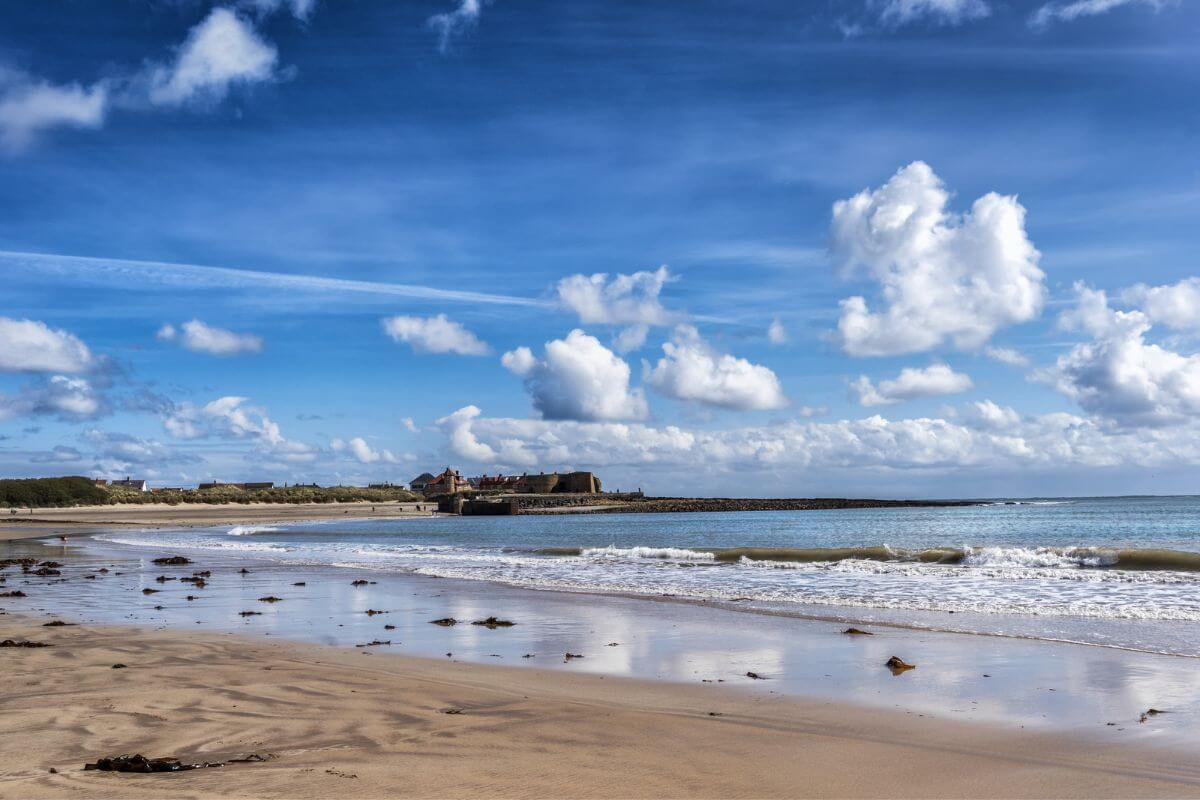 The Landing at Beadnell Bay is an exciting and quirky beach bar and kitchen serving breakfasts, light lunches and evening meals. You'll find this local hotspot right behind the car park next to the beach.
The majority of Beadnell village is made up of holiday lets. One quick look around is enough to see why this area is so popular with holidaymakers. There's also a small village shop and two trendy pubs offering decent menus for those looking to refuel after a day on the beach.
Always fun to have a day at the beach, and then curb the hunger by checking out some of the best places for afternoon tea in Northumberland. Check out our list!
Note: car parking charges apply. Use postcode: NE67 5EE
3. Football Hole Beach
Football Hole is a bit of a hidden gem in Northumberland. You'll need to walk a distance of around half a mile to reach this charming beach, but the short trek is well worth it, especially if you end up with this gorgeous secluded bay all to yourself.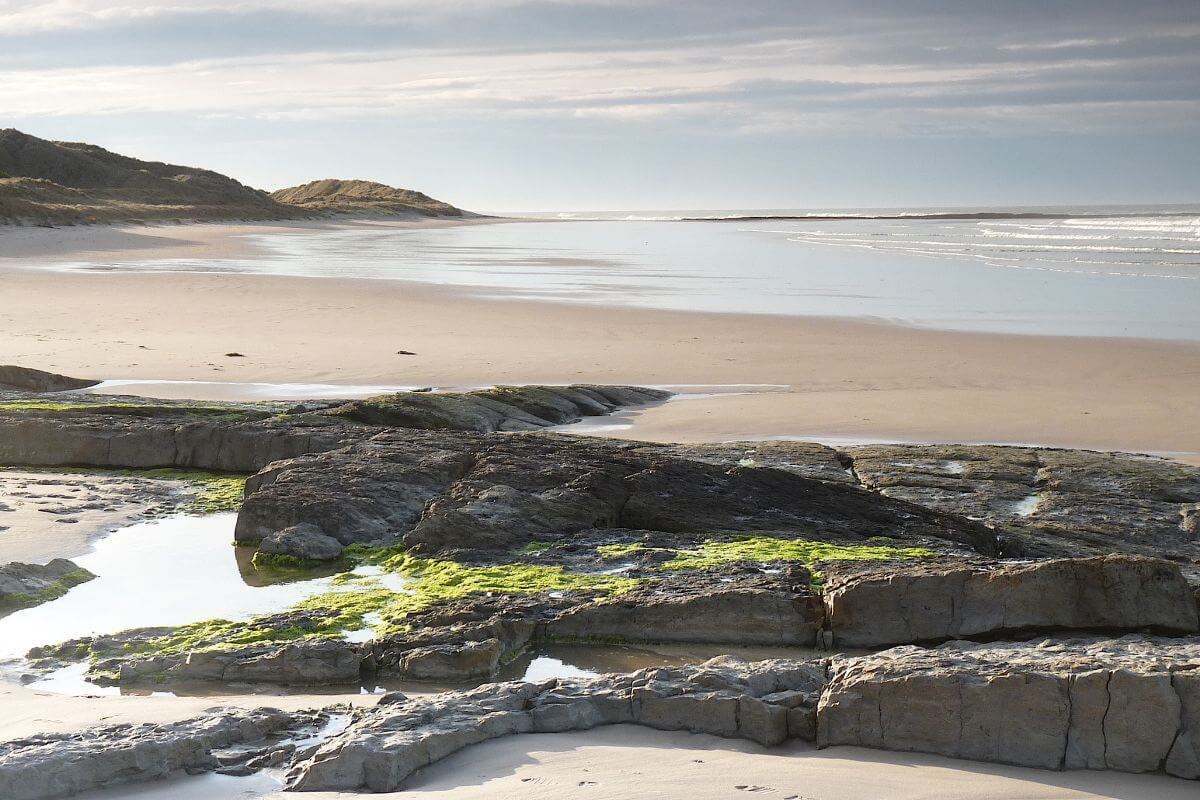 On a beautiful summer's day, the beach's golden sands and clear blue water will make you think you are on a tropical island, not on the Northumberland coast in England!
We recommend parking at the National Trust car park, which you can access by driving through the village of Newton-by-the-Sea. Alternatively, you can walk ten minutes from the village by heading north towards the coast. 
READ MORE: Try these Northumberland spas if the weather isn't good enough for a beach!
4. Druridge Bay and Cresswell Beach
Further down the coast, towards Widdrington and Ashington, you'll find Druridge Bay and Cresswell Beach. Both are popular with locals and holidaymakers, but the sandy shores are wide enough to give you a sense of space and privacy.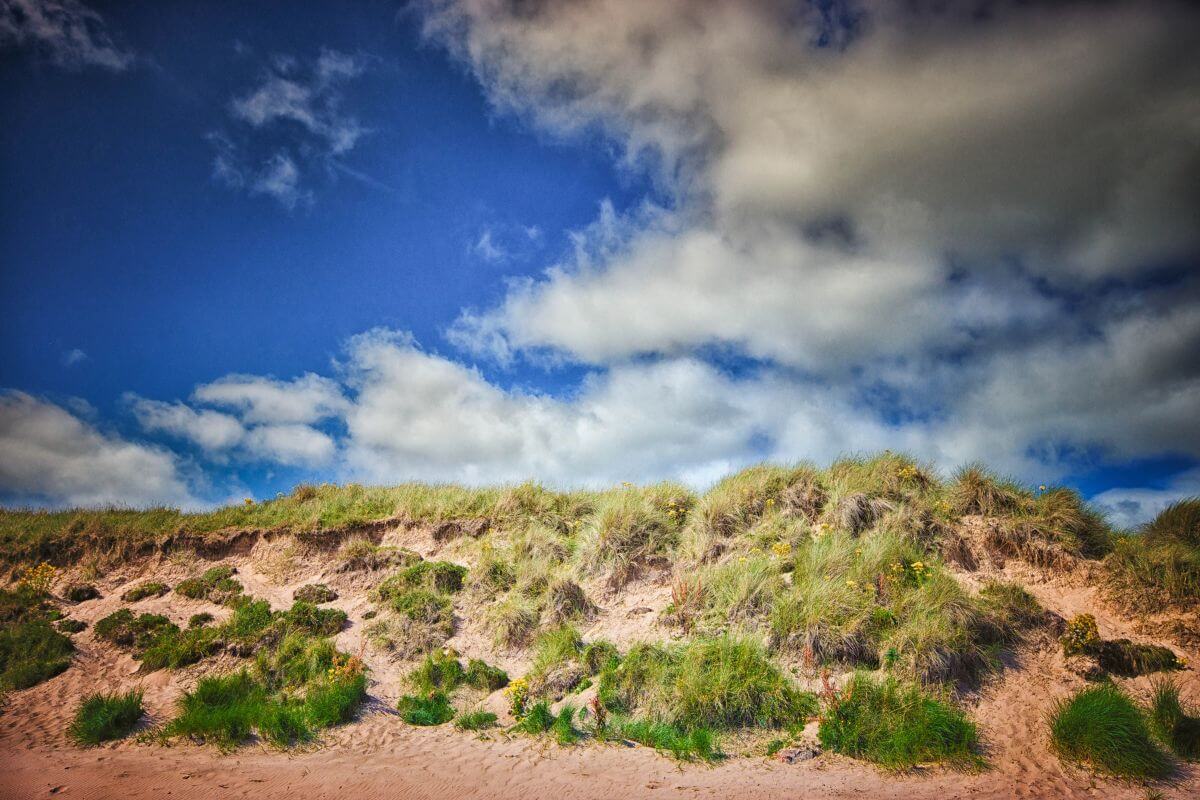 Druridge Bay is easily accessed through the dunes. Alternatively, you can park at Druridge Bay Country Park, which is well worth exploring (read about England's best National Parks if you love country vistas).
After visiting the Country Park, you might want to walk around Ladyburn Lake (approximately one mile). The kids can play in the play park which was refurbished in 2021. There are public toilets, a café and a visitors' centre here also.
Head south of Druridge Bay and you will find Cresswell Beach, which is a great spot for ice creams (Cresswell Ices). When you need to refuel, head to The Drift Cafe for hot drinks and snacks. You'll find ample parking space along the road near Cresswell Ices.
Note: car parking charges apply at the Country Park.
5. Amble Harbour Beach
Amble is a vibrant harbour town located just south of Warkworth. A lot of money has been spent on renovating the old harbour village to make it the happening place it is today.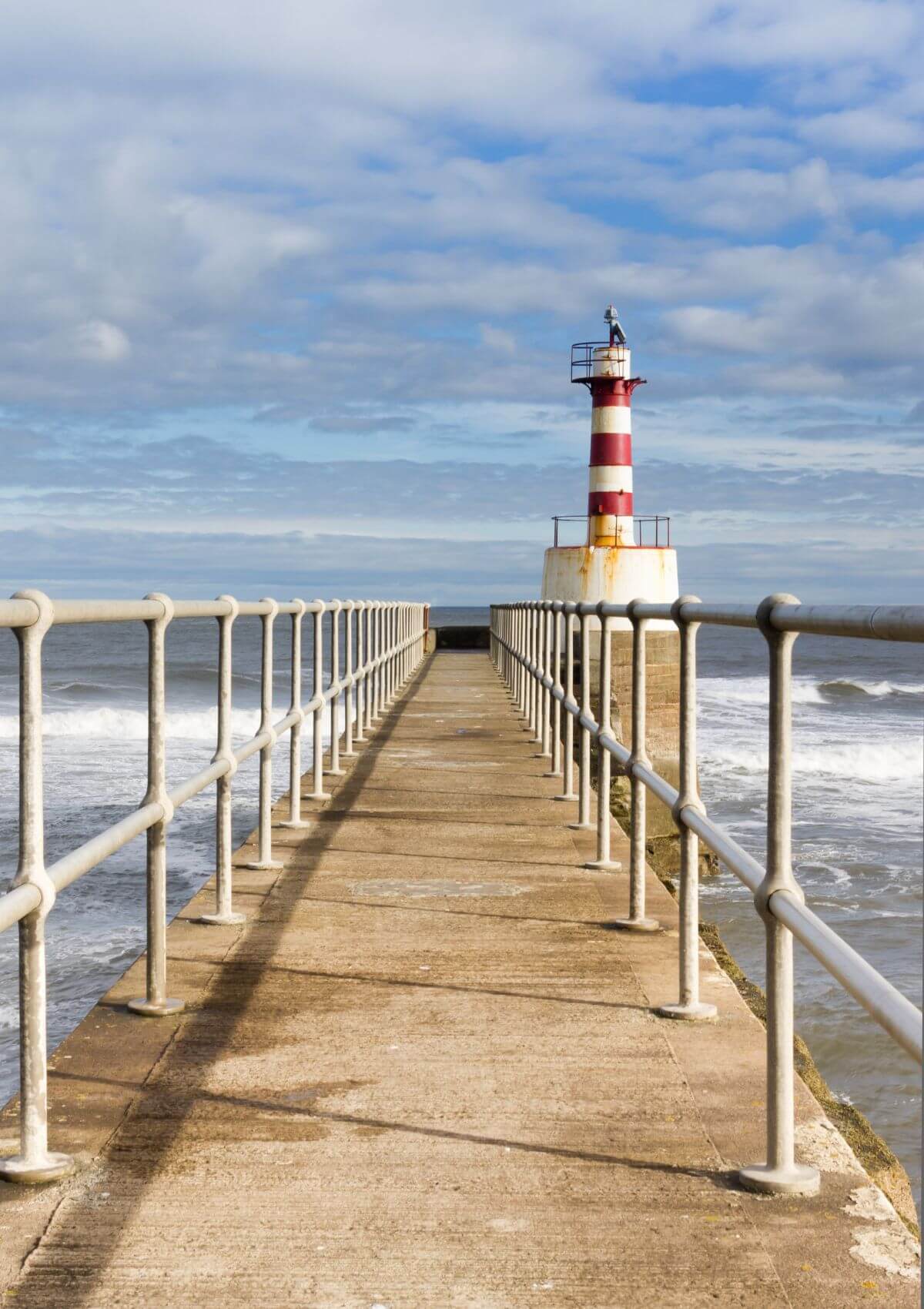 At the harbour, there's a park for the kids and a small bank of sand, which is a great place to paddle in the sea whilst watching the boats coming in. It's very active with fishing vessels, private boats and trips heading out on the Puffin Cruise around Coquet Island.
With a healthy amount of fish and chips shops, trendy restaurants and a plethora of independent businesses with stalls in the Harbour Shopping Village, Amble is a fantastic place to spend the day.
This is one of the best Northumberland coastal walks you can do.
READ MORE: 5 Unique Places to Stay in Northumberland
6. Warkworth Beach
Situated a short walk from the centre of Warkworth village is the gorgeous Warkwork Beach. Walk to this beach from Amble, and you can soak up unspoilt views across to Alnmouth and Coquet Island along the way.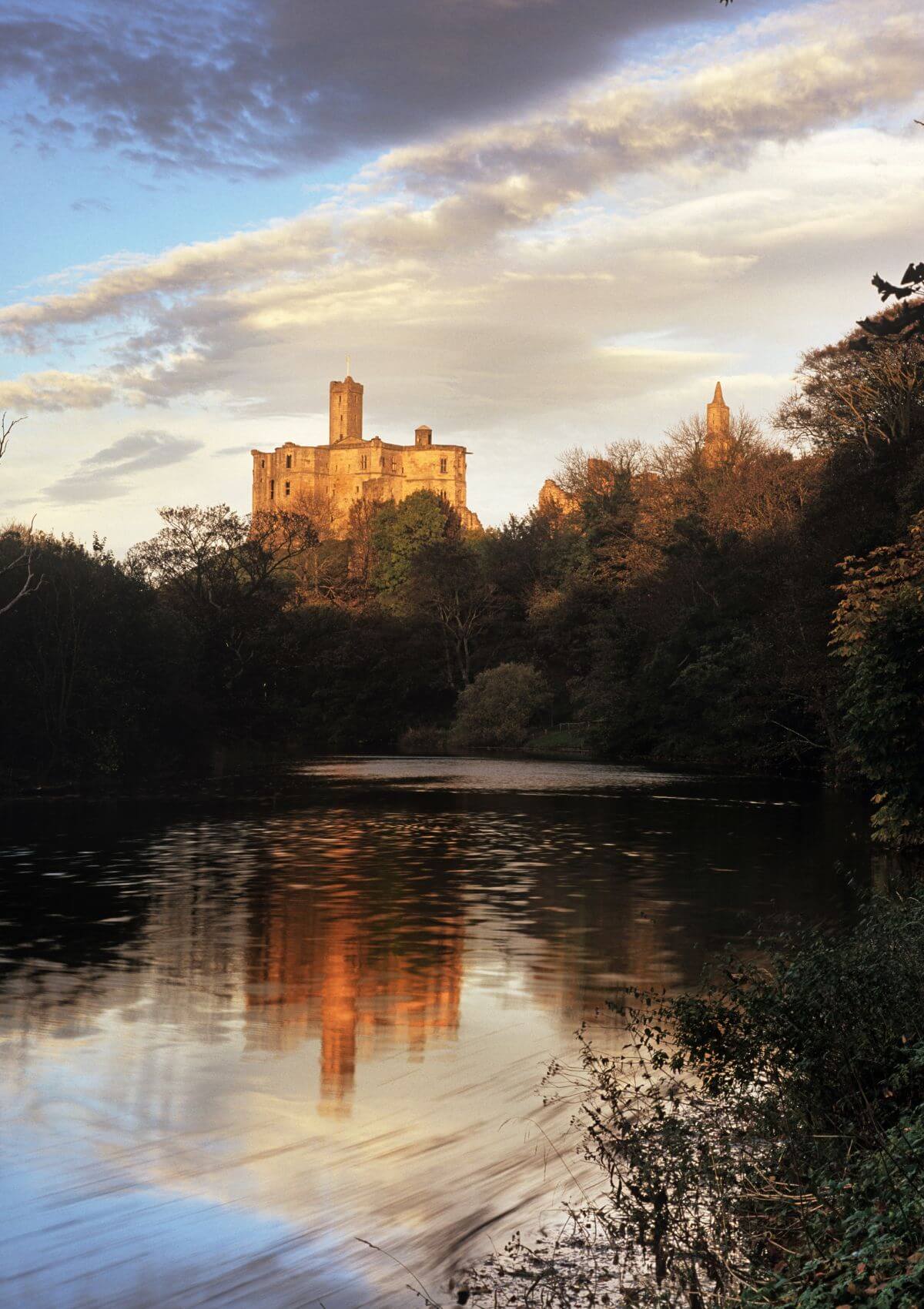 Parking is free and the beach is a short walk down a steep hill. Bear this in mind if bringing all the gear; you will have slightly further to walk and carry all your belongings. If you're using GPS to find this beach, use the postcode NE65 0SW.
While you're here, we suggest checking out the English Heritage Warkworth Castle, which is one of the most fascinating castles in England. You'll find plenty of independent shops, cafés and restaurants in the village.
This is one of our top spots to go paddleboarding in Northumberland, if you're looking for inspiration.
7. Bamburgh Beach
No holiday to Northumberland is complete until you have visited the village of Bamburgh. The two main attractions that draw thousands of visitors a year are Bamburgh Castle and the stunning beach that surrounds the castle walls.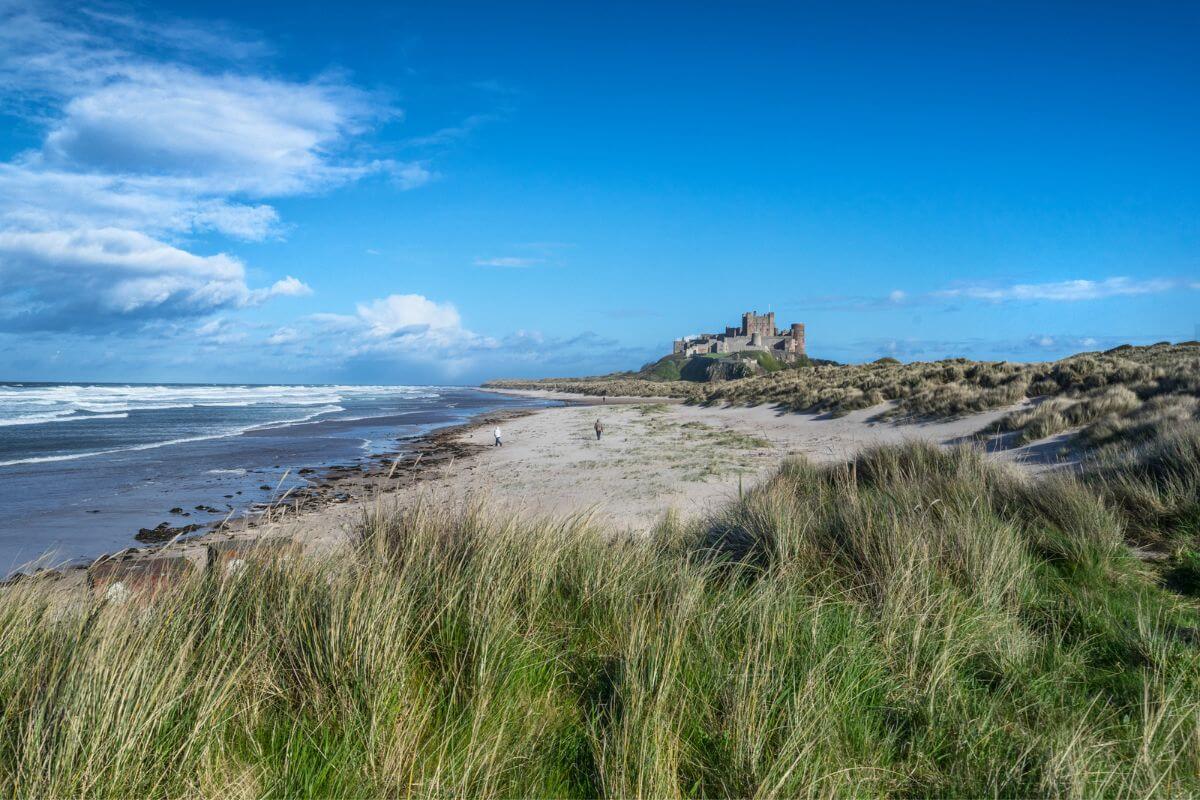 As favourite beaches in Northumberland go, this one is pretty special.
The stretch of sand is easily reached from the car park (use postcode NE69 7BJ to find it), which is open 24 hours, making it the perfect location for a sunset stroll.
As you walk along this vast beach, you'll appreciate that even on busy days in the height of summer, you have plenty of space to yourself. Nobody feels like they are on top of each other so this is the place to come for a day of splashing in and out the sea, walking and soaking up the scenery.
Make sure you look out for the iconic "Stag Rock". If you head towards the rocky area, rock pooling is a great activity to do here, so come prepared with your nets and buckets.
8. Blyth Beach
While Blyth doesn't typically have the best reputation as being a destination for a day out, the beach certainly ticks all the boxes.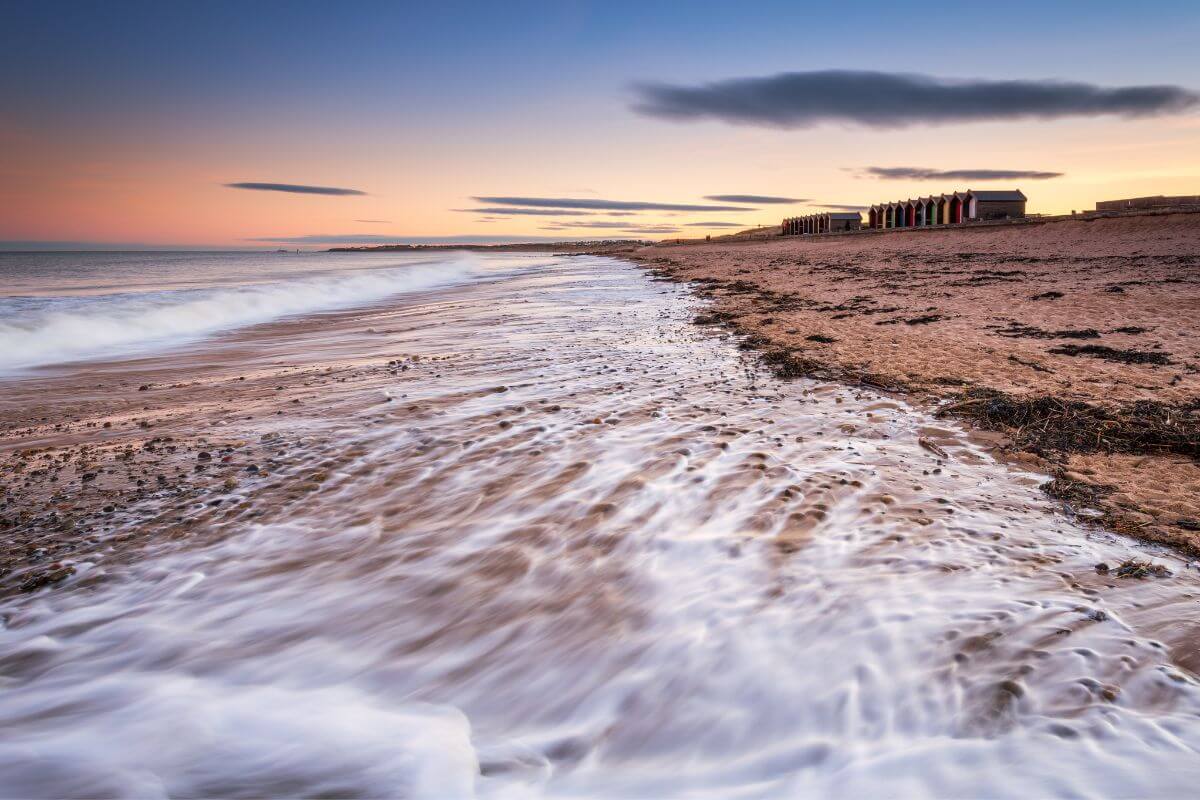 There is free parking and public toilets, which are usually well kept. Alongside taking the kids to two play parks, you can also hire beach huts, perfect for a day at the beach so you can store towels, buckets and spades.
You'll also find a fish and chip restaurant and takeaway as well as an ice cream parlour and an ice cream van. Kids will enjoy riding their bikes and scooters along the promenade, which is also an ideal spot for a pleasant stroll with ocean views.
If you're looking for a beach in Northumberland that has plenty of facilities, Blyth Beach might just be the best beach in Northumberland for you.
Note: dogs are not allowed on the beach from 1 May – 30 September.
Use postcode NE24 3PL if using GPS to find the beach.
9. Low Newton by the Sea
Low Newton by the Sea is a tranquil beach lapped by clear blue waters. It's a great area for bird watching, with many people flocking here, binoculars in hand.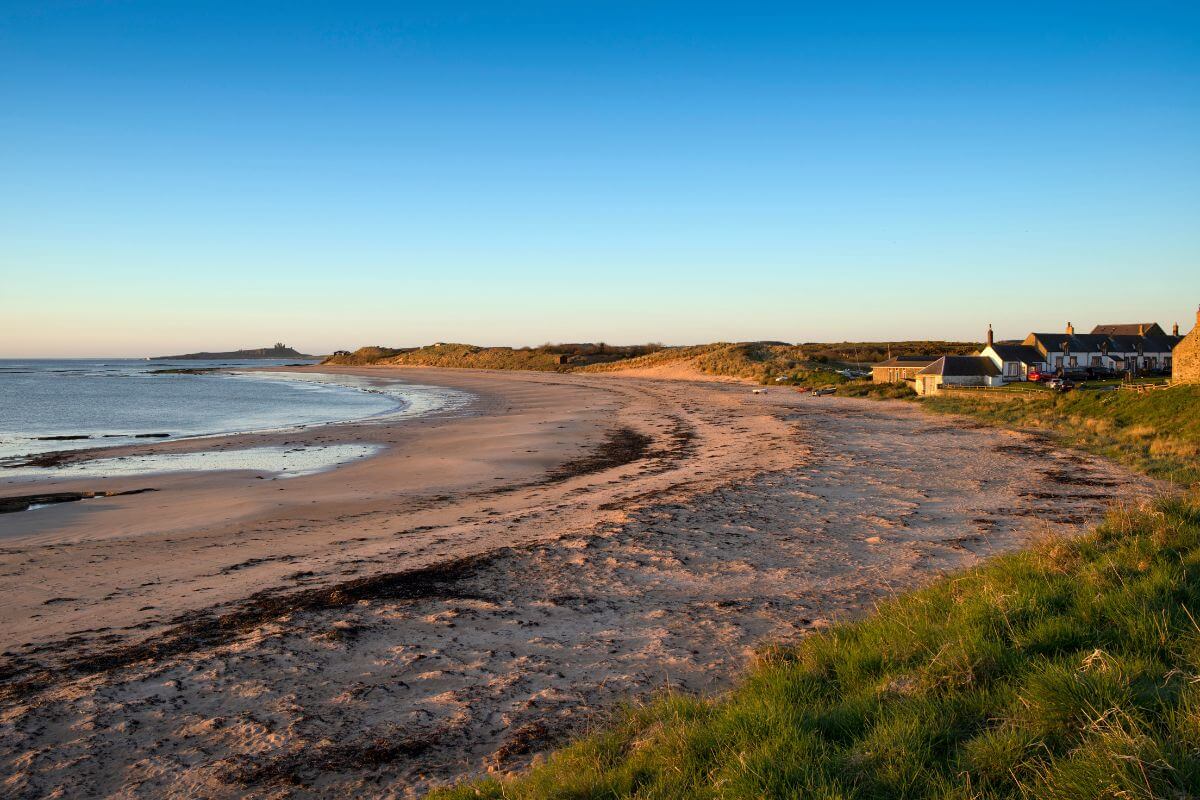 Overlooking the beach is a popular microbrewery and pub called The Ship Inn, which gets very busy during the summer months; best to arrive early if you want a table for lunch. Alternatively, take your drinks outside and sit on the grassy area out front, where people like to sit and enjoy the scenery while the kids run around playing. There's a small car park, though it seems that many people end up parking on the grass verge.
As dogs are welcome, Low Newtown by the Sea is one of the best beaches in Northumberland for pets.
The best beaches in Northumberland
With so many Northumberland beaches on offer, choosing the best one for you is no easy feat, but hopefully this selection has given you plenty of food for thought. To really make the most of your Northumberland adventure, plan to spend at least two days exploring this beautiful area of coastline.
Are there any other amazing beaches in Northumberland that our readers should know about? Let us know by leaving a comment below. While you're here, you might want to read about more of the best days out in Northumberland.
Quick list of the best beaches in Northumberland
Alnmouth Beach
Beadnell Bay Beach
Football Hole Beach
Druridge Bay and Cresswell Beach
Amble Harbour Beach
Warkworth Beach
Bamburgh Beach
Blyth Beach
Low Newton by the Sea
---