From fish and chips to warm, delicious, hot sugared doughnuts, visitors to the British coast are in for a treat when sampling some of the most legendary tasty seaside snacks. These popular snacks have been enjoyed for centuries at the British seaside.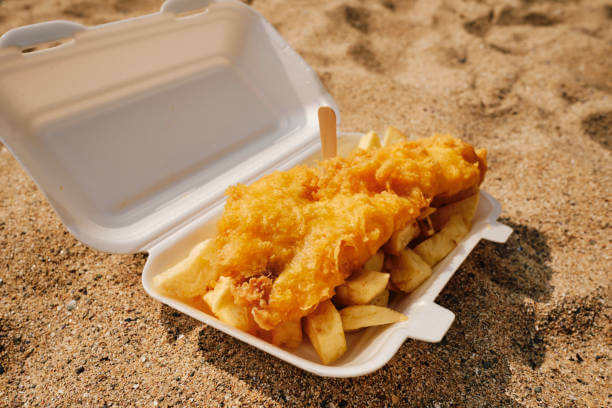 Explore the classic dishes that locals and visitors alike savour – from funky flavours like salty scampi to more well-known sweet treats like candy floss. Get ready to experience the full flavour of seaside traditions!
1. Fish and Chips: A Classic Favourite
Fish and chips are one of the most iconic staples of traditional British cuisine. Enjoyed by locals and visitors alike, this classic dish has been a favourite at the British seaside for centuries. The combination of golden-fried fish and potatoes was first served in London in 1860, with variations being perfected all over England. You can sample traditional fish and chips at a number of beachside stands and restaurants along the British coast – perfect for a quick bite or a more filling meal as you stroll along the water's edge. 
2. The Perfectly Salty Scampi 
The tradition of eating scampi as a snack at the British seaside is deeply embedded in the nation's culture. Lightly battered and cooked to perfection, this tasty seafood dish has been a favourite among beachgoers and holidaymakers since the 1700s.
Often served with chips or salad, this snack is a delicious way to take a break from all that sandcastle-building and rock pooling. Whether you're looking for a light bite or something more substantial, scampi is sure to hit the spot.
3. The Cornish Pasty
This savoury pastry hails from the southwest coast of England and was originally an 'all in one' meal prepared by the miner's wives, to take down into the mines with them.
Made with a flaky crust and filled with beef, potatoes, and vegetables, the Cornish pasty has become a staple in British cuisine and the coast. In fact, it's so beloved that there's even a Protected Geographical Indication (PGI) to ensure that only pasties made in Cornwall can be called 'Cornish'.
So, the next time you're in the mood for something hearty and delicious at the Cornish seaside, grab a traditional pasty and enjoy a piece of history.
4. Ice Cream 
Whether you prefer indulging in a creamy, velvety vanilla soft serve cone or the sweetest strawberry sundae, the combination of sunshine and a scoop of your favourite flavour is sure to make any day out by the British seaside even better.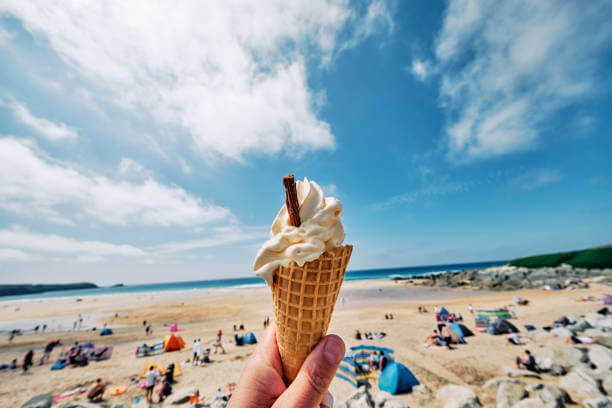 With plenty of traditional stands and modern shops offering up a wide range of delicious options, there's something for everyone –from classic cones to creative concoctions. So, if you're in need of cooling down during your next visit to the British coast, don't forget your taste buds – be sure to find yourself an ice cream (you won't need to search too far).
5. Delicious fudge
Although originally made in the USA during the 19th century, the soft, sweet, and deliciously chewy, simple pleasure has long been a favourite among those looking to satisfy their sugar cravings, with shops and stalls all along the British coastline.
Whether you opt for one of the traditional varieties such as clotted cream or double chocolate fudge or take it up a notch with a modern invention such as salted caramel-filled fudge, this classic treat can make any day out by the coast even more enjoyable. 
6. Sugary doughnuts 
Sugared doughnuts are a traditional scrummy treat at the British seaside. Often enjoyed after eating fish and chips or as an accompaniment to a cup of tea. These delicious, deep-fried sweet treats are made with wheat flour, sugar, and yeast and can come in a variety of shapes, sizes, and flavours.
Customers love the crunchy exterior and soft interior combination that these delightful snacks provide. Sugared doughnuts make for an inexpensive treat for beachgoers and can be enjoyed at any time of day – perfect for a summer's afternoon moreish snack, you won't be able to resist a second.  
7. Seaside rock
Seaside rock is an iconic British treat that has been enjoyed by seaside-goers for generations, although it was originally made to be sold at fairgrounds in the 19th century. This unique candy is often brightly coloured and can come in a variety of sizes and shapes.
It's made primarily from sugar, glucose syrup, and food colouring, and comes with the distinctive 'rock' or seaside location pattern running through it. Rock also makes for a great souvenir from any family day out at the seaside, providing sweet memories to take home.
8. Sticky candyfloss
Candy floss is loved by beachgoers of all ages and enjoyed across the length and breadth of the country. It's made from sugar, food colouring, and flavouring spun on machines to create a light, fluffy texture that quickly melts in the mouth. Originally from the US in 1904, and created as a carnival snack, You'll often see people eating candy floss at the beach or pier. Candy floss makes for a great treat at any time of day – sweet enough to satisfy those with a sweet tooth but light enough to enjoy whatever the weather!
British seaside snacks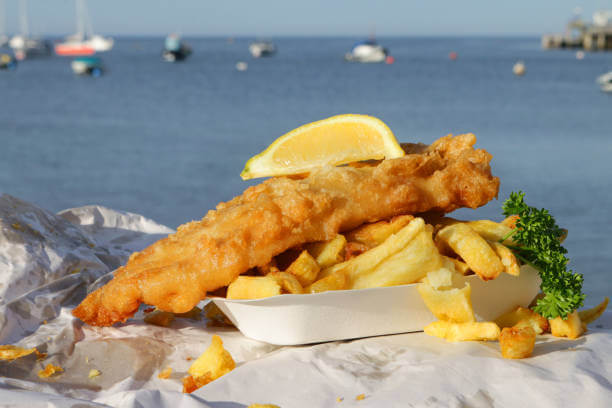 For many tourists and locals alike, the joys of a British seaside holiday would not be complete without these traditional snacks. From classic fish & chips to the sweet and sugary treats like doughnuts and fudge, each snack has its own unique taste that makes them popular to complete a day at the beach.  A day out at the British seaside is all about having fun! What better way to do that than indulging in a delicious treat from any one of our top 9 most popular snacks? 
Happy Seaside Snacking! 
---