Northumberland Travel Guide
This Northumberland travel guide is essential reading for anyone planning a trip to this beautiful part of England. Featuring our top day out recommendations, advice on where to stay, what to do and all the tips for Northumberland you need…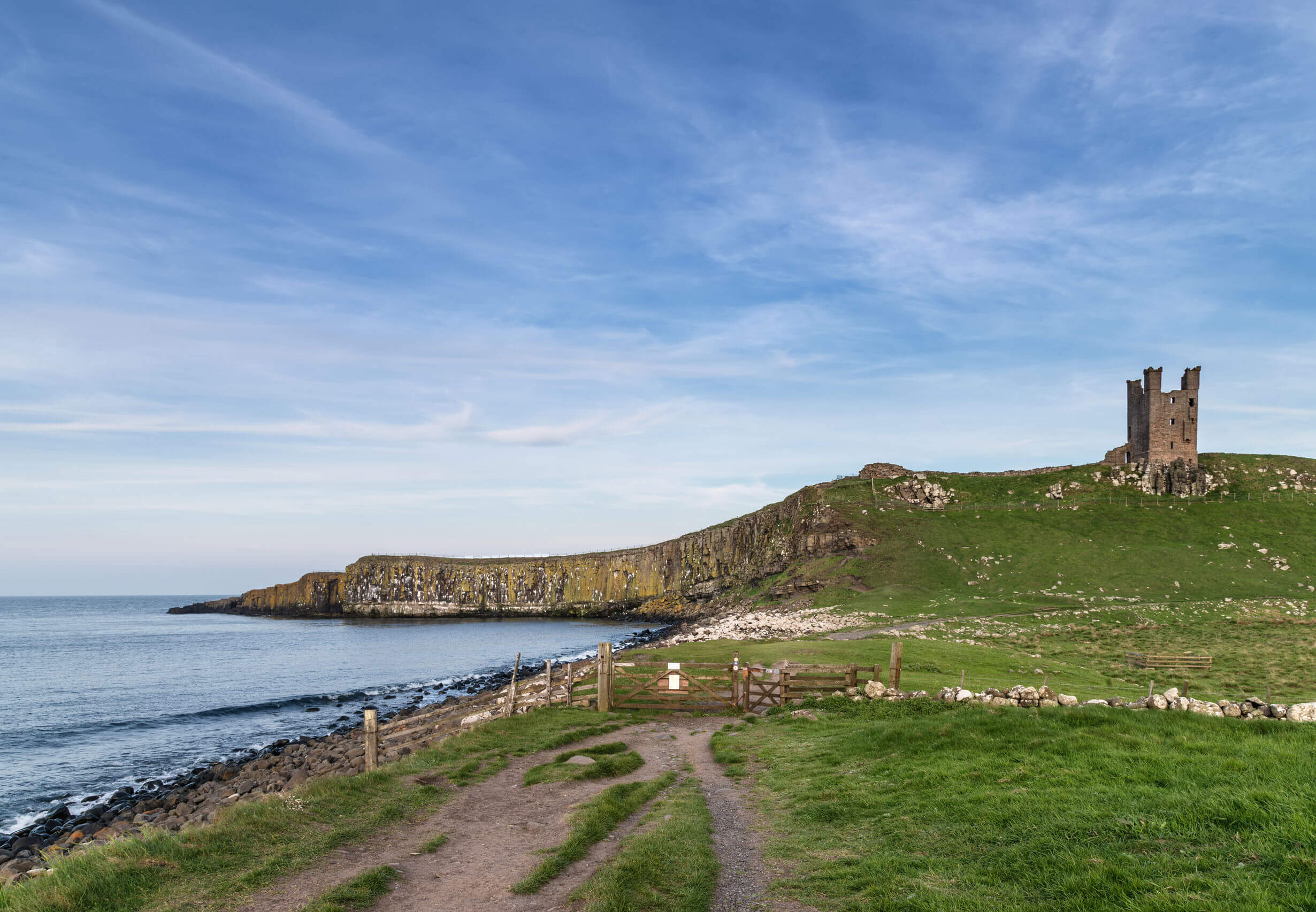 Welcome to Northumberland, a captivating destination that seamlessly blends breathtaking natural landscapes with rich historical heritage. Nestled in the northeastern region of England, Northumberland is a haven for explorers seeking enchanting beauty and cultural marvels.
Prepare to be awestruck by its crown jewel, Northumberland National Park, boasting vast rolling hills, dramatic moorlands, and pristine forests.
The region is home to majestic castles like Alnwick Castle, steeped in medieval charm, and the iconic Hadrian's Wall, a testament to the Roman Empire's grandeur. Immerse yourself in the charm of picturesque coastal villages, such as Bamburgh and Seahouses, where stunning beaches and rugged cliffs beckon. Northumberland is a dream destination for nature lovers and history enthusiasts alike, offering a tapestry of experiences waiting to be discovered.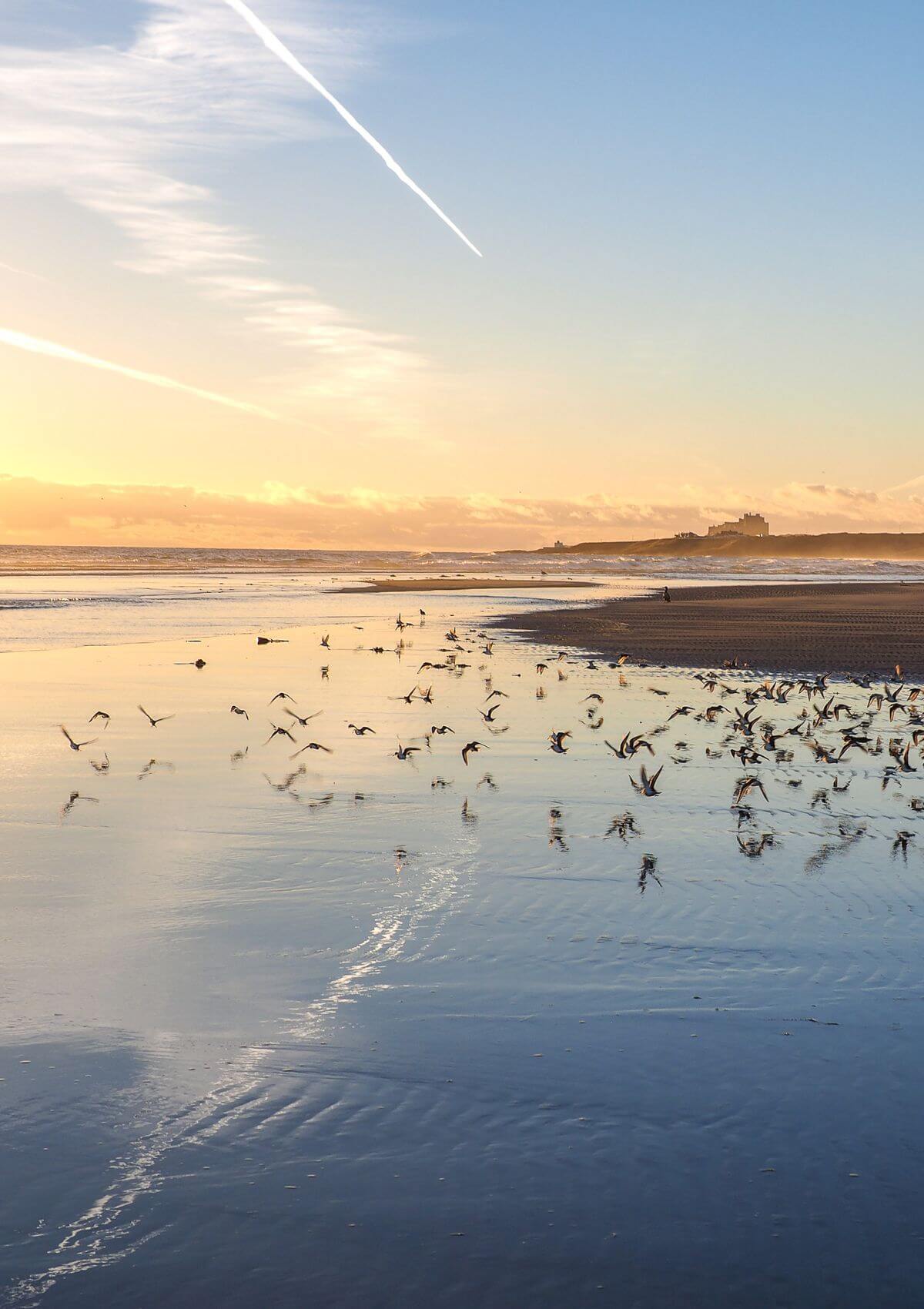 ---
"Northumberland is one of those unique counties that delivers on all levels; a real crowd pleaser. Perfect for anyone who wants an escape from the hustle and bustle of everyday life."

— Beth Wardell, Girl About Northumberland and Day Out in England Northumberland writer
---
Top travel blogs about Northumberland
Where is Northumberland?
Northumberland is England's northernmost county and borders Cumbria, County Durham and Tyne and Wear, and the border of Scotland. It sits on the north east coast, with a stunning coastline which is an Area of Outstanding Natural Beauty and stretches for over 40 miles. Come inland and you will find the Cheviot and Simonside Hills, offering panoramic views across the county.
100 word history of Northumberland
Northumberland is often an overlooked county, however it's steeped in history, from Hadrian's Wall to its many castles, this is certainly a historian's dream. Northumberland also welcomes archaeologists who have been on major digs across the region, digging up the past and unearthing stories from the Romans, Vikings and Anglo Saxons.
The border between England and Scotland, Northumberland's very geographic location has shaped a history of violence and conflict, from the Roman invasion over 2,000 years ago, to the continuous battles over borders between Berwick-Upon-Tweed and Scotland.
Northumberland is also home to more castles than any other county, with over 70(!) to discover and explore.
Major Northumberland landmarks
Northumberland is home to the famous Hadrian's Wall, which stretches 73 miles from coast to coast and was built to guide the north-west frontier of the Roman Empire. Tourists visit the site to absorb the history and to walk to the now famous 'Sycamore Gap' tree, film location for Robin Hood Prince of Thieves.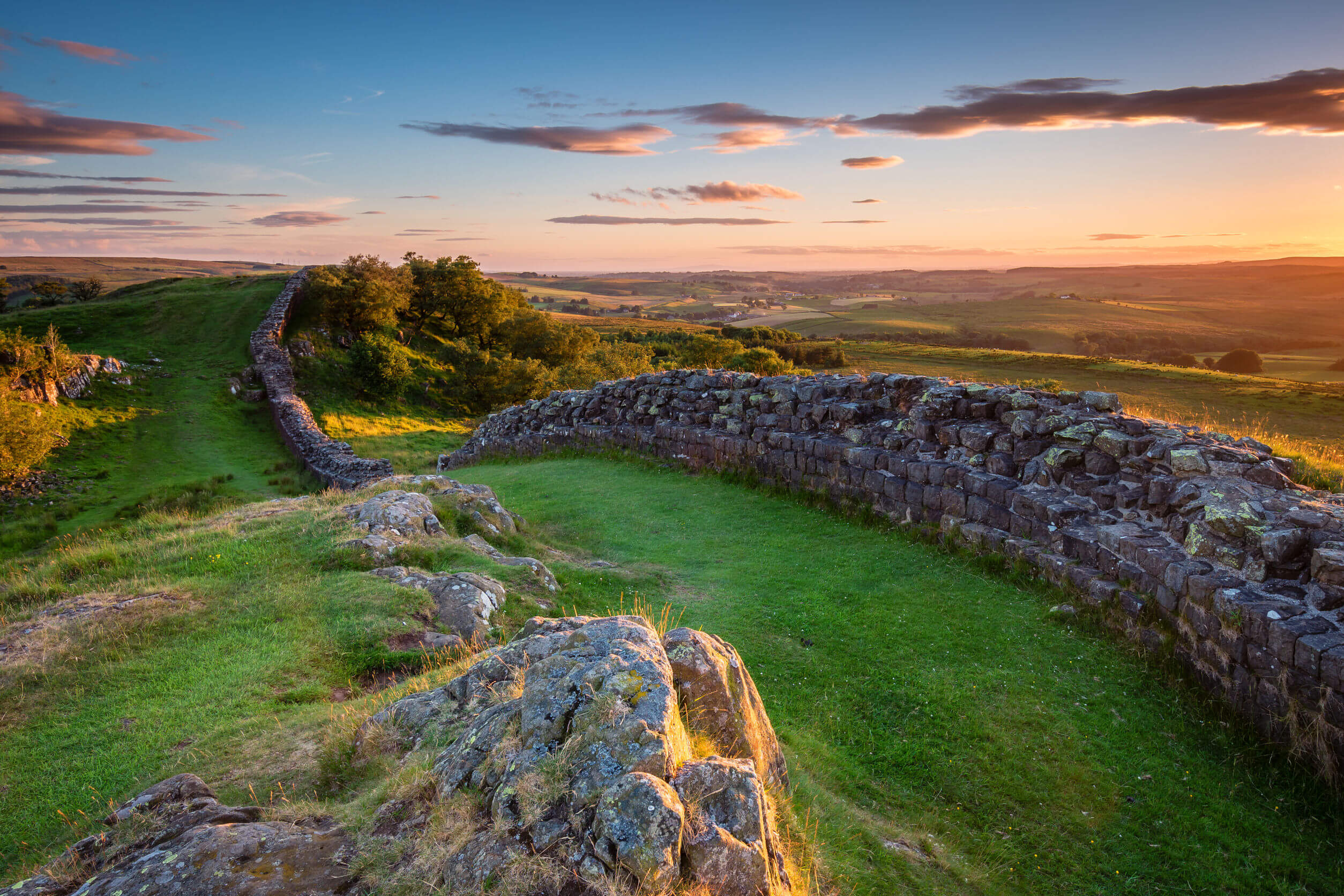 Bamburgh Castle and Alnwick Castle are also both famous Northumberland landmarks, attracting visitors all year round and used as film locations for Harry Potter and the BFG.
Where to eat in Northumberland
Thanks to its location along the north east coast, you're spoilt for choice for places to eat in Northumberland, from freshly caught seafood, to quality meats and local produce.
If you're looking for a taste of the sea, head to The Jolly Fisherman in Craster. For a varied and unique menu that showcases the best of Northumbrian produce try The Bosk in the Breamish Valley. For tasty treats and the best Northumberland afternoon tea, you want to visit the Running Fox.
Best luxury hotel in Northumberland
If you're looking for a touch of luxury while exploring the Northumberland coast and countryside, you will want to book a night's stay at Newton Hall.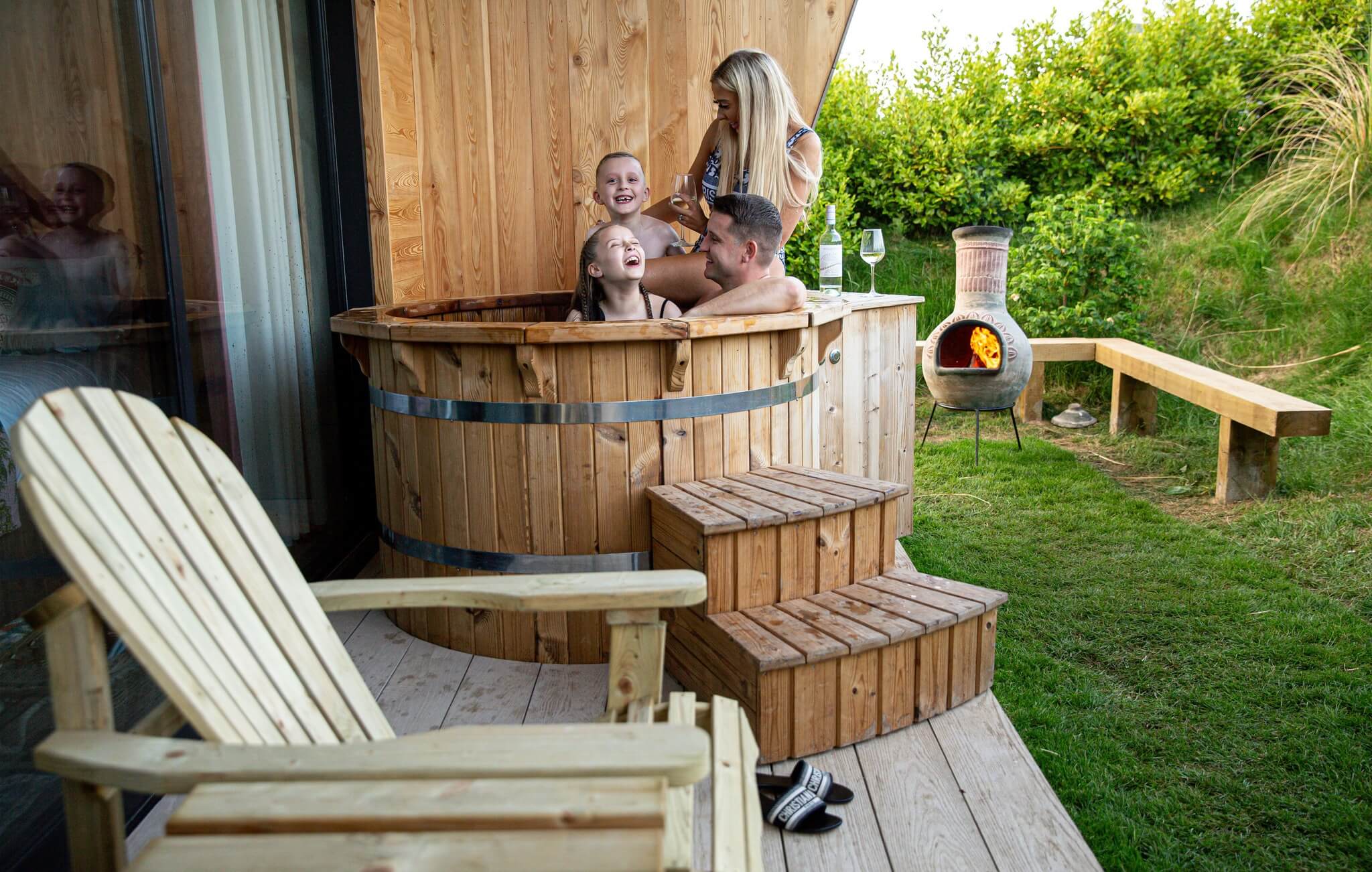 Located in the small village of Newton-By-The-Sea, Newton Hall offers quirky, luxury accommodation in this boutique hotel by the coast. Offering adventure and wellness breaks, Prosecco and hot tubs, it's a stunning place to stay for your trip to Northumberland.
Best medium priced hotel in Northumberland
The Snowy Owl near Cramlington is a cosy country inn, offering a delicious menu and is handily located for exploring the rest of the county. Right next door to Northumberlandia, which is the best place for a walk and views across Northumberland. The Snowy Owl offers comfy accommodation and a warm welcome.
Best budget hotel in Northumberland
For a more budget friendly trip to Northumberland, book a stay at the Newcastle House in the picturesque village of Rothbury. For just £50 a night per room, this is one for those looking to make their money stretch further. Newcastle House is in the bustling heart of the village and is popular amongst locals and tourists. The rooms are dormitory style with bunk beds.
Getting around Northumberland
Many people are drawn to Northumberland because they're looking for somewhere to escape to. Losing themselves in the hills while embracing the peace and quiet. This does mean getting around Northumberland takes a bit of forward planning with limited bus services in some areas and narrow track roads.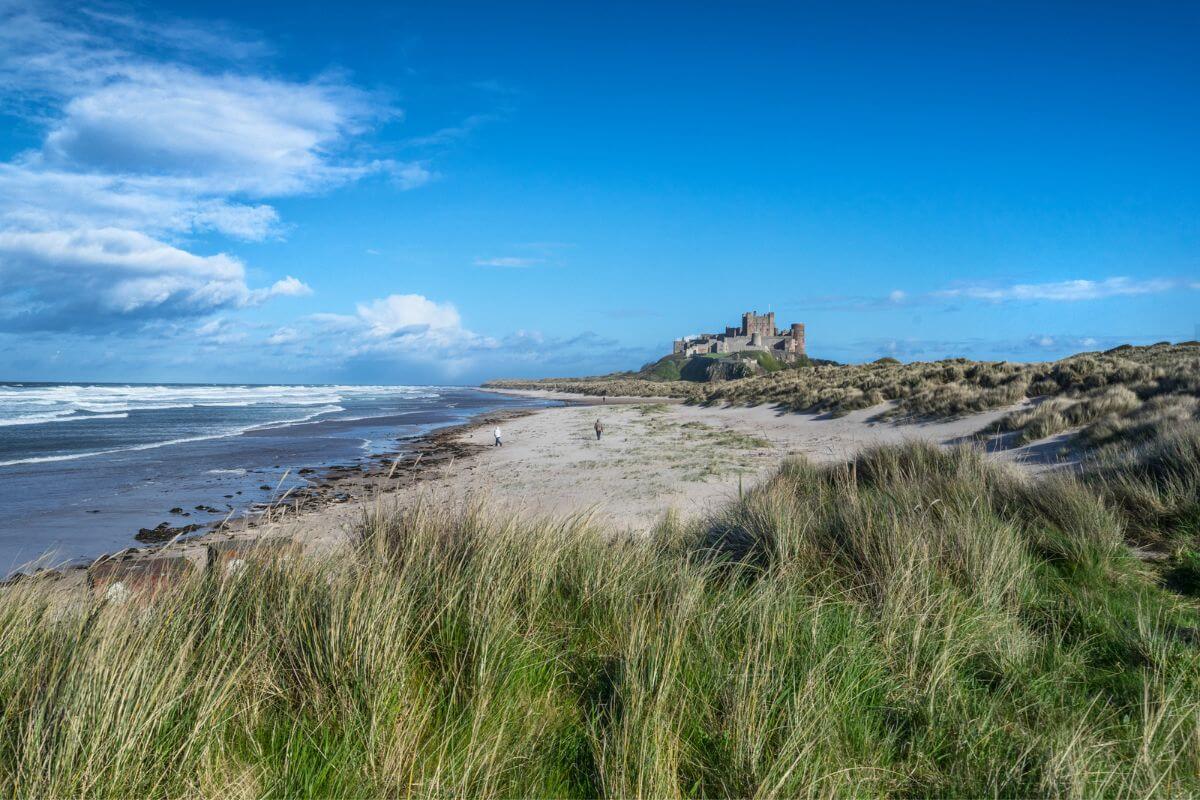 However, there are options.
Arriva buses run services from Newcastle that can take you all the way up to Berwick, Cragside and Bamburgh. The northern train line stops at Alnmouth, Morpeth and Newcastle connecting Northumberland to Edinburgh and London.
If you're planning on ticking off as many destinations across the county, we recommend taking your car. Make sure to check tide times if visiting Holy Island.
Dog friendly Northumberland
Northumberland is blessed with wide stretches of sandy beaches, a large National Park and woodland areas to explore and villages with designated dog walking fields. It is easy to see why those with canine chums book their holiday in this dog friendly county.
Most cafes in Northumberland welcome dogs and local National Trust properties allow dogs on leads. There are no restrictions on the beaches as to when or where you can walk your dog, meaning you and your pooch can enjoy long walks all year round. Many of the castles also welcome dogs in their grounds as long as they are on a lead.
Top places to visit in Northumberland
There is so much to do while visiting Northumberland, how do you know where to start?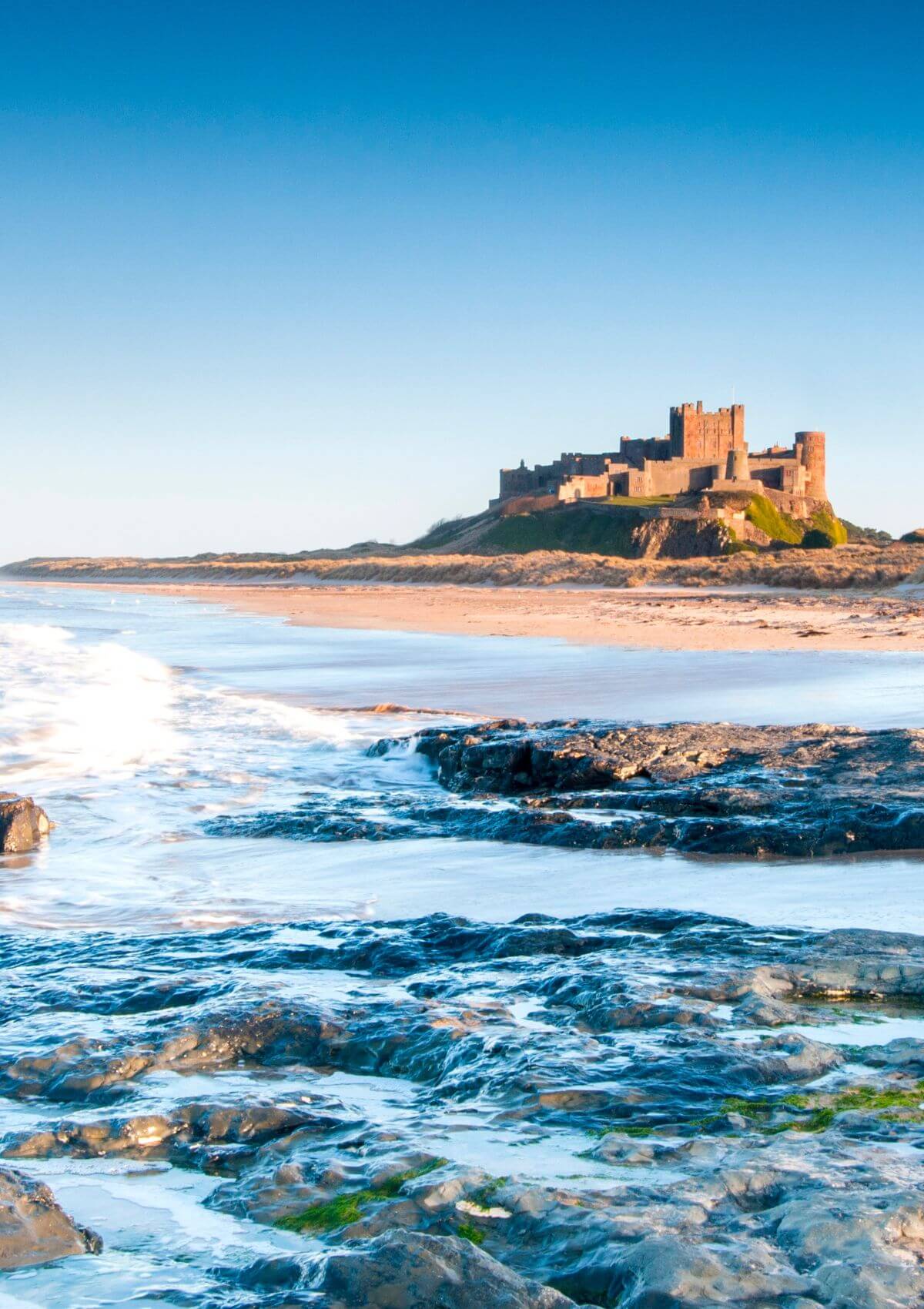 Our top places to visit in Northumberland are Bamburgh Castle followed by a walk along Bamburgh Beach, crossing the causeway onto Holy Island (check tide times here).
A visit to Northumberland wouldn't be complete without a trip to the market town of Alnwick, home to the famous Alnwick Castle, the brand new adventure playground Lilidorei and Britain's largest second hand bookshop: Barter Books.
Hop on the miniature train ride at Heatherslaw Railway or pop in for ice cream at Cresswell Ices before a walk along the beach. Amble Harbour is also worth a visit with its seafood restaurants overlooking the harbour which is full of life with activity on the water.
---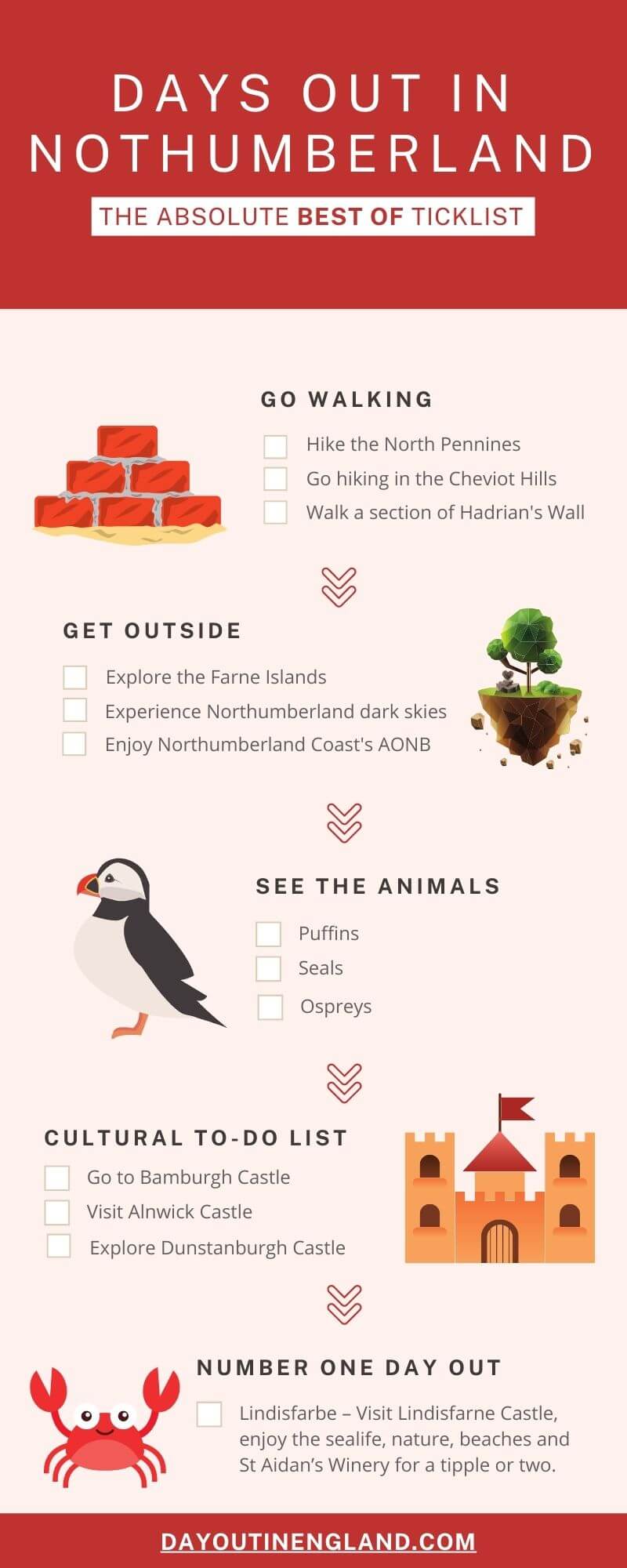 ---
Festivals & events in Northumberland
Culture, arts and heritage are starting to play a bigger role in Northumberlands business growth and tourism. The ever popular Lindisfarne Festival started in 2015 and returns every year to Holy Island, each year promising to be bigger and better than the last. A weekend of festival vibes, tents, live music and performances shining light on new talent as well as digging up classics from the past.
If you're a book lover, the Alnwick Story Fest runs over a weekend in February and attracts authors and writers from all backgrounds. There's also the Hexham Book Festival which opens in the spring.
Top 3 Northumberland attractions
Top tours for Northumberland
Hadrian's Wall and Borders tour from Edinburgh – Visit some of the most important ancient Roman sites in Britain on this guided tour from Edinburgh. A fantastic way to see as much of the historic wall as possible and you don't have to worry about navigating instead leaving time to take in the scenery of Northumberland's National Park.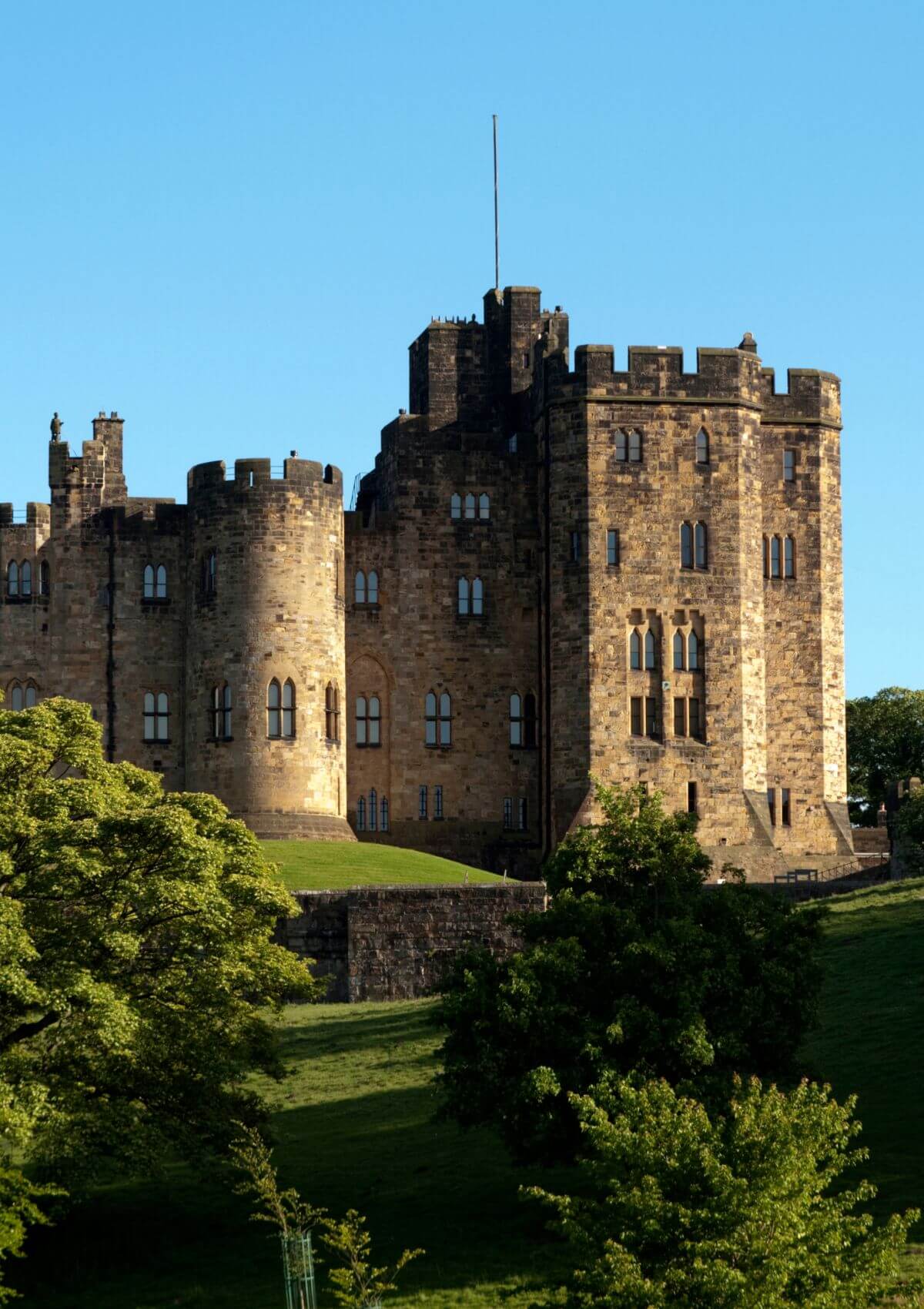 Pilgrims Path walk to Holy Island – This is an iconic walk that is on many ramblers bucket lists. By taking the option to go with your very own knowledgeable guide, you can be sure you are crossing the sands as safely as possible.
Guided tours of Alnwick Castle – There are a number of guided tours running at Alnwick Castle. For history buffs, you will want to explore the Castle's history, while film geeks will enjoy learning more about the Castle as a film location, specifically for the Harry Potter films and Downton Abbey.
Top tips for visiting Northumberland
You won't be disappointed from your visit to Northumberland as it delivers on so many levels. It may be worth noting a few things before you do visit, however, to allow your trip to go as smoothly as possible whilst you enjoy everything this county has to offer.
Plan how you're going to get around; research bus routes, train times and locations and leave yourself plenty of time to navigate narrow country roads.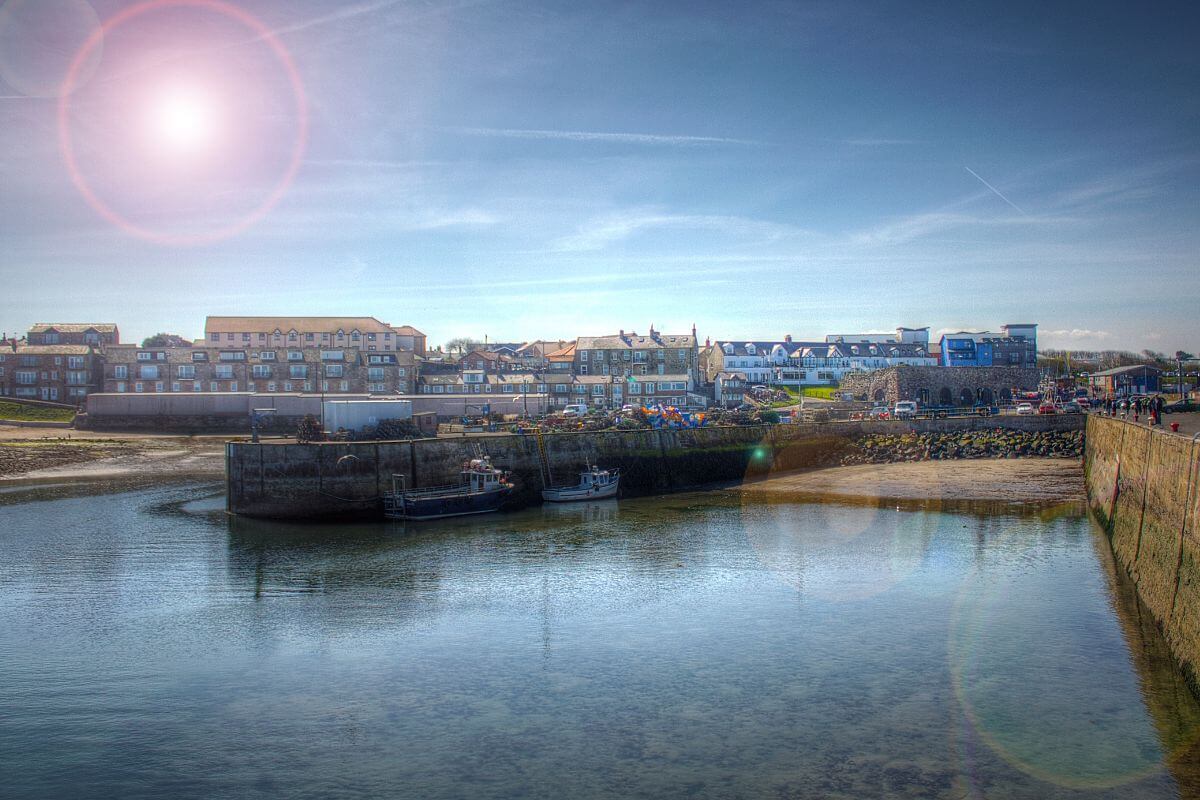 If you are planning on visiting tourist hot spots such as Alnwick, it is always best to arrive as early in the day as possible, to grab the best parking spaces and beat the crowds for a morning coffee.
Pack layers as well as sun cream. Being on the north east coast, Northumberland can be a little cooler than other parts of the country, however if you hit lucky on a hot day, the sun beats down especially in the sheltered hills.
Unique must-try food and drink in Northumberland
With so much on offer from restaurants, cafes, trendy new bars and cosy Northumberland pubs, you'll probably want to find something a bit unique to add to your Northumberland experience. 
Ever fancied eating in a treehouse before? The Treehouse set in the Alnwick Garden, offers a fantastic seasonal menu with magical, fairytale surroundings. Particularly worth a visit in the autumn.
For those who enjoy the odd tipple, you will want to leave time to visit Ad Gefrin in Wooler. This whisky distillery also has a museum where you can soak up the region's history and links to the Anglo Saxons. Other Northumberland must visits include the Jolly Fisherman, Bouchon Bistro and The Beehive.
How to get to Northumberland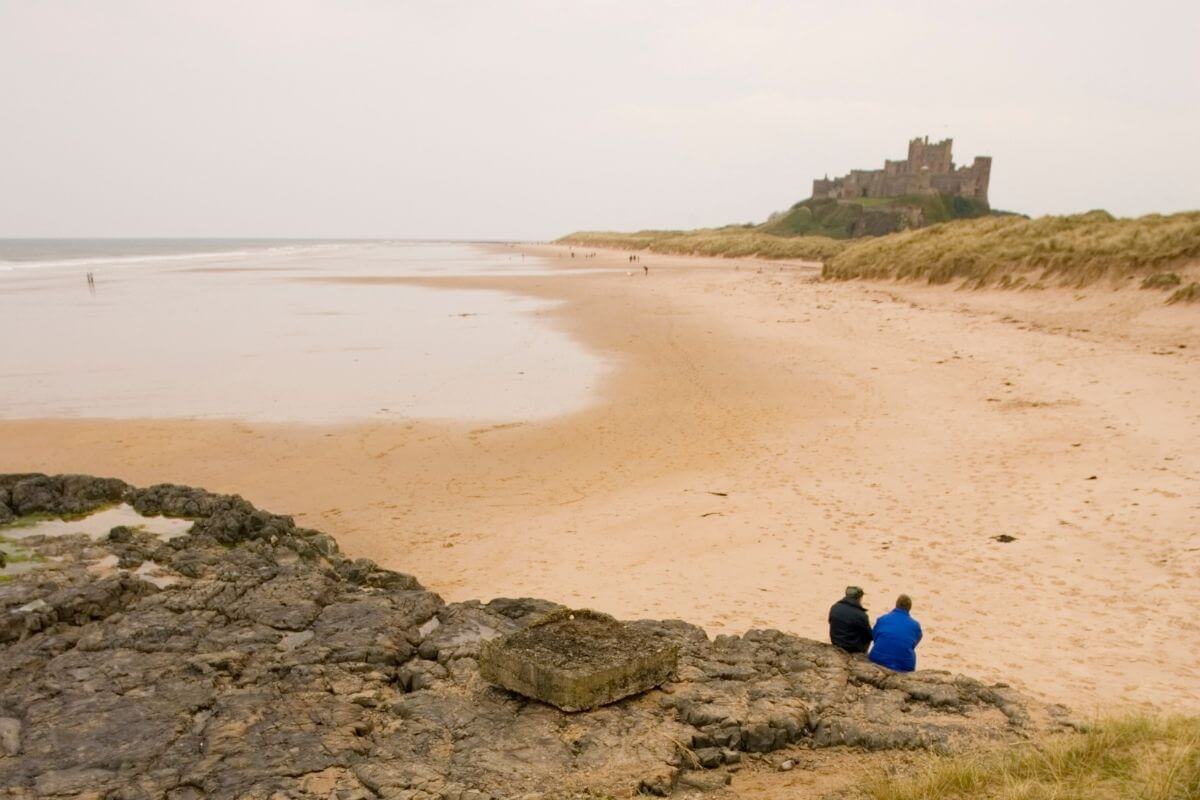 Northumberland can be accessed by visitors by rail, bus or car. Newcastle Airport is five minutes from Ponteland which sits on the edge of Northumberland, opening the doors to the county from visitors from all over the world. You'll need to book a taxi or catch the metro to Newcastle city centre for buses to Morpeth, Alnwick and Hexham.
Frequent trains run from Plymouth, London and Edinburgh, stopping at Morpeth, Alnmouth and Berwick train stations.
Best kids days out in Northumberland
If you're visiting Northumberland with kids, then you're in luck. There's plenty on offer to keep the little ones entertained, as they step away from their screens and embrace the great outdoors.
There are family friendly walking and bike trails at Kielder Water and Forest Park, cycle paths at Wallington Hall National Trust and Warkworth and farm parks a plenty. Whitehouse Farm and Northumberland Zoo are both popular choices for a day out with kids. Parents and children alike will also love exploring Cragside and Belsay Hall.
---