Perfect for special occasions, treating loved ones or simply for catching up with friends, an afternoon tea in Northumberland is something you need to try at least once. Fortunately, this historic county has no shortage of lovely tearooms and cafés.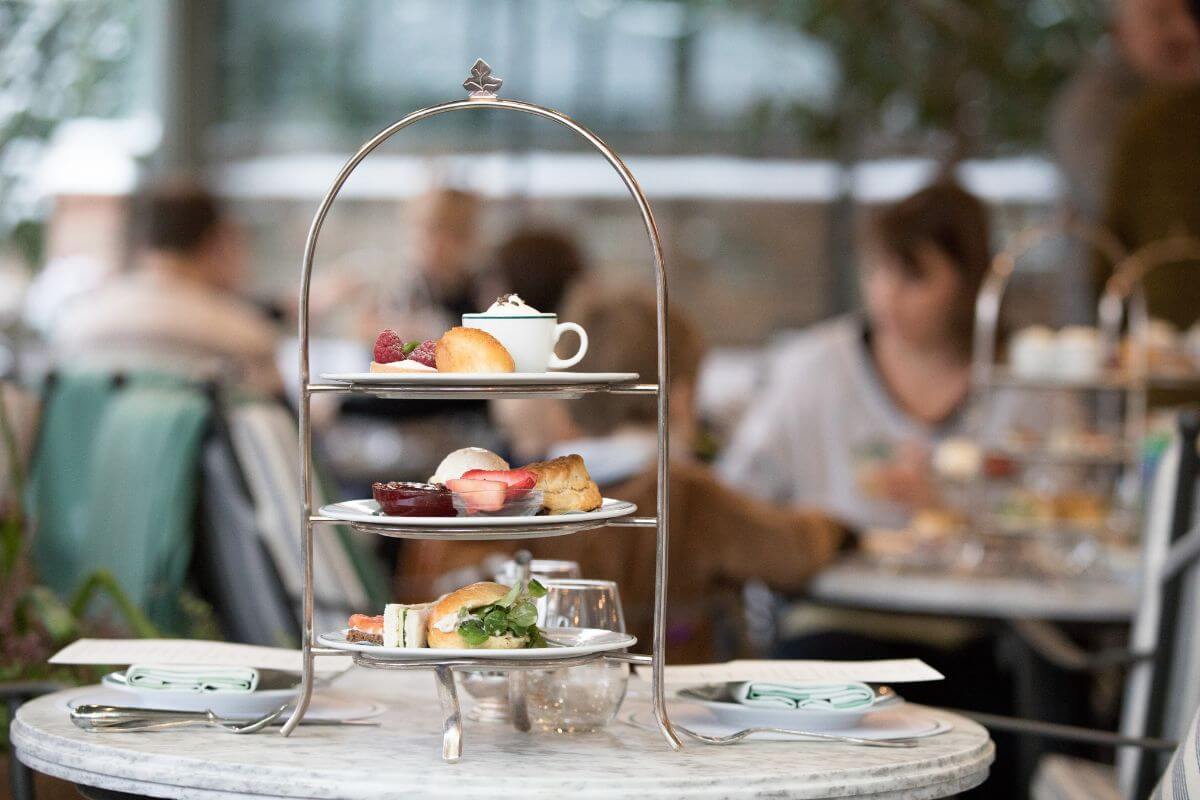 Northumberland is home to some of England's best spas, hotels and cosy cafes, all offering their own take on the traditional afternoon tea. You could tie in afternoon tea with a spa day at Doxford Hall, or you could fill your boots with generous portion sizes at The Running Fox.
Whatever it is you're looking for from your afternoon tea experience, we have put together a list of the best places to visit across Northumberland. So, all you have to do is choose which one takes your fancy, book your table and enjoy…
Best Places for Afternoon Tea in Northumberland
From roadside cafes to rural tearooms and town-centre eateries, there's a diverse array of places where you can enjoy an afternoon tea in Northumberland.
1. The Running Fox, Shilbottle
Book an afternoon tea at The Running Fox for tasty drinks, generous portion sizes and some of the most delicious home baked treats in Northumberland.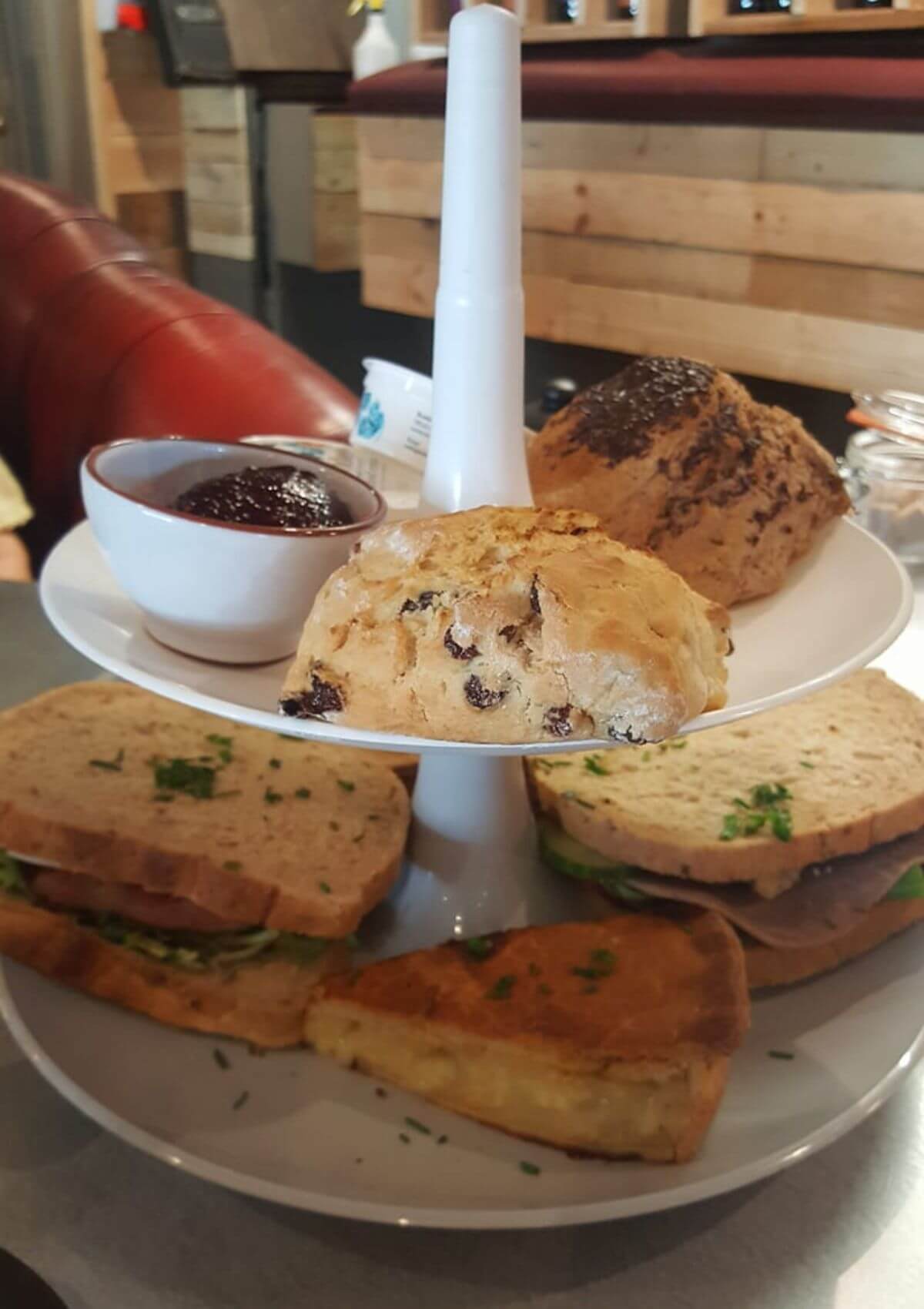 The Running Fox cafes are based in Felton, Longframlington, Shilbottle and Longhoughton. Each café has been carefully designed to accommodate guests from party sizes of two to larger groups (we recommend Shilbottle and Felton for bigger parties).
You can choose from an assortment of drinks, takeaway bites and even newspapers from the counter. Head to the gift ship to buy a thoughtful prezzie for a loved one.
We recommend reserving your afternoon tea in advance at this high-in-demand local chain of cafes. Options include:
The Original Afternoon Tea for two
The Gluten-free Afternoon Tea
The Vegan Afternoon Tea
A Sweet Treat for Two
The afternoon tea works out at £22.50 per guest. You can pay an extra £5.95 for a mini bottle of prosecco (or £22.50 for a full-sized bottle).
During your afternoon tea experience in Northumberland, you'll be treated to a delicious sandwich, a slice of Foxy pie or quiche, a cheese or fruit scone (gluten and vegan ones are available) and a slice of cake.
Shilbottle, Longhoughton and Longframlington cafes are all dog-friendly (read about the best days out for dogs in England). Each cafe offers both indoor and outdoor seating.
2. Nelson's at the Park, Swarland
A family and dog-friendly cafe, Nelson's at the Park is located right in the heart of the village of Swarland. With a secure play park situated right outside the cafe's front door, Nelson's at the Park is the perfect location to catch up with friends while the kids let off steam outside.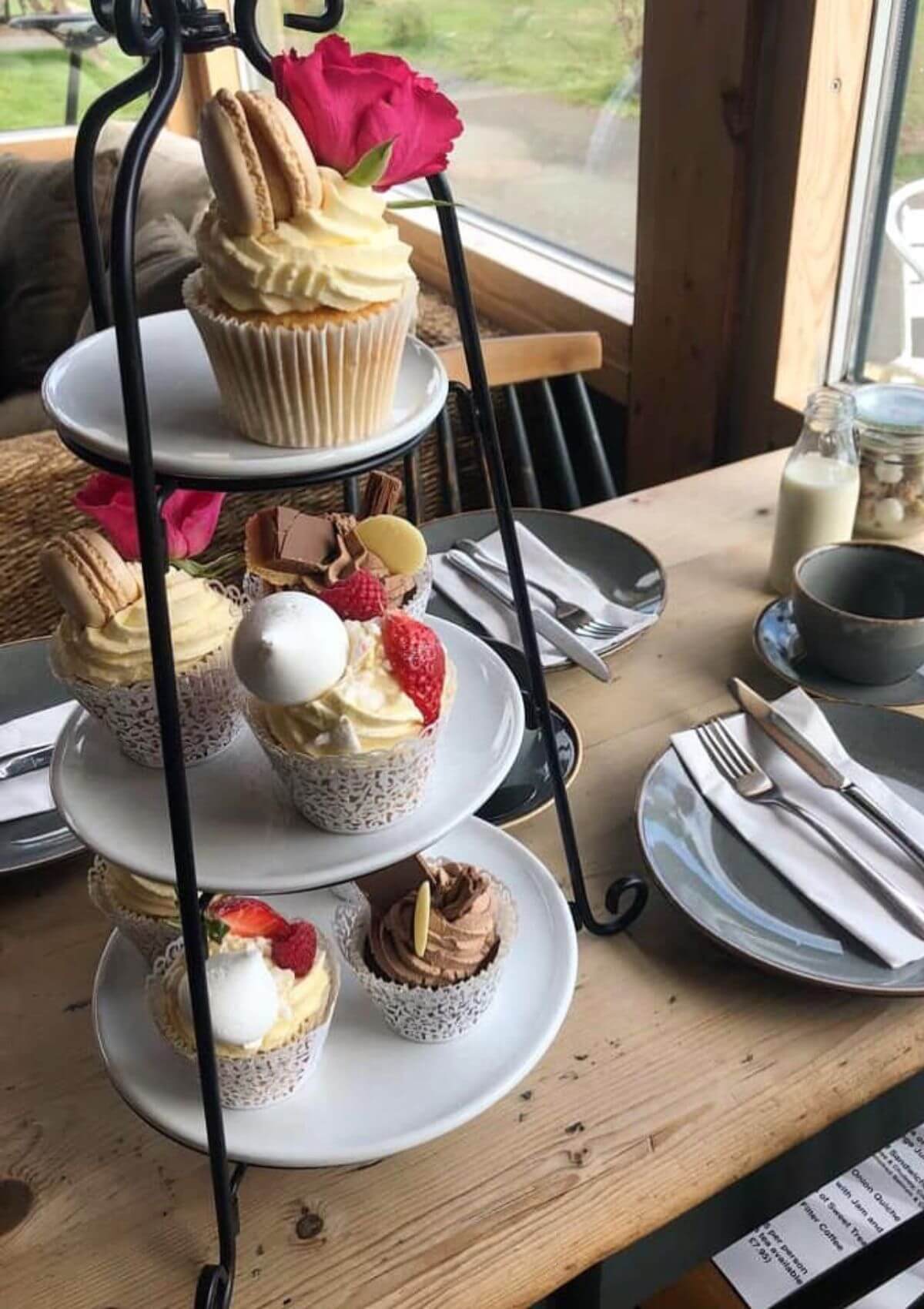 This beautifully presented afternoon tea in Northumberland costs around £21.50 per person. For that price, you'll be treated to a sandwich, freshly baked cream scones, savoury pastries, and a choice of cake from the daily selection.
Sandwich filling choices include:
Coronation chicken
Brie, grape and walnut (v)
Ham salad
Feta, rocket, cherry tomato and balsamic dressing (V)
Mature cheddar and onion chutney (V)
All this comes with tea and filtered coffee. You can also upgrade to a glass of prosecco for just £4.
This afternoon tea is served between 12pm–3pm, and booking ahead is essential. 
READ MORE: Why not combine an afternoon tea with one of these great Northumberland spas?
3. Doxford Hall, Chathill
Set in the very heart of Northumberland, Doxford Hall is a charming escape in the country. Set in ten acres of private grounds and oozing the elegance of a timeless, quintessential English manor house, Doxford Hall is the place to go for an afternoon tea in one England's best stately homes.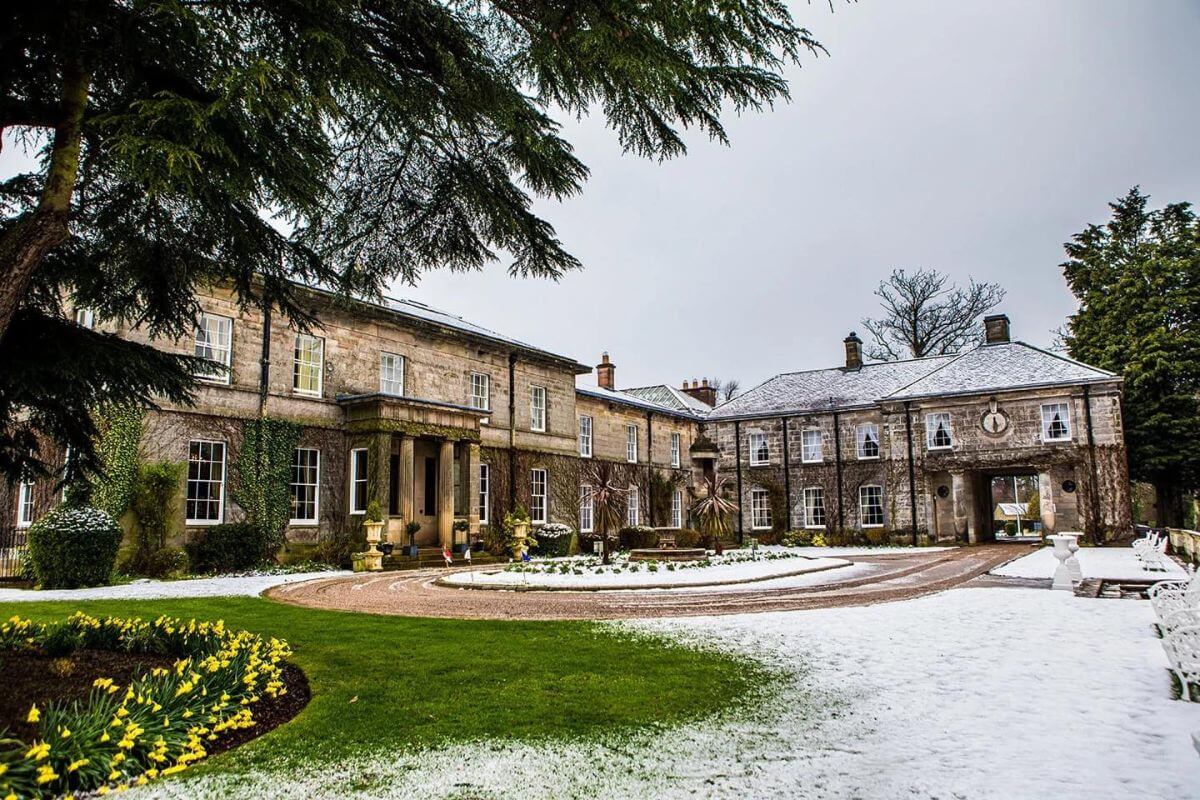 At Doxford Hall, you can expect to be served a traditional Northumberland afternoon tea either in the Georgian Room, the Library or the Morning Room. In front of a roaring log fire, you'll enjoy a fine selection of finger sandwiches, freshly baked sweet and savoury scones, and homemade cakes and fancies.
During the summer months, you can indulge in an al fresco tea on the lawns. You can choose from freshly brewed tea or coffee. Alternatively, you can treat yourselves to a glass of bubbly.
If you're choosing tea, your options include traditional Tea, Earl Grey, Assam, Green, Peppermint, Chamomile, Blackcurrant, Lemon Ginger & Ginseng, or Decaffeinated Tea. Quite the selection, we think you'll agree.
Afternoon tea at Doxford costs £19.95 per person. You can also upgrade your afternoon tea at this Northumberland manor by adding a glass of champagne, which costs £56.90 for two people.
Afternoon tea is served daily between 2pm–5pm. Pre-booking is essential.
4. The White Swan, Alnwick
Making our way through Northumberland's afternoon teas, we head now to the market town of Alnwick. Home to Alnwick Castle (one of England's most fascinating castles) and Gardens, Barter Books and an abundance of independent shops on the main street, Alnwick is certainly one of the best places for a day out in Northumberland.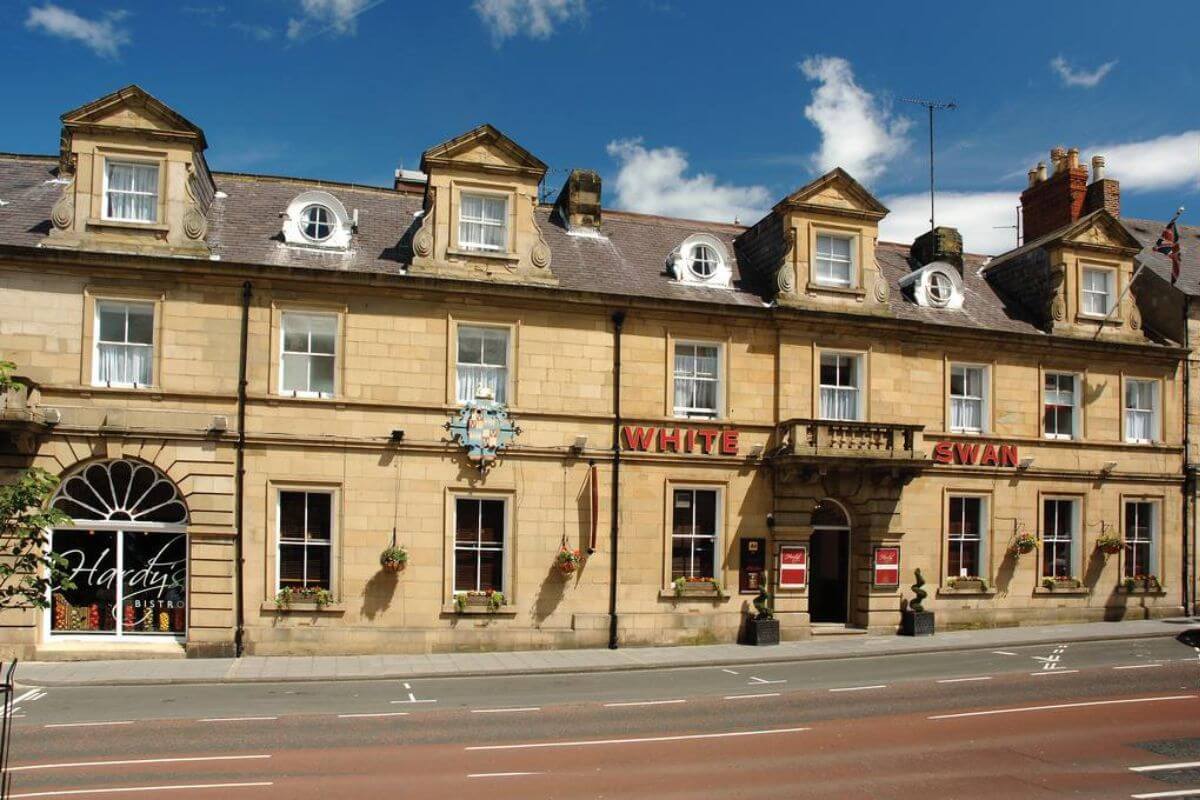 In fact, we think Alnwick is one of the most interesting towns in England.
Right in the heart of Alnwick, you'll find the grand White Swan Hotel and the Hardy's Bistro, which serves a delicious and traditional afternoon tea. Afternoon tea is served between 2pm–5pm on selected days in the Olympic Restaurant (pre-booking is essential).
There are three different options to choose from, so you will find something on the menu to keep everyone in your party happy.
– The Deluxe Afternoon Tea is priced at £19 per person and includes a choice of two finger sandwiches per person, homemade fruit scones and selection of homemade treats. These are Ginger and Orange Marmalade Cake, Spiced Fruit Frangipane Tart, Sherry Trifle and Chocolate Profiterole.
– Champagne Afternoon Tea costs £27 per person and offers the same as the deluxe, as well as an additional sandwich, a fruit compote with meringues, and a glass of Lanson Père et Fils, Brut Champagne (125ml).
– For a more affordable option, choose the Classic Cream Tea. Priced at £11.50 per person, this menu offers fresh, homemade fruit scones served with butter, strawberry preserve and clotted cream, and a Cake of the Day.
READ MORE: The Best Spots for Paddleboarding in Northumberland
Where to Stay in Northumberland
5. The Cookie Jar, Alnwick
Let's stick with Alnwick for one more recommendation: The Cookie Jar, which offers quirky accommodation, a cosy place to relax and – most importantly – a delicious afternoon tea.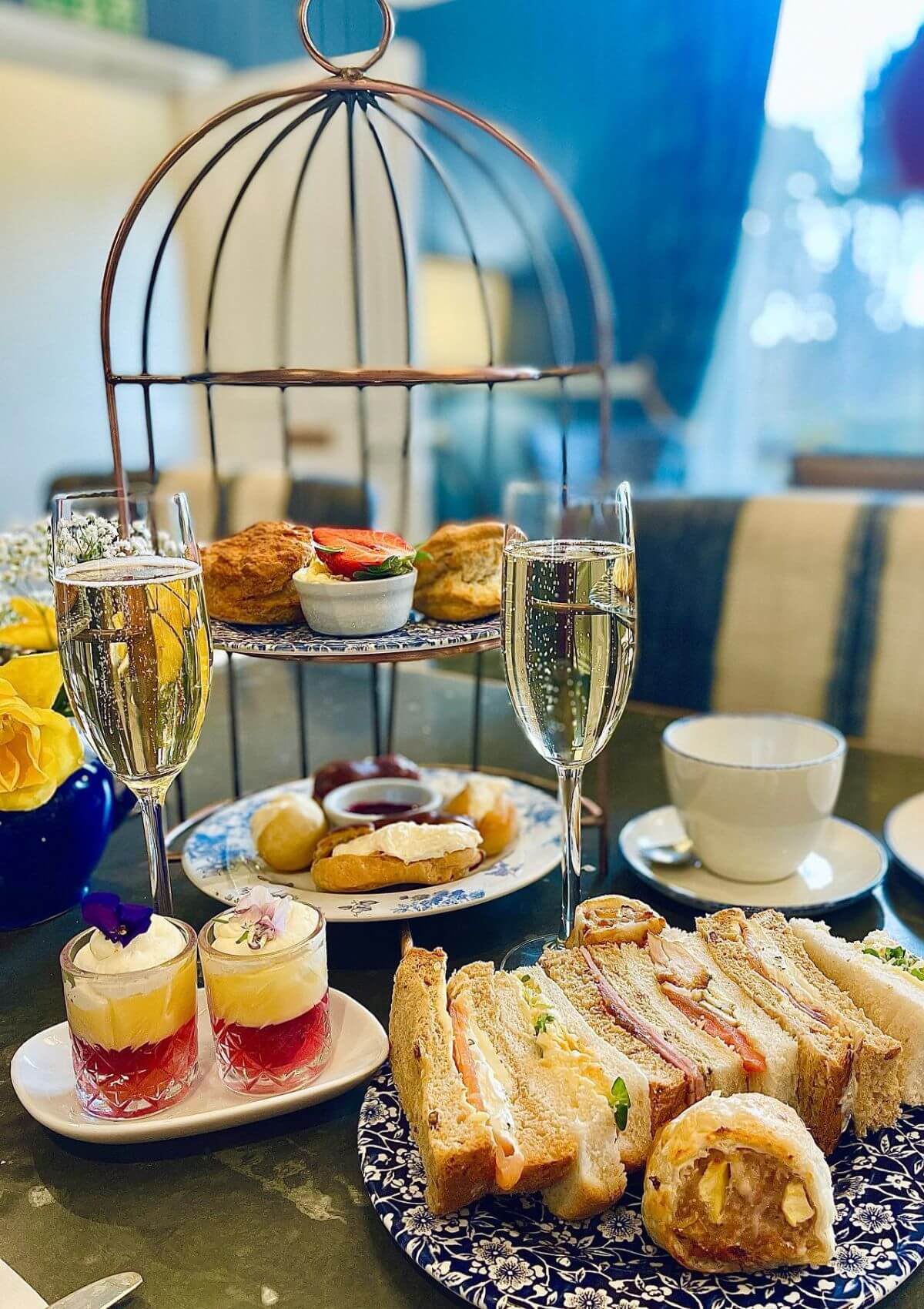 Afternoon Tea at The Cookie Jar is served in the bistro towards the rear of the building on Thursday, Fridays and Saturdays between 12pm–3pm. Traditional afternoon tea is priced at £18.50 per person. If you fancy splashing out, you can add a glass of fizz or a G&T for £26. Coffee and a selection of teas are also included.
This Northumberland afternoon tea is served on a tiered stand with a selection of sandwiches, roast red pepper and tomato tart, warm homemade plain scones with clotted cream, and raspberry jam and lemon posset. There's also a selection of cakes and other sweet treats.
The sandwich options are:
Cream Cheese and Mint Tomato
Basil and Smoked Chicken
Egg and Watercress
Smoked Salmon and Cream Cheese
Honey Roast Ham and Pickles
READ MORE: Things to Do in Seahouses
6. The Rising Cafe, Hexham
A perfect stop off when visiting the market town of Hexham, the Rising Cafe offers a range of yummy breakfasts and hot lunches. They also have a wonderful menu for afternoon tea in Northumberland.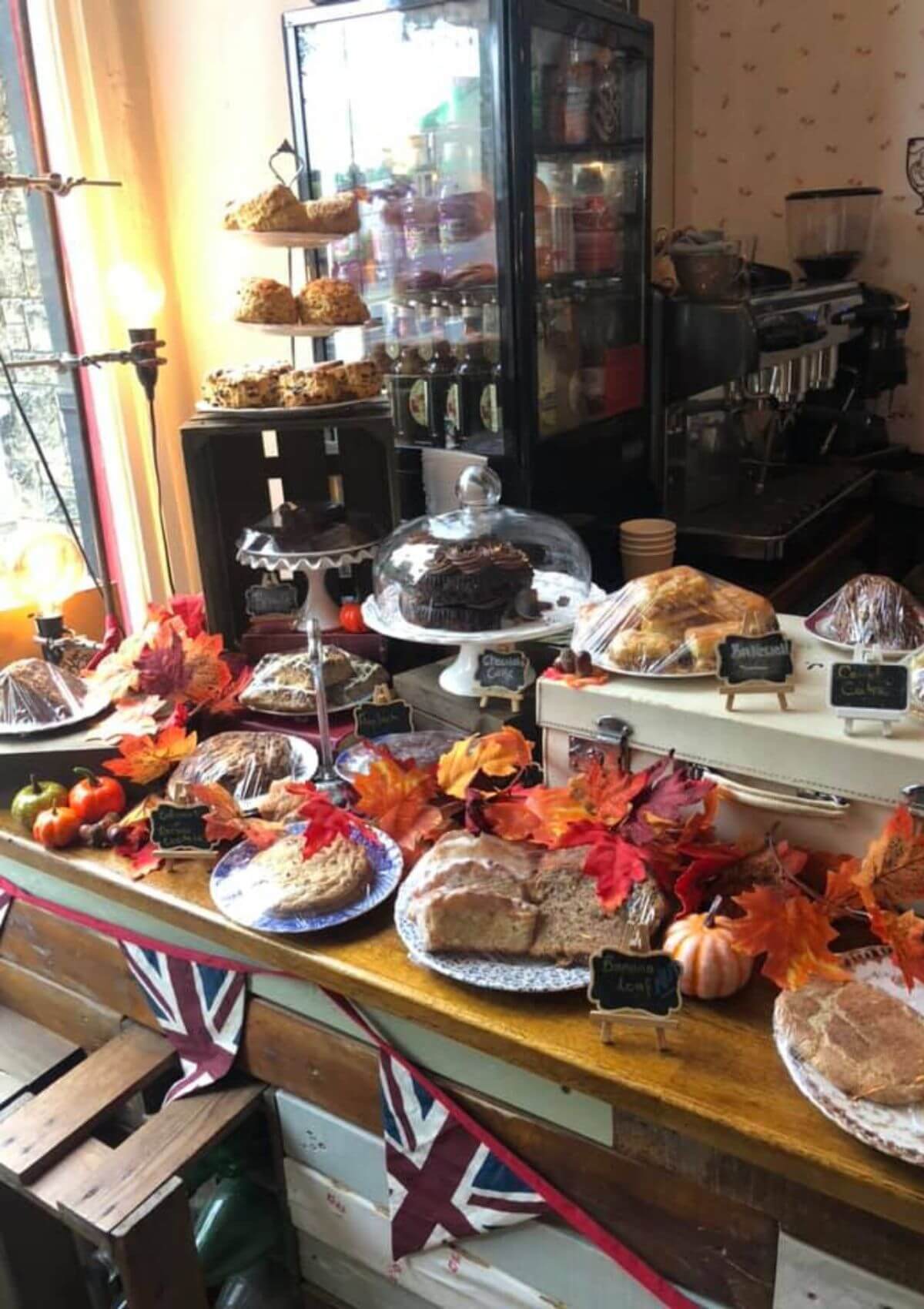 With so many places offering afternoon tea, it's up to café owners to offer something a little different to make them stand out. The Rising Cafe does just that with its unique take on afternoon tea.
There are four different choices, including a discounted option for children. The children's menu is priced at £5.50 and comes with a drink, a choice of sandwich, a scone or cake and a toy.
Our favourite option for adults is The American Alliance, which includes tasty hot food in addition to traditional afternoon tea. The selection of sliders (mini burgers) and traditional homemade fries with relish and homemade tomato sauce always go down great. For dessert, you can dig into a mini ice cream sundae, scones and a variety of homemade cakes.
– The Classic Afternoon Tea is precisely what you would expect from your traditional afternoon tea experience in Northumberland, priced at £10.50 per person.
– The Cream Tea is just £4.50 and includes homemade scones, homemade jam and clotted cream. It also comes with a selection of loose leaf tea or a coffee.
7. Canny Cuppa, Morpeth
The Canny Cuppa is an independently run, small cafe located just off the A1, a little north of Morpeth. The traditional afternoon tea at this Northumberland cafe comes with homemade sandwiches, scones, bite-size pastries and tasty cakes. On top of superb food and hot drinks, Canny Cuppa is known for its friendly and attentive staff.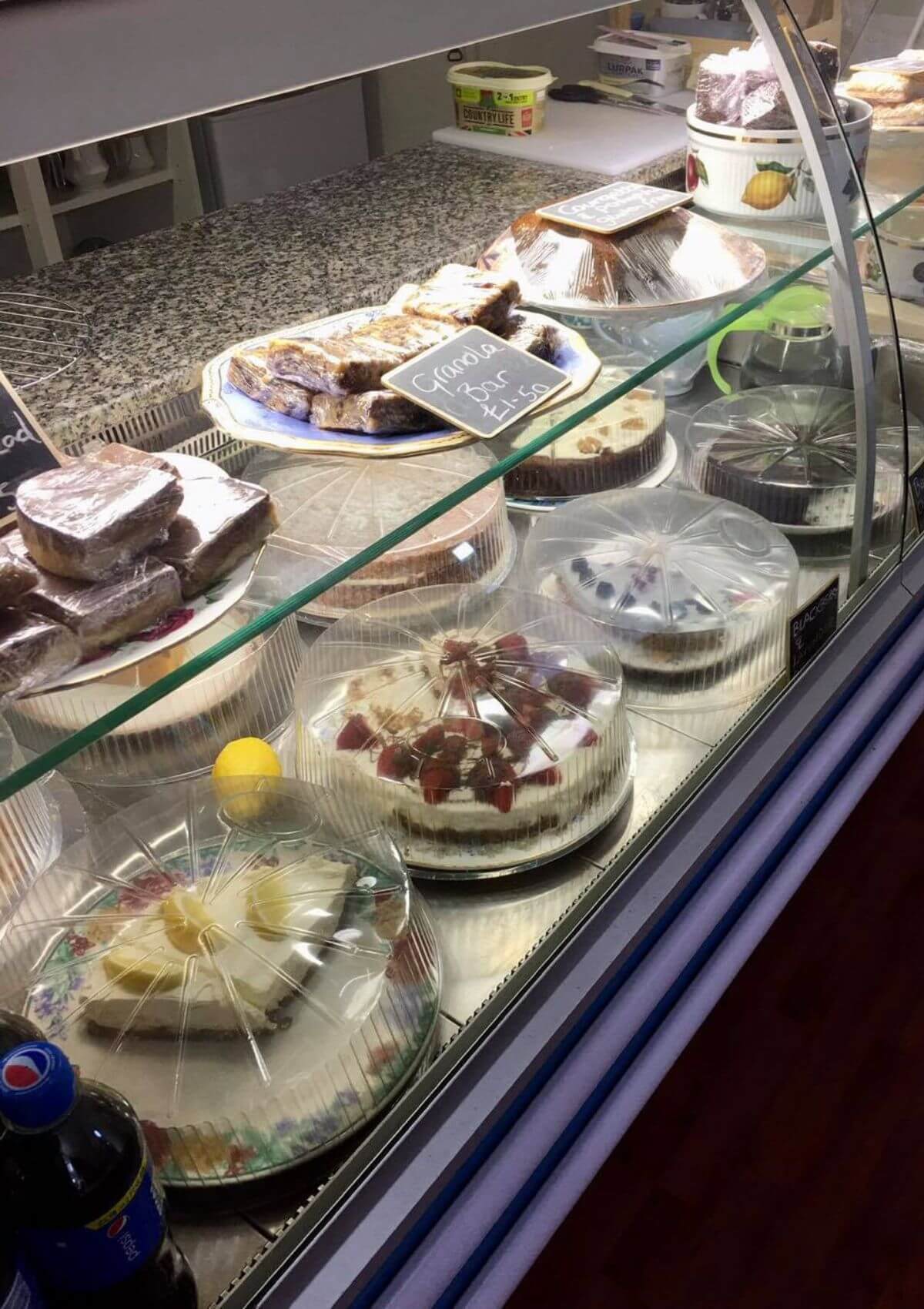 Children will even be offered their own smaller portions, and peanut butter sandwiches if they prefer!
Booking is essential – afternoon tea is only served once the cafe is closed to the public. This means you and your party are generously tended to during your visit.
Afternoon tea is priced at £14 per person and includes unlimited tea and coffee. Both indoor and outdoor seating is available.
Where to go for afternoon tea in Northumberland
As you can see, Northumberland has you spoilt for choice when it comes to afternoon tea. We hope this round-up has wet your appetite and helped you decide where to go for a delectable afternoon tea in Northumberland. Remember to book your table in advance and mention any dietary requirements.
Are there are any afternoon tea experiences in Northumberland that deserve a mention on our list? Let us know in the comments below.
Quick list of best places for afternoon tea in Northumberland
The Running Fox, Shilbottle
Nelson's At The Park, Swarland
Doxford Hall, Chathill
The White Swan, Alnwick
The Cookie Jar, Alnwick
The Rising Cafe, Hexham
Canny Cuppa, Morpeth
---