Do you want to know more about the most interesting rivers in England? We want to show you what makes our top 16 the most impressive, and what you can do along them…
Rivers have held much meaning in English history, whether as an essential part of their trade or literature. Cities, towns and tiny villages crop up around the network of waterways, connected by shipping movement, leisure cruises and purpose-driven travel.
For me, the rivers in England offered another way to explore the country – after all, there are plenty to see and do around them!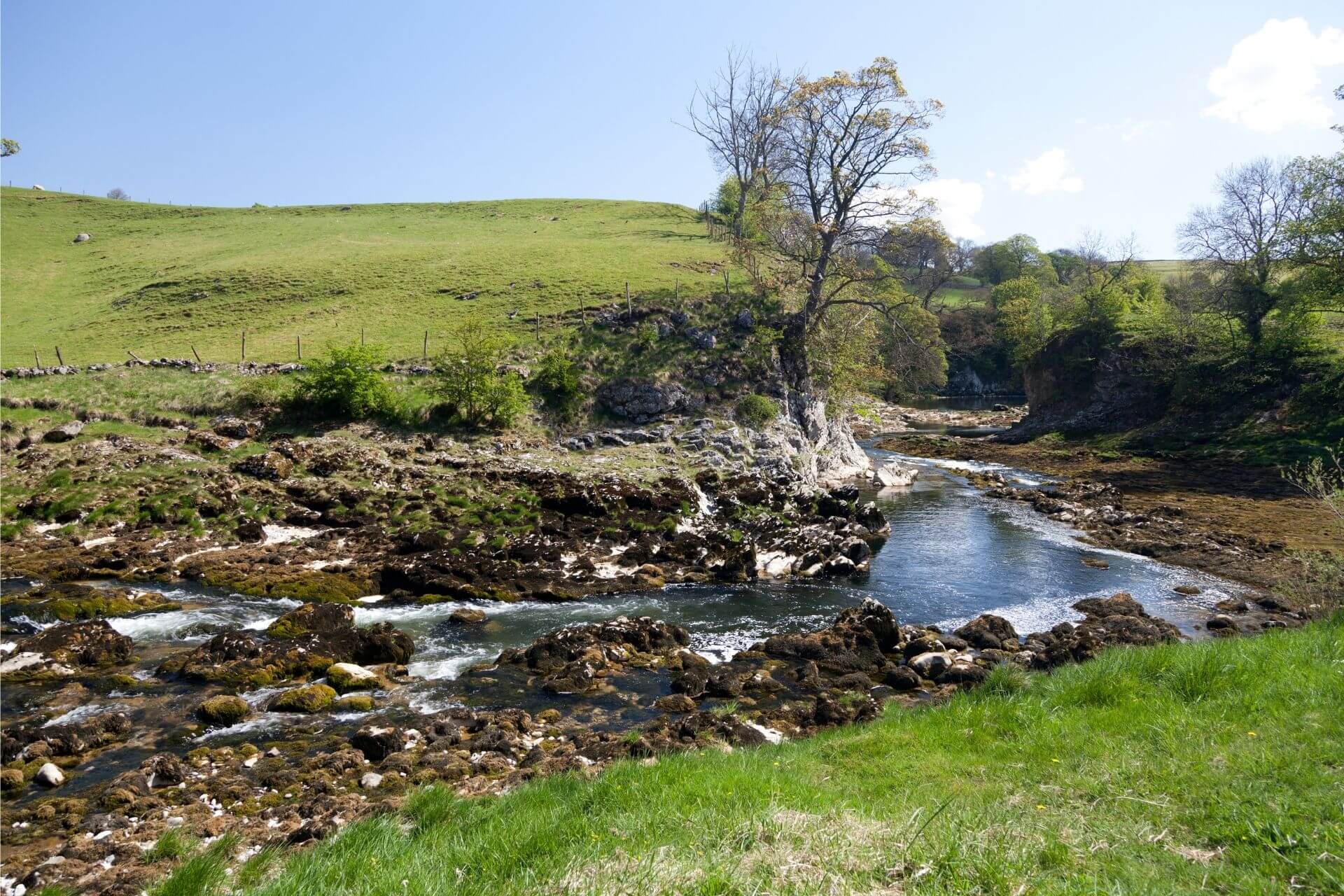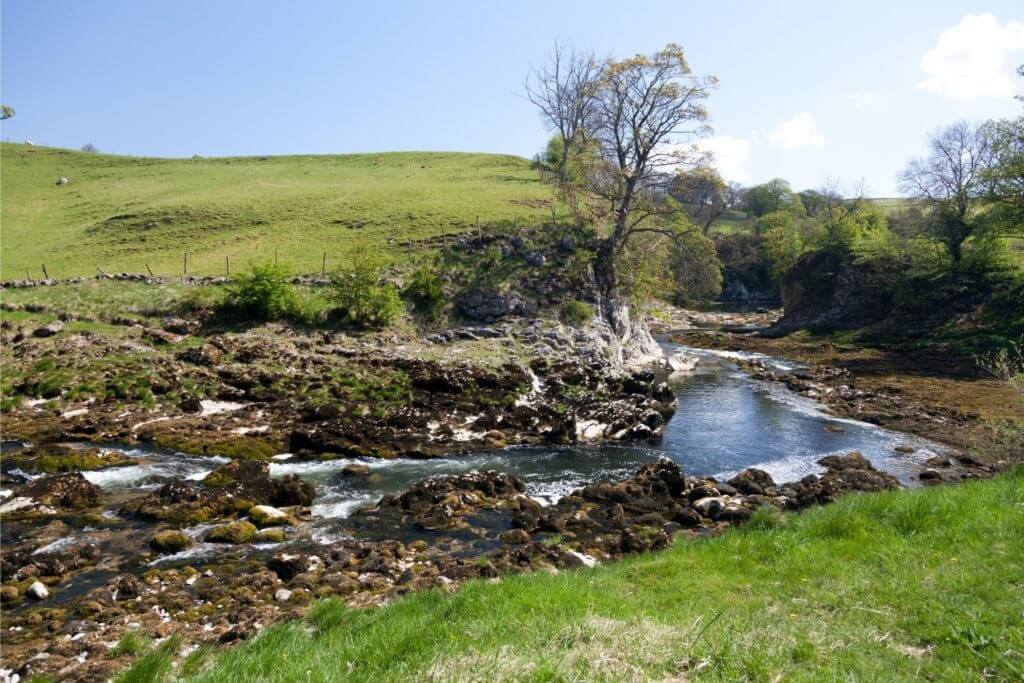 Maybe you're dreaming of a romantic landscape; the gentle sweep of willows by green banks as you float down the river in a boat. Maybe you're thinking thrilling white water rafting adventures, or shrieking laughter while paddling. I'm here to show you that there are things to do beyond the usual water fun.
From historical castles to national parks to art galleries, get ready for some cultural and nature-oriented days out around the most interesting rivers in England.
---
Top 16 England Rivers
If you want to know more about the rivers in England, this extensive guide will tell you all you need to know. We've explored the best of England's rivers, where they are and what you can do there. Check the river map of England further down for perspective as to where these rivers are in the country.
---
1. River Avon
Warwick
Just one of many River Avons in England, Warwickshire Avon or Shakespeare's Avon answers the dream of any wandering artist – bank-side retreats and historical estates in close proximity. Bookended by Northamptonshire and the Severn, it connects the towns of Warwick, Evesham, Tewkesbury and Stratford-upon-Avon.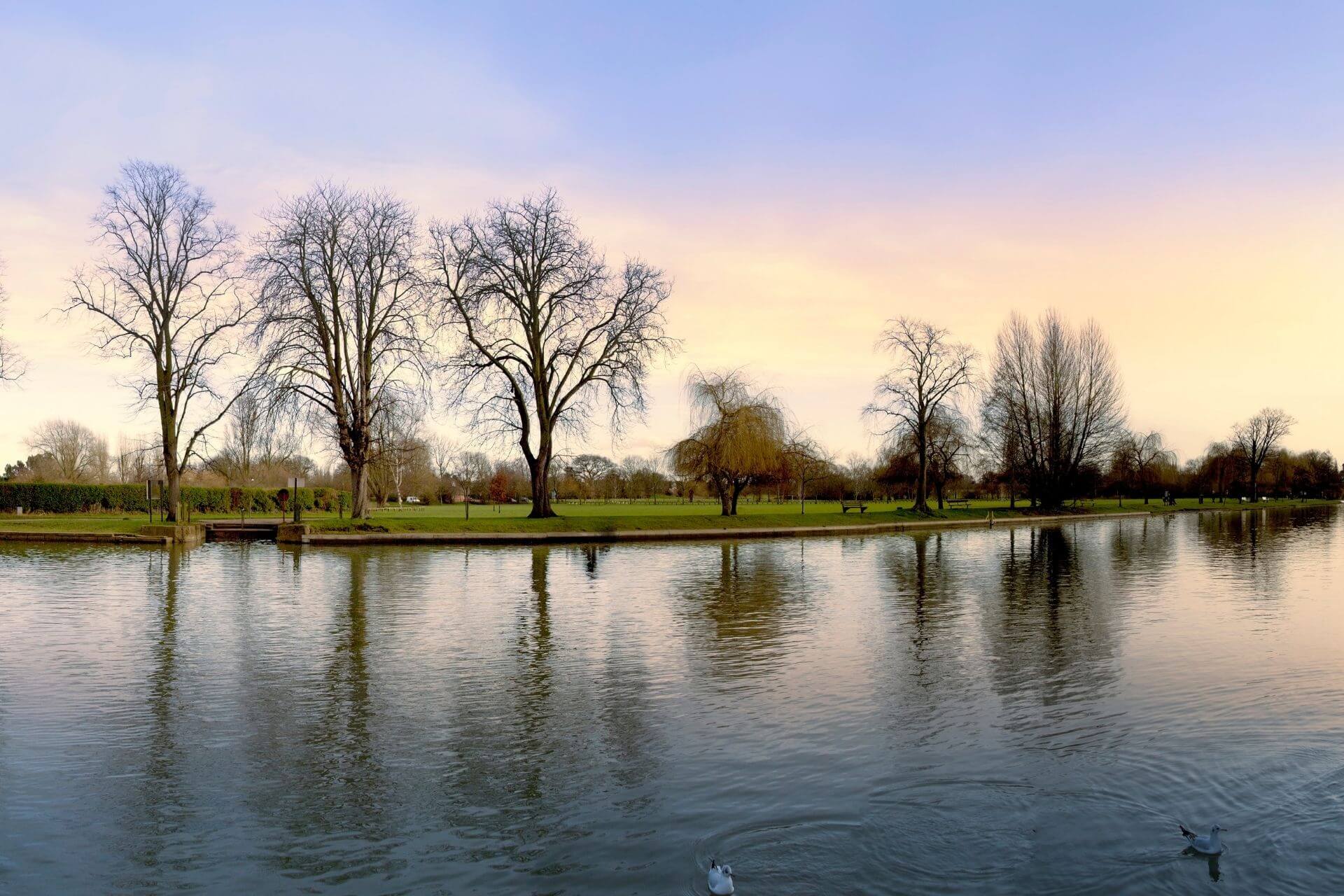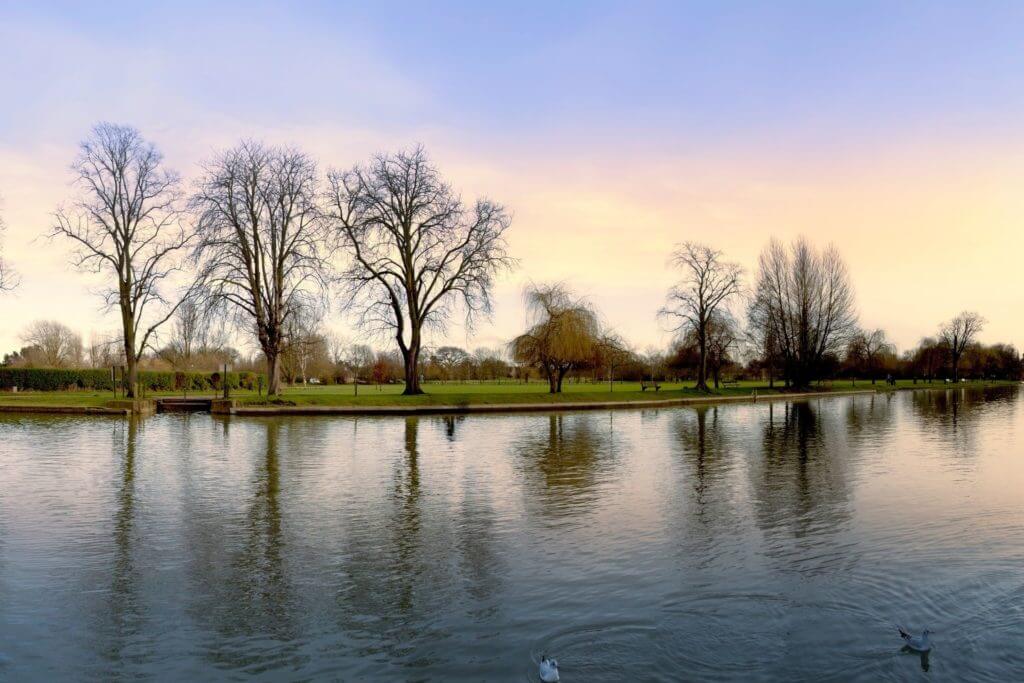 Geared toward leisure crafts, it's ideal for fishing and other on-water activities. Glamping huts are available along the banks as well, from luxury huts to more feels-y accommodation.
Of the towns in the area, Stratford-upon-Avon is the most notable as it is Shakespeare's birthplace and hence literary hunting grounds. It's also home to the renowned Royal Shakespeare Theatre. Warwick Castle and stunning Charlecote Park (a 16th-century estate) are two other highlights that welcome afternoons of nature exploration, historical photo ops and history lessons with live re-enactments.
2. River Severn
Powys, Shropshire, Worcestershire, Gloucestershire
Spending time outdoors is the antidote to days stuck at home, so go where land is plenty and people are at a distance!
I love River Severn and all its varied sights. As the longest river in England (a whopping 220 miles), you bet there are plenty to do between the Cambrian Mountains, stunning countryside and Bristol cap-off.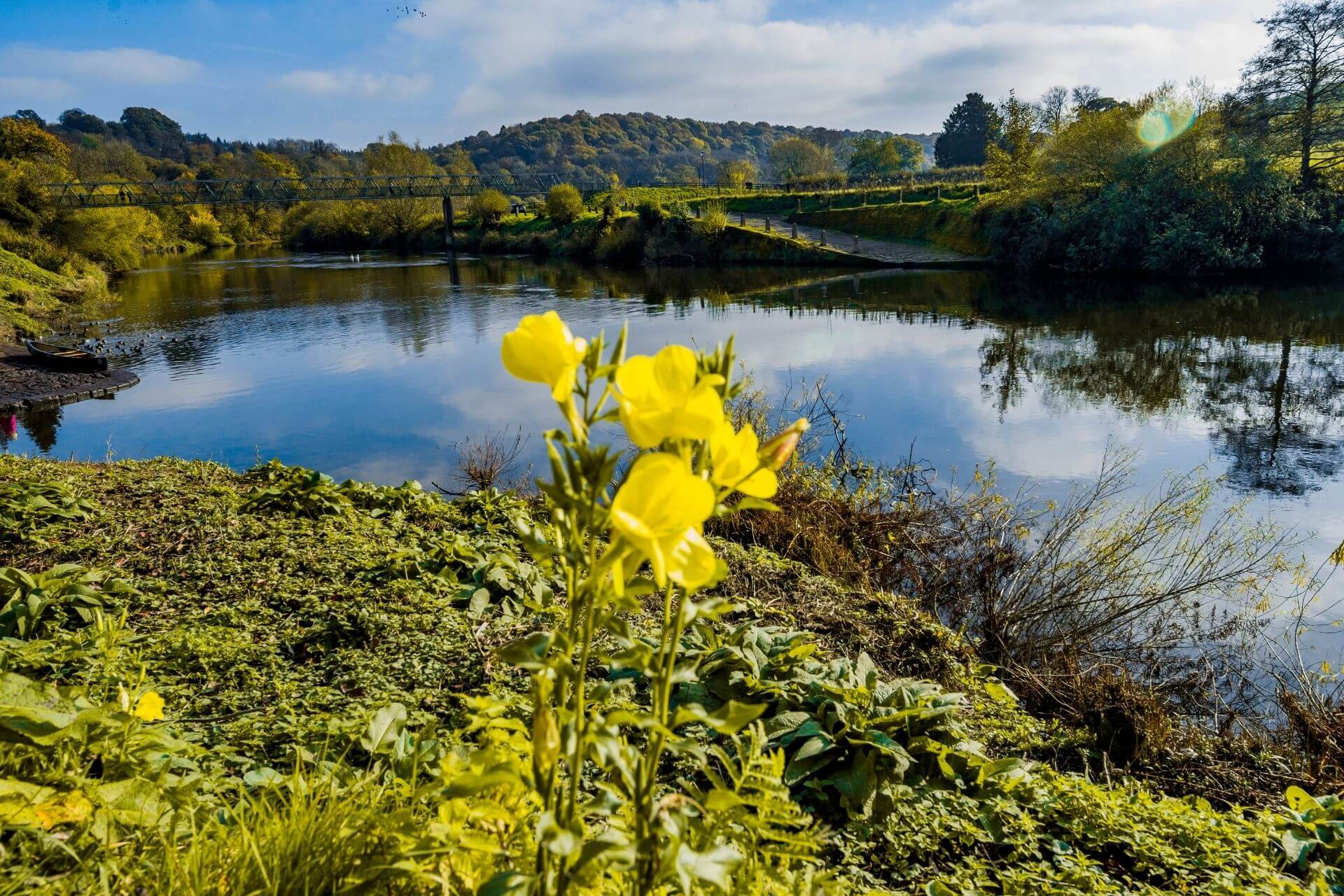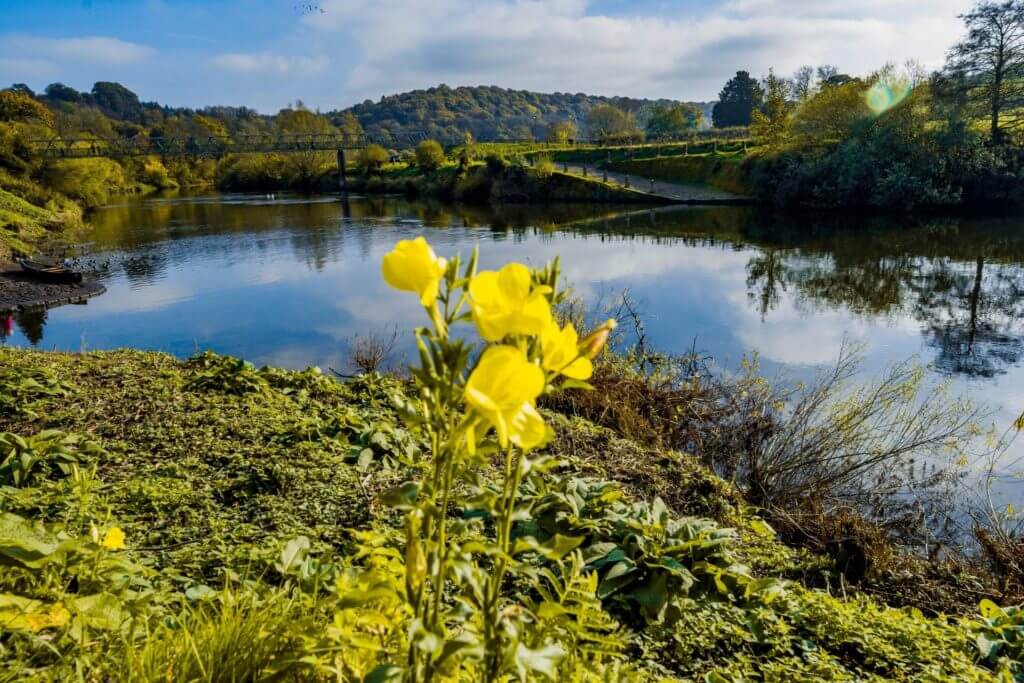 Expect the usual water sports but pencil in other activities too. The 16-mile long Severn Valley Railway follows along the river to offer both water and land vistas. Or, you can challenge the full-length of the river with the Severn Way trek. If you're interested in learning more about Britain's canal features and boats, drop by the National Waterways Museum. Wander through Gheluvelt Park for some Worcester beauty or jump into adventure with geocaching; it's a treasure hunting game that will lead you right into the wilderness around River Severn.
3. River Tyne
The two prongs of North Tyne and South Tyne bleed into the singular River Tyne, the meeting point referred to as 'The Meeting of the Waters'. I appreciate the way this English river links up various cities and towns as you get an in-depth look at how rivers were the key for development over the centuries.
While water sports and relaxing cruises are popular things to do here, I suggest spending time in museums and exploring the adjoined cities.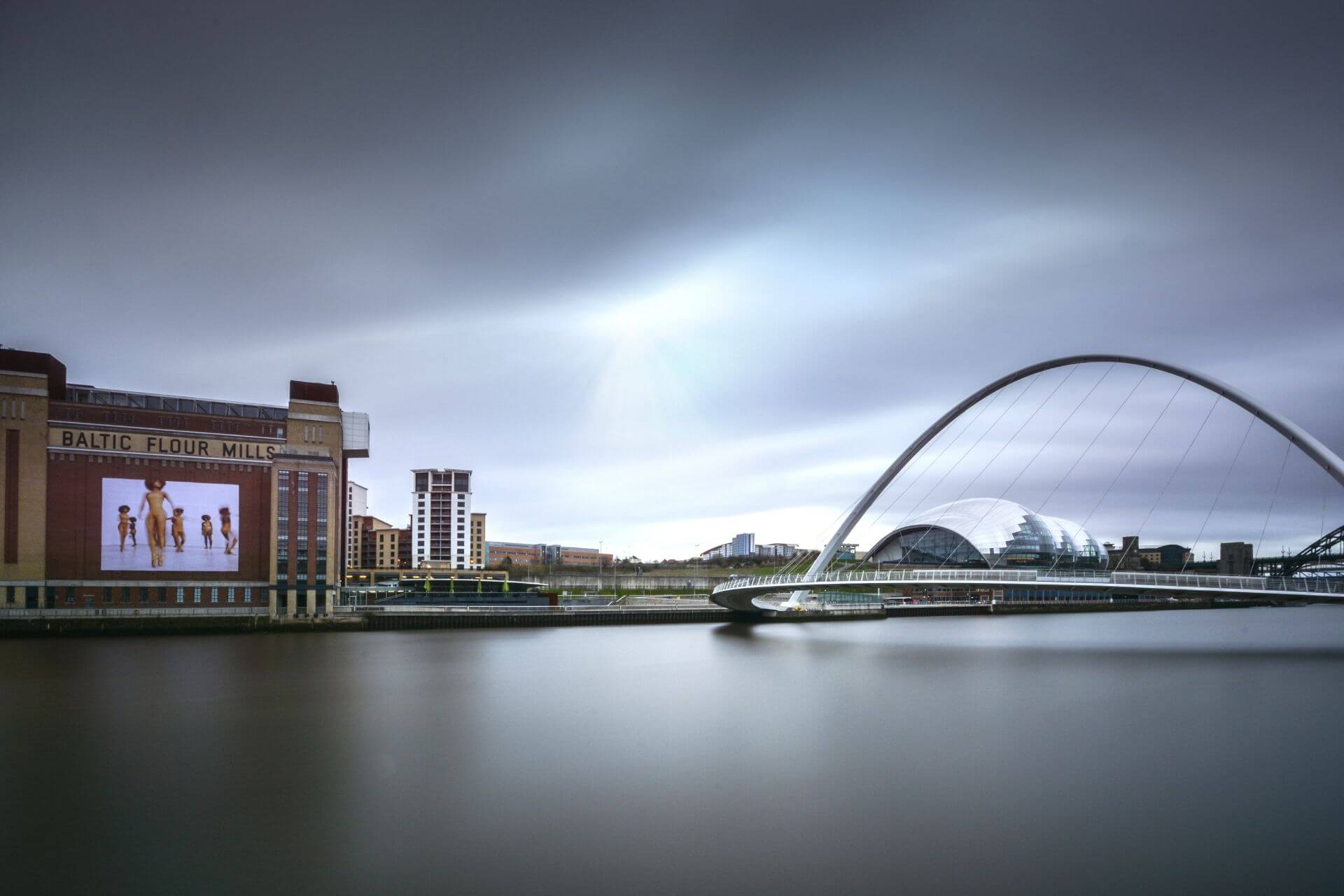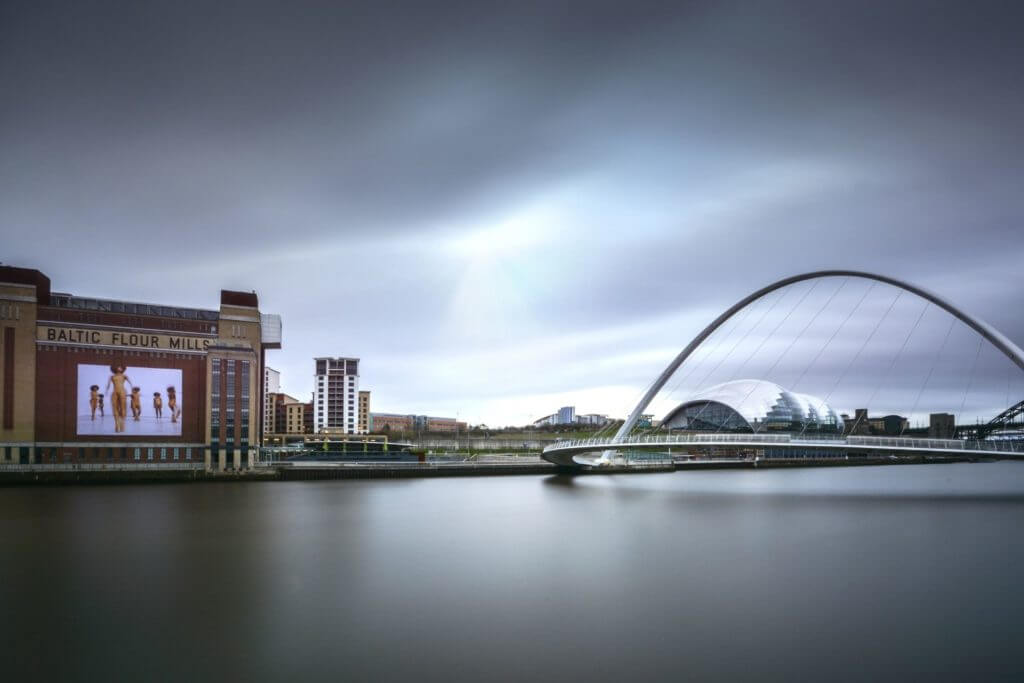 Newcastle is the perfect base, complete with Tyne Bridge (it's like crossing through a portal) and stately Newcastle Castle. Victorian buildings line the streets alongside the Theatre Royal and City Hall, both places offering concerts and performance arts. You can enjoy some great days out in Tyne & Wear too.
Learn about the city's long history at St. Nicholas' Cathedral or tackle the lengthy Hadrian's Wall Path. If you like to wander, like me, I suggest meandering through the Quayside district as it's teeming with restored historic buildings and Victoria Tunnel; a coal transportation line turned underground tourist attraction.
To round off, the lovely town of Gateshead combines countryside charm and artisan features to keep you busy.
---
Map of rivers in England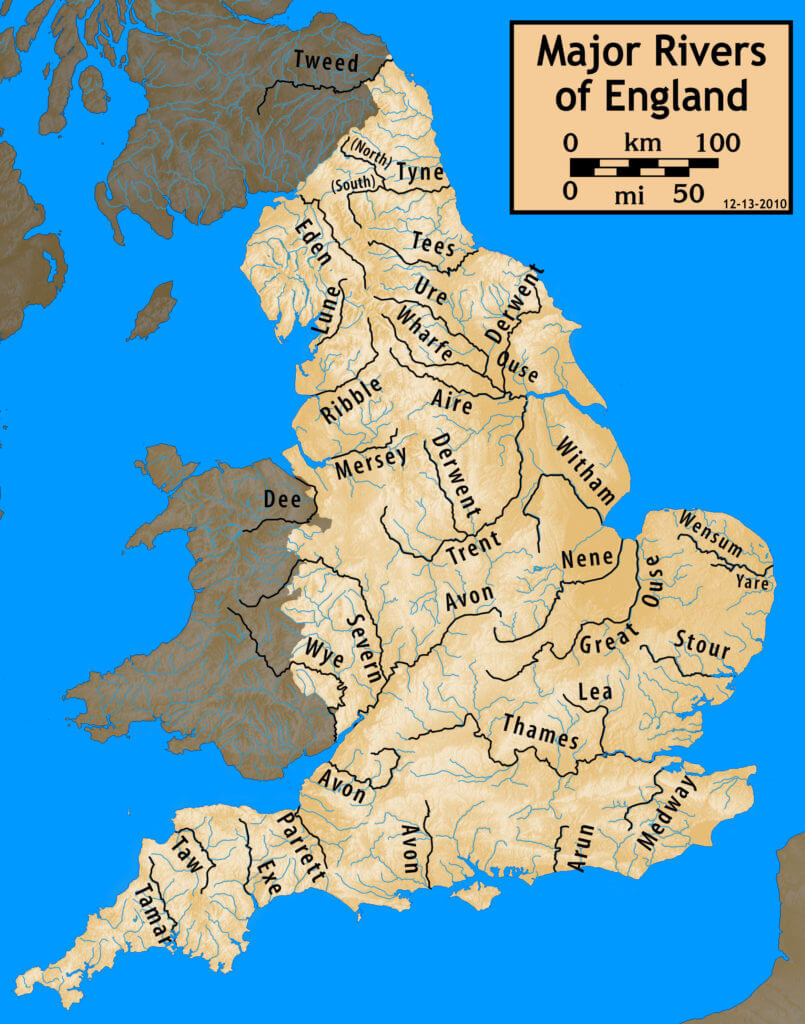 ---
4. East Lyn River
Devon and Somerset
What makes rivers in England so enticing is the promise of space and a break from the hustle.
Exmoor's East Lyn River is the getaway that many hope for, offering both relaxing and adrenaline-filled days out. I'm not the most outdoor-active person but this river is definitely top choice when I'm in the mood for some adventure.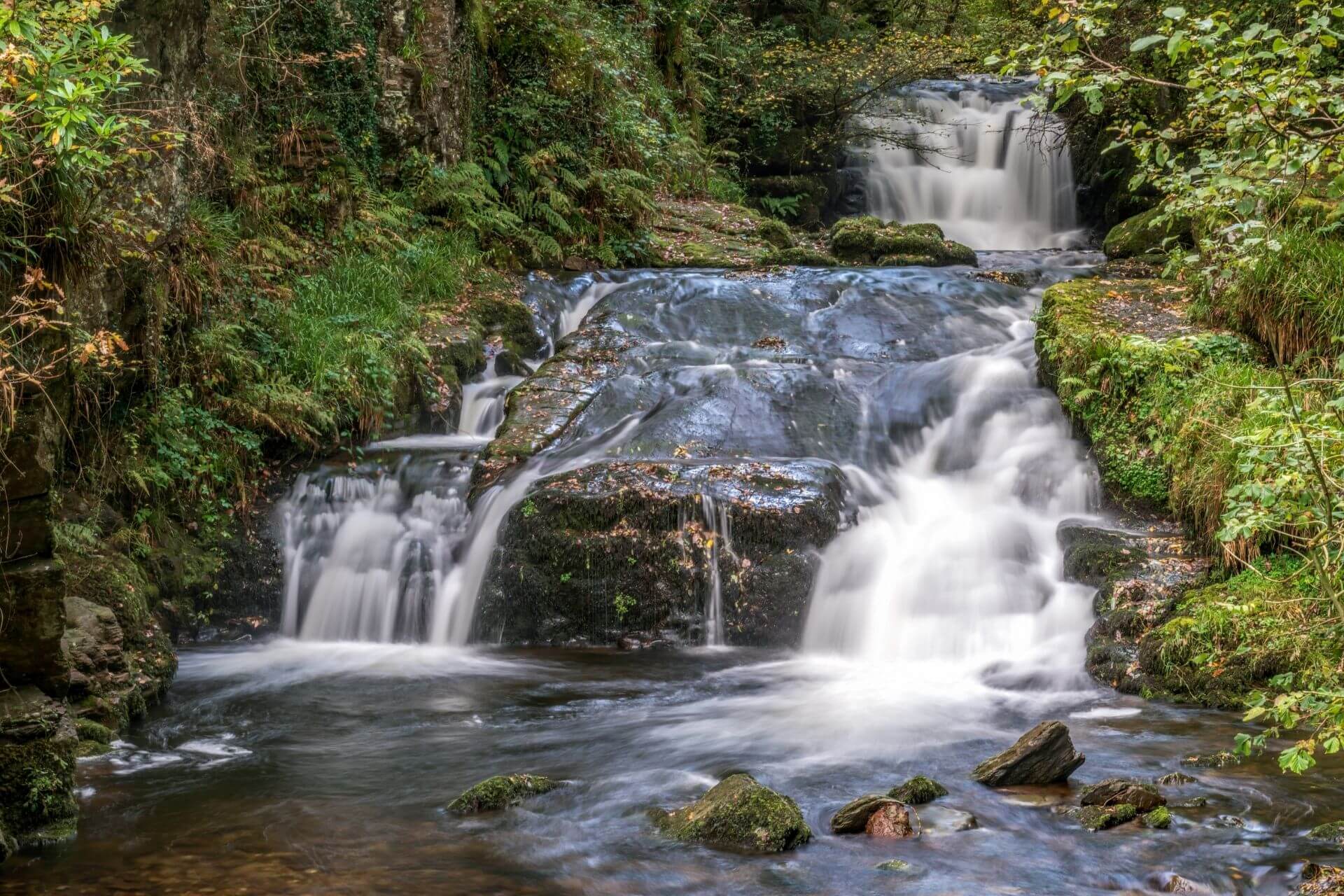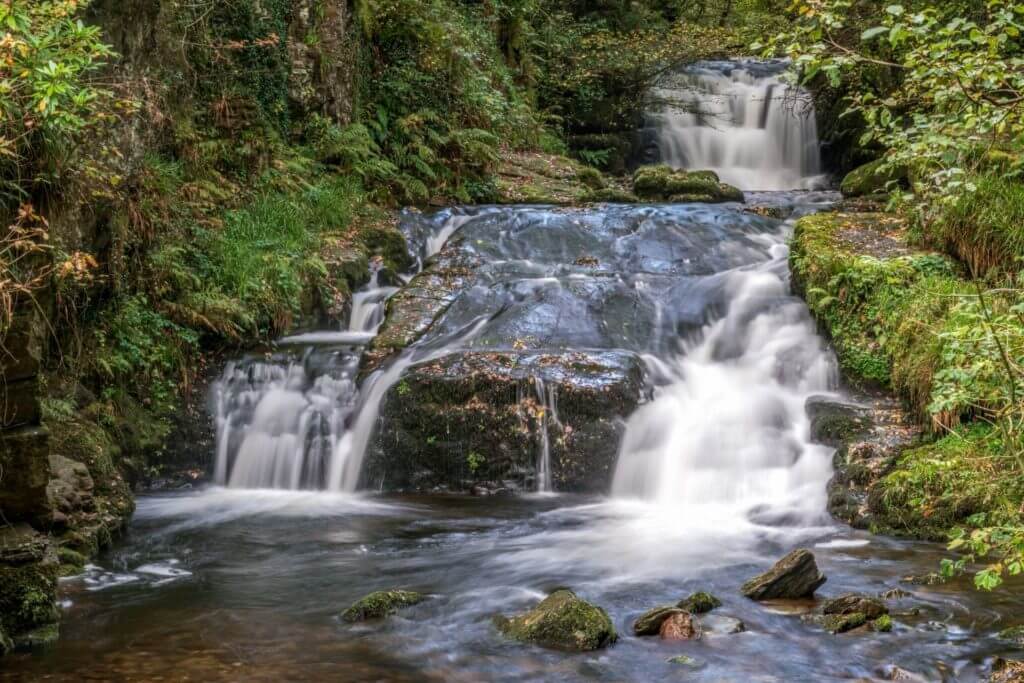 One of the most famous things to do in the area is the Two Moors Way hiking path, sticking close to river briefly before branching out. Dynamic rapids also mean perfect conditions for white water kayaking; I recommend joining tours with experienced guides to maximise your experience. To recharge with mild action, salmon and trout fishing occurs across certain periods in the year.
Nearby Lynmouth features the world's steepest water-powered railway, leading you to a gorgeous clifftop. Valley of Rocks shares in expansive landscape views, with ancient geology and goats for a twist.
If you want some great spots to go paddleboarding in Somerset, click the link!
5. River Wye
Possibly my favourite of the England rivers (although there are many contenders for this position), River Wye runs from the Welsh moorlands towards the Severn Estuary. Wye Valley and Forest of Dean is a picturesque region dotted with characterful villages, landscapes and historical gems. Between solo day trips and family activities, you've got plenty of weekends lined up.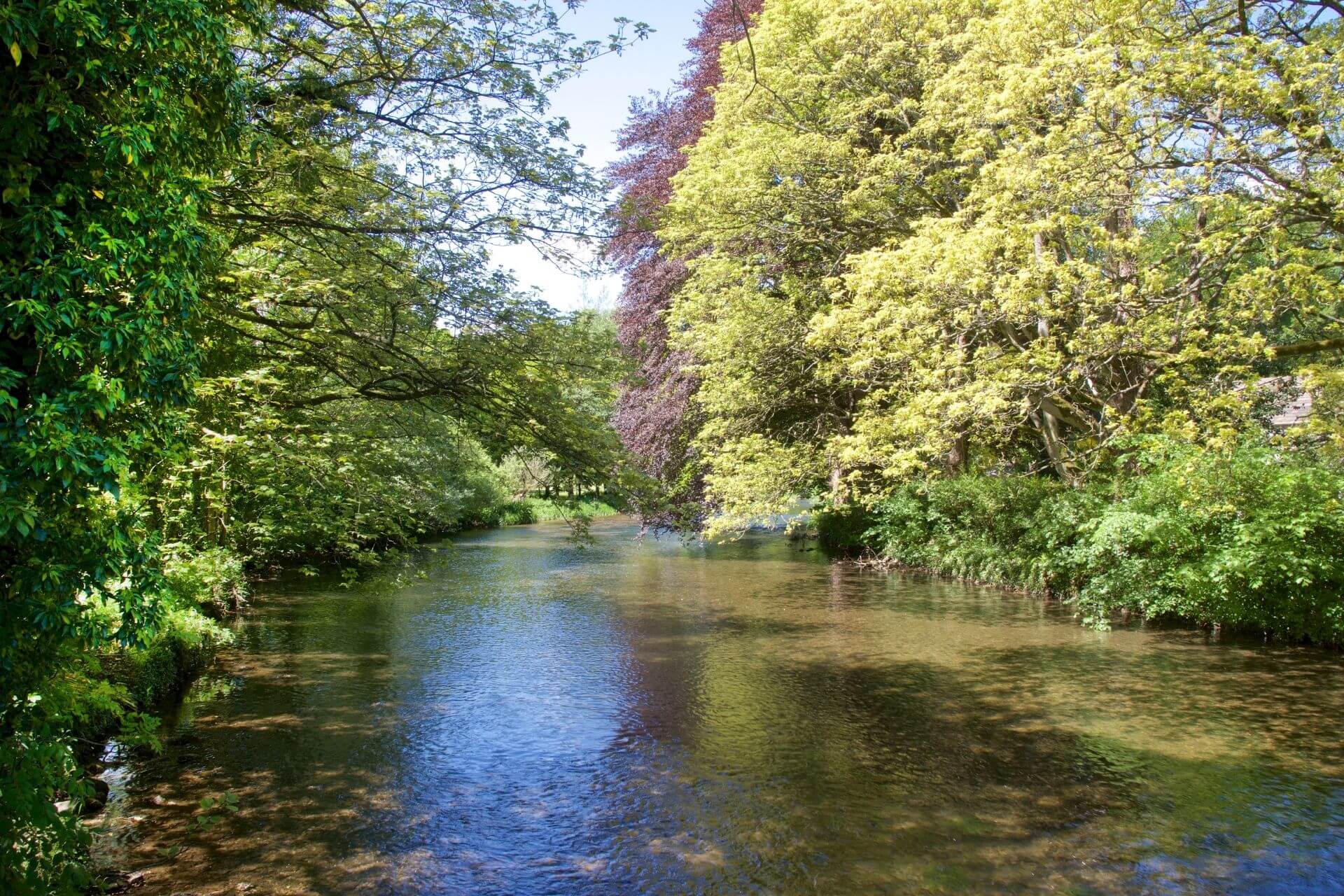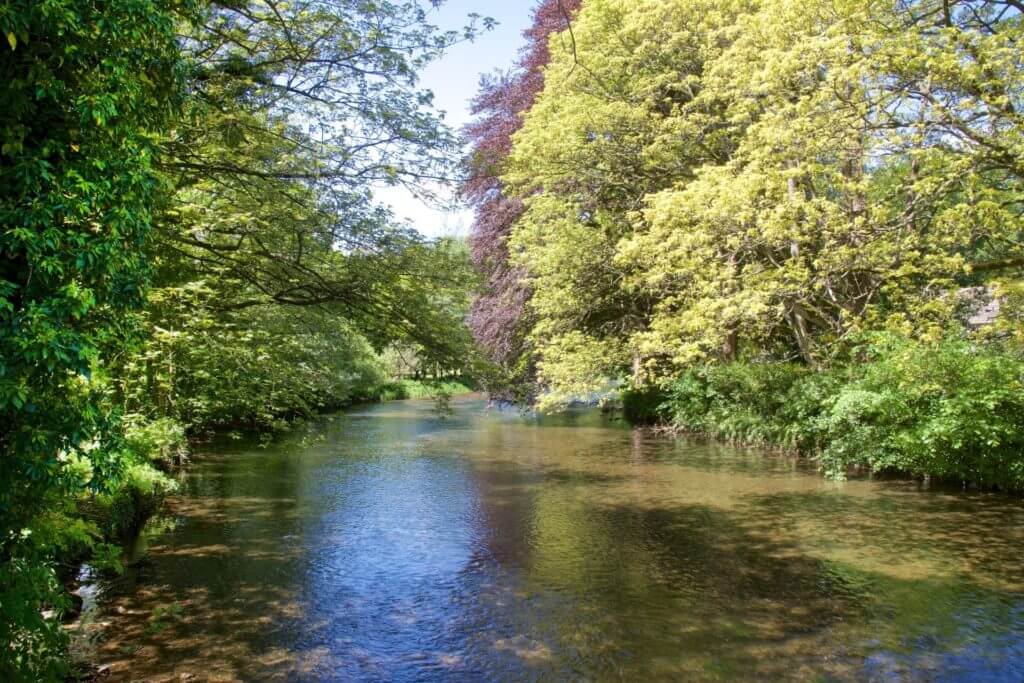 As an area of outstanding natural beauty, Wye Valley is home to carefully manicured gardens like Thomas Blake Memorial, a tropical-themed Butterfly Zoo, elegant Weir Garden managed by National Trust, and boundless conservation grounds with rolling hills and woodlands.
Raring for lush greens and serene walks? Embark on the Forest of Dean Sculpture Trail or detour to the ancient Clearwell Caves.
Castles are aplenty too – from 11th-century Goodrich Castle to fortified Chepstow Castle, grey-stone Hay Castle and the ruins of Tintern Abbey. The best way to take in the sights is by road-tripping the length of the river; there are caravan and camping parks, glamping sites and tiny towns to stay overnight.
---
Which is the longest river in England?
The River Severn is the longest river in England, at 220 miles (354km).
The River Thames is just slightly shorter at 215 miles (346km) long.
---
6. River Itchen
Hampshire
Wildlife and outdoor fun is the theme of River Itchen!
After all, Hampshire is known for its reflective waters and relaxing landscape. Instead of roaring waters and wide yacht-surfing waterways, this river is a chalk stream that promises quality fly fishing.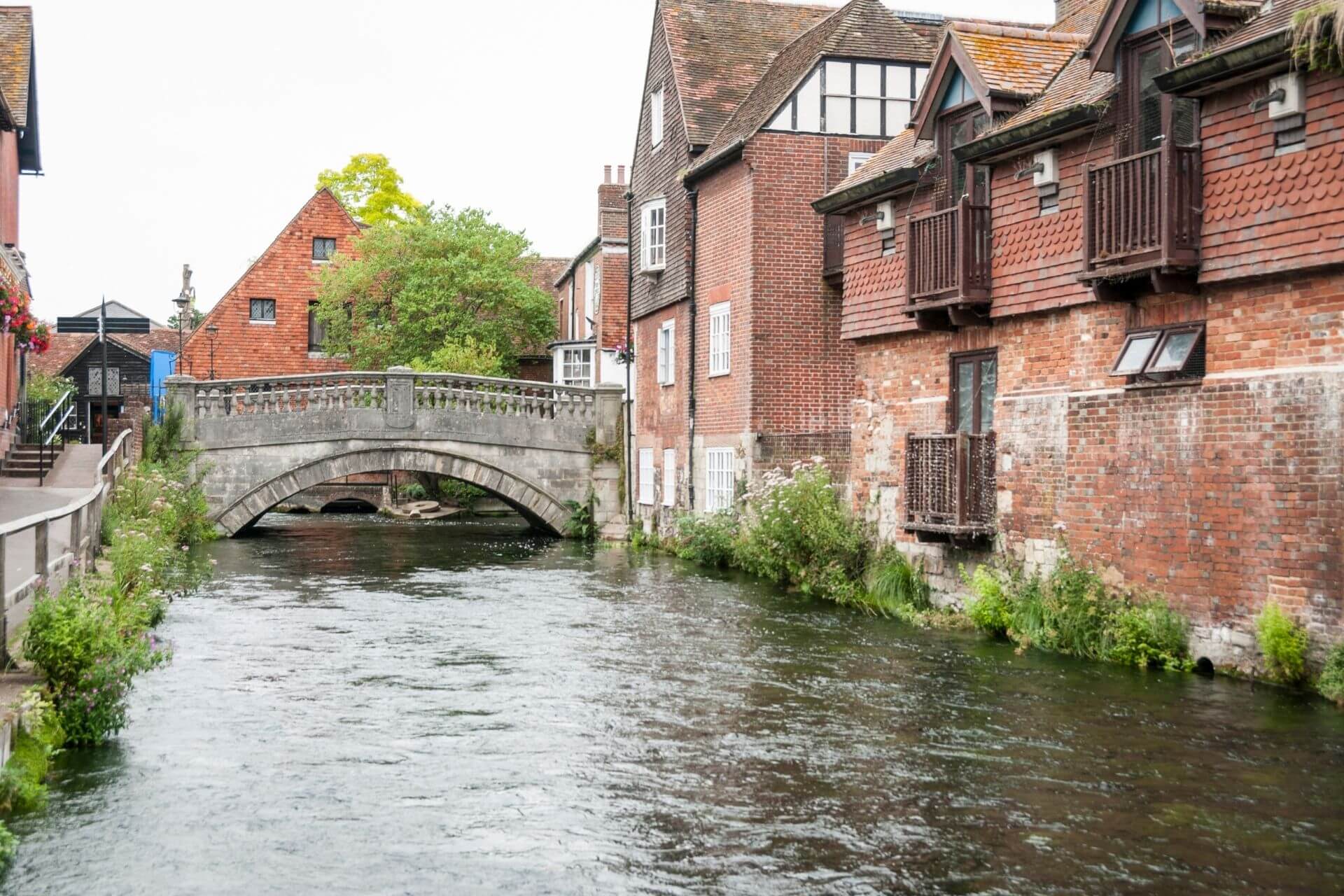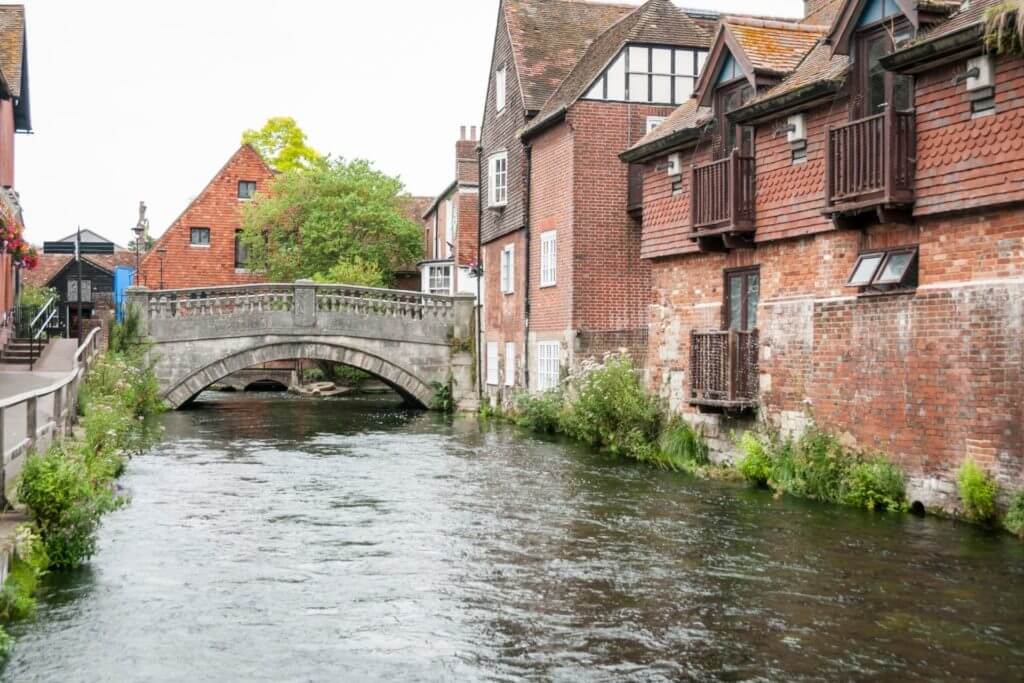 Choose between the Winchester Walk and the Hampshire Walk to discover the pretty excess. As it is a Site of Special Scientific Interest, teeming with protected species like water voles, white-clawed crayfish, kingfishers and otters, ecologists and environmentalists will have a blast. I've briefly mentioned it above, but River Itchen is a highly-regarded fly fishing spot. Take the chance to fly your baits!
Need a bit of historical to guide the way?
Visit the historic city of Winchester and marvel at the medieval defences. The Itchen Valley Churches Trail is another themed walk that will take you through the serene region.
The River Itchen stretches all the way down to Southampton. You could catch the Hythe Ferry from here, and enjoy the sight of the cruise liners and cargo ships as you go. Or, you could go big and choose from a variety of cruises from Southampton with different itineraries and durations.
7. River Trent
River Trent is another popular choice for indecisive travellers because it is one of the longest rivers in England. Running from the Biddulph Moor, it feeds into the metropolitan centre of the Midlands, passing through major cities such as Stoke-on-Trent, Burton upon Trent, Newark-on-Trent and Nottingham.
As you can imagine, this marks more commercial activities like parks and museums, although my recommended to-do list will take you outside of city borders.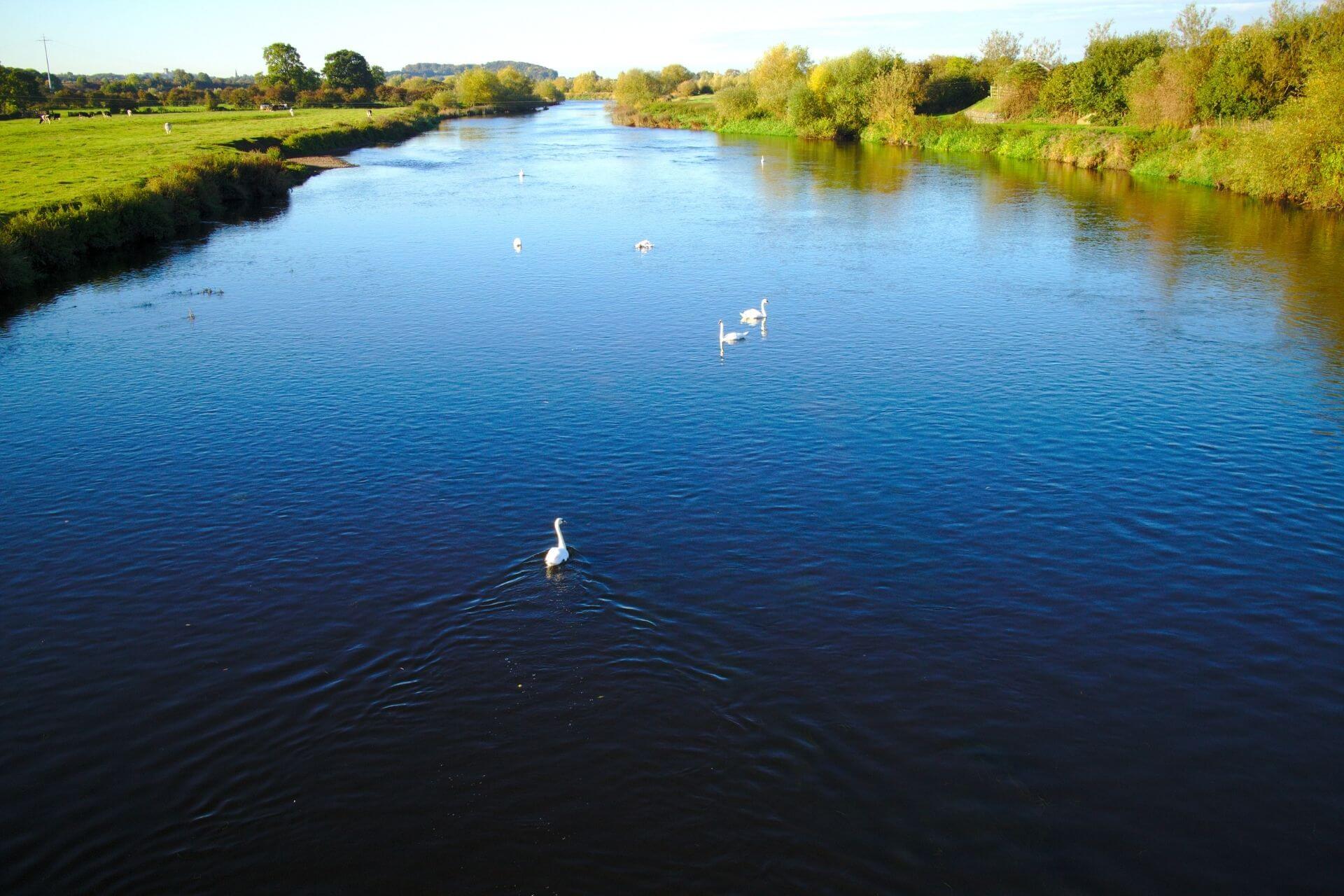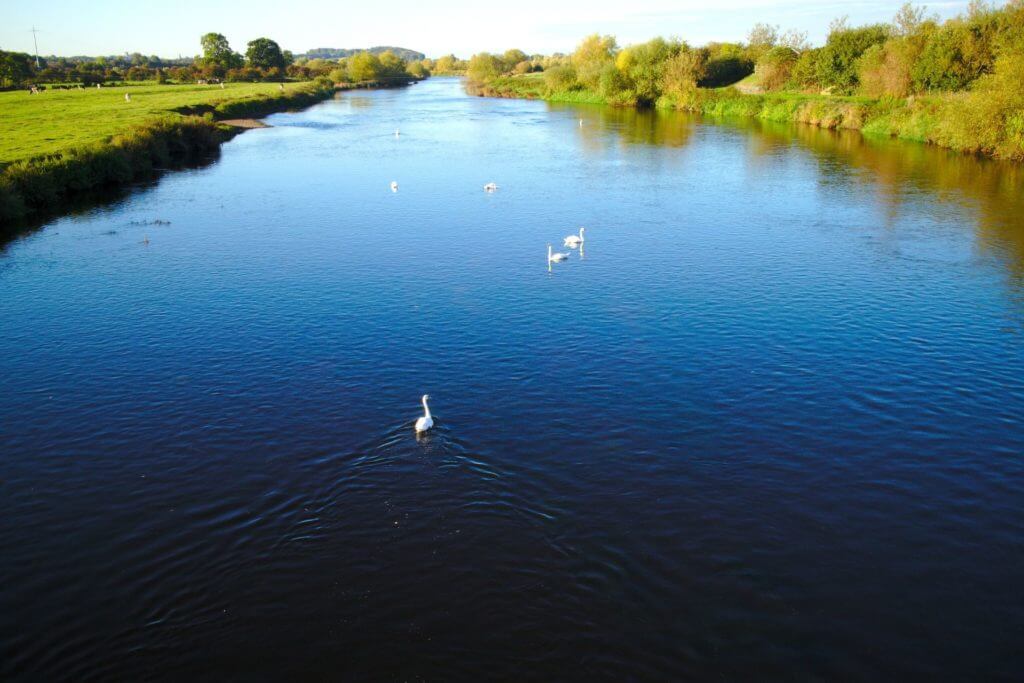 The slower Stoke-on-Trent and Burton upon Trent houses a blend of wooded estates and parks. Trentham Gardens is a great day out for families as the expansive grounds are filled with kid-oriented activities, while Trentham Estate offers shopping and entertainment in beautifully designed buildings and green borders.
Not far from it is the National Trust managed Shugborough Estate which boasts a Georgian mansion and the National Memorial Arboretum is filled with trees to honour soldiers who fell in service. It's one of the best arboretums in England. For some history, visit Newark Castle and Gardens, which come with a King John exhibit. Nottingham visitors will love the Rockley Memorial Park and Colwick Marina. 
So much history along one of the longest of England rivers.
8. River Mersey
Greater Manchester, Cheshire, Merseyside and Lancashire
Those hoping to explore a big city can have the best of both worlds with River Mersey. Drawing the line between Liverpool and its Birkenhead neighbour, the river even has a song named after it, 'Ferry Across the Mersey' by Gerry and The Pacemakers. If you only have time for one activity, definitely catch the ferry across this England river.
Thanks to the song, the River Mersey is probably one of the most famous rivers in England.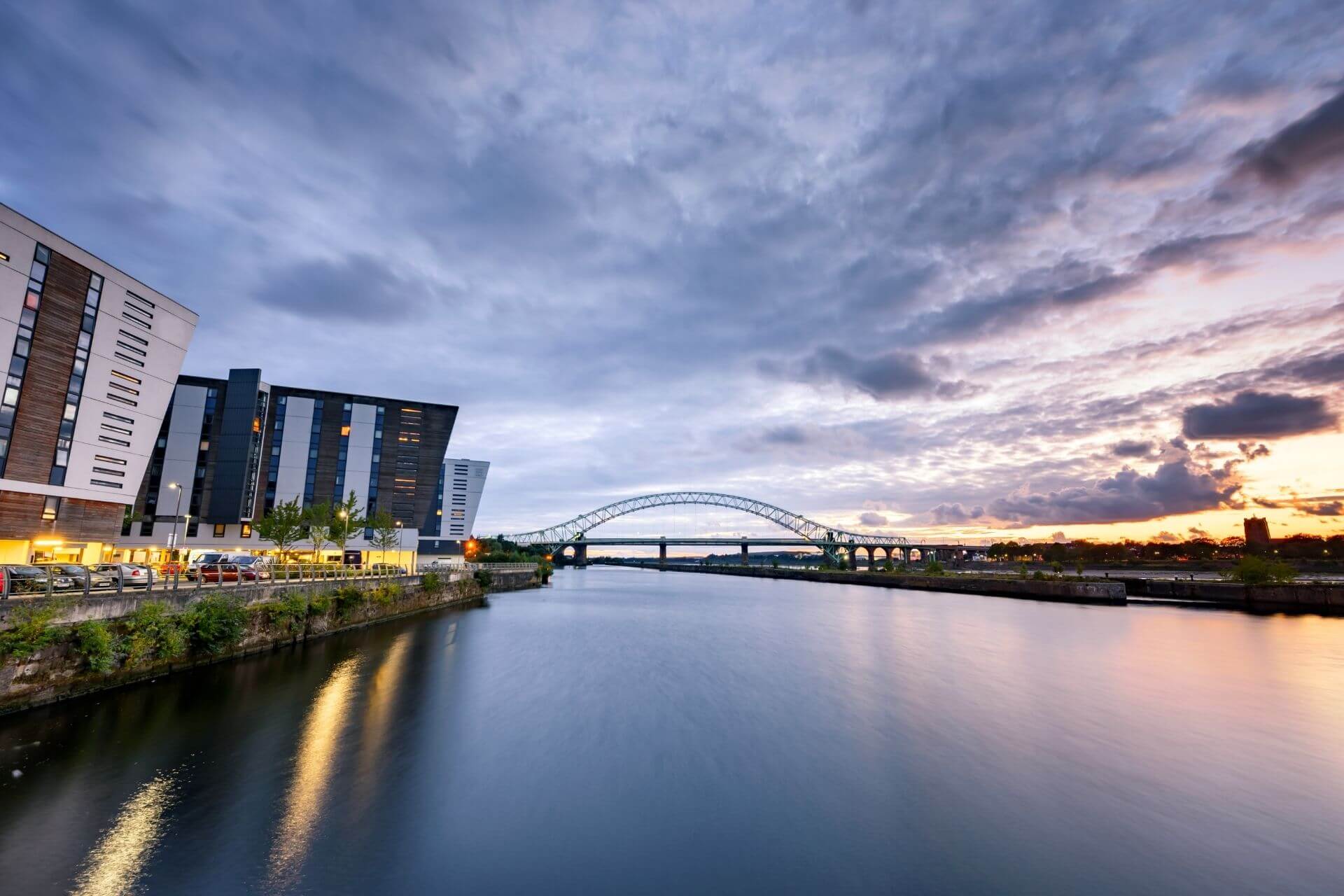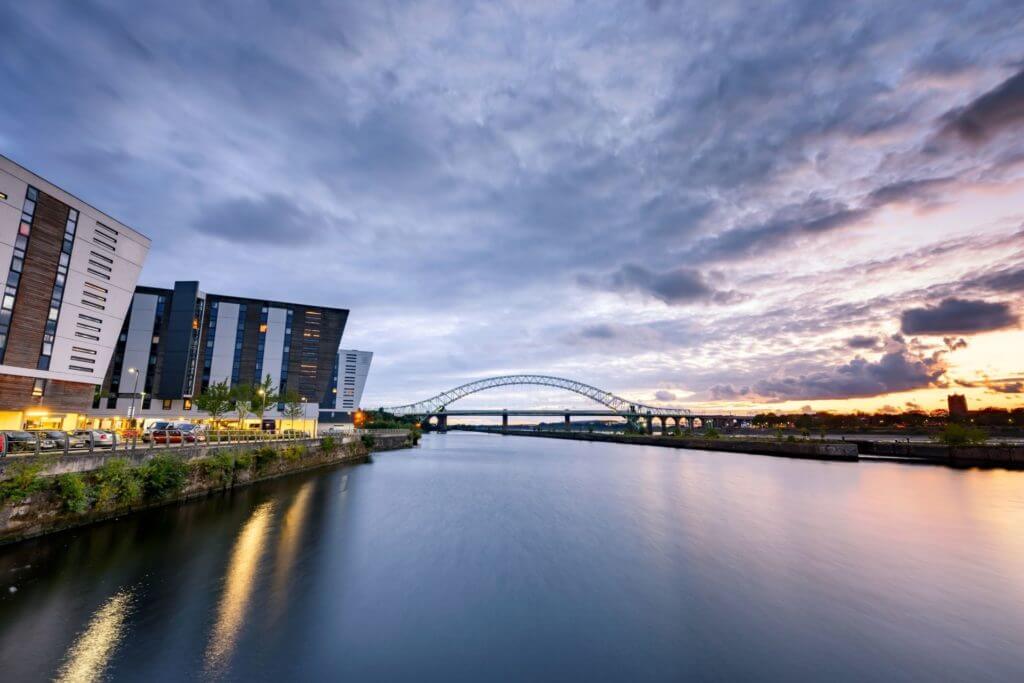 The river is the best place to take in the Liverpool skyline and scout out where to go next. Along its impressive silhouette, I honed in on the Royal Liver building, Cunard Building and Port of Liverpool Building. Royal Albert Dock is worth a check out too – the old Victorian docks have transformed into a leisure complex.
Of course, it's also The Beatles' hometown so celebrate their musical journey at The Beatles Story.
---
How many rivers are in England?
---
9. River Stour
Cambridgeshire, Suffolk and Essex
Back with another Area of Outstanding Natural Beauty and a beautiful England river that borders Essex and Suffolk. River Stour is actually one of the first rivers in England to be granted public navigation rights in early 1700s. Today, you'll see mostly small vessels and passenger crafts between the months of April and October.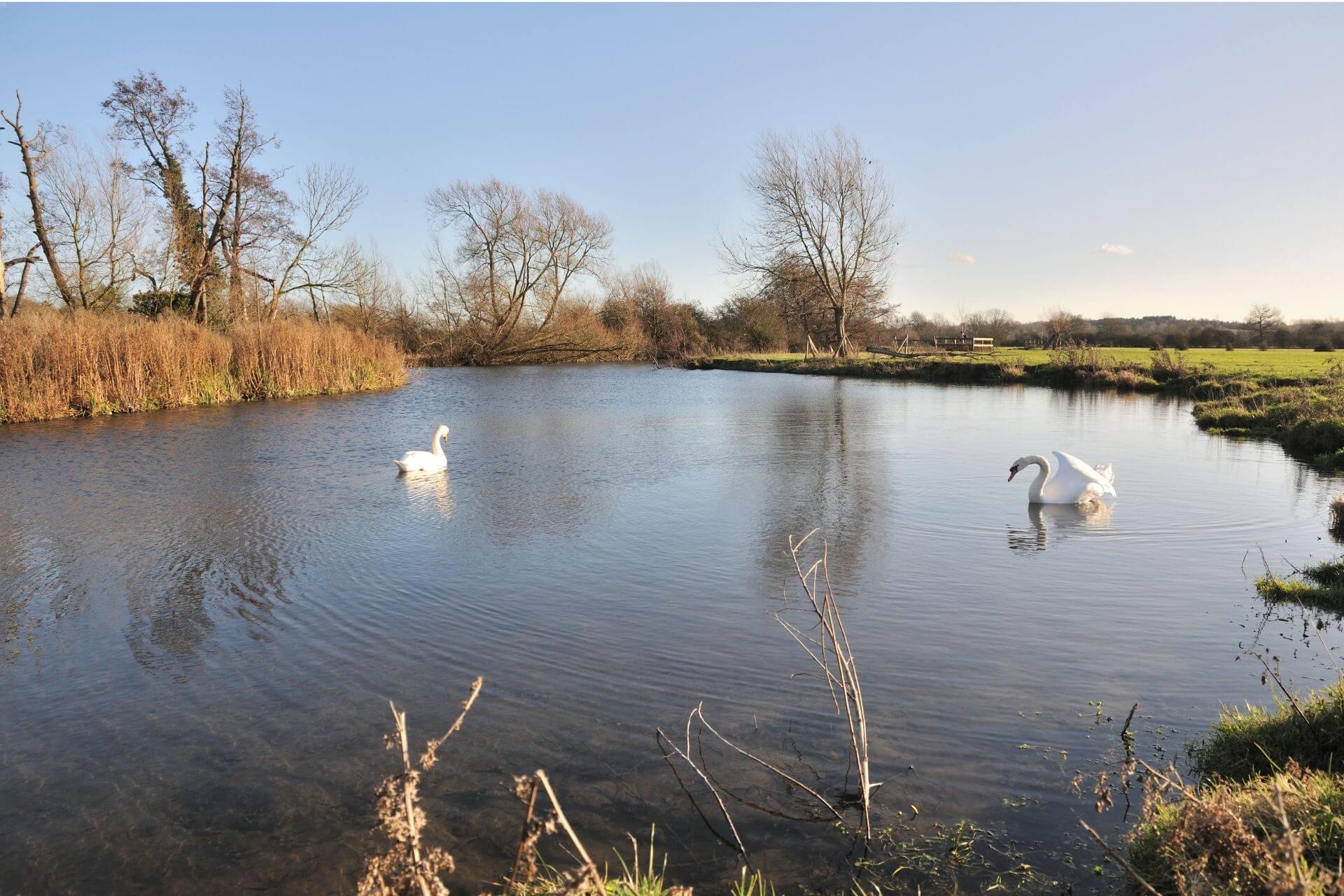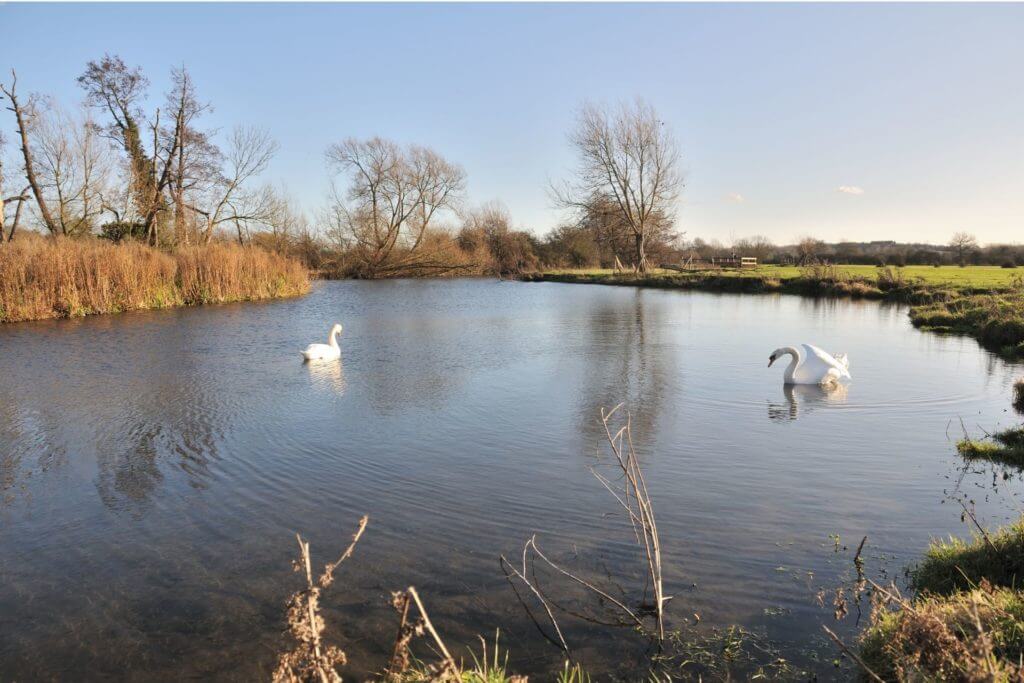 The highlight along this river is the town of Dedham and its post-card worthy tea room. Nestled within greens and more greens, you have options like Beth Chatto's Plants & Gardens, the Munnings Art Museum, Flatford Mill and the Fairbanks House to explore.
Spare some time for the nearby market town of Manningtree too; the town's many Georgian buildings and stunning Mistley Towers is just a fraction of what you can enjoy.
10. River Colne
Hertfordshire, Greater London, Buckinghamshire, Surrey and Berkshire
Have you ever wondered what England's oldest town was?
The records point to Colchester, conveniently located on the River Colne. There has been a clear trend of development around key waterways as England had largely relied on trade; the river will take you through industrial Hythe, Wivenhoe and Cinque Port of Sandwich.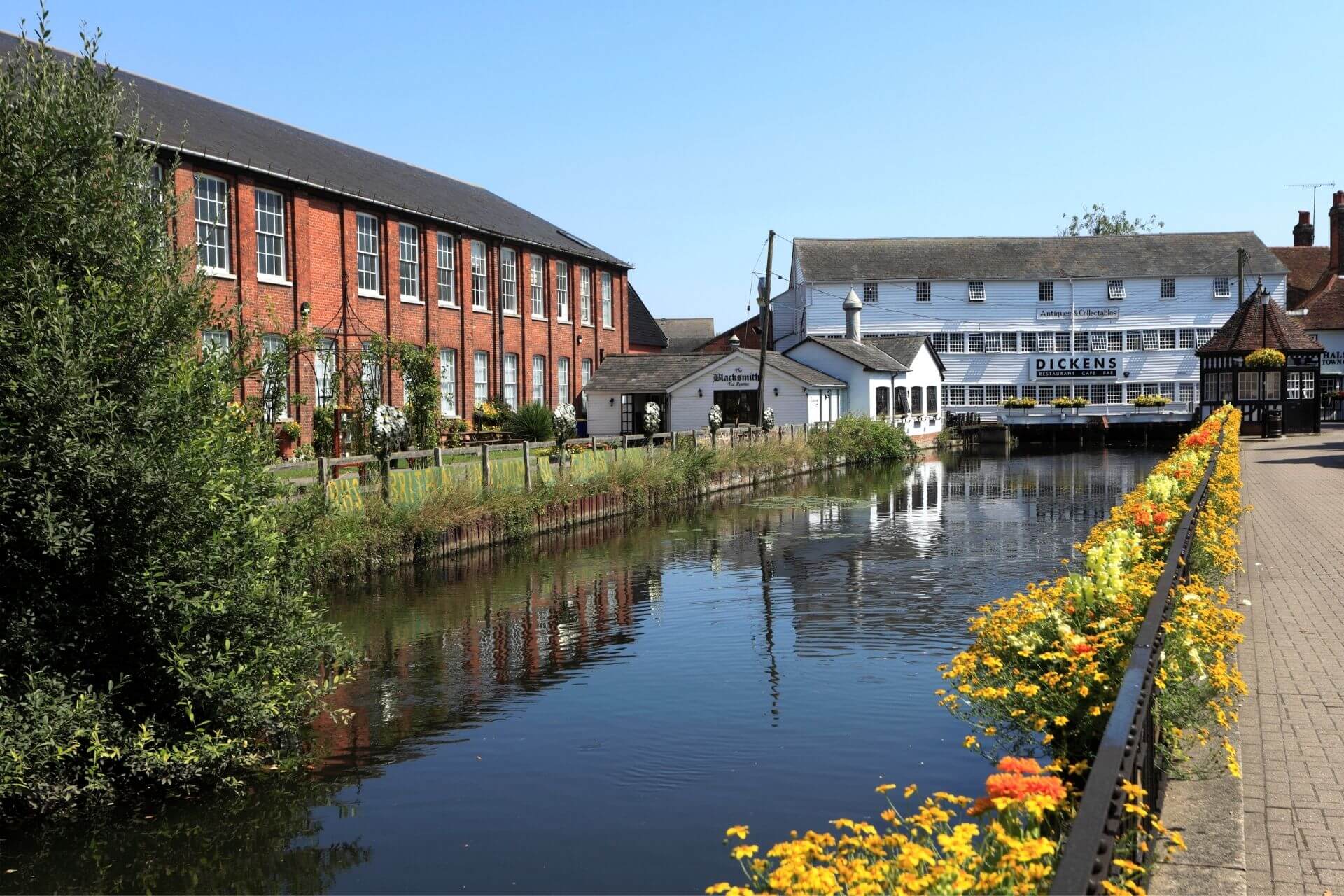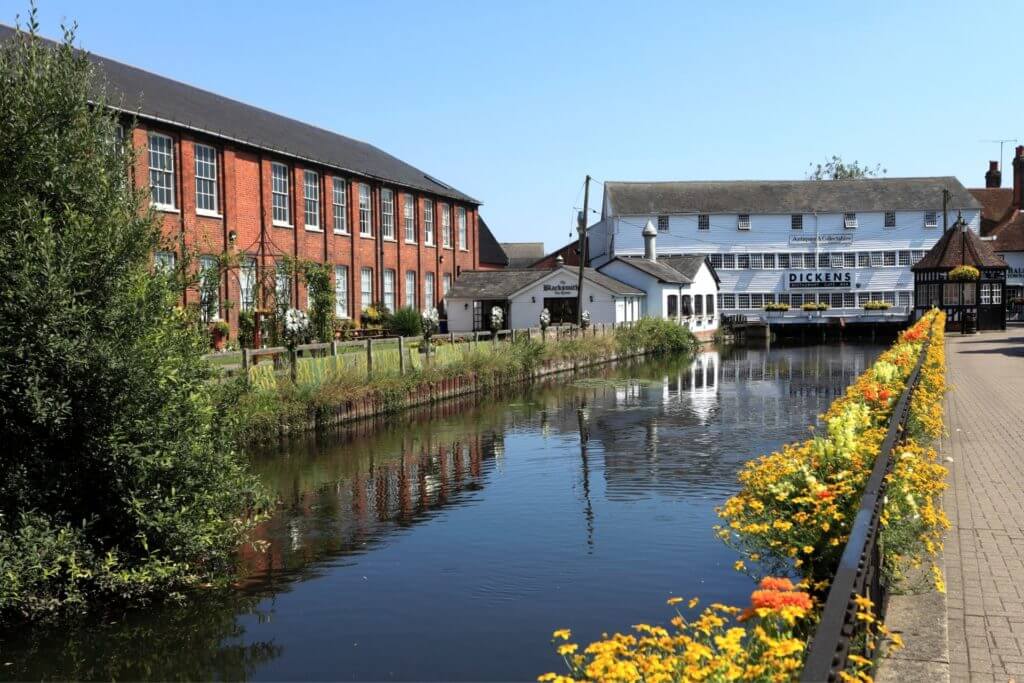 Colchester was built on the ruins of a Roman temple; its Castle is a gigantic Norman keep with a museum exhibiting artefacts from 2500 years ago. Those who prefer arts and glimpses of daily living can drop by Hollytrees Museum, where 3 centuries worth of clothing, decorative arts and clocks are displayed in a Georgian townhouse.
Hythe, meaning haven, embodies the spirit of the word! Brockhill Country Park and Hythe Beach, Hythe Pier Railway and Saltwood Castle are all gentle experiences. One thing to try is catching the Hythe ferry as it crosses Southampton Water to show off the cruise liners and cargo ships.
11. River Eden
Cumbria
River Eden might not be the promised paradise but its source is just as mystical. Flowing from high limestone fells, it switches terrain to edge along the Settle-Carlisle Railway towards Carlisle and Solway Firth. Eden Valley itself hosts a range of characterful attractions, spotted with market towns, traditional villages and the gorgeous countryside which I love.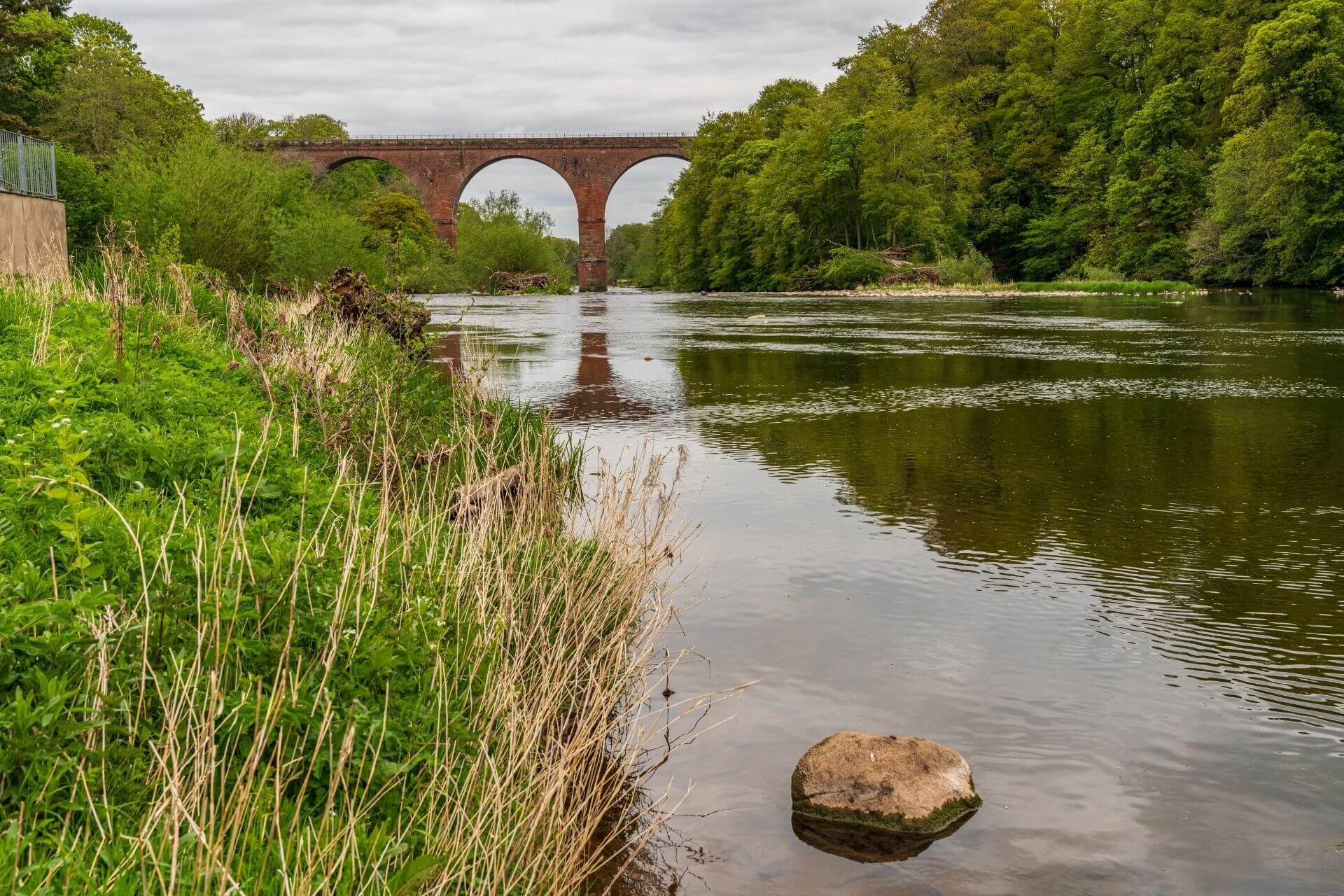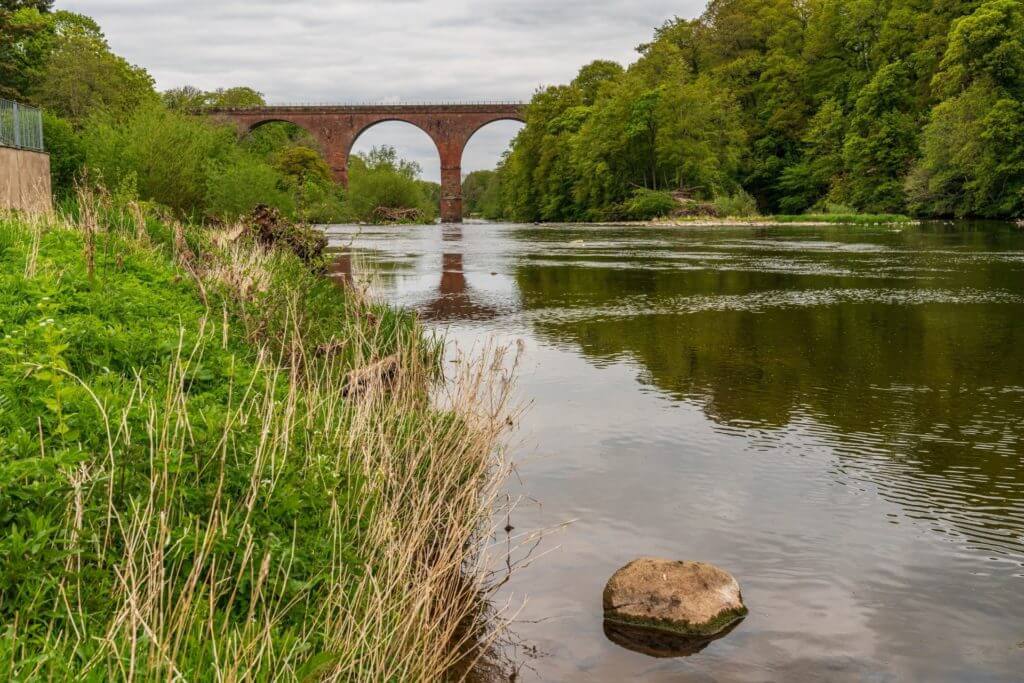 The derelict medieval Lowther Castle and Gardens have been revived into a playground for everyone, from manicured Japanese and Rock Gardens to mazes and dated rooms for exploration. I suggest renting a bike and riding into the woodlands of Lowther Park is you have energy to spare. For some ancient history, detour to Long Meg and her Daughters, a Bronze Age stone circle rumoured to be a coven of punished witches.
The town of Penrith is your next stop – in particular, the spectacular Penrith and Eden Museum. Plenty of artefacts dated back to the Bronze and Roman eras are on display, alongside fine art collections by local-born Jacob Thompson.
Not tired of these countryside gems yet? Hutton-in-the-Forest is another architectural favourite of mine.
If you're in the area, check out some of the other great things to do in Cumbria for a day out.
---
Who owns the rivers in England?
The rivers in England are owned by the Canal and River Trust.
---
12. River Dart
Devon
Usually listed as one of the top 10 rivers in England, River Dart weaves through Dartmoor in Devon to gift us with more natural beauty. Its banks are lined with ancient oaks; the waterway built with fish ladders for seasonal migration.
White water rapids and unspoilt coastal hills keep you busy between the holiday destinations of Dittisham, Kingswear, Dartmouth and more towns.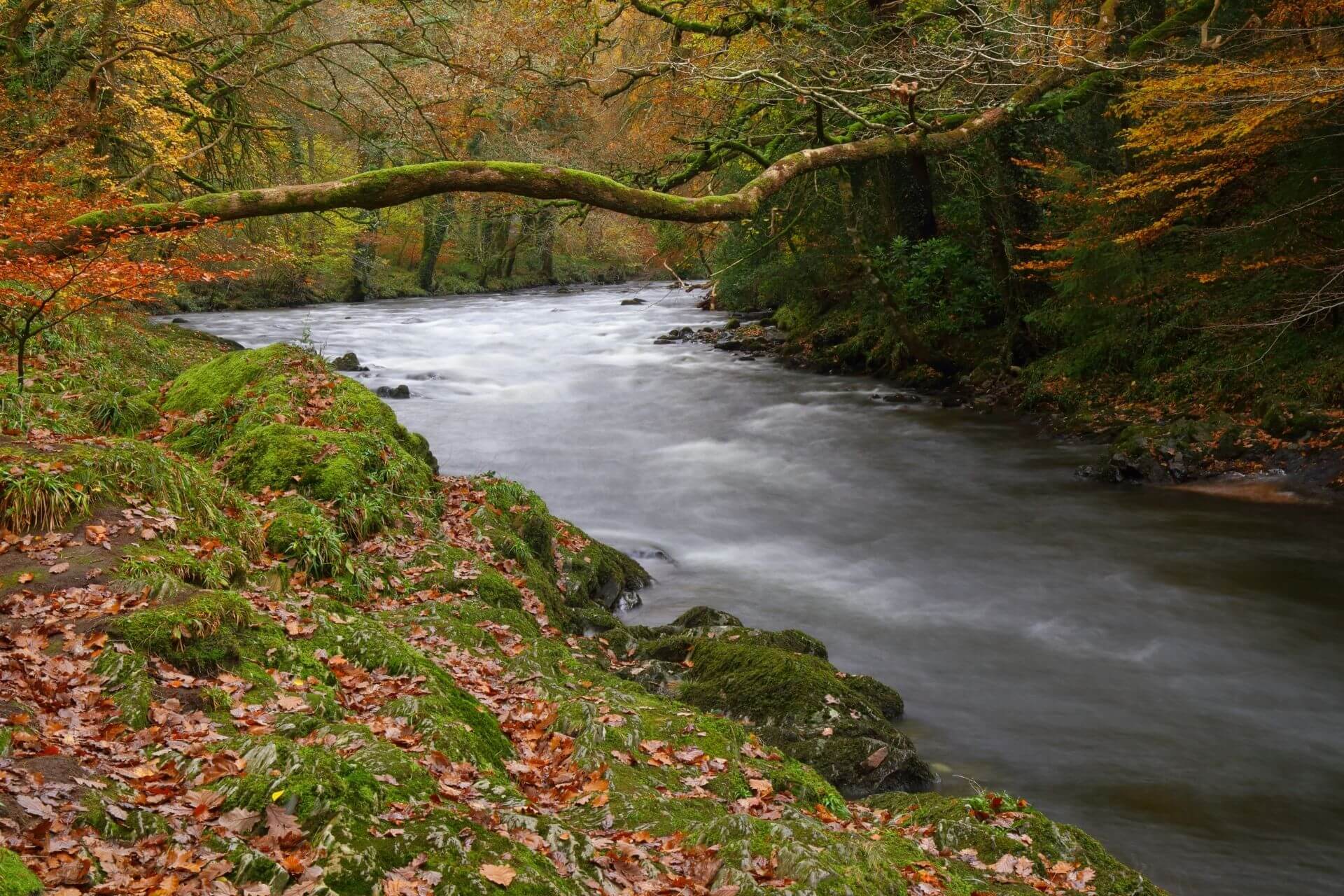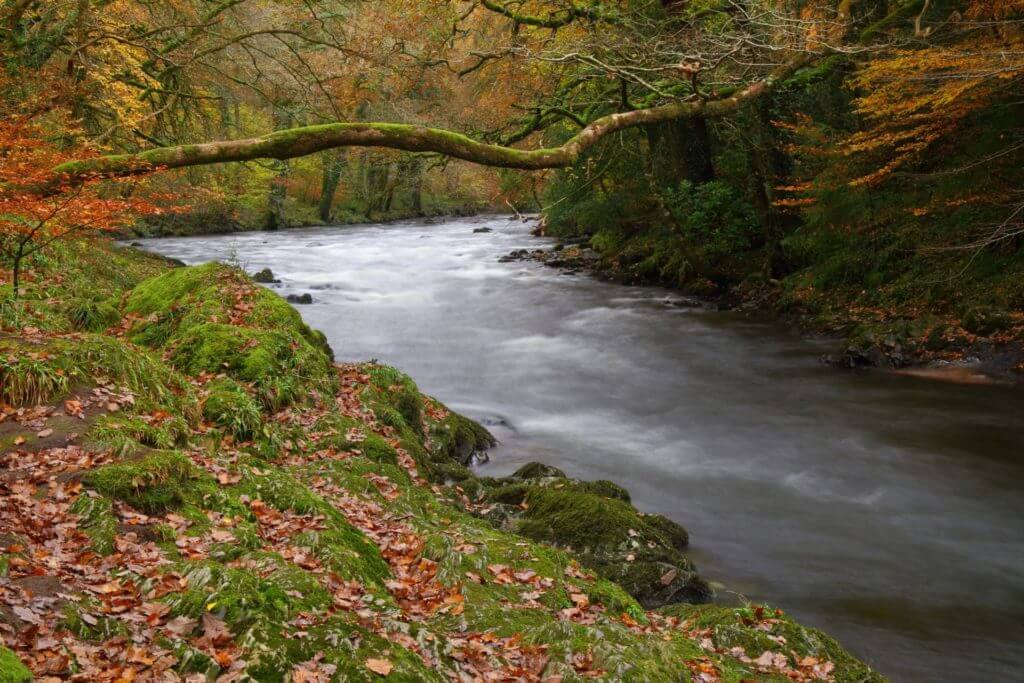 Built in 1924, the Kingswear Castle Paddle Streamer will take you past historic castles and idyllic spots – a tour on water!
Disembark at Dittisham to see traditional fisherman cottages, pontoon crabbing and quay-side cafés. Mystery fans may also want to drop by the Greenway House, former residence of Dame Agatha Christie. You can also enjoy the picturesque area from high up, the Dart Valley Trail leading you from village to village through wooded banks. Another way to take in the sights is via River Dart stream train, which follows along the waterside for prime coastal views.
This is the most famous river in England for our site editor VickyFlipFlop, as it's where she would go for camping holidays when she was younger. River Dart Country Park to be precise!
13. River Wharfe
West Yorkshire and North Yorkshire
Many England rivers bisect valleys and national parks – River Wharfe being one of them. Hunt down the source at Yorkshire Dales National Park then follow along the river to experience its various sections. You'll be amazed that it's the same river at all!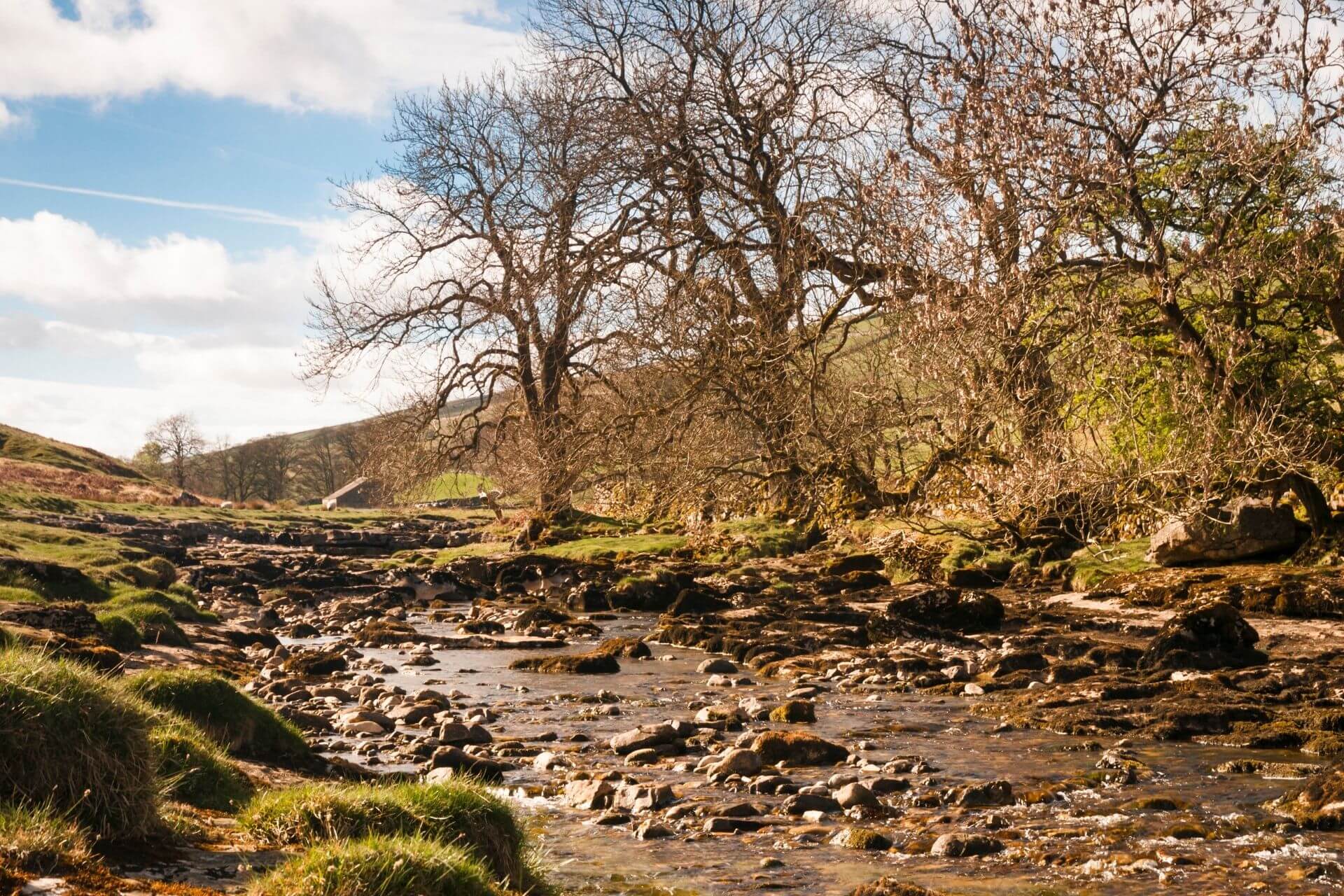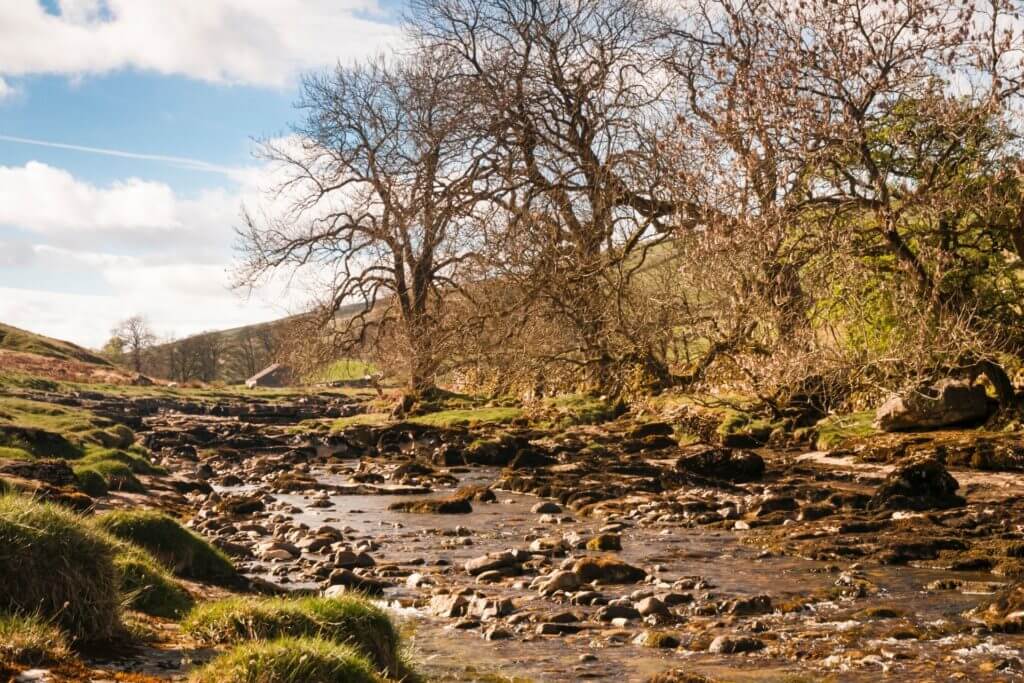 Start your journey with the amazing scenery at Yorkshire Dales National Park as there are plenty of trails to hike. Kilnsey Park ups the adventure factor with pony rides, fishing and more natural trails geared towards family days out. Nearby Gordale Scar thunders with a deep limestone ravine and two waterfalls.
Depending on your preferred terrain, opt between the 400-acres of moorland at Brimham Rocks and the woodsy surroundings of The Strid Ancient Woodland. There really is no end to the natural marvels; from the stepping stones of Bolton Abbey to the grassy grounds of Harewood Park, the historical Bolton Priory and monastic ruins of Fountains Abbey.
---
How many rivers does London have?
The Thames and The Lea are the biggest ones, but there are a number of small ones too. Also, it depends how you define a river and a stream – so the short answer is, it's complicated!
---
14. Cuckmere River
East Sussex
The shortest England river on the list, Cuckmere River is a pretty fascinating sight from above!
Cutting in wide arcs across grassy plains, it descends rapidly over 100 meters in under 4 miles. While it may not be majestic like River Severn, the surrounding slopes and flatlands offer comfortable hikes for visitors of all skillsets.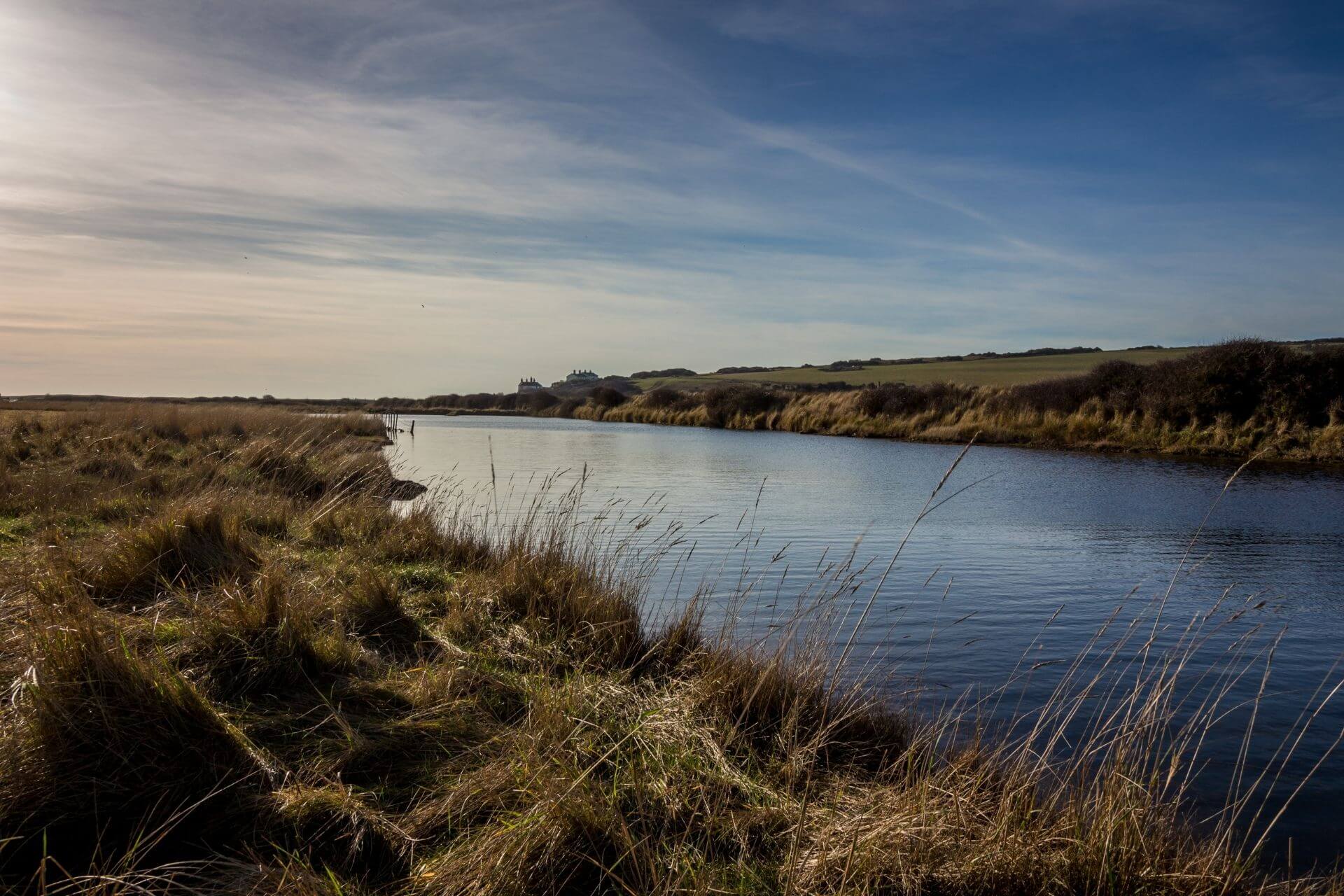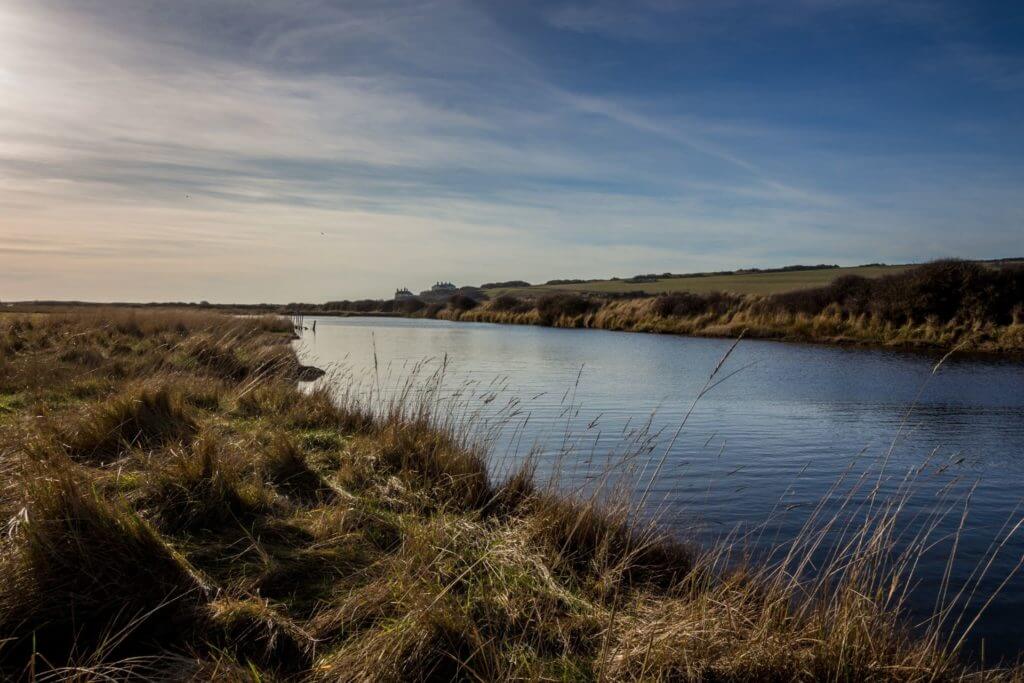 Drop off at Alfirston and walk to Cuckmere Haven for open views of the river. Beginner paddlers and canoe goers can enjoy a gentle introduction here too.
15. River Great Ouse
River Great Ouse stretches out 150 miles to be the fourth longest river in England. Taking you from central England to the Wash, it passes through the cities of Ely, Bedford, Saint Ives, Littleport and more. There are plenty of historic buildings and monuments along this route.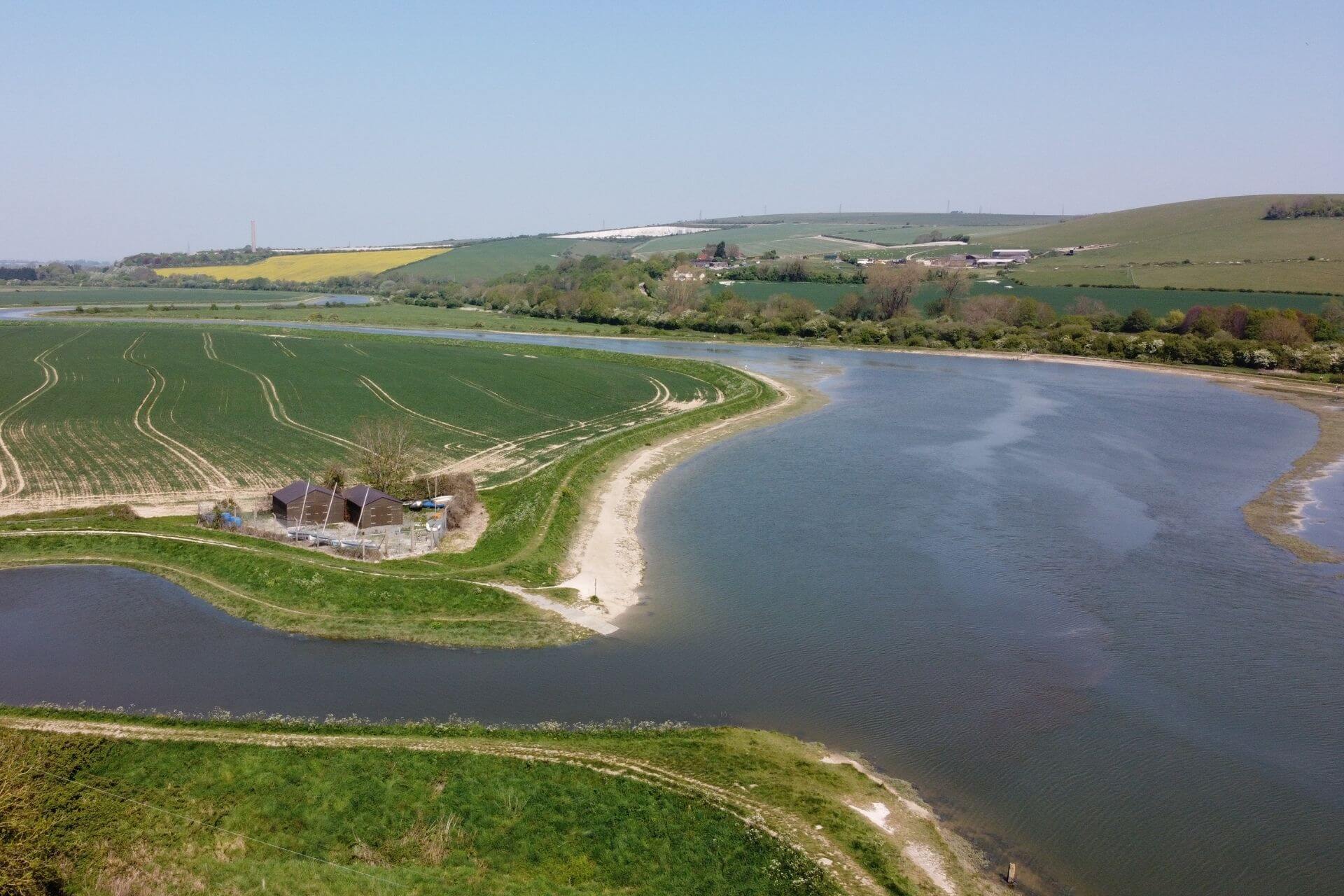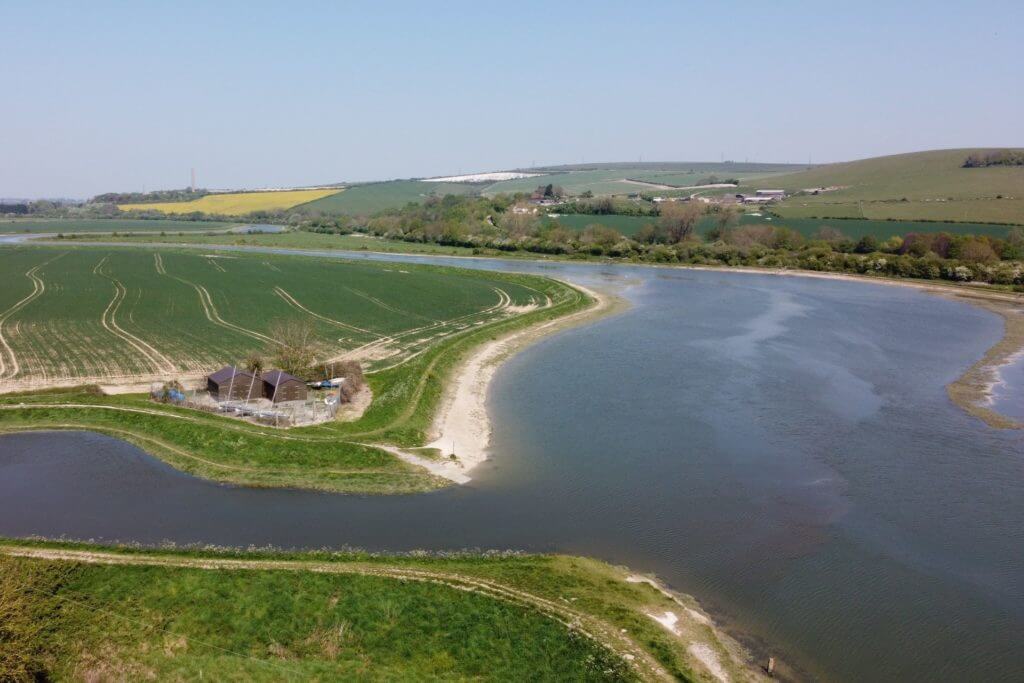 You'll fall in love with the town of Ely – I know I did!
Willows and thicker greens hem in the river; wander further out and you'll end up in musical Jubilee Gardens. It's also home to the largest antique centre in the region, meaning you won't leave empty handed. To sample all the artworks, eateries and attractions, take the Ely's Eel Trail.
More small town charm can be found at Huntingdon, starting with the Historic Town Trail and the plethora of half-timbered pubs. Follow up with canoe trips on River Great Ouse before heading downstream to Houghton Mill. St Ives is close by, notable for its medieval chapel bridge and mesmerising light.
16. River Thames
Wiltshire, Oxfordshire, Gloucestershire, Berkshire, Buckinghamshire, Surrey, Essex, Kent and Greater London
The River Thames might be one of the most famous rivers in England, and although it travels through 9 English counties, it is perhaps best known for being London's river. Snaking through the city past landmarks such as St Paul's Cathedral and the London Eye, and flowing under Tower Bridge, it's a must-see (and also a can't-miss) when you visit the capital.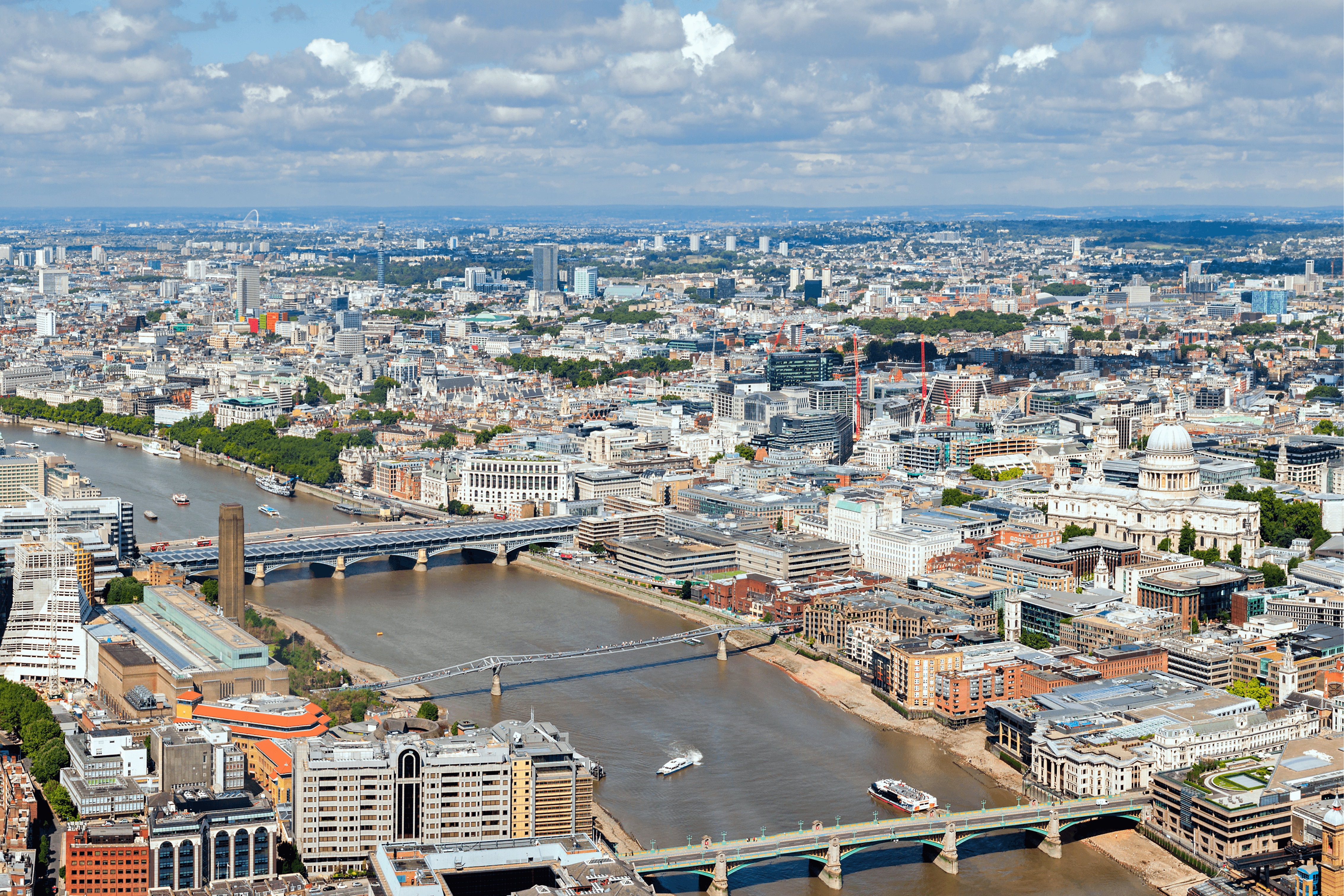 There are always rumours that the Thames is particularly dirty, however it's actually one of the cleanest rivers in the world that flows through a major city. You can even go paddleboarding in London on the Thames!
If you want to explore what else the Thames has to offer, you can walk the Thames Path. This long distance walking trail follows the River Thames for around 298 km and winds its way from the beautiful Cotswolds all the way through multiple counties to reach the middle of London and on to Woolwich.
It's a great walk to do if you want to see more of this amazing country and its most famous river, as you'll have the opportunity to take in rural areas full of wildlife, quaint villages and towns with tonnes of history, and of course, the city of London.
Rivers in England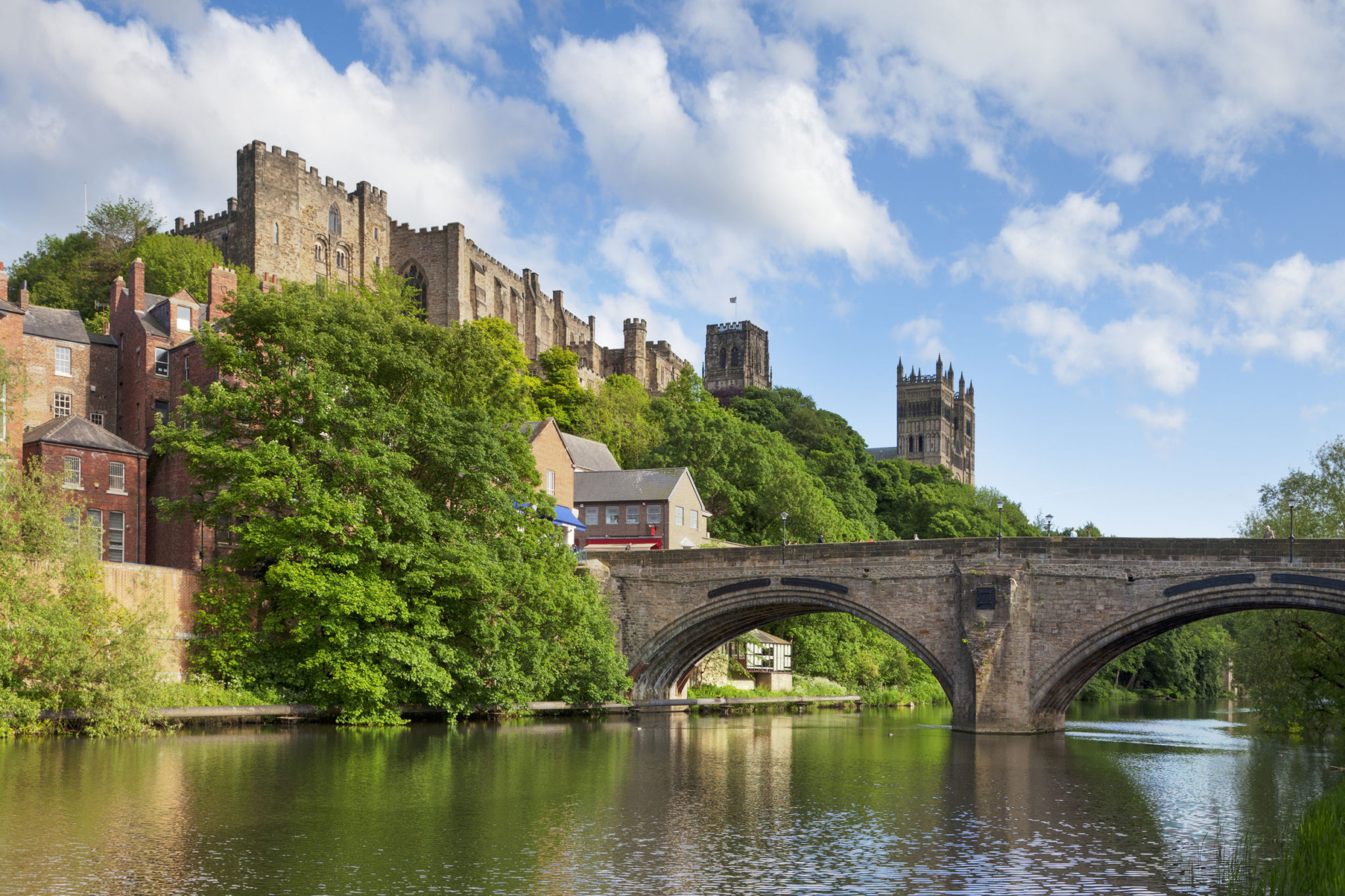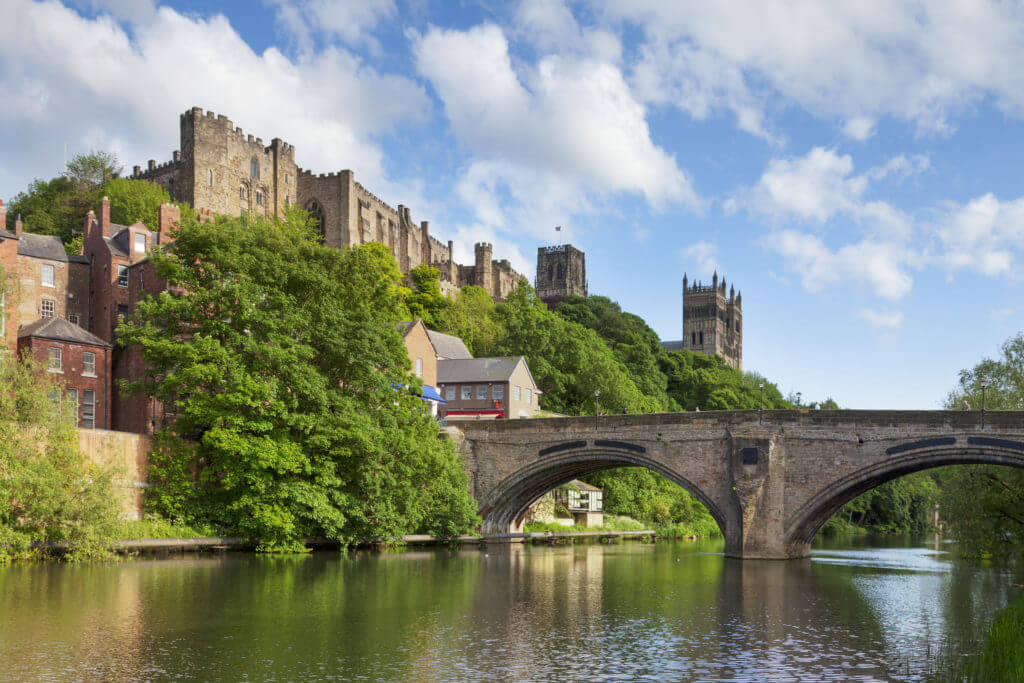 If you plan to explore the many rivers of England, you've got your holidays planned for the next ever! These are just the major rivers of the UK, go smaller and we'll be into a list of 100s!
Hope this has opened your eyes to exploring England by its waterways.
As always, let us know if you have any comments below….
---
PIN THESE AMAZING RIVERS IN ENGLAND FOR LATER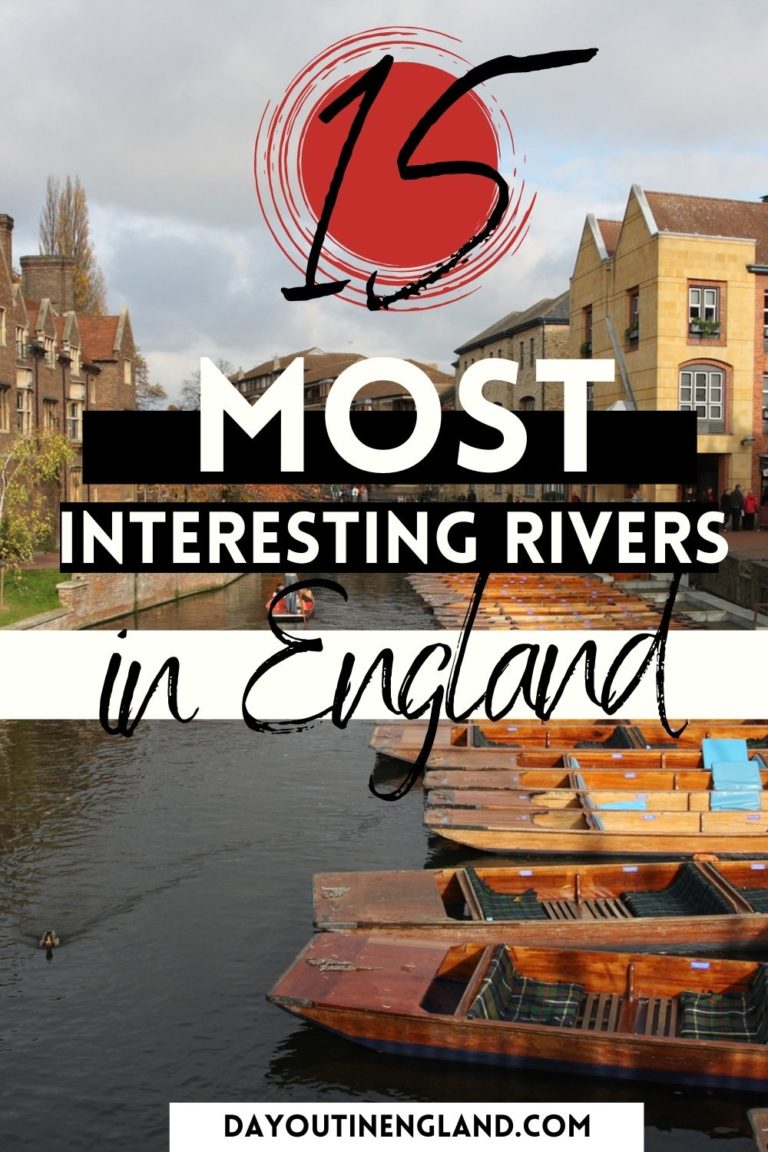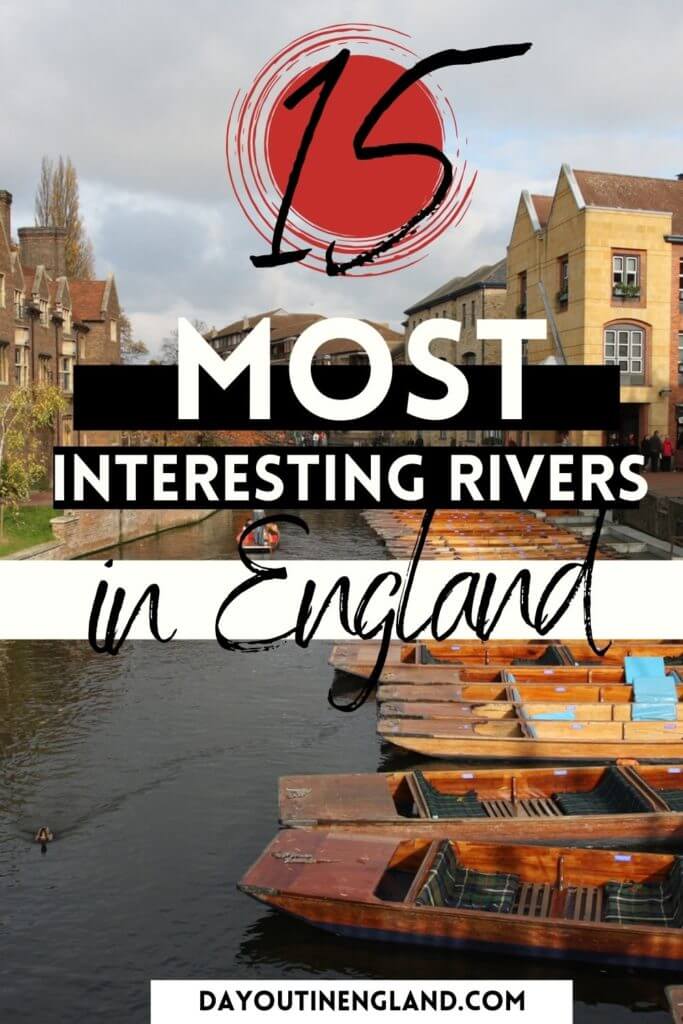 ---